Is everyone on the planet collectively starting a Whole30 in January or is that just my Instagram feed that's full of Whole30 grocery shopping hauls?
I have never done a Whole30 before, mostly because the thought of giving up wine for a month terrifies me to my very soul, but I have decided to do Whole30 (notice how I did not say try – because there is only do or do not, there is no try, thank you Yoda) for the first time.
(Disclosure: This post may contain affiliate links which means I may earn a small commission if you make a purchase from a link in this post, at no additional cost to you. Additionally, as an Amazon Associate I earn from qualifying purchases. Thank you for supporting this site!)
Over the last two months or so of the holiday season, I've just completely thrown caution to the wind and been on a food and wine-fueled rampage. There have been too many celebrations, too many gluten-free treats floating around, too many cozy nights with several glasses of wine watching Season 3 of Marvelous Mrs. Maisel and IT. IS. TIME.
I need a detox. I feel like I'm 80% cheese and 10% Sauvignon Blanc and the other 10% doesn't even know what it is because during the period from Christmas to New Year's time and calories lose all meaning.
So, Whole30 reset it is! And yes, I am nervous. Will I be able to stick to it? How will I resist temptation? Will I have a social life? I mean, I could easily be crowned mother of sugar dragons. My sugar dragon is not singular, it is a whole herd of sugar-breathing, chocolate-spewing DESSERT dragons. Bread, I can do without. Cheese is hard but manageable. But sweets after dinner? HELP ME, MELISSA!
(Melissa Hartwig is a co-founder of the Whole30 program and author of It Starts With Food).
And you know what? Melissa always comes through with the Tough Love, because this quote is going to be my mantra for the next 30 days:
"It is not hard. Don't you dare tell us this is hard. Quitting heroin is hard. Beating cancer is hard. Drinking your coffee black. Is. Not. Hard."

— MELISSA HARTWIG, TOUGH LOVE
This is one of the most repeated, most quoted lines from the Whole30 program, and you know why? Because THEY. ARE. RIGHT. There are so many hard things in life but doing something for one month that nourishes your body and soul is not one of them.
So you know what? I got this. And I hope you'll come along on the journey with me! If you're also doing Whole30 this January, I'd love to hear from you in the comments below, let's support each other!
To kick off, I'm starting with my Whole30 grocery shopping list. My Whole30 grocery shopping list includes all Whole30 approved groceries from Trader Joe's Whole30 approved items and Whole Foods Whole30 grocery items.
Let me also say that my Whole30 program is not a "budget Whole30" or an "I have 2 hours everyday to make homemade mayonnaise and ketchup from scratch Whole30."
Nope. Sorry.
This is CONVENIENT Whole30. Not that I only follow it when it's convenient for me, but that I am going to give myself every opportunity for success by creating convenience wherever I can. This means my Whole30 grocery shopping list includes pre-spiralized zoodles, ready-made Whole30 approved sauces (Tessamae's Caesar dressing, you give me life, even when not on the Whole30 program) and a Whole30 meal plan that is quick and convenient.
It is not inexpensive. In fact, if I'm being honest I probably spent double what I would normally spend on groceries this week because I loaded up on Whole30 approved pre-made condiments and sauces. Because here's the thing, I know myself and I know I will be more successful on this program if I can quickly throw some compliant BBQ sauce on a chicken breast and roast some pre-cut veggies for 20 minutes. So I am willing and thankfully, able (as I know and appreciate that many people are not) to prioritize convenience.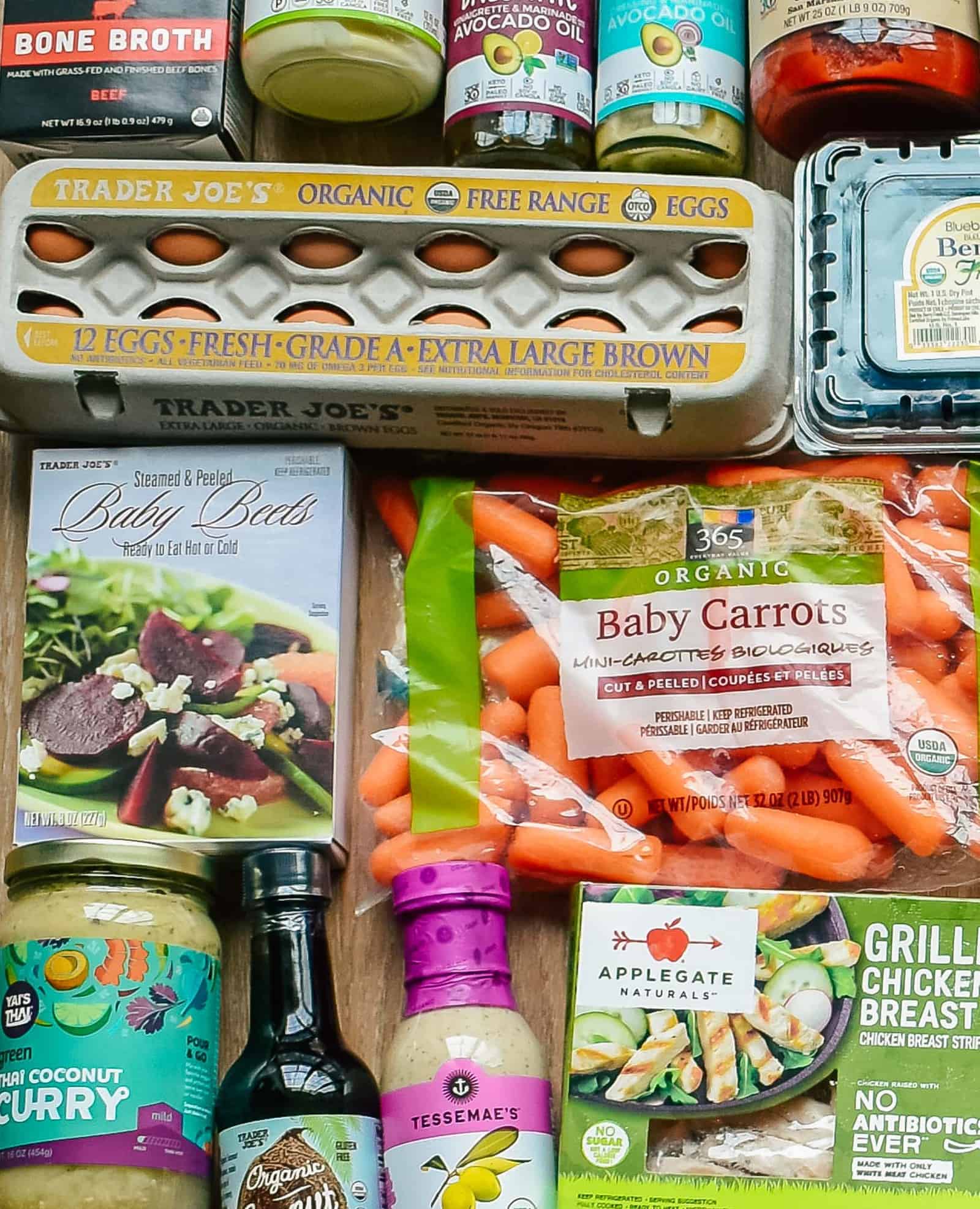 So, let's get to it! Here is my exact Whole30 grocery shopping list from Trader Joe's and my exact Whole30 grocery list from Whole Foods (note I probably over-shopped a bit in my Whole30 enthusiasm, so feel free to use this list as a guide but adjust based on your preferences and quantities needed). The fresh produce and meat lasted me about a week and a half, so return trips to the grocery store will be needed. I used all of these items to make my Whole30 meal plan, which I've also included below for your convenience!
Trader Joe's Whole30 Grocery Shopping List
2 cartons extra-large organic brown eggs
1 bag organic green beans
1 avocado
1 jar coconut aminos
2 cartons steamed baby beets
1 carton pre-cut butternut squash zig zags
1 carton frozen carrot spirals
1 bag frozen wild-caught red Argentinian shrimp
1 jar avocado oil
Raw whole cashews
Raw whole almonds
Raw whole pecans
1 pack Trader Joe's brand organic oven-roasted turkey
2 cucumbers
2 packages Applegate 100% beef uncured hot dogs
1 can organic coconut cream
2 Lara Bars in "cashew cookie" flavor
2 Rx bars – one in "blueberry" flavor and one in "banana walnut "flavor
1 carton grape tomatoes
1 jar ghee
1 lb organic ground beef
1 carton organic blueberries
1 bag mandarin oranges
1 carton ready to eat jicama sticks
3 organic Fuji apples
3 lemons
Whole Foods Whole30 Grocery Shopping List
Jar of Tessemae's Creamy Caesar Dressing
Primal Kitchen Avocado Ranch Dressing (1 jar)
1 jar Primal Kitchen Balsamic Vinaigrette
1 lb of Whole Foods brand Atlantic salmon (farmed, but considered a "Good Alternative" by Seafoodwatch.org)
3 cans no salt added tuna in water
1 jar Red Boat fish sauce
Pack of The New Primal beef jerky
Jar of The New Primal buffalo sauce (I could eat this with a spoon)
1 package of pre-cooked Applegate grilled chicken breasts (these are crazy expensive and I will not repurchase but Whole Foods was out of my usual organic chicken breasts)
Bag frozen organic broccoli
Yai's Thai green coconut curry sauce
Below is a sample Whole30 meal plan for a week of meals. I found on my Whole30 that repetition was key – it took a lot of the daily thought, planning and prep out of the equation for me, which meant I knew exactly what I was going to eat, it was all prepped and I didn't need to think about it. It also helped me avoid getting hangry – you know, that I NEED FOOD NOW feeling that can cause you to make poor choices or give in to cravings.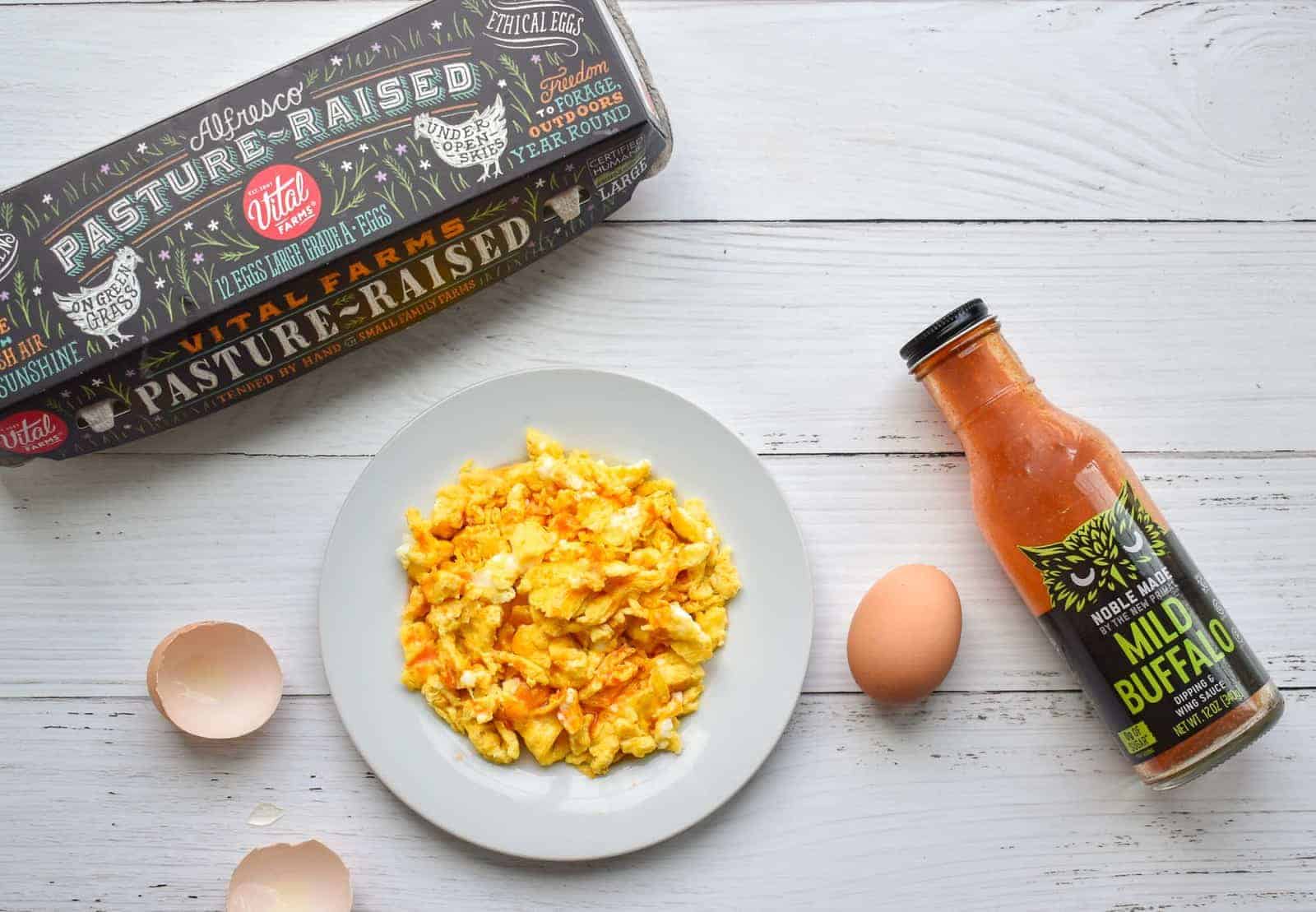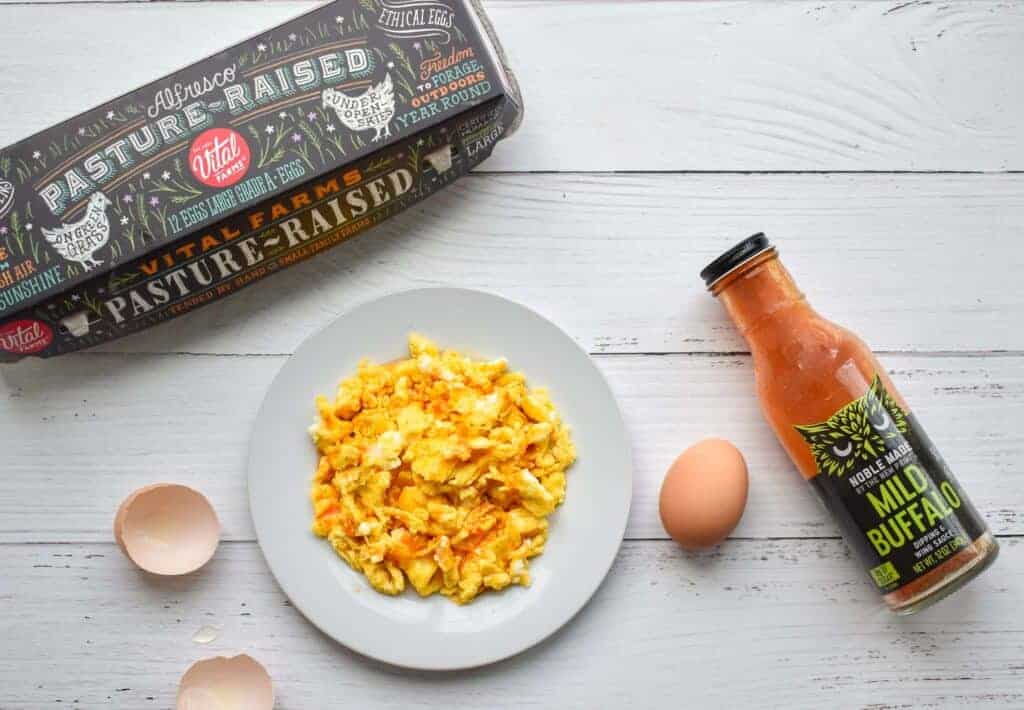 I generally ate the same thing two days in a row (except breakfast – I really like eggs and had no problem eating them every day for the full program) and then switched it up so I didn't get bored or sick of what I was eating.
Sample Weekly Whole30 Meal Plan
Breakfast
Lunch
Dinner
Snacks
3 eggs with The New Primal Mild Buffalo Sauce and arugula with Whole30-approved dressing
Quick & easy Asian soup with broccoli and shrimp
Pork chops with green beans and sauteed kale & zucchini
Carrot sticks with Tessemae's Caesar dressing
Handful of almonds and cashews
3 eggs with The New Primal Mild Buffalo Sauce and arugula, tomatoes with Whole30-approved dressing
Kale salad with grilled chicken & avocado
"Creamy" tomato salmon with butternut squash "fries" (pre-cut and simply roasted in olive oil)
Carrot sticks with Tessemae's Caesar dressing
1 Applegate hot dog
3 eggs with The New Primal Mild Buffalo Sauce
Kale salad with grilled chicken & avocado

Sticky Asian meatballs and green beans
Red pepper & cucumber with Tessemae's Caesar dressing
1 Applegate hot dog
3 eggs with The New Primal Mild Buffalo Sauce and sauteed spinach and red peppers
1 can tuna with Primal Kitchen mayo and kale
Chicken thighs in compliant tomato sauce with artichoke hearts & butternut squash "fries"
1 Lara Bar
Blueberries
3 eggs with The New Primal Mild Buffalo Sauce and sauteed spinach
1 can tuna with Primal Kitchen mayo and kale
Steak with broccolini and roasted potatoes
1 Lara Bar
Blueberries
Handful of almonds and cashews
2 Easy Egg Muffins
Sticky Asian meatballs with green beans (leftovers)
Salmon with sauteed cabbage & zucchini, and a side salad of greens tossed in olive oil
New Primal Beef Jerky
Jicama sticks
2 Easy Egg Muffins
Salmon over little gem salad & compliant Italian dressing
Chicken breasts with The New Primal Classic sauce and cauliflower rice
1 Apple
Jicama sticks
Handful of almonds and cashews
WHOLE30 WEEKLY MEAL PLAN
Whole30 Program Insights And Learnings
The best part of Whole30 was I really feel like I learned a lot about my food habits during my Whole30, and here is what I noticed:
I had no idea how many carbs I was eating
Who knew! I thought my carb intake was normal to low. Not so. Now that I'm not eating any grains I realize how much I was eating: my gluten-free toast with almond butter for breakfast, granola with yogurt a couple times a week, gluten-free crackers as a snack, and rice or rice noodles a couple times a week as the base of my dinner.
I need to increase my protein intake to compensate and not feel hungry all day
The hunger pangs were real the first few days, which I just attributed to going back to eating normal portions after the excessive indulgence of the holidays. I was consistently feeling hungry after my few days of adjustment though and I realized I needed to increase my protein portions to make up for the lack of carbs and sugar. I need more like 1.5-2 chicken breasts with my veggies for a filling Whole30 dinner, rather than the usual 1 I would make if I was adding some rice. It makes me realize that a good portion of my meals were" filler."
I upped my egg portion in the mornings from my usual 2 to 3 and that helped a lot to keep me feeling full until lunch.
I was also avoiding potatoes my first few days since I was trying to really go all in, but started them back in here and there, like sweet potatoes in my salad at lunch and roasted white potatoes with other veggies as a more filling Whole30 dinner side dish.
I'm overcompensating with salt
This is the biggest thing I needed to watch out for. I noticed that I was overcompensating the missing sugar and chemical additives with salt to try and flavor my food and I had to be really conscious of not doing this as the program progressed.
Snacking at night is my biggest weakness
I do pretty well not snacking during the day, or at least limiting my snacks but night time is the worst. After dinner, when I'm relaxing working on the blog all I want to do is snack! It's so hard to resist, and I have to admit I haven't been great at stopping myself. I was definitely snacking on a few clementines every night after dinner, all the while telling myself that if the worst thing I eat is a couple oranges, I'm in good shape. But, that's not in the spirit of Whole30, the idea of Whole30 is to change your relationship with food – and this is definitely more in the "mindless snacking" and "feeding my sugar-dragon" camp.
Convenience is king (and queen, and prince/princess, and the whole darn dukedom)
As I said in the beginning of this post, my Whole30 was a convenience-based Whole30. Meaning, I was willing to spend more money on pre-spiralized veggies, Whole30-approved pre-made sauces, condiments and snacks, in order to save myself time (I don't really enjoy meal-prepping, although I force myself to do it) and to make sure that when the hangry-sugar-dragon cravings it, that I had something easy on hand to grab.
And boy, was I correct. The times throughout the week that were the hardest were when I started running low on those convenient items to whip up a quick meal. It's helpful for me to be able to toss some chicken breasts with some New Primal Classic Sauce and stick them in the oven than it is to come home from work at 6:00 PM and start thinking about a full-blown recipe that is totally compliant.
My Favorite Whole30 Products And Grocery Staples From Trader Joe's And Whole Foods
Having gone through the program, I can now confidently recommend the best of the best Whole30 compliant grocery items and convenience foods. These are things I reached for almost daily or at least a few times a week during my Whole30 program, and there are a few things I would not buy again.
The Best Whole30 Items I Bought
Tessemae's Caesar Dressing: Obsessed. I use this multiple times a week even when not on Whole30. It's the best "healthy" Caesar dressing I've tried, including Primal Kitchen's version. Note that the oil base is sunflower oil, which should be limited on Whole30, so don't drink this straight from the bottle, even though you'll want to.
New Primal Buffalo Sauce: Feel free to drink this one straight from the bottle, it's that good. I continue to put this on everything, even post-Whole30.
New Primal BBQ Sauce: A great compliant BBQ sauce. Tons of flavor, great consistency. Also another staple I continue to purchase.
Primal Kitchen Mayonnaise: I love the original avocado oil mayo from Primal Kitchen!
Coconut Aminos and Red Boat Fish Sauce: Great for flavoring Asian style meals like my Whole30 Sticky Asian meatballs.
Cucina Antica Tomato Sauce: Delicious Whole30-compliant tomato sauce. I loved topping chicken thighs with this sauce, olives, artichoke hearts and some greens for an Italian-esque meal. I continue to purchase their Puttanesca sauce and Vodka sauce.
Whole30 Groceries I Wouldn't Purchase Again
Yai's Thai Curry Sauce: Zero flavor. I had to add ginger, coconut aminos, and a lot of salt.
New Primal Classic Sauce: A little watery, and not much flavor. New Primal has way better products to spend your money on.
Rx Bars: Ugh. These were gross. I do not recommend at all. If you need to have some energy bars on hand for convenience, stick with compliant Lara Bars.
Ghee: I bought this and didn't open it once. In fact, I think I still have it in my fridge. This might be a personal preference, but I've never cooked much with butter (ghee is a Whole30-compliant butter substitute) so I stuck with my usual method of sauteeing or tossing vegetables in a little olive oil.
Primal Kitchen Avocado Ranch Dressing: Didn't like the flavor or consistency of this one. I felt like I could taste the thickener – it almost tasted gummy to me. I love Primal Kitchen but they have way better products than this one.
And that's my Whole30 meal plan and Whole30 grocery shopping list for Trader Joe's and Whole Foods. I hope this is helpful in your Whole30 journey! Tell me how it's going in the comments below!

Love this Whole30 meal plan and grocery shopping list? Pin it to save for later!