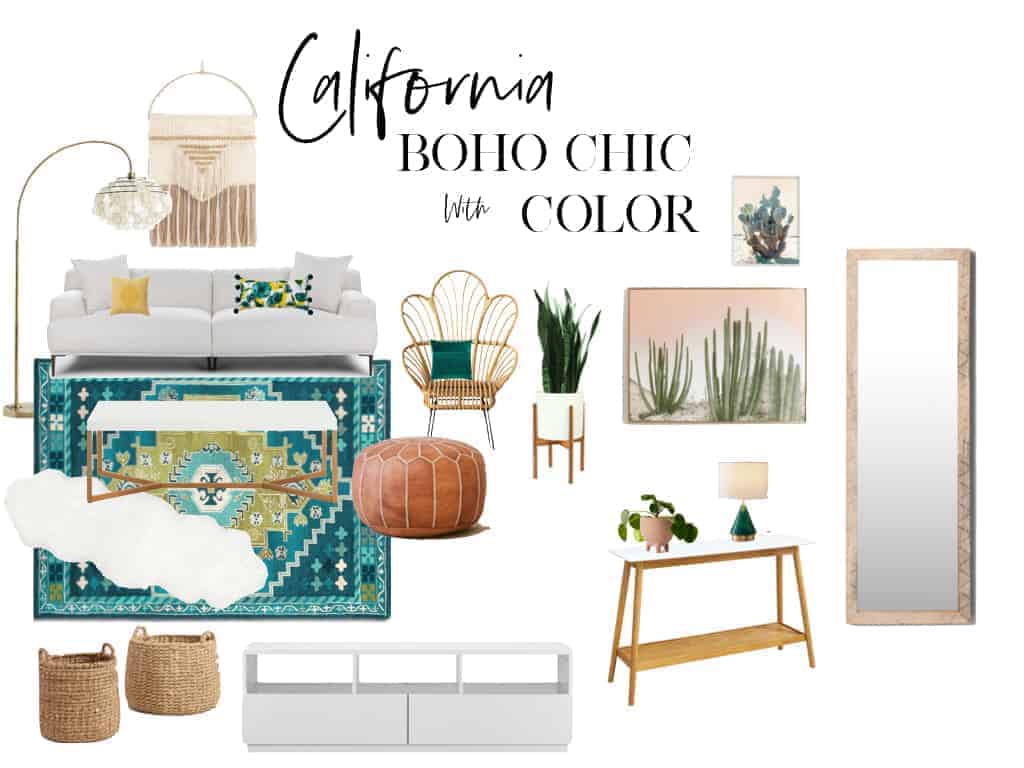 Sofa | Rug | Coffee Table | Faux Fur Sheepskin Rug | Pouf | Baskets | Plant Stand | Accent Chair | Cactus Print (large) | Cactus Print (small) | Mirror | Entry Console | Table Lamp | Succulent | Media Console | Floor Lamp | Wall Hanging | Yellow Pillow | Green Pillow | Pattern Pillow
(Disclosure: This post may contain affiliate links which means I may earn a small commission if you make a purchase from a link in this post, at no additional cost to you. Additionally, as an Amazon Associate I earn from qualifying purchases. Thank you for supporting this site!)
I absolutely love creating inspiration boards and mood boards for different styles of decor so when a friend of mine told me she was moving to southern California and needed some help figuring out how to achieve the colorful, eclectic California boho style she wanted, I jumped at the chance to put together some ideas!
They turned out so well that I decided to put together a whole blog post on how to get this look. I followed some basic principles of California boho home decor, and once you break it down to the key elements, anyone can create their dream home in this style!
(Disclosure: This post contains affiliate links which means I may earn a small commission if you make a purchase from a link on this post, at no additional cost to you)
CALIFORNIA BOHO HOME DECOR STYLE COLOR PALETTE:
LIGHT NEUTRAL BASES WITH POPS OF COLOR
The first step in decorating your dream California boho home is the color palette. To achieve the breezy, coastal casual color palette that is a signature of the California boho style, start with a neutral color palette of white, ivory, cream and beige. If you're a bit color-averse, keep the palette within the neutral family. But to really achieve that boho-eclectic look, add in pops of your favorite bright color like canary yellow, hot pink, emerald green, aquamarine, or sapphire blue. I personally love mixing in deep, bright jewel tones in a California boho style. Add these pops of color in your accent pieces, like art, pillows, rugs or a side chair.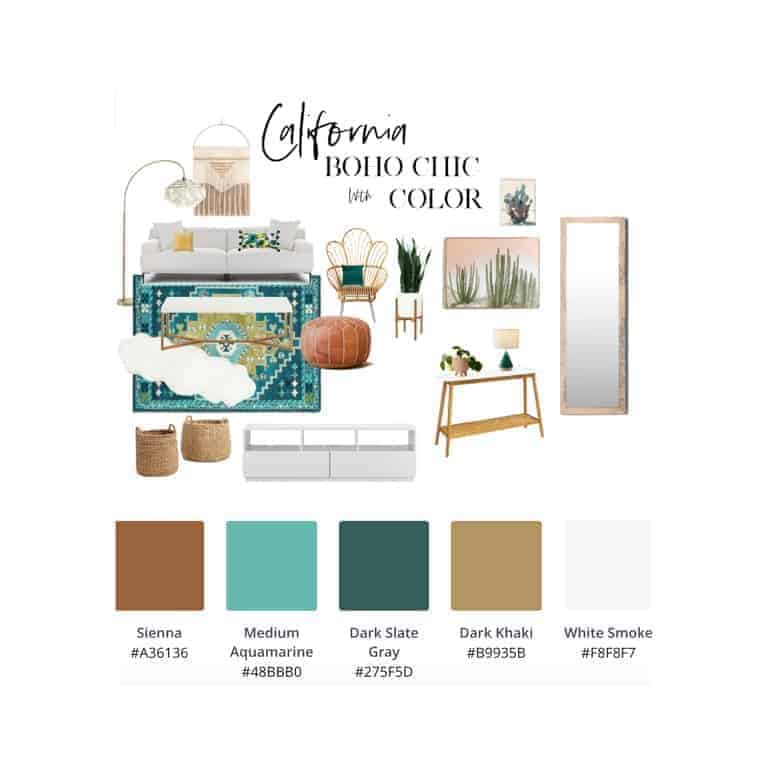 Struggling with how to create your color palette? There are so many amazing online tools that will do the design work for you! My favorites are Coolor.co and Canva color palette generators because you can upload an inspiration image and it will generate a palette based on those colors! Here's the Canva palette generated by my California Boho with Color mood board:
It's not always perfect, but it's a great starting point! In the palette generated above, for example, I would swap out the dark khaki for a pale blush pink to pick up more of the wall art colors and to add more light to the overall palette.
CALIFORNIA BOHO HOME DECOR STYLE MATERIALS:
KEEP IT RAW AND ORGANIC
Keep the materials that make up your furniture and styling accessories raw and organic. Incorporate natural wood, leather accents, linen (for that extra-beachy coastal look!) and brass or gold metals. Stay away from concrete, marble or steel. Go for accent pieces in wicker, rattan or woven materials.
The quintessential California boho style is light and airy yet cozy. Look for furniture pieces that you would describe this way – nothing too boxy or heavy. Try to find pieces – especially shelving – that are open and unstructured.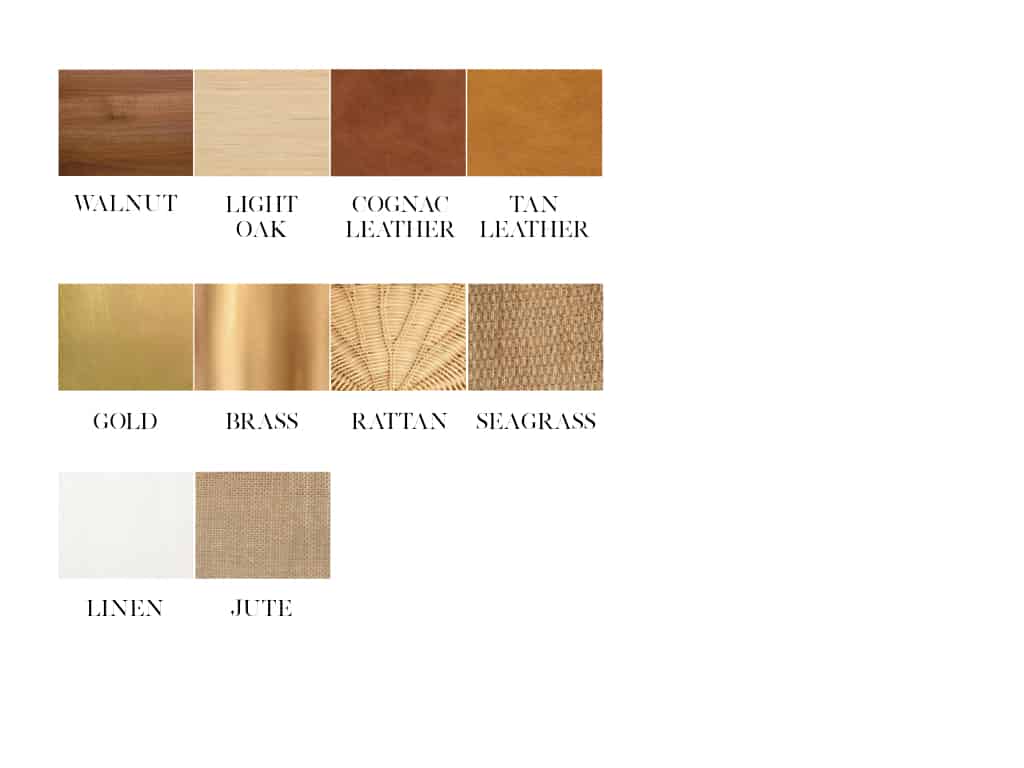 CALIFORNIA BOHO CHIC HOME DECOR TEXTURES: THE MORE THE BETTER
This might be the most important element of a California boho home style! Texture, texture and more texture layered everywhere! Try a shaggy accent rug, velvet throw pillows, fringe blankets, a jute floor rug, seagrass woven baskets, linen, and faux-fur poufs or ottomans. Layering rugs is one of my favorite ways to create texture in a California boho style, especially a woven jute rug under a bohemian-style patterned area rug or a white fur. Create lots of texture in your sitting areas with pillows – the more pillows the better in my opinion! Pillows are a great way to mix prints, patterns and tie your accent colors together.
CALIFORNIA BOHO CHIC HOME DECOR STYLE:
ADD GREENERY: PLANTS, PLANTS, PLANTS
What kind of California boho home would it be without plants everywhere? Exactly. Plants give life to a home, (maybe) help purify the air and have been shown to improve sleep and mood. Don't worry if you don't have much of a green thumb! There are plenty of plants for beginners that are basically impossible to kill. If your thumb is more black than green, go for snake plants, succulents, bamboo, bromeliads, aloe or a peace lily (how California boho is that name, by the way!) or just go faux!
Majesty Palm | Monstera Deliciosa | Mass Cane | Faux Fiddle Leaf Tree | Snake Plant
STYLING A CALIFORNIA BOHO CHIC HOME:
WHIMSICAL TOUCHES: ECLECTIC, QUIKRY AND UNEXPECTED
Finally, be sure to include whimsical touches in your styling accessories on shelves, consoles and other surfaces, in a side chair, pillows or in your wall art. These items should be a little unexpected, something funny or girly or different – whatever best represents your personality and what makes you unique!
Flamingo Catchall | Hand Object | Eye Glasses Object | Globe on Stand | Sitting Wall Animal
So, now that you're well-versed in the basic principles of designing a California boho home, let's get into the inspiration boards! Feel free to copy this exactly or just take the pieces or ideas that you love and make it your own!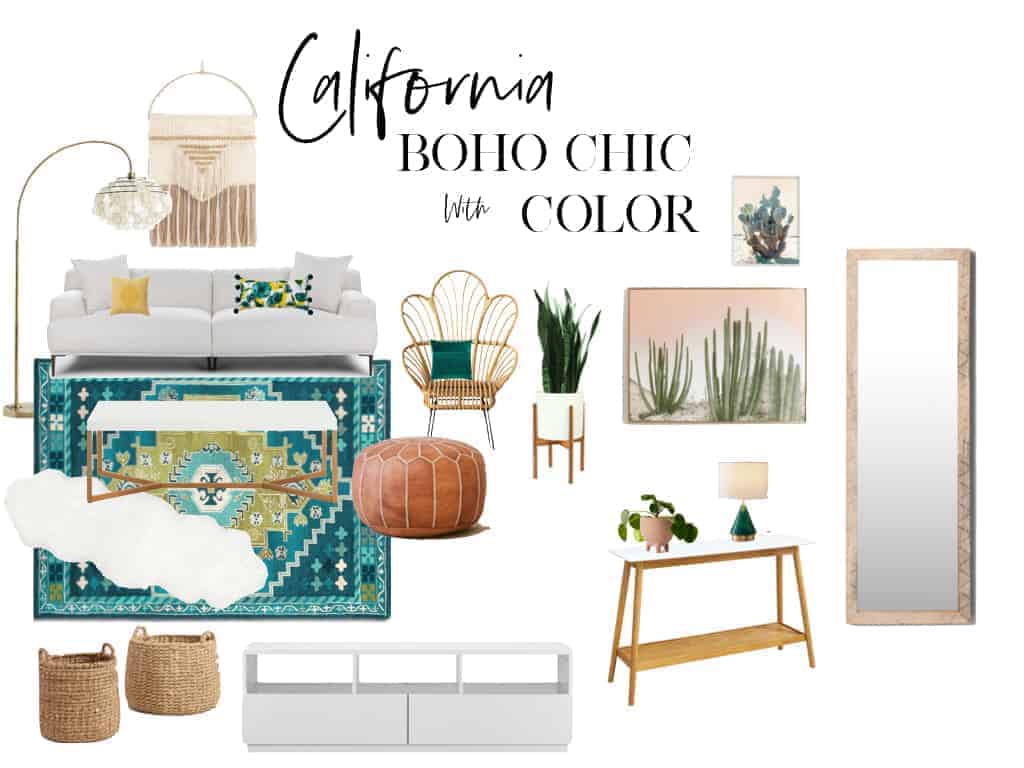 Sofa | Rug | Coffee Table | Faux Fur Sheepskin Rug | Pouf | Baskets | Plant Stand | Accent Chair | Cactus Print (large) | Cactus Print (small) | Mirror | Entry Console | Table Lamp | Succulent | Media Console | Floor Lamp | Wall Hanging | Yellow Pillow | Green Pillow | Pattern Pillow

Don't forget to pin the image to save for later!