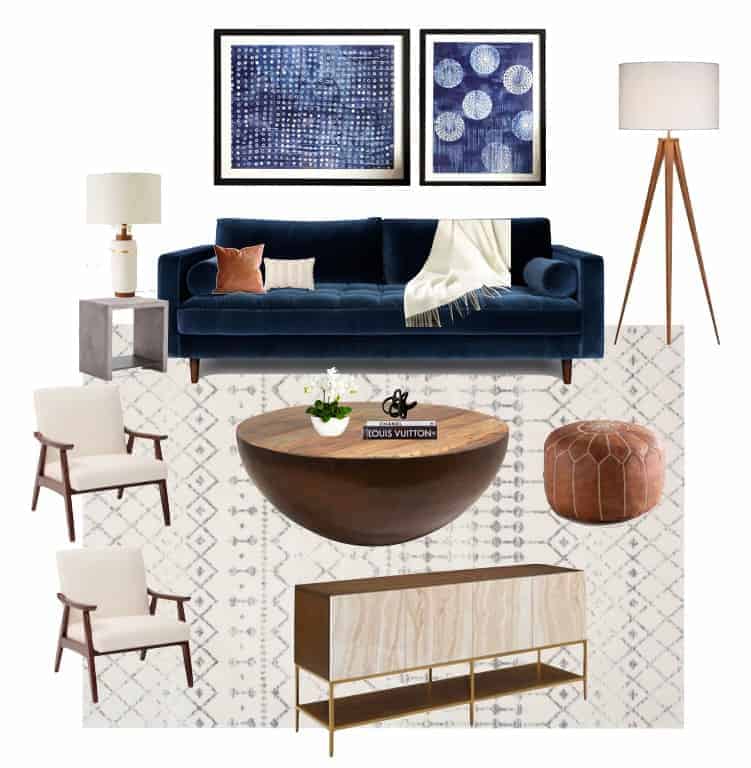 Sofa | Chairs | Floor Lamp | Rug | Media Console | Coffee Table | Coffee Table Book 1 | Coffee Table Book 2 | Knot Object | Faux Plant | Leather Pouf | Blanket | Faux Leather Pillow | White Pillow | Side Table | Table Lamp | Painting 1 | Painting 2
(Disclosure: This post may contain affiliate links which means I may earn a small commission if you make a purchase from a link in this post, at no additional cost to you. Additionally, as an Amazon Associate I earn from qualifying purchases. Thank you for supporting this site!)
Home decor is such a great creative outlet and is so much fun, but let's be honest, unless you're a professional, once you've decorated your own space you kind of run out of projects! So one of my favorite things to do to channel my passion for home decor is to create fun inspirational mood boards to help others with their decor needs! These mood boards are usually inspired by an incredible room I've seen on Pinterest, or if any of my friends are decorating and in need of some help.
This mid-century modern living room was inspired by one of my best friends, Sofia, who just bought a house and was struggling to create a living room that she loved within her budget. She was inspired by a lot of airy California coastal type spaces but she already owned some mid-century modern pieces that she wanted to keep that just weren't working within that style and she wasn't willing to replace all her existing furniture (understandably!).
I found this image from Studio McGee – if you haven't heard of them, this is the design arm of McGee & Co, one of my favorite home sources, but they are sooooo expensive they're pretty much always out of my range – which is the perfect balance of mid-century modern while still being bright and airy.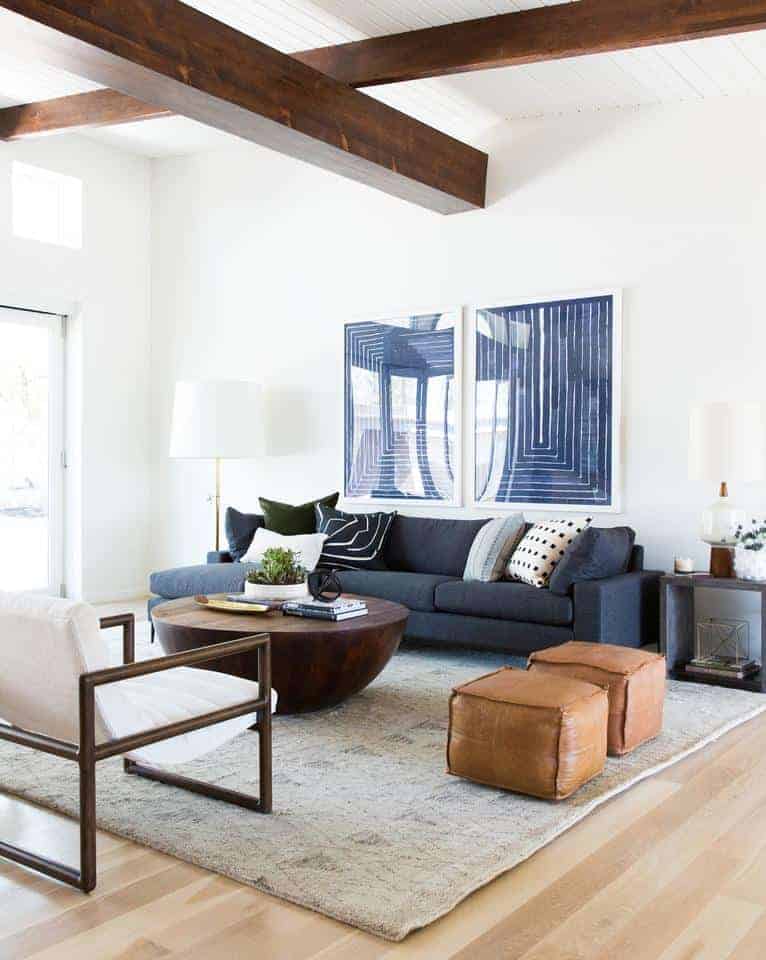 (Disclosure: This post contains affiliate links which means I may earn a small commission if you make a purchase from a link on this post, at no additional cost to you)
I mean, how gorgeous is this living room? I'm obsessed! But just the wall art is $800 each, not to mention the (absolutely stunning) round wood coffee table for a little over $2000. Based on my estimates of the exact items I could find from Studio McGee's room, it's clocking in between $9500-$10000 – ouch!
So, I took to Google to see if I could recreate the same airy, eclectic mid-century modern living room for less. And I was able to chop that price tag in half for a really similar look!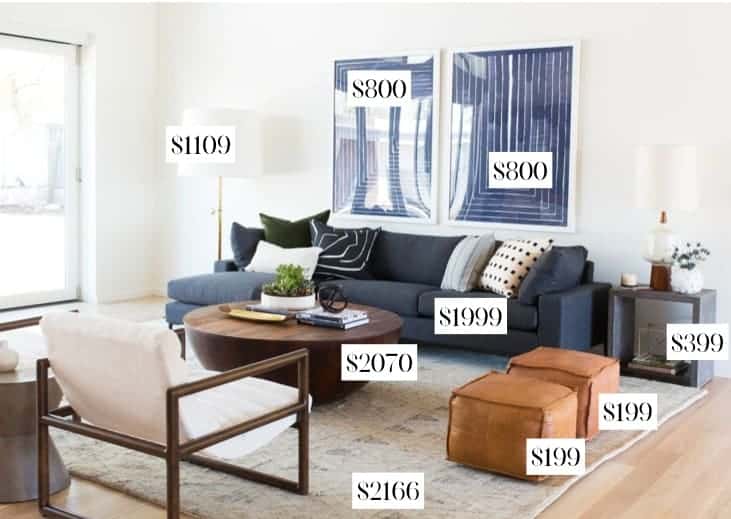 My version of the room will cost between $4500-$5000, saving you $5000!
GET THE LOOK FOR LESS: MID-CENTURY MODERN LIVING ROOM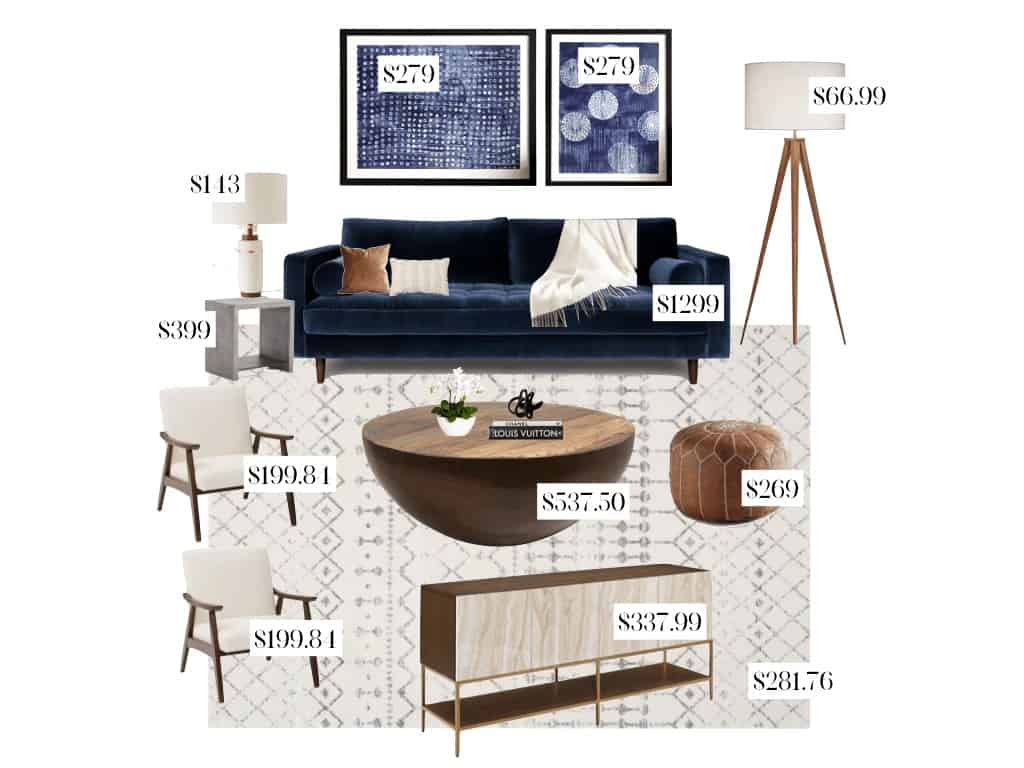 Inspired by this image, I created a mood board for Sofia at a much more reasonable price point to help get her started on her own living room. I found affordable dupes for a lot of the pieces Studio McGee used but also added in my own twist with some different poufs, pillows and decorative objects. I think I like the sofa and leather pillow even more than the ones in the inspiration photo!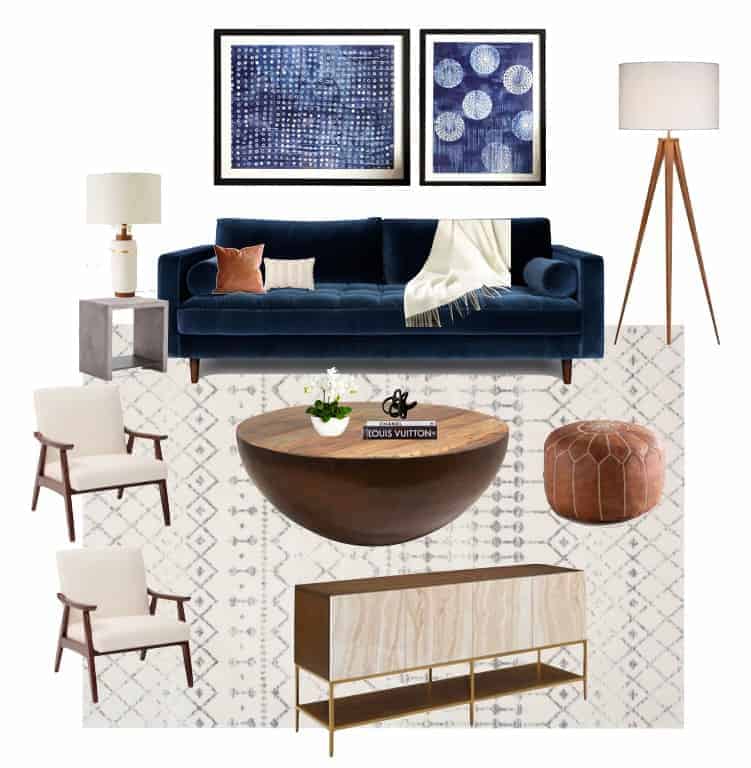 Sofa | Chairs | Floor Lamp | Rug | Media Console | Coffee Table | Coffee Table Book 1 | Coffee Table Book 2 | Knot Object | Faux Plant | Leather Pouf | Blanket | Faux Leather Pillow | White Pillow | Side Table | Table Lamp | Painting 1 | Painting 2
Room Total: $4698.90
as compared to the original room's total cost of over $9500! That's total savings of over $5000 for a really similar look!

If you enjoy this post, don't forget to pin the below image to save for later!