When I moved into my first "real" apartment on the Upper East Side in New York, I decided it was time to redecorate and upgrade to "grown up" furniture, ie., getting rid of my bland beige and wood Ashley Furniture set that I got with my parents in New Jersey, and inject some of my own personality into my home decor style.
To me, the sofa was the most important purchase decision. It would by far be the largest piece of furniture in the space, and given that I was in a studio at the time, it would also serve as the focal point of the living space.
I spent HOURS, and I mean HOURS, online reading reviews, looking at inspiration photos and pouring over options. I went to every reasonably-priced store that sold sofas in the city. I even went to a few unreasonably-astronomically-priced stores (hi, ABC Carpet and Montauk Sofa!). 
(Disclosure: This post may contain affiliate links which means I may earn a small commission if you make a purchase from a link in this post, at no additional cost to you. Additionally, as an Amazon Associate I earn from qualifying purchases. Thank you for supporting this site!)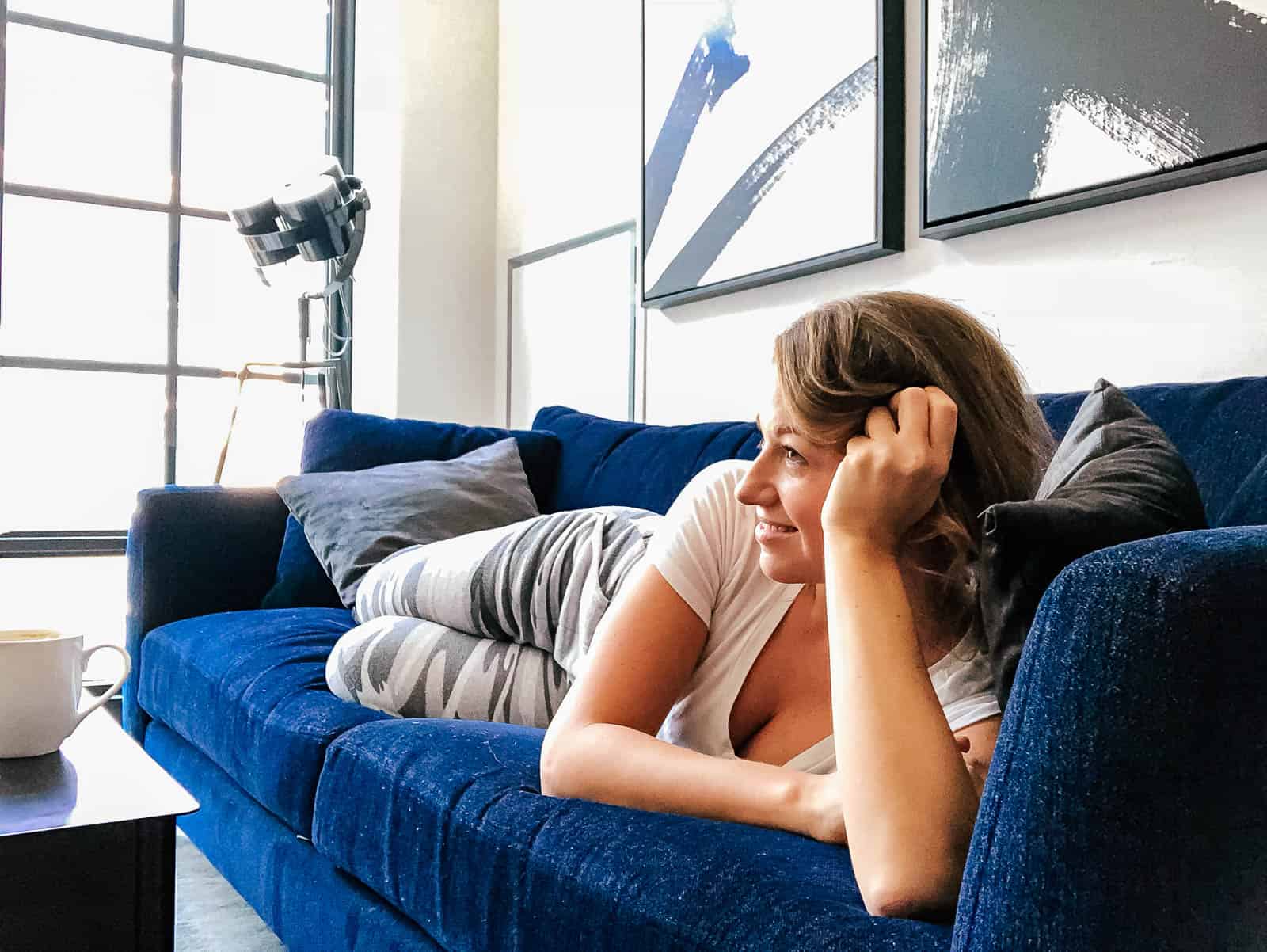 And, in one of my finer moments of inspiration, I invented what I call the "Eight Hours of Netflix" test for sofas. Put simply, I would ask myself if this was a couch I could see myself lounging on for eight hours while binge-watching my favorite TV shows on a lazy Sunday afternoon. And then I proceeded to sit on every sofa in the city that I thought could fit the bill (not for eight hours, naturally but let me tell you I spent about four hours at ABC Carpet deliberating over my second-runner up). The Netflix test became my barometer for all kinds of important couch decisions – depth of seat, height of arms, feel of fabric. I needed a cozy, cuddly couch but I still wanted it to have some semblance of a design aesthetic. Not an easy task but also not impossible. In the process, I learned a lot about what to look for in a sofa to suit different needs and styles. Below, I break down how I tackled it in the hopes of making your own sofa search a little easier!
(Disclosure: This post contains affiliate links, which means I may earn a small commission if you make a purchase through a link on this post, at no additional cost to you)
WHAT'S YOUR VERSION OF THE "EIGHT HOURS OF NETFLIX" SOFA TEST?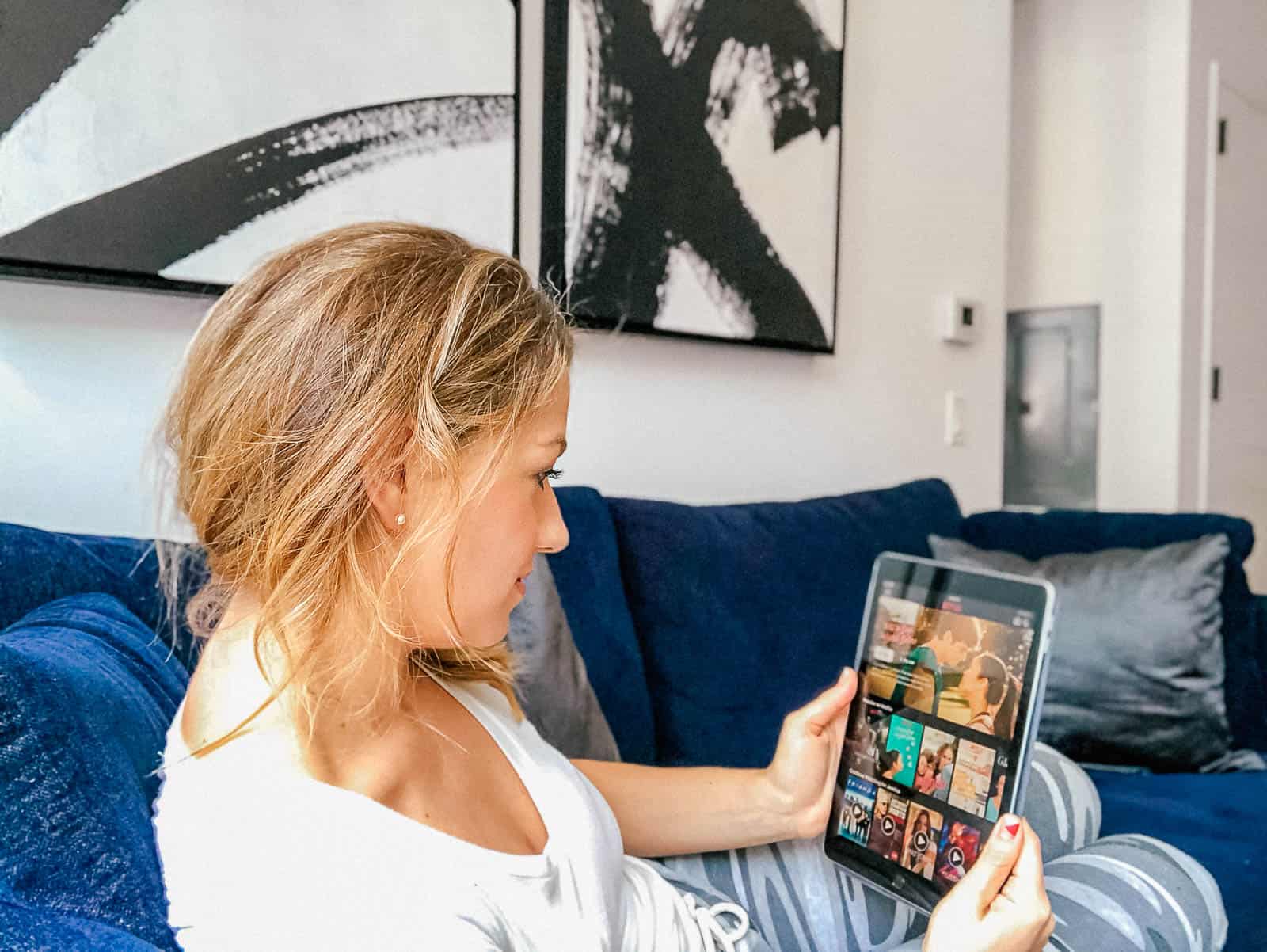 If you don't have your own, feel free to borrow mine – it was very effective! But before you even start searching, ask yourself how you imagine the couch will be used most and who will be using it the most – in my case, I was going to be the only one hanging on the couch for the majority of the time (it's hard to entertain in a small NYC studio!) and I really enjoy my lazy Sundays on the sofa bingeing Pretty Little Liars reruns. Having some sort of initial gauge for use will help you narrow down the possibilities.
Once you have the general idea of who will be using the couch and how, you can start to make some style decisions. Below I outline some of the most commons characteristics of sofas and how to sort through them to find your perfect couch!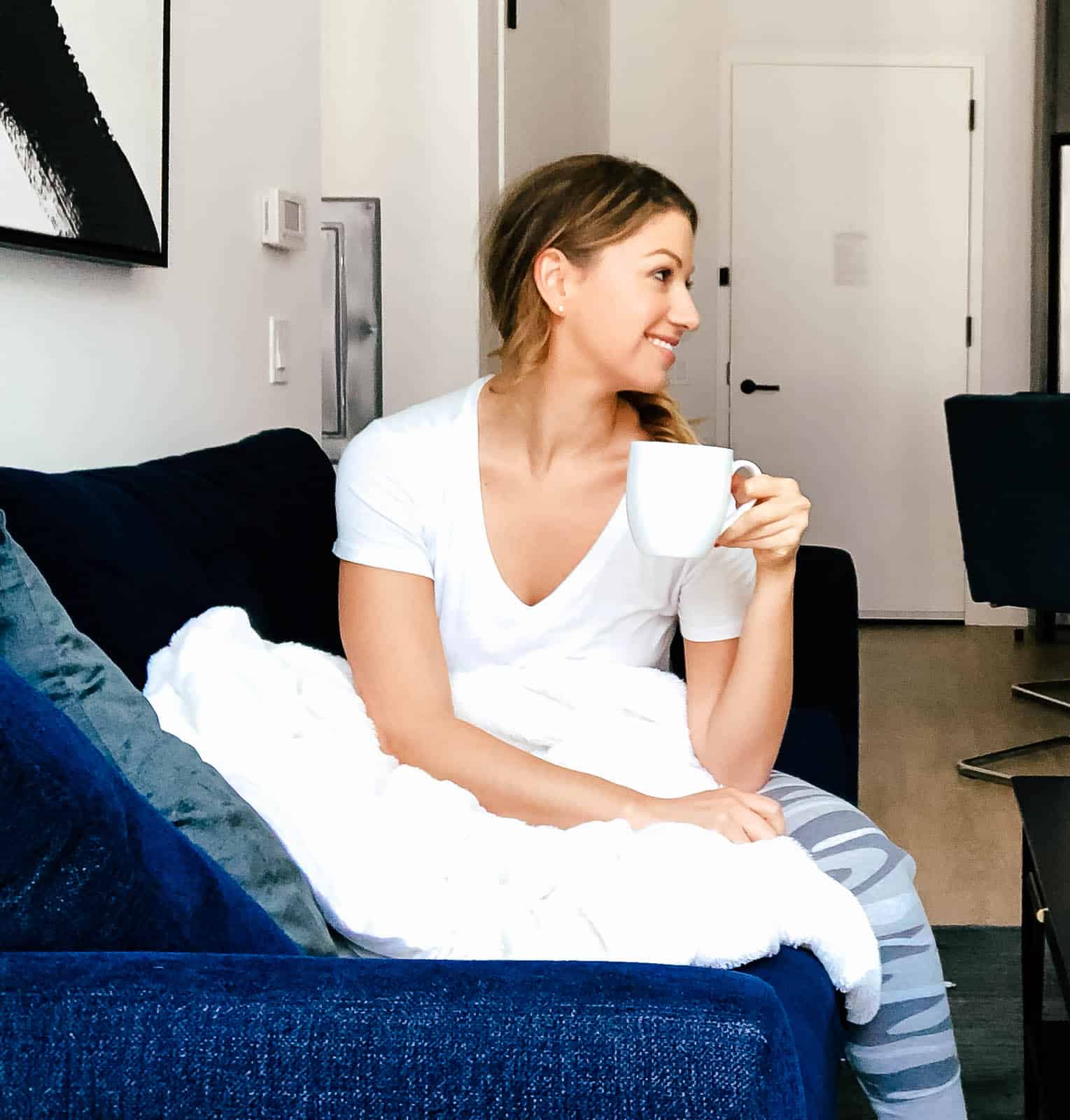 AVOID THE "3 B'S"
Please, please whatever you decide to buy, avoid the "3 B's" at all costs – Boring, Blah, Beige. Your couch can and should be a focal point of your living room! Have some fun and go for a statement, not just any old lump of cushions. I promise you can find something amazing at any price point!
SOFA FABRIC
1. Cloud Sofa / 2. Julia Thalia Sofa / 3. Finn Sofa / 4. Jake Sofa / 5. Danise Tufted Sofa / 6. Timber Sofa
There are many types of fabrics for a couch, so to keep it simple I've broken the most common ones into general groupings:
Linen & Natural Fibers (like cotton): Linen is widely considered to be a more luxurious (and expensive!) fabric option. It keeps cool well, and can be very soft. In general, most people would tell you natural fibers are better than synthetics but I have a different perspective. When deciding to go with linen or natural fibers, first think about where the sofa will be placed. Directly in front of a window that gets lots of light? Be prepared to keep those shades down. Linen dyes can fades in sunlight. Linen can also be hard to clean and wrinkles easily. It's great for a beachy, casual look but I find that in small city apartments it just looks messy. Bottom line: go for linen if you're going for a beachy, coastal vibe and you don't mind a high maintenance fabric.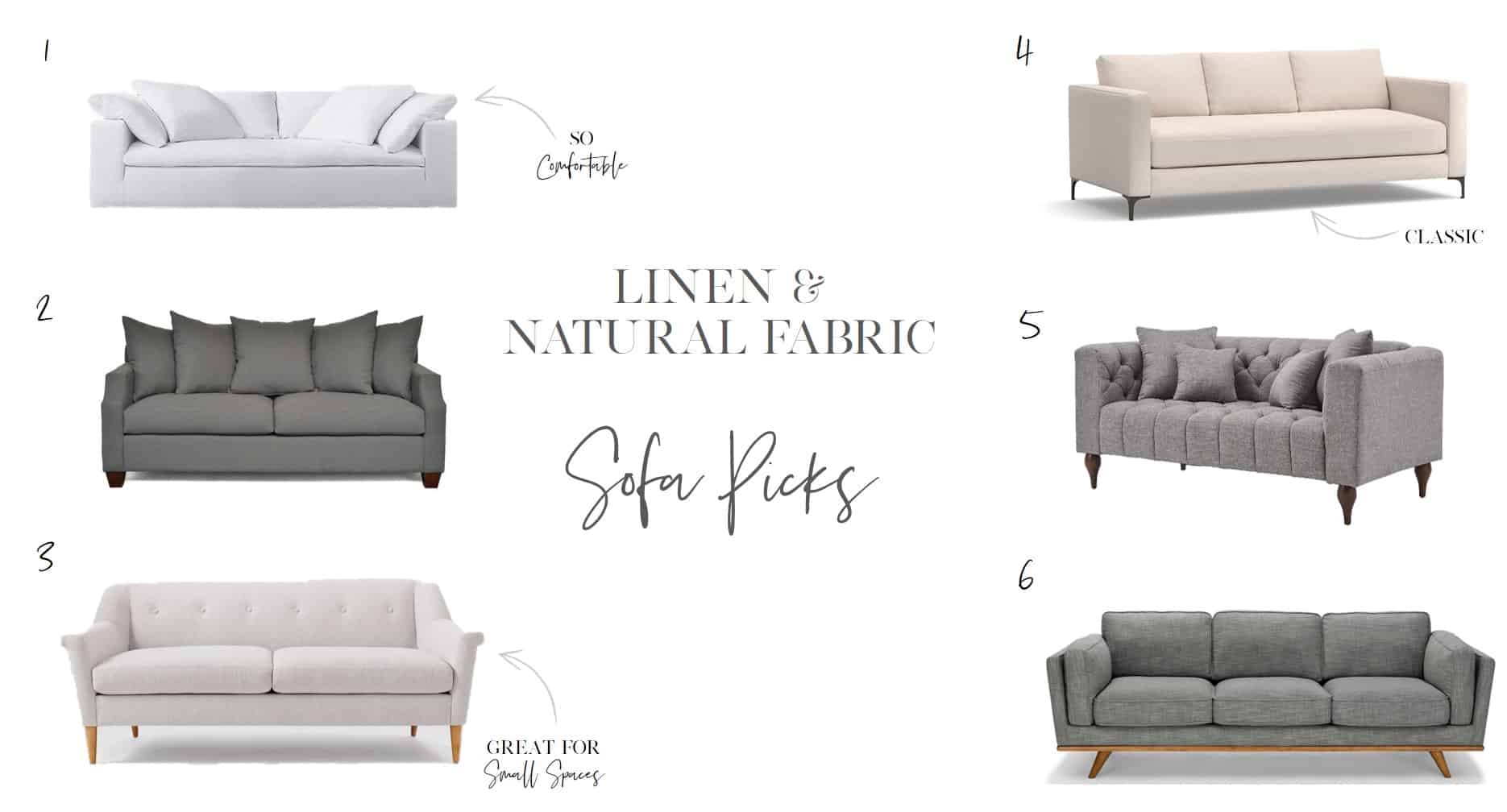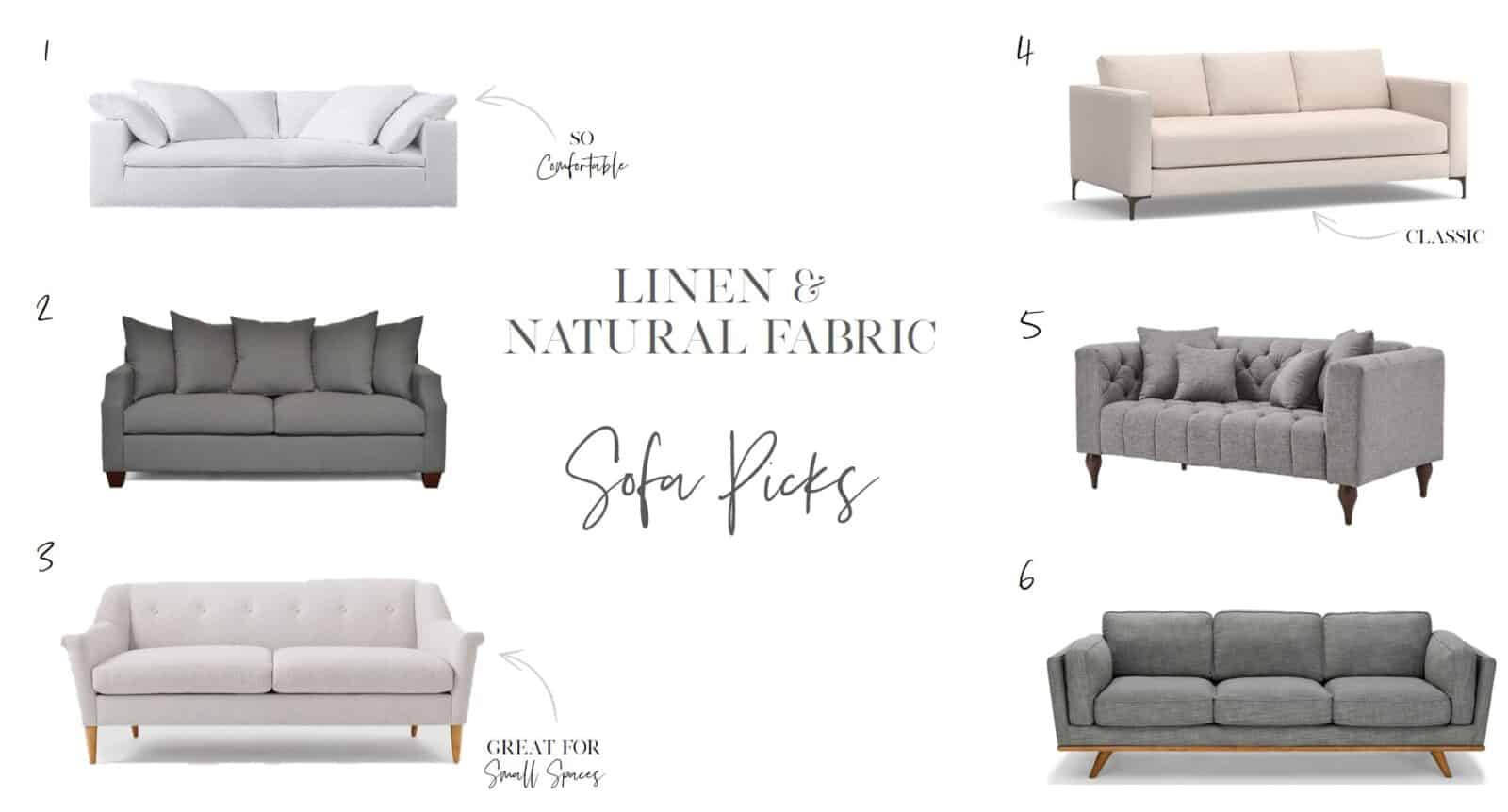 1. Cloud Sofa / 2. Julia Thalia Sofa / 3. Finn Sofa / 4. Jake Sofa / 5. Danise Tufted Sofa / 6. Timber Sofa
Leather: A leather sofa will instantly make any space look more expensive and masculine, especially if you go for a sleek style. Beware of large, bulky, poufy leather sofas in dark or bland colors – it'll give a 90s rec room kind of vibe. Go for leather if you're trying to add in pops of masculine decor (ie., you're moving in with your boyfriend for the first time and he's not so into your current gold and pink theme) and pick sleek, streamlined styles for a leather fabric to avoid that bulky, heavy look. Keep in mind though – leather is not cozy. It would most definitely not pass the eight hours of Netflix test. In the summer it can get hot and sticky, in the winter it can get cold. It's not necessarily the best for lounging but it looks gorgeous and sophisticated and expensive. Bottom line: if you prefer to lounge in your bed, and are looking for something that screams "I'm a grown up now!" think about leather.
I really like West Elm for affordable leather options. Two of my favorite options from West Elm are linked below. Also, the Tyson sofa from Crate and Barrel has that classic black leather look but the brass base, higher legs and not-overstuffed cushions make it feel fresh and modern.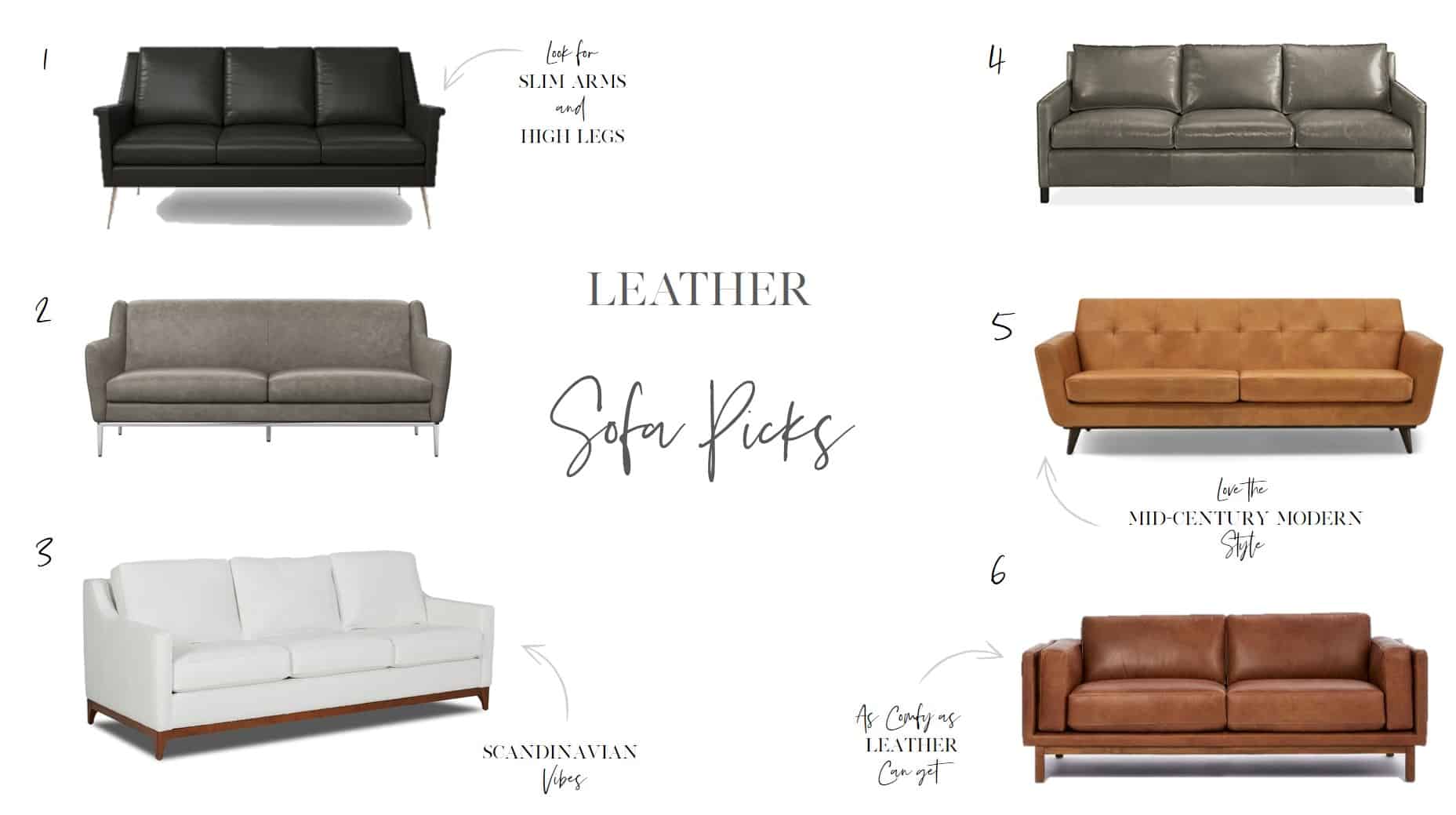 1. Carlo Sofa / 2. Hoxton Sofa / 3. Sonia Sofa / 4. Metro Sofa / 5. Hughes Sofa / 6. Dekalb Sofa
Microfiber/Suede/Velvet: Be careful with these fabrics. They can look cheap or old-school/retro if not incorporated into the right design vibe. These fabrics are typically very soft so they'll have a nice feel to them. I prefer a velvet or suede fabric in a bold bright or jewel tone color and recommend going for these types of fabrics if you're going for a boho, funky or eclectic look. Bottom line: These fabrics look best with a very specific, curated look. If you're looking to throw in a bit of eclecticism into your decor, this is a good option. Just make sure you go for a sophisticated and sleek shape or you'll risk looking like you got your sofa out of an Austin Powers catalogue. Anthropologie's home and furniture section is a great source of funky & eclectic velvet or suede sofas.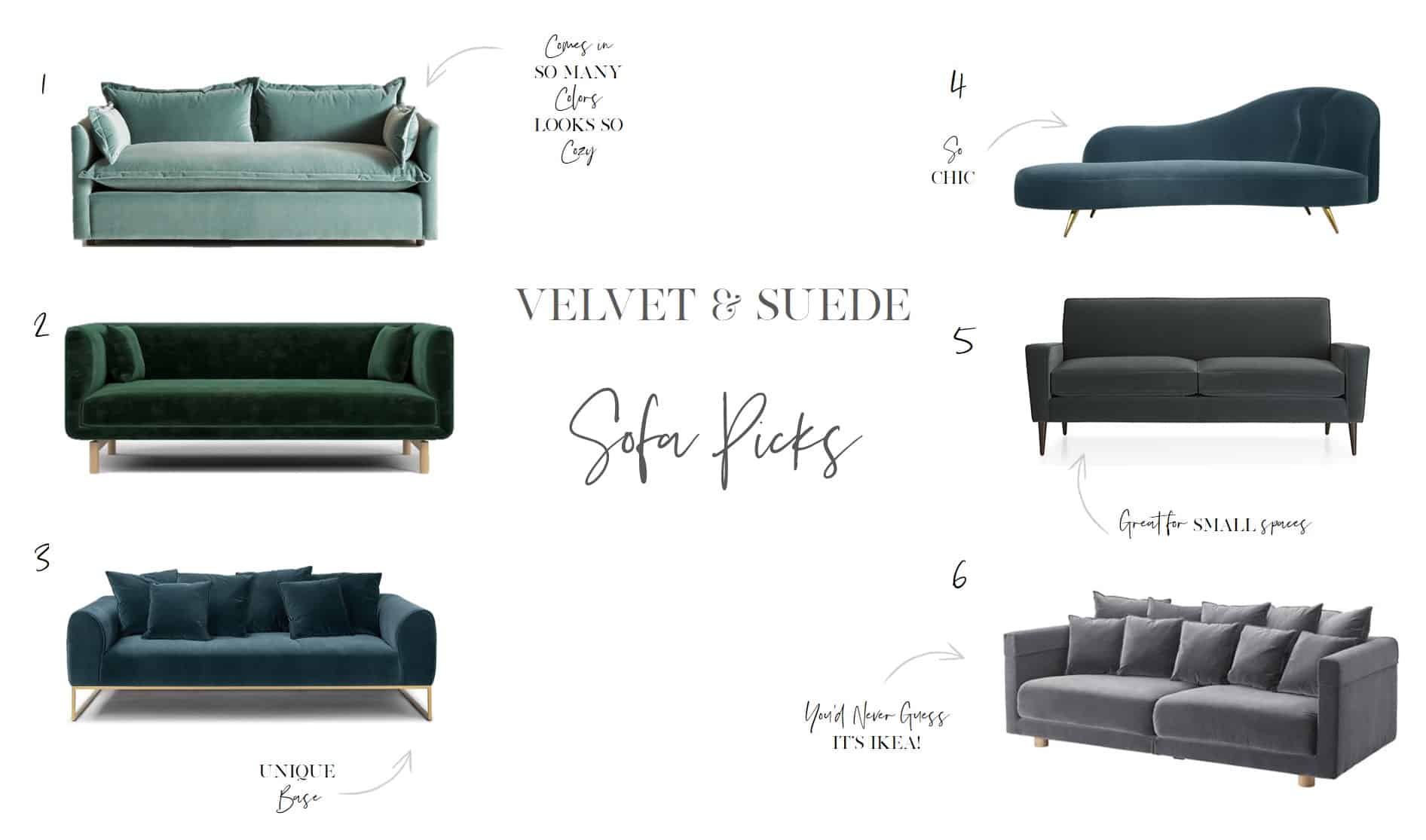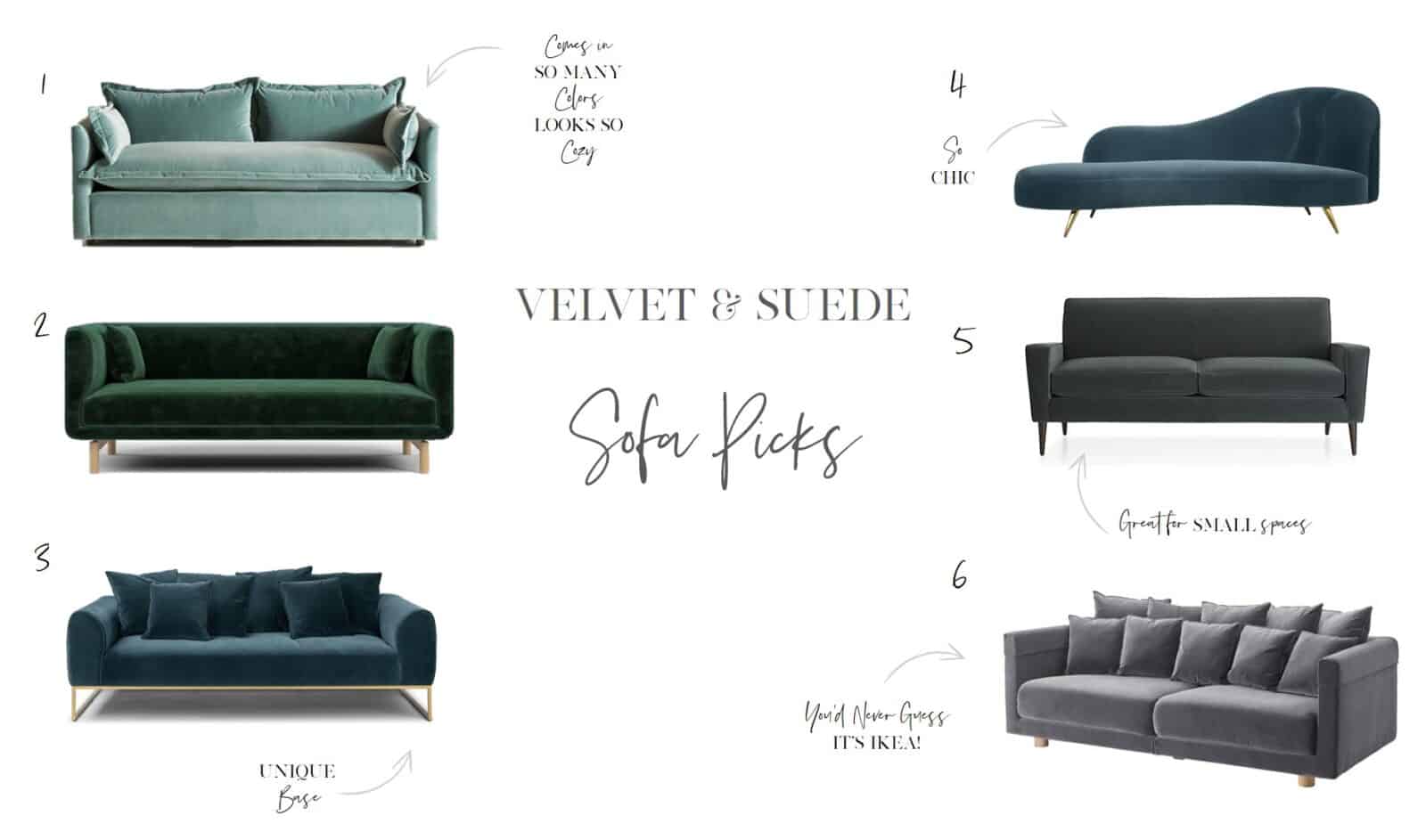 1. Denver Sofa/ 2. Frans Sofa / 3. Pacific Blue Sofa / 4. Chaise (similar) / 5. Delilah Sofa (similar to image) / 6. Stockholm Sofa
Twill/Chenille/Polyester/Synthetics: These are the most common types of fabric and likely the most affordable. They are also, in my opinion, the softest and most low-maintenance. My couch, in fact, is the Room and Board Bryce sofa in Vessel Ink, which is a gorgeous, soft, deep navy (it can look almost black) in a super soft chenille. If you're unsure or you want a low maintenance couch with a ton of versatility and longevity, go for one of these fabrics. Just go for a rich color – grays, blues, blacks, or a bold color. Stay away from browns and beiges which can look stuffy and old.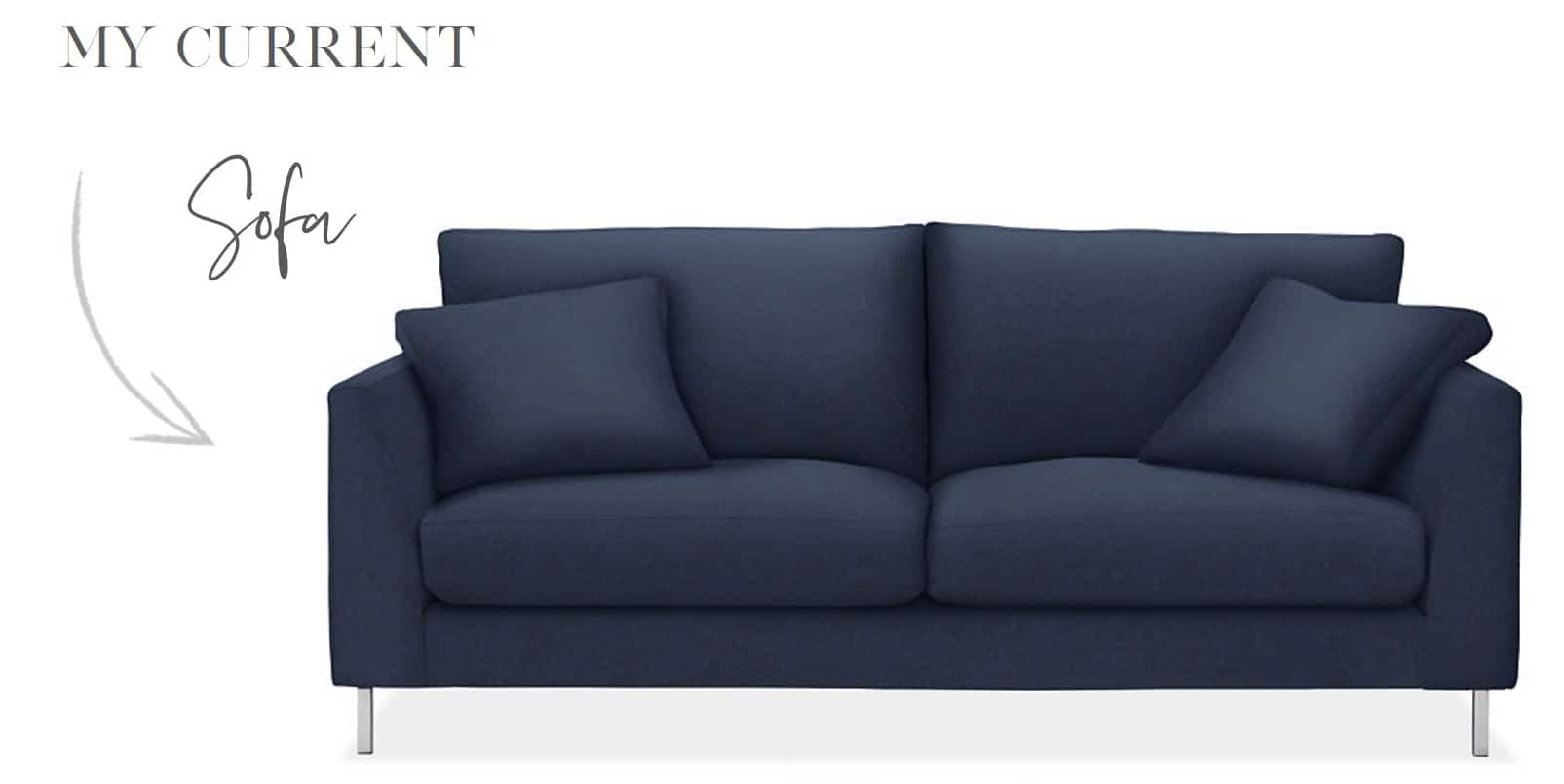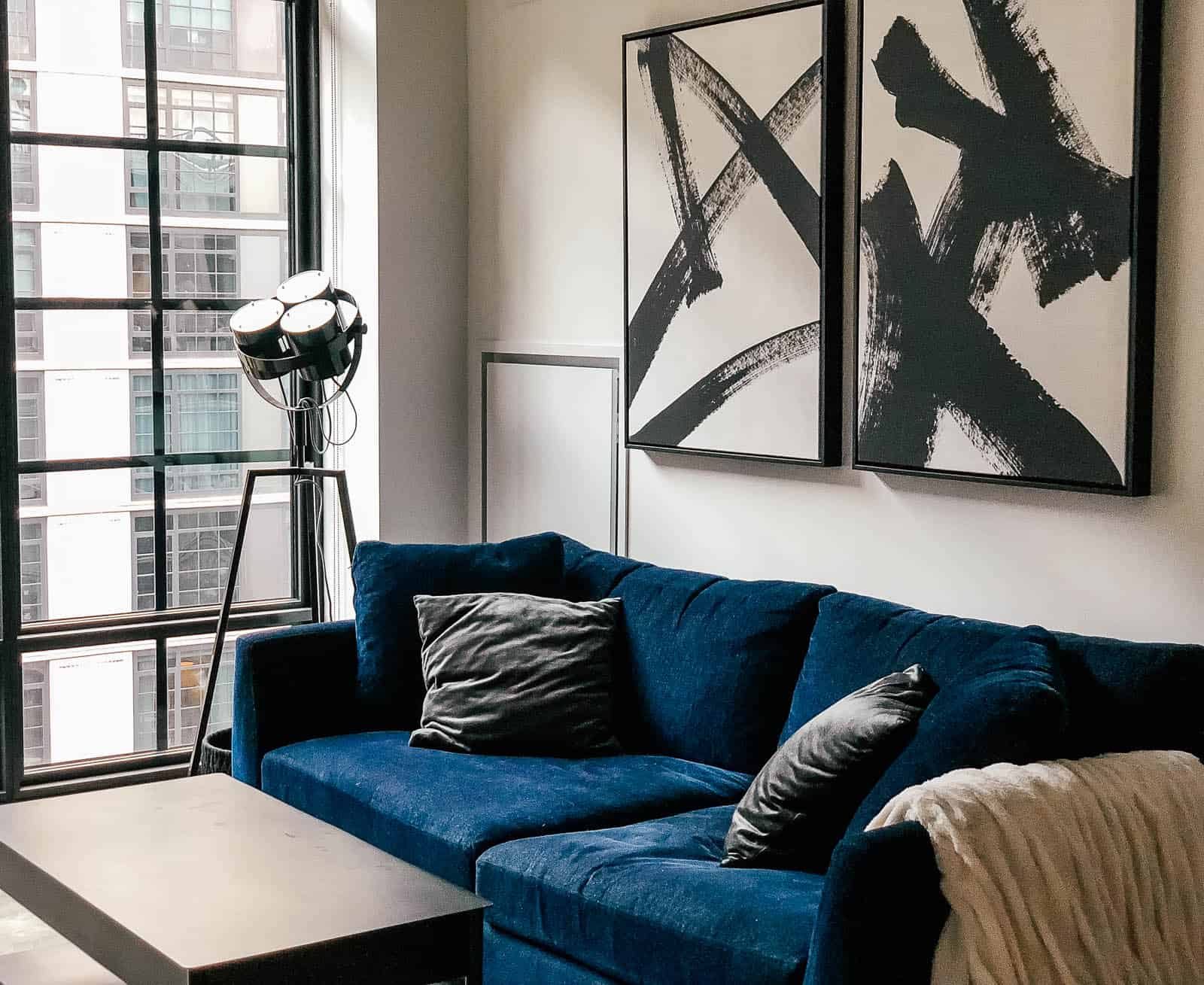 SOFA SIZE
Measure: I recommend taking masking tape and literally taping the outline of the couch dimensions onto the floor so you can get a sense of how much space it will take up. Then assess what other pieces you have or want to buy to go in the room so you can gauge scale. Do you have a huge media center? A large coffee table? Can you go smaller for coffee tables to get some extra depth in your couch? Do you REALLY need two end tables?
Also remember that furniture often makes a space feel bigger, not smaller, so don't be afraid of getting a decent size couch if you want a really good lounging one! You can find a balance between depth and width that works for any space. I was terrified that all the really cushy, lounge-y couches would be too big for my space, but I decided since that's what I really wanted I would go smaller with some of my other pieces of furniture and that I would have to sacrifice a side chair (which would really only be for entertaining anyways and how often will I be doing that?). My number one piece of advice is measure and tape for size! Then spend a couple days avoiding or walking around the taped area so you can get a sense of how you'll move in the space once the sofa is in there.
If one of your goals is to divide an open floor plan, a sectional could be a great idea, if it will fit in your space. Just make sure the sectional end is on the outside creating the division, not pushed up against a corner.
Width and Depth: When thinking about the size of your couch, keep in mind the balance of width and depth. You want something that has proper proportions. You'll find some less expensive sofas at places like Ashley Furniture that have a deep seat but are somewhat short on width – this can look heavy and oversized in small spaces (i made this mistake with my first love seat – short enough to fit my small studio but deep enough to be comfortable. It looked overstuffed and oversize in the space, and I should have gone for a longer sofa and gotten rid of my armchair that never got used except to house all my coats). If you truly only have space for a loveseat, don't get a really deep one, go for a sleeker style. It will look more deliberate and intentional in the design.
SOFA HEIGHT
It's not just the back height of the sofa that you'll want to consider. You also want to think about the height of the arms and the legs because they will affect both comfort and style.
Back Height: A low sofa will look sleek and modern, but won't provide much support and will be less lounge-y. A very high back sofa will provide more support but I find can be uncomfortable on your neck if you spend a lot of time lying on the couch. I also find that very high sofas that hit right between my should blades hit an awkward spot on my spine and are therefore uncomfortable. Just below the shoulder blade is my recommended height and definitely make sure that the back of the sofa doesn't hit right in the middle of you back!
Arm Height: A high straight arm gives a modern look, while a high rolled arm (such as a classic Chesterfield design) gives a more traditional look. Either way high arms create more formality and are also less comfortable. Go for these if you want a more formal sofa. Keep in mind arms that are too low won't have good support for your head and neck if you want to lie horizontally across the couch. If you're unsure, go for an in-between arm height.
Leg Height: Take into consideration the height of the legs when you're buying a couch for a small space. A general rule of thumb for small space decorating is that when items are elevated off the floor it creates the illusion of more space and a larger room. Higher, skinnier legs will also create a sleeker look.
MY CURRENT SOFA
Room and Board Bryce Sofa in Vessel Ink Chenille Fabric
My other favorite chenille sofa is the Crate and Barrel Lounge II collection. It's the coziest, cushiest sofa I tried and if I'd had the space I would have bought it. However, given my studio size, I needed something a bit sleeker. I highly recommend it for larger living room / den areas though.
There you have it! My guide for buying the perfect couch. Below I've listed a few of my favorites at various price points and have pointed out some of the elements mentioned above.