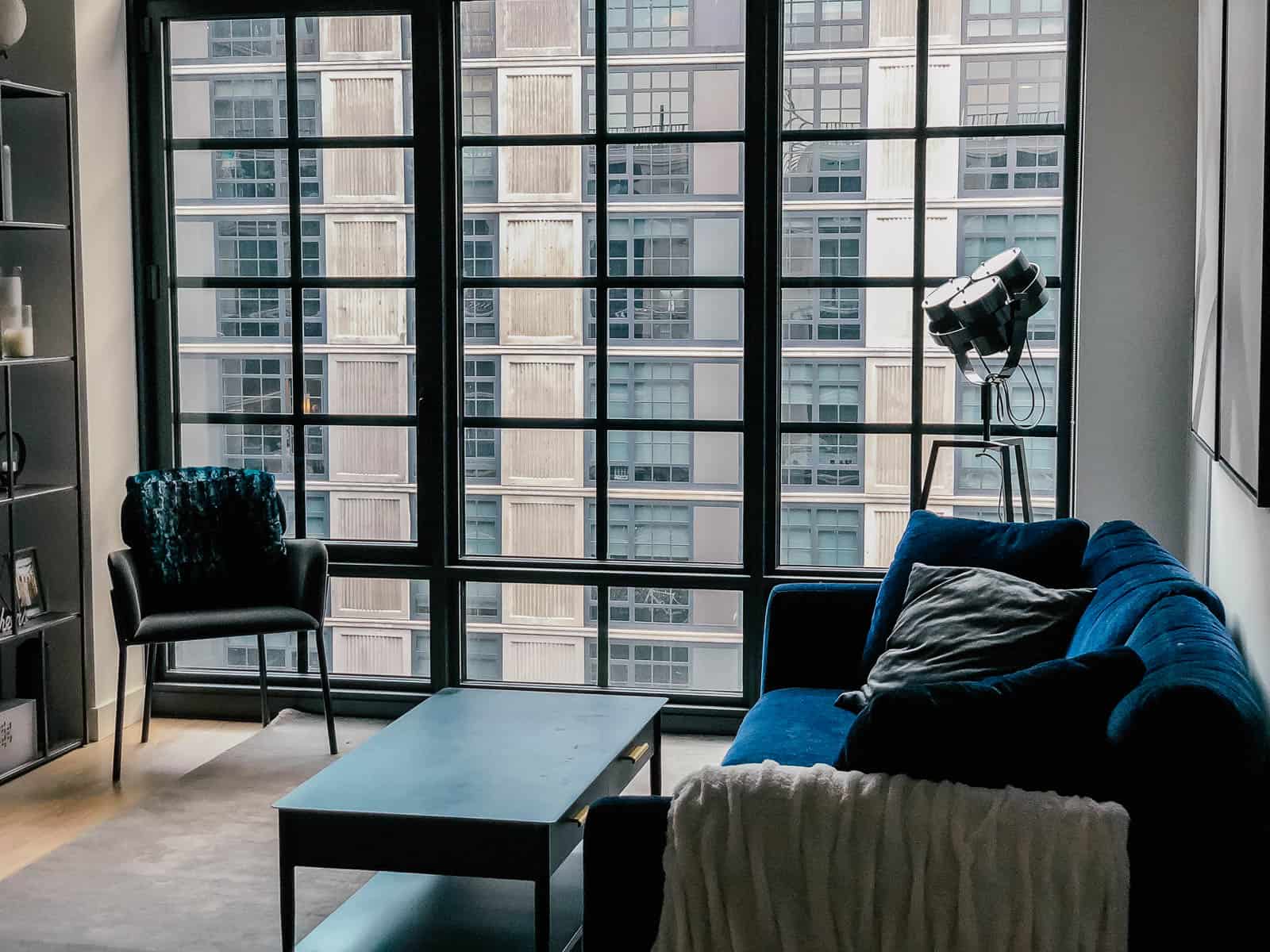 It was a big deal when JB and I decided to move in together. We'd both been living alone for so long and grown accustomed having our own spaces exactly how we each wanted them to be. For JB that meant cheap Amazon essentials – basically a bed, futon, dresser and wardrobe. He didn't even have a table and chairs when we first started dating! For me, I loved the bright, eclectic-glam look. All gold and marble and pops of fuschia juxtaposed against navy and mint.
When we started apartment hunting, our criteria was that we needed to have enough space to feel like we weren't on top of each other (not an easy task in New York City) and a new, modern building with lots of amenities. We quickly realized we were not going to find that in our price range in Manhattan, but luckily fell in love with a brand new development in Long Island City, Queens. We were a little hesitant on the neighborhood because there weren't a ton of conveniences that we were used to (grocery store, pharmacy, etc) in the immediate vicinity, but we ended up being so happy with our choice and we love our apartment.
I'm also so happy with how our apartment turned out, but it was a long road to get there. I had no idea how on earth I was going to fuse our two styles into a space that we both loved! And I'll never forget JB's imploring eyes as he looked at me and said, "No more gold, please."
My aesthetic at the time was definitely too girly and feminine for him. But, the more I started saving Pins and creating mood boards, the more I realized my own style had evolved pretty significantly as well. When I first moved to New York, I bulk-purchased a furniture set from Ashley's Home Store in New Jersey and filled in the remaining necessities with Bed, Bath and Beyond coupons. That apartment, while perfect for someone just starting out, never felt like it reflected my personality or my own tastes.
When I moved into my last apartment on the Upper East Side, it was a newly renovated building and everything in my studio was brand-spanking-new. I went pretty far in the other direction of feeling like I needed everything to shout my personality. My apartment basically screamed "Hi! I'm! Bubbly! And! Girly!"
So while I wanted that apartment to showcase my own unique and independent personality, I wanted mine and JB's apartment to reflect our life together. We've truly grown and matured so much as individuals and a couple since we've been dating that I was craving a more zen, sophisticated style – while still being a little funky and quirky.
I have a real obsession with CB2 and West Elm so most of our furniture and decor is from those two stores. They are both relatively affordable, on trend and decent quality – although I have to say I think CB2 slightly edges out West Elm in terms of quality for the price – especially when it comes to sofas.
See below for our apartment tour, and everything is linked to shop if you like our style!
(Disclosure: This post contains affiliate links which means I may earn a small commission if you make a purchase from a link on this post, at no additional cost to you)
LIVING ROOM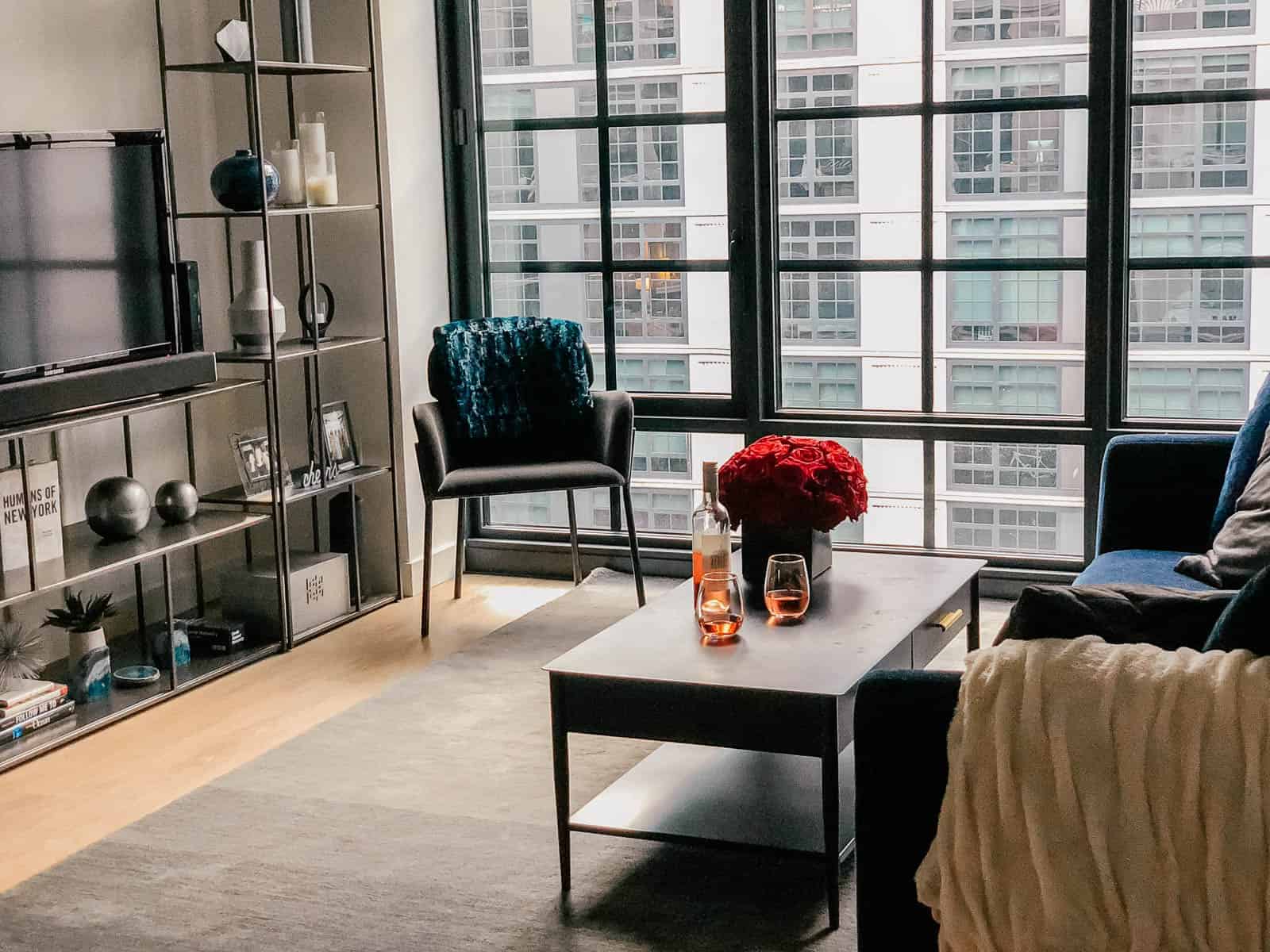 We brought my sofa from my Upper East Side apartment because I am absolutely obsessed with it. I spent weeks researching, sitting on and contemplating sofas because it's such a focal point of the living space, and finally landed on the Bryce sofa from Room and Board in the Vashon Ink fabric. I even wrote a whole separate post on my search for the perfect sofa and how to find your own dream couch!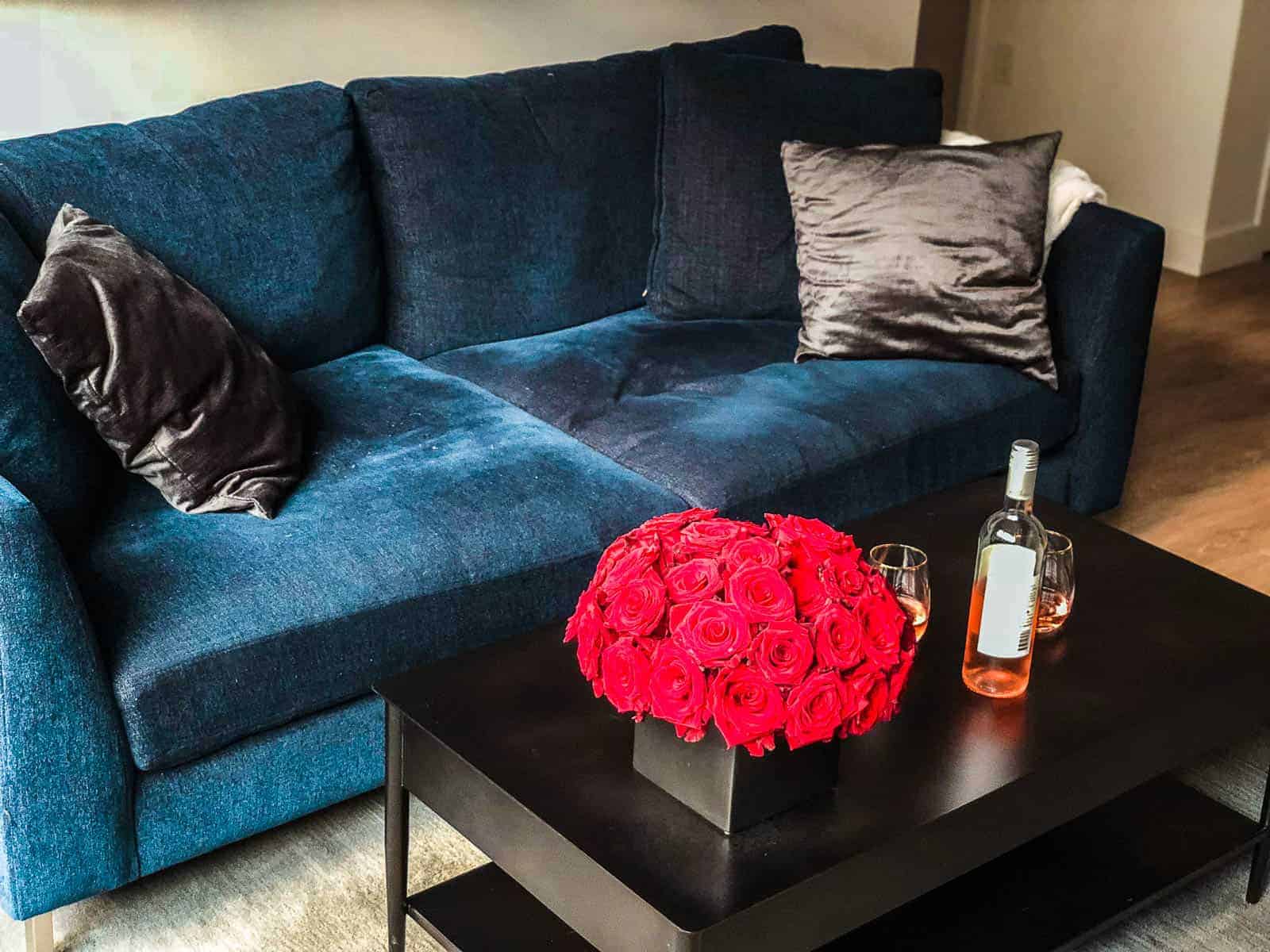 The rug is CB2's ombre grey rug and I am so happy with this purchase because it's such a plush, soft rug that your feet really sink into. The coffee table (similar) (similar) and silver pillows (similar) are from West Elm. I chose the coffee table mainly because I wanted something very functional that still worked with our decor, and wouldn't be too big. The two drawers and second shelf on this table are perfect for storage.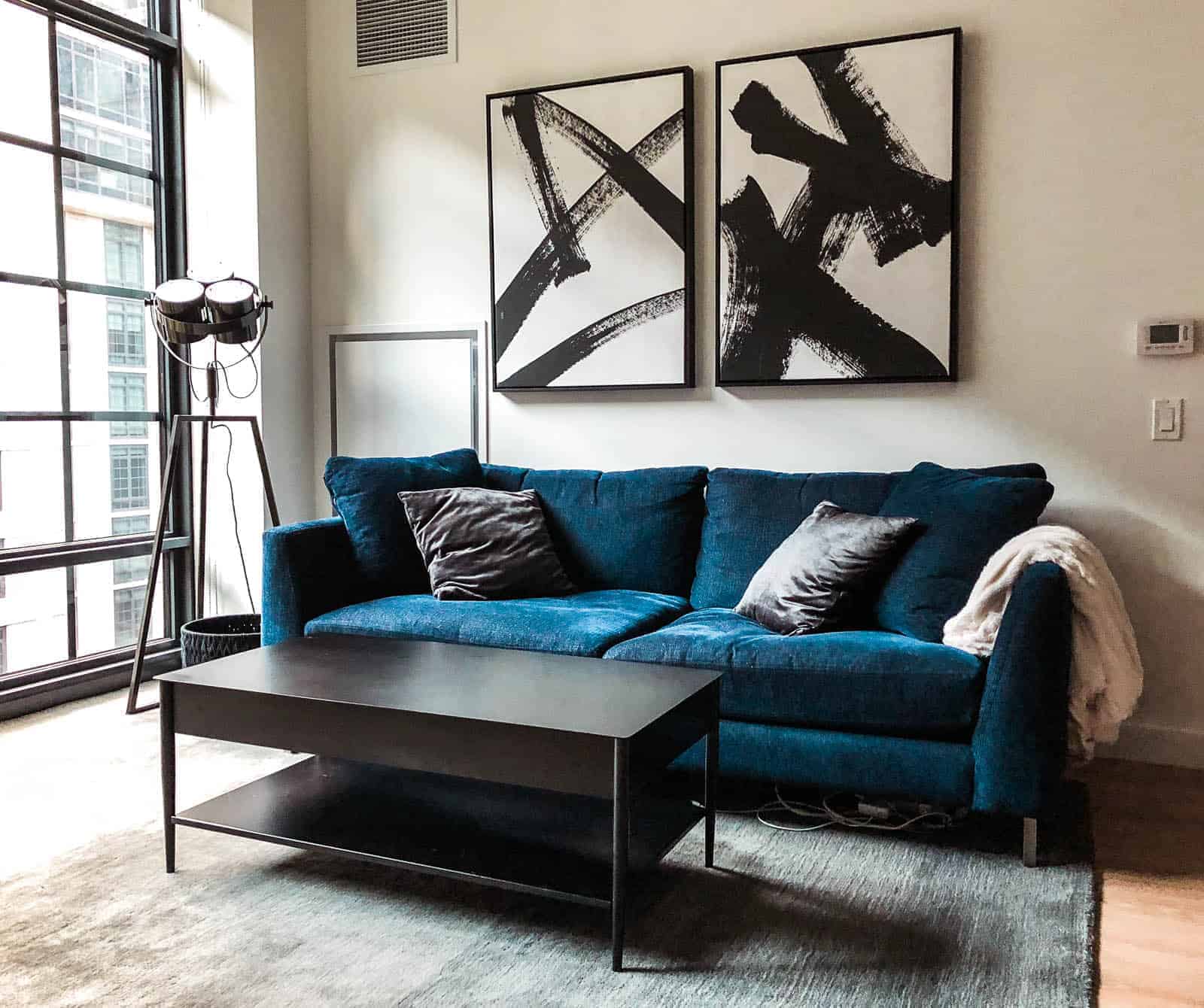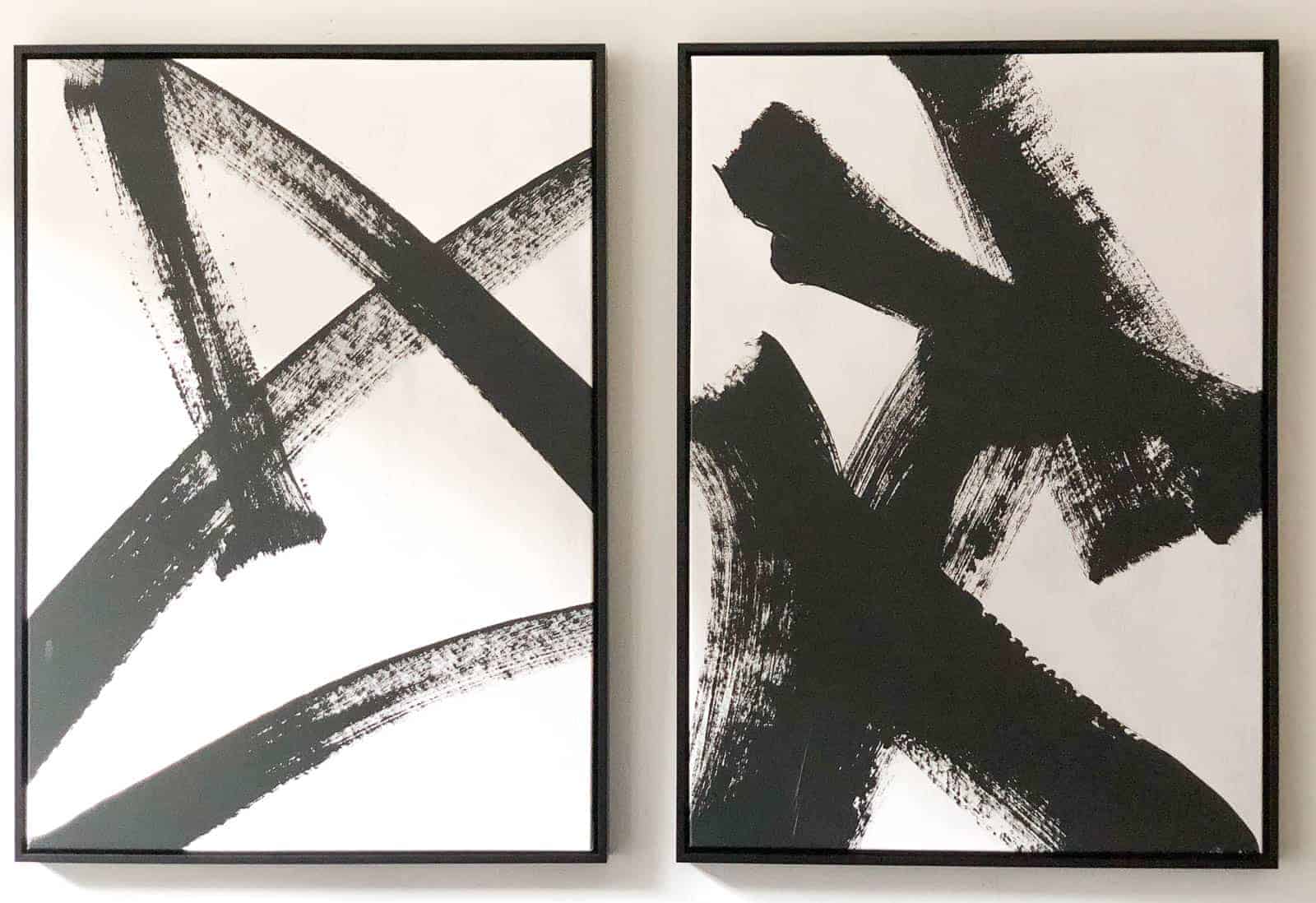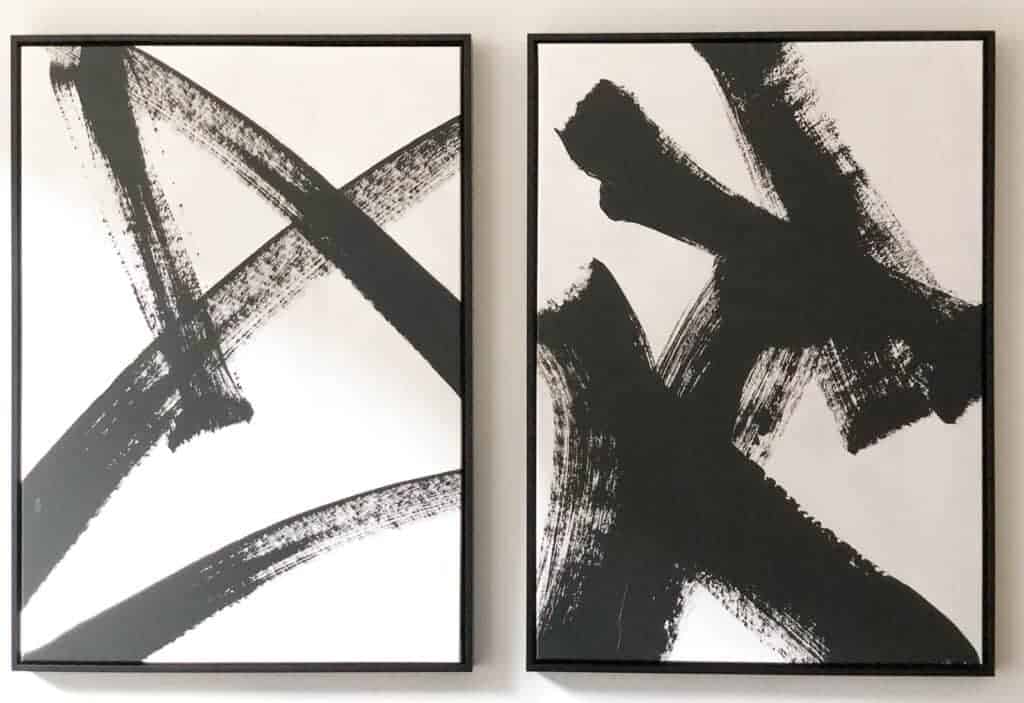 The black and white abstract paintings above the couch are also from West Elm, and I debated purchasing these for weeks and weeks! Mostly because I thought they were a little expensive at around $350 each and I wasn't sure I wanted to spend the money. In the end I am so happy I pulled the trigger because I truly love how they look and they make the sofa area feel complete.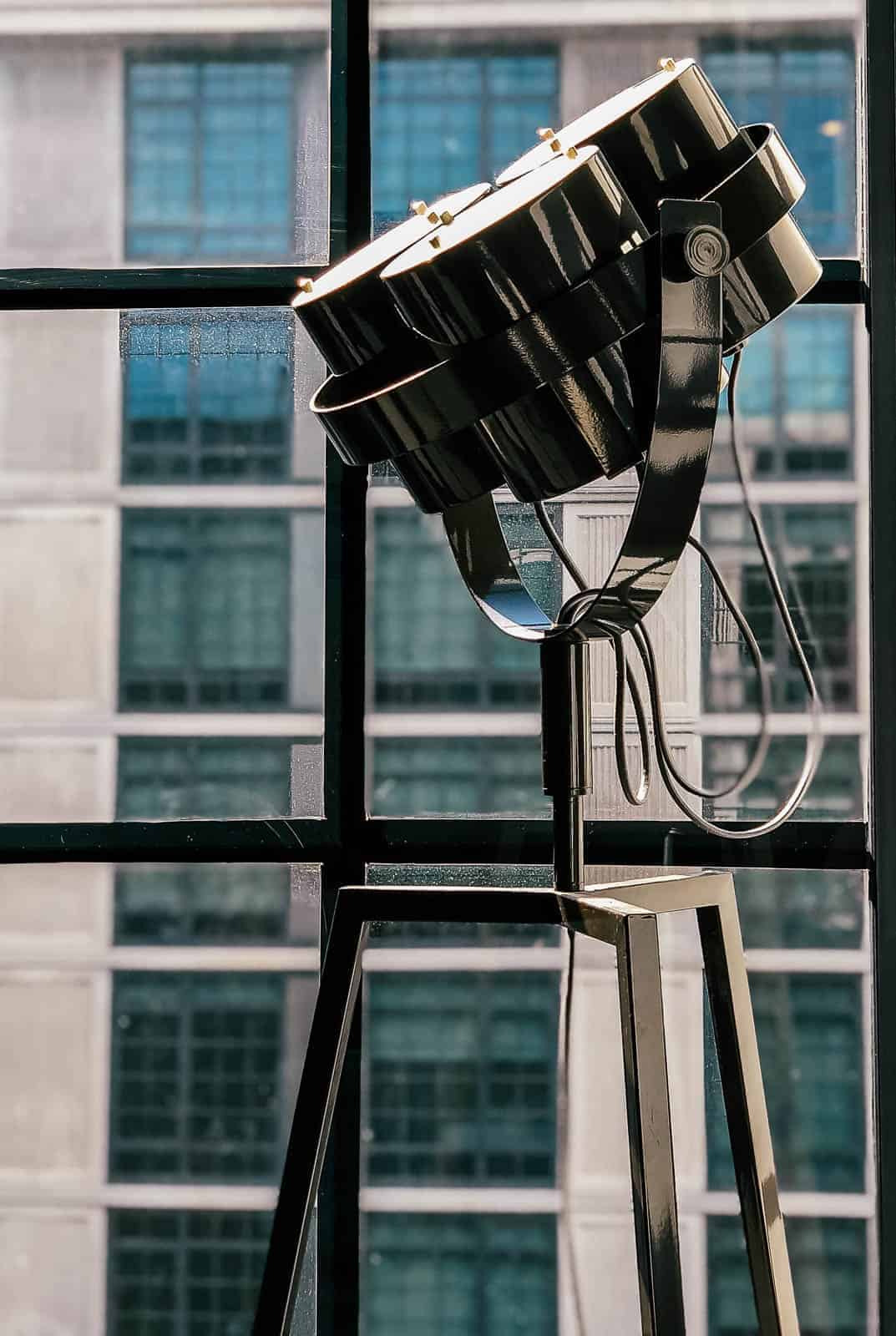 This CB2 floor lamp is my favorite item in the living room, believe it or not! It's so funky and different and I love that it doesn't have a lampshade. I have a weird aversion to lampshades – for some reason I find them so unattractive. I get tons of compliments on this lamp though!
The media console and shelf area came together so beautifully as well. In my last apartment, I really discovered the important of decorative objects to make a room feel pulled together and complete. I created a whole post on how to style media consoles and bookshelves – you can read it HERE. The console and shelf are from West Elm. I wanted this area to feel really open and airy, so I deliberately picked units that were not heavy with drawers or closed shelves, but that would allow light to pass through, this also helps to make the room seem bigger.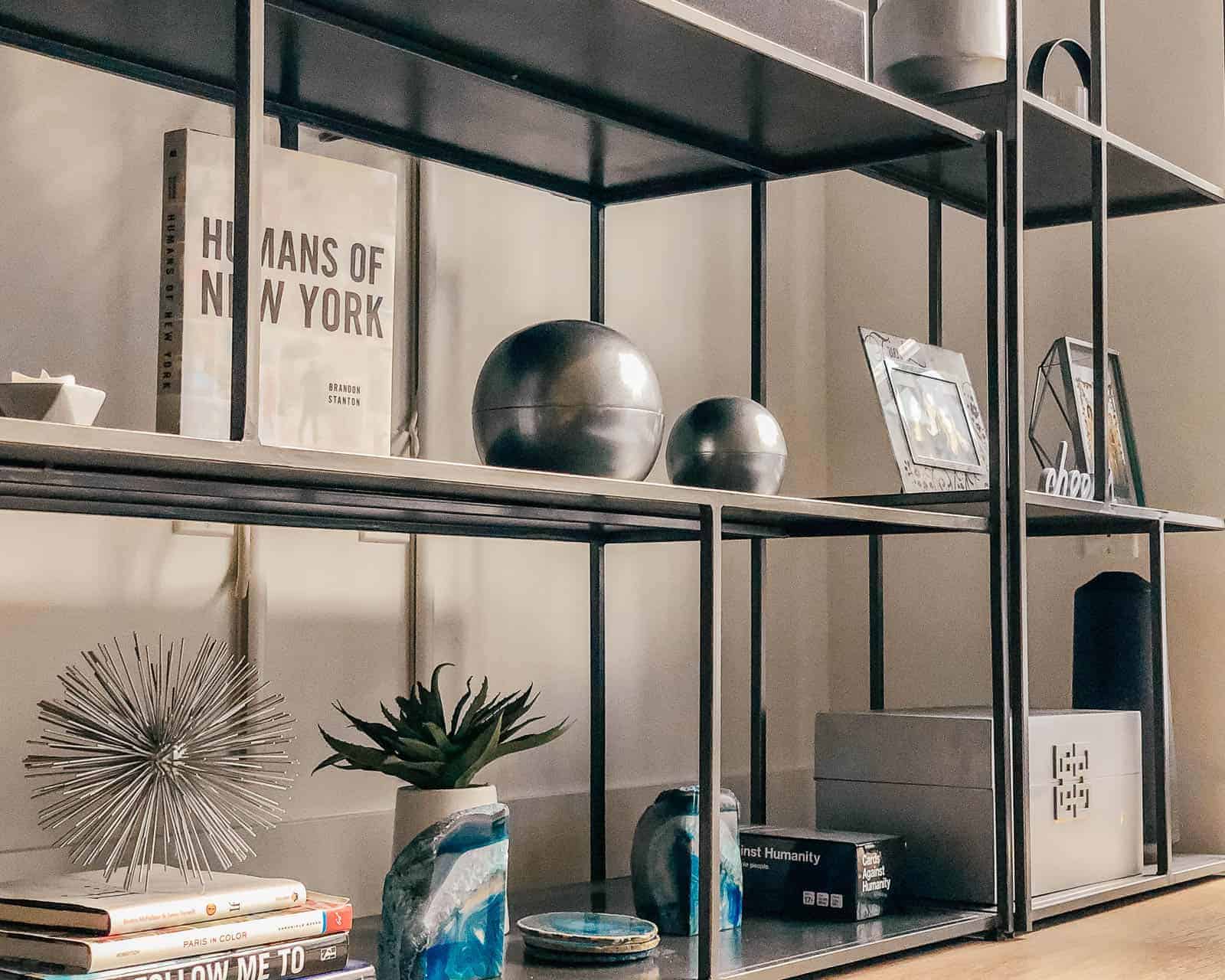 The decorative objects are a mix of Amazon, Z Gallerie, West Elm and CB2. I brought a lot of these items from my last apartment, and spray-painted them black and silver to match my new color scheme.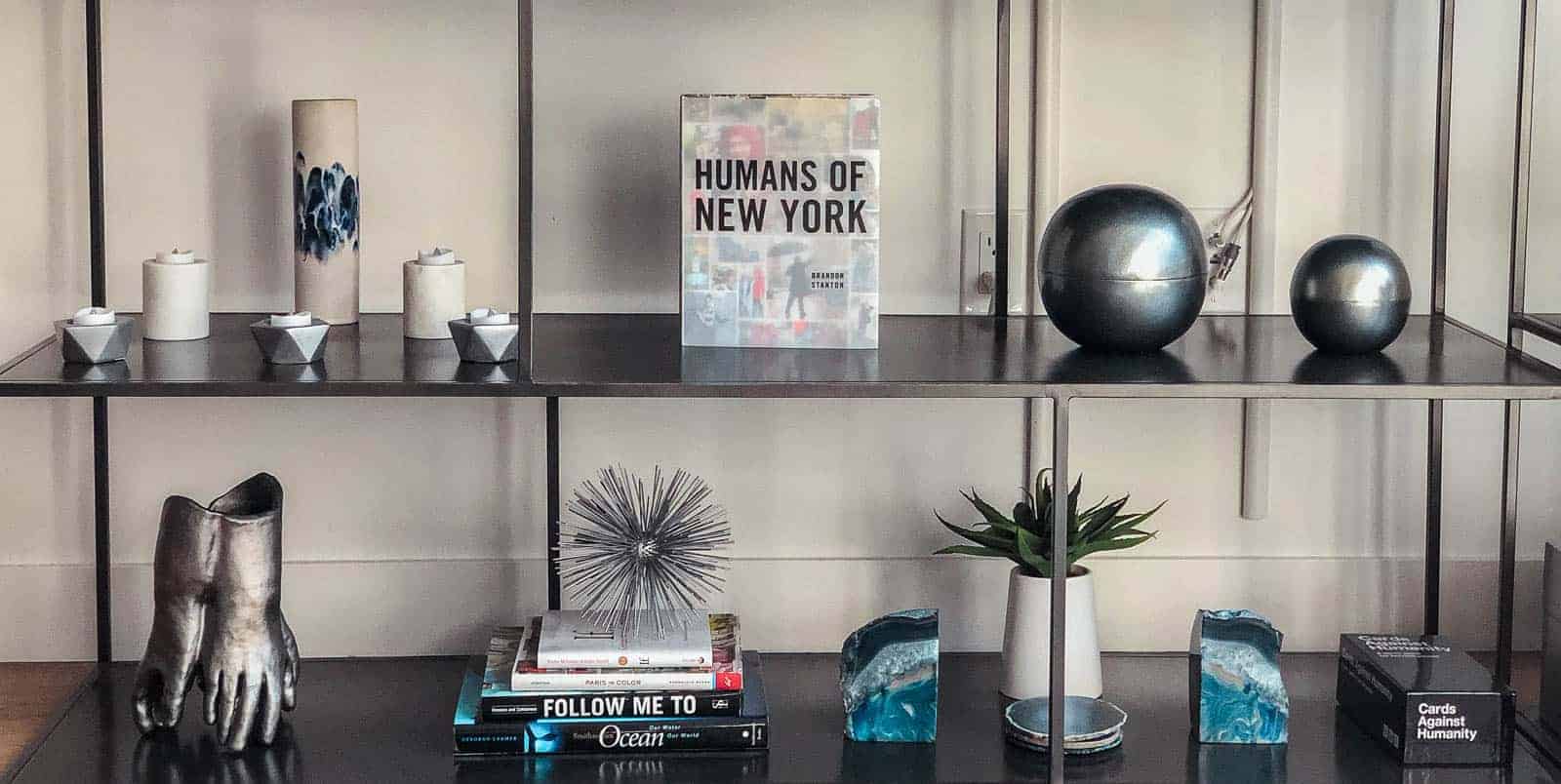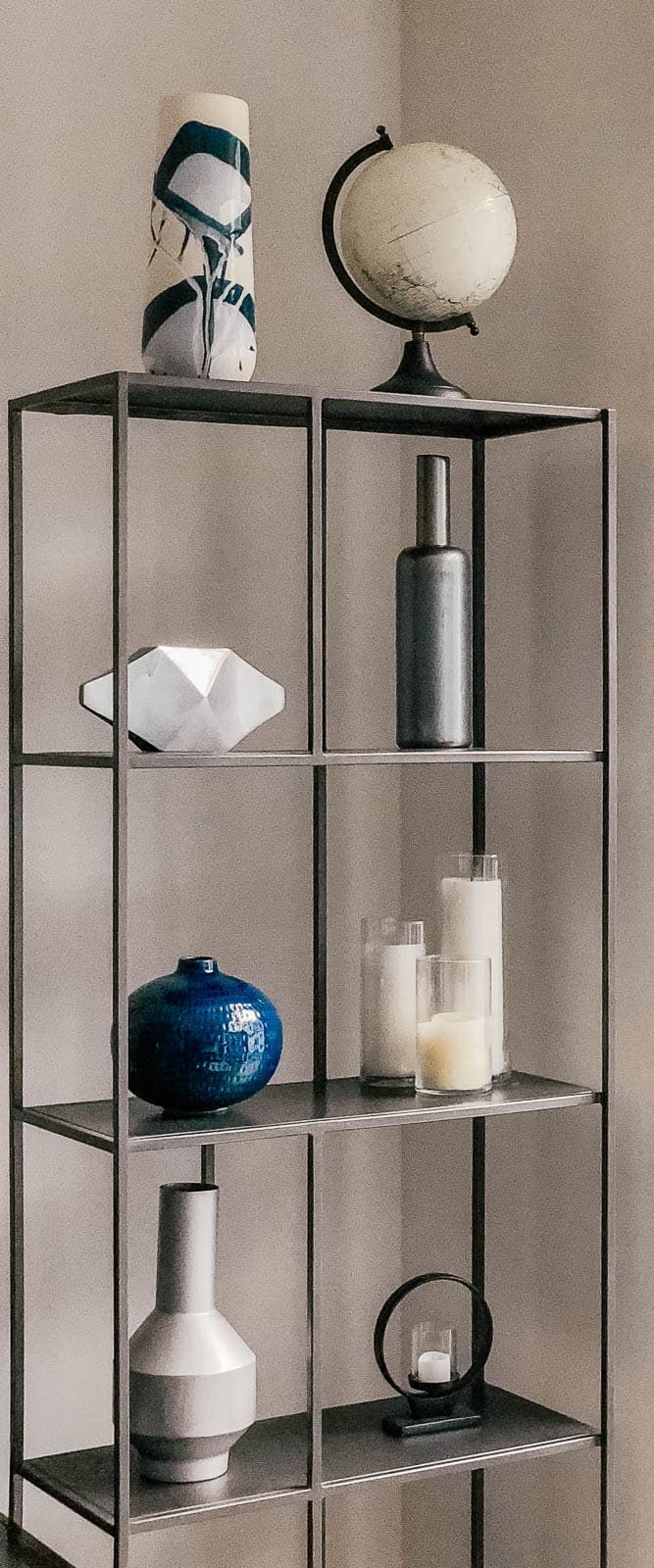 The chair in the corner is actually a dining room chair from CB2. I ordered two different dining chairs thinking I'd pick between the two and return one but I ended up keeping this one as an accent chair and using the other two in the dining area. The corner is so small, and we didn't want to block the light from the window with a big, clunky chair. When we tried placing it here, it fit perfectly and matched the decor so we left it!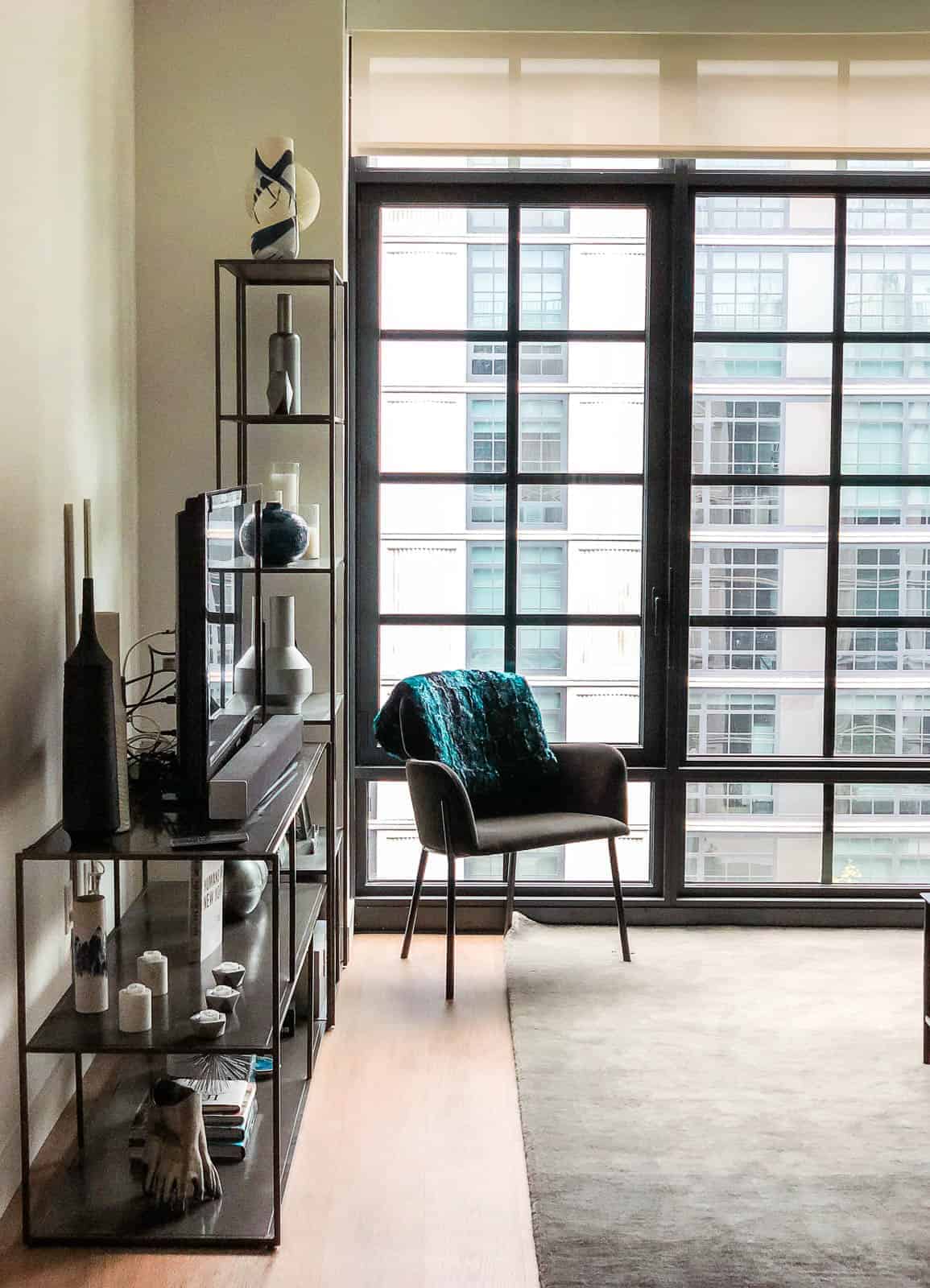 DINING AREA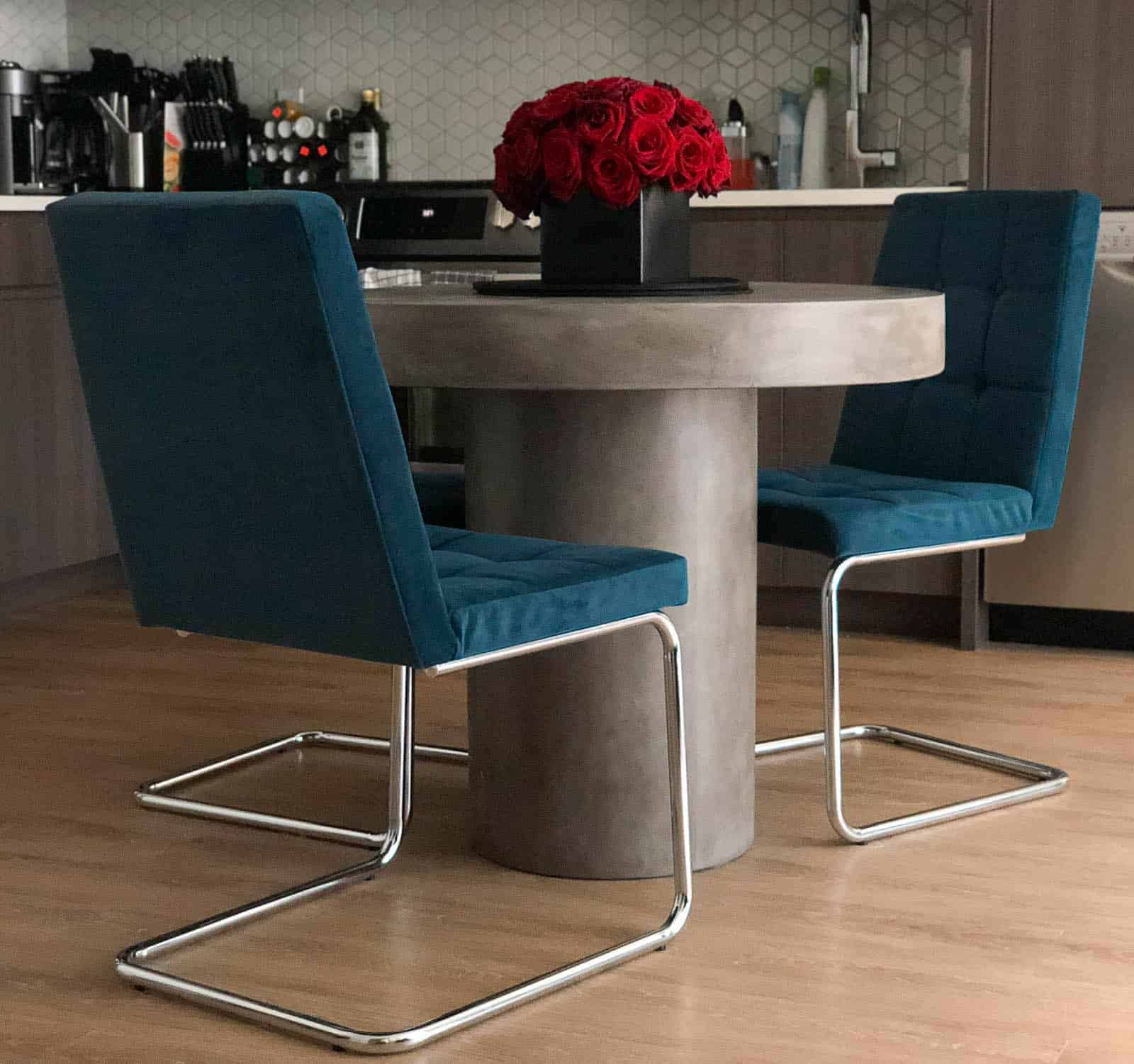 The dining table (sold out, similar here and here) and chairs are from (surprise, surprise!) CB2 as well. I opted for the round bistro table because we didn't want a large dining table to encroach on our living space – which is where we spend more of our time. I debated this table for many weeks as well, because it doesn't come sealed, and all the reviews say that it stains really easily.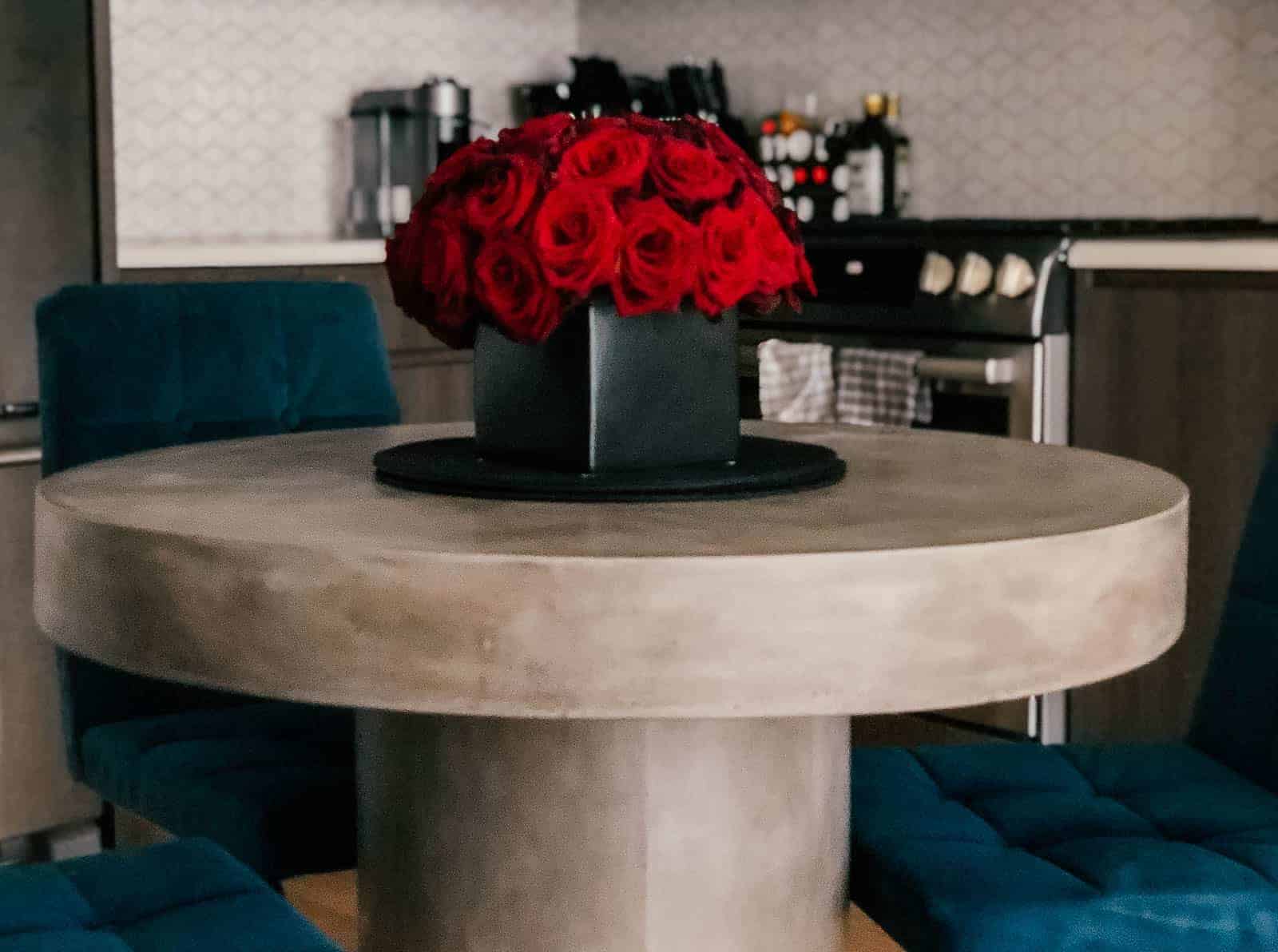 I have to say that the reviews are correct, and despite using a spray sealant and a beeswax sealant, the table still gets stains and marks pretty easily. I've decided that it's just the look of the table, and it's an even better industrial look when it's worn in and marked up. I'm still so happy with the table and glad I purchased it. The Roya chairs that go with it are some of the most comfortable dining chairs I've ever sat on. We opted for three chairs instead of four to save space, and whenever we have friends over we just pull over the black accent chair.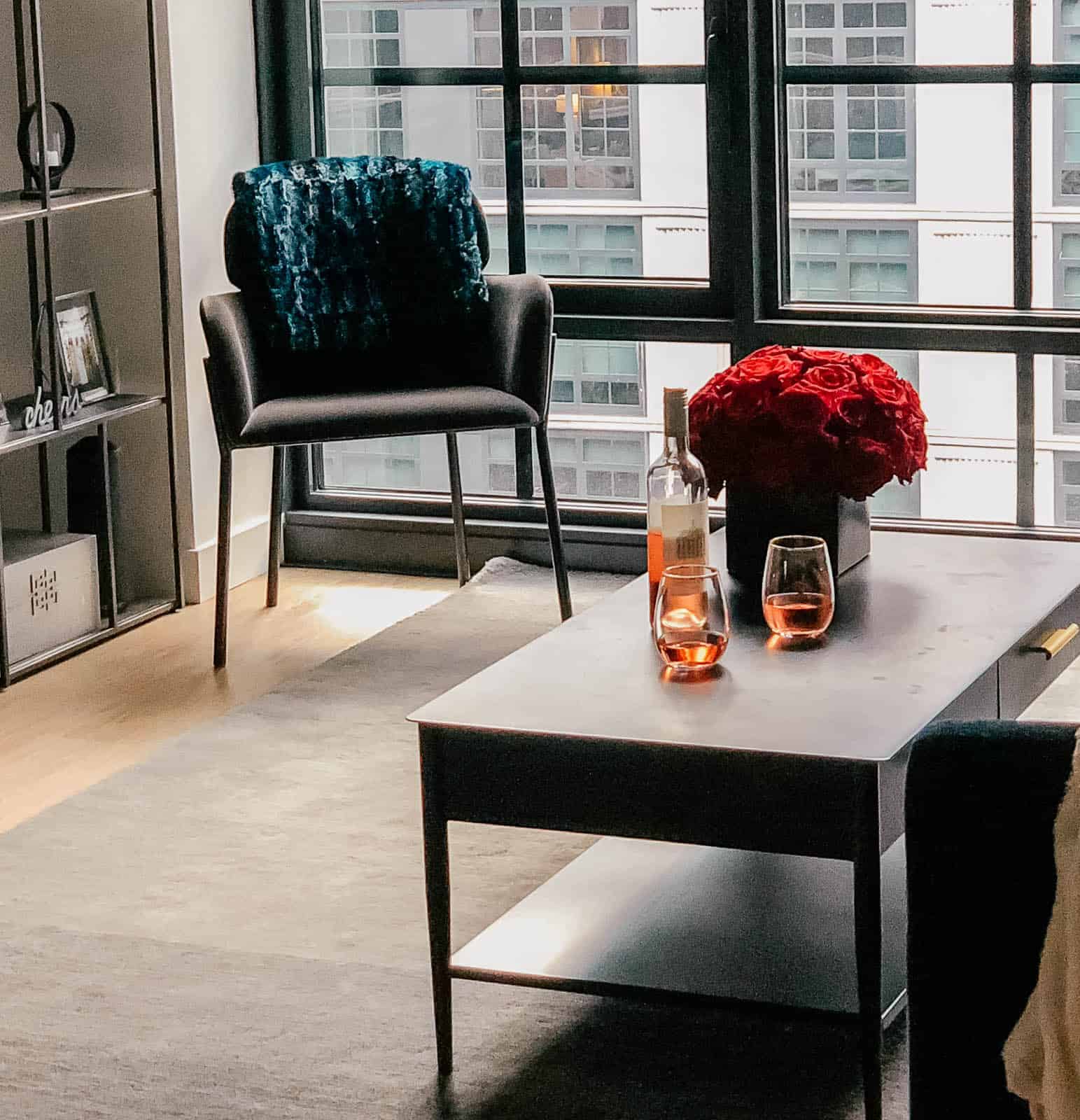 One of my favorite items in the kitchen is my Nespresso Vertuoline coffee maker! For the past eight years, I was using an old half-broken Keurig machine for my daily dose of caffeine, and let me tell you, the Nespresso is life-changing. It's just such. good. coffee. Highly recommend all my fellow caffeine addicts purchase this asap!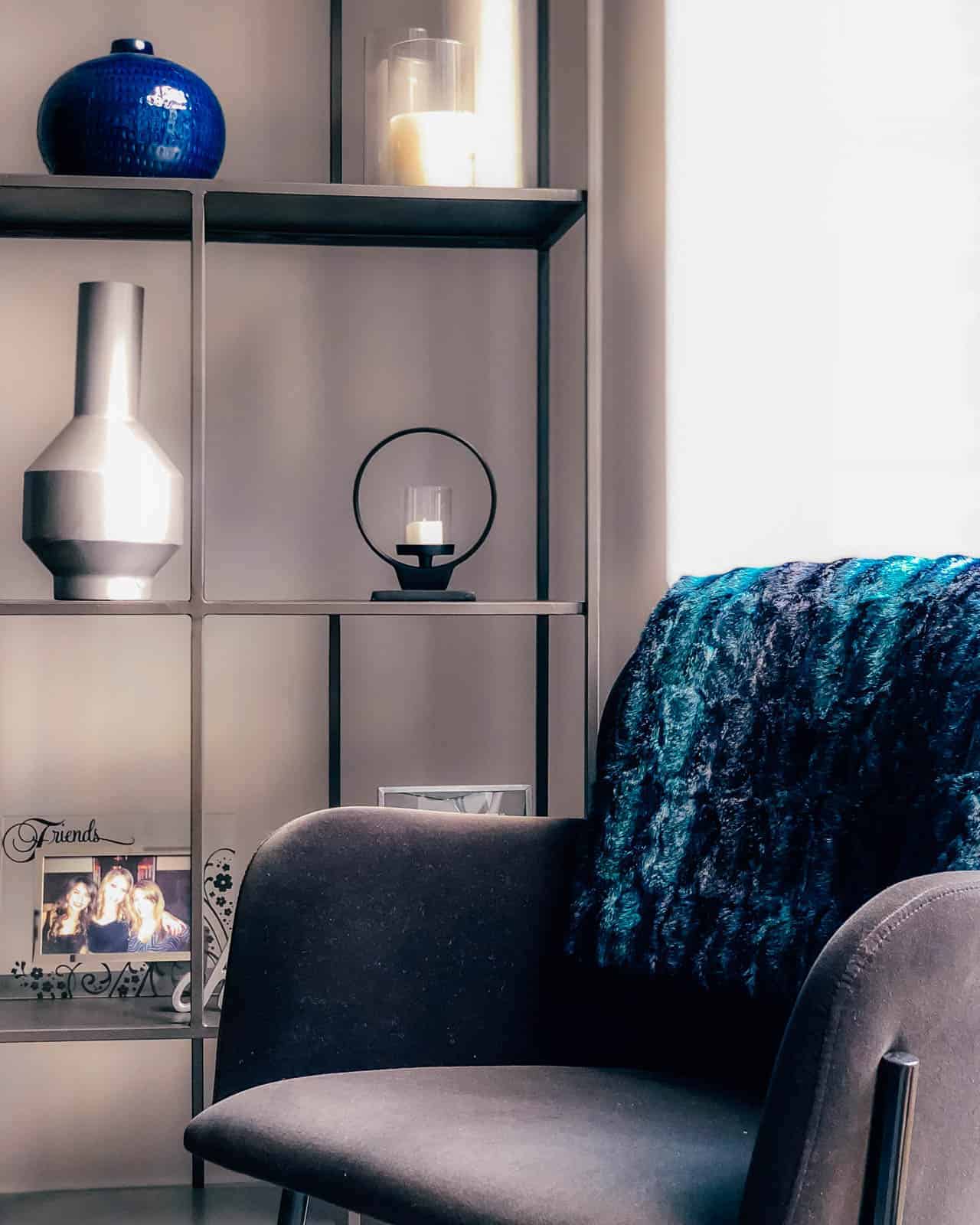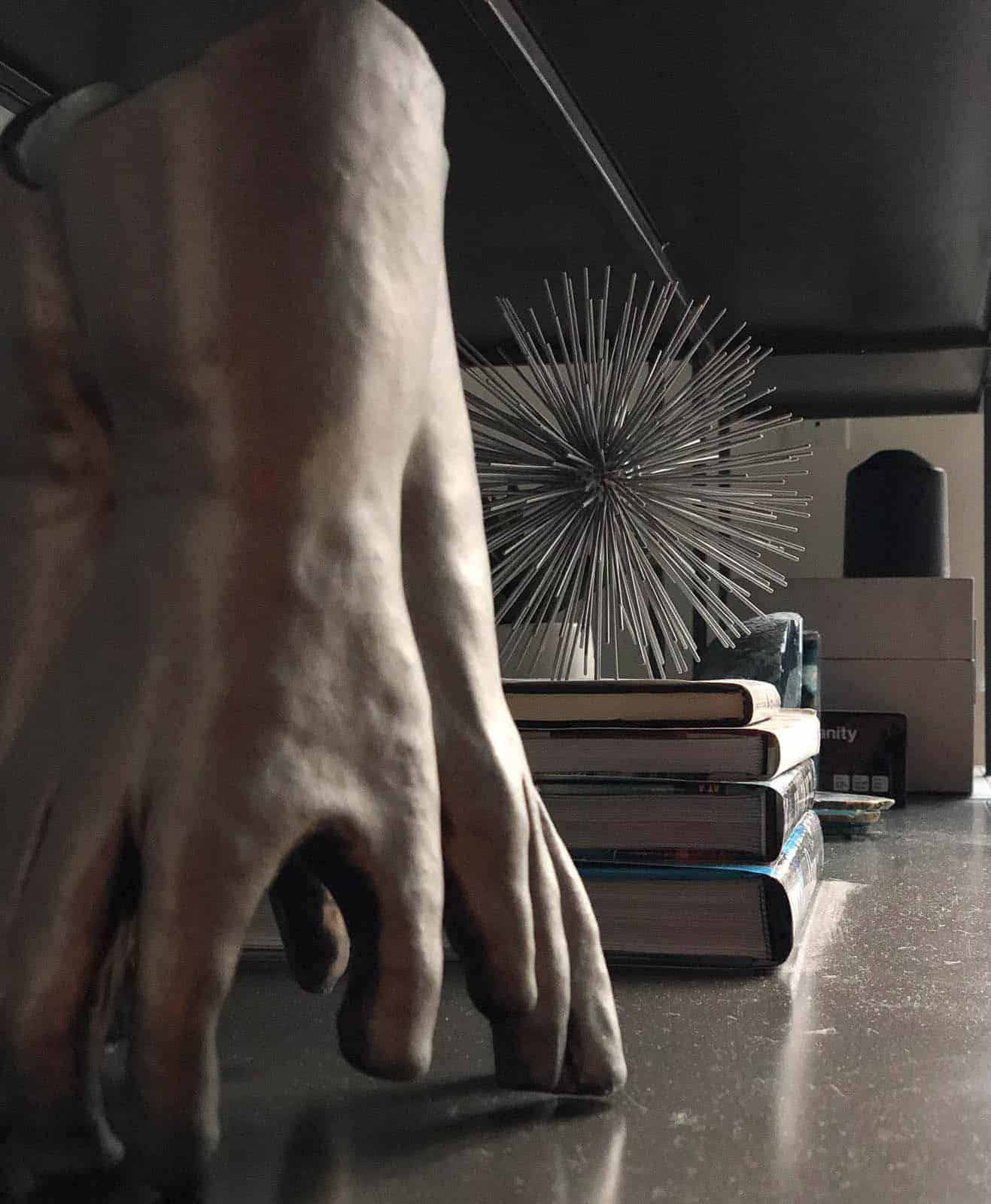 Well, that's the living/dining room apartment tour! What do you guys think? Do you want to see tours of the bedroom and office too? Let me know in the comments!

Love this post? Pin it to save for later!