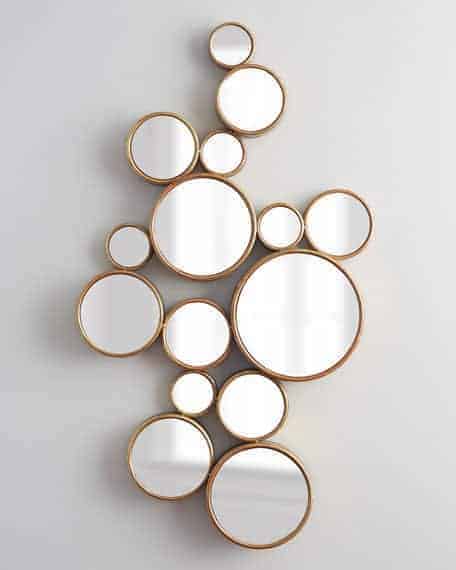 OMG this mirror! I am obsessed! Seriously, this might be my favorite decorative mirror ever! It's the Horchow Bubbles Mirror and I've had it hanging in various areas of my apartment for a while now. I love the circles, the distressed gold finish and how it's modern and so different!
(Disclosure: This post may contain affiliate links which means I may earn a small commission if you make a purchase from a link in this post, at no additional cost to you. Additionally, as an Amazon Associate I earn from qualifying purchases. Thank you for supporting this site!)
In my old apartment, I had it on a narrow wall in between the kitchen and the sharp corner of the alcove where my bed was. I found it when I was looking for a solution for this somewhat awkwardly placed wall. The wall was too narrow for a console and because of the sharp corner I was afraid to put up shelves, assuming my naturally clumsy self would constantly bang into them.
Does anyone else make their furniture decisions based on likelihood of injury?
No? Just me? Interesting.
Anyways, when I moved there was no way I was parting with this mirror. I have to admit, it sat on the floor in its excessively bubble wrapped package (I may have gone a tad overboard on the bubble wrap situation when I was packing, just FYI) until I realized the perfect spot for it was staring me in the face in the form of a large empty wall in my master bathroom.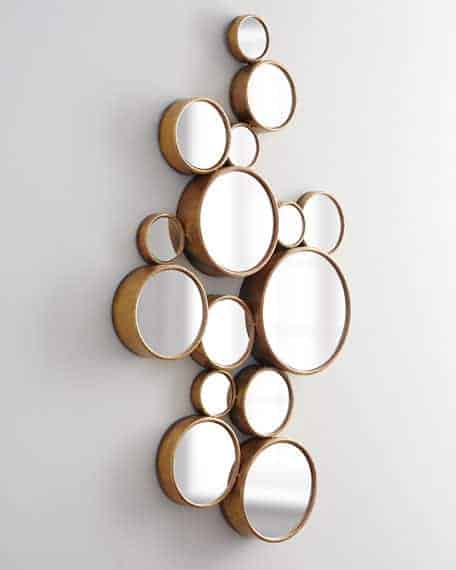 Now, my master bathroom is HUGE, like almost too big (problems that aren't really problems, people) so it was in desperate need of some styling and the lone two candles on top of the toilet tank were not cutting it. Since my bathroom hardware was gold, the mirror worked PERFECTLY!
And now it makes me so happy every time I see it in its perfect new home on the bathroom wall! The size also fills the empty wall space really well and proportionally.
It's worth noting that there is only one hook area on the back of the mirror to hang it so it can be a little tricky to balance and it also means it's harder to hang horizontally if you wanted to. However, if you're ok with making a few extra holes in your wall, I'm sure it could be balanced horizontally but I haven't personally tested that theory.
HORCHOW BUBBLE MIRROR DETAILS:
Price: $325, Sale Price: 243.25
Iron frame with a golden finish.
24″W x 3″D x 41"T.
Weight, 9.7 lbs. Boxed weight, approximately 17 lbs.