(Disclosure: This post may contain affiliate links which means I may earn a small commission if you make a purchase from a link in this post, at no additional cost to you. Additionally, as an Amazon Associate I earn from qualifying purchases. Thank you for supporting this site!)
You know I am obsessed with all things McGee & Co and Studio McGee – except for their prices, obviously, which is why I love my room redo of Studio McGee dupes but now there's an even better way to get your McGee & Co fix because Studio McGee's Fall 2020 collection with Target is officially here!
And it is GOOD.
There are so many gorgeous items, and naturally a whole lot of items sold out immediately BUT I purposely waited to do my roundup of top picks from the collection so I could ensure all my picks were still in stock after the initial rush! I can't promise how long they'll last so add to cart ASAP if you see something you love.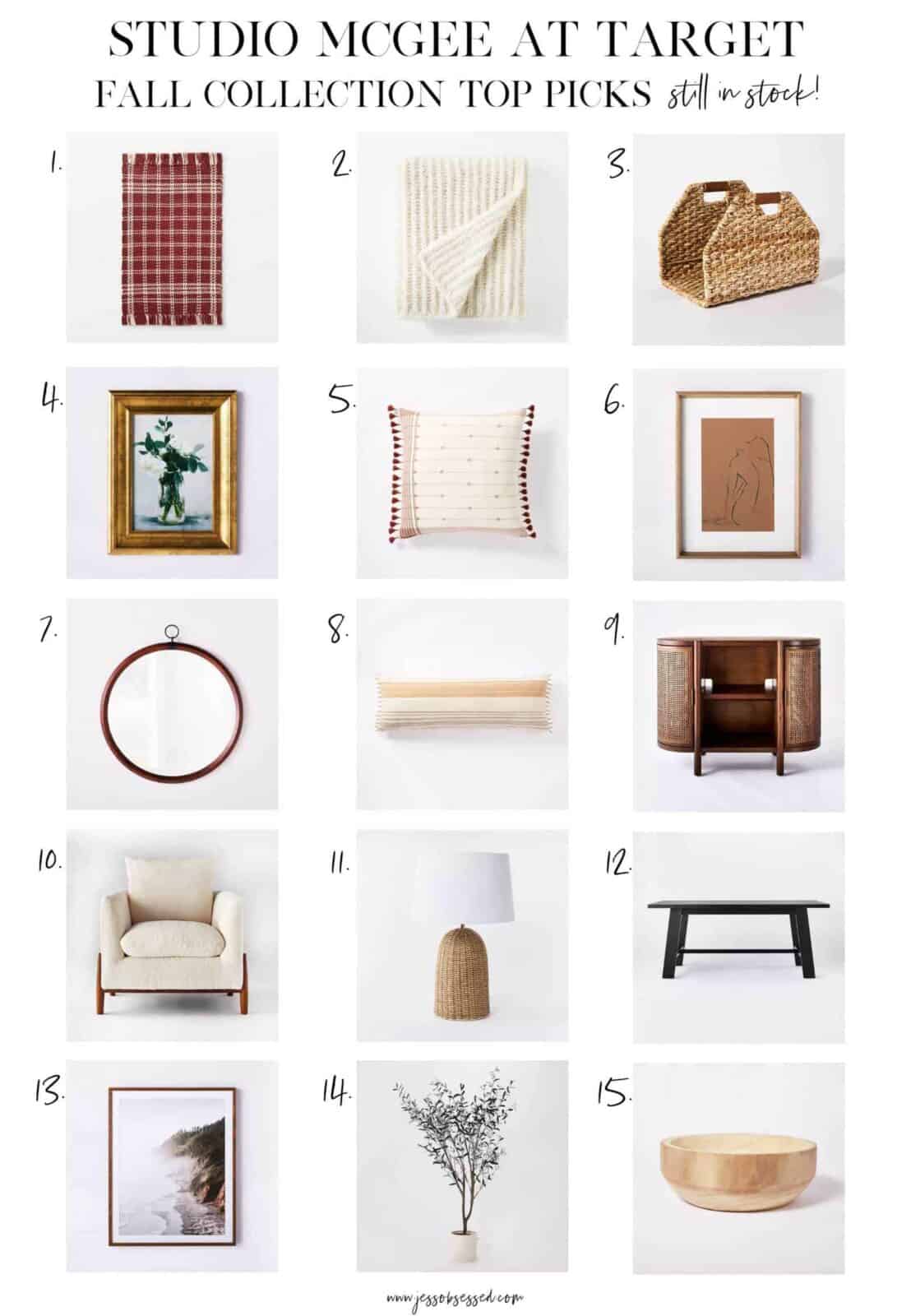 One // Two // Three // Four // Five // Six // Seven // Eight // Nine // Ten // Eleven // Twelve // Thirteen // Fourteen // Fifteen
(Disclosure: This post may contain affiliate links, which means that if you make a purchase via a link I recommend on this page, I may earn a small commission at no additional cost to you. Thank you for supporting this site!)
This collection really leans into the cane furniture trend, which I am loving. Most of the black and cane furniture sold out quickly, but I would definitely recommend snatching up this gorgeous caned door console in a rich brown wood. It looks super expensive (but is actually a steal!) and I would use it as a bar cabinet to display some beautiful stemware in the open cabinets and my favorite liquors on top and in the hidden storage.
Studio McGee really delivered on the artwork with their Fall Target collection too. I love the rich, moody fall colors and I especially love the gilded frame on this watercolor-esque vase of flowers.
And finally, the rattan storage and accents! Obsessed with this storage basket – the leather detail makes it look so expensive- for storing magazines, extra throws or pillows or logs by a fireplace. This seagrass lamp would make a great accent piece on a night stand too, that is if you haven't already jumped on the plug-in sconce trend.
SHOP MY STUDIO MCGEE FOR TARGET FALL COLLECTION TOP PICKS:

Love this post? Save it to Pinterest!