Small Apartment Space-Saving Ideas
I'm so excited to share this roundup of the best plug-in wall sconces!
Living in a small New York City rental apartment, I am always looking for chic and stylish space-saving tips that are renter-friendly and don't require too much DIY-ing (I love the look of peel-and-stick wallpaper for example, but I just know any attempt I made at it would end in disaster).
Enter, plug-in wall sconces.
(Disclosure: This post may contain affiliate links which means I may earn a small commission if you make a purchase from a link in this post, at no additional cost to you. Additionally, as an Amazon Associate I earn from qualifying purchases. Thank you for supporting this site!)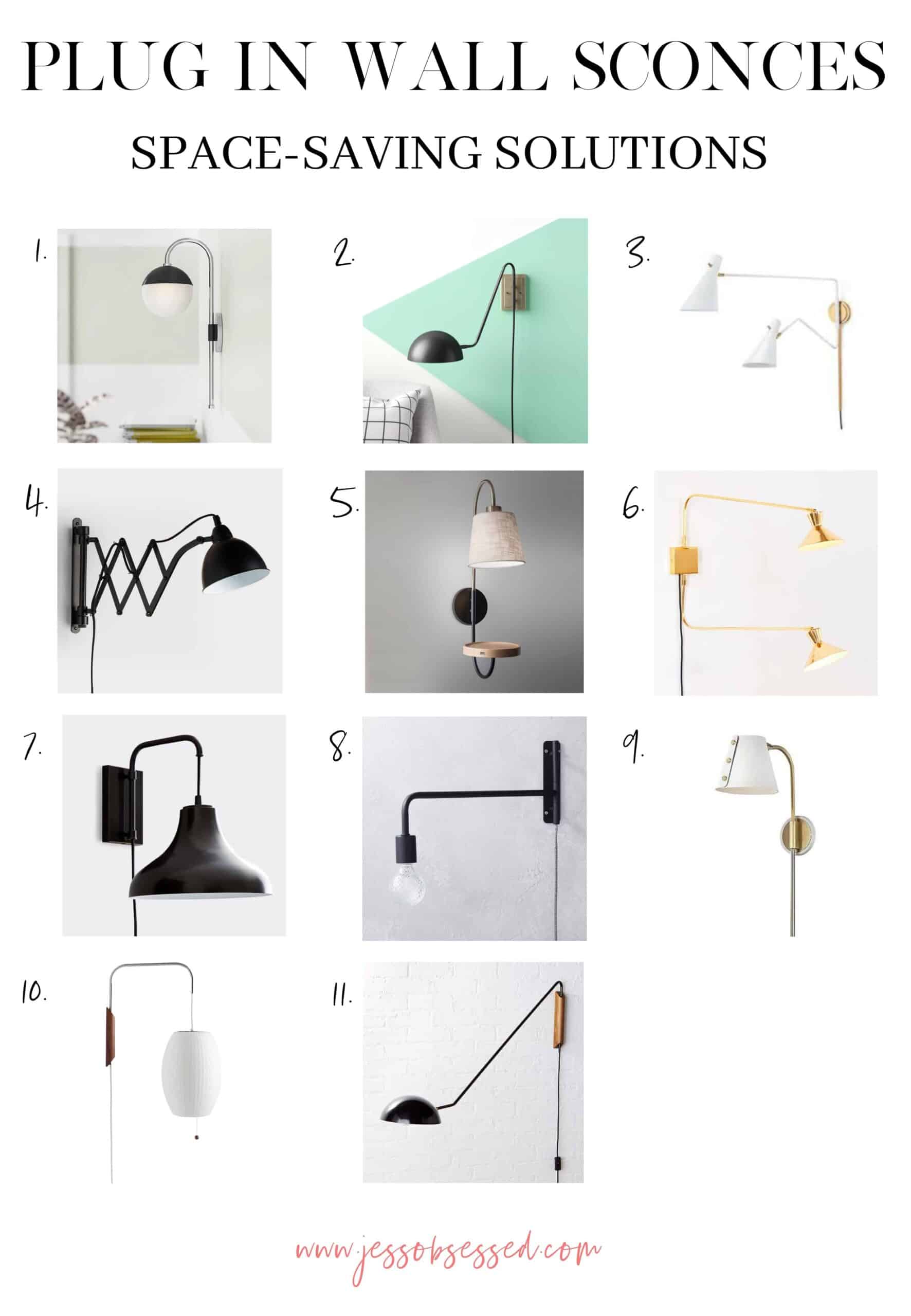 I'd never considered the idea of a wall sconce for my bedroom, until JB and I decided to purchase a new bed. I started seeing a lot of beautiful bedroom decor inspiration photos with wall sconces framing the headboard. I thought to myself how much I liked the look of those wall sconces, and wondered how I could achieve the same look in my bedroom without having to hire an electrician.
The solution is plug-in wall sconces! These wall-mounted lights create the look of a custom installed wall sconce but with a long cord that can be plugged in as easily as a bedside lamp.
Keep scrolling for the best plug-in wall sconces, why I think they're awesome, where to place them in your home and how to decide what type of plug-in wall sconce is best for your needs!
WHY CHOOSE A PLUG-IN WALL SCONCE?
Plug-in wall sconces look custom without needing and electrician to install the lighting.
I always admired beautiful, custom installed light fixtures and sconces, but given that we live in a rental apartment, it seemed like too much of a pain to get wall sconces hardwired by an electrician.
Enter plug-in wall sconces. They are a genius way to get the look of custom lighting in a rental apartment. You simply mount the light to the wall like any other piece of art and plug in the cord to the nearest outlet.
Plug-in wall sconces save so much space on your bedside table or floor.
Small New York City apartments require every space-saving trick, tip and hack you can think of. Using plug-in wall sconces to save nightstand or floor space is a great one. My nightstands are small (these are the ones I currently have), and I'm always knocking things over, piling books, hand cream and lip balm on top of each other. My current regular table lamps are sleek, with a small black base but they still take up too much room. Plug-in wall sconces will free up that space on your bedside table or clear up floor space that might be taken up by the base of a floor lamp. As a rule, keeping furniture items higher up above the floor will help rooms look more spacious.
THE BEST PLACES TO USE PLUG-IN WALL SCONCES
The possibilities are endless, really. You can hang plug-in wall sconces anywhere that you need some extra light, but I particularly like them in bedrooms and living rooms. I love the look of two beautiful, sculptural plug-in wall sconces framing a headboard, or illuminating a chair in a reading nook. Have a small home office space and don't want a desk lamp cluttering up your work space? Plug-in wall sconce. Want to add interest to frame a fireplace? Long plug-in wall sconces like this one. Small entry way and don't have room for a lamp on your entry table? Use plug-in wall sconces to frame a mirror above the console. The only room I would suggest avoiding using plug-in wall sconces would be the kitchen.
WHAT TYPE OF PLUG-IN WALL SCONCE SHOULD YOU USE?
The type of wall sconce you use depends on your personal style and your lighting needs. Many plug-in wall sconces have an industrial style because of the visible cords. The arms are often metal, with swivel or extension functions. But there are plenty of modern or more traditional plug-in wall sconces with lamp shades or hoods. I included styles ranging from modern to traditional to industrial to classic in this roundup, so there's something for everyone!
When choosing a plug-in wall sconce, you'll also want to thing about your lighting needs. Are you trying to light an entire room? Then you'll want a wall sconce that diffuses light up or all around. Your best choices will be plug-in wall sconces with lampshades or bulbs/orbs. Do you want a reading light above your bed or a chair? Then you can go with a wall sconce that focuses the light in a more singular direction.
Also consider whether the arms or base of the plug-in wall sconce swivel or move. You might want to point light in different directions. To create more or less light, consider double arm plug-in wall sconces.
SHOP MY FAVORITE PLUG-IN WALL SCONCES BELOW

Love this roundup of plug-in wall sconces? Save it for later!