You can see Iceland's Golden Circle, Blue Lagoon and more with this 3 day Iceland itinerary!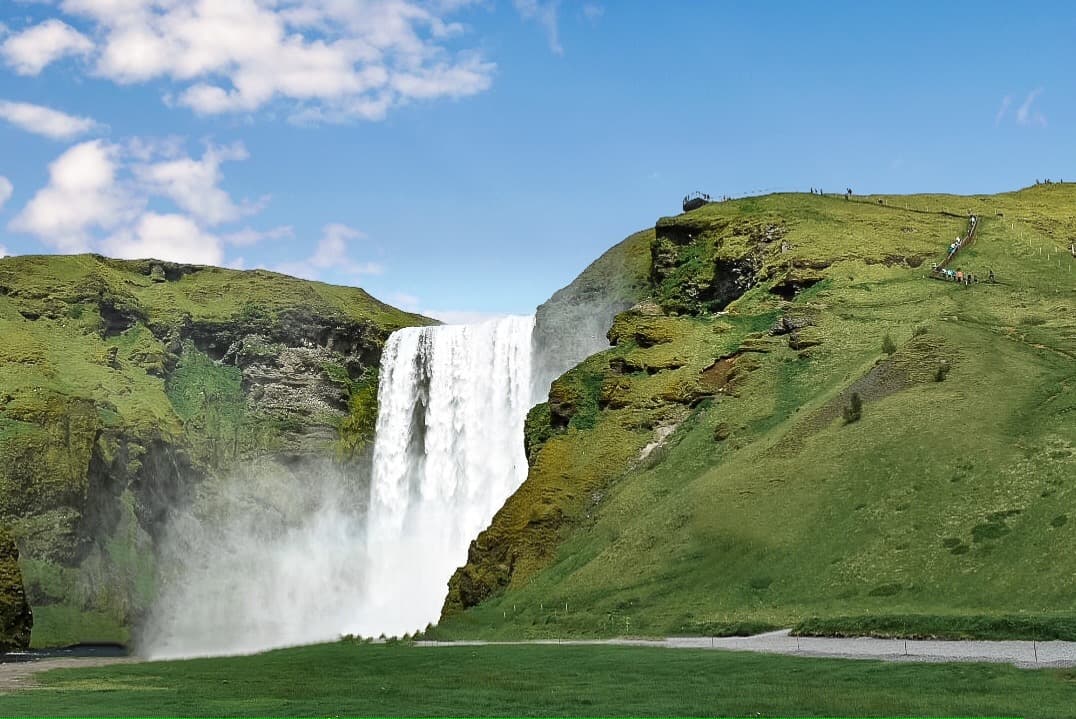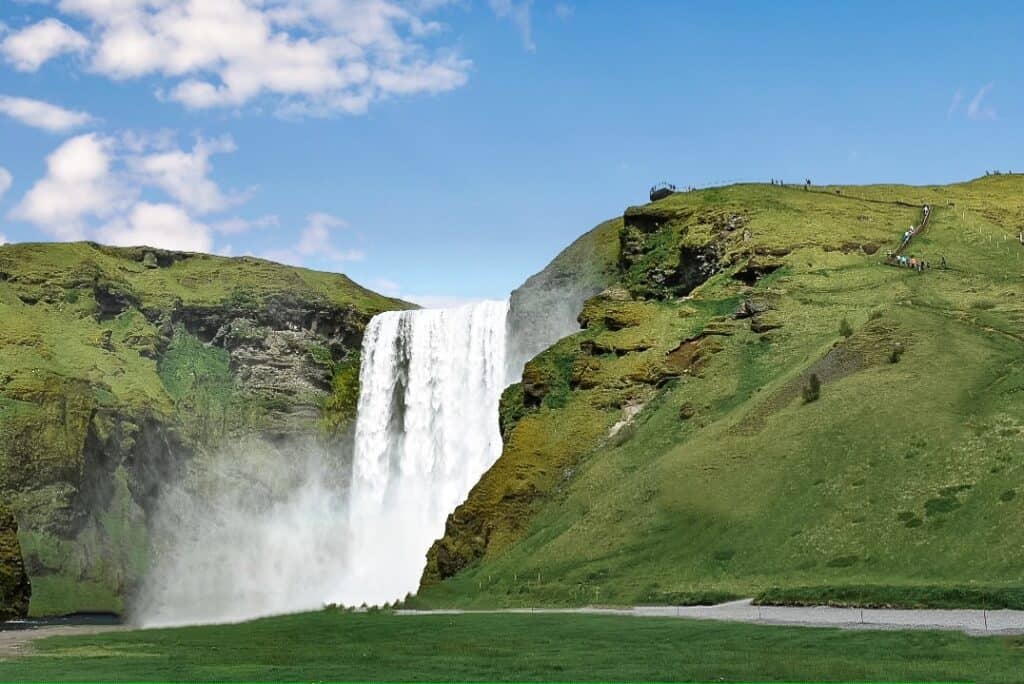 While most Iceland itineraries recommend at least a week to see this magical country, I was able to see most of the major sites in and around Reykjavik weekend by following the below jam-packed itinerary. We chose to visit Iceland in the summer, and booked a trip in June from Friday night to Tuesday. This 3 day itinerary for Iceland in the summer can easily accommodate a Thursday – Monday itinerary as well.
My two best friends and I booked this trip on a whim after several glasses of wine and a stream of #YOLO!!!!! text messages. I love that I got to experience a 3 day Iceland itinerary but it's definitely worth considering a longer trip if you have the time and budget (because while flights to Reykjavik might be cheap, to stay and eat in Reykjavik is most definitely not).
Looking for more Iceland ideas? You can also read my Where to Eat in Reykjavik post to make sure you don't miss all the amazing food this city has to offer. Reykjavik is definitely a foodie and cocktail mecca, as well as being chock full of amazing historical sites that are worth a visit.
(Disclosure: This post may contain affiliate links which means I may earn a small commission if you make a purchase from a link in this post, at no additional cost to you. Additionally, as an Amazon Associate I earn from qualifying purchases. Thank you for supporting this site!)
3 Day Iceland Itinerary Day 1: Arrival and Mount Esja hike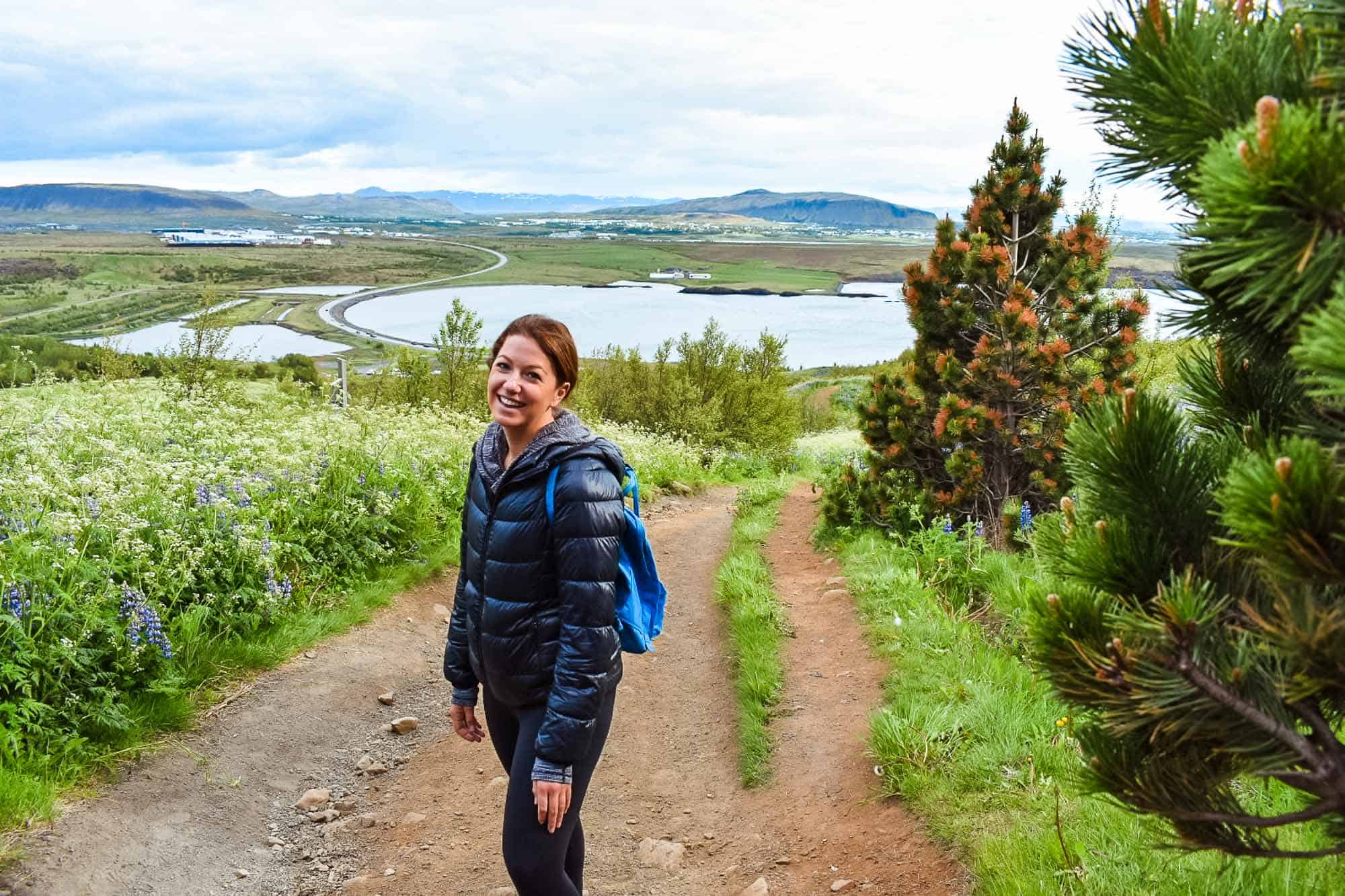 We flew WOW Airlines on an overnight flight, landing at Reykjavik's Keflavik Airport at about 5:00 AM. WOW Airlines is Iceland's low-cost budget carrier. I was initially nervous (I am not a good flier) but it was totally fine. The seats were thin and narrow, and there's no in-flight entertainment but service was competent, organized and safe.
Keep in mind absolutely nothing is included on WOW Airlines flights. Case in point: WOW charges for water. Be prepared with plenty of snacks, entertainment loaded on fully-charged personal devices and beverages.
We decided to do a self-driving 3 day Iceland itinerary for this trip, which meant picking up a rental car at the airport. This process was also very straightforward. Within an hour of landing, we were in our rental car on our way into Reykjavik.
Iceland's famous Blue Lagoon is on the way to or from the airport, so I recommend visiting (and yes, I do recommend visiting – it's very commercial but in my opinion it's one of those "must-do" classic experiences to have in Iceland, like riding a gondola in Venice) either on your way into Reykjavik straight from the airport or on your way out before departing for home. We chose the latter, so more on the Blue Lagoon below.
We originally booked our stay at the Reykjavik Residences Hotel. This hotel looked lovely but due to renovations, we were moved to the ION City Reykjavik. Luckily, this was an even nicer hotel right on the main street in Reykjavik. Reykjavik Residences notified us of the change about a week before our trip. They offered a complimentary upgrade to a balcony suite with an outdoor sauna and free breakfast vouchers. We were very happy with the change!
Reykjavik Pro Tip:
If you rent a car, there is plenty of free parking at the main church Hallgrímskirkja. From here, it's an easy walk to the main areas. We parked here many times when street parking was hard to find.
Morning: Check Into Our Hotel In Reykjavik
Arriving in Reykjavik at 5:00 AM meant that our hotel room was most definitely not ready. We dropped our bags off with the lovely front desk folks at the ION and took our breakfast vouchers down the street to Early in the Morning. This is the breakfast restaurant of the Reykjavik Residences Hotel (it is also open to the public, check out the adorable decor in the below photo!). Breakfast was amazing and I highly recommend this place to anyone who has an early morning start. It's open from 7:00 AM – 10:00 AM. We basically walked in as they were unlocking the doors – and refueled over eggs, sausages and coffee. Lots of coffee.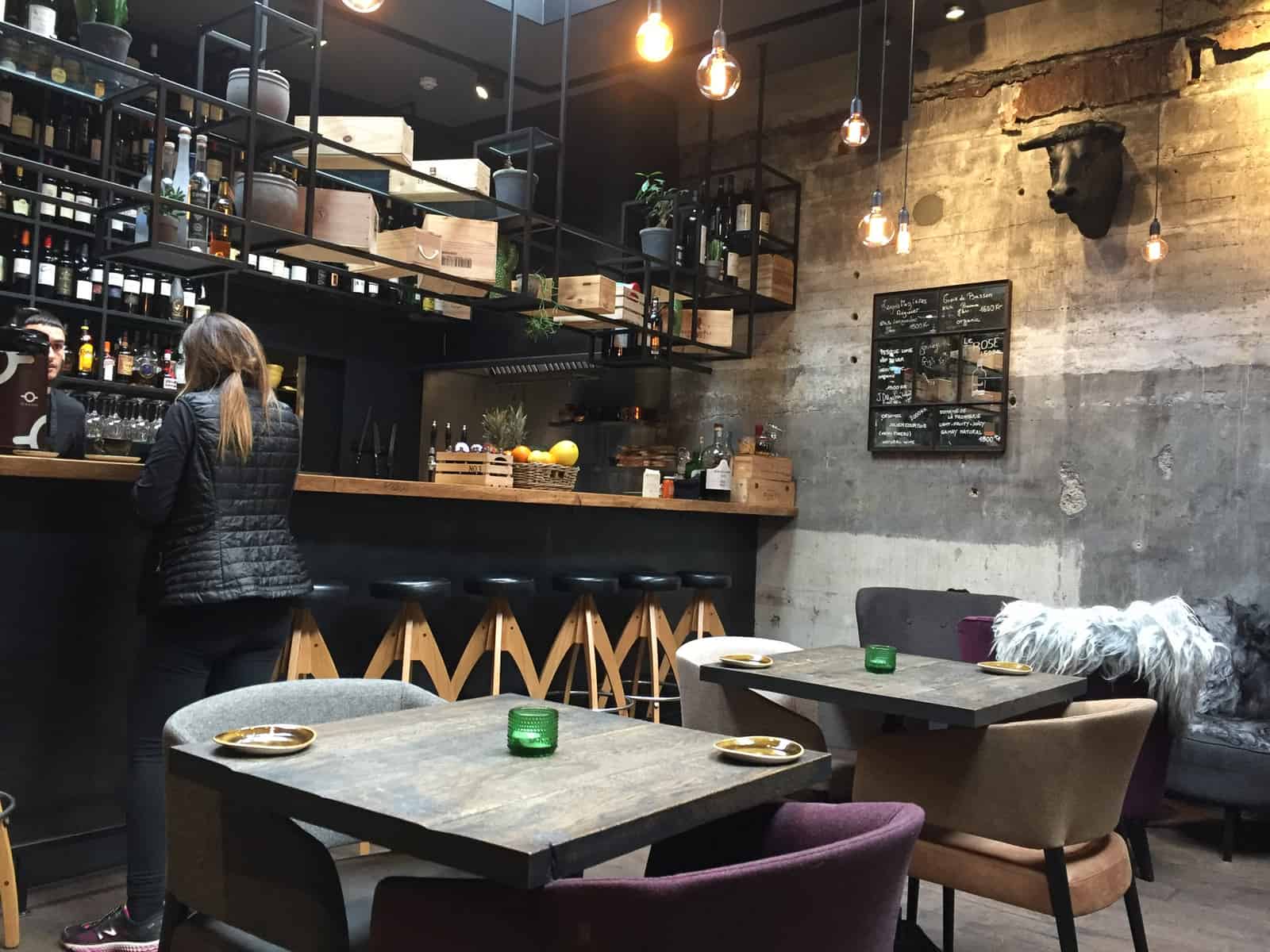 Since it was only about 9:00 AM when we finished breakfast, we spent some time researching and booking an Icelandic horseback riding tour for the next day.
Around 10:00 AM, we set off to explore the main areas of Reykjavik. Reykjavik is really small but there are lots of shops, restaurants and bars. The one main street is called Laugavegur and that's where you'll find pretty much everything. We wandered in and out of just about every store, enjoying the mix of hyper-cool design aesthetic and touristy kitsch.
Our hotel room was ready around lunchtime so we went back to the hotel and got settled.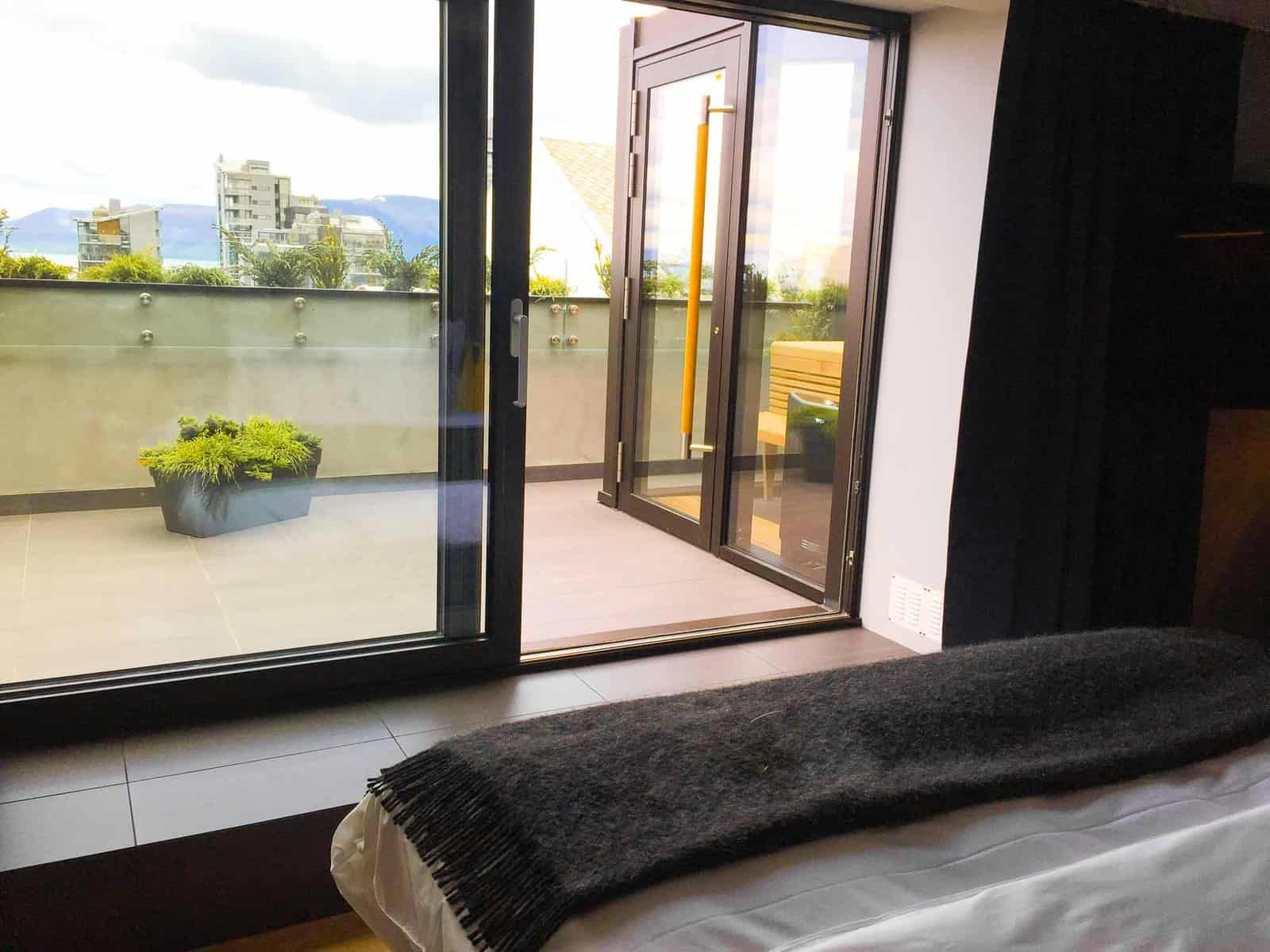 We stayed in a junior suite, with a large balcony, outdoor sauna, one double bed and one twin bed. The room also came with a complimentary minibar. Enjoying a glass of Prosecco on the balcony with views of the water was incredible.
Afternoon: Hiking In Reykjavik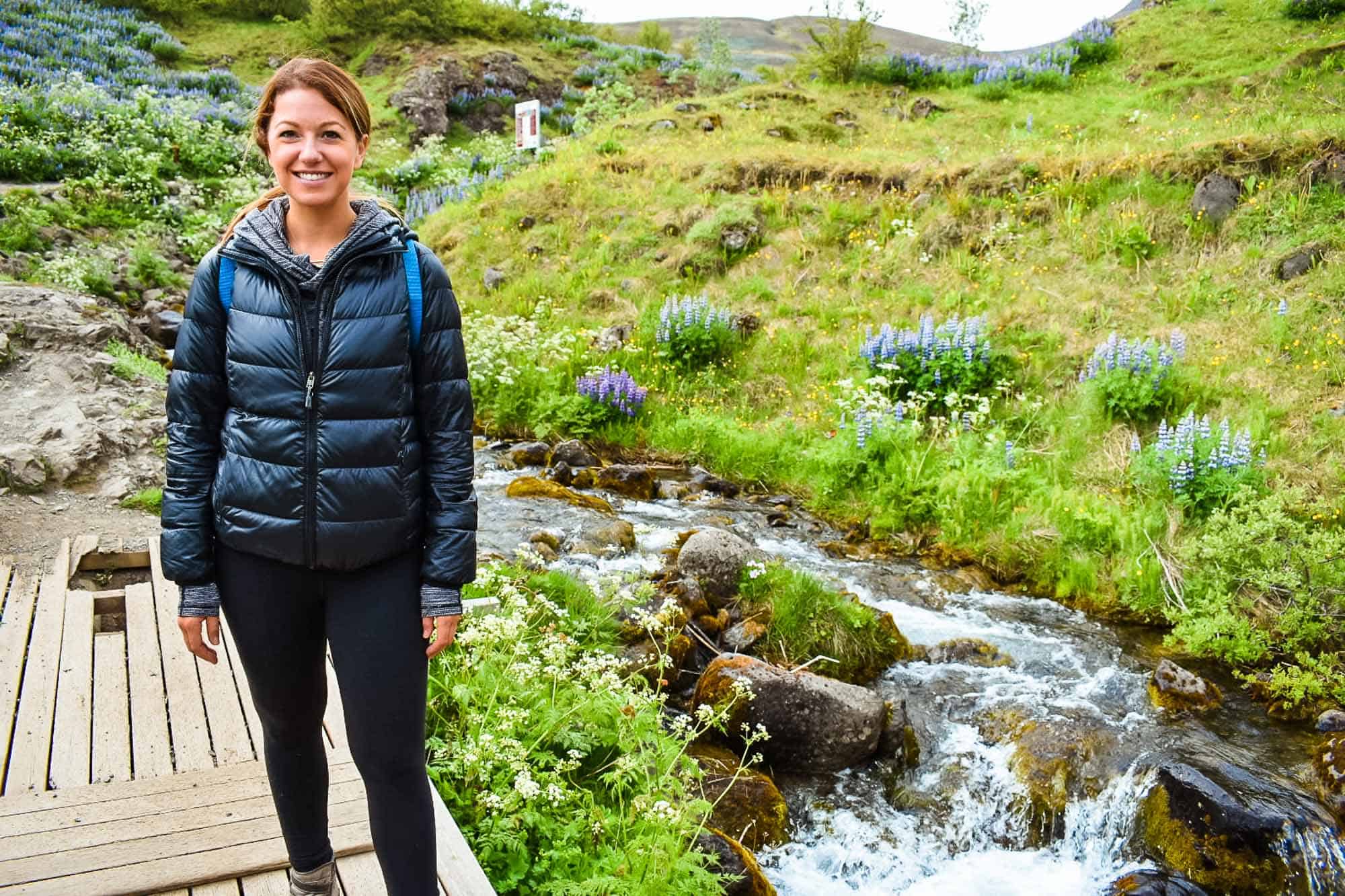 By the time we were settled at the hotel it was a bit late to go on a full-scale adventure so we decided to ease our way into the Icelandic outdoors with a light hike at Mount Esja. This is a great beginner or introductory hike because they have various levels ranging from easy to challenging. It was a quick 10 minute drive from the hotel but you can also get there by bus.
Take bus # 5 from Hlemmur main station towards Artun. At Artun bus stop, transfer to bus # 57 towards Akureyri. Get off at the Esja Hiking Center bus stop. This should take about 20 minutes.
The hike was very pretty, although not quite as dramatic as I was expecting it to be. It felt really good to get some exercise and fresh air after being on a plane all night though. We chose the easy trails, which was totally manageable even for us non-athletic types (ie., me).
For another awesome hike in a warmer part of Europe, check out this post about Roc Perer Trail in Spain!
Evening: Exploring Reykjavik's Restaurants And Bars
For our first dinner in Reykjavik, we asked our hotel to recommend a foodie spot, and they suggested Kol. It was amazing. Creative cocktails, fresh seafood, trendy ambiance. A definite must if you're visiting Reykjavik! If you're looking for more amazing restaurants in Reykjavik, you can also check out my Best Restaurants in Reykjavik post.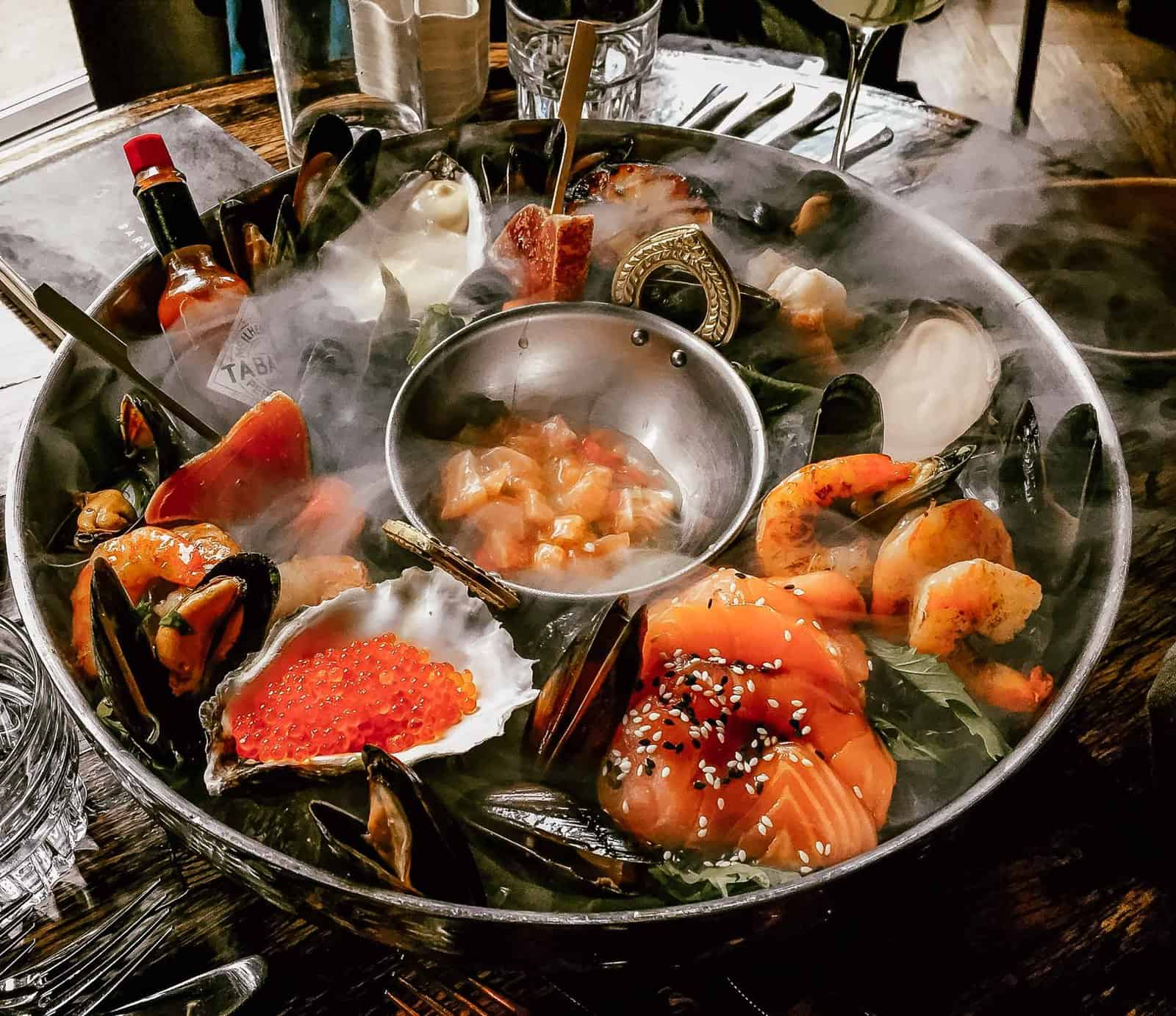 After dinner, even though it was almost 10:00 PM it was still so bright out. Because we were visiting Iceland during the summer, in June, it basically never got dark. We wandered around checking out the nightlife scene at various bars, and settled on Pablo Discobar, another hotel recommendation. Another unique, eclectic space with incredible drinks. Iceland is pretty serious about their cocktails. The bartender was kind enough to make me a brand new drink after I accidentally knocked mine over.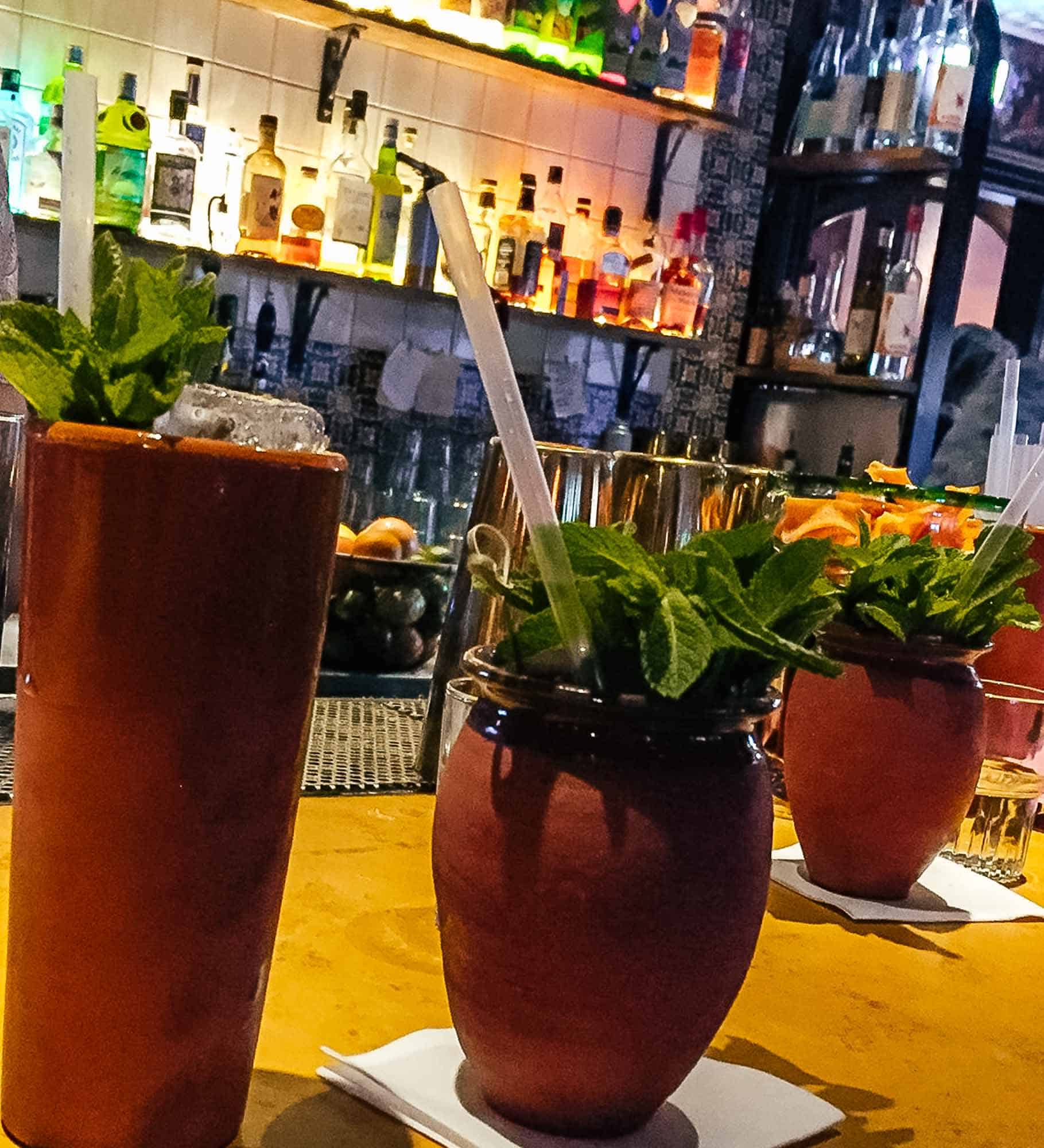 I was seriously struggling at this point because I didn't sleep on the flight, but my friends convinced me to stop by one more bar. Turns out Reykjavik is pretty famous for its nightlife. Not really knowing that we were walking into the only gay bar in Iceland, Kiki Queer Bar, we stumbled into a hot, sweaty '00s pop dance party. We sang along to old-school Britney and Backstreet Boys while we gulped vodka sodas. Whatever your preferences, this place is a great time and everyone can have a blast here.
After about an hour I was toast, so we went back to the hotel. I passed out quickly but to my surprise, friends went back out until 3:00 AM!
3 Day Iceland Itinerary Day 2: Ring Road And Golden Circle Drive, Horseback Riding Tour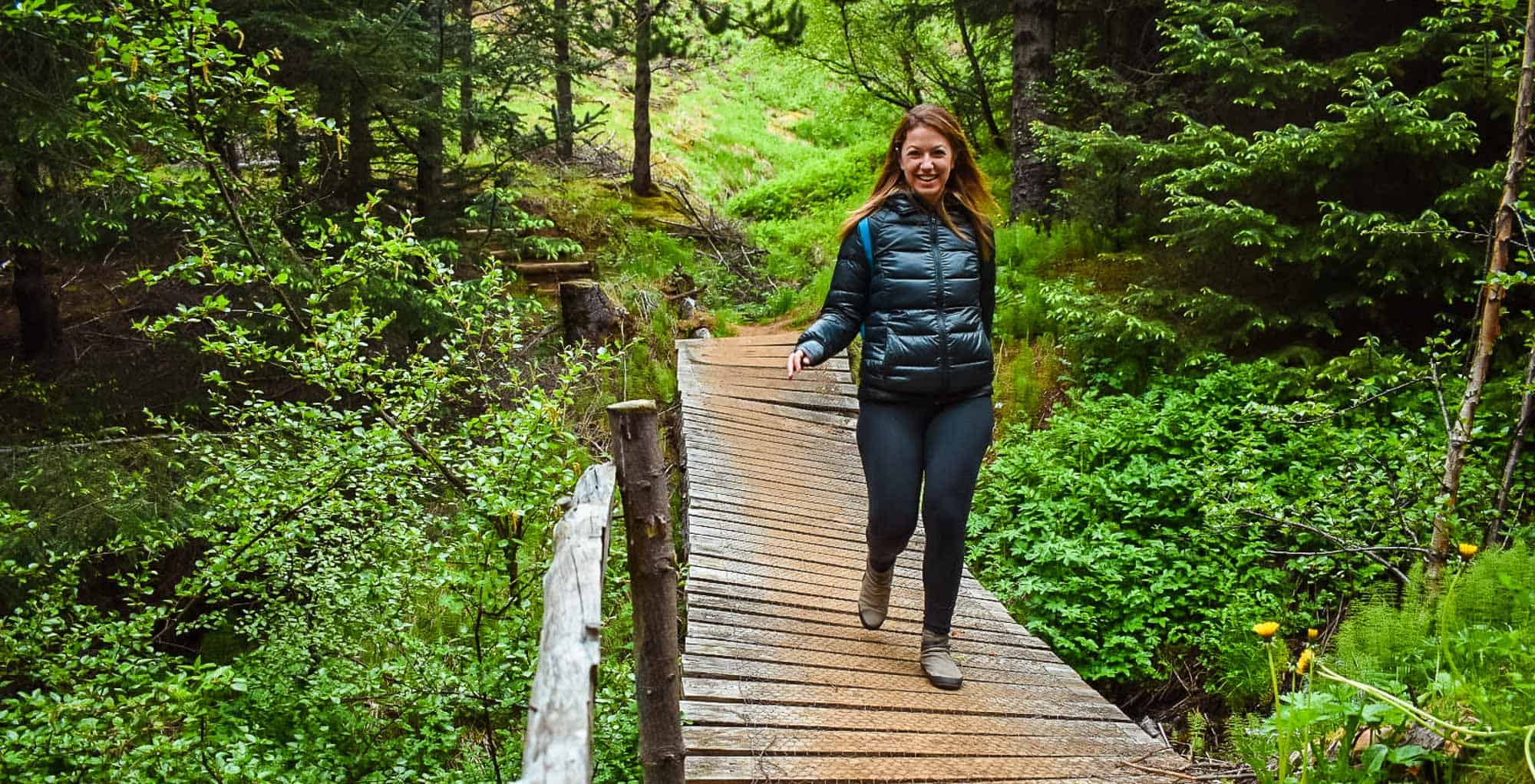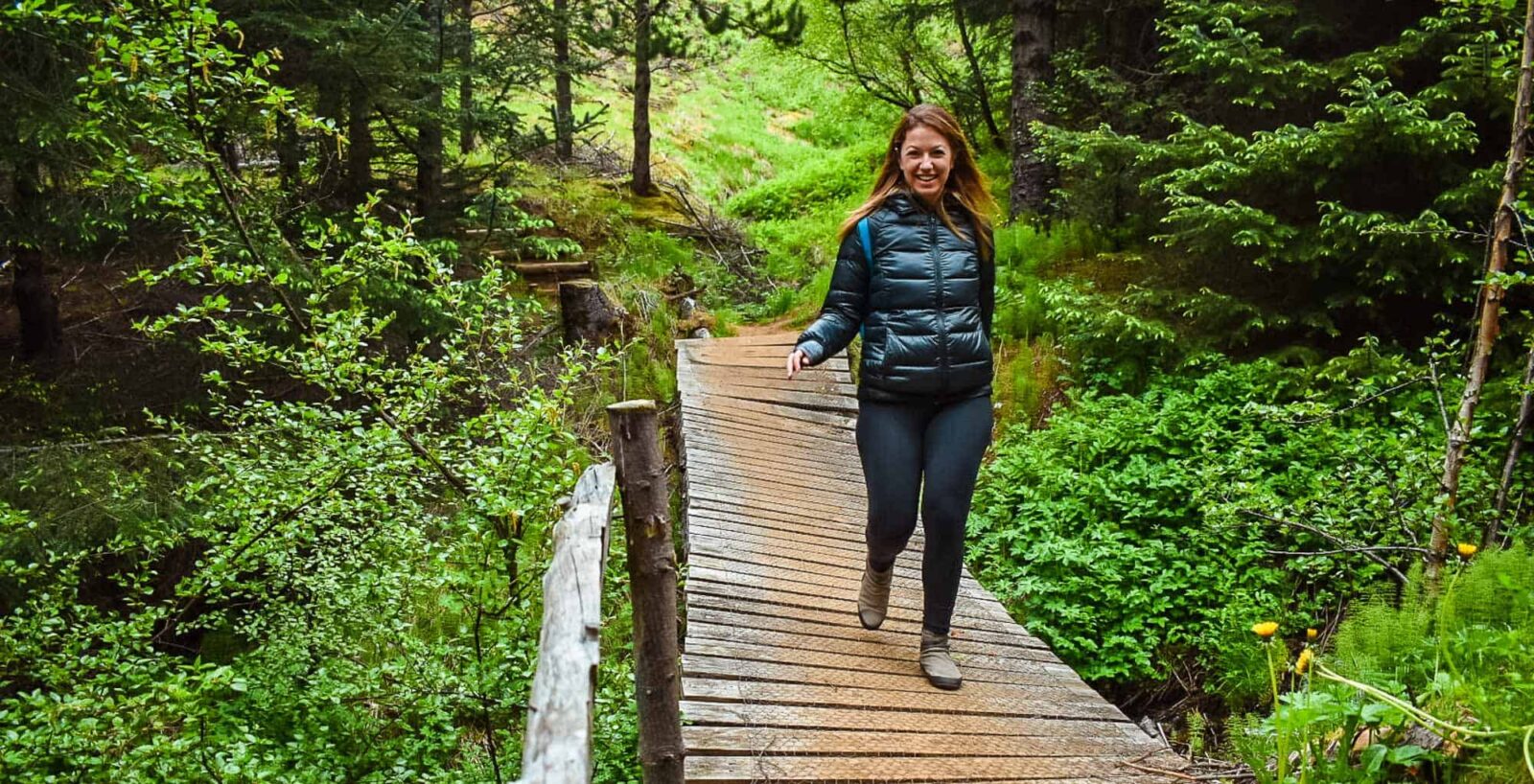 Morning: Self-Driving Tour Of The Golden Circle
The next morning we woke up and got coffee and pastries (they had GF!) at Te & Kaffi, a cute little coffee shop right across from our hotel. Then we hopped in the car to drive the Golden Circle route, one of the most popular day trips from Reykjavik.
Driving the Golden Circle route can take a half day to a full day depending on how many stops you make. We chose to do it in a half day because we'd made our horseback riding excursion reservation for the afternoon. The Golden Circle drive is one of the most famous in Iceland, and includes tours of Thingvellir National Park, Geysir hot springs, Gulfoss waterfall and Kerio Crater lake. The highlights tour will take about 4 to 5 hours.
A note on driving in Iceland: The roads are in good shape, they are not overly congested and navigating is very easy however we were in Iceland during the summer in June so I can't advise on the road conditions in the winter.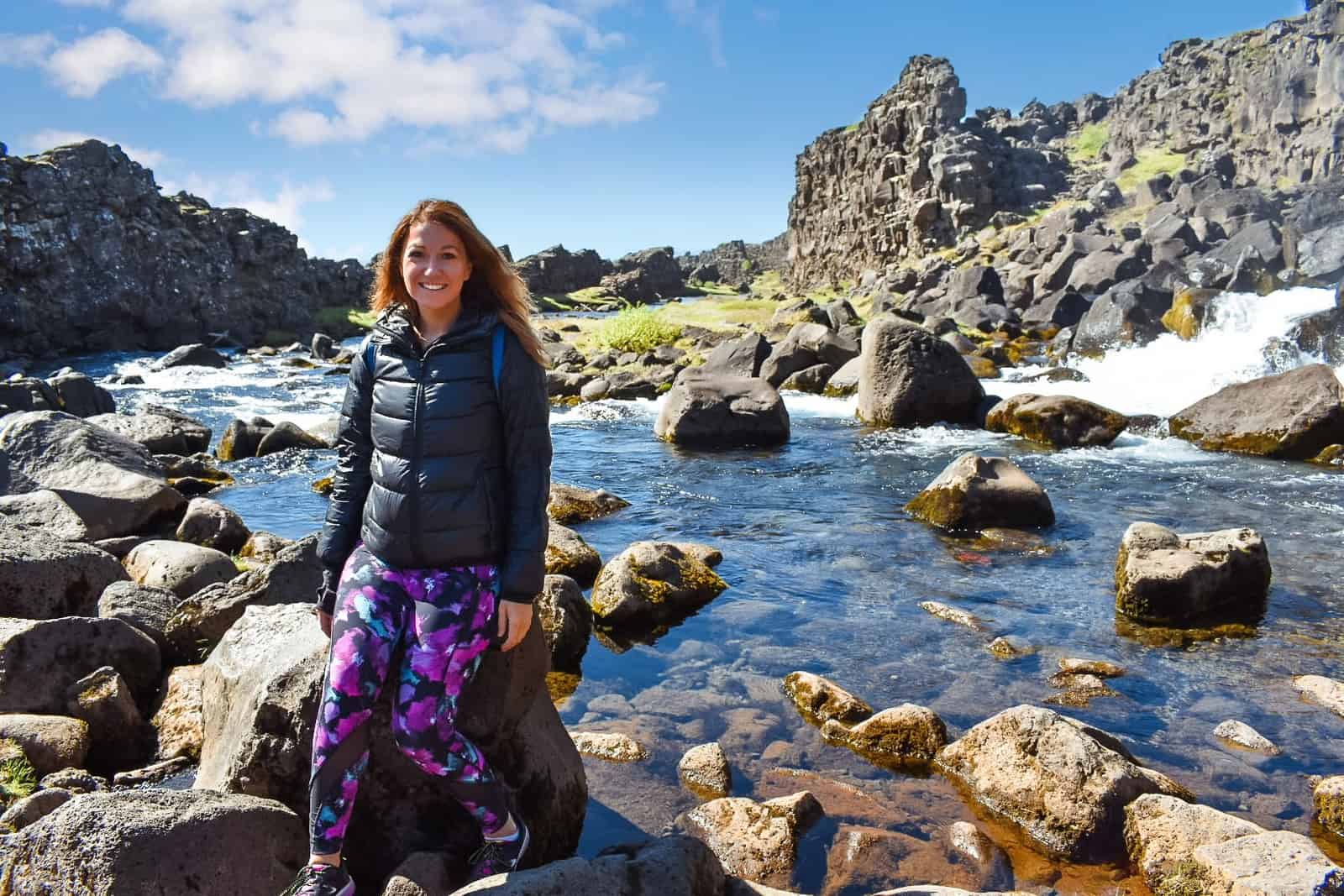 The first stop on the Golden Circle tour is generally Thingvellir, where if you're driving yourself you can park, and then hike any of the many trails. You can also go horseback riding here. I wasn't overly impressed with the park, and we didn't spend a ton of time here because we really wanted to get to the Geysir and Strokkur. We had a little trouble finding this area but once we found the large cafe/gift shop/parking lot (oh hey, commercialism, so nice to see you here!) we got out and walked around this area a bit. We saw the Strokkur geyser erupt, which was cool but I think we were all feeling a little disappointed on the inside, having expected something much more spectacular. A word of warning: the sulfur smell from the boiling water is very intense.
We were running out of time to get back for our horseback riding tour, so we drove a bit further and then looped back around towards Reykjavik. Due to time, we skipped Crater Lake and Gulfoss. I was disappointed about this but Iceland has many spectacular waterfalls and as you'll see below, we ended up seeing plenty of them!
To get to Thingvellir National Park from downtown Reykjavik, take Eriksgata road to Route 49 all the way to Route 1 and then on to Route 36. There are plenty of signs for the park that make it easy to follow. The drive from downtown Reykjavik should take about 45 minutes. From the park, continue on Route 36 to Route 37 and after about an hour you'll arrive at Geysir.
Afternoon: Reykjavik Horseback Riding Tour
After seeing Strokkur erupt, we hightailed it back to our hotel in Reykjavik to wait for our Icelandic horseback riding tour pickup. This is a great activity to do in Iceland during the summer. We booked the tour with Viking Horses, a small family-run stable just outside Reykjavik for the Mjolnir afternoon tour. The tour included a short riding lesson, a gentle ride through grassy fields and lava fields and a coffee and snack at the home of the owners following the ride. It was intimate, personal and welcoming but not particularly exciting or adventurous. This would be a great tour for anyone who's a beginner, a little nervous about riding a horse or has never been around horses before.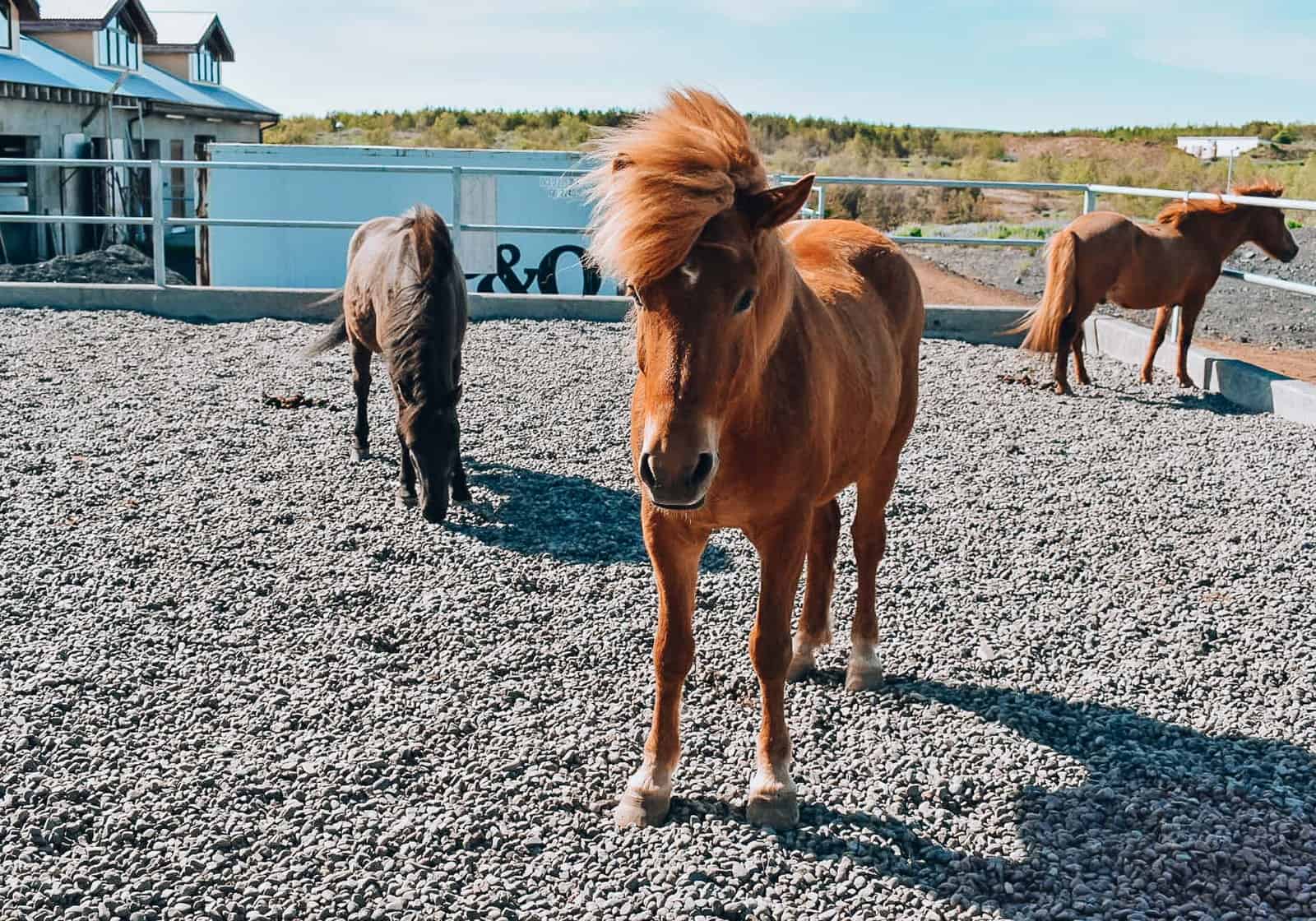 Viking Horses also has a variety of other, more active tours. We had a great time and enjoyed learning about life running a stable in Iceland from the owners. It cost approximately $170 USD which was definitely pricey but worth it for the private tour and attention we received.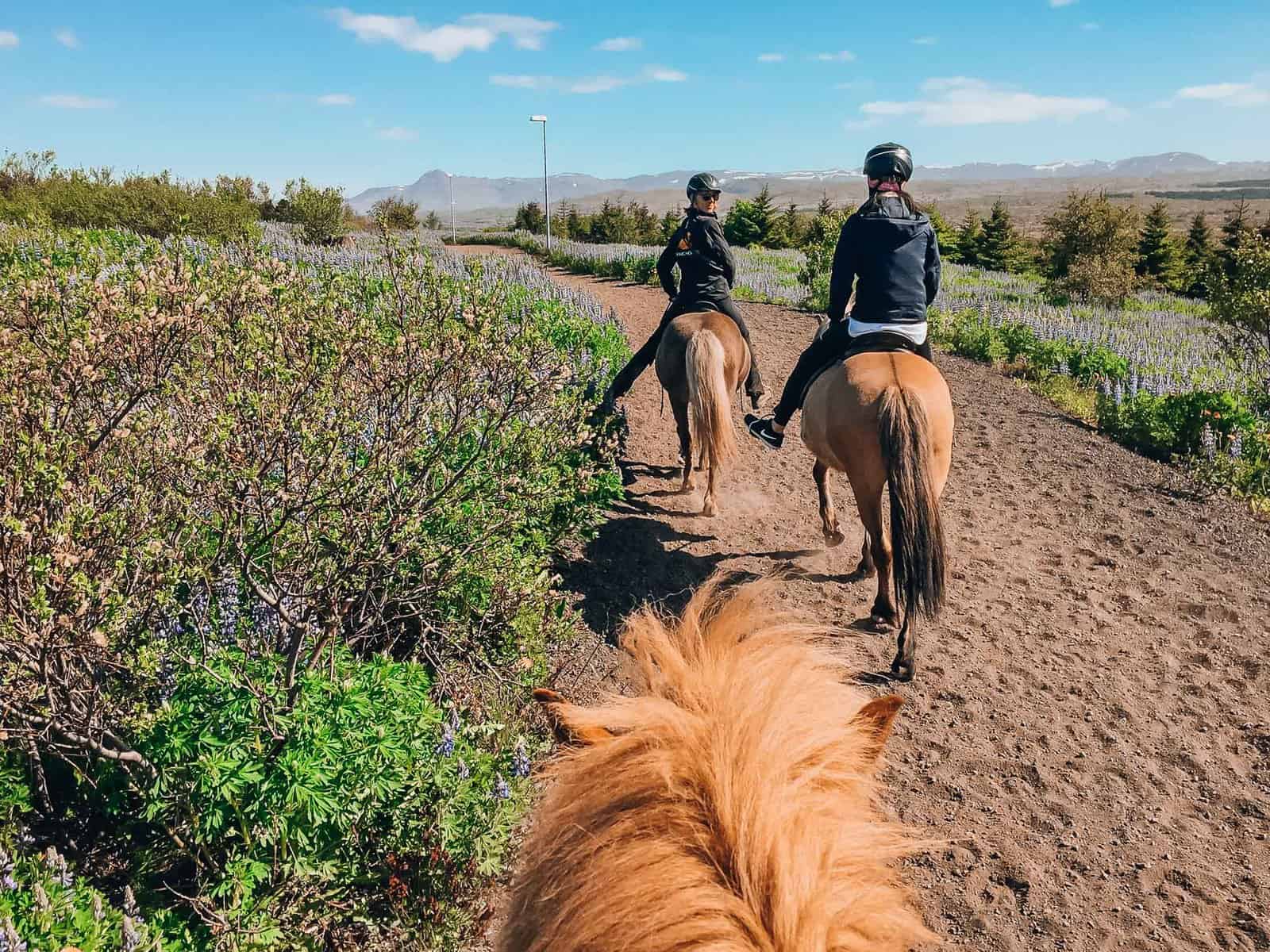 Evening: Exploring The Best Restaurants in Reykjavik
After Viking Tours drove us back to our hotel, we spent about an hour wandering around Laugavegur. We finally stumbled upon Snaps Bistro and were so glad we did! Snaps is an adorable French restaurant featuring the freshest Icelandic seafood and meat. The restaurant's large windows and many plants make it feel like you're in a secret garden solarium. Our waiter welcomed us and proudly pronounced that we were eating at Bjork's favorite restaurant in Iceland. And who are we to disagree with Bjork? We ordered glasses of white wine, moules frites and beef tenderloin. I was tempted by the extensive gin & tonic menu but stuck with the house white wine – a dry, crisp delight – to go with my mussels.
After a delicious dinner, we went for one more drink at a random bar and then back to the hotel, where we raided the restocked minibar for a nightcap. It was a relaxing, wine-fueled evening.
3 Day Iceland Itinerary Day 3: Iceland's Best Waterfalls And Drive To Vik Beach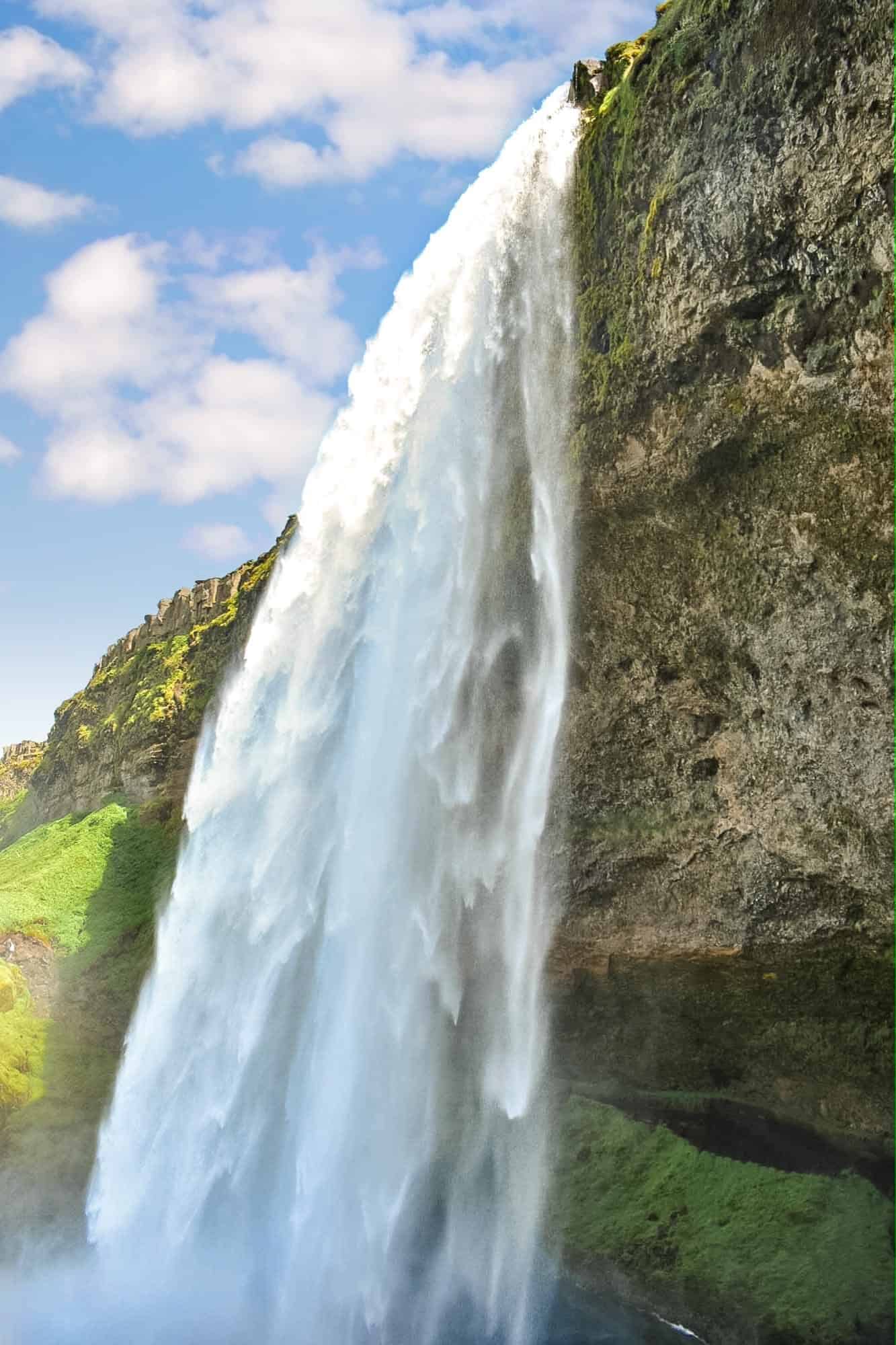 Morning: Self-Driving Tour of Iceland's Best Waterfalls
Are you even in Iceland if you don't climb up at least two waterfalls and marvel at their cascading, rushing torrents of water and mist? This was the agenda for day 3 of our 3 day Iceland itinerary. We drove part of the famous Ring Road – another popular day trip from Reykjavik – and then all the way to southern Iceland to see Vik's black sand beach.
To reach the Ring Road, take the main road of Miklabraut out of Reykjavik and follow it west, past two gas stations on your right. Then follow the signs for Route 1S towards Vik. It's pretty much a straight drive towards a few waterfalls and the black sand beach.
This is a lot of driving for one day. Most people do the Ring Road route over a few days and stay overnight along the route. It's about 3 hours to Vik from Reykjavik so heading there and back in one day is about 6 hours of driving, not including stops. But, if you only have a weekend in Iceland, it's absolutely doable if you're prepared for the long drive. Fortunately, the scenery and landscape is so incredible, unbelievable and awe-inspiring that you really won't mind. It's not hyperbole when you hear that Iceland's terrain looks like you landed on another planet. It's absolutely true. I felt like we were driving across the moon as I gazed at the moss-covered lava fields spiraling out towards the horizon as far as the eye can see.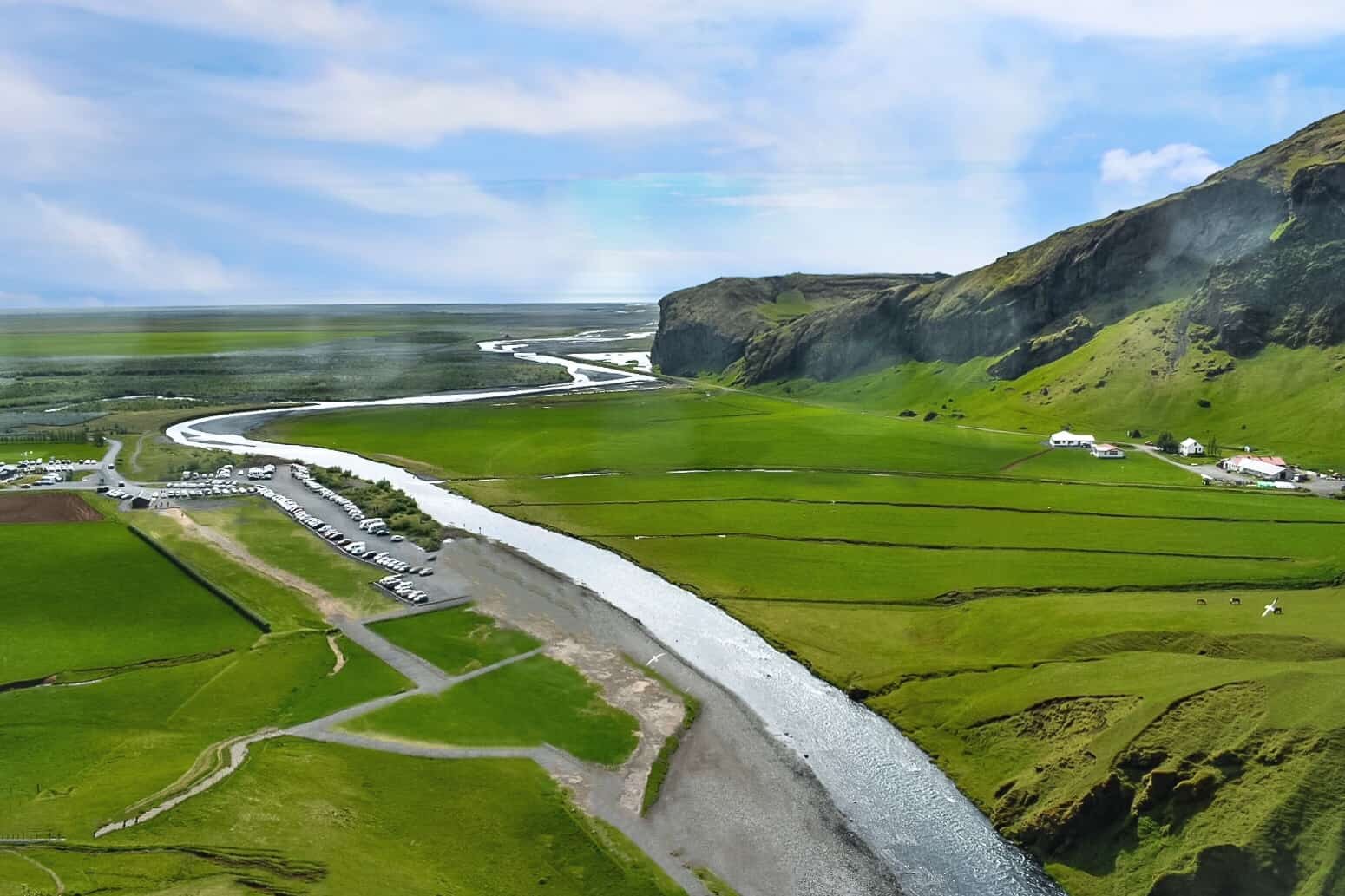 We stocked up on coffee and breakfast pastries at Te & Kaffi and hit the road. Once again, the drive was easy and straightforward. We kept on Route 1S all the way through Selfoss to our first stop, the majestic Seljalandsfoss waterfall. Stop here to explore and follow the pathway that circles all around and behind the waterfall. You'll get wet but it's worth it to stand behind the deluge of water and gaze out at the countryside. Feeling the force of the water at that close proximity was equal parts peaceful and adrenaline-inducing.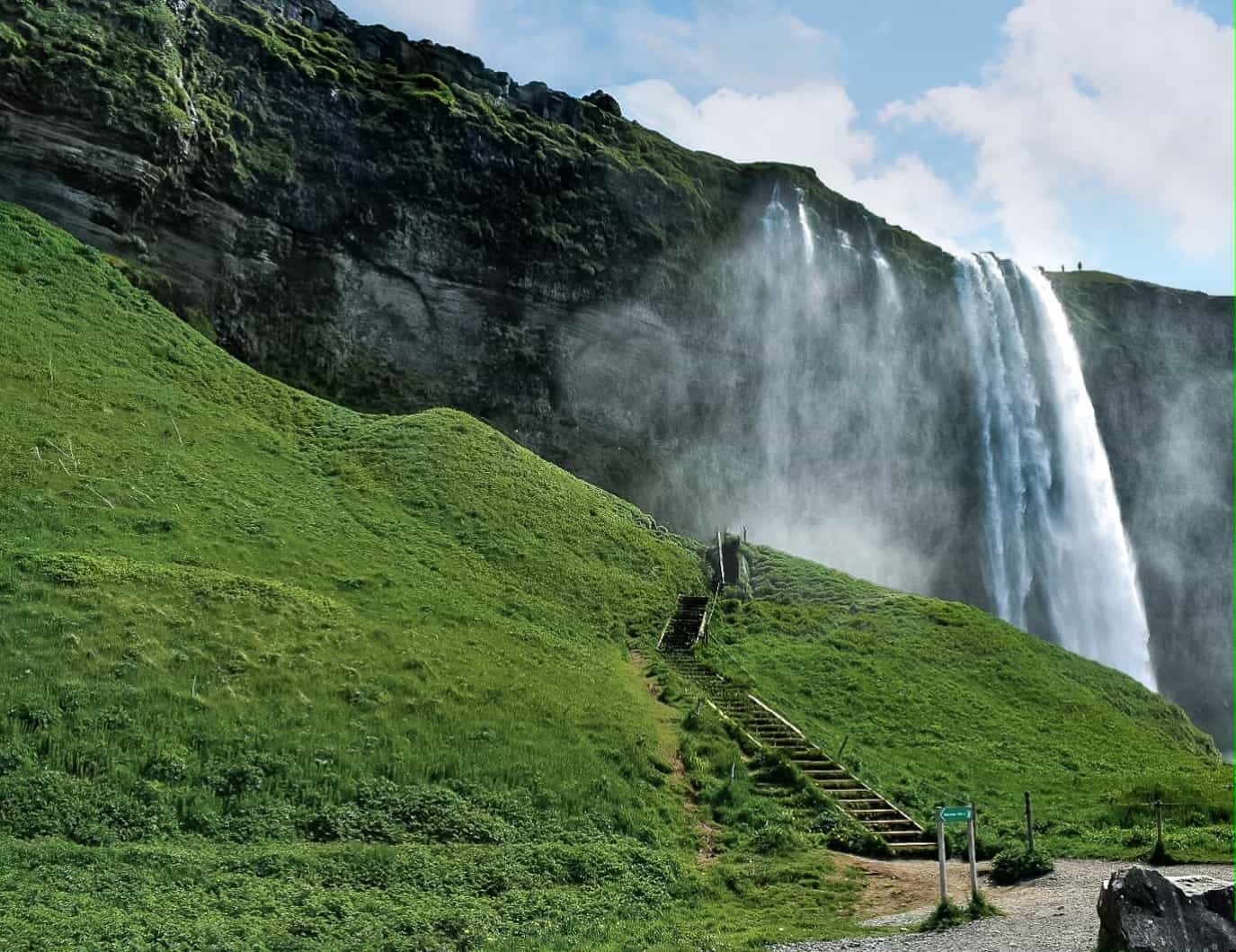 After Seljalandsfoss, we continued on towards Skogafoss, one of Iceland's biggest waterfalls. You can get up close and personal with this waterfall, because there is a man-made staircase leading all the way to the top.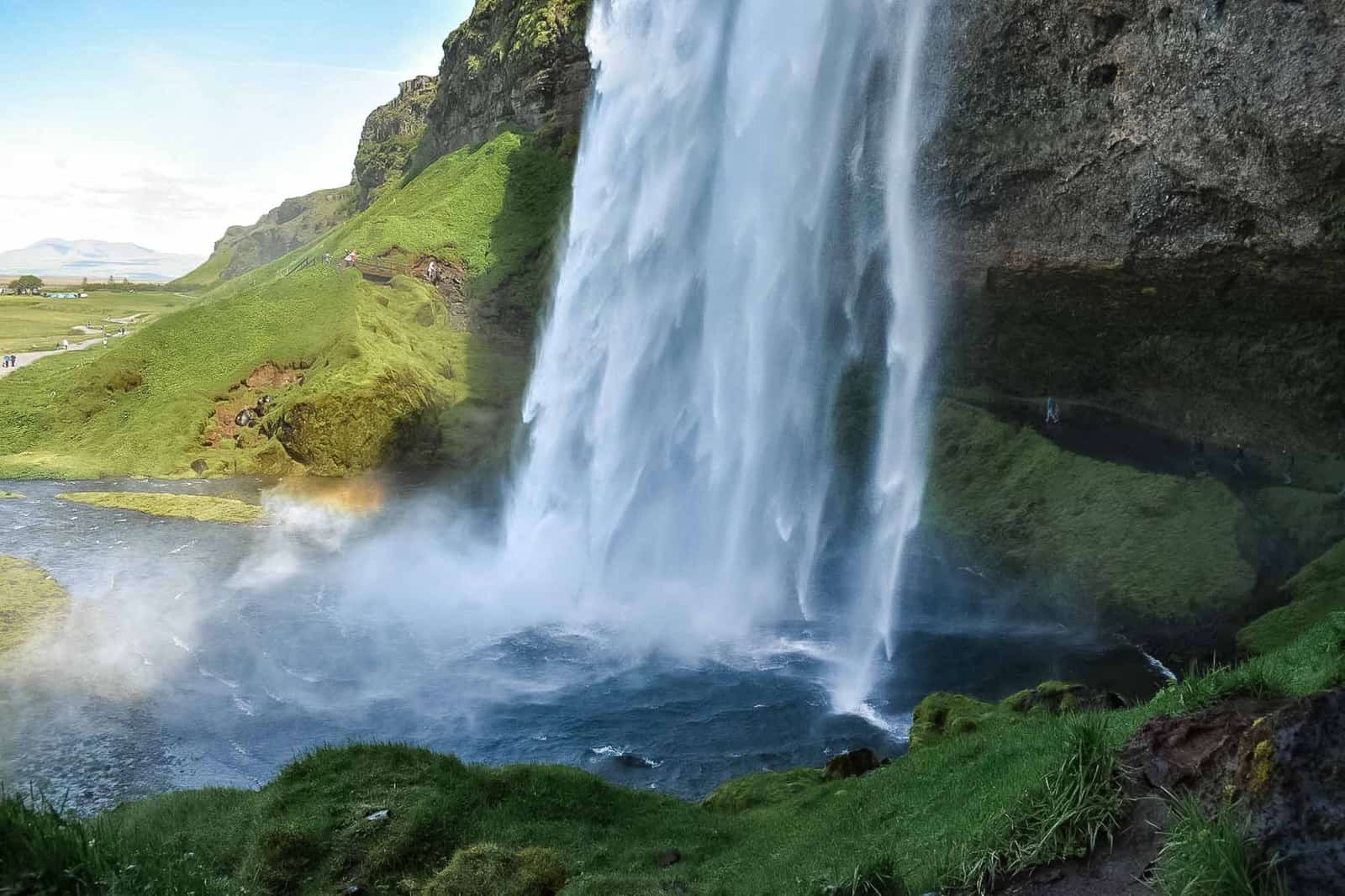 And let me tell you, this is a tall waterfall. I'm not the greatest with heights and I was a little freaked out at the top. I couldn't bring myself to get too close to the edge, to be honest. But the views, even from a safe distance, were amazing.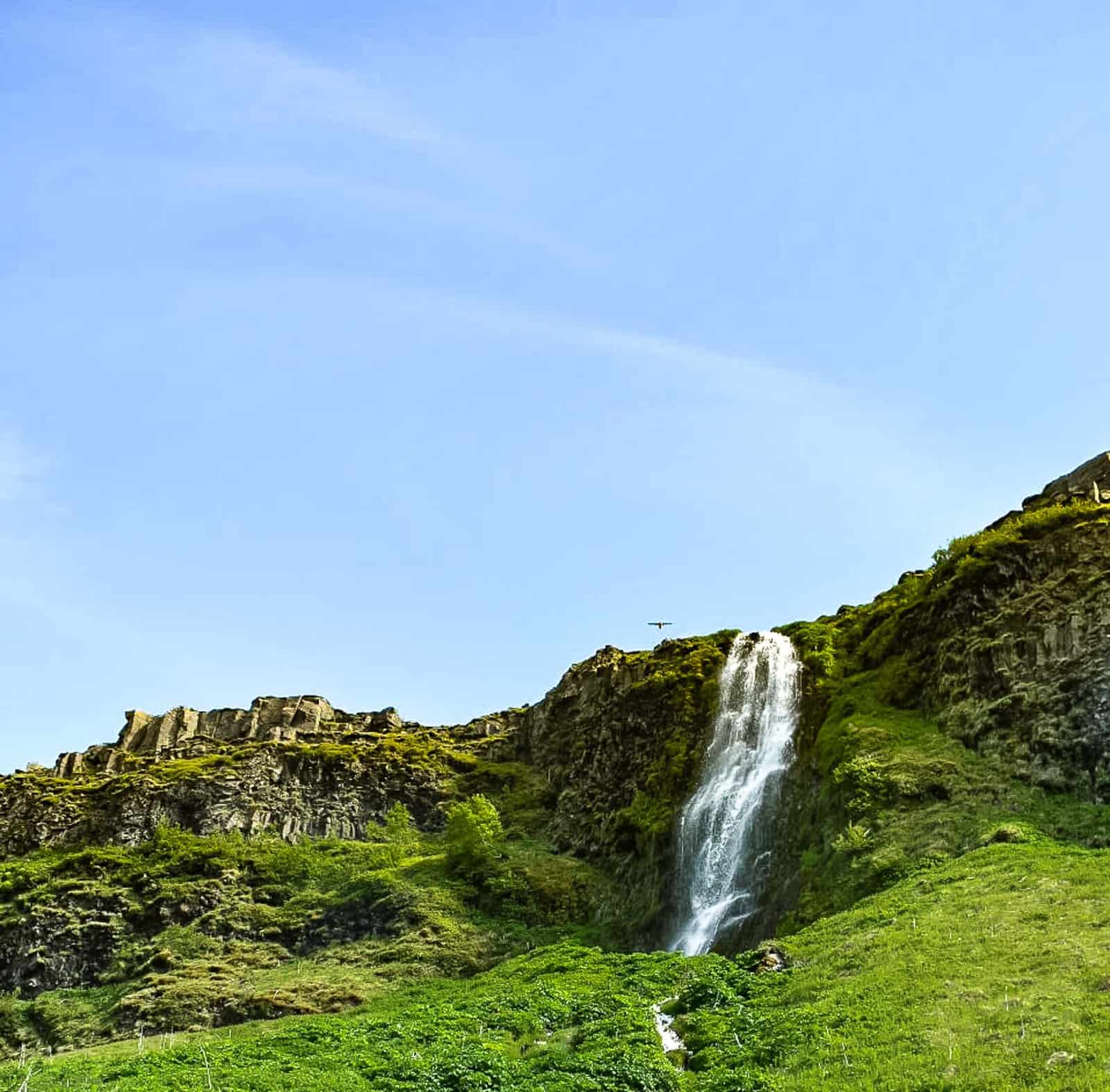 Want to check out even more waterfalls in Iceland? Read this post for more of the best Iceland waterfalls.
Afternoon: Drive To Vik's Black Sand Beach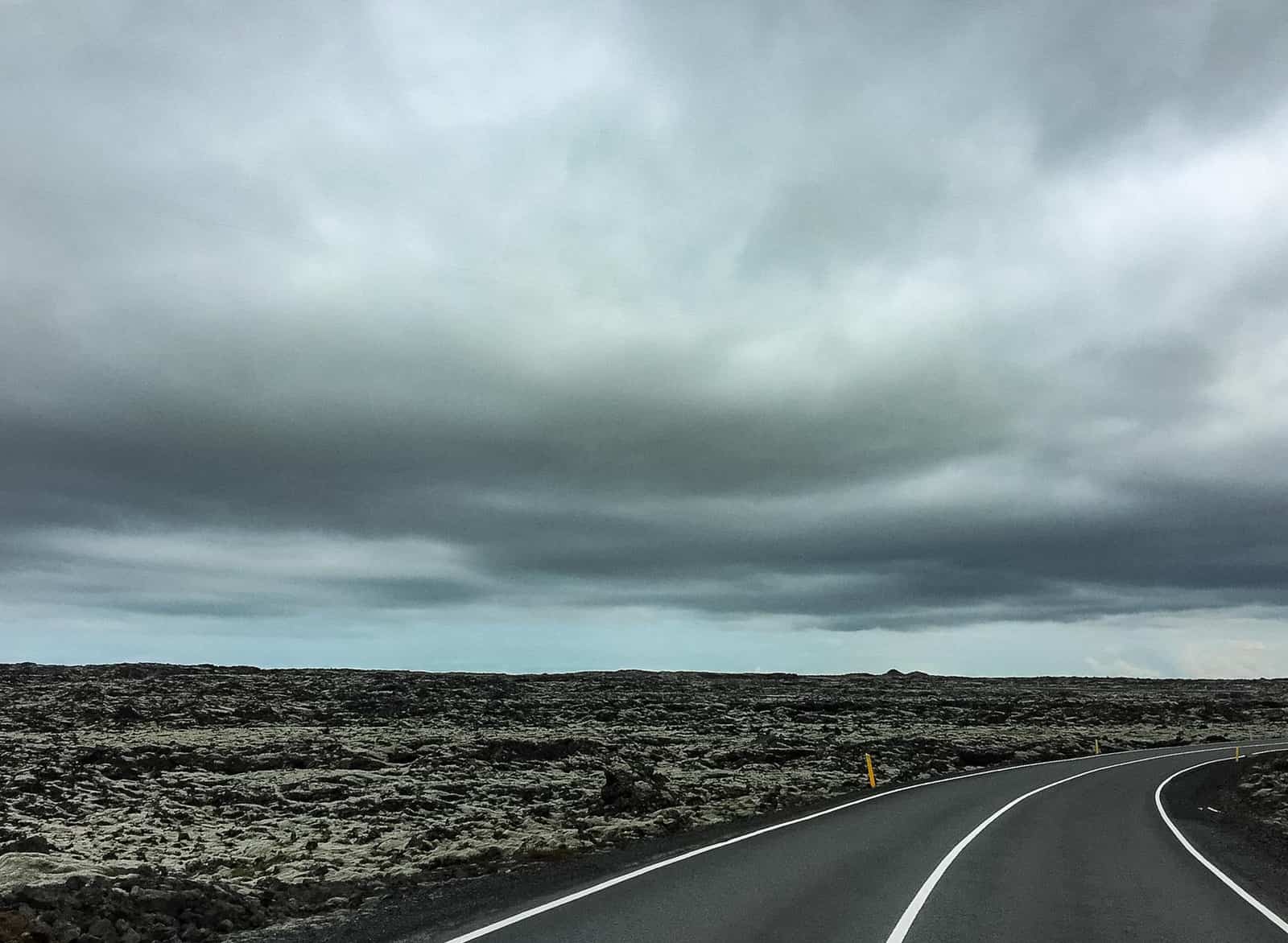 Following our waterfall visits, it was time to drive the final stretch to Vik, and see the famous black sand beach. The monochromatic, dramatic, moody landscape made me feel like I'd stepped into a black and white movie.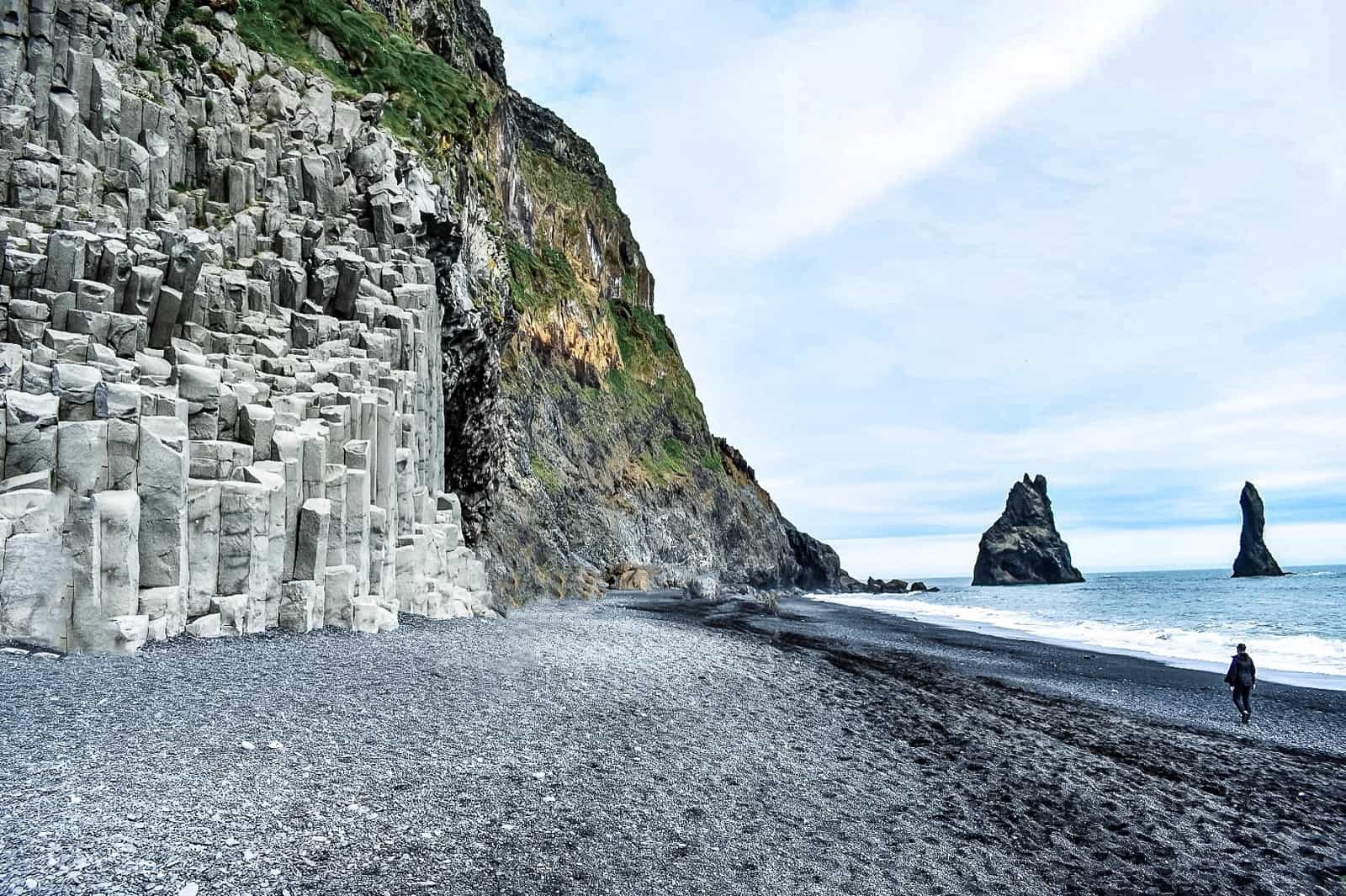 My wild imagination instantly pictured ancient druids and high priestesses performing sacred rituals – reminiscent of scenes from one of my favorite books, The Mists of Avalon. It was dark, romantic, and unfortunately, crowded with tourists. They all faded away as I stared into the foggy horizon. I swear I could practically see the Viking ships setting sail for parts unknown.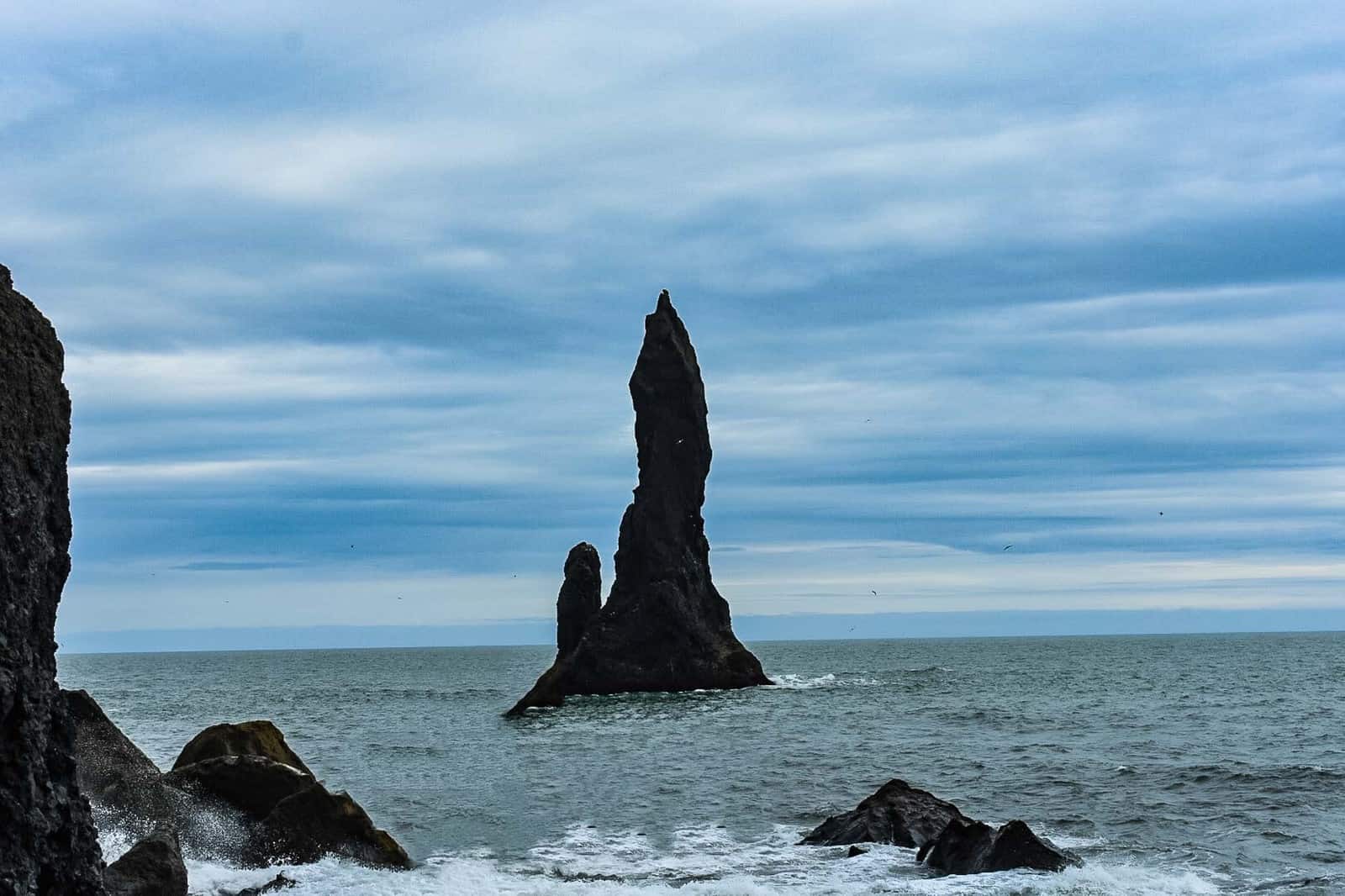 There's not much to do in Vik besides see the beach, although it's the largest town in Southern Iceland. After taking in the scenery at the beach, we set off for the 3 hour drive back to Reykjavik. As another option, you could also visit any of these amazing black sand beaches in Iceland.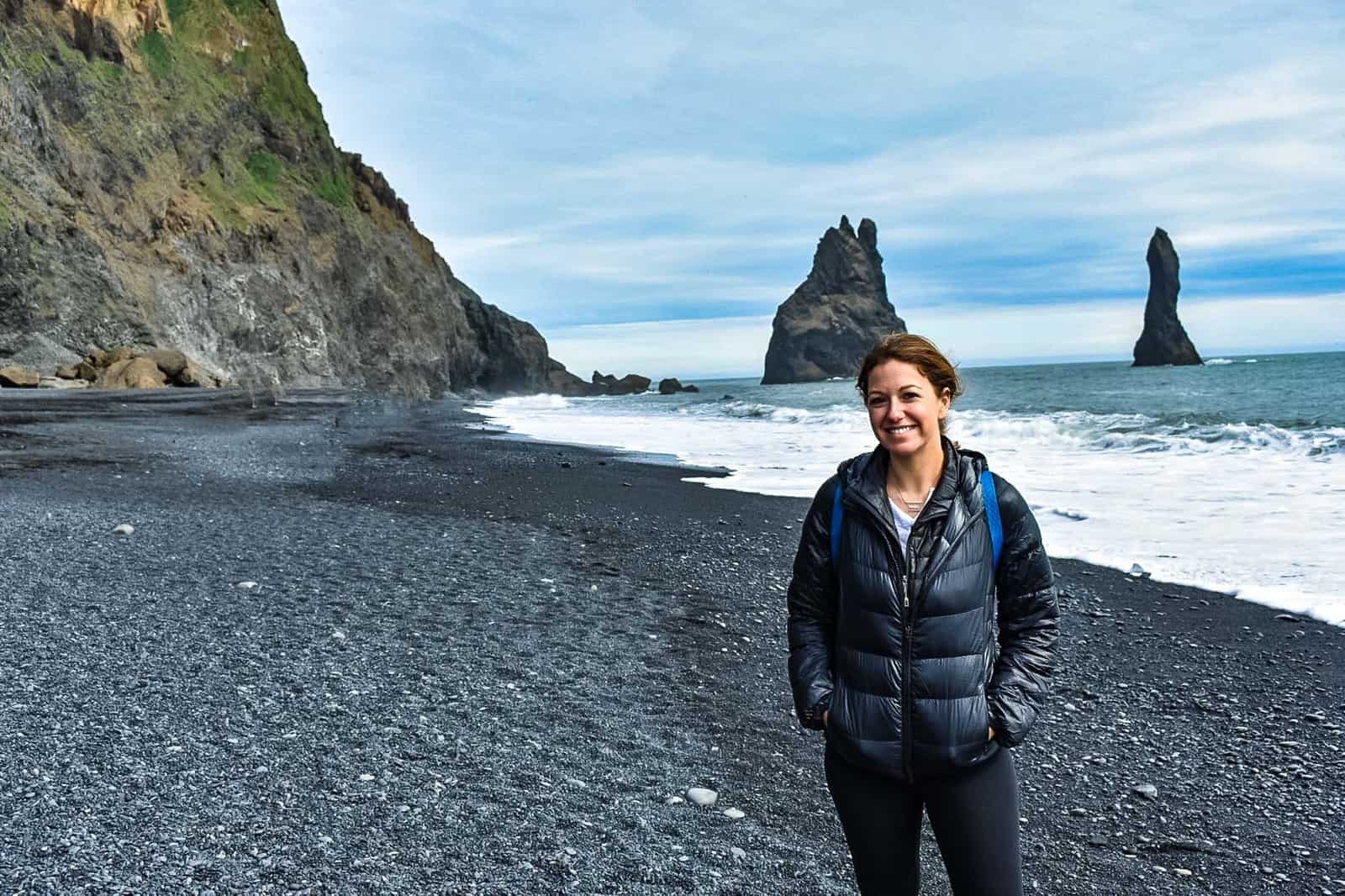 Once again, we were astounded by the alien landscape transitioning from mountainous greenery to flat lava fields and back again. On our way back, I was determined to find a hidden gem of a restaurant that I'd read about that was on the outskirts of Reykjavik.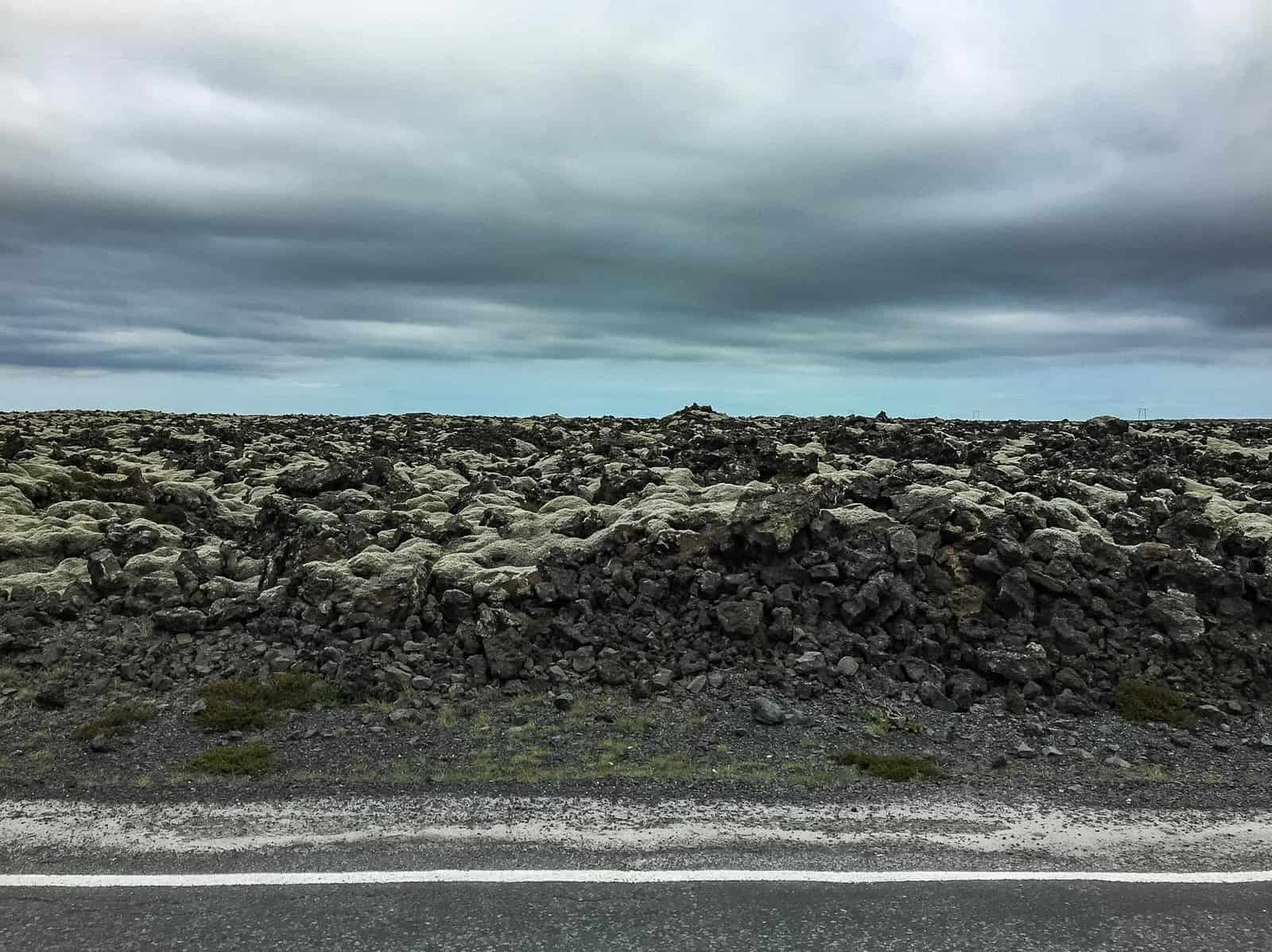 Evening: Reykjavik's Hidden Gem Restaurant
We set out to find the restaurant Fjorubordid , a restaurant that apparently served buckets of the freshest lobster tails drenched in garlic butter. As we drove and drove, we became increasingly concerned that we were lost, as there didn't appear to be anything around us for miles. We stuck it out with the GPS directions though, and finally came upon a small village with all of 5 buildings that appeared abandoned. We couldn't believe we were there but as we pulled into a parking lot we saw a sign with an outline of a lobster and the name of the restaurant. Success!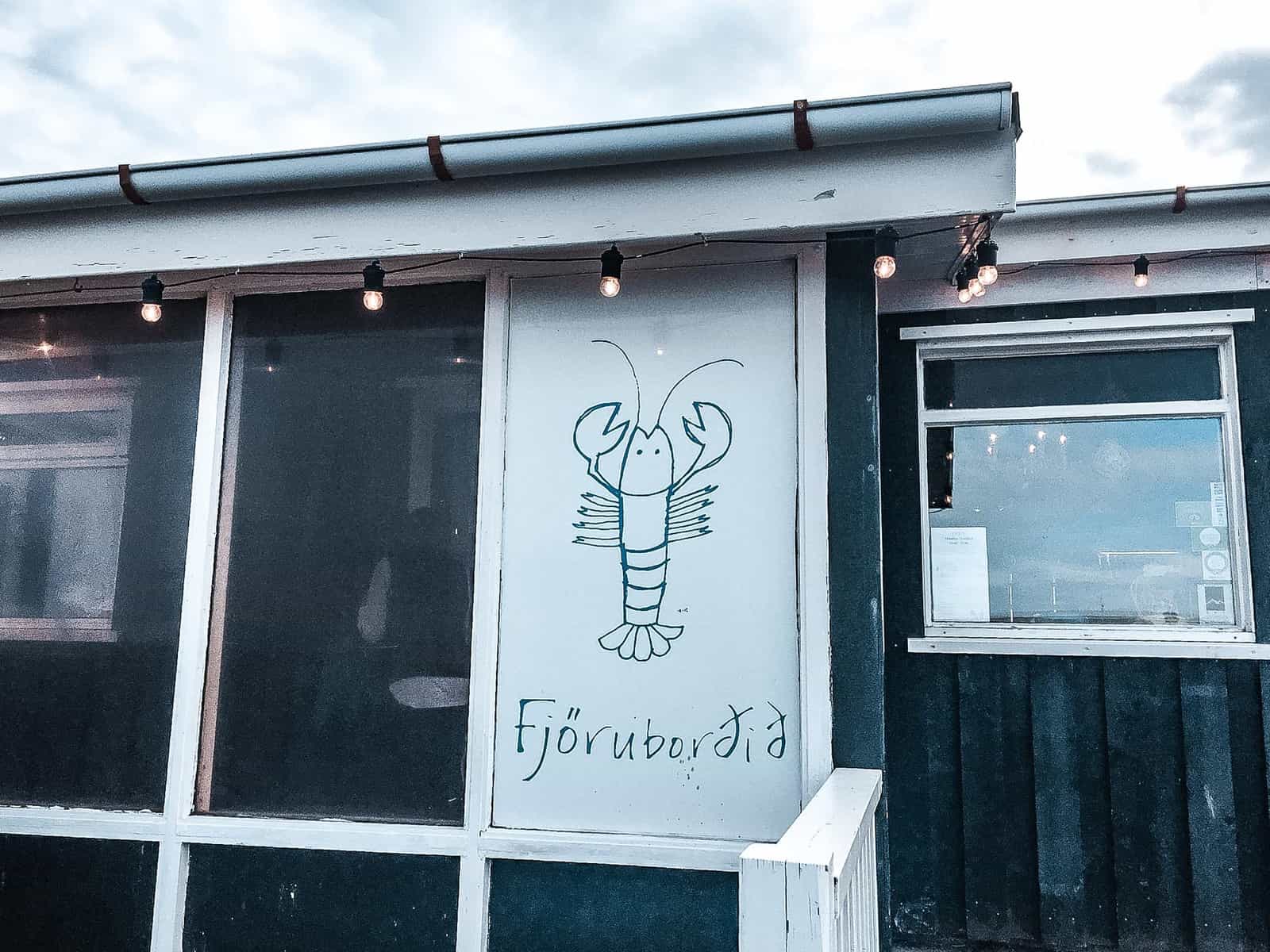 Fjorubordid turned out to be the best meal I had in Iceland and everyone who visits should absolutely, unequivocally run here. Not only did they serve the freshest Icelandic lobster tails complete with potatoes and corn, the restaurant had gluten-free bread for me sop up all the garlicky, lemony butter at the bottom of the bucket! I mean, I was in heaven. The restaurant is located in Stokkseyri, about 40 minutes outside of Reykjavik.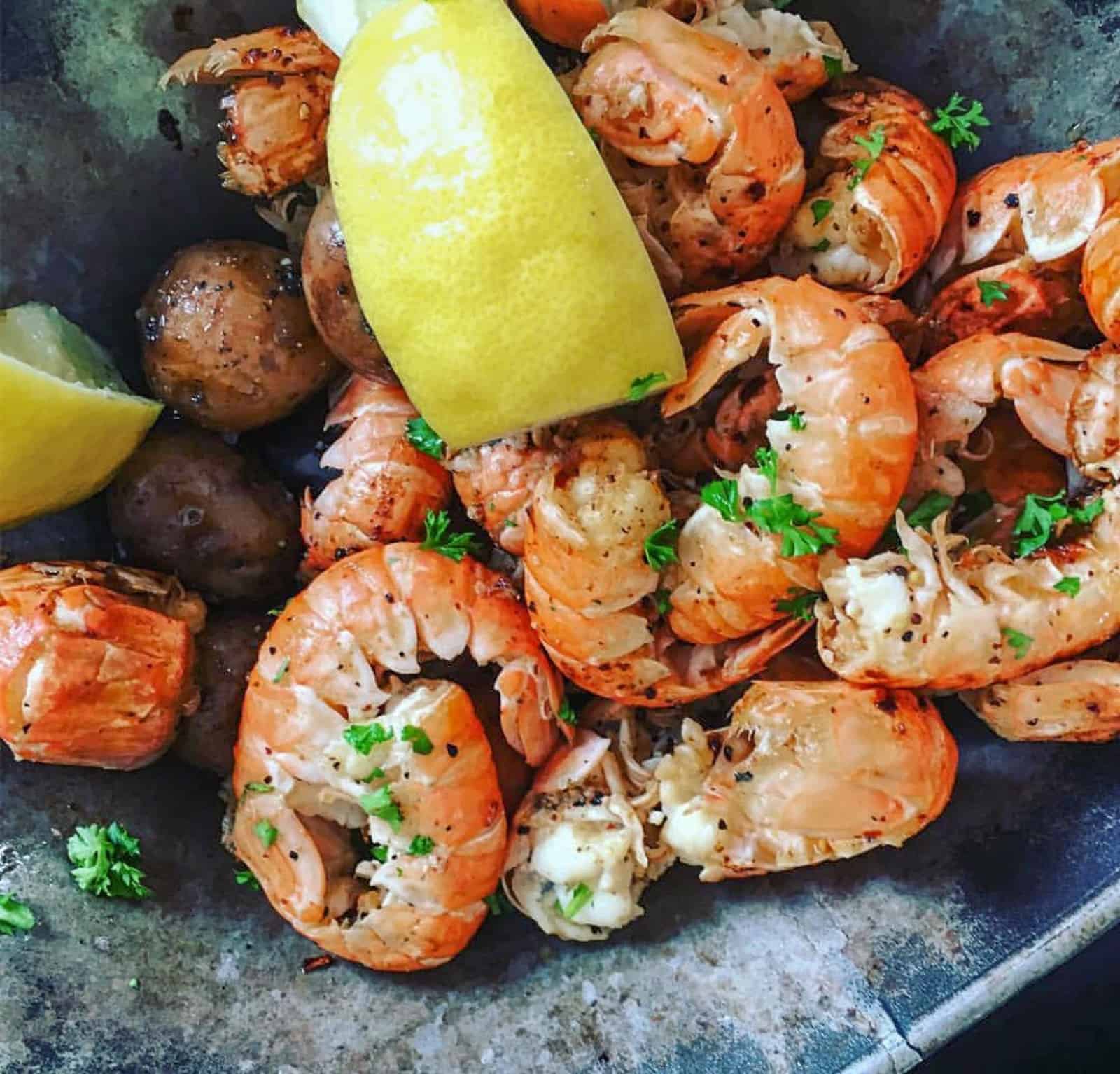 After stuffing ourselves at Fjorubordid, we drove the last 40 minutes back to Reykjavik and collapsed into bed.
Departure: Iceland's Blue Lagoon And Depart For Home
It's true that the Blue Lagoon is very touristy and commercial, but I still think it's worth a visit. It's one of those things you just have to do in Iceland (like riding a gondola in Venice) and as most of the advice goes, it really is best to visit on your way to or from Reykjavik airport. We chose to go on our way out, thinking that relaxing in the healing thermal spring water would be a great way to close the trip and wind down before our flight home.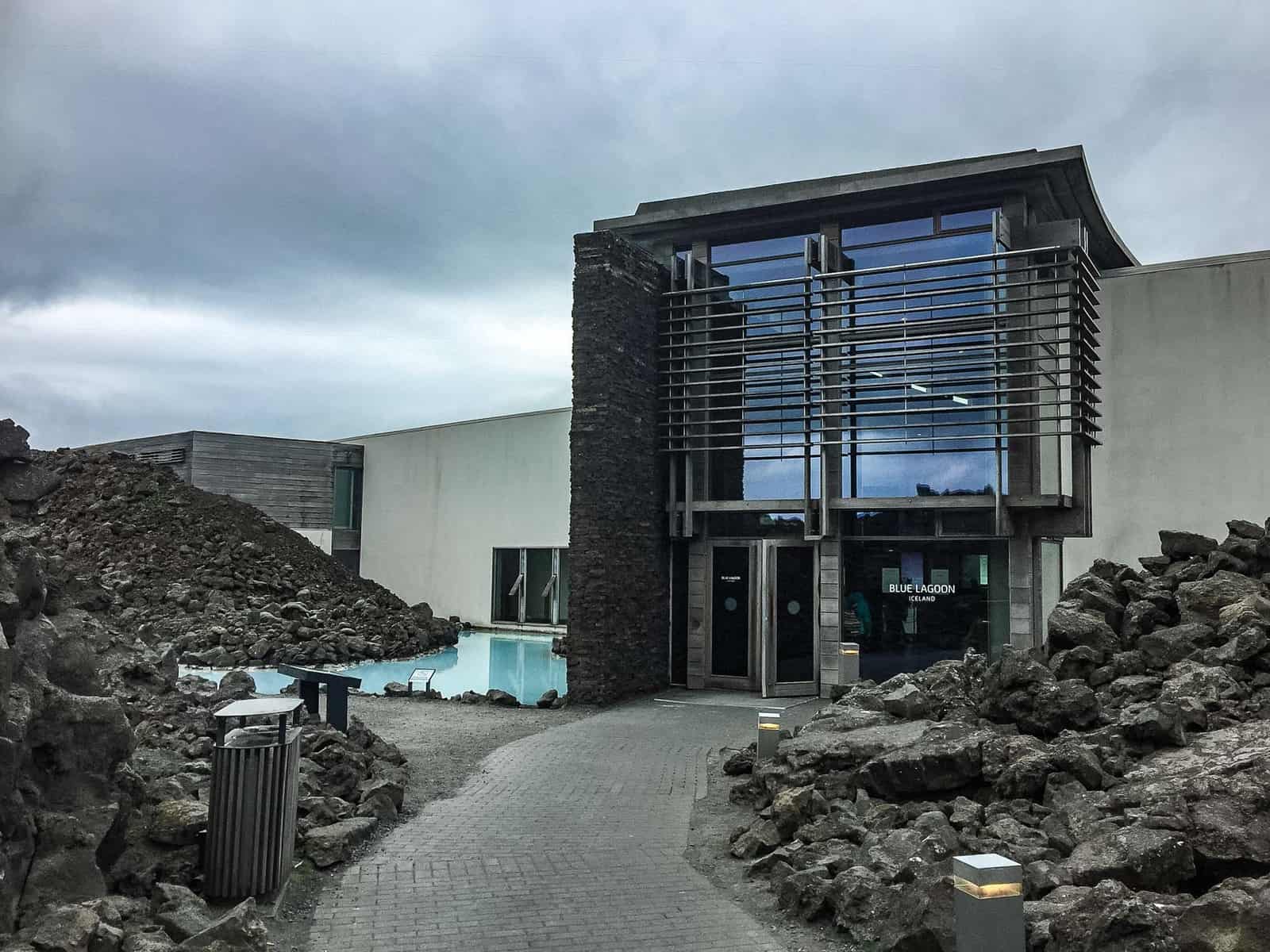 You must book your reservation for the Blue Lagoon in advance, but luckily the hours are long so it's not hard to find a time. The Blue Lagoon is open from 8:00 AM to 11:00 PM, and there is a large parking lot, a luggage storage facility, lockers and a cafe. There's even a hotel now if you wanted to stay at the Blue Lagoon, called The Retreat at Blue Lagoon.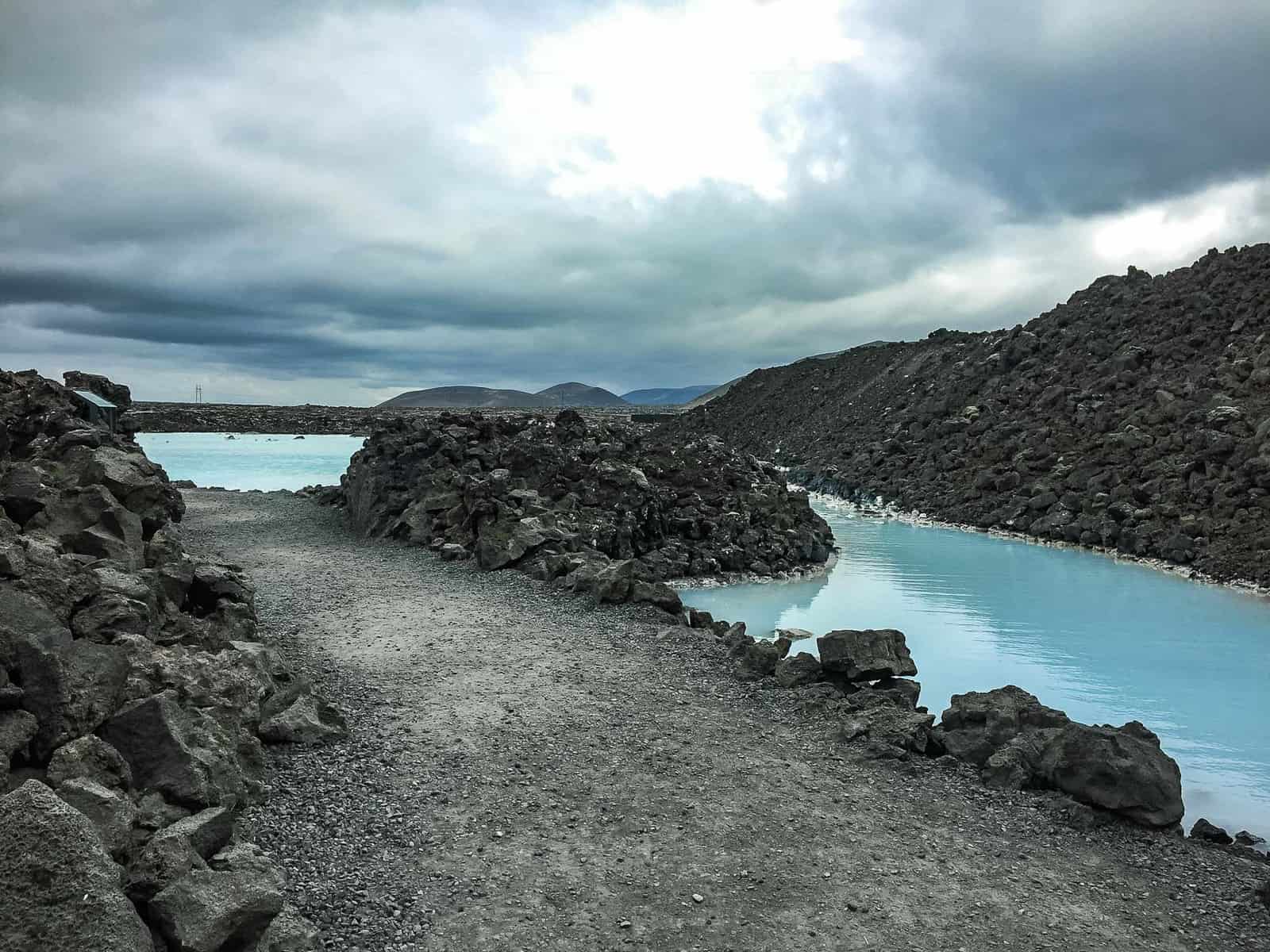 Keep in mind a bathing suit is required in the lagoon. There are showers in the locker room you can use before and after the lagoon. We left our suitcases in the trunk of our rental car and brought a change of clothes into the lagoon. It was easy to get to the Blue Lagoon from Reykjavik, just follow the main highway towards Keflavik airport and follow the signs for the Blue Lagoon. It's about a 50 minute drive from Reykjavik, and then another 20 minutes from the Blue Lagoon to the airport.
Even though the lagoon was crowded, we found it relaxing and had a great time dousing ourselves in mud and rinsing off. We spent about 2 hours total at the lagoon, including a bit of relaxing time in the cafe.
After the Blue Lagoon, it was time to head back to the airport for our flight to New York. Everything went smoothly again with WOW Air but remember although to stock up on snacks and beverages again before boarding.
So there you have it, the perfect 3 day Iceland itinerary during Iceland's summer months!
Have you been to Iceland? What are your favorite experiences in the land of fire and ice? Let me know in the comments!

I would so appreciate some love on Pinterest if you liked this post, give it a save!