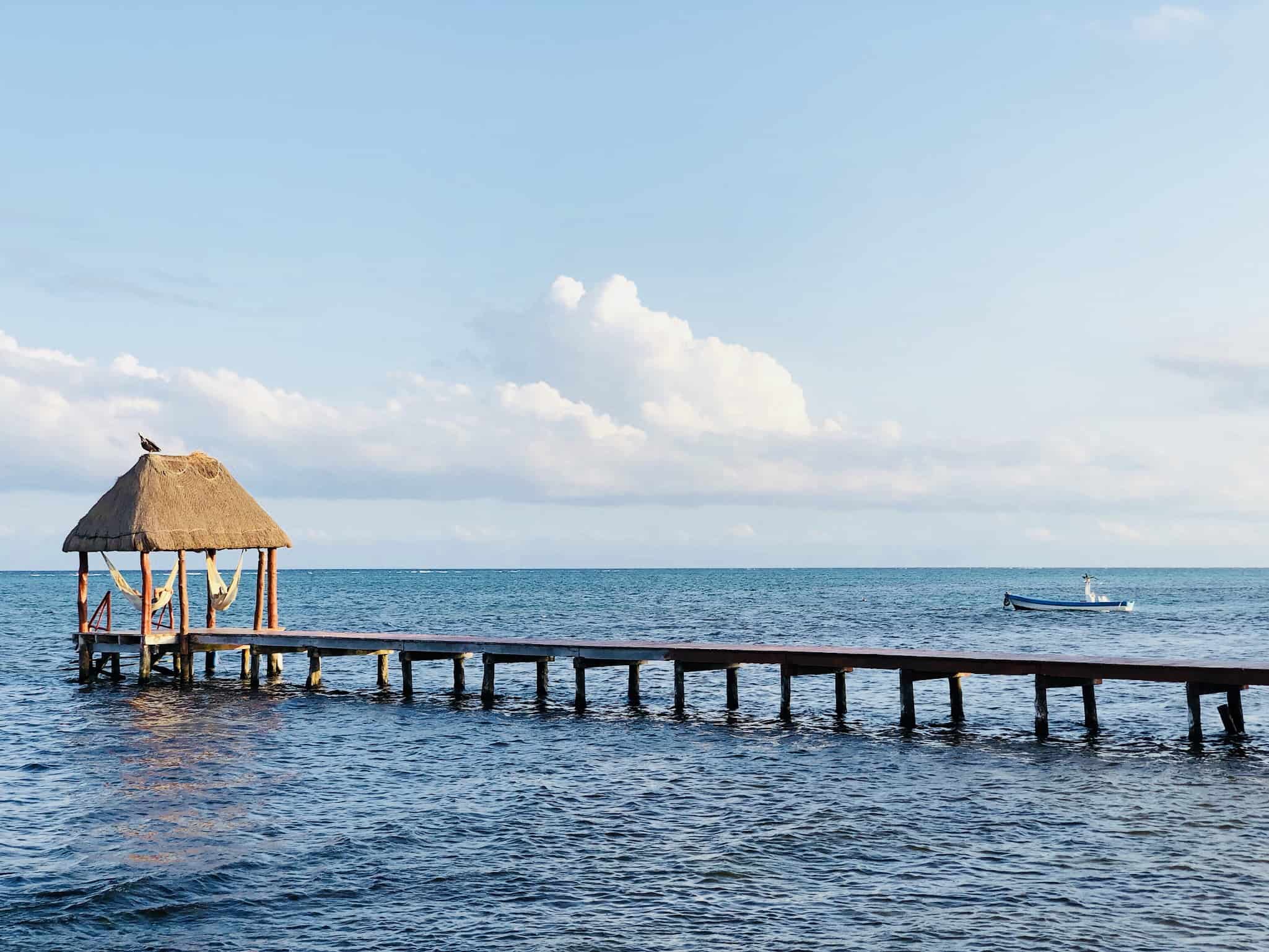 Does anyone else feel like jetting off for a 3 day weekend itinerary in Tulum is the thing to do at the moment?
I have to admit I never really got on the Tulum bandwagon. Don't get me wrong, I love gorgeous beaches, crystal clear waters and hip restaurants. But I always felt like it was just a little too cool for me. Like, the Williamsburg of Mexico. Where I always kind of wanted to hang out but never really felt cool enough to belong. Who's with me?
But, oh boy was I wrong.
To celebrate both a friend's recent breakup (it's a good thing, trust) and a friend's recent engagement (also a good thing) myself and three girlfriends booked a whirlwind 2.5 days in Tulum. All of a sudden – maybe because I was noticing it more – but as soon as we booked the trip it felt like EVERYONE in my Insta feed (edit: LiketoKnow.it app) was in Tulum. Lucie Fink (ps – I love you, please read my blog!), Naomi Watts, and more.
So, I did what I do best and I dove headfirst into Google.
And what I learned was the best thing to do in Tulum is to EAT ALL THE TACOS.
I essentially created our 3 day Tulum itinerary entirely around where I wanted to eat #travelgoals.
I spent hours reading reviews and recommendations on where to stay, where to eat, where to drink and what to do, and I've conveniently mapped it all here for you in my Perfect Tulum Itinerary! I also put together a Tulum Travel Guide with even more options for what to do, read it HERE.
Let's get a few of the basics out of the way first though.
3 Day Tulum Itinerary Travel Tips And Advice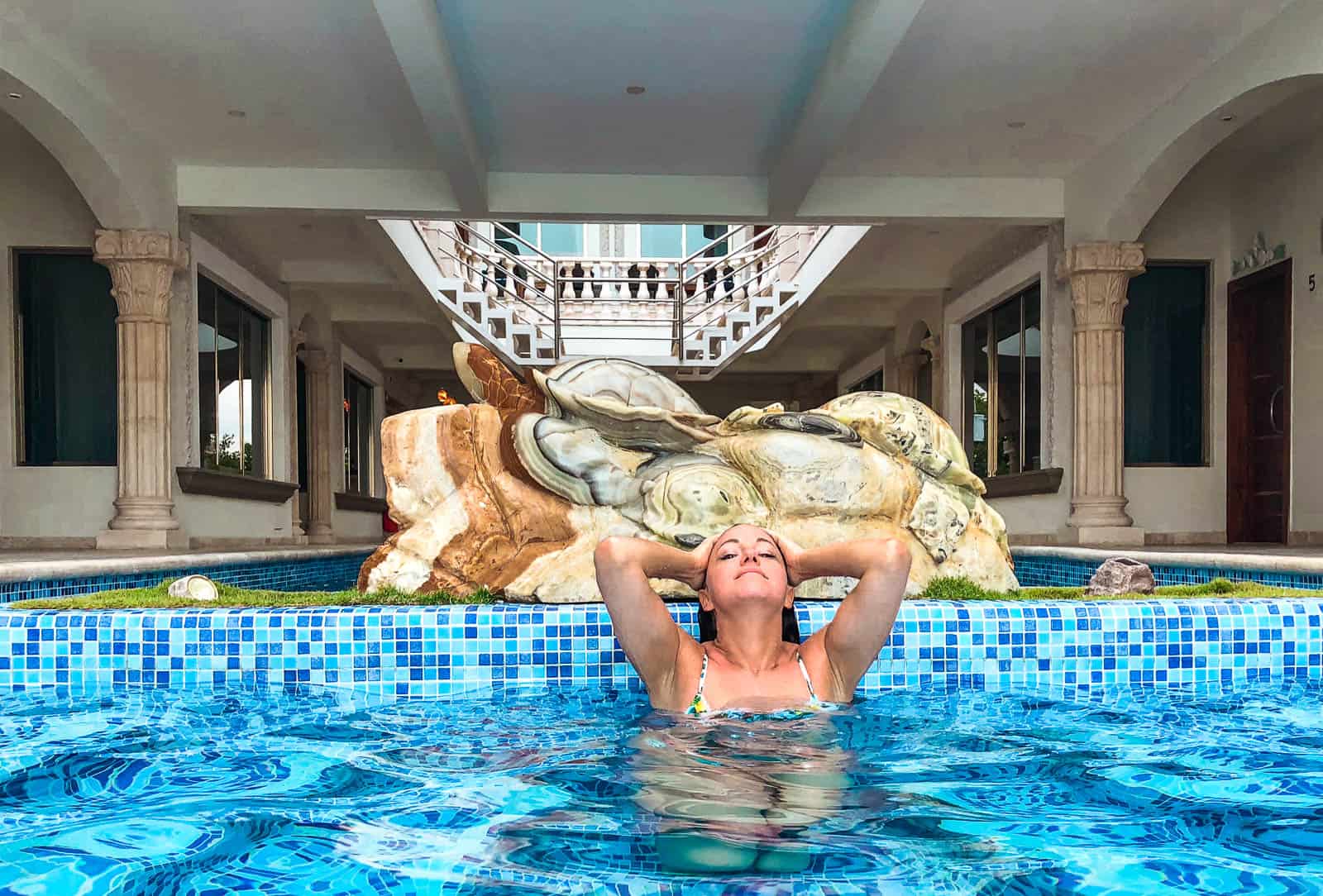 (Disclosure: This post may contain affiliate links which means I may earn a small commission if you make a purchase from a link in this post, at no additional cost to you. Additionally, as an Amazon Associate I earn from qualifying purchases. Thank you for supporting this site!)
Safety: Number one on everyone's mind at the moment is whether Tulum is safe. I of course made the mistake of telling my (surprisingly well-informed) grandmother about my trip and naturally she freaked out. Here's the thing: DON'T FREAK OUT. I felt incredibly safe the entire time I was in Tulum. Yes, there are issues along the border towns and yes, you must always be aware, be careful, watch your drinks, and watch out for your friends, but those are basic travel rules everyone should follow (and I always follow). I read a whole bunch of TripAdvisor reviews on this topic and I generally agree with the consensus there: not going to Tulum is like not going to Manhattan because there can be violence in the Bronx.
Length of stay: I personally found our 3 day Tulum itinerary a tad short. I would have loved to have four full days, which I think would then be perfect for two beach days and two exploring days. But, the cubicle that currently funds the travels beckoned, and alas my friends and I needed to get back to the office. Whirlwind 3 day itinerary it is!
How to get there: Fly directly (if you can) into Cancun International Airport and arrange a transfer with a reputable car service company or through your hotel. We used Cancun Airport Transportation based on a few reviews I'd read and were overall satisfied with their service. We had to wait about 20 mins at the airport because there were three groups ahead of us on the list – minor annoyance but there's a cheesy and overpriced outdoor bar at the Cancun airport so the irritation was dulled via a round of tequila sodas. The representative organzing the cars from Cancun Airport Transportation also apologized profusely for the wait. When the van arrived, the driver was friendly, the car was well-air conditioned and we didn't hit any traffic. Note that it's about a 1hr 30min drive to Tulum from Cancun Airport so plan your arrival day accordingly.
3 DAY TULUM ITINERARY DAY 1
Arrival, Jungle Dinner At Kitchen Table, Casa Jaguar Cocktails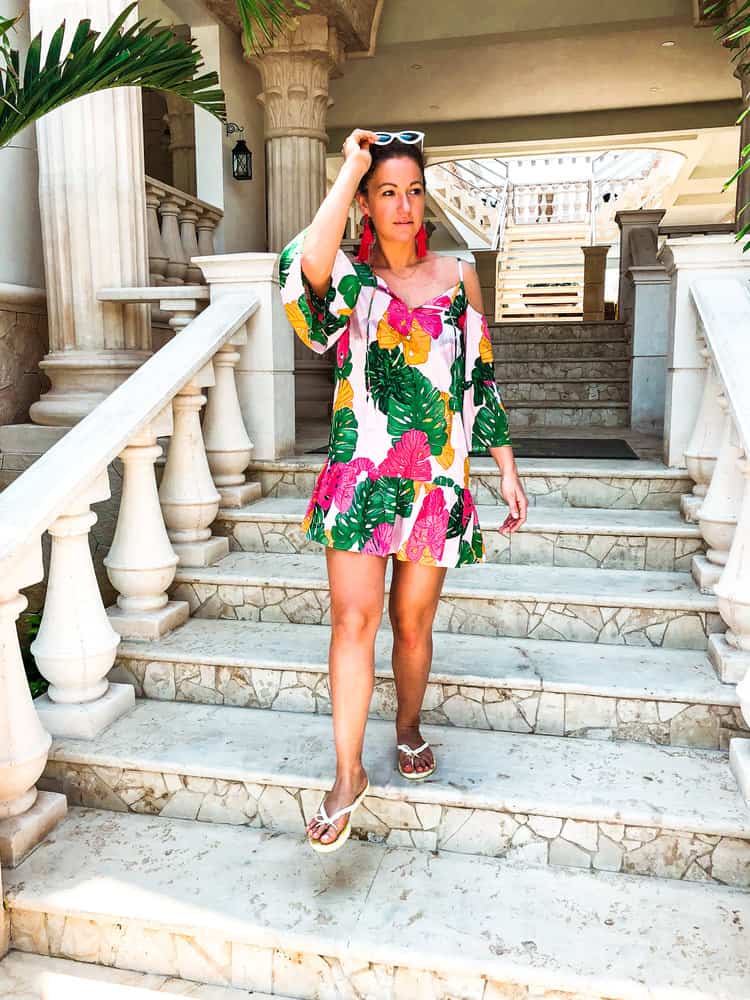 We flew into Cancun Airport direct from NYC on Delta and arrived at 2:30 PM. We hung out at the aforementioned cheesy overpriced bar until our friend from San Francisco arrives at 4 PM. By 4:30 we were in our van on our way to the hotel. 
If you're planning a trip to Mexico and looking for the best all-inclusive luxury resort to stay at, you might enjoy:
Beloved Playa Mujeres Hotel Review
And if you'd like even more Tulum inspiration, check out my Tulum Travel Guide.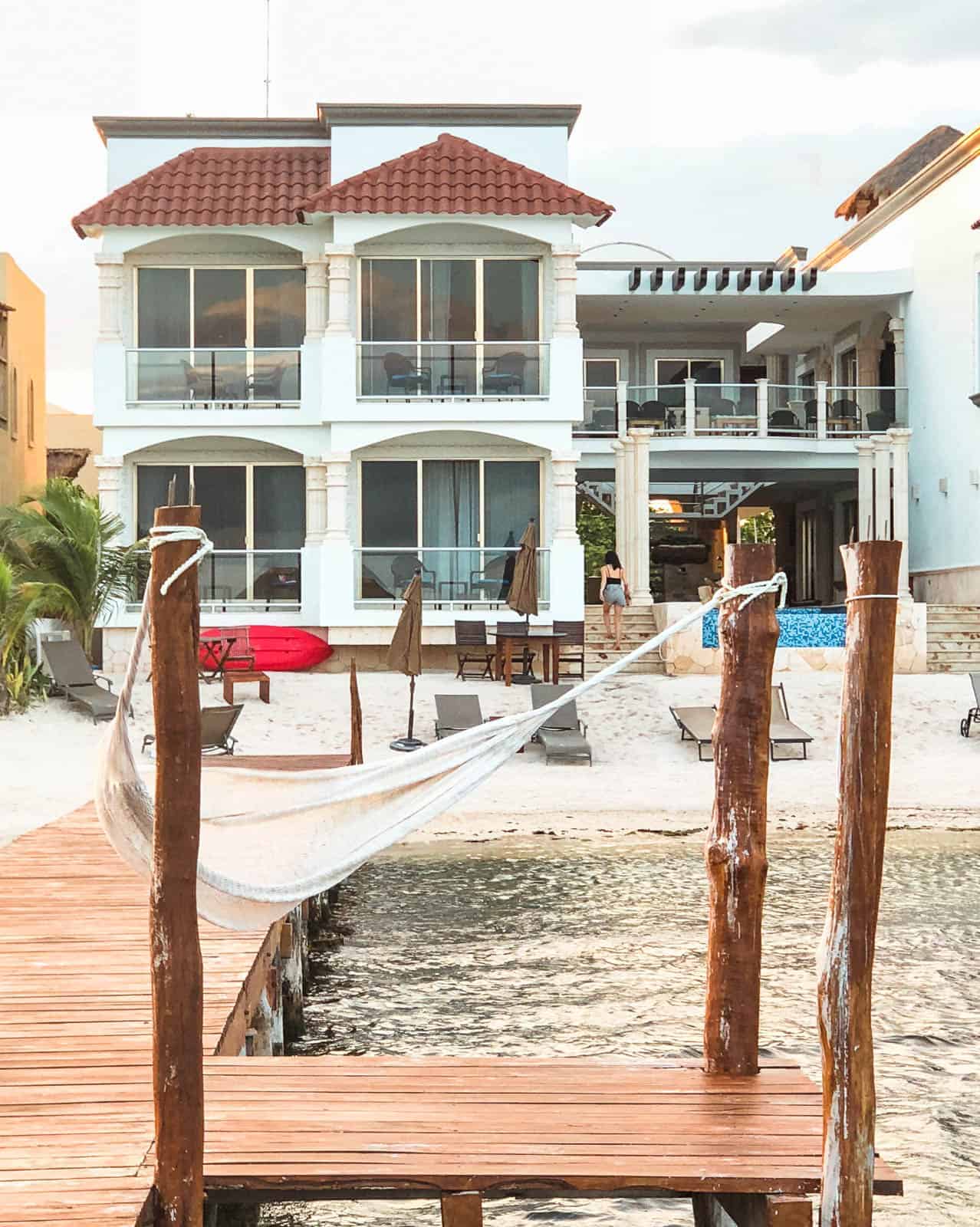 We arrived at our hotel, Cielo Maya Beach, around 6:00 PM and are informed that there was a leak in the junior suite room we booked so we would be moved to a nicer room with one king bed and 2 sofa beds. We weren't thrilled but when we got to the room the sofa beds were made up more like 2 twin beds and the room was much larger. We ordered a round of tequila and sodas from the bar and took them out to the gorgeous beach where a long dock with hammocks at the end were waiting for us to relax in.
Our hotel was a little bit out of the way of the main hotel strip, which on the plus side made it feel really peaceful and quiet, but also meant that we'd have to take taxis everywhere. The reception desk easily called a taxi for us, which promptly arrived at our requested time, 8:00 PM since our first dinner at Kitchen Table was about a 20 min taxi ride from the hotel.
I'd read about both Kitchen Table and Gitano and went back and forth on which restaurant we should eat at for our first night. Both are on Eater's Essential Tulum lists, and both get amazing reviews. I'd initially made a reservation for Gitano but after a little more internet sleuthing it seemed like the real draw at Gitano was the cocktails and ambiance, so I decided to try to switch it for Kitchen Table (and hit up Gitano for drinks one night after dinner). Turns out Kitchen Table only accepts reservations at 6PM or 9PM one week in advance. I set a calendar reminder to email them exactly one week before our arrival date and they got back to me within a day confirming our reservation for 4 people at 9 PM. Success! Keep in mind Kitchen Table only accepts cash or cryptocurrency so come prepared.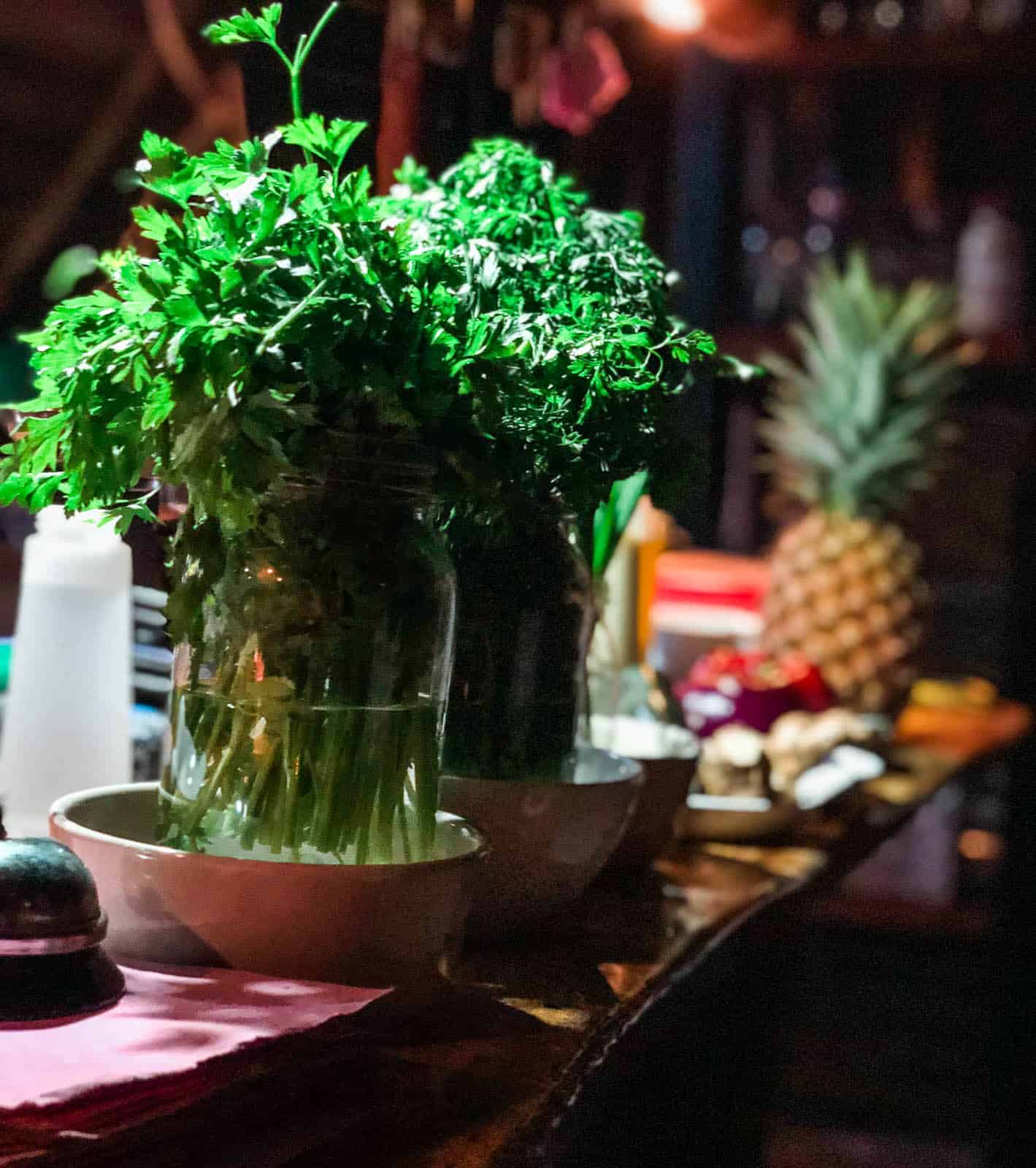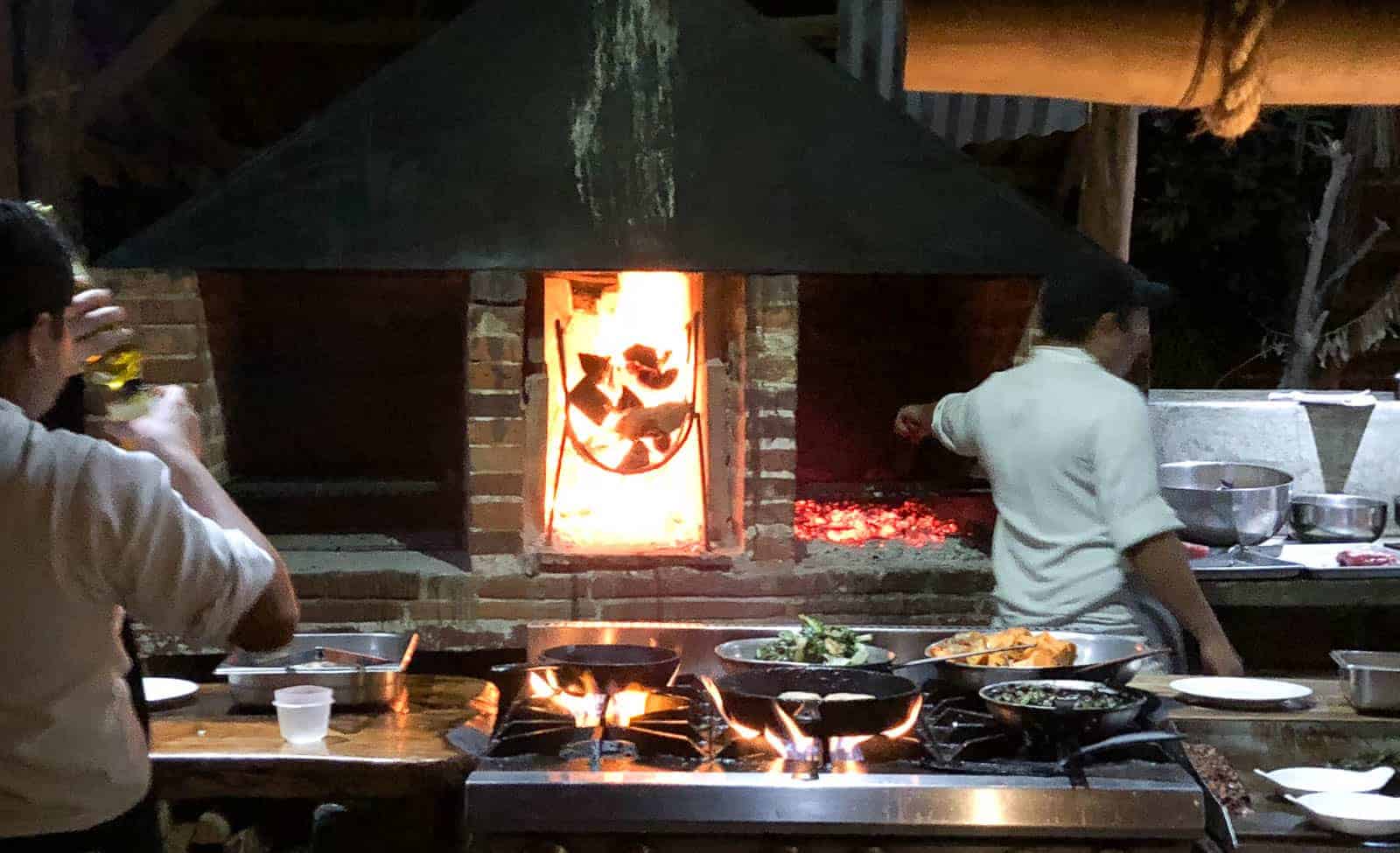 Kitchen Table was INCREDIBLE. Let's start with the ambiance. The restaurant is literally in the middle of the jungle and the kitchen is completely open, with most items being freshly cooked in a wood-fired oven. I loved that you could see the chefs preparing the food, making use of the fresh herbs lining their work stations, and how you could see that they really took pride in the dishes they were preparing. It added an extra layer of visual stimulation and excitement that we all loved. We had a perfect table right in front of the kitchen – definitely request this if you can – and were soon perusing the menu surrounded by the verdant scents of the lush greenery, fresh produce and grilled seafood. We each started with a round of the summer wine cocktail, and we could smell the fresh mint wafting from our glasses. So refreshing! We decided to order a bunch of plates and share so that we could try more dishes. We ordered the pan roasted octopus, the arugula salad, crispy shrimp (not GF!), the fresh fish of the day and a side of plantains. My favorite was the octopus and the fish – both just melted in your mouth. We were too full for dessert but I was definitely eyeing the salted caramel pot!
Because we had such limited time and there were so many places I wanted to try, for each of our 3 nights I had a dinner reservation and then a plan to hit another restaurant/bar for cocktails – this way we still got to experience all the must-try spots in some way. So, after dinner we headed towards the main strip to Casa Jaguar.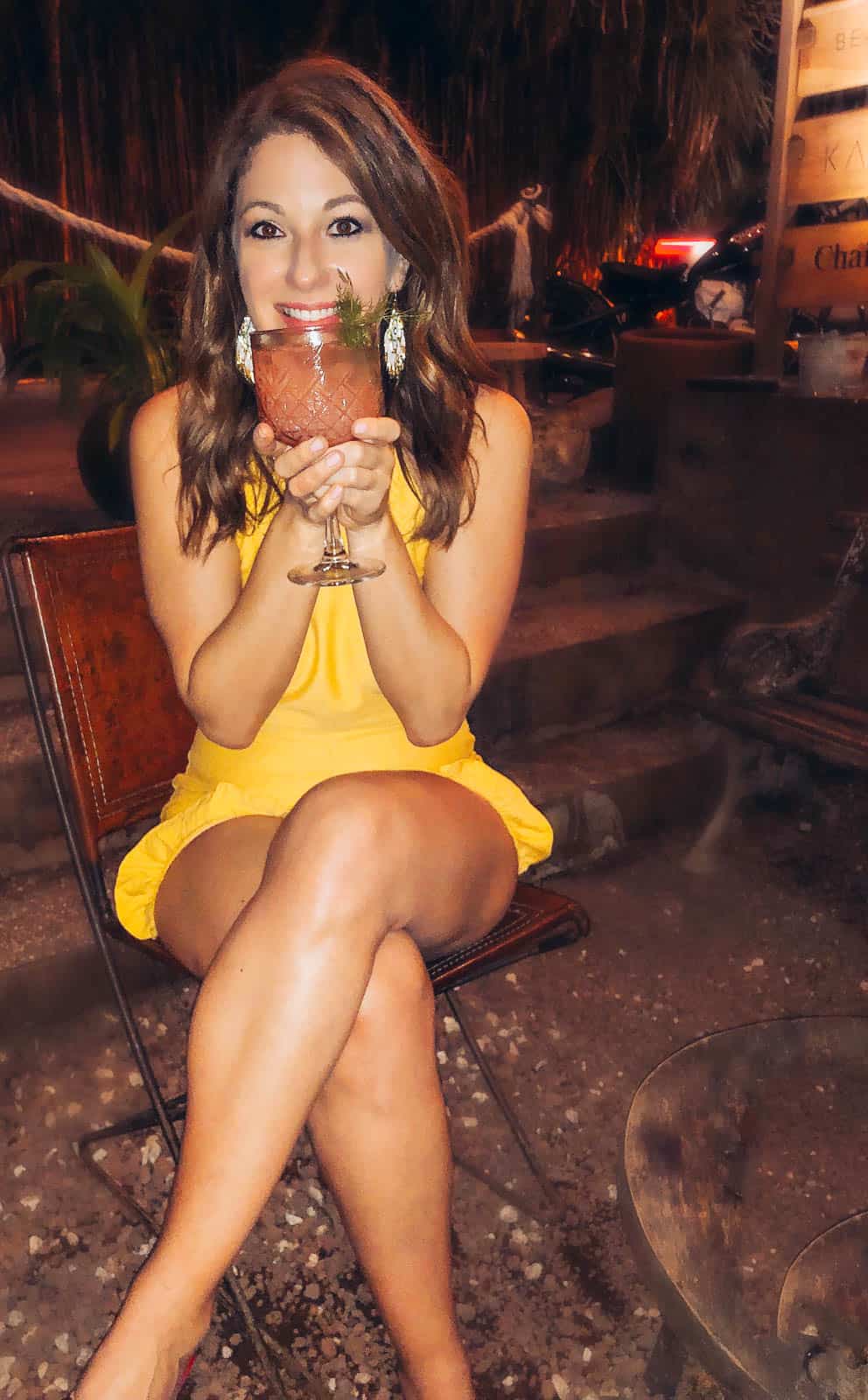 Casa Jaguar is the bar adjacent to Todos Santos hotel and I'd read that it was perfect for pre or post dinner drinks, as well as a favorite of both tourists and locals (I always try to find places that are authentic and where locals would go vs the tourist traps). We went straight to the bar since there were no tables available and started chatting with the bartenders. They were both so friendly and you could just tell they took a lot of pride in their craft and made their cocktails with care. I went with "bartender's choice" and asked for a refreshing, tart, not too sweet concoction. My drink came out in a huge crystal goblet (so fun to drink from!) and I swear, tasted like drinking a garden (in a good way!). We perched on a small table right outside the entrance and wrapped up a perfect first day of our 3 day Tulum itinerary.
TULUM WEEKEND ITINERARY DAY 2
The Best Tacos Of The Trip, Mayan Ruins, Ziggy's Beach Club, Dinner At Hartwood
Our plan was to sleep when we got home, in order to take advantage of everything we wanted to do in such a short time, so despite getting to bed rather late (totally worth it!) we woke up pretty early and hit the road towards the Mayan Ruins. Although breakfast was included at the hotel, I had a big day of taco eating planned for us so after gulping some coffee we hopped in a taxi towards the ruins and the first two taco stops on my taco tour of Tulum: Taqueria Honorio and Taqueria Don Beto.
I'd read that Honorio was the place to go but that for a more authentic, local experience to head to Don Beto. I wanted to hit up both of them to compare! Both taquerias open really early (like 7 AM early) but close mid-afternoon so you must get there for breakfast/early lunch. I found both had a really local non-touristy vibe, and I have to say I enjoyed the carne asada and carnitas tacos at Honorio much more, they turned out to be my favorite tacos of the trip! Really flavorful, juicy and not overly salted.
Don Beto's carne asada and carnitas tacos were good but a little greasier than I would have liked and packed less of a punch in terms of flavor. I'd suggest Don Beto if you indulged a little too much the night before and are in need of a little more grease to coat your stomach.
The ruins: To be honest, I initially thought I wouldn't be super into the ruins. My friends really wanted to go though, so in my mind I was just sort of going along for the ride but could take it or leave it. My assessment turned out to be fairly accurate. I'm glad I saw them because ancient Mayan culture is truly fascinating and you just can't help but wonder HOW they were able to build these structures, but after about an hour I felt like I'd seen it and was ready to get to the beach. The ruins are open from 8:00 AM – 5:00 PM and entrance costs 65 pesos. It's best to get there really early because it gets very crowded and becomes a bit like herding cattle. While you can sign up for tours of the ruins, I wouldn't recommend it since it's very easy to do on your own, and not that big but I'm very glad I included the ruins in our 3 day Tulum itinerary.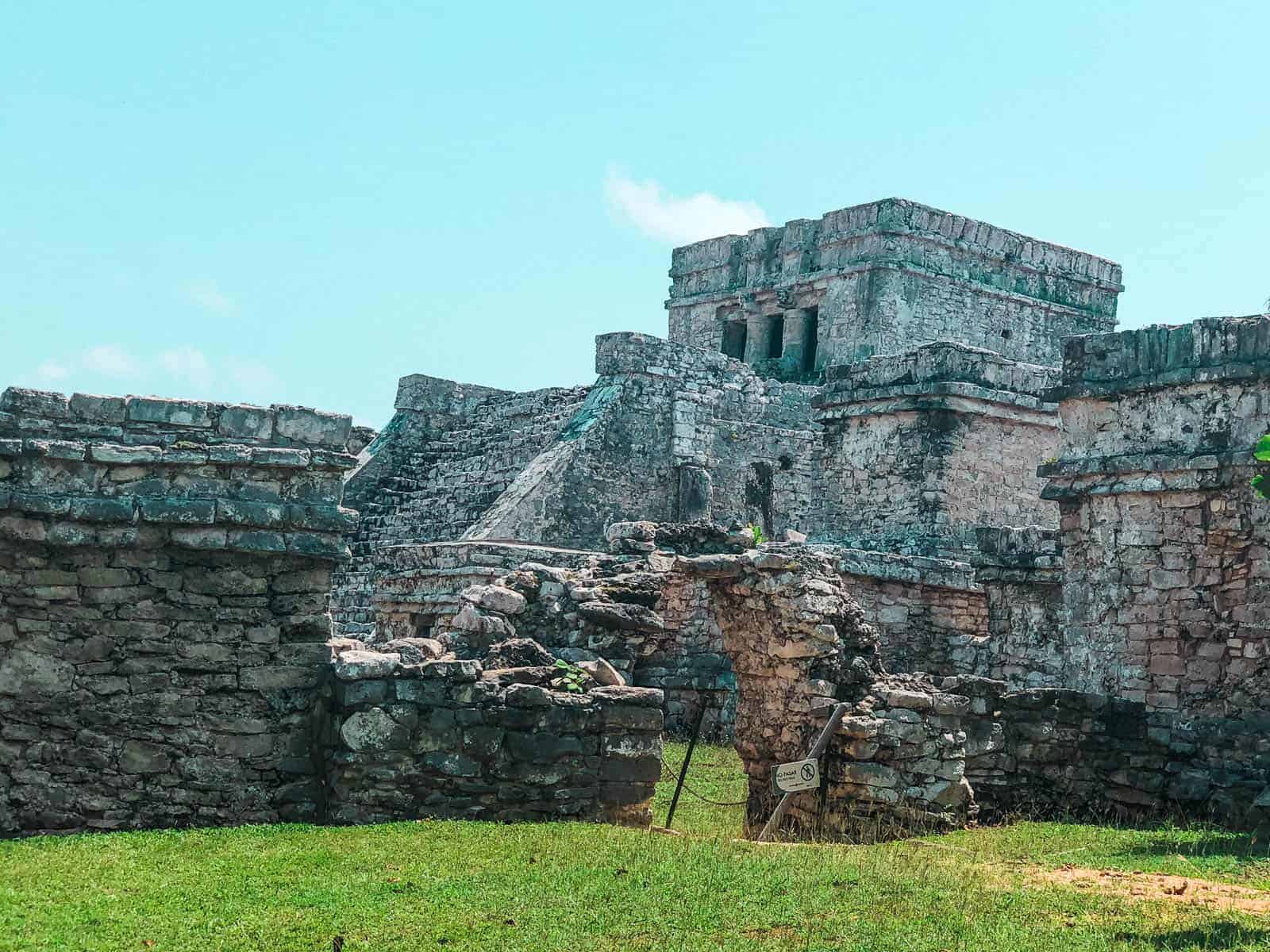 After a morning trekking around the ruins, we were ready for some relaxation! The plan was to spend the rest of the day beach-club hopping and enjoying the famous Tulum coastline. I researched as many beach clubs as I could find online and narrowed down our choices for Day 2 to Ziggy's, Papaya Playa Project, Villa Estrellas or Coco Tulum. Wanting something chill, we selected Ziggy's and hopped in a cab (very easy to get in the taxi line at the ruins entrance).
Ziggy's Beach Club was my favorite beach club of the trip! The sun beds are first-come first-serve, and while we had to haggle a little for the hostess to let us share three chairs between four people, once we were situated it was lovely. Plus they have swings around the bar instead of stools so hanging there for a bit would have been perfectly fine as well. Keep in mind you should bring your own towels.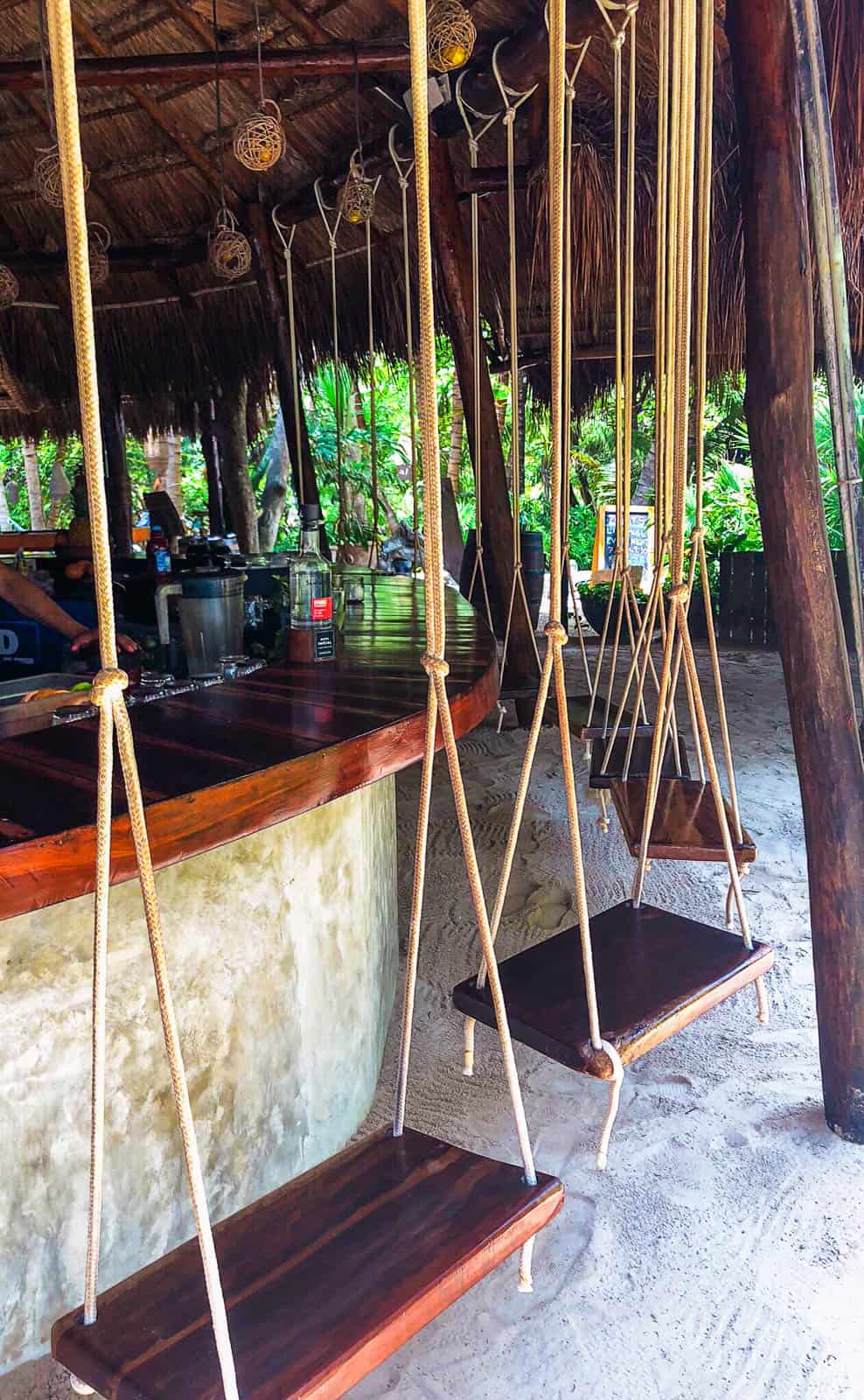 Unfortunately there was a ton of seaweed on the beach so we didn't go in the water. It was still beautiful though. The beach service was a bit slow but the food and drinks more than made up for it. We ordered the shrimp mango ceviche and a few rounds of tequila sodas. The ceviche was the best of the trip! So fresh and delicious. I definitely recommend this place for lunch. We spent the afternoon having a wonderful girl chat, talking about everything under the sun from our childhoods to our relationships and friendships. It was incredibly relaxing and some much needed bonding with my besties.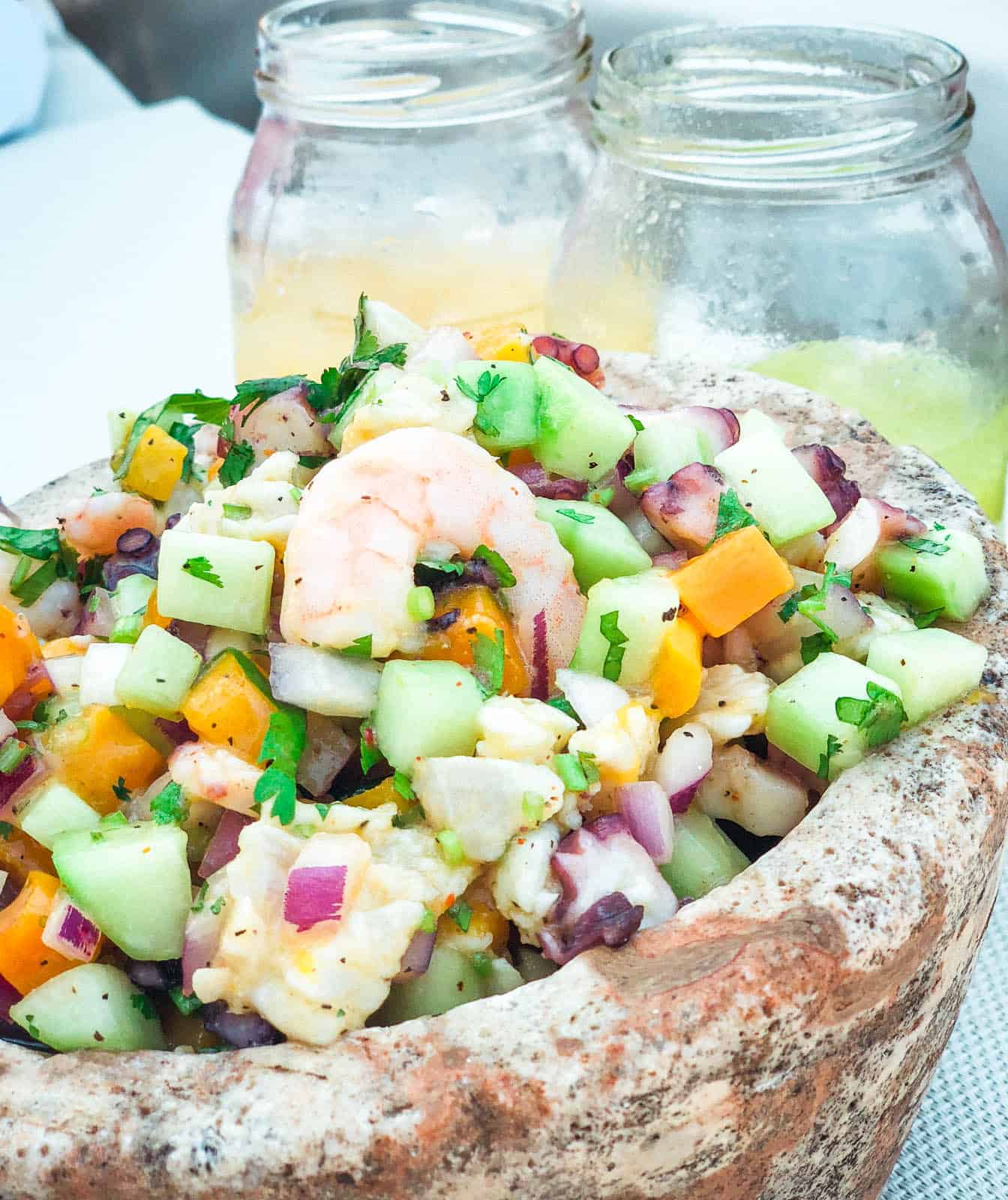 After a few hours at the beach, we stopped for smoothies at Raw Love Tulum (awesome spot for GF/DF and vegan!) and wandered in and out of some of the cute boutiques along the main strip.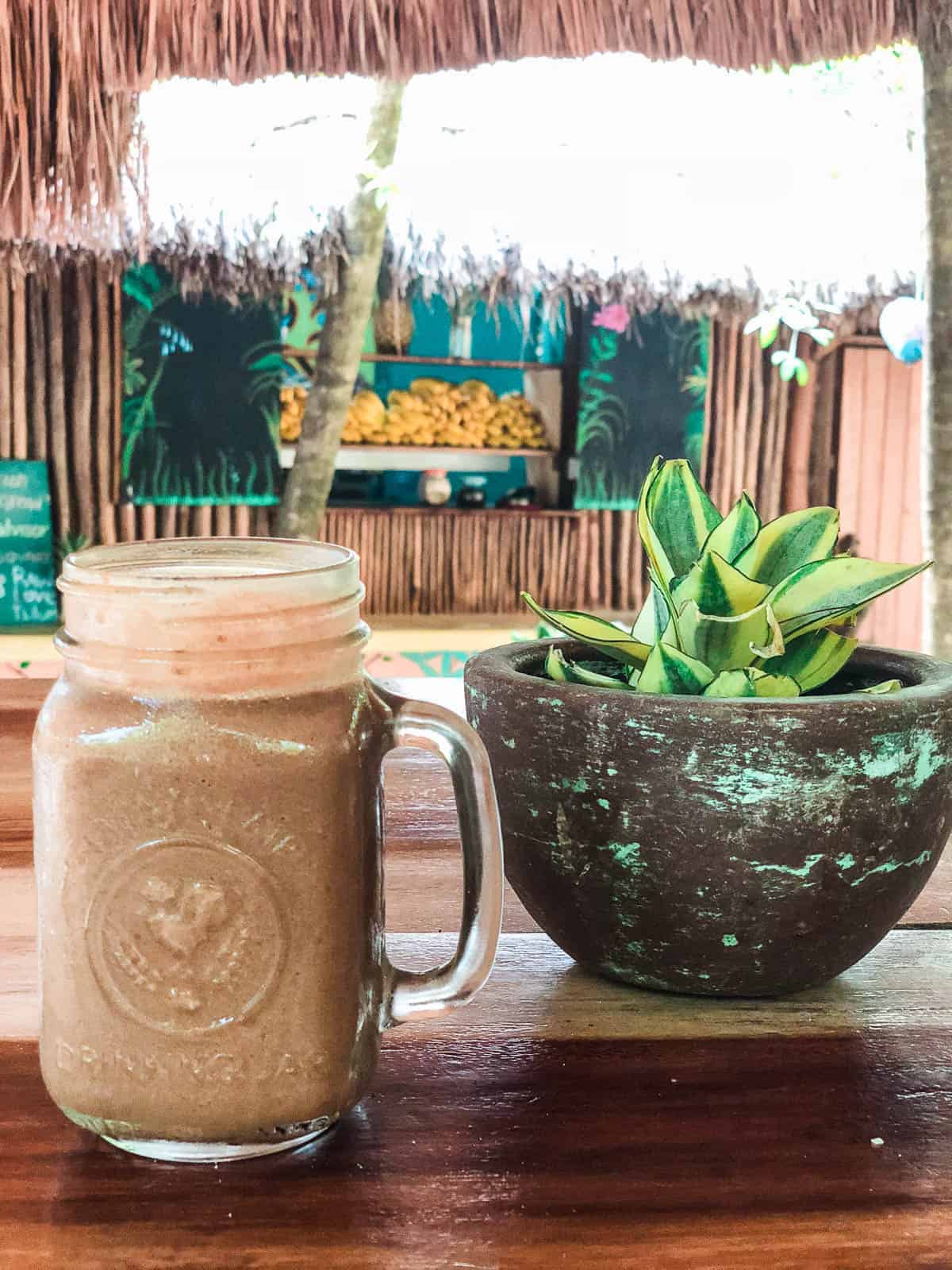 Around 5:00 PM we headed back to the hotel for a quick dip in the hotel's infinity pool, another cocktail (and yes, an IG photoshoot, how could I resist that infinity pool view?!) and a quick change for dinner.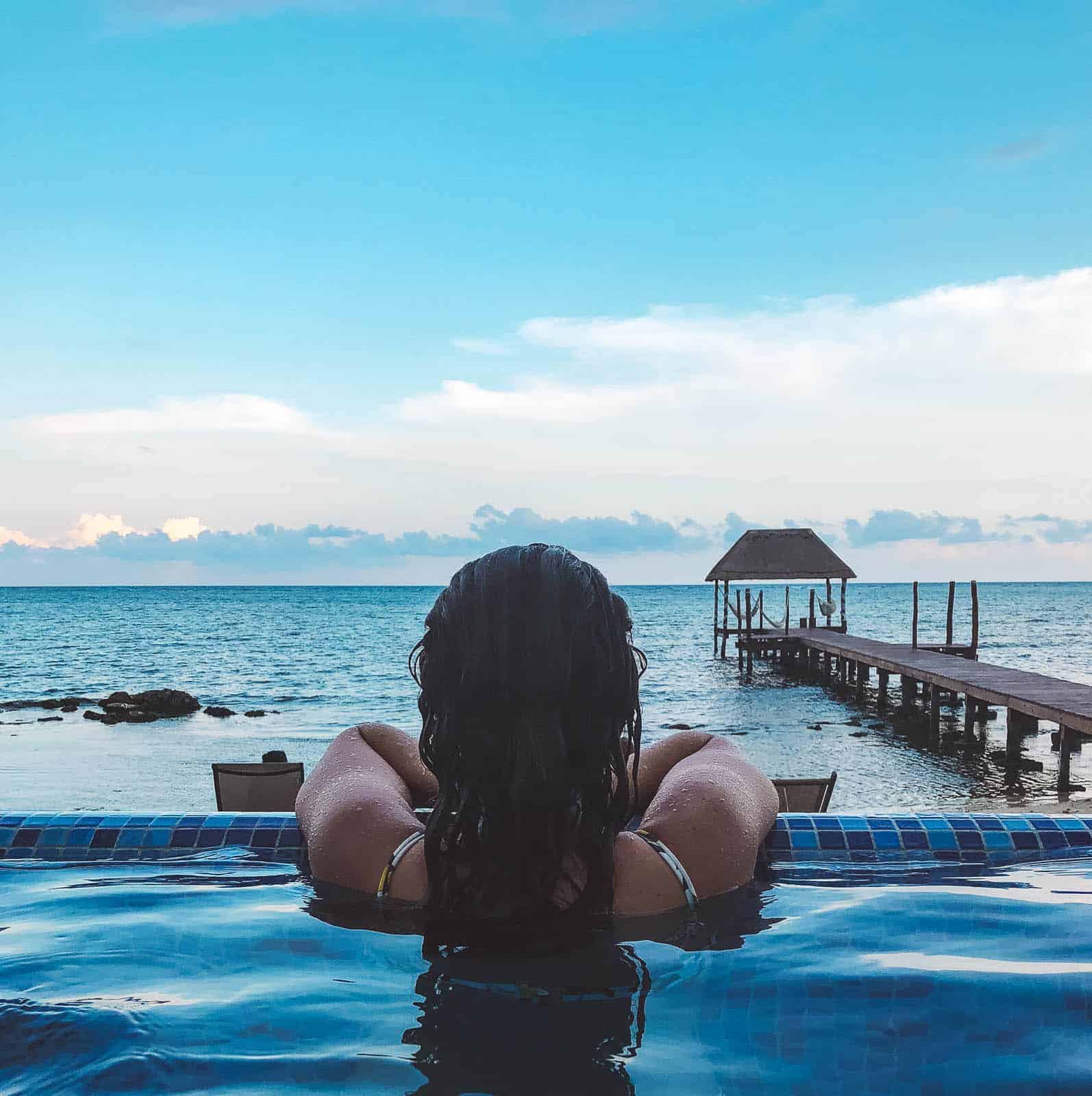 Day 2's dinner was the piece-de-resistance of the trip. We got a reservation at Hartwood!
Hartwood is the "must" eat place in Tulum and it can be really, really hard to get in. They only recently started taking reservations so you used to have to wait in line at 3 PM the day you wanted to eat there. Now, you can email [email protected] with your requested date, time and party size. The restaurant got back to me within 24 hours confirming my reservation for 8 PM. Hartwood is a seasonal, local, sustainable restaurant. Solar panels power the entire restaurant, they have a zero carbon waste footprint and all cooking is by wood-burning oven and open grill. The menu changes daily based on what's fresh and available, so your waiter will walk over to your table with a giant chalkboard of the day's fare. We ordered the octopus, ceviche, ribs, fresh fish of the day, eggplant in a mole sauce and the Cielito cocktail (tequila, chamomile and lemon).
I have to tell you, this restaurant deserves every ounce of hype that it got! Now I can't wait to order their coffee table book so I can reminisce about this meal whenever I want! 
After dinner we were going to check out Gitano but on our waiter's recommendation we headed over to Clan-Destino instead ("Way less pretentious, and where we all go after work"). Clan-Destino is an outdoor jungle bar with a cenote in the middle (and yes, someone was swimming in it!) with all-night burgers and a great DJ. It was great laid-back choice to end the night after a very busy day.
WEEKEND IN TULUM ITINERARY DAY 3
Cenote Hopping, La Zebra and Kin Toh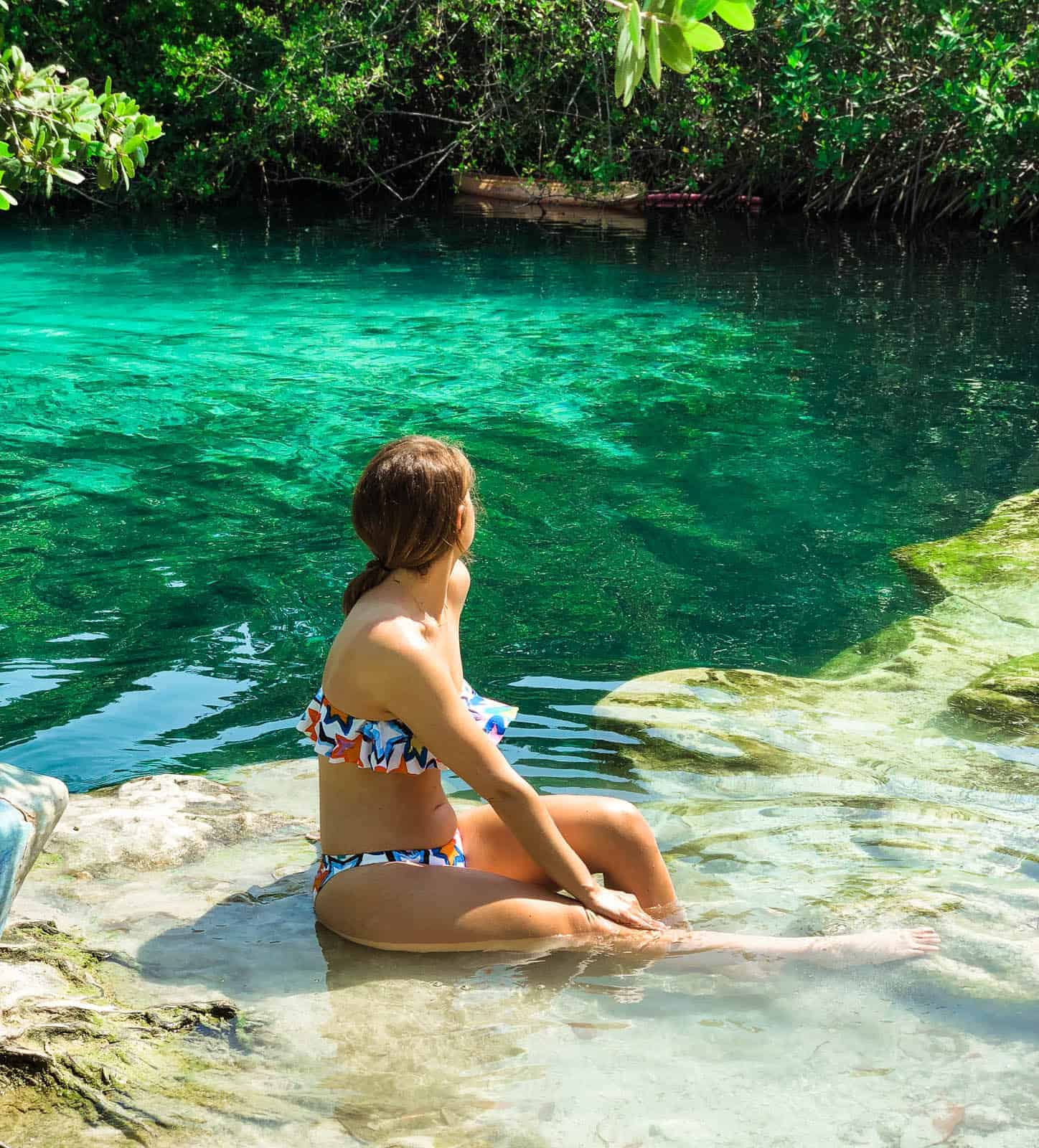 Another early morning! We were definitely more sluggish this AM but I was so excited for today's plan that I hustled everyone out of the hotel. The plan was to go cenote hopping and I could hardly wait because all the pictures I looked at before the trip were completely out of this world. And I mean that literally, some of them look like you have been transported to another world. Cenotes are one of the main attractions in the Yucatan area of Mexico for their amazing natural beauty, crystal clear waters that are perfect for snorkeling and scuba diving. Cenotes are natural sinkholes resulting from the caving in of limestone bedrock. They can be underwater caves or caverns, above ground or a combination of both and there are literally thousands of cenotes in Mexico.
Completely unintentionally, it turned out that our hotel was across the street from the Cenote Manatee (also known as Casa Cenote, the hotel just in front of Manatee) so we decided to start there. This was a very large, open cenote surrounded by mangroves and also had a mix of fresh and saltwater. You enter right by Casa Cenote. There are lockers and equipment rental if you'd like, and the entrance fee is about $3USD or 50 pesos. Walking straight off the rocks into the clearest waters was so rejuvenating,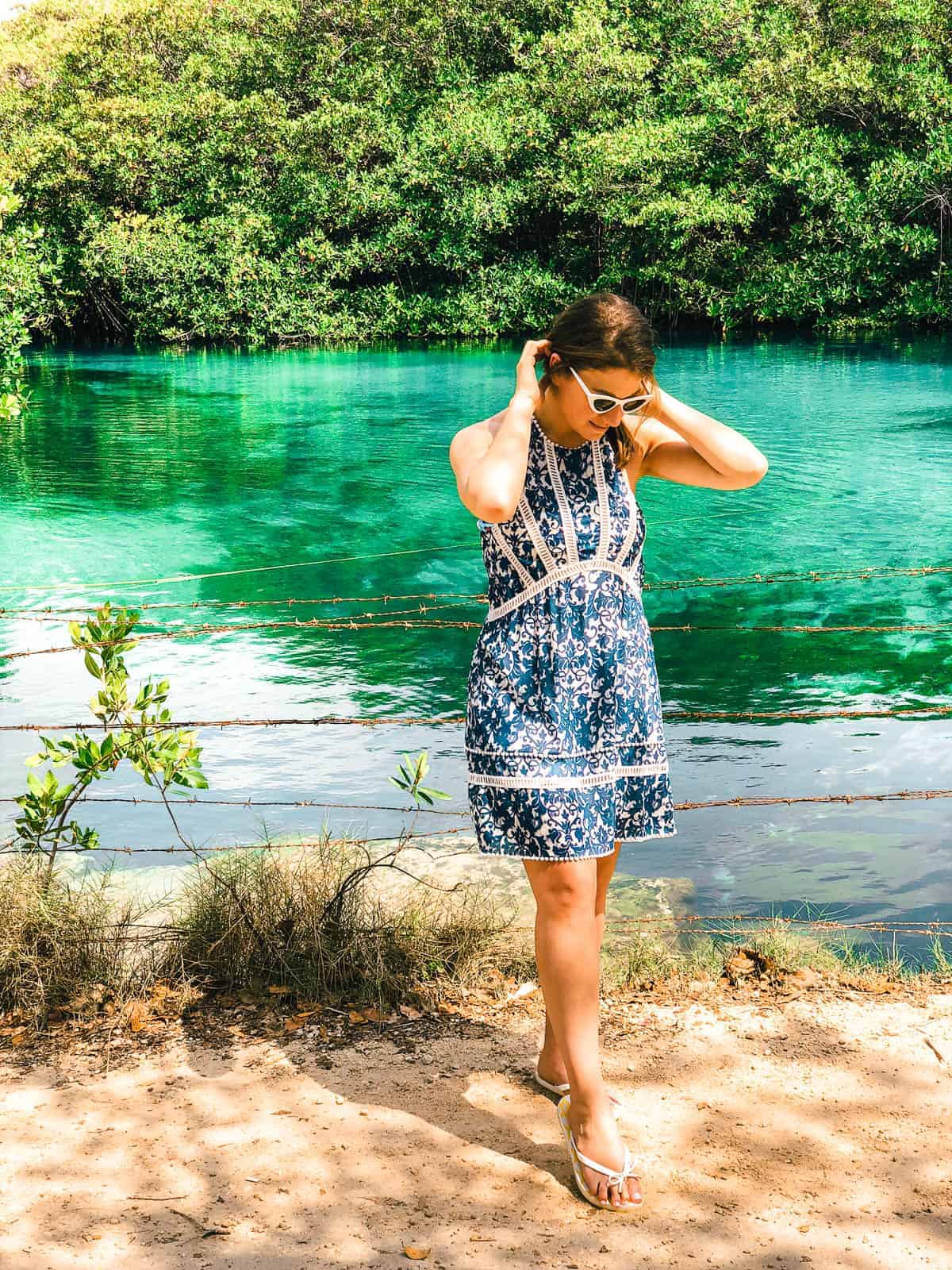 I floated on my back and let the sun warm the tip of my nose and the tops of my feet. Then I pulled on my snorkel mask and disappeared into the underwater world for a while. Part of Casa Manatee is very large and open, making it a good choice for beginners or those not that comfortable in the water. Then cenote follows a winding path for a while where it opens up into another large area. We only swam about halfway through the winding path before heading back. It was just gorgeous and an amazing way to start the day. I was glad we got there early because as we were leaving it started to get more crowded, making it less peaceful.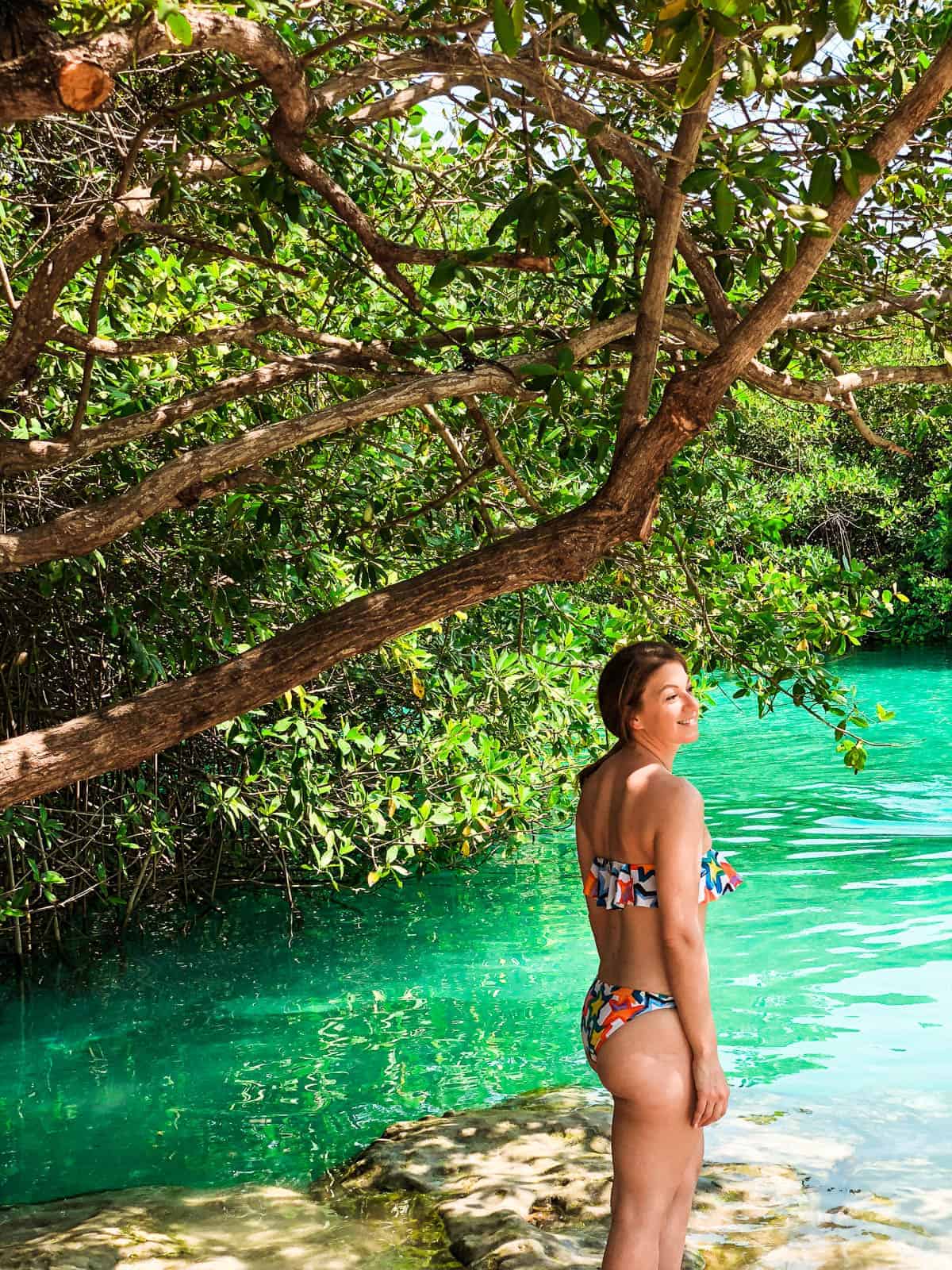 We were going to try Grande Cenote after Manatee, but on our taxi driver's recommendation, we went to Cenote Tortuga cenote instead. So glad we made this decision! It was way less crowded and we were taken on a guided tour of three different cenote structures, a mix of open-air and caves. At the last cenote, we were even able to jump from the cliffs into the water!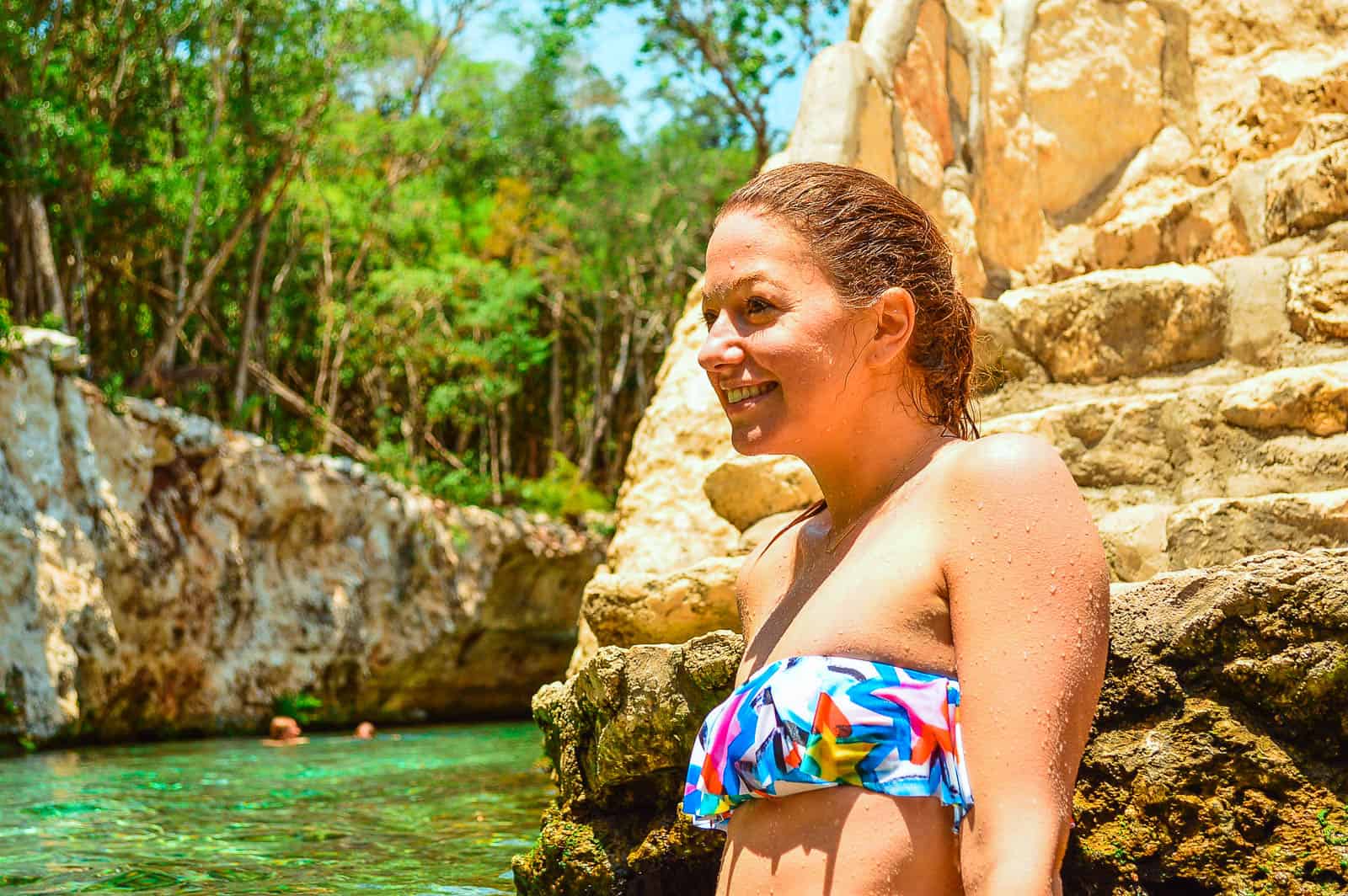 Experiencing the cenotes was so surreal, peaceful and calming. It really felt like we were transported to another world and it was unforgettable. I highly recommend foregoing some beach time for a cenote visit during your Tulum trip! If you want a more private and personal cenote experience, I've heard that Eco Rancho Mayamar in Akumal is excellent. The owner of this estate, Roberto, has cenotes all across his property and takes you on a private tour of them, so if more privacy and an off-the-beaten-path adventure is your speed, definitely check it out!
After our swim, it was time for lunch. We hopped in another taxi (thank goodness taxis are plentiful and cheap in Mexico!) over to La Eufemia (closed as of 2022). I'd read that La Eufemia was a hidden local gem with amazing tacos, ceviche and a super chill laid back vibe.
And I really, really wanted to love it.
But I have to say, I was disappointed. It was not chill! Really loud thumping music, crazy-crowded dining/kitchen area, took forever to get our food and then the ceviche wasn't fresh and the tacos were bland and dry. I wish I could recommend this place like all the other reviews but I would not go back.
Because we were so hungry, we sat and ate at La Eufemia but left right after to relax at La Zebra beach club.
What a difference! Let's compare the tacos at La Eufemia on the left to the tacos at La Zebra on the right, shall we?
I loved La Zebra and wish we'd had more time there! It's a beautiful, peaceful beach club behind the hotel of the same name. Keep in mind they have a high minimum spend for the sunbeds on the beach, so we sat at a table on the deck and had another round of drinks and tacos. We tried the healthy margarita (no salt, no sugar!) and the San dia de Fleur cocktail, which tasted like a spicy alcoholic jolly rancher and I mean that in the best possible way. For tacos, we ordered the shrimp and octopus tacos. Don't be fooled thinking this is a "fancy" place and couldn't possibly be authentic – they were delicious!
Finally, we departed the beach to hang in the trees! Yes, you read that right. We went to Kin Toh at the Azulik hotel, which was an absolute dream. It's a restaurant & bar that is basically a giant, luxury tree house. It's all bamboo and plants and bridges connecting different little nooks, with giant nets for lounging above the trees. We ordered a round of cocktails and settled on a net to watch the sunset.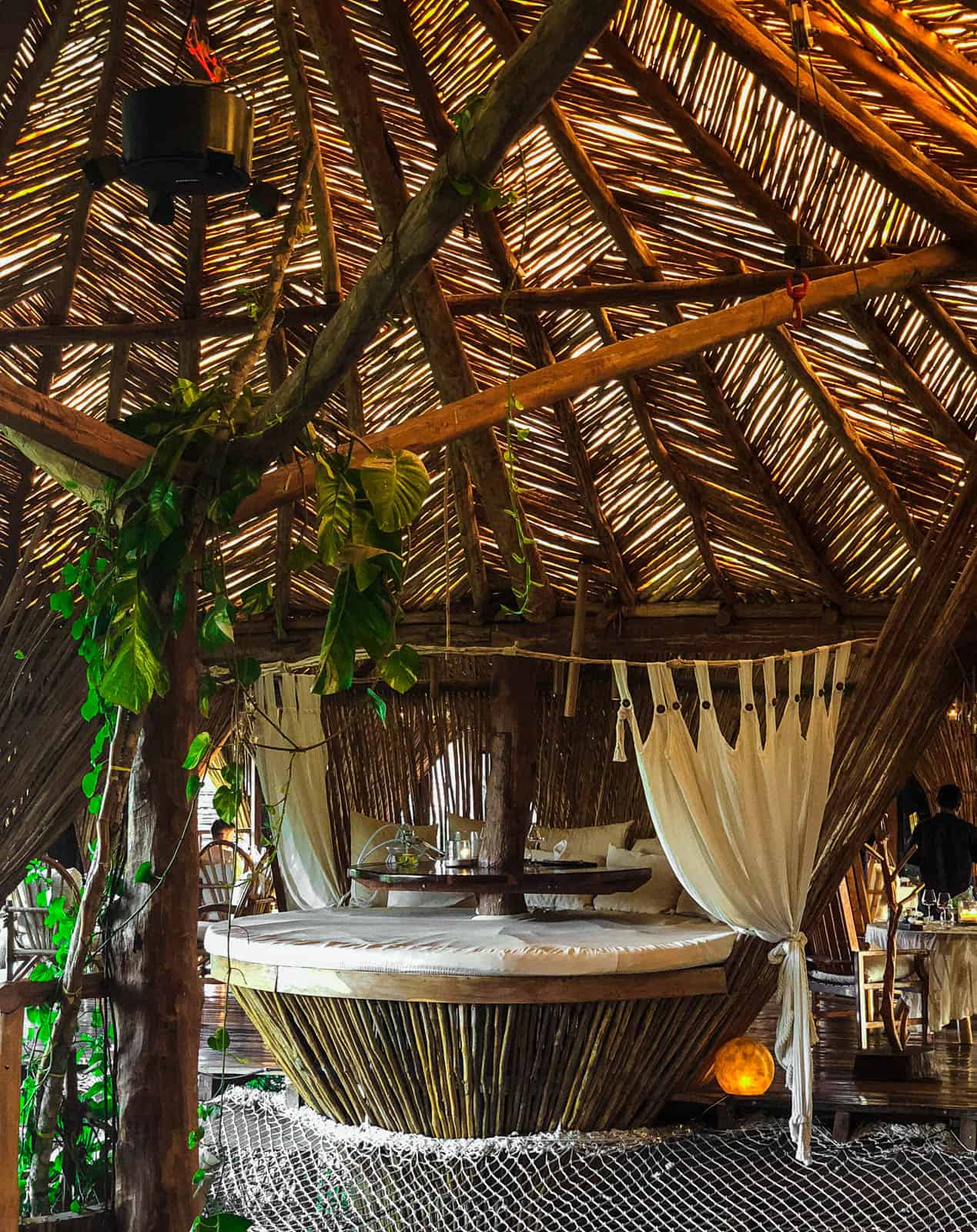 This place is a must-see, even if just to walk around and have a pre-dinner cocktail. Yes, it's a little overpriced but my drink was delicious and in my opinion, the ambiance is totally worth it.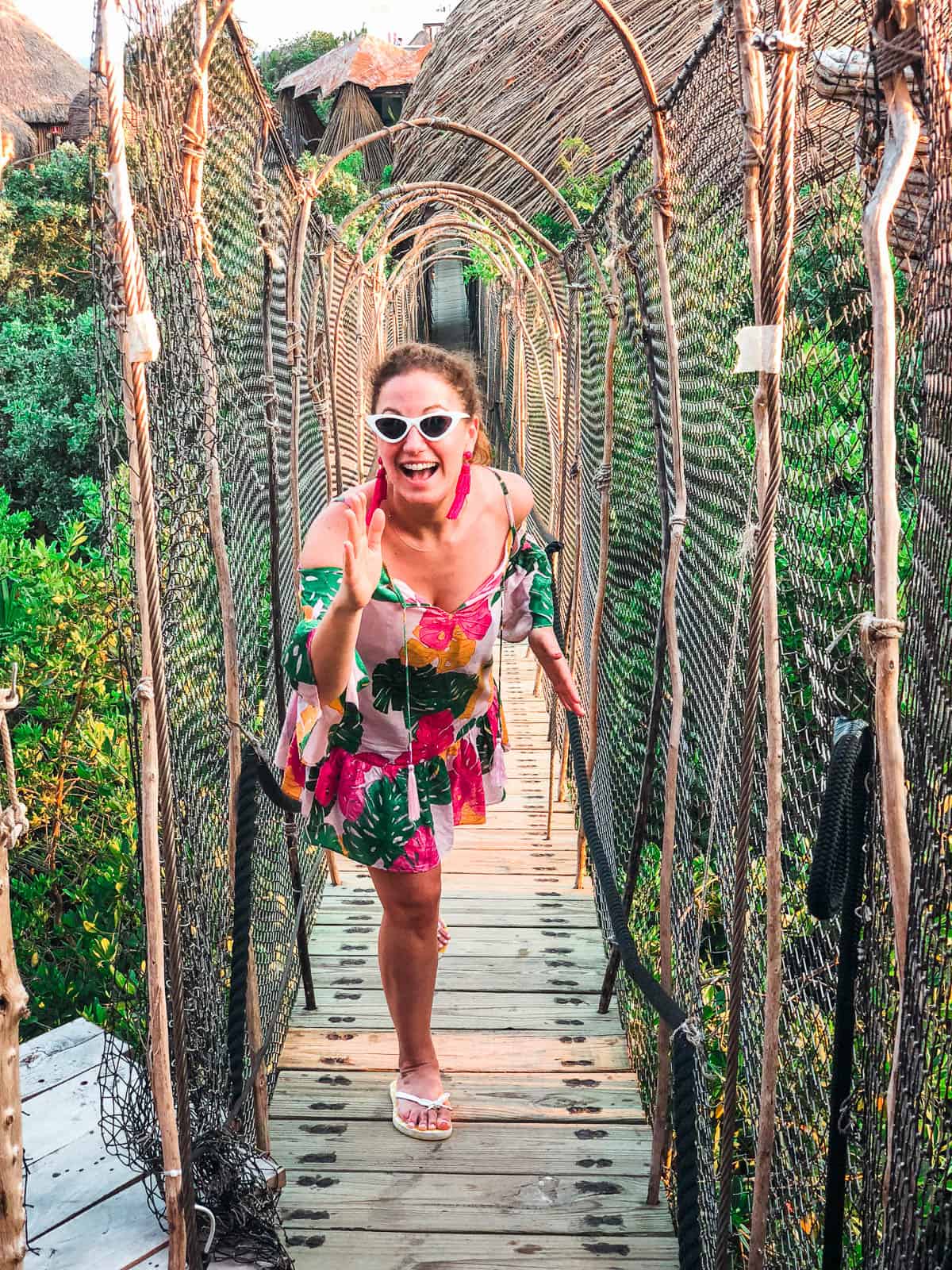 After Kin Toh, we were so tired from the last two days that we grabbed a light bite at a roadside restaurant – not worth mentioning – and made our way back to our hotel to pack for our departure the next day.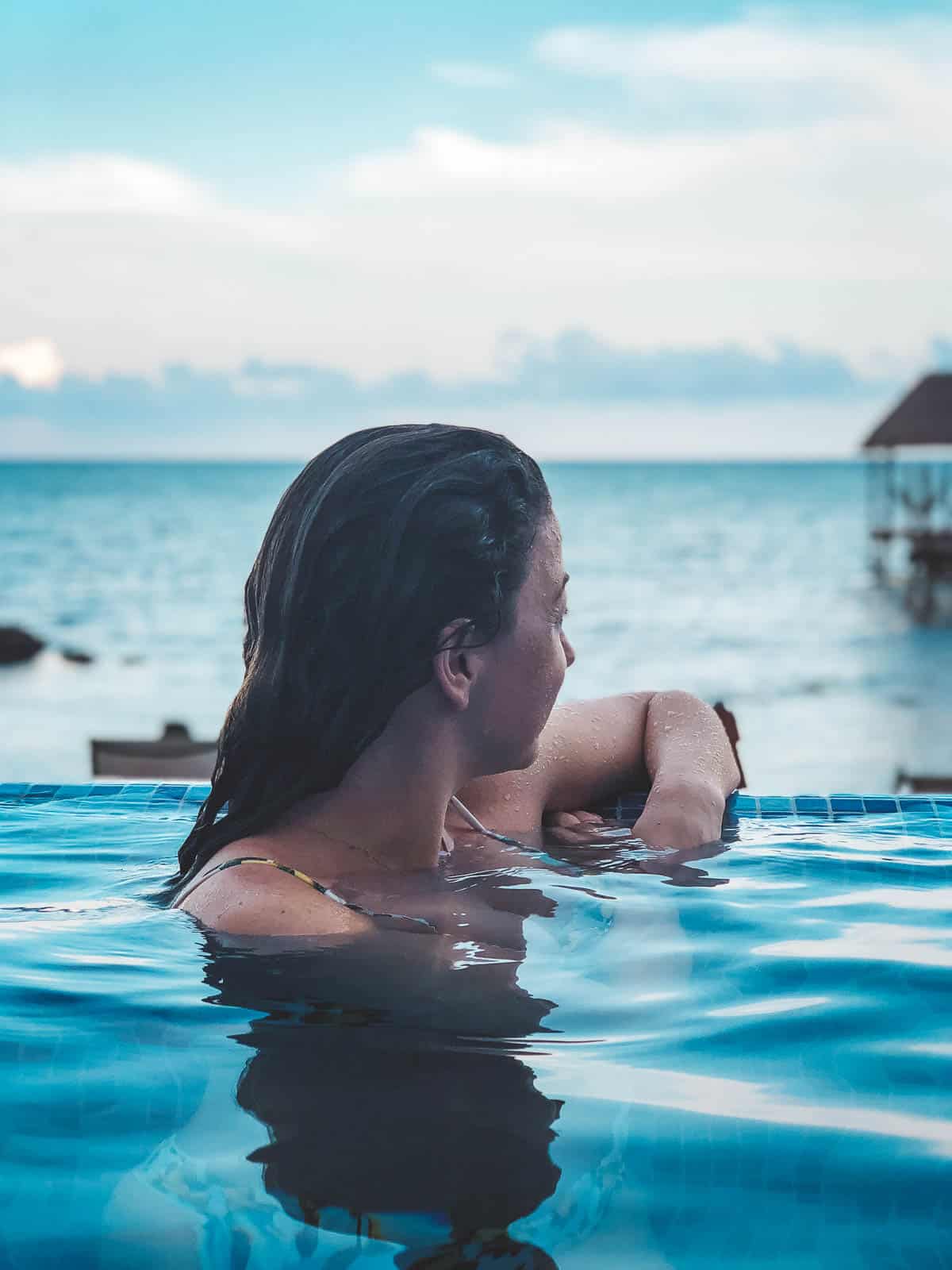 And that's a wrap on this 3 day Tulum itinerary! We woke up early again on our departure day (only this time, with hopes of sleeping on the plane!) and finally enjoyed breakfast at the hotel. We were promptly picked up by Cancun Airport Transfers and whisked off to Cancun airport.
Have been to Tulum and did you follow my 3 day Tulum itinerary? I'd love to hear about it in the comments! And if you're planning a trip, be sure to check out my Tulum Travel Guide too!

Love this post? Save it to Pinterest!