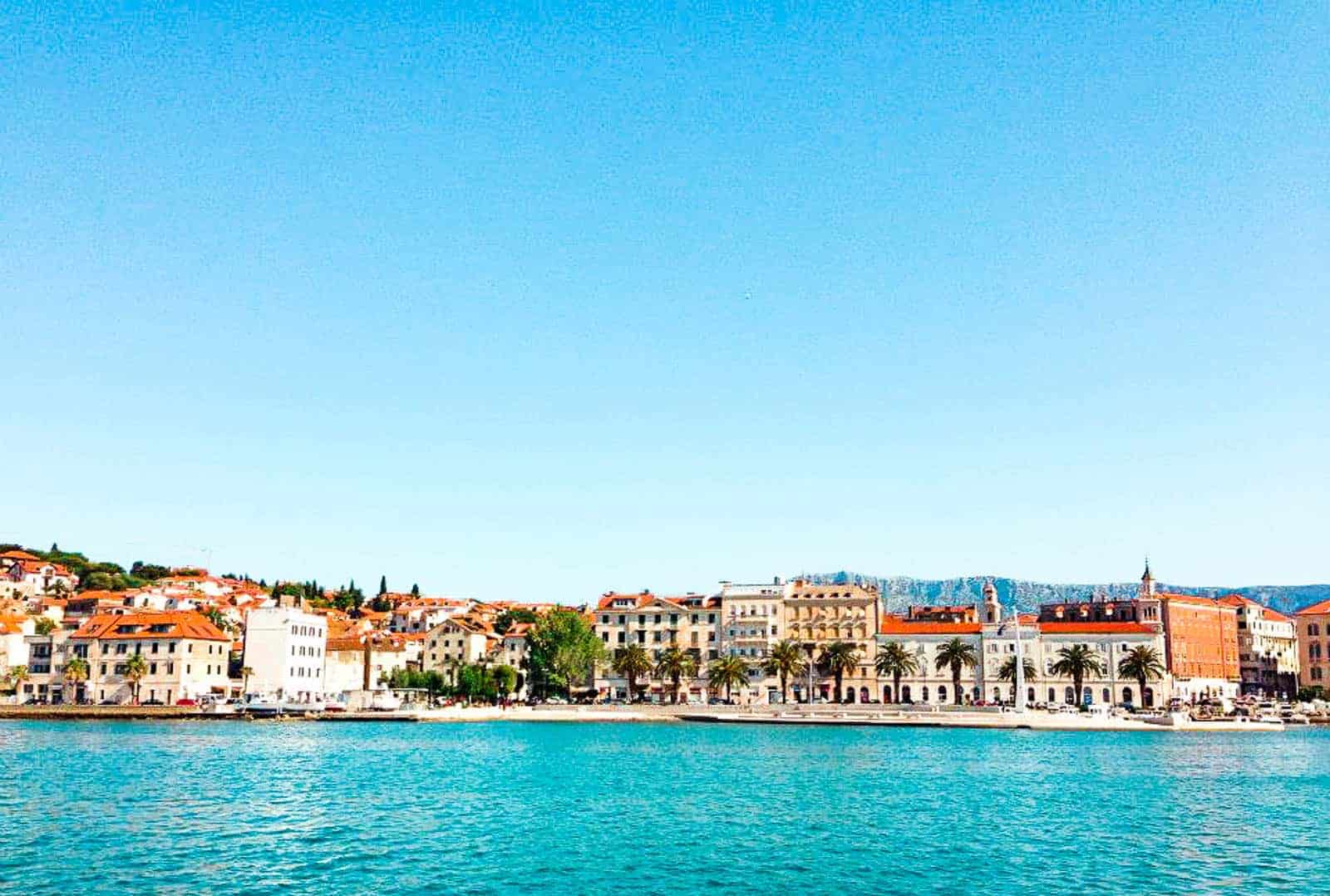 (Disclosure: This post may contain affiliate links which means I may earn a small commission if you make a purchase from a link in this post, at no additional cost to you. Additionally, as an Amazon Associate I earn from qualifying purchases. Thank you for supporting this site!)
When my best friend and I planned a trip together a few too many years ago, we didn't land on visiting Croatia's islands right away. It took us a while to pick a location. We'd each traveled a fair amount without much overlap (I was dying to go to Spain; she had been. She wanted the beaches of Greece, I'd already floated in the Aegean for a blissful week). We decided on 4 days in Paris and 8 days in the Croatian islands. We decided this would be the perfect mix of city culture and beach relaxation! (Don't forget to read about my favorite meal in Paris over here). 
What To Expect When Visiting Croatia's Islands
I had no idea what to expect when visiting Croatia's islands. Truthfully, I didn't know much about Croatia, except what my friend told me – the beaches were amazing and undeveloped. While I spent hours and hours researching the islands and things to do, I'm embarrassed to admit I didn't do any reading about the history of the country or its rich heritage. I wish I had! I was expecting a very Mediterranean vibe, and assumed I'd be going to a less commercialized Greece. That was true in some respects, but what surprised me the most was how pronounced the Balkan influence still was. For someone who loves to travel as much as I do, I'm surprisingly terrible at geography.
Note: I apologize for the pre-iPhone X blurry photos; they are all I have! But I just had to share this amazing itinerary! Hopefully the main takeaway from the photos is not that they're 'not perfect' but rather that I was having the time of my life 🙂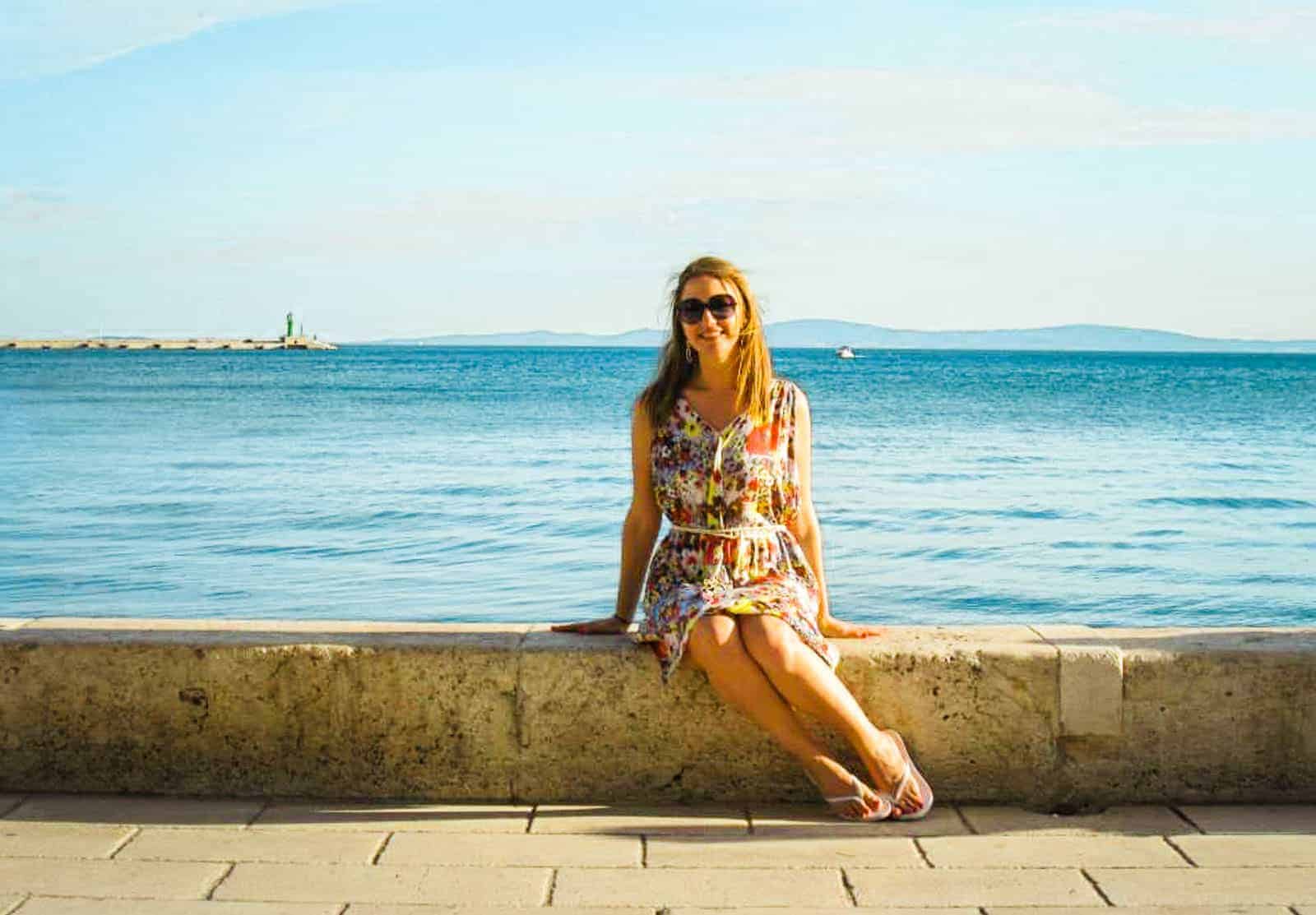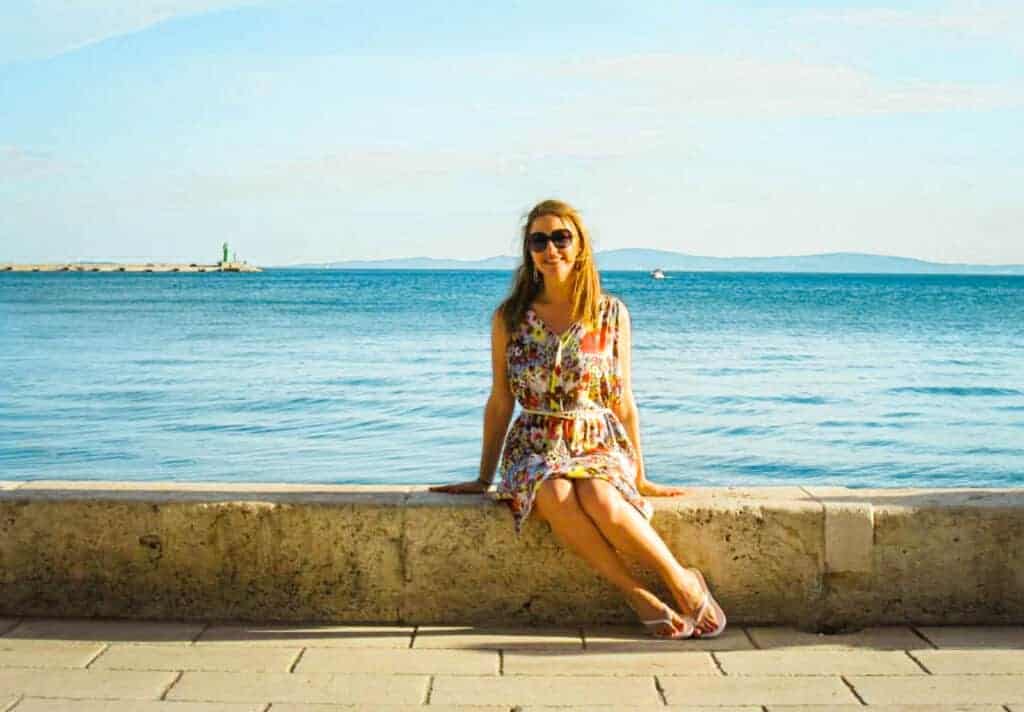 We skipped Dubrovnik on this trip, so my itinerary and recommendations focus on visiting Croatia's islands. I'm so glad we visited the Dalmatian coast! Dubrovnik is the more popular choice (and I can't wait to visit one day!) but I felt like we got to explore an off the beaten path area. I only saw ONE McDonalds while I was there and didn't see a single Starbucks – always a good sign, IMHO.
And. You. Guys.
I have to tell you how unexpectedly amazing this trip was. Croatia was literally paradise. It's still undeveloped and not overrun with big resorts (although the development has picked up since I was there). I can't recommend visiting Croatia's islands enough – go now, go soon before the world realizes how incredible the Dalmatian coast is. I recommend Croatia to everyone and always, always suggest it before going to Greece! Nothing against Greece, of course, I loved it there too. But I think Croatia's islands are a much more authentic experience.
Day 1: Arrive In Split And Settle In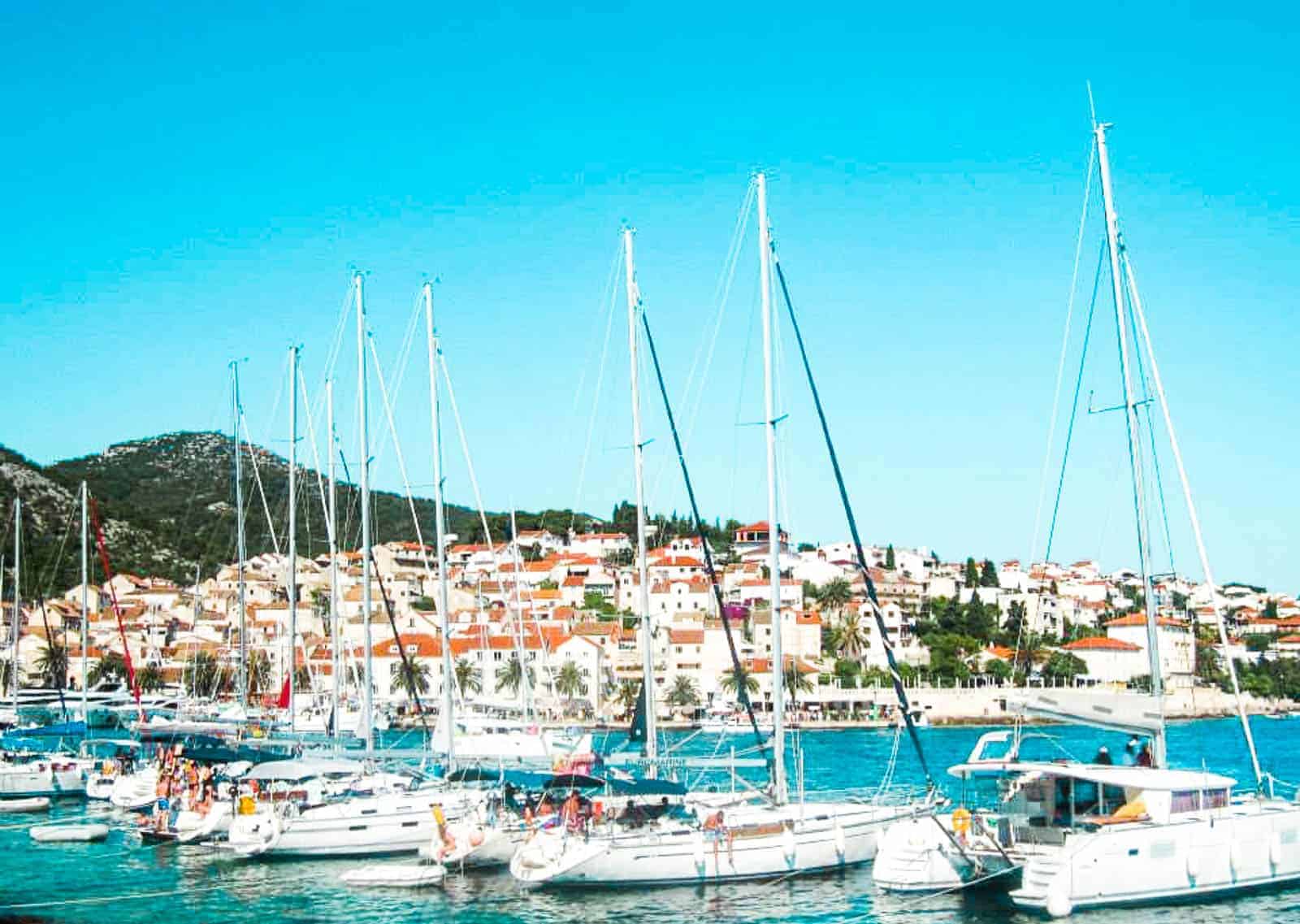 We kept it simple and flew Croatia Airlines from Paris directly to Split, which is the main hub in the Dalmatian Coast. We based ourselves in Split for 3 days so we could do day trips around the area. Then, we moved to Hvar as our base for 4 days.
I was happy we decided to do day trips – there's not that much to see in Split but it's the perfect base to explore the region.
Recommendation: Stay At A Guest House or AirBNB When Visiting Croatia's Islands
Split has a lot of guest houses and family-run / smaller hotels, which is part of why I like it! No big unfriendly cold resorts here. We chose Villa Simoni as our base in Split, because it was a lovely budget option. It's not fancy but it was clean, homey and SO conveniently located right by the train station and ferries.
The entrance is directly behind the train station so it does look a little sketchy. That was what made it such a convenient location! It can be dark and quiet at night (great for a good night's sleep) but we felt completely safe the whole time. It was also an easy walk to the main street and harbor (crucial to select your boat trips for the following days!).
The team at Villa Simoni were also really responsive via email, getting back to me right away and helping me arrange transfers to and from the airport – we were especially grateful that they were able to take us to the airport at 4 AM for our return flight!
When we arrived at the airport, there was a driver with a sign waiting for us from Villa Simoni, and our transfer was seamless. The room was basic and small, but fine for a clean place to sleep.
We showered and changed, then went directly to the local public beach. This beach was fine to recuperate from our early flight and relax a bit, but it wasn't nearly as spectacular as some of the beaches we were about to experience.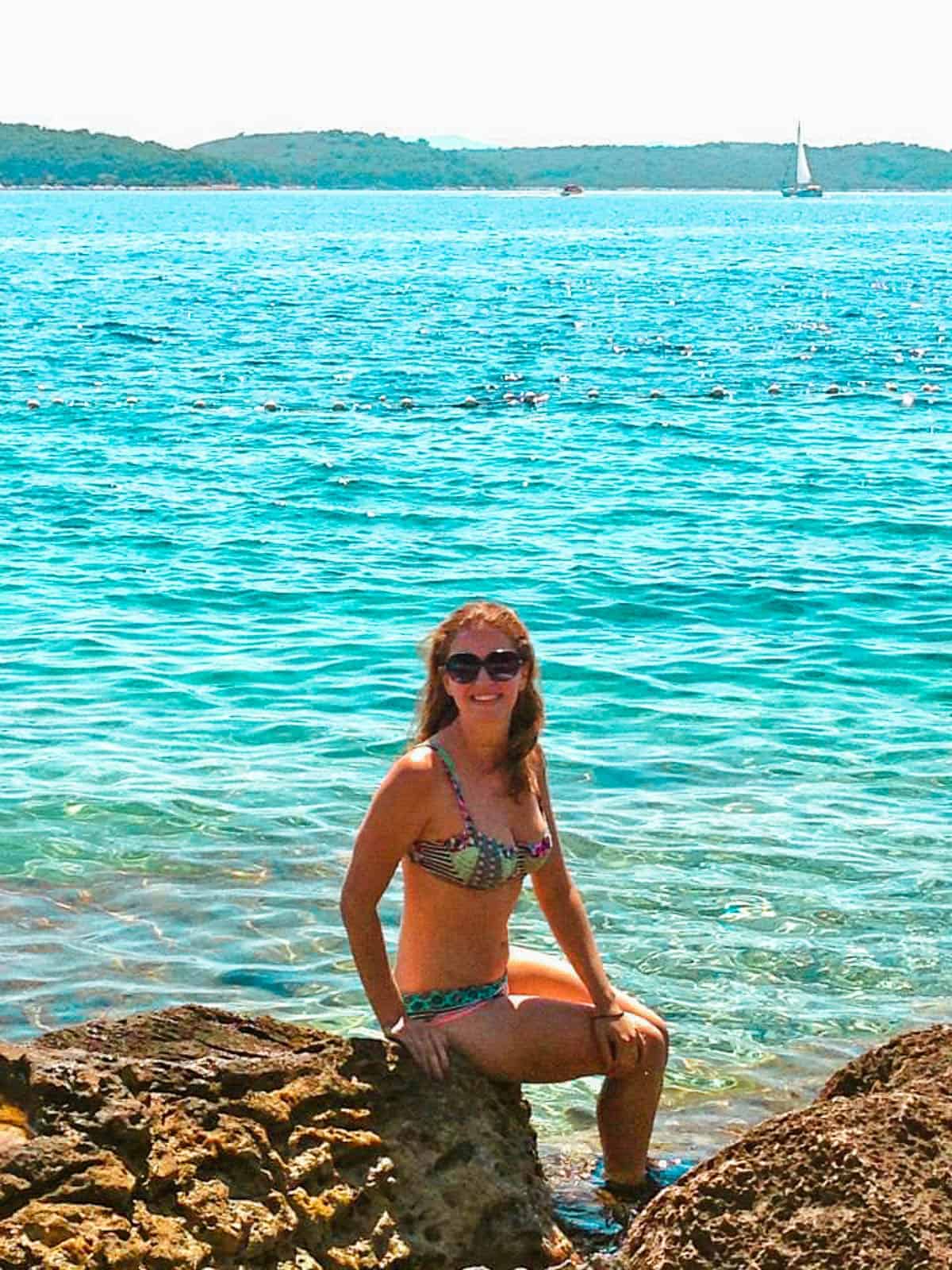 Before dinner we spent some time wandering around the Old Town and visiting the Diocletian Palace. The Diocletian Palace is located in the main square of the Old Town, with plenty of nearby cafes and restaurants, music, etc. It's great to walk around during "magic hour" – just before dusk to have a glass of wine and enjoy the views. You can visit the basement, the cellar market and my personal favorite, climb up the bell tower. If you time the climb correctly just before sunset you'll sea the most amazing views of the sun setting over the city.
We had dinner at Fife's, a local spot not too far from our guest house. It was so simple but so delicious! Fife's serves traditional Croatian food – amazingly fresh fish, rich nutty olive oil, local meats and grilled vegetables and potatoes. Fifi's is very casual and also very affordable!
After dinner, we walked along the main riva and harbor area, soaking up the sights, sounds and smells from the many food stalls and lavender carts. The lavender fields of Croatia (especially Hvar) are well-known and I had a ball buying up pouches, essential oils and handmade soaps all scented with fragrant, calming lavender.
The riva promenade is the main promenade along the water. So many restaurants, bars, and views of the boats dotting the harbor! It's really fun to walk along here later in the evening, around 11:00 pm as there's a street fair and all the market stalls are open.
One site described it as the city's "living room" and that description could not be more accurate! It's where people gather to hang out, socialize and enjoy. My best tip for you is to wander along the riva in the early evening and talk to the various tour companies that line up hawking their boat trips.
There's no need necessarily to book a day trip on a boat far in advance – spend some time talking to the ship captains, see what they have to offer and sign up for whichever one sounds the best to you. We found a small boat tour led by a husband and wife duo to take us out on the water the next day to visit a shipwreck and various lagoons.
Day 2: Visiting Croatia's Islands Off The Coast Of Split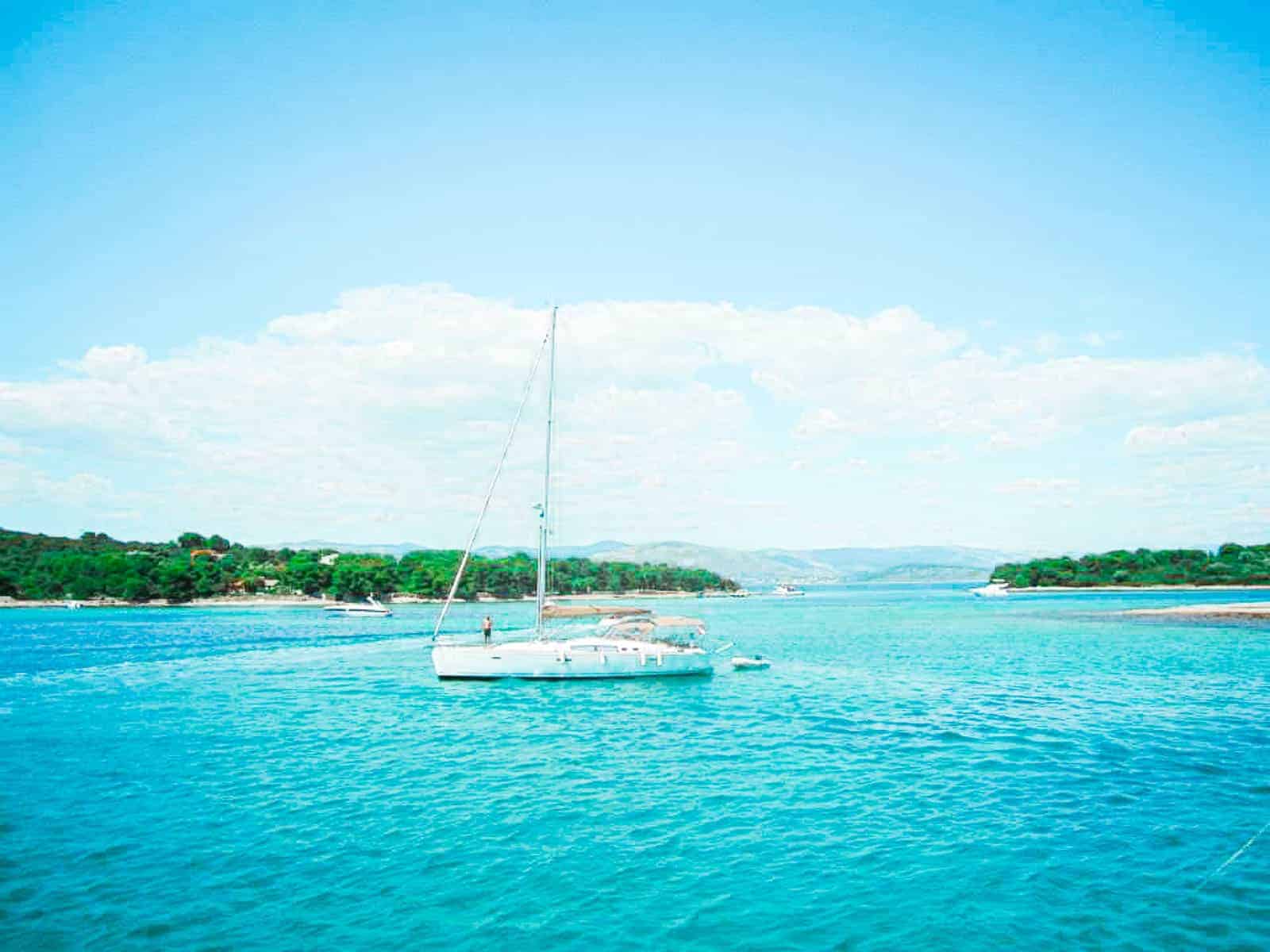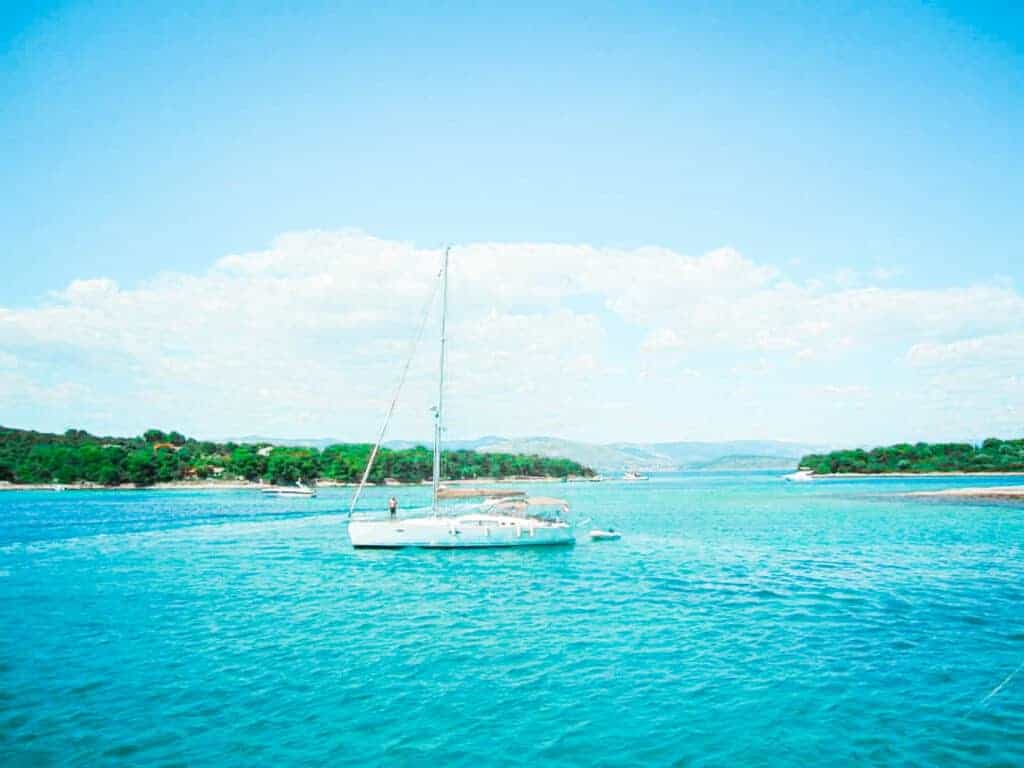 We woke up bright and early as we were due to meet our boat tour guide at the harbour by 9:00 AM. The best way to have breakfast in Split is to walk along the main riva by the water and stop into a coffee shop or bakery to pick up whatever croissant or stuffed pastry looks delicious to you. You can choose from savory pastries stuffed with meats and cheeses or sweet treats stuffed with chocolate. They are fresh and local and delicious! This is what we did and we bought a few pastries to share before meeting our group.
We boarded our small boat with a group of approximately 10 others. The ship captain and his wife were delightful, friendly and clearly proud to show off the natural beauty of their country. We set off across the clearest, aquamarine water for approximately an hour. Then, we anchored by a half-sunk shipwreck and were able to jump off the boat, explore the ship and swim in the warm blue water.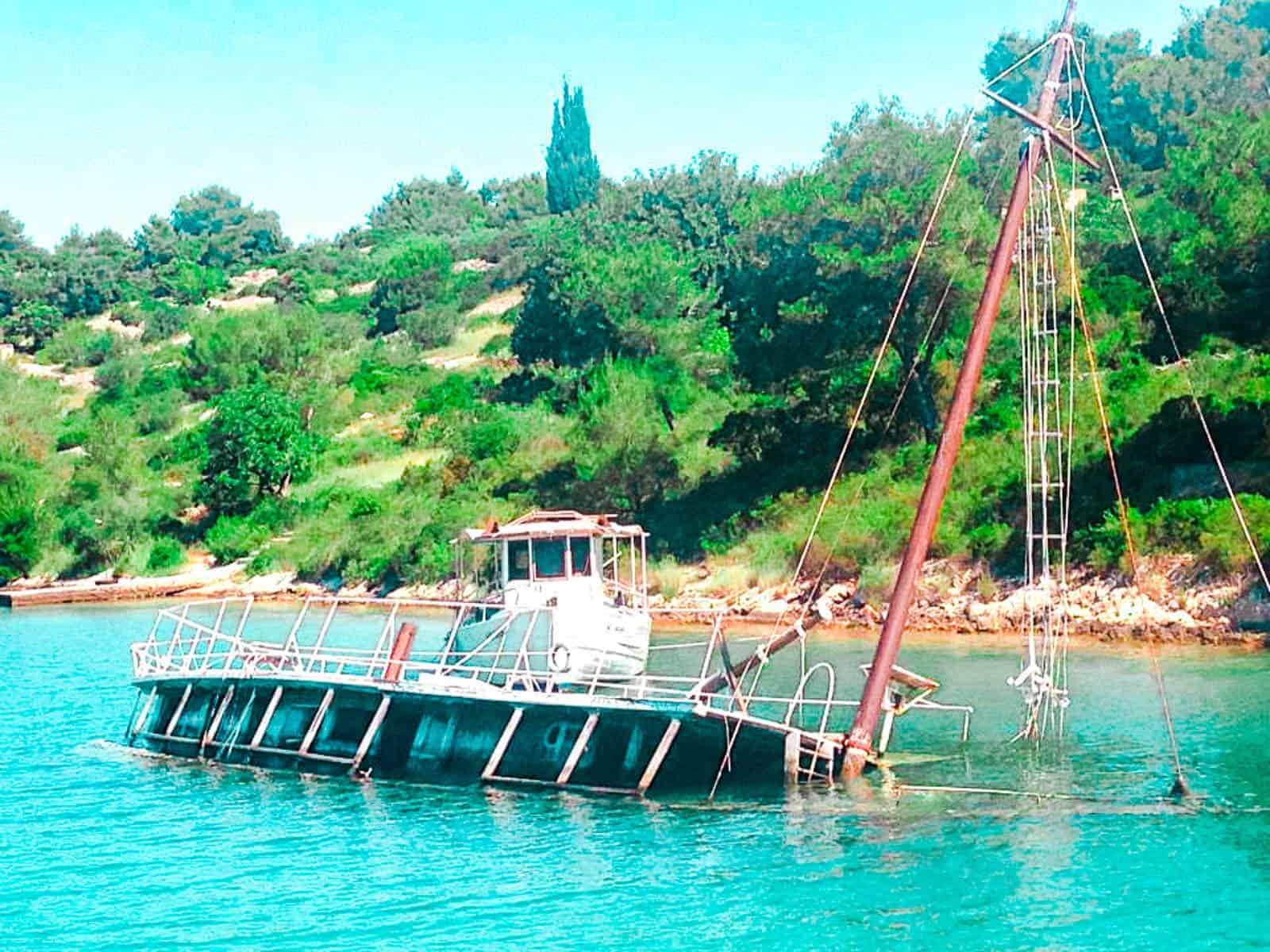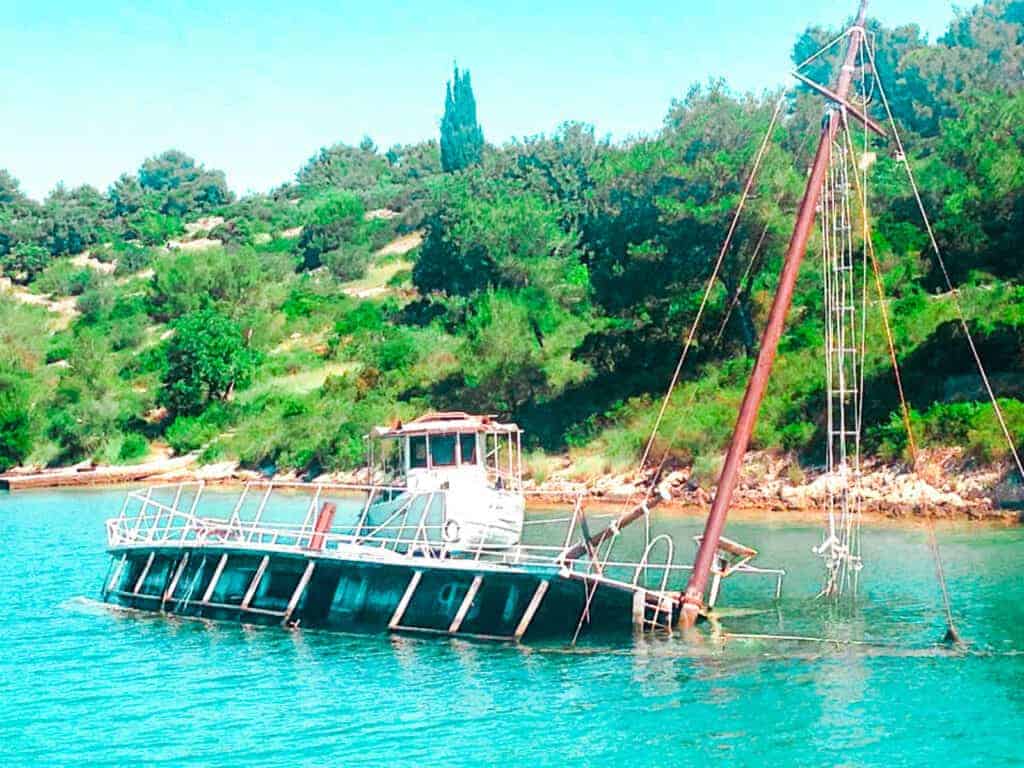 The most magical part of the day was when, just before lunch, the ship captain put on a snorkel mask and dove into the water. He resurfaced with no less than two dozen fresh oysters which he proceeded to clean, shuck and serve to us with a drizzle of lemon juice before lunch.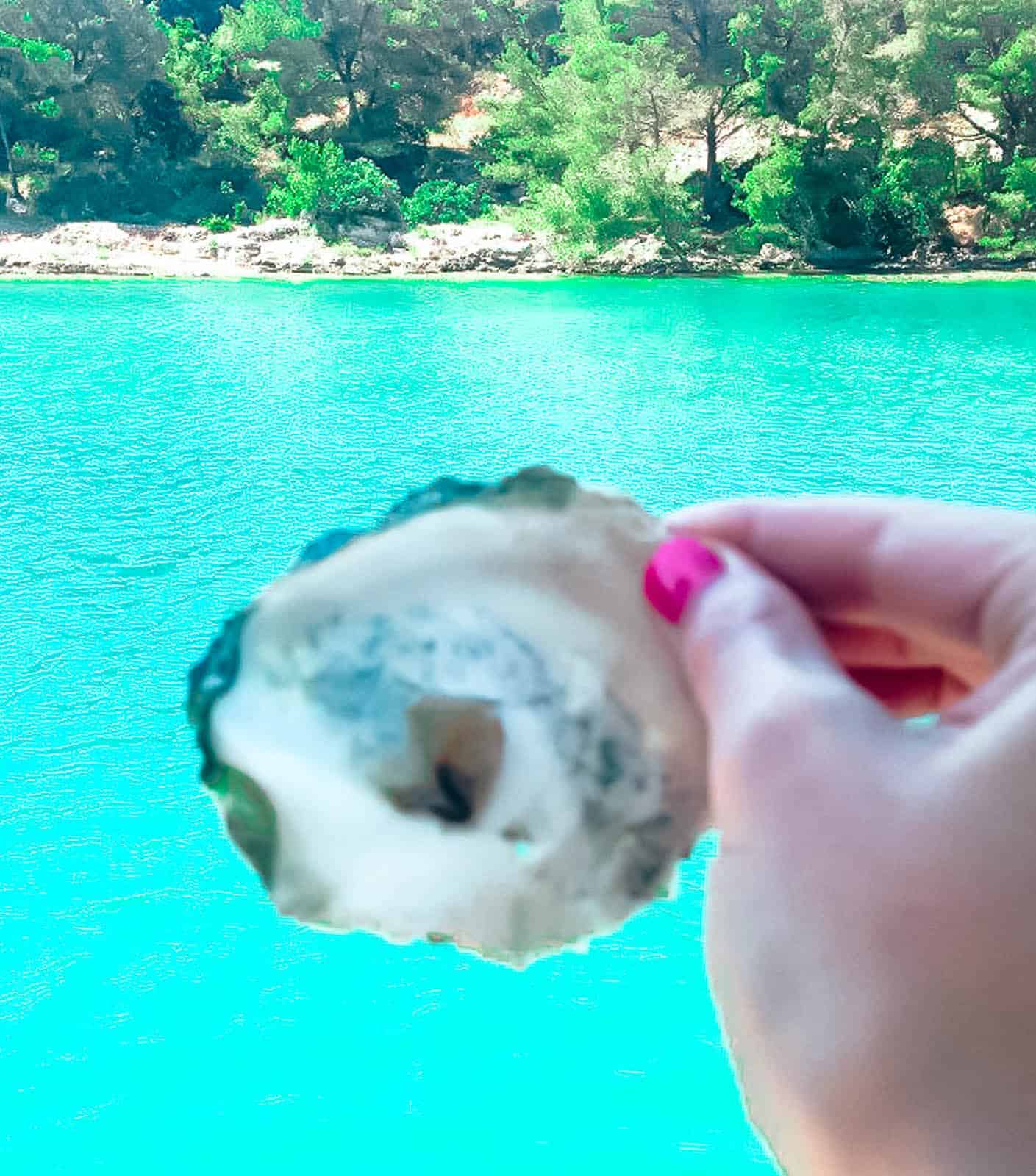 It was incredible and absolutely destroyed the possibility of me ever eating oysters again unless they are freshly plucked from the ocean and placed in front of me.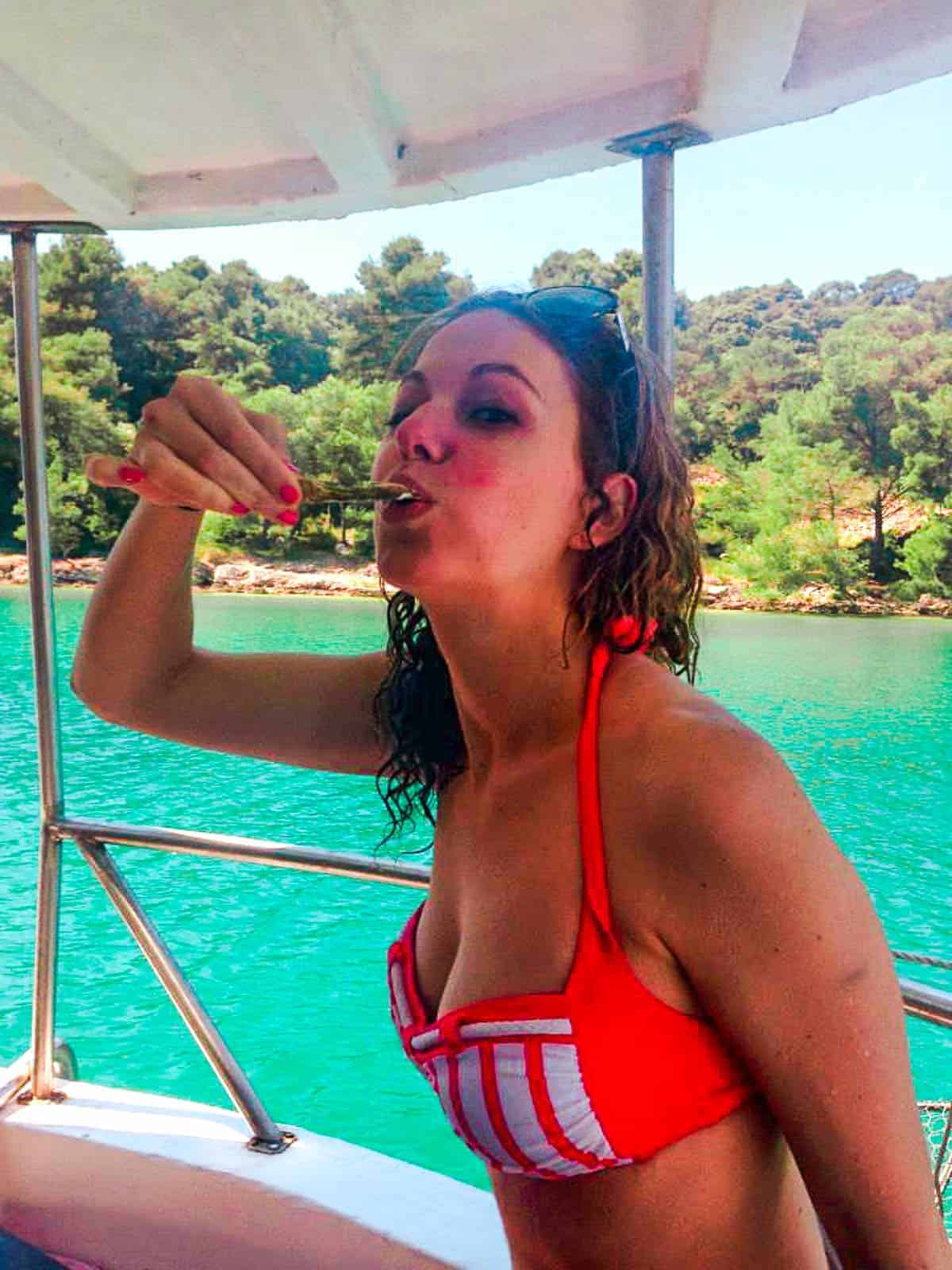 As if that wasn't enough, the rest of lunch included freshly grilled fish, vegetables and potatoes doused in that amazing Croatian olive oil, and some crusty bread for dipping (my pre-GF days!).
We spent the afternoon sailing to other lagoons, jumping off the boat into the water, tanning, reading and generally having the time of our lives.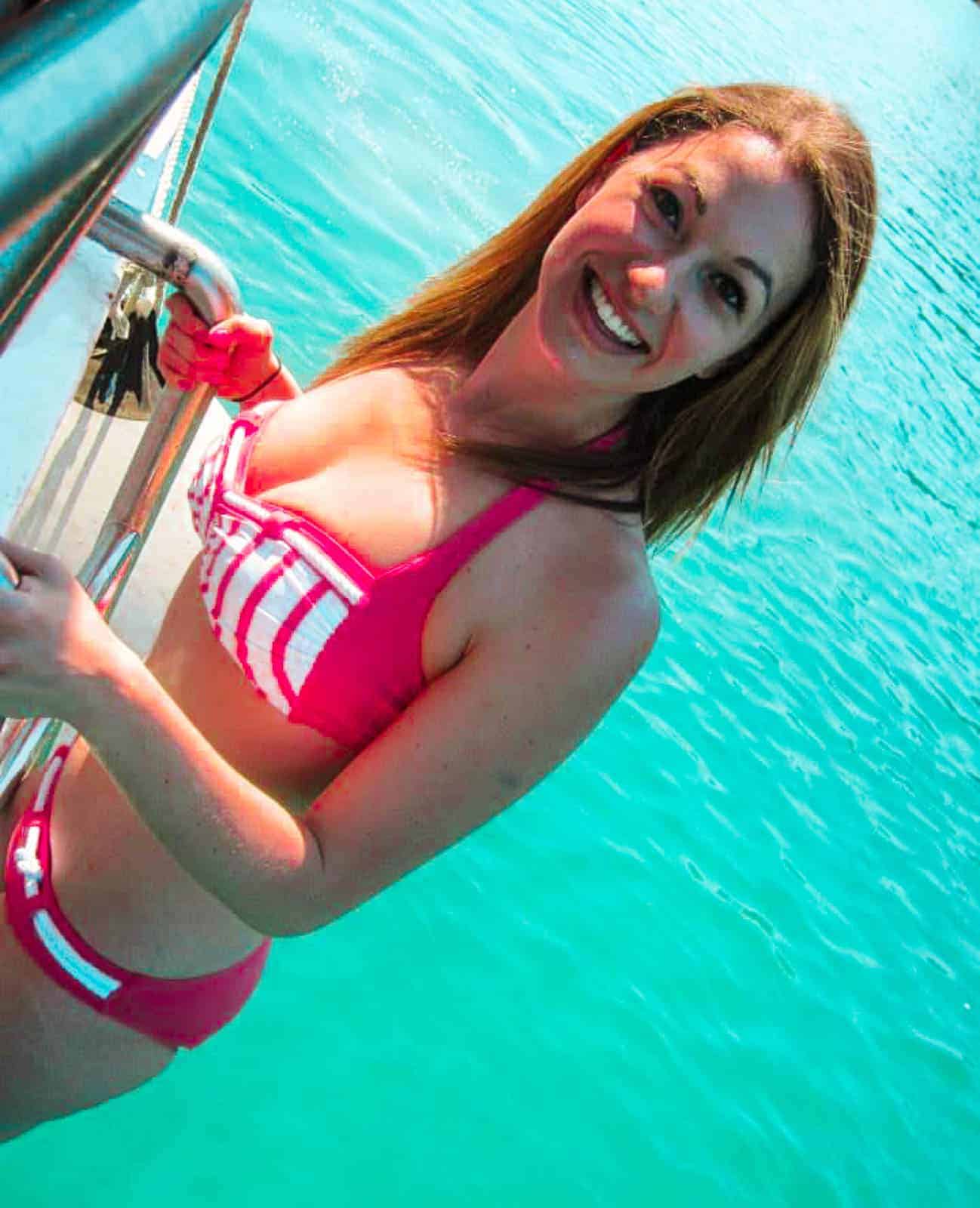 Upon arriving back in Split, it was time for a power nap and then dinner. We ate at Leut, which was a little more formal than Fife's but another great meal. We sat on the little terrace outside, drank wine and had delicious lamb and pasta! It was so relaxing and the perfect end to one of my favorite days in Croatia.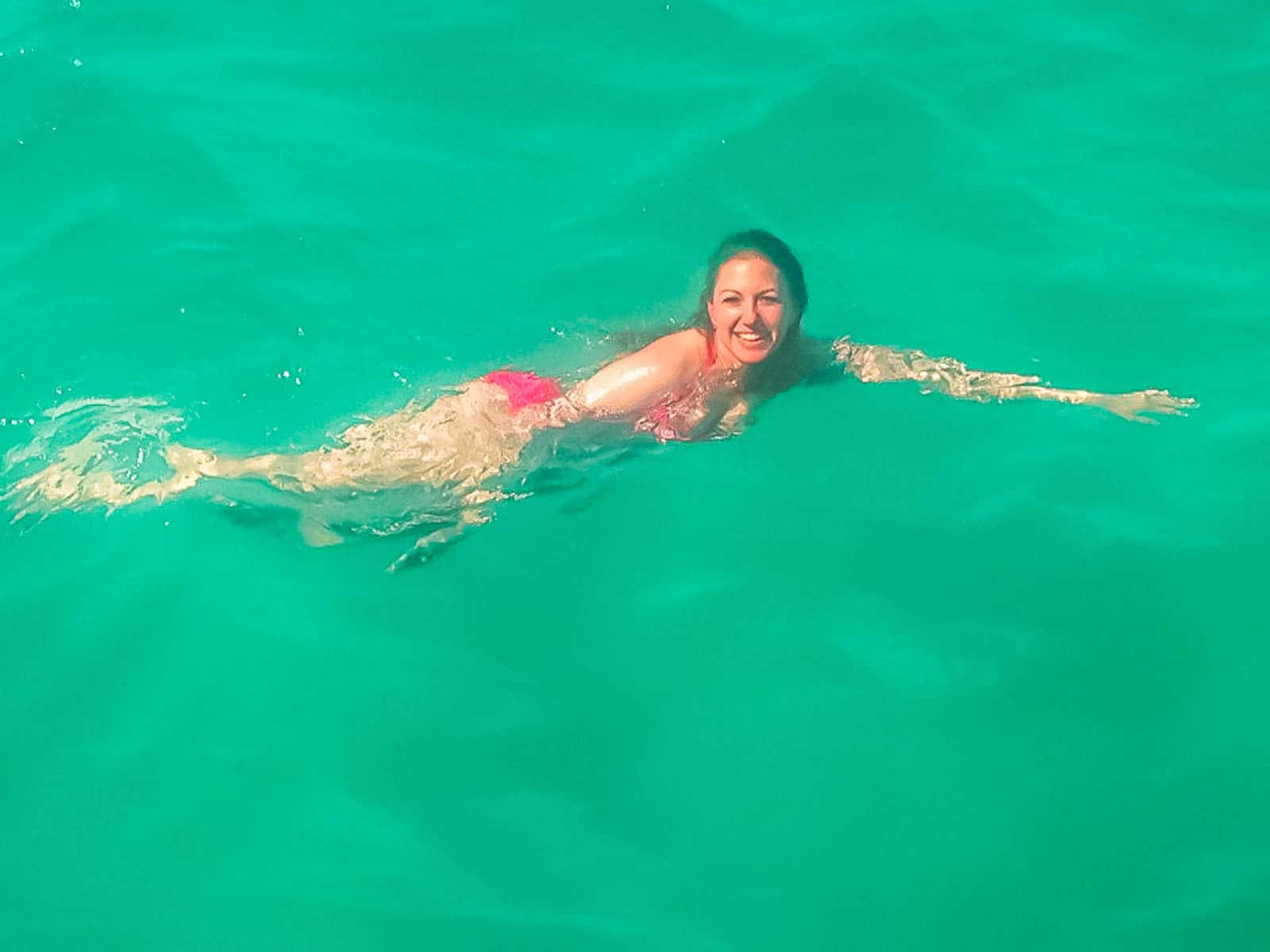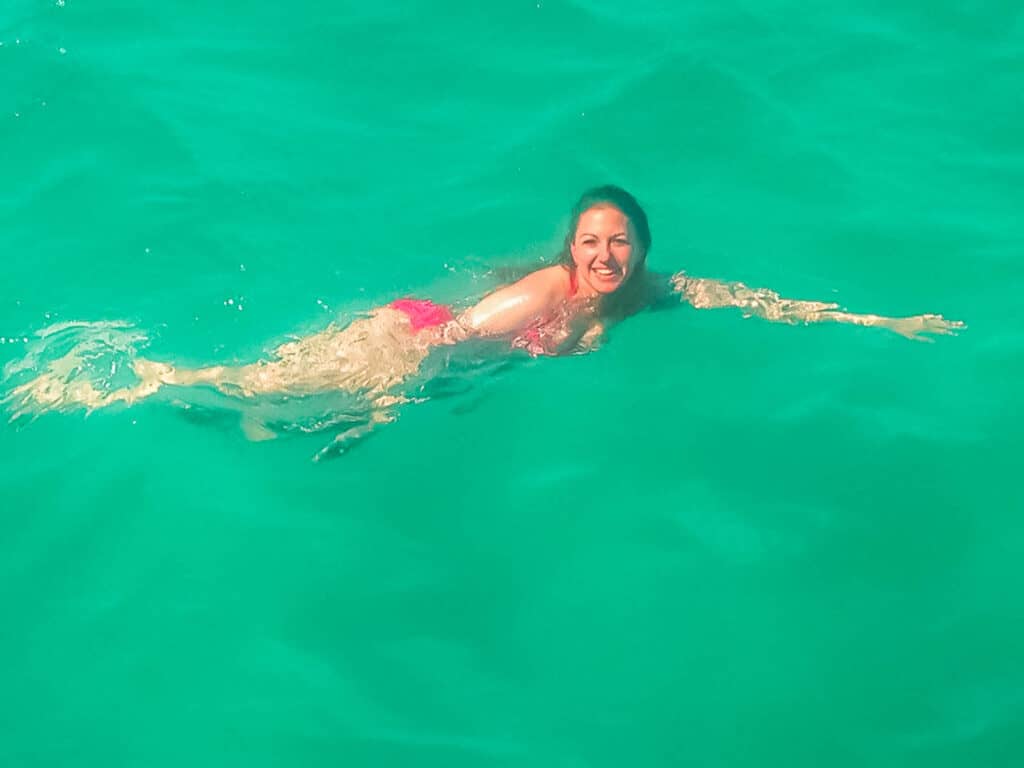 Day 3: Plitvice Lakes National Park Full Day Trip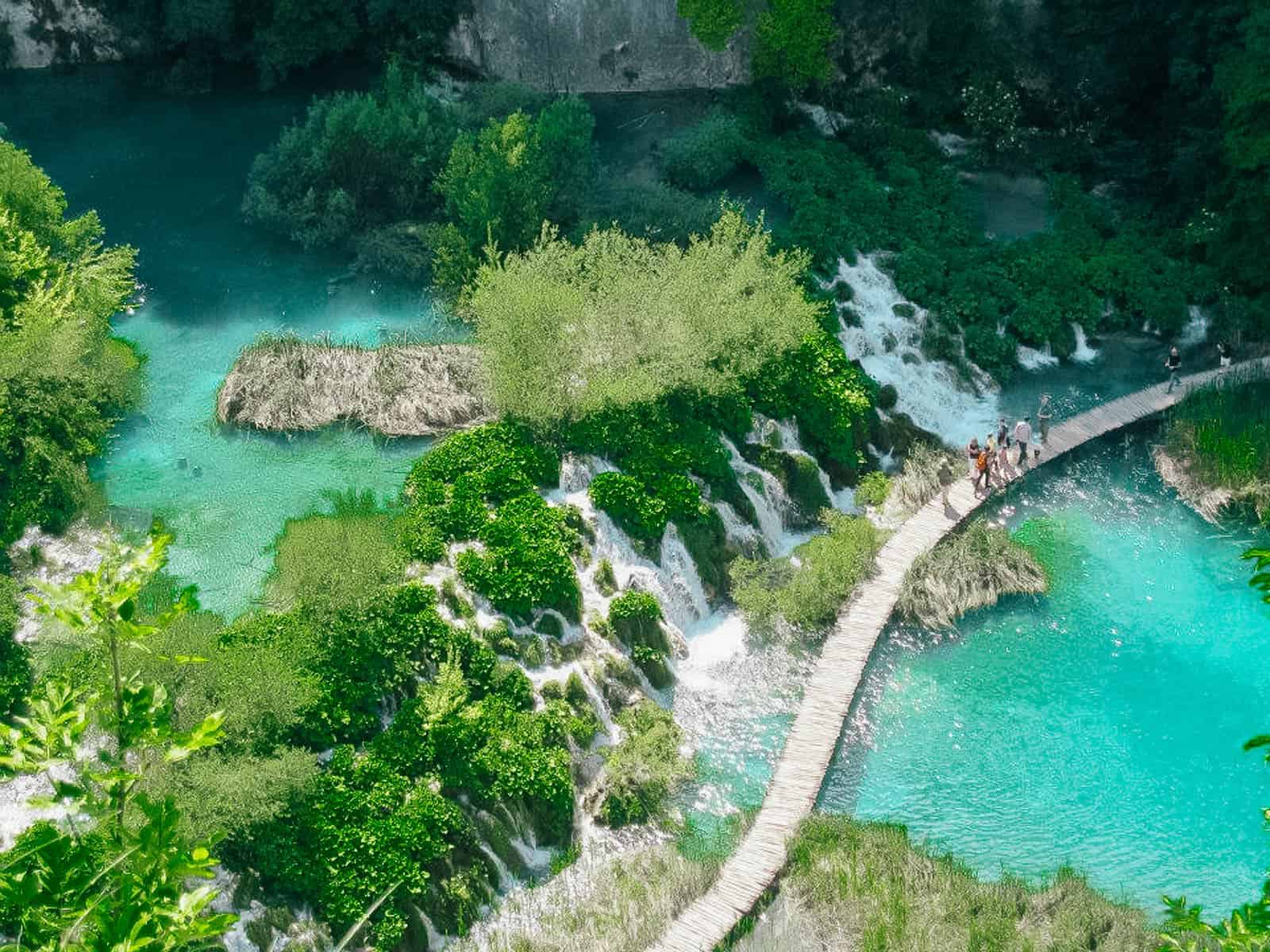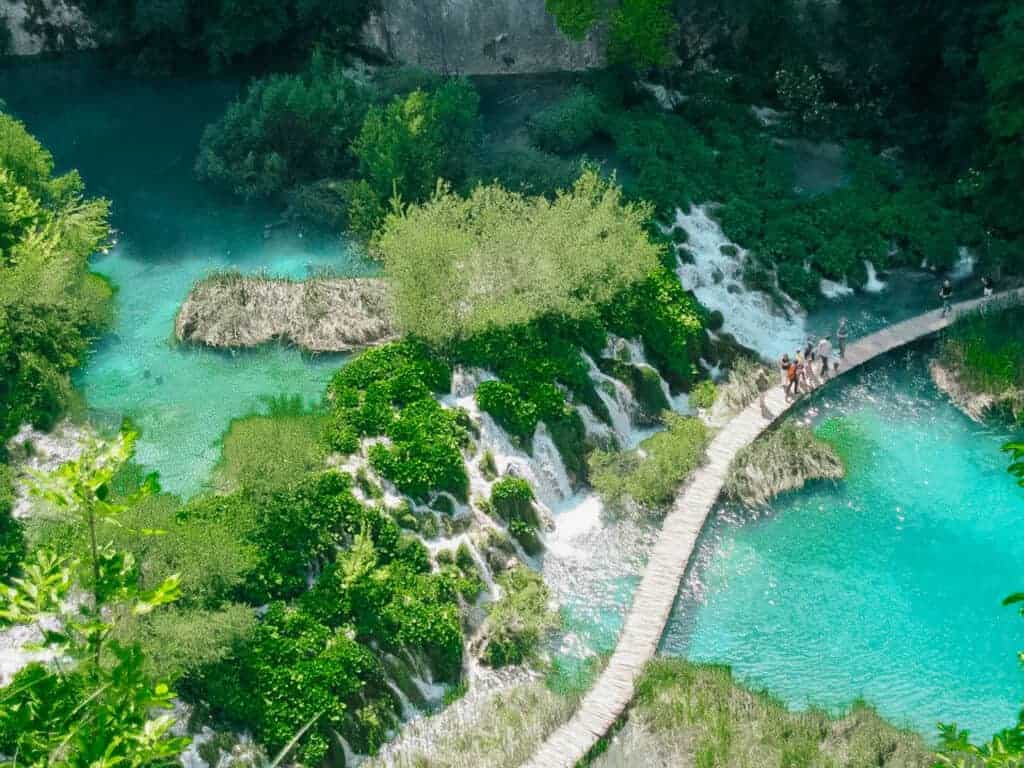 Another early morning to meet our tour group for an excursion to Plitvice Lakes national park. We arranged this excursion in advance through Split-Excursions and I was really happy we did. It's about a three hour drive from Split to get to Plitvice, so be prepared for a long day. I promise it's totally worth it! We met our group, driver and guide at the main bus terminal in the Old Town at 7:30. We piled into an air-conditioned van and were on our way!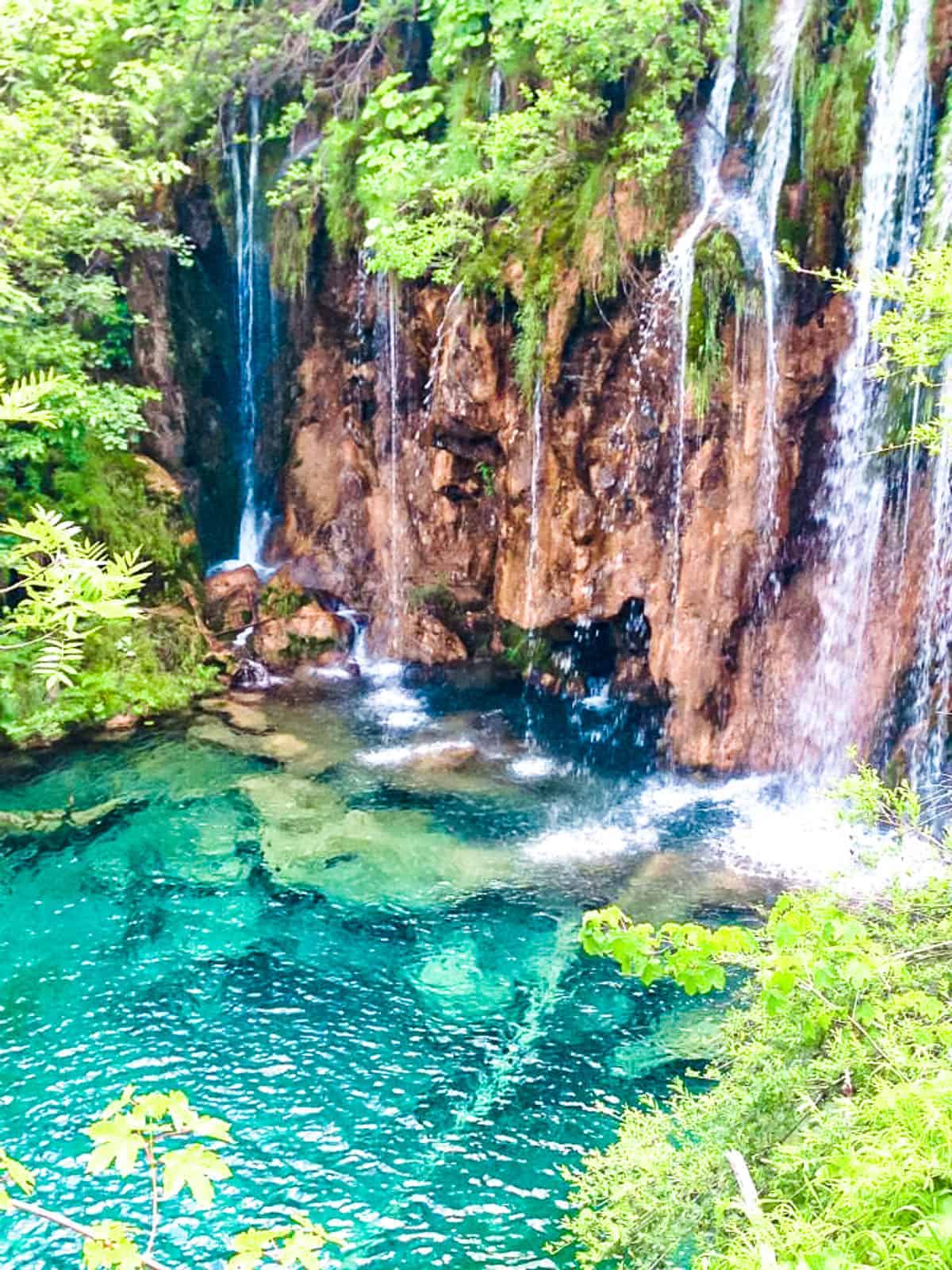 Plitvice National Park is another kind of paradise, all gushing waterfalls, sprawling greenery, and the brightest green-blue water. In fact, the water was so pure and natural that we filed our water bottles directly from the spring to drink.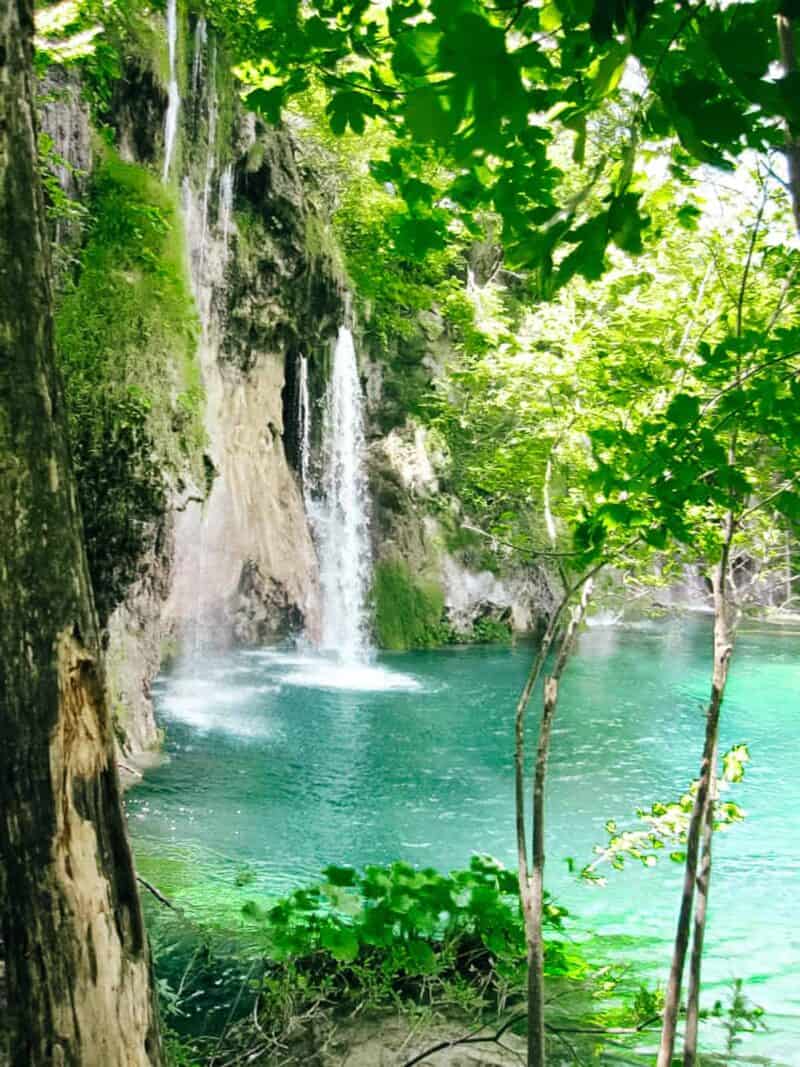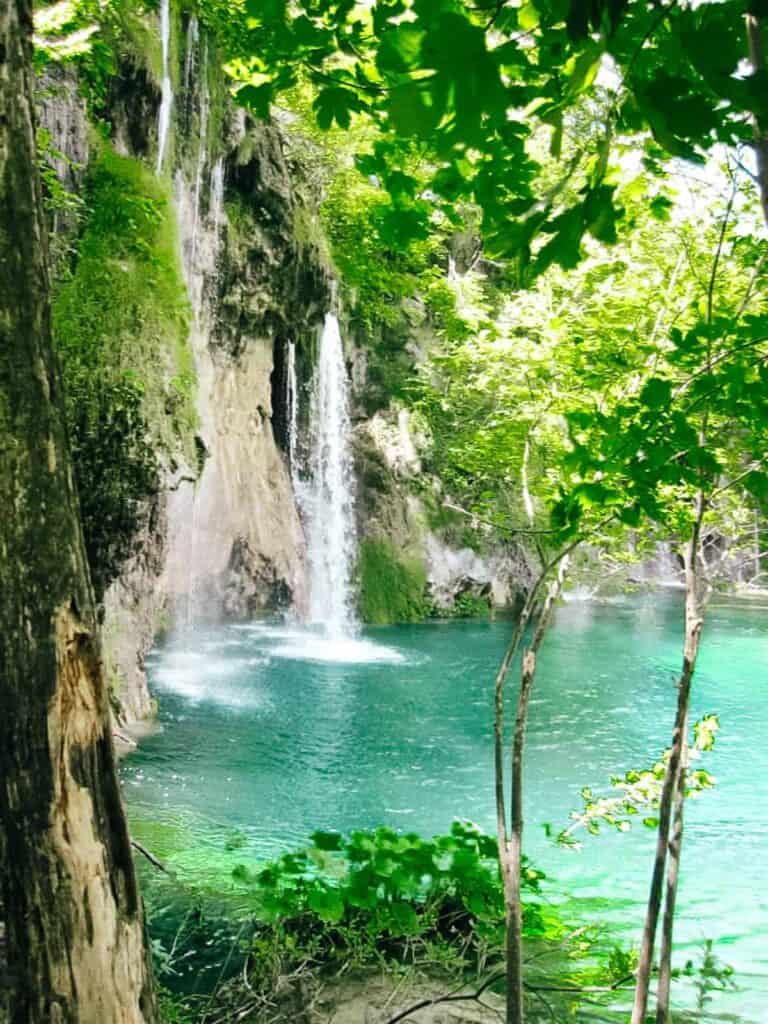 After a few hours of hiking all throughout the park, we departed in the comfort of our van to make the journey back to Split. About halfway through the return trip, we stopped at a local restaurant in what felt like the middle of nowhere.
(Spoiler alert: Vegans and vegetarians may want to skip this next part).
This was another amazing experience to top off an already incredible day. You see, when I travel I love to eat as local and authentically as possible. At this particular restaurant, right next to the outdoor seating area was a small shed with a fire and roasting spit.
Leaning against the door of the shed was a skinned lamb on a stick. Potentially unsettling, yes, but then I saw roasted lamb on the restaurant's menu. I looked up with barely suppressed glee at the waiter and, pointing at the shed, stuttered "Is that…the lamb?" He nodded knowingly. It was the best lamb I'd ever tasted, and boy it doesn't get more fresh, local and authentic than that!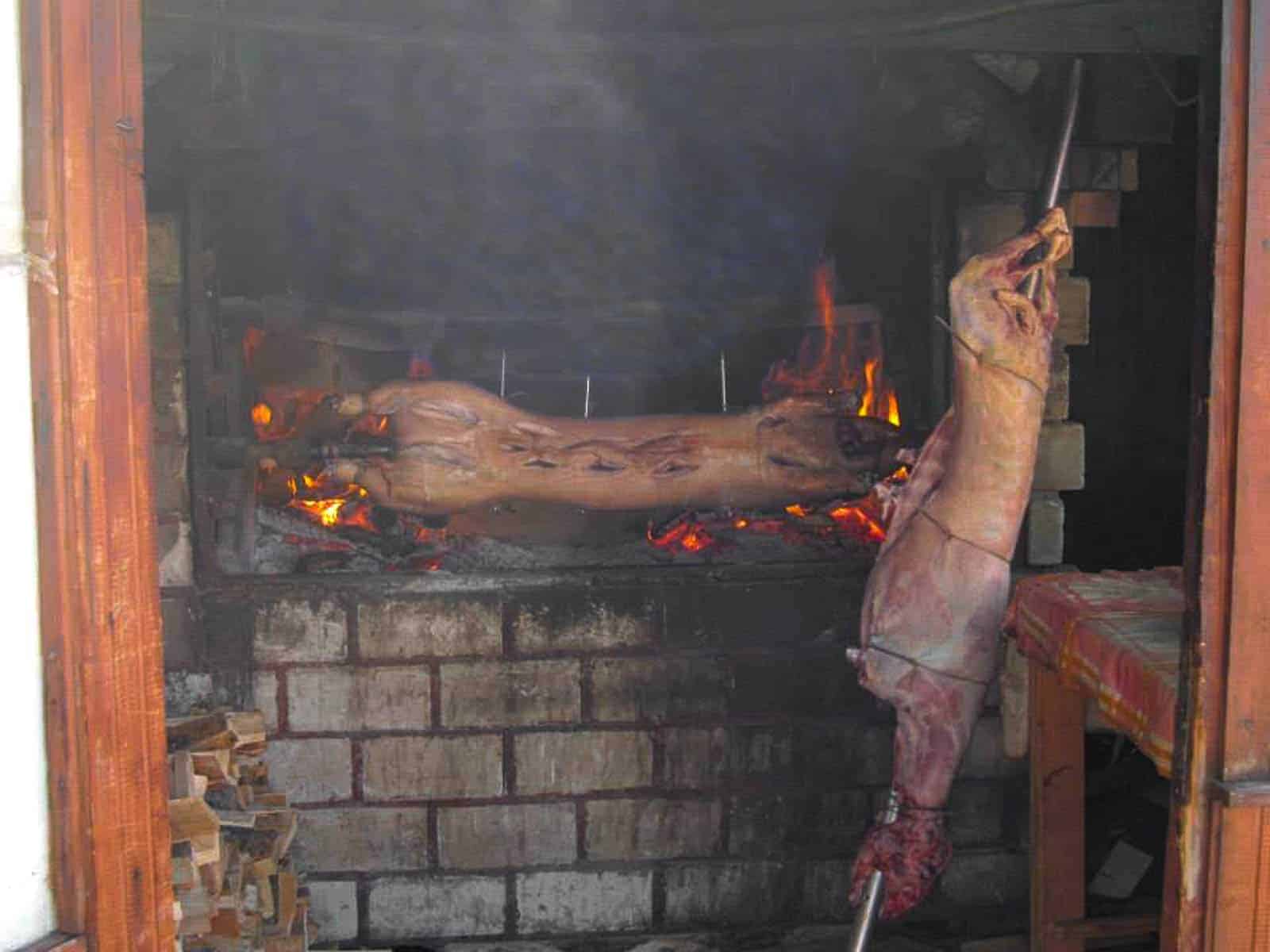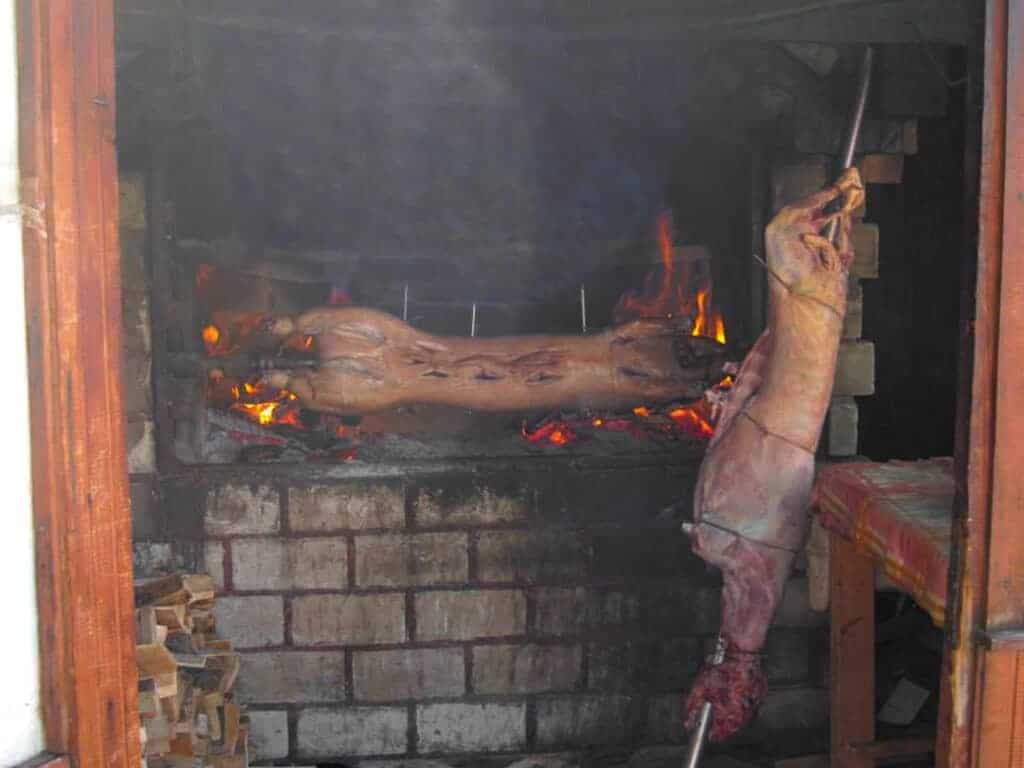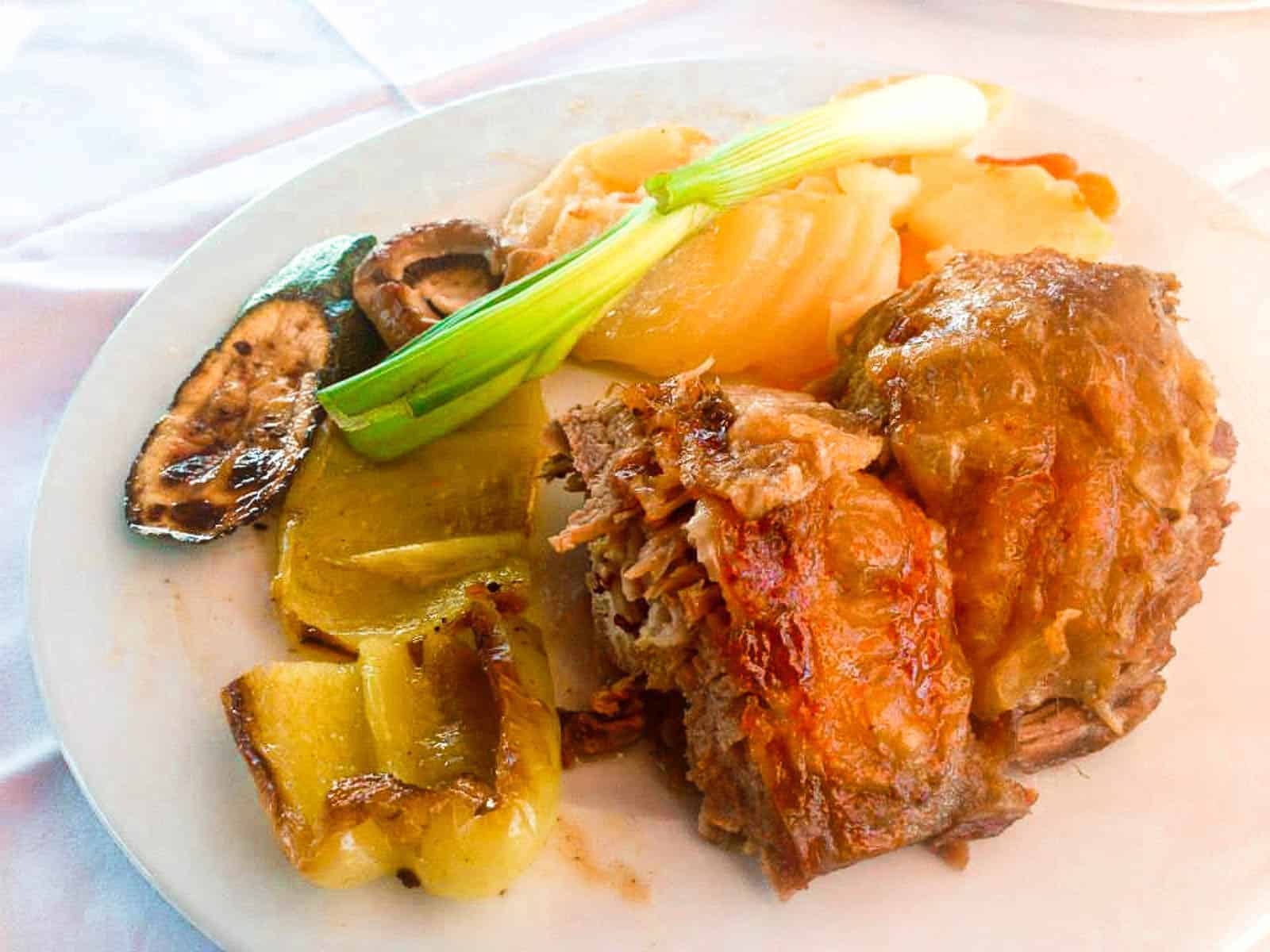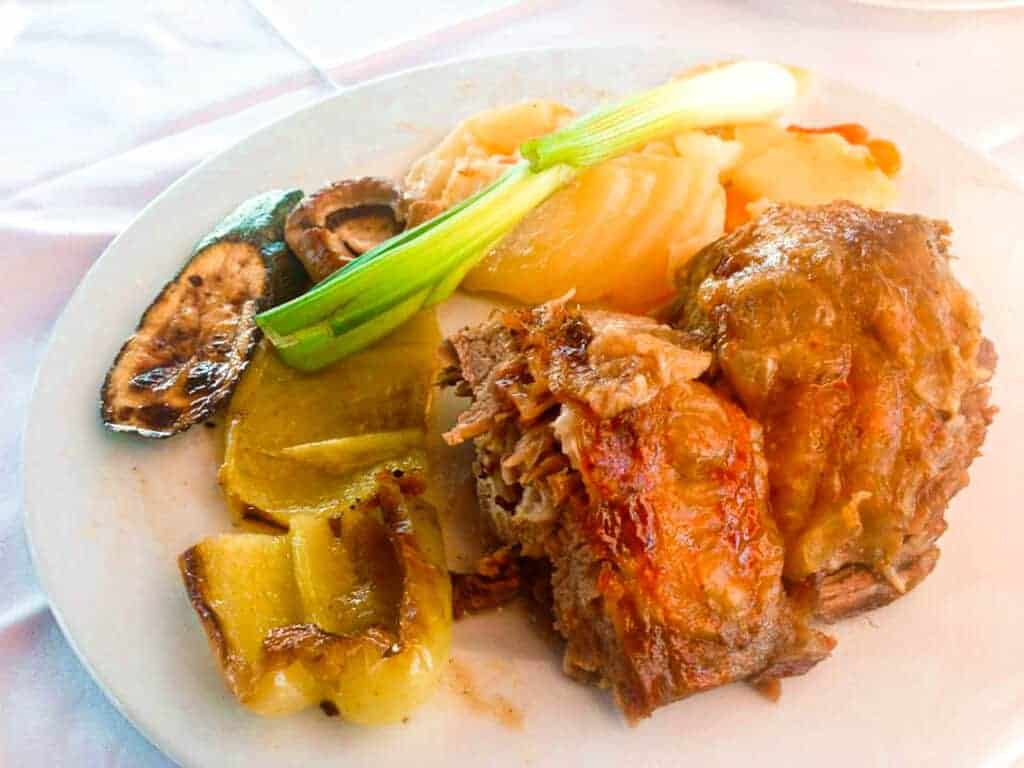 After the late lunch, we hopped back in the van to continue the journey back to Split. Upon arriving, we collapsed at Villa Simoni and promptly fell asleep.
Day 4: Island-Hopping In Hvar
Another early morning (are you sensing a travel theme? I hate feeling like I'm wasting the day sleeping when I could be exploring a new destination!) to get up, pack and head to the ferry terminal to depart for Hvar Island, where we'd spend the next four days. Hvar is a must when visiting Croatia's islands. The ferry process was pretty seamless, we didn't need to purchase tickets in advance but rather just looked up when our preferred ferry time was departing and bought tickets upon arrival.
We booked another budget guest house option for our stay in Hvar, a warm and cozy place called Villa Zorana. This was very much a family-run guest house with a shared kitchen and terrace.
The lovely Bartul from Villa Zorana met us at the ferry terminal and whisked off to our accommodations. The room was also basic but far more spacious than Villa Simoni.
Once we were settled in, we asked Bartul to drive us to a local public beach to relax before dinner.
Our dinner reservation that evening was at Dalmatino, which turned out to be the best meal of our trip. It was so good in fact, that we went back on our last night in Hvar.
Dalmatino was recommended by a friend of a friend, who had eaten there and kept in touch with one of the waiters. If you go, ask for Michael and tell him Jessica from Canada sent you! You must order the octopus carpaccio, the zucchini carpaccio, the fish of the day and the brodetto.
Hvar is known for the nightlife, so after dinner we wandered the main promenade to check out some of the bars. Later on we met up with our waiter, Michael, at Pink Champagne to dance the night away and toast with – what else – bottles of champagne. Side note: Carpe Diem is one of the most well-known bars in Hvar but unfortunately we were visiting too early in the season and it was closed. I definitely recommend going if it's open when you're there.
Stumbling out of the club at 6:00 A.M and seeing that the sun was already up was also quite the memory!
Day 5: Hula Hula Beach Club
Hula Hula beach club is a famous beach and party spot in Hvar. Note that some beaches in Croatia are rocky, and Hula Hula is one of them so it's extra important to reserve a lounge chair. We called and reserved beach chairs in advance (this can only be done by phone) for an 11:30 AM arrival. This was the perfect arrival time because it wasn't too busy. We set ourselves up on two chairs with a perfect view of the sea. We ordered lunch, drinks, swam, read and listened to music all day.
Around 4:00 PM we packed up our lounge chairs and moved over to the main bar area to enjoy a drink on the patio, take in the music and crowd that was growing by the minute. The party was getting started! I definitely recommend a day at Hula Hula for a nice mix of partying and lounging. We watched the sunset at Hula Hula then headed back to Villa Zorana to shower and change for dinner.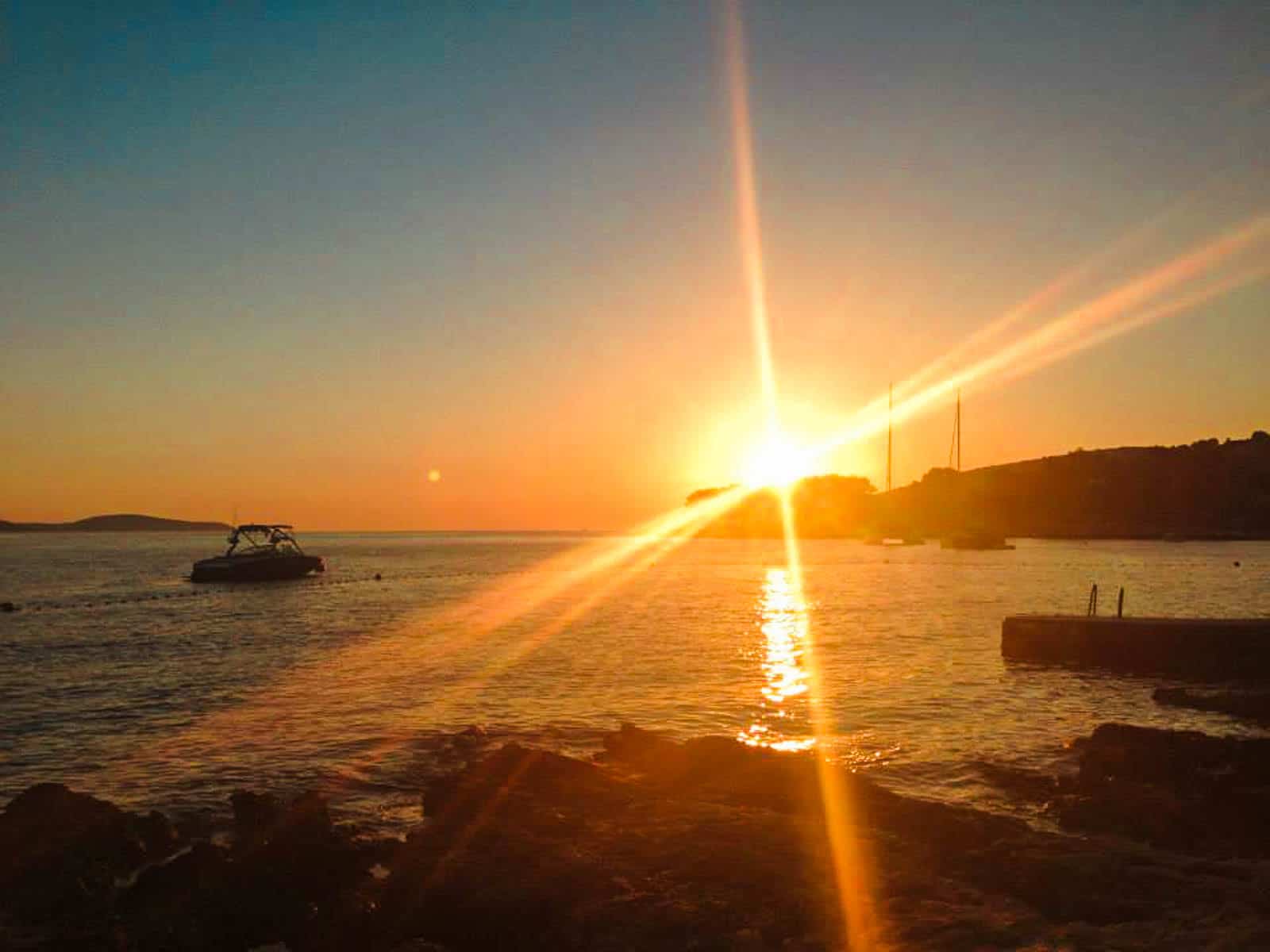 That night, we went to dinner at Giaxa. It was another delicious meal. I seriously couldn't believe how good the food was in Croatia. The fresh fish, the olive oil, the wine! I couldn't get enough. At Giaxa, order the grilled octopus appetizer, the homemade gnocchi, the seabass, and the side of marinated vegetables. After dinner, we had a few drinks along the promenade and then went to bed.
Day 6: Visiting Croatia's Pakleni Islands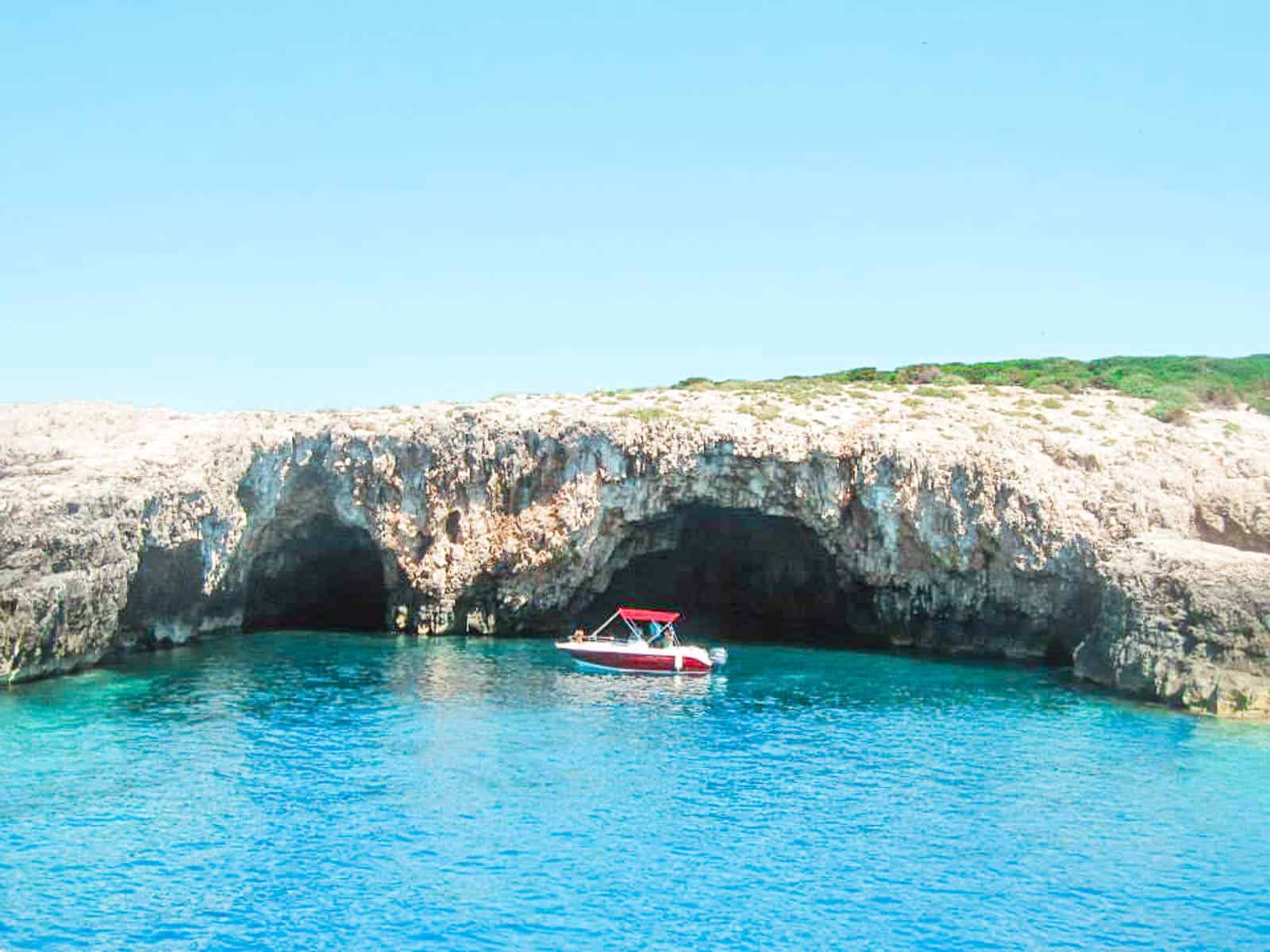 We booked a tour with Pelegrini Tours to the Blue & Green caves and the Pakleni Islands. The Blue and Green caves are off the coast of Vis. At the Green cave, which gets its name from its bright vibrant green hue due to the algae at the bottom of the cave, we could jump off the boat and swim into the cave.
Following our dip in the water at the Green cave, we sped off to the Blue Cave. To access the Blue Cave, you have to switch to a small motorized raft. The Blue Cave is famous for its blue luminescence, a result of the sun reflecting on the white floor of the cave and giving it an eerily magical aquamarine glow. Look for a tour that will ensure you visit the cave between 11:00 AM – 12:00 PM because that's when the sun peaking through the cave entrance offers the best blue shine effect.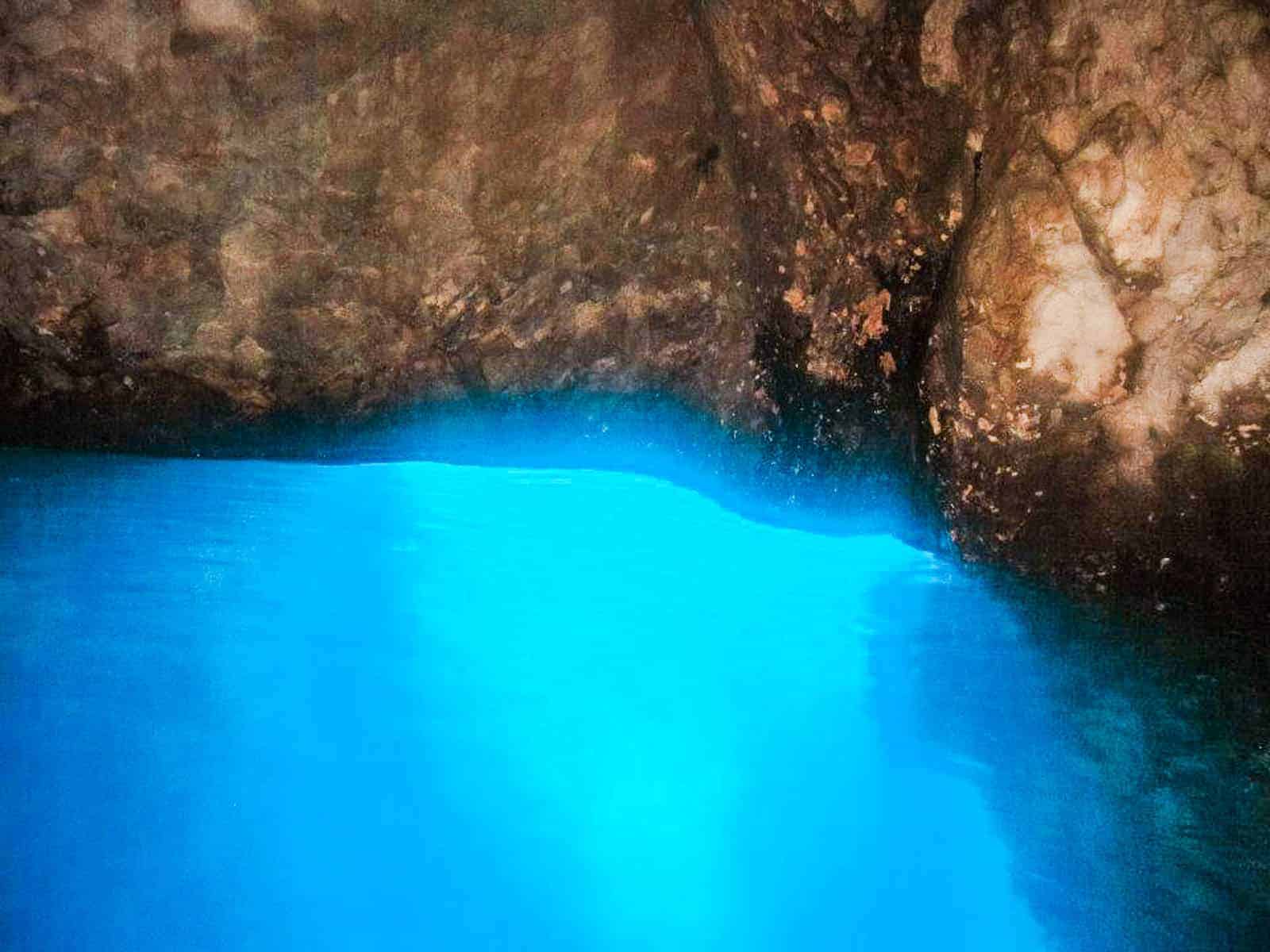 After touring the caves, we had free time on the island of Vis to walk around the town, enjoy some gelato and hang on the beautiful beach.
Arriving back in Split in the late afternoon, we napped and relaxed at Zorana to refuel before dinner. On the recommendation of our friend Michael from Dalmatino, we went to Lucullus for dinner.
Beyonce and Jay-Z ate at Lucullus when they visited Hvar, so we knew it must be incredible, and it did not disapoint! We sat outside in a courtyard surrounded by low stone walls, and were serenaded by our server who stopped by with a small guitar. You must order the lavender gnocchi and the fish al forno, which is cooked in the traditional style in a wood-burning oven.
After dinner, we met Michael at Kiva Bar which was quite the party! We also made plans with Michael for him to take us to one of the Pakleni islands the next day.
Day 7: Sailing To Croatia's Palmizana Island And The Best Beef Carpaccio I've Ever Had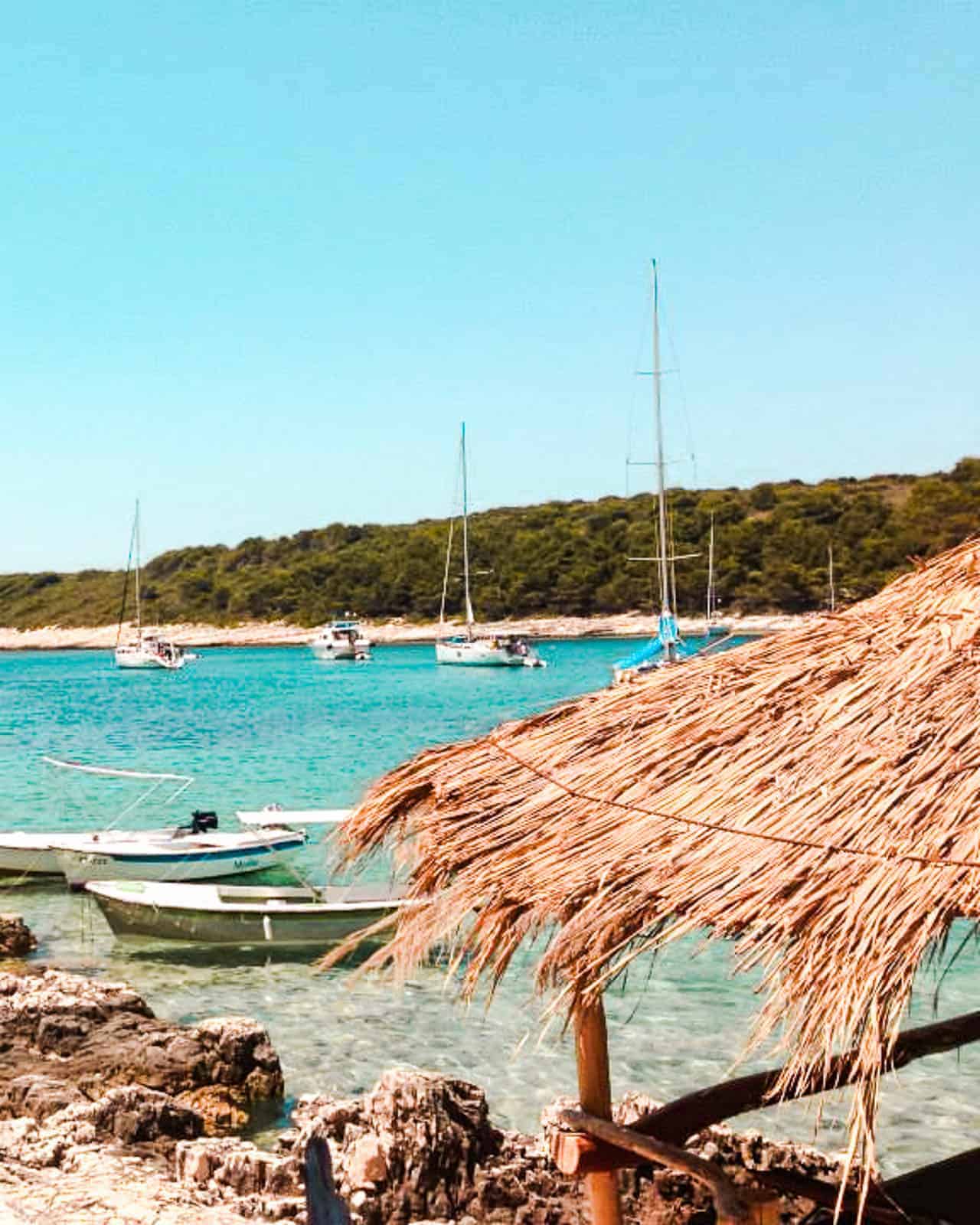 Palmizana is a small resort area on the Klement island in the Pakleni island group. It was a quiet, untouched, rugged masterpiece of an island. Perfect for escaping any tourist crowds on the other islands. Our friend Michael took us by boat, however you can get a water taxi to take you to the island as well.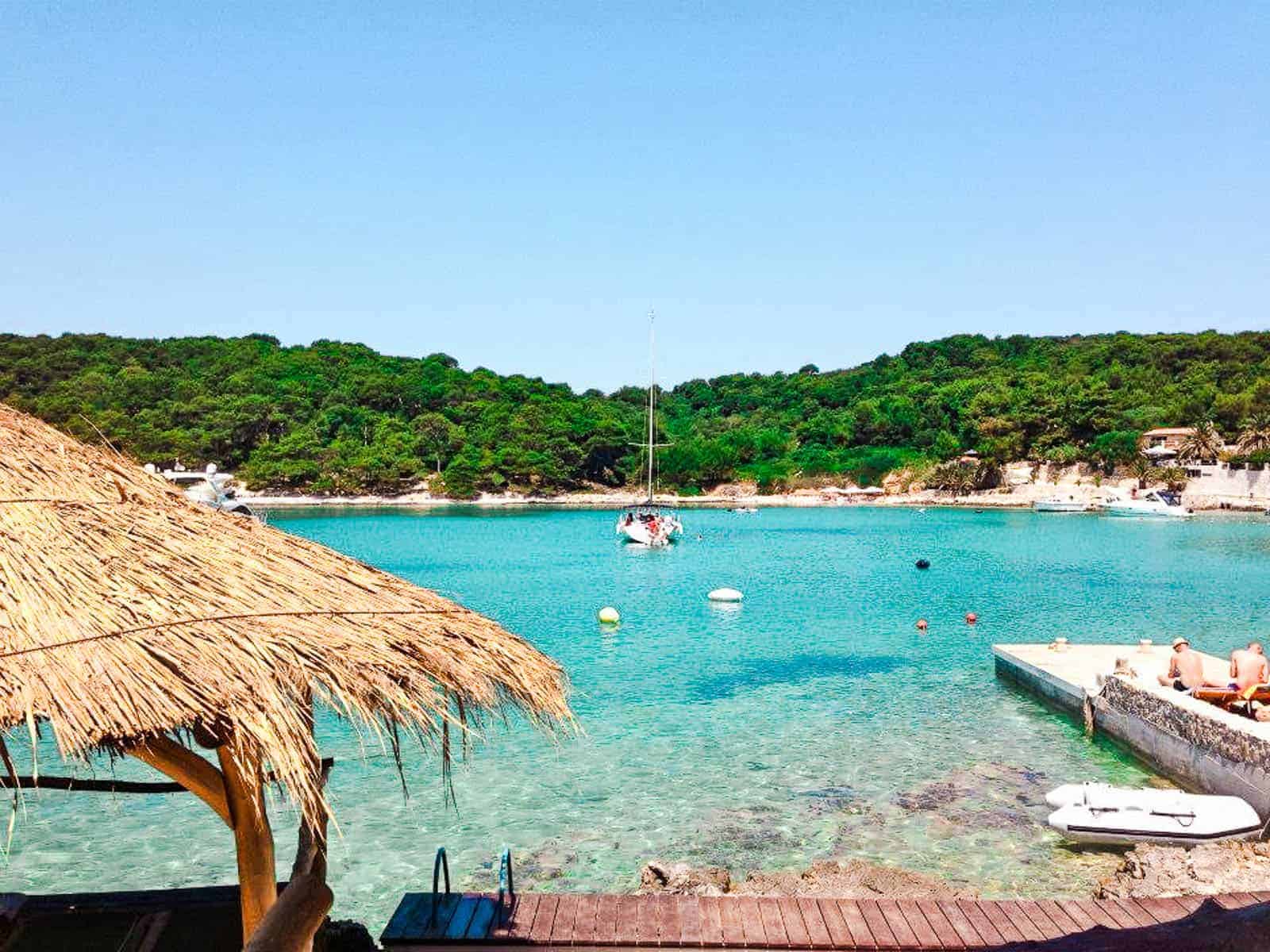 When we arrived, we headed right to Zori for lunch and it was one of the best meals of the trip. We sat outside, soaking up the sun, bread and oil, and wine while we perused the menu. I highly recommend ordering the octopus salad and the lavender semi-freddo. Also, the beef carpaccio. The beef carpaccio. The beef carpacio. Oh-em-gee. I don't even normally like beef carpaccio, but this was one of the best things I've ever tasted. Melt in your mouth fresh, perfectly salted and swirled with a touch of horseradish cream. We also ordered the bruschetta and goat cheese with figs. Both were excellent.
After stuffing our faces at lunch, we went down to the beach to swim and relax in the sun. Floating in that crystal clear water on this almost deserted island was so good for the soul, I can't even tell you.
After heading back to Hvar, we grabbed a light bite on our way back to Zorana and collapsed into bed.
It was a perfect day.
Day 8: Bonj Les Bains Beach Club At Hvar's Amfora Hotel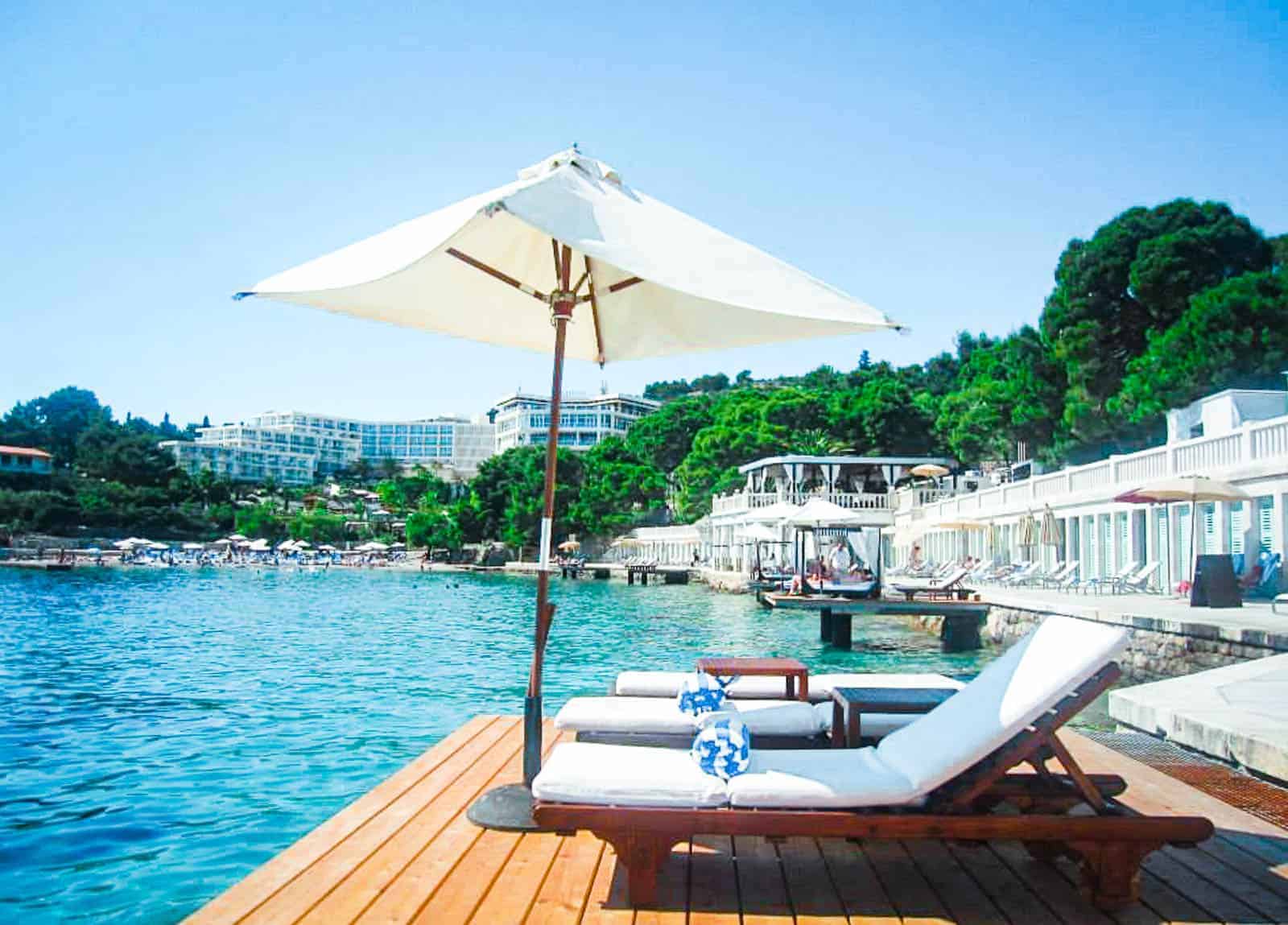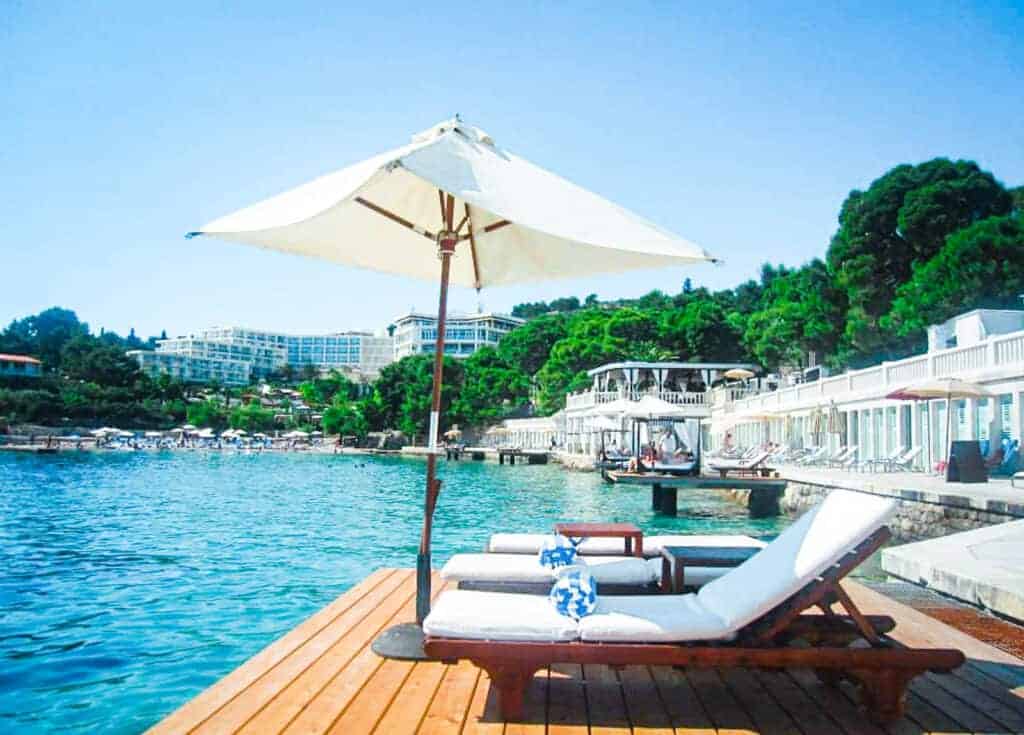 For our last day on the Dalmatian coast, we wanted to treat ourselves a little bit so we splurged on beachside massages at the Bonj Les Bains beach club. We had a "couples" cabana (hey two girls traveling together are technically a 'couple' of girls!) with daybeds on the floor. The massages were amazing! Our massesuses were two tiny yet surprisingly strong women who worked out every knot and kink. It was similar to a thai-style massage where we were stretched out a bit as well.
After our massages, we enjoyed brunch and bellinis at the Bonj Les Bains restaurant, then settled in on our sunbeds for the afternoon. The sunbeds, food and drinks were all more expensive than at Hula Hula but I felt it was worth it because the sunbeds were on a long dock overlooking the water with ladders providing easier swimming access (rather than trying to balance on the rocks at Hula Hula) and access to the bathrooms and changing rooms were much more convenient. Both Bonj les Bains and Hula Hula were great though, just two different vibes!
For our final dinner in Hvar, we went back to Dalmatino – it was that good!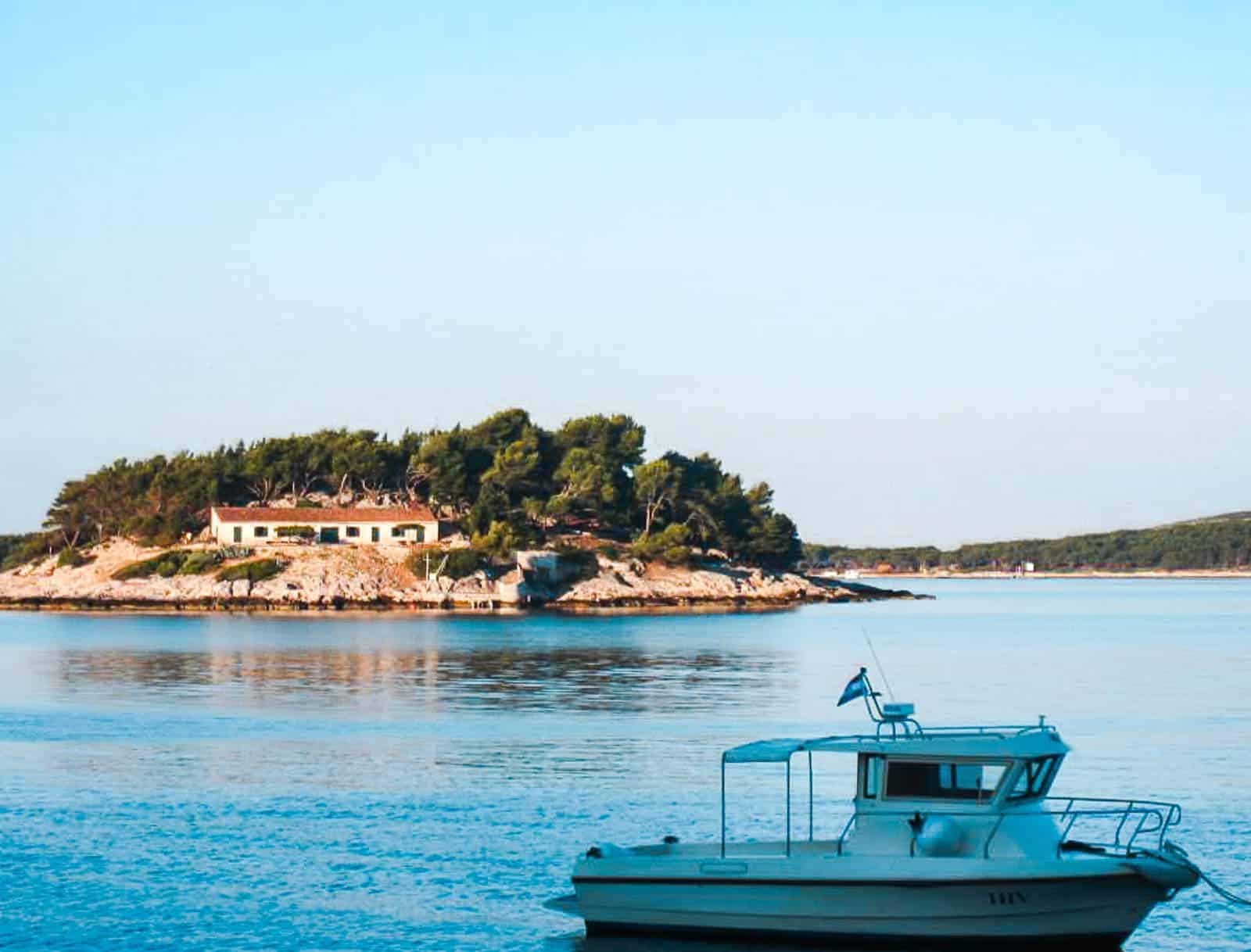 Sadly, we were leaving the next day. We packed up our things and the wonderful Bartul drove us to the ferry terminal at Stari Grad. That drive was one of the most precarious I have ever experienced! Long, winding narrow roads through the hills the whole way. Bartul was a great driver though and even stopped for us by a huge lavender field so we could see one up close. It's about a two hour ferry back to Split, and we spent most of the night at Villa Simoni again. I say "most" because our flight back to Paris was at 6:00 AM and we were leaving for the airport at 4:00 AM!
Villa Simoni were so accommodating and drove us to the airport. After grabbing a few hours sleep, we were off for a smooth airport and flight experience back to Paris and onward to New York. And that's a wrap on my guide to visiting Croatia's islands!
If you're looking for more guides to the Balkan countries, check out this Backpacker's Guide to Kotor, Montenegro post!

Love this post about visiting Croatia's islands? Pin it to save for later!