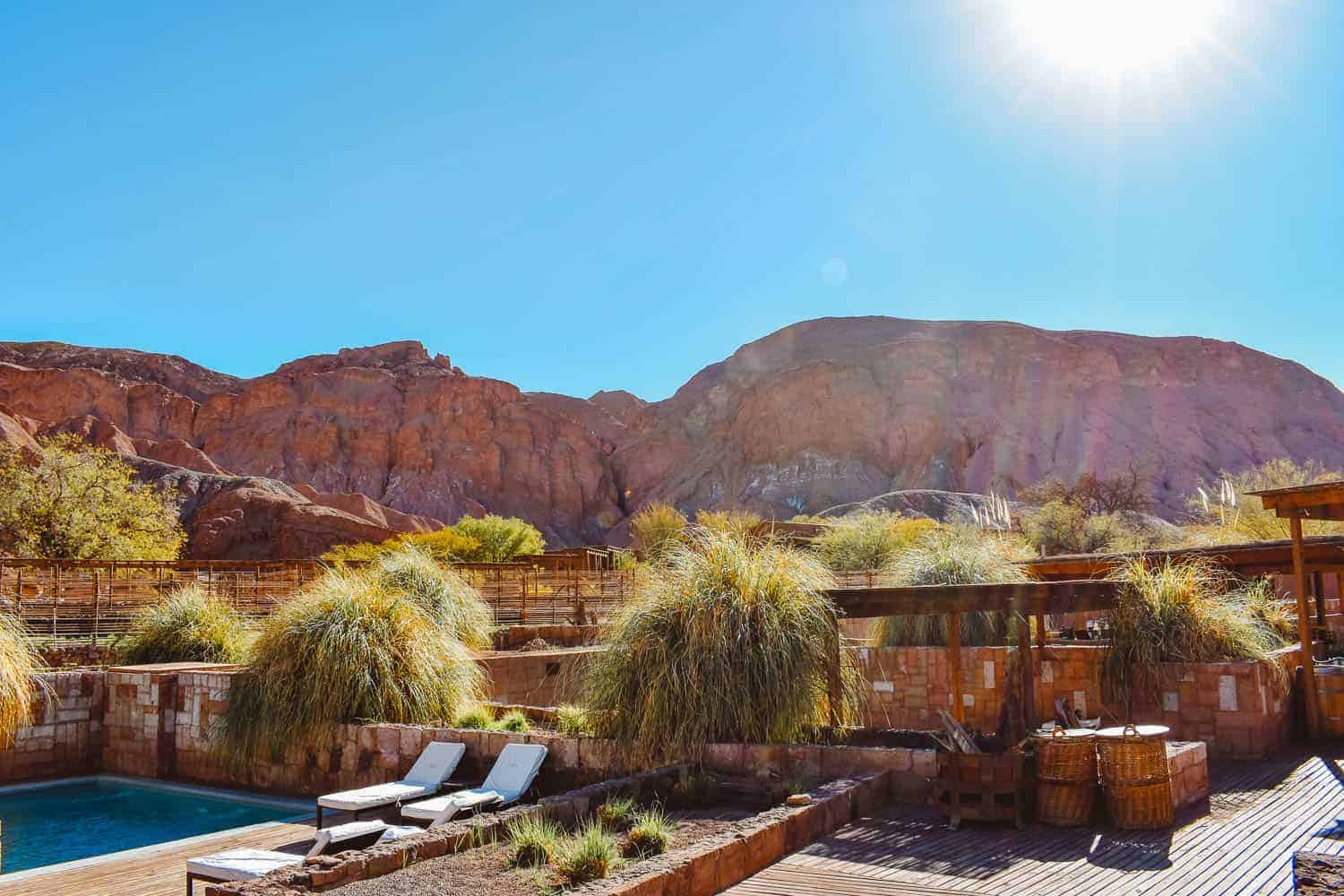 The Best Luxury Hotel In Atacama Is The Alto Atacama Desert Lodge And Spa
If you're planning to visit the Atacama desert – one of the driest deserts in the world with landscapes so arid in places that no living organisms can survive – you're going to want to read my Alto Atacama hotel review. This is a hotel that has thought of everything you might need during your stay.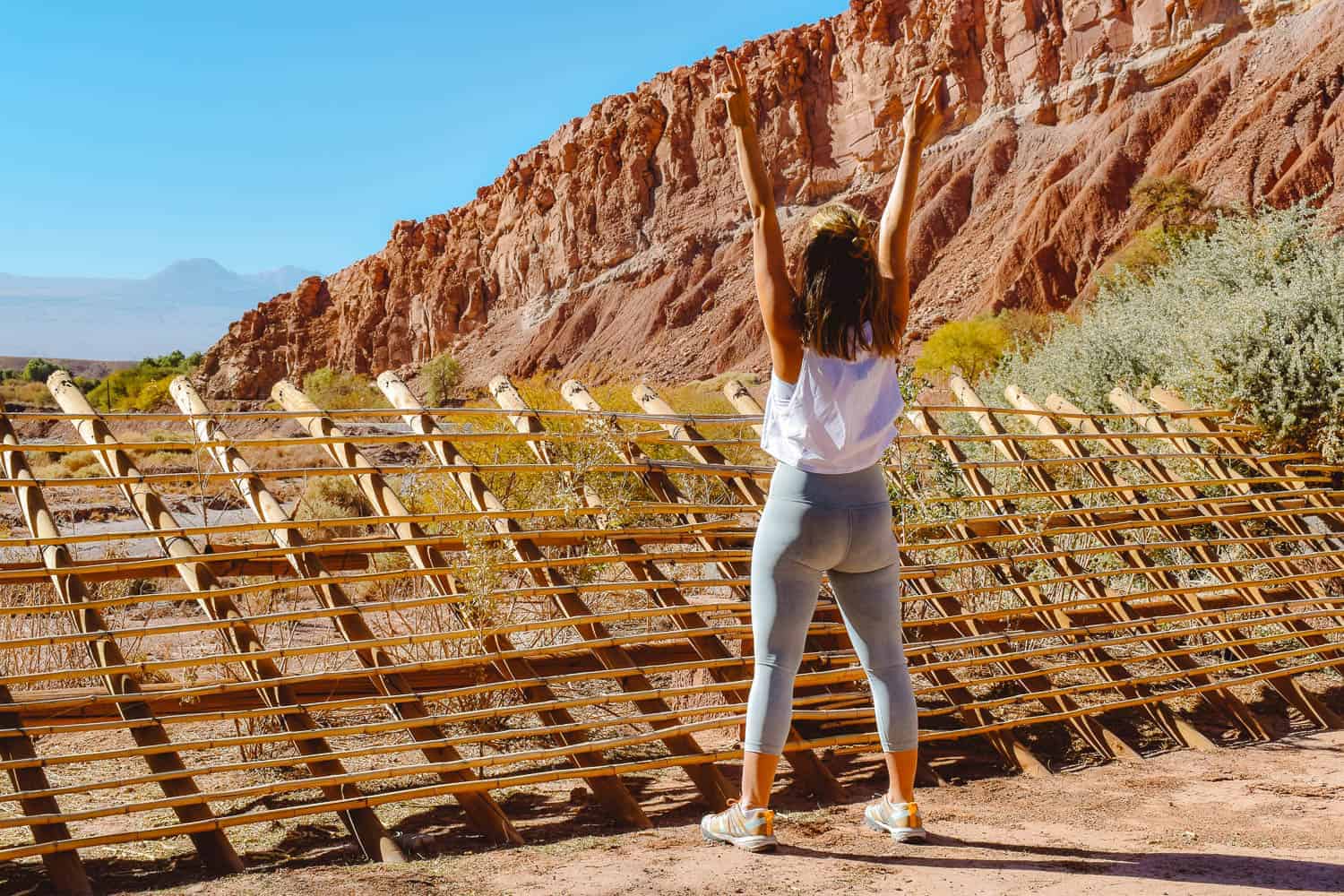 (Additional Disclosure: I was visiting as part of a work trip, so all expenses were covered by my former employer which is unrelated to this blog. This post is not sponsored in any way by Alto Atacama and all opinions are my own)
Enter the Alto Atacama Desert Lodge and Spa, an all-inclusive desert lodge nestled in the Catarpe Valley, and practically carved out of the orange-gold sand and stone mountains that surround Alto Atacama on all sides.
I spent 4 days and 5 nights at the Alto Atacama Desert Lodge and Spa and I cannot say enough good things about this hotel.
There are 4 or 5 top luxury hotels in Atacama, most notably the Tierra Atacama and Explora Atacama. For some reason, the Alto Atacama is more under-the-radar, but good news for us because that means we've discovered a hidden gem 🙂
Planning a trip to San Pedro de Atacama? In addition to my Alto Atacama hotel review, you'll definitely want to check out my other Atacama posts:
What To Pack For Chile's Atacama Desert
San Pedro de Atacama: Ultimate Travel Guide
Photo Diary: 22 Majestic Photos of Chile's Atacama Desert
Getting To Alto Atacama Desert Lodge And Spa
Your flight to Chile will most likely land in Santiago. From there, you'll need to catch a connection to Calama, which is about an hour outside of San Pedro de Atacama. The Alto Atacama hotel will arrange an airport transfer to pick you up and drive you in a comfortable, air-conditioned van to the hotel, which is about an hour away.
It is also possible to get to San Pedro de Atacama by car or bus from Bolivia or Argentina or by private charter flights from Santiago, which I was fortunate enough to experience.
Alto Atacama Desert Lodge And Spa Hotel Overview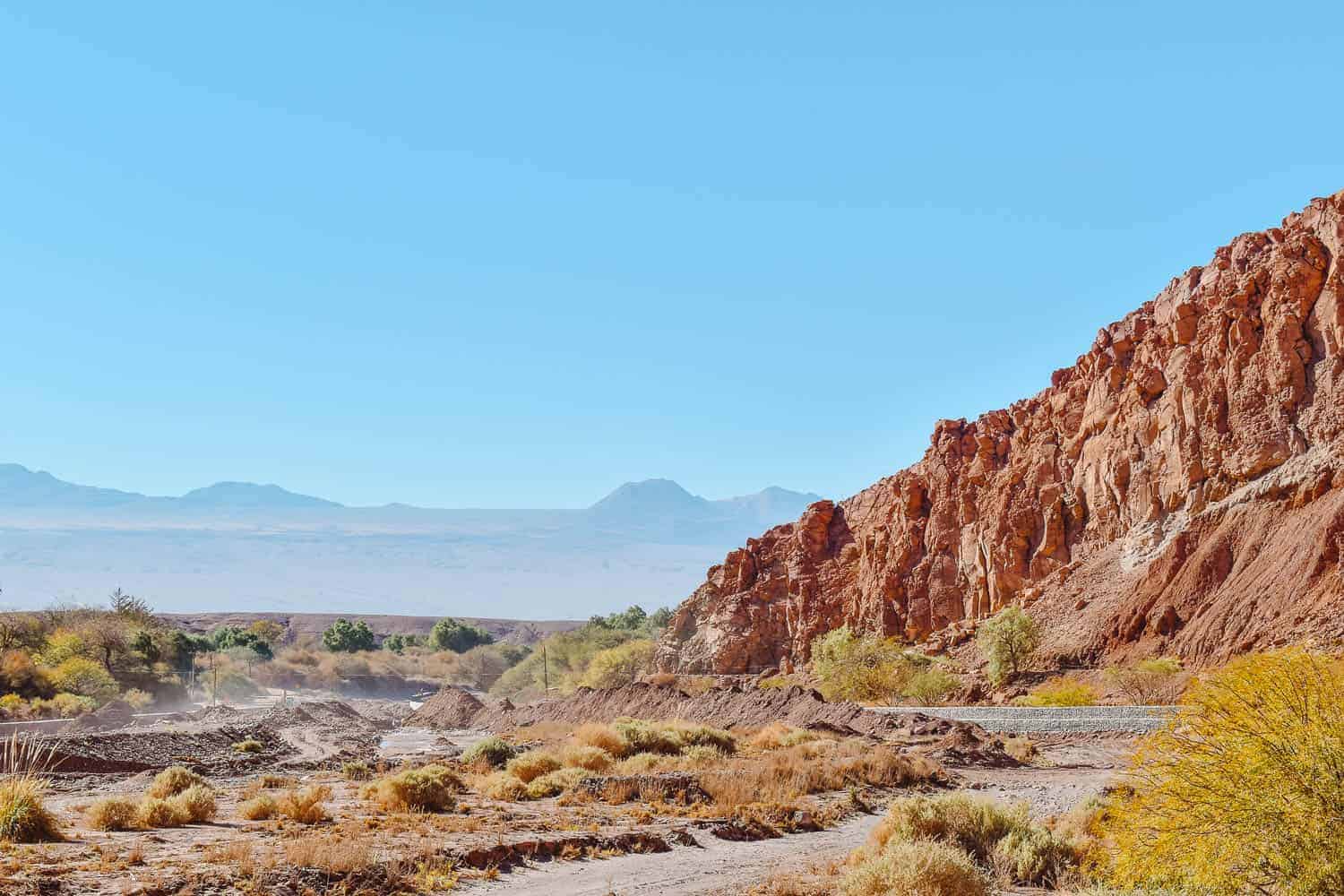 The Alto Atacama is an all-inclusive hotel, which means that all meals and beverages as well as one full day or two half-day excursions per day are included in the nightly rate.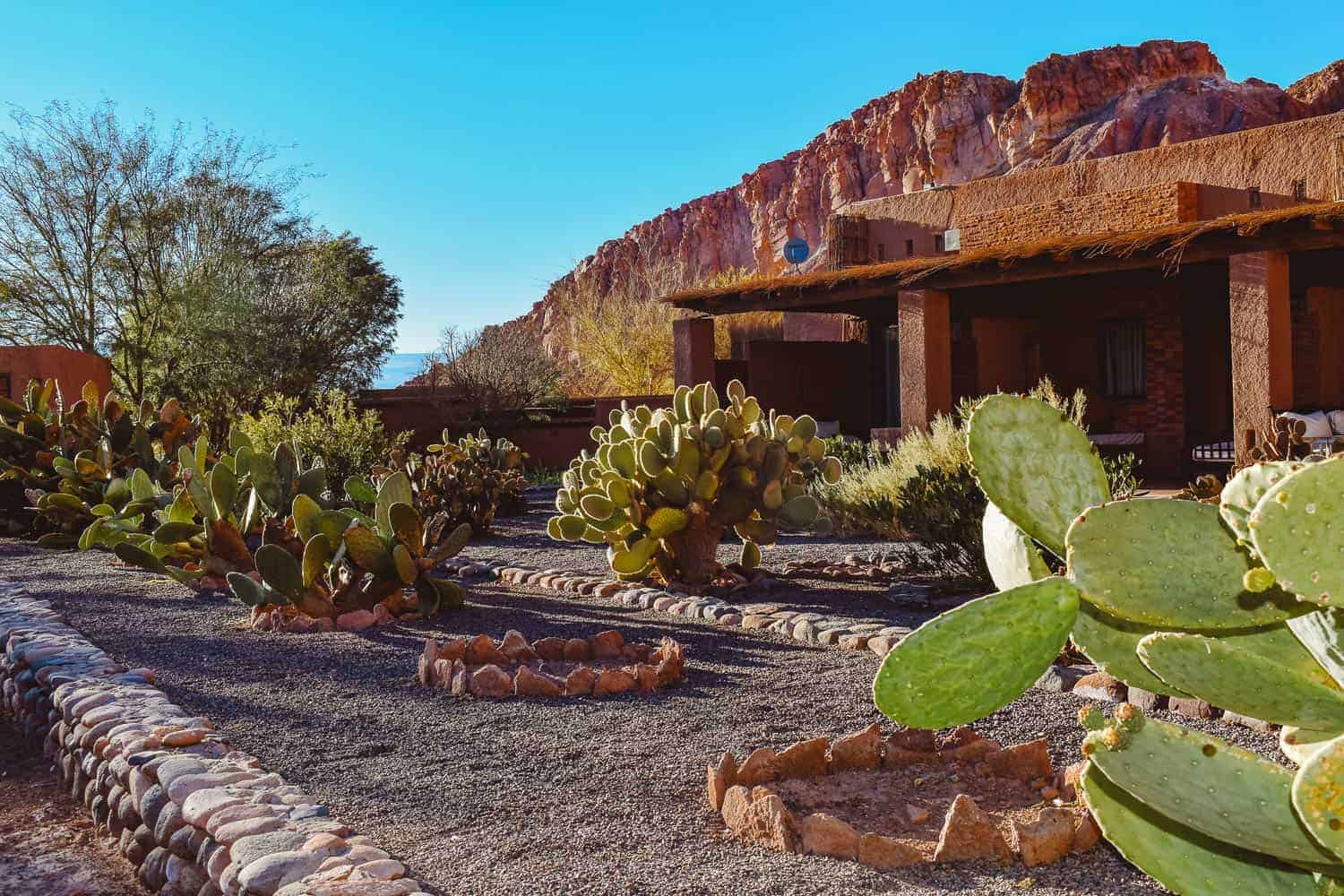 Alto Atacama's property is simply stunning. Everywhere you look, the mountains just hit you in the face with their arresting beauty. At night, you can see the milky way because the sky is so clear.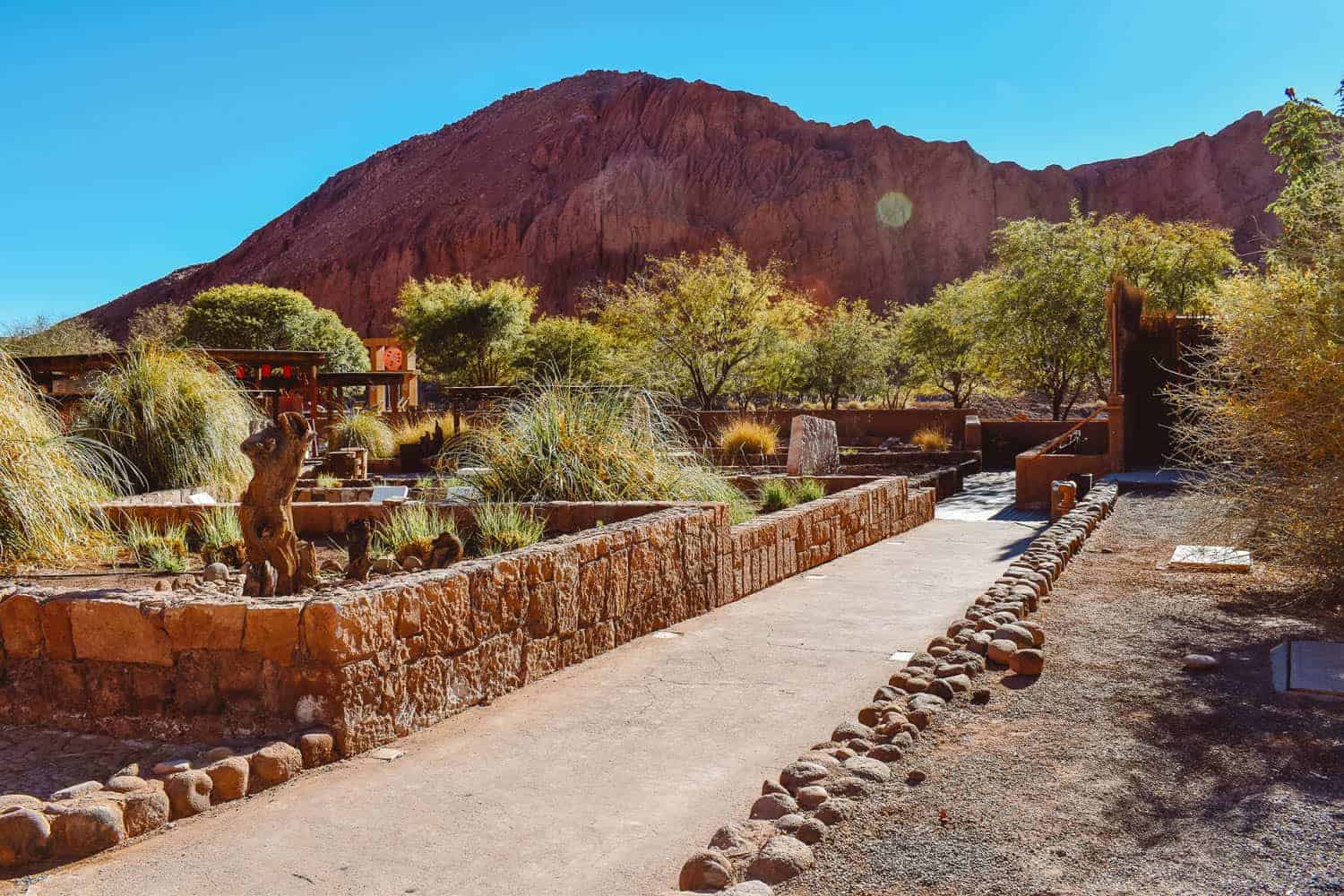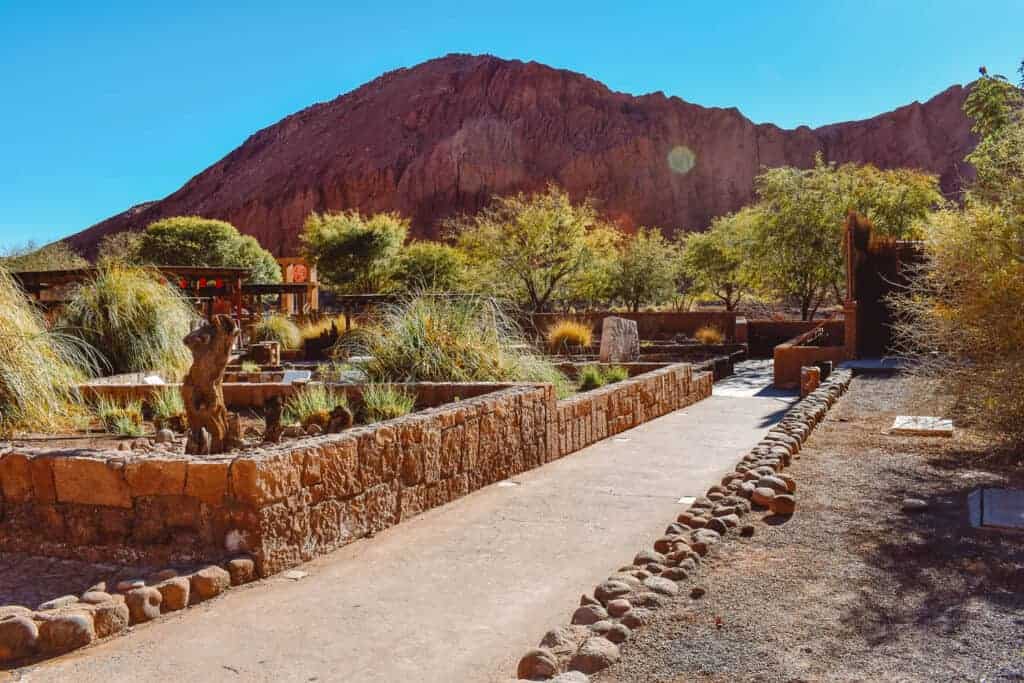 The property is divided into a main entrance/lobby/dining building, several low buildings housing 42 guest rooms, and a pool/spa area. There are seven pools of medium to small sizes nestled into little nooks throughout the outdoor areas. There is an outdoor llama pen (they are very quiet and unobtrusive!), salon/reception building, a private observatory and a fire pit area for lounging and roasting s'mores at night.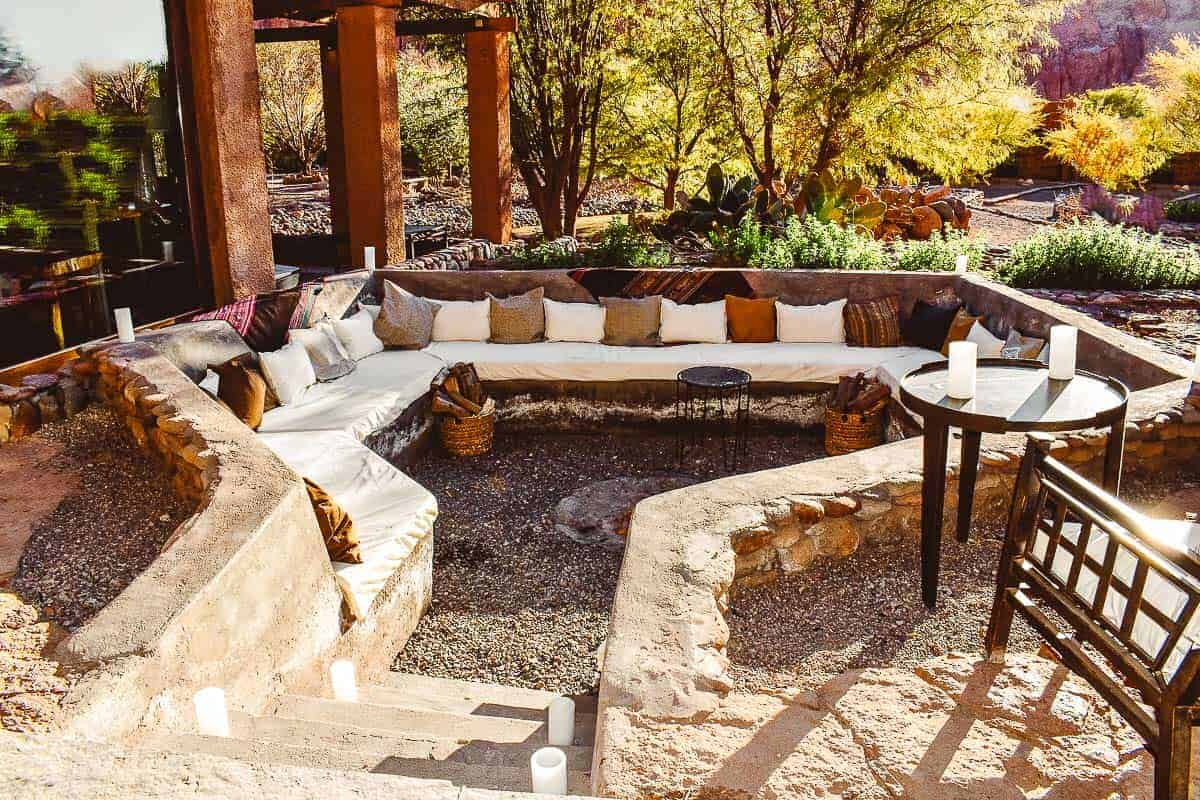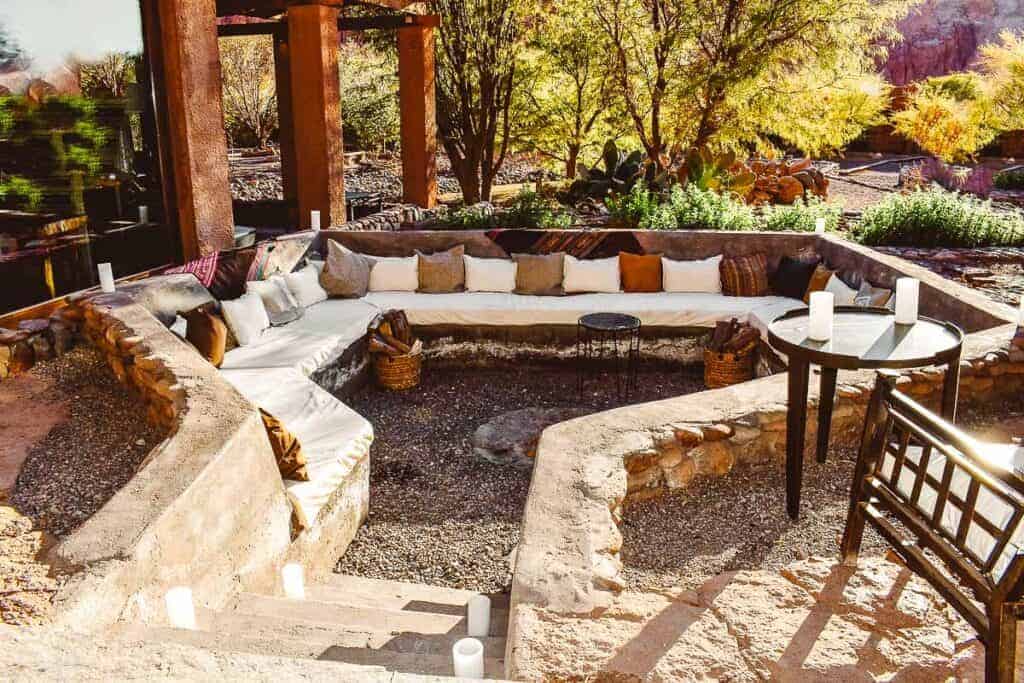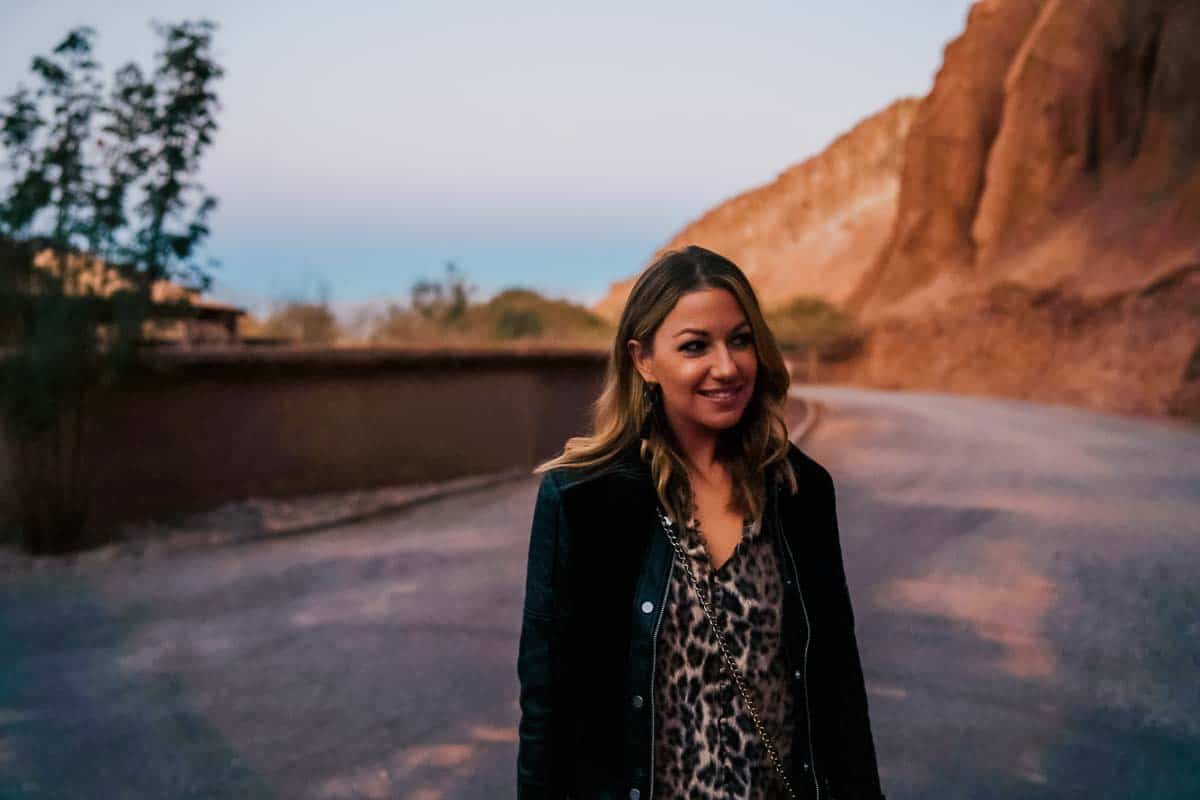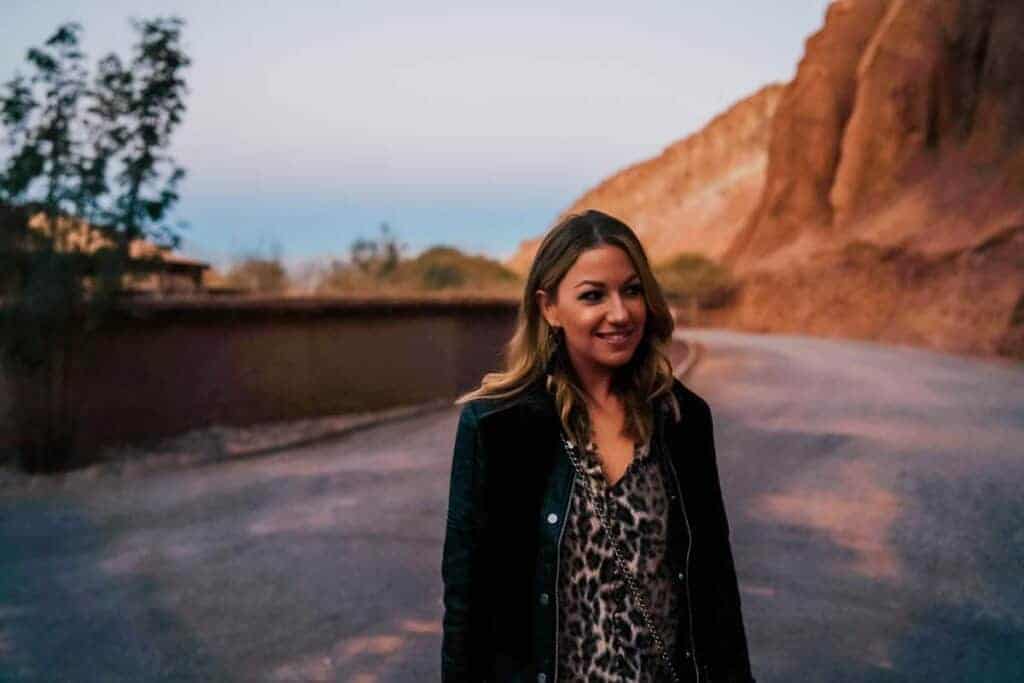 Alto Atacama Hotel Review
Guest Rooms
There are 3 levels of rooms with varying sizes and features. 27 Catarpe standard rooms feature private terraces, 5 Quitor rooms have semi-private terraces and 10 suites have private terraces withprivate outdoor showers. All rooms feature king-size beds, mini-bar, desk and stone bathrooms with rain showers and towel warmers.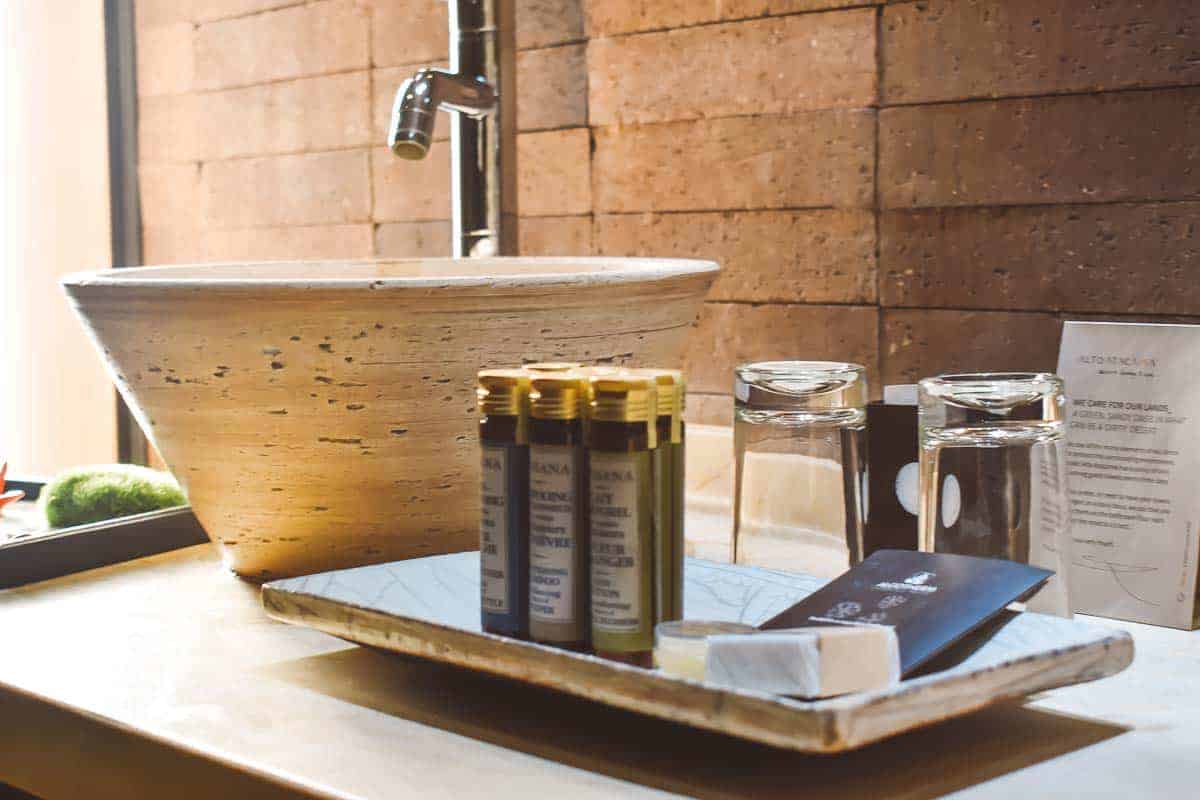 I would describe the room decor as rustic-luxe and desert chic. I stayed in a Catarpe room, and loved it. The beds were comfortable, it was quiet (it's quiet everywhere in Atacama!) and the views from my terrace were fantastic. The rain shower in the bathroom had good pressure however it definitely took a good 5 minutes for the water to get hot enough for my liking.
I will say, the rooms don't photograph as luxe as they are – these room photos of the bed area definitely don't do the hotel room justice. They are beautiful!
The idea is to get outdoors as much as possible in Atacama. I used my room for naps, showers/changing, enjoying a morning coffee on my terrace and sleeping. Everything at Alto Atacama, including the guest rooms, is designed to connect you to nature and the beautiful landscapes surrounding you.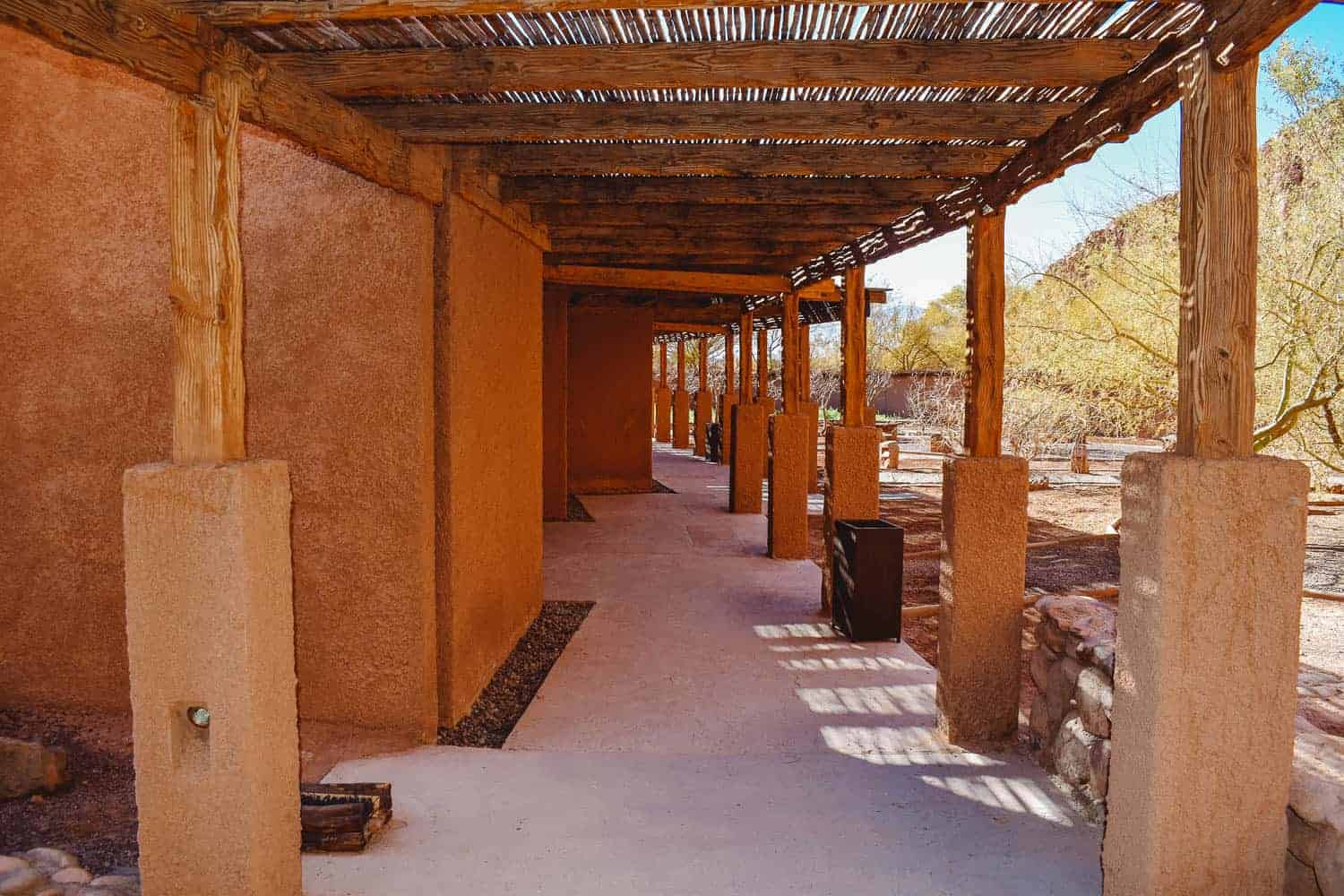 Technology At The Alto Atacama Desert Lodge and Spa Hotel
It feels almost silly to include a technology category in this review because the Atacama desert is all about unplugging and enjoying the remote location that makes for such clear, starry skies. But, I'm a millennial and wifi and cell service are as core to my being as breathing. I've accepted it.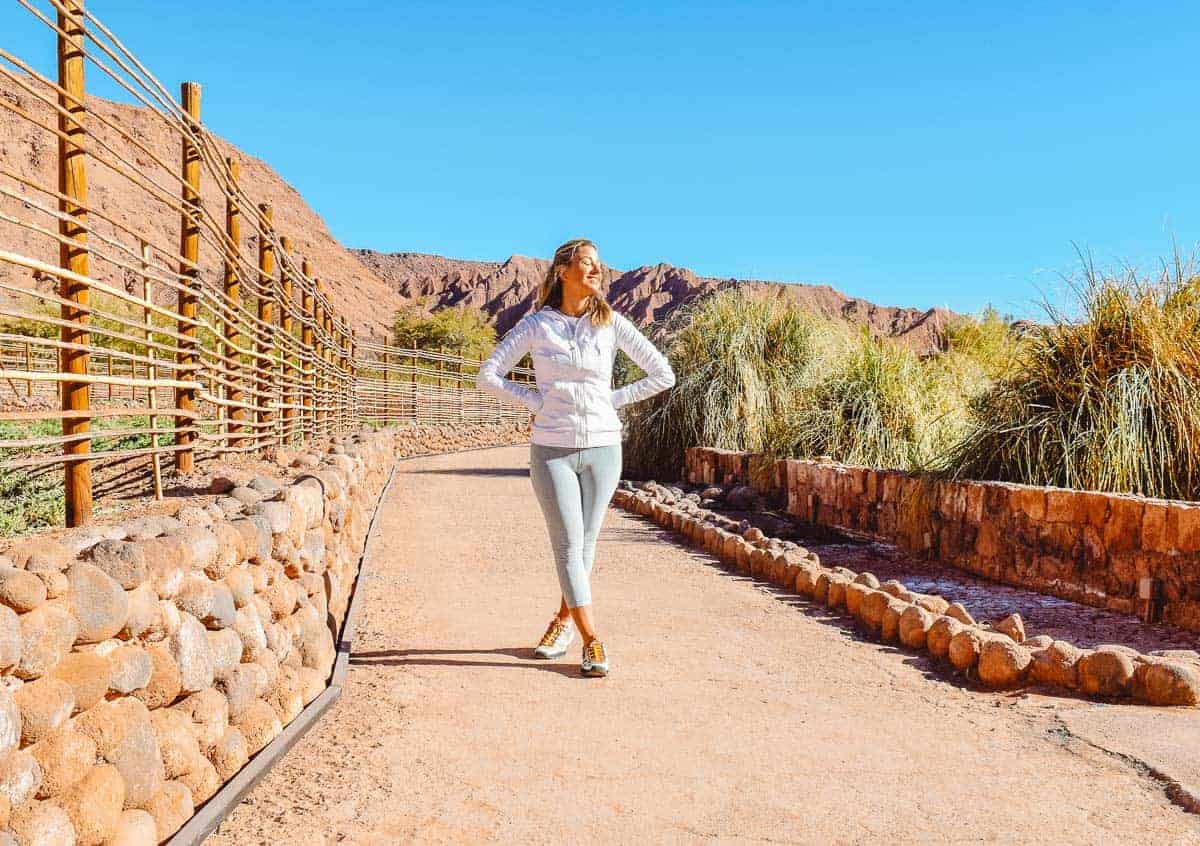 That said, my room didn't have a TV and I didn't miss it, in fact I barely noticed. The wifi was strong all over the resort but cell service was a real problem. Even though I could get wifi without an issue, I couldn't seem to get my phone to make international calls (and I have an international cell plan). I used the front desk phone when I needed to make work-related calls and often the switchboard would give me a busy signal. So I would say definitely plan on communicating mostly through messaging and email while you're in Atacama.
The Pool And Spa At The Alto Atacama Hotel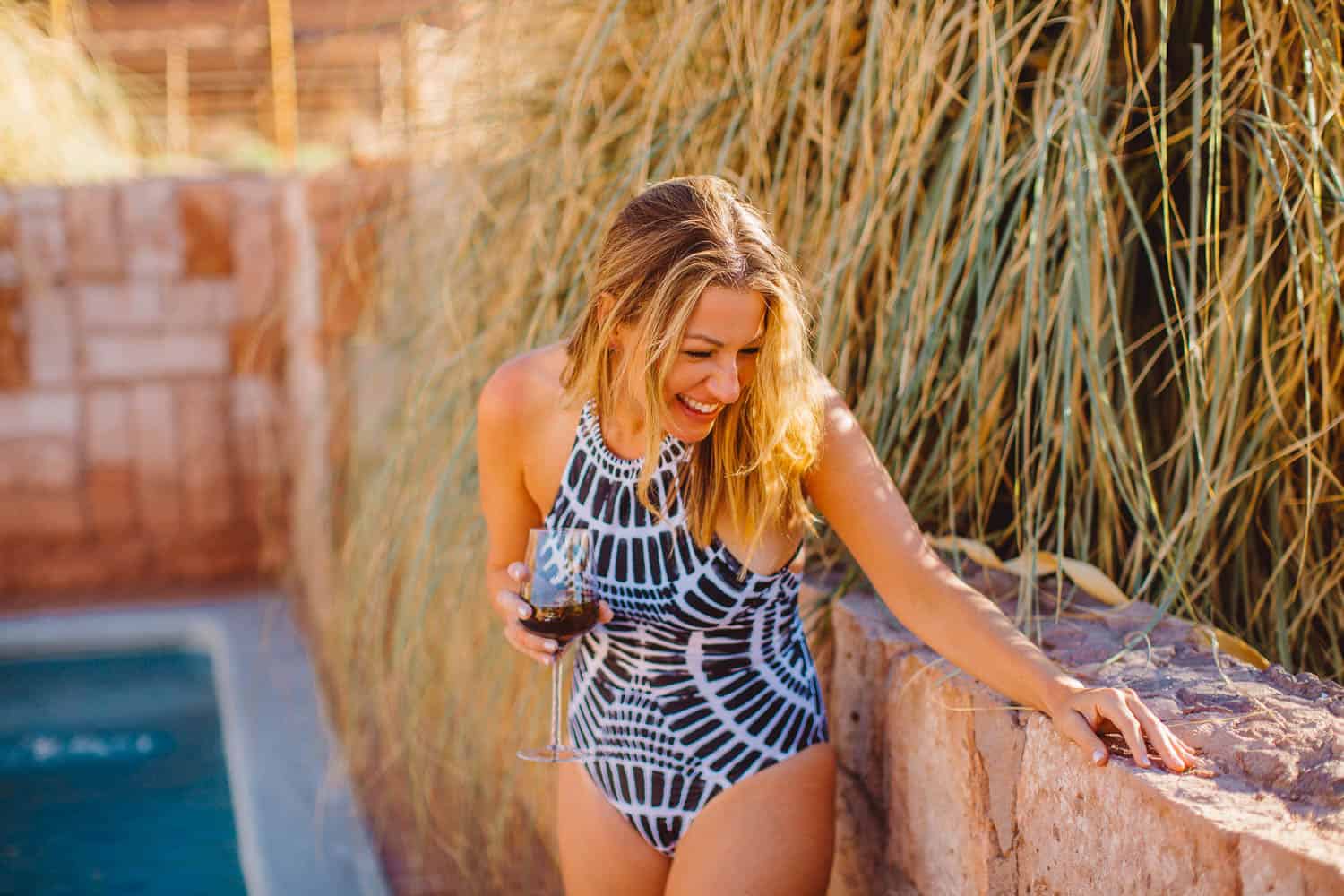 Oh my, the pools. Seven pools. Absolutely amazing. The outdoor pools are designed for privacy and feel like your own secluded spa surrounded by plants and desert rocks.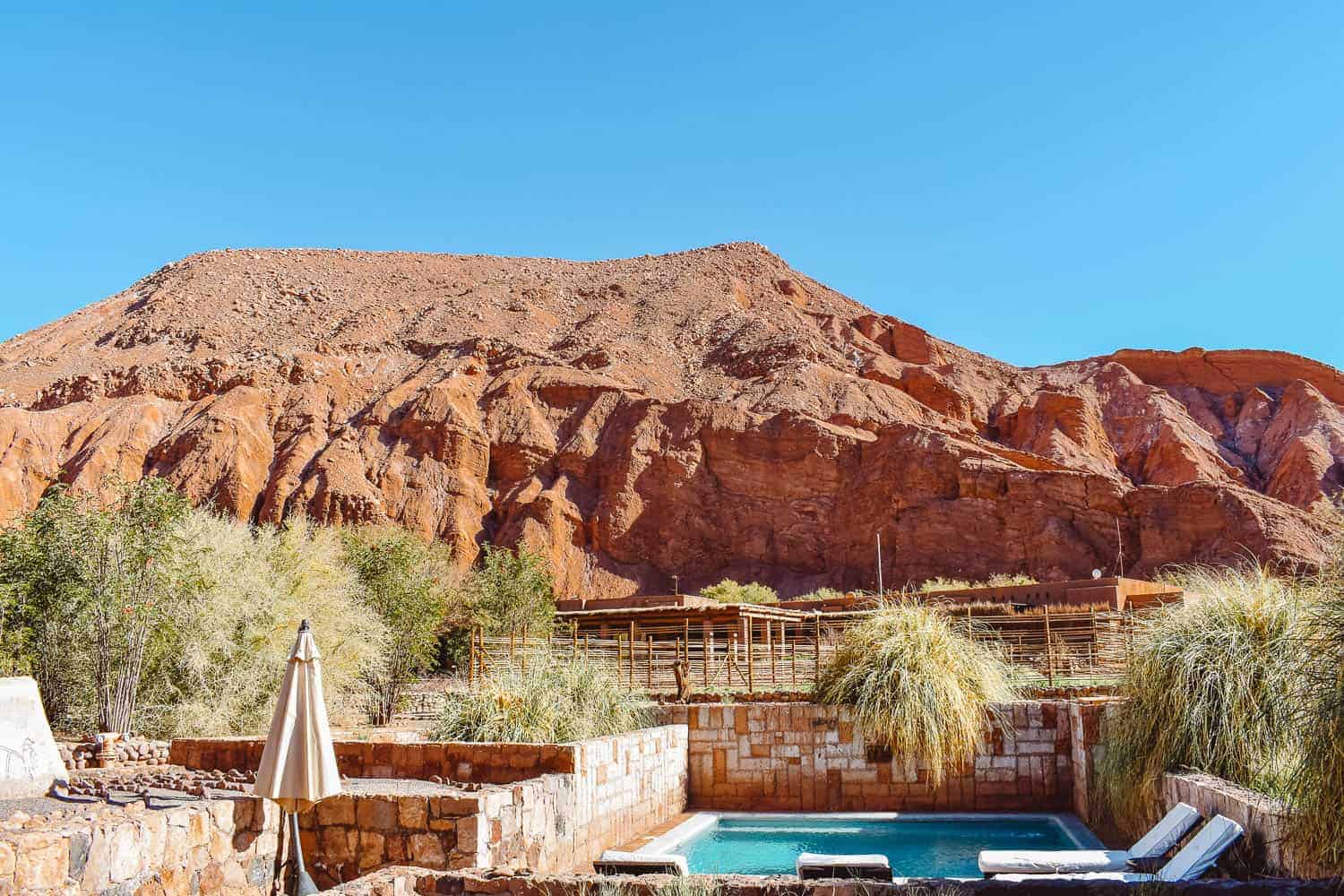 Each pool is a different temperature from cool to lukewarm to a jacuzzi. I really enjoyed lounging in the different pool areas and taking a dip whenever the mood struck.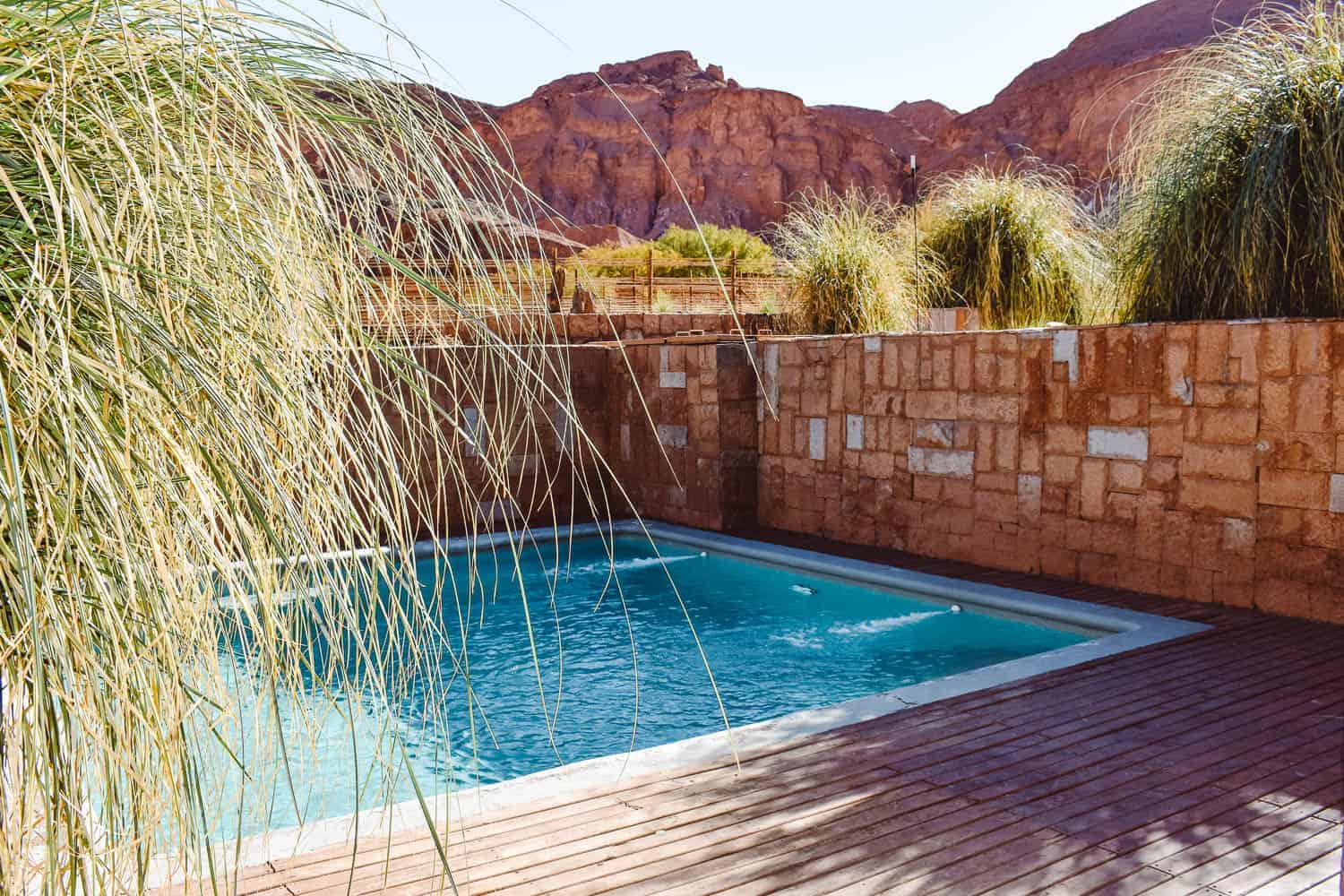 The poolside bar, Puri, serves refreshing beverages. There is also a large quincho barbecue pit that hosts an outdoor buffet dinner one night a week for guests.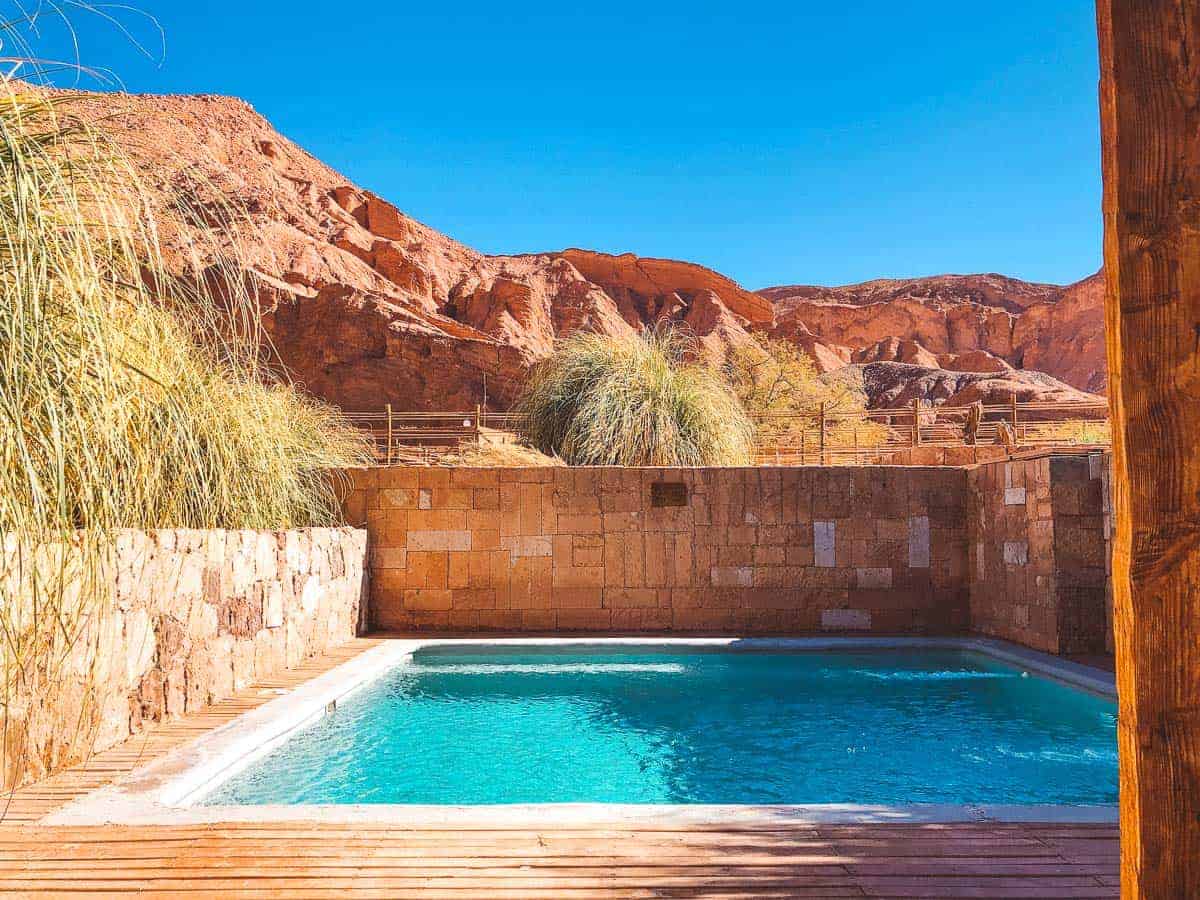 I didn't indulge in a spa treatment but I wandered into the Puri Spa to take a look. There are two treatment rooms, the larger of which has its own whirlpool and can accommodate two people for couples' massages.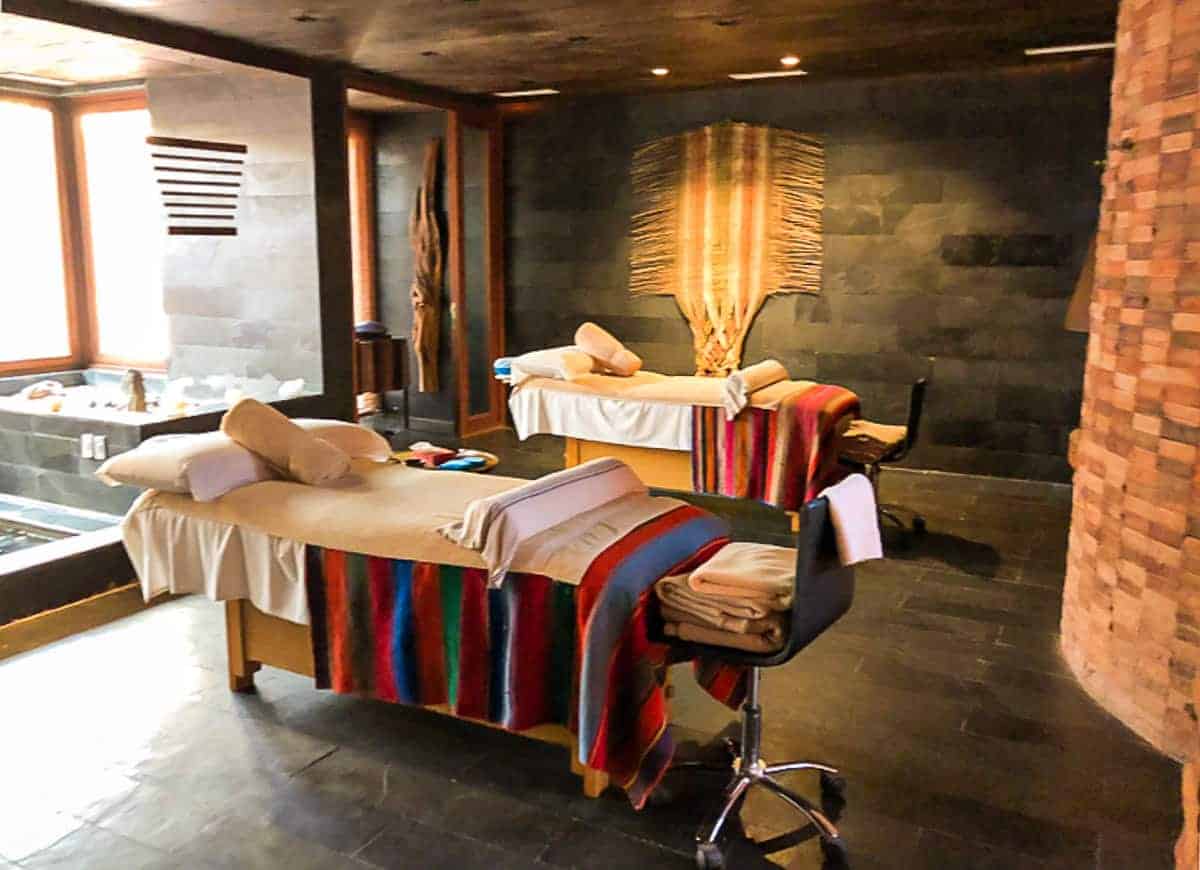 The second room is on the small side but still more than adequate. The spa also includes a dry sauna, wet sauna and relaxation room
Just before the pool and spa area there is a pen of llamas that live on the property. Don't worry, they are very calm and unobtrusive! I hardly noticed them.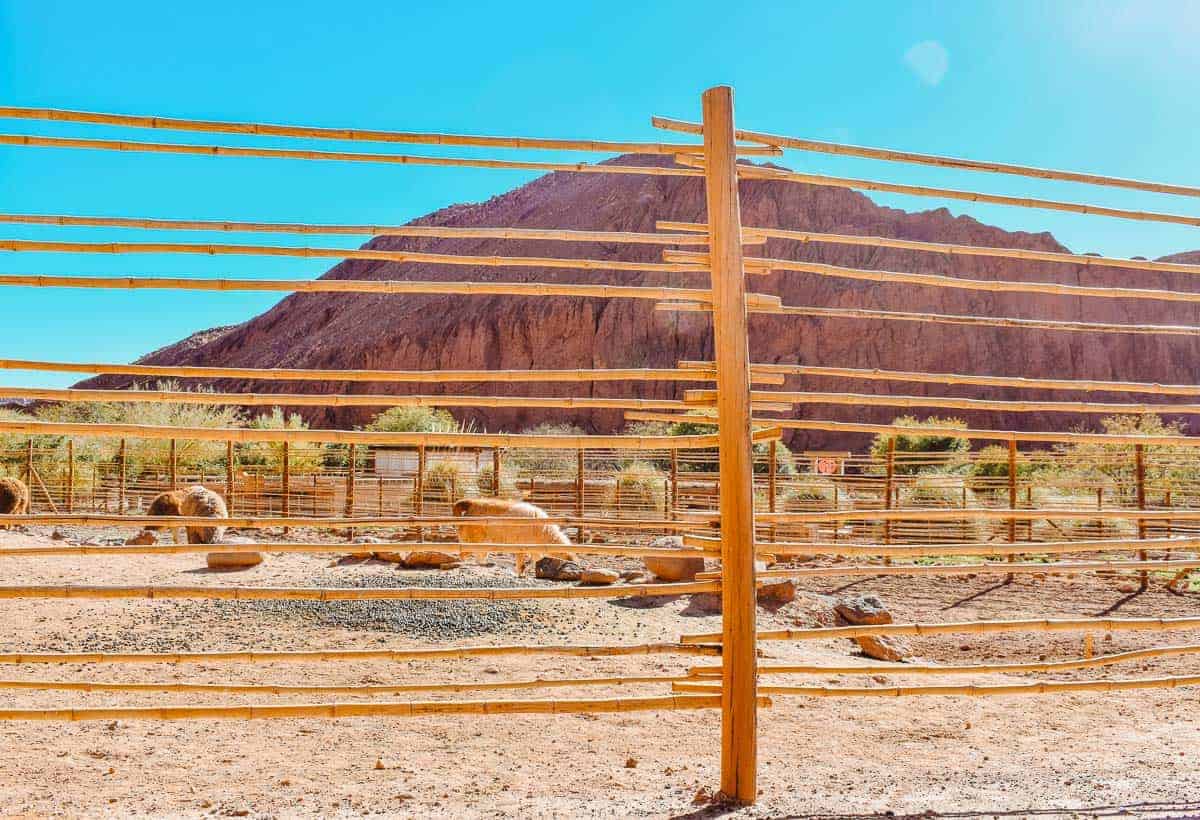 Alto Atacama Food and Restaurants
I'm always wary of food at all-inclusive hotels and I especially didn't know what to expect at a remote northern Chilean all-inclusive hotel. But. Wow. The food was incredible. Fresh, local, authentic cuisine cooked to perfection.
The highlight was the quincho barbecue by the pool and of course, the fantastic red wine and most incredible pisco sours. The poolside buffet was an incredible array of fresh meat and fish grilled to perfection, with vegetables and side salads.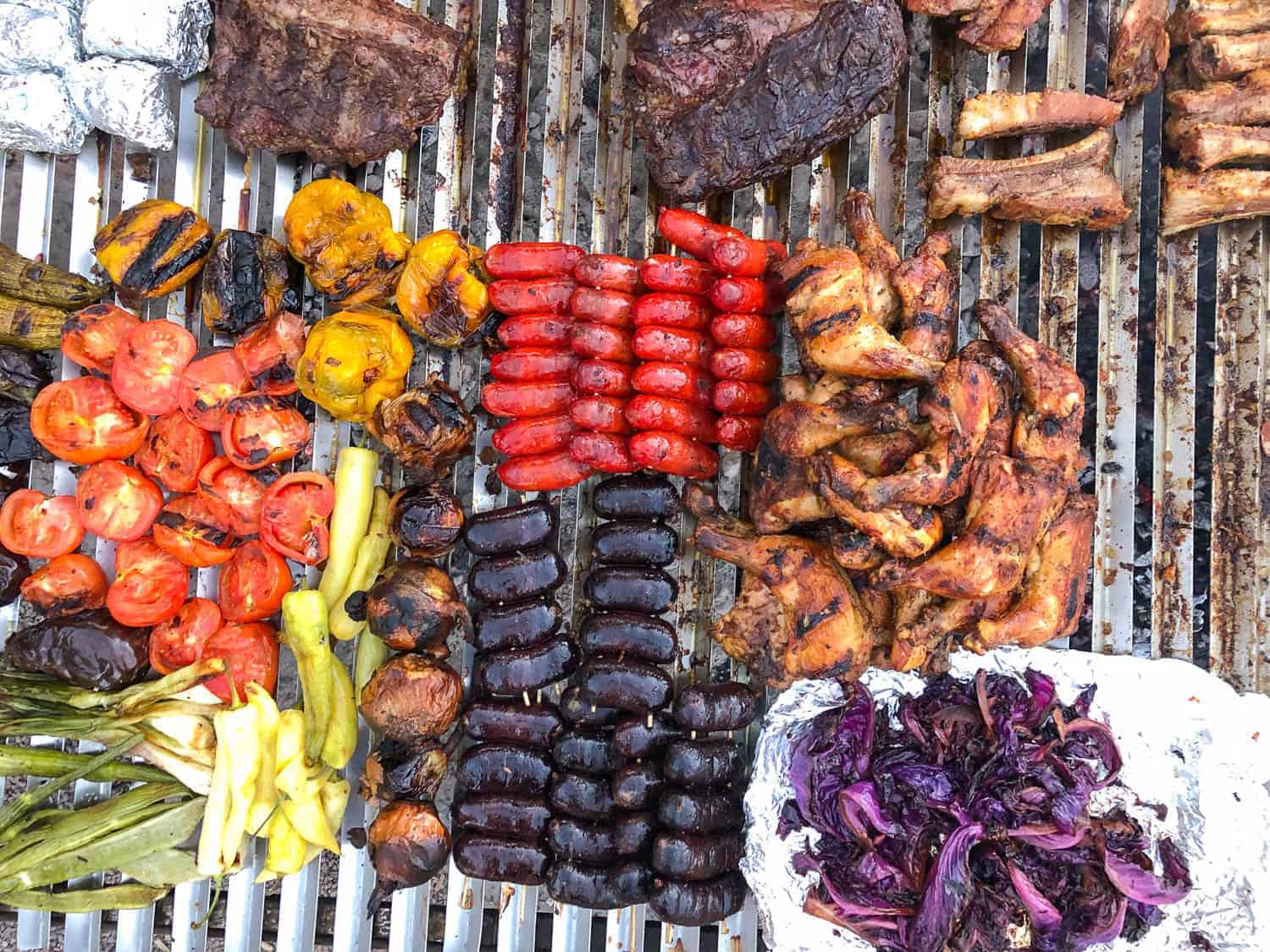 The barbecue was my favorite meal at Alto Atacama, rivaled only by the farm-fresh eggs and fruit in the morning, the traditional Socaire potato terrine, and the wine-poached pears.
The main dining restaurant at Alto Atacama Desert Lodge and Spa is called Ckelar restaurant. Ingredients are fresh and local and you won't find any typical Western continental buffet here.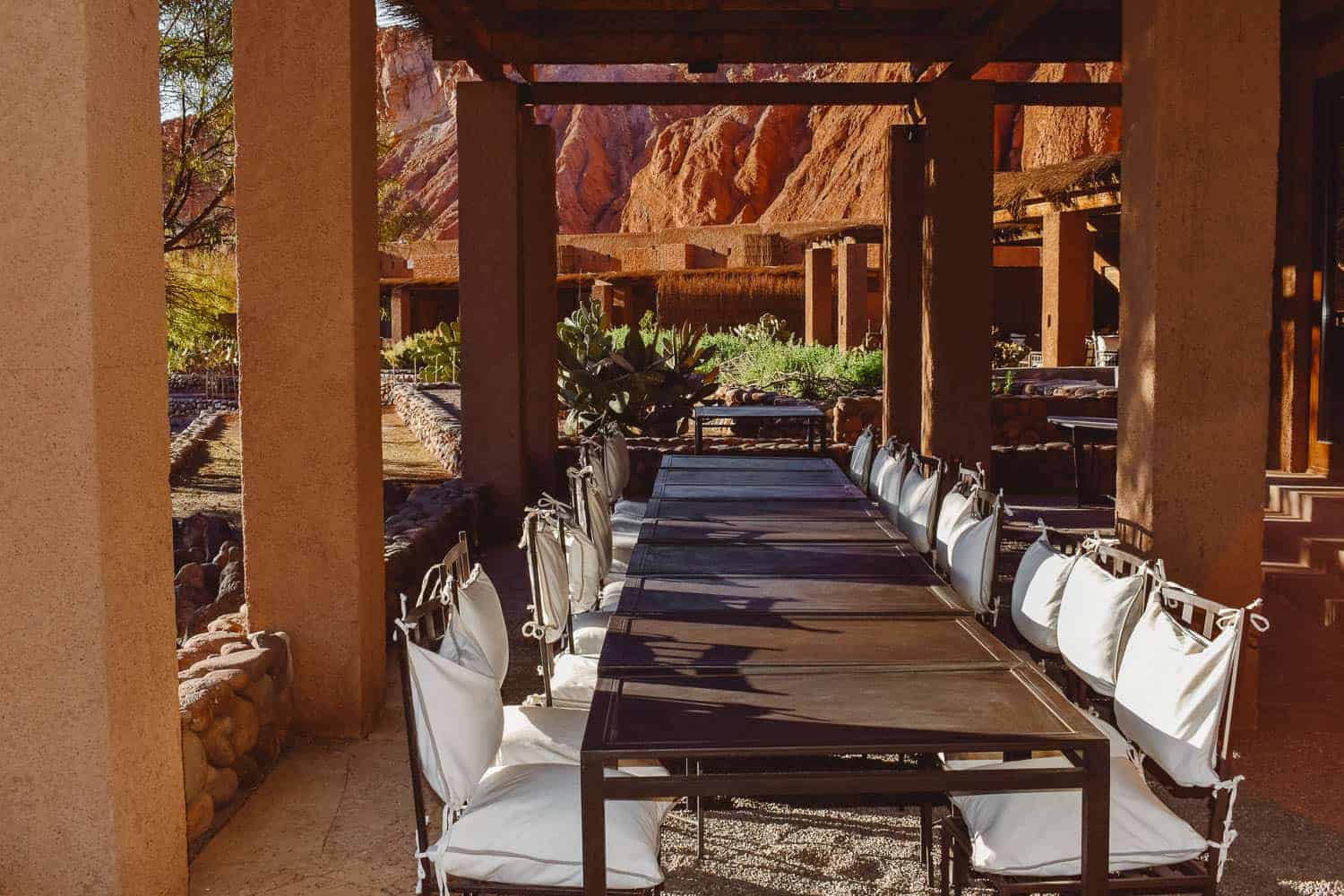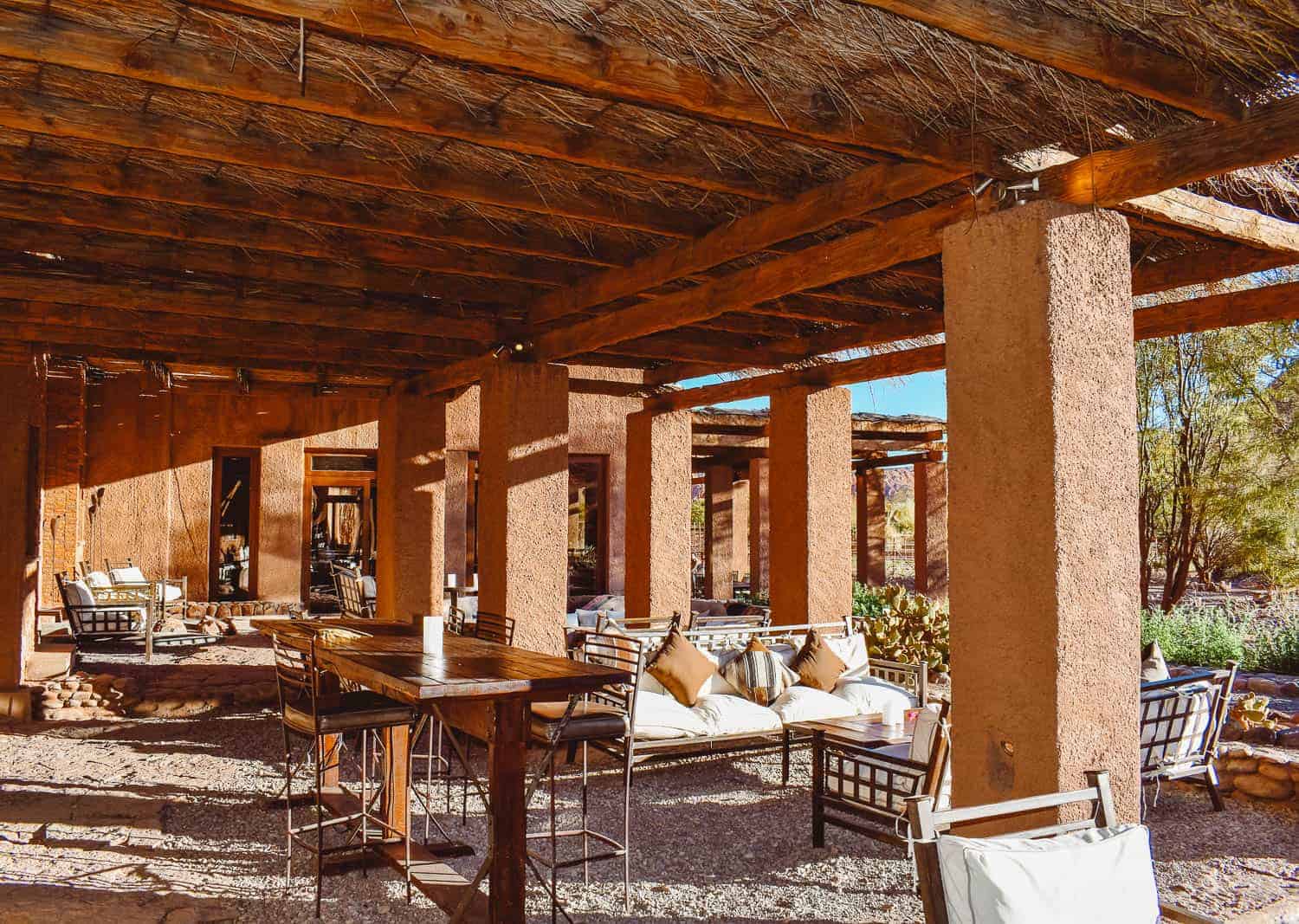 Everything on the menu is infused with traditional Chilean flavors and cooking styles. The heavier typical Chilean diet features meat, corn and wheat, but Alto Atacama complemented that standard fare with plenty of fresh greens, produce and nutritious options. Alto Atacama is also particularly cognizant of food allergies and was able to cater to my gluten allergy with no issues.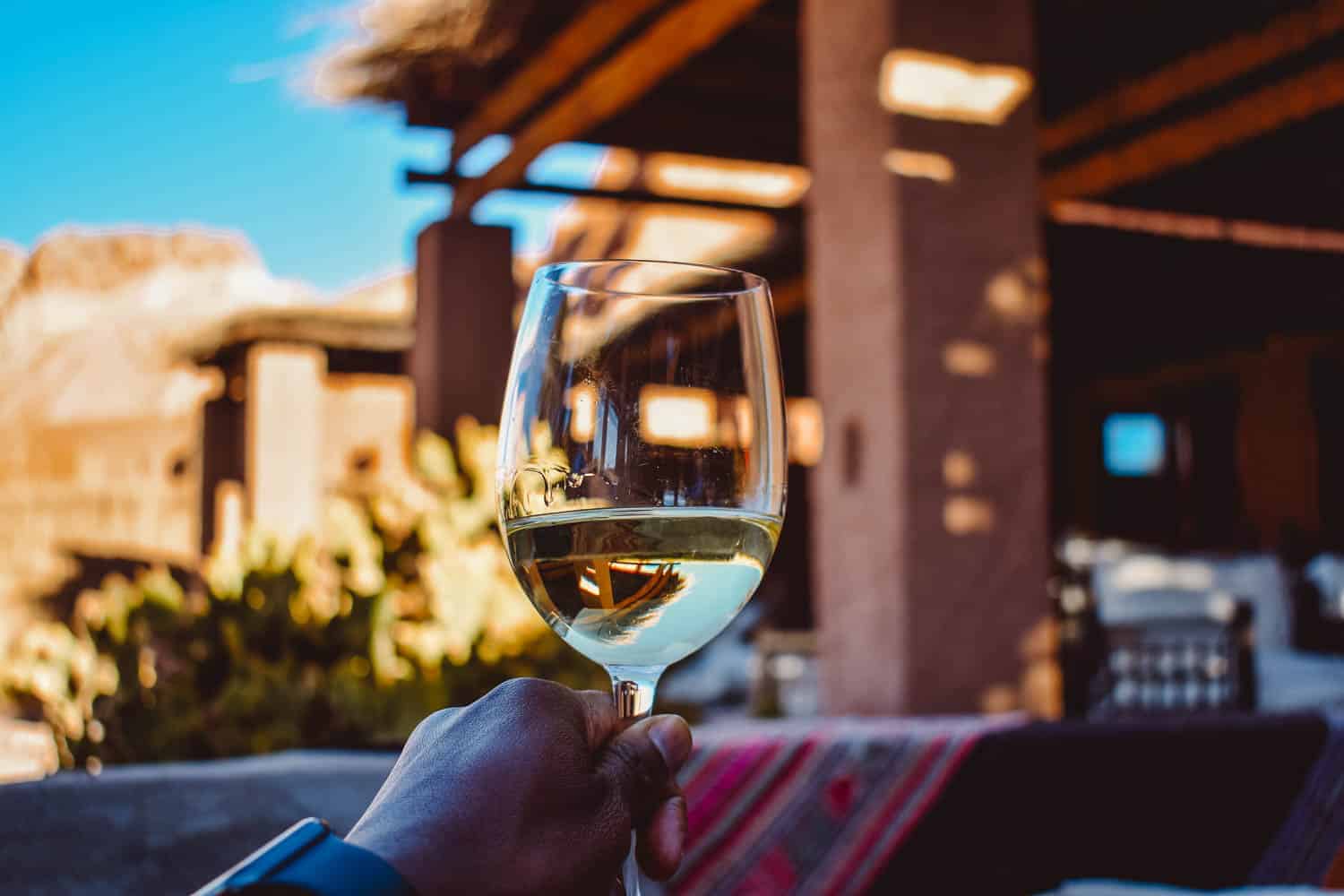 A must-try beverage is the classic Pisco Sour – one of the best I've ever had, and of course the wine. Chile is known for its red wines, but I absolutely loved every white wine I tried. Alto Atacama can cater to any wine taste and there is something for everyone – just let the bartender know what you like and he'll find something fantastic.
Things To Do At The Alto Atacama Desert Lodge And Spa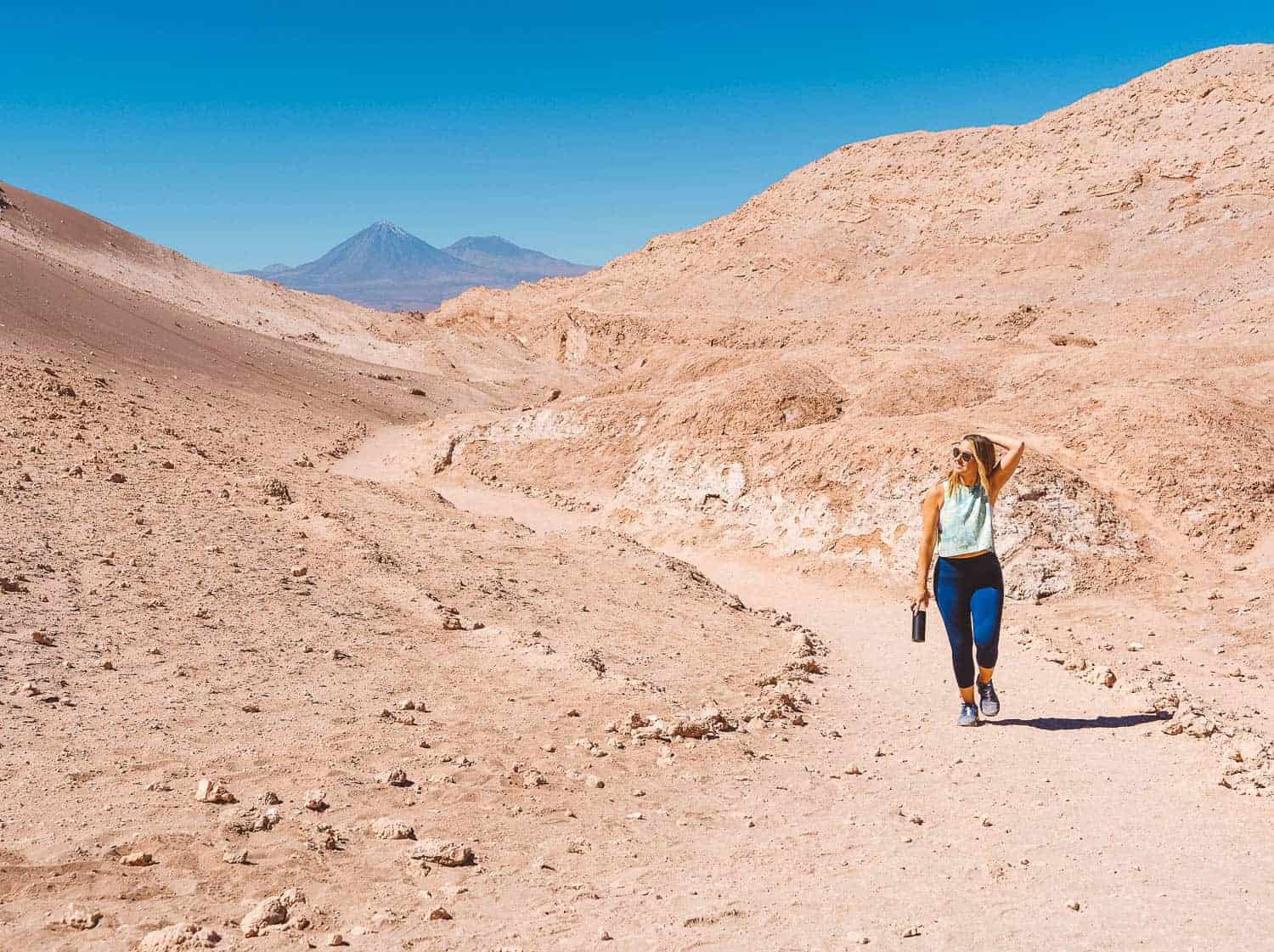 One of the best things about Alto Atacama Desert Lodge and Spa is that all the main Atacama desert tours (and some really great off the radar ones!) are included in your stay. Each day guests choose one full day or two half day excursions based on your interests and desired activity level. There are bike rides and hikes that range from easy to difficult, trips to the famous El Tatio geysers, Atacama salt flats and tours to Moon Valley, Mars Valley and more.
Upon arrival, guests meet with an excursion specialist to help guide your interests and to plan the itinerary for your stay.
I was so impressed with the variety of excursions offered by Alto Atacama, as well as the level of service and professionalism of their guides. All guides speak English and Spanish, and have so much knowledge of the region to share.
You can tell how proud the locals are of their history and how much they love their home. It was a joy to experience first hand – and because Alto Atacama is on the smaller side, excursions are more intimate and personal. Each excursions felt like a lesson in history, geography, geology and/or botany.
My favorite activity at the Alto Atacama was the evening spent stargazing at Alto's own observatory and telescope station. You follow a trail lined with pot lights up a set of stairs and emerge onto a circular landing with a large telescope to one side.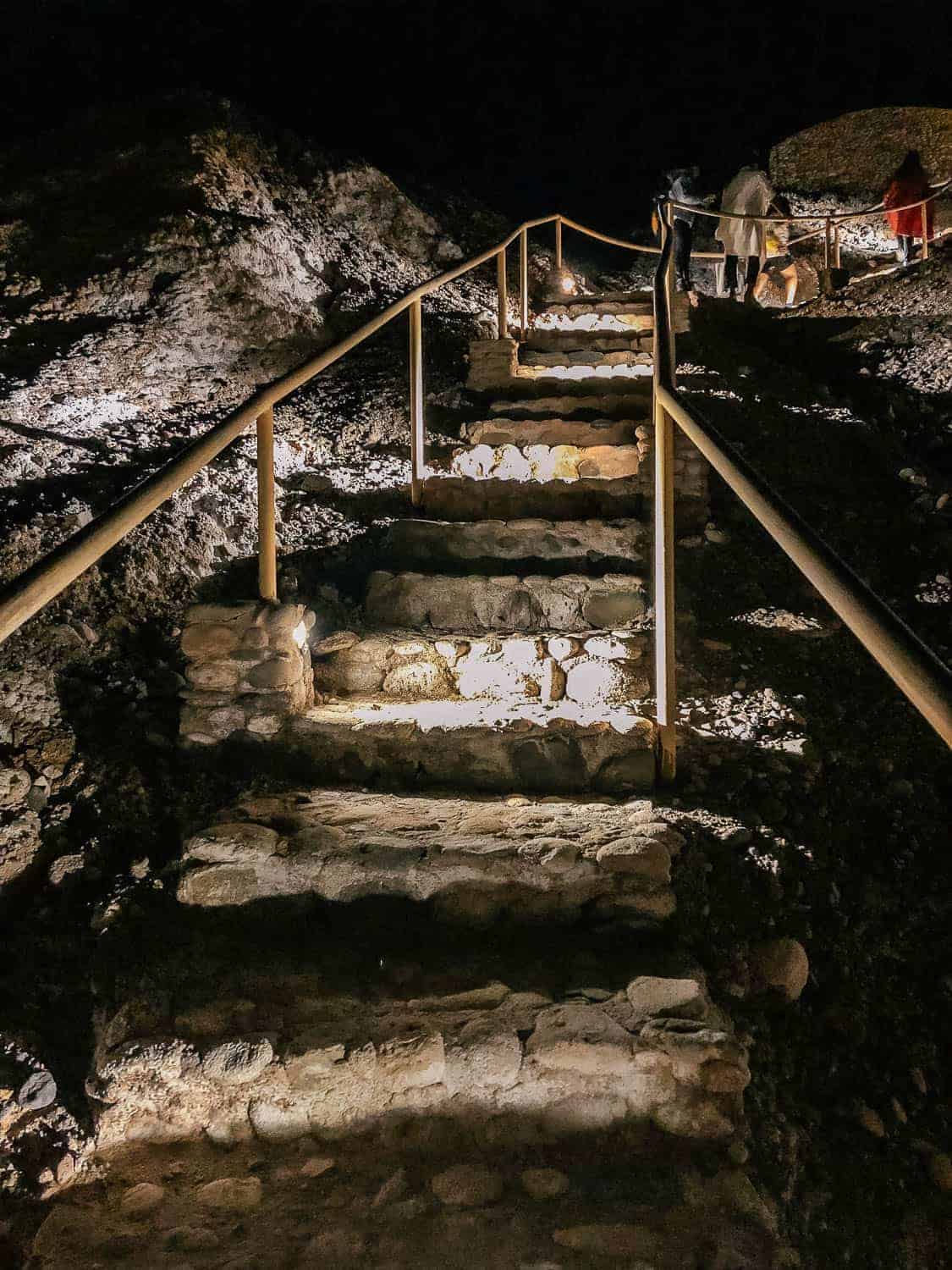 The guide is an astronomy expert and can walk you through every visible constellation. The sky is clear you hardly need a telescope, the Milky Way shining brighter than seems possible.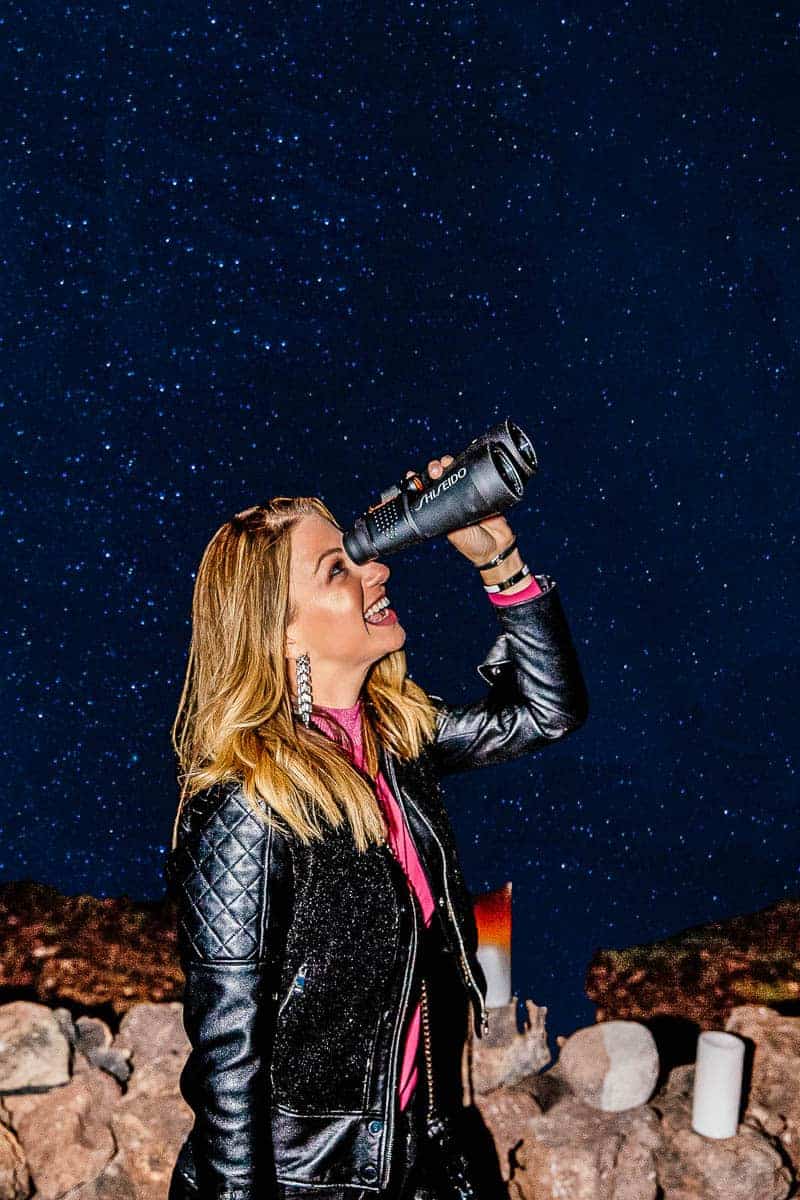 I loved my visit to the Ojos de Salar and Tebinquinche lake, one of the Atacama salt flats excursions. Most visitors head to Tebinquinche for sunset, but we went early in the morning and had the whole lagoon to ourselves. It was so incredible, I'm not sure there are words to describe it!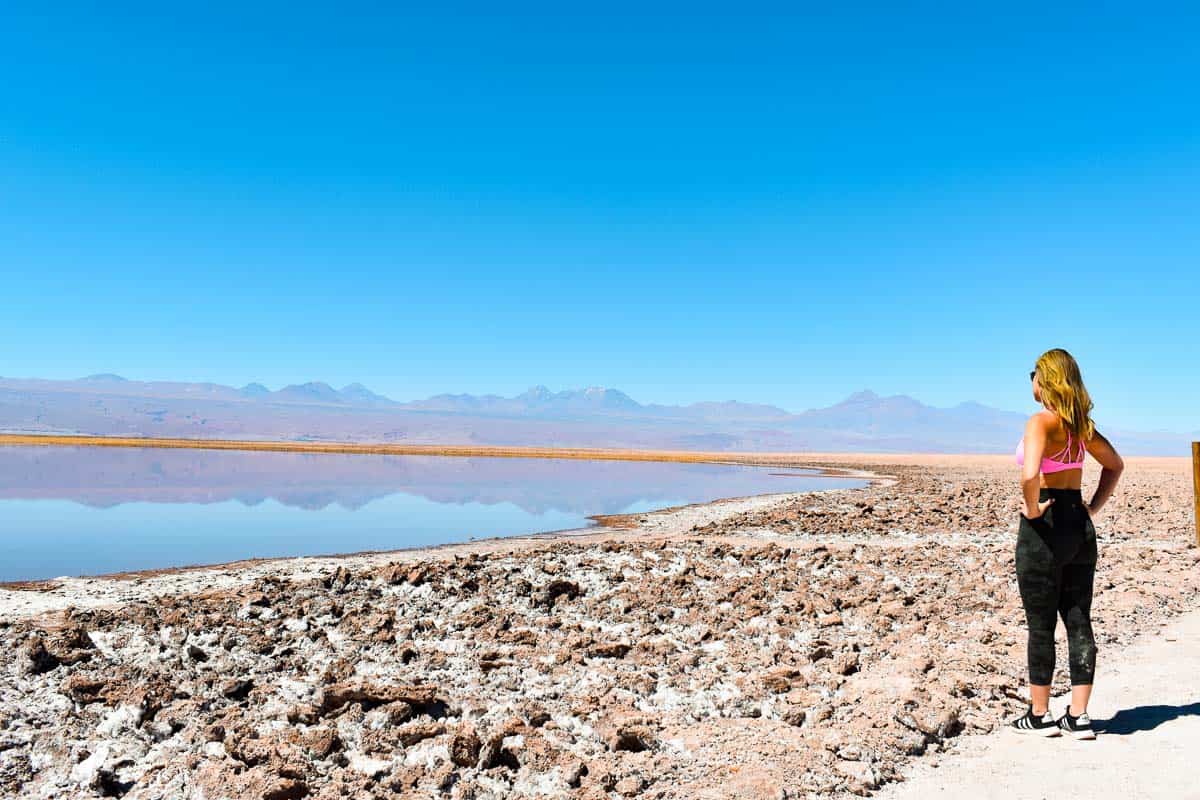 Alto Atacama Hotel Sustainability
The Alto Atacama is considered an eco-tourism resort and takes sustainability very seriously. There are no straws whatsoever and I didn't see any single-use plastic. Metal water bottles were readily available at the water station in the lobby (the fruit-infused spa water was heavenly).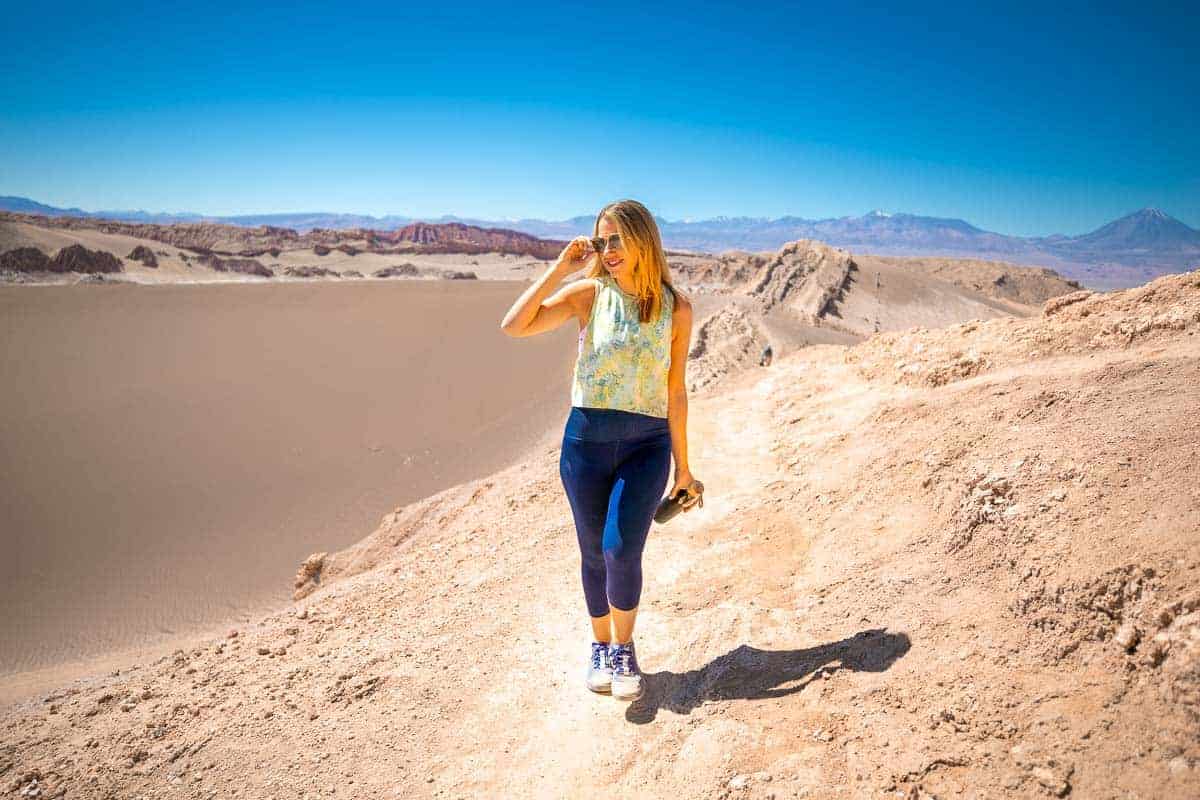 The Global Sustainable Tourism Council certified Alto Atacama in economic, environmental and socio-cultural sustainability and from everything I saw, Alto Atacama is committed to reducing waste, recycling, being energy efficient and supporting the local community.
In fact, I really wanted to visit the Cejar lagoon but the manager explained to me that Alto does not offer excursions to the Cejar lagoon because of the environmental impact tourism has had on that ecosystem and that it is not an eco-friendly tour.
Service At The Alto Atacama Hotel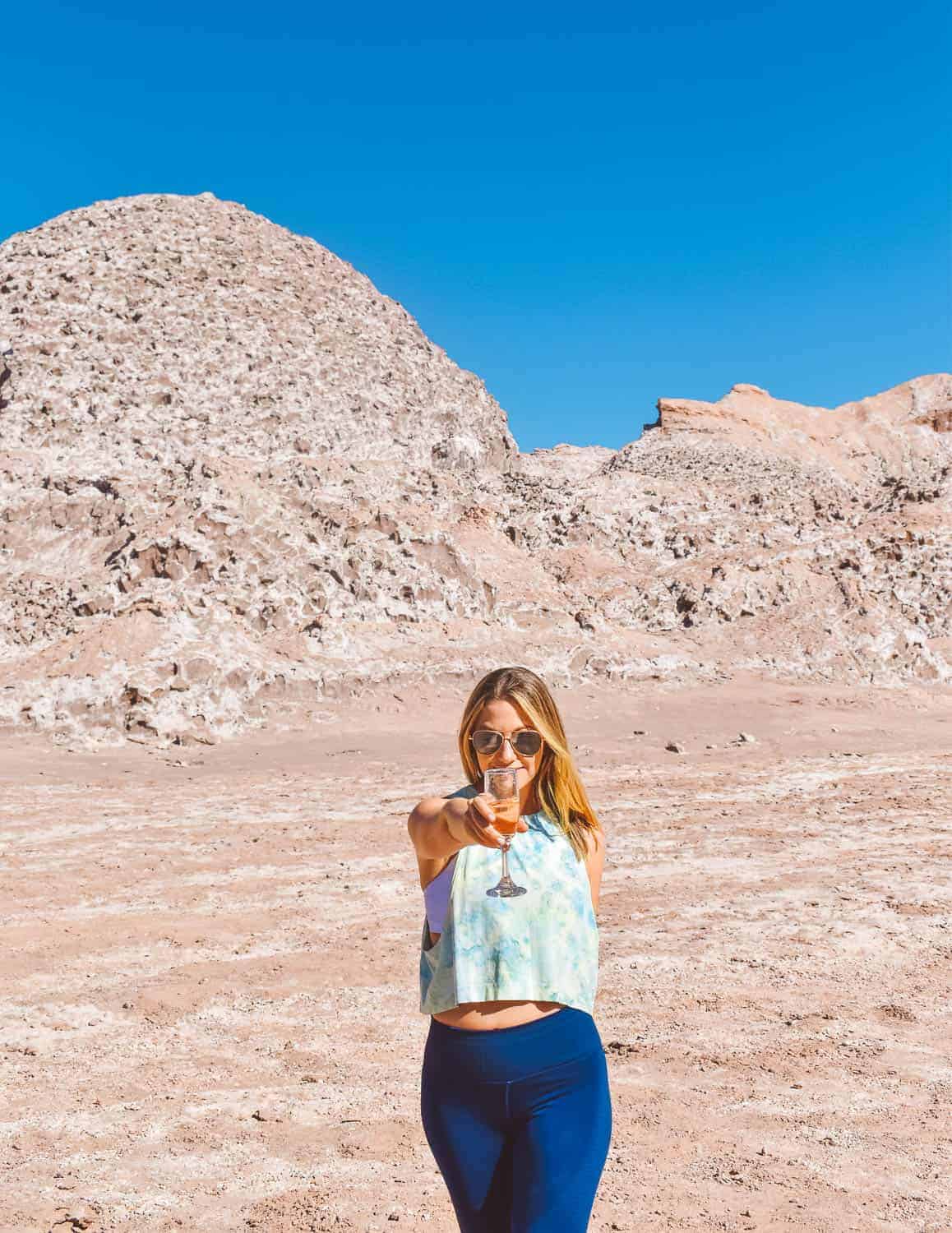 Absolutely top of the line service! No request was too small, and our group had a lot of requests for changes and personalizations. Everyone was smiling and more than happy to help or answer questions. Maria, the guest relations manager, was particularly amazing and rolled with every change, adjustment or challenge we threw at her.
My Alto Atacama hotel review rating is a definitive 5 / 5 stars! I had the best experience here and I would go back in a heartbeat. Have you been? Tell me about your experience in the comments!

Love this post? Pin it to save for later!