When planning a trip to Chile, you may be asking yourself if it's worth it to visit the Atacama Desert in northern Chile and the answer is a resounding YES. This Atacama Desert travel guide will tell you everything you need to know!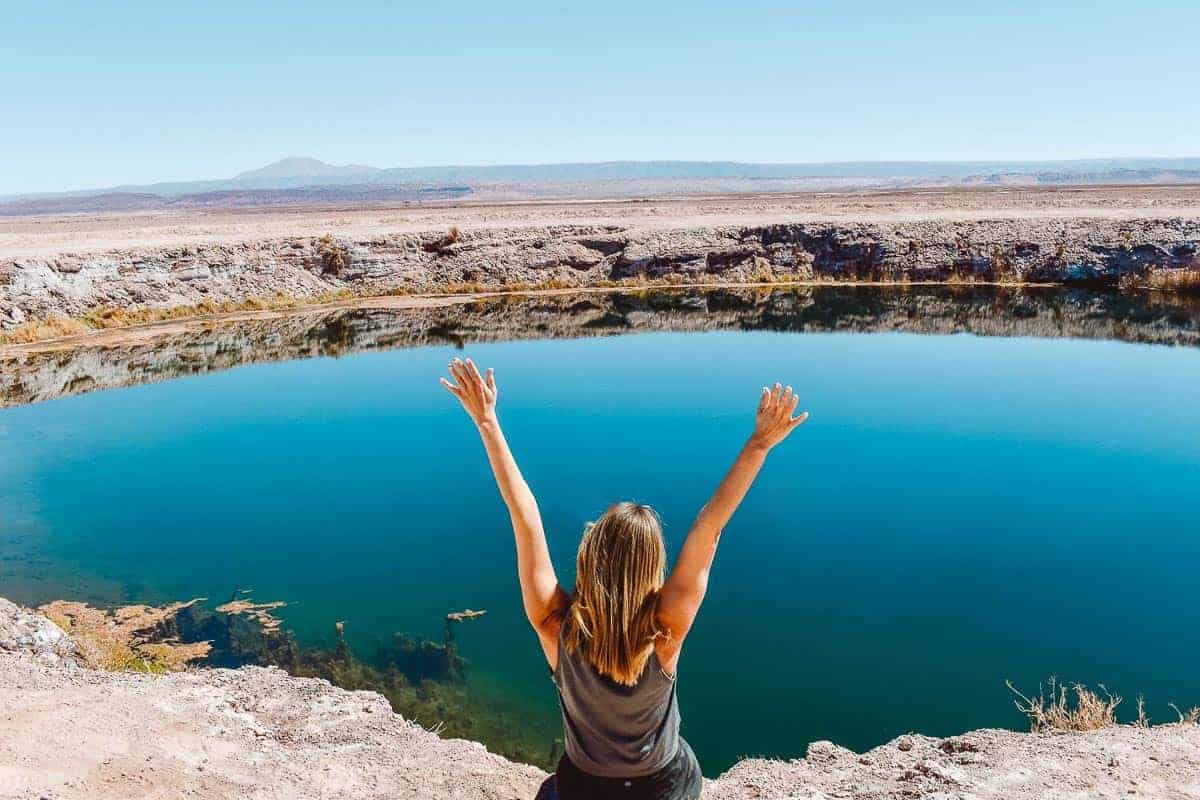 San Pedro de Atacama and the surrounding Atacama Desert is one of the top places to visit in Chile, and for good reason. Atacama is astonishingly beautiful, with landscapes that range from golden sand dunes to rocky Mars-like terrain, bright white salt flats and lake craters as reflective as a mirror.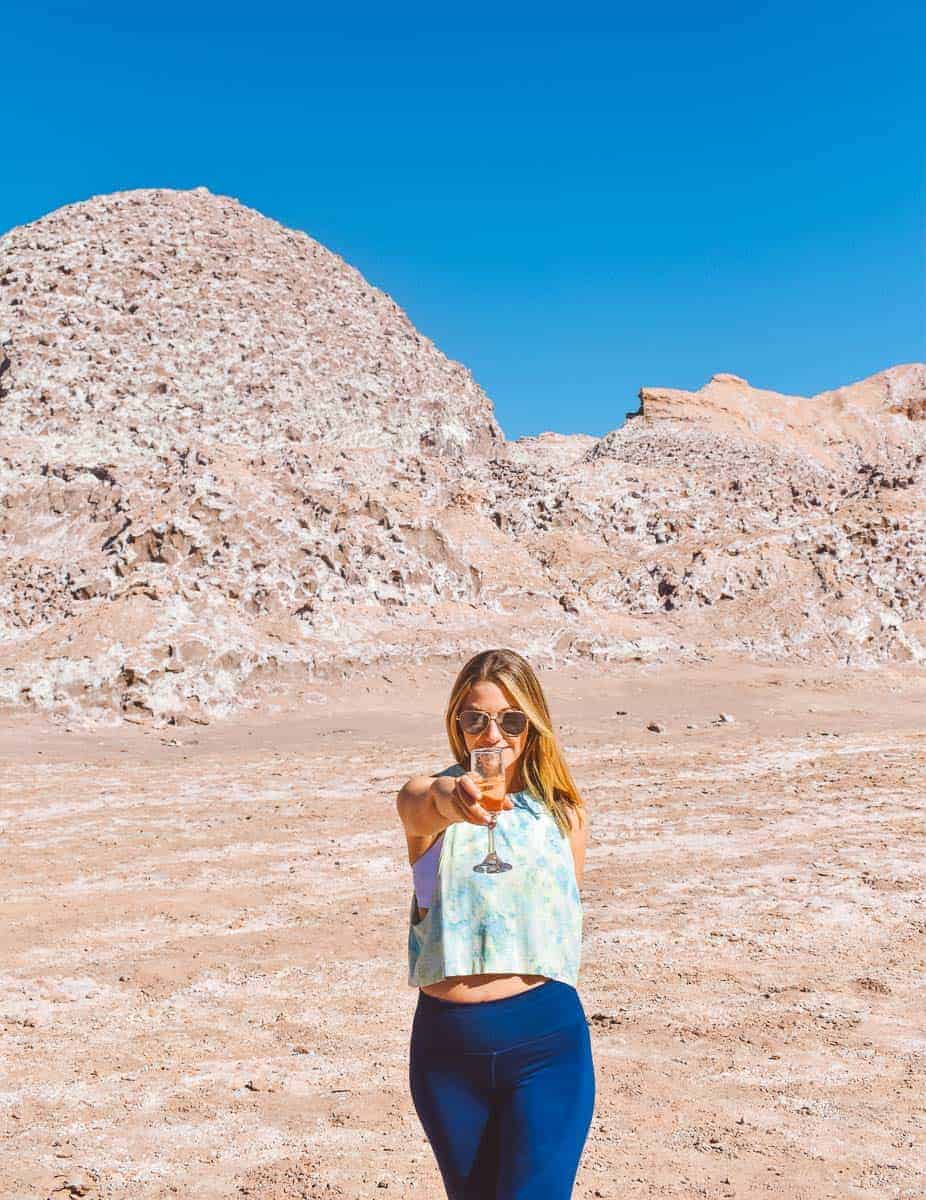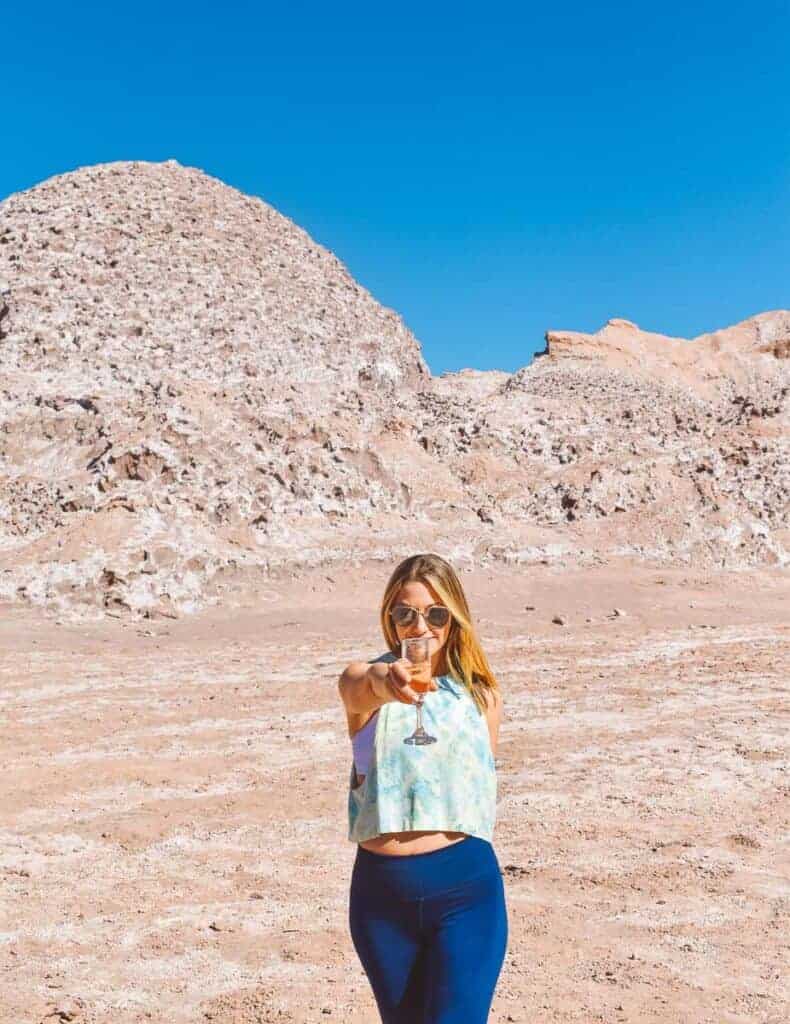 While Santiago, Valparaiso and maybe even Patagonia are the most popular destination in Chile, you would not be experiencing the full breadth of what Chile has to offer without visiting San Pedro de Atacama and the surrounding Atacama desert. Luckily for you, this Atacama desert travel guide will tell you everything you need to know.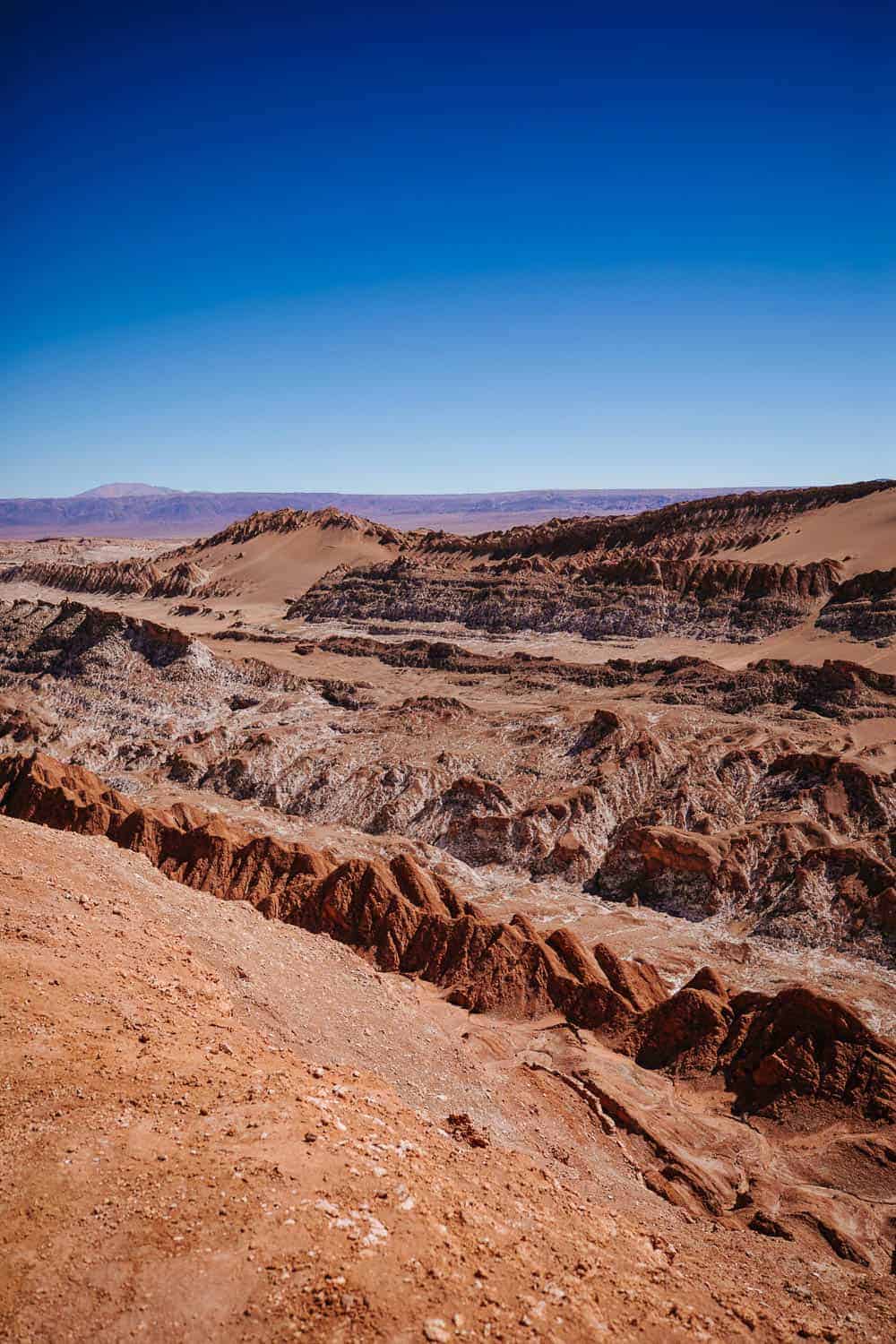 (Disclosure: This post may contain affiliate links which means I may earn a small commission if you make a purchase from a link in this post, at no additional cost to you. Additionally, as an Amazon Associate I earn from qualifying purchases. Thank you for supporting this site!)
(Additional Disclosure: I was visiting Chile as part of a work trip, so all expenses were covered by my former employer which is unrelated to this blog. This post is not sponsored in any way and all opinions are my own)
The intense beauty of the Atacama desert can honestly be overwhelming. There is so much to see in Atacama, and it has something for every type of traveler. Atacama luxury travelers will find several 5-star hotel options and can spend their days soaking in hot springs and their nights sipping fantastic Chilean wine while stargazing (Atacama boasts some of the clearest night skies in the world). Atacama Desert adventure travelers can mountain climb, hike, and horseback ride to their heart's content.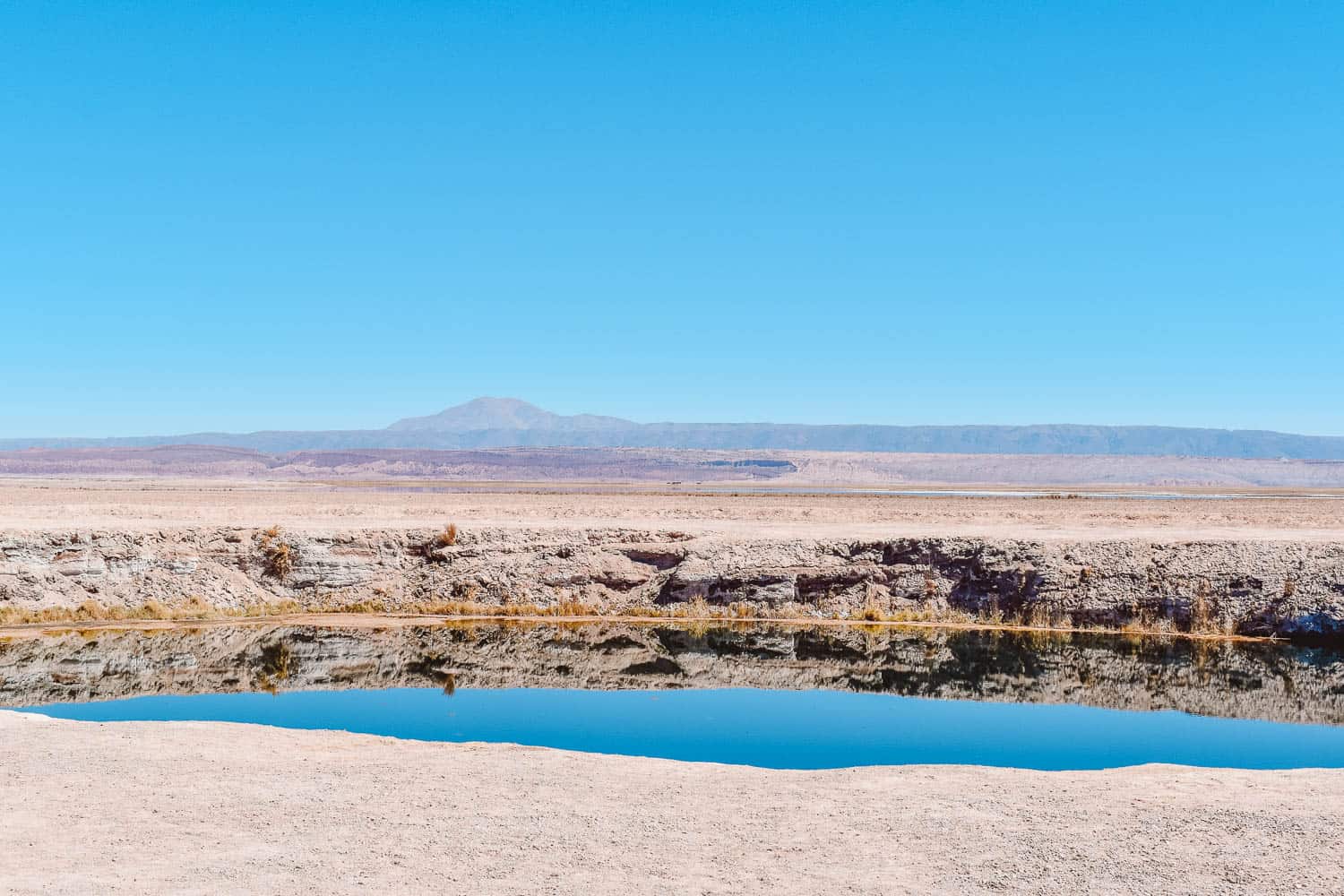 I was lucky enough to be able to visit the Atacama Desert for 4 days / 5 nights and I already can't wait to go back! Keep reading my Atacama desert travel guide for everything you need to know to plan an epic trip to one of the best places to visit in Chile: San Pedro de Atacama.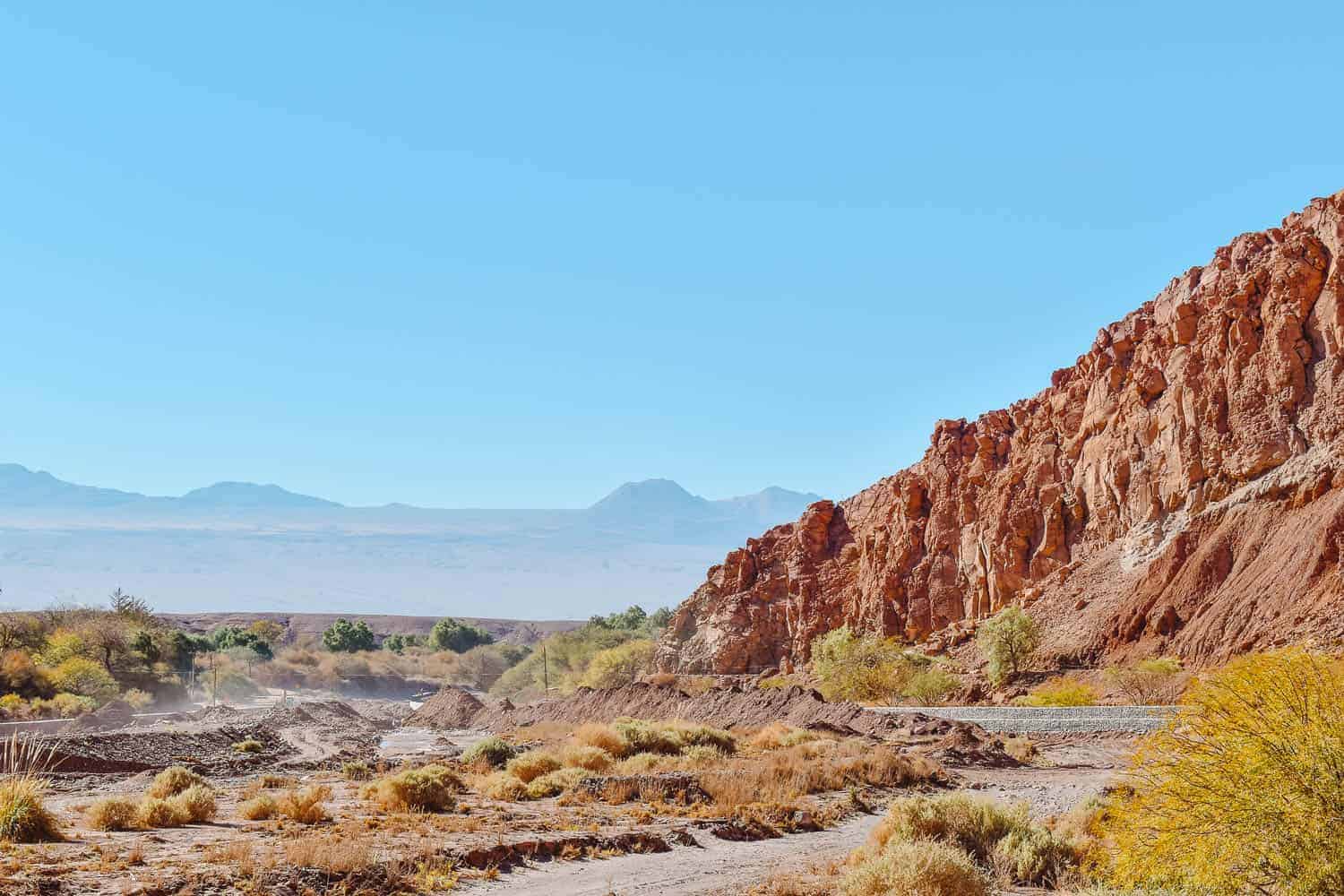 Atacama Desert Location, Climate And Weather
Where is the Atacama Desert Located?
The Atacama Desert is a strip of land in northern Chile, just west of the Andes mountains (which makes for some stunning views) on the Pacific coast. Atacama is bordered by Peru to the north and Bolivia to the east and has often been compared to Mars due to its rocky, arid landscape. I can tell you from first-hand experience it will absolutely feel like you've arrived on Mars. This desert is remote, and the isolation, peace and quiet is a big part of what makes it an amazing place to visit.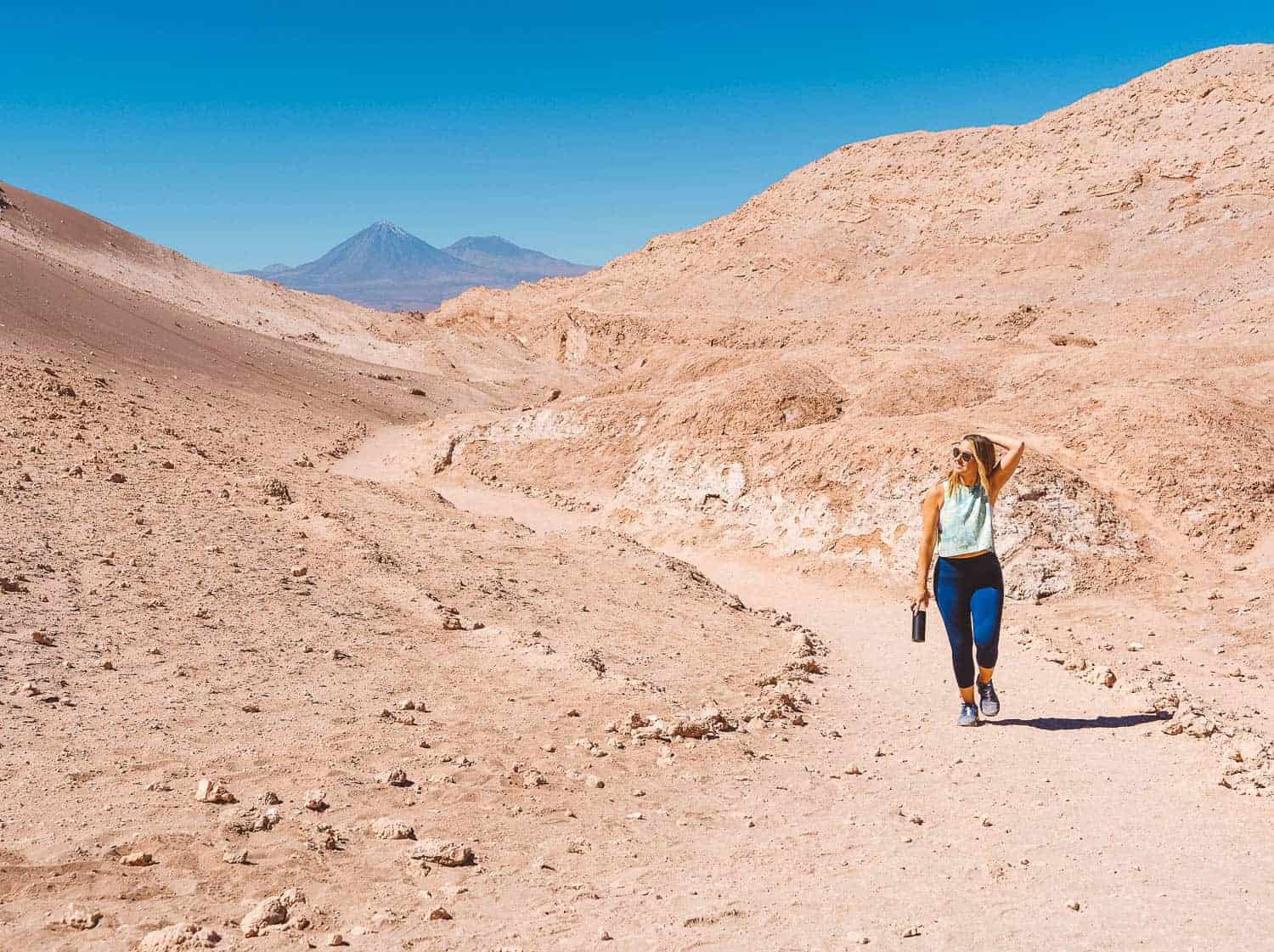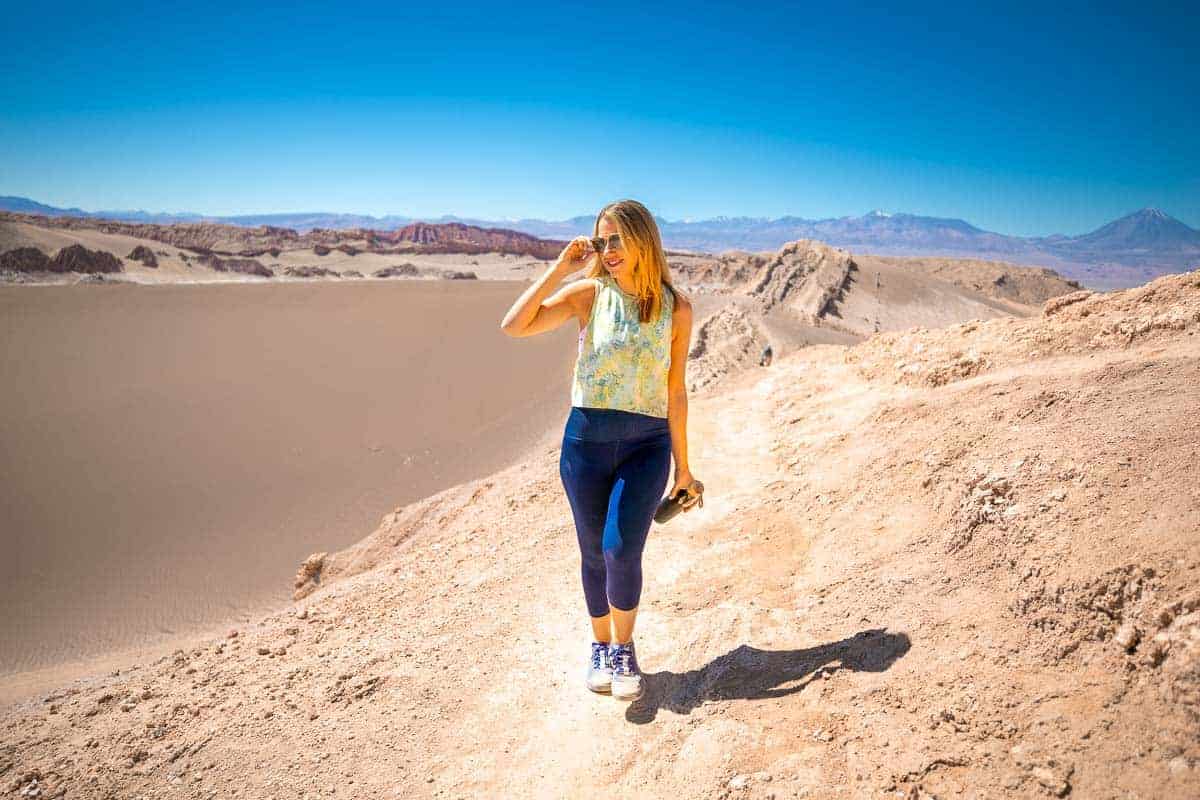 Atacama Desert Weather
The Atacama desert is one of the driest places on Earth, receiving only about 15 mm (0.6 inches) of rainfall a year. Atacama sees around 300 days of sunshine and clear skies per year. Atacama's location in the southern hemisphere means that the seasons are opposite that of the USA/Canada and Europe. Summer runs from November – April and winter is June through August.
The weather is fairly typical for the desert, with hot, sunny days and cold nights. The average temperature during the day is around 70-75 degrees Fahrenheit and in the evenings can drop to 40-50 degrees Fahrenheit. When I visited in August, I found the mornings to be cool but pleasant, the days hot and the nights cold. Bring layers!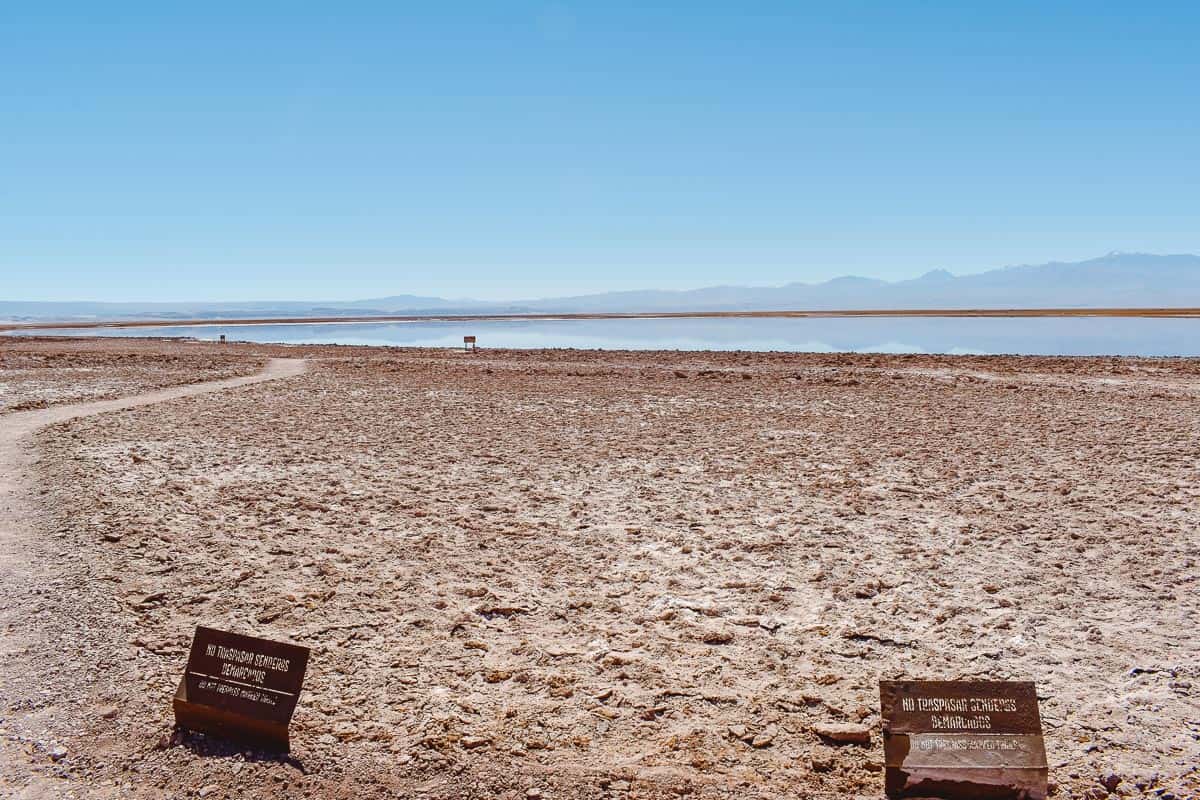 Atacama Desert Altitude
San Pedro de Atacama sits at a height of 7900 feet (200 meters) above sea level, which can cause mild altitude reactions in some people. This should resolve within a day or two as you adjust to the altitude. The best advice is to drink tons of water and do not drink alcohol on the plane while getting to Atacama! I know a glass of wine is tempting on a long flight, but it will dehydrate you even further and can make any altitude sensitivity worse until you adjust. You may also experience another common side effect of high altitude, which is shortness of breath. It's nothing to be concerned about, but you may find yourself getting winded more easily.
How To Get To San Pedro De Atacama
Santiago to San Pedro de Atacama
Getting to San Pedro de Atacama is challenging, but worth it. Because of the remote location, there aren't that many options to get to San Pedro de Atacama, and flying is your best bet. If you are arriving from an international location, chances are you will connect through Santiago. Getting from Santiago to San Pedro de Atacama will require a connecting flight to Calama, although you could rent a car and drive the 17+ plus hours for a pretty epic road trip.
The Santiago airport is large and confusing, so make sure you leave yourself plenty of time in between flights. Once in Santiago, it's a 2-hour flight to Calama on LATAM or another regional airline.
Note for solo female travelers to San Pedro de Atacama: It's worth mentioning here that Calama is a mining town and therefore these flights tend to be filled with men who work in the mining industry. A female companion on my trip made this connection and she was the only woman on her flight. She said she felt perfectly fine but it was definitely something she noticed.
Getting From Calama to San Pedro de Atacama
Once you arrive in Calama, it's about an hour's drive to the main city of San Pedro de Atacama, and then possibly another half hour or so depending on where in Atacama your hotel is located. Almost every hotel (I can't speak for hostels) offers airport transfers from Calama.
Getting to Atacama for the Luxury Traveler
Another option, which might make sense for groups or luxury travelers, is to charter a private flight from Santiago. Private flights can land at an airstrip in San Pedro de Atacama. I was very lucky to be traveling for work and so we took advantage of this option. We used Aerocardal and it was a fantastic experience. They will meet you right as you exit the plane on the jet bridge, handle customs and retrieve your bags, then whisk you off to a private lounge while you wait for your private flight. I was very nervous as I am not a great flier, but I felt totally safe and confident in Aerocardal (believe me, I spent way too long researching their credentials, certifications and history). When choosing this option, you'll land on an airstrip in San Pedro – no airport, literally just an airstrip – and your hotel can meet you for your transfer.
Atacama Desert Travel Guide Facts
Things to Know Before You Visit San Pedro de Atacama
Electricity: Electricity in Chile runs on 220V/50HZ and the plugs are European-style two pin outlets. You'll need an adapter and volt converter if coming from the US.
Currency: Chile uses the peso and while many stores in San Pedro de Atacama accept credit cards, some do not so it's best to have some local currency on hand, especially for tips.
Language: The national language is Spanish, but most people in San Pedro de Atacama speak English
Animals: There are many wild dogs that live and roam in the town of San Pedro de Atacama, although they are not dangerous. The dogs were more like community pets – happy to sit and bask in the sun, play and receive a belly rub from a friendly tourist. However, if you are afraid of or allergic to dogs, this is worth noting.
What to pack to visit the Atacama Desert: You'll need lots of layers and good hiking shoes when visiting San Pedro de Atacama. For a complete packing list, read my What To Pack For The Atacama Desert guide.
Unique Facts About the Atacama Desert
The Atacama Desert is one of the driest place on Earth. It's also the only desert to receive less precipitation than the polar deserts.
The landscape of the Atacama Desert is so similar to Mars that NASA tests its equipment for Mars missions here
Atacama is one of the best places in the world for stargazing and astronomy, thanks to the lack of pollution or clouds and its high altitude.
Atacama is home to the ALMA telescope, the largest telescope in the world.
The oldest mummies in the world were found in Atacama, known as the Chinchorro mummies. These mummies pre-date the Egyptian mummies by about 2000 years.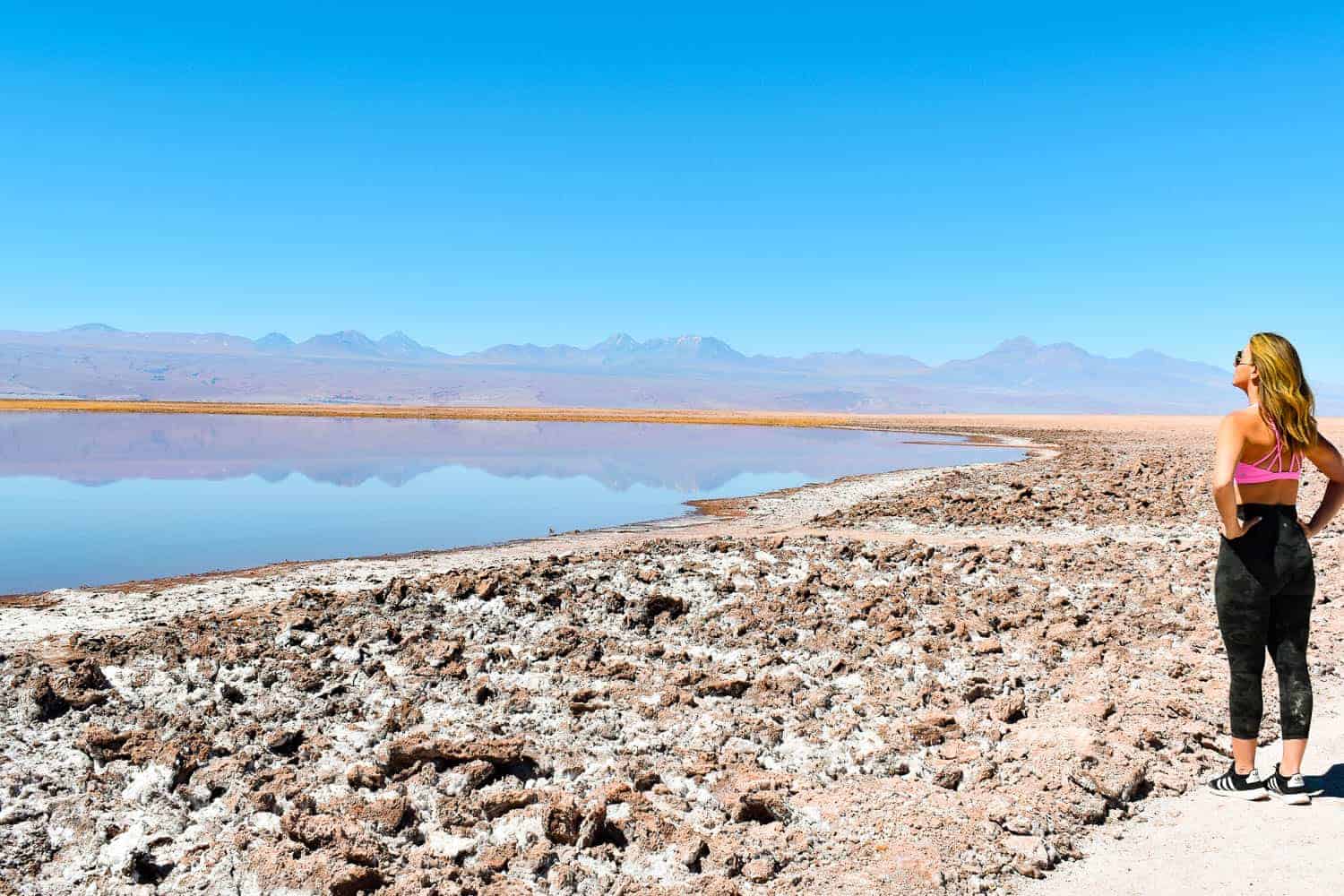 Best Hotels In The Atacama Desert
There are many hostels and budget accommodations in San Pedro de Atacama that all have great reviews online. This Atacama desert travel guide focuses on luxury accommodations, particularly all-inclusive hotels, because many of Atacama's best hotels include meals and organized excursions which in my opinion make for the best deal, least amount of stress and highest rank in terms of safety and enjoyment. These are the hotels I researched for my trip, ultimately staying at the Alto Atacama.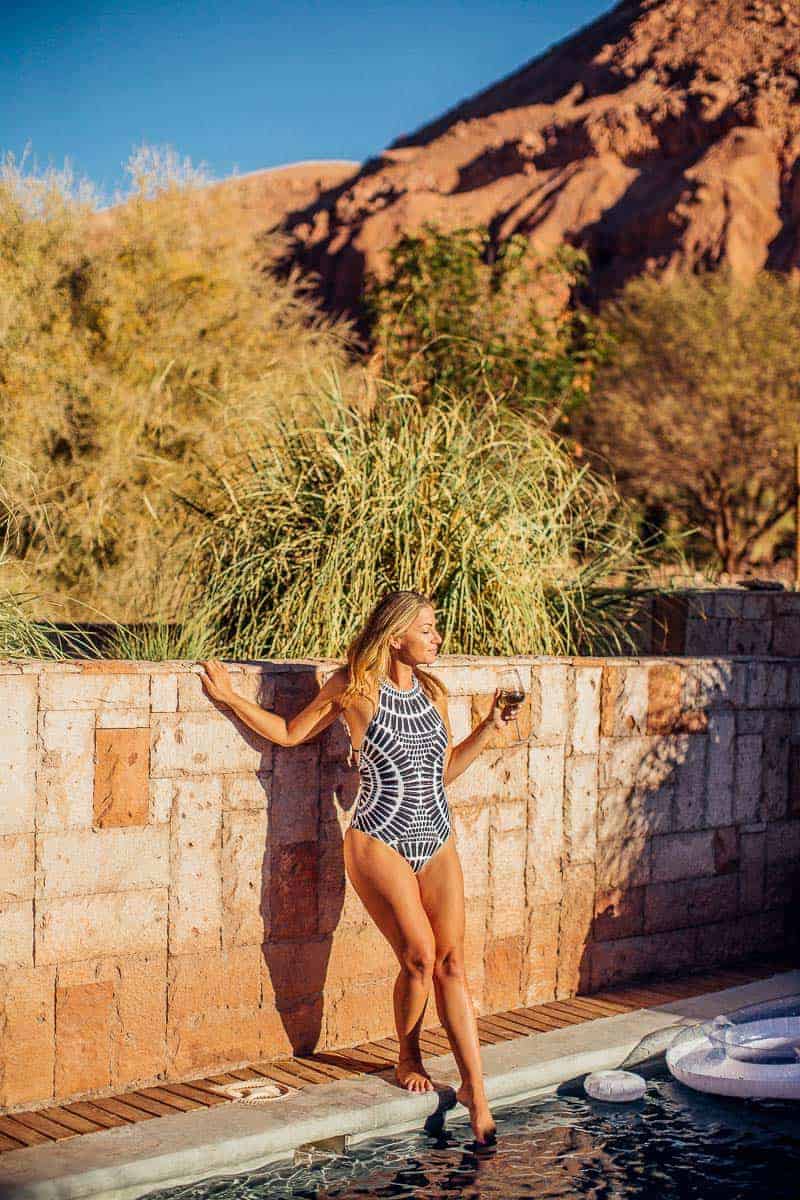 Tierra Atacama: Tierra tops all the "best places to stay in the Atacama Desert" lists and with good reason. Tierra operates several hotels throughout Chile and Argentina. The hotel chain has a reputation as being the best luxury adventure travel hotel chain in South America. The Tierra Atacama experience includes food and beverage as well as two half-day or one full day excursion per day. A guide sits with you upon arrival to review the excursions available and craft an itinerary unique to your interests. There is also an insane indoor pool with a full wall of windows on three sides. You can swim and enjoy views of the Andes year-round.
Explora Atacama: Explora Atacama is very similar to Tierra, in that it is all-inclusive for food, beverage and excursions and is surrounded by insanely beautiful landscape. My impression is that Tierra is slightly more upscale/luxurious but Explora has a more interesting variety of excursions. Explora owns the famous Puritama hot springs and seems like their guests may get priority as the number of visitors is limited, so between these two hotels it will probably come down to your budget and priorities, but you can't really go wrong.
Alto Atacama: I stayed at the Alto Atacama and can personally vouch for how incredible it is. We decided to go with this hotel because it felt more intimate and they were able to accommodate some very specific personalizations that we needed when visiting. Everything about this hotel was amazing, from its location surrounded by orange-gold mountains to its seven pools to the food and the service. Alto Atacama is also all-inclusive for food, beverage and excursions. Read my full review of the Alto Atacama hotel.
Awasi Atacama: If you're looking for a particularly intimate stay in Atacama, Awasi is a 12-suite Relais & Chateaux property that would be perfect. Awasi assigns each room a private guide and 4×4 vehicle, for the ultimate luxury desert experience. Awasi is also located closer to the main town of San Pedro de Atacama than the above three hotels, so you'll have an easier time with dining options if you want to get out of the hotel for dinner.
Top Things To Do If You Visit Chile's Atacama Desert
There is so much to do in the Atacama Desert that I feel like I barely scratched the surface when I visited! If you love nature, the outdoors, hiking, gorgeous scenery, stargazing, peace and quiet or any combination of the above you will find plenty of things to do in San Pedro de Atacama. The best way to see everything Atacama has to offer is through guided tours – there are plenty of private or group options through tons of tourism agencies based in San Pedro de Atacama, or if you stay at a hotel I recommend above, they will include a selection of excursions for you to choose from and organize all the details for you.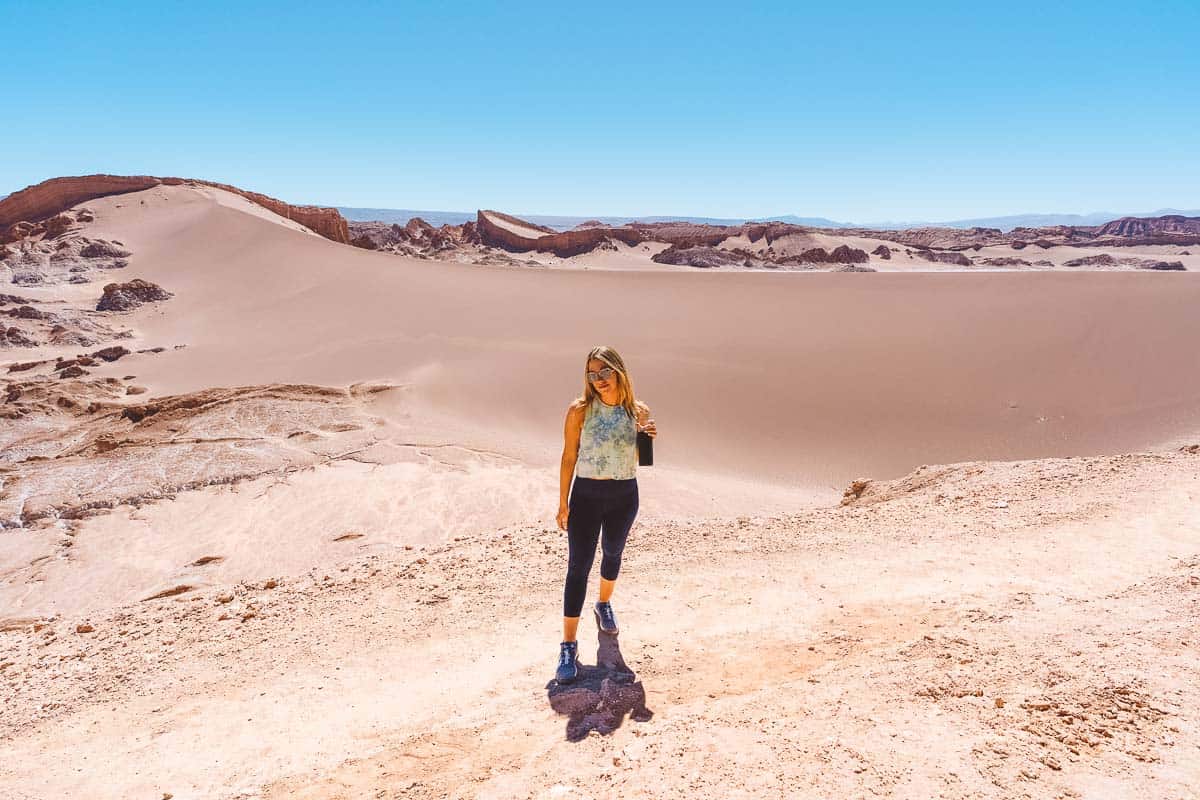 Moon and Mars Valley
The Valley of the Moon is one of the most dramatic landscapes in Atacama, a surreal expanse of stone and sand formations. The range of colors and textures is astonishing, from golden dusty sand dunes to fiery orange and red rock to layers of white-as-snow salt. Valle de la Luna (as it is called in Chile) is located in a nature reserve, Reserva Nacional Los Flamencos. It takes about 2 hours to hike the area, including stops for pictures. It's an easy-to-moderate hike that's a great first day activity in Atacama as the altitude is not too high. A great place to end your Moon Valley hike is by the abandoned bus near a deserted salt mine in the middle of the valley.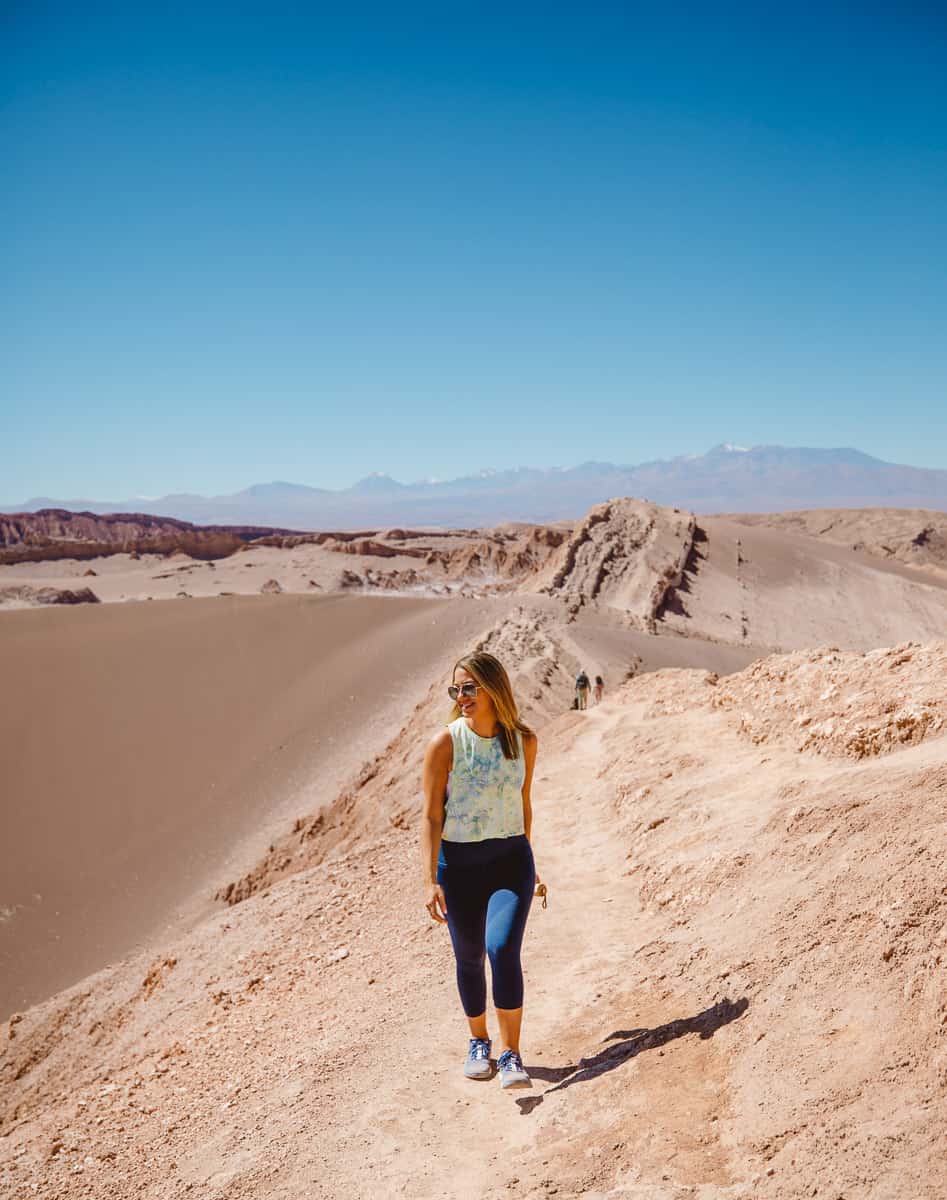 Right near the entrance to Moon Valley is an abandoned bus in the middle of the sand dunes. It's a great photo opportunity and definitely of the most Instagrammable places in Atacama!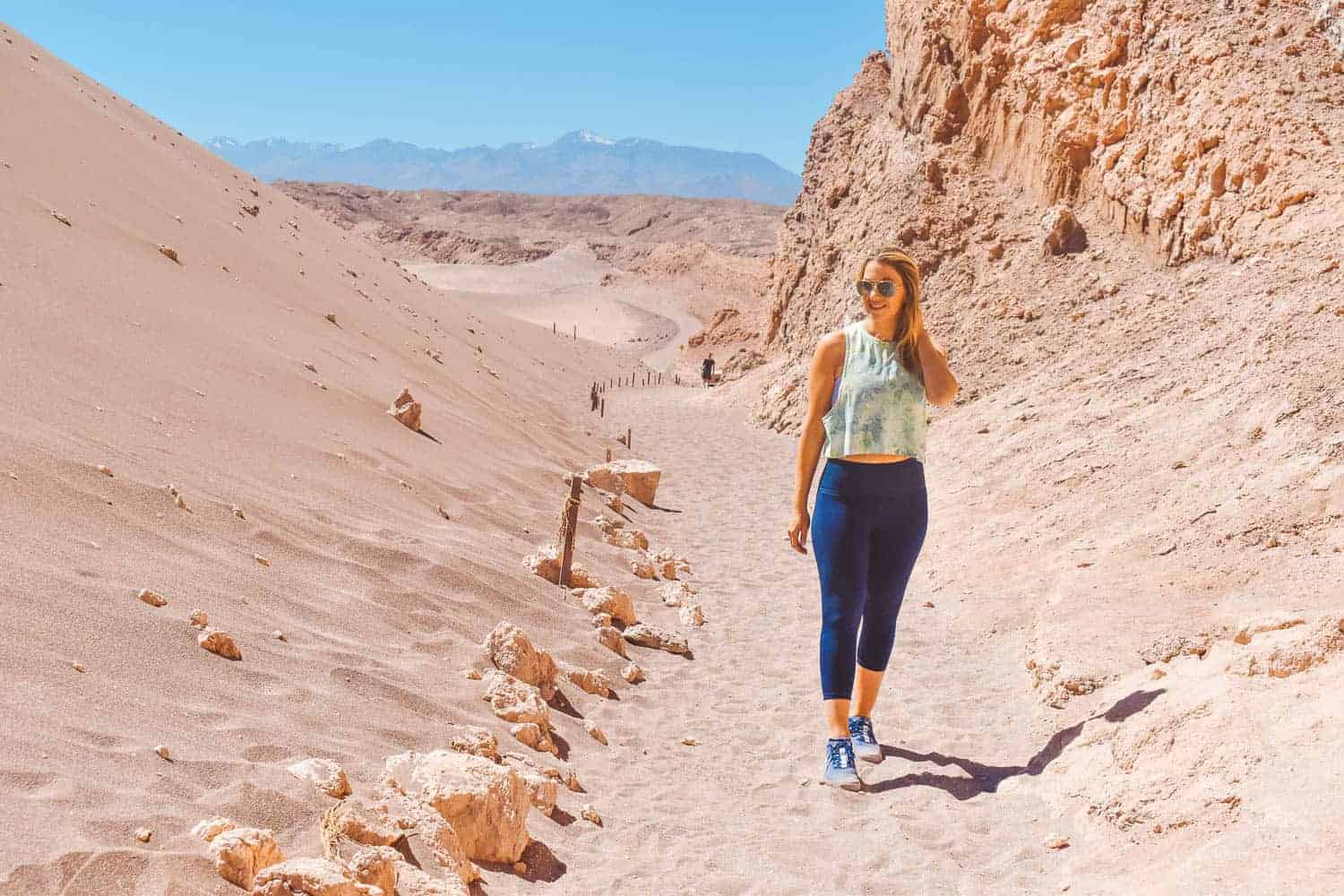 Mars Valley is only about 10 minutes away from the Valley of the Moon so it's very easy to visit both as part of an organized Atacama desert day tour. Mars Valley is also called Death Valley because a French astronomer mispronounced the name hundreds of years ago. Legend has it that he said Marte for Mars but the Spanish misheard him as saying Muerte for death. It's not surprising that the name Death Valley stuck – the terrain is so arid that almost nothing can survive living in these conditions.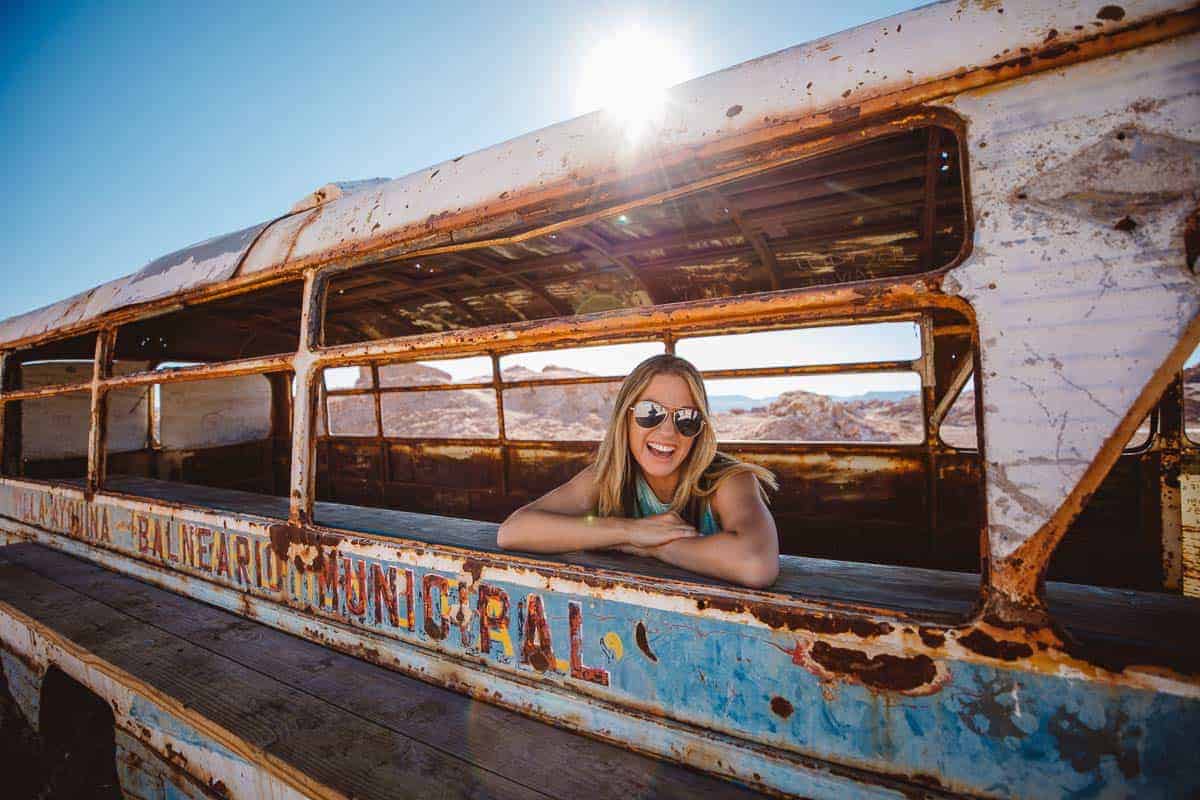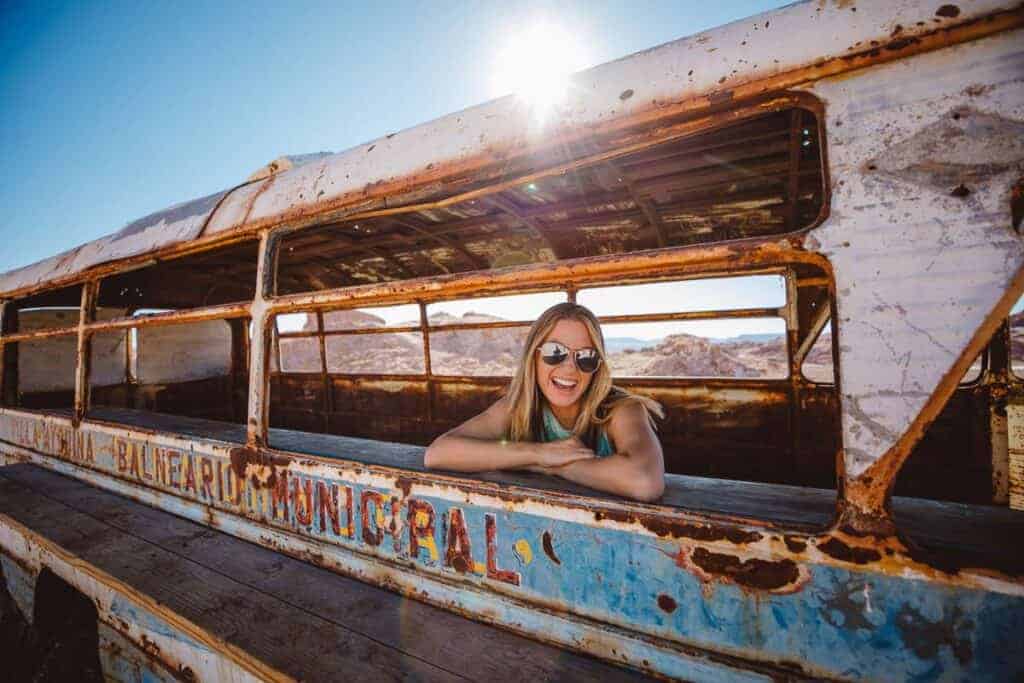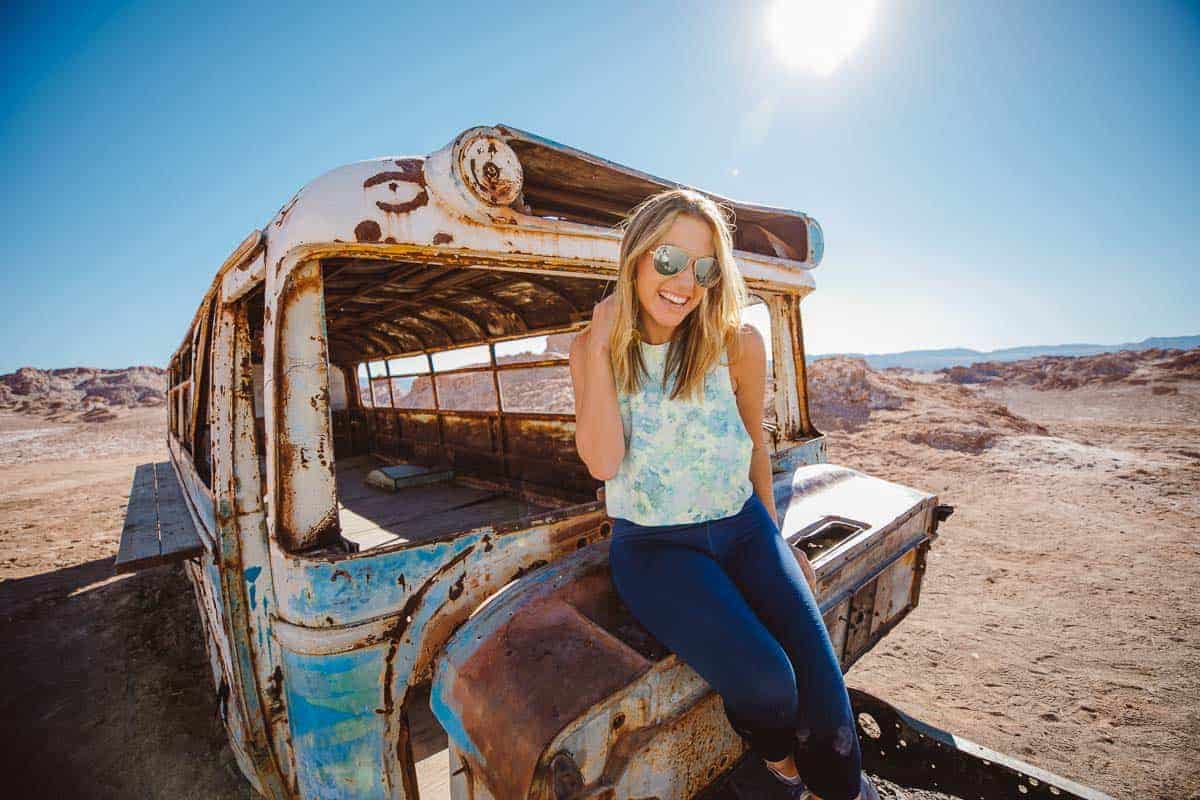 Marte/Muerte Valley has similar surreal landscapes and rock formations as the Valley of the Moon, and most tours will end here to watch the sunset. However, keep reading because there's an even more spectacular location to watch the sunset in the Atacama desert!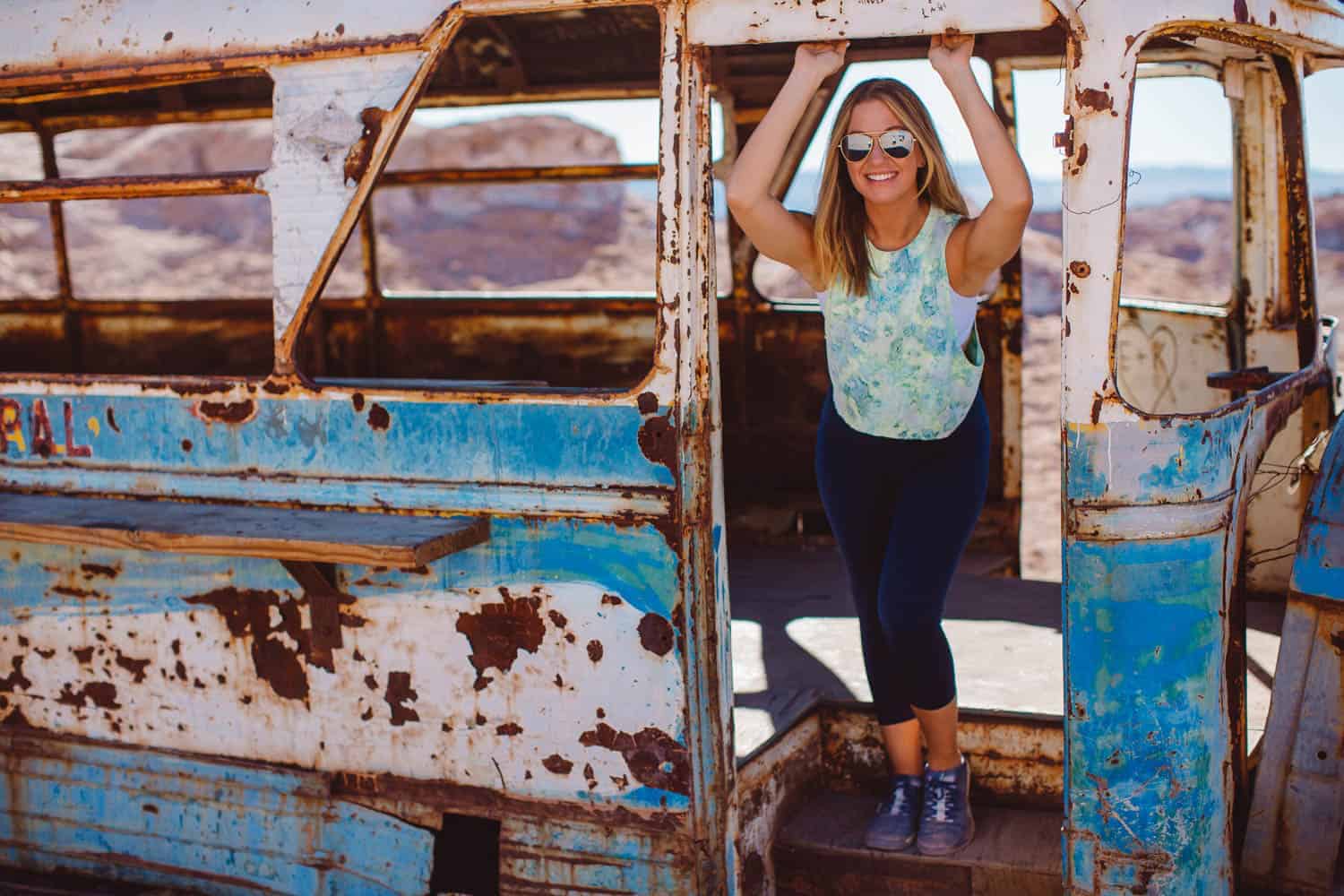 Ojos de Salar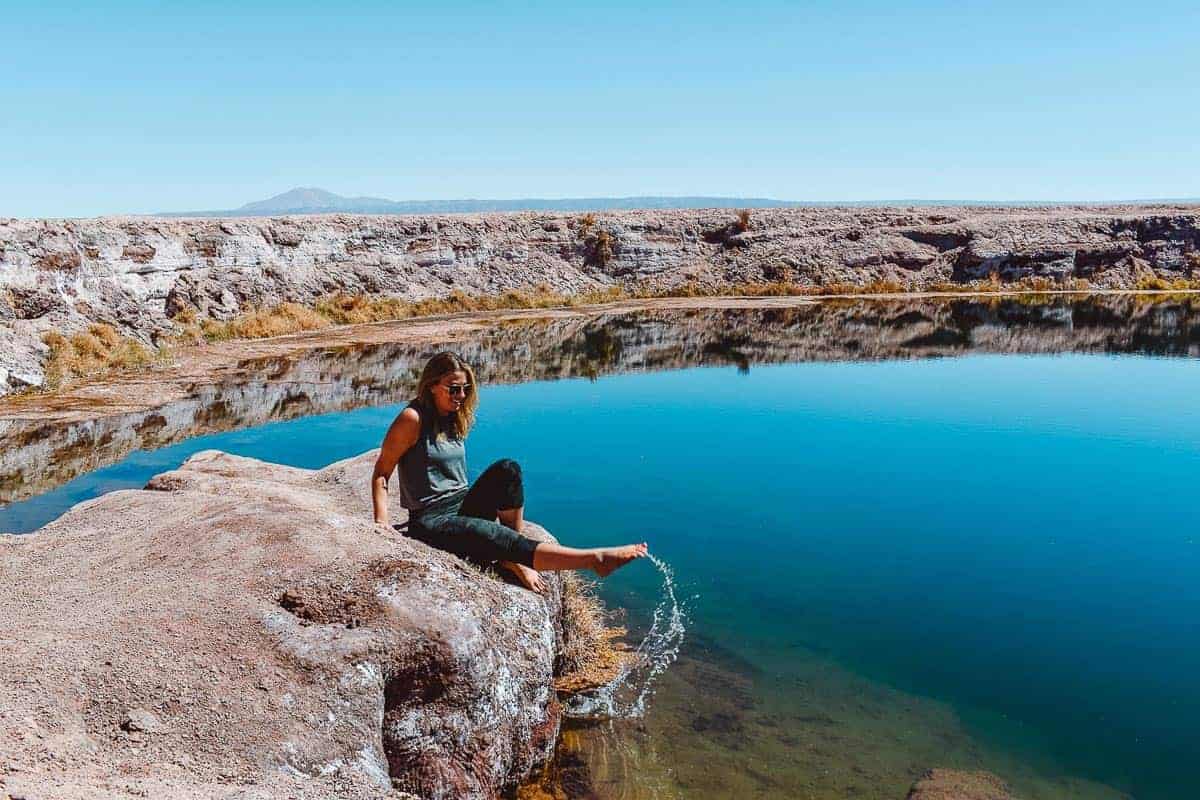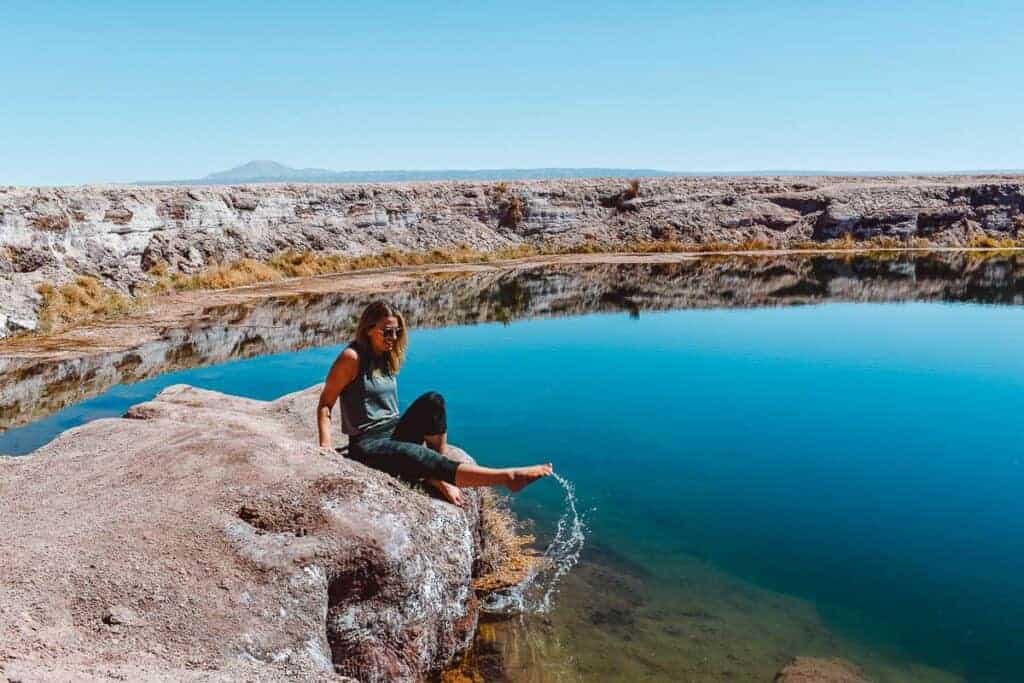 Ojos de Salar is comprised of two clear-as-glass, it's-like-looking-in-a-mirror freshwater lagoons. The lagoons sit across from each other in the middle of nowhere. It's truly astonishing how you simply happen upon this natural wonder when there is nothing else but salt flats for miles and miles, and a distant wispy view of the Andes mountains. The bravest visitors will swim in the icy lagoon waters, but the most I could stand was to dip my toes in as I was perfectly content to sit and take in the sweeping views.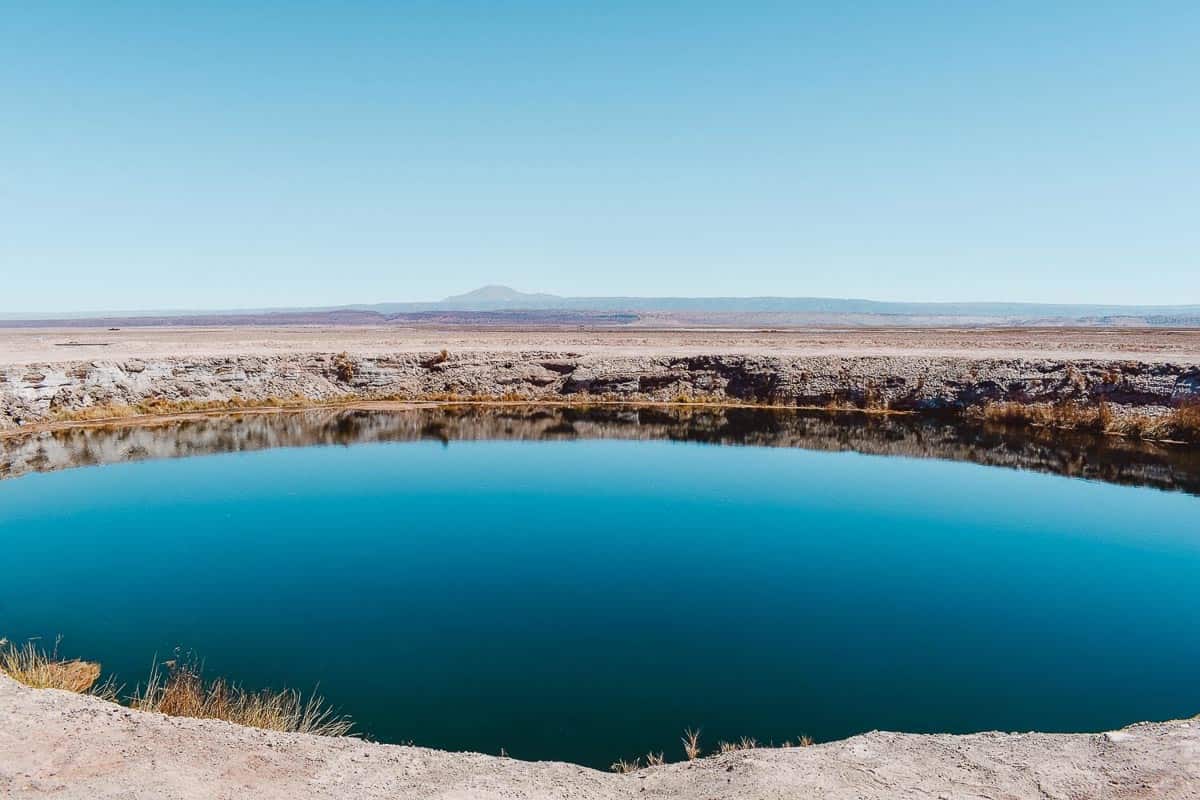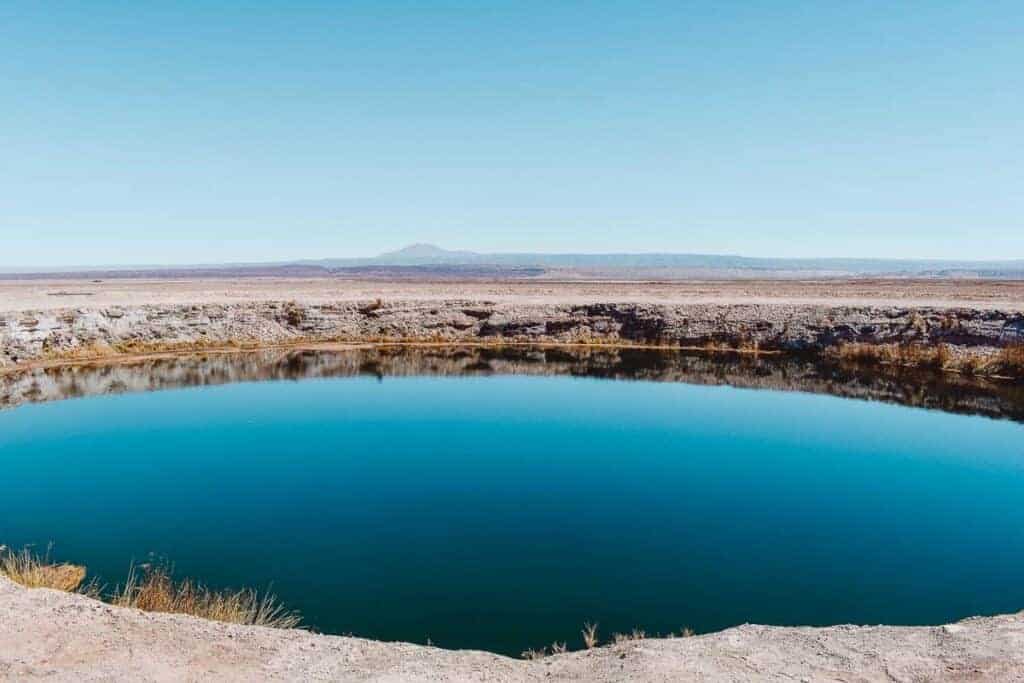 Note: I am not including the Cejar lagoon in my recommendations of the top things to do in Atacama even though you'll find it listed as a top attraction in the area in many other posts. Alto Atacama, the hotel I stayed at, explained they do not offer excursions to Cejar because the volume of tourists swimming in the lagoon is very bad for the environment. It is not an eco-friendly or sustainable activity.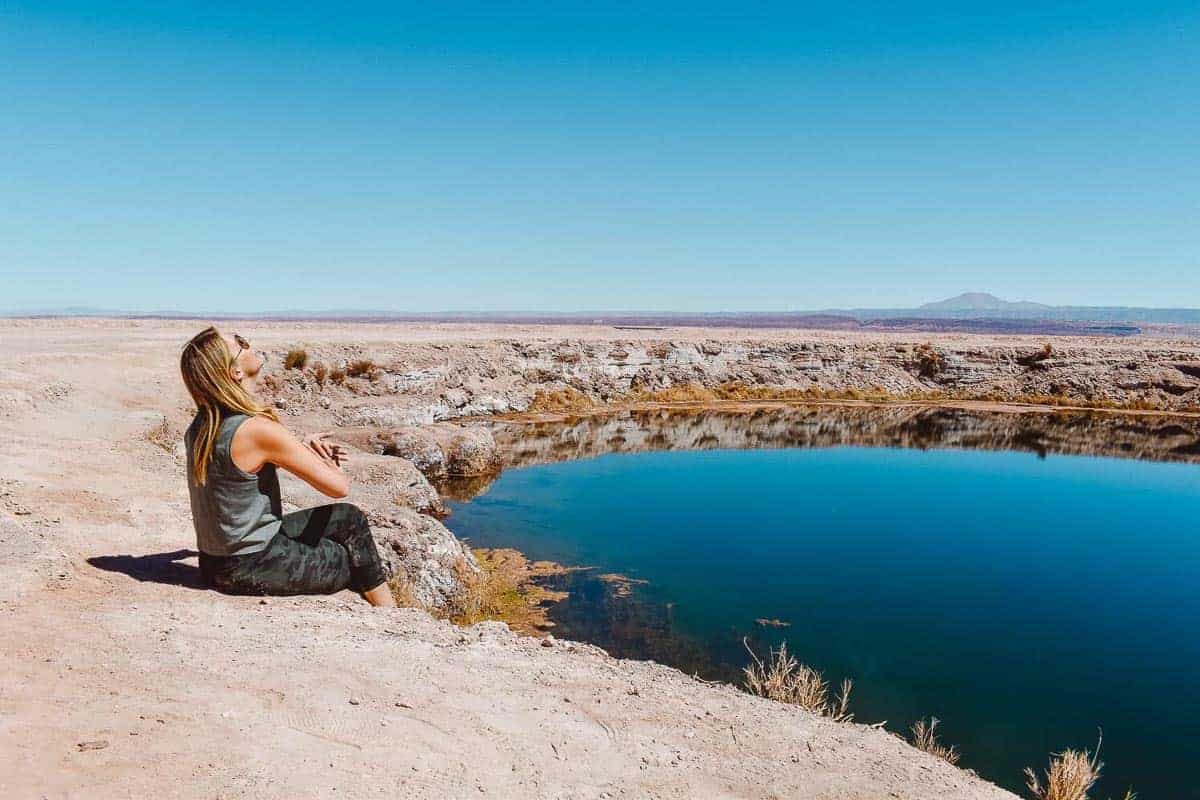 Atacama Salt Flats: Tebinquiche Lagoon
A visit to Tebinquinche lagoon usually follows the visit to Ojos de Salar, as the two locations are near each other and easy to combine into one excursion.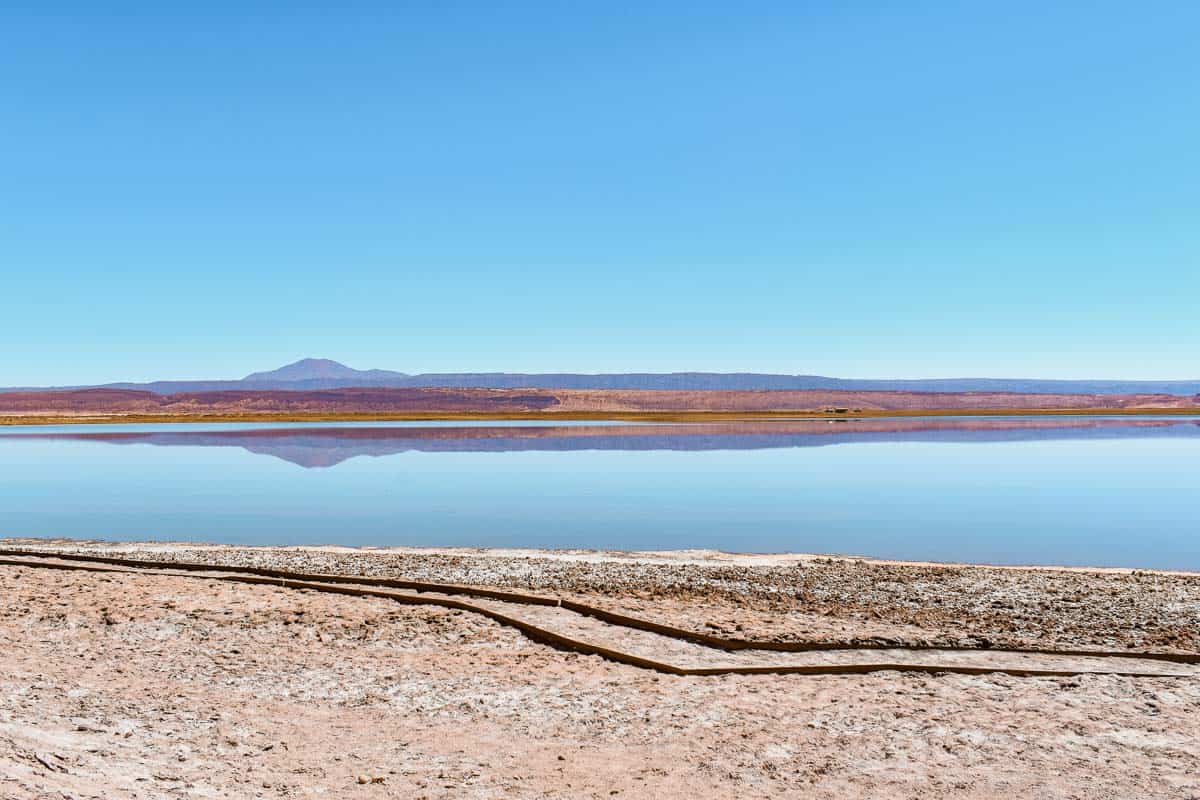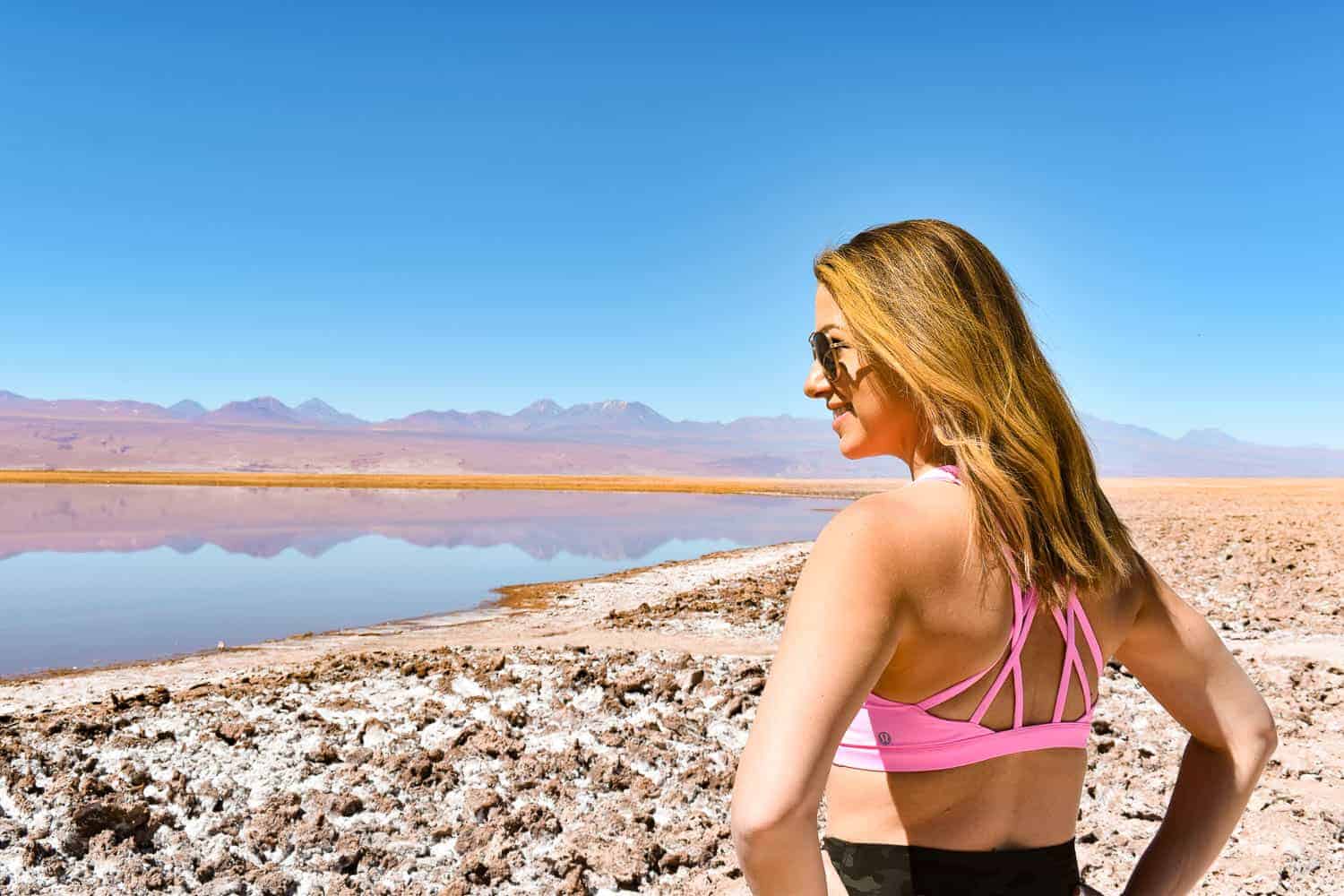 There are walking trails that zig zag all around the salt flats and if you visit in the morning, the lake is so clear you can see a perfect reflection of the mountains in the water, which I think is the best time to visit as the trails will be far less crowded.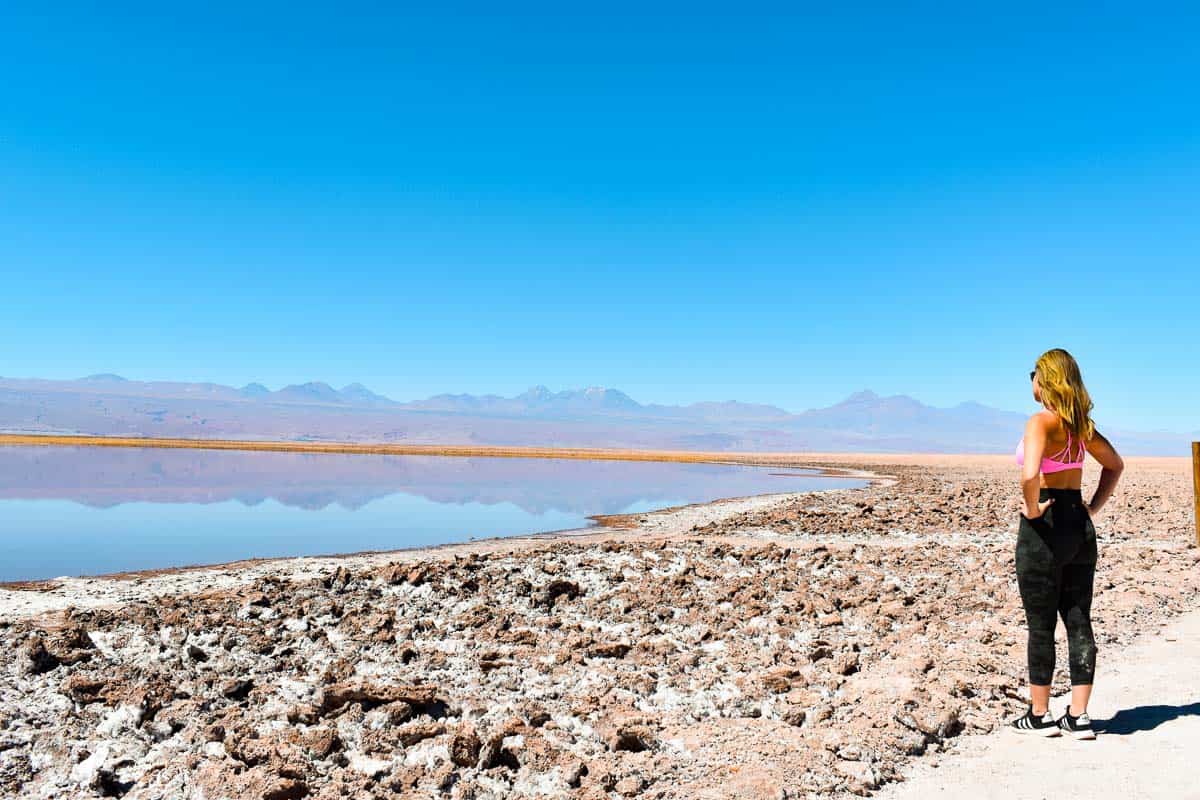 The most popular time to visit though is in the later afternoon, to be able to witness one of the most spectacular sunsets in Atacama.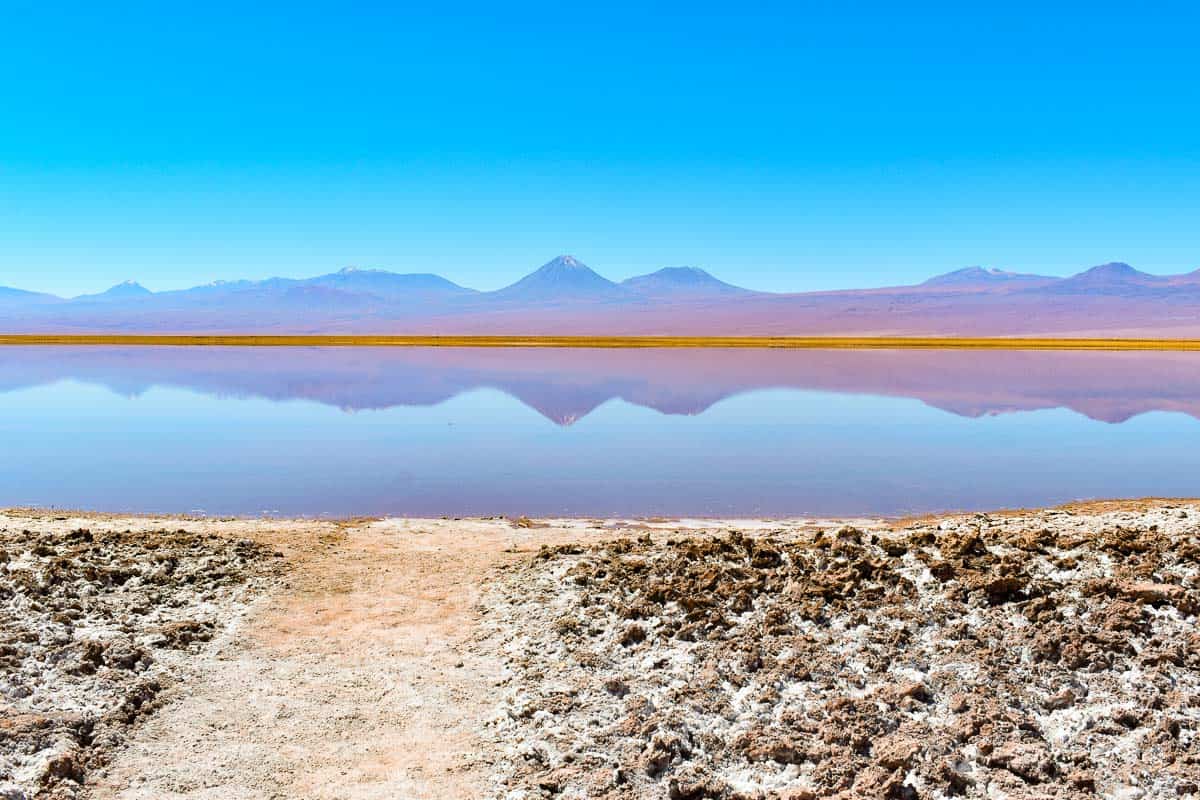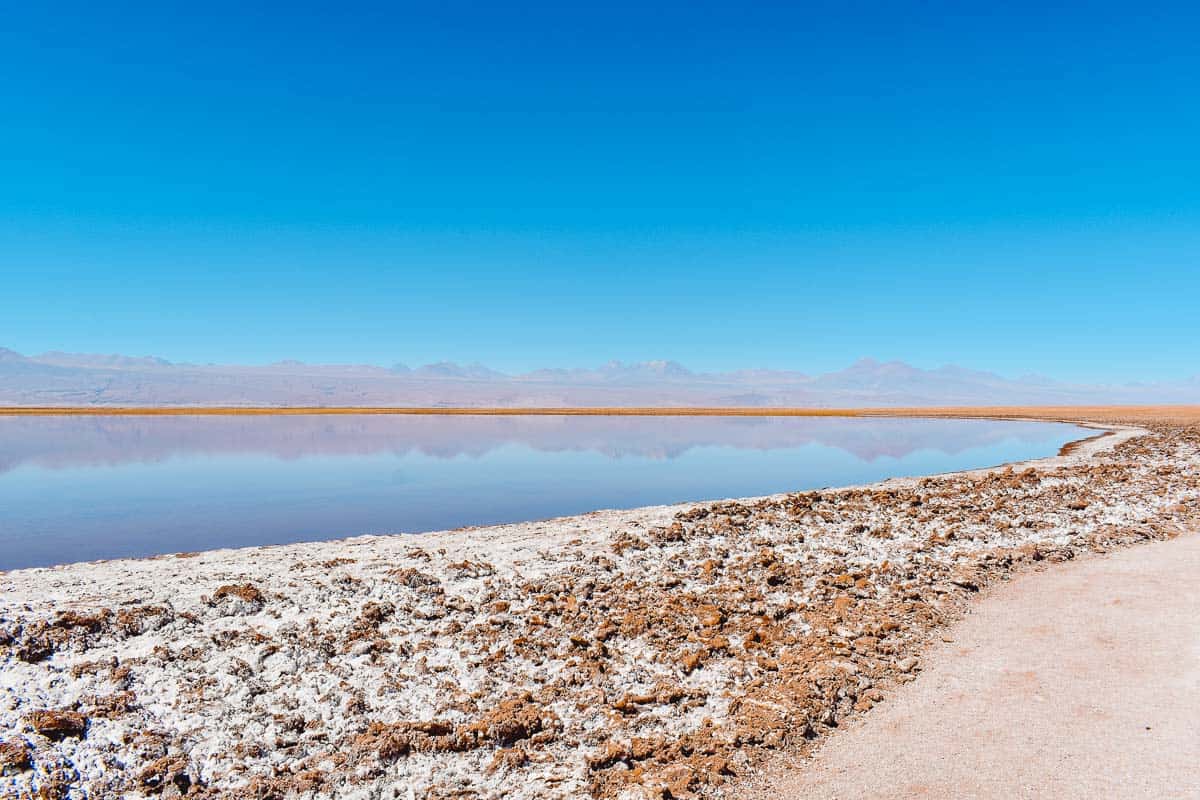 Puritama Hot Springs
The hot springs are a network of eight geo-thermal pools owned and managed by the Explora Atacama hotel. The pools are connected by wooden paths, and there are changing rooms and bathrooms. The water temperature of the hot springs is between 77-86 degrees Fahrenheit and is said to have therapeutic properties. The number of daily visitors is strictly limited so it's important to book a tour that will secure tickets for you or go very early in the morning.
Stargazing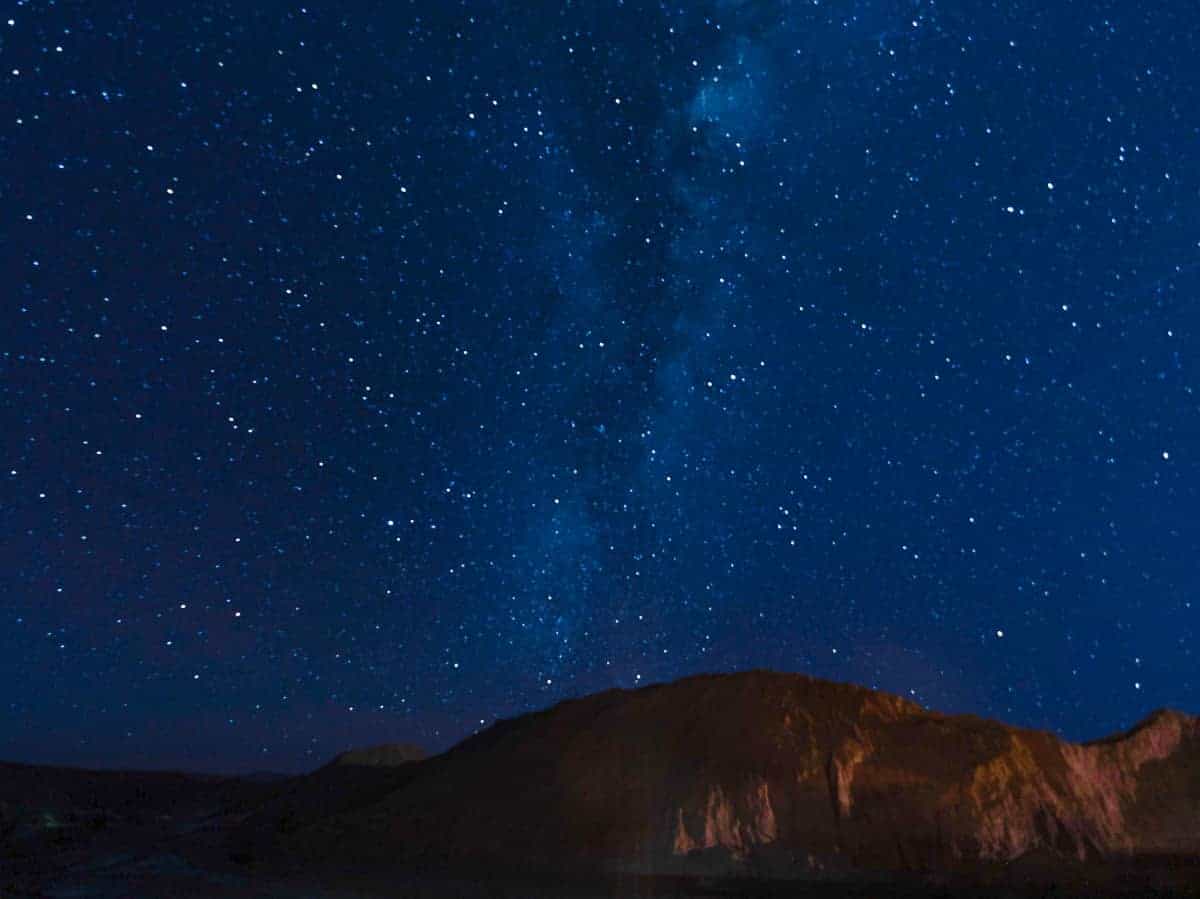 A visit to the Atacama desert would not be complete without a stargazing evening of astronomy. Many hotels have their own observatories or can arrange stargazing evening tours – this is also why I recommend staying at a hotel that includes excursions, my observatory experience at the Alto Atacama was unreal! To book your own tours, check out Viator or GetYourGuide.com.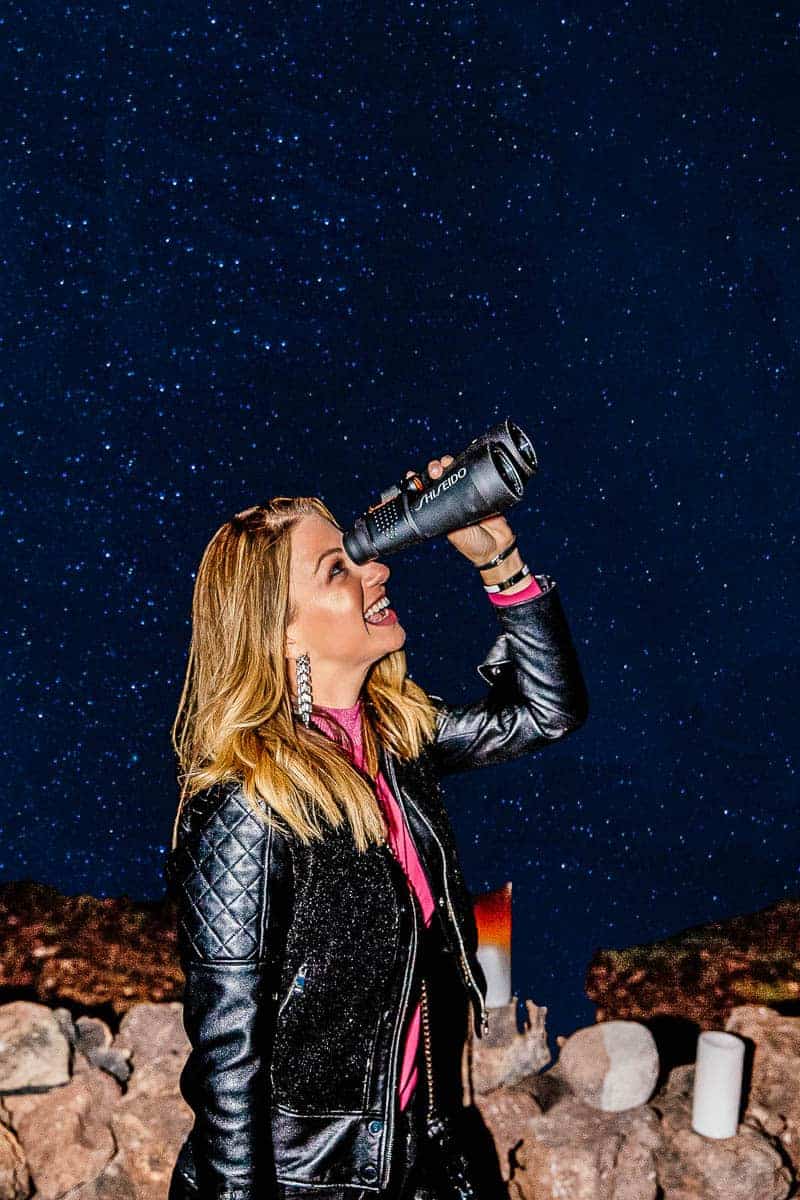 Cactus Hike (Cardones Gorge)
The Cardones Gorge is a gorge-ous hike (see what I did there?) up and over a mountain, down into a valley by the Puripica river and continues through several waterfalls. Enormous, ancient cacti (some of the cacti are over 7 meters / 22 feet tall) surround you for the entire hike. It's an easy to moderate hike that will take about 2 hours start to finish.
El Tatio Geysers
El Tatio is the world's third-largest geyser field, full of pockets of bubbling, boiling water that erupt into a giant stream of smoke. The El Tatio Geysers are best to visit after you've acclimated to Atacama for a few days, as they are one of the highest-altitude attractions sitting at roughly 14,000 feet.
The geysers are about an hour to an hour and a half outside of San Pedro de Atacama, and most tours will leave very early in the morning to arrive at the geysers by 6:00 or 7:00 AM. It's also important to bring layers because it gets very cold at the geysers – click here for more tips on what to pack when visiting Atacama.
Town of San Pedro de Atacama
The main town of San Pedro de Atacama is small but picturesque and is perfect to stroll around in the late afternoon and then pop into a local restaurant for dinner. The winding streets are filled with tourism agencies, a main square dominated by a beautiful large tree, and a covered market filled with local goods.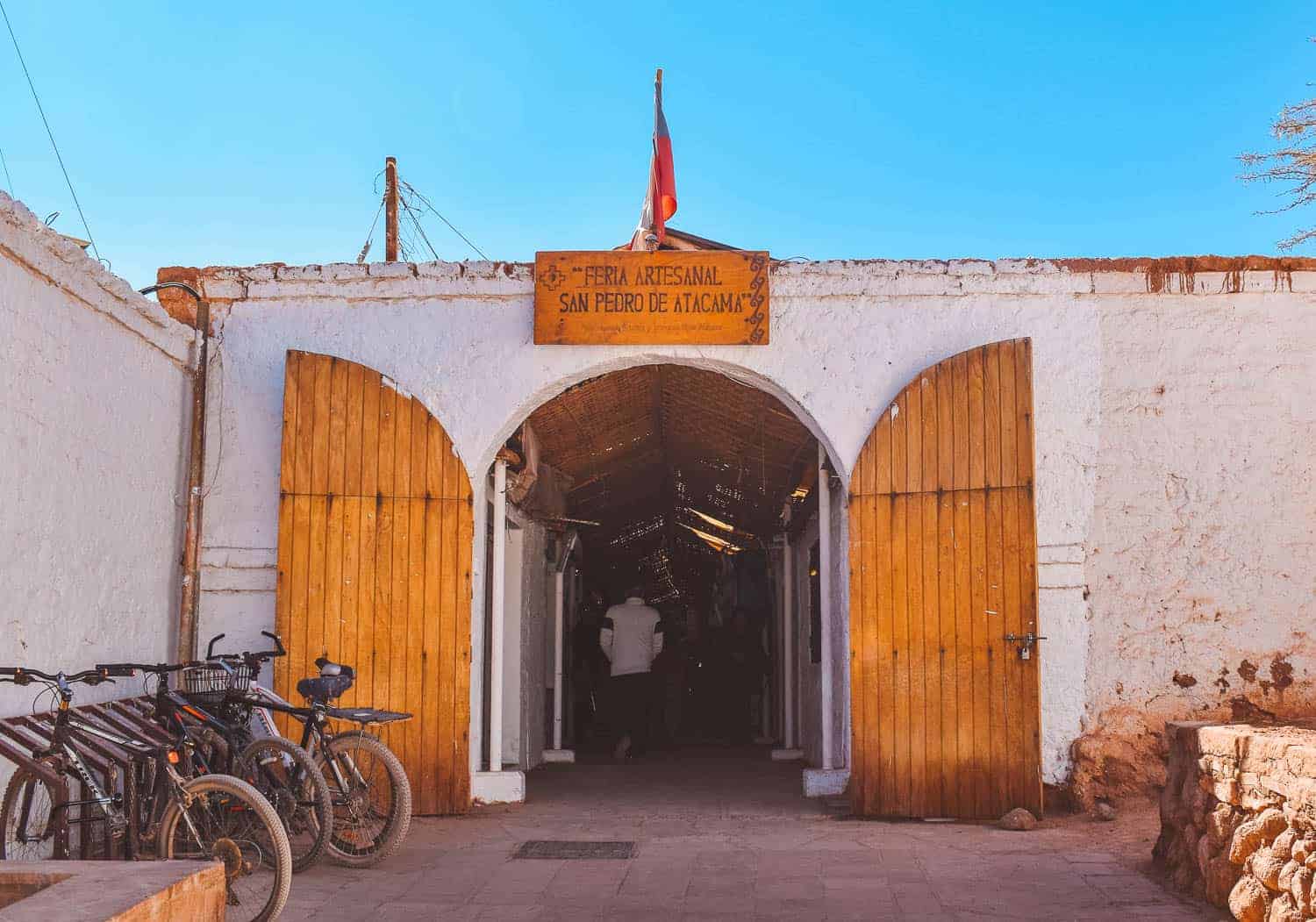 It's a great place to pick up a few souvenirs. It's worth noting that there are many stray dogs in San Pedro – they are not aggressive at all and are more like "community pets" but most are not on leashes so it's worth considering if you are afraid of dogs.
There's not much else to see in San Pedro de Atacama town but it's worth a stroll for an hour or two, and if you're experiencing Atacama on your own (not as part of an inclusive hotel experience), you'll want to shop around the tour agencies in town to find the tour excursions that interest you the most.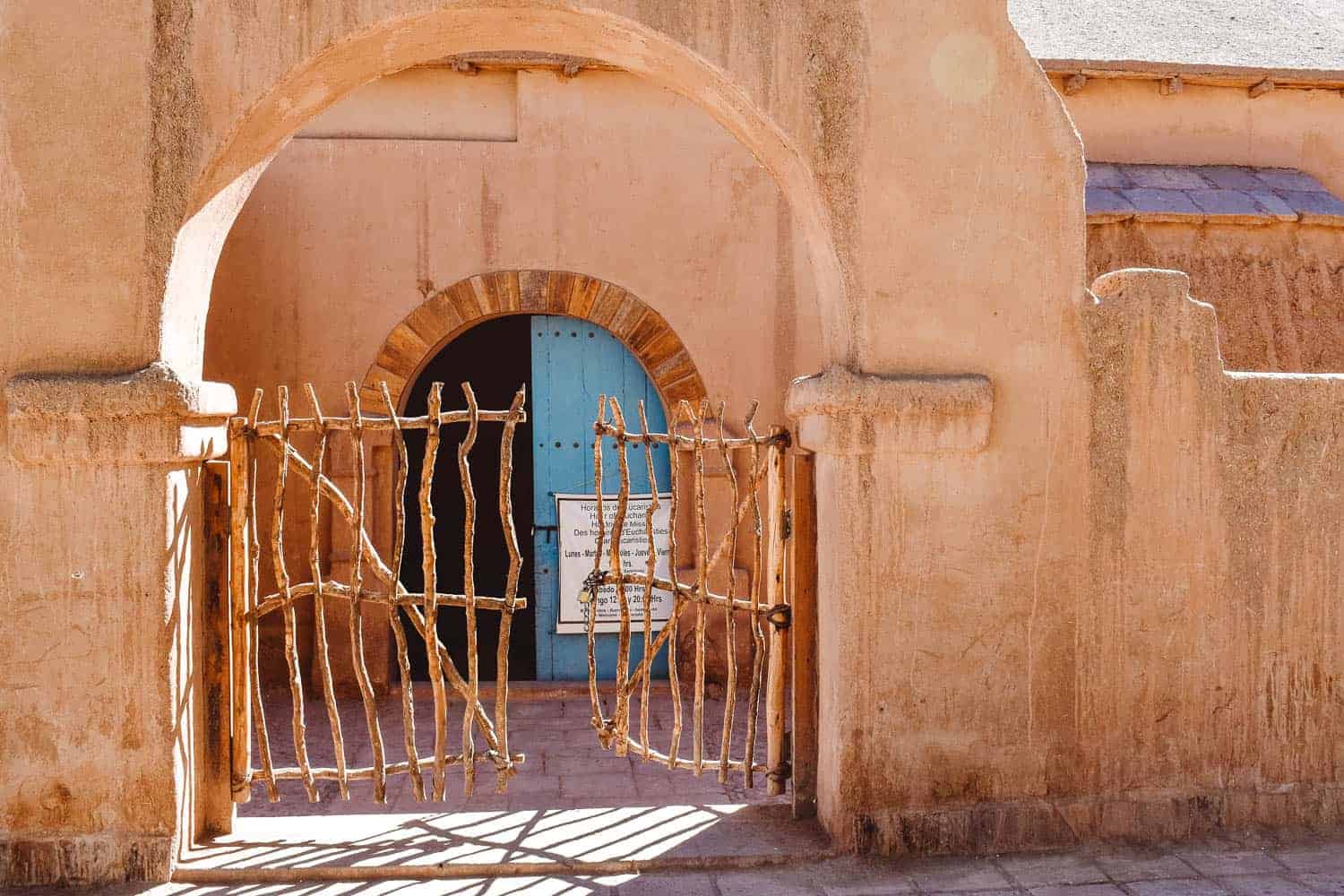 Best Restaurants In San Pedro de Atacama
Atacama's food was way better than I thought it would be, to be honest. I wasn't sure what to expect – of course Santiago is a huge foodie city, but I didn't know what would be waiting for my gluten-intolerant self in such a remote northern desert. I have to say, I was thoroughly impressed with the quality of the produce and protein. Fresh fish, delicious barbecue, salads, fruit, gluten-free bread…I was in heaven! However, I only ate at the Alto Atacama hotel since all meals and on-the-go snacks were included and the food there was fantastic. If you're looking for restaurants in San Pedro de Atacama town proper, these are the most recommended restaurants in Atacama for local, authentic cuisine:
And there you have it! My complete travel guide for Chile's Atacama Desert! Have you been or are planning to go? Let me know in the comments!

Love this travel guide for Chile's Atacama Desert? Pin it to save for later!