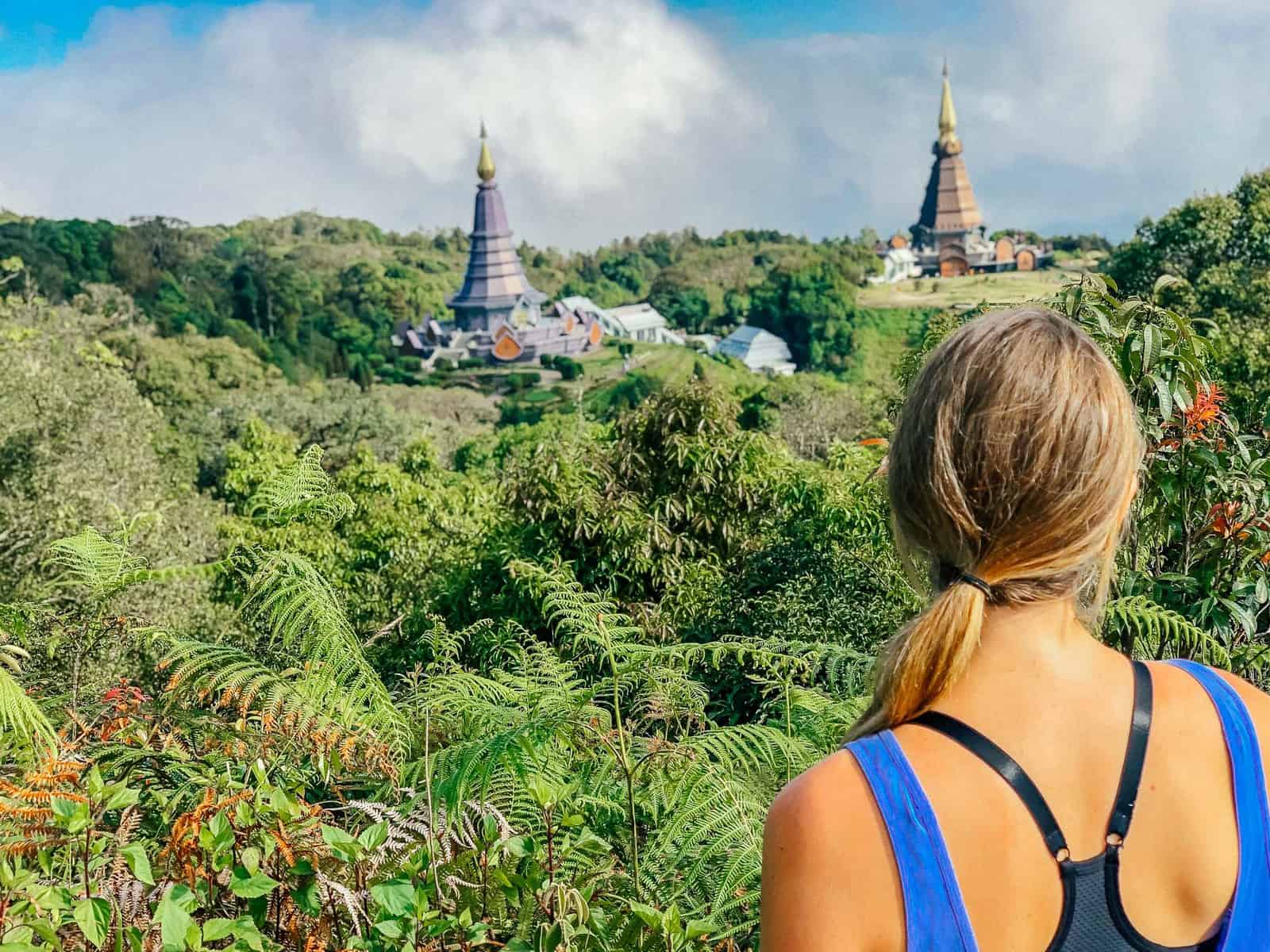 The Best Things To See, Eat And Do With 4 Days In Chiang Mai
This 4-day Chiang Mai itinerary will guide you through everything this awesome northern Thailand city has to offer!
Chiang Mai exudes laid-back cool. It's trendy without being obnoxious and is an absolute must-visit for any Thailand itinerary. Seriously, I want you all to run to Chiang Mai (well, fly, obviously, but you know what I mean).
(Disclosure: This post may contain affiliate links which means I may earn a small commission if you make a purchase from a link in this post, at no additional cost to you. Additionally, as an Amazon Associate I earn from qualifying purchases. Thank you for supporting this site!)
Where Is Chiang Mai?
Chiang Mai is the second-largest city in Thailand after Bangkok, and sits towards the north of the country, surrounded by lush, verdant jungle close to the border of Myanmar. It's known as a backpacker's haven, the digital nomad capital of the world and basically every millennial's dream city. Chiang Mai is worth every ounce of the hype it gets and was such a welcome change from the fast-pace of Bangkok.
JB and I flew up to Chiang Mai from Bangkok (read all about our three-day Bangkok itinerary here) via Bangkok Airways to follow my 4 day Chiang Mai itinerary.
Chiang Mai Itinerary Day 1
Arrival, Coffee, Brunch and Thai Massages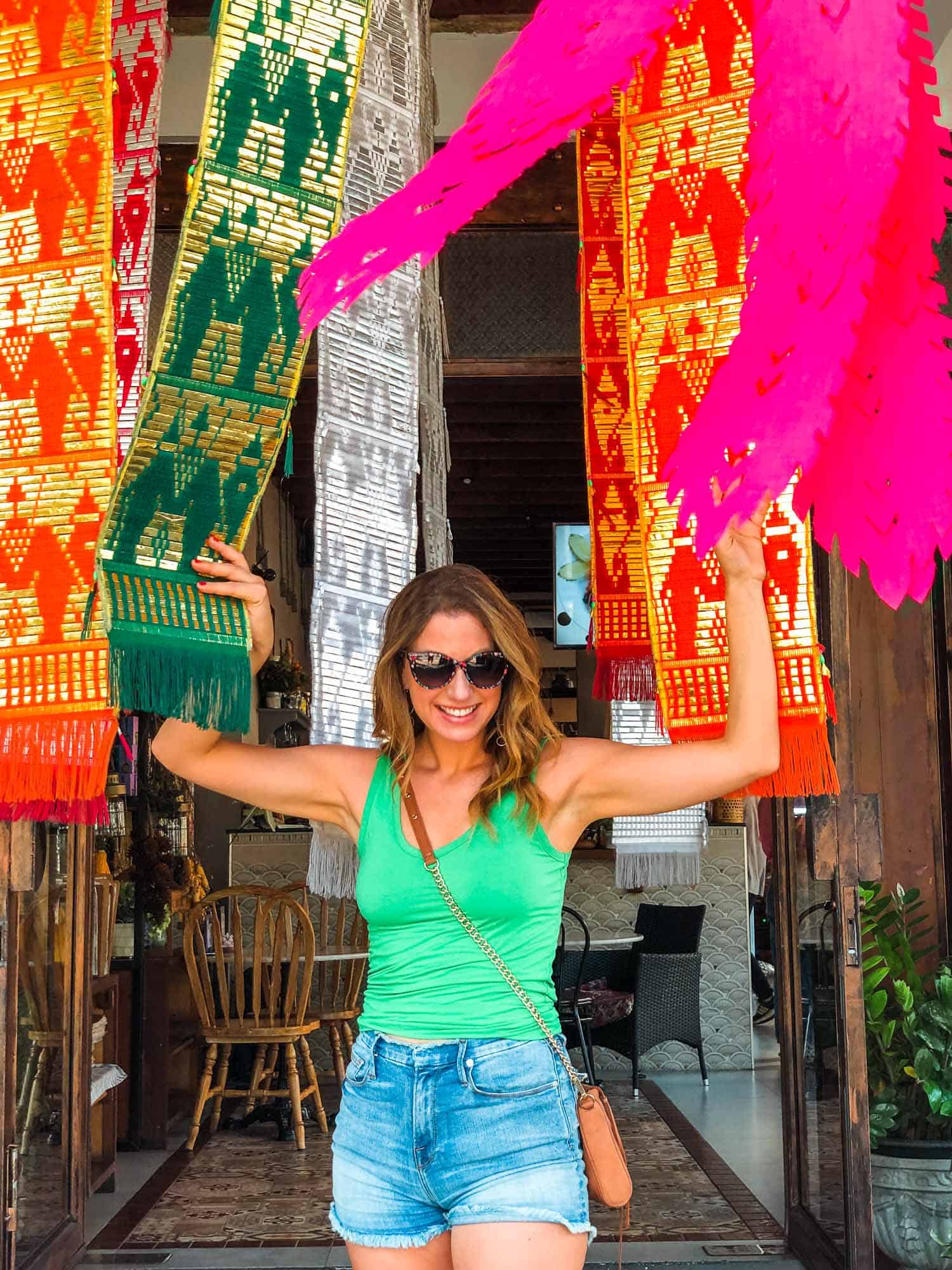 Getting To Our Hotel
We arrived in Chiang Mai around 10:00 AM – my advice is to choose an early morning flight from Bangkok, don't waste a whole day traveling just to sleep in a little – and took a taxi from the airport straight to our hotel.
Finding a taxi once you arrive at the airport is a bit confusing. There are two official taxi booths in the arrivals hall, either Taxi Meter or Chiang Mai Airport Taxi. Tell the attendant your address to pay and get a receipt, then head to the outside taxi booth to wait in line for your taxi. This is where it gets chaotic because we couldn't figure out where to stand in line. It seemed like taxi drivers were picking up random passengers in no particular order. After about 15 minutes of waiting, we found a driver who looked like he was coming off a break and asked him if he would take us, luckily he obliged.
If I were re-doing this part of the trip, I'd arrange a private transfer from a car service company, the hotel, or use the Grab app (which is the Uber of Southeast Asia).
Where To Stay In Chiang Mai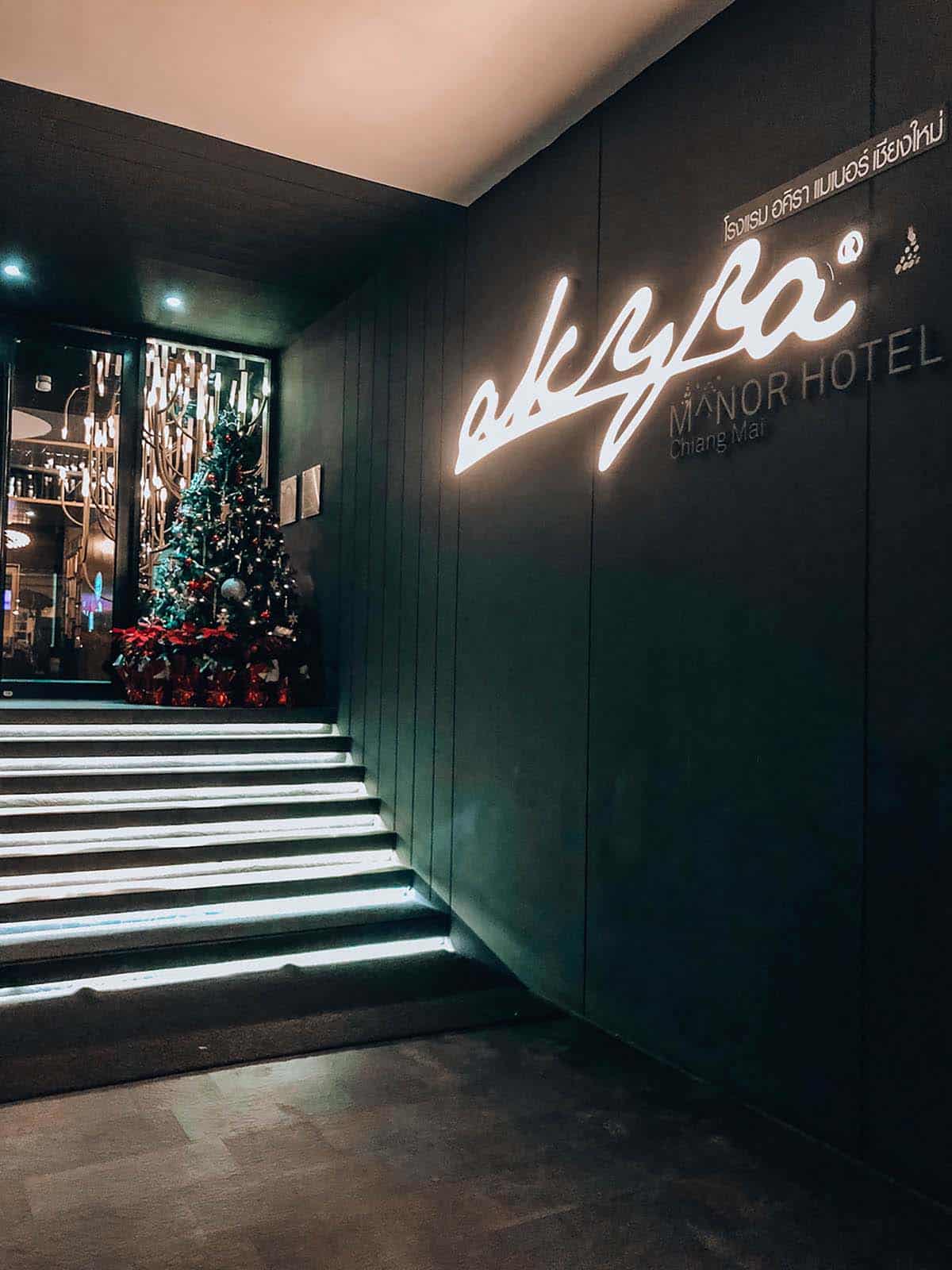 I debated (okay, obsessed) for about two months over where to stay in Chiang Mai. I wasn't sure if I wanted to stay in the Old City, by the Ping River or in the Nimman district. When considering where to stay in Chiang Mai, the Old City is closest to the famous temples, the Ping river has the best views, and Nimman has the best restaurants, hip boutiques and cafes. Where you choose to stay just depends on your location priorities!
I debated over these hotels: Thai Akara (Old City), Ping Nakara or Anantara (Ping River area) and Akyra Manor (Nimman). I had also considered and eliminated 137 Pillars House and the Dhara Devi, both of which looked absolutely incredible but were just too expensive.
All of these hotels are great options in Chiang Mai, but ultimately I chose the Akyra Manor to be closer to the trendy restaurants, for the incredible rooftop pool and for the even-more-incredible giant outdoor tubs in each room. I was so happy with our choice! The rooms were large, clean and comfortable, the staff were so nice and helpful and the included breakfast was delicious. Seriously, the breakfast included two entrees per person, coffee or tea, juice, AND an assortment of pastries and cold buffet items.
Coffee and Brunch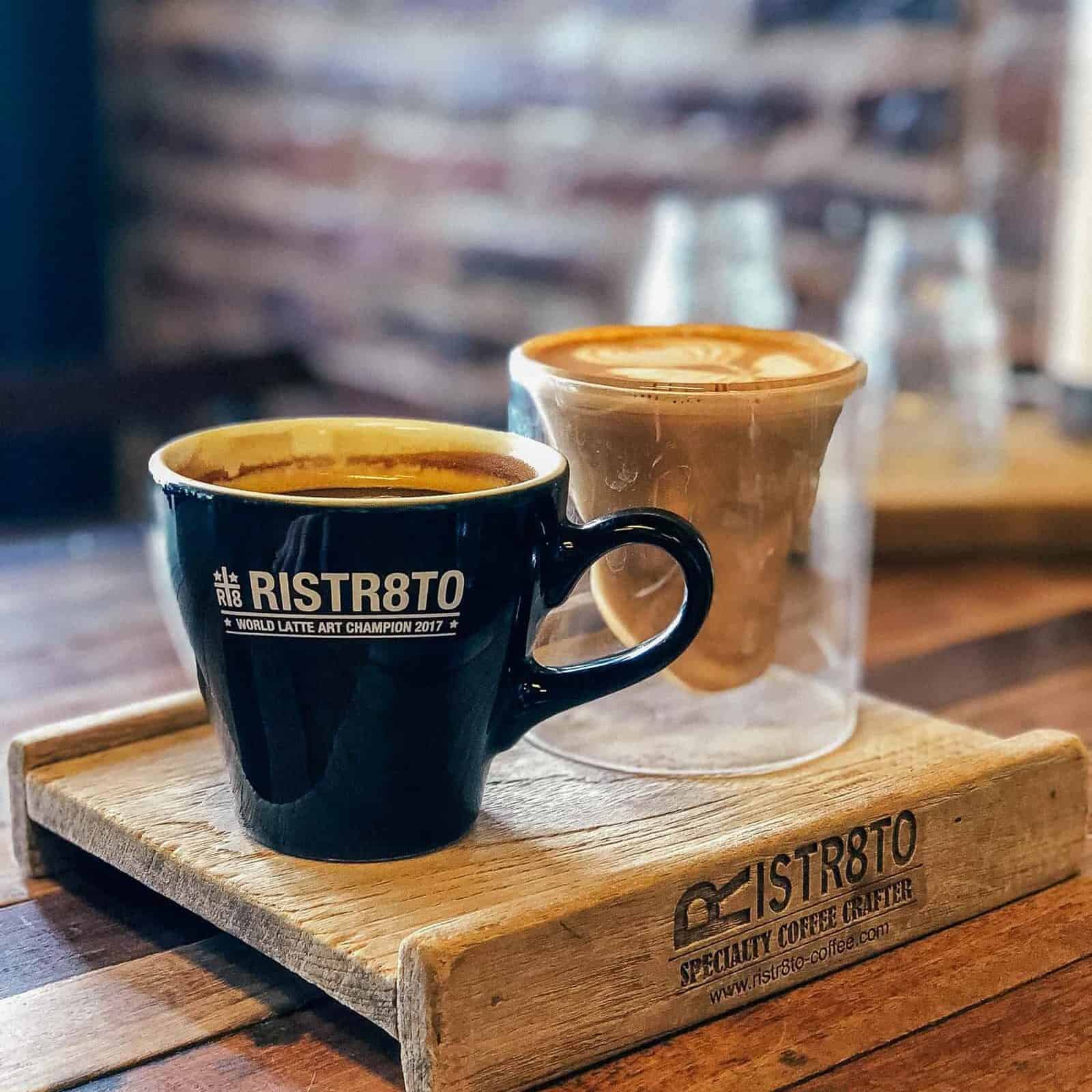 We arrived so early that our room wasn't ready, so we dropped off our bags at reception and went in search of coffee. One of the best things to do in Chiang Mai is to coffee-shop hop thanks to the big coffee/cafe culture in this city. Being unable to function without at least two cups of caffeine a day, I was verrrryyyy excited to experience the famous coffee shops of Chiang Mai. We made a beeline straight for the most famous Chiang Mai coffee shop, Ristr8to Coffee. There are several locations in Chiang Mai, but the original location was right by our hotel on Nimmanhemin Road so that's where we went, and it was delicious! Another famous coffee shop if you're in need of more options is Nine One Coffee.
Then it was time to brunch. It would be pretty hard to go wrong given how many great restaurants there are in Chiang Mai, especially in the Nimman area! We stumbled upon something of a hidden gem though – truly I don't understand why it's not on more of the "best of" Chiang Mai breakfast restaurant lists floating around the internet. It's an adorable little cafe called The Larder Cafe, complete with a small patio out front perfect for relaxing while you enjoy your Parmesan scrambled eggs (because that is what you should order).
Also side note, Chiang Mai is a gluten-free gal's HEAVEN! Healthy eating is big in Chiang Mai and almost everywhere we went had gluten-free, dairy-free or vegetarian/vegan options.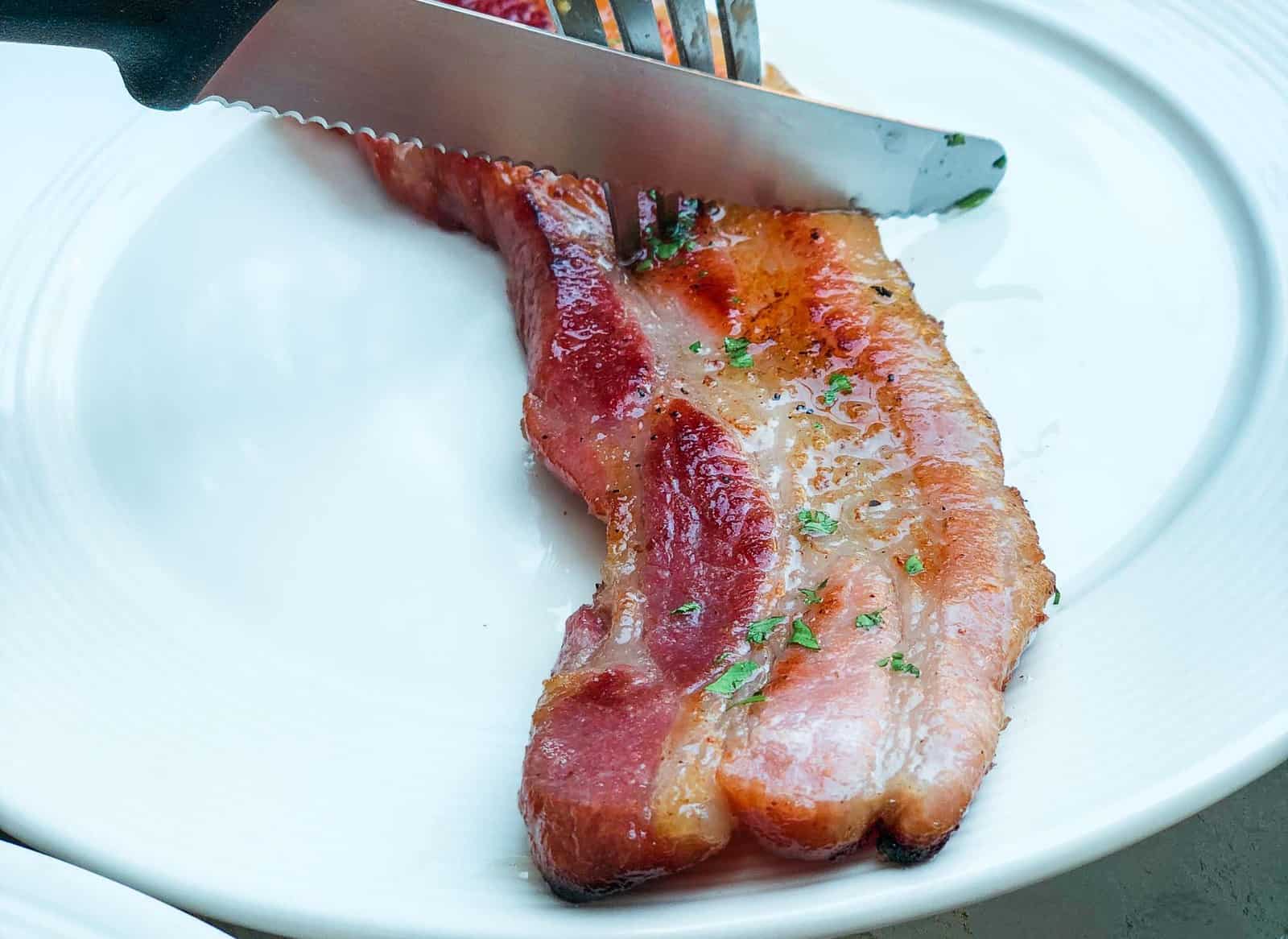 Thai Massages at Fah Lanna Spa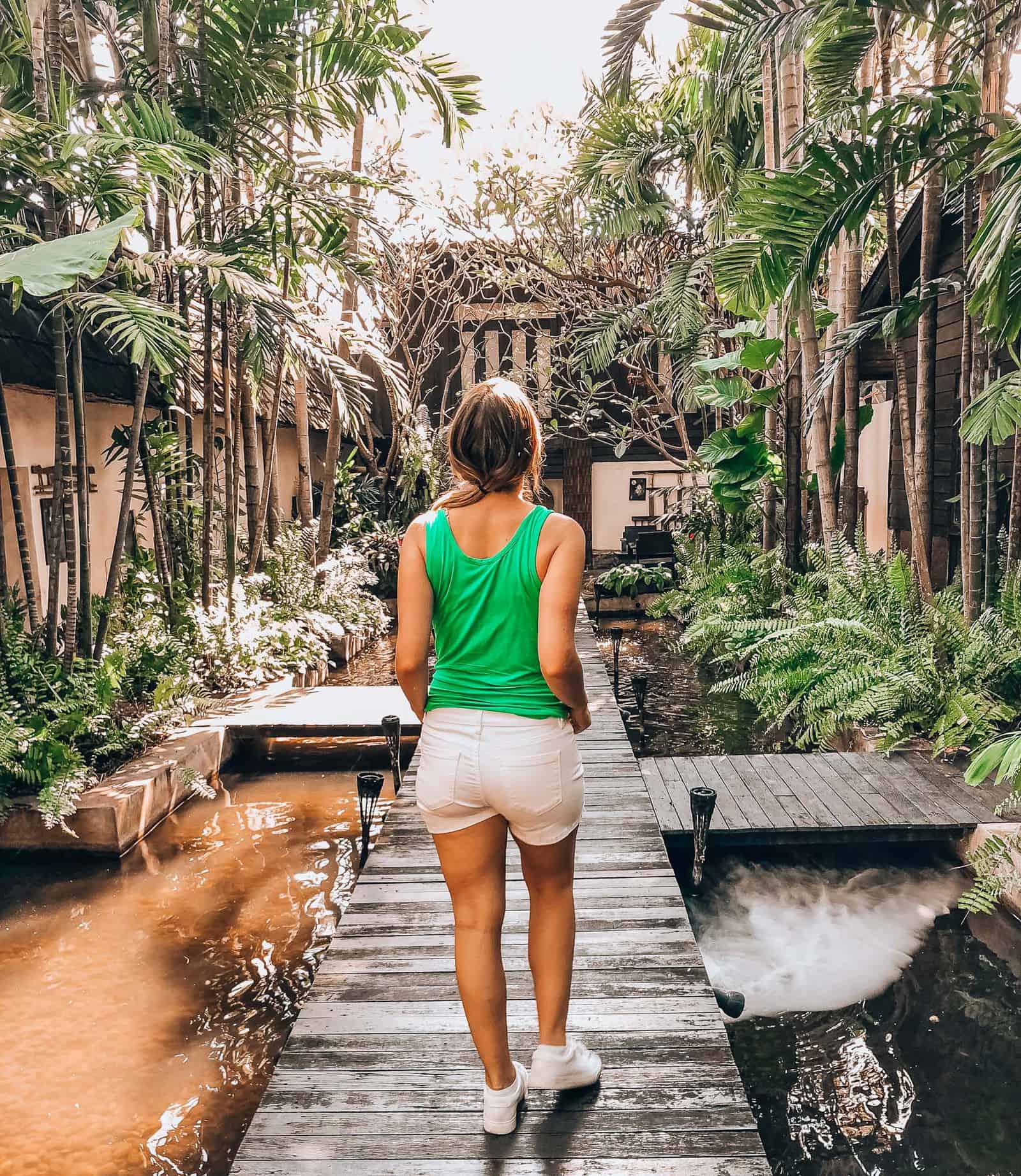 After brunch, I had pre-booked traditional Thai massages for us at Fah Lanna spa in the Old City. Fah Lanna is a beautiful garden oasis of a spa in the traditional Lanna style – think lots of water elements, teak and bamboo. There plants and greenery everywhere and walkways over streams to get to the treatment rooms. They have multiple locations including a new one in Nimman which would have been closer to our hotel, but one great perk of Fah Lanna is they offer complimentary pick up and drop off from your location / hotel!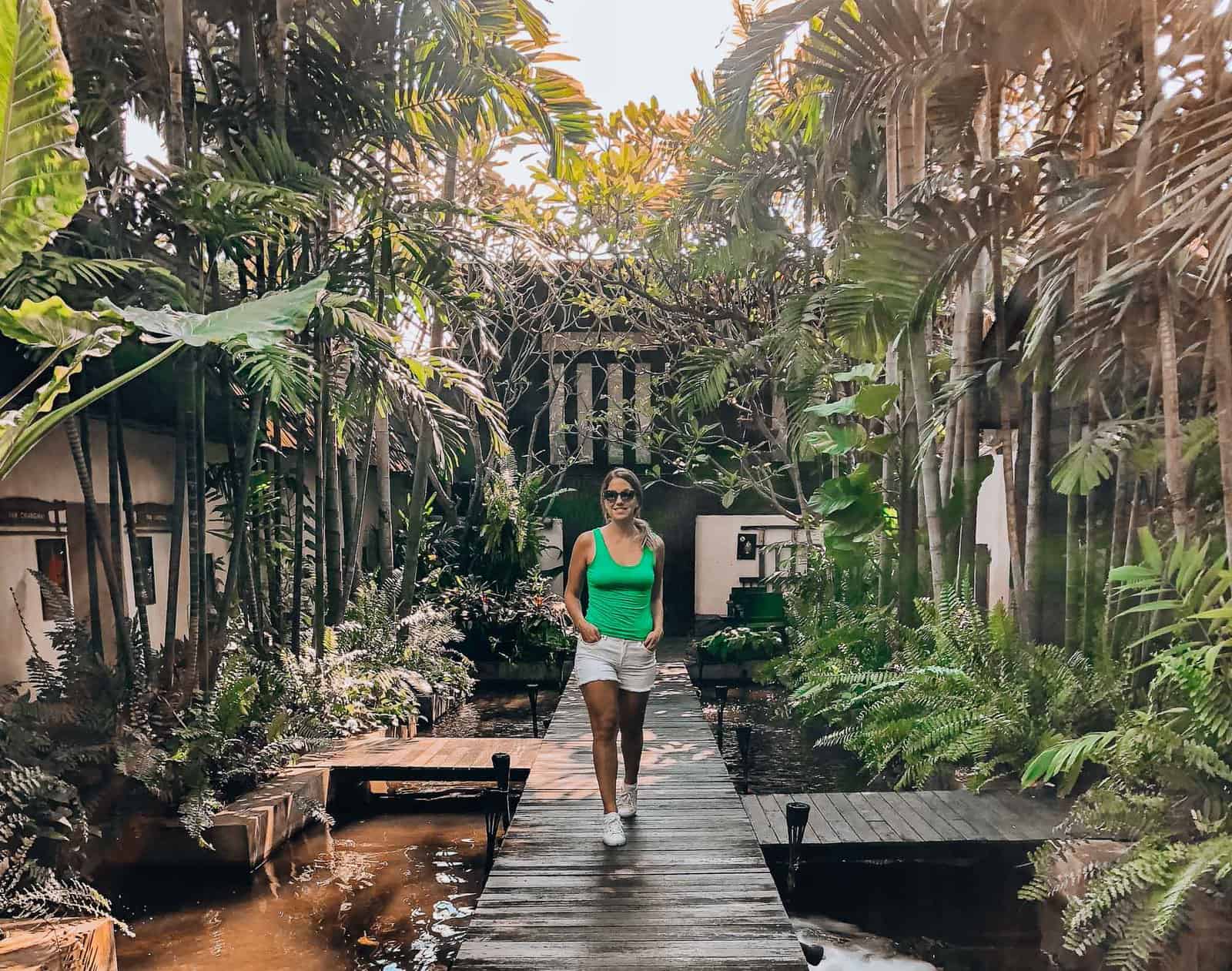 Thai massages are different from a typical massage in that you wear loose clothing provided by the facility and the focus is on stretching and lengthening the limbs – you'll be pulled and twisted in multiple directions but it feels oh-so-good.
Following our amazing massages, Fah Lanna attendants will bring you their shop / relaxation area where they serve the most delicious ginger tea I've ever had. I drank three cups and bought a package to take home!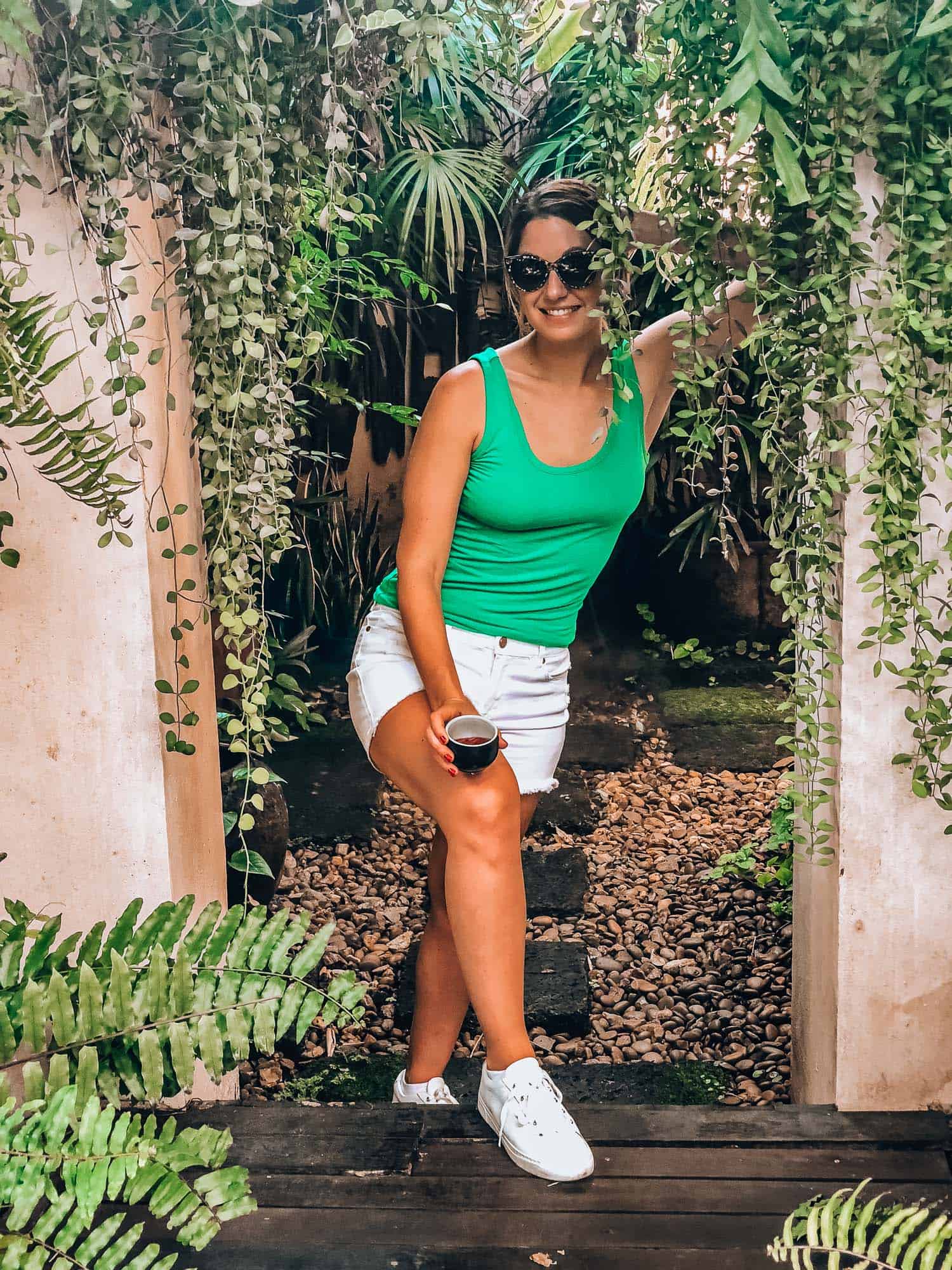 When we were ready to go back to the hotel, the complimentary shuttle service promptly arrived to bring us back to Akyra Manor. Our room was ready when we arrived, so after getting settled in our spacious room, we went up to the rooftop pool to relax.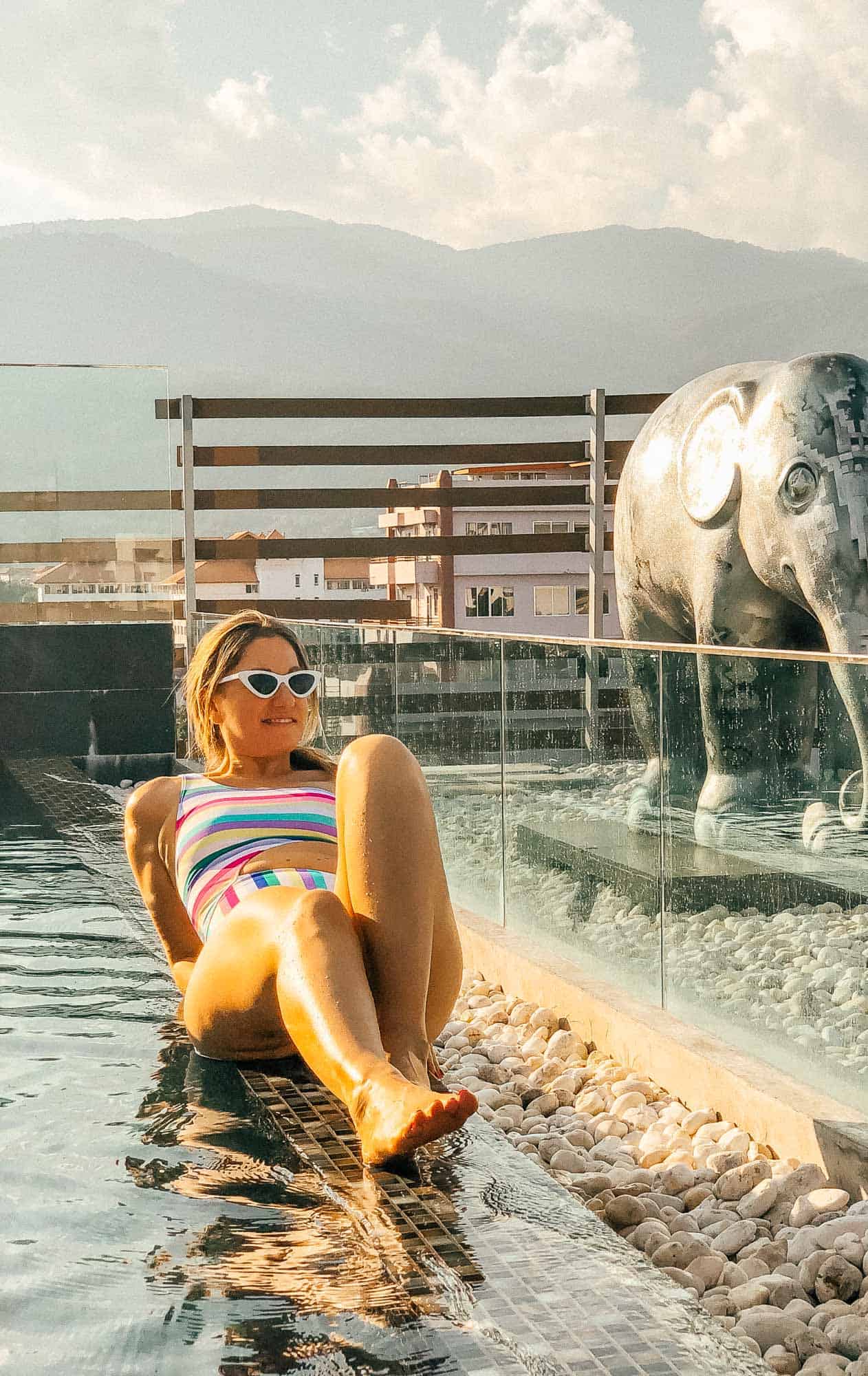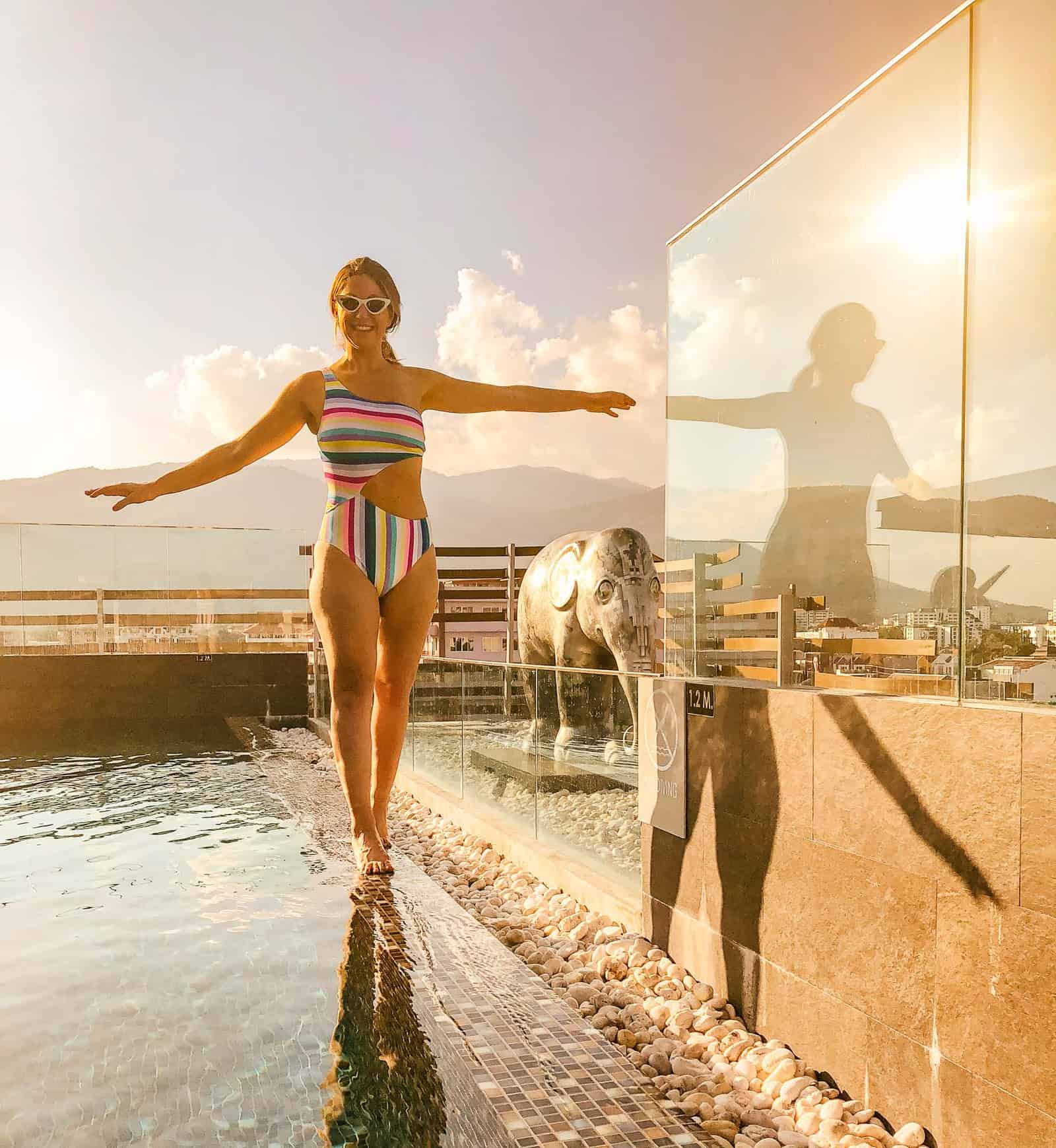 The Sunday Market (Walking Street)
Every Sunday in Chiang Mai, starting from around 4:00 PM, there is an enormous market that takes over Ratchadamnoen Road, starting from the Tha Phae Gate of the Old City and extending a little over a half mile down the road. It's enormous and crowded and crazy fun to wander past all the stalls selling their tchotchkes and street food.
Keep in mind that the Sunday Market is different from the Night Bazaar, which is open every night of the week, and is more focused on Northern Thai craftsmanship and local goods. JB and I spent about an hour walking through the market, enjoying some sticky rice (for me) and satay (for JB). The market starts to get repetitive once you've walked a few lengths, especially if you're not in the market to buy much. If you're looking for little souvenirs to bring home, this is a great place to stock up!
It was a happy accident that we stumbled upon a lantern ceremony. Monks released lanterns into the sky as part of the last night of the Loy Krathong / Yi Peng festival, a festival held every year on the full moon in the 12th month of Thai Lunar calendar. It was mesmerizing and beautiful, and I'm so glad we got to see it!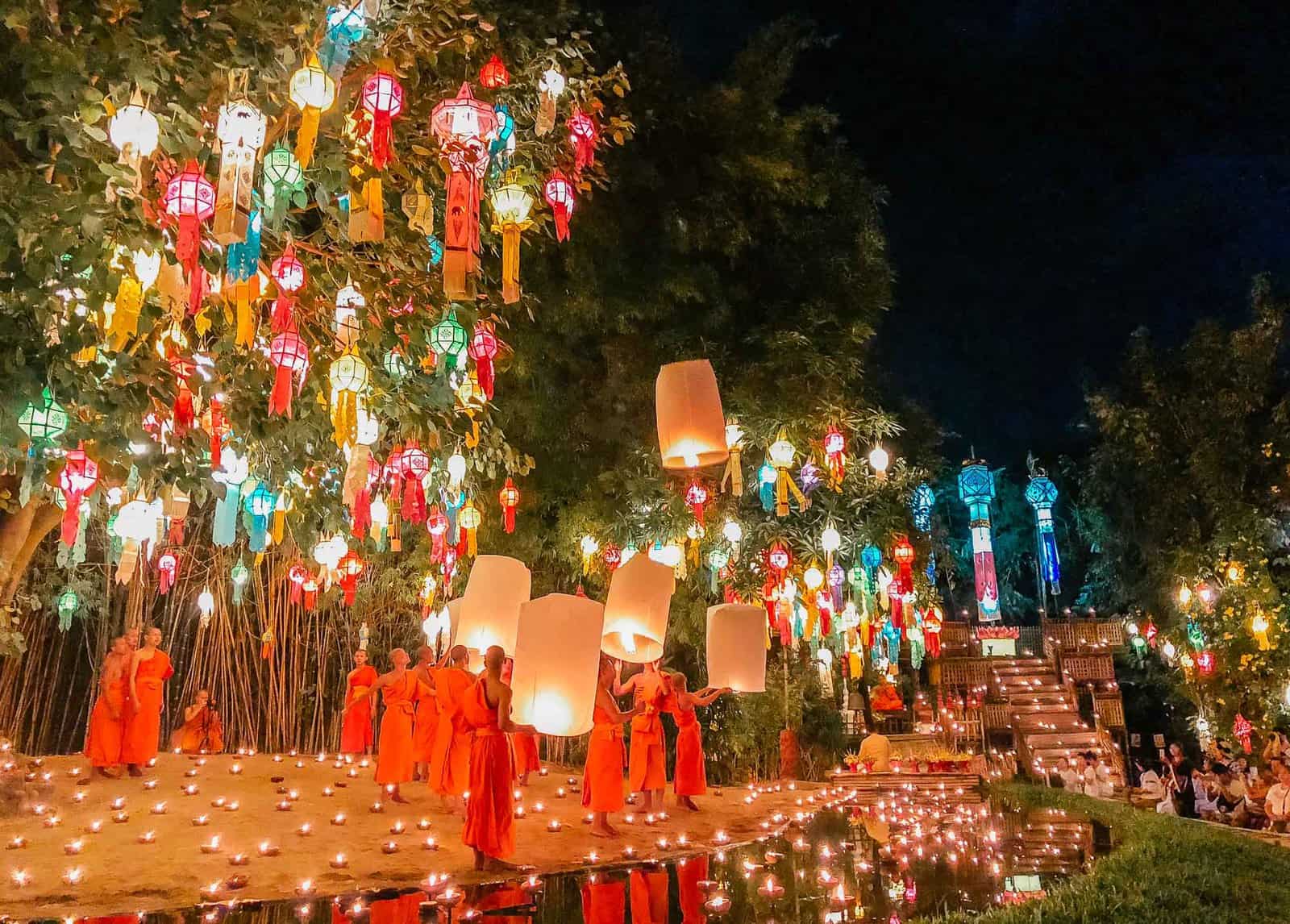 Next, we hopped into a Tuk-Tuk to get a light dinner at Sababa, an Israeli restaurant that had great reviews and an extensive gluten-free menu by the river. Sadly, it was nothing to write home about as both the food and the ambiance were quite average. In hindsight, I would have tried more stalls at the Sunday market or stopped at whatever restaurant looked interesting back in the Nimman neighborhood.
Chiang Mai Itinerary Day 2
Visiting The Elephant Nature Park (AKA The Best Day Ever)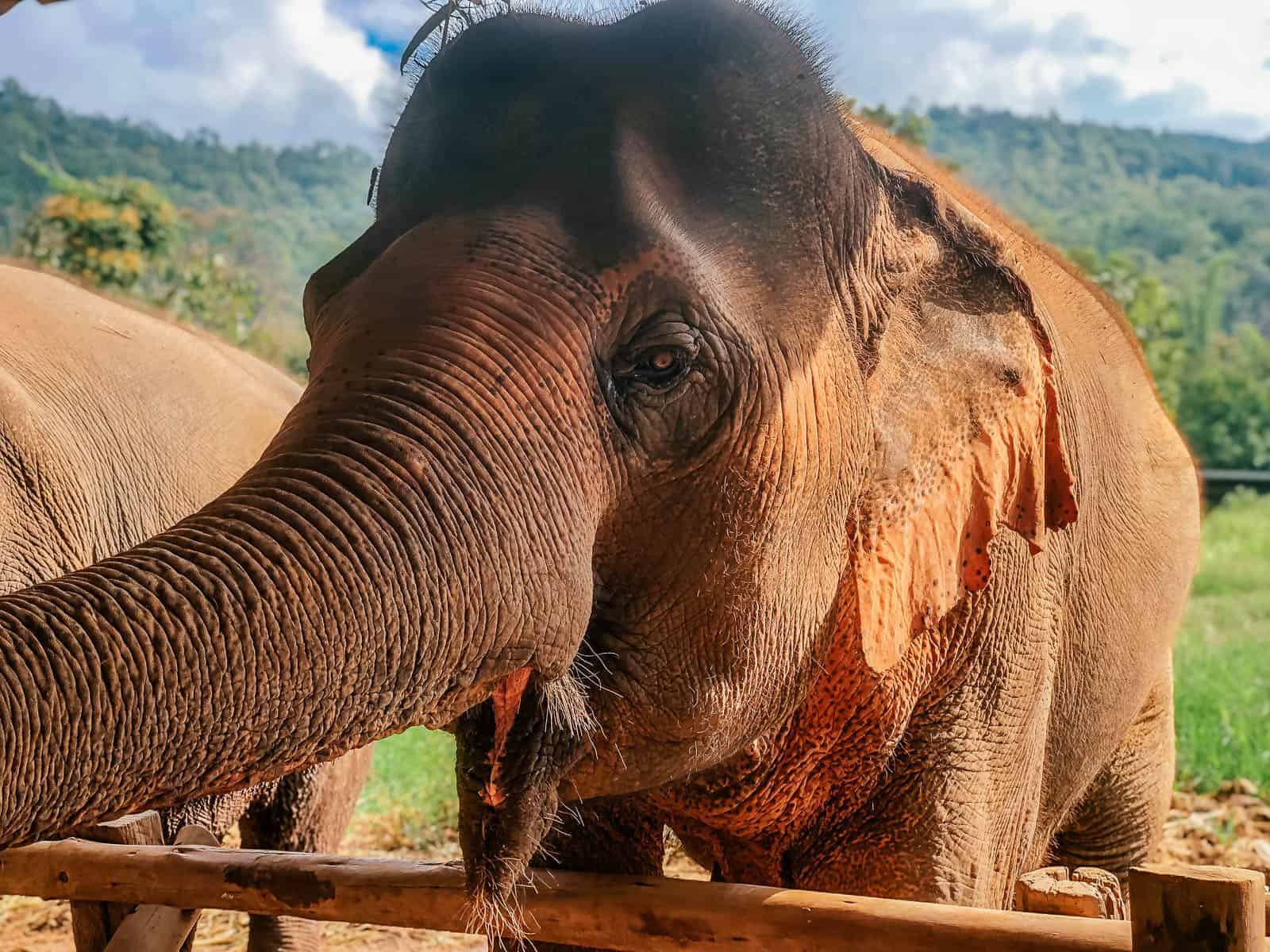 Day 2 of our 4-day Chiang Mai was a full day trip to the Elephant Nature Park and it was absolutely magical. Visiting an elephant sanctuary is one of the most popular activities to do in Chiang Mai, but please, please do your research and choose a facility that is truly a sanctuary and does not, under any circumstances, allow elephant riding. Elephant rides are extremely popular tourist activities in Southeast Asia, however elephant abuse is common and riding is very painful for the elephants. I assure you, you can still have a completely magical day with these gentle giants without riding them.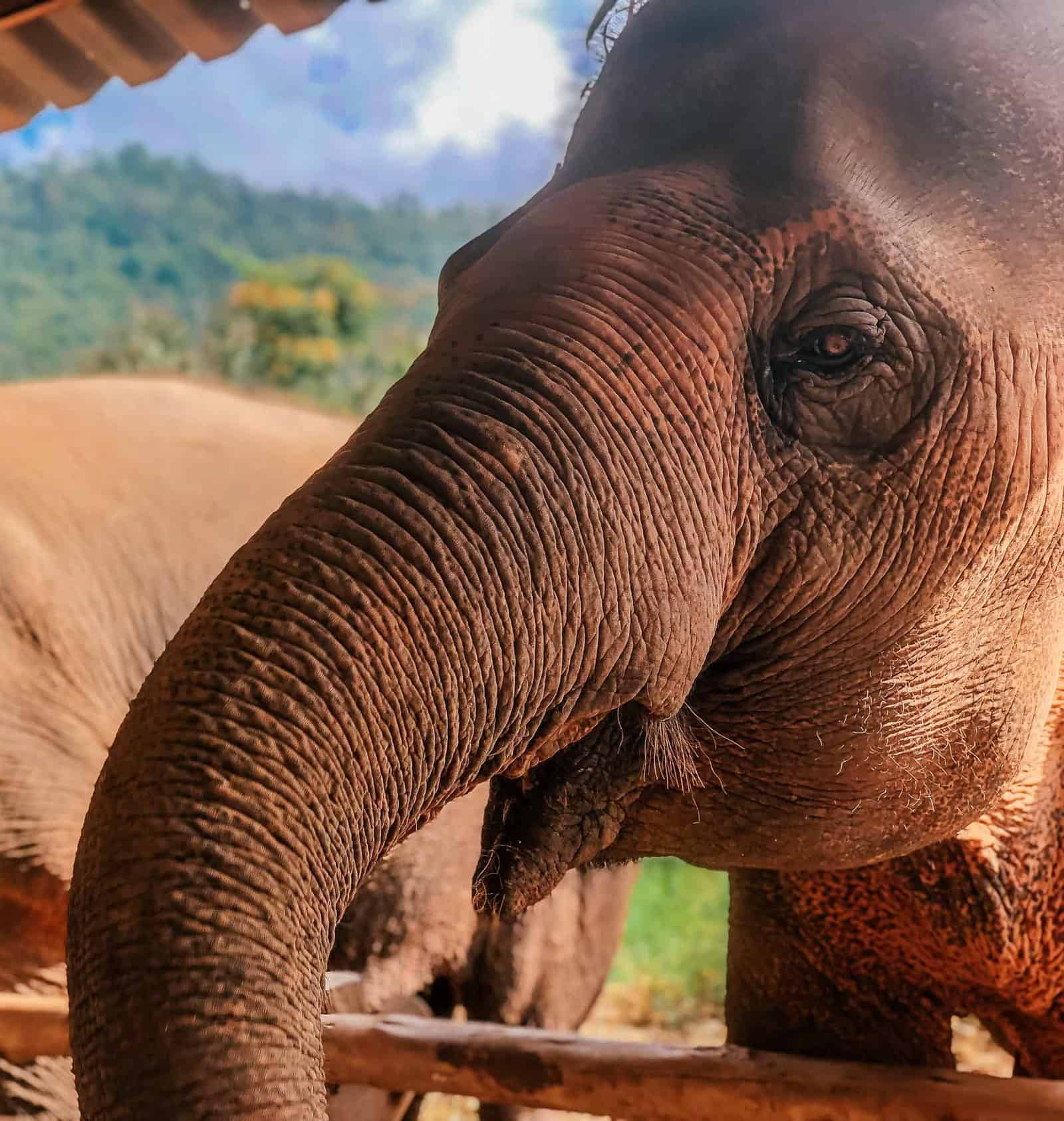 In fact, I'm not even sure if words can describe how much fun Day 2 in Chiang Mai at the Elephant Nature Park was. I'm mostly going to let the pure joy on my face in all the pictures speak for itself.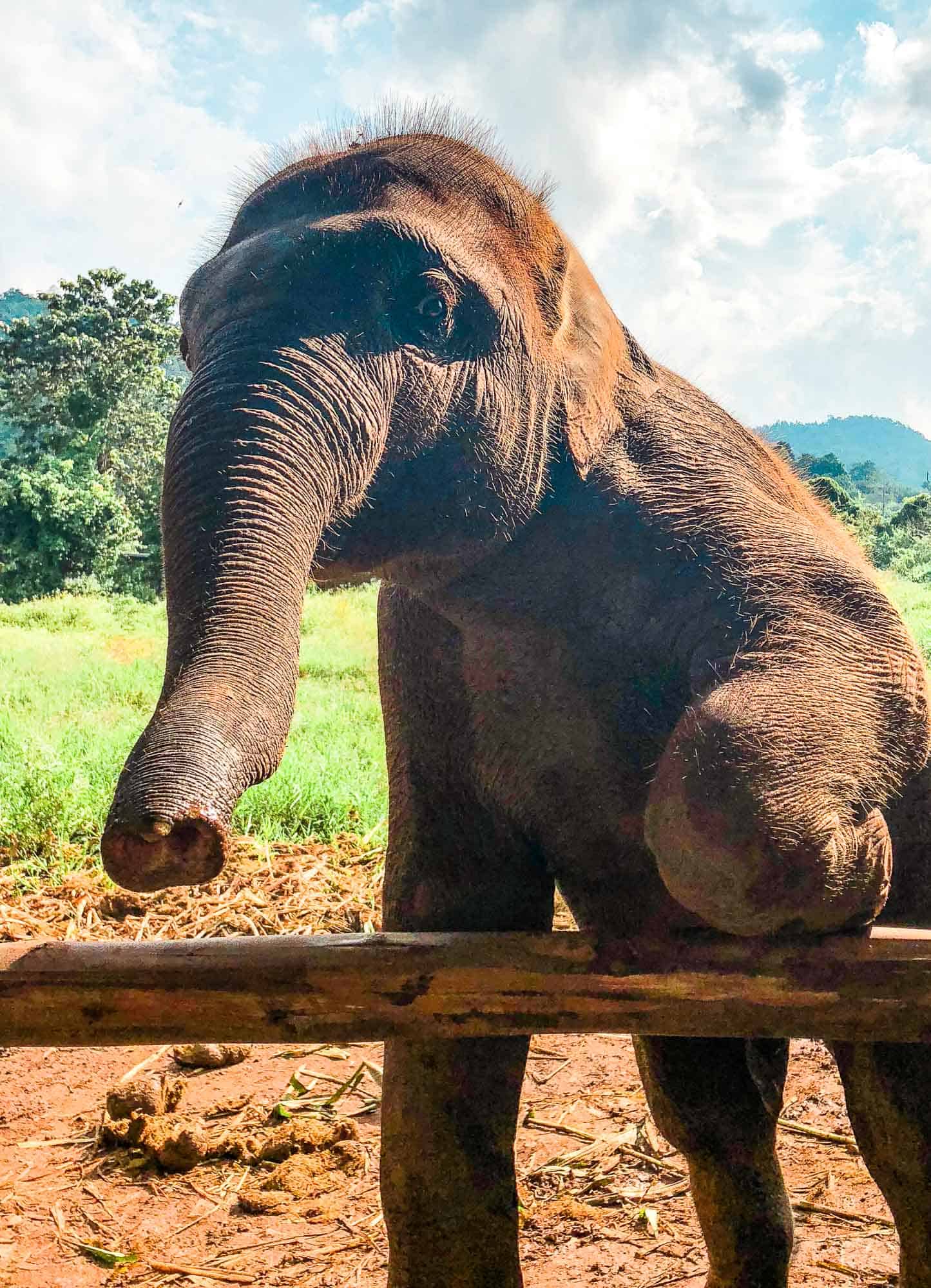 I spent a ton of time researching the various ethical animal sanctuaries and finally landed on Elephant Nature Park due to the thousands of overwhelmingly positive 5-star reviews. I researched their animal care practices and I was excited that they offered so many programs with different types of experiences.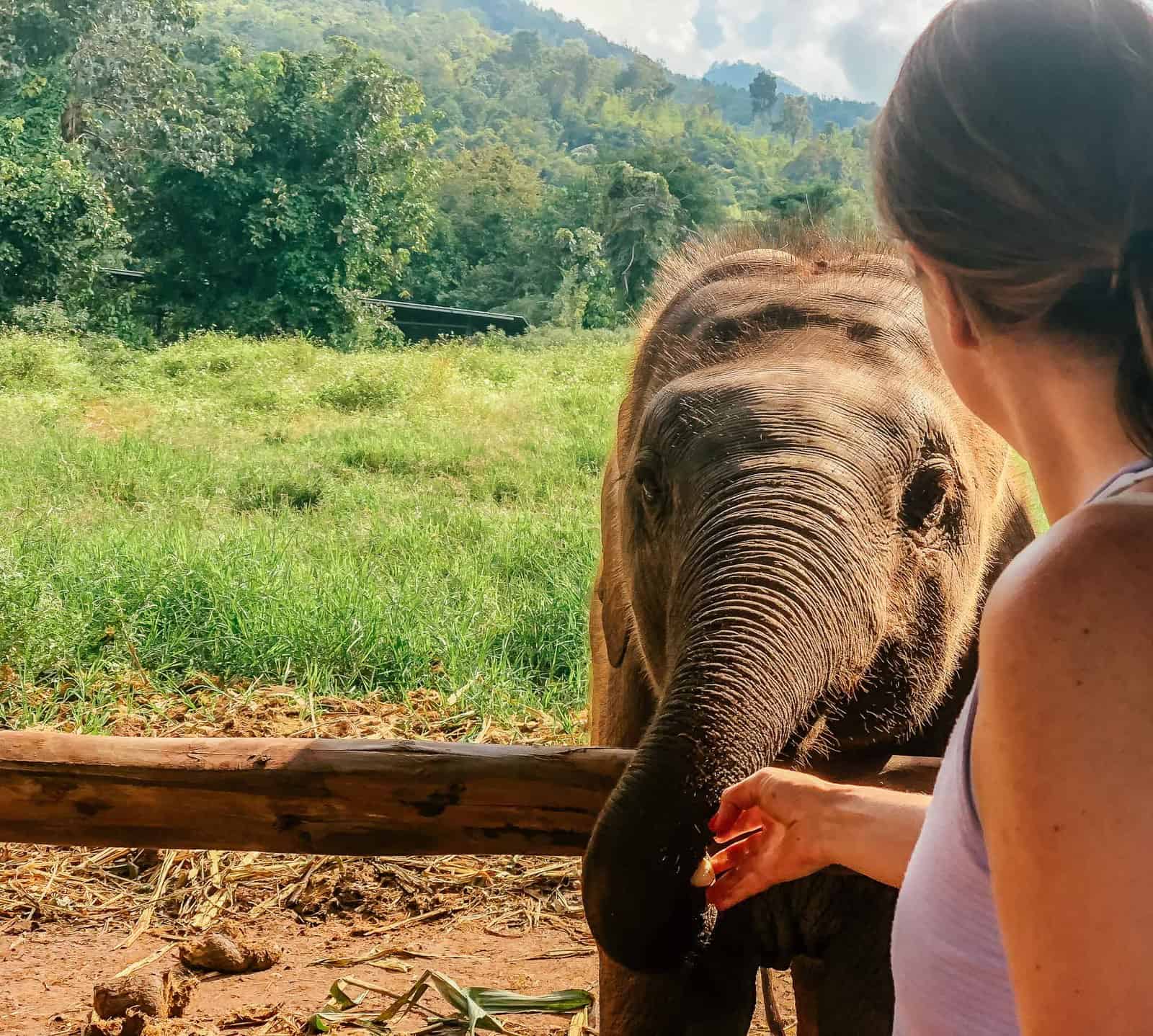 After reading through hundreds and hundreds of the TripAdvisor reviews, I decided to sign up for the Elephant Freedom Single Day tour. Note that not all tours are available on each day and the earliest you can sign up is 60 days from your desired date. I wanted to be immersed in the jungle and wildlife, and spend time with the elephants in as natural a habitat as possible.
Some programs that only visit the sanctuary do not include hiking experiences with the elephants in the jungle, so read the program descriptions carefully! I also appreciated that the purpose of the Elephant Nature Park's special programs like this one were to educate other elephant owners (called mahouts) in Northern Thailand that they can earn a living with their elephants without riding.
The Elephant Nature Park offers round trip transportation to and from your tour's destination (whether it's at the main sanctuary or a local village like ours. Our guide picked us up promptly at 8:00 AM in an air-conditioned van with several others on the tour.
Many reviewers referenced seeing a sad and tragic video detailing elephant abuse in Thailand, but during our hour and half drive to the starting point, we did not see this video.
Feeding The Elephants
Upon arrival at the local village – I suppose 'farm' might be a better way to describe the location – we met the mahouts and others who worked with the elephants. We began preparing food per the instructions of the workers – washing bananas and chopping sugarcane.
Then we carried the food over to a large open field with some wooden rail-type barriers set up (so the elephants wouldn't trample us in search of food as we fed them) and we met the gorgeous creatures. Our friends for the day were a grandmother, mother, and two baby elephants – a boy and a girl. Man, were they hungry!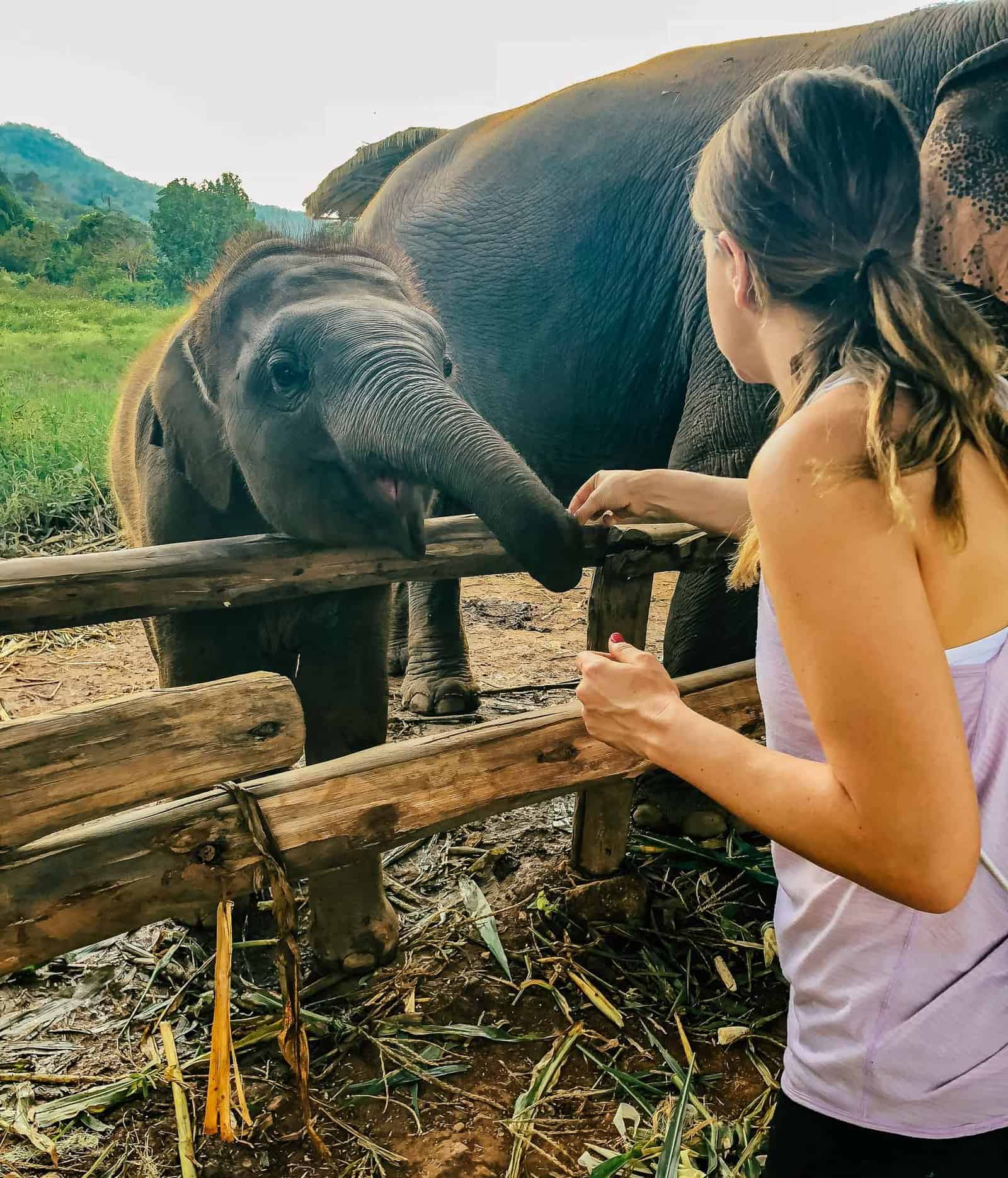 Did you know that elephants can spend 12-18 hours a day eating and can eat between 200-600 pounds of food a day? Creatures after my own heart, for sure.
We fed them until we ran out of food, and then began our jungle walk. When I tell you I was literally walking next to a baby elephant with my hand on his shoulder, I am not exaggerating.
Elephant Jungle Walk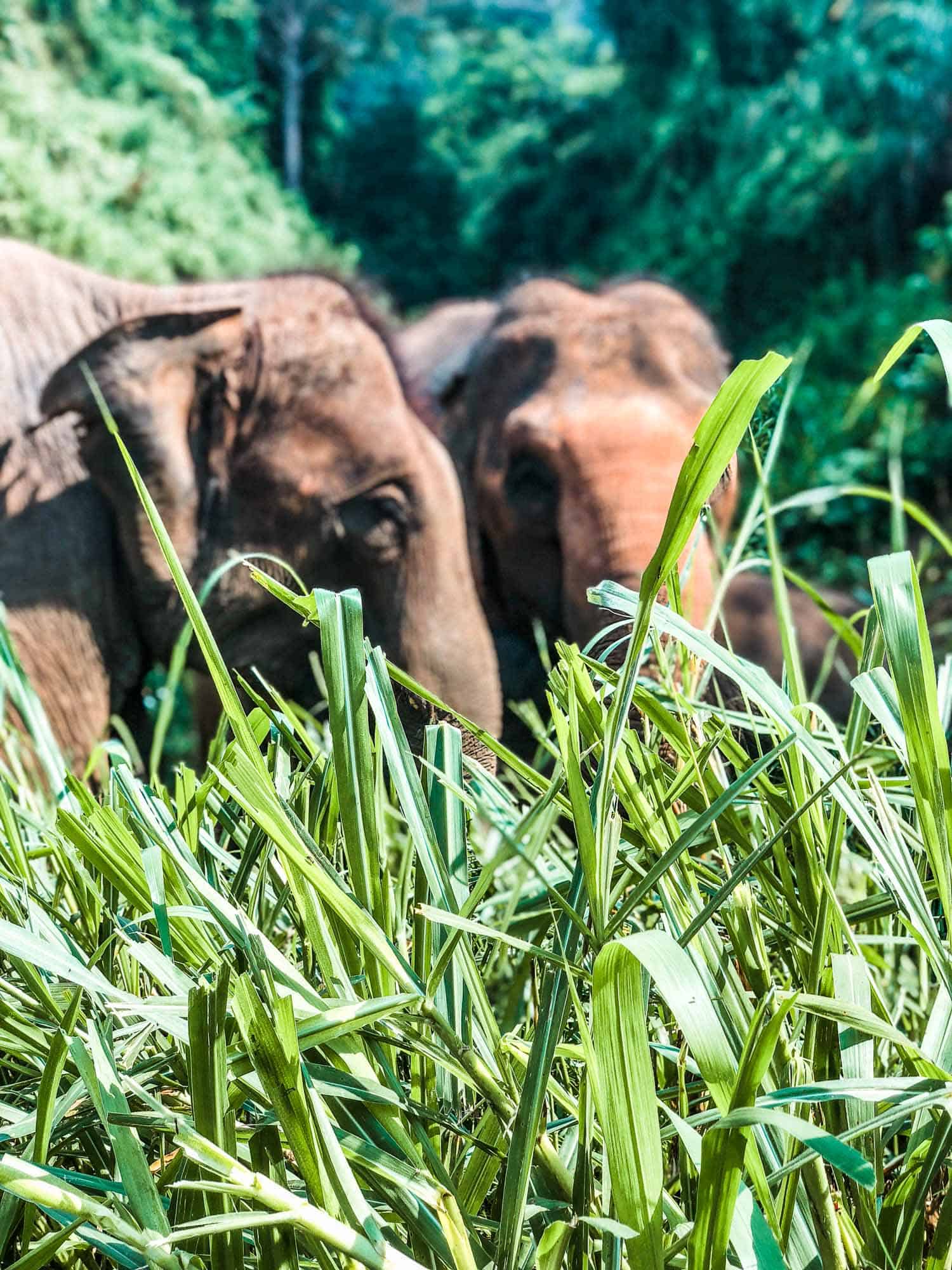 This was up close and personal with the elephants and I loved every second of it!
JB and I felt totally safe and taken care of the whole time, although the baby boy elephant definitely liked to "play" and could get rowdy so the mahouts had to intervene occasionally. I mean, talk about the death stare to end all death stares. One look from the mahout to the baby boy elephant was enough to have him sheepishly backing off.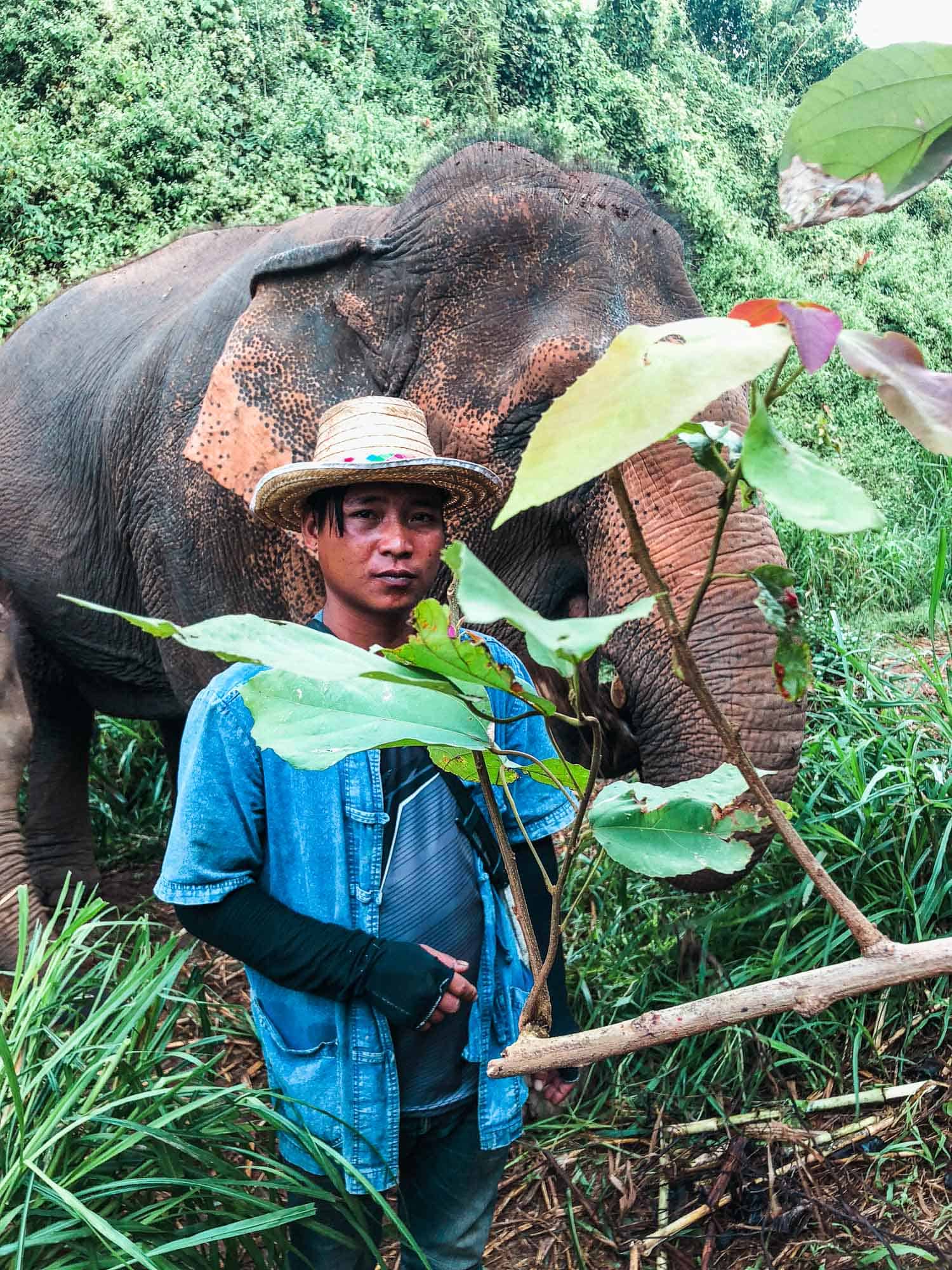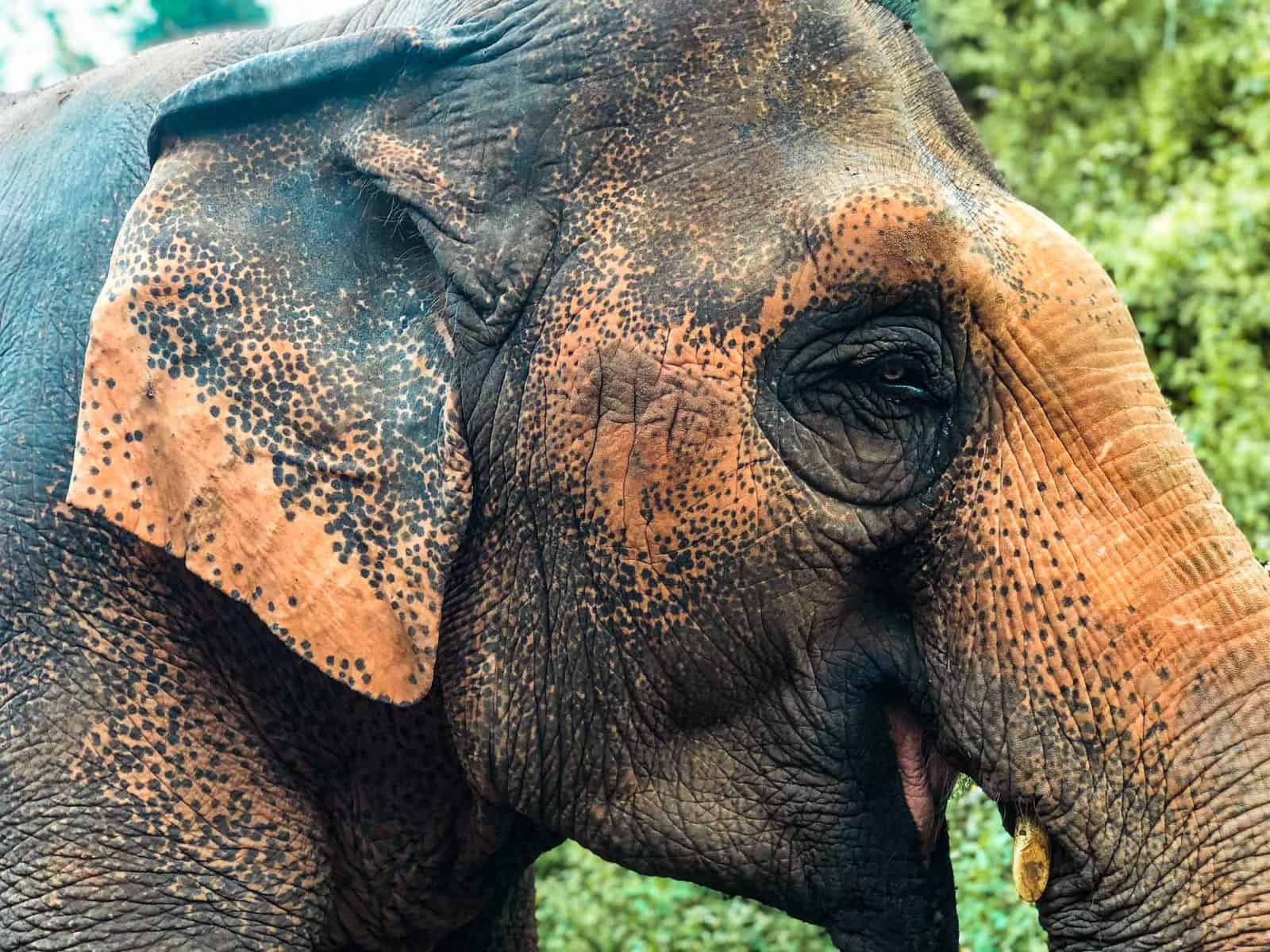 After about an hour walking in the jungle with the elephants we went back to the main camp for lunch. I had let Elephant Nature Park know when I purchased our tickets about my gluten allergy and they had prepared a special plate of rice and vegetables just for me, which was absolutely delicious! The Pad Thai, papaya salad and other lunch items JB tried were also delicious, so you will definitely not go hungry!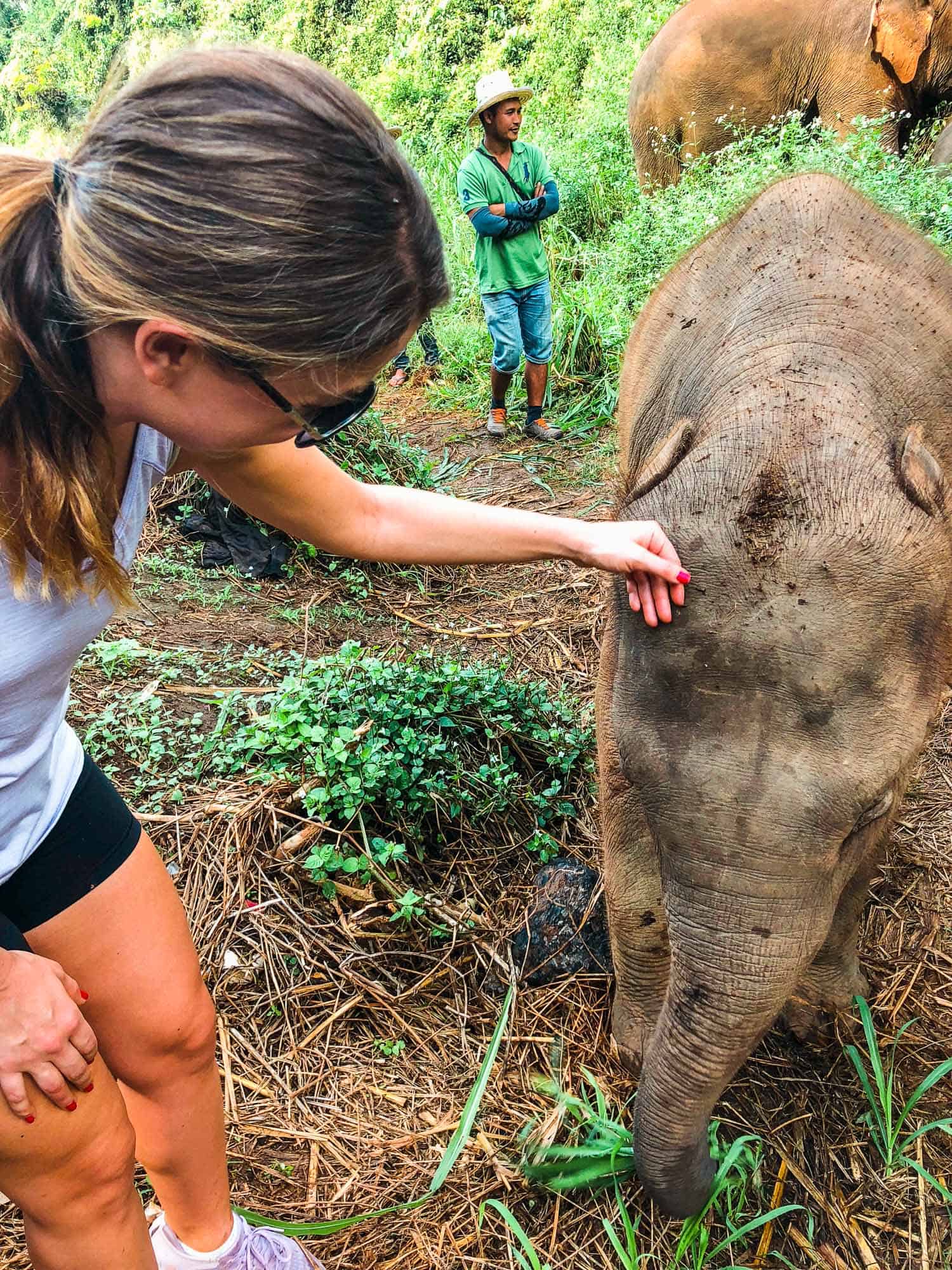 River Bathing With The Elephants
Following lunch was my favorite part of the day – we got to bathe the elephants! We went on a long walk across a meadow and shallow river to meet the elephants at their favorite bathing spot.
Chiang Mai Itinerary Pro Tip:
Bring a change of shoes to change at lunch! JB and I wore sneakers in the morning and at lunch changed into Tevas that we bought especially for this day. Do not think you'll be fine in regular sandals or flip flops – you need an ankle strap or sturdy water shoes for this part of the day.
At the river bathing spot, we received buckets and instructions to wait for the elephants to arrive. I was so eager to get in the water with them I was practically jumping out of my skin. JB's likes to say his favorite part of the day was watching me charge into the water where moments earlier, we saw the mama elephant relieve herself with a stream of urine that would rival a fire hose.
He could not believe I ran straight into a river full of elephant excrement, but I figured, in for a penny in for a pound! and dove right in. I was already filthy anyways. None of these clothes were coming home in my suitcase with me.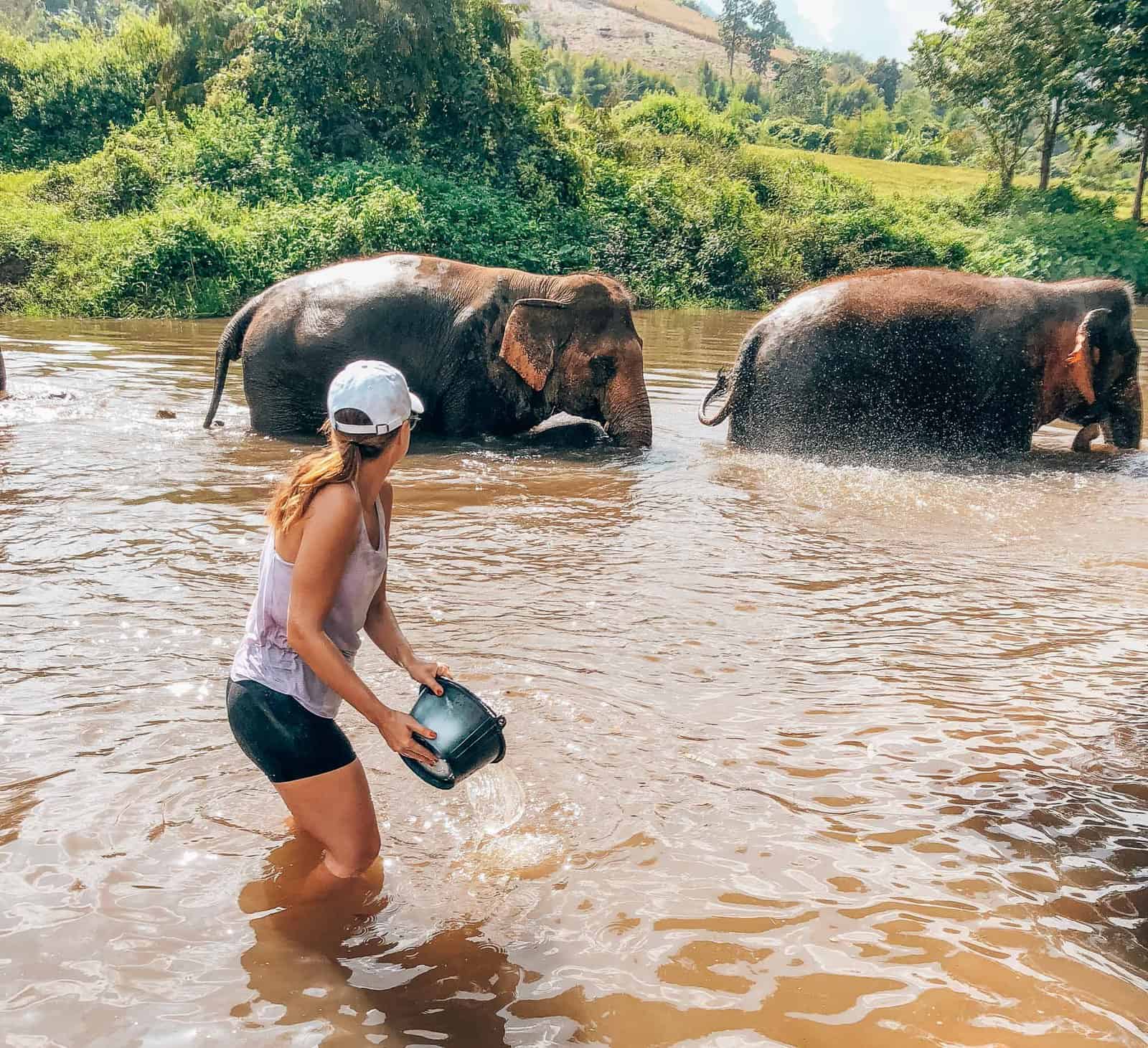 Chiang Mai Itinerary Pro Tip 2:
Bring a set of cheap workout clothes that you don't mind getting messy and tossing rather than bringing home.
It took a little while to get the hang of how to fling the water at the elephants (or maybe that was just me??!) but once I did, it was so much fun to play with the elephants in the water and see how much they enjoyed cooling off in the river.
Finally, it was time to walk with the elephants again to a different part of the camp and say goodbye. We were picked up in a standing-room only tractor to drive back to the main camp (be forewarned) where we collected our things. Then we piled into the van to head back to the hotel, utterly content from our day with these gorgeous creatures.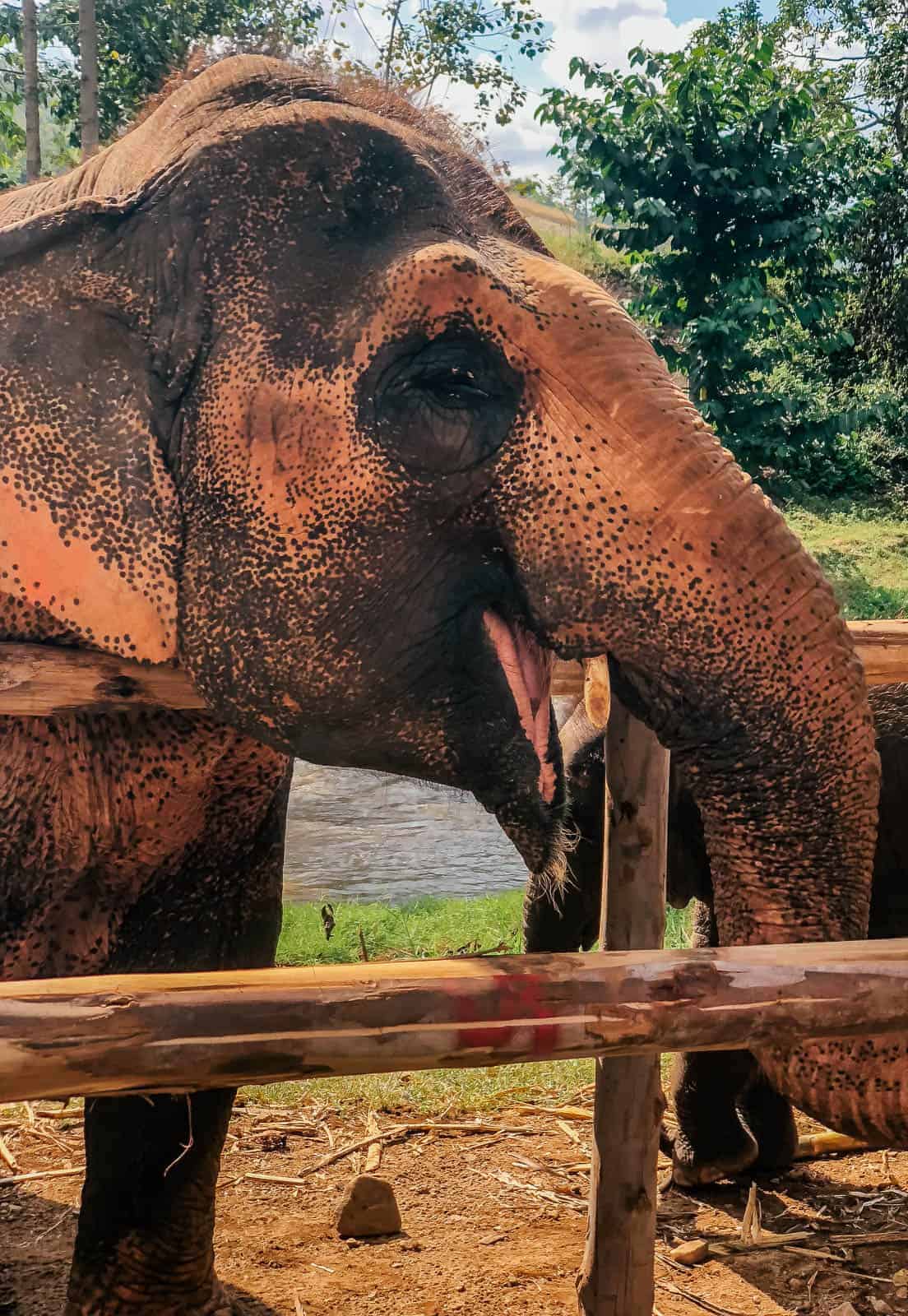 Let me tell you, my shower when I got back to the hotel was epic. It felt sooooo good to get clean and wash off the mud and dirt from the day!
For dinner, we walked to nearby Kao Soy Nimman for dinner. I convinced the restaurant to prepare my Khao Soi with rice noodles and no soy sauce, which was tasty but spoiler alert: keep reading because there was no comparison to the Kaho Soi we had for lunch on Day 3.
Chiang Mai Itinerary Day 3
Chiang Mai Old City Temples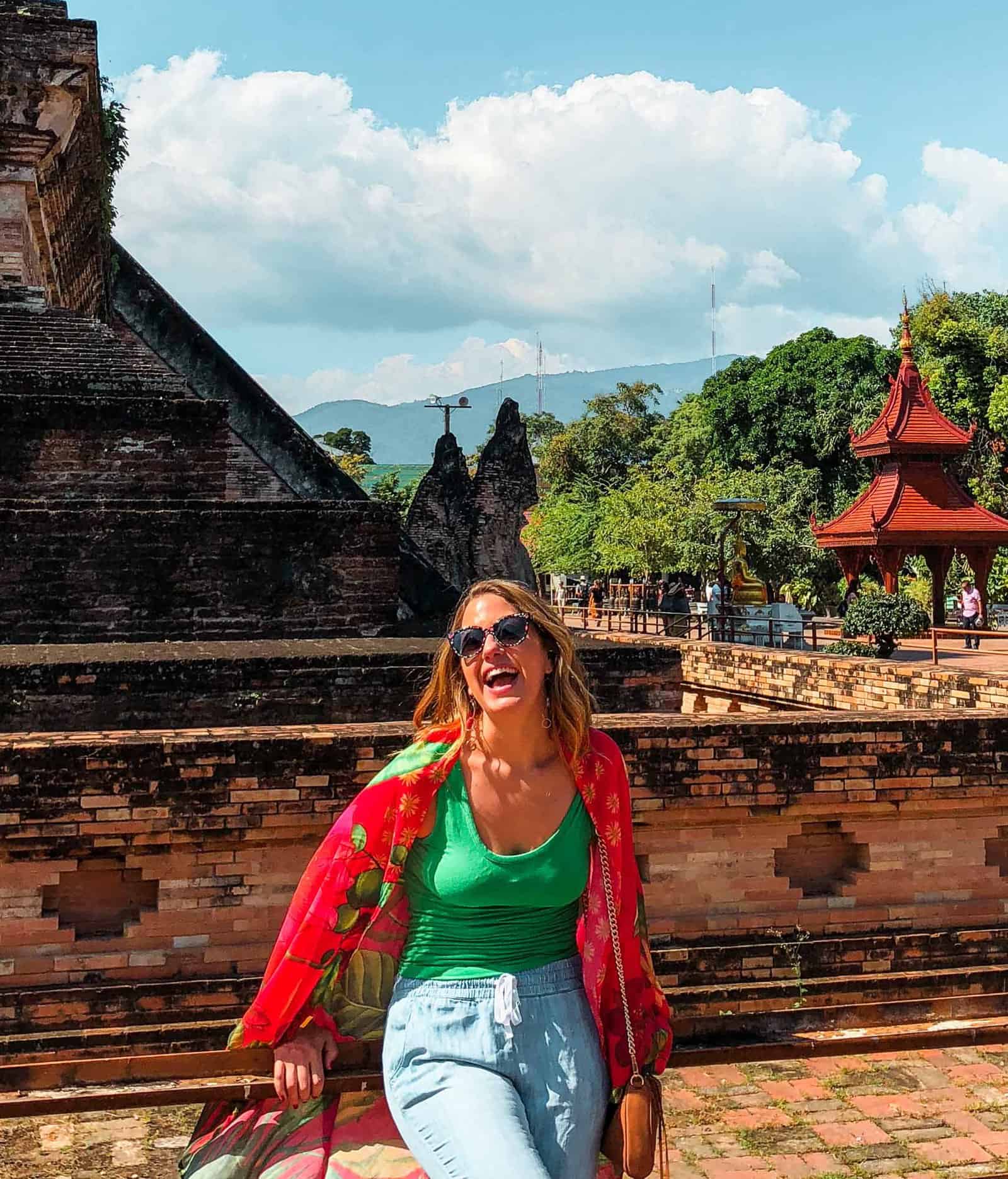 Chiang Mai's Best Breakfast And Old City Temples
The plan for our third day in Chiang Mai was to leisurely explore the temples and sites of the Old City. And mostly importantly, take a trip to what is arguably the most famous spot for Khao Soi in Chiang Mai – and then attempt to convince the old lady behind the folding table under the tent in the parking lot to make her signature dish gluten-free for me – but more on that shortly.
But first, coffee and breakfast at Rustic and Blue, which you've undoubtedly already heard of because it's on every "best places to eat in Chiang Mai" list. Let me tell you, Rustic and Blue was not one of those overhyped, overpriced trendy restaurants that locals like to laugh about how all the tourists are getting suckered. Rustic and Blue is legit. Absolutely delicious farm-to-table Western food with plenty of gluten-free, dairy-free, vegetarian and vegan options. It was so good in fact, that we went back on our last night for dessert, and ohmygod the homemade gluten-free peanut butter chocolate ice cream.
Silver Temple, Wat Chedi Luang And Wat Phra Singh
After breakfast, we hopped in a Tuk-Tuk to our first temple stop, the Silver Temple, also known as Wat Sri Suphan. Women are not allowed inside the temple (seriously? It's 2019!) but I still recommend stopping by because it's one of the most unique temples we visited during our trip, thanks to the entirely silver metallic exterior.
Once I finished with my photo shoot of the exterior, JB went inside the temple, and I sat outside and took selfies ;P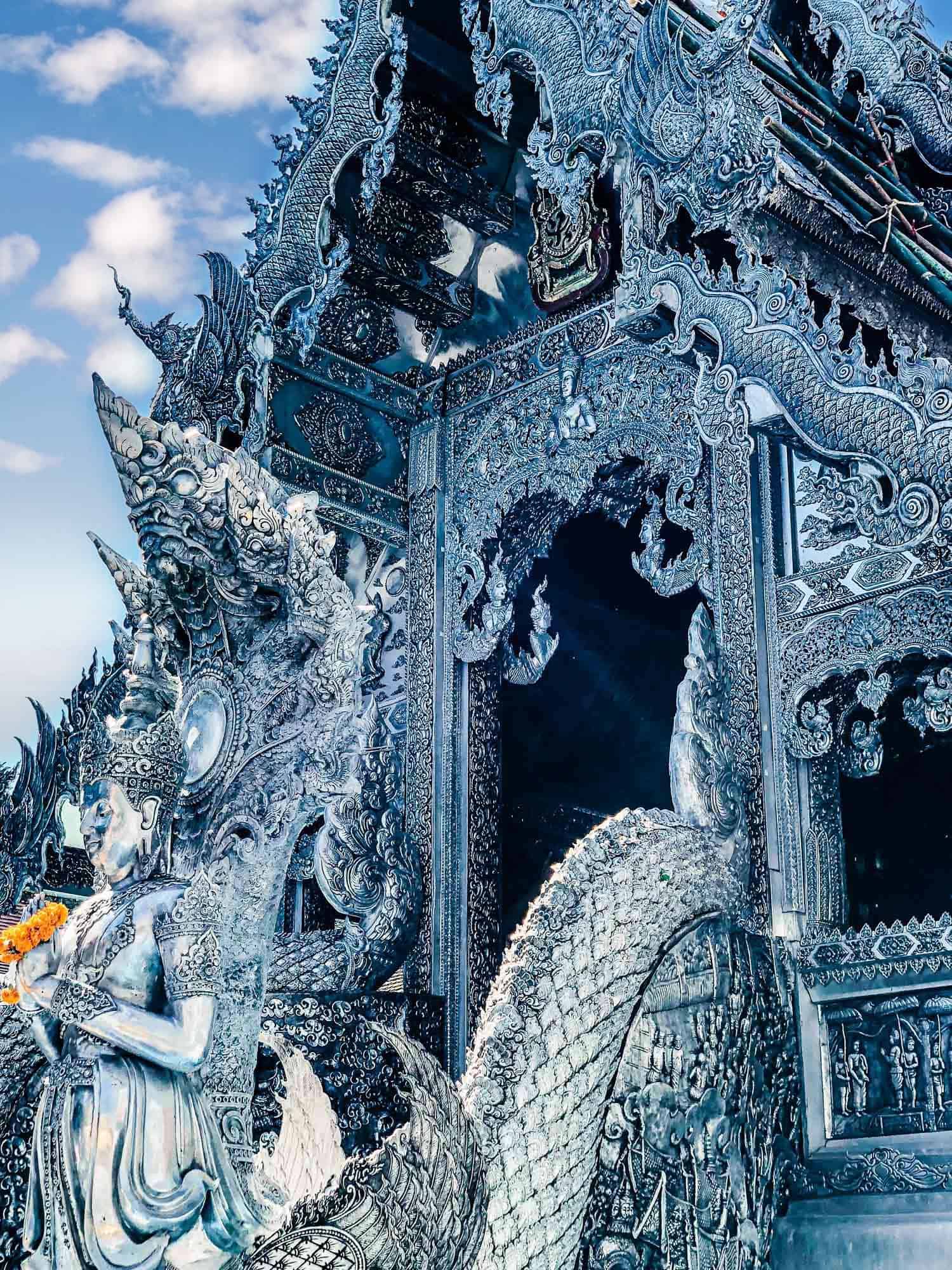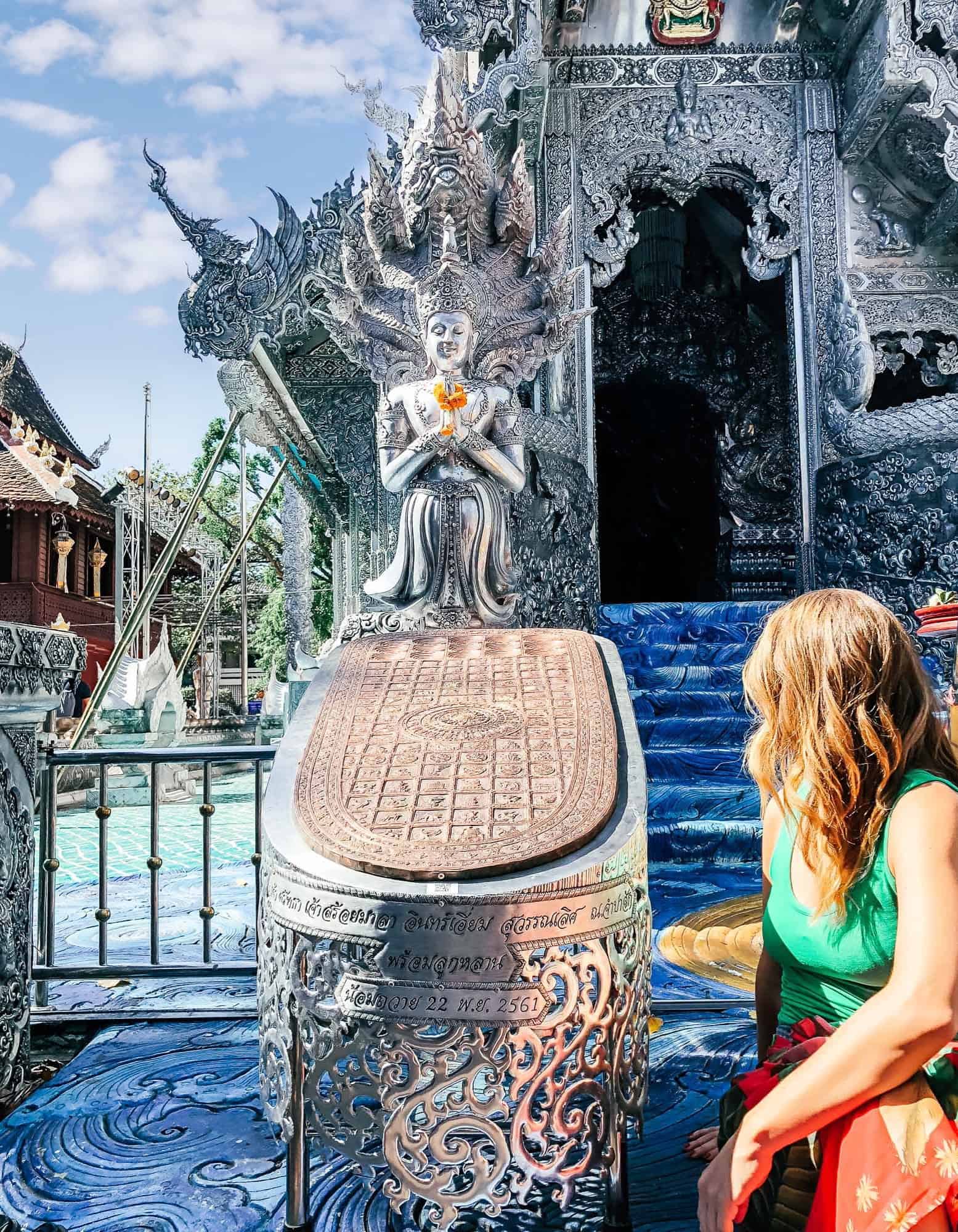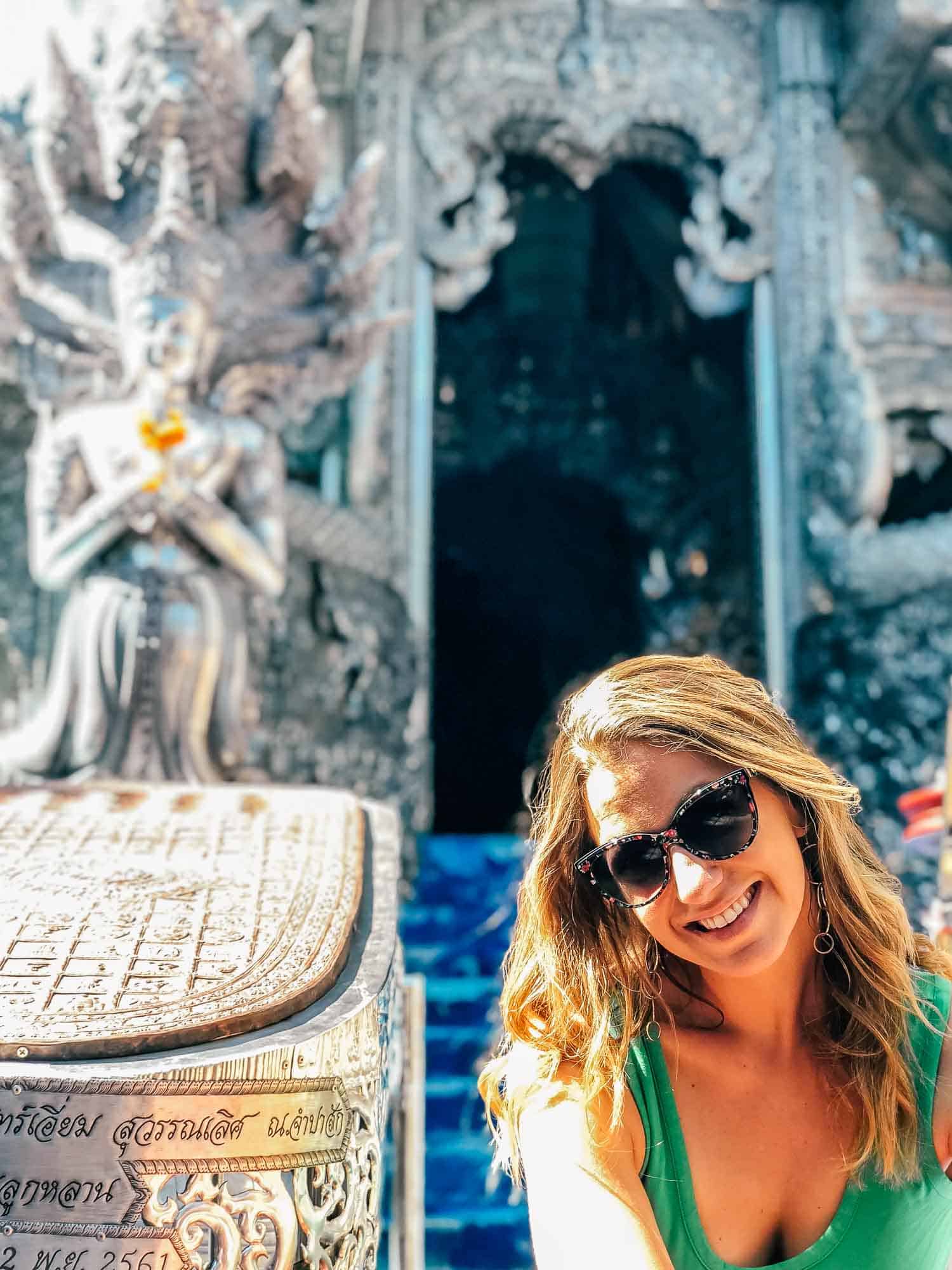 From the Silver Temple, it was about a 30 minute walk to our next stops, Wat Chedi Luang and Wat Phra Singh. These two temples are very close to each other in the center of the Old City and are easy/quick to visit. To be honest, by this time in the trip, we were a little temple-ed out, so we didn't spend much time at these two temples but they were beautiful to see as a quick stop on our way to lunch.
I am so proud of myself about lunch! This was our epic Khao Soi meal, at Khao Soi Kun Yai, arguably the best Khao Soi in Chiang Mai.
Lunch At Khao Soi Kun Yai
No Chiang Mai itinerary would be complete without trying a bowl of Khao Soi! Khao Soi is a coconut curry noodle soup that is a traditional dish of Myannmar and Northern Thailand. Khao Soi is a staple of Northern Thailand but is not well-known in American or Westernized Thai restaurants. It is delicious and I highly recommending trying Khao Soi in Chiang Mai!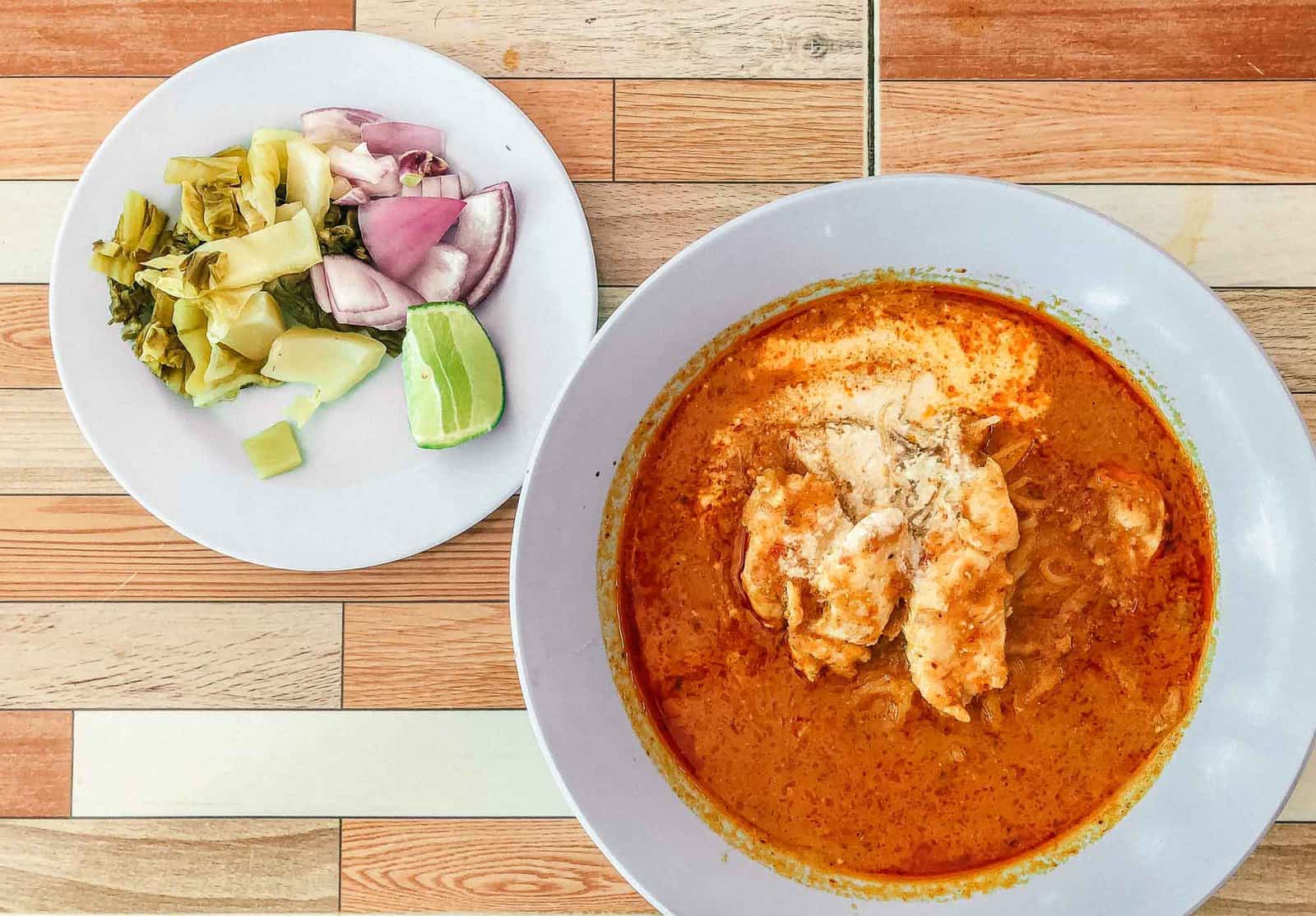 In my research I'd read that Khao Soi Kun Yai was a popular local eatery in a lovely courtyard setting. Ha! Popular, yes. But the "courtyard" is a parking lot with a tent and a few folding tables where old Thai ladies were ladling huge bowls of steaming noodles. Don't be put off – this really is an incredible dish and the setting only enhances the experience.
I pulled out my Google Translate app (seriously saved me on this trip) and typed out "I am allergic to gluten and wheat. Can you make my soup without egg noodles or soy sauce?" and then the old lady standing at the cash register read the translation and asked me, with a totally straight face, to please write better English. Ha, again!
My second attempt went better and I think she got what I was saying. This would be risky for sure, but I was willing to chance it to experience this dish at this restaurant. Lo and behold, I felt fine and it was so delicious, all slurpy, slippery rice noodles and aromatic rich broth. (Disclaimer: I cannot vouch for this dish being 100% gluten-free, even though I felt fine. If you have a severe allergy or are celiac please don't risk it).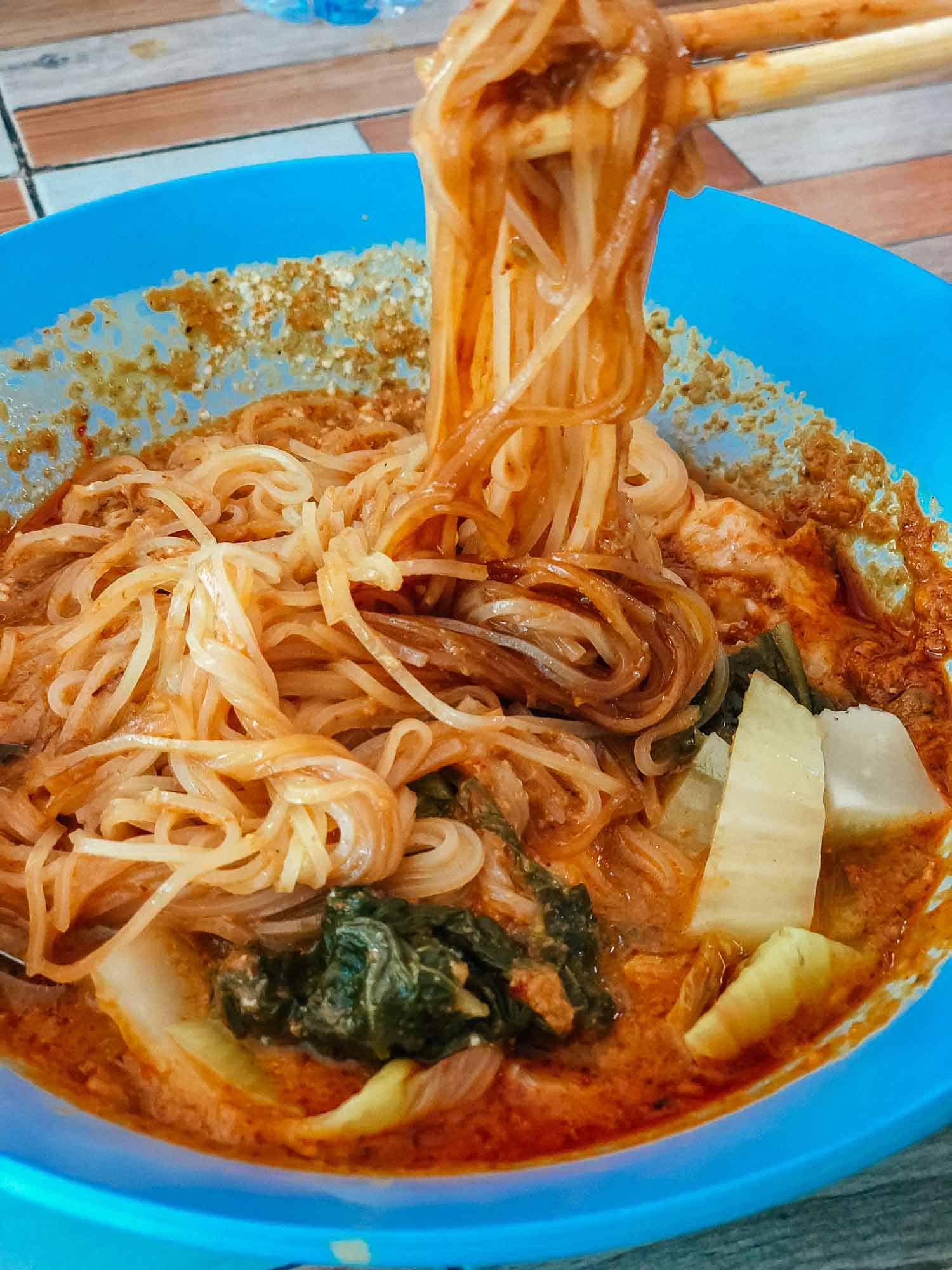 After lunch, we wound our way back through some of the main streets of the Old Town and then hopped in a Tuk Tuk back to the hotel to hunt down another amazing Thai massage in the Nimman neighborhood. I can't remember the name of the place we went to but there are plenty of good, inexpensive options and as long as you check the reviews they should all be fine.
We were very zen-d out in the early evening after our massages, so we popped into Cherng Doi for their famous crispy roast chicken, which in my opinion was good but not mind-blowing. Still a little hungry, we stumbled into this hidden gem of a restaurant, Leon de Nimman, a Thai/European restaurant near our hotel. Leon de Nimman has a cute little patio, delicious refreshing cocktails and amazing Pad Thai, which JB and I split. Highly recommend!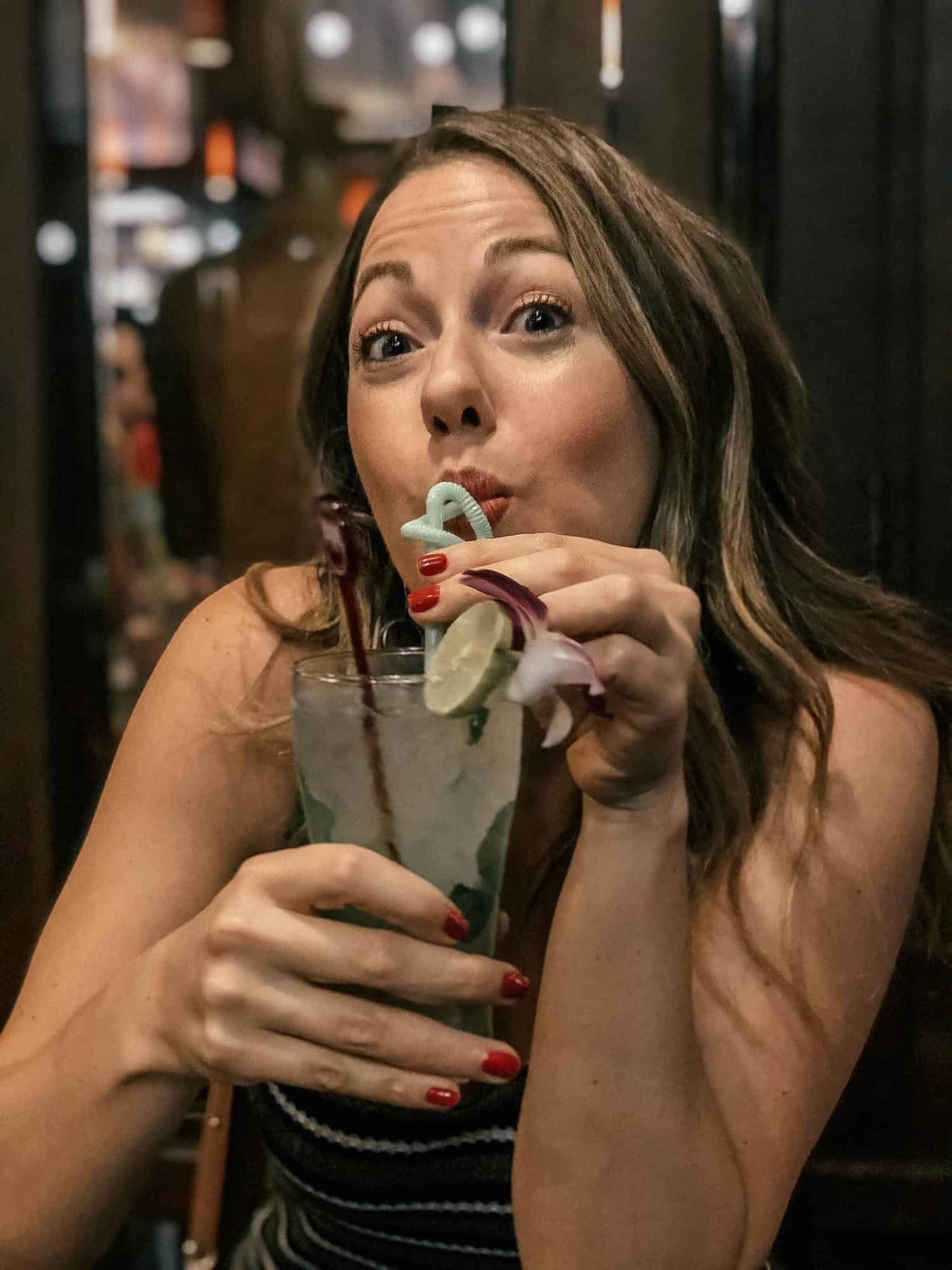 Chiang Mai Itinerary Day 4
Doi Inthanon National Park Full Day Trip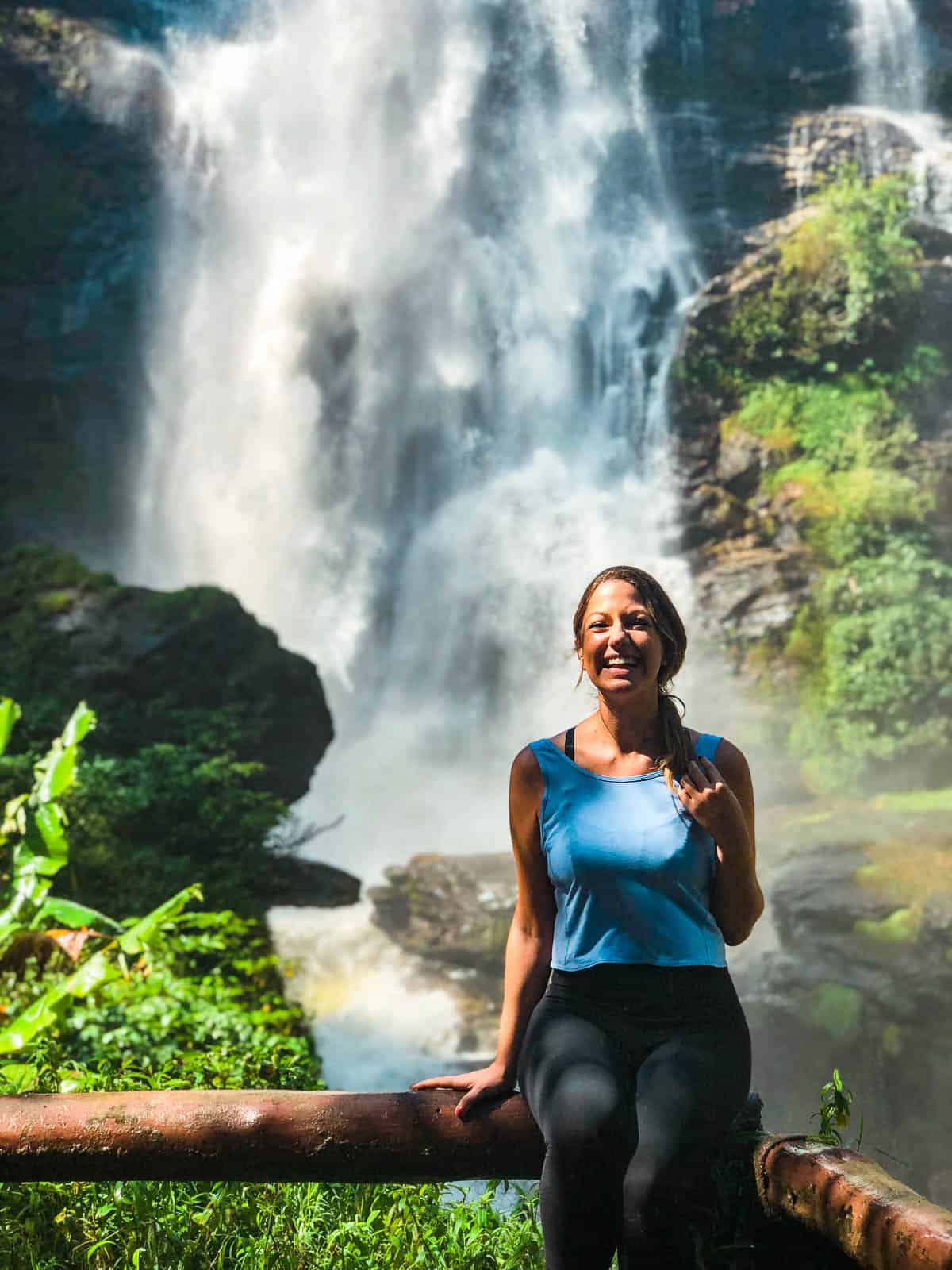 For the final day of our 4-day Chiang Mai itinerary, I pre-booked a full day excursion to Doi Inthanon national park with Chiang Mai Driver Guide. This is another can't-miss, must-see tour and I can't say enough good things about Chiang Mai Driver Guide and Sutthi, who I coordinated the tour with via email and Sart, our guide.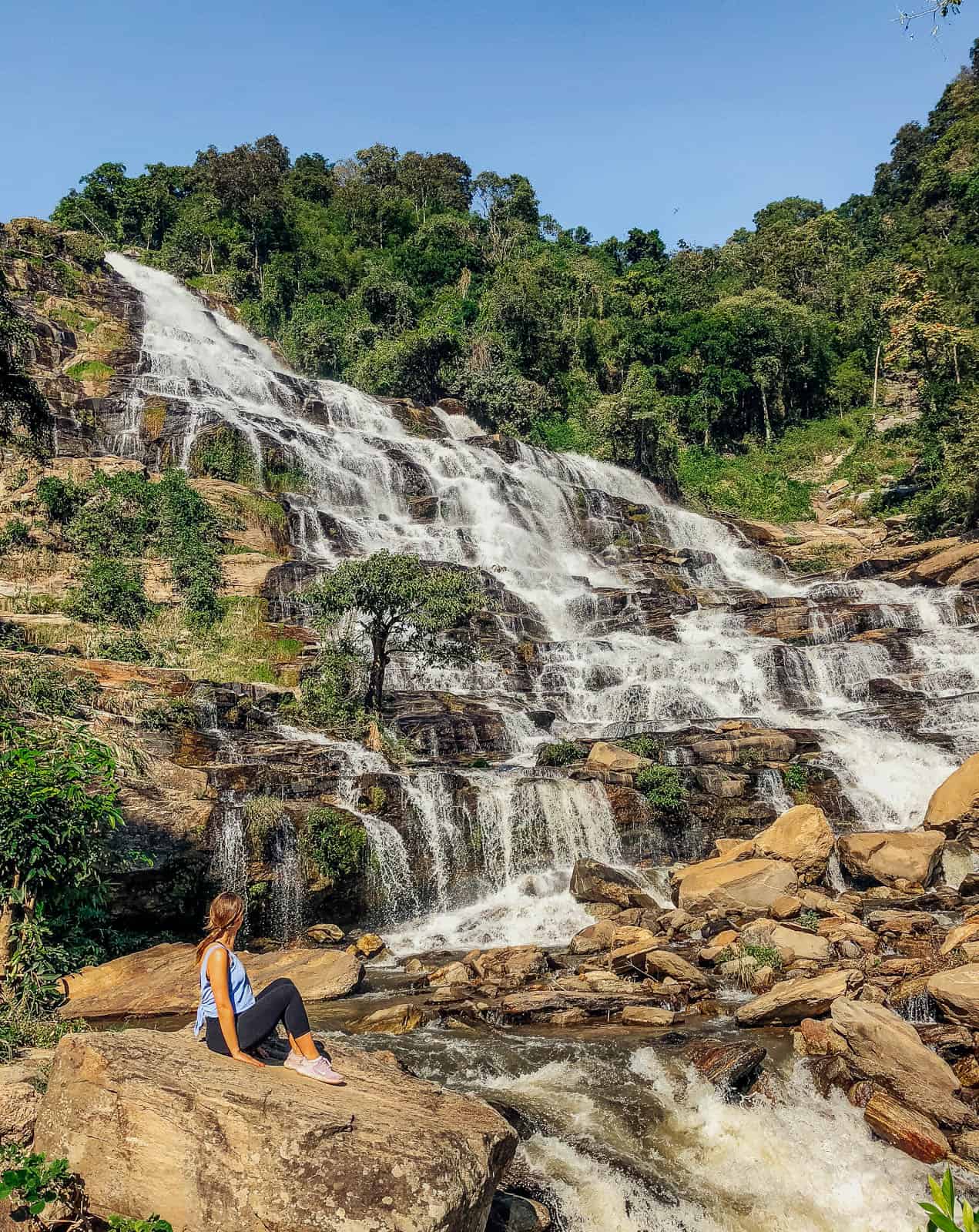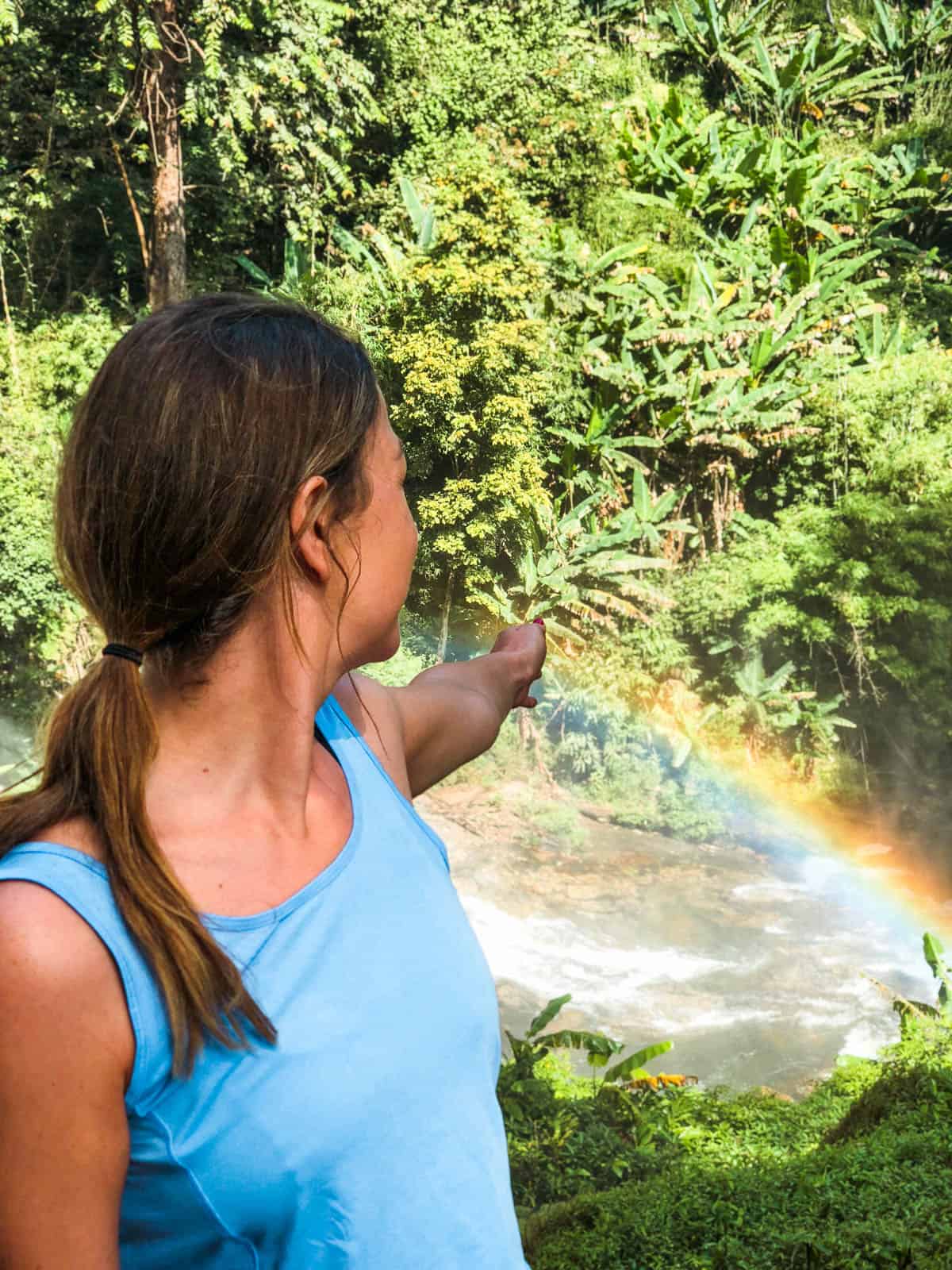 I reached out to Sutthi via the email address on the website, and coordinated everything via email. Sutthi was totally willing to help customize our itinerary although I ended up signing up for this private tour, and sent a deposit via PayPal.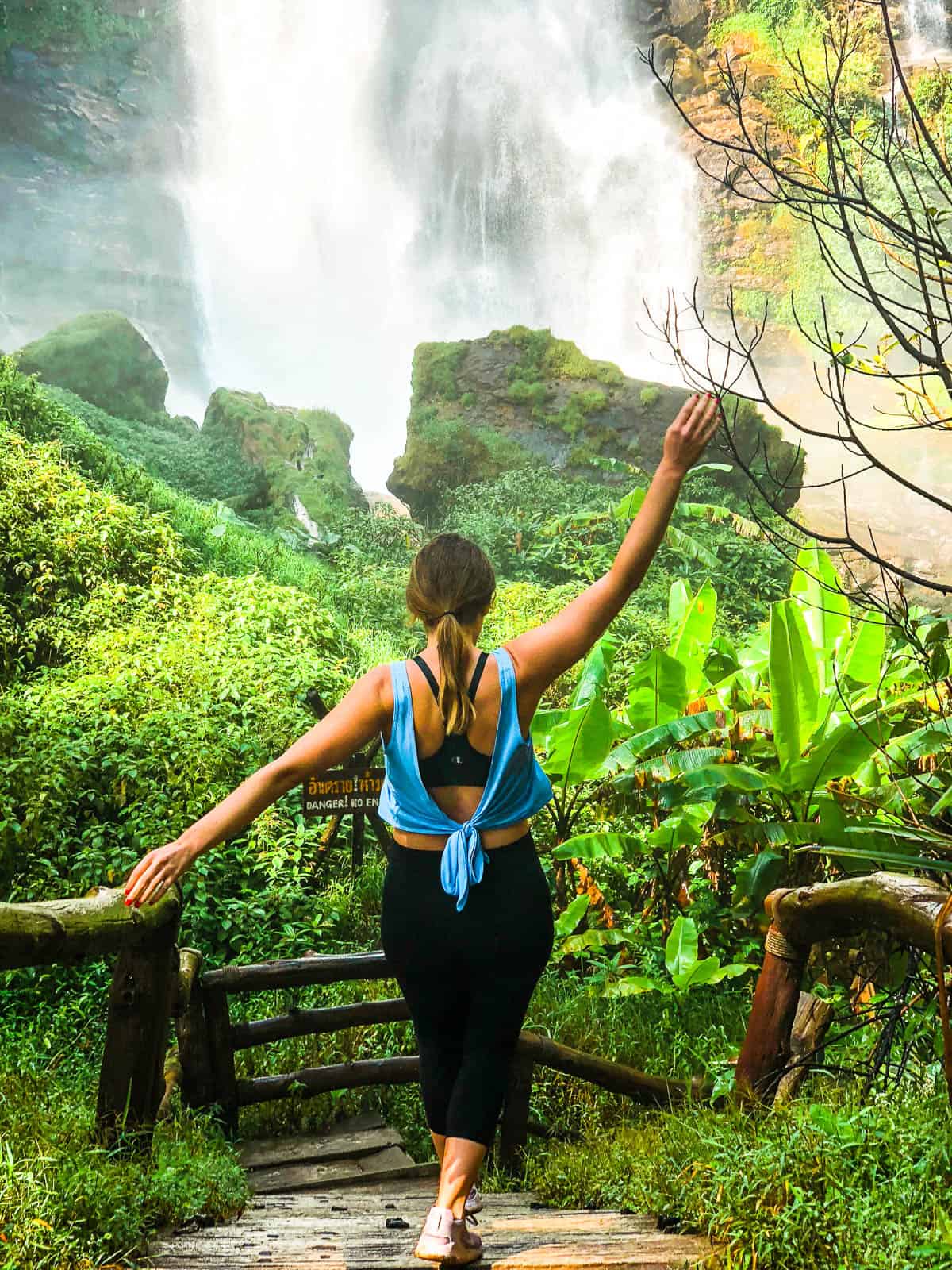 It seems like a more common Chiang Mai itinerary is to visit Doi Suthep (another famous temple complex that is closer to Chiang Mai) over Doi Inthanon, but if you have a full day I absolutely recommend Doi Inthanon.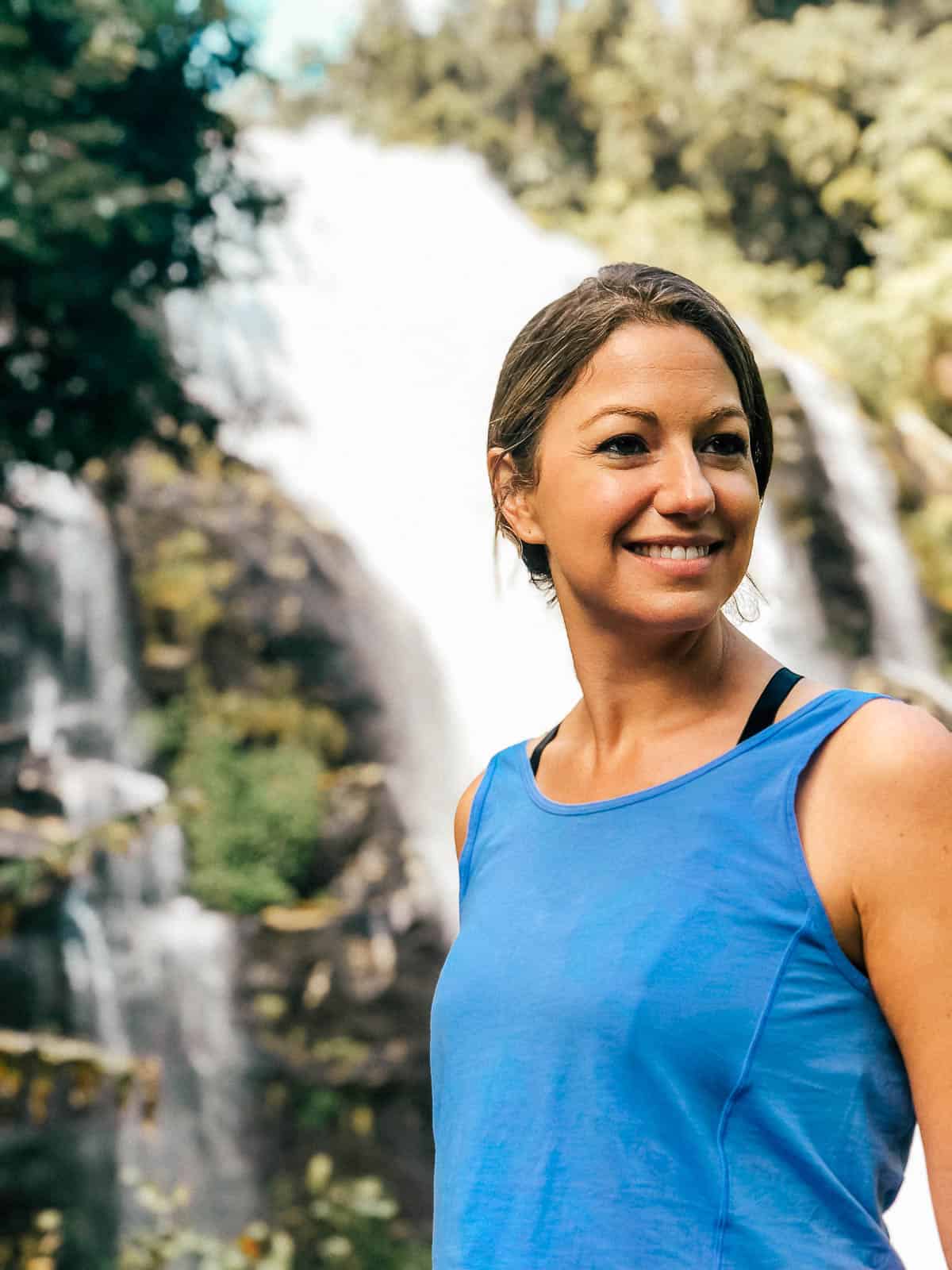 Doi Inthanon Waterfall Hike And Coffee Plantation
Sart picked us up at our hotel at 8:00 AM in a clean, well-maintained car with plenty of bottled water. It was about an hour and a half to our first stop, two amazing waterfalls, Maeya and Wachirathan waterfalls, where we spent as much time as we liked hiking around and Sart indulged our need to stop and take pictures every 2 minutes 🙂
After visiting the waterfalls, we drove through a local rural village and stopped at a coffee farm to refuel. It's probably a bit of a gimmick to get you to buy coffee, but let me tell you, it was better than any Starbucks I've ever been to! Everyone was so nice, and the coffee was so good that of course I purchased a few bags of ground beans as gifts and it was a great decision.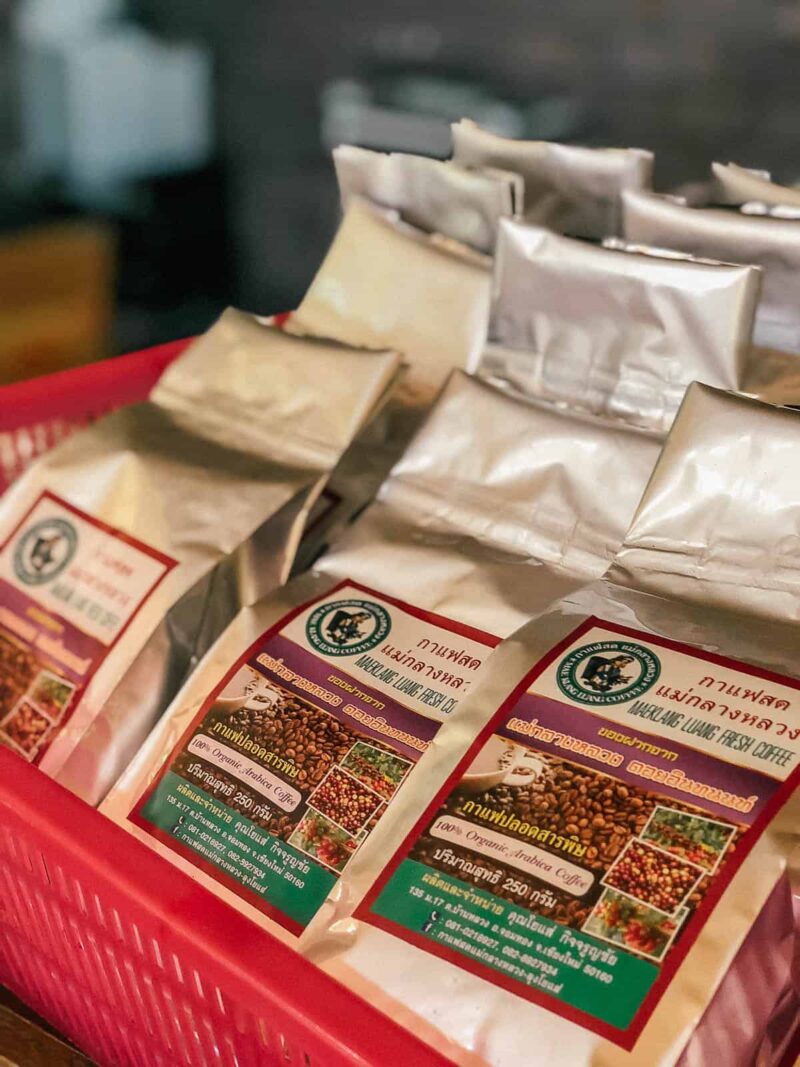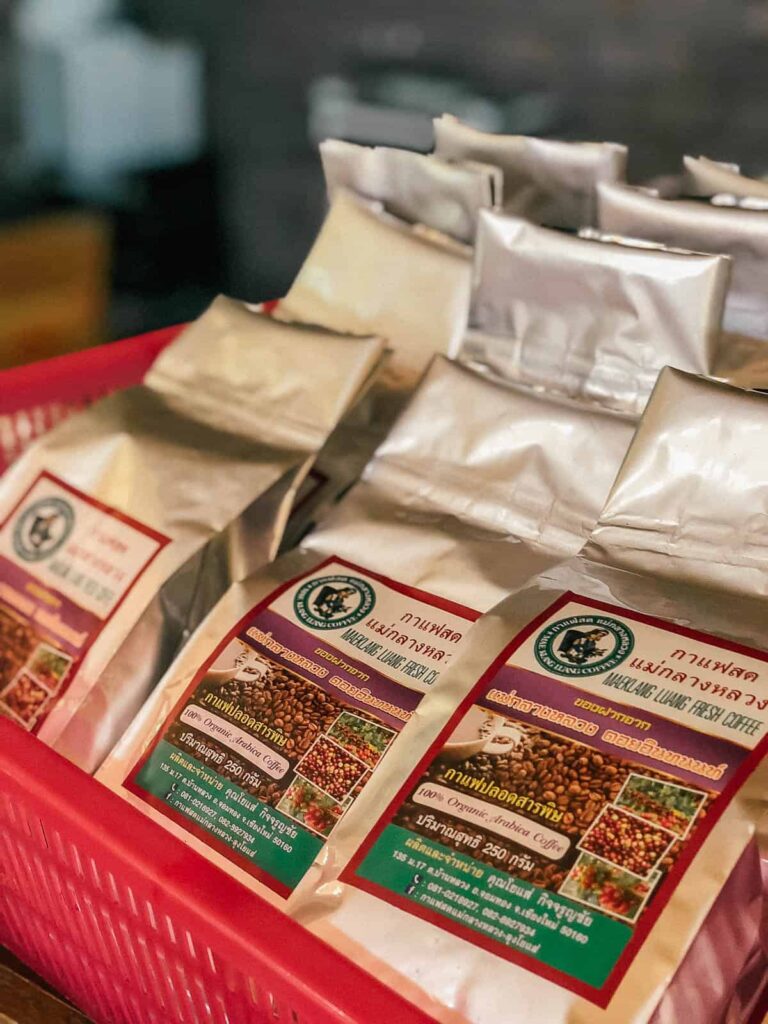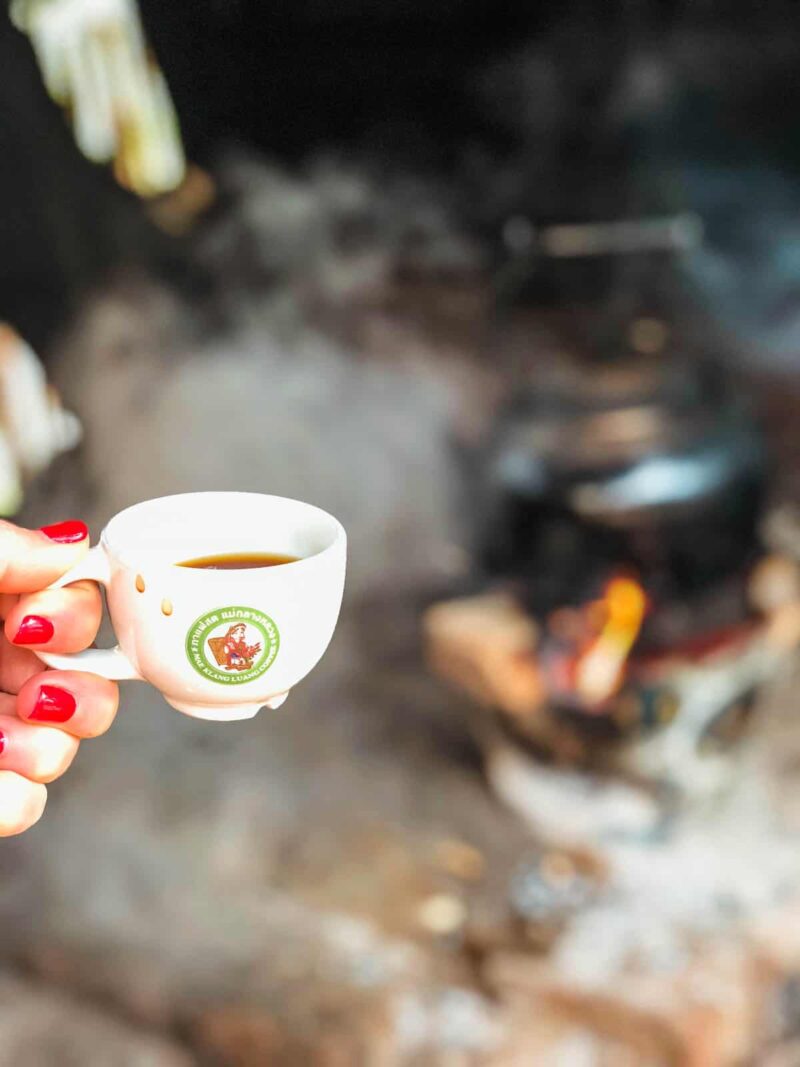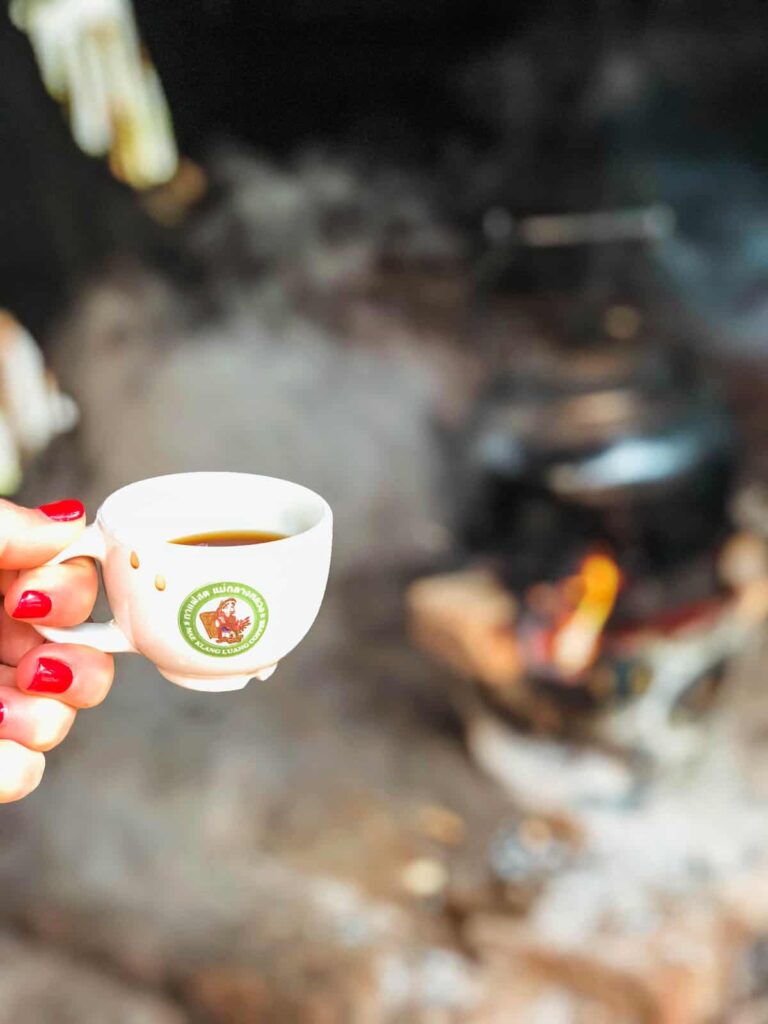 Cloud Forest Hike
The next part of the day involved a hike through Kew Mae Pan Nature Trail, also known as the cloud forest. This is a circular trail that takes you through woods, trees and up into high peaks above the clouds (hence the nickname!). The trail is suitable for beginners because it's circular, meaning you end up where you started but includes some steeper uphill/downhill segments and stair climbing. The whole route takes about 2-3 hours to walk. Keep in mind the trail is closed during Chiang Mai's rainy season (June- October).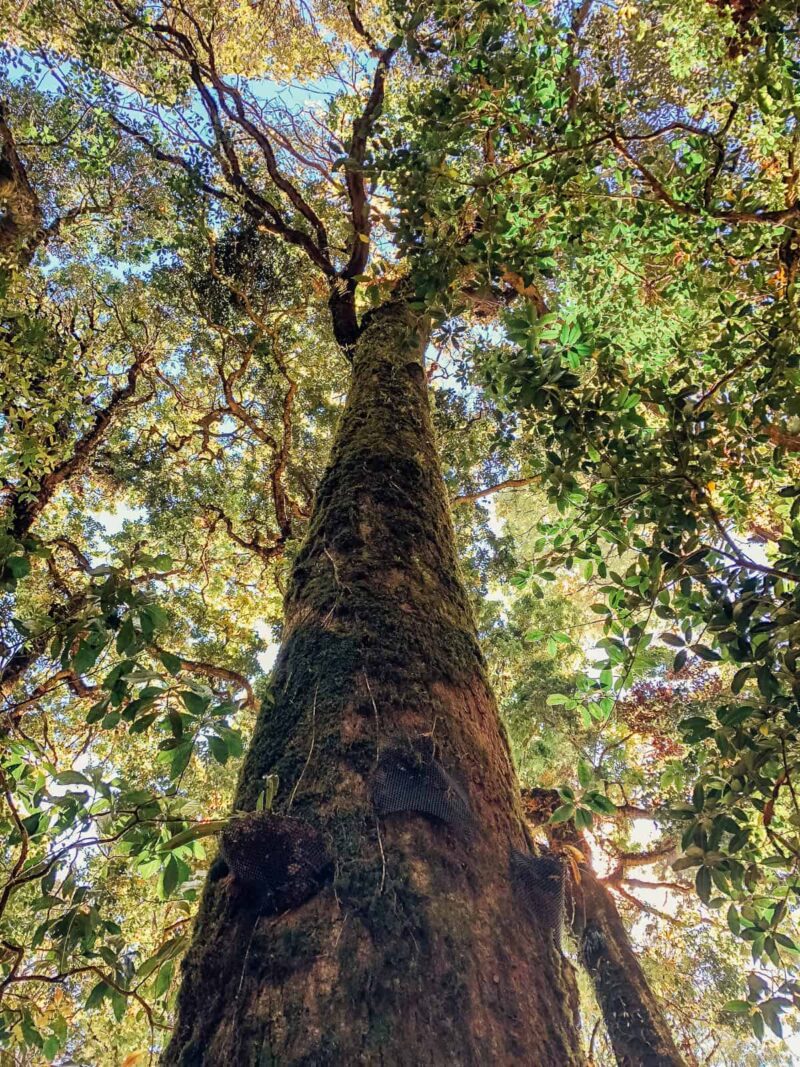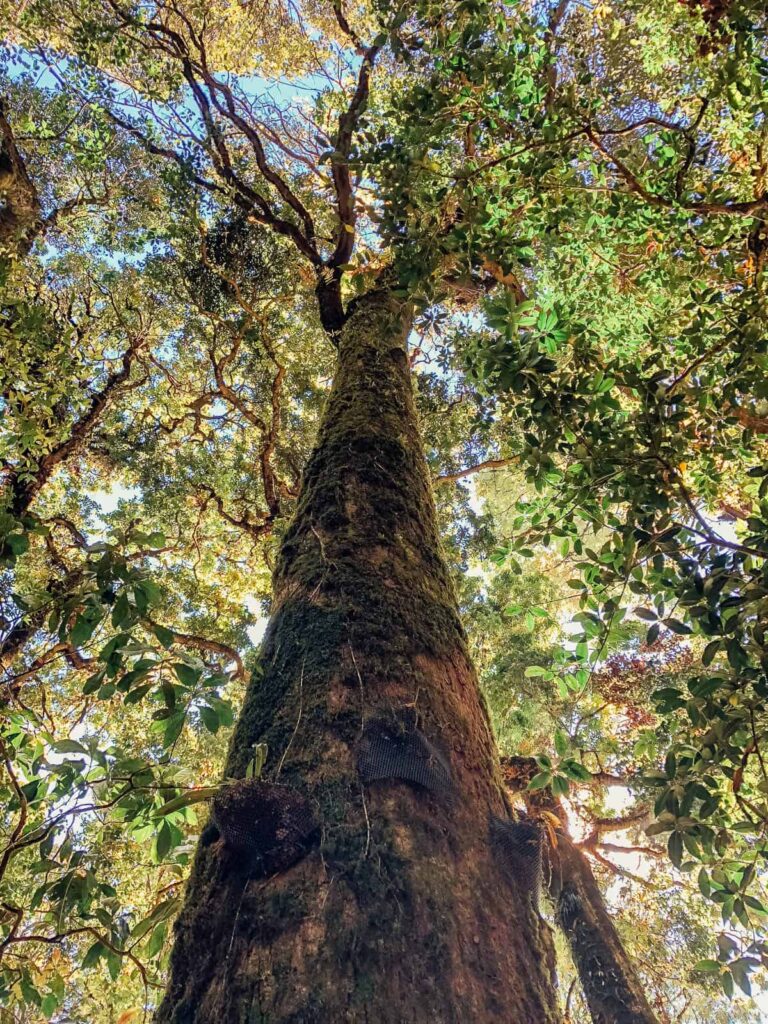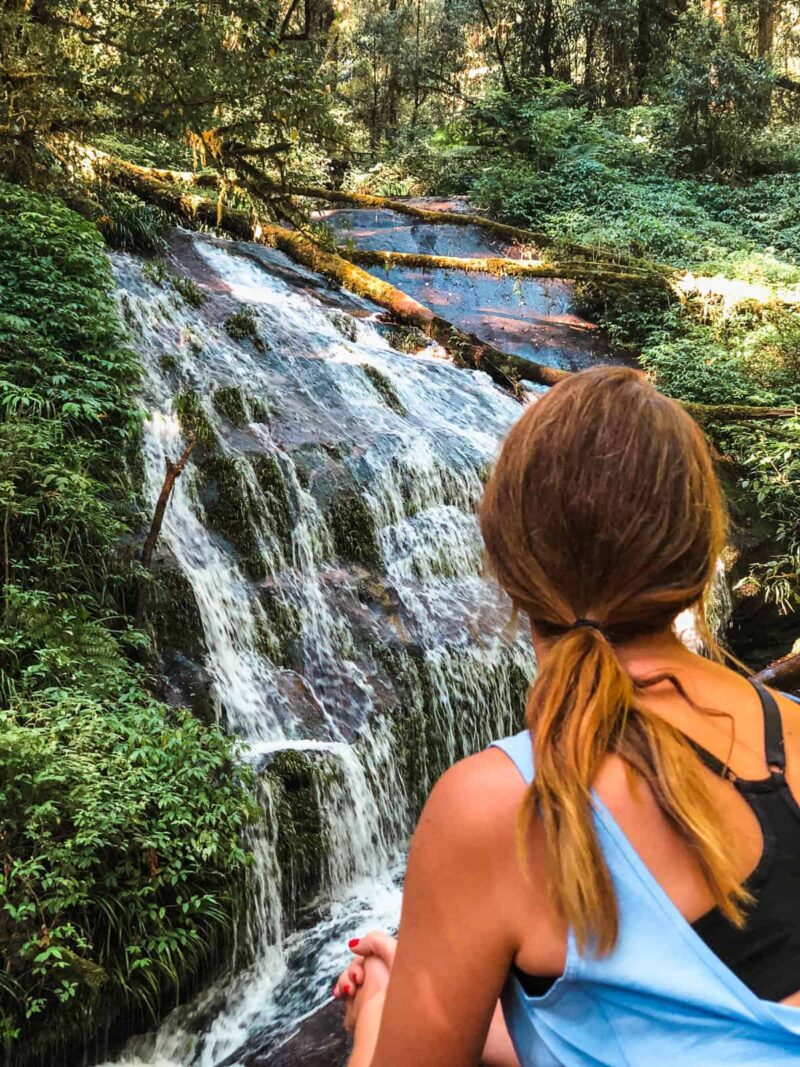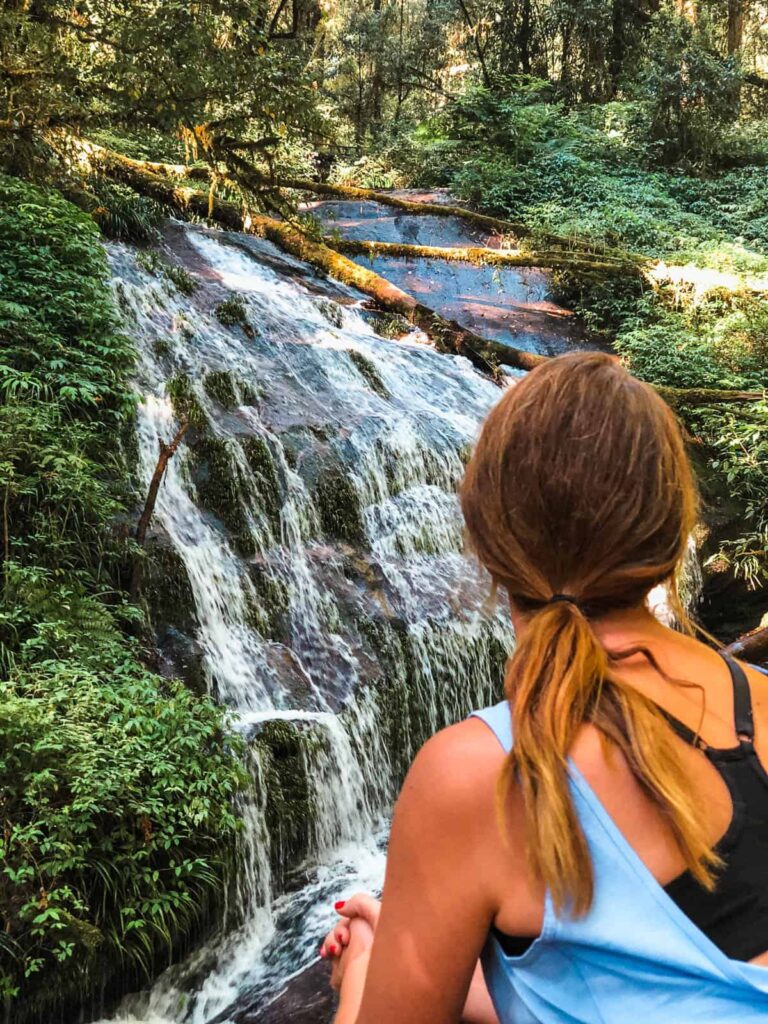 Sart drove us to the entrance of the hike and set us up with our guide for the hike. It's required to have a guide from the local Hmong tribe take you through the trail. They are excellent guides and very thorough, they know every inch of the trail, but they don't speak much English so communicating was a challenge – although, JB and I didn't have any need to communicate beyond "wait" "stop" "go" "picture" etc during the hike. Our guide kept pace with us and directed us easily, and the whole hike was just incredibly beautiful and seamless.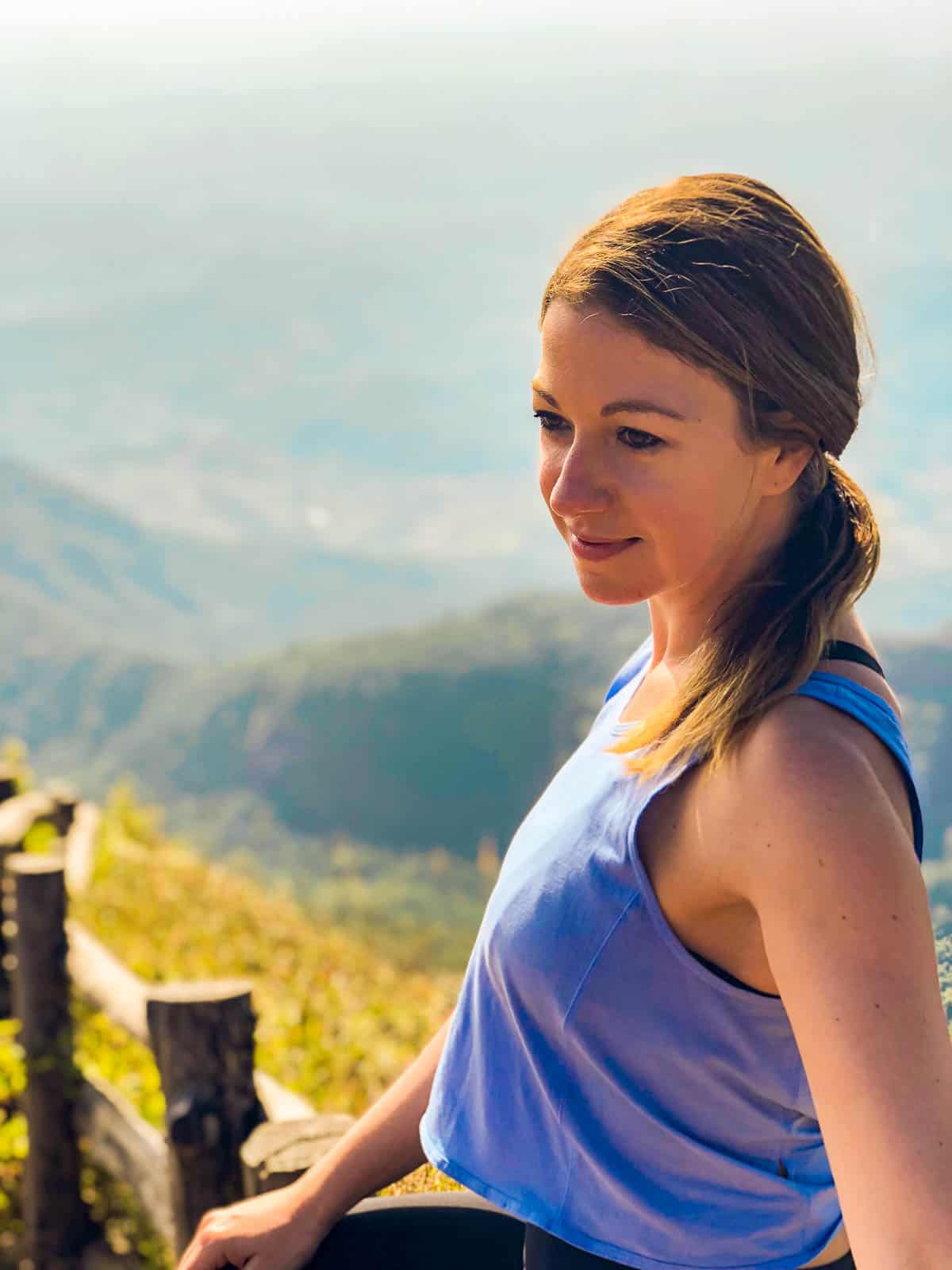 The views. Oh my goodness, the views.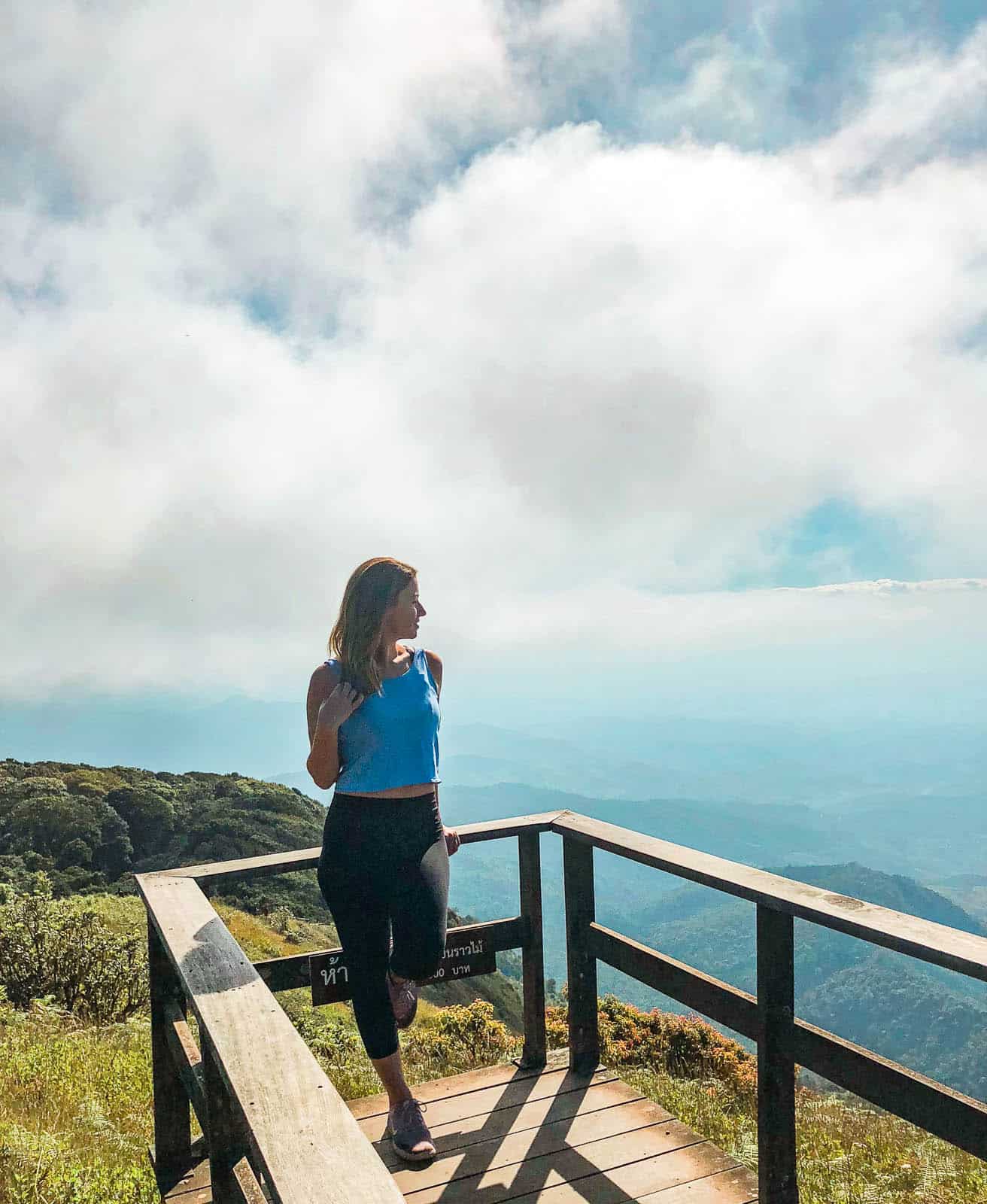 When we finished the hike, Sart rightly assumed we'd be famished and drove us to a local restaurant (shack) for lunch. This was the real deal. I don't know how anyone who didn't know this area like that back of their hand could find this place. The restaurant was basically 3 wood walls and a piece of wood resting for a roof, food prepared on folding tables, it does not get more local. And it was the best Pad Thai I have ever had. Like, incredible.
I would be remiss not to pass on JB's warning not to use the facilities at this restaurant. Let's just say I took him up on his warning! There are plenty of modern bathrooms available throughout the day – the base of the waterfalls, the start of the hike, so don't worry about needing the facilities.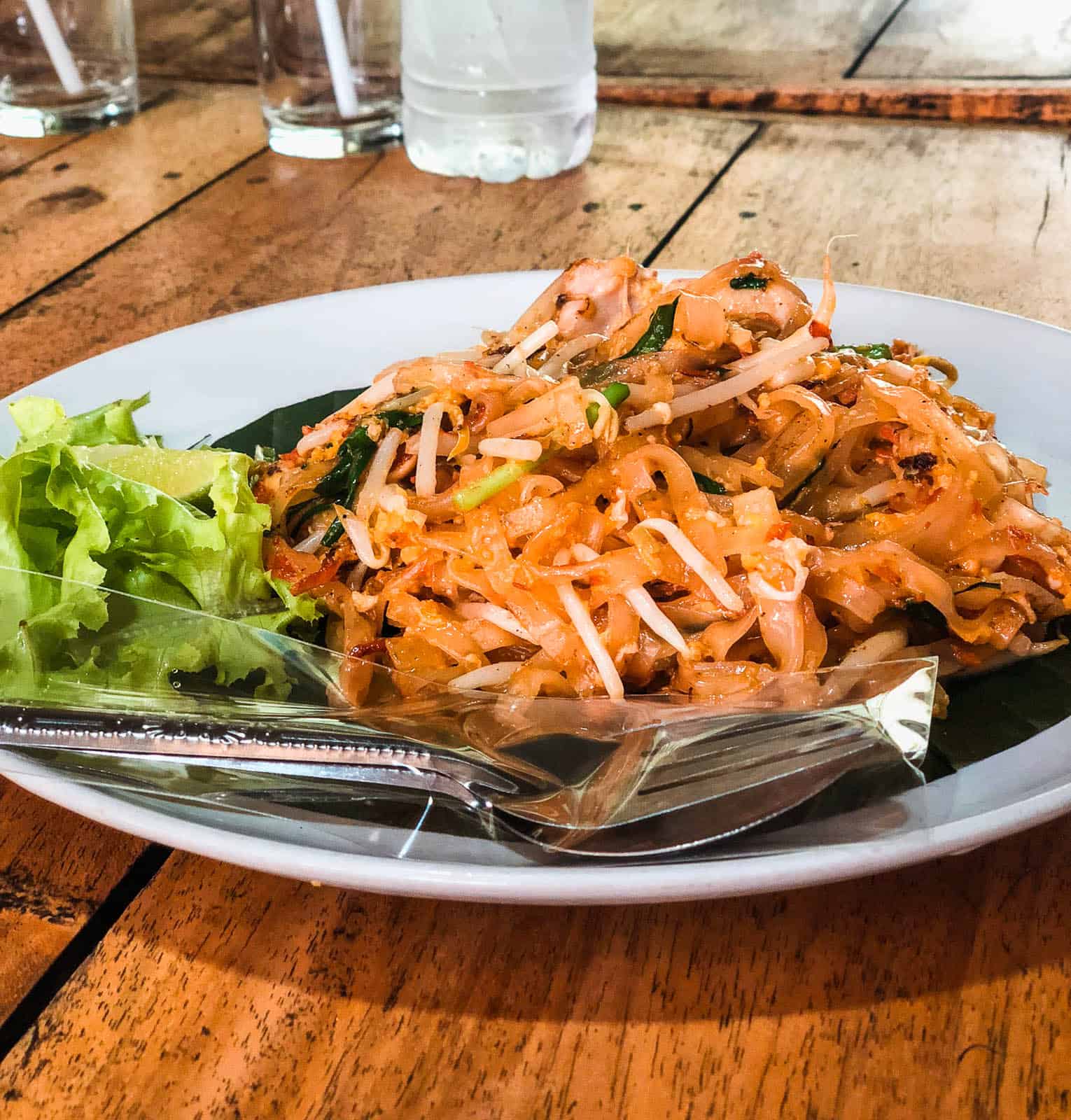 The King And Queen's Chedis Temple Complex
Sart had lunch with us and then we set off for the King and Queen's Chedis in Doi Inthanon national park.
The chedis are a picturesque temple complex built to celebrate the 60th birthday anniversaries of King Bhumibol Adulyadej in 1987, and of Queen Sirikit in 1992.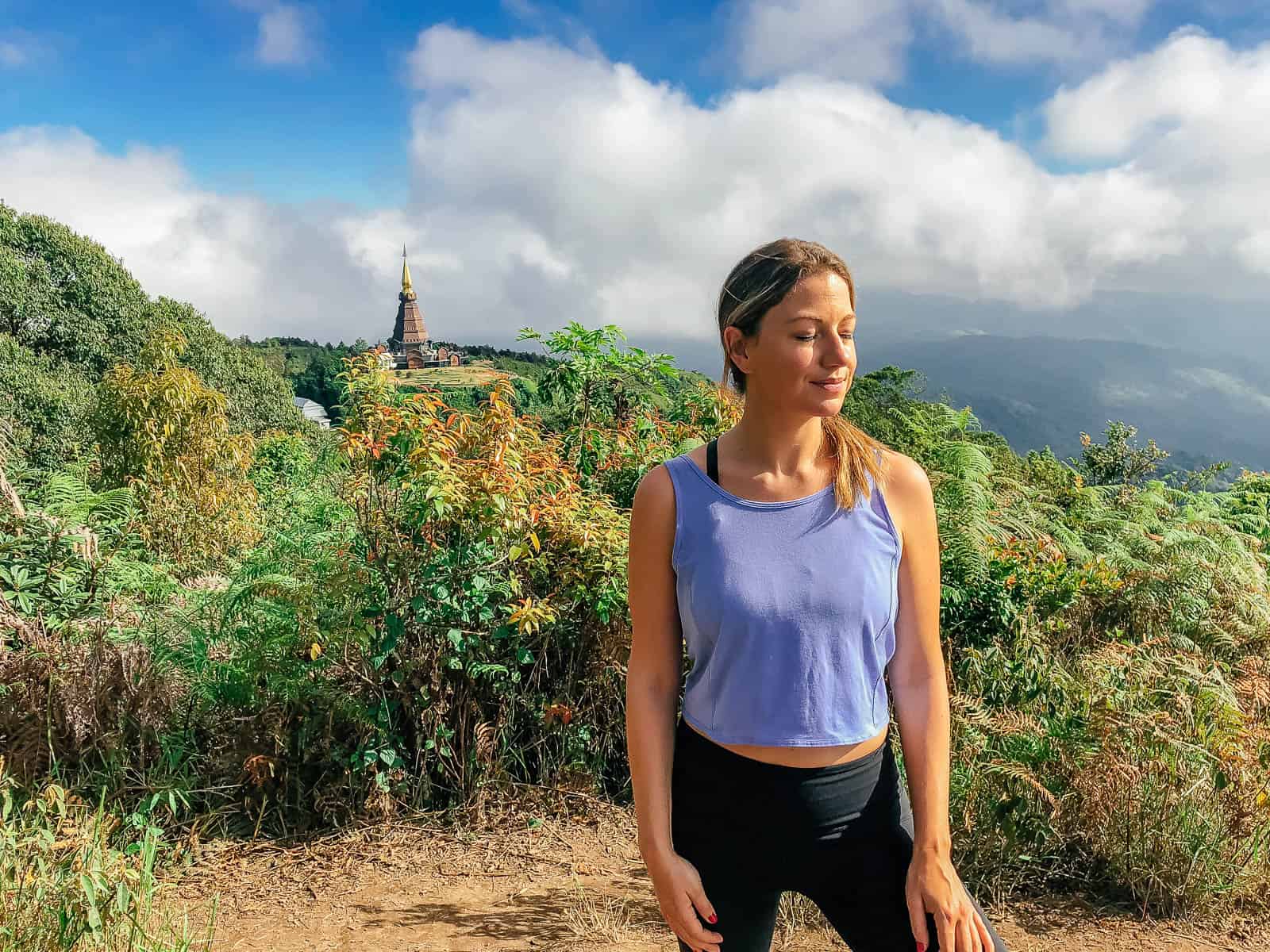 The temple complex is gorgeous, and I particularly loved the gardens with its water features, foot bridge and perfect landscaping. There's not a ton to do or see other than walk through the temples (be warned: a lot of stairs to reach them!) and the grounds. By this time JB and I were completely exhausted so after half an hour of exploring we collapsed in Sart's car to drive back to Chiang Mai.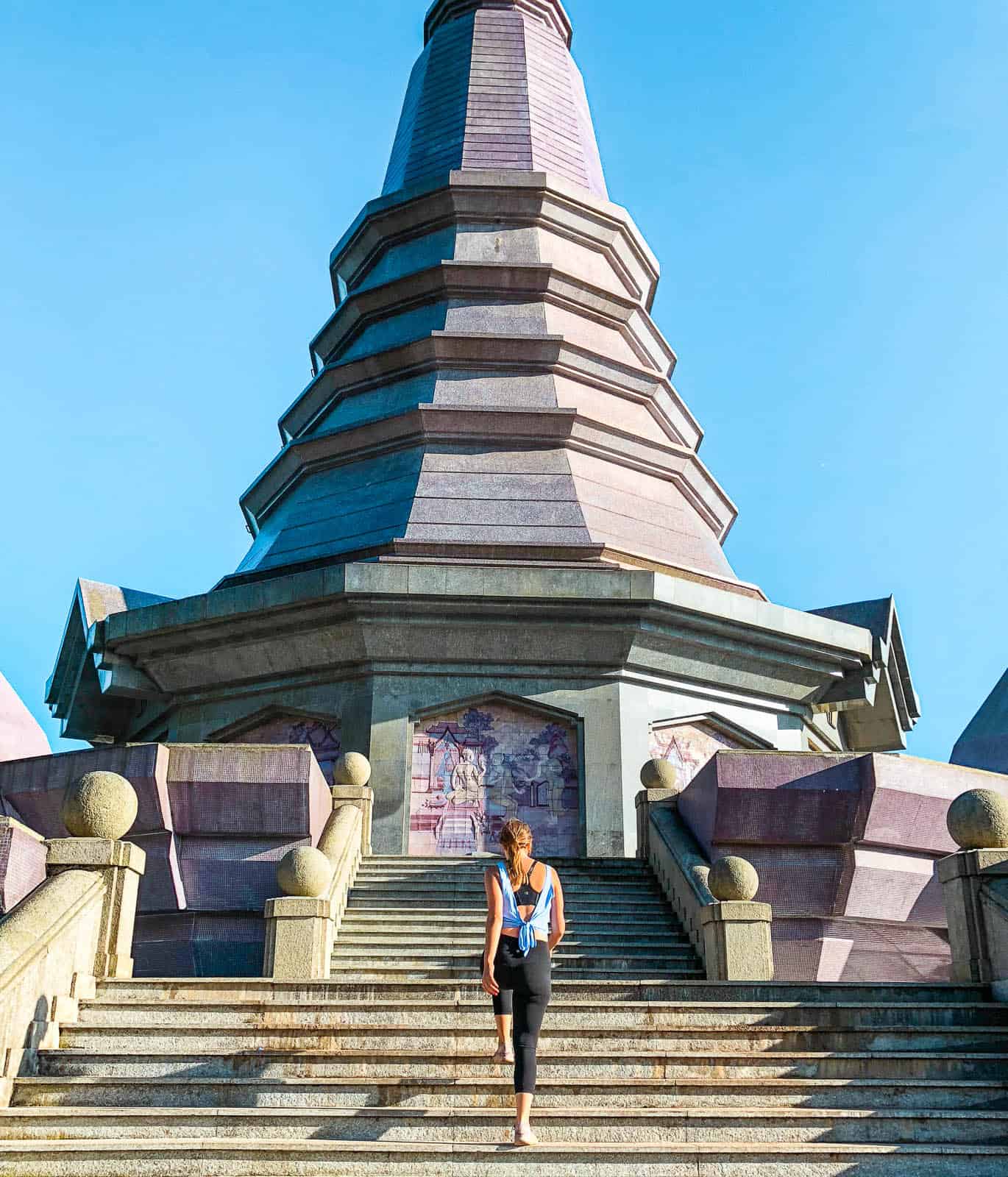 We were sad to say goodbye to Sart, he was truly a gentle soul and he made our day that much more special with his cheerful attentiveness. Definitely book a tour with Chiang Mai Driver Guide if you're visiting Chiang Mai!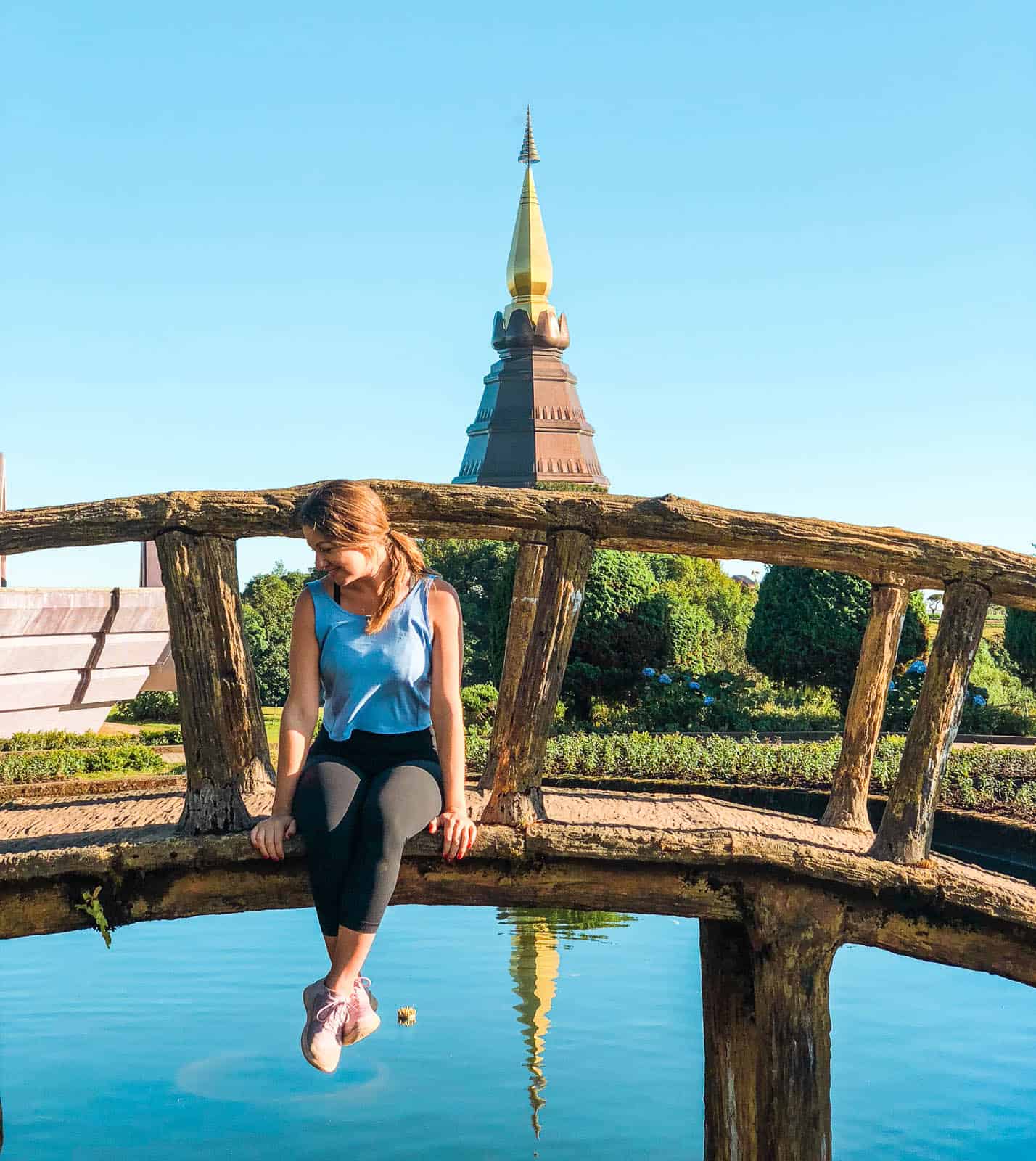 For our last dinner in Chiang Mai, I made a reservation at Dash! which is a slightly nicer restaurant in Chiang Mai, with a huge outdoor dining area set under rows of string lights. Dash had excellent cocktails and great ambiance but the food was average-to-good, not great. Craving a more spectacular ending to our 4-Day Chiang Mai itinerary, we went back to Rustic & Blue for dessert and, it bears repeating, ohmygod the homemade gluten-free peanut butter chocolate ice cream. Don't miss it!
Then sadly, we had to pack and get to bed because we were on a 6 A.M. flight to Krabi for the next segment of our Thailand adventure, Ko Lanta island!
Have you been to Chiang Mai and did you follow my Chiang Mai itinerary? What did you think? Let's chat about it in the comments below!


Looking for more Thailand content? Check out these posts:
Thai Island Luxury Hotel: Pimalai Resort and Spa Review
Love this post? Pin it to save for later: