The Beloved Playa Mujeres is one of the best boutique, adults-only all-inclusive hotel resorts in Playa Mujeres, Mexico. Read my full Beloved Playa Mujeres hotel review to learn about their exceptional service and gorgeous pools. You'll see why The Beloved Playa Mujeres is the perfect luxury all-inclusive escape for your next Mexico vacation.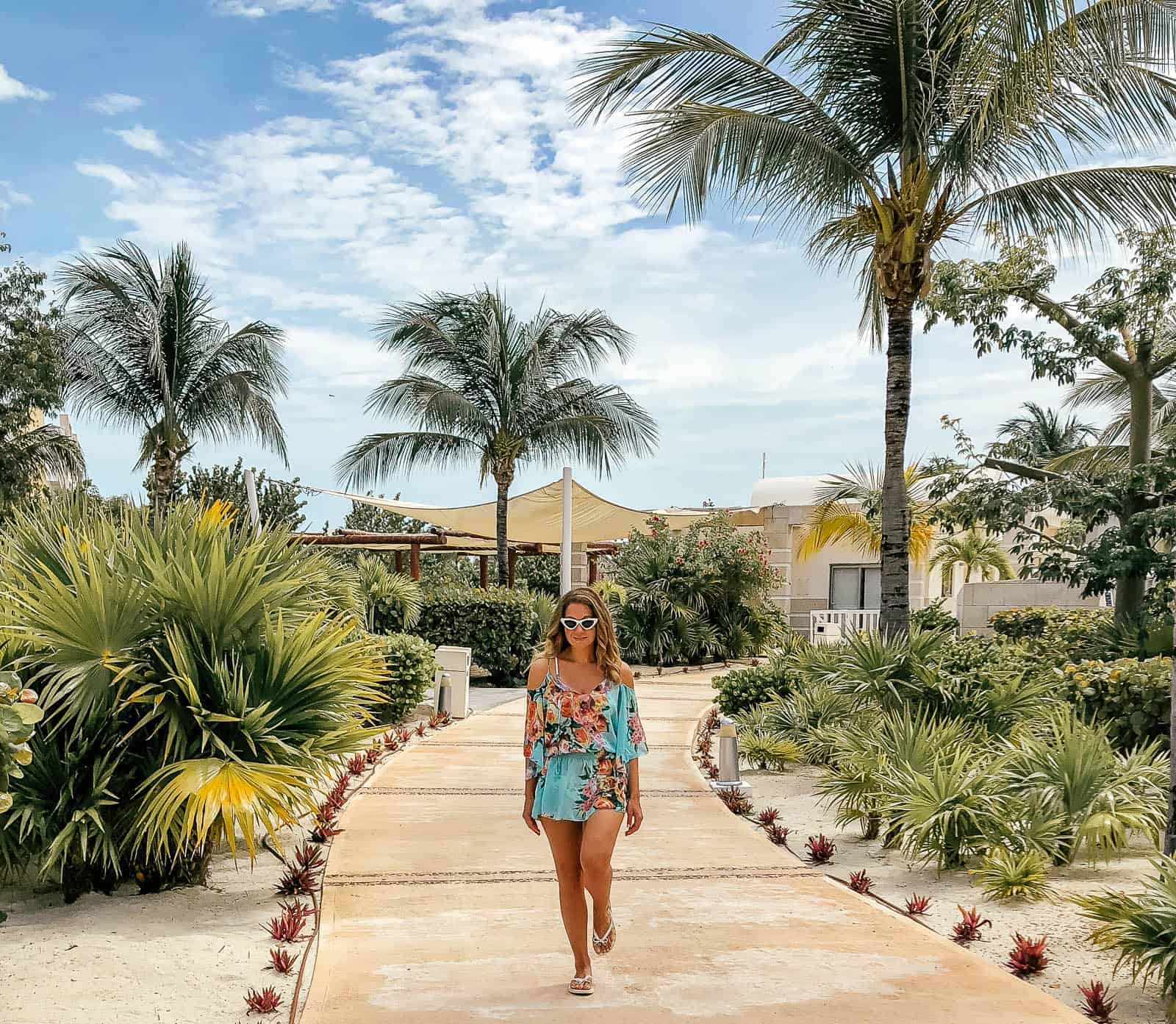 This past 4th of July, I found myself with 3 full days off work due to the holiday falling on a Wednesday (my office was so gracious and gave the company Wednesday, Thursday and Friday off) so naturally I insisted that JB and I take advantage and book a trip somewhere!
(Disclosure: This post may contain affiliate links which means I may earn a small commission if you make a purchase from a link in this post, at no additional cost to you. Additionally, as an Amazon Associate I earn from qualifying purchases. Thank you for supporting this site!)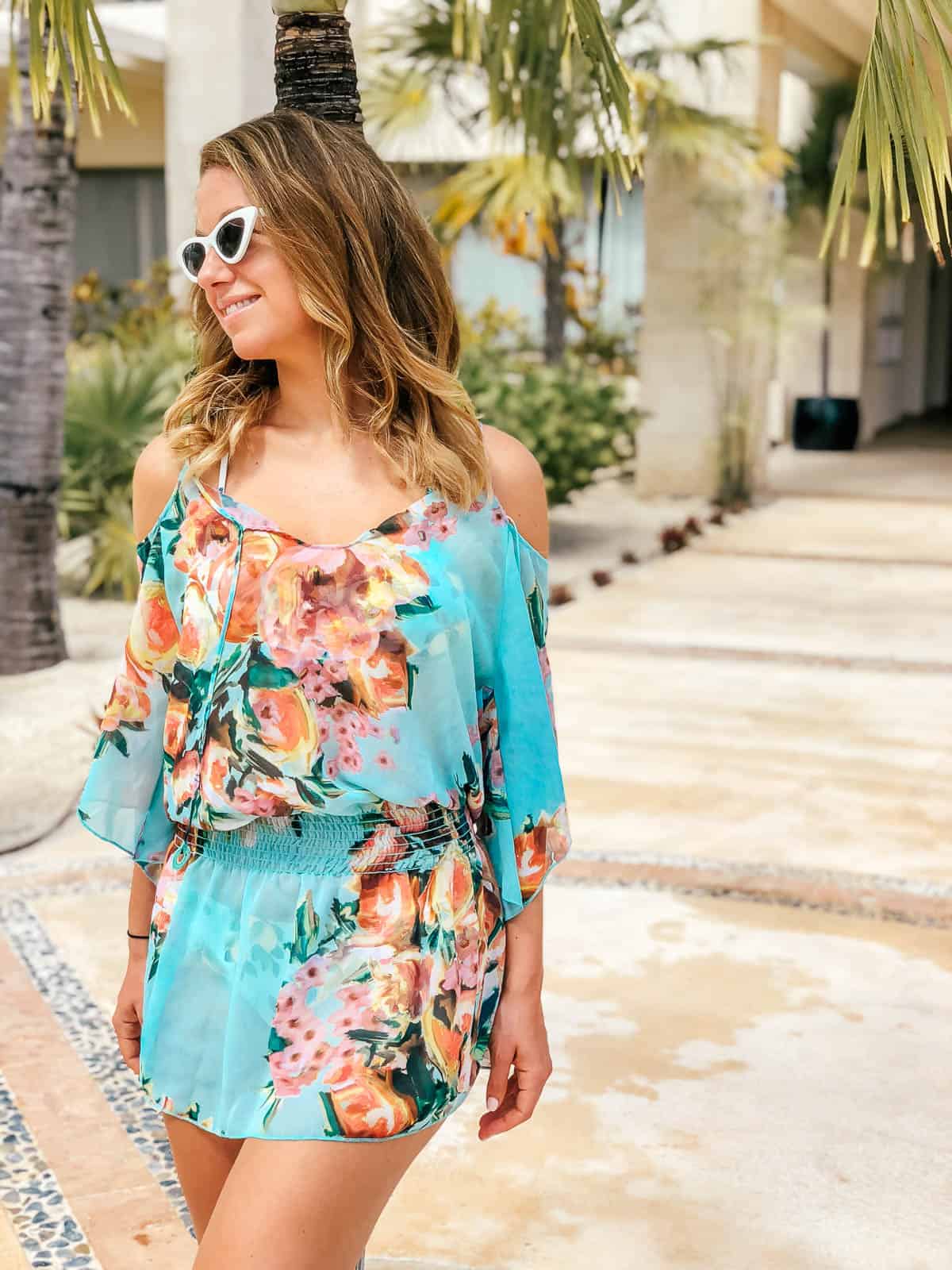 We'd each had a crazy couple of months where we were both away for weddings, bachelorette/bachelor parties and work trips so my goal when planning our 4th of July getaway was to relax and do nothing. This was one time where I didn't want to plan a whole itinerary – I wanted to lie on the beach and sip fruity cocktails and be completely pampered.
Based on the above criteria, I knew I'd be looking for a Caribbean all-inclusive luxury hotel. It's the best bang for your buck, since we didn't want to do a major splurge on this trip, and it's the most stress-free vacation you can go on. Everything is taken care of for you!
For even more Mexico inspiration, you might enjoy: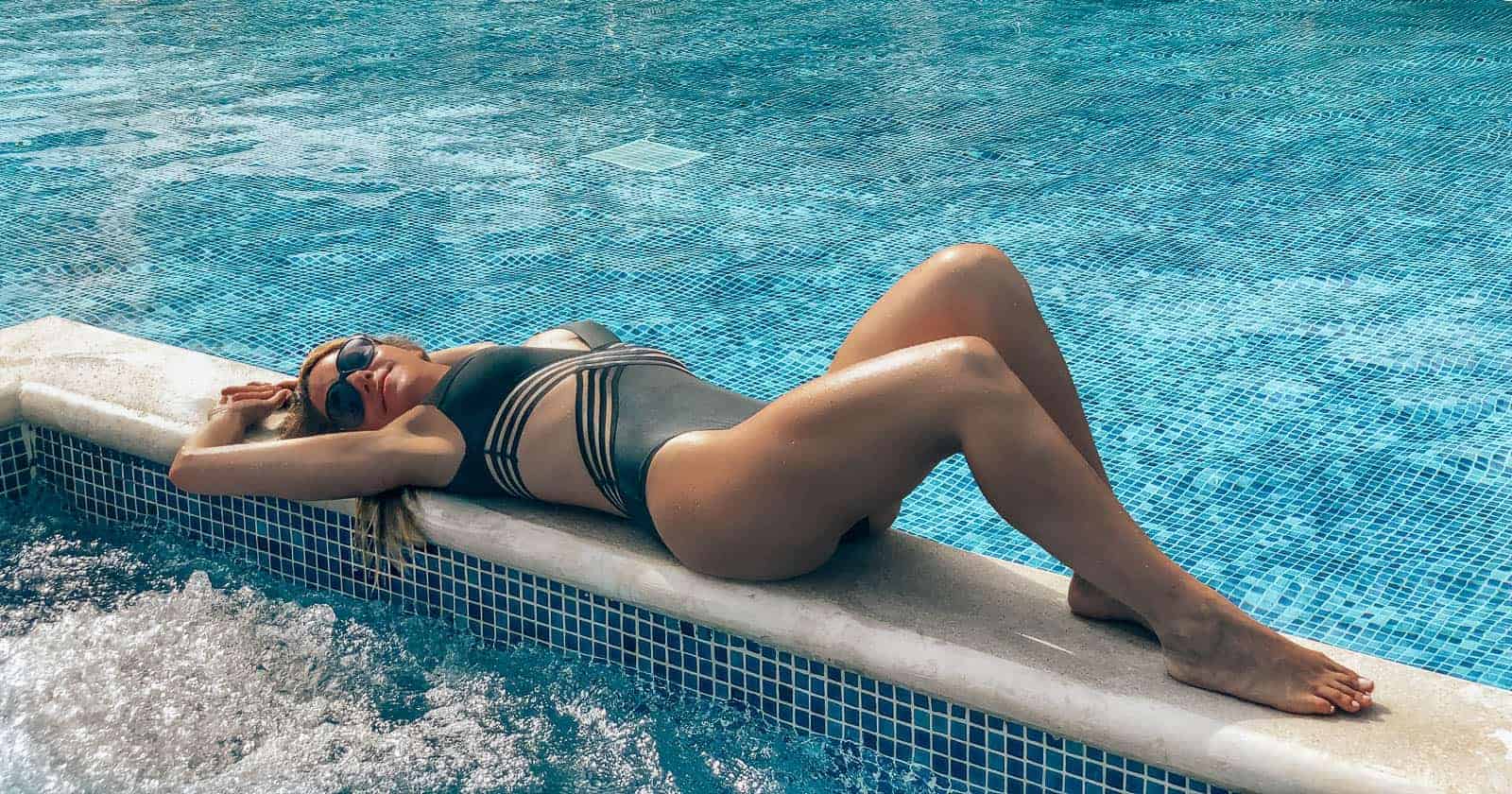 I landed on heading back to Mexico and had heard good things about the Excellence Group resorts, so after hours and hour and hours reading TripAdvisor reviews, I finally settled on the Excellence Group's adults-only, small boutique resort, The Beloved Playa Mujeres. Keep reading for my detailed Beloved Playa Mujeres hotel review!
Playa Mujeres is a beautiful stretch of beach about 30 minutes from Cancun Airport. It's a very resort-centric area with not too much going on as far as a "town". This worked out for us because we weren't planning on leaving our resort at all!
In fact, for an entire four days the only decisions we made were "what should we eat?" and "is it too early for a cocktail?" and "should we swim in the pool or the ocean?" It was heavenly!
Beloved Playa Mujeres Hotel Review
Overview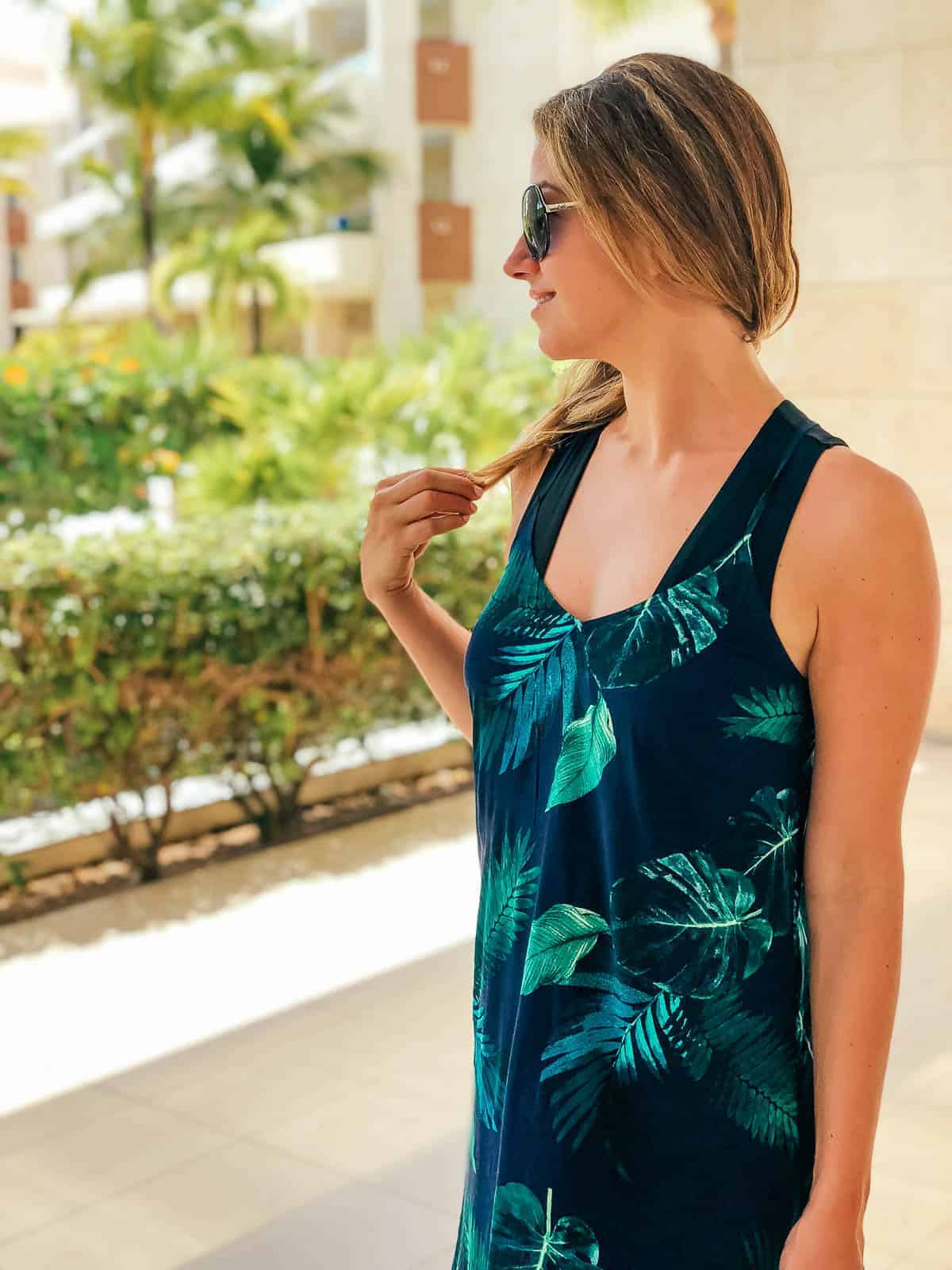 The Beloved Playa Mujeres is a small adults-only hotel about 30 minutes from Cancun airport. It's definitely not one of those sprawling, frat-party all-inclusives that line a lot of the beaches in the Cancun area. There are just 109 rooms, 4 restaurants and 3 lounge/bar/counter areas.
There is a beautiful spa, one main pool and several smaller pools beside each room block. The resort is made up of several low-rise buildings that house the various restaurants, lobby, spa, and rooms or suites.
The hotel has a mix of rooms, including swim-up suites, plunge pool suites and casitas. There are some activities going on throughout the day and evenings, but there's no real "shows" at night like some resorts have.
There's also no disco/club type of establishments. This was exactly what JB and I wanted, just some quiet time to relax. We didn't need a club, a million activities or to be very social. If you're looking for more of a "scene" you'll want to go with a different hotel.
Arriving At The Beloved Playa Mujeres Hotel
We flew into Cancun Airport via Jetblue, and I used the same transportation company that I did for Tulum, Cancun Airport Transportation. Service was prompt and safe, and within 30 minutes we arrived at the beautiful entrance to The Beloved hotel.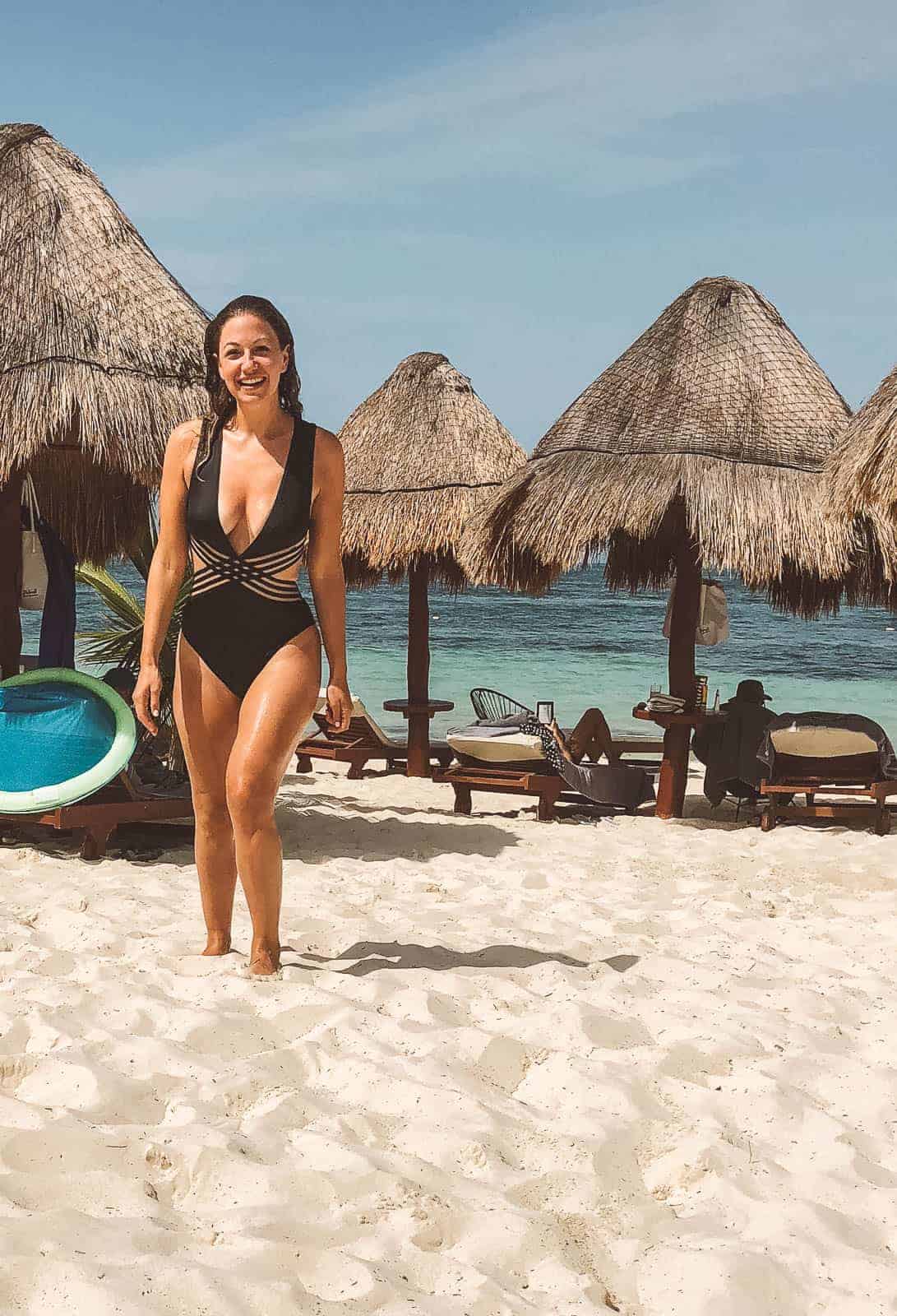 We were immediately greeted by the concierge and offered cool towels and a welcome cocktail. Our bags were whisked inside as we were led to one of the check in desks. I loved the lobby because it felt like we were entering someone's coastal, beachy living room with lots of low white sofas, gauzy hanging curtains and a small bar and seating area.
The check in area wasn't a cold, long line of computers, but rather a few individual desks with plush chairs for you to settle in while your room arrangements are sorted.
Our room wasn't ready, so we changed out of our airplane clothes in the lobby bathroom and went in search of lunch. We sat outside at the Isla Grill by the pool and enjoyed the salad bar buffet and a shrimp appetizer. More details on the food are below but everything we ordered with shrimp was fresh and delicious!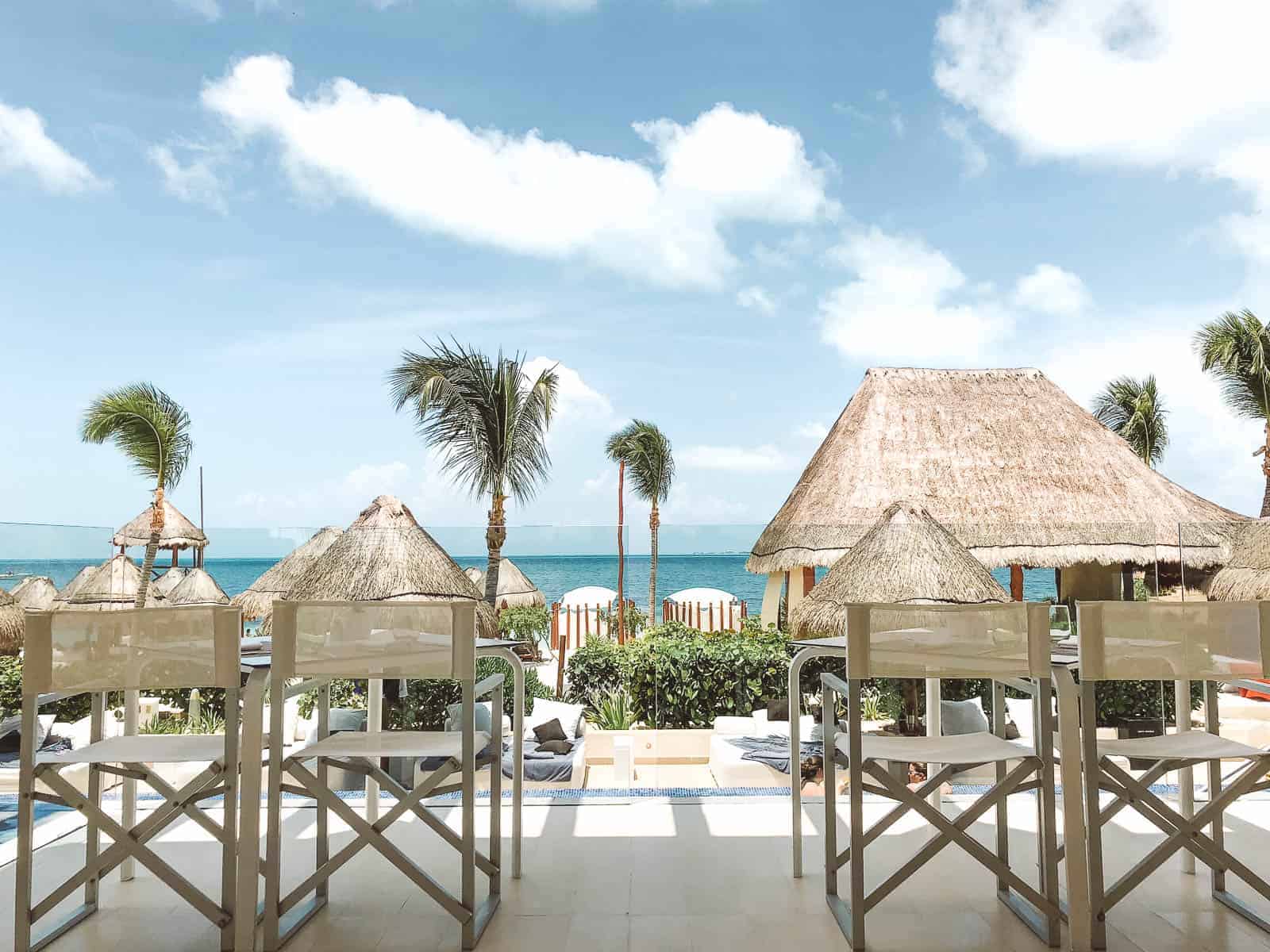 Promptly at 3:00 PM, our room was ready and we were given a quick tour of the facilities and layout of the resort then escorted to our room.
Beloved Playa Mujeres Hotel Review: Guest Rooms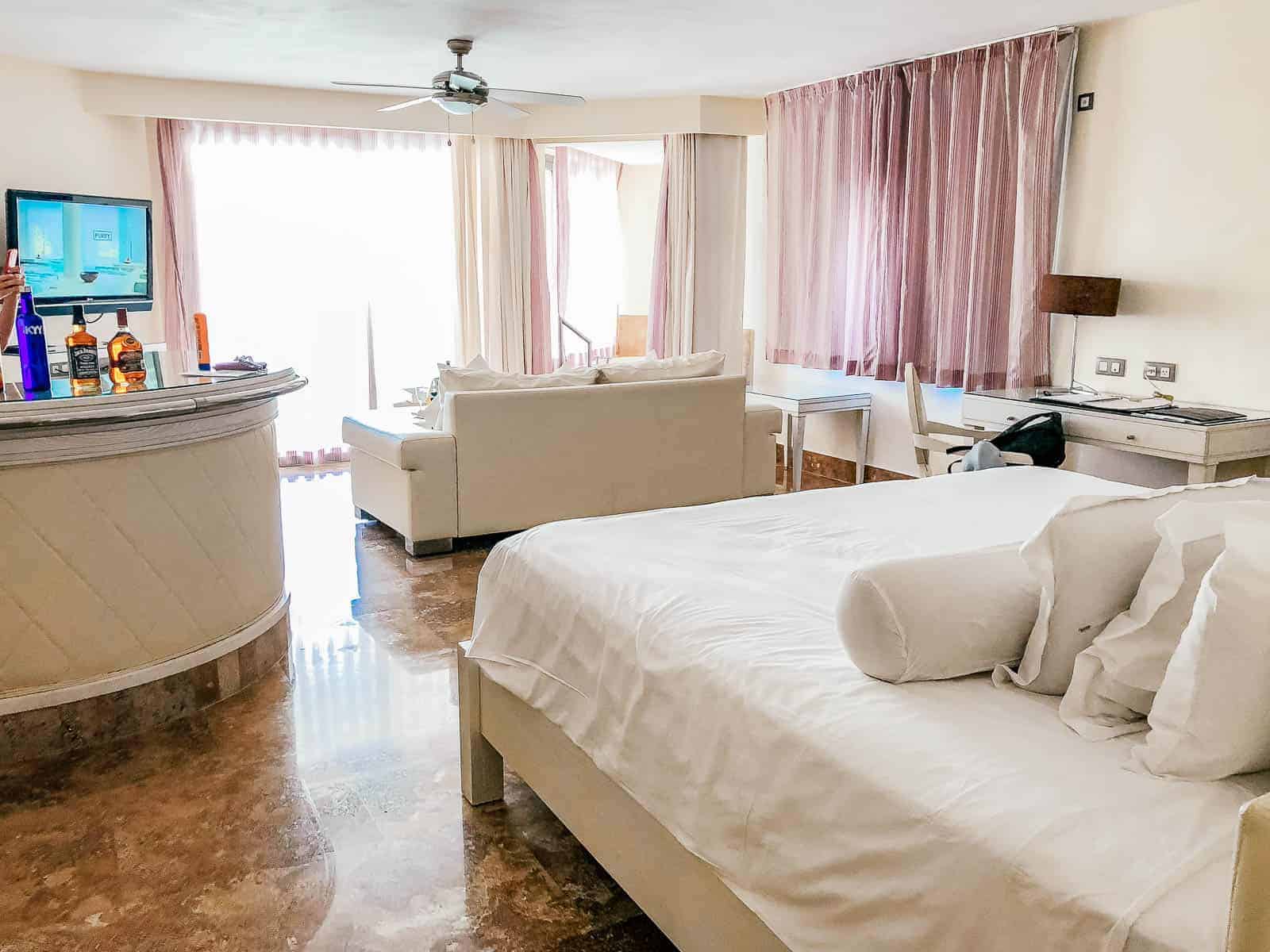 Wow. The room was incredible. And huge. You enter into a short hallway with a shelf area for coffee and tea, then the room opens up into a huge king-size bed, living area and bar area. The bar was set up with a variety of different spirits, including red and white wine (our faves!). There was a bottle of champagne chilling on the coffee table along with a personal note from the manager of the resort. To the right of the living area was a large jacuzzi tub cordoned off with a curtain.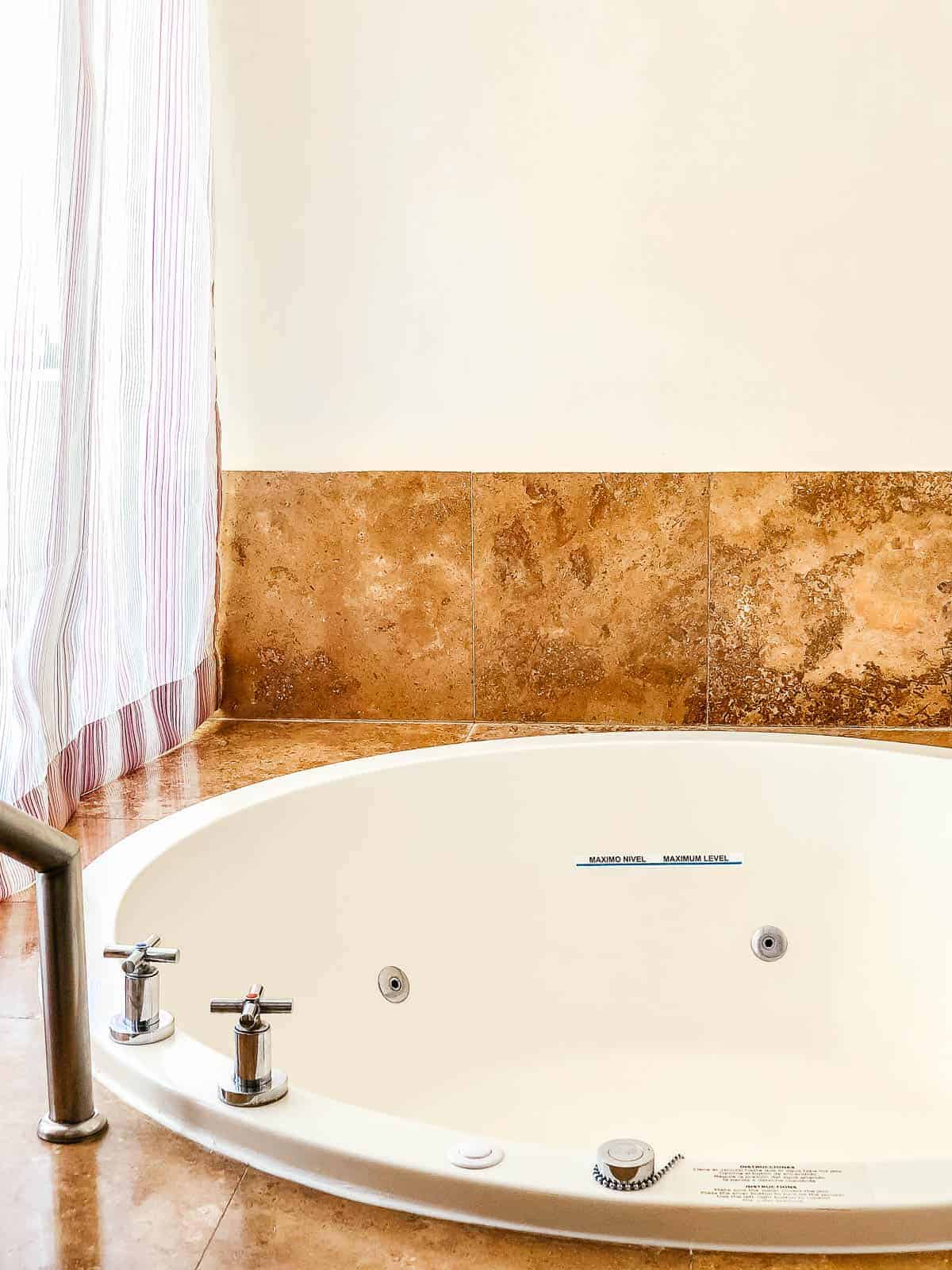 Floor to ceiling glass doors opened up onto our private terrace with a huge daybed and a table and chairs for eating outside. We booked a swim-up suite so a few smooth stone steps led straight into a beautiful pool. The decor was very light and airy, all white and had the same beachy, coastal aesthetic as the lobby.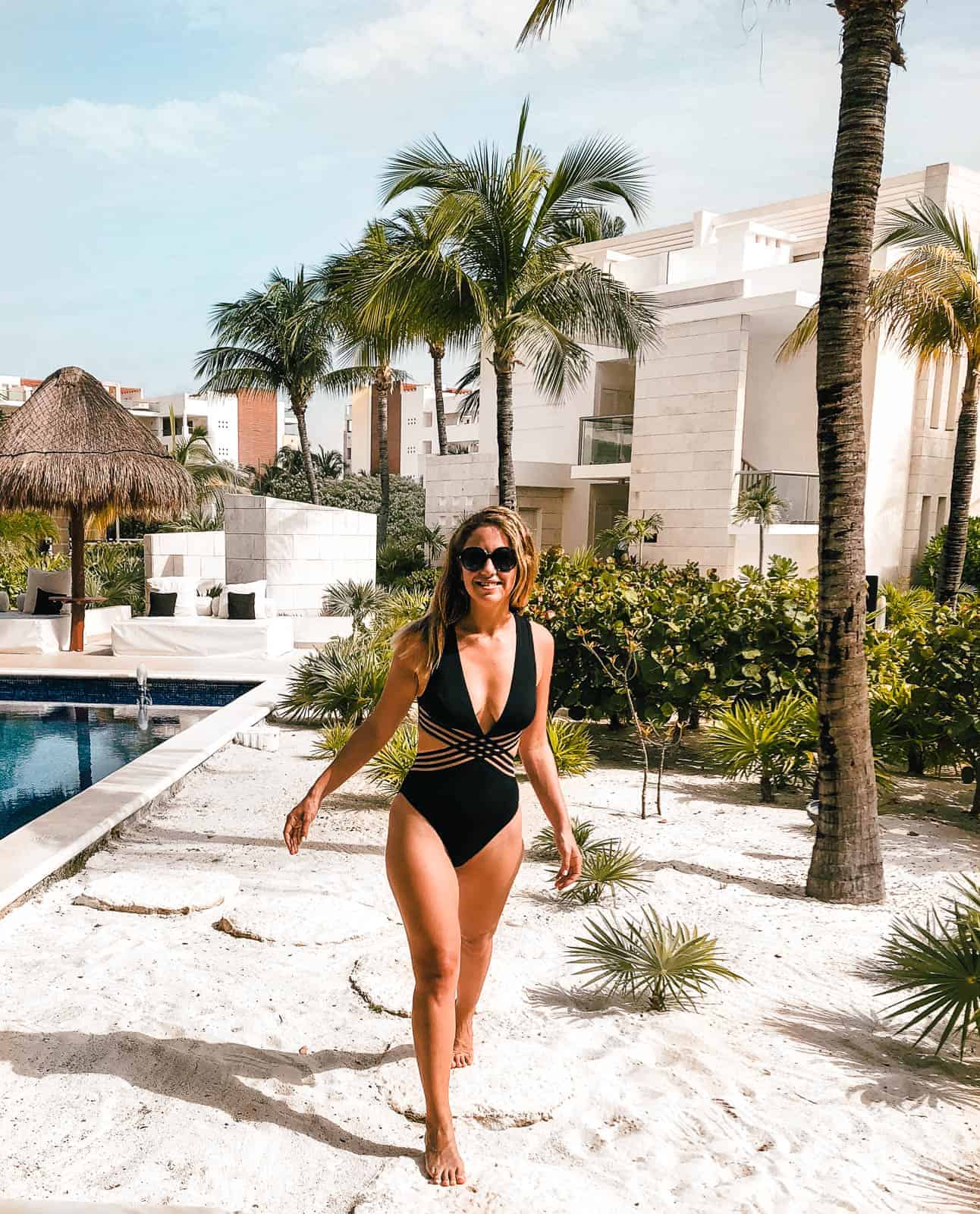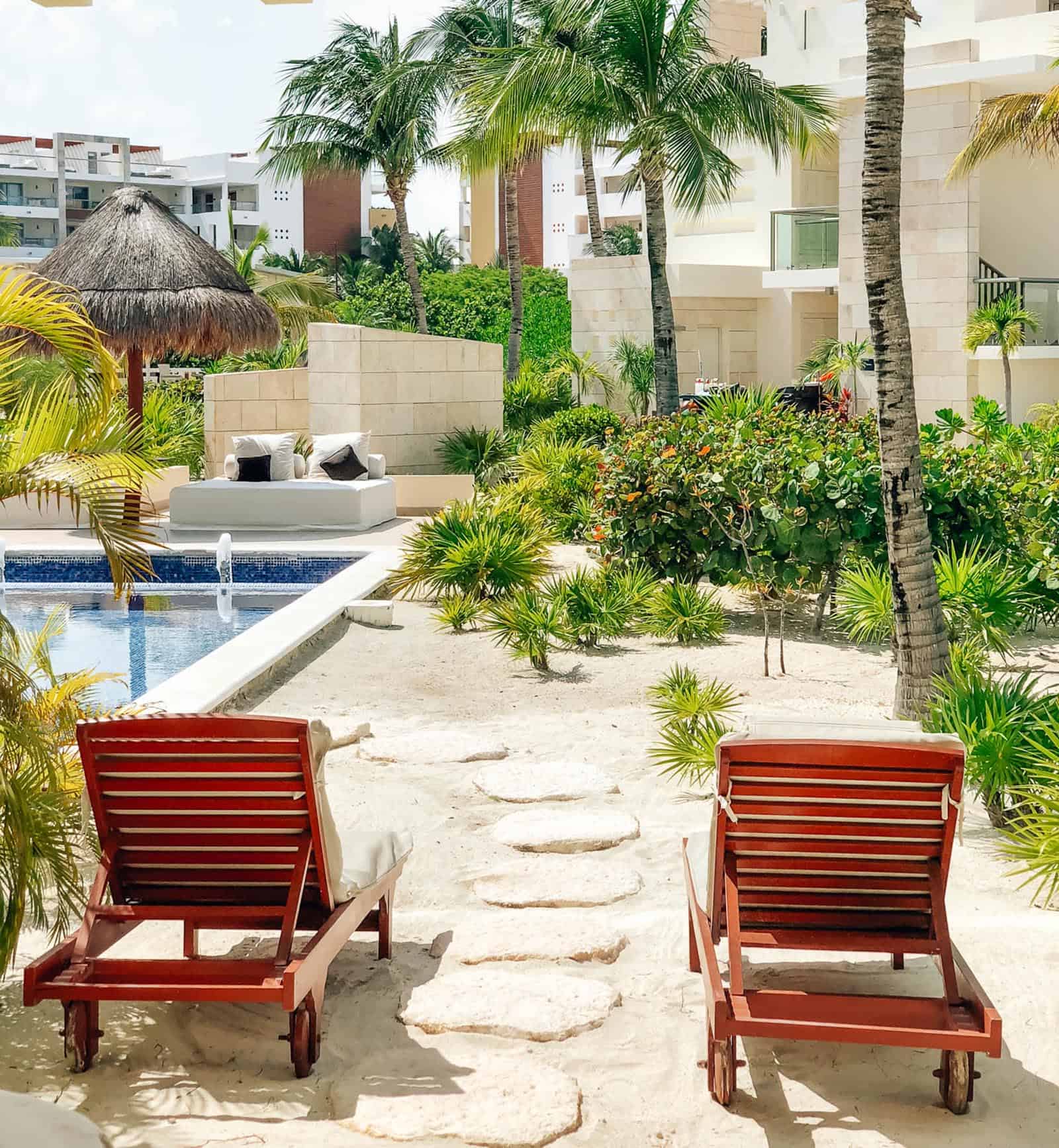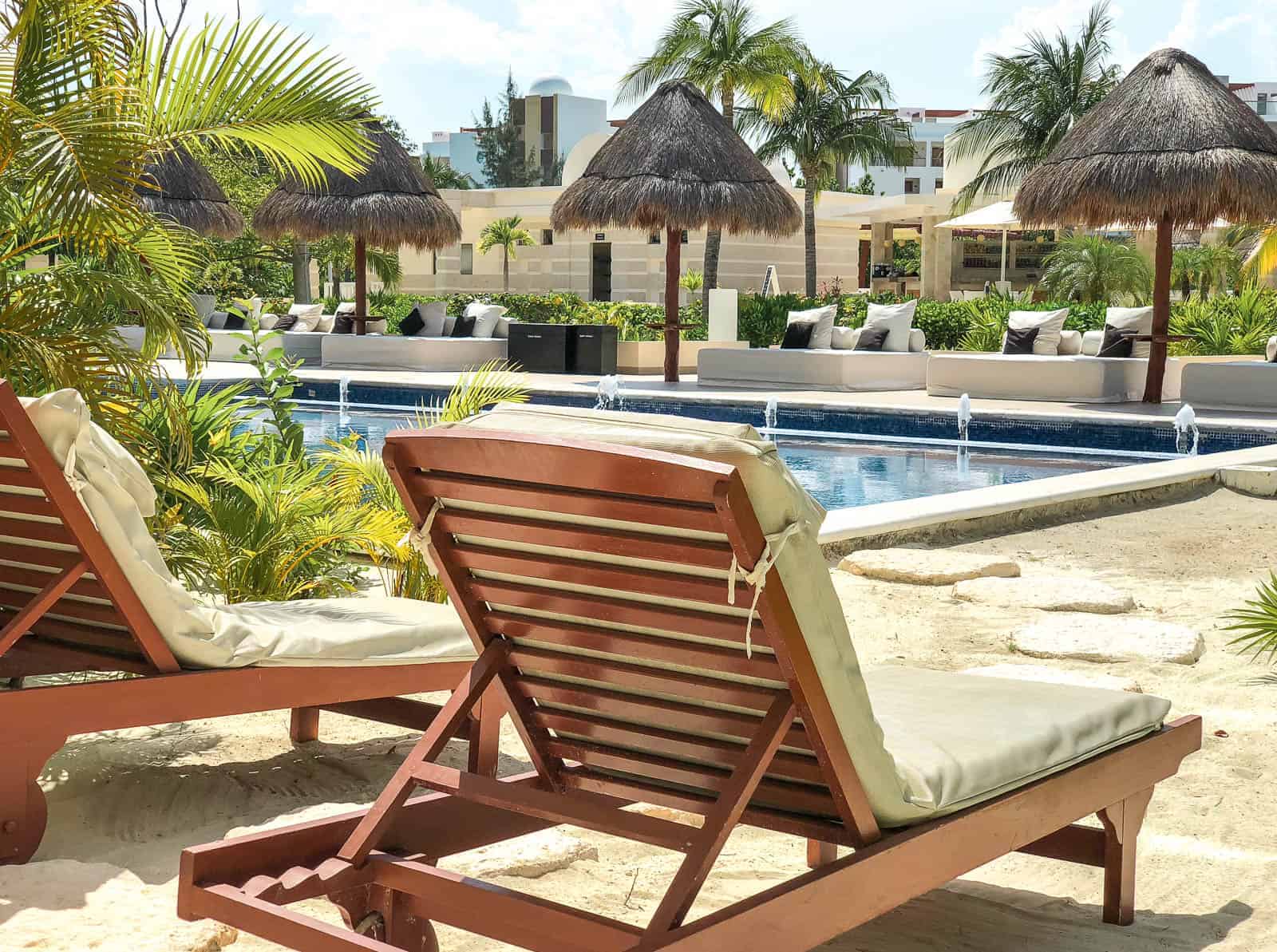 The bathroom was enormous, with a shower that could easily fit six people, a separate toilet room and a huge walk in closet with plenty of hangers, two plush robes and a safe for our valuables. The door to the toilet doesn't reach all the way to the ceiling and is frosted glass, rather than completely opaque, so it's not the most private. This wasn't a problem for JB and I but it's worth mentioning!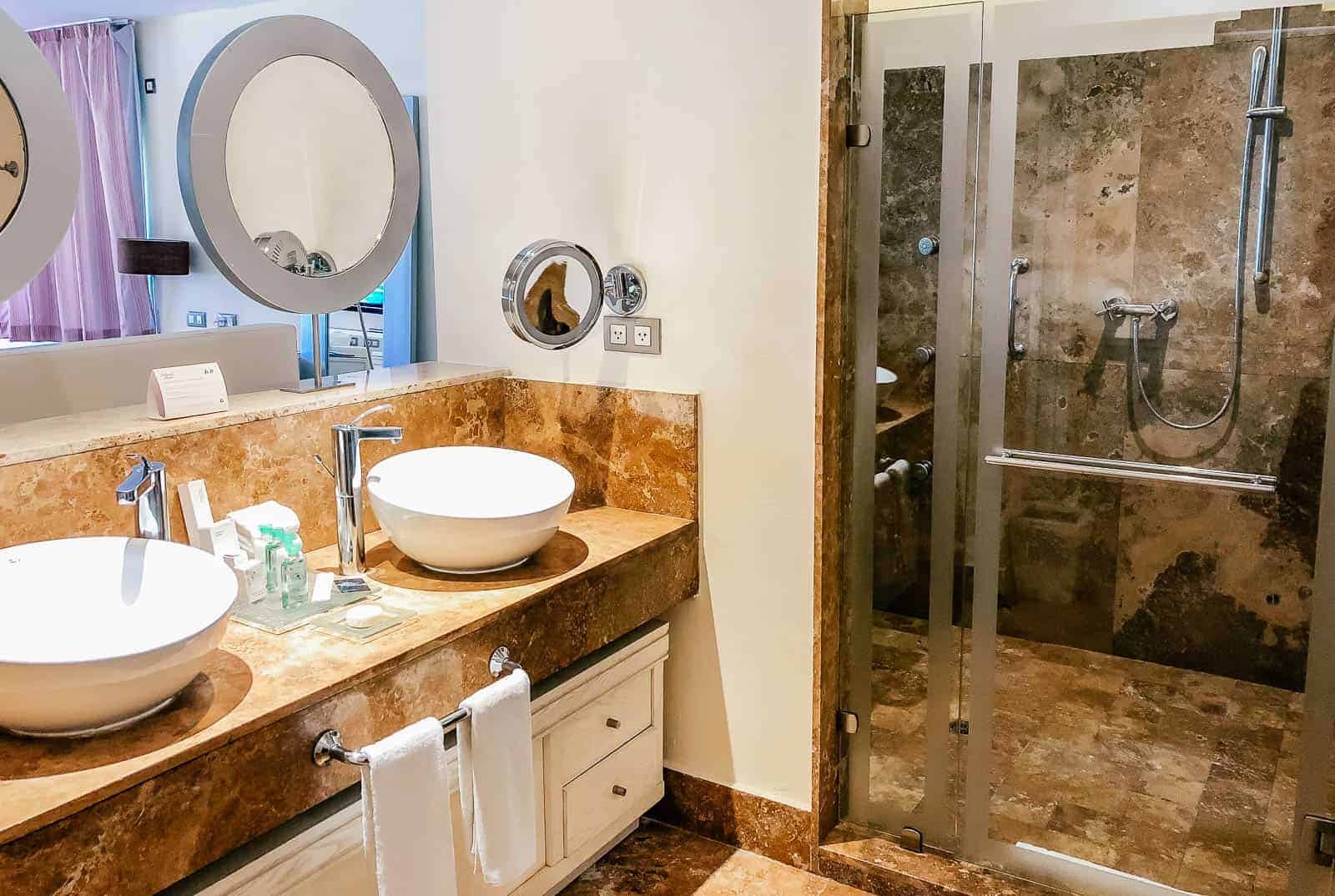 The one downside, which is unfortunately hard to avoid in Mexico, is the slightly musky, damp smell in the room, which is usually due to the humidity/air conditioning. It really wasn't too bad and we got used to it quickly.
Technology At The Beloved Playa Mujeres
This is one area where the resort fell a little short. While we barely turned on the TV, there was not much variety – no satellite TV or smart TV. Our room phone to connect us to the main resort for any of our needs was not working, although they promptly fixed it – twice, since the first time didn't do the trick.
The wi-fi was pretty terrible. It was a weak signal and barely worked in our room, only on the terrace. At the beach, it only worked if you were standing near the towel/concierge stand. It did work very well in the main areas of the hotel though.
The Beloved's Spa And Fitness Center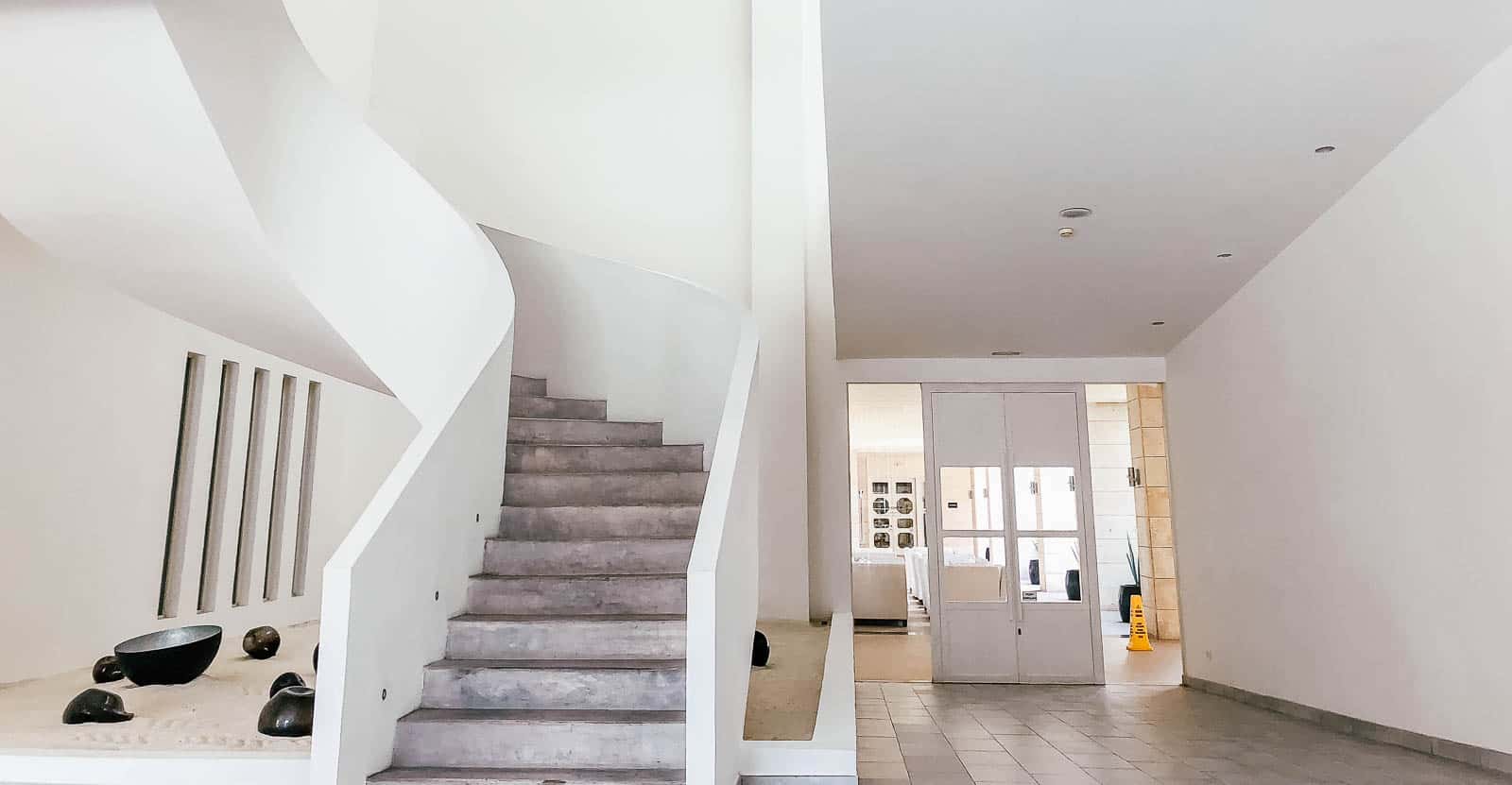 Wanting to get right into relaxation mode, we booked massages at the spa the afternoon we arrived. So after dumping our bags in our room and doing another quick change, we made our way through the resort to the spa, which is housed in its own two-story building. The spa is amazing. The main level houses the reception area and the most beautiful hydrotherapy pools including saunas, salt room, steam room, and lounge area for relaxation. It's all white and gauzy curtains, water elements and soft music.
The treatment rooms were large, lovely and clean, and our aromatherapy massages were excellent. After our treatments, we were given heated neck/back cushions and led into yet another lounge area where they brought us drinks and a tray of chocolate strawberries. I could have spent all afternoon there!
As for the gym, I'm not usually a big workout-on-vacation girl, but with all the eating and drinking we were going to be doing, I felt like it was a good idea so I joined JB in the gym each morning. The fitness center was small but adequate, although it also lacked wifi and did not have TVs on the treadmills. There was a separate stretching/yoga room and a hanging heavy bag though, which I loved!
Food At The Beloved All-Inclusive Resort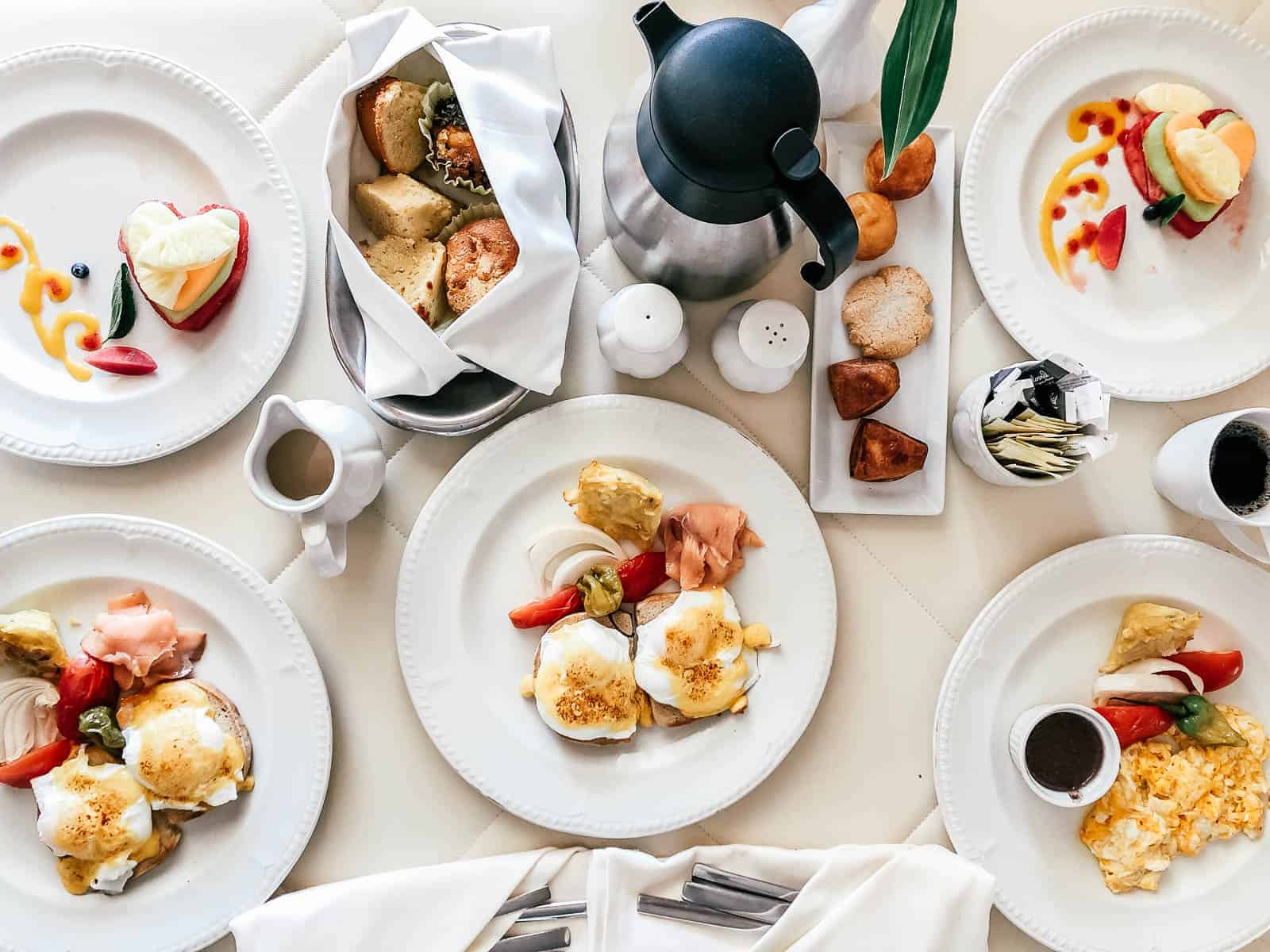 The food was inconsistent – which to be honest, was what we expected at an all-inclusive resort. When everything is free and you have to cater to such high volumes of food, you're just not going to get consistent 5-star dining. We were okay with that because the beauty of an all-inclusive resort is that if you order something you don't like, you can just order something else!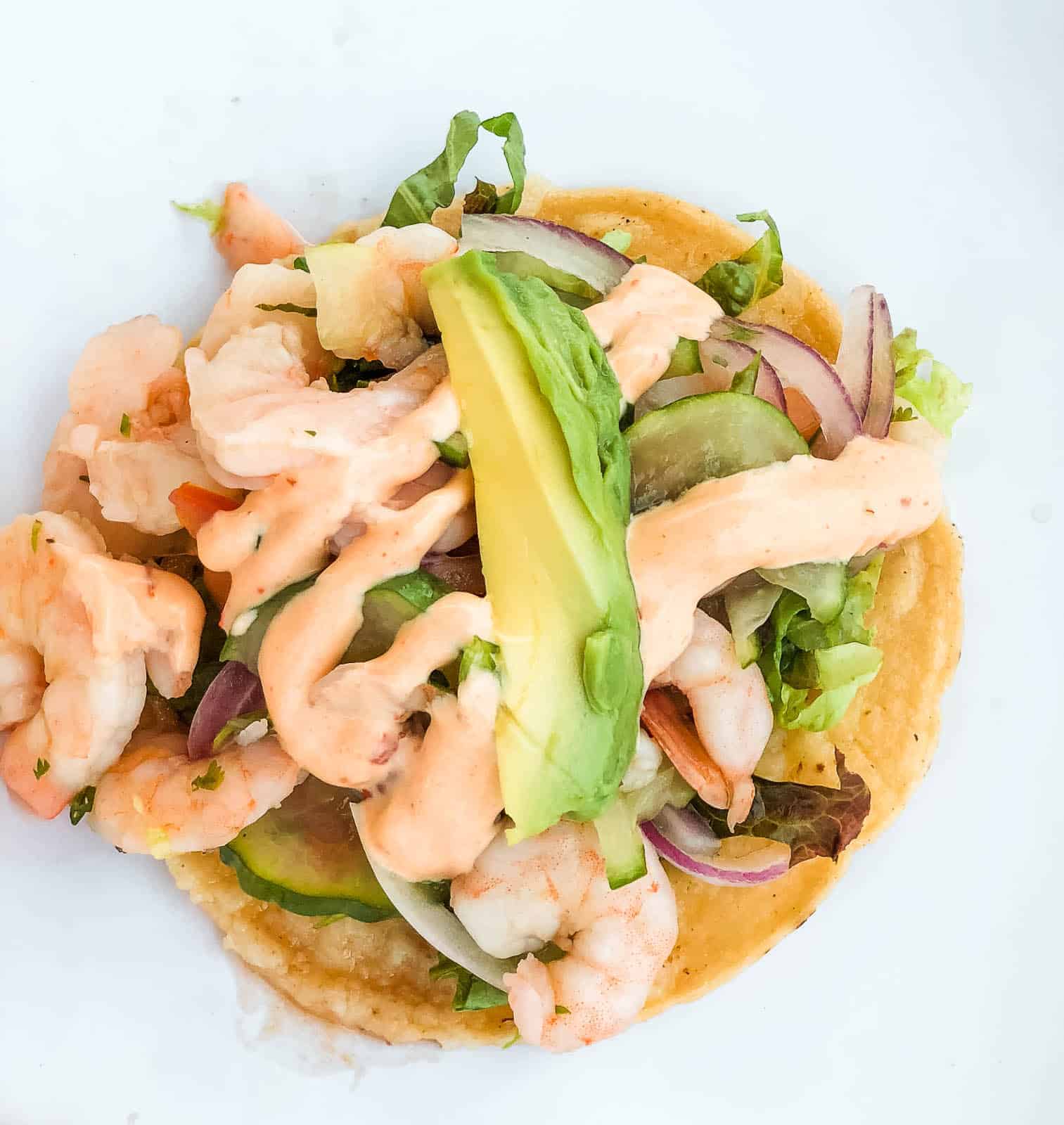 Everything we ordered with shrimp was amazing, especially our favorite lunch – shrimp tostadas brought to us beachside every day. The staff could not have been more accommodating of my gluten allergy, and even made me a custom cheese quesadilla on a corn tortilla for lunch as well. Each day, the beach area also had a special lunch offering in addition to the regular beach dining menu, like a paella cookout and a taco bar. We didn't have the paella but the tacos were excellent!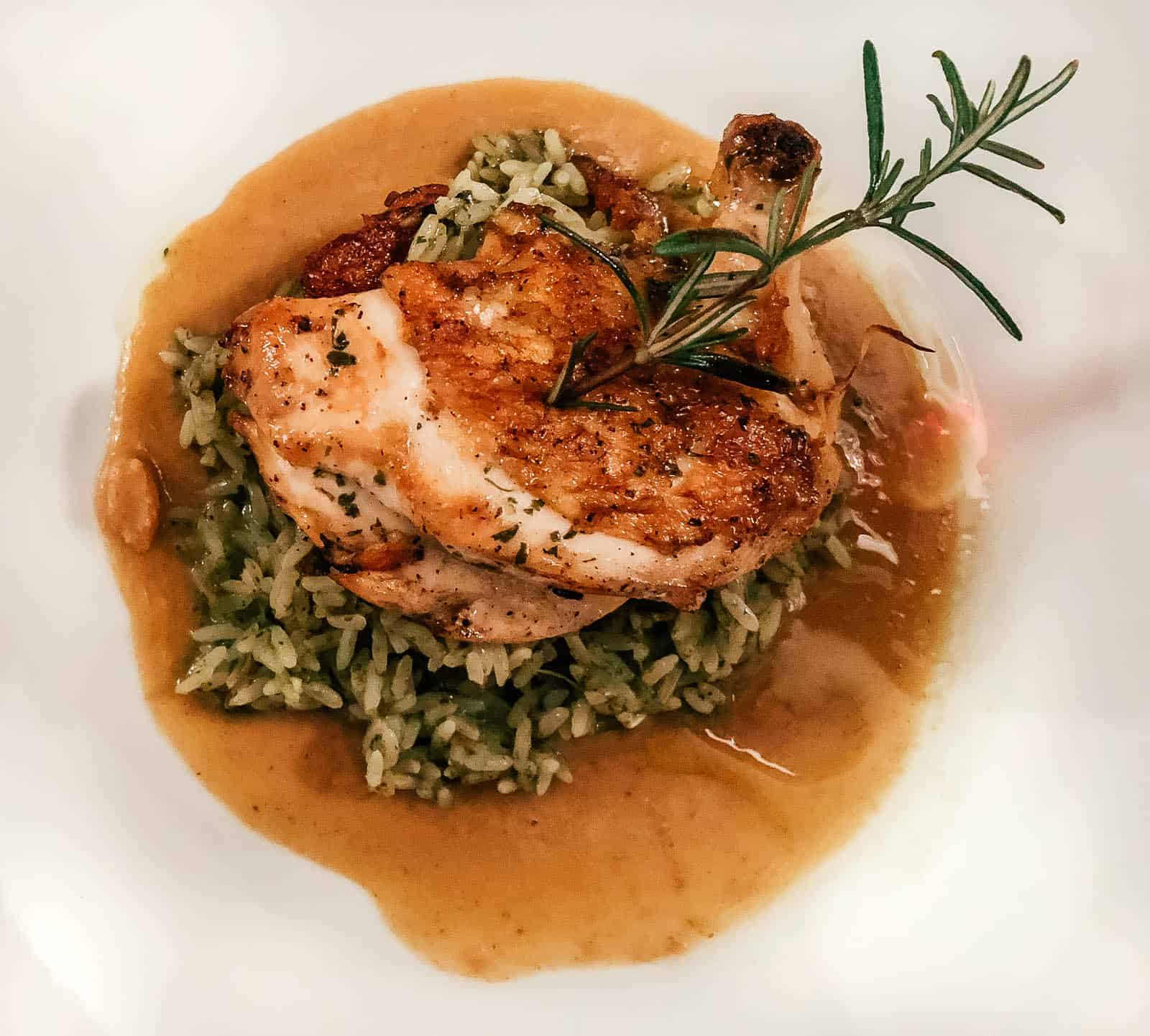 I didn't enjoy our dinner at the Lupita restaurant – the food was bland and flavorless. I had the scallops appetizer and the Veracruz mussels, which were dry and covered in what tasted like Ragu sauce. JB did like his duck tamale and roasted chicken though.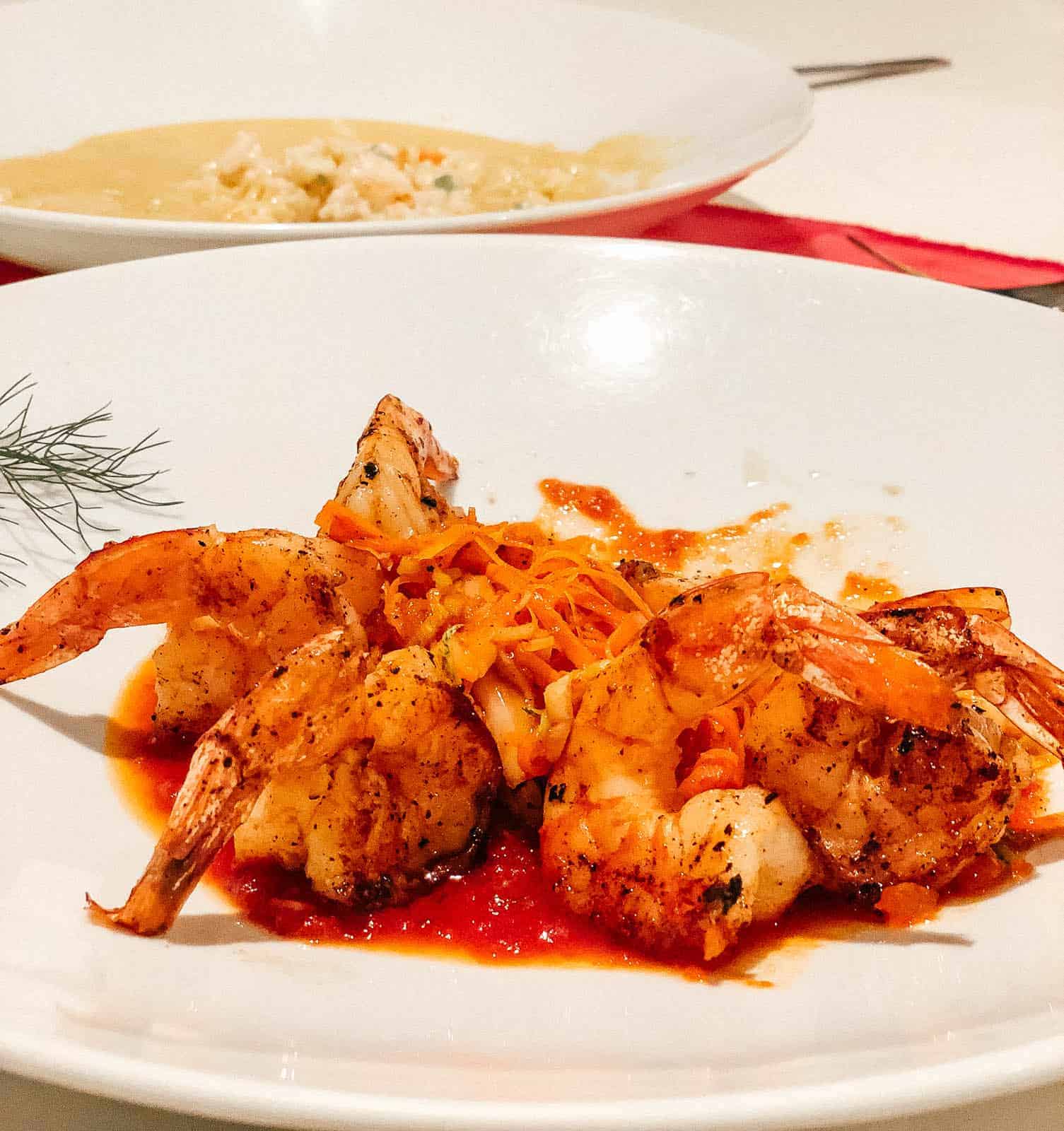 We both loved the sushi and sashimi right outside the restaurant at the Lupita Lounge. We ended up starting most of our evenings with a platter of sushi and a cocktail at Lupita Lounge, and then deciding if we felt like more food or a walk on the beach. Most nights we did both!
For dinner at Isla Grill, JB and I both had beef entrees that were pretty decent, although the only gluten free dessert option, a crustless cheesecake, was terrible.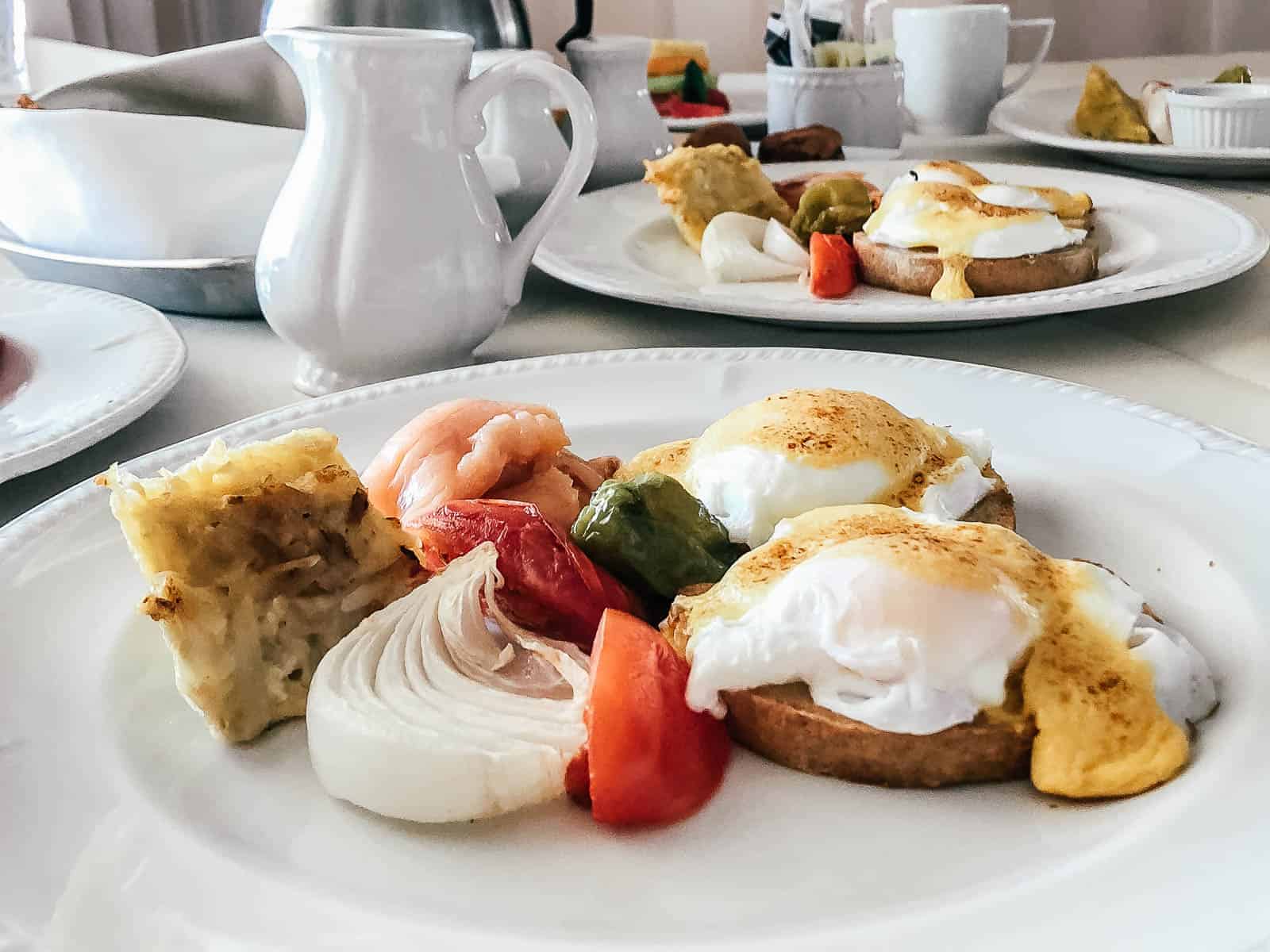 Breakfast at the Aroma Restaurant was amazing! They had just about everything you could think of from traditional Mexican dishes to eggs, waffles, and a selection of pastries, including a whole area of gluten free baked goods. Not the mention the unlimited bellinis that we indulged in every morning! We didn't try the smoothies at the Natura bar but they looked delicious and the iced coffees there were excellent.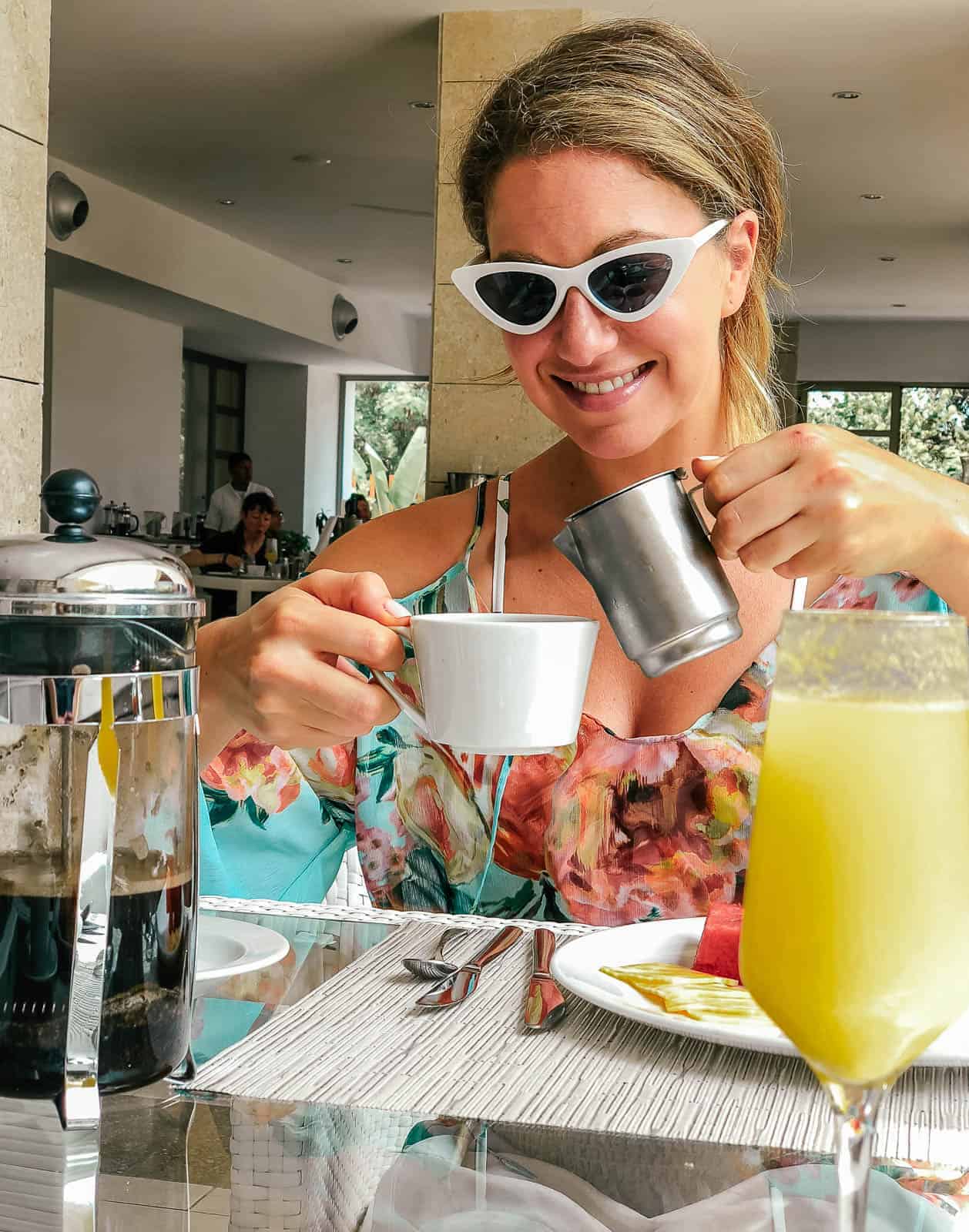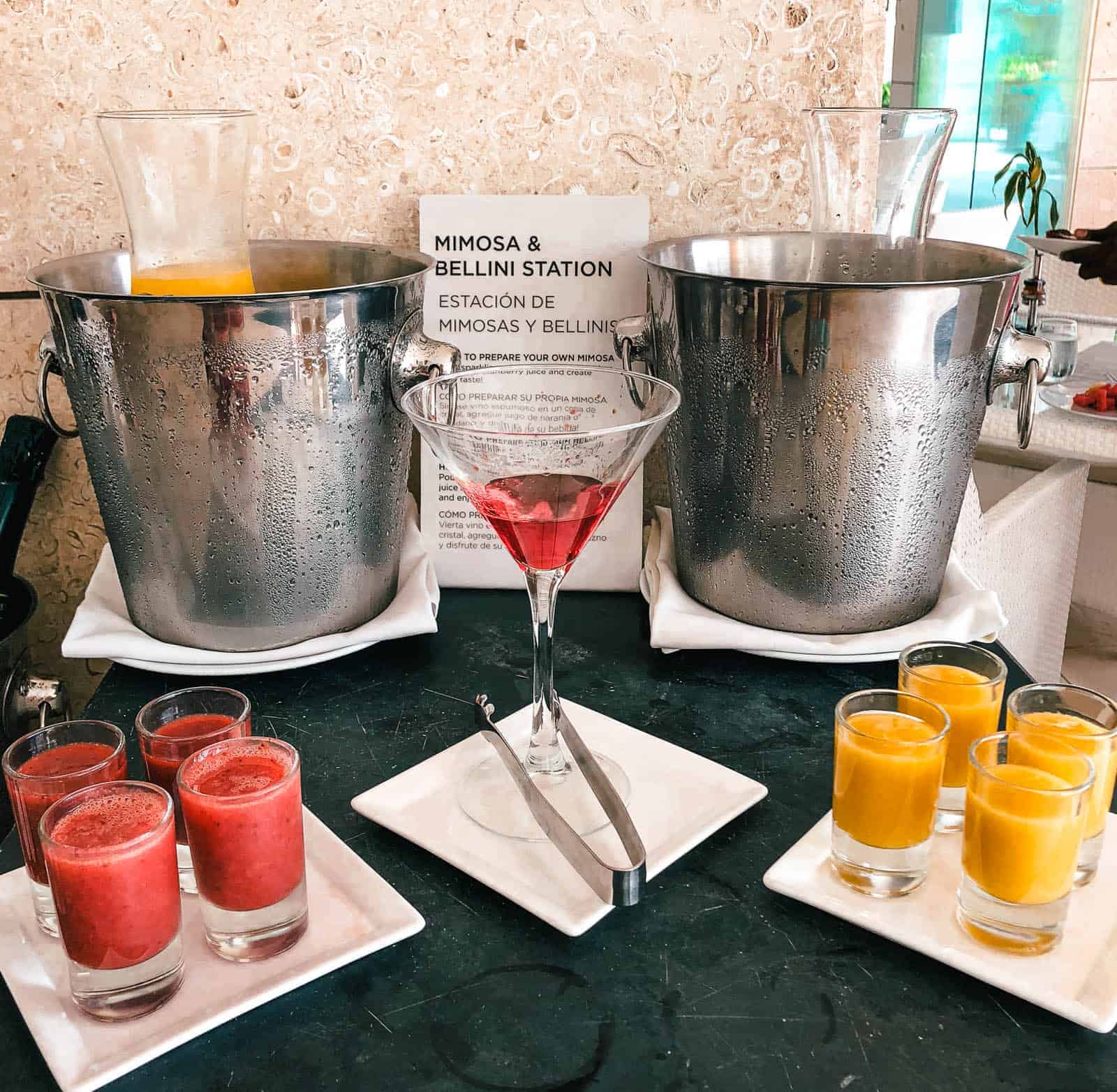 I wanted to go to the El Mar beachside restaurant but the night we selected for it – our last night – it was closed for a wedding. We tried dinner at the Aroma Restaurant instead, where the zucchini risotto wasn't very good but the grilled shrimp with polenta was excellent.
We didn't order much in the way of room service, save for the occasional order of chocolate strawberries, which due to one instance of language barrier arrived as a bowl of strawberries and a cup of chocolate sauce! But on our last morning we had a big breakfast spread in our room of eggs, pastries and fruit that was very good.
The Beloved Hotel's Pools And Beach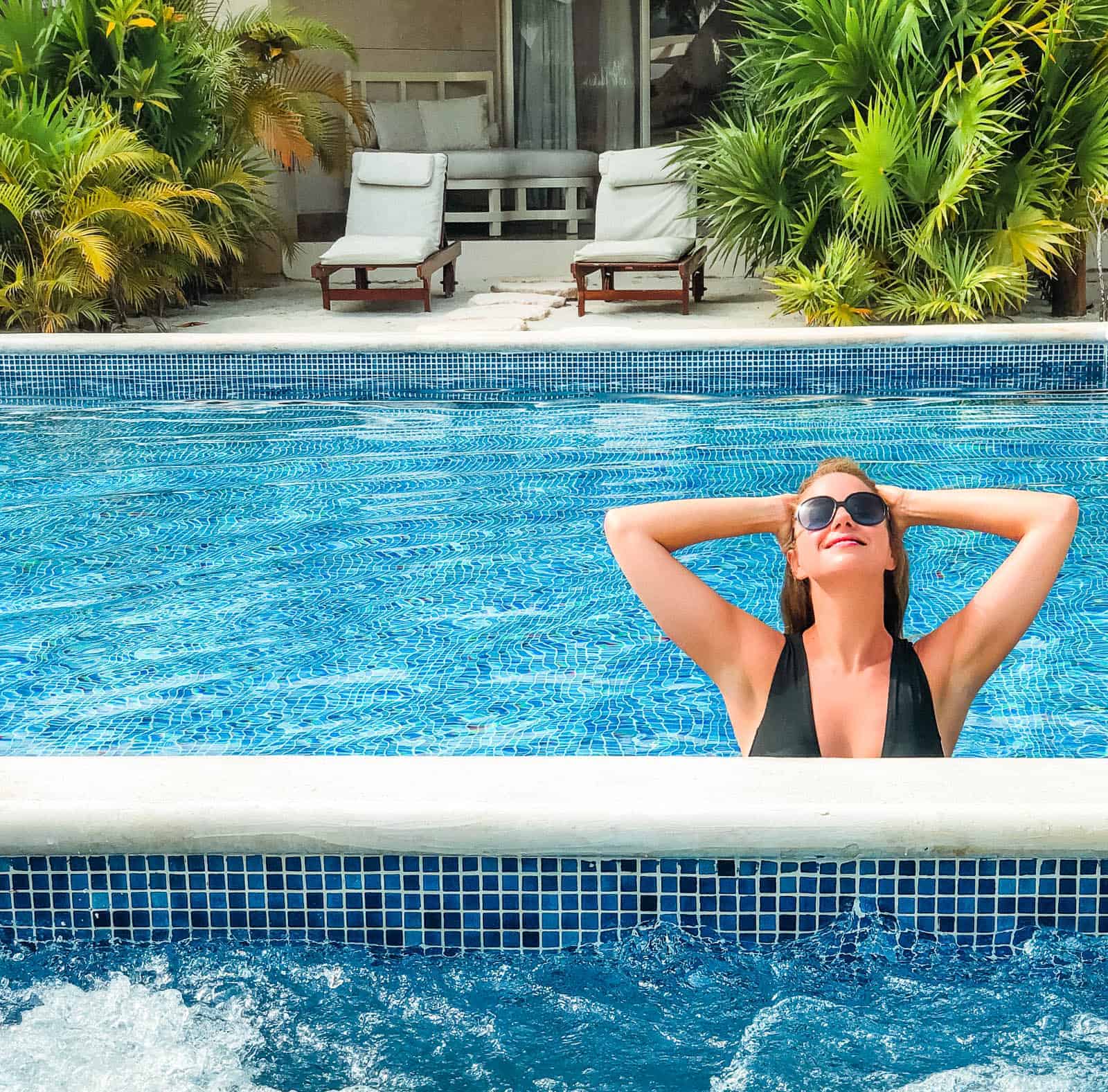 The pools were very nice at the Beloved, if nothing spectacular. The Beloved is made up of several low-rise buildings, and each building has their own pool area which means that even when the resort is full (it was incredibly quiet when we were there, which is what we wanted) there's still plenty of quiet privacy and space at the pools. The main pool by Isla Grill was small by resort standards, but beautiful and had a great swim up bar.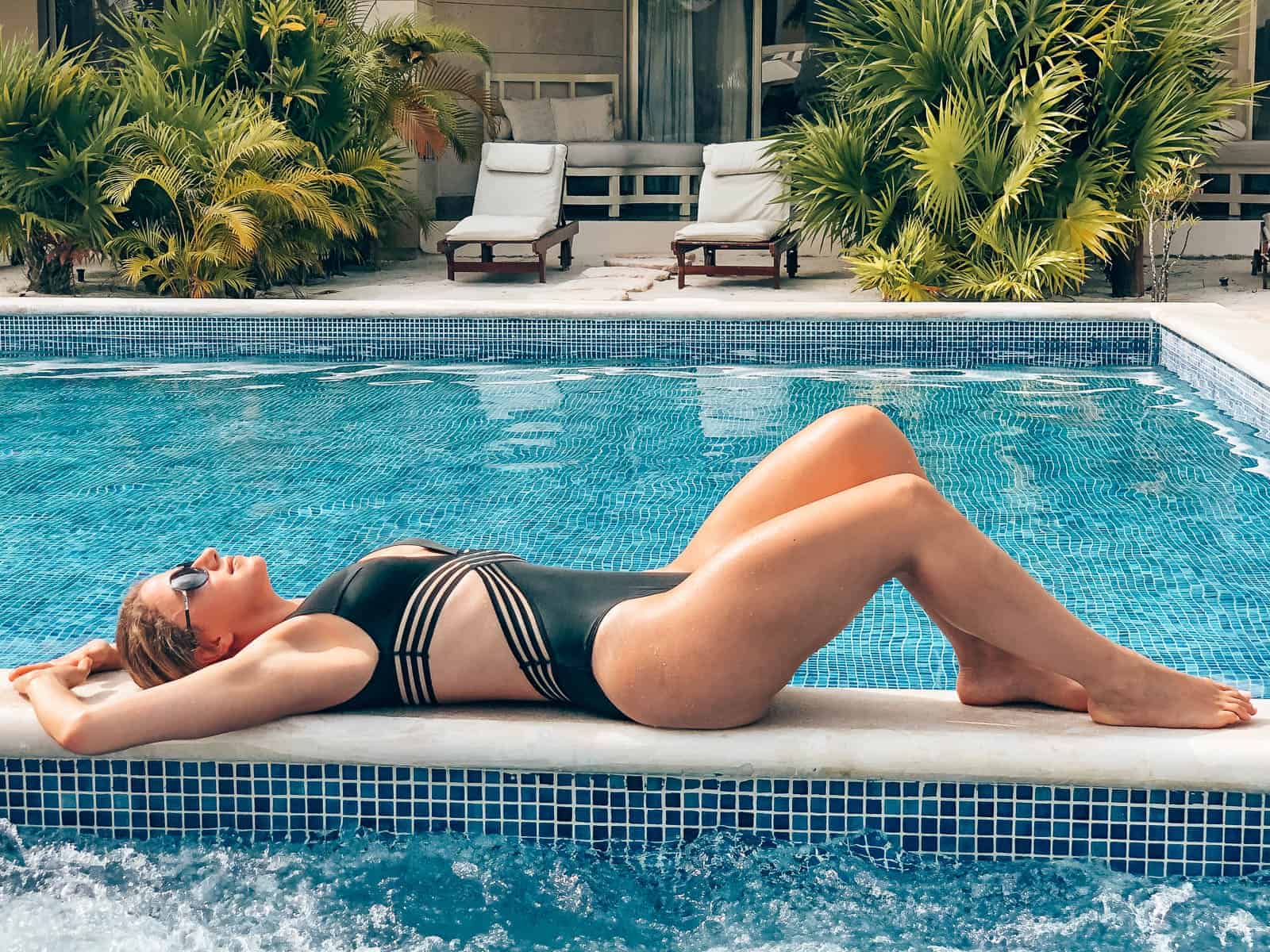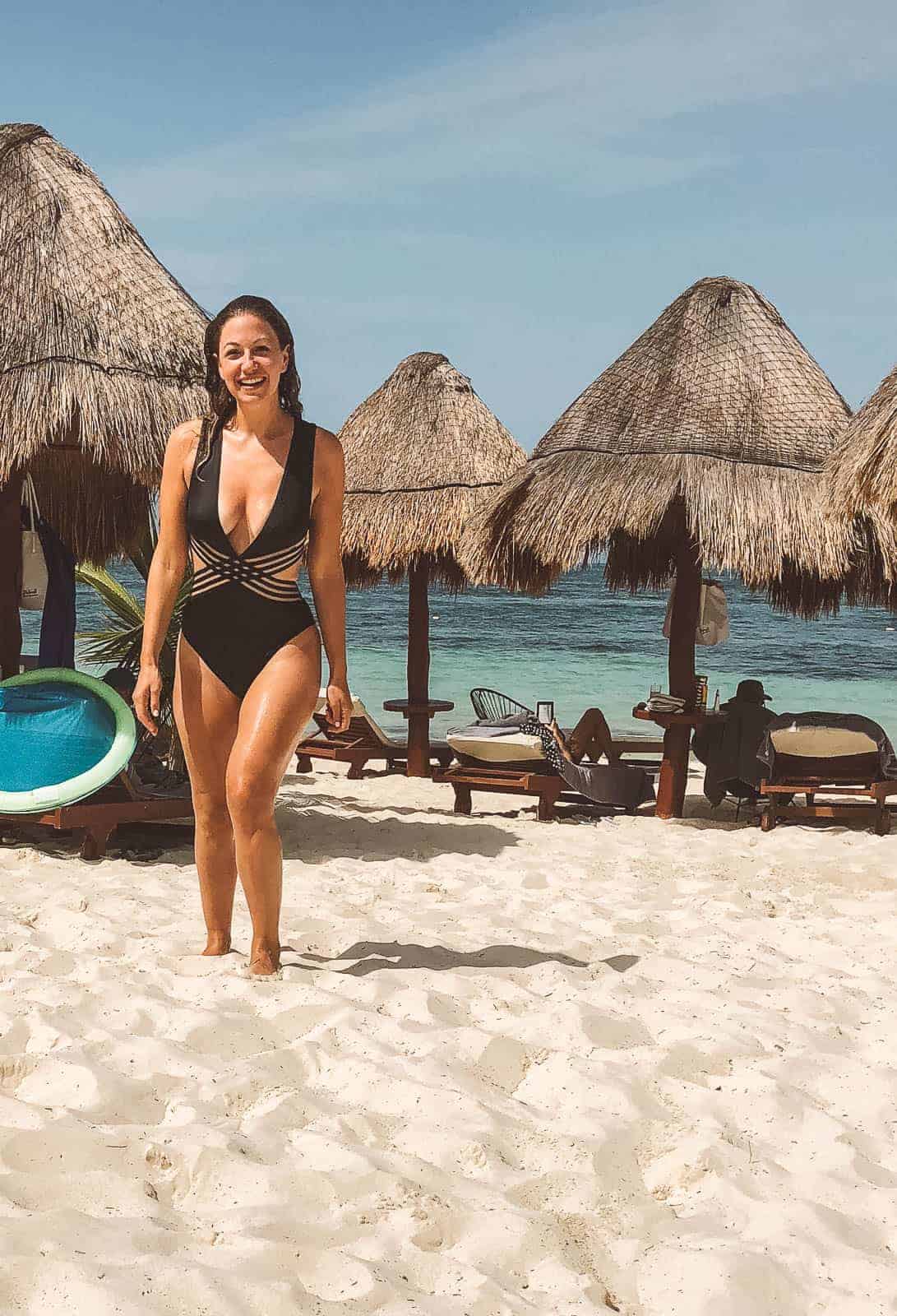 JB and I love the beach so we spent most full days lounging on daybeds alternating between shade, sun and dips in the ocean. We had no trouble securing the large, comfortable daybeds with plenty of shade and sun options, and beachside service was excellent. Our waiters were attentive, friendly and very quick to bring any food and drinks we ordered – and we ordered a lot!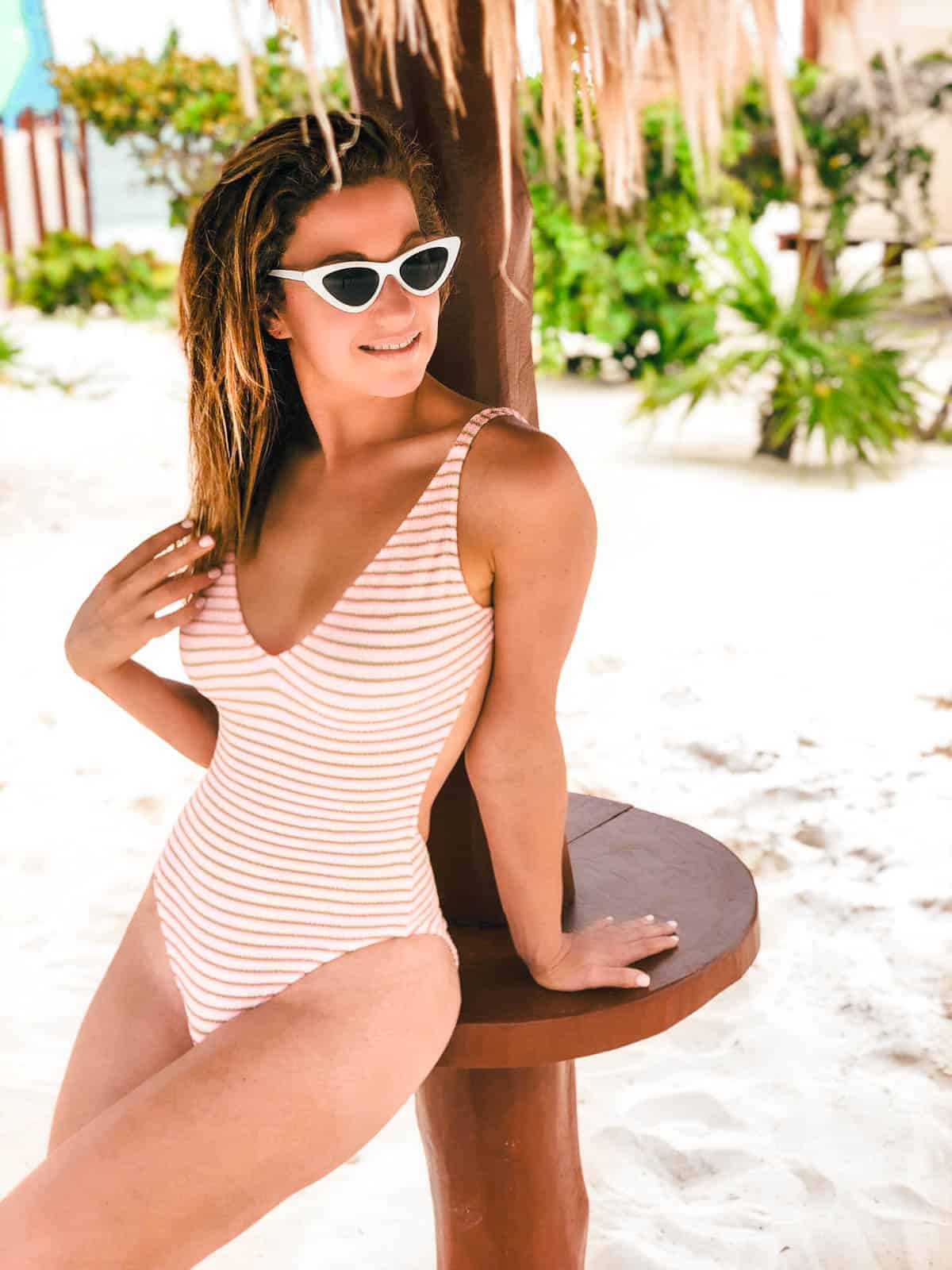 The ocean water wasn't as crystal clear as you might expect, because this area of Mexico has a lot of seaweed but it didn't bother us and we very much enjoyed our dips in the ocean.
The water temperature was perfect and the Beloved staff were very attentive to cleaning up any seaweed trails.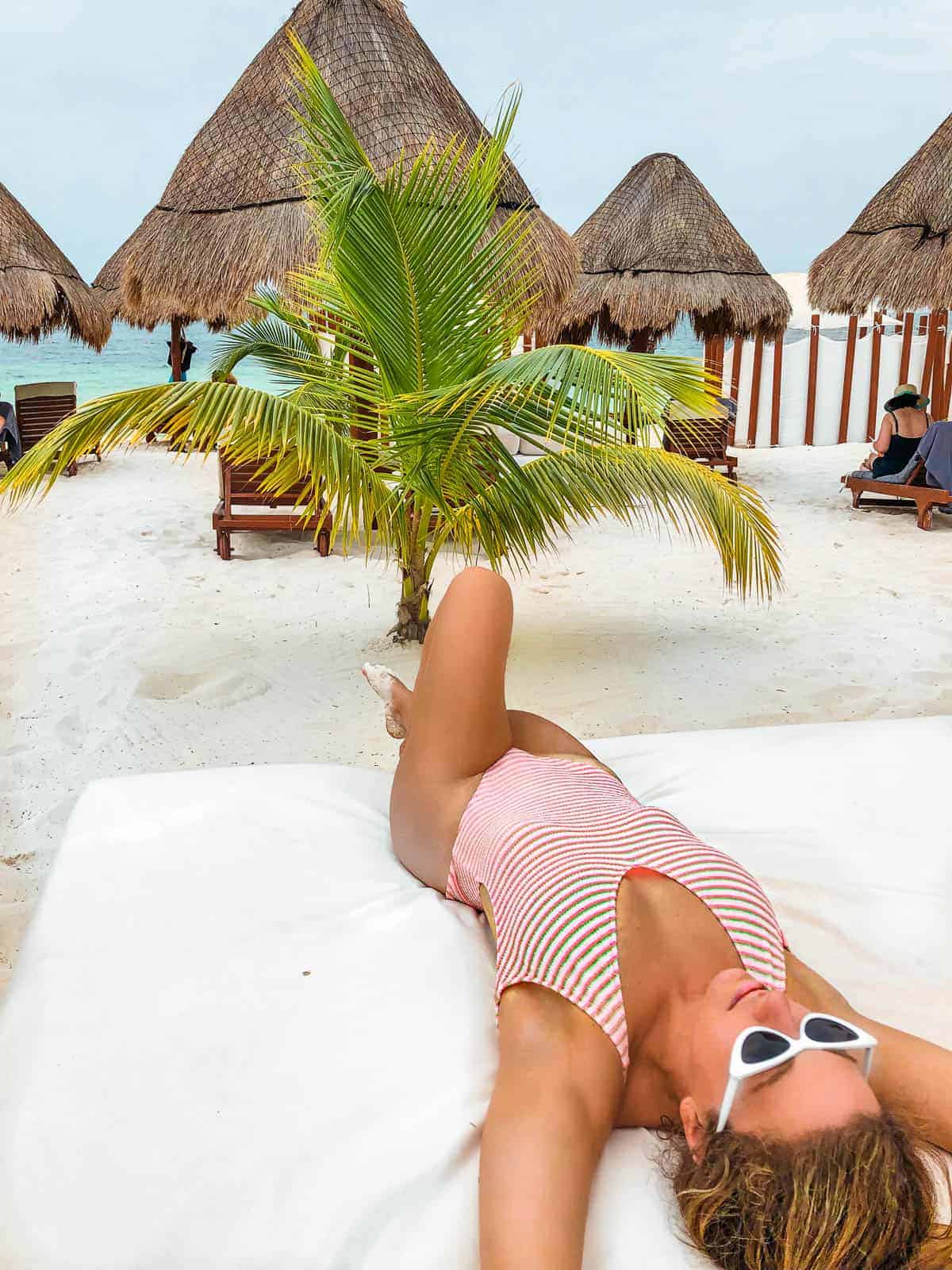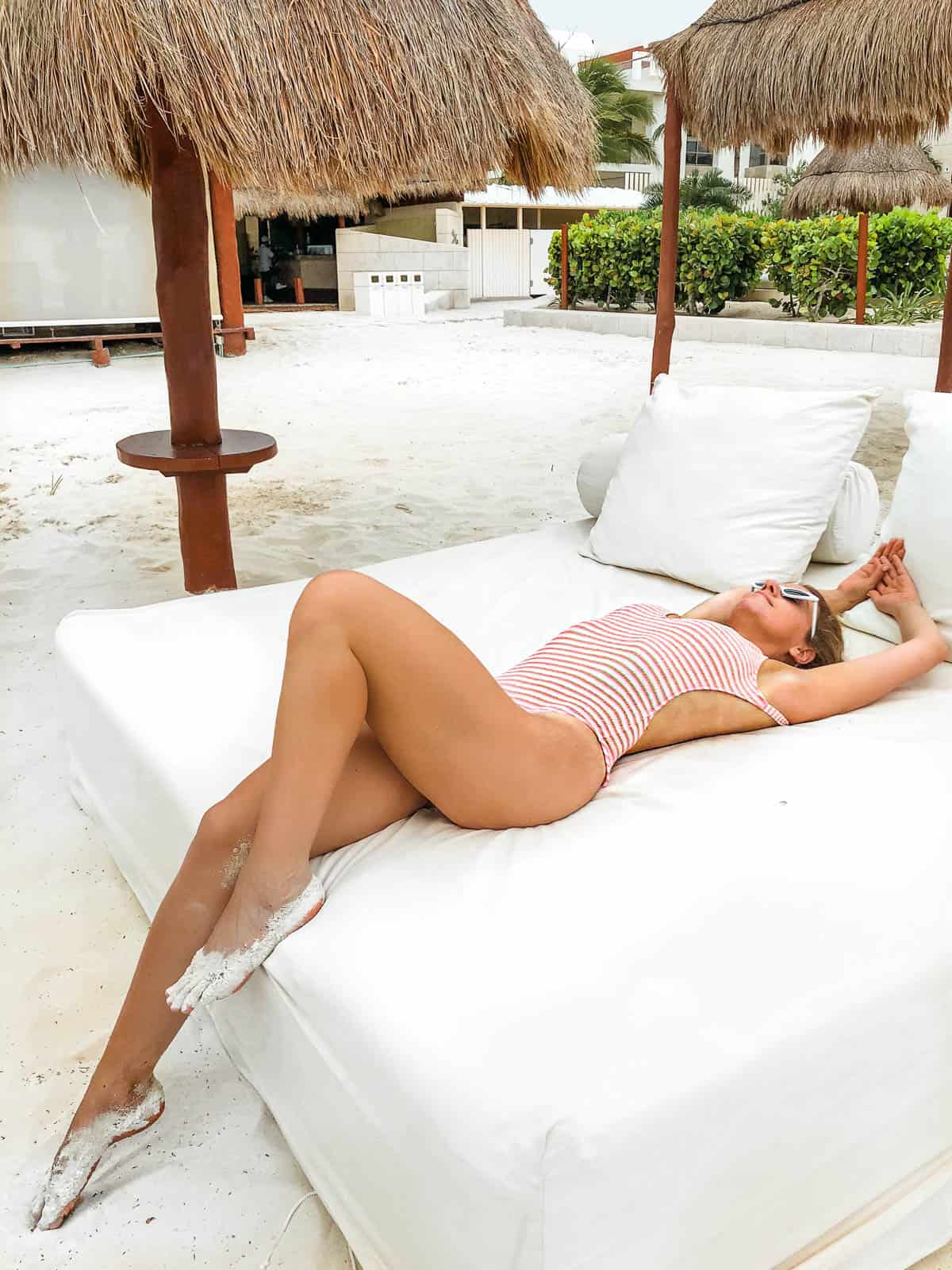 Service And Staff At The Beloved Playa Mujeres
This is what really made our stay at the Beloved Playa Mujeres spectacular. The level of attentiveness, service, friendliness and willingness to help with anything we needed was so amazing.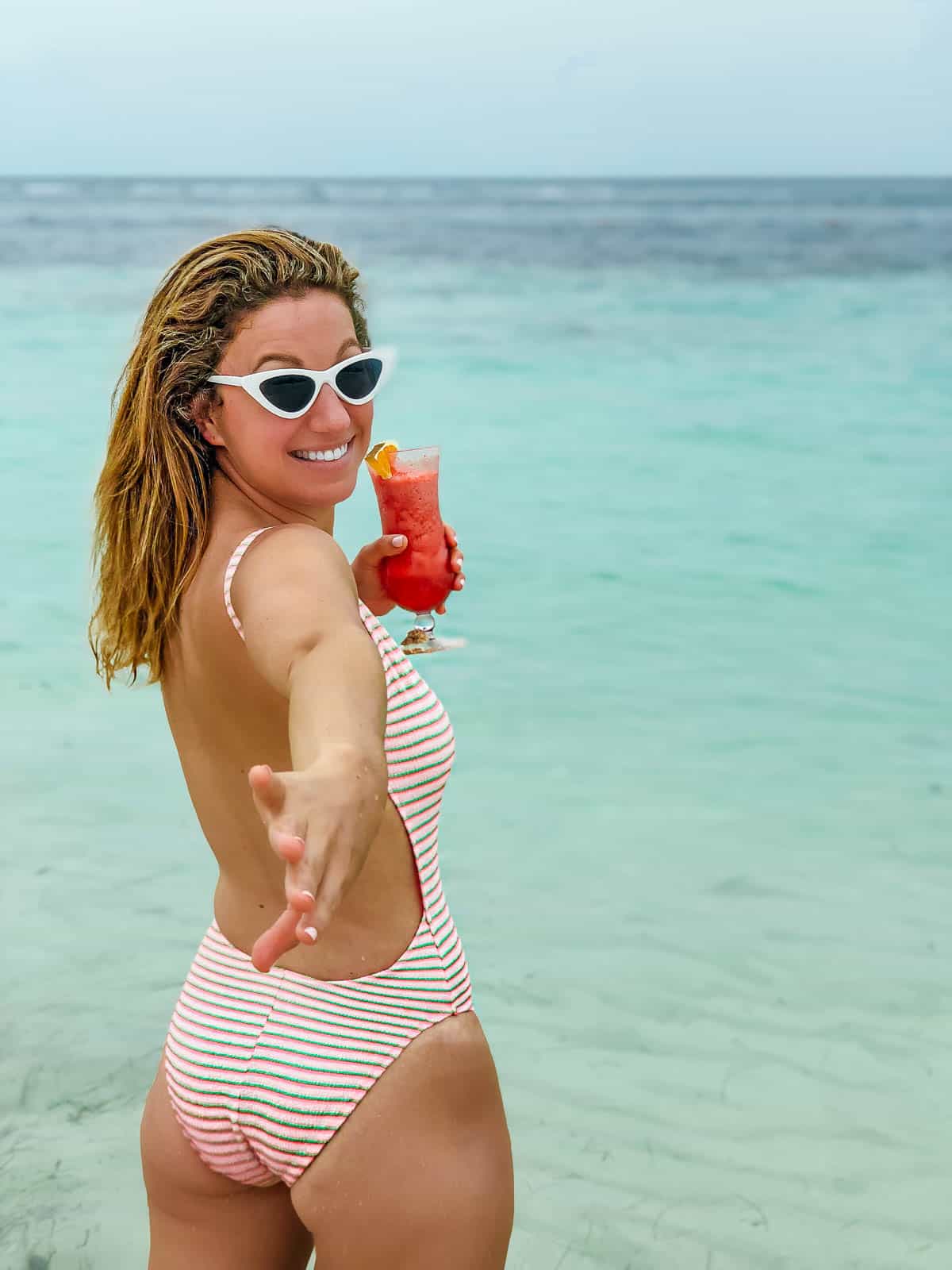 We felt so taken care of and everyone was so nice that it far made up for any small inconveniences or issues. Everywhere you went, you were greeted with a smile. It was little things like how the hotel has bug spray all over the resort for you to use, or how the concierge found some sunscreen for us to use so we wouldn't have to pay $30+ USD at the gift shop (since we were only bringing carry-on luggage we meant to buy some at the airport in Cancun but they didn't have any) or making me a special gluten-free quesadilla, remembering what drink I liked, and on and on.
Bottom Line: Highly Recommend The Beloved Playa Mujeres All-Inclusive Resort
This trip was everything I was looking for and more. I wanted a beautiful resort to take care of all the details for me so that I could eat and drink and read and swim and that is exactly what I got!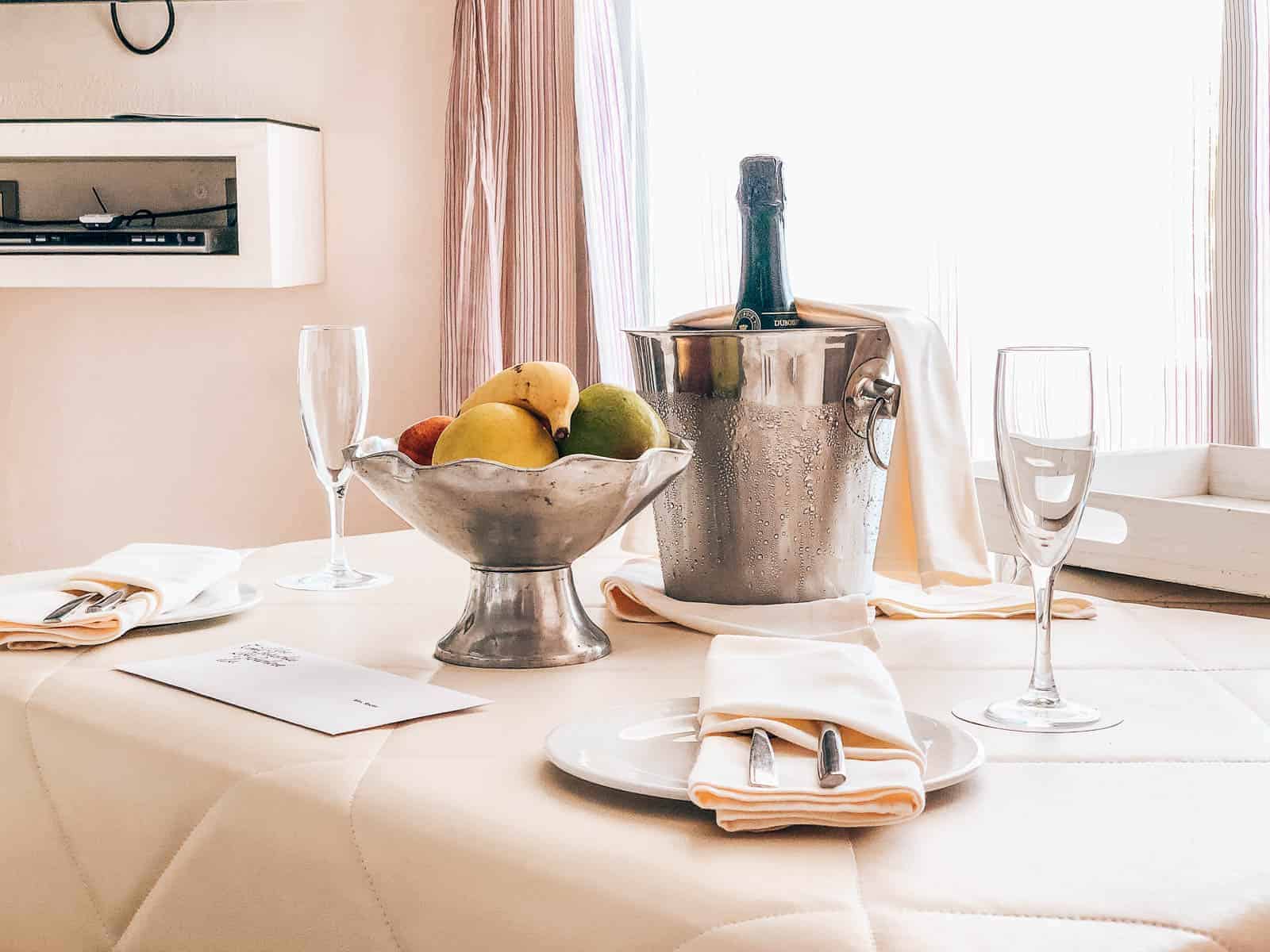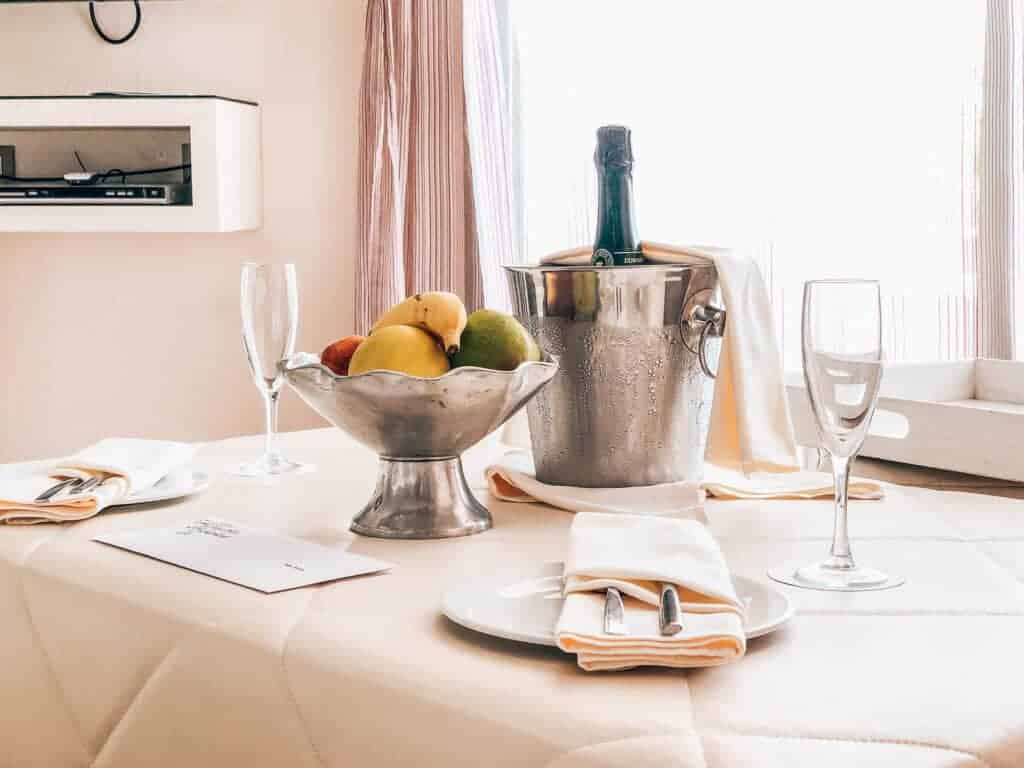 And there you have it! My complete Beloved Playa Mujeres hotel review! Even though there are many more resorts in the Carribbean I want to visit (W Punta Mita, Fairmont Mayakoba and Ganesvoort Turks and Caicos, to name a few!) I would go back to the Beloved Playa Mujeres in a heartbeat! It's definitely going to become somewhere we visit again and again. I also can't wait to try other Excellence Resorts around the Carribbean!
Have you been to The Beloved? What's your favorite resort in Mexico? Share in the comments below!

Love this post? Pin my Beloved Playa Mujeres hotel review to save!