Last summer JB and I spent 4 Days in Rome and then rented a car (via my favorite international car rental company, Auto Europe) for a 5-day Puglia road trip itinerary. It was one of the best trips I've ever been on and I am so excited to share it with you!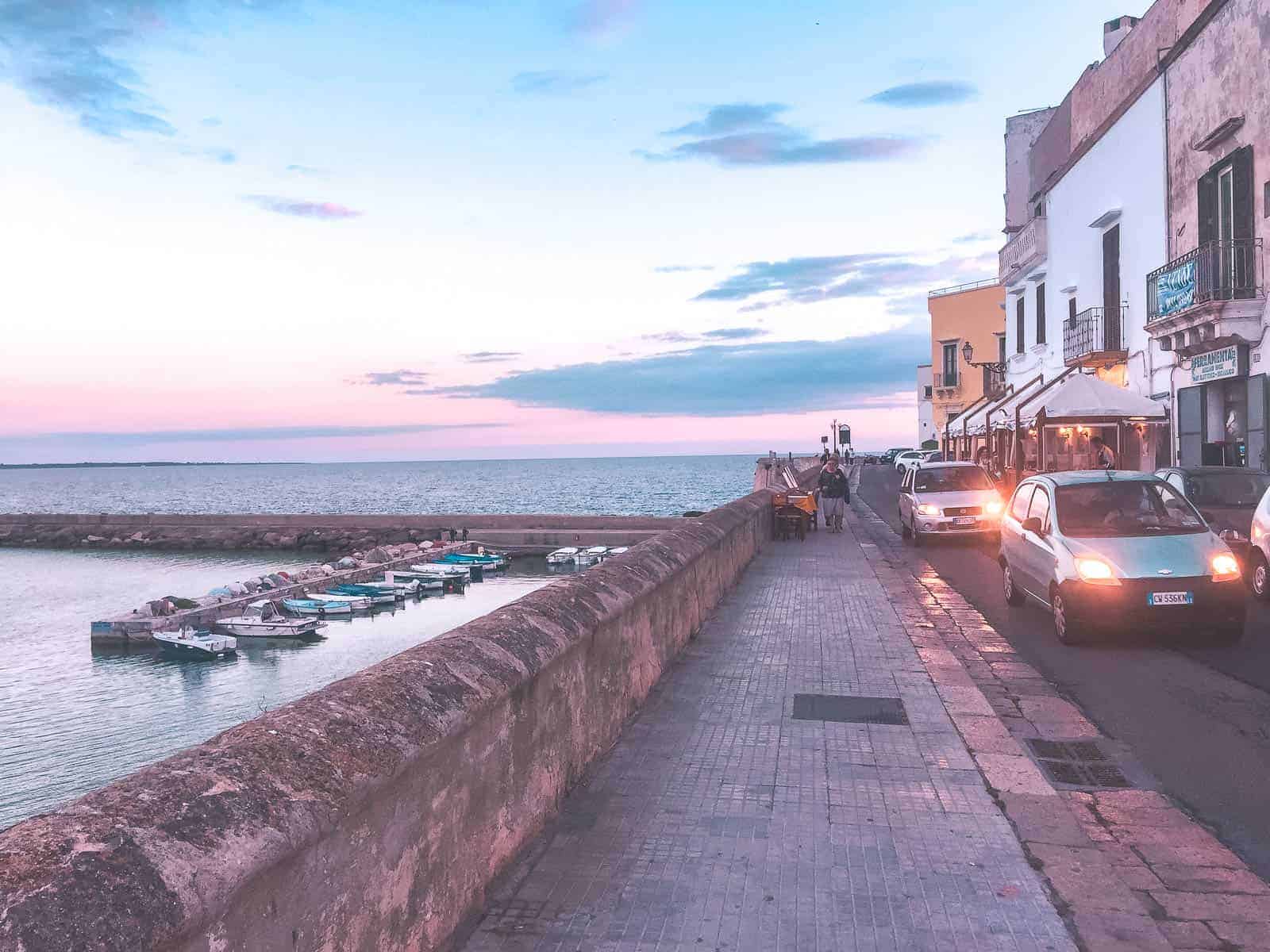 Driving In Puglia
Our Puglia road trip itinerary was the first time JB and I were going to drive in Europe. I have to admit, I was a little nervous, even though d I wasn't even going to be driving! Yes, that's right, JB does all our driving. I was still worried about winding back roads, narrow streets and busy roundabouts though. It turned out to be totally fine but we did pick up some useful tips that you should know.
When driving in Puglia, make sure to make your car rental reservation in advance online. Unless you are very experienced at driving manual, get an automatic car. It's important to rent in advance online because European car rental companies tend to have limited availability of automatic cars. But if you do nothing else, 1000% spring for the GPS system. Puglia is remote and there are many areas to explore that are away from main highways. We got quite lost trying to find our way to some of our masseria accommodations and GPS saved us! I really like Auto Europe for car rentals. Auto Europe has excellent customer service, and they really know the ins and outs of driving in Europe. Plan to pick up your rental car at the airport you arrive by – likely Brindisi or Bari.
Parking can be challenging in Puglia, so I recommend getting a compact or economy-size car if you can manage it. It will make squeezing into parking spaces on narrow roads easier!
Be extra careful in the roundabouts, and triple check your blind spots! The exits from the roundabouts come up quickly, are often very close together and Italians often do not use their indicator lights even when they should!
Use your car to get from point A to B, but then park and walk. You don't want to drive all over each town – not only are most of Puglia's towns small enough to walk but parking will be difficult. Plus, walking is the best way to explore!
How Many Days Should You Spend In Puglia?
This is a 5-day Puglia road trip itinerary, and 5 to 7 days is the perfect amount of time to spend in Puglia. Five days is enough time to base yourself in two or three towns. With seven days in Puglia, you'll have time for more leisurely exploration, stroll through olive groves and soak up the sun at the beach.
You could certainly spend only 3 or 4 days in Puglia, but I think you'll feel rushed. There is so much to see!
What Towns Should You Visit In Puglia?
I wrote a full Puglia travel guide that goes into great detail about the best towns to visit in Puglia, so if you're planning a trip you'll definitely want to give that a read! My favorite towns were Gallipoli, Ostuni and Martina France. I wish we'd had time to visit Matera and Trani as well!
(Disclosure: This post may contain affiliate links which means I may earn a small commission if you make a purchase from a link in this post, at no additional cost to you. Additionally, as an Amazon Associate I earn from qualifying purchases. Thank you for supporting this site!)
Puglia Road Trip Itinerary Day 1: Arrival At The Masseria, 8-Course Dinner at Il Frantaio
Morning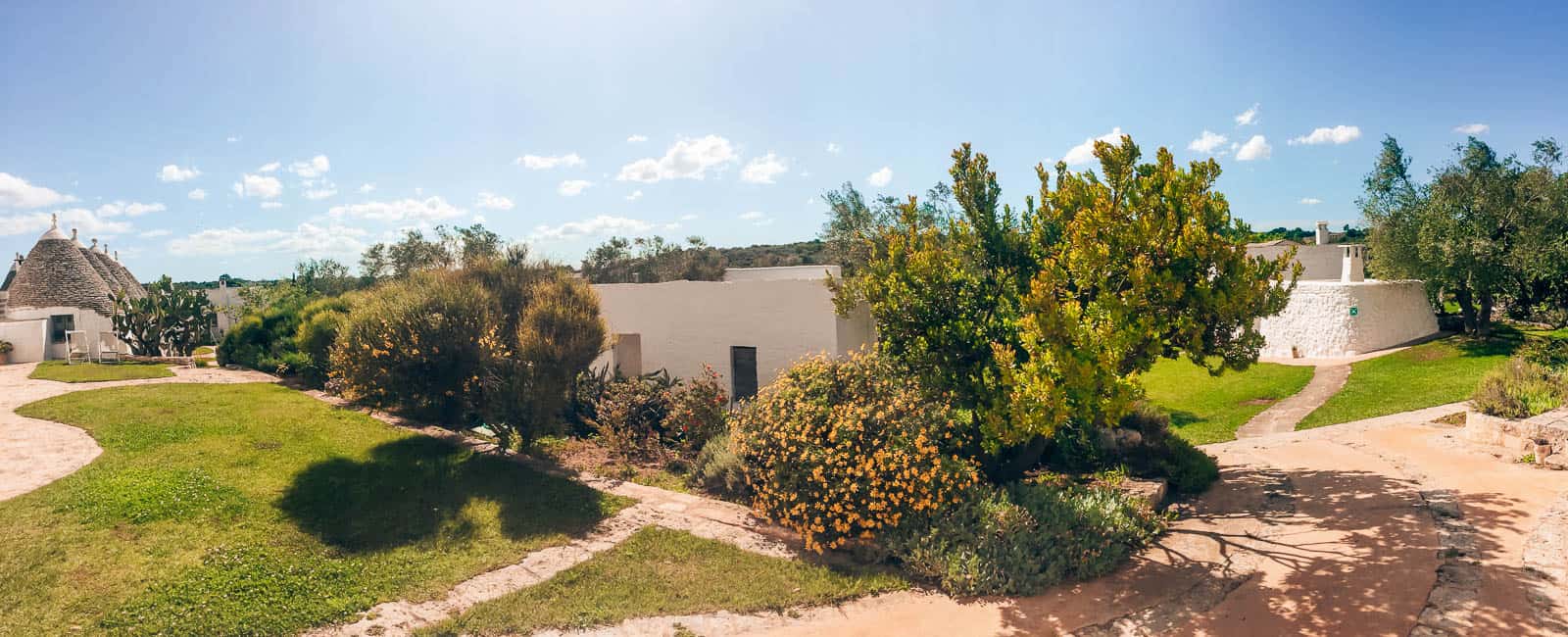 We flew from Rome to Brindisi airport, which was a very easy and short flight. Upon arrival, we picked up our bags and made our way to the car rental services building. I book my European car rentals through Auto Europe because they are fast, easy to book online and the customer service is excellent. After a minor hiccup with Europcar giving us trouble over our reservation, I called Auto Europe and they immediately redirected us to Hertz where the arranged a new, upgraded car for us. Then, we were on our way with no further hassle.
Finding our hotel was another challenge altogether! Puglia's main roads are easy to navigate and in good condition, however we were staying at a masseria. Masserias are unique accommodations in Puglia, typically a traditional farmhouse complex converted into a hotel. Masserias tend to be set farther back in the countryside amid olive groves and lemon trees. Delightful, but remote!
Thankfully, the GPS guided us correctly (even though we questioned it several times as we turned down dirt roads lined with nothing but forest) and we arrived without too much of an issue.
Afternoon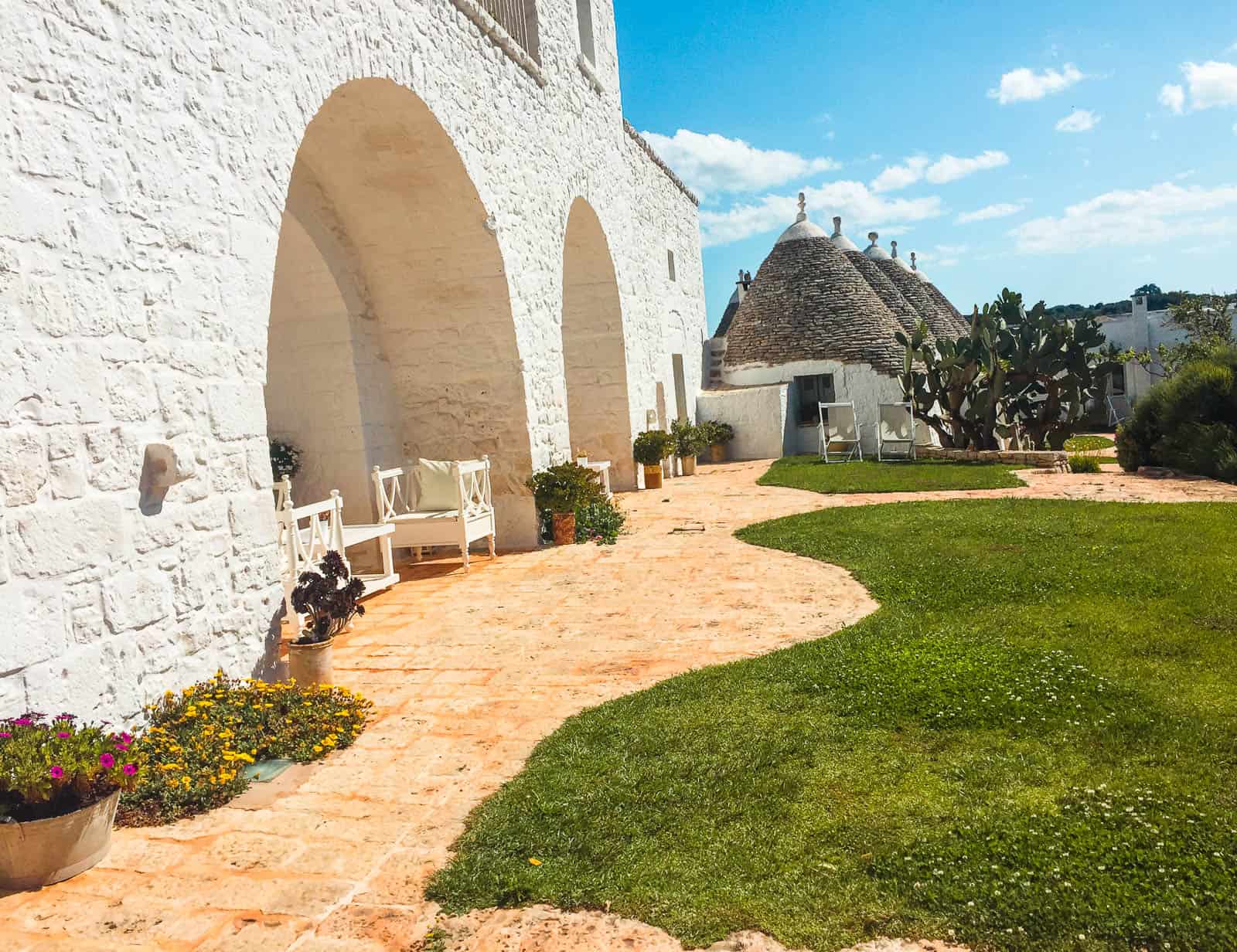 I booked Masseria Cervarolo, located in Ostuni, based on the incredible pictures of the rooms and the pool as well as the location. Ostuni is a great base for exploring the nearby town thanks to its central location. The service was amazing, friendly and accommodating to anything you needed, the rooms were spacious and clean, and the grounds were well-kept and beautiful.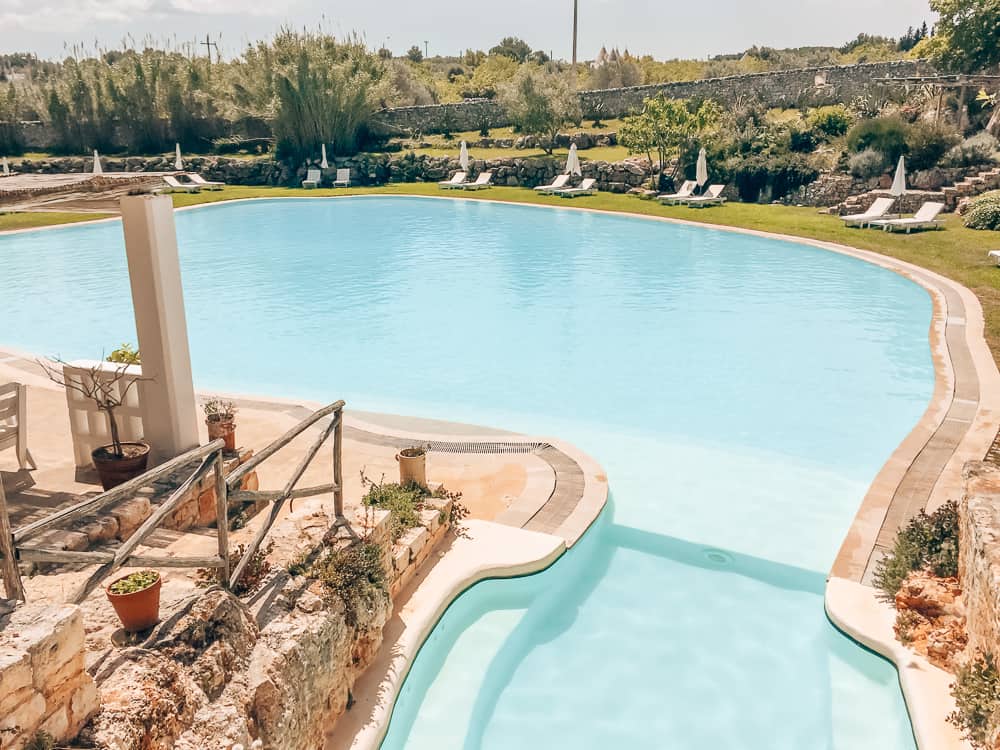 We ordered lunch and wine by the pool and, stuffed with more charcuterie and cheese, fell asleep on our loungers.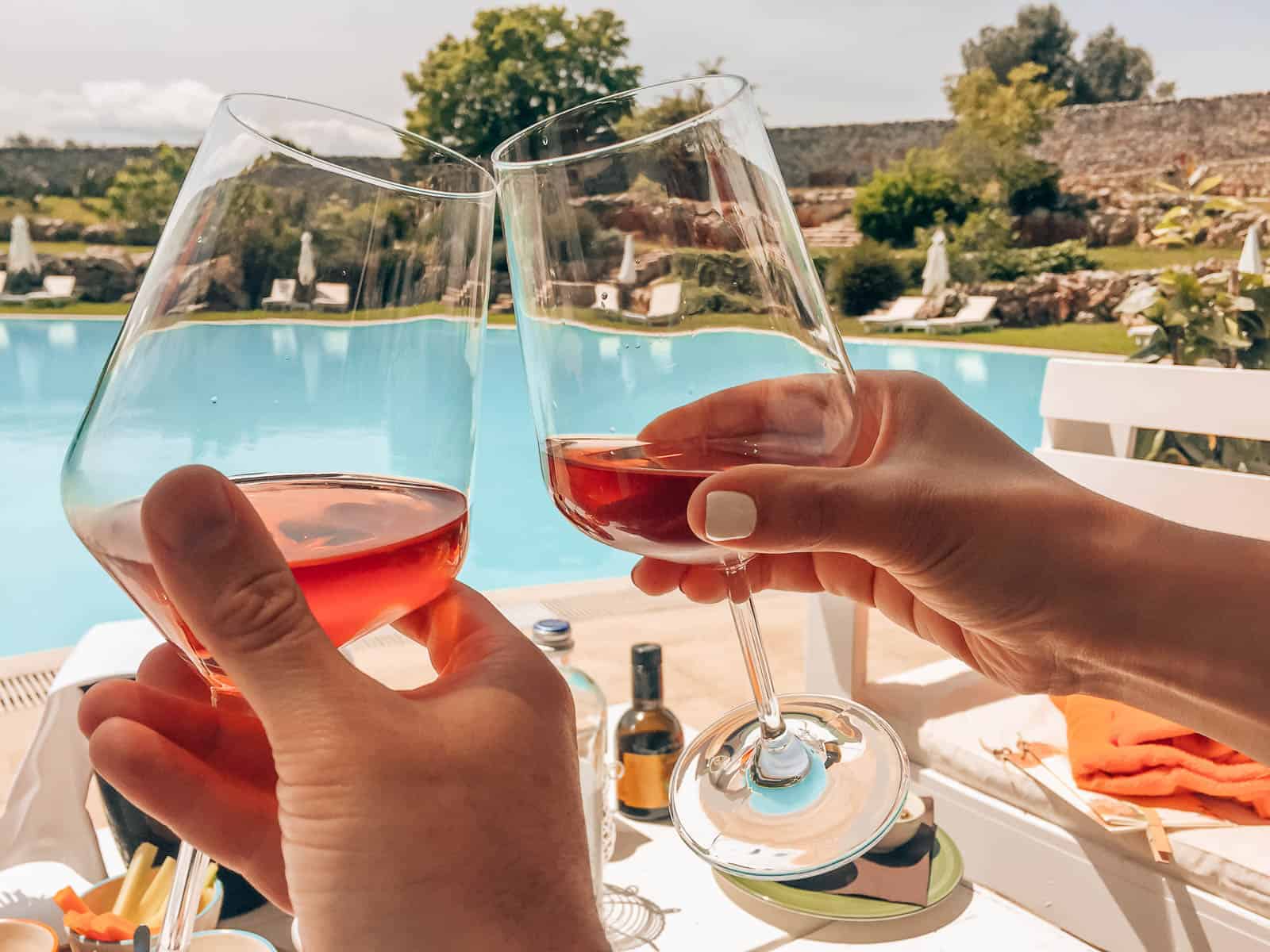 Evening
After rousing from our naps, we got ready for our first dinner in Ostuni. I pre-booked a very special dinner at Masseria Il Frantaio, another masseria that also operates a farm on the property. Il Frantaio offers an ever-changing 8-course tasing menu based on their own locally grown, seasonal produce.
Pro tip: you'll need to drive or pre-arrange a taxi to take you to Il Frantaio because it's about 40 minutes from Masseria Cervarolo. We went with a taxi in order to enjoy the wine pairings with each course 🙂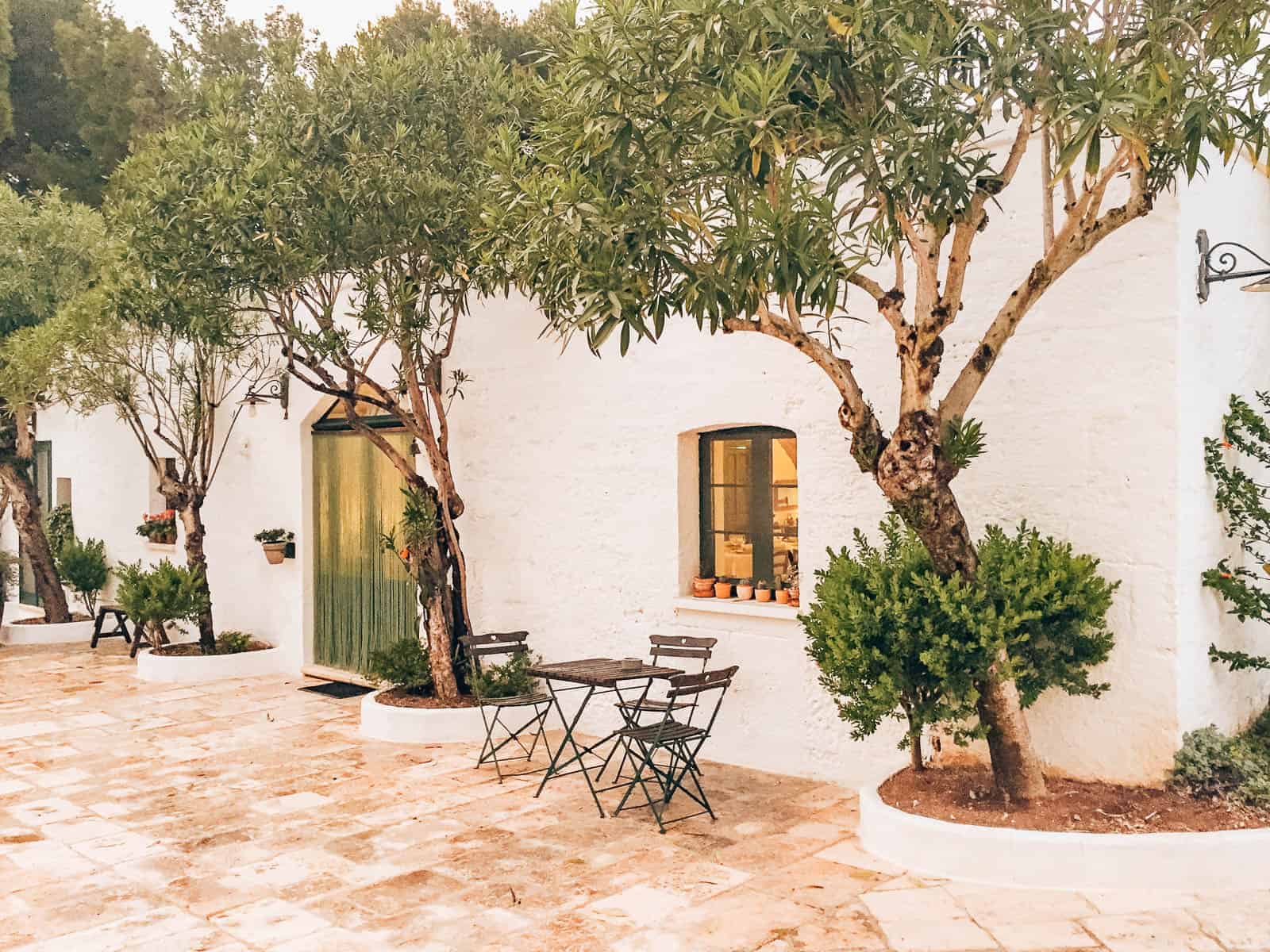 The dinner started with a tour of the vegetable gardens, lemon groves and wine cellar.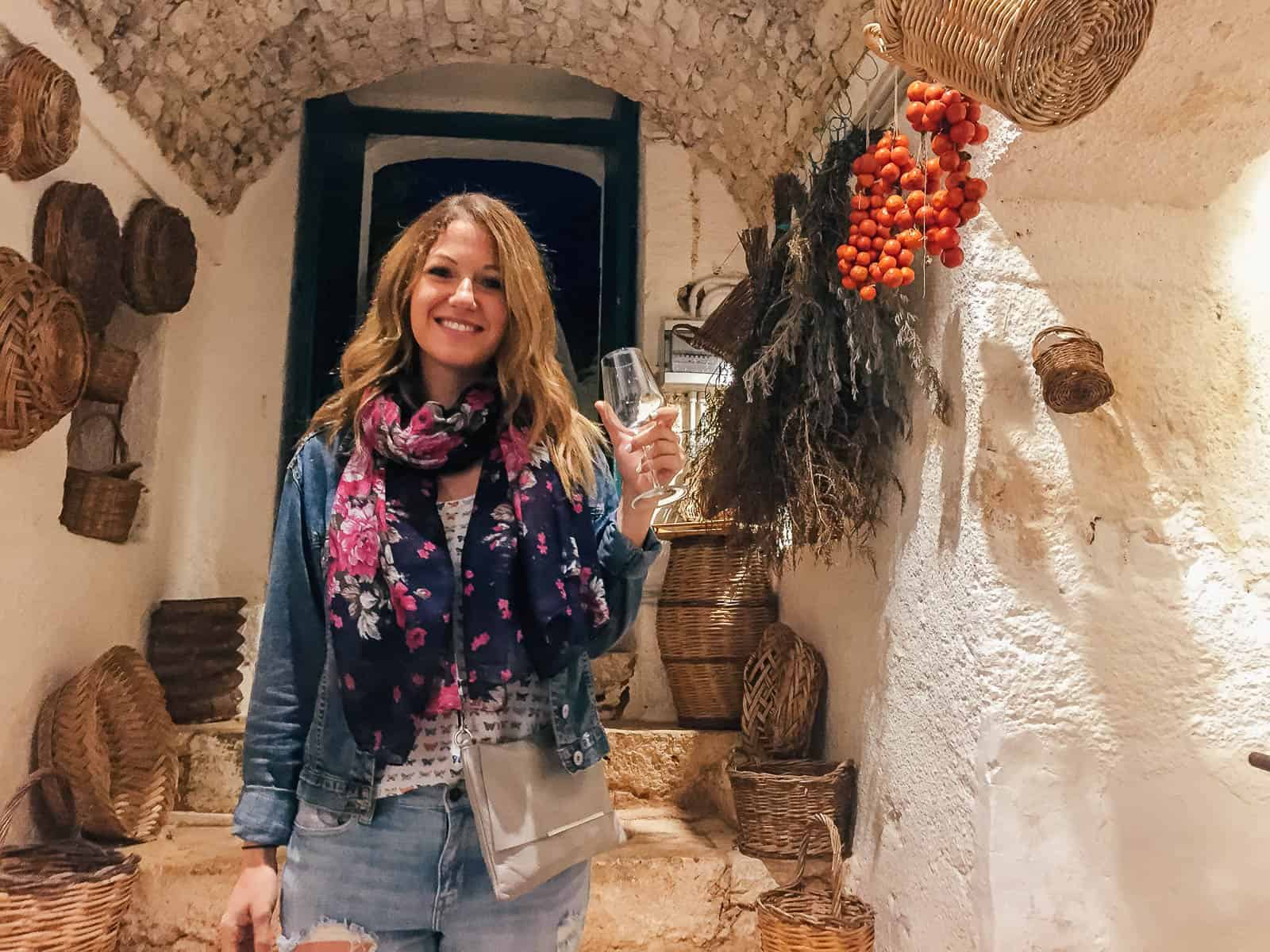 Then we proceeded to the dining room (in warmer months you can sit outside in their garden) where each table had a handwritten place card with the names of the guests. With each course, the manager visited every table – there are only about 10 – to explain each dish and its ingredients. Everything was absolutely delicious and I loved the homey, cozy ambiance. This is a must-have experience in Puglia!
We were having so much fun that our taxi had arrived to pick us up and we had to beg him to wait for another half hour so we could finish the after-dinner liqueur tasting (and buy some to take home, of course!).
Finally, we made it back to Masseria Cervarolo and collapsed into bed.
Puglia Road Trip Itinerary Day 2: Polignano A Mare, Martina Franca, Grotte de Castellana, Savelletri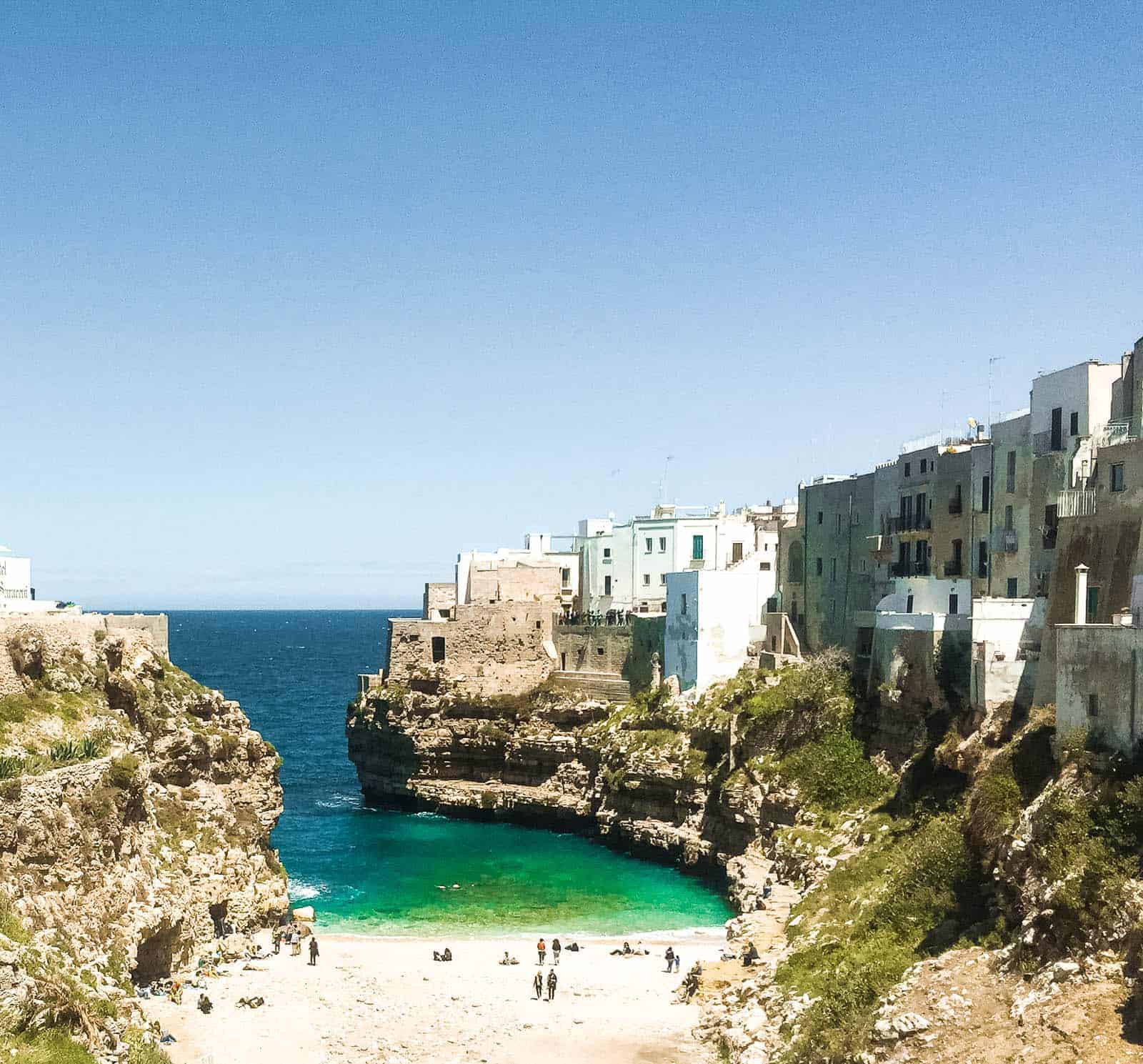 Day 2 was a whirlwind of a day. We didn't intend to cram so much in but we were having such a great time driving around that we just kept going well into the evening! If you prefer a slower pace, cut out one of the towns or save for another day.
Morning
We woke up early and enjoyed the huge, varied breakfast buffet at the masseria. Everything was homemade and we could see the chef cooking through the glass wall of the dining room. I'd let them know in advance about my gluten allergy and they had a basket of GF goodies all ready for me, as well as GF bread for my toast.
After filling up on GF bread with homemade ricotta, more charcuturie and cheese (despite eating it every day in Rome, I was not sick of it yet) and coffee, we set off in the car to begin exploring.
First we drove to Polignano A Mare, which was a picturesque town more reminiscent of Greece to me than Italy. Our very first stop was, of course, a gelato shop (how could I not?) and then we spent a few hours wandering through the maze of streets, poking our heads into any gourmet food store or trinket shop that caught our attention.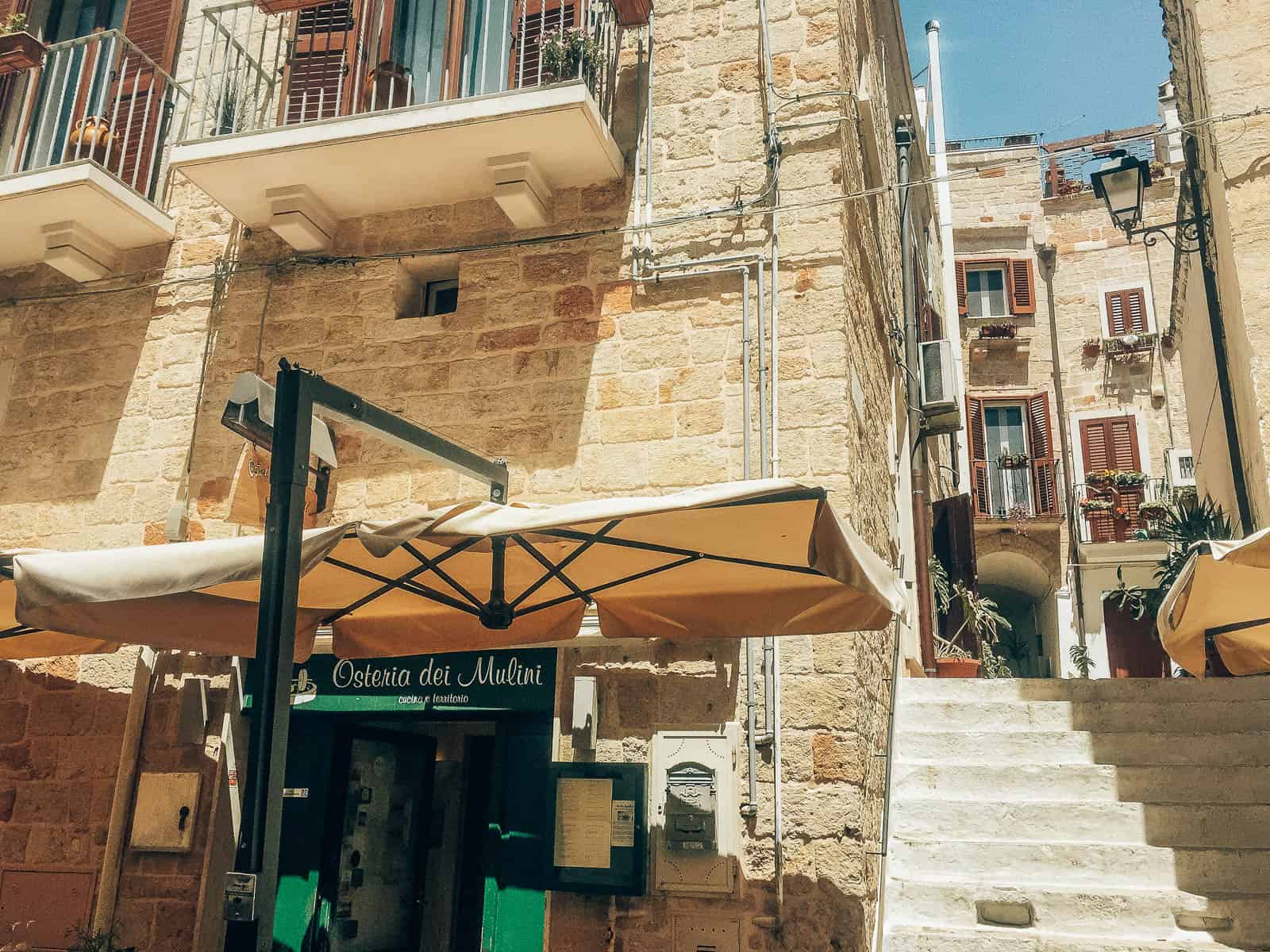 We made our way to Cala Porto beach, a small slice of turquoise heaven set against magnificent gray cliffs, to relax.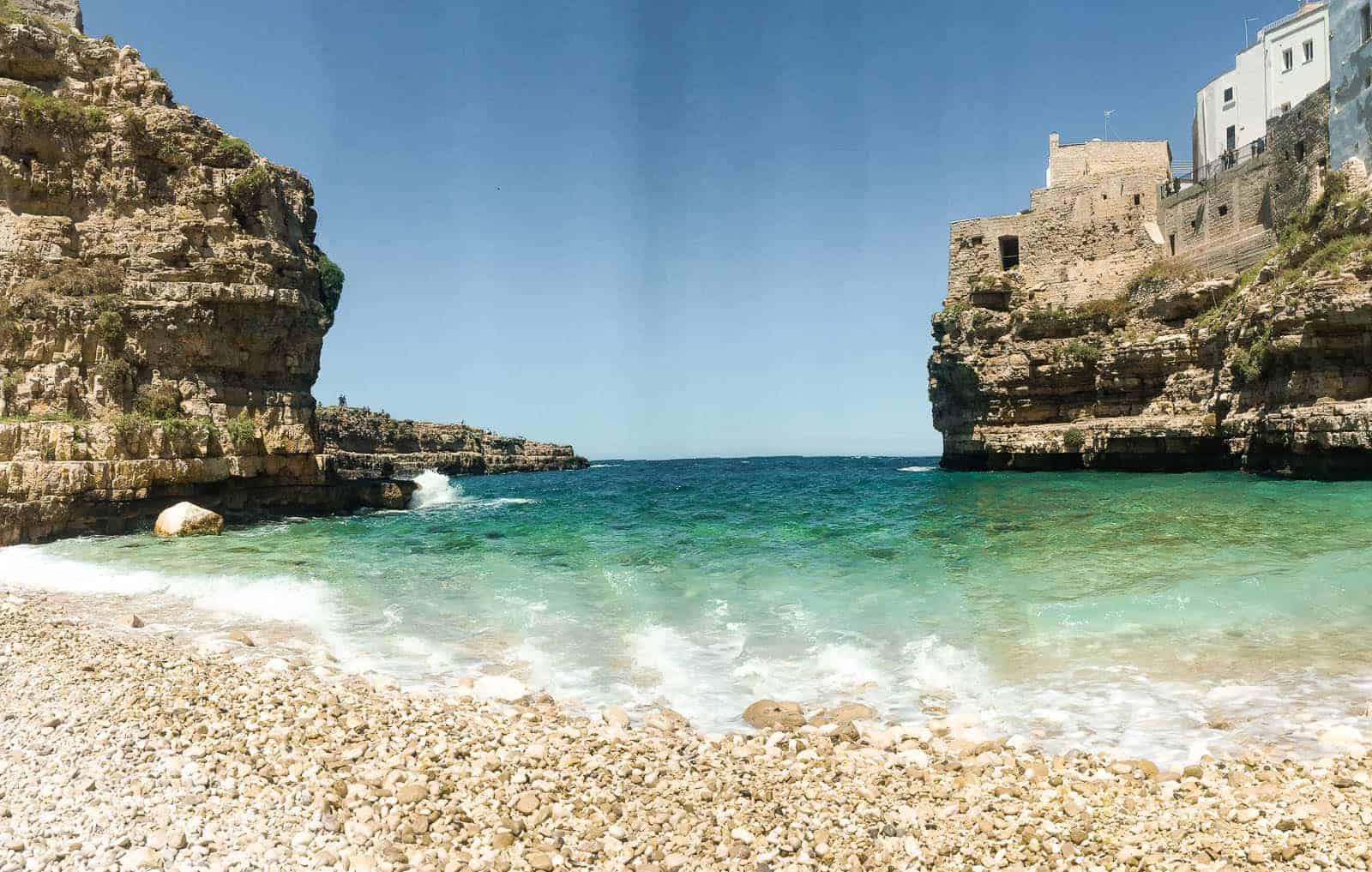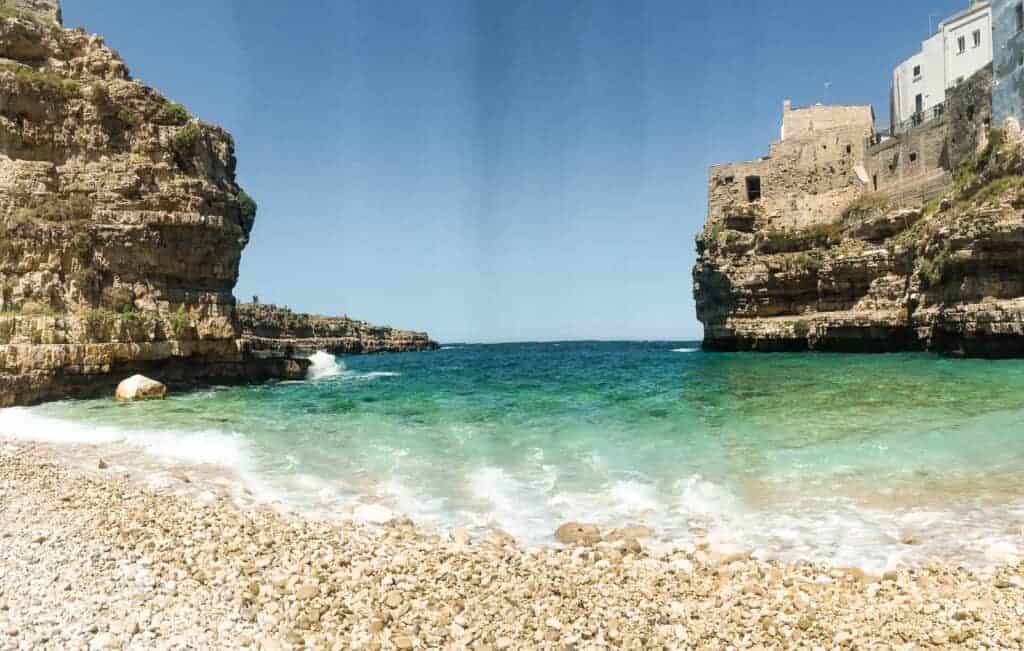 After enjoying the beach, we wandered back up the cliffs to take in the sweeping views of the sea from above.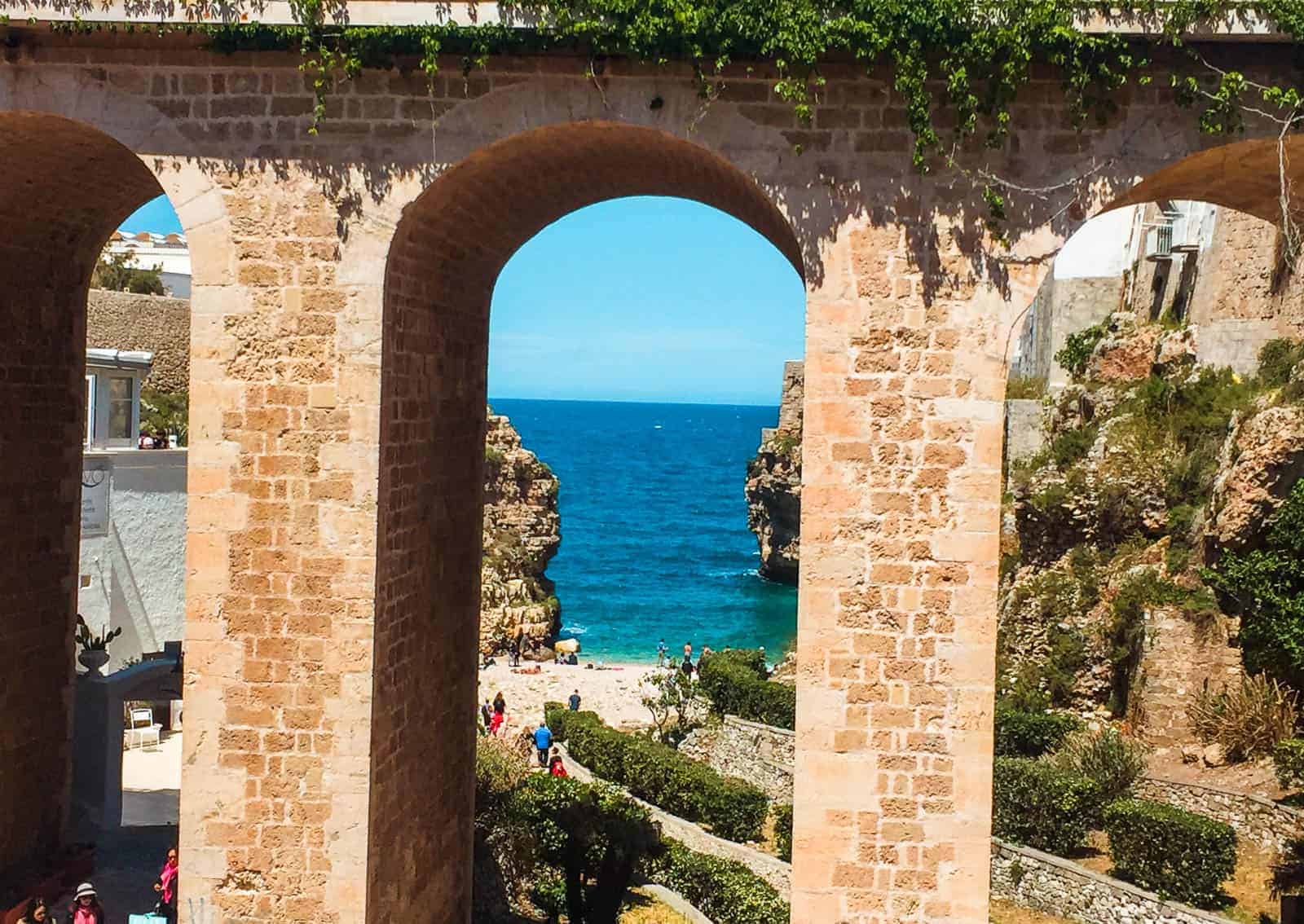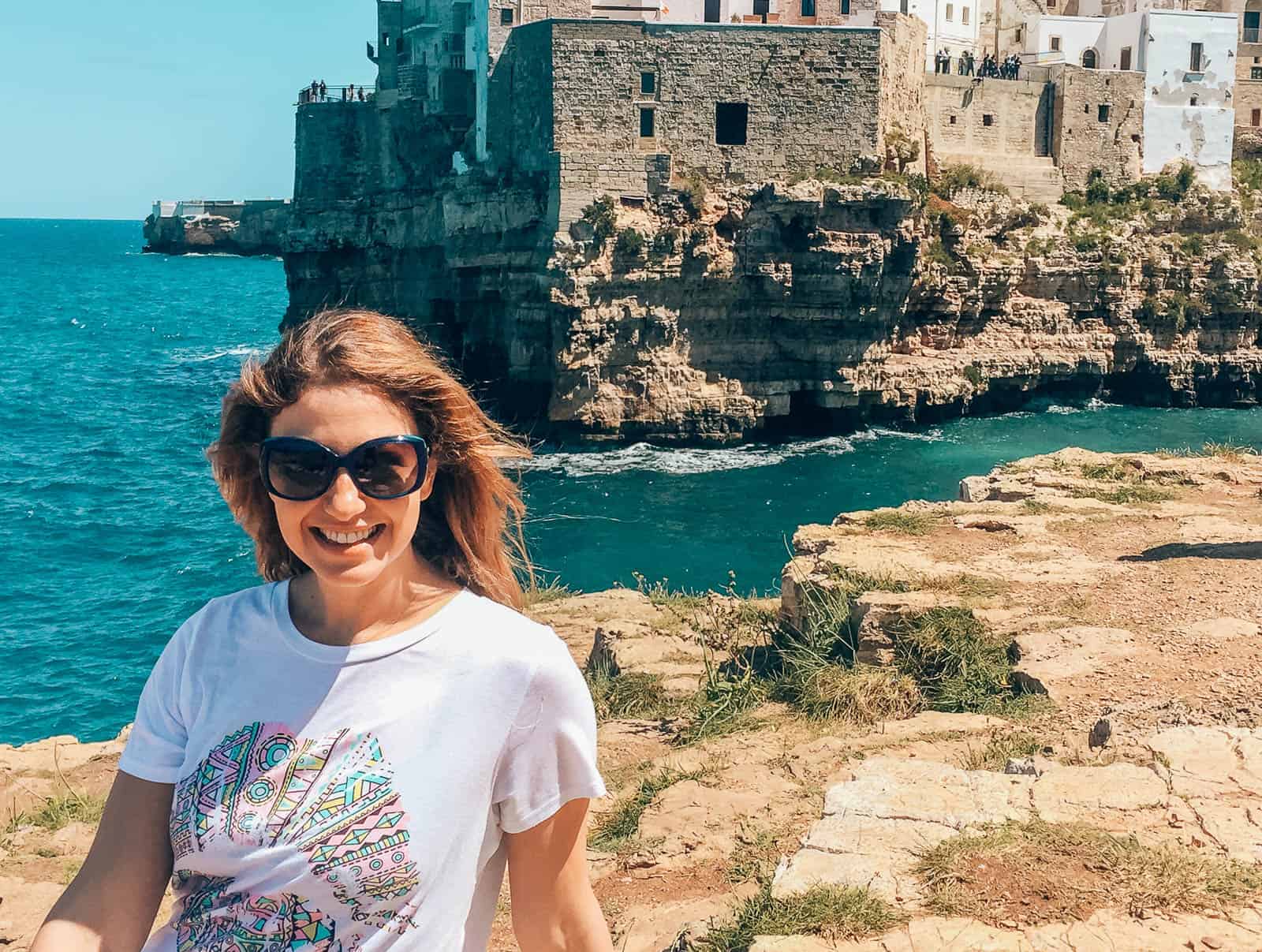 Afternoon
About 25 minutes drive from Polignano A Mare is the town of Castellana Grotte. Castellana is home to an otherworldly cave complex, Grotte di Castellana, which is over 90 million years old!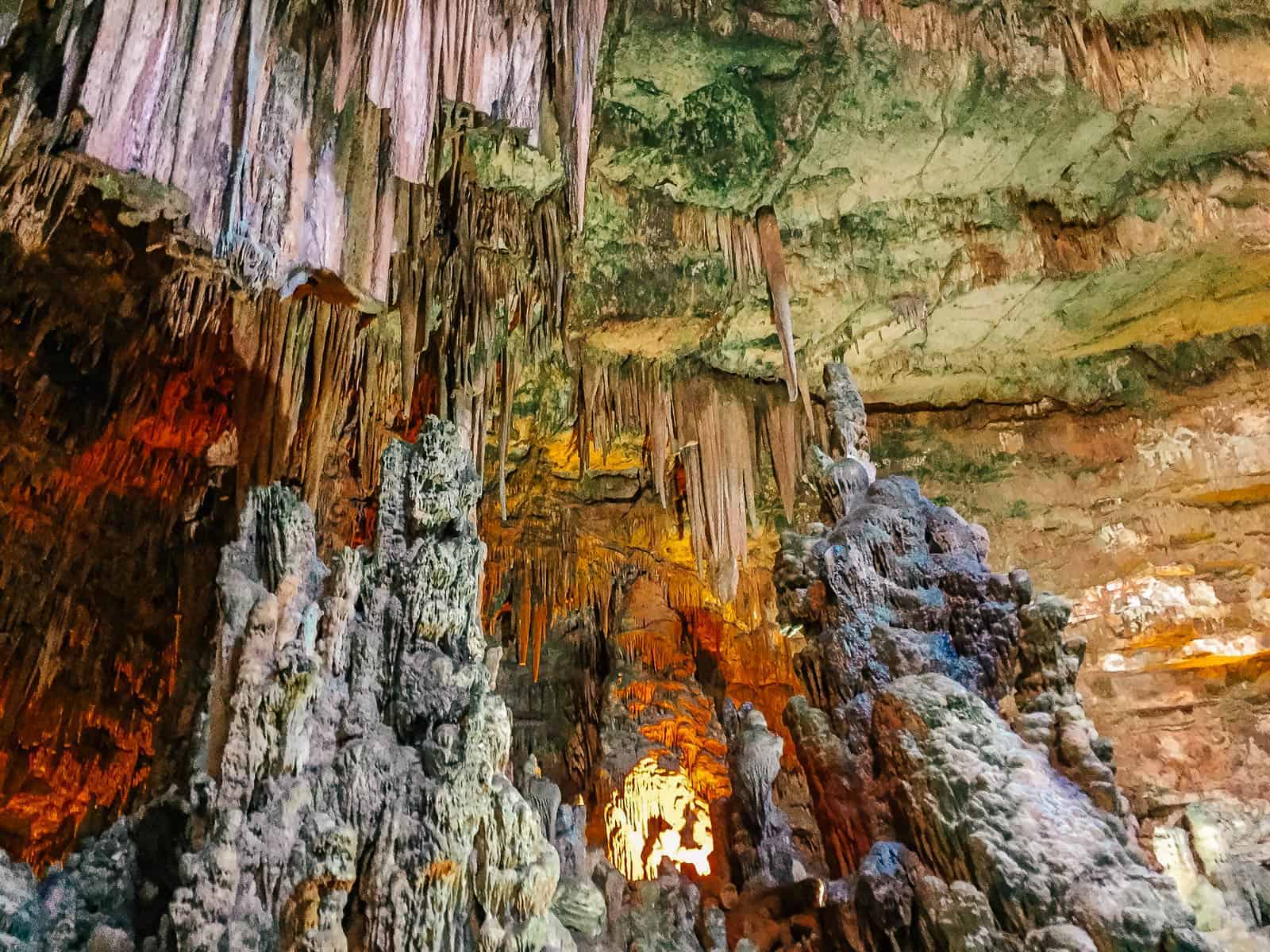 Fun fact: the caves are so large they house an amphitheater where shows and events are held! We debated whether we should do the cave tour, as we'd missed the English version and would have to join the Italian-language tour (you cannot enter the caves yourself, you must go with a guide) and the fee was 16 Euros each. We decided to go for it and were so glad we did! It was straight out of an Indiana Jones movie! We did the slightly shorter tour that did not include the White Cave, but know that there is that option. It can get cool in the caves because you're so deep underground so bring a light sweater with you.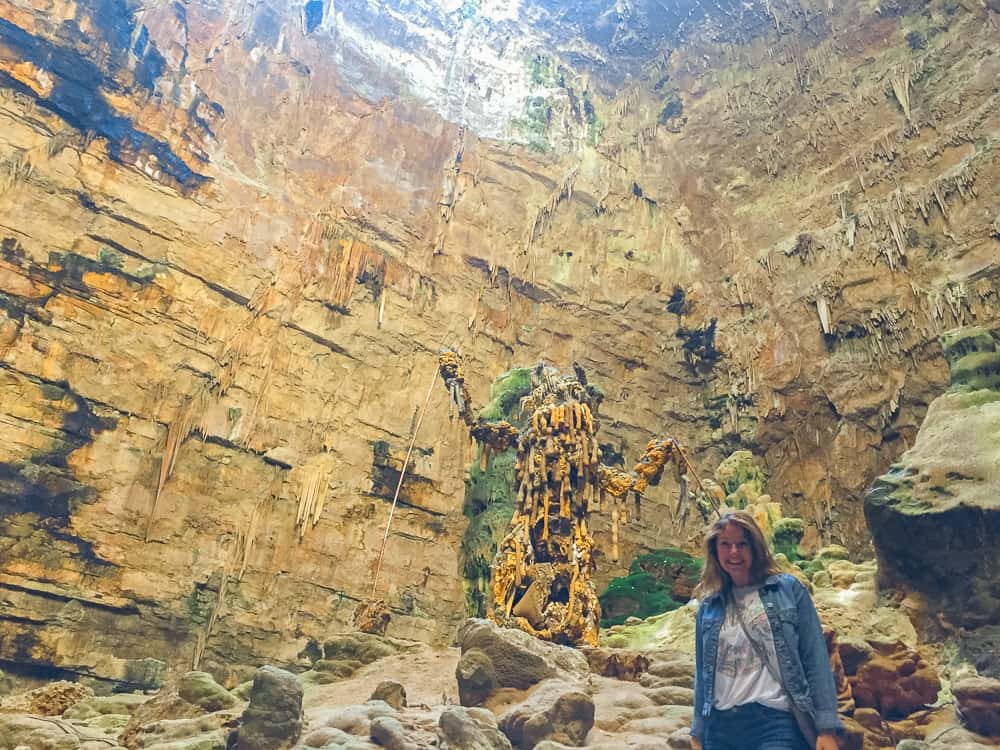 Next we drove to Martina Franca, which I adored. Another famous town in Puglia called Alberobello (home of the famous trulli houses) is on the way between Castellana and Martina Franca, so you could stop there as well.
We drove right through and admired the conical roofs from our car window because there isn't much to do in Alberobello except look at the trulli.
My impression of Martina Franca was that the colors were somehow more vibrant despite featuring the same whitewashed stone found all over Puglia.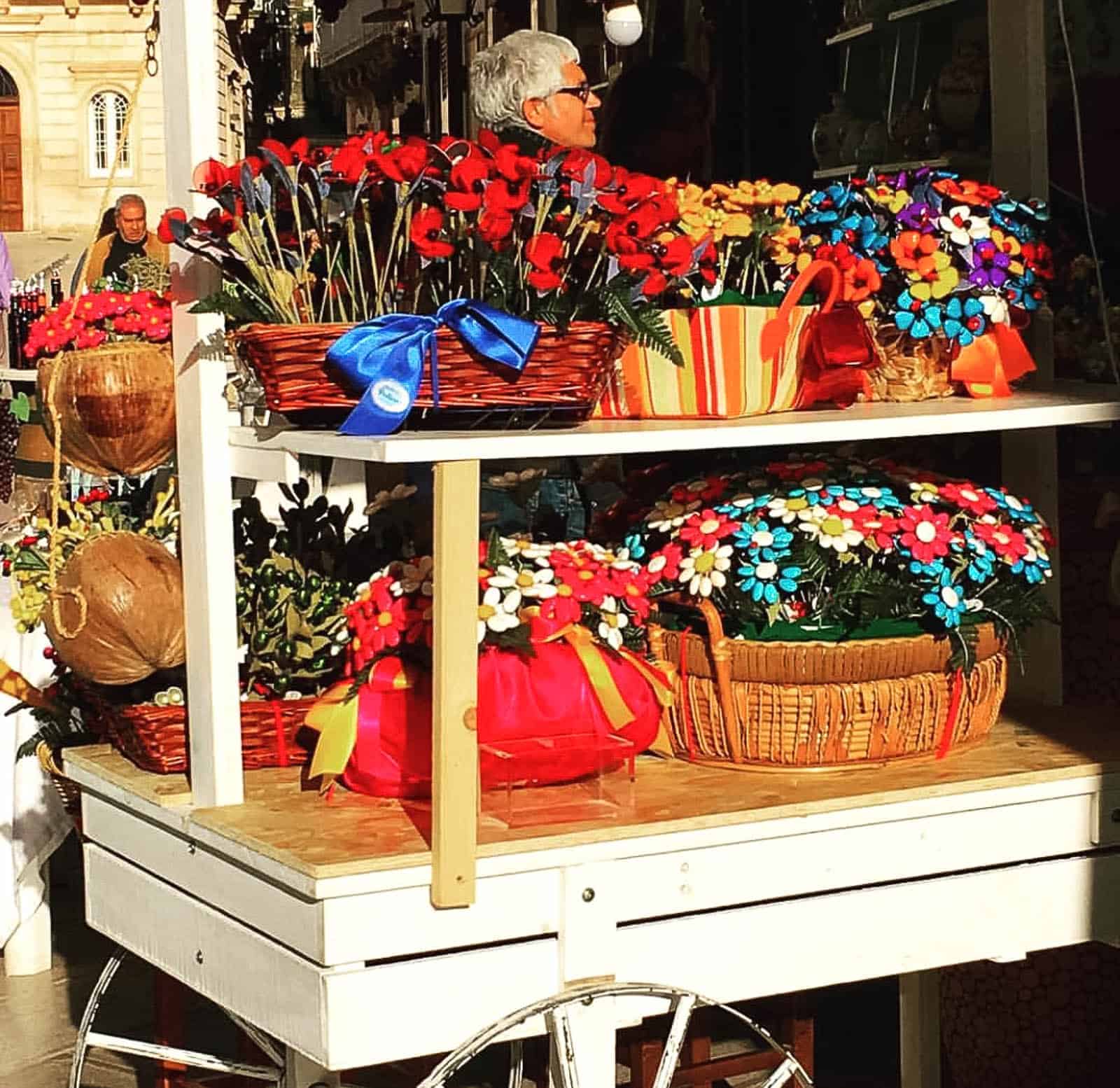 The whole town was very well-maintained and had a more modern vibe, despite being just as old and full of history as the rest of Puglia. We wandered the streets, marveled at each piazza and its duomo until arriving at the Basilica de San Martino. JB was a little church-ed out so we sat outside in the square with an espresso to enjoy the view and people-watching.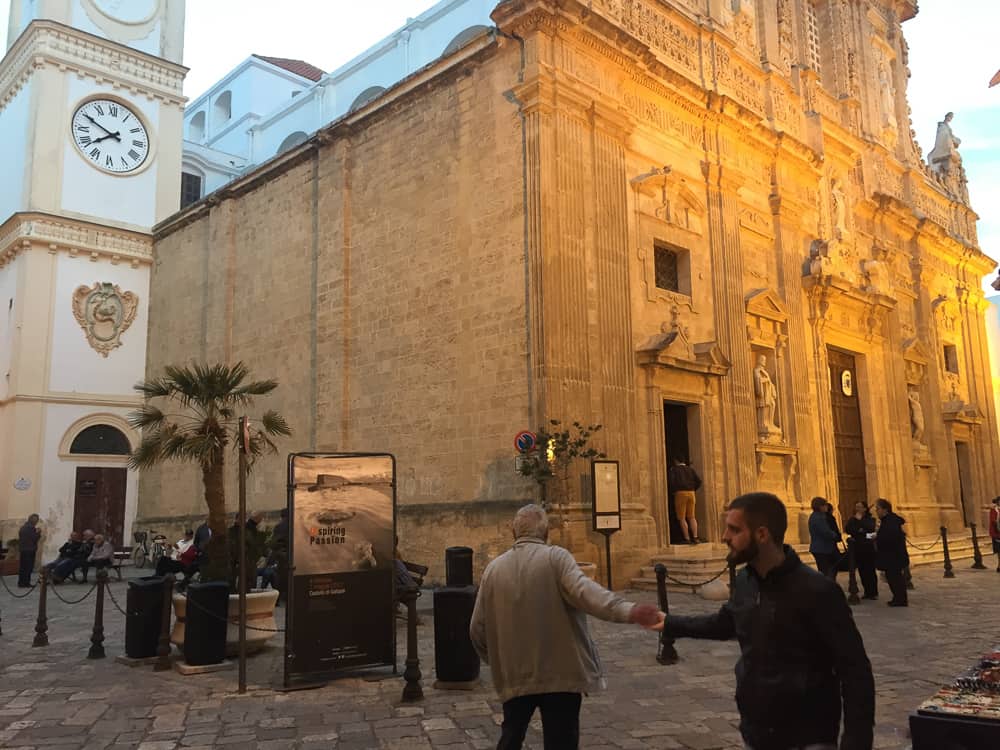 Evening
For dinner, we made our way towards the water to dine in the seaside town of Savelletri. There is an incredible incredible raw fish restaurant in Savelletri called Pescheria 2 Mari that serves the best of whatever they catch that day. It turned out the restaurant was better suited to a pre-dinner glass of wine and a snack, so we settled at the bar and ordered a selection of raw fish and crudos. All the fish served at this restaurant are so fresh they're practically still wriggling on your plate.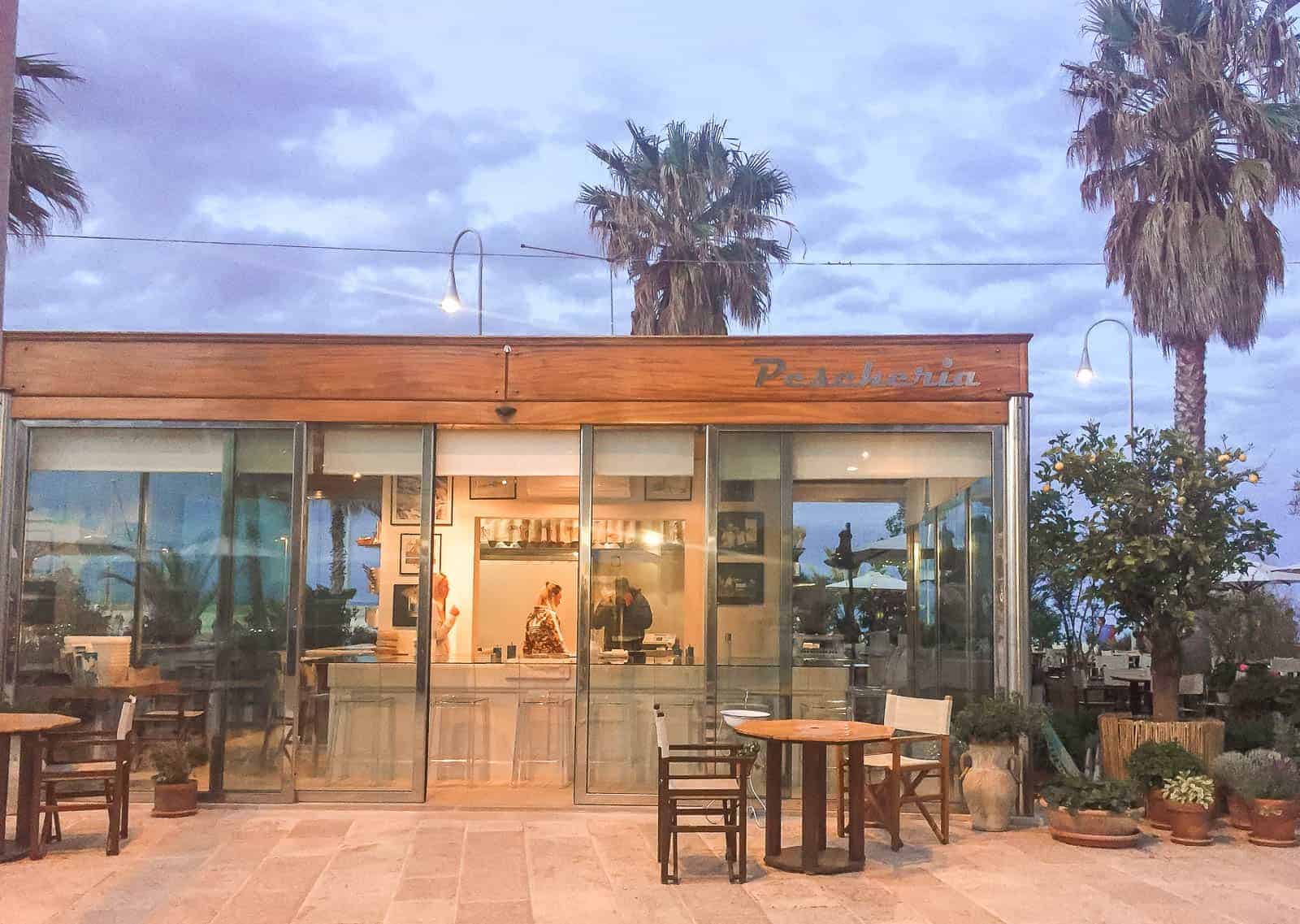 After appetizers, we wandered around and settled on dinner at Saporedisale. JB ordered a lobster pasta that we still talk about today, and I enjoyed a delicious seared tuna with pistachios.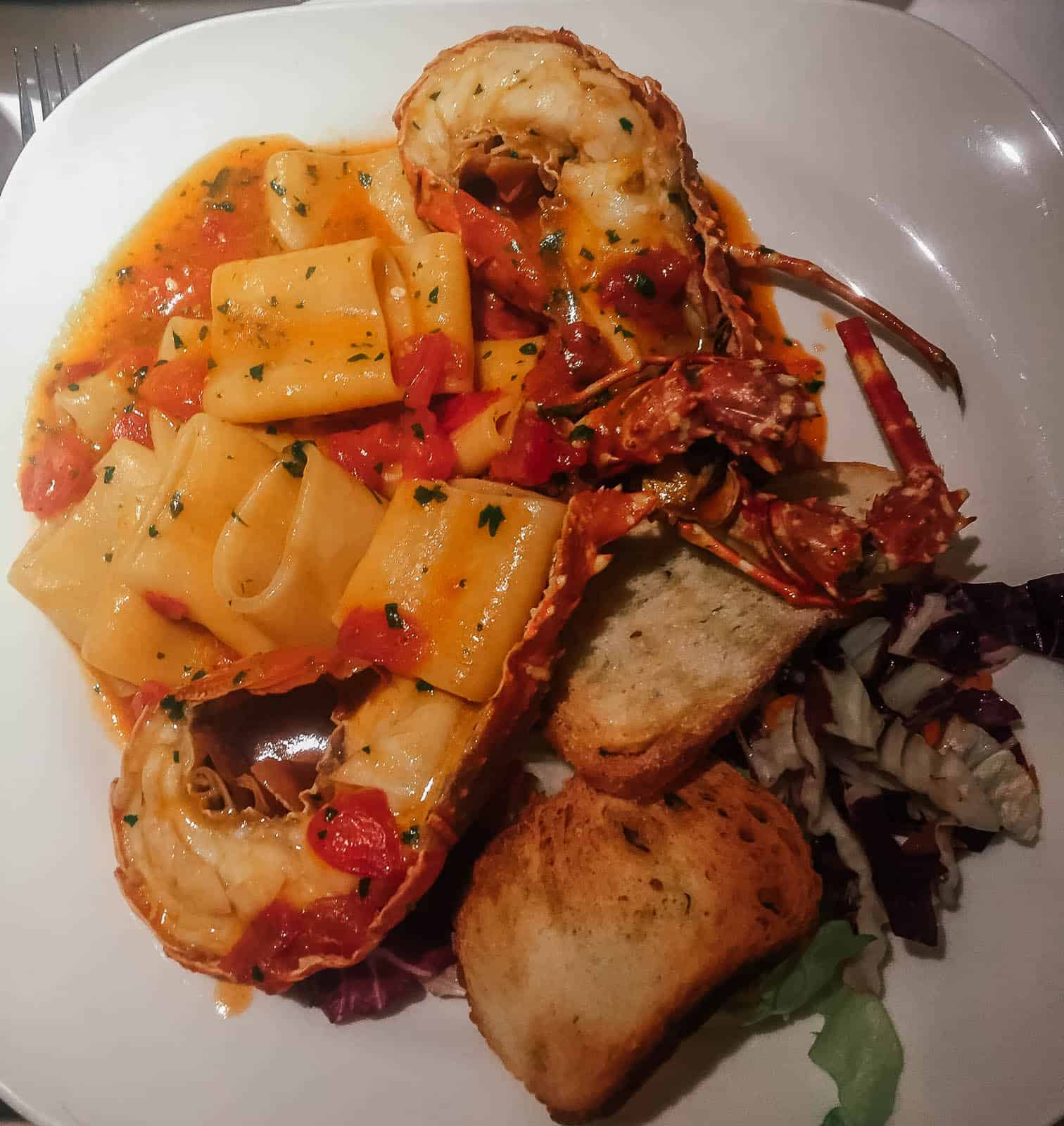 Full and relaxed, we made our way back to Masseria Cervarolo in Ostuni.
Puglia Road Trip Itinerary Day 3: Lecce, Porto Cesareo, Gallipoli
I was sad to leave Masseria Cervarolo, but excited for the next part of our Pugliese adventure in Lecce. And it pains me to share that as high as my hopes were, I was disappointed by Lecce.
I think that could be due to a number of factors, since I hear such consistently great things about the city.
First, we didn't like our hotel, Torre del Parco. It was slightly outside the city center, it was a bit dark and gloomy, and the front desk staff were not very friendly.
Second, Lecce was such a stark contrast to the rolling green hills surrounding the masseria.
Third, I think visiting in early May was too early. It seems Lecce doesn't doesn't get lively until mid-June though September. Despite my experience, family members visited the same hotel in Lecce in July and absolutely loved it, so I would still recommend giving it a chance if you visit at the right time. I would still stay at a different hotel though. See my Puglia Travel Guide for more recommendations on where to stay.
Morning
Needless to say, we arrived to a bit of a rocky start in Lecce. After checking in, JB promptly fell asleep (it was 12:00 PM, seriously JB?!) and I paced around the hotel rooftop mulling our options. Slightly adrift, I wandered back to the room where I whimpered to JB "I feel weird." And you know, I think I can pretty much pinpoint this exact moment as realizing how much I loved him. Because he didn't brush me off, tell me I was overreacting or get annoyed. He asked me why and told me he understood.
Something I want to talk about here for a minute is the importance of being okay with things going awry when traveling. Not everything will be 'perfect' and you don't have to love everywhere you go just because you're 'on vacation.' I think people put a lot of pressure on this idea – probably because Americans don't take enough vacations so when you do you feel like every moment has to be magical. But that's just not realistic and it's totally okay! Ride out those feelings and try to move on to the next thing.
And so began what we now call The Day of JB (or, JB to the Rescue).
Afternoon
He asked me to show him the maps and point out what our options were. Then we got into the car and drove to Porto Cesareo to check out the beach. It was windy and cloudy, but still really peaceful. It actually felt like our own private beach and that we were the only two people in the world. We spent about an hour walking up and down the beach, holding hands and talking. Later in the summer, when the weather is better, I think the beaches of Porto Cesareo (there are several, including Punta Prosciutto and Torre Lapillo) would be one of the nicest beaches to spent an entire day.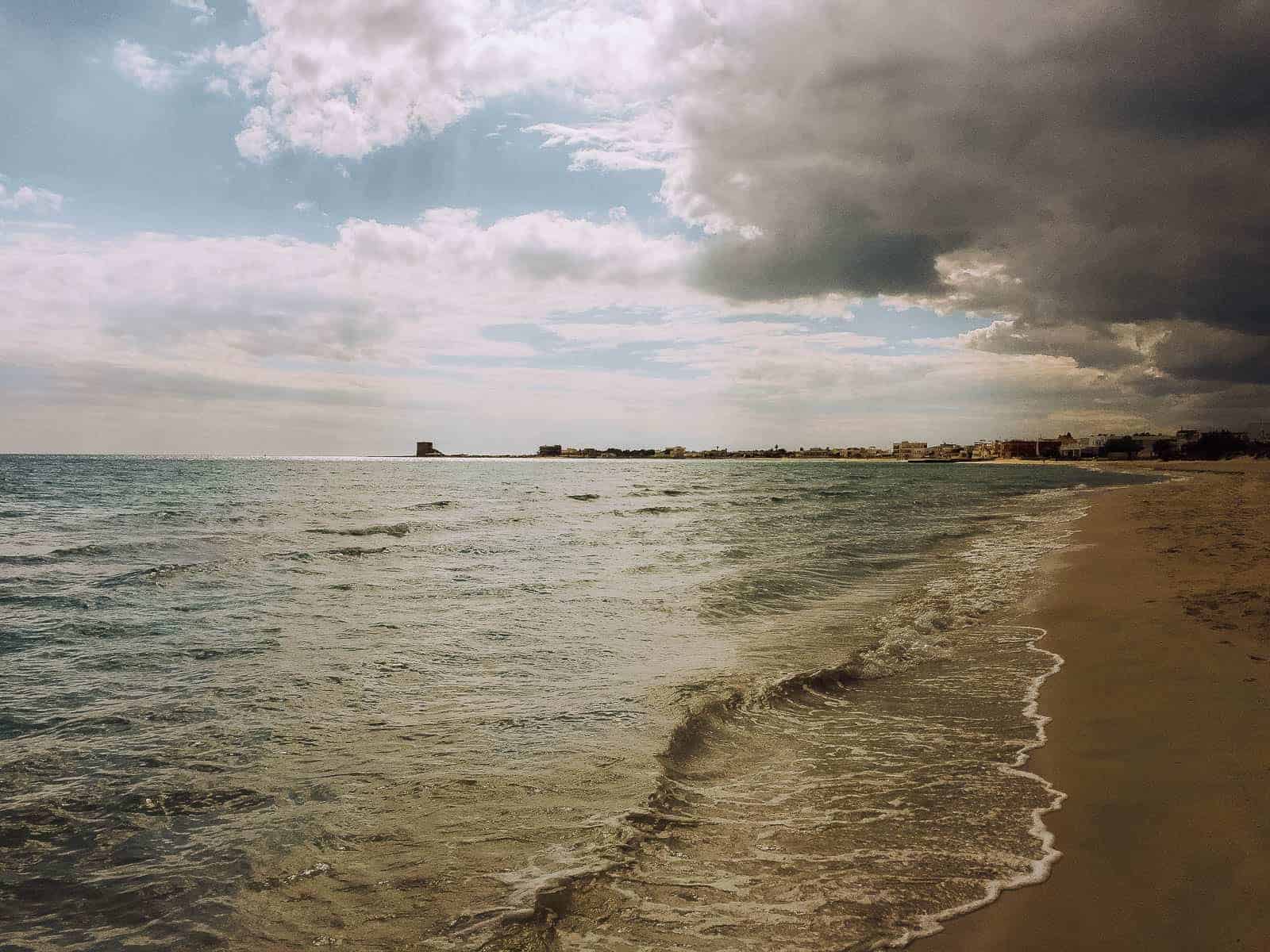 Then we drove to Gallipoli, and that's where things really turned around. Gallipoli is a town on the water, with a fortified island connected to the mainland by a 17th-century bridge.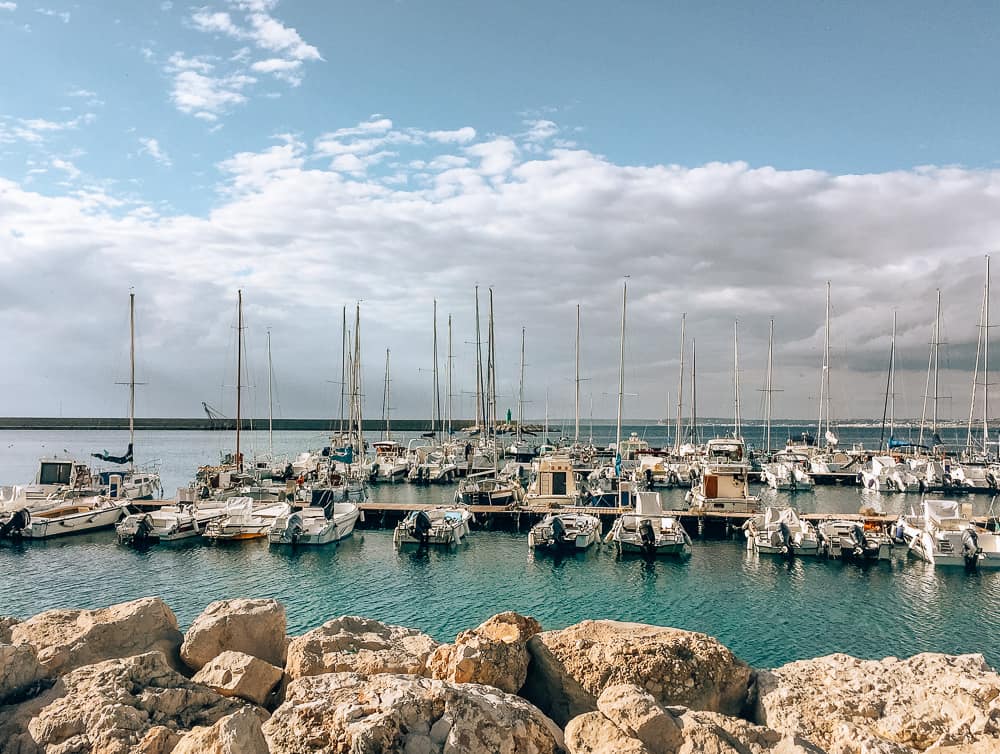 The mainland isn't much to speak of, but the old city is where the magic happens. Gallipoli is charming, the views of the water are amazing and it has such a better energy than Lecce.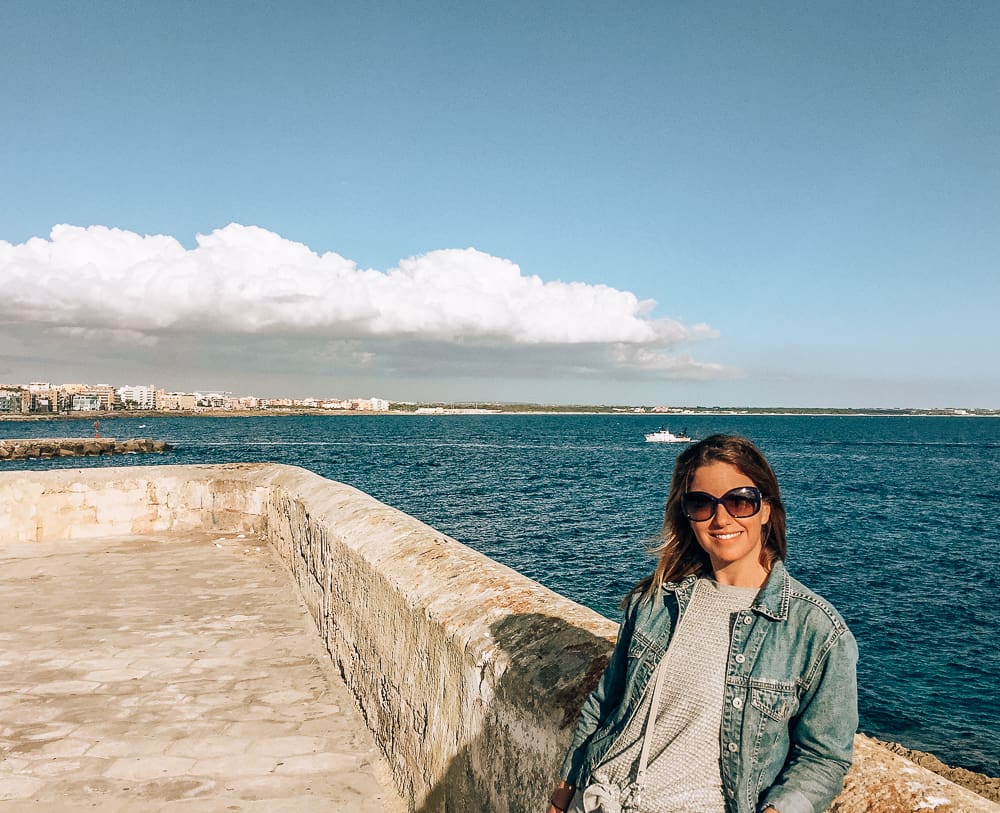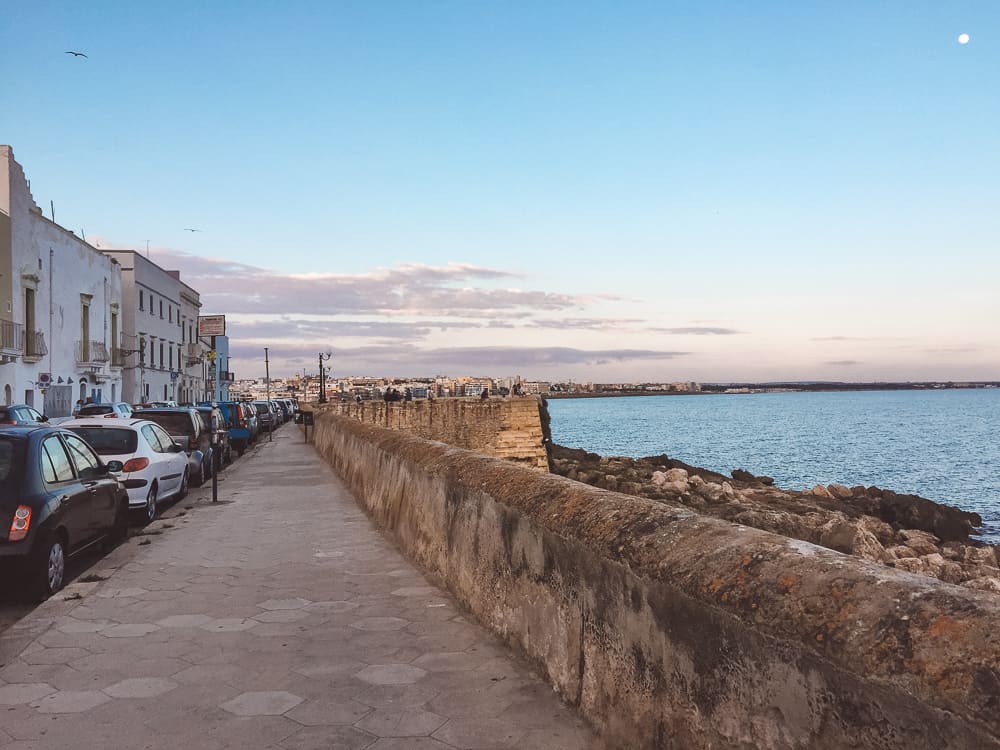 We wandered through the streets and stumbled upon a lovely wine bar, La Spingula. We sat outside right on the edge of the walled perimeter overlooking the water, and allowed the jovial, over the top owner bring us giant plates of crudo and carpaccio washed down with prosecco.
The prosecco was housed in a giant cart filled with ice, and the owner sabered a bottle over the side of the wall. When I expressed my delight at this entertaining act, he let me try sabering a bottle as well!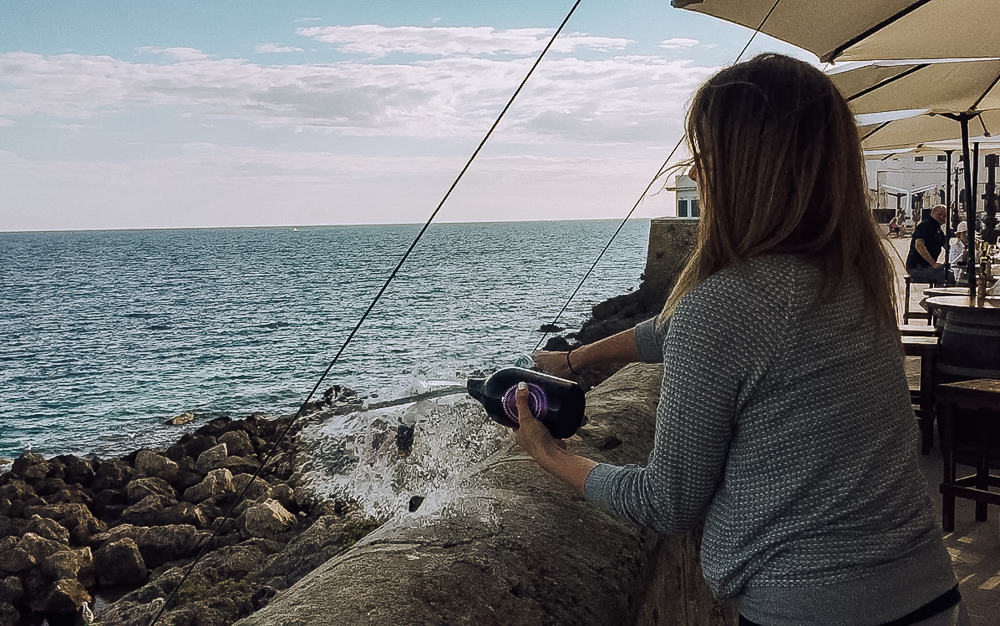 Evening
He also insisted we have dinner at his favorite restaurant, La Vinaigrette. Not that we were still hungry, but we figured, why not? We were skeptical that it would be touristy and inauthentic, but that couldn't have been further from the truth.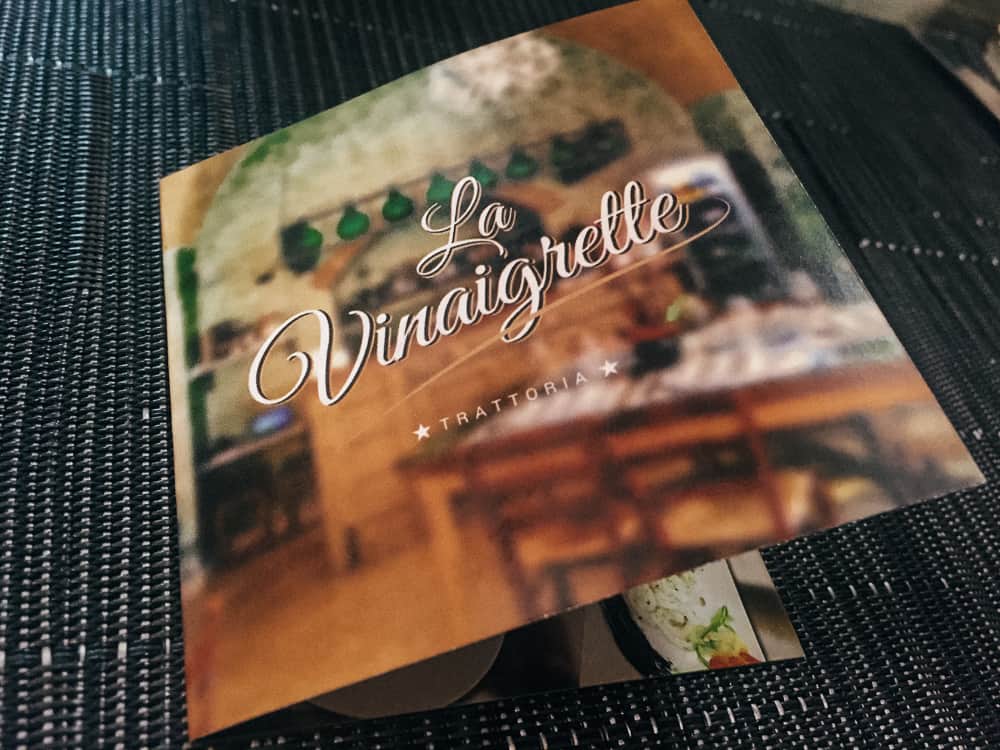 It was delicious, lively and in the process of hosting a bachelor party for a local young man. Surprisingly, the owner of La Spingula showed up and helped us order (no one spoke English) and even joined us for another drink!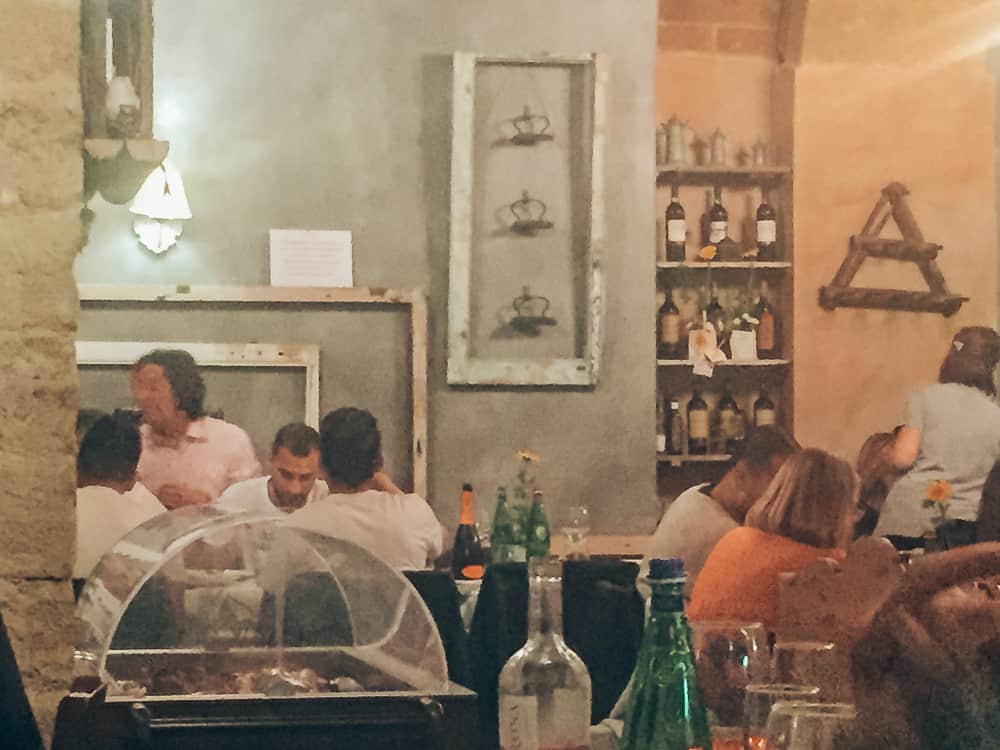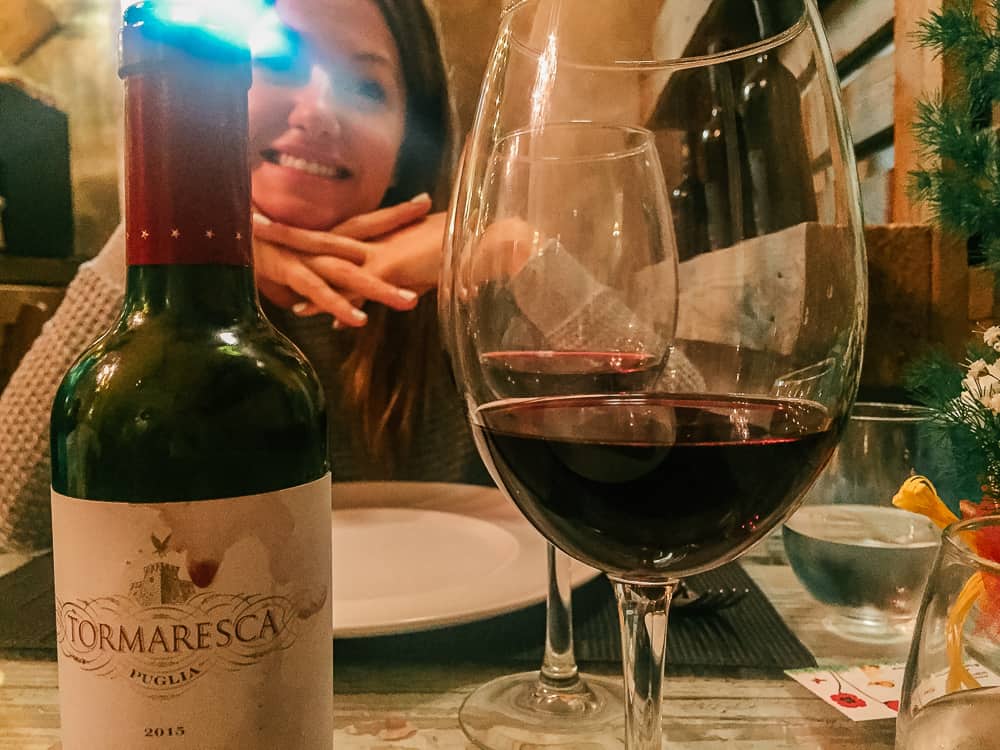 After dinner, we wandered down a short stone staircase to the crescent-shaped beach, La Purita. We sat on the cool, wet sand with the water lapping at our feet, watching the stars and reminded ourselves how lucky we are.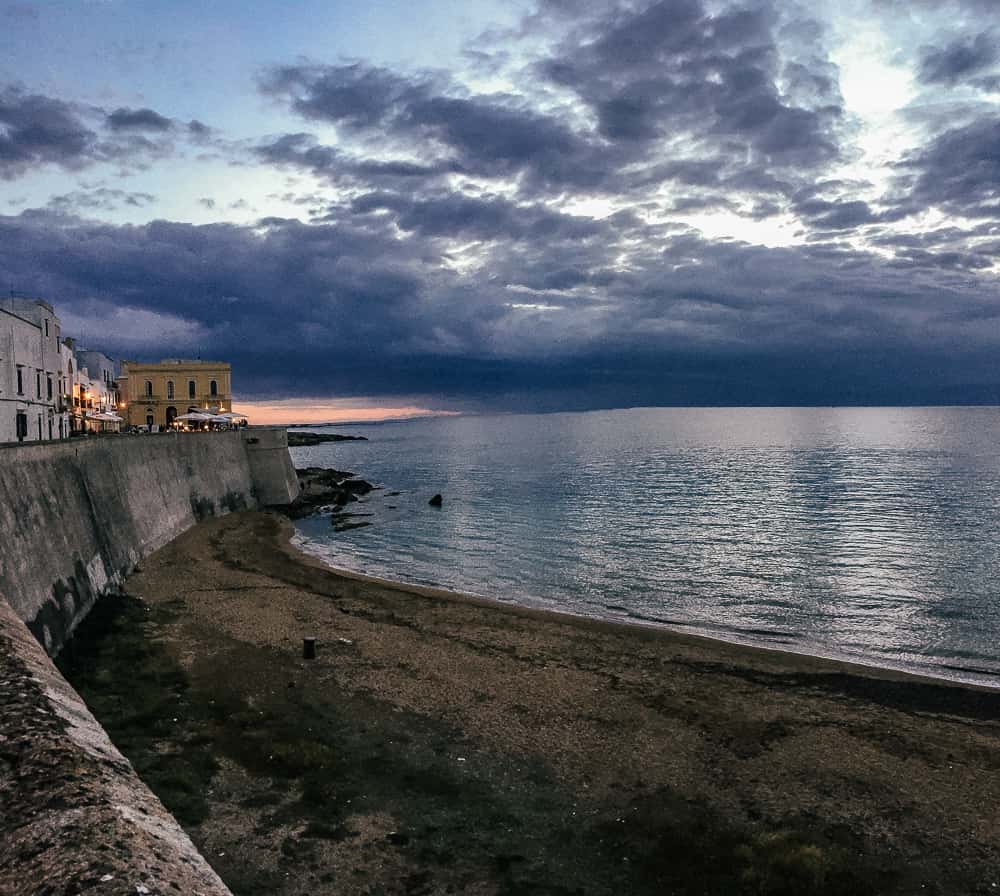 It was a perfect evening.
Puglia Road Trip Itinerary Day 4: Lecce City Center And Drive To Otranto
Morning
Feeling much better this morning, we decided to give Lecce another shot and got up early to start exploring. While very pretty, it was just too quiet for us and hardly anything was open. I think we were just too early in the season to really get a sense of Lecce. To be fair, our schedules were also a little out of whack with the typical Italian pace – we were up early, and therefore hungry early. Italians typically get going a little later and eat much later in the evening as well. JB and I constantly found ourselves questioning why the restaurants we went to were empty, but it was just because we were so early! By the time we finished most of our meals, the restaurants were starting to buzz.
We ate breakfast at Doppiozero and thought the outdoor seating was so nice, we came back for an enormous charcuterie plate and a glass of wine before checking out of the hotel. There's unfortunately not much else to speak of from our morning in Lecce.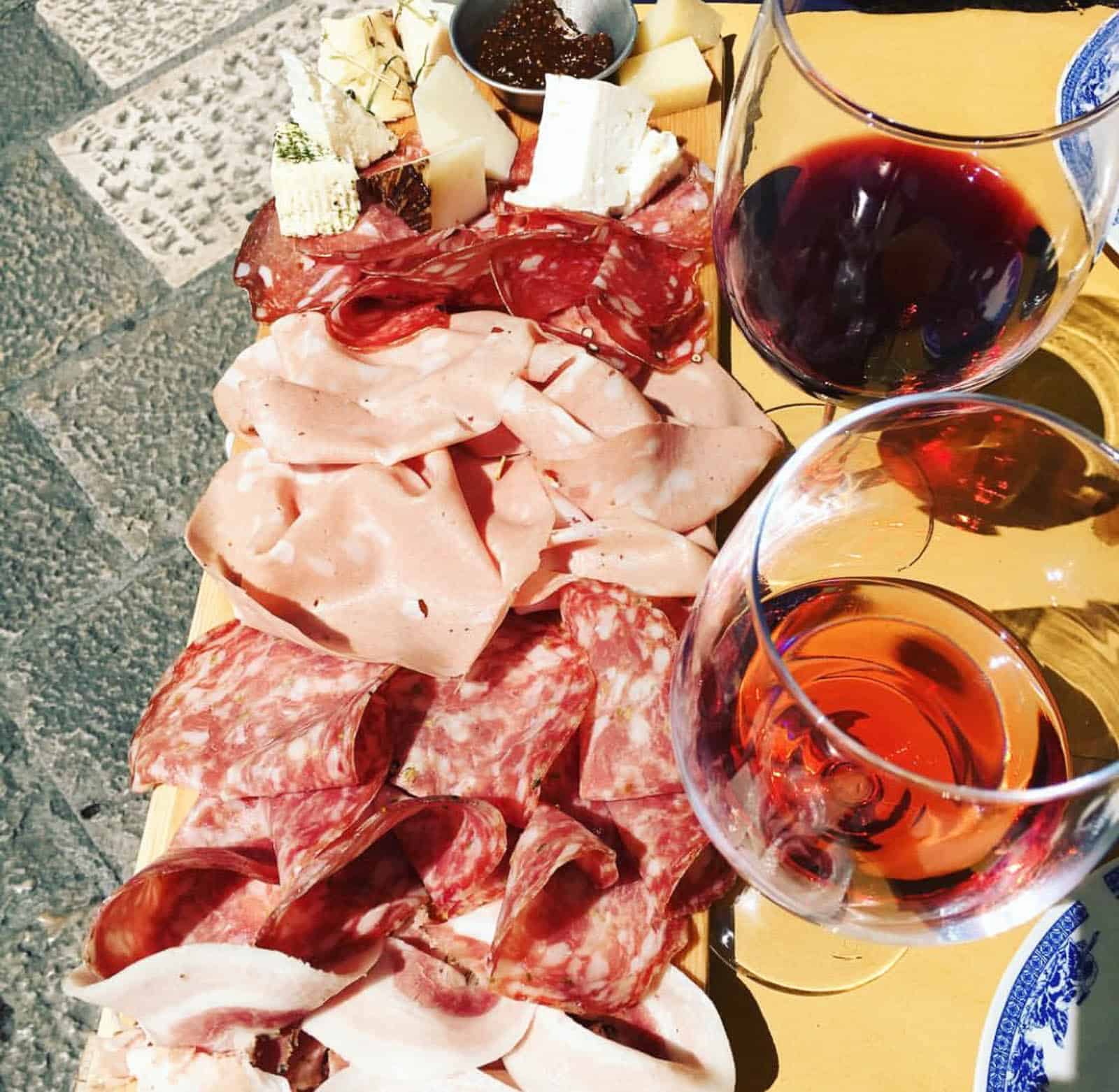 Afternoon / Evening
Instead of spending another night in Lecce, we decided we'd rather make our way back to the countryside. We decided to check out a day early (we had to eat the cost of the night, unfortunately) to spend an extra night at our masseria in Otranto, Masseria Muntibianchi AgriResort.
It took us a while to find, but what a difference! Being surrounded by green rolling hills, olive groves and whitewashed limestone reignited the feeling we wanted – of being immersed in authentic, rural Italy. We had a lovely afternoon and dinner at the masseria.
Puglia Road Trip Itinerary Day 5: Coastal Drive From Otranto To Santa Maria De Leuca And Pescolouse Beach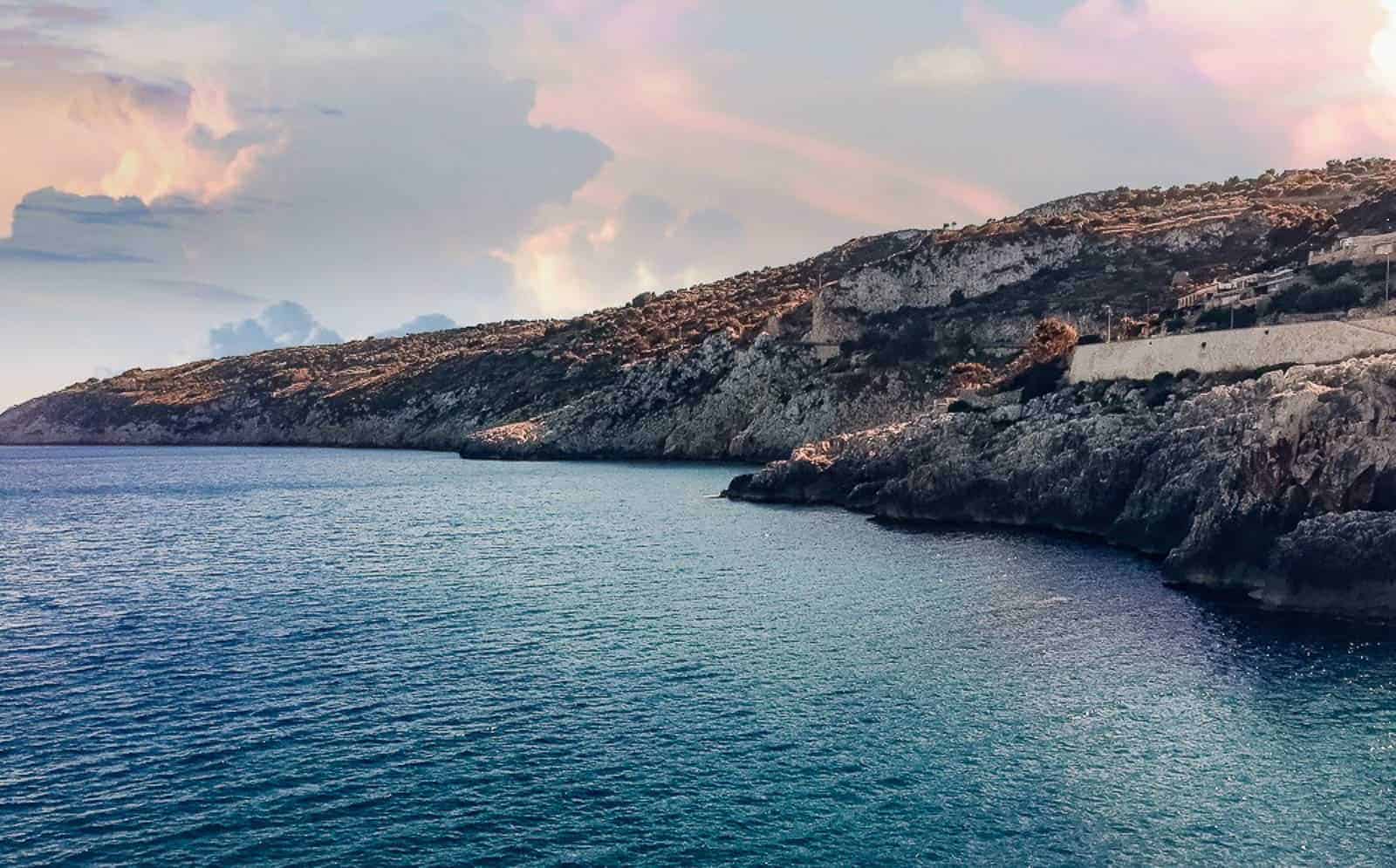 Morning
For our last day in Puglia, I mapped a route driving from Otranto down to the most southern tip of the Salento peninsula, Santa Maria de Leuca.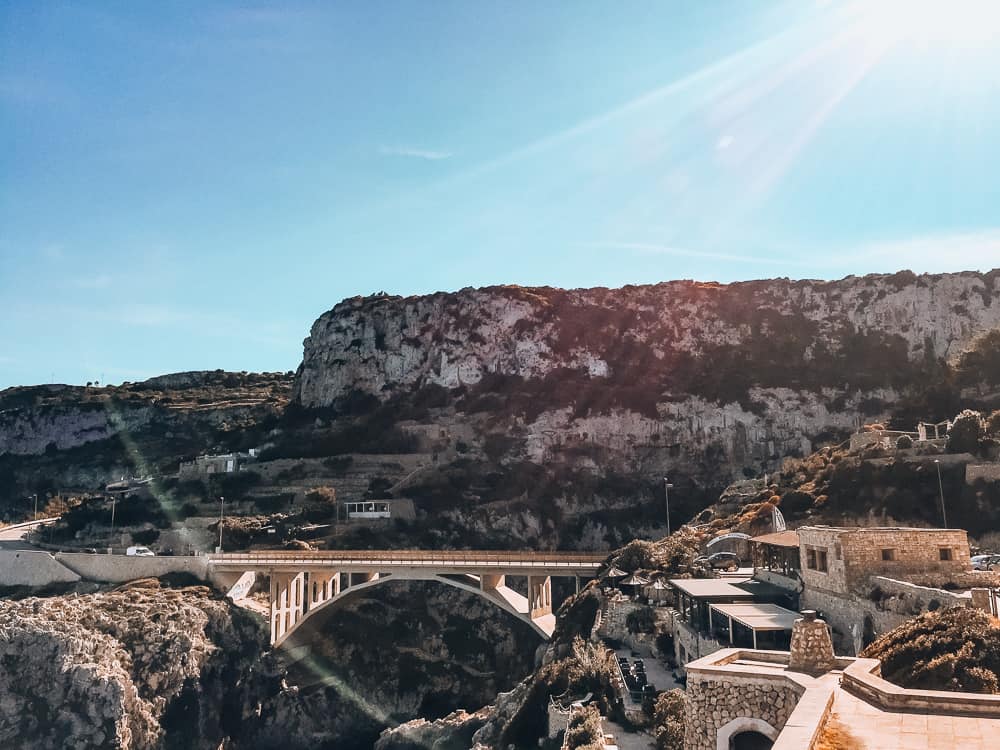 We planned to make our way there and spend the afternoon at Pescolouse beach because we finally had a hot, sunny day! This is considered one of the most beautiful drives in Italy, a long winding road that flirts with the edge of tall limestone cliffs, dropping off into the frothing Adriatic sea and affording some of the most amazing views.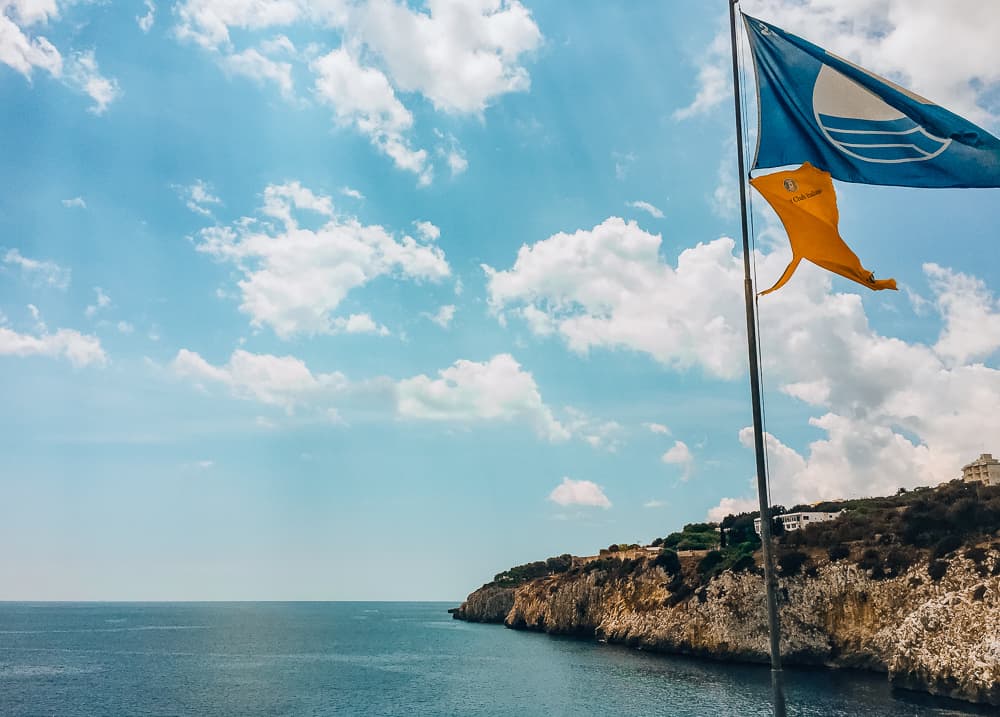 We pulled over many times to take in the views, follow a poorly-defined trail onto the cliffs or just to let it all sink in. Without stopping, the drive along the coast takes about an hour and 15 minutes. You basically follow SP358 all the way, and any time there's a curve or a fork just head back towards the direction of the water.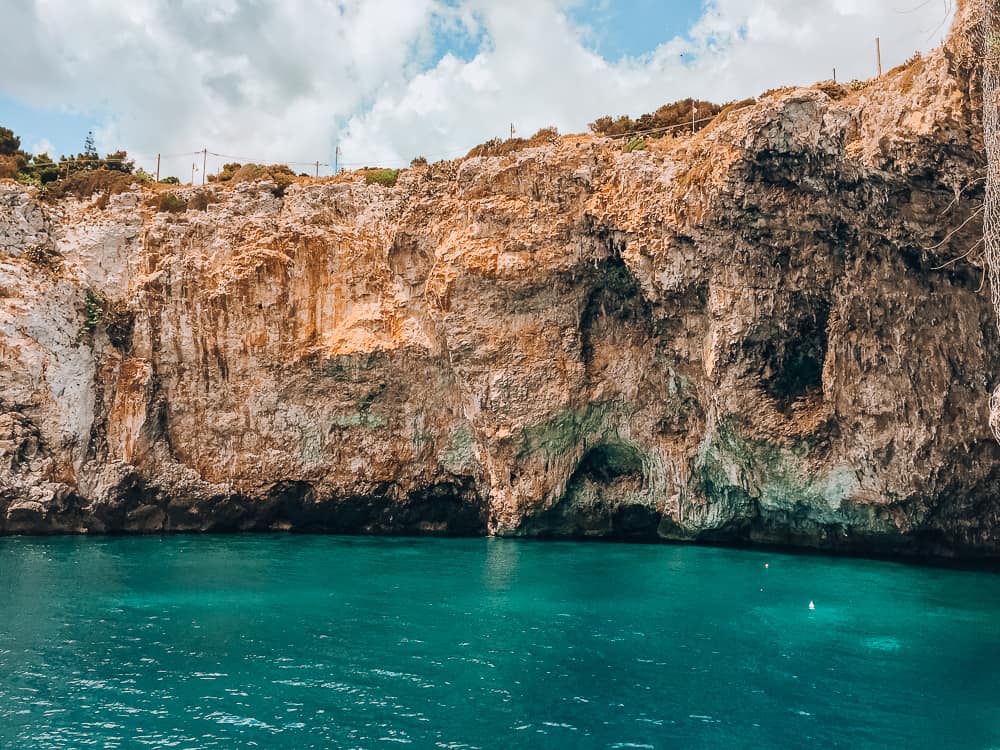 Along the way we stopped in Castro to see the Zinzulusa caves. There's a parking lot, snack bar and ticket office by the entrance if you need a bathroom or to refuel. We got espressos at the snack bar and made our way down the steps to the cave. We happened upon a man on a stool offering boat trips into one of the caves only accessible by water, and we took him up on it (for a fee).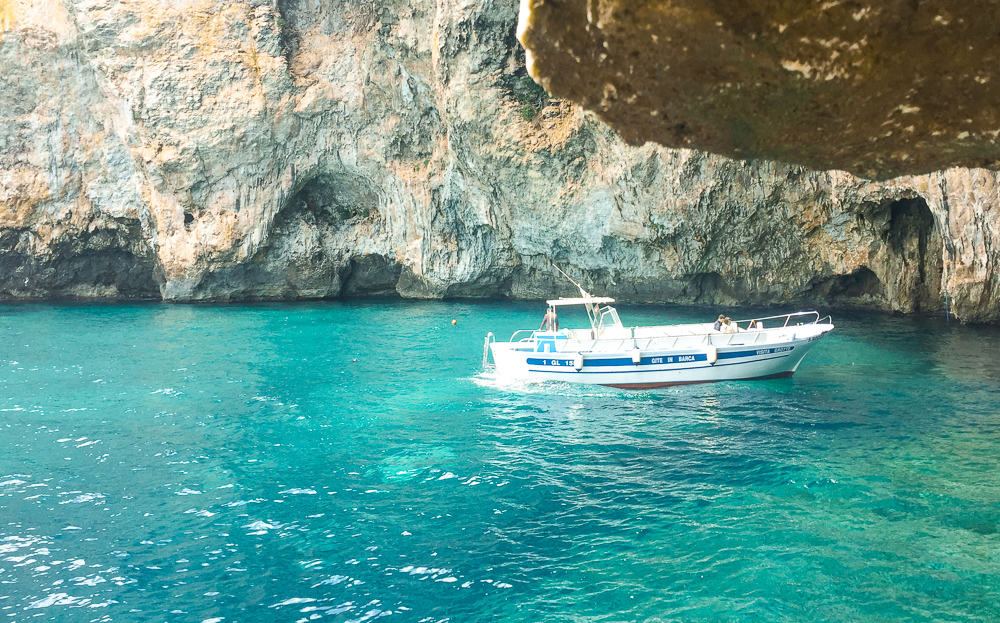 Then we walked through the winding cave complex, ducking around the large stalacites and stalagmites jutting out of the rock. JB ran out of the cave like a banshee when we realized one dome was filled with bats. I cackled behind him, delighting in his terror (I'm such a good girlfriend).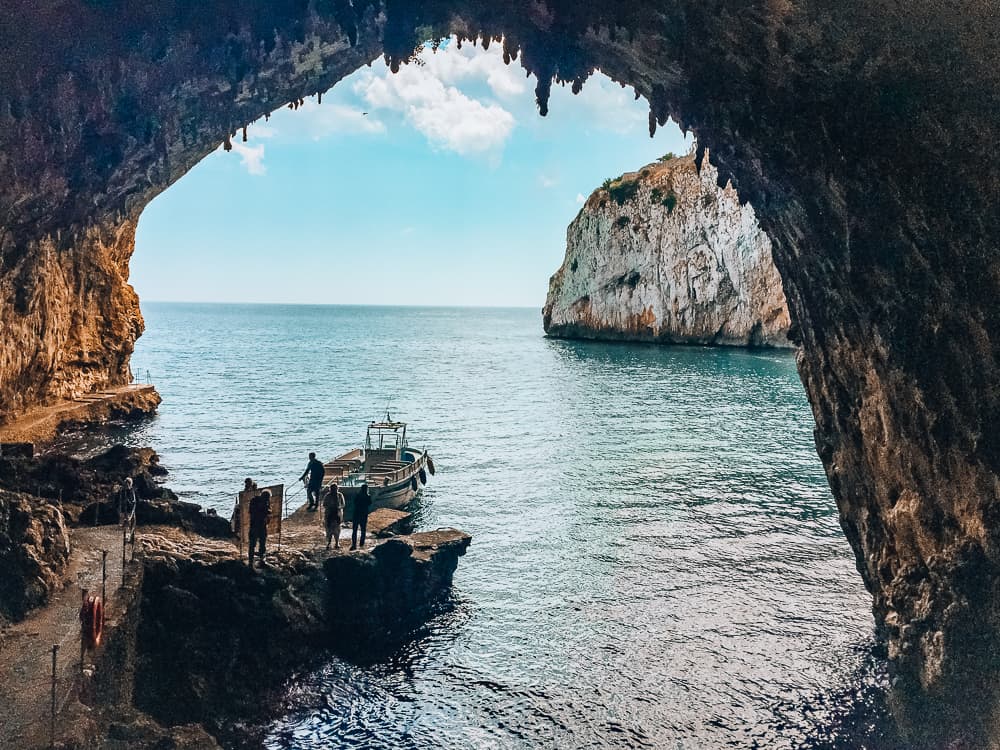 Afternoon
There's a famous lighthouse in Santa Maria de Leuca, but we skipped it in favor of taking advantage of the hot weather and sunny sky. We drove to Pescolouse beach, which was idyllic and empty save for the only open bar we could find. We sipped on rose (me) and beer (JB) and convinced them to loan us a couple lounge chairs. Once again, we found ourselves with our own private, spectacular beach! Later in the summer, Pescolouse gets crowded. This is not a 'secret' undiscovered beach – we were just early in the season.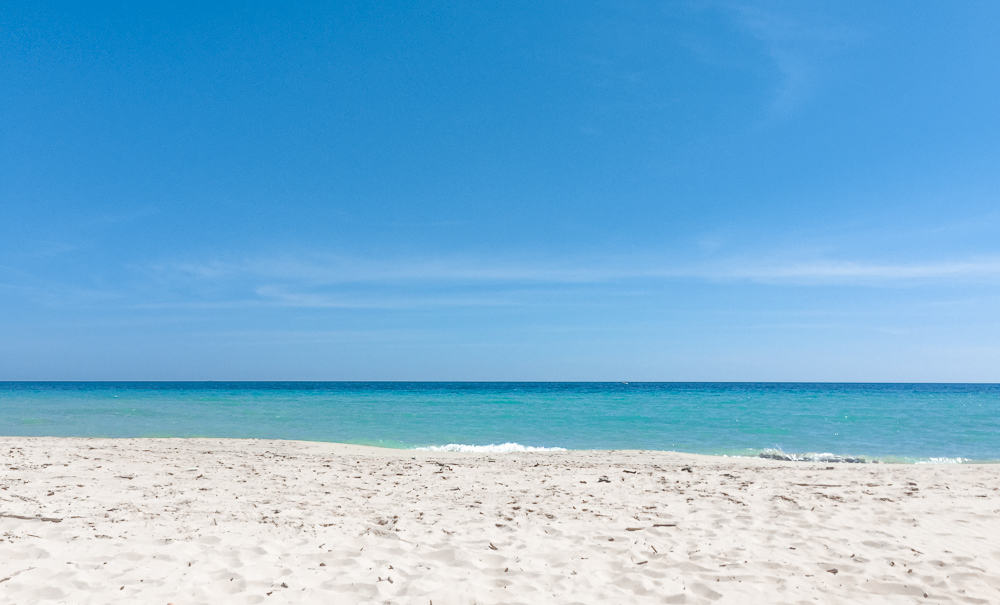 Evening
In the late afternoon, we made the winding drive back up the coast to Otranto. We stopped for dinner in the city center, at Acmet Paschia, overlooking the water.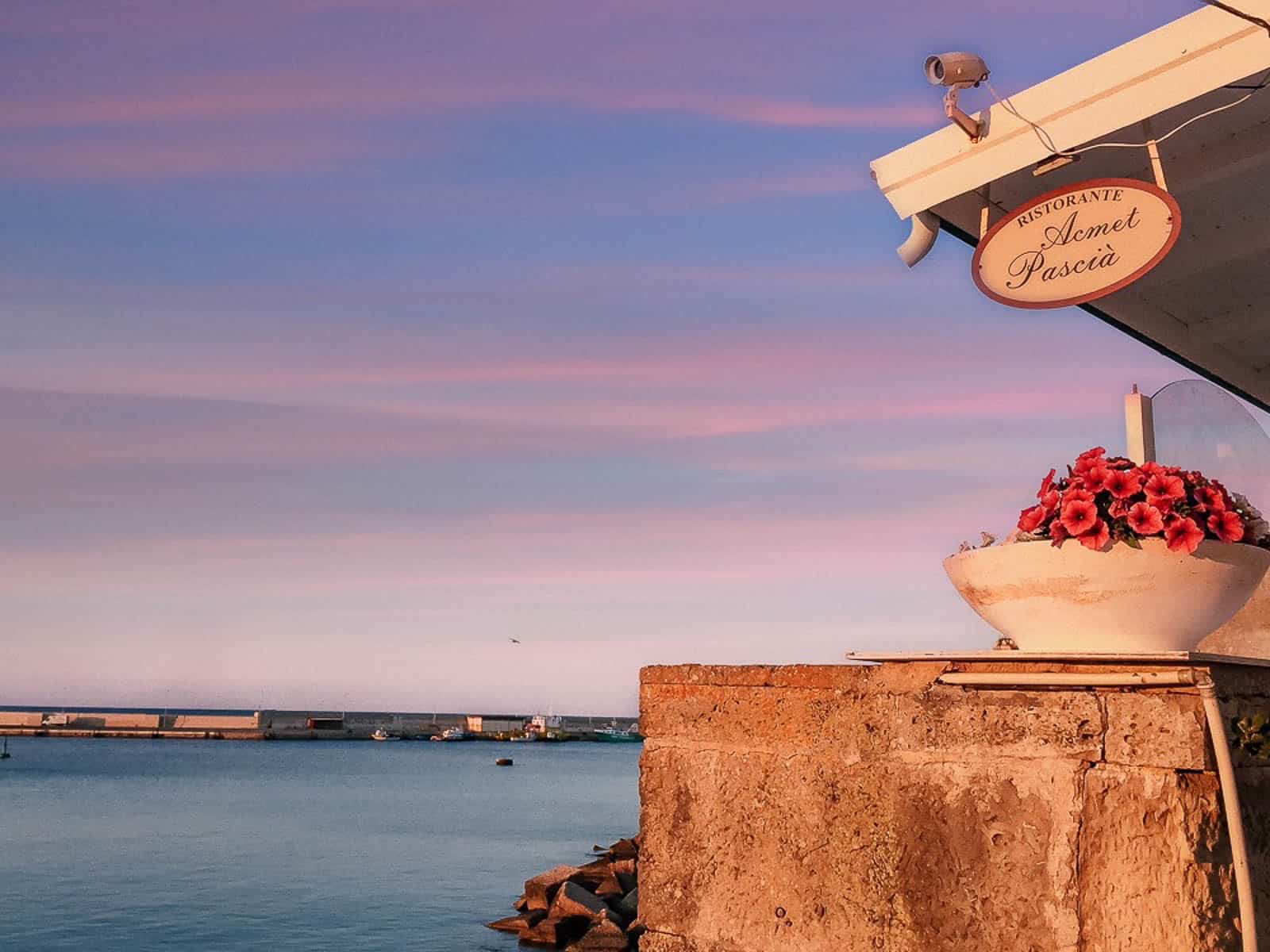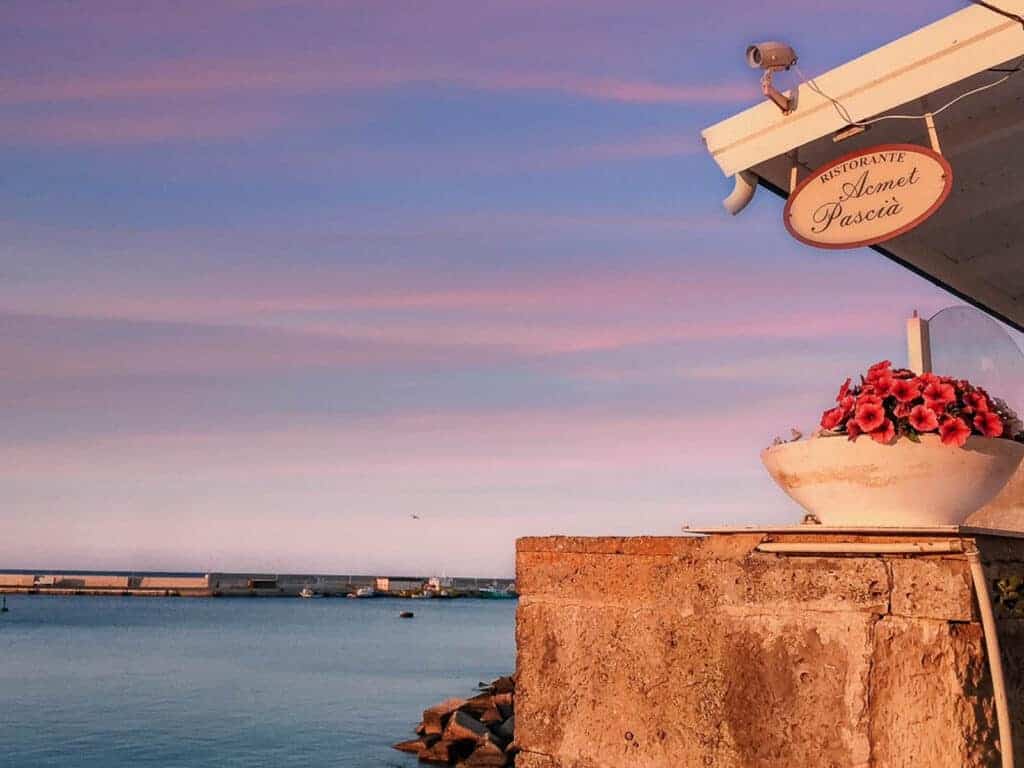 Then it was time to head back to Masseria Muntibianchi to pack up our bags. We woke up early the next day to begin the journey home. JB drove us to Brindisi airport early in the morning to return the car, and catch our flight to New York by way of Rome on Alitalia.
If you're planning a trip to Puglia, you might also like my Puglia Travel Guide and if you're heading to Italy, you must check out Rome using my guide to Rome for first-time visitors! Leave a comment and let me know what you think of this fascinating region!

Love my Puglia road trip itinerary? Pin it to save for later!