Austin, Texas is the perfect getaway for an affordable long weekend, foodies and music lovers!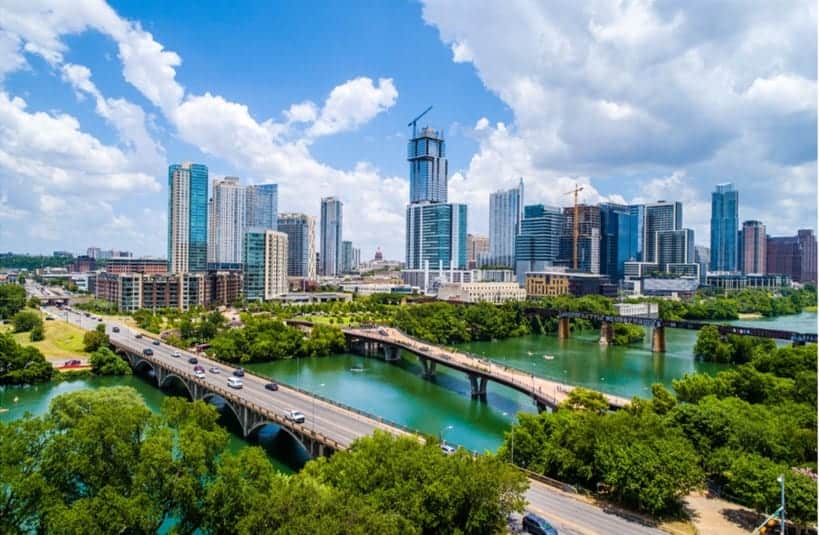 Austin is a delightfully weird, quirky and an amazing city to visit! I've been three times now and I always have a blast. Visiting Austin is a perfect long weekend because it's relatively easy to get to from both coasts, the weather is always hot and sunny and it has amazing food, nightlife and experiences! My Austin, Texas travel guide will give you all the information you need to have the most epic Austin weekend!
To me, Austin isn't really Texas – I mean, I know it's in Texas but it just feels very different from other major hubs like Houston or Dallas. Austin is the perfect getaway for a leisurely, music-food-and-fun filled weekend.
Be prepared to stay out late and eat, eat, eat! 
(Disclosure: This post may contain affiliate links which means I may earn a small commission if you make a purchase from a link in this post, at no additional cost to you. Additionally, as an Amazon Associate I earn from qualifying purchases. Thank you for supporting this site!)
Austin, Texas Travel Guide: Tips For Visiting
Getting around: While Austin is a very walkable city, sights and things to do are fairly spread out. I do recommend walking as much as possible as it's the best way to experience a city. Austin's public transit systems are okay, but not ideal. Luckily, Uber and Lyft are operational again in Austin after a year-long hiatus, so it's convenient to call a car.
Weather: If visiting Austin in the summer, it is hot. Drink lots of water, wear hats and sunnies and use SPF! I got so nauseous walking around in the heat during one visit, so air conditioning is key!
Time of year: If you can, avoid Austin during the major festivals (unless that's why you're going of course!). The city becomes overrun with tourist crowds. You'll get a more authentic experience if you go outside of Austin City Limits (October), Austin Marathon (February), SxSW (March), and Austin Food and Wine (April).
Where To Stay In Austin
There's a lot of nice and affordable options in Austin, including plenty of AirBnB's so be sure to check those out in addition to the hotels below. I prefer to stay downtown or in East Austin to ensure that I'm centrally located and within walking distance of many attractions.
Hotel Van Zandt: A sleek and sexy hotel that looks like it came straight out of a Restoration Hardware catalogue. Hotel Van Zandt also has a great pool and bar, and wonderful restaurant called Geraldine's.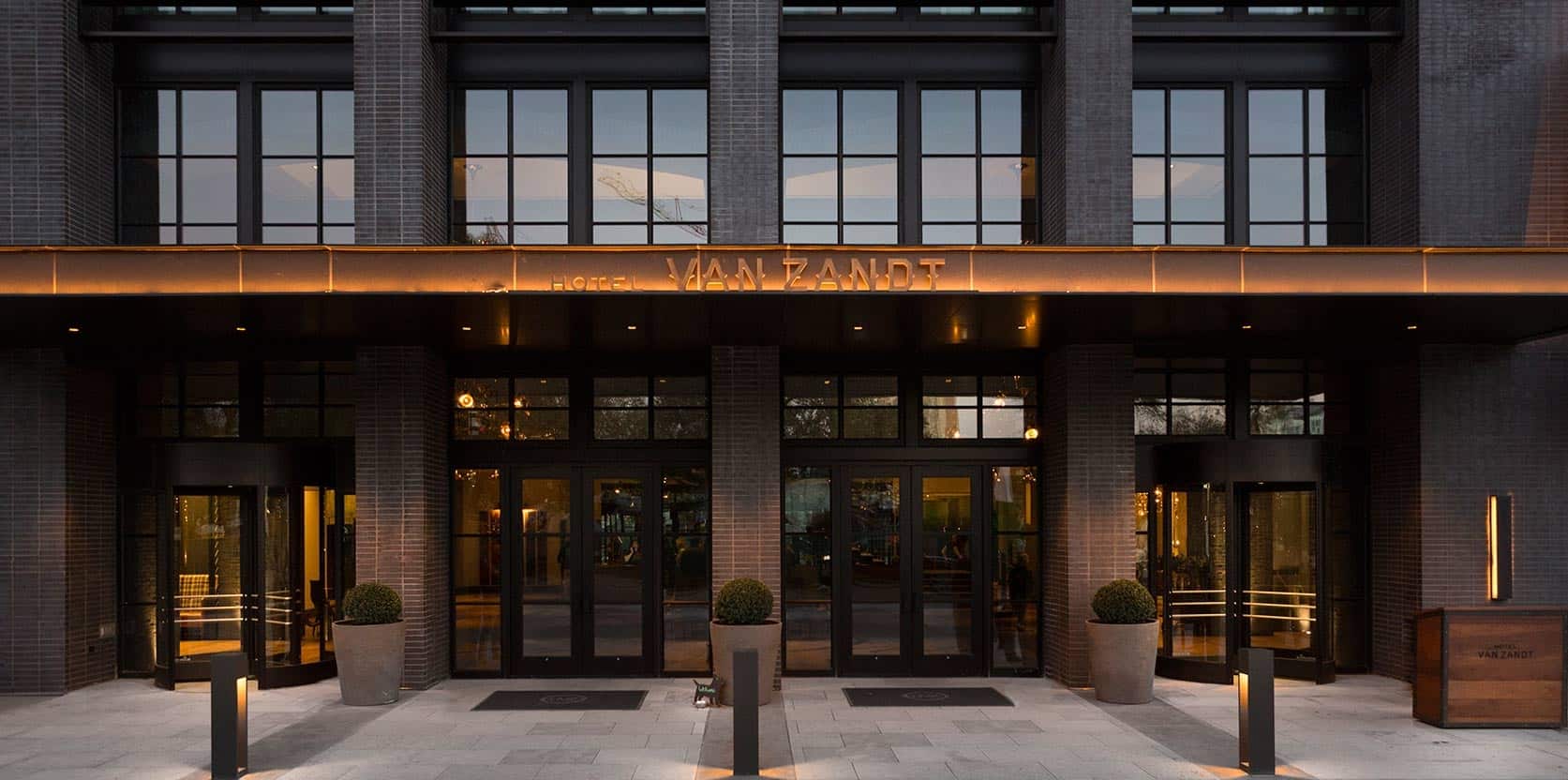 South Congress Hotel: Funky, modern low-rise hotel with a distinctly Austin flavor. The rooms feature locally sourced minibars and Matteo linens. The hotel is in a great location right on – you guessed it – South Congress. 
The W Austin: I happen to love a good W hotel, and the Austin location is no exception. Modern, convenient location right downtown and a great pool featuring the signature Wet Deck pool parties.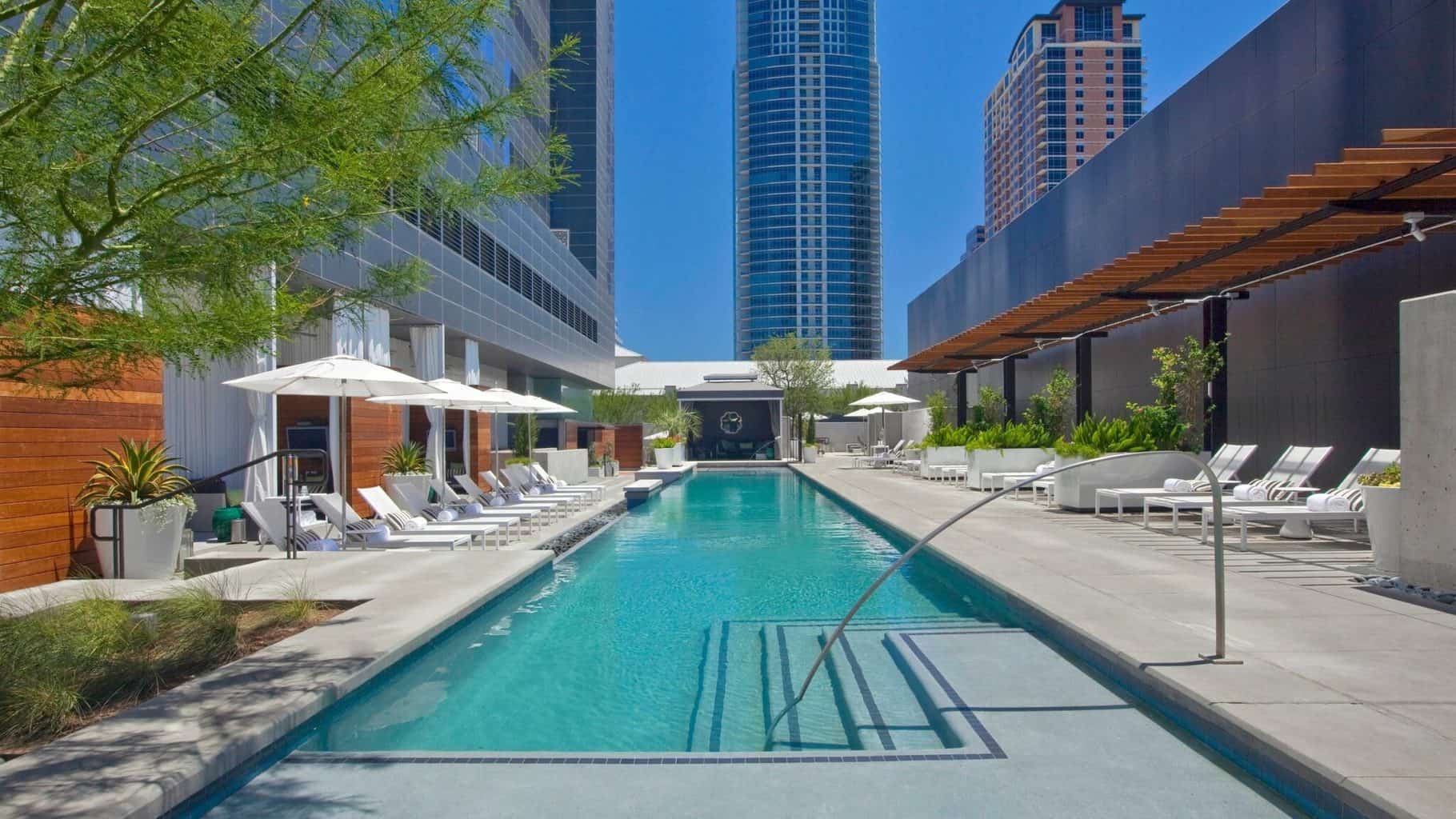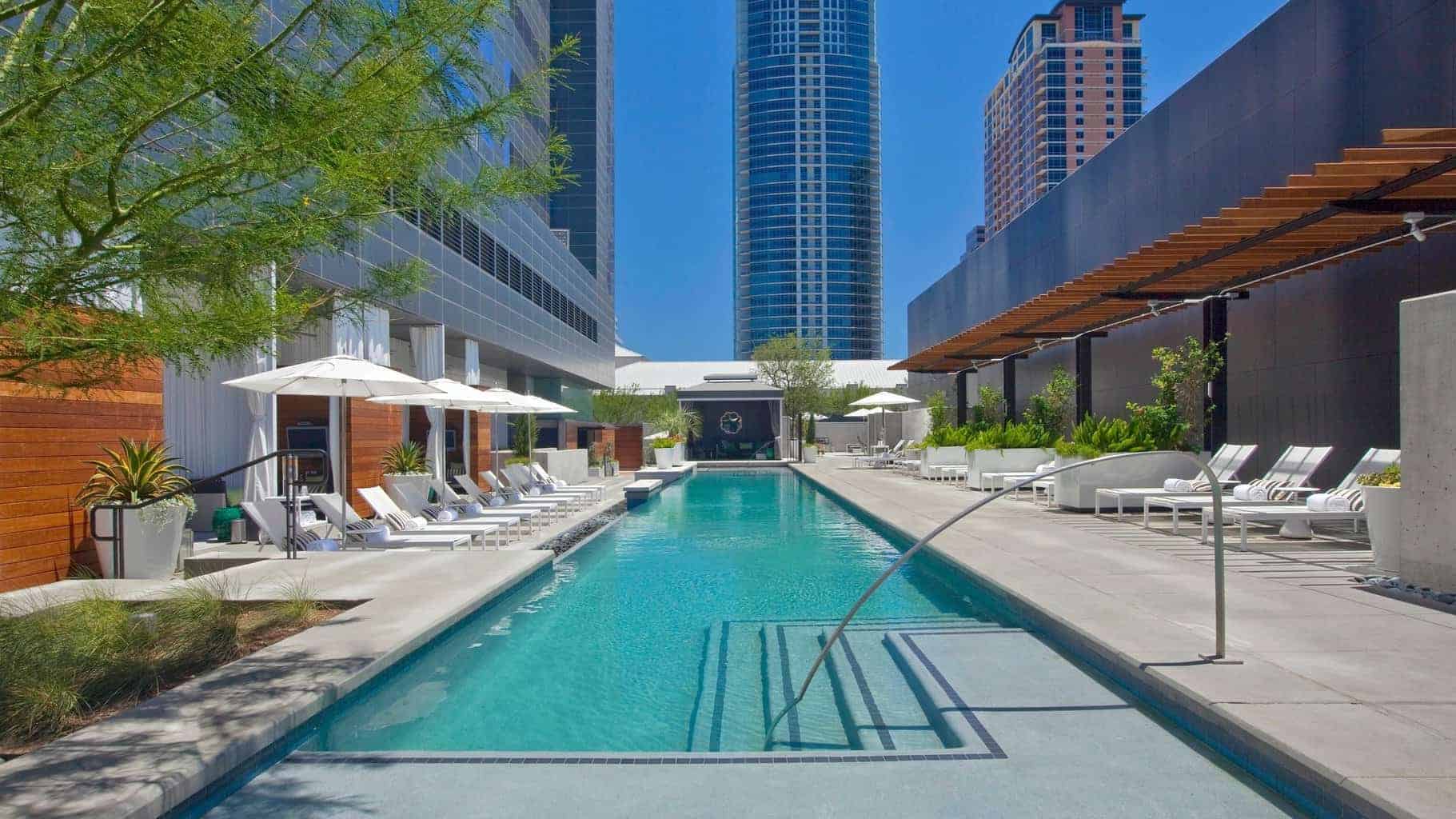 The Omni Downtown Austin: Affordable, clean and comfortable. Just be aware this hotel is enormous and caters to a convention and business-meeting crowd. The hotel's rooftop pool is small but does the job and the location close to Sixth street can't be beat. 
The Driskill Hotel: A gem of a building, it's one of the prettiest hotels in Austin. This hotel has more of a traditional, classic ambiance, therefore it's not a 'party hotel. It's also home to 1886 cafe, which has a delicious brunch menu. 

The Intercontinental: Everything you'd expect from an Intercontinental, with excellent service and beautiful rooms. 
Where To Eat In Austin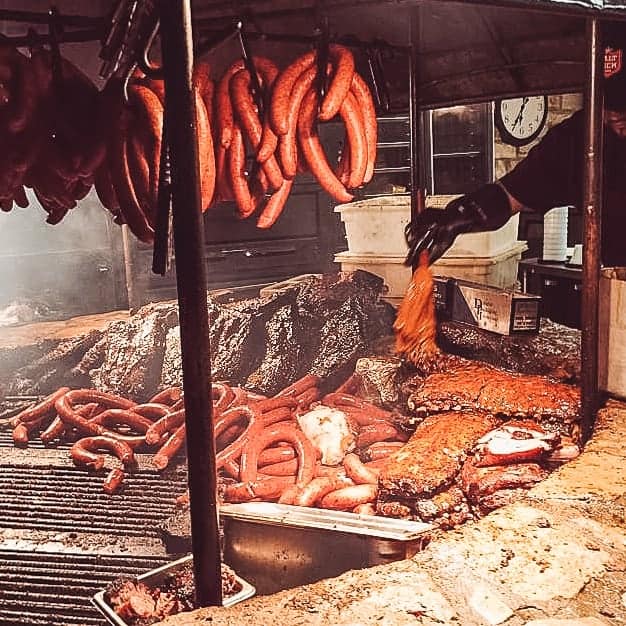 Swift's Attic: Upscale American cuisine with a lively ambiance.
Uchi Sushi: Melt-in-your-mouth fresh sushi in a stylish setting.
La Condesa: Great casual tex-mex in a bright and airy dining room. Get the guacamole sampler and $2 mimosas during the weekend brunch!
Second Bar + Kitchen: Small plates for sharing with a focus on local and seasonal ingredients.
Salt Lick BBQ: Don't waste time at Franklin's or Stubbs. Salt Lick has the best ambiance and will leave you with the best case of the meat sweats you've ever had. It's about a 25 minute drive outside of Austin, and you'll eat at picnic tables while staring at the giant smoking pit in the middle of the dining room, or under the stars. Get the beef ribs.
Frank: Chili. Cheese. Waffle. Fries. Need I say more? Okay, I will. Let's start with the fact that there are at least 10 different kinds of hot dogs on this menu and many, many more possible combinations when you factor in their 6 types of toppings and their 5 different sauces. If that's not decadent enough, through a side of their street corn in the mix and embrace the oncoming food coma. Oh, did I mention they have gluten-free buns?Run here.
Geraldine's: A sexy restaurant in a sexy hotel, with live music nightly and a sophisticated vibe.
Eastside Cafe: Great brunch spot in an adorable small house and a large menu with plenty of gluten-free options.
Food trucks: Austin is famous for their food trucks! It's hard to go wrong so grab a bite at whichever trucks look appealing. But if you need to narrow down the choices, it's worth seeking out the tacos at Veracruz All Natural or grilled sausages at The Best Wurst, mini-donuts at Little Lucy's or The Picnic food truck park at Barton Springs.
What To Do In Austin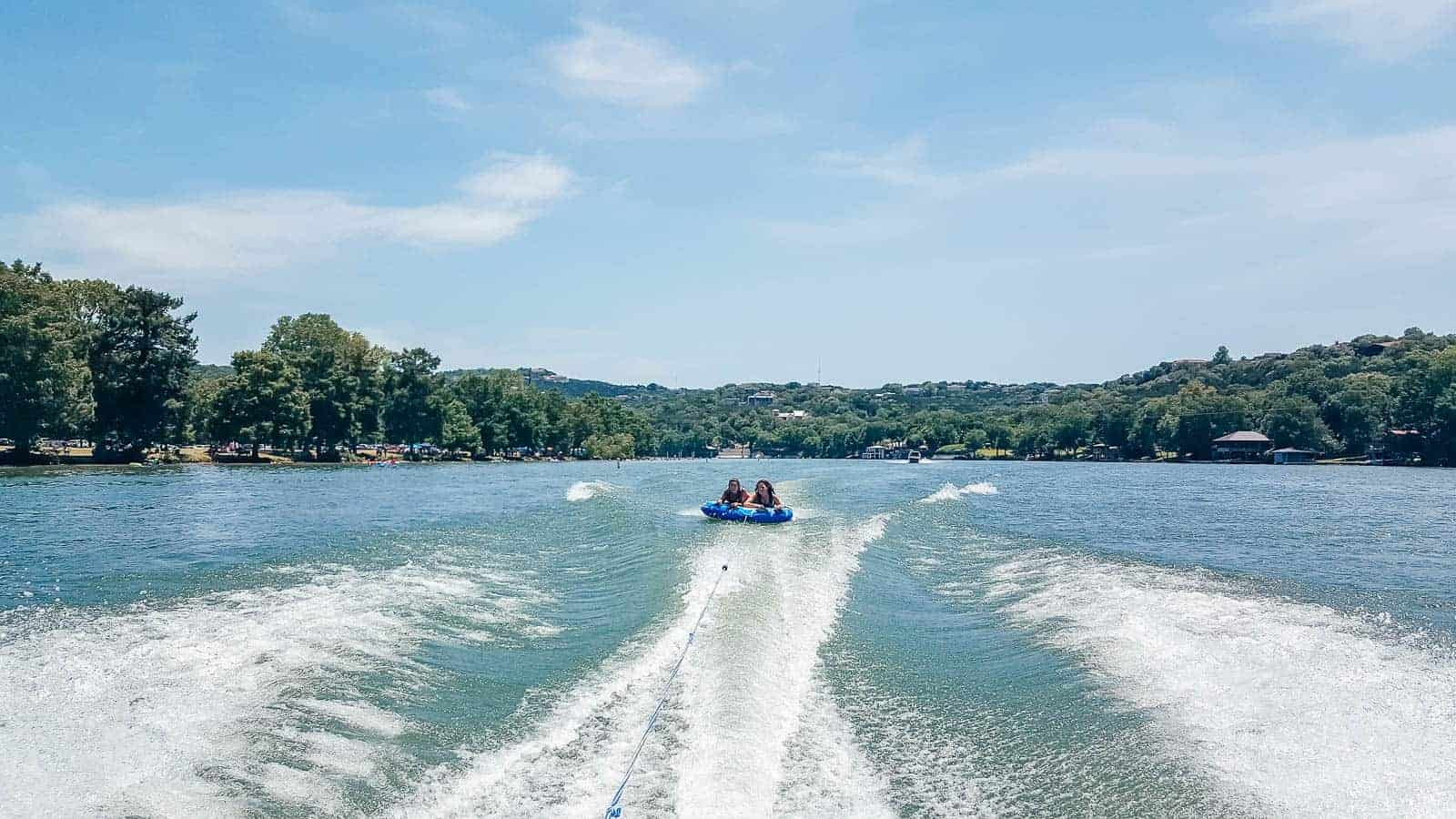 Rent a boat on Lake Austin: There are a whole bunch of companies who offer boat rental services on Lake Austin and Lake Travis. Boats vary in size and max capacity, can be rented with or without a captain, and can include extras like coolers of water, beer, tubing, etc. Most companies offer a per hour rate and have a 4-hour minimum on weekends. I've used Float On Austin and had a great experience, but you can also try Keep Austin Wet or Miss High Life.
Swim and picnic at Barton Springs: Barton Springs is a beautiful year-round pool in Zilker Park that is fed by natural springs with an average temperate of 70 degrees. It's a family friendly spot that's great for a picnic but note you can't bring food into the pool area. I suggest setting up nearby in the park for lunch and then spending the rest of the afternoon relaxing in the pool.
Go on a hike: There's a surprising amount of decent (it's still Texas, not Colorado) hiking in and around the greater Austin area. Check out CN Traveler's roundup of the 9 best hikes and pick whichever one sounds most delightful! (PS: Does a hike ever sound delightful? Really just throwing this one in the mix for all you athletic types).
Take a wine tour: Texas hill country has some pretty decent wineries so hop on a coach bus or be fancy and let a limousine whisk you off to a full or half-day wine tasting tour.
Wander around South Congress: Quintessential Austin shopping area filled with funky boutiques, restaurants and bars. Grab coffee or lunch and spend an hour or two popping in and out of the various establishments lining South Congress. One of the best stops is Feathers Boutique, an incredible vintage clothing store full of unique finds. Eat at Jo's Coffee, Perla or South Congress Cafe.
Bar hop on Sixth Street: It's a hot, sweaty mess of a good time, and one you should experience at least once in Austin! You also don't really need to have a specific bar in mind, half the fun is in the pub crawl hopping from one spot to the next!
Bar hop on Rainey Street: In stark contrast to Sixth street, but an equally great time. Rainey street is filled with adorable craftsman-style houses turned into bars and restaurants. I suggest starting with cocktails or dinner at Geraldine's at Hotel Van Zandt and then bar hopping from there.
Channel your inner Cirque du Soleil performer: Sky Candy Austin is an aerial arts studio that teaches aerial yoga, acrobatics, silks and trapeze. If you need to sweat out the BBQ and alcohol, this is the most fun way to do it.
Spend the day at a spa on the lake: Lake Austin Spa Resort is so pretty it's just about the only thing that could get me out of Austin for the day when I'm visiting. They have plenty of day packages that include spa treatments, fitness activities and access to the resort.
Peddle to the pub: An activity where it's socially acceptable to booze while exercising? Sign me up! Pub Crawler of Austin offers several neighborhood tours via a peddler vehicle. You power the pubcrawler and make various stops at popular bars along the way.
And there you have it, my perfect Austin, Texas travel guide! Did you know that Austin is an amazing city for a bachelorette party? I have a whole Austin Bachelorette Party itinerary as well. Do you have any other Austin recommendations? Let me know in the comments below! 

Love this Austin, Texas travel guide? Pin it to save for later!