THE BEST THINGS TO DO IN TULUM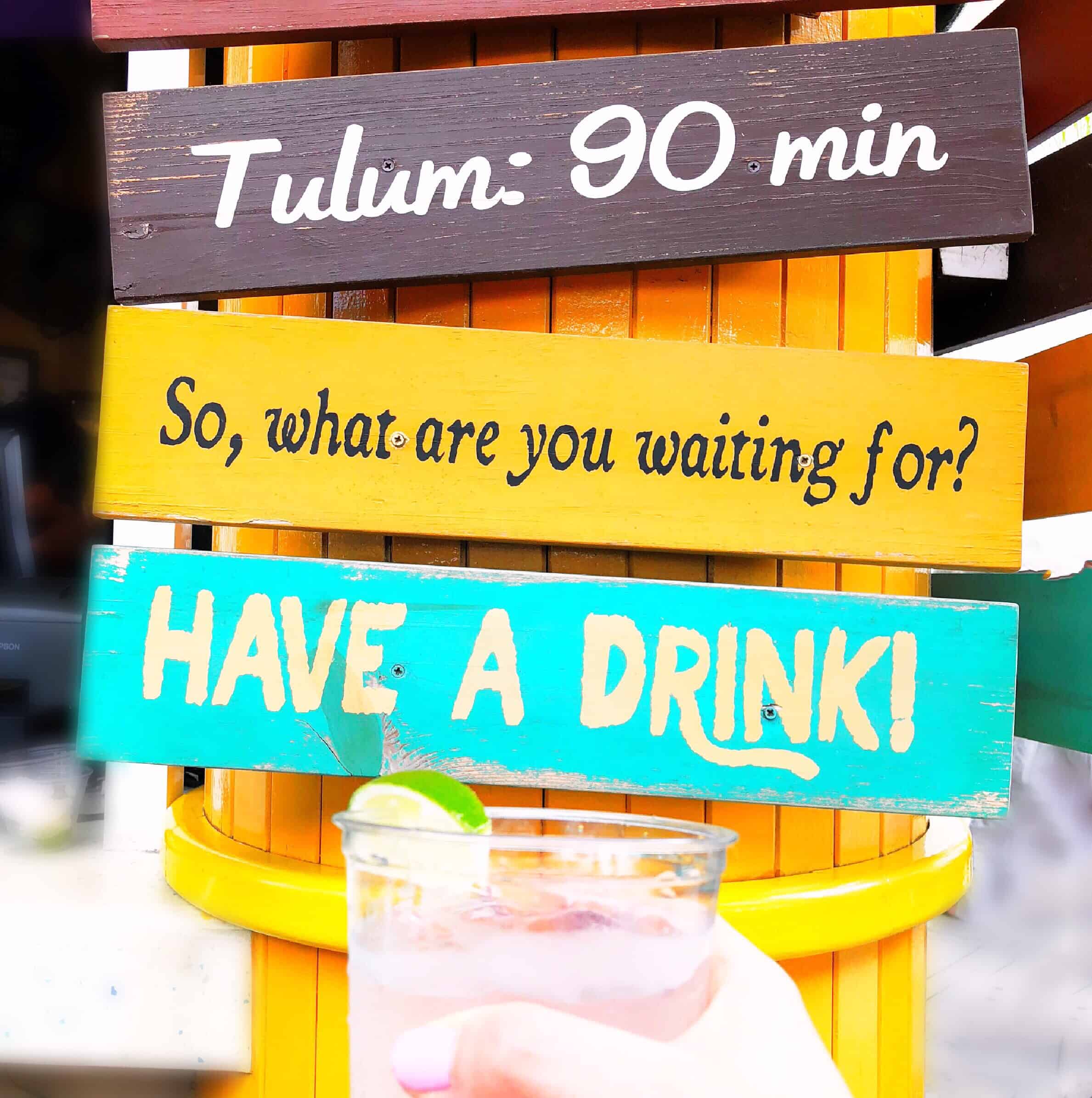 It seems like Tulum had a major heyday a few years ago, when it was THE place to go (if Bali was too far, obviously) for a tropical wellness getaway. At the time, I didn't get too into it – it sort of felt too cool for me. So, it fell off my radar as a destination for a while, until recently when it seemed like all of a sudden every Insta pic in my feed was of the fresh ceviche, delectable tacos and refreshing margaritas of Tulum. And so when a friend was in need of a getaway, Tulum topped our list as it offered a little bit for everyone: beautiful, sunny beaches, active outdoorsy adventures and historic Mayan culture. Keep reading my Tulum, Mexico travel guide for everything you need to know about visiting this awesome place!
I honestly can't believe it took me this long to finally go!
In my opinion, Tulum is not the type of place to visit if all you're looking for is to lay on the beach and never leave your hotel. There are so many amazing restaurants, shops, activities and things to see and do that I found Tulum to be quite an active trip vs a more typical Mexican beach resort experience. So, if you're looking for a hang-out-at-the-beach all day type of travel guide, this is not the Tulum travel guide for you.
But, if you're ready to book that plane ticket for an active adventure, read through my Tulum, Mexico travel guide below for all the places you need to check out. I've noted the places I researched and wanted to try and the places we actually went. You can also read my day-by-day (okay, minute-by-minute, I am Jess Obsessed after all) itinerary if you're planning a trip and want an exact itinerary to follow HERE. 
(Disclosure: This post may contain affiliate links which means I may earn a small commission if you make a purchase from a link in this post, at no additional cost to you. Additionally, as an Amazon Associate I earn from qualifying purchases. Thank you for supporting this site!)
TULUM TRAVEL GUIDE: PRACTICAL TIPS FOR VISITING TULUM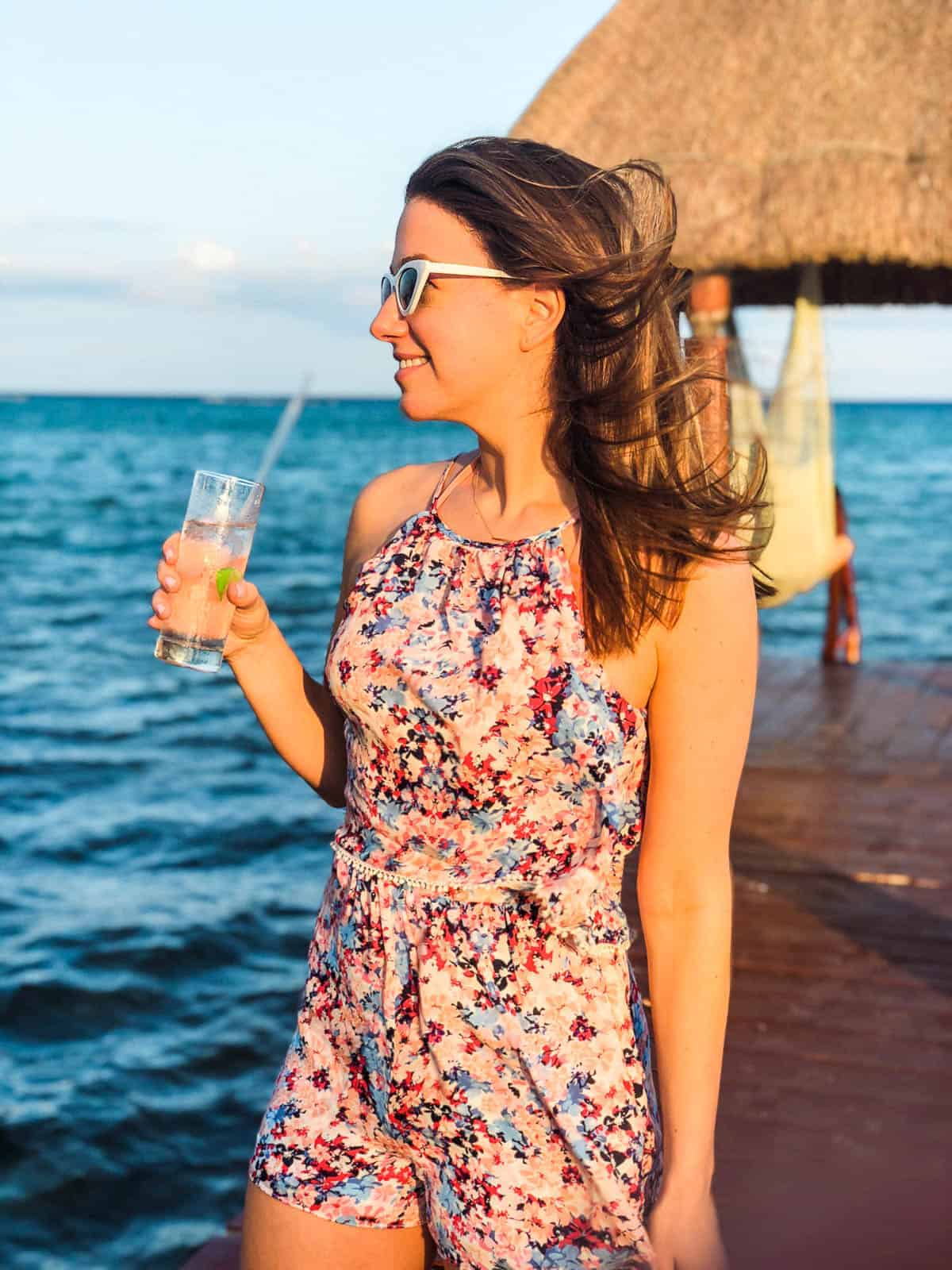 Safety: Most people were shocked (and some were mildly horrified) when I told them I had just booked a trip to Tulum. And honestly, I was surprised at their surprise! The whole Quintana Roo area (which encompasses Playa del Carmen, Cancun, Cozumel and Tulum among other areas) has definitely suffered because of reports of violence in the area. However, I personally felt completely safe the entire time I was in Tulum. The violence seems mainly contained to border areas so as long as you are aware of your surroundings, keep your personal belongings close and don't venture too far off the beaten-path, I think it's safe.
Transportation: The easiest way to get to Tulum is to fly direct to Cancun Airport and then arrange transportation to your hotel. Tulum is about 90 minutes from Cancun Airport but there are many reputable transportation companies that provide both private and shared shuttle services from the airport. We used Cancun Transportations and were generally satisfied with their service. It was very easy to both hail and call taxis while in and around Tulum, and that was our preferred method of transportation. A note on taxis: make you you agree on the price before you get in, they do not run meters and most rates are pre-determined based on the taxi union. Also, taxis do not take credit cards so make sure you have enough pesos. However, renting a car would also be a pretty easy experience – the roads were generally in good condition and it was easy to get around.
Currency: The Mexican currency is pesos, and while some establishments might take credit cards or American dollars, I strongly recommend making sure you take out enough pesos in advance of your trip. Most of the trendy restaurants we went to (Hartwood and Kitchen Table included) were cash only, as were the taxis. We had to make several ATM runs, which was a pain because all the ATMs in the main area were shut down. Ducking out of Hartwood at 10:30PM to grab a taxi to 7-11 to withdraw cash in order to pay for your dinner while leaving your other two dinner companions at the table was not really the way Hartwood was meant to be experienced, trust.
BEST PLACES TO STAY IN TULUM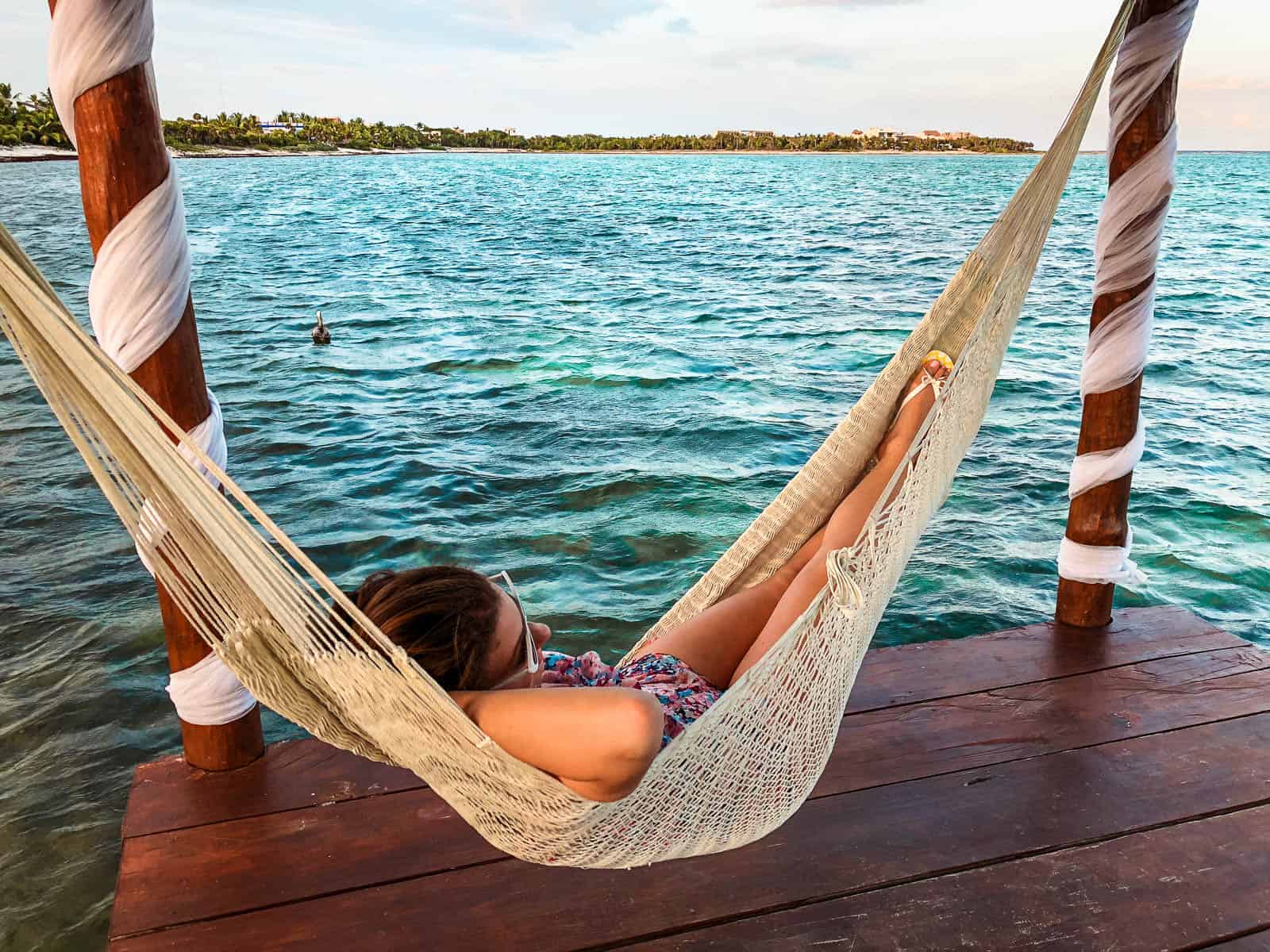 The Best Luxury Hotels In Tulum
La Zebra: This hotel looked amazing but the prices were just too insane at the time we were looking to go (we booked really last minute). La Zebra was highly recommended by a friend of mine who stayed here though and said it was absolutely perfect for a girls' trip. I did spend a few relaxing hours at the beach club here in the late afternoon, drinking tequila and eating the AMAZING tacos.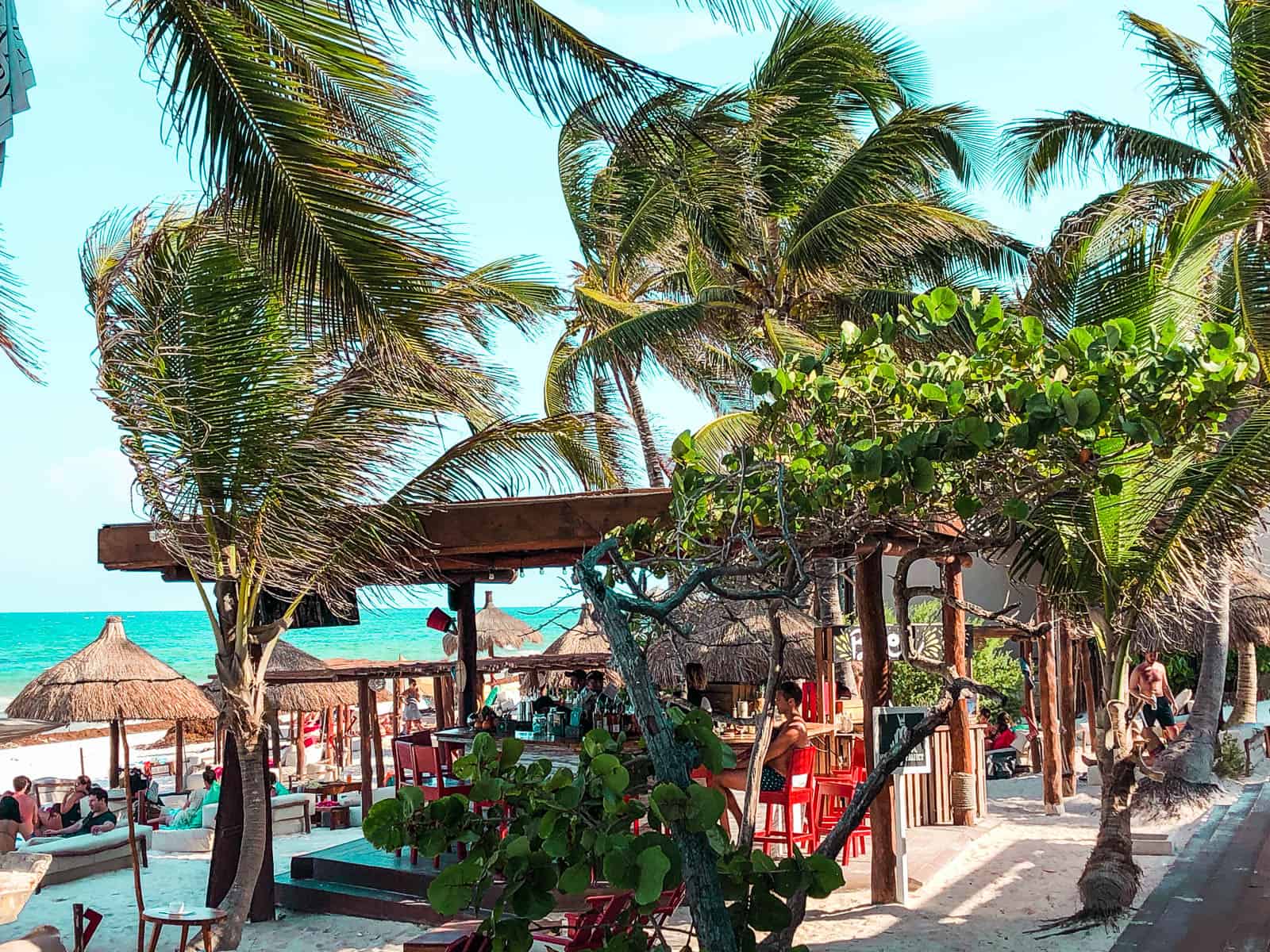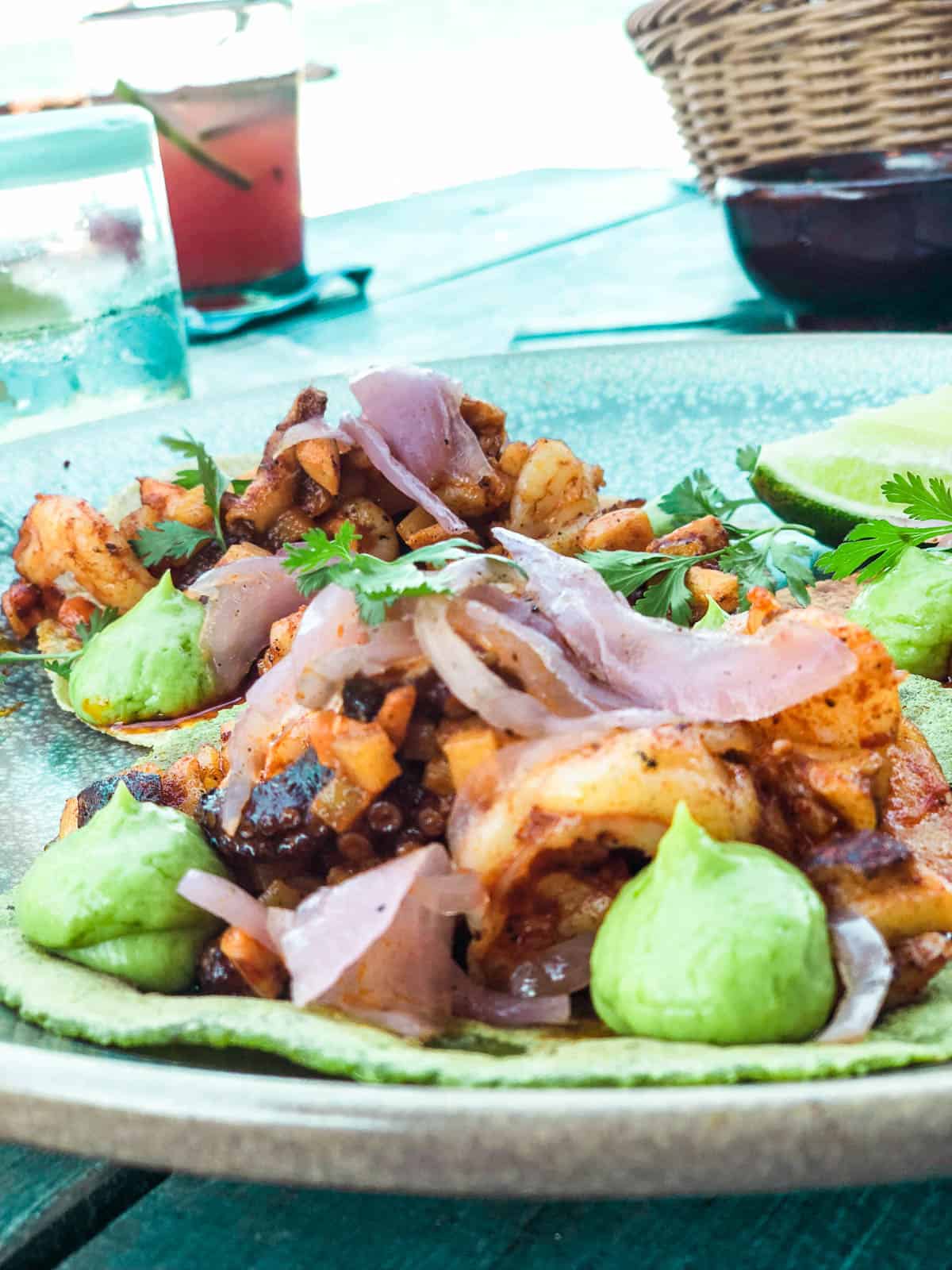 Casa Malca: I read a review that described Casa Malca as more like a "Bond villain's beach house" than a hotel and that description could not be more perfect because this hotel was built on Pablo Escobar's former estate. A little danger and intrigue with your luxury, perhaps? This hotel looks absolutely fabulous for a uniquely curated experience in Tulum. Bonus points because according to Instagram, this is where R29's Lucie Fink stayed when she recently went to Tulum! 
Mi Amor Tulum: The pictures of the pool and outdoor patio/restaurant areas are what got me hooked on this hotel. It looks GORGEOUS and so luxurious. All the reviews are really positive and it looks just divine. I had really wanted to stay here but my girlfriends convinced me that we didn't need to spend $500/night on a hotel (sure we didn't NEED to…but I sure wanted to ;P and I bet you will too when you Google this hotel). 
Azulik:Talk about an Instagram DREAM! This hotel is so unbelievably beautiful, even if you don't stay here it's worth taking a walk through (and stopping for cocktails at Kin Toh, see below). The hotel feels like it's a living, breathing organism, filled with natural woods, plants, water features, and bamboo bridge crossings to get to various areas of the hotel. It's basically the most luxurious grown-up treehouse you'll ever stay in.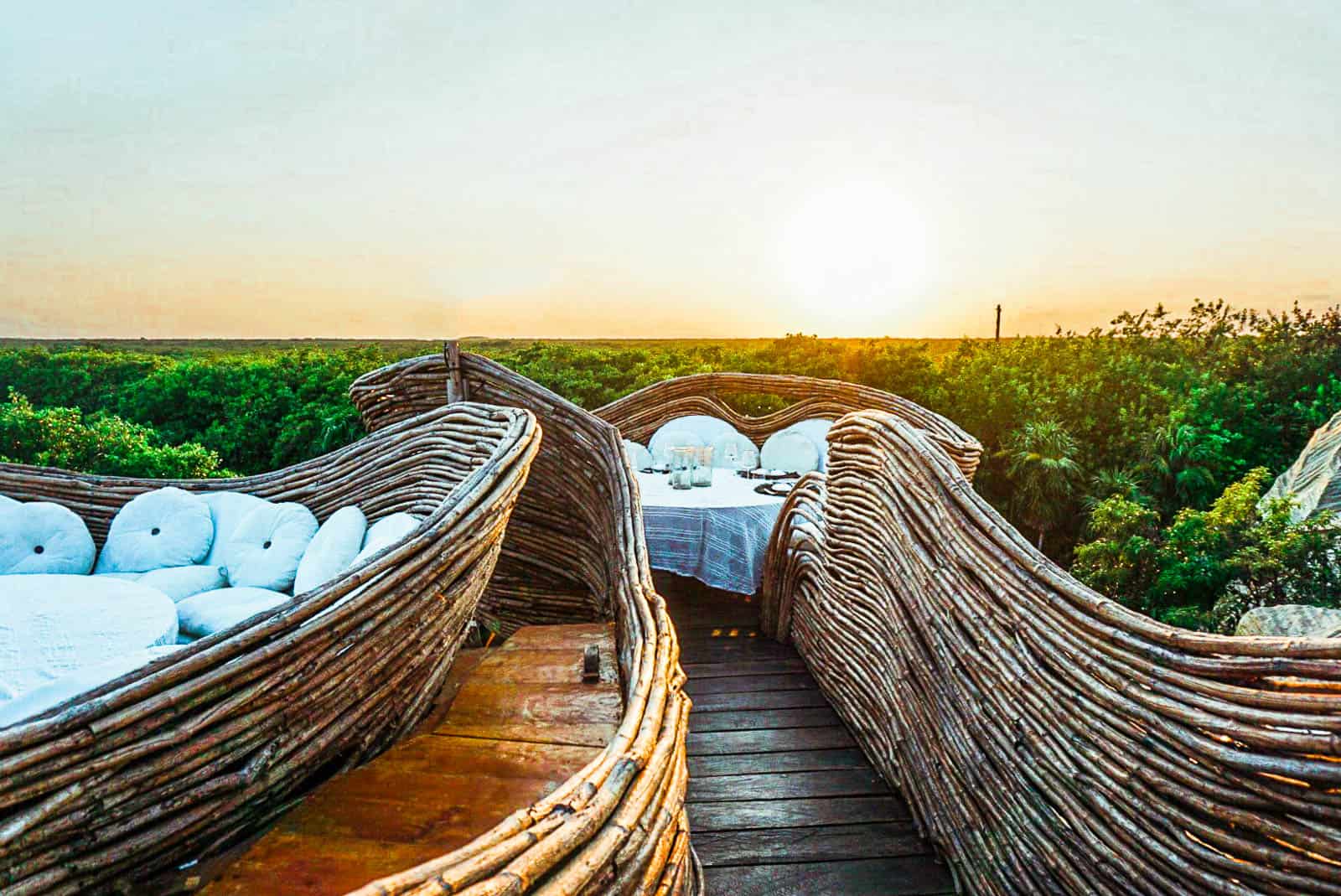 Affordable Places To Stay In Tulum
Cielo Maya Beach House:This is where our group stayed. It's a smaller, boutique hotel and it was very nice, clean and safe. There were a few hiccups, for example, we booked a junior suite with two queen beds but the room had a leak at the last minute so they switched our room to a larger suite, but with one king bed and two sofa beds. We were originally concerned but the sofa beds turned out to be more like twin beds, and the huge bathroom and walk-in closet more than made up for it! The hotel staff were very friendly, especially Gregorio at the restaurant and there is a small but beautiful infinity pool that looks out over Cielo's own private beach. The beach is lovely, with two long docks that have hammocks at the end to nap, read or just enjoy the views. You can also book an outdoor massage at the end of the docks by asking at the front desk. I found this hotel to be a bit far from the main strip of restaurants, bars and activities though. It was about a 20 min taxi to get to most of the places we wanted to go. On the plus side, it really felt like we had the hotel entirely to ourselves, it was so quiet and peaceful. We also had no trouble getting the taxis – the hotel would promptly call them for us whenever we asked, but I would have preferred to be in walking distance to the main beach road. So, I would recommend this hotel as a really good option if you plan to rent a car, are looking for an affordable, boutique hotel and/or don't mind having to take a taxi (it really didn't affect our trip or inconvenience us at all, and taxis are fairly cheap).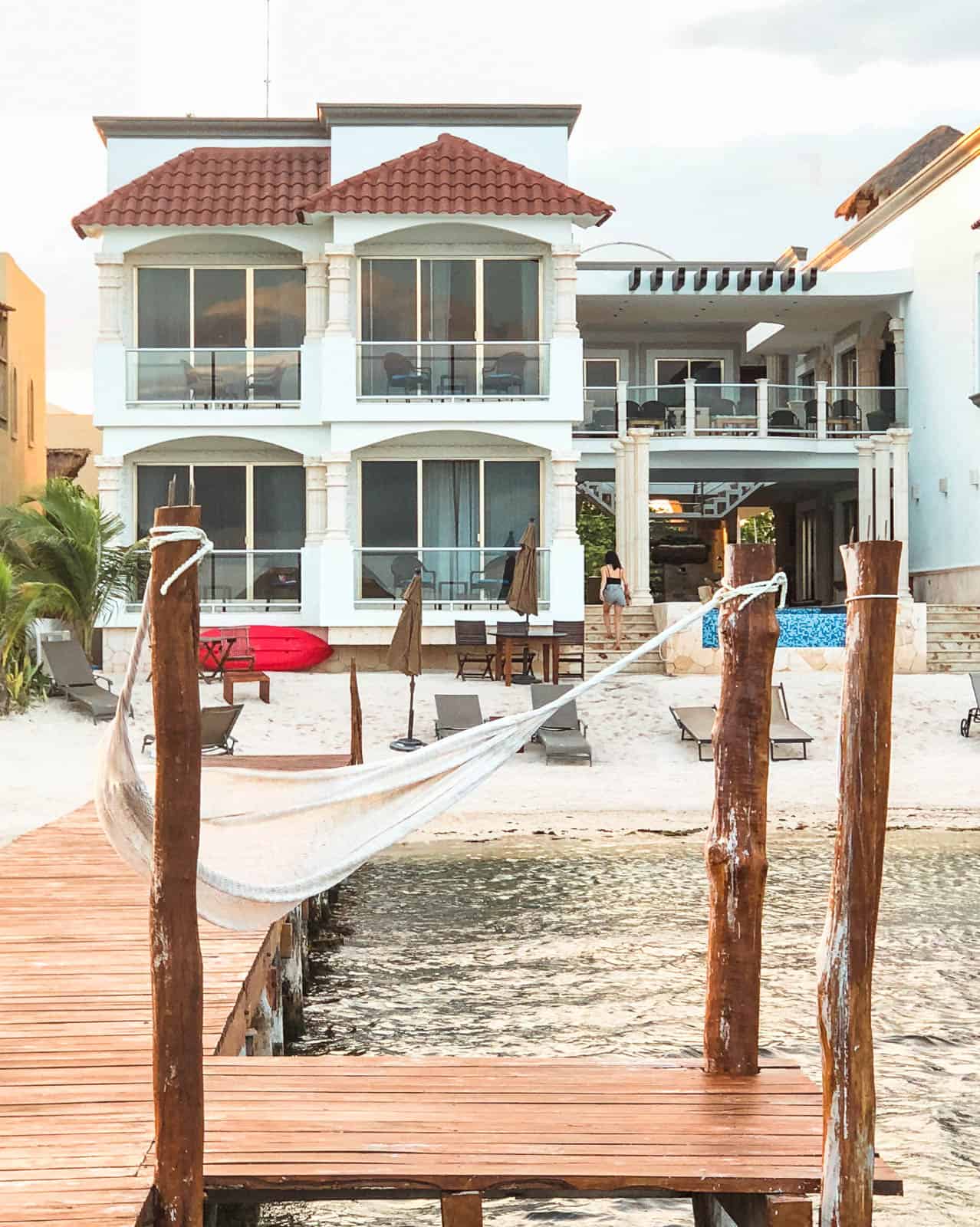 Maria del Mar: This hotel was high up on my list of affordable places to stay. It's in a more convenient location near the main beach road, by the Azulik and other shops and restaurants. It's a much smaller boutique hotel, similar to Cielo Maya. The decor is all about the natural finishings, local artifacts and hand-painted tiles. It also have a picturesque private beach perfect for relaxing. Next time I visit Tulum, if I'm not splurging at La Zebra, I'll be staying here! 
Where NOT To Stay in Tulum:

We looked at the Dreams Tulum resort because we were looking for affordable options and thought an all-inclusive deal might be the most cost effective. While it looked perfectly fine, I don't recommend an all-inclusive or big-name chain resort when visiting Tulum. There's far too much to do, see and eat outside of the hotel walls! I definitely think we made the right decision not to stay here. 
WHERE TO EAT IN TULUM
Trendy Tulum Restaurants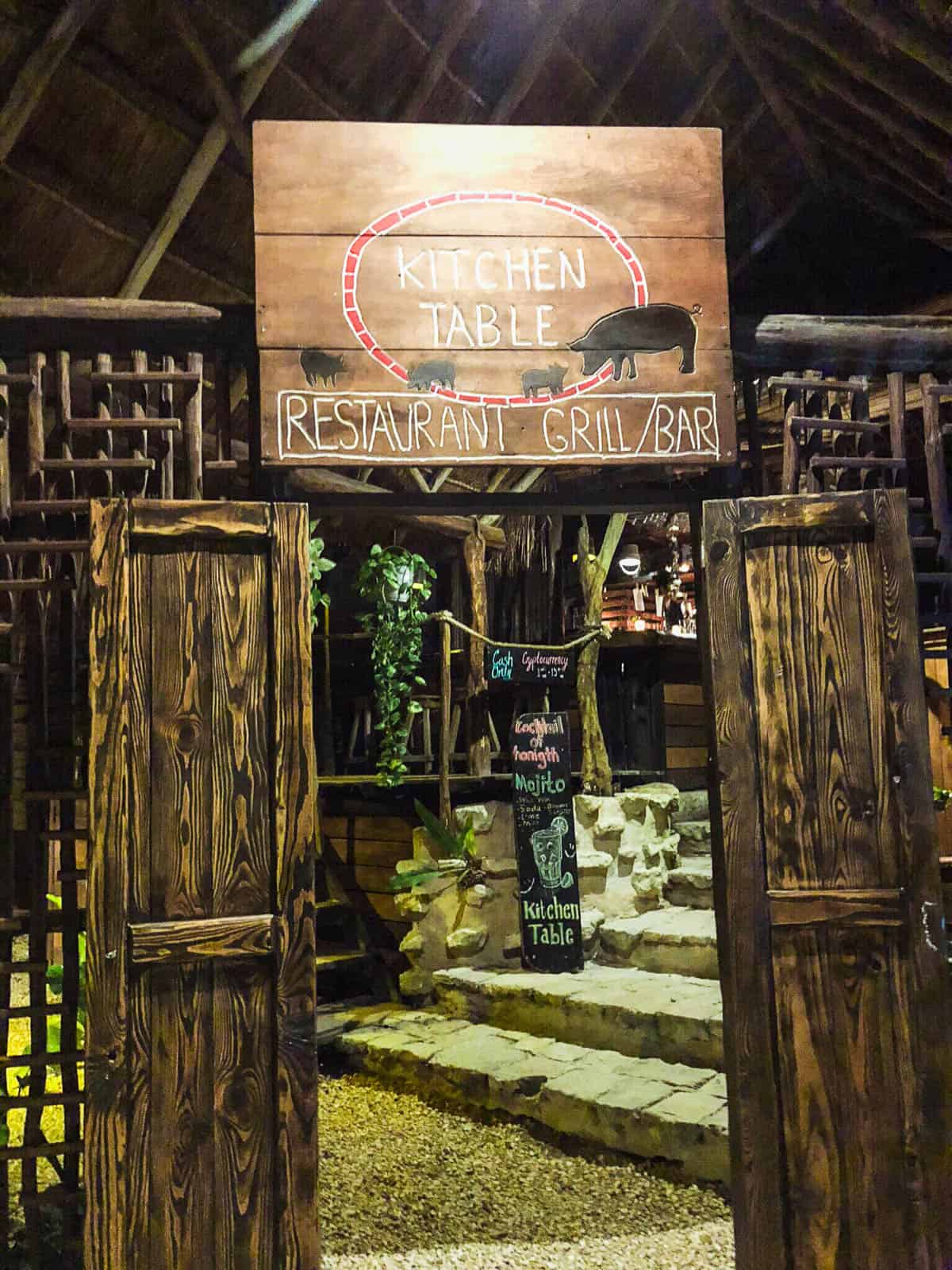 Kitchen Table:In the opposite direction of the main restaurant strip, nestled in a fully outdoor jungle setting, Kitchen Table's food, service and ambiance made for an incredible experience. The entire kitchen is outdoors as well and most of the fresh meat and seafood is grilled in a wood-burning oven. The focus is on fresh, local and seasonal produce. It's a must-try. Order the octopus, arugula salad and fresh fish special of the day. Kitchen Table only takes reservations one week before your desired date, and only at 6:00 PM or 9:00 PM. I set a reminder to fill out the reservation form on their website one week in advance and receive a confirmation of my reservation within 24 hours.
Hartwood: What Tulum travel guide would be complete without a mention of Hartwood, the most well-known restaurant in Tulum? In my opinion, Hartwood is 100% absolutely worth the hype. The food and cocktails were delicious and it was our favorite evening meal in Tulum. The menu changes daily depending on what's fresh so your waiter will bring over a giant chalkboard with the day's menu. We had the ceviche, octopus, pork ribs and fish of the day. So YUM! Hartwood only recently started taking reservations so I totally understand why many folks didn't want to wait in line at 3:00 PM to get in, but now there's no excuse not to try in advance! Email [email protected] up to one month in advance. We received a prompt confirmation of our reservation request.
Arca: Supposedly the "next" Hartwood, we tried to get a reservation at Arca but they were full. I was so disappointed because this was my top restaurant choice! (I like anything that's the "next" thing haha). Walking by, the space looks beautiful and the menu sounds amazing. Arca is definitely the hip newcomer along the main strip.
Mur Mur (permanently closed as of 2022) Also along the main strip, Mur Mur has a great reputation for fresh, delicious food in a beautiful setting. Definitely request an outdoor table if you can and sit under the twinkly lights while you sip a refreshing cocktail.
Posada Margherita: An Italian restaurant that makes their own fresh, homemade pasta. I made the decision not to eat here because I didn't want Italian food in Mexico (all tacos, all the time!) but trusted friends describe this place as their "most favorite restaurant in the world."
Tulum Casual Restaurants And Taquerias
Raw Love Tulum The ultimate acai bowl and smoothie outdoor cafe and restaurant. Perfect for a healthy lunch or snack while wandering in and out of the adorable boutiques or beach club hopping. Order a superfood smoothie and chill out on one of the many hammocks scattered around the outdoor space.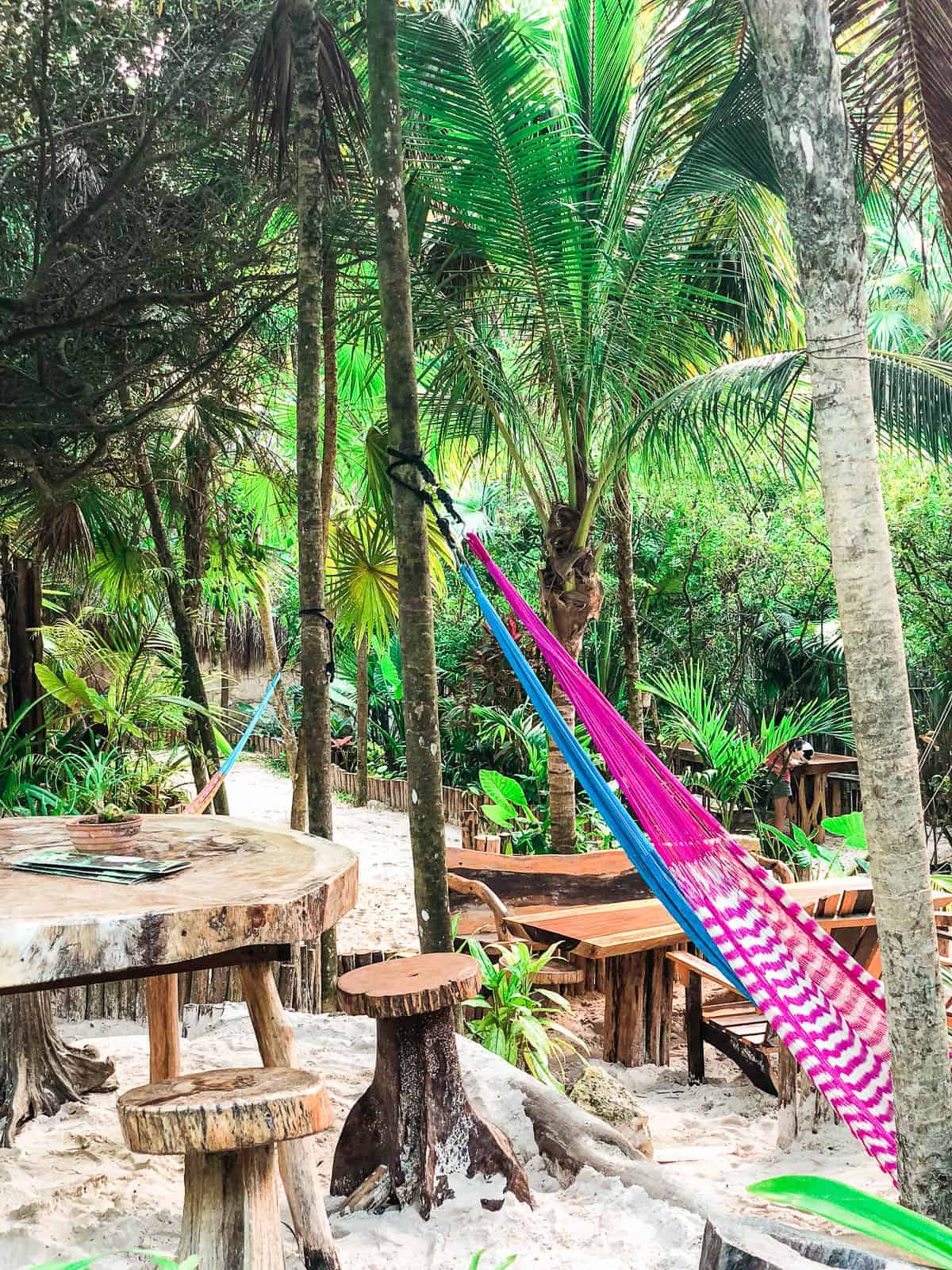 Taqueria Honorio Widely regarded as one of the best local and authentic taquerias in Tulum. It's only open during the day – early morning to early afternoon so it's a perfect stop for breakfast on your way to the Tulum ruins. Worth the trip! We tried the carnitas and carne asada tacos. They were perfectly seasoned, not too salty and tasted amazingly fresh.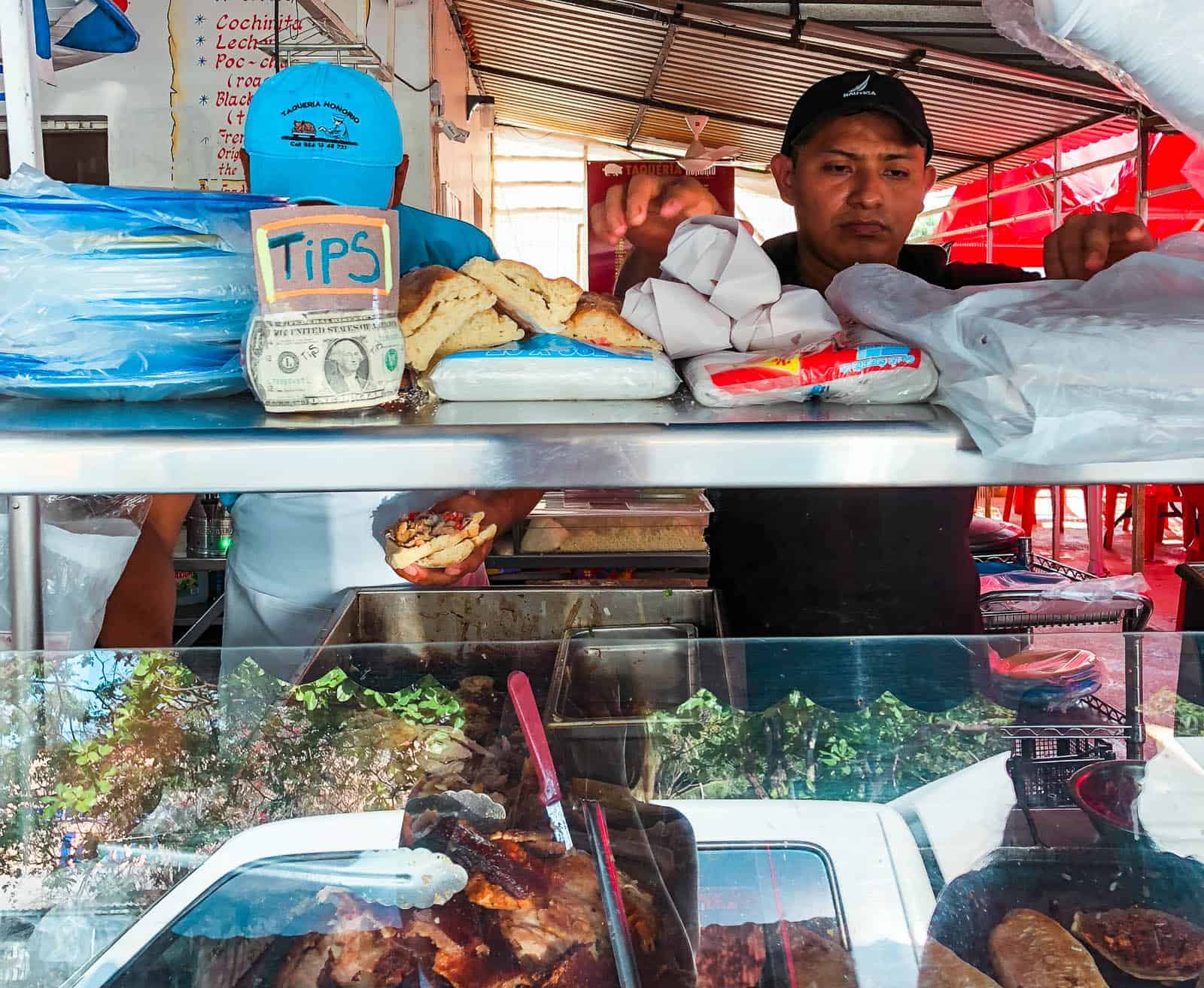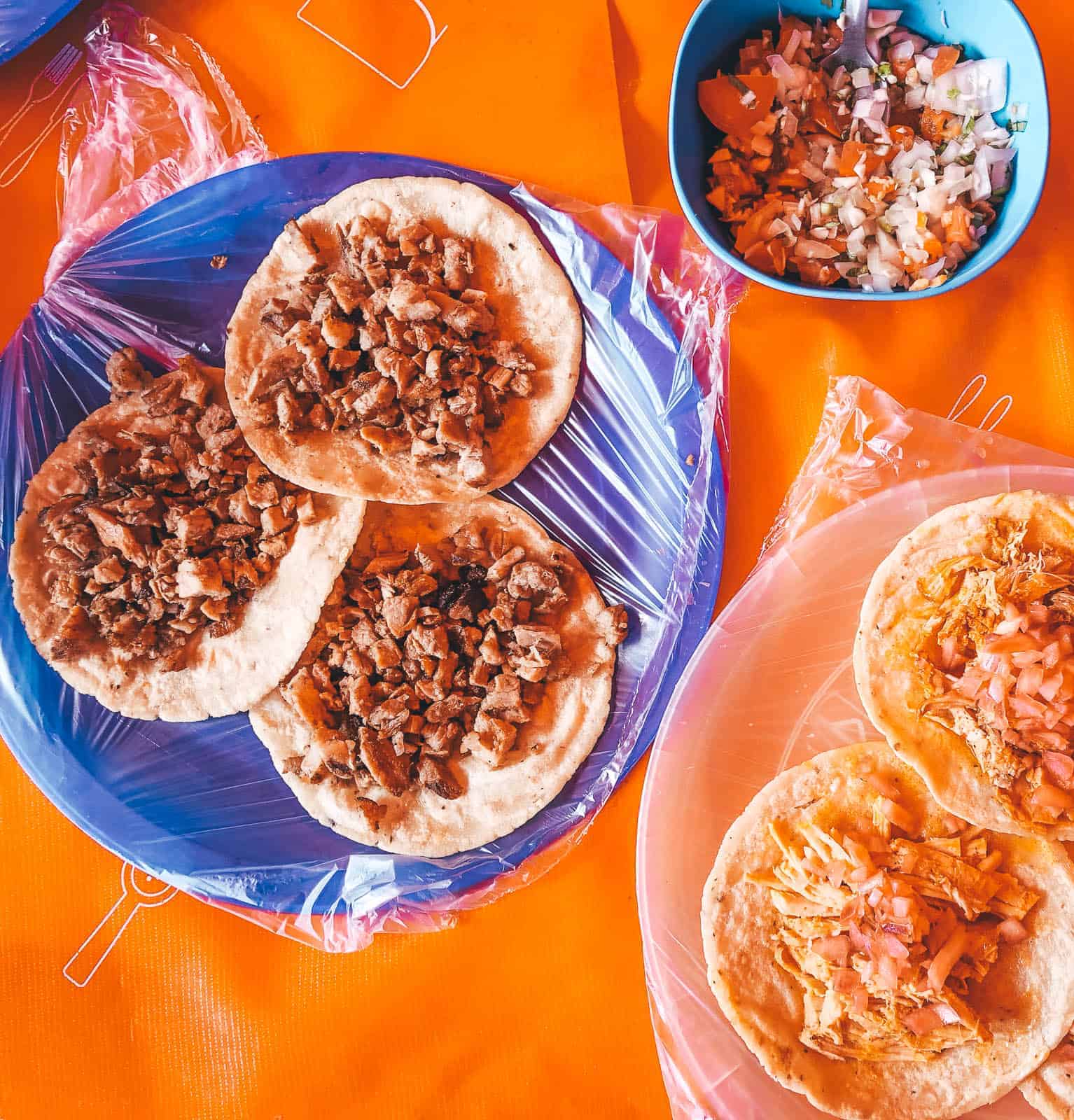 Taqueria Don Beto: Slightly more under the radar, you won't find Don Beto on most Tulum travel guides, so consider this your insider's tip! Don Beto's tacos are definitely of a heartier, greasier variety (recommended especially for those who indulged in a few too many margaritas the night before!). Don Beto is excellent, but if you have to pick between the two though, go with Taqueria Honorio.
The Real Coconut: Another great spot at the Sanara hotel for smoothies, bowls and all sorts of healthy fare. Perfect for breakfast, a light lunch or snack. Also gluten free, grain free and dairy free!
Chamicos Tulum's "secret fish shack" is found on an unnamed road in Soliman Bay. Although it's not that much of a secret anymore, it's still a laid back local favorite. Chamico's is known for their fresh ceviches and grilled fish. Grab a seat, a drink, a heaping plate of seafood and enjoy the ocean breeze.
A Note On Where NOT To Eat In Tulum:

MANY TULUM TRAVEL GUIDES RECOMMEND LA EUFEMIA, AND I really, really wanted to be able to recommend IT AS WELL, but I was so disappointed by this place. It was one of my top picks of where to go for authentic, local, laid-back tacos and had plans to get lunch and hang out at the beach club on Day 2 of our Tulum itinerary. Well, upon arrival it was a zoo. Definitely not laid-back, but actually a pretty aggressive party. The raised restaurant area was a zoo, the beach was packed and it took forever to order our tacos by the takeout window. And then they turned out to be dry, bland and not so fresh. I know you'll read all about it before your trip as the place to go, but I suggest skipping it.
WHERE TO DRINK IN TULUM 
Trendy Cocktail Bars In Tulum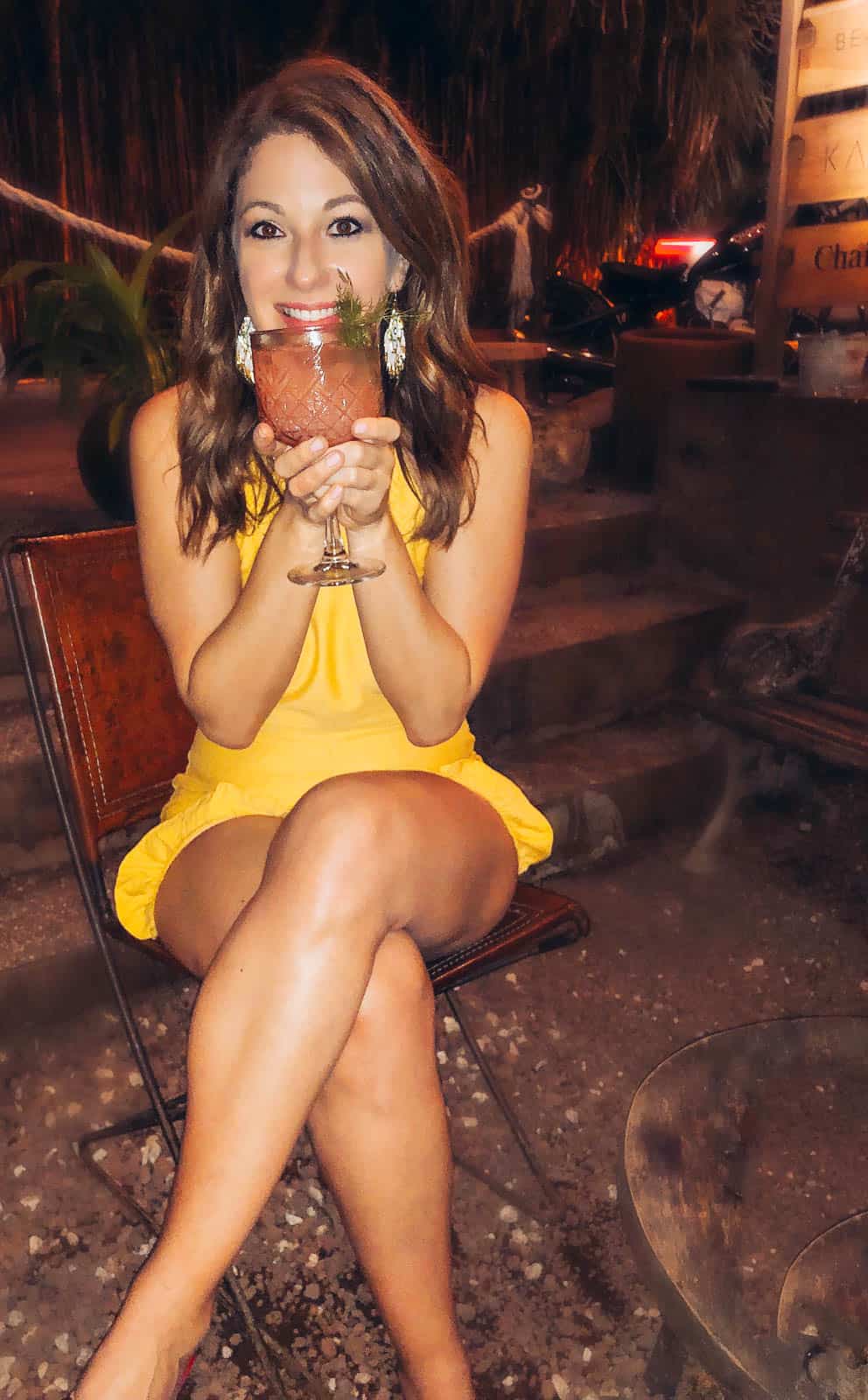 Casa Jaguar: This spot was top of my list for post-dinner cocktails. It's a trendy yet laid back spot at the Todos Santos hotel with a large outdoor area and two bars (Todos Santos and Casa Jaguar basically share the bar areas). The bartenders were super friendly and insisted on creating bespoke cocktails for each of us based on our taste preferences. When the bartender handed me a gigantic crystal goblet of deliciousness, I knew we'd found a winner. Upon taking a sip of my cocktail, my friend proclaimed "This tastes like a garden."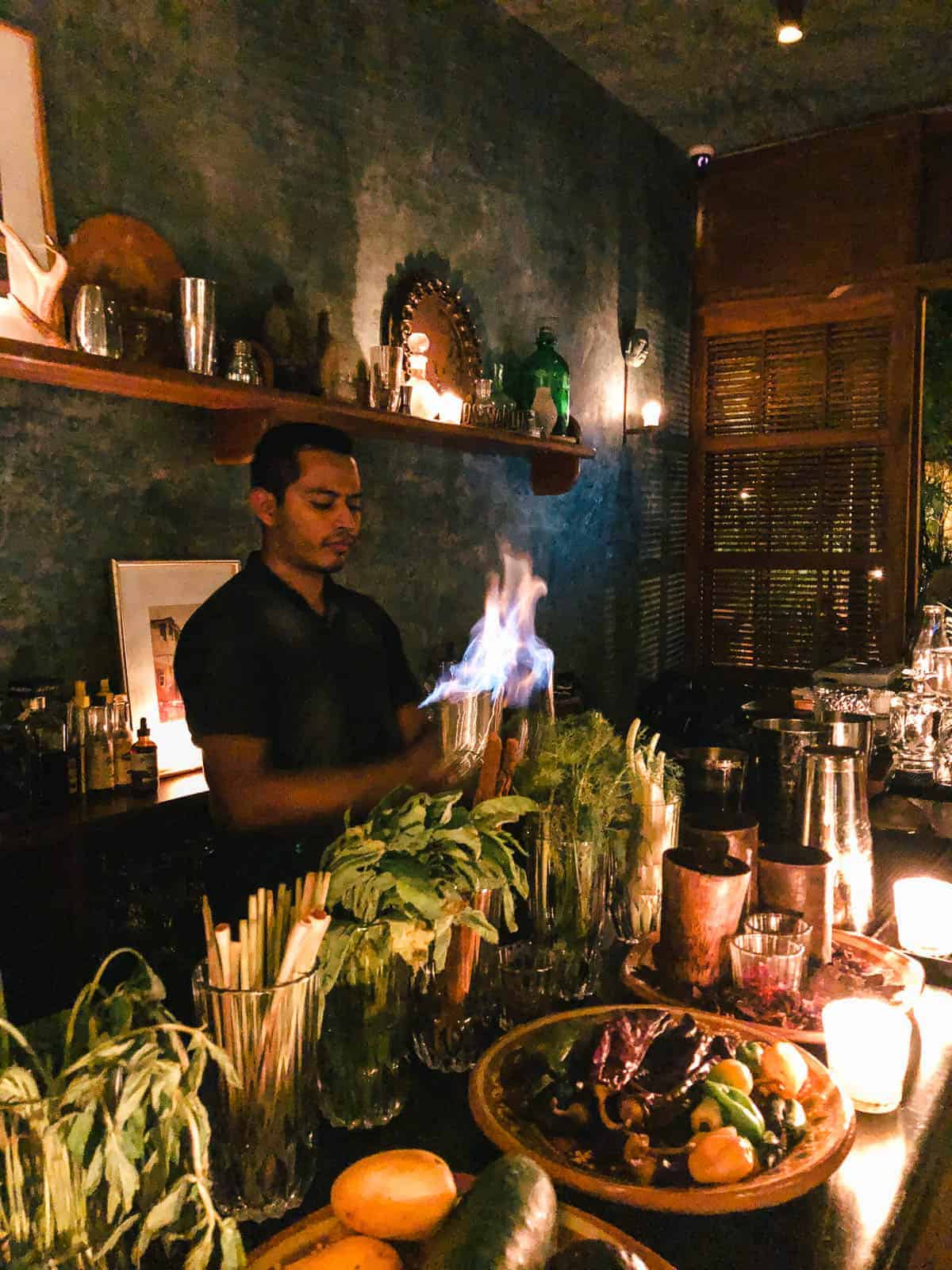 Gitano: Definitely the place to see and be seen in Tulum. We were planning on heading here after our Hartwood dinner, but took our waiter's advice on skipping it (His quote: "it's a little too pretentious for me") in favor a more local dive bar (Clan-Destino, see below). While it definitely has the great cocktails, great music and beautiful people-watching, I'm not sure there's anything here we couldn't have gotten in New York. Especially since there's now a Gitano pop-up descending on the Big Apple this summer, I'm kind of happy we skipped it.
Kin Toh: Talk about an INSTAGRAM DREAM! I absolutely adored this place and I can't believe we almost didn't go because the reviews on Yelp and TripAdvisor were kind of meh. I can't speak to the food since we only went for drinks, and yes I get that a $20 cocktail in Mexico seems astronomical (but, I'm from New York and thus have become immune to any such sticker shock when it comes to the price of food and beverage) but my god, this place was gorgeous. It's basically a bar in a treehouse, filled with giant nets for lounging, hybrid bed-lounge-tables and bamboo bridges connecting different pockets of the space. The bartender whisked the menu out of my hands and insisted on making me another bespoke drink ("refreshing and not too sweet, please") which was truly excellent. Trust me, go for pre-dinner cocktails and make your friends do an Insta-photoshoot on a giant net against the backdrop of the most spectacular sunset
Cenzanotle: The "Secret Garden" of Tulum, this spot was recommended to us by our bartender at Casa Jaguar (always a good sign when it's a local reco!) and it's a beautiful outdoor space with delicious cocktails.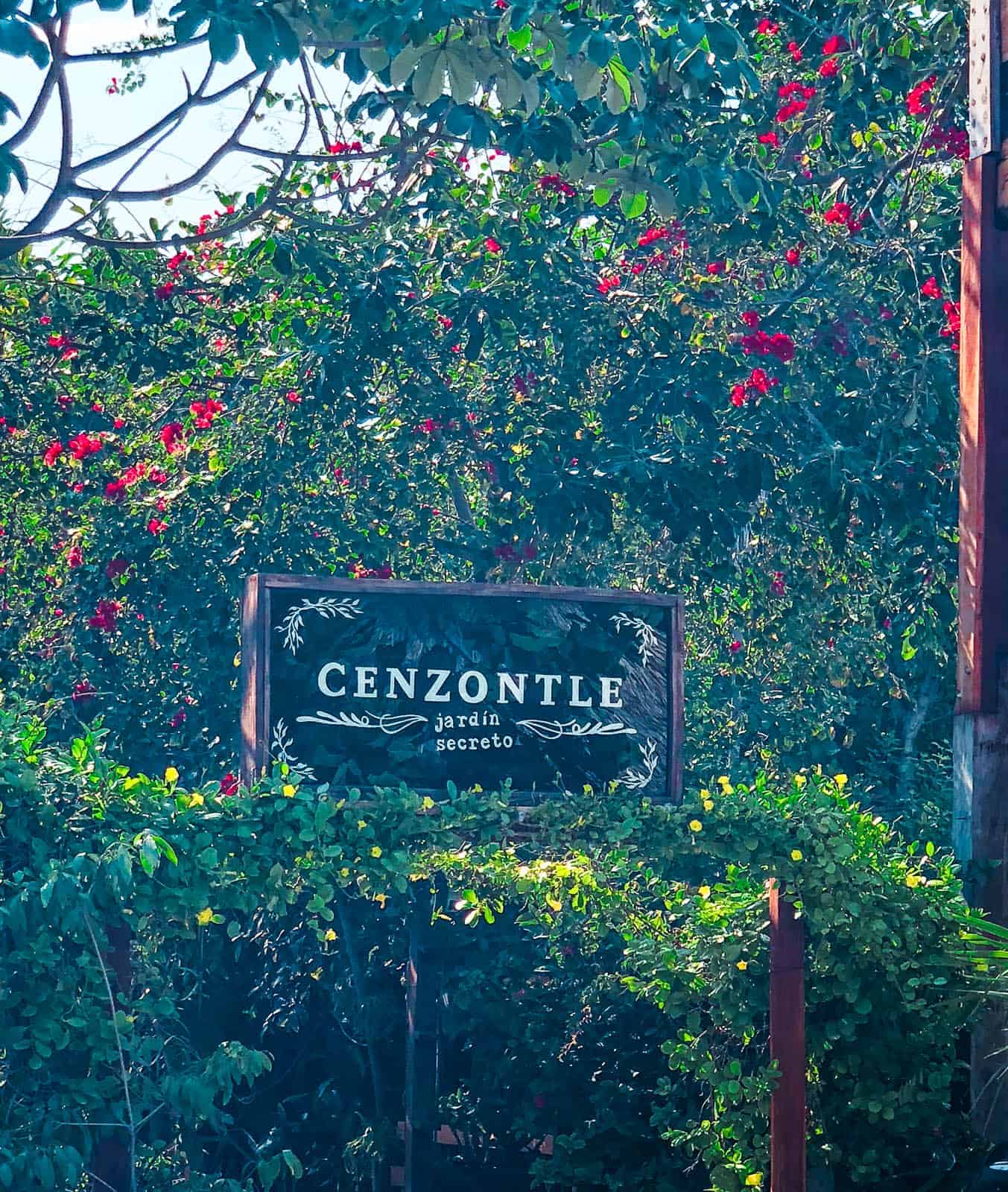 Tulum's Casual Bars
Papaya Playa Project: This is a hotel and beach club combo that hosts full-moon parties every Saturday night. If you're looking for a wild party on the beach with DJs spinning sick beats, this is your spot.
Clan-Destino: A laid-back outdoor bar with a cenote in the middle (and yes, someone was swimming in it at midnight), we skipped Gitano to head here on our waiter's recommendation and it was a really good decision. This was clearly where the locals were hanging out. It was very chill when we arrived but by 11:30 PM was packed and the dance party was getting started. This also one of the few late-night spots in Tulum (it's open until 4:00 AM).
Casa Banana: Just down the street from the trendy strip of Hartwood, Gitano and La Zebra, Casa Banana is a great casual outdoor bar to sit and hang out with a beer.
BEST THINGS TO DO IN TULUM 
Tulum Beach Clubs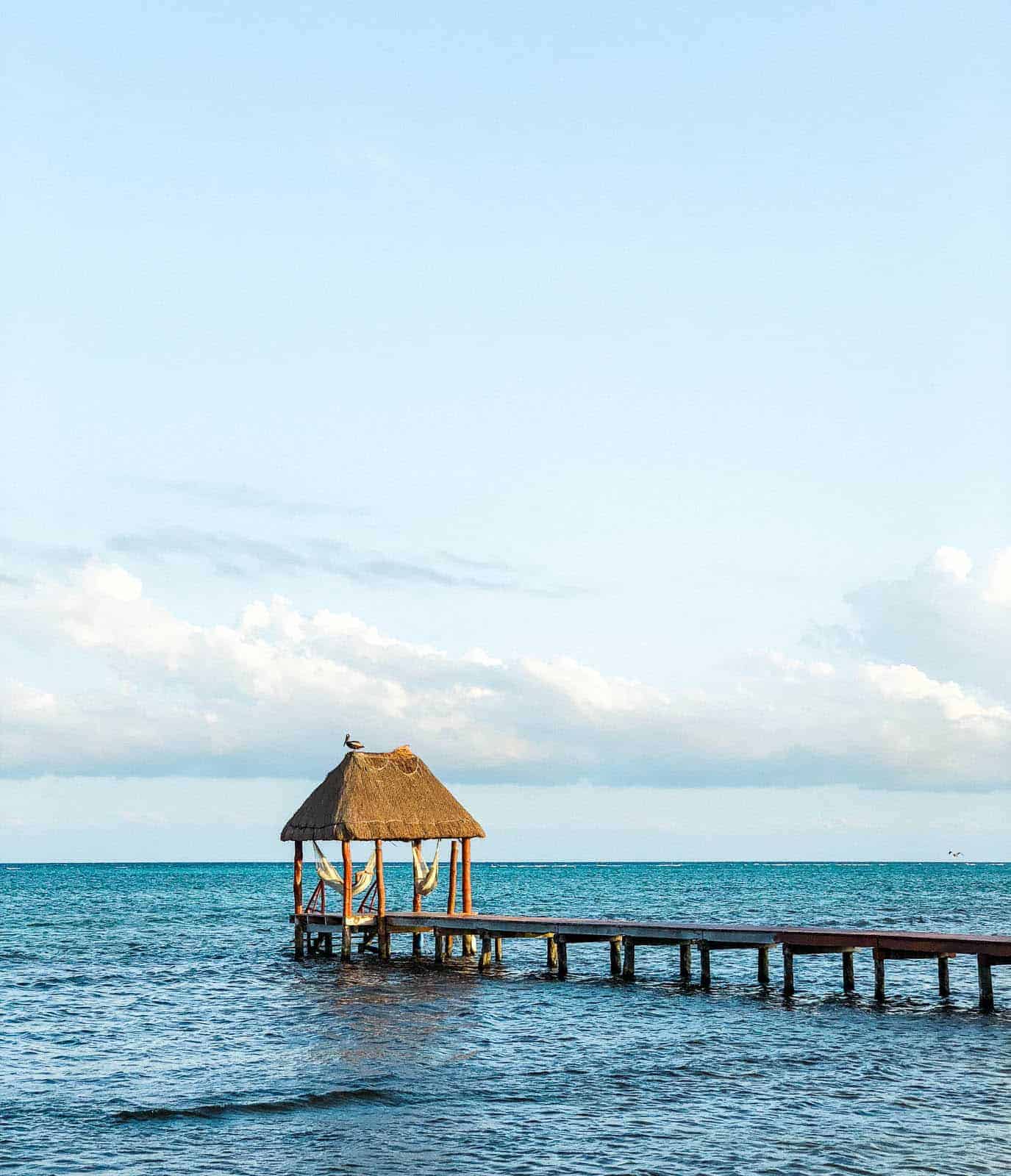 There's nothing better to do in Tulum then while away the afternoon hopping between beach clubs in search of the best taco/margarita/sunshine combination.
Ziggy's Beach Club: This should 100% be your first stop. Ziggy's is beautiful, picturesque (they have swings instead of chairs around the bar!) and the food, drinks and service were all fantastic. One of the best ceviches of the trip! This was my favorite beach club. It's first-come first-served for the beach loungers, but we were easily able to find one after a few minutes of loitering near a couple getting ready to leave.
Villa Las Estrellas: Has a very laid-back, rustic vibe, with great reviews for service and food!
La Zebra: As I mentioned above, La Zebra was just beautiful but quite pricey. I personally loved it here and wished we'd had a few more hours to hang out. The food, service and scenery were all great. I had the shrimp and octopus tacos (fresh, flavorful and not over-seasoned), a 'healthy' margarita (is there such a thing?) and the San Dia de Fleur cocktail, which tasted like a spicy alcoholic Jolly Rancher (and I mean that in the best possible way).  However it's worth noting they have a 700 pesos minimum to secure daybeds on the beach. 
Coco Tulum: Self-described as an "all-white Pinterest dream" Coco Tulum is the epitome of trendy Tulum. It's chic, beautiful and classy. Perfect for expensive relaxation, if that's what you're into. I sent a friend here recently, as she found herself in Tulum looking for a trendy spot, and she had a blast. 
Papaya Playa Project: Not just for the evening full-moon parties, this is a happening day club as well. 
Tulum's Mayan Ruins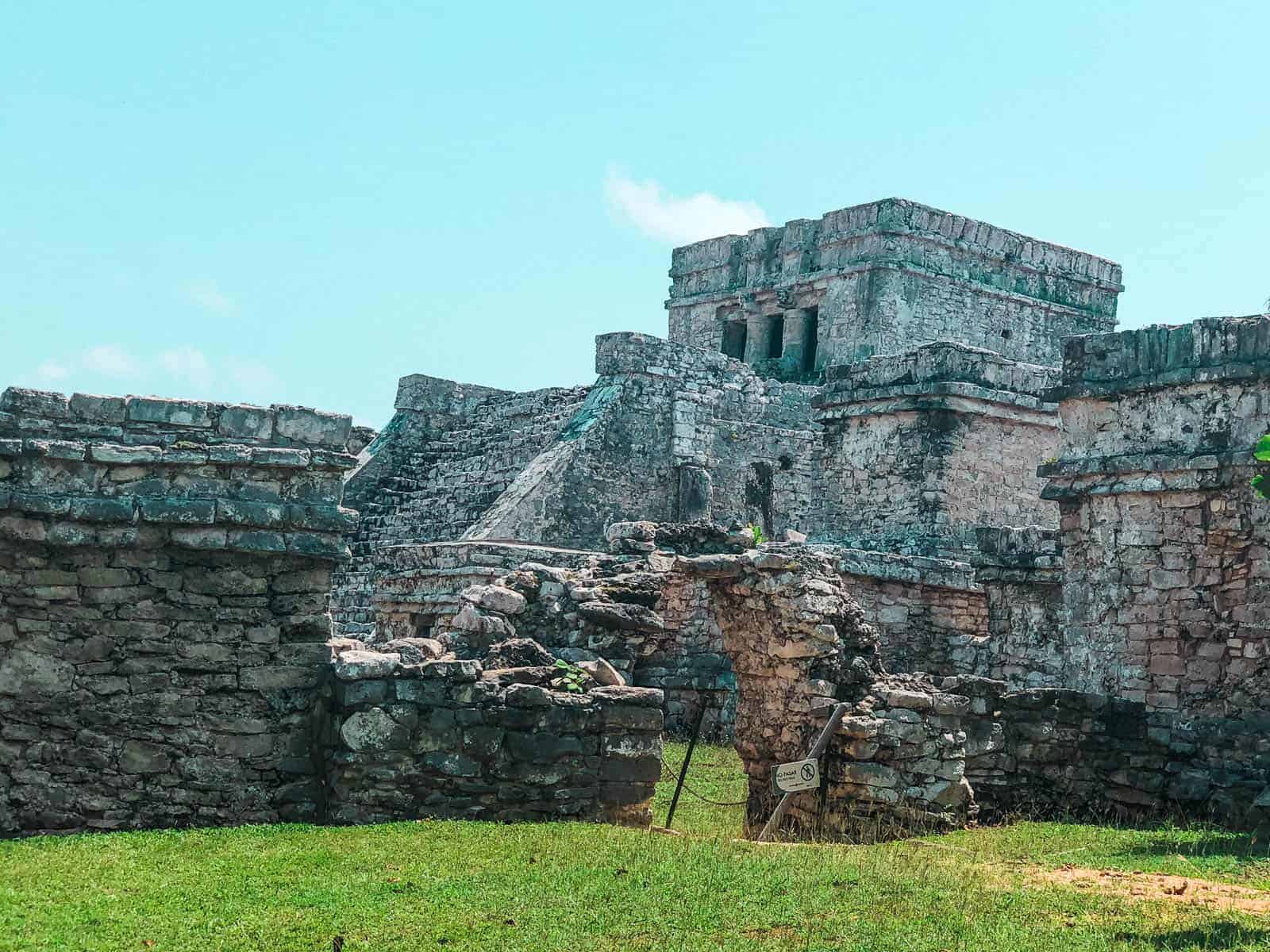 The Tulum Ruins are the easiest and most accessible to visit while in Tulum. Honestly, I could take them or leave them, but they are a nice morning activity (and I do mean morning, seriously. It gets packed to the point of unpleasant by mid-day) to get a sense of the Mayan people, which really was a fascinating culture. The entrance fee is about 70 pesos and the ruins are open from 8:00 AM – 5:00 PM Mon-Sun. While you certainly can do a tour, you definitely don't need to, it's very easy to get to and walk through on your own. DO NOT STOP as you walk down the long road to the "main" village area, it's filled with merchants who will try to sell you a tour or "up-sell" extras that you do not need. If you need a bathroom or some water, there is a cheesy and commercial main "village" before you head down another long dirt road to the ruins entrance. Don't spend a lot of time there, get to the ruins early, get your fill of culture and get to the beach!
Swimming in Tulum's Cenotes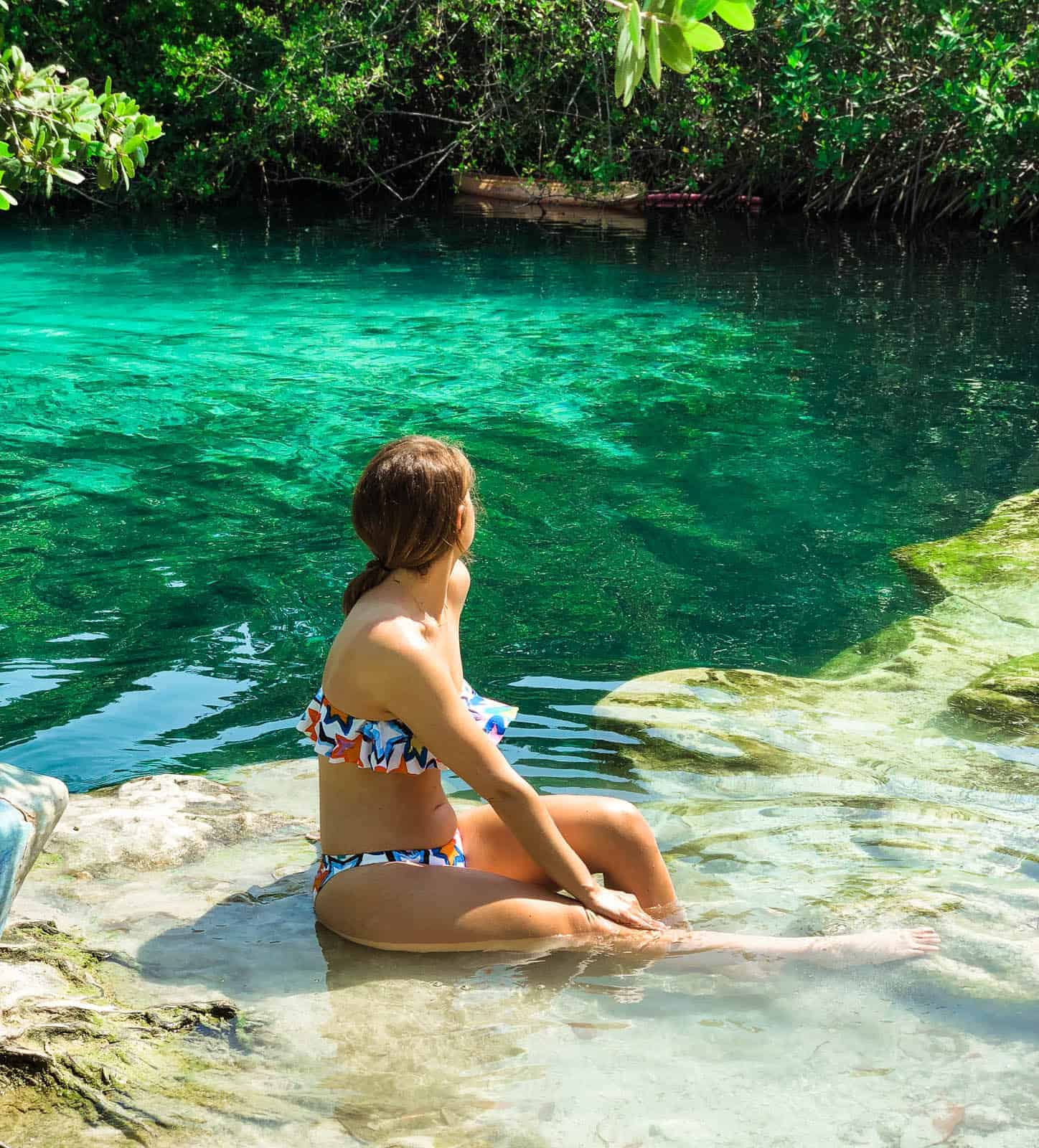 I was most excited to visit the cenotes of Tulum. Cenotes (pronounced seh-no-tays) are sinkholes formed by the collapse of limestone bedrock, thus exposing the water underneath. Cenotes were sacred places to the ancient Mayans, who are said to have used them in sacrificial rituals. AND. THEY. ARE. OUT. OF. THIS. WORLD. I personally love all things water-related, and these crystal-clear cenotes surrounded by lush green jungles, and deep within cave systems were seriously surreal. This is a must-do activity in Tulum.
Know Before You Go:

Sunscreen or bug repellant is not allowed in the cenotes to preserve the quality of the water. You will be asked to shower if you are wearing any sunscreen and/or you will not be allowed to reapply before going in the water. If concerned about the sun, it's best to wear a long-sleeve swim shirt.
Cenote Manatee (Casa Cenote): This cenote happened to be almost directly across from our hotel, so it was the easiest to access and is also great for beginners or those not that comfortable in the water because it's very wide and open. It's still very deep and clear though. While there weren't many fishes to see snorkeling it was still beautiful to experience the underwater landscape. This particular cenote is surrounded by mangroves and jungle, making it feel really peaceful. There are lockers, snorkel equipment, kayaks and paddle boards available for rent but the facilities are pretty rustic – don't plan to change into your swimwear here, and bring your own towel.
Cenote Tortuga: We were in a taxi on our way to Grand Cenote when our taxi driver suggested we go to Cenote Tortuga instead and we are so glad we listened! Casa Tortuga is a relatively newer, less crowded cenote made up of three different cenotes, and you have a chance to swim through each of them. It is a combination of open-air and cave cenotes so you get to experience the best of both worlds. There is even an amazing spot for a free dive, so you can experience the magic underwater world from as deep as you can safely get! You are provided snorkel equipment and go with a knowledgeable guide who leads you through each cenote experience. There is one "lazy-river" like cenote where you can even jump off the cliff into the water (vs descending via stairs or a ladder in the other ones).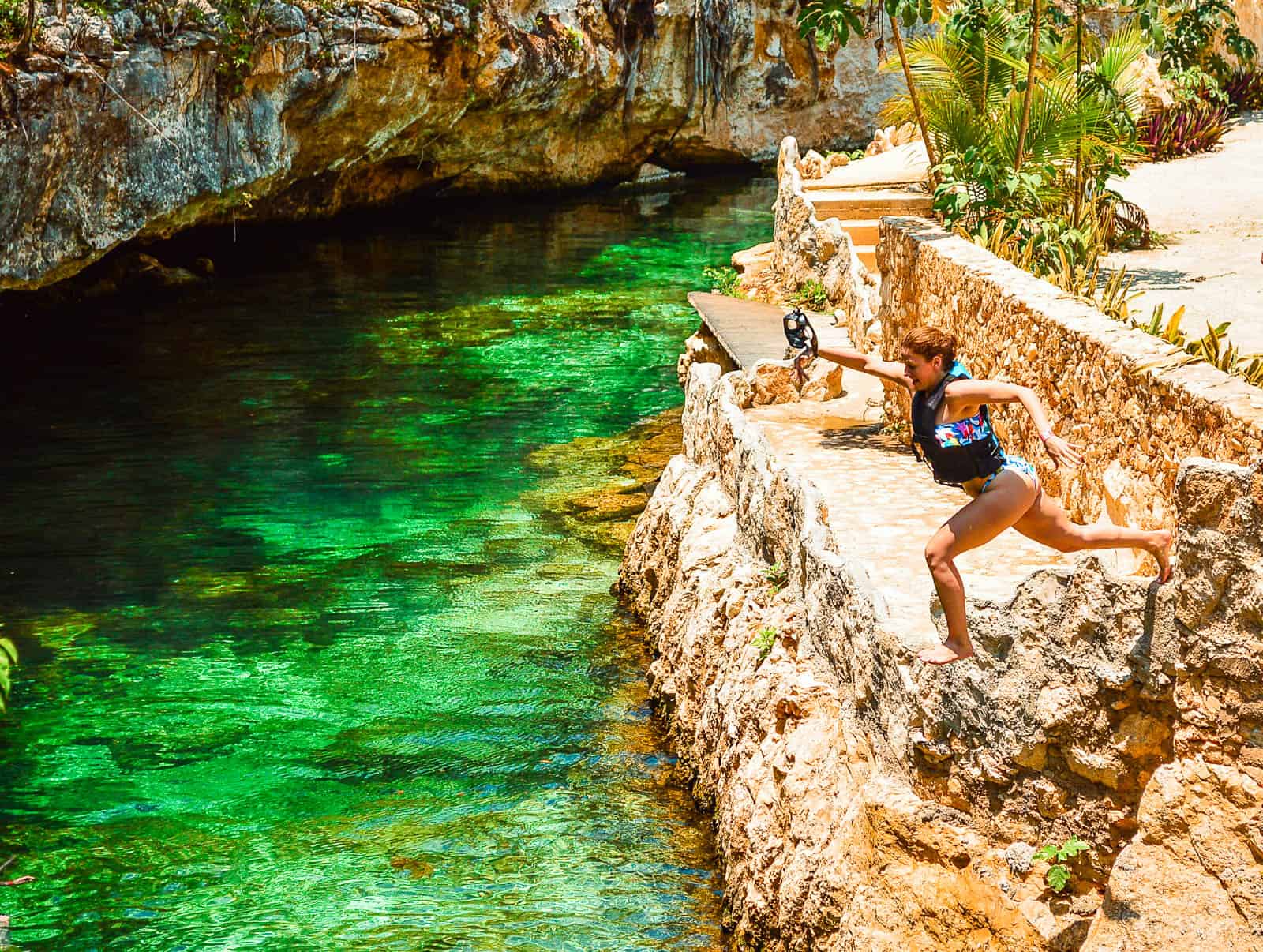 Gran Cenote: One of the most well-known cenotes and easily accessible from Tulum, it has large cavernous caves as well as open-air sinkholes.
Cenote Dos Ojos: A cave-system cenote, this would be the most "underground" of the cenotes we researched, but keep in mind it can get claustrophobic for some. There is supposed to be great scuba diving here though. Just note some of the caves have bats!
Tulum Travel Guide: The Best Shopping In Tulum 
What would a JessOBSESSED Tulum travel guide be be without a little shopping and souvenirs to bring home? There are plenty of adorable little shops along the main beach road in Tulum, so I recommend just spending an hour or so wandering in and out of any that catch your eye, but here are a few favorites: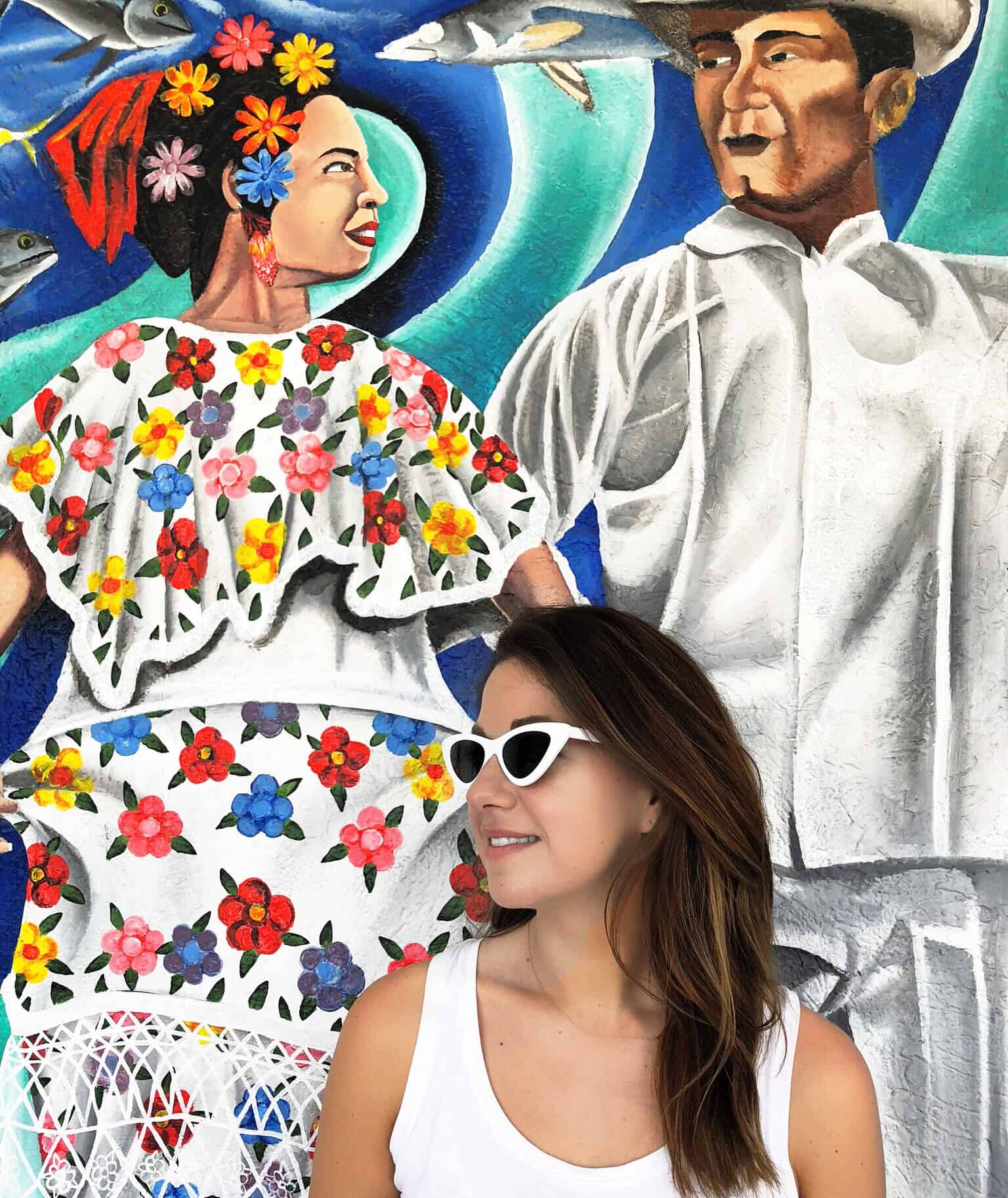 Coqui Coqui: A custom perfumerie in the Coqui Coqui hotel, inspired by various exotic tropical locales.
Josa: Beautiful caftans and cover ups.
Wild Side: Adorable little boutique right by Casa Jaguar and the Todos Santos hotel.
If you need help with creating the perfect Tulum itinerary, check out my detailed day-by-day guide HERE.
And there you have it, my Tulum travel guide! I hope you get the opportunity to visit, it truly is a magical place!
If you visit and follow my Tulum travel guide, let me know in the comments below! I love hearing inspiring travel stories and am also always looking for new recommendations. If you prefer to have your entire Tulum trip planned for you, check out my Tulum 3-Day Weekend Itinerary!

Love this post? Save it on Pinterest!