Everything to do, see and eat with 3 Days in Bangkok, Thailand!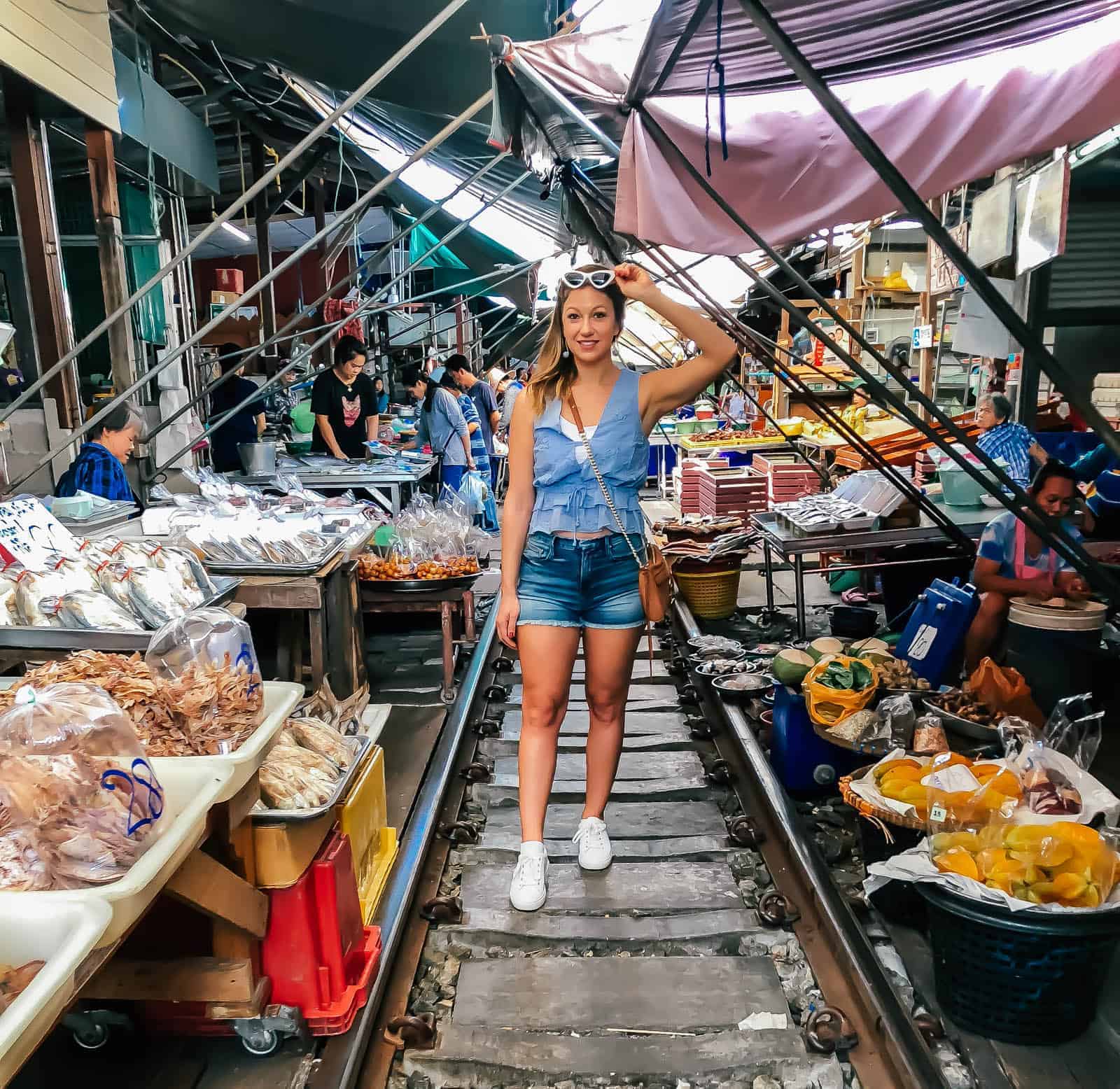 If you're planning a trip to Thailand and wondering what to do in Bangkok, you've come to the right place! This 3-day Bangkok itinerary hits all the highlights of the best things to do in Bangkok. 3 days is the perfect amount of time in Bangkok for your first time visiting this crazy, amazing, whirlwind of a city!
I heard lots of mixed reviews about Bangkok while planning my trip to Thailand. It seemed like most people either loved it or hated it, and many people passed over Bangkok all together, choosing instead to connect straight to the jungle in the North or the islands of the South. I heard warnings about the crowds, the smells, the traffic, getting sick off street food…everyone's favorite past time seemed to be sharing their horror stories. They wore them like a badge of honor proclaiming "I survived Bangkok!"
Undeterred, I continued planning. I wanted to see as much as I could, with as many varied experiences as possible. Longer than 3 days in Bangkok though, and I don't think I would have left with as positive an impression.
Since you're reading this, you must have made the right decision and decided to visit Bangkok! I really can't stress enough that I think anyone heading to Thailand should experience Bangkok. With 3 days in Bangkok, you'll get a taste of the city without getting overwhelmed.
Keep reading for my detailed, easy-to-follow 3 day Bangkok itinerary that outlines what to do in Bangkok.
(Disclosure: This post may contain affiliate links which means I may earn a small commission if you make a purchase from a link in this post, at no additional cost to you. Additionally, as an Amazon Associate I earn from qualifying purchases. Thank you for supporting this site!)
Tips For Visiting Bangkok
Arriving in Bangkok: Chances are you're arriving at Suvarnabhumi Airport. After disembarking and collecting your luggage, unless you're on a strict budget, I recommend getting a taxi. We took the train into the city, because I (incorrectly) assumed the train would be similar to Europe (ie., easy). I was wrong! There's no real taxi stand and we struggled to hail a taxi on a crazy busy street corner. There's also a lot of stairs and walking involved to get into Bangkok from the airport via public transit. After a 14 hour flight with two large suitcases plus carry-ons, it honestly wasn't worth the hassle.
Getting Around in Bangkok: For the most part, we walked or hired a Tuk-Tuk. I was terrified of the Tuk-Tuks before arriving and then couldn't get enough of them. They are so much fun! We also used ride-sharing app Grab a few times, which is the Uber of Southeast Asia. Be sure to download Grab before you go, it was a lifesaver. The Skytrain (BTS) or MRT (Subway) are also very good, clean and fast – especially given Bangkok's traffic. Bangkok gives Los Angeles a run for its money when it comes to traffic. When using the Grab app or Tuk-Tuks, make sure you give yourself enough time.
Avoiding Common Scams: Insist taxi drivers turn on the meter. Taxi drivers will try to pre-set a fare that is usually more expensive. A common Tuk-Tuk scam is where the driver tells you the site you want to visit is closed, and then takes you to a jewelry store, where they get a kickback on anything you buy. JB and I didn't encounter this scam, but I've heard of many who have.
Currency: Bangkok uses the Thai Bhat. Most stores take credit cards, but you should absolutely have some cash on you at all times. It's easier for Tuk-Tuks, water, street food, etc.
Street Food: Speaking of street food, in my experience, it was all totally fine and usually downright delicious. Do not drink the tap water unless you're at a reputable restaurant. You want to be sure they're using filtered water for drinking AND for the ice. Most hotels will provide bottled or filtered water for brushing your teeth too.
Visiting Temples: Temples in Thailand are called wats. In order to enter the temples, you must cover your shoulders and knees. Many wats also require you to take off your shoes. Keep a light shawl and pair of socks in your bag, in case you stumble upon a temple you want to visit. Otherwise, you'll be forced to rent or buy overpriced wraps on site and/or have to walk barefoot.
Looking for more Thailand ideas? You might like:
Pimalai Resort and Spa: A Thai Island Luxury Hotel Review
Bangkok Day 1: Arrival, A Muay Thai Fight And A Tuk-Tuk Ride to Chinatown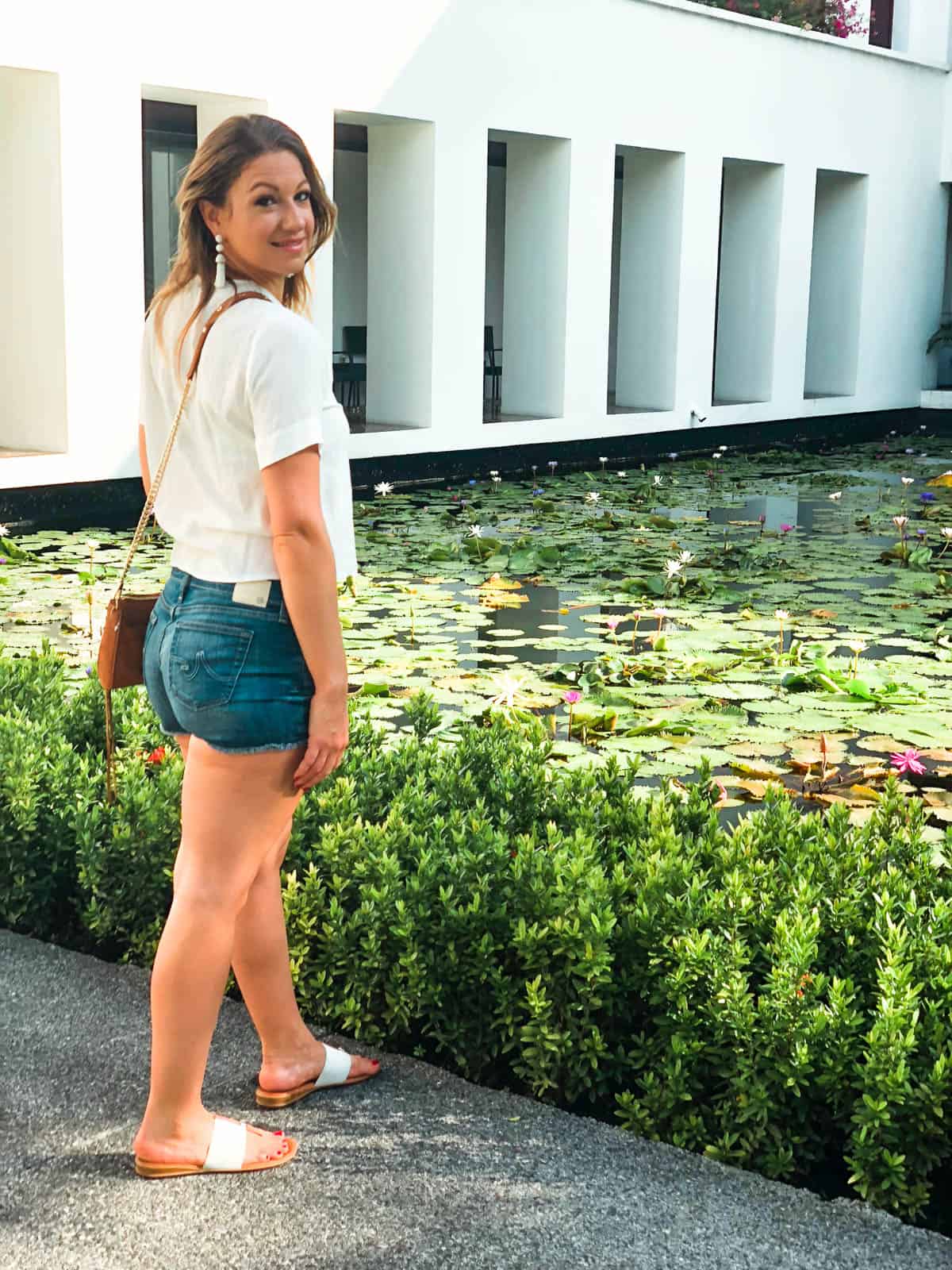 The Sukhothai Hotel Bangkok
We arrived mid-morning, after a long flight from New York to Hong Kong and a connection to Bangkok. We flew Cathay Pacific economy, and while I've read the great reviews, this was my second time flying Cathay Pacific and I maintain that its economy product is extremely average. I also find Asian airlines keep the plane much warmer than I like, so I was uncomfortable the whole flight.
After our mini-ordeal with the train and a taxi, we arrived at The Sukhothai hotel. I chose The Sukhothai after some extensive research on the various mid-to-high end hotels in Bangkok. It would have been amazing to stay at The Peninsula or the Mandarin Oriental but the rates were too high. I also looked at The Conrad, The Sofitel and Banyan Tree.
The Sukhothai was my final choice because I wanted less "big mainstream chain" and more "intimate and unique" while still being very comfortable. I like nice hotels 🙂
Booking.com's rave reviews sealed the deal for me. Bangkok's rates are extremely reasonable for 5-star hotels, so we splurged on a room upgrade to the Executive Suite. It was totally worth it!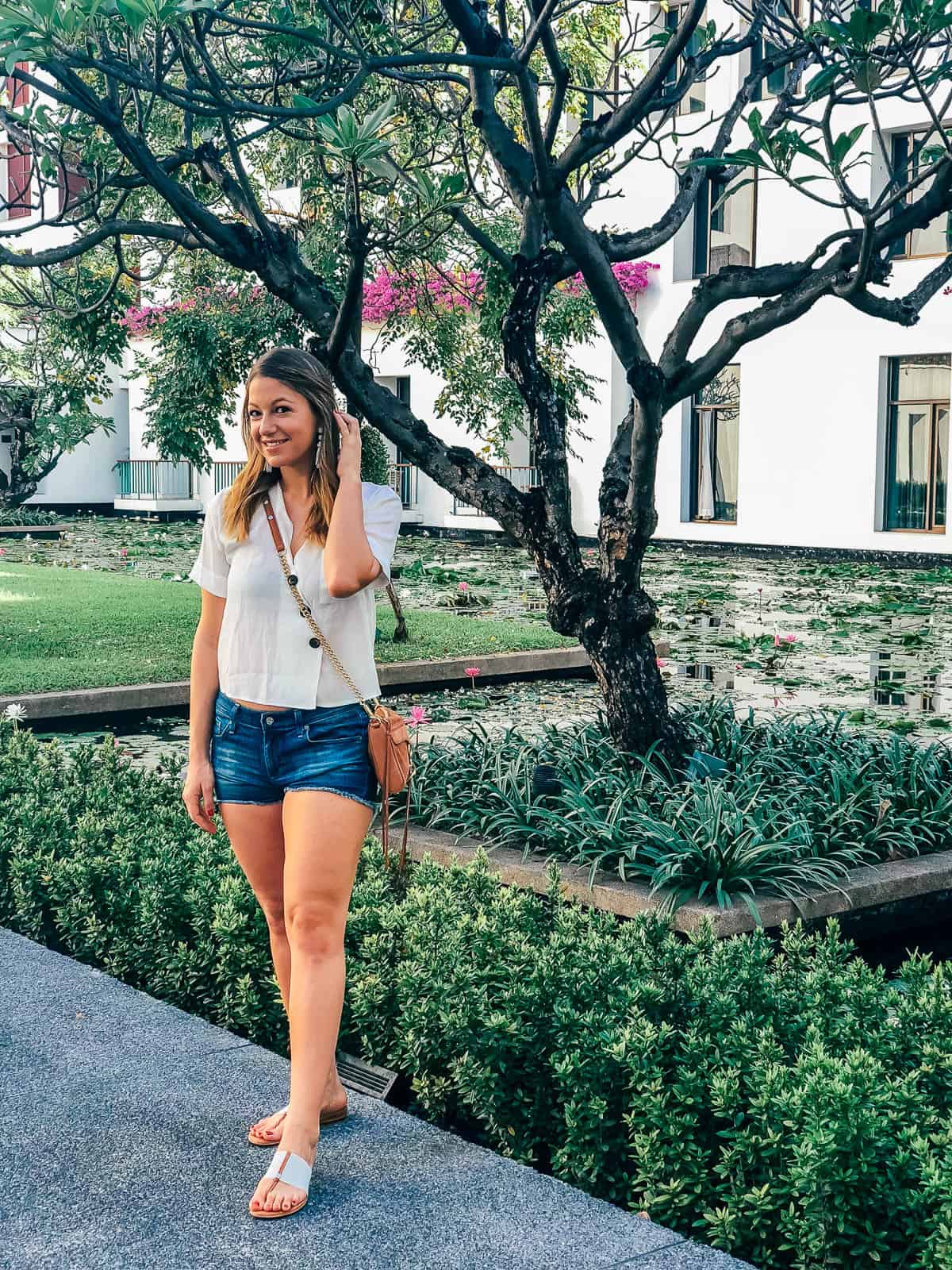 The room was HUGE. Seriously, the bathroom was bigger than our apartment in NYC. The hotel itself is a beautiful, calm oasis in the middle of the hustle and bustle of the city. It was the perfect respite to retreat back to after immersing ourselves in the sights and sounds of Bangkok.
I found the hotel to be a bit cold and impersonal, but it wouldn't deter me from staying there again. The location was fantastic, near malls, bars, restaurants and other high-end hotels. Bonus: an afternoon treat of fruit or chocolates was always waiting for us in our room.
Check in was smooth, and with an hour before our room would be ready, we ate lunch by the pool. The food was fine but expensive so I wouldn't suggest daytime meals at the hotel. The main restaurant, Celadon, has great reviews and looked absolutely beautiful, although we didn't have a chance to try it.
We tried so hard to stay away but had to succumb to a nap after lunch. And of course we overslept, almost missing one of our favorite parts of Bangkok – a muay thai fight!
Muay Thai At Bangkok's Rajadamnern Stadium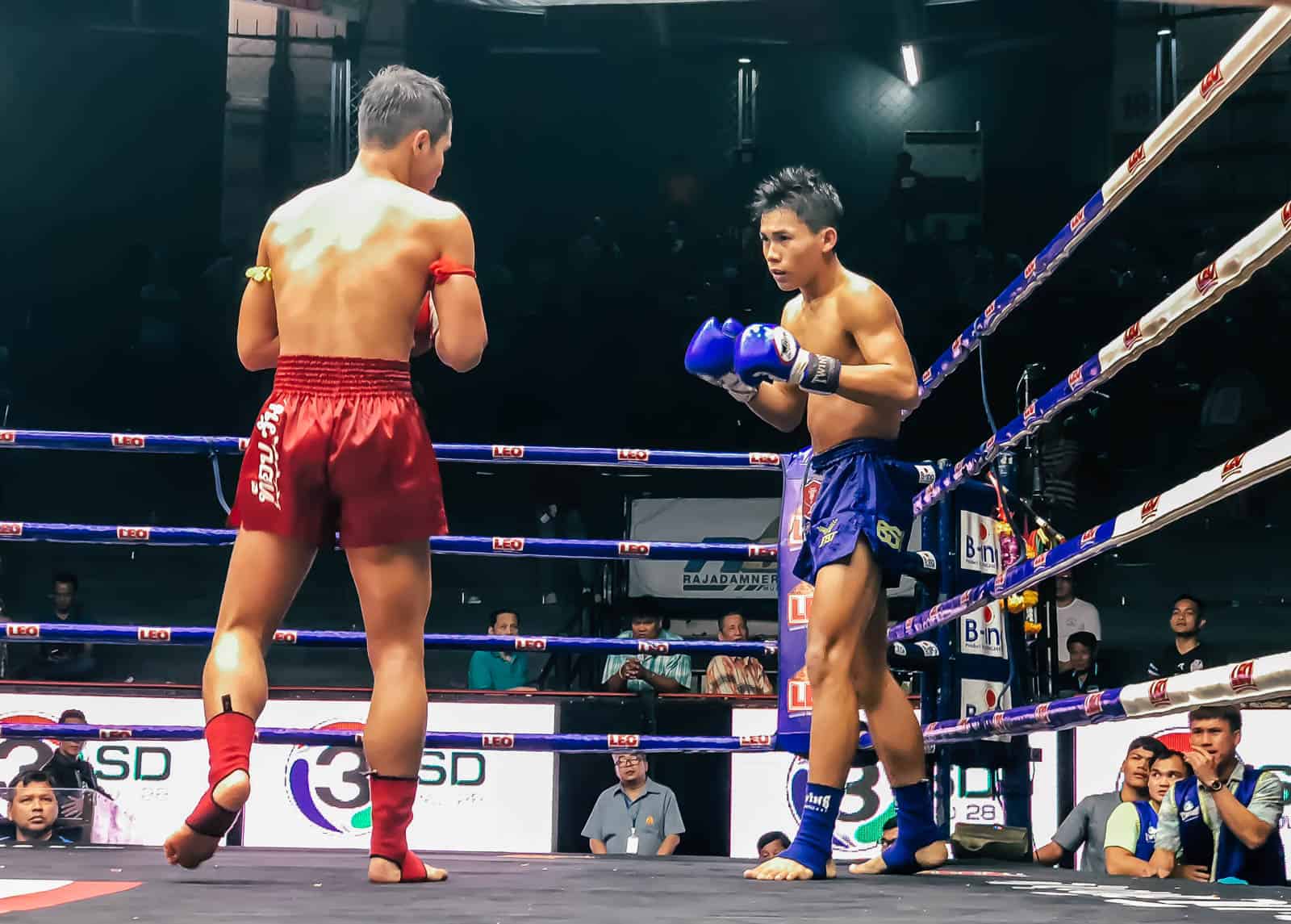 Muay Thai is a form of mixed martial arts originating in Thailand and is a hugely popular sporting event. It's a part of Thai culture that dates back thousands of years. Even if you're not a big fan of MMA like me, I still recommend seeing a fight for the experience. JB is a huge MMA fan and so was incredibly excited to go this fight. We both thought I might be bored or freaked out by the violence but I truly had a blast. I didn't find it too much to handle at all. In fact, Muay Thai is rooted in deep respect for the craft, strategy and history of the sport. Muay Thai is not gratuitous violence for violence's sake – it is both an art form and a sport in Thailand.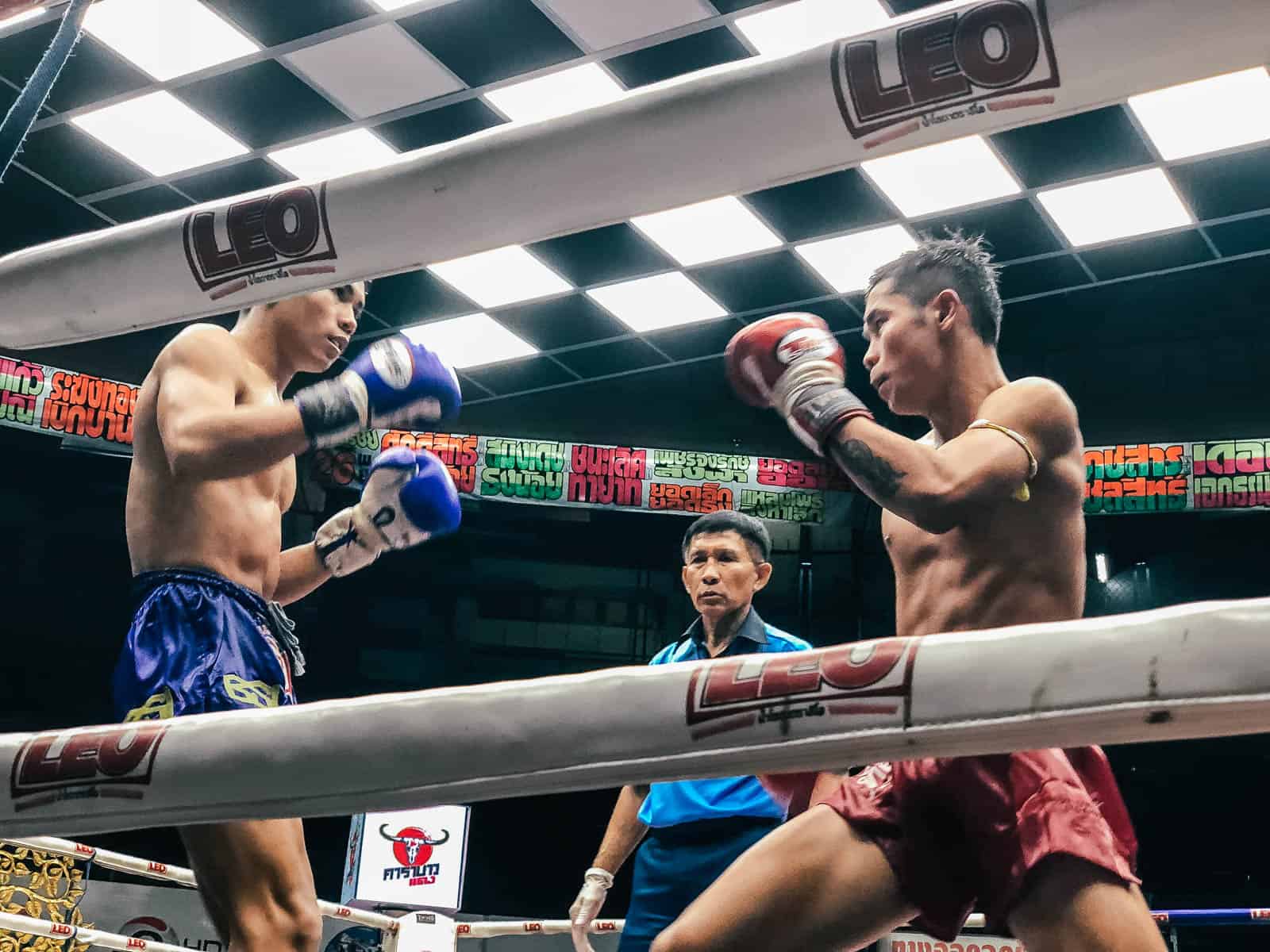 To see a Muay Thai fight, the two most convenient options are Rajadamnern Stadium and Lumpinee Stadium. Rajadamnern is considered a little less touristy but not exactly what I would call a local hidden gem. Lumpinee is a little more out of the way but both are solid options with elite fighting matches. I chose Rajadamnern Stadium because fights alternate nights at each stadium and we had to go on a Thursday.
Fights at Rajadamnern are Mondays, Wednesday, Thursdays and Sundays. You can buy tickets online in advance (highly recommended) and there are various tiers of tickets. We sprung for ringside seats, because we figured, if we're gonna do it, let's really do it, you know?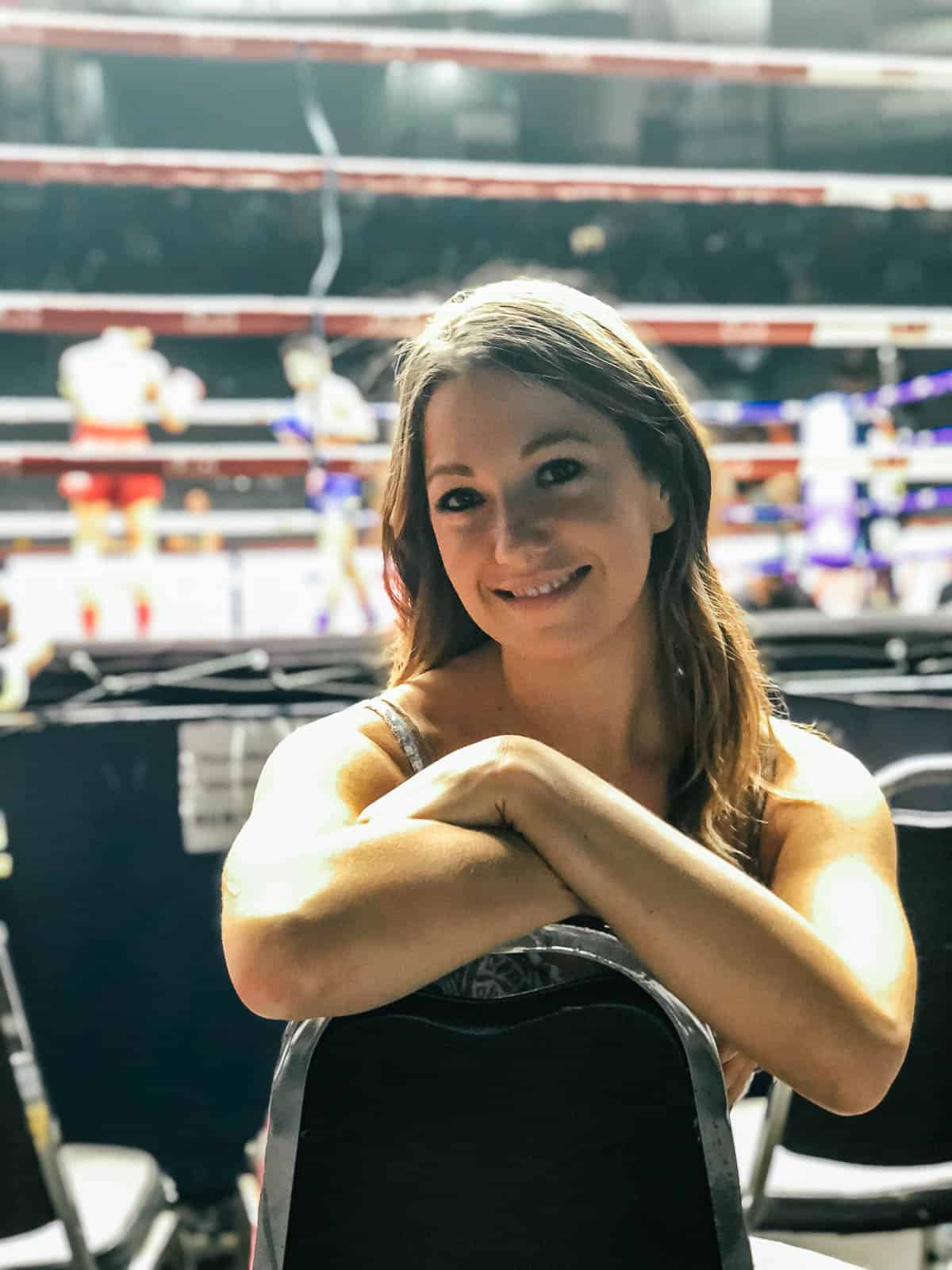 I don't think ringside is necessary but it was definitely cool to be that close. From what I read, more of the local action (ie., gambling) goes on up in the higher, less expensive seats. If you're after a more local experience those might be the seats to get.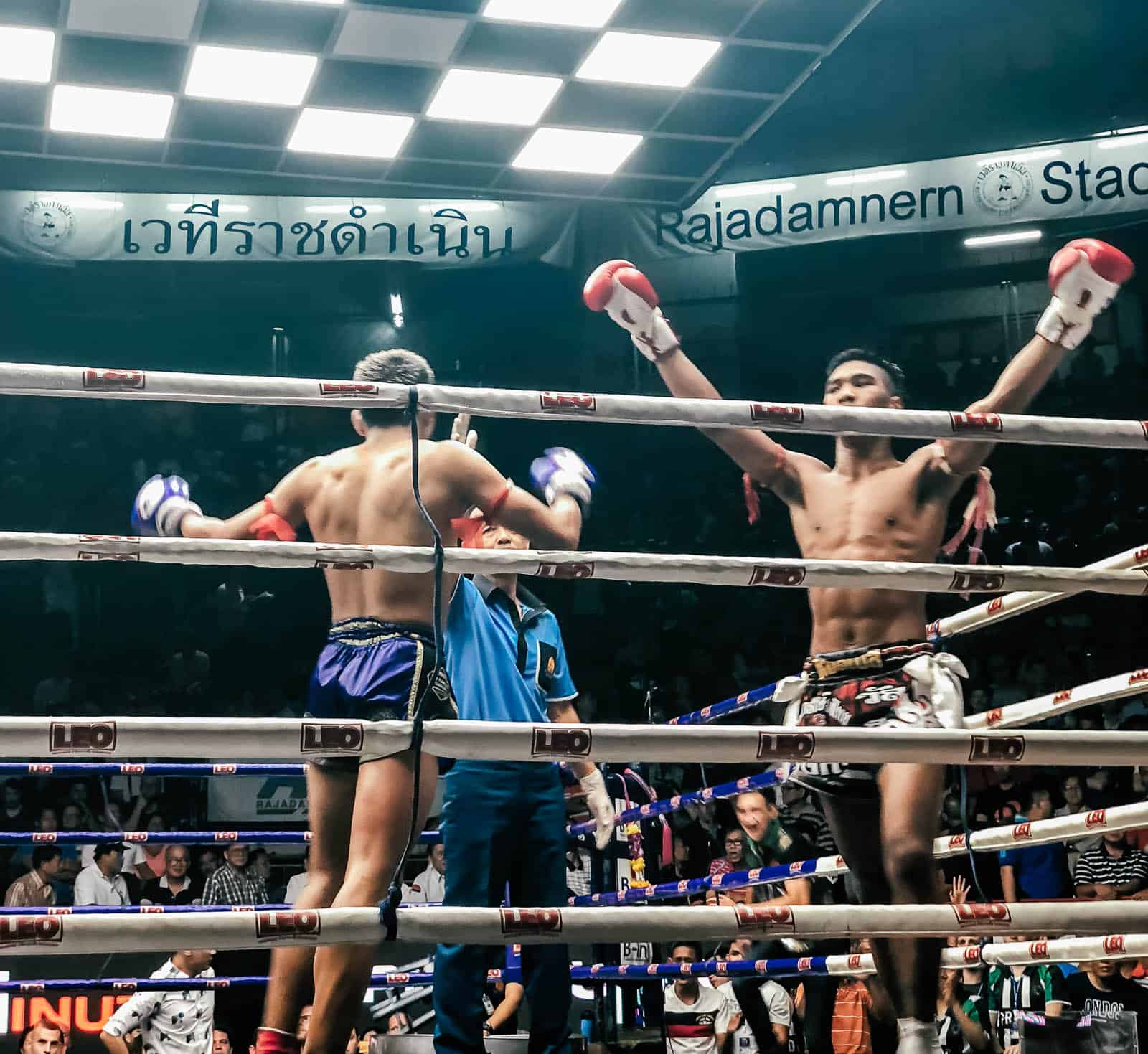 There's a market outside of the stadium where you can get street food before the fight. Don't wait until after the fight ends because most of the vendors have closed down for the night. I planned for us to get Thai BBQ chicken as Likhit Kai Yang for dinner beforehand but we were so late we didn't have time. Likhit Gai Yang is supposed to be the place go to near Rajadamnern Stadium though.
Pro tip: you want to go to the Likhit Kai Yang behind the stadium, not the branch just adjacent to it.
Bonus pro tip: some tour companies offer guided excursions or "tours" to Muay Thai fights. This is really not necessary, it's easy and more fun on your own.
Lumpinee Stadium is another choice for Muay Thai fights, and hosts fights on Tuesdays, Fridays and Saturdays. We didn't go to Lumpinee so I can't speak in detail to what it's like but I hear it's very similar to Rajadamnern, if somewhat more touristy.
Tuk Tuk To Yaowarat Street In Chinatown
Starving after the fight (don't eat the crappy hot dogs and popcorn at the stadium, really try to wait if you can!) and not finding much around the stadium after the market outside closed, we asked a Tuk-Tuk driver where to eat, and he offered to take us to Chinatown, which he said would have the most options at midnight.
Chinatown is a very culturally important area of Bangkok, particularly Yaowarat Road, and it's a must-see. We already had a food tour of Yaowarat booked for the next day, but I am so glad we got to see it late at night, because wow. Huge, busy, bustling carts of food crammed next to each other, messy, smelly and absolutely incredible.
I got such an adrenaline rush being there and just watching the crowds. We walked up and down each side of Yaowarat for a few blocks and then settled on some satay for JB and mango sticky rice for me. YUM! Do not leave Bangkok without trying some mango sticky rice from a street cart.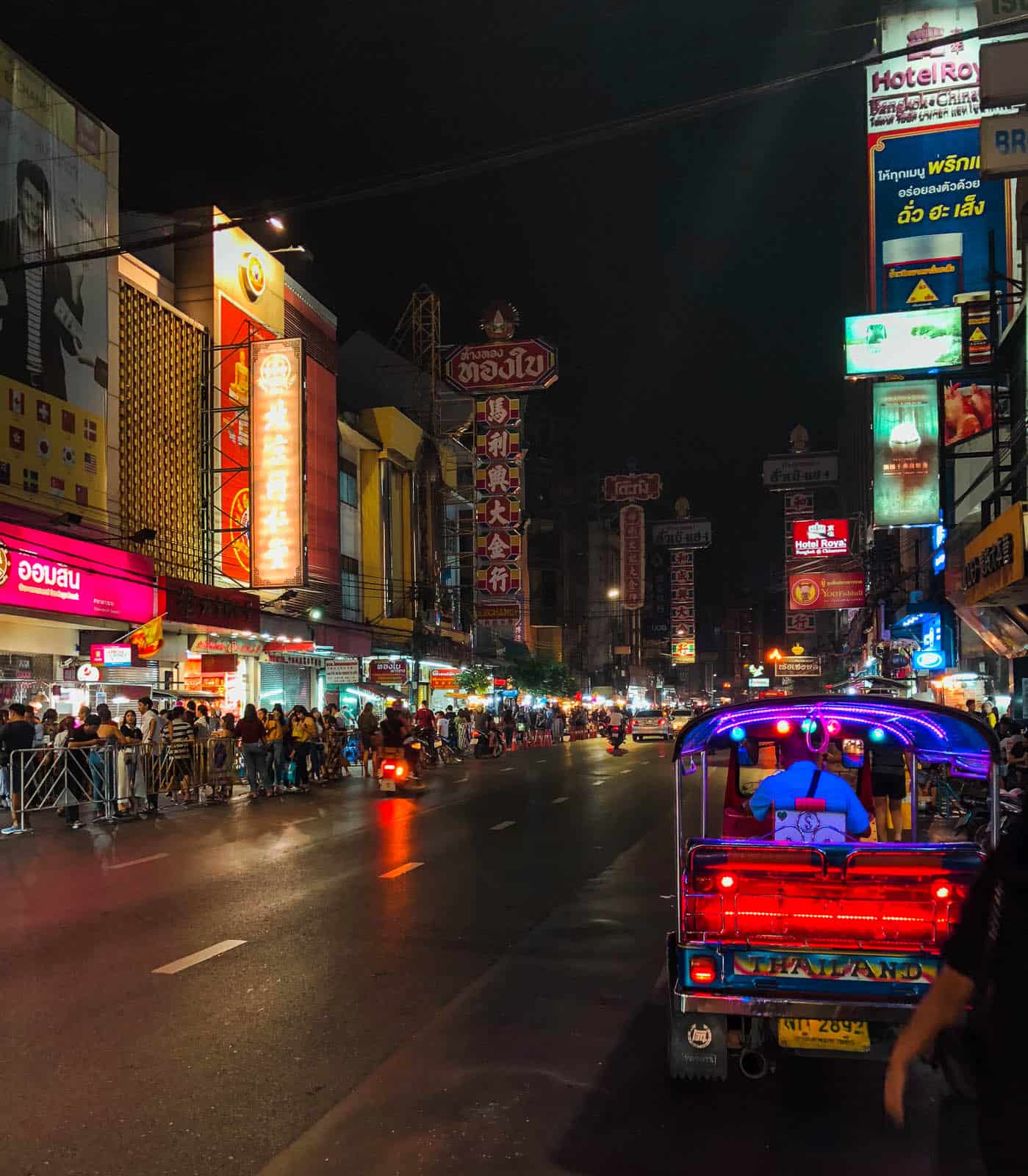 Satiated and exhausted, we hopped in another Tuk-Tuk and whizzed back to the hotel to pass out for the night.
Bangkok Itinerary Day 2: River Cruise, Bangkok's Temples And Visiting Bangkok's Best Restaurant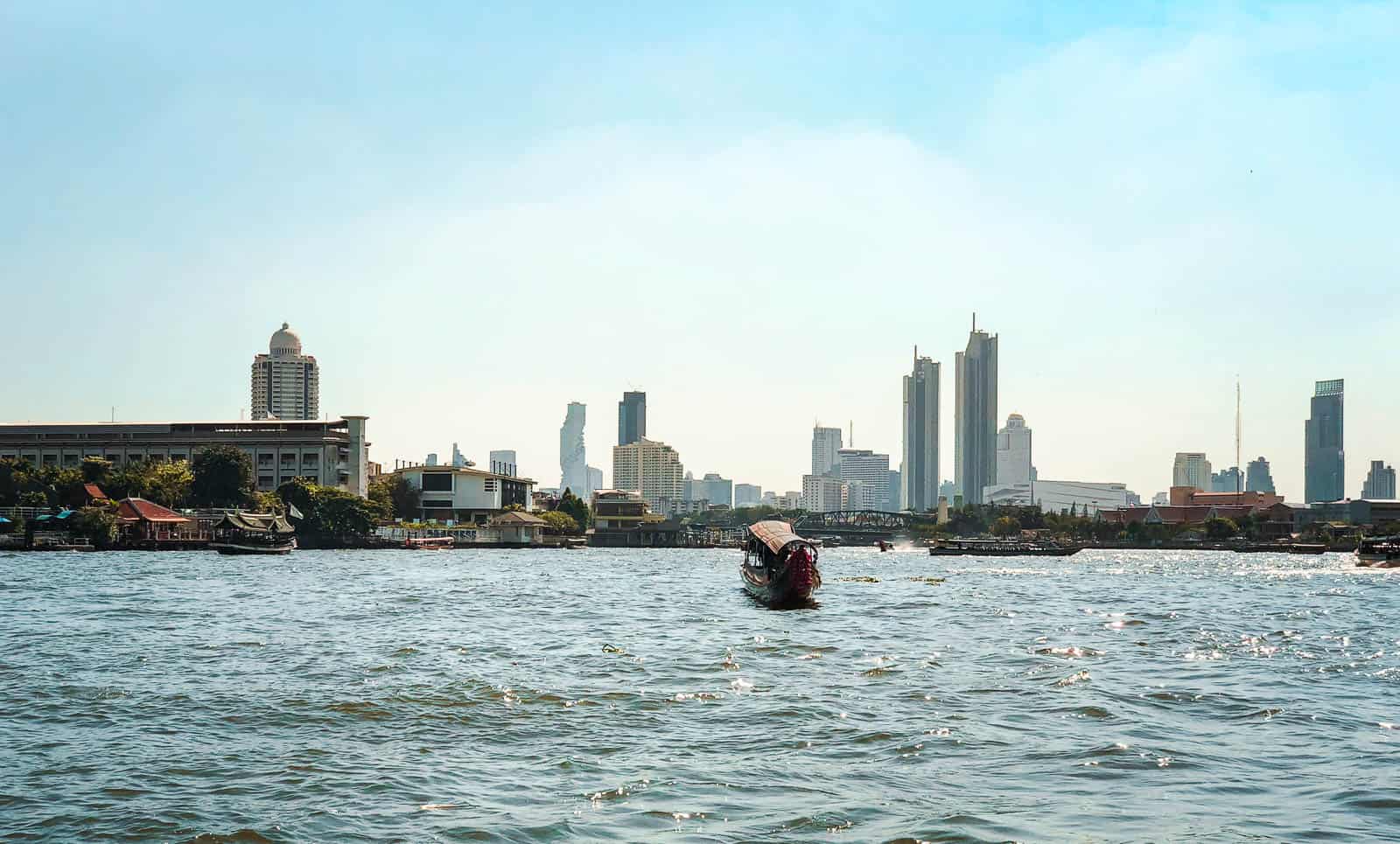 Chao Praya River Ferry
Our first full day in Thailand was an introduction to the main historical and cultural sites of the city, specifically the Grand Palace, Wat Pho and Wat Arun. The best way to get to these sights, and also experience Bangkok from a new vantage point, is to take the ferries up and down the Chao Phraya river. It's very easy to get the ferry, but also quite busy so expect to wait in some lines. If you're staying in the area near the Sukhothai or Banyan Tree hotels, etc, take a taxi to Sathorn Pier and follow the ferry signs.
Be sure to get the ferry with the orange flag. Don't get sucked into a conversation with tour guides who look like "official" ferry employees, they are trying to sell you on a tour you don't need.
Just get in line for the ferry with the orange flag and pay as you get on. Once on the ferry, get off at stop No. 9 Tha Chang for the Grand Palace and Emerald Buddha. Once off the ferry, it's a short walk to the line for the entrance to the palace grounds.
Bangkok's Grand Palace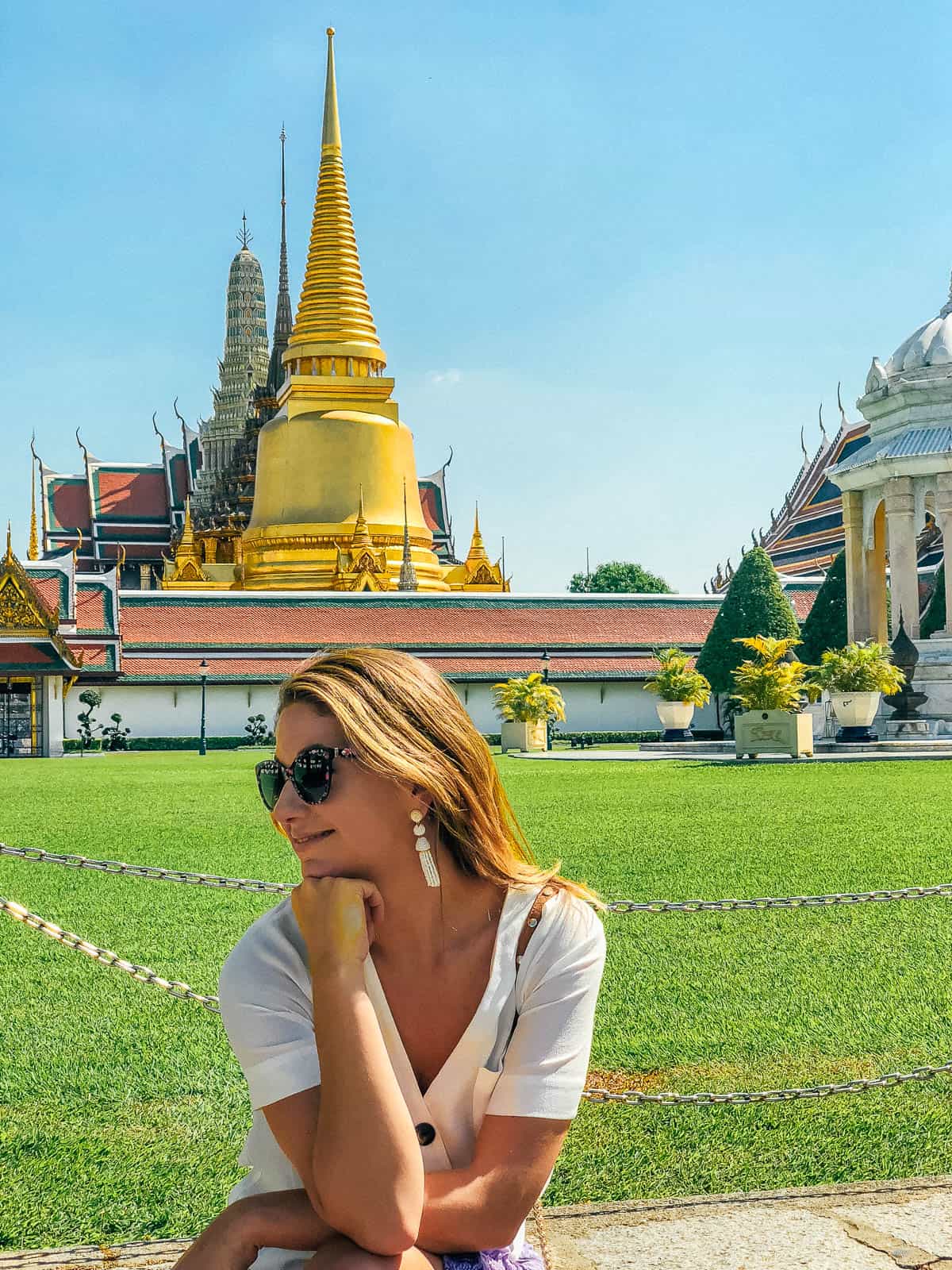 The Grand Palace was so insanely crowded that it was hard to fully enjoy it. The palace has become completely overrun with tour groups holding up their flags or umbrellas, that it was hard to move around or really take in the grandeur of the place.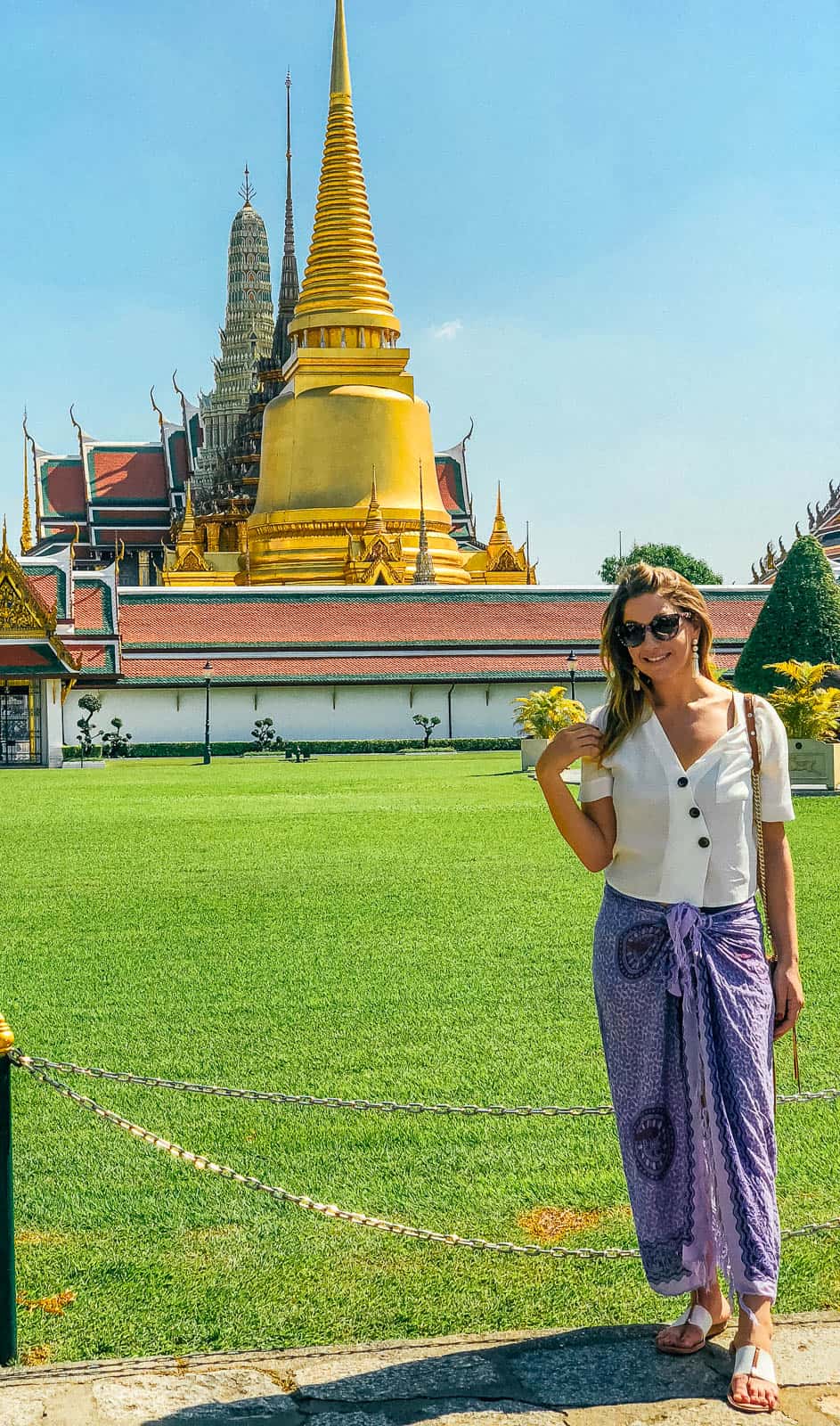 It is insanely beautiful though, and the intricacy of the architecture is really incredible.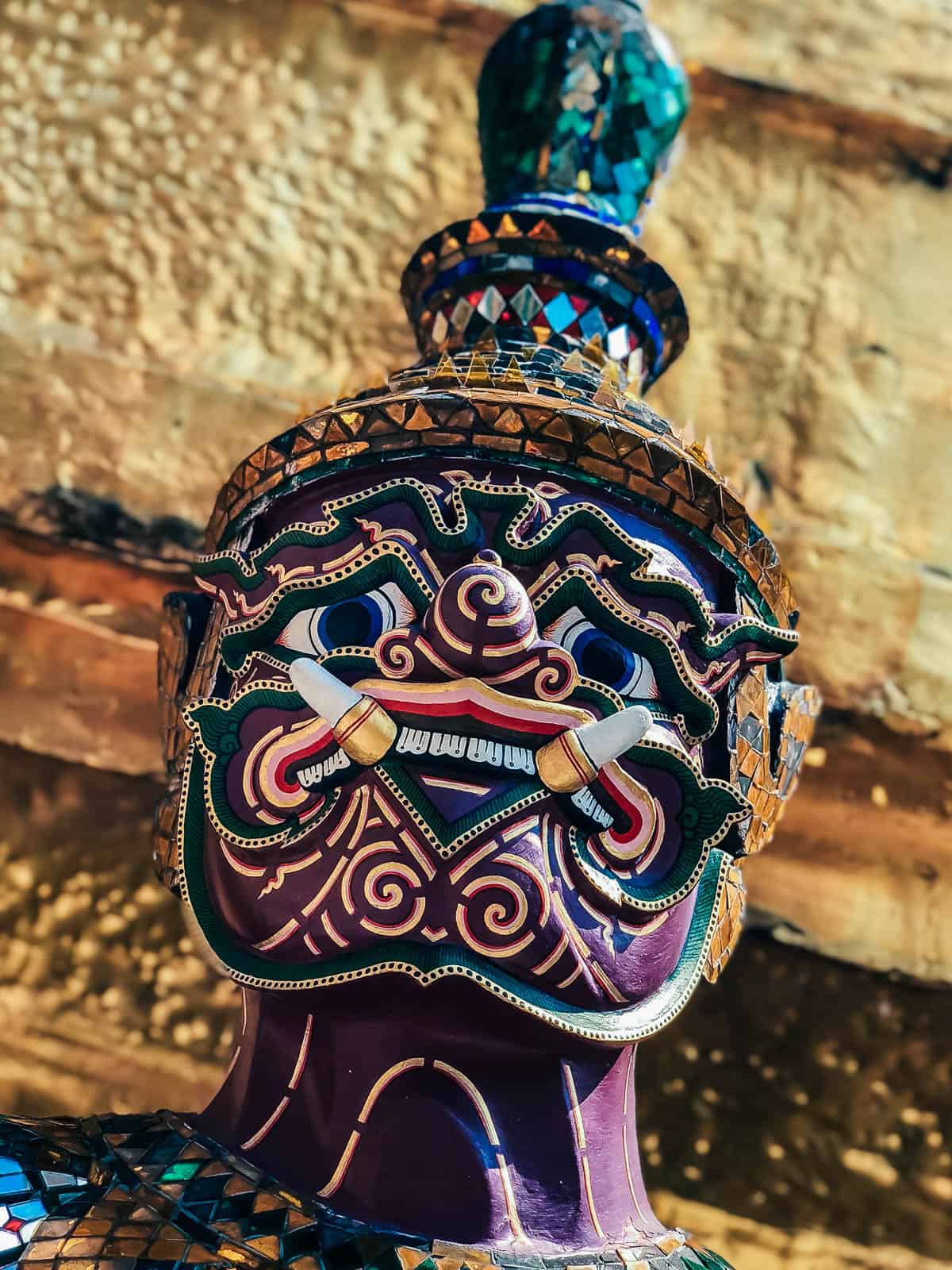 I definitely recommend going as early as you possibly can. We arrived around 10 AM and that was already too late to beat the crowds. We wandered through the grounds somewhat aimlessly, just letting ourselves be pulled towards whatever elements spoke to us and tried to enjoy it as much as possible.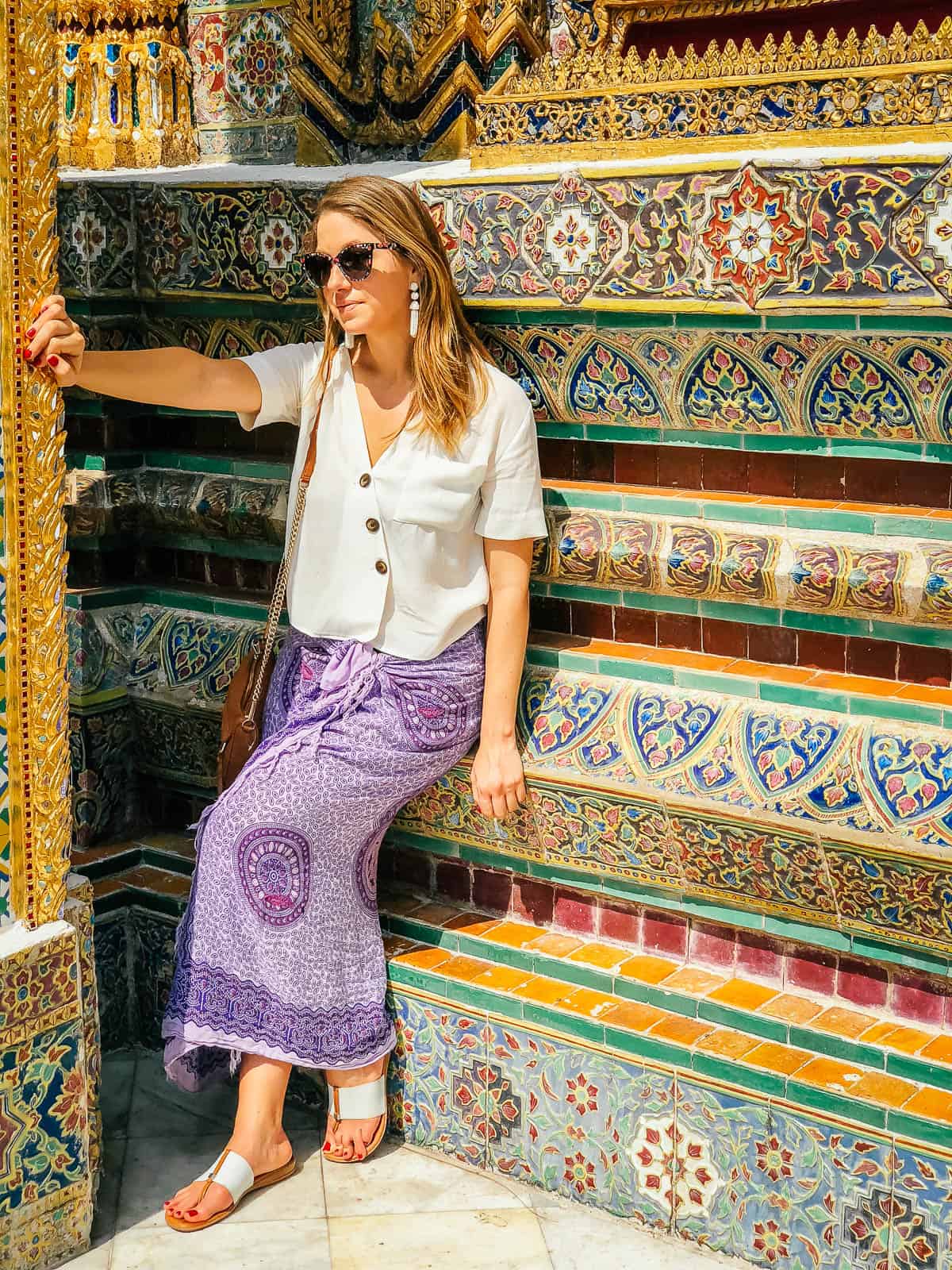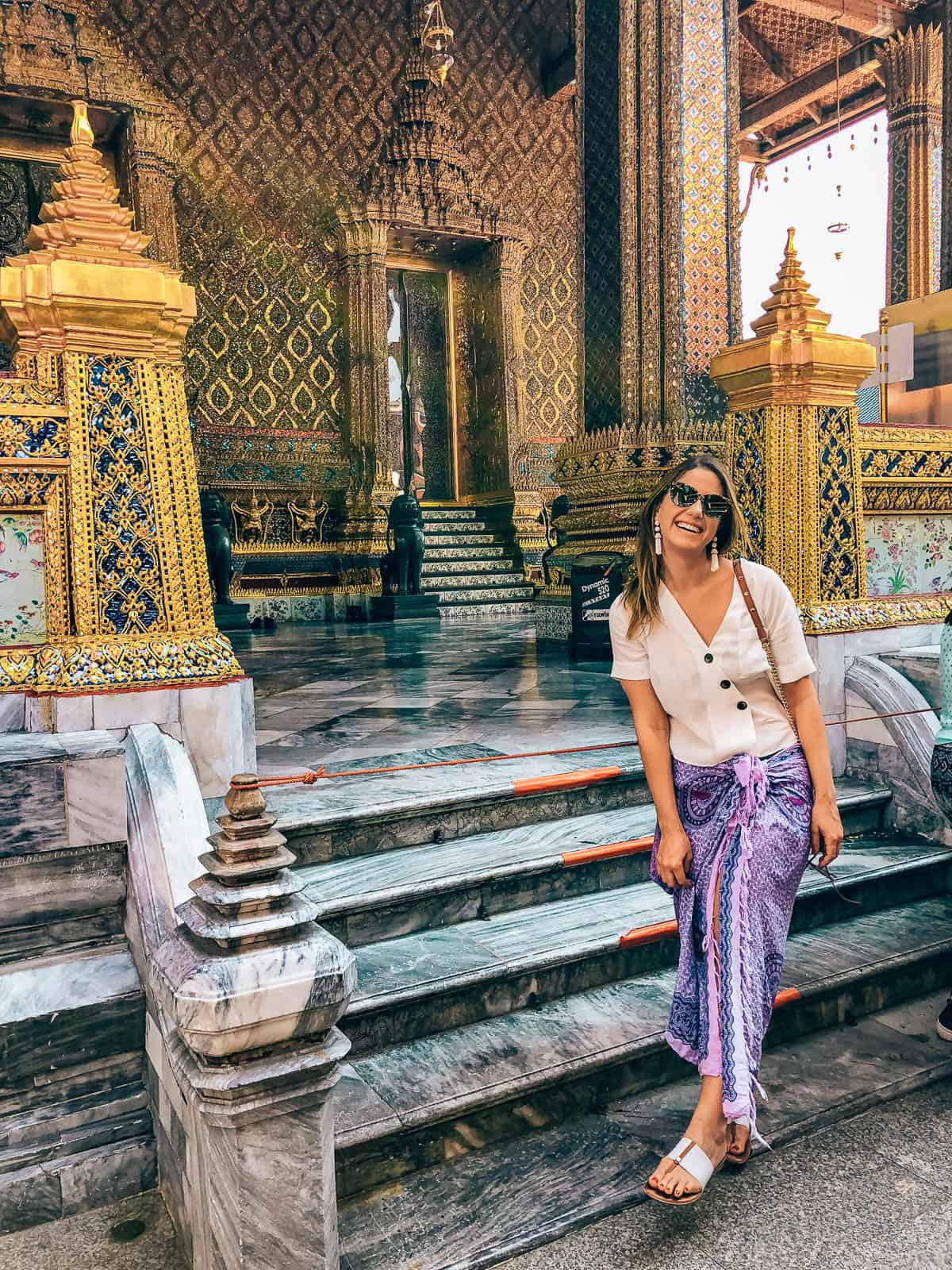 Remember to cover your knees and shoulders! I've heard it can be hit or miss on how strict the guards are, but JB was wearing long shorts that were deemed not long enough and he had to buy pants at the gift shop – better to be prepared!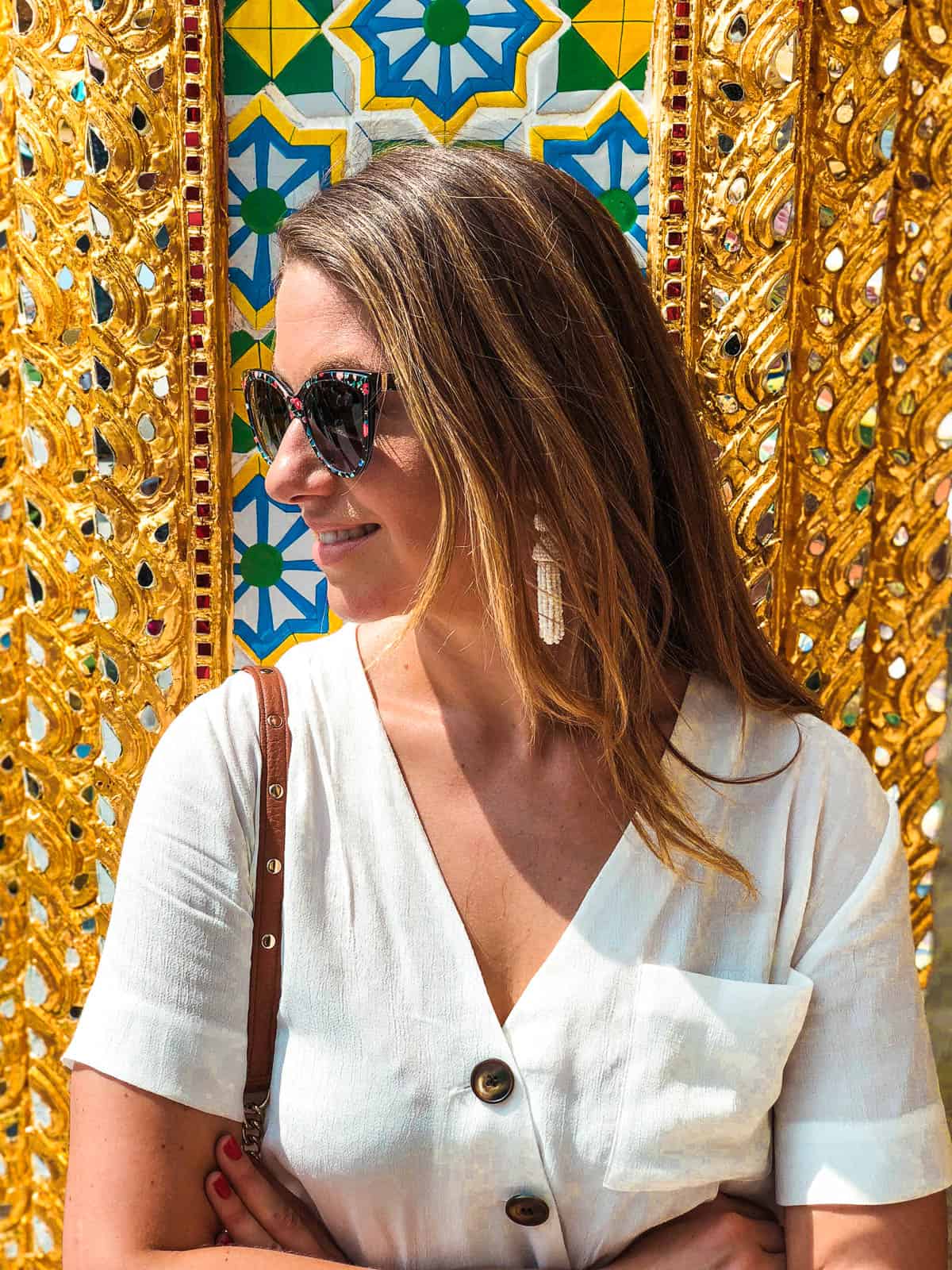 Visiting Bangkok's Wat Pho And Wat Arun Temples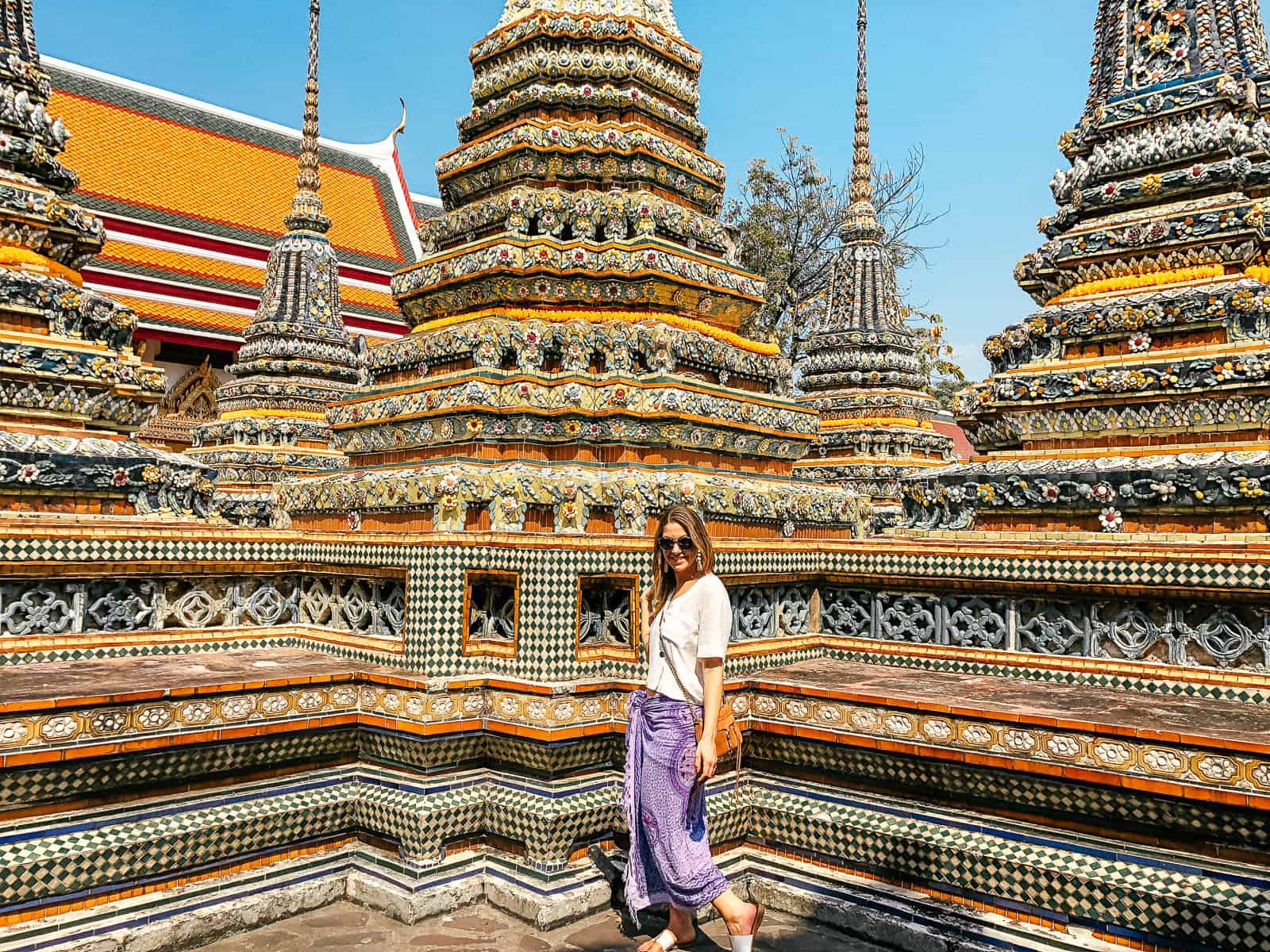 The next stops after the Grand Palace were Wat Pho and Wat Arun. We started with Wat Pho, because it's a 10 minute walk from the Grand Palace. Upon exiting the palace, you simply walk 10 minutes along Maha Rat Road, and you'll arrive at Wat Pho.
Wat Pho, also called Temple of the Reclining Buddha, is a must-see in Bangkok. I mean, you just can't comprehend the size and scale of this Buddha until you see it for yourself. It's 150 feet (46 meters) long!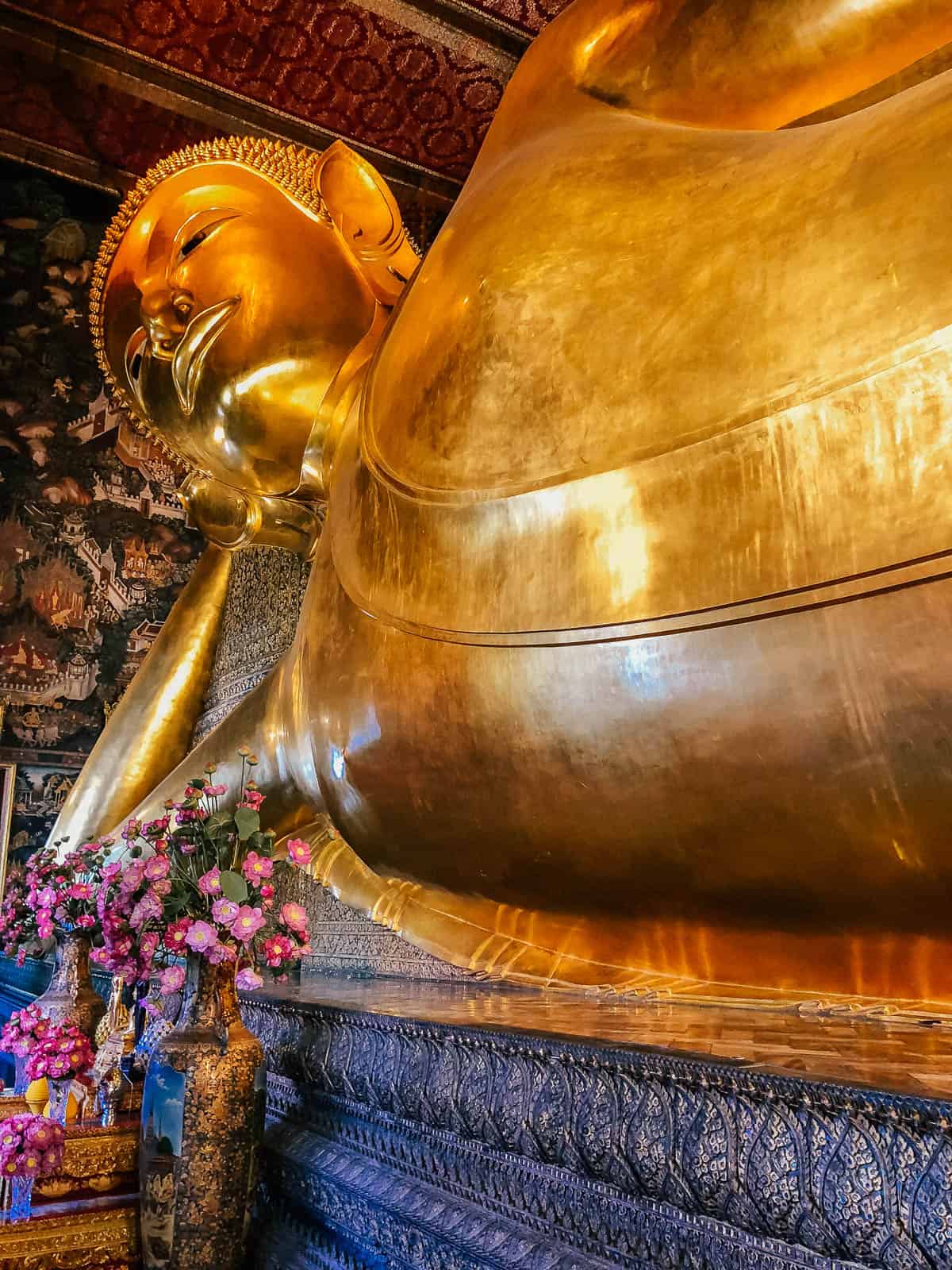 Wat Pho's complex is made up of gorgeous chedis, gardens, pavillions and complexes of different sizes and styles. The complex is also home to Wat Pho Traditional Thai Medicine and Massage School, one of the earliest massage schools in Thailand. If you have time, book a 30 minute massage here during your visit to the Wat Pho temple.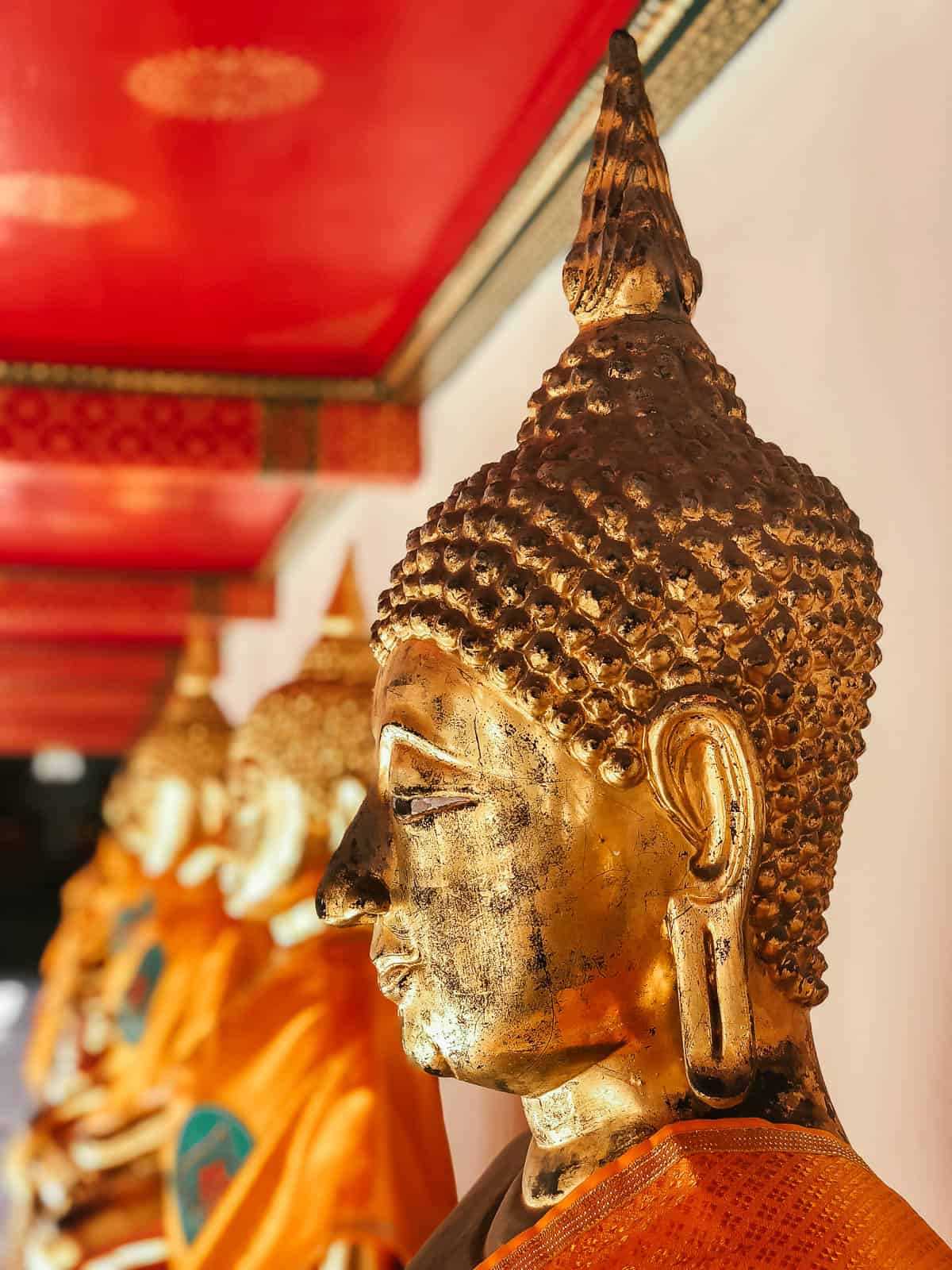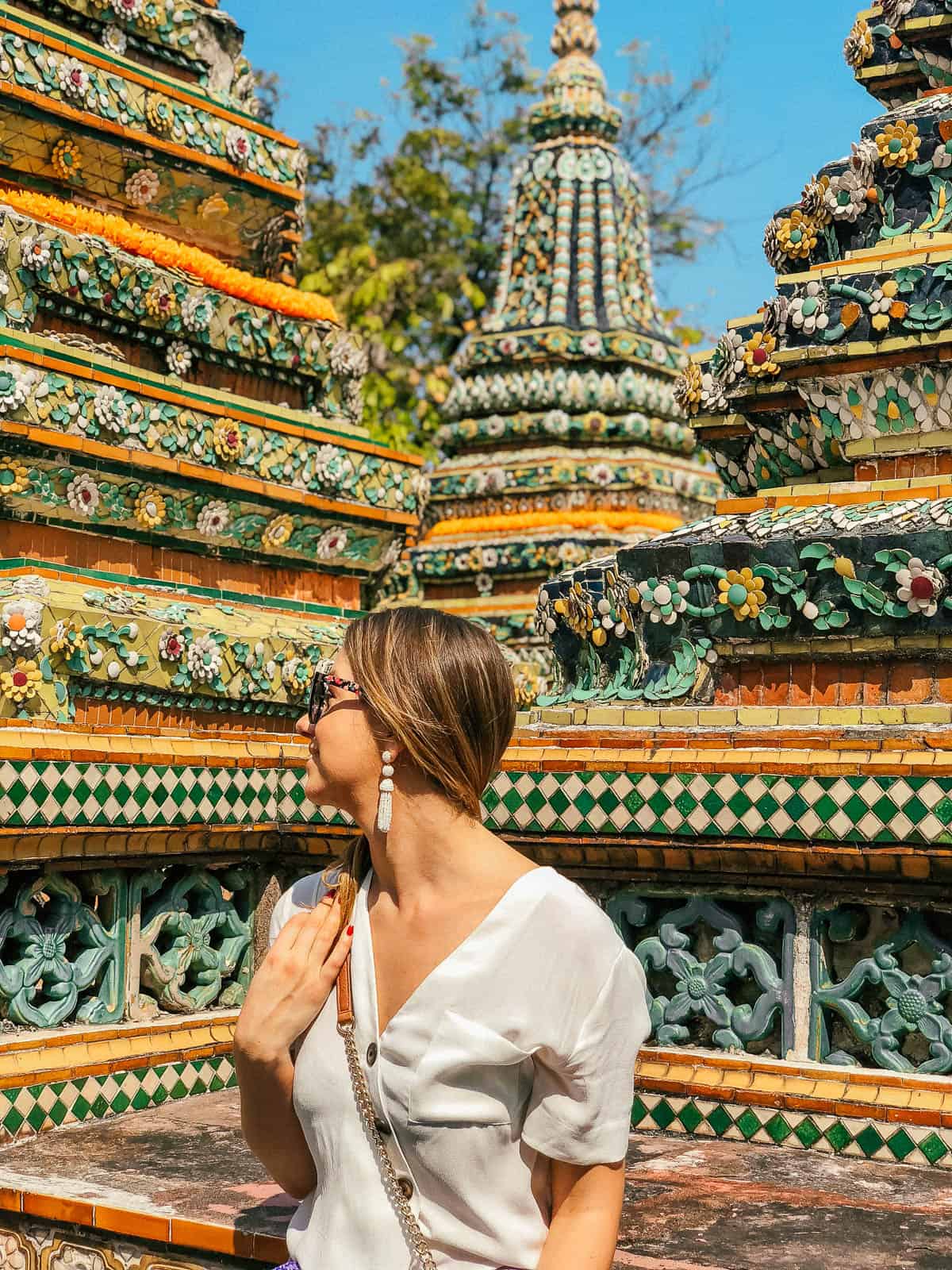 JB and I wandered the grounds, admiring the beauty and intricacy of the complex, and then hopped on the cross-river ferry to Wat Arun, which is almost directly across from Wat Pho.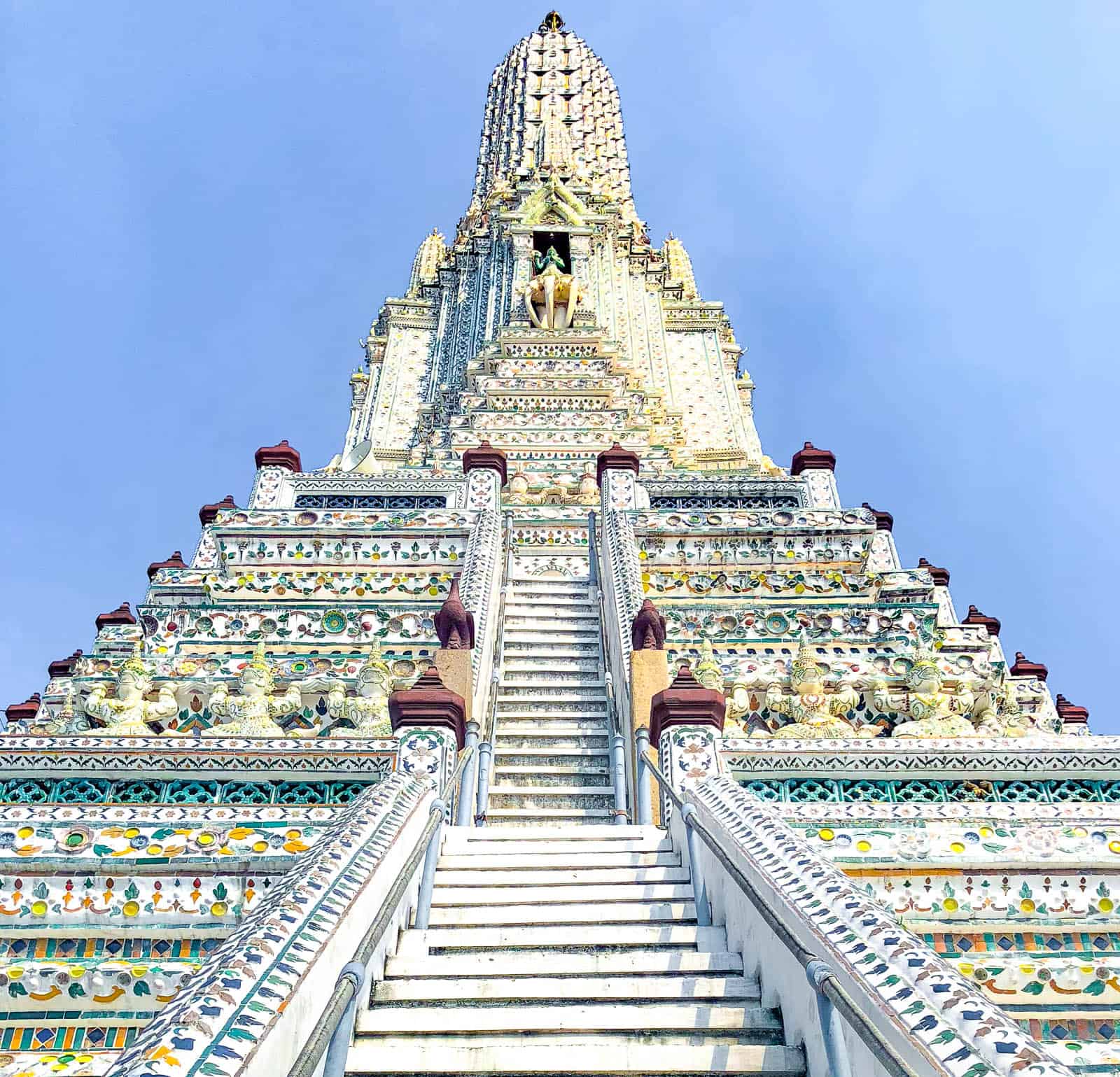 Wat Arun, also known as the Temple of Dawn, is another gorgeous temple complex, and was actually my favorite in terms of style and architecture. I especially loved that you could climb up and around the temple to admire the amazing views of the river and Wat Pho.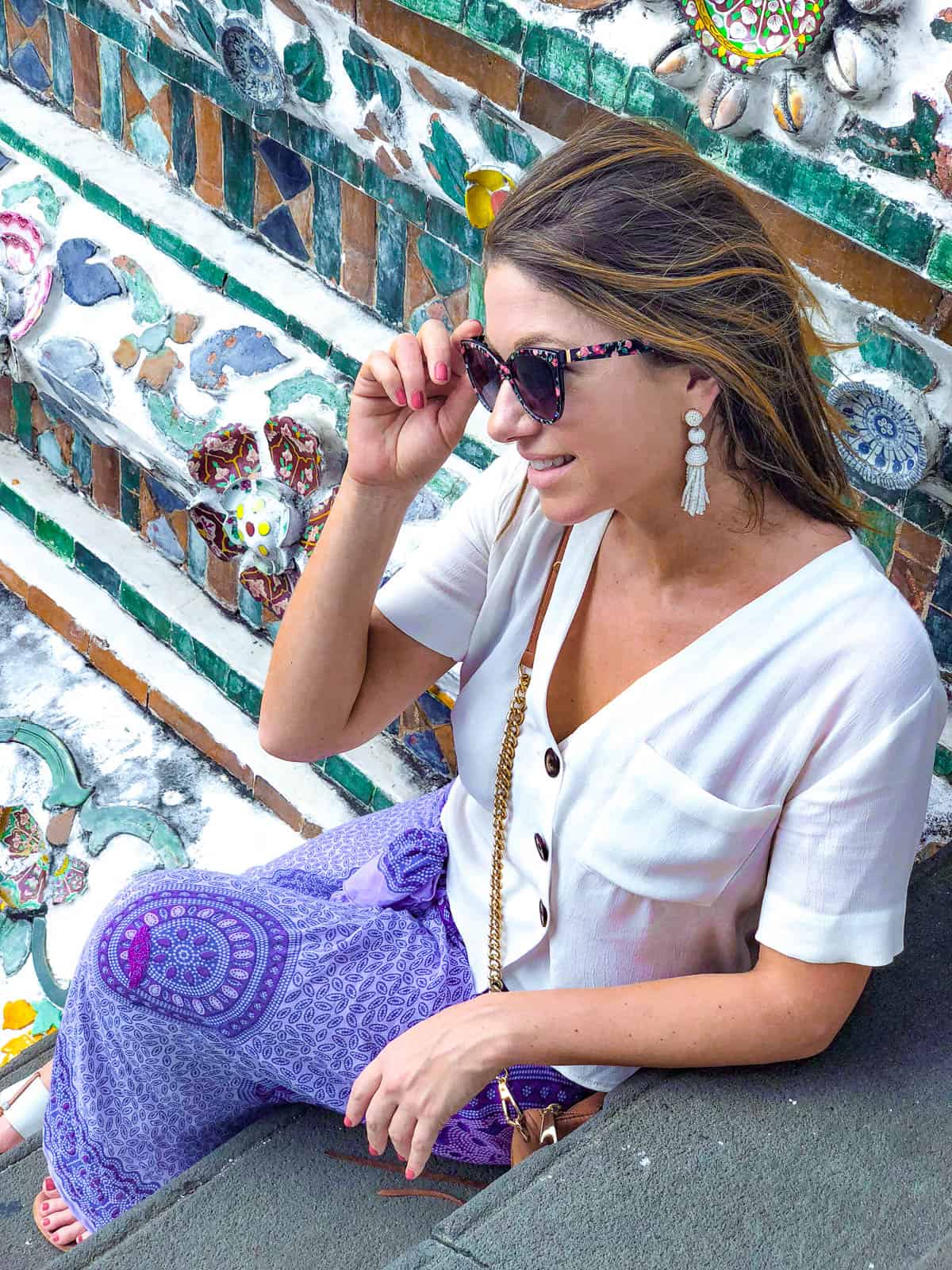 Watching the sun set behind Wat Arun from a vantage point across the river is one of the best things to do in Bangkok, so if you don't have other dinner plans I definitely recommend finding a bar with outdoor seating across the river and enjoying the sunset.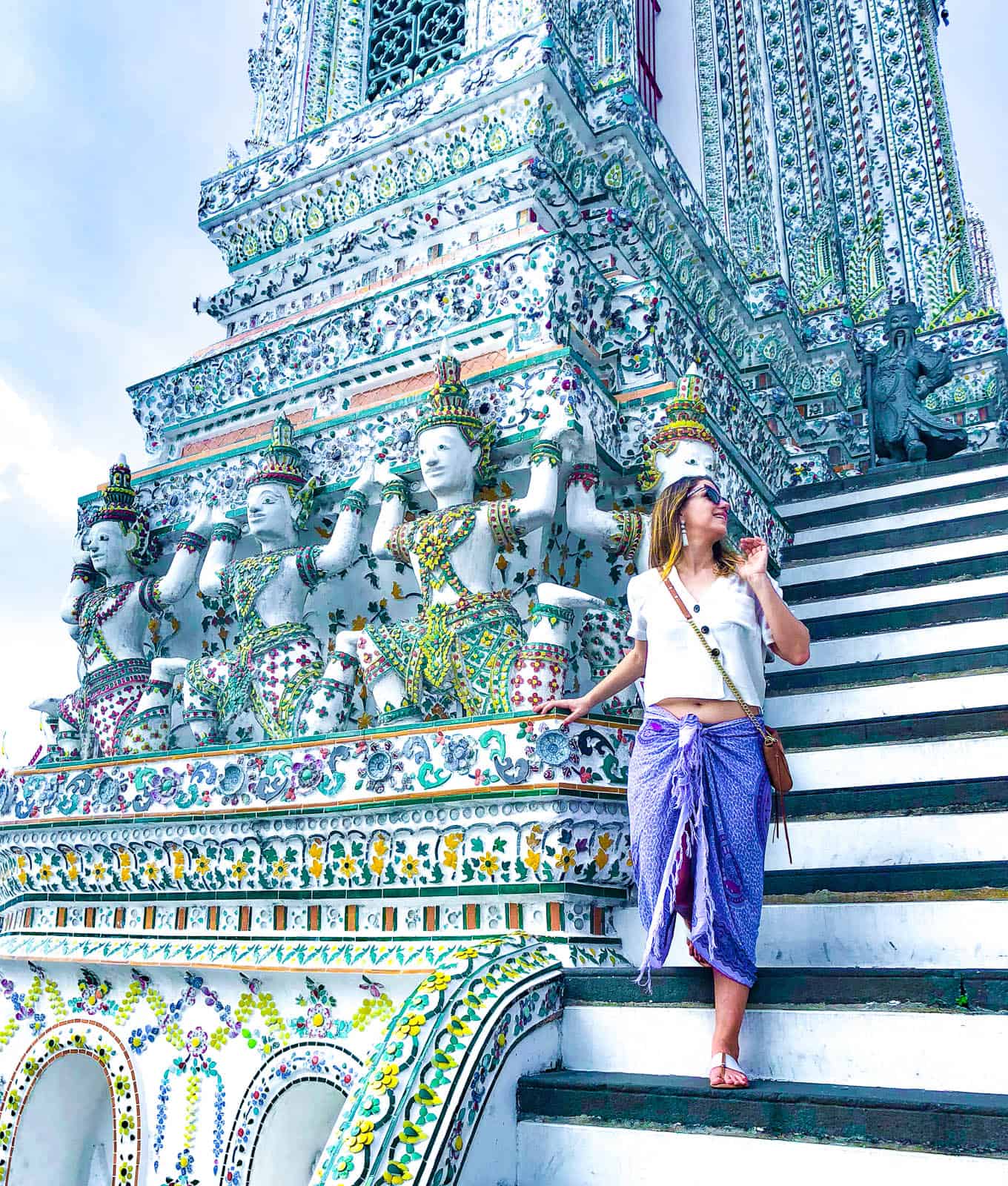 But JB and I had major dinner plans. I managed to snag us a reservation at Gaggan, after obsessively stalking the reservations page, and emailing and calling the restaurant multiple times (this is where the obsessed part of JessObsessed comes in handy!). Gaggan is a world-renowned restaurant widely considered to be the #1 restaurant in Asia and ranks as the #5 best restaurant in the world.
I could not contain my excitement, especially since Gaggan plans to close in 2020, when the owner and head chef, Gaggan Anand plans to move to Japan to open a new restaurant there.
Dinner At Gaggan In Bangkok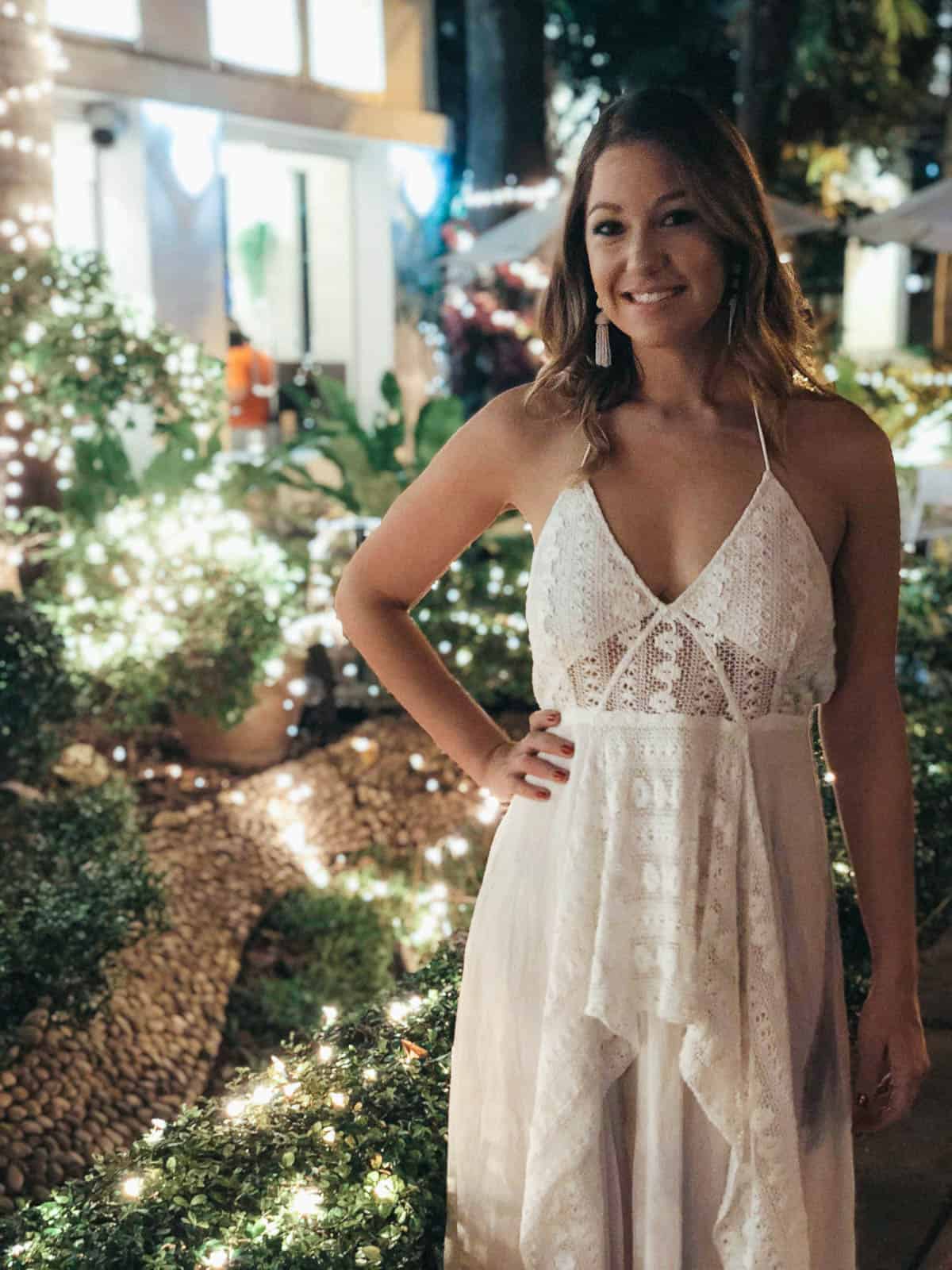 Gaggan's style is "progressive Indian cuisine" and the chef's mission is to redefine Indian food, proving that Indian food can be a fine-dining, luxury experience. The restaurant only features two seatings per night, one at 6:30 and one at 9:30, and while the menu changes frequently, we were fortunate enough to experience the famous 25-course emoji menu.
Yes, you read that right. The menu was a list of emojis and each course is somewhat of a surprise as it comes out.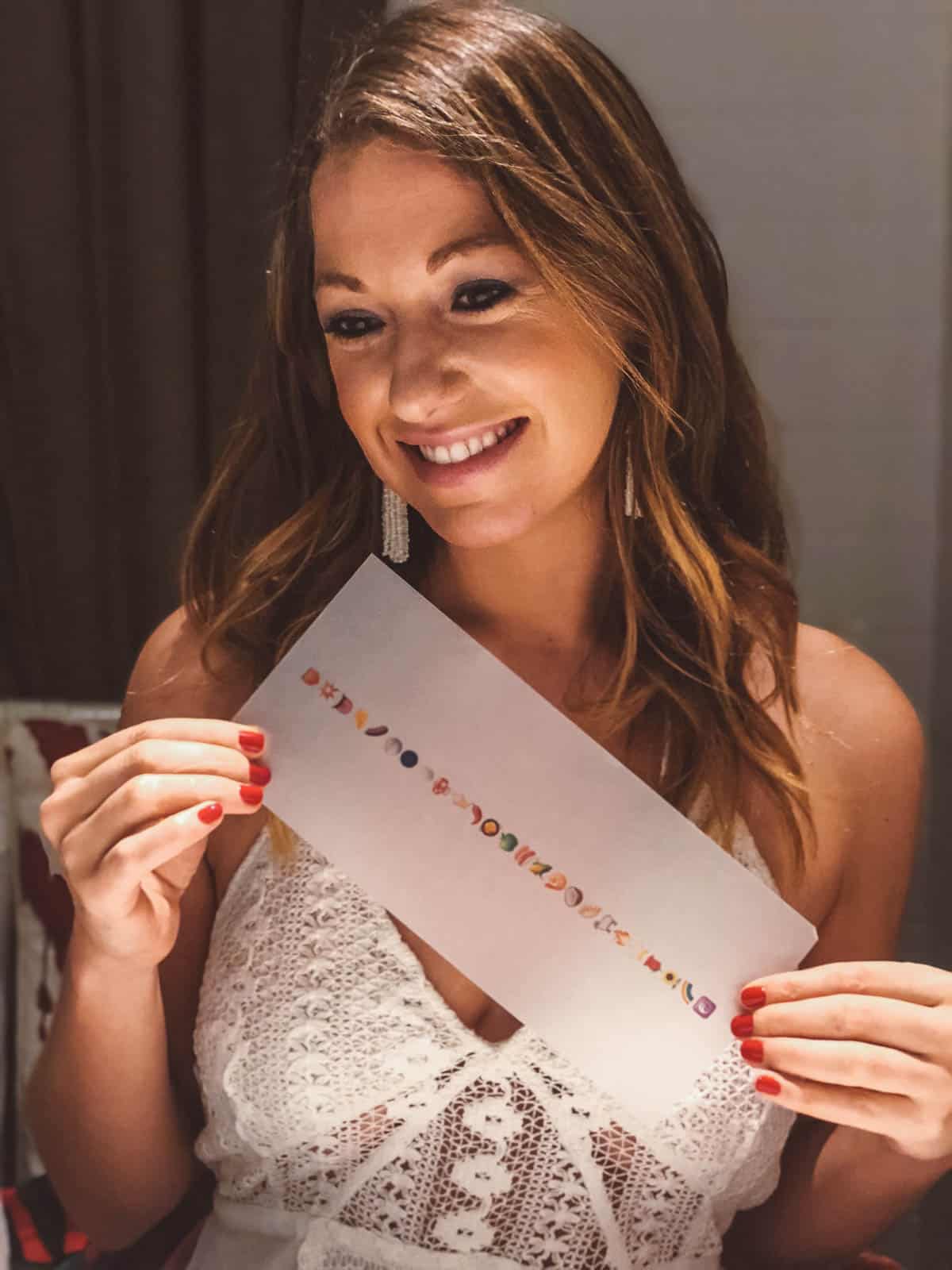 I have to say, Gaggan is worth every bit of the hype. The food was incredible and each course was its own mini-experience. For example, a plate of Indian-style sauces was served without cutlery, so you have to pick up the plate and lick it clean, while a small portable radio on your table played "Lick It Up."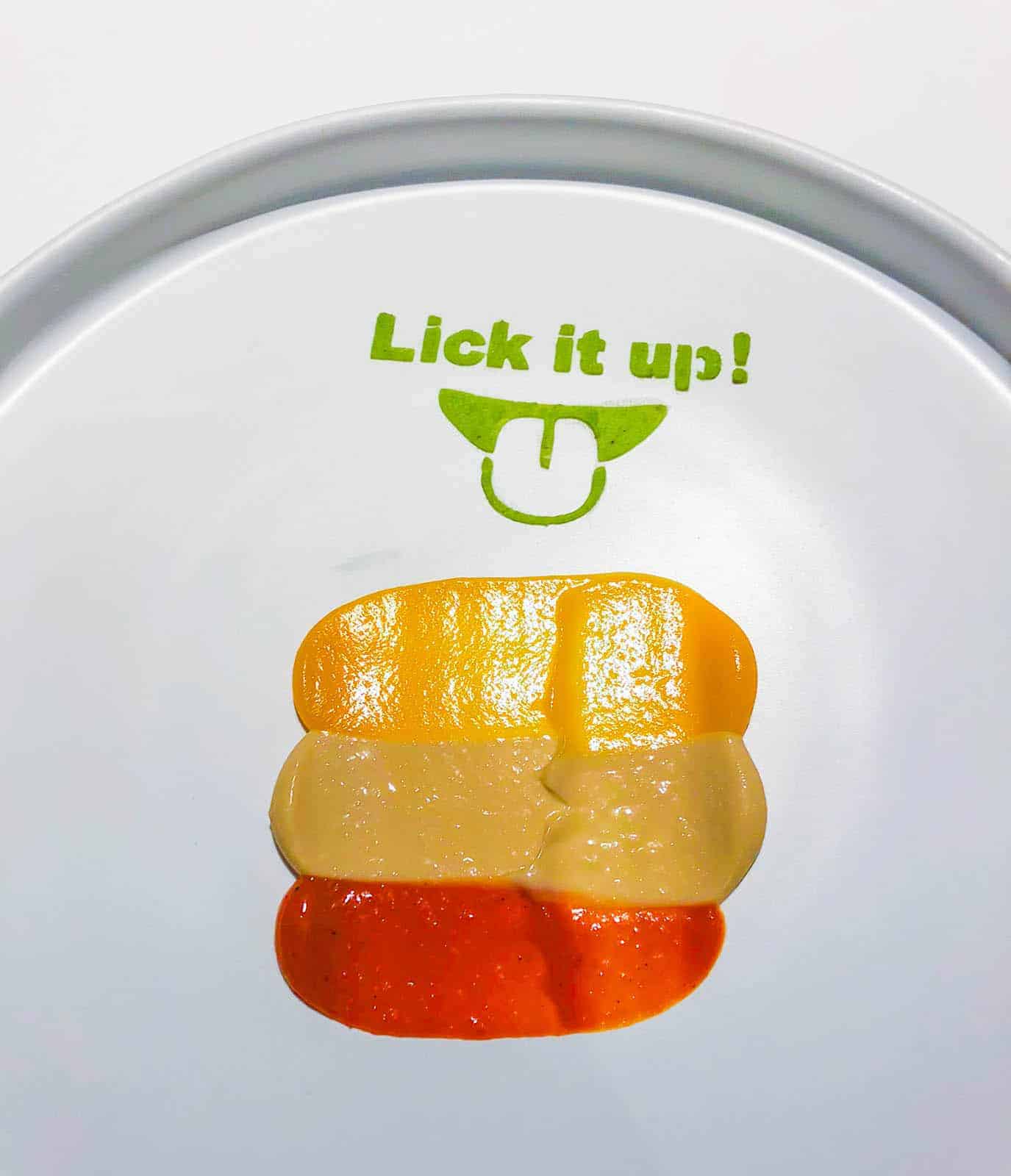 Seriously, so much fun. You typically expect places like this to be stuffy and fancy, but the service was so friendly, open and warm. Combined with the location in a converted Colonial mansion, it felt like we were eating the best meal we've ever had in our friend's dining room.
Here's just a smattering of the amazing tasting courses we experienced:
UPDATE FOR 2020: Gaggan's original owner has left the business; it was actually a fairly dramatic exit that played out on social media. Anand Gaggan is supposedly opening a new restaurant in Japan sometime in 2021.
Bangkok Day 3: Bangkok's Food Markets
Meeklong Train Market, Amphawa Floating Market and Yaowarat Road Food Tour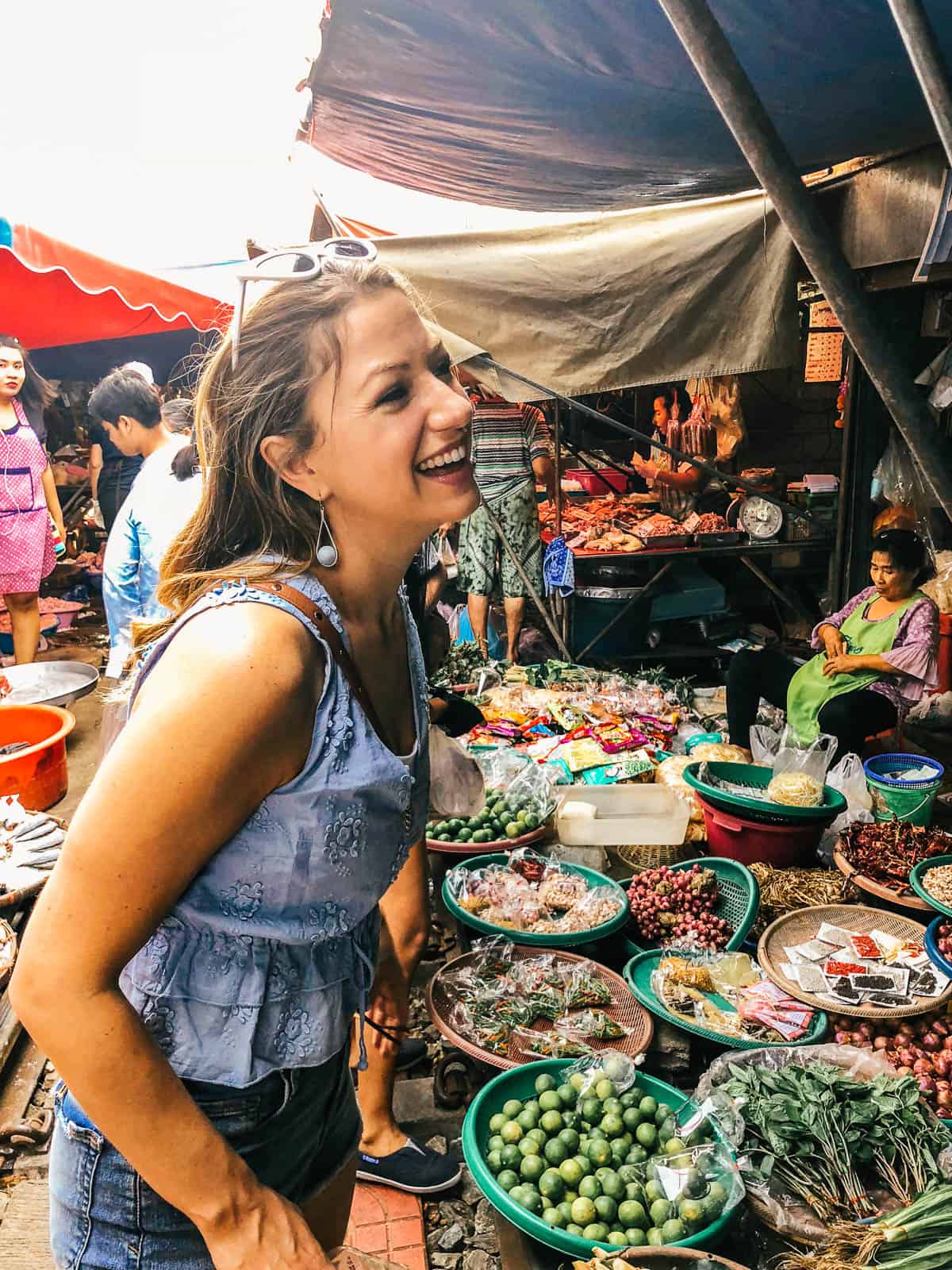 Day 3 in Bangkok was all about the food and markets! In fact, I was so excited to visit all the markets and cram in everything I wanted to see that I accidentally booked three market food tours back to back in one day.
And. it. was. totally. worth. it!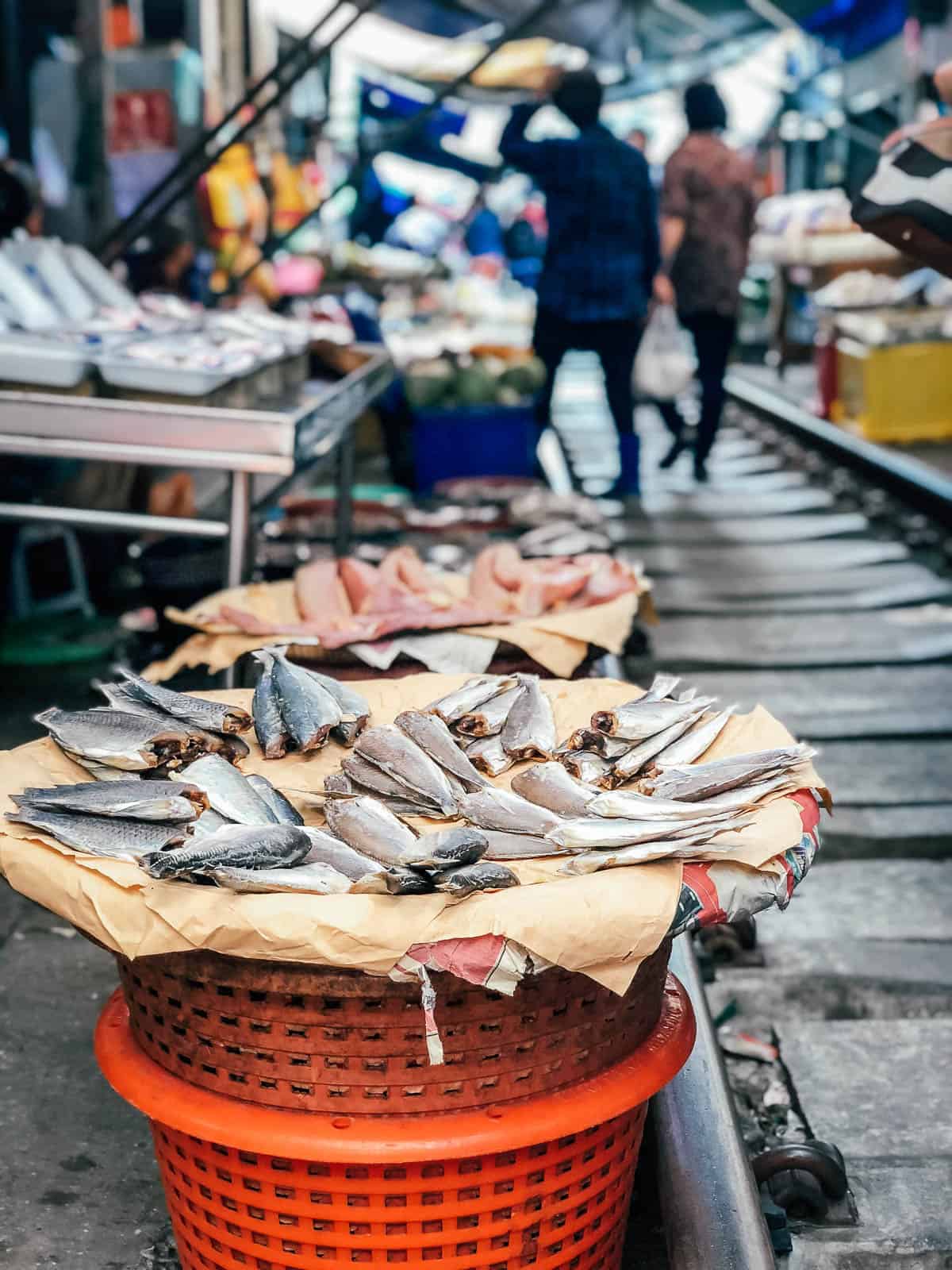 I debated for weeks about which floating market I wanted to visit – part of me yearned for the perfect Instagram pic of the Damnoen Saduak floating market that you see all over the Internet, but I knew this was the most touristy and inauthentic route to go. There are tons of daily tours to this market though, so it would be a convenient choice.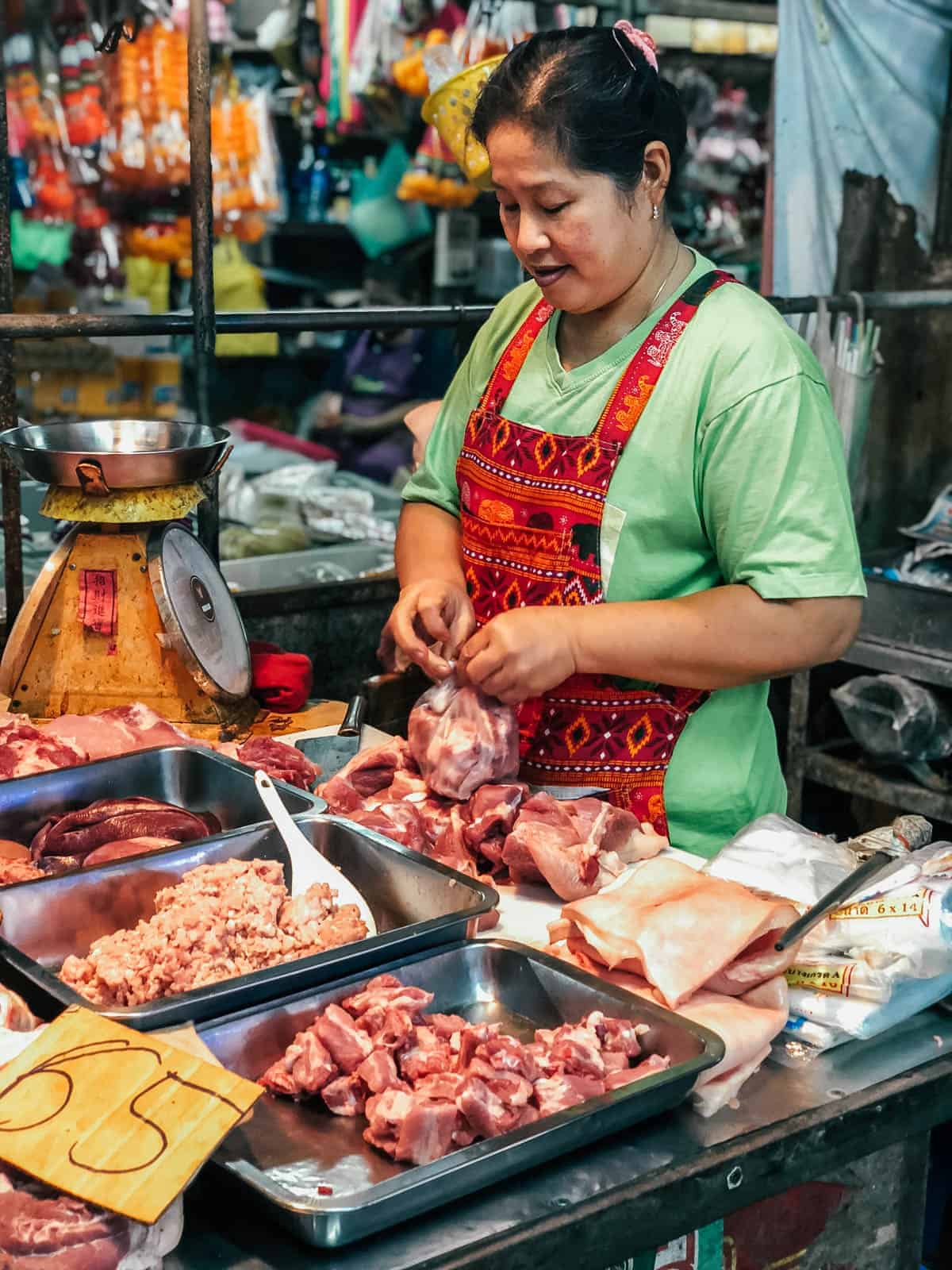 I also debated Taling Chan market and Klong Lat Mayom market, but in the end I decided on Amphawa floating market, for the perfect mix of size and authenticity. While perhaps not the most local of markets, it was large enough for us to be able to see some action but not quite as touristy as Damnoen. Taling Chan and Klong Lat Mayom just seemed too small to get the real floating market experience.
Maeklong Train Market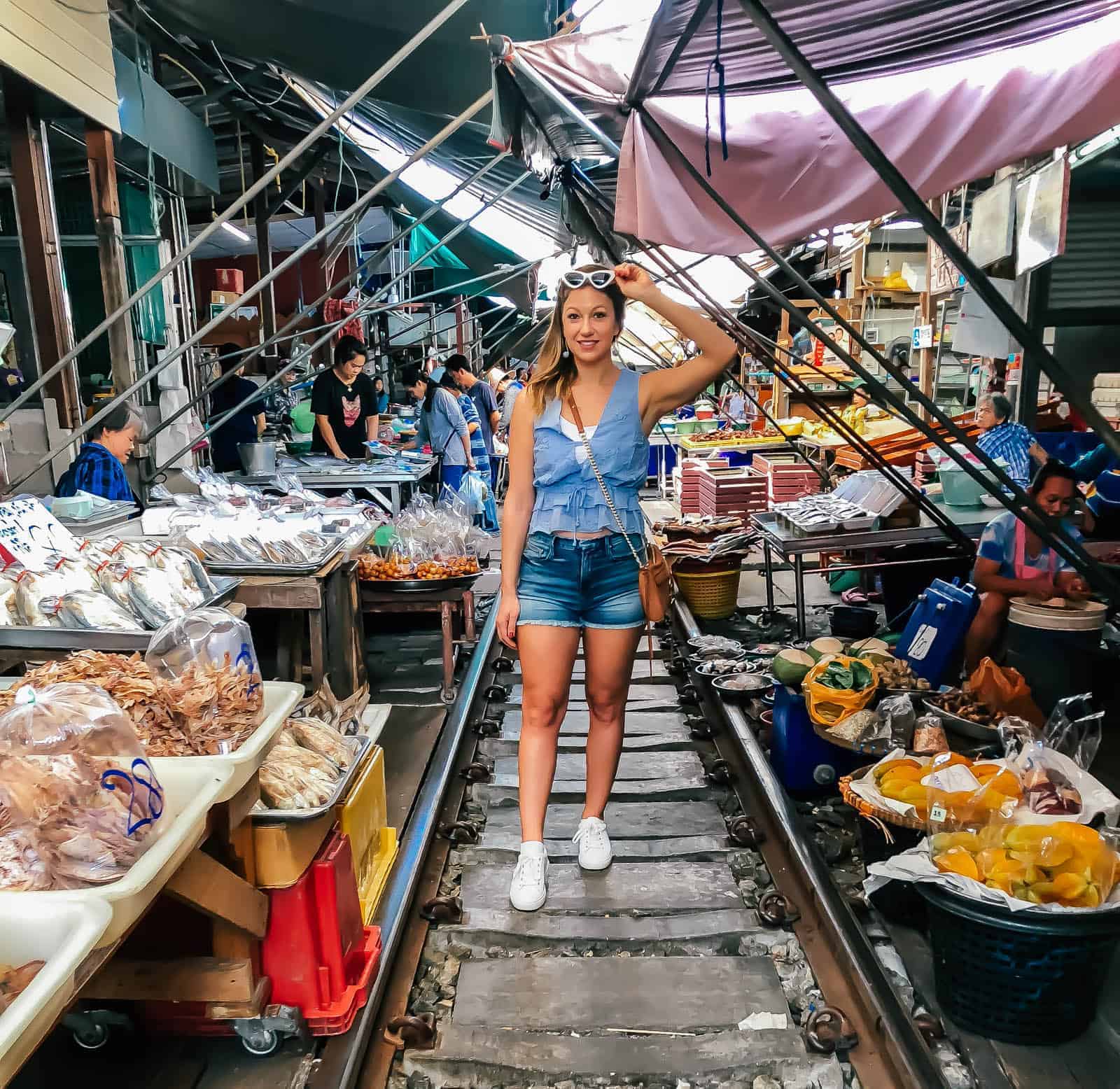 We used With Locals to book our tour with Chef Jekky, the most adorable teeny chef and hotel owner in Bangkok. Jekky and her brother picked us up in a nice air conditioned car early in the morning, and drove us to our first market stop, the the Maeklong Train Market.
Maeklong is incredibly unique because it's a market that is literally on top of train tracks, and the train actually passes through the market several times a day. All the merchants pack up their wares while the train passes, and then put them right back out and go back to work as soon as it's through.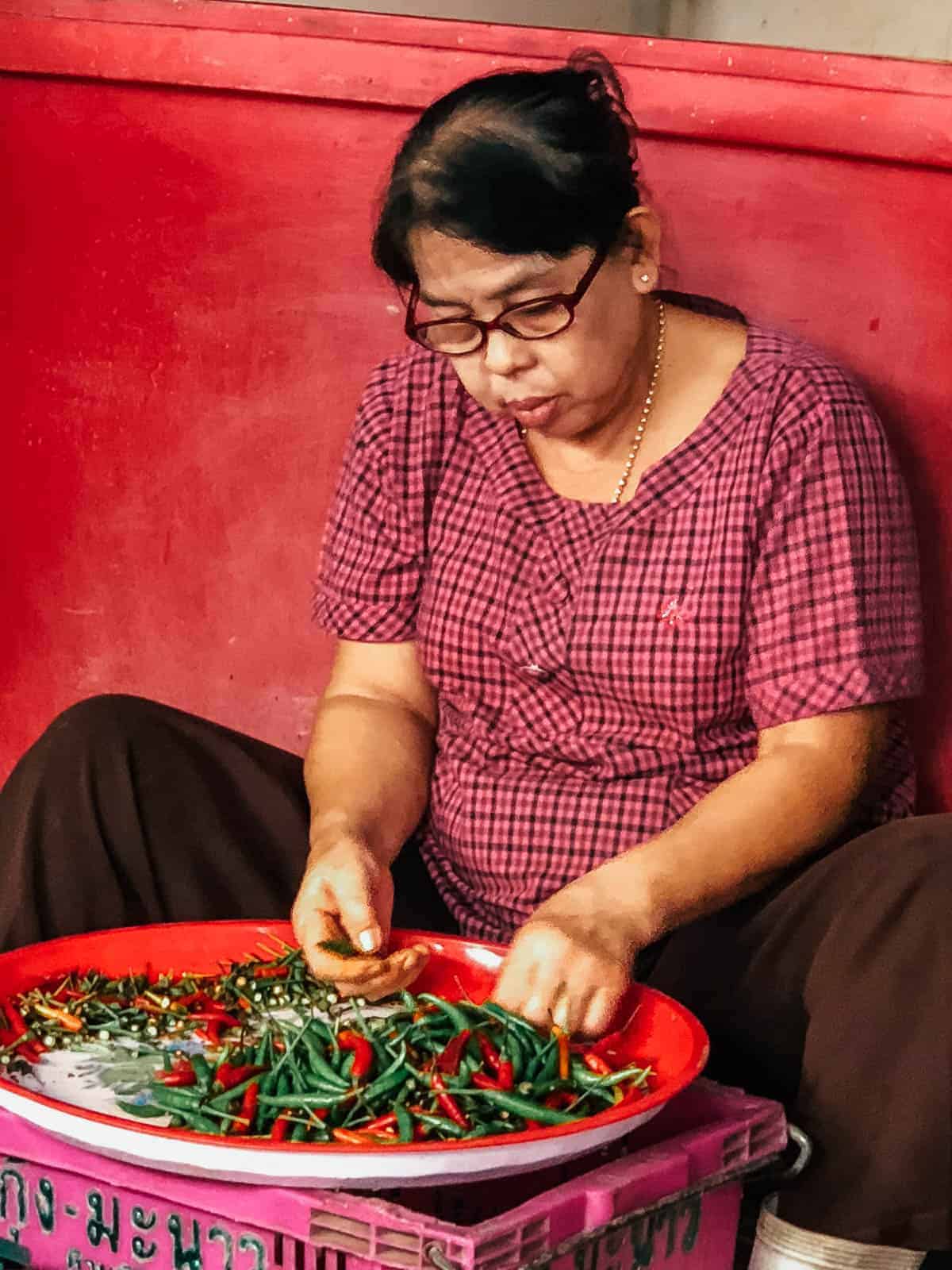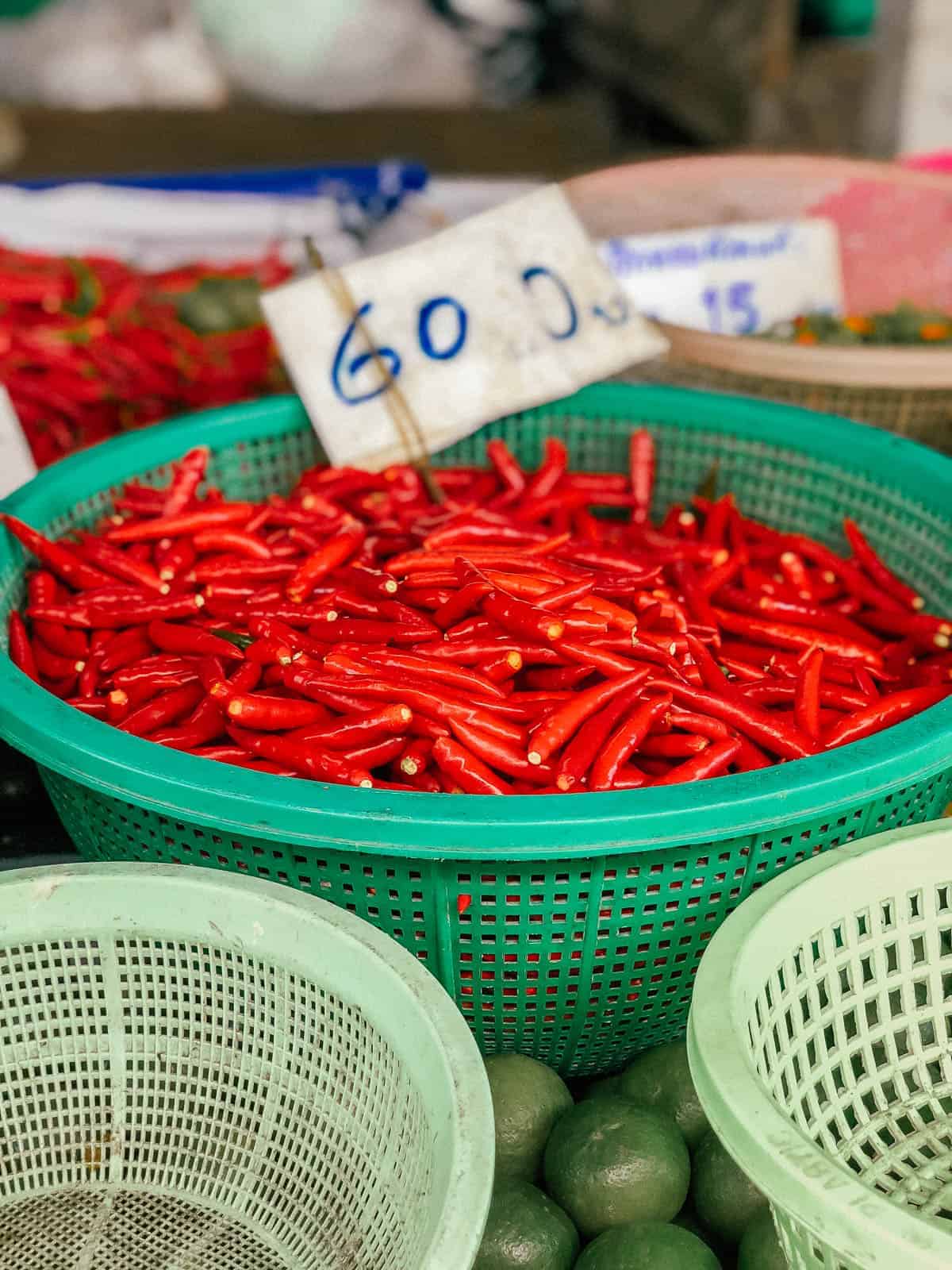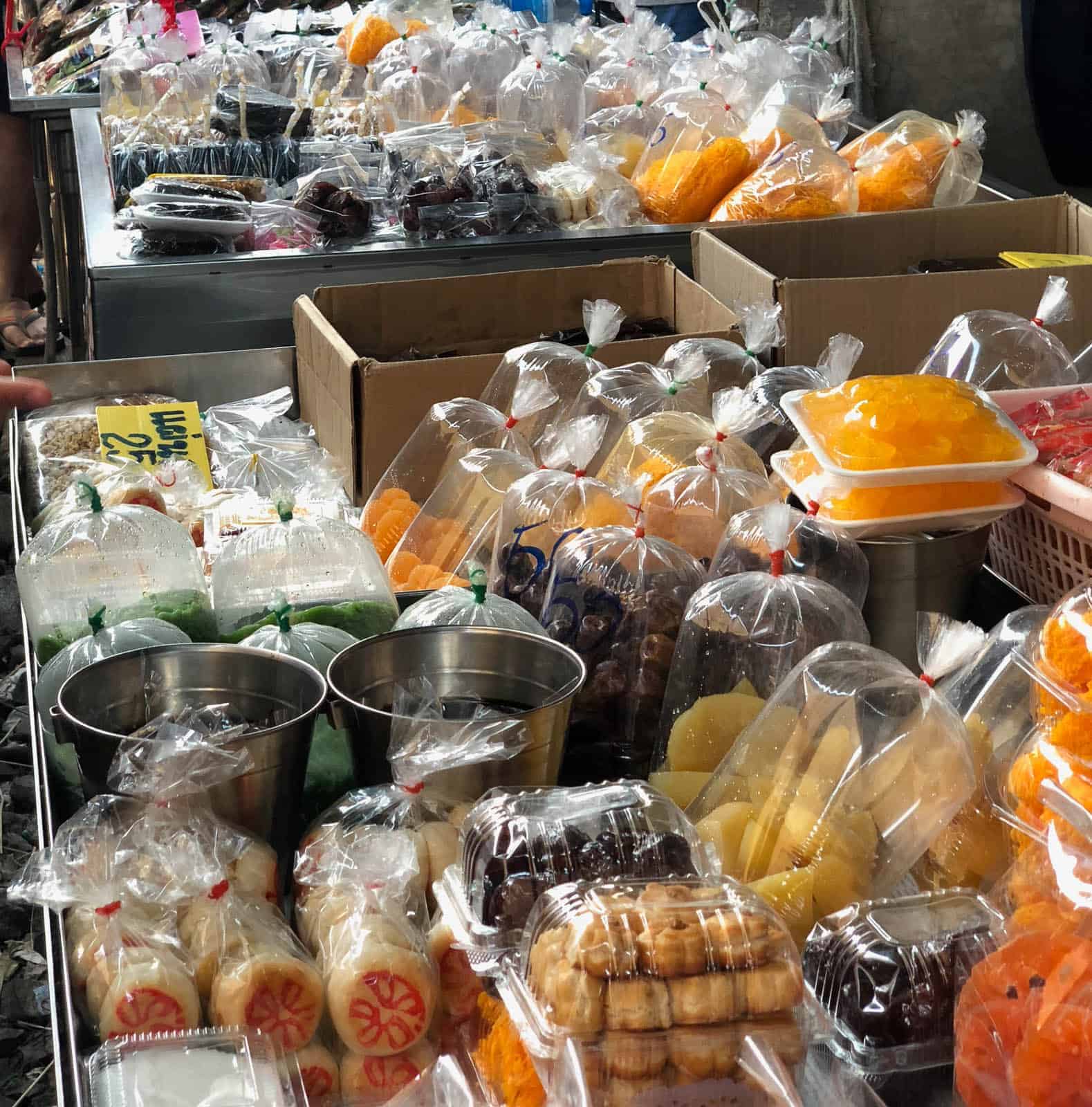 I had so much fun wandering through this market, buying bags of dried mango, watching the women prepare their fresh fish (major props to the badass woman casually beheading a bucket of eels without batting an eye). JB jokes that he could barely keep up with me, I was bouncing so fast from stall to stall.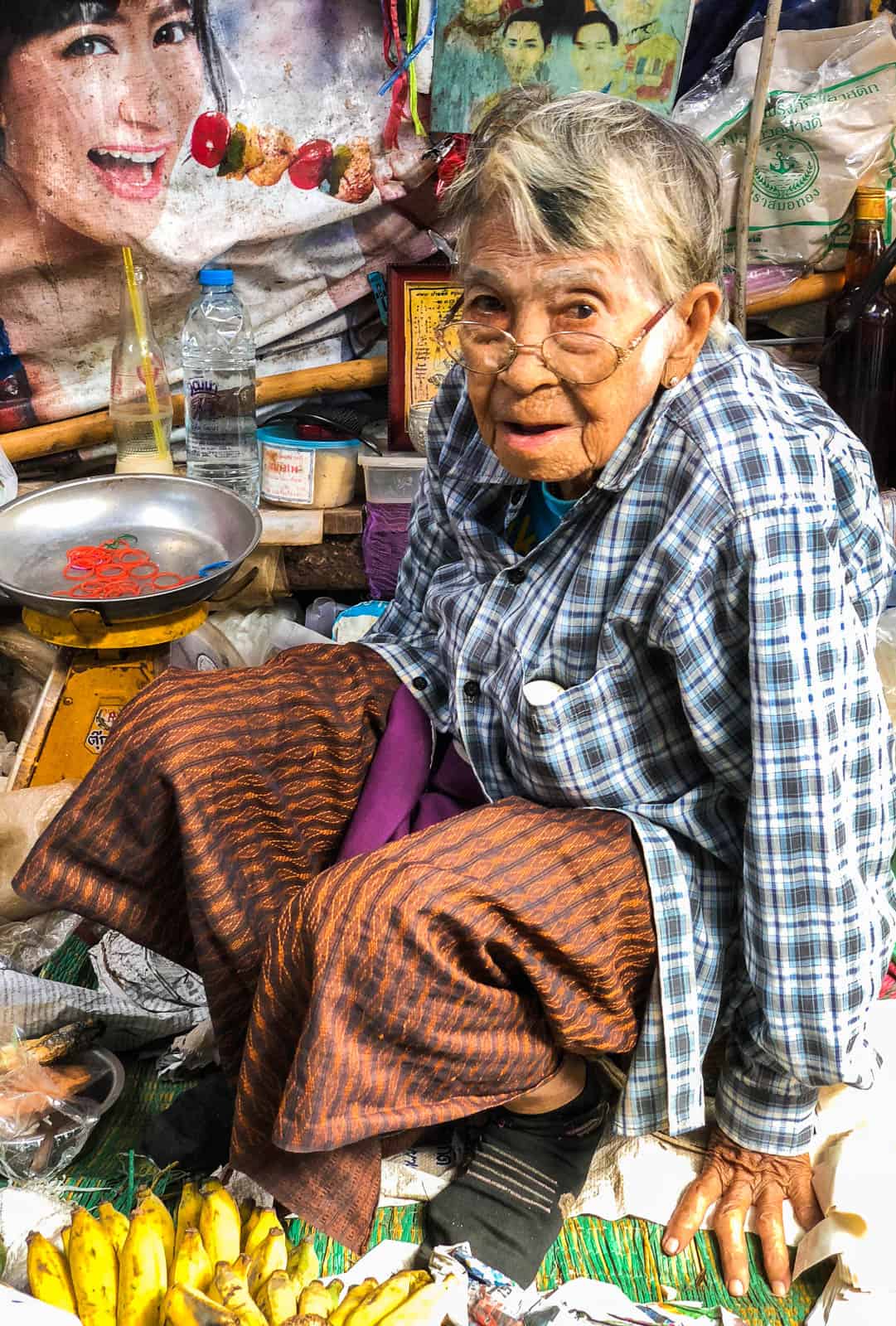 Amphawa Floating Market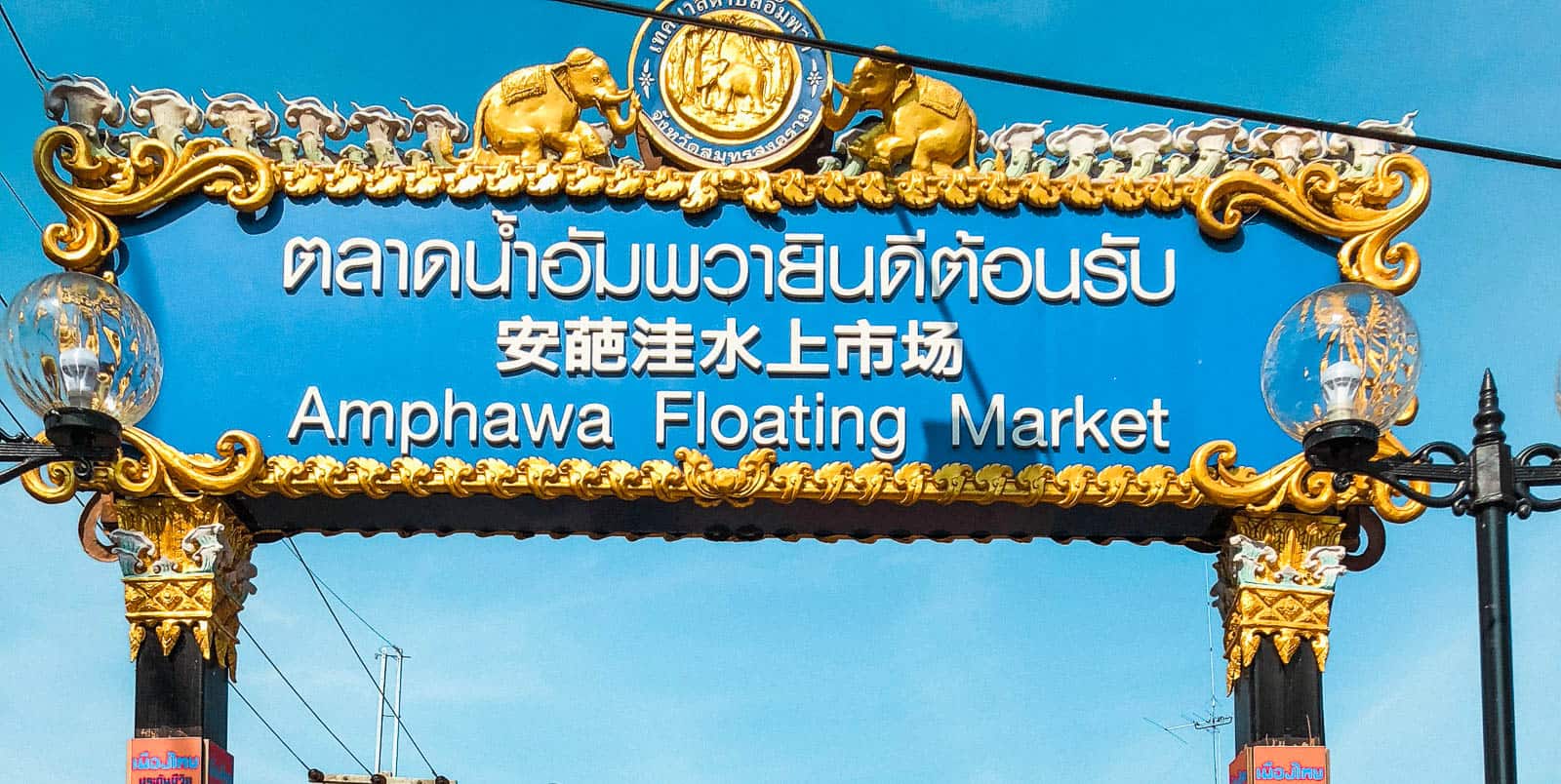 The next stop was Amphawa Floating Market. We drove there from Maeklong and wandered along the river's edge looking at all the storefronts, stopping for a mid-morning snack at an incredible noodle restaurant called Somanat Panich.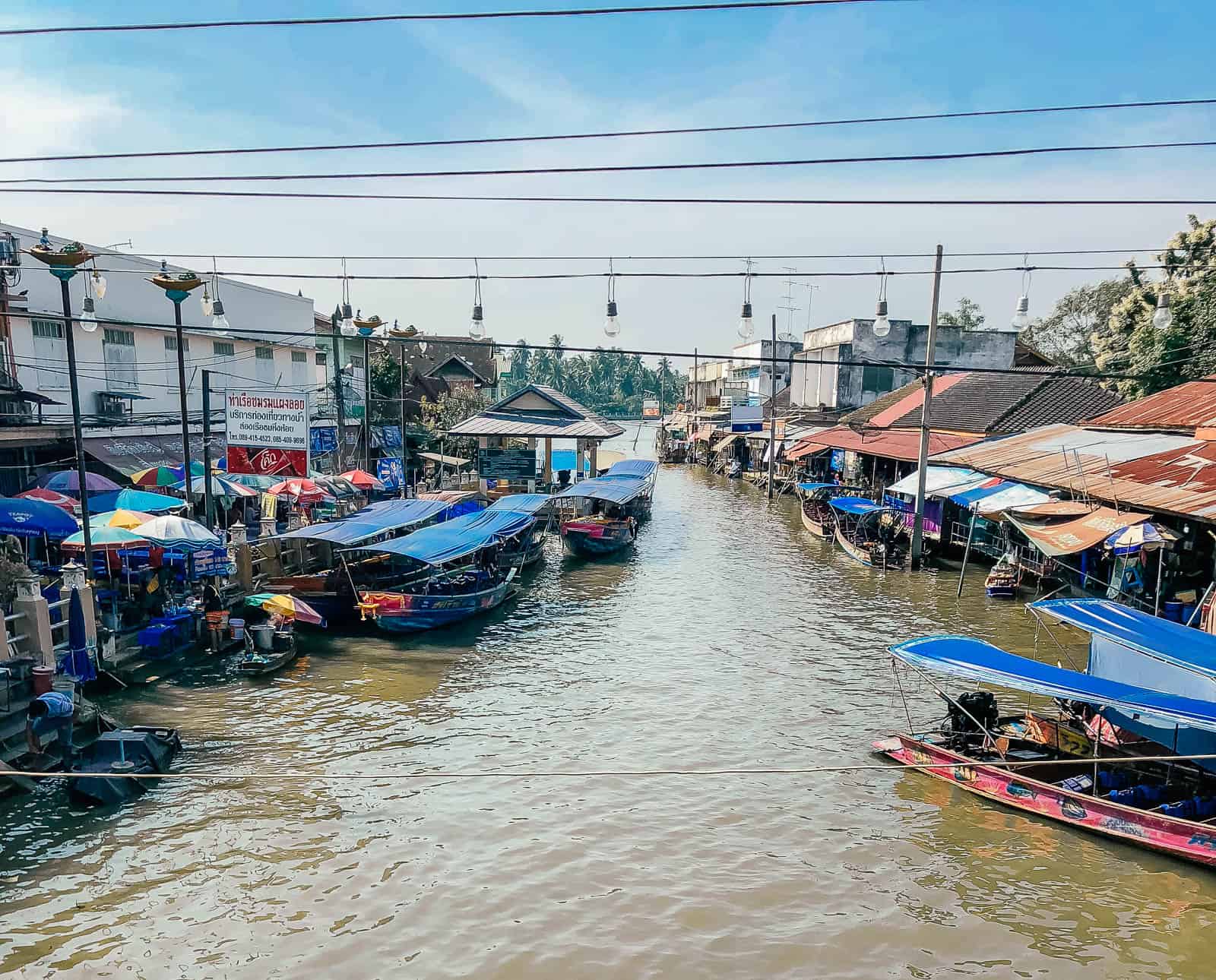 After our snack, Chef Jekky arranged a private boat tour along the river for us, which was so lovely and refreshing after walking around in the heat all morning. It was so interesting to see a part of Bangkok that is more rural and how the locals outside of the big city live.
Following the boat tour, it was of course time for more food. This is when we had the traditional floating market experience of ordering a large plate of fresh fish directly from a boat and precariously passed to us waiting on the docks.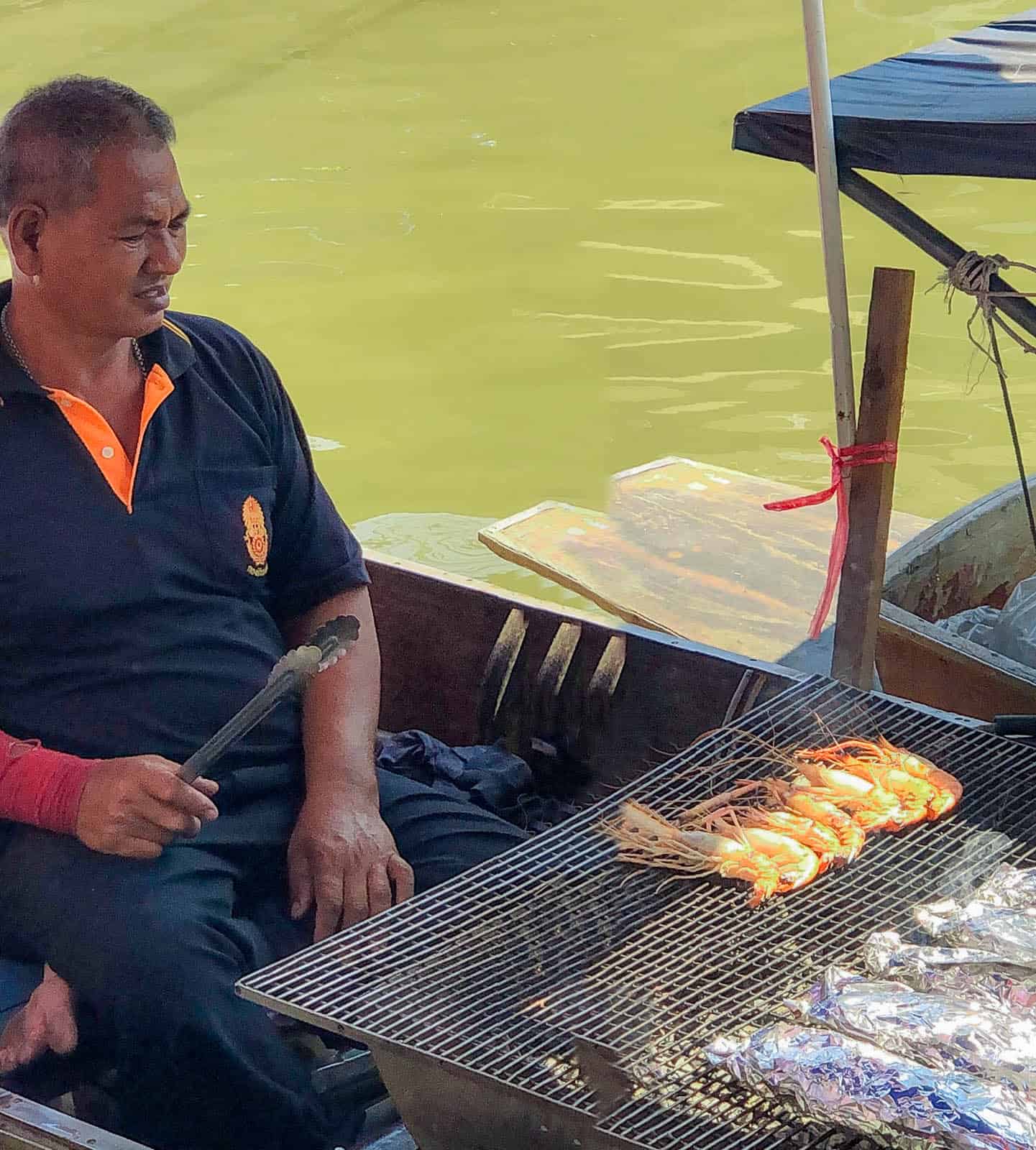 Honestly, the best grilled prawns I've ever tasted.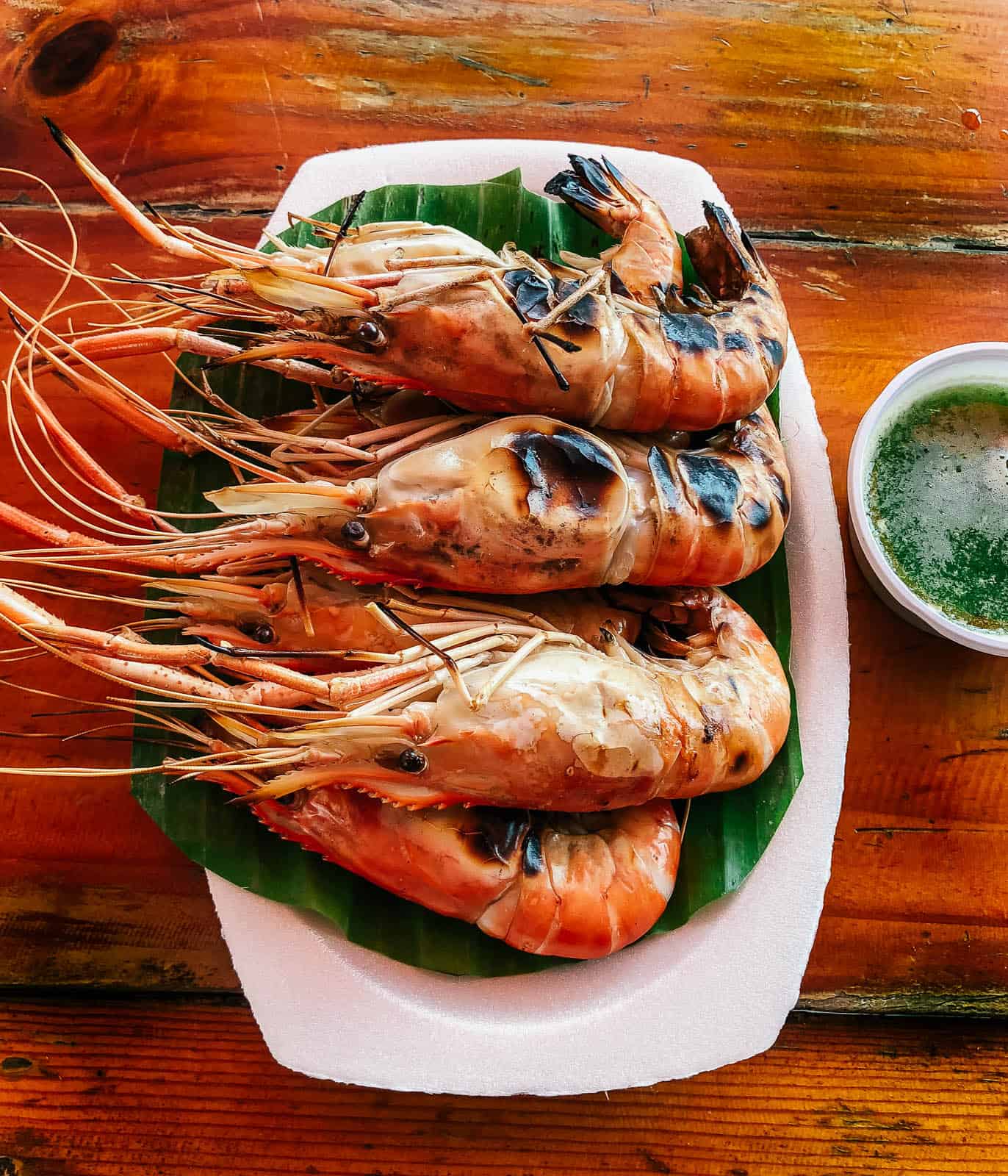 It took about an hour and a half to drive back to Bangkok after Amphawa, which was a nice respite from the heat and a good opportunity to rest a bit. Chef Jekky dropped us off right by Yaowarat Road with about 2 hours before our next food tour of the back alleys of Chinatown.
Since we had an hour and a half to kill before our next food tour started, we decided to take advantage of the inexpensive massages that are readily available all over Bangkok. We wandered into the Shanghai Mansion Hotel which was conveniently located right on Yaowarat Road, to find the Spa Burasari, which is located inside the hotel. We walked right up to the reservations desk and were easily able to sign up for half hour-long back and shoulder massages. The facilities were also very clean and the masseuses were professional.
Yaowarat Road (Chinatown) Food Tour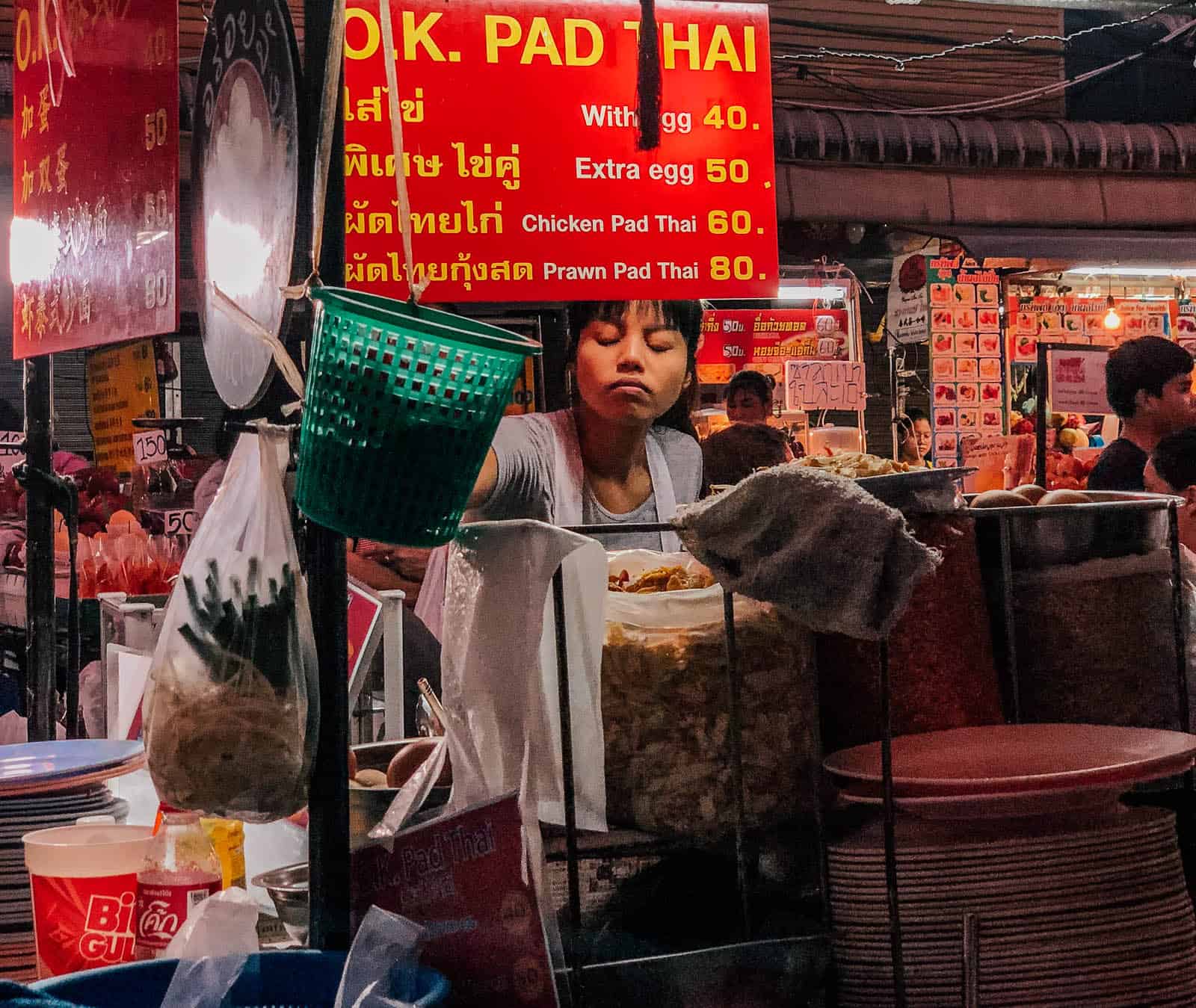 Bangkok's Chinatown is one of the largest in the world, and a must-see for anyone visiting Bangkok. Yaowarat Road and its surrounding alleys are known for amazing street food and bustling nightlife. Because it can be overwhelming and confusing, I definitely recommend booking a walking food tour of the area. This will help you get your bearings and also ensure you're eating at reputable places (and therefore less likely to get sick – but if you have a strong stomach by all means it can be super fun to go at it alone!).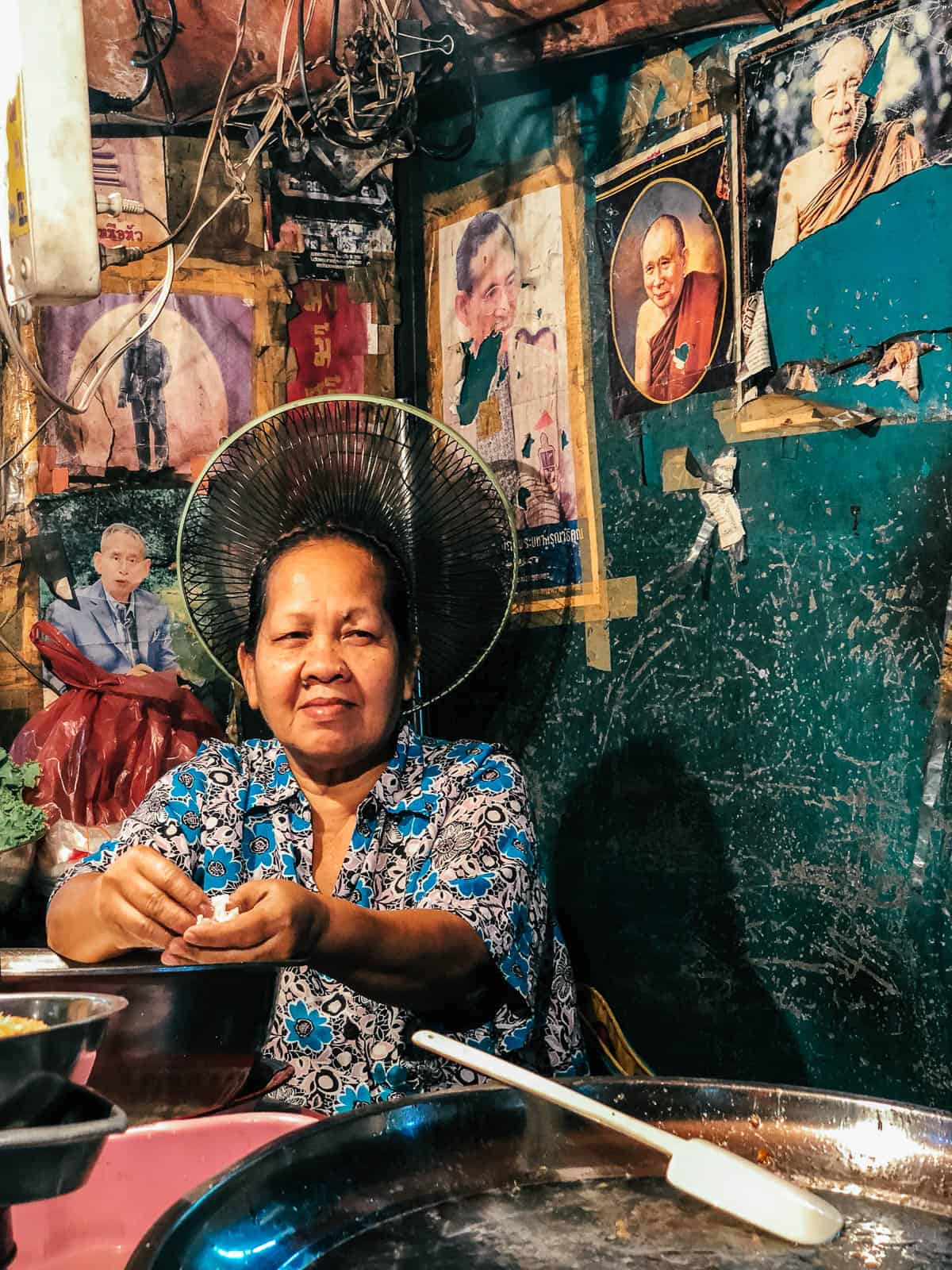 I booked A Chef's Tour Bangkok Backstreet Food Tasting Tour. This tour is led by Chef Nutth, who is the absolute sweetest and knows all the best places to eat the famous Chinatown street food. I also went back and forth via email with Luke, the owner of A Chef's Tour to see if they could accommodate a gluten-free private tour for us, since I wouldn't be able to eat most of the food on the regular tour (damn you, soy sauce).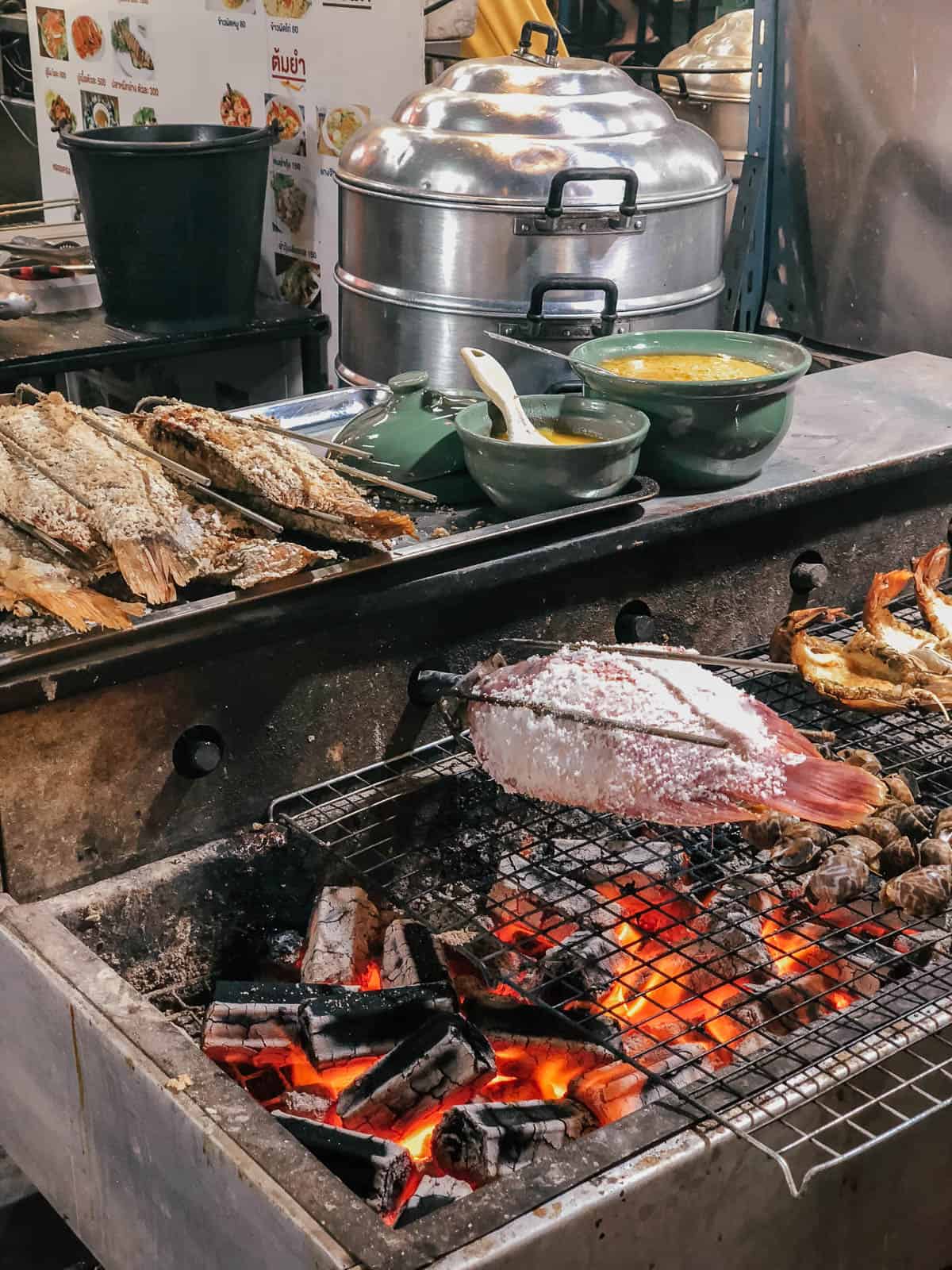 Initially it didn't seem like the food tour would work for me. But then, Luke got back to me to let me know Chef Nutth figured out a way to make the tour gluten-free! I was so happy! Luke was incredibly nice and very responsive, so I can't say enough good things about A Chef's Tour. (Disclaimer: if you have Celiac or a serious allergy, I do not recommend this tour as it's impossible to avoid cross-contamination).
My best advice for this tour is to come hungry.
Let me say this again so it really sinks in: Come hungry.
This is a four hour tour with at least 12-15 stops. I honestly wish we were hungrier on the tour, but we were already two food tours deep at this point 🙂 It didn't detract from our enjoyment though, one of the best parts of the tour was just talking to Cheff Nutth about Thai cuisine, how he finds the best places to visit and what life is like for a chef in Bangkok. Fun fact: Chef Nutth goes on his own to each stop on the tour every two months or so for "quality control" – to make sure the food is still as good as ever and hasn't declined in quality. I love that!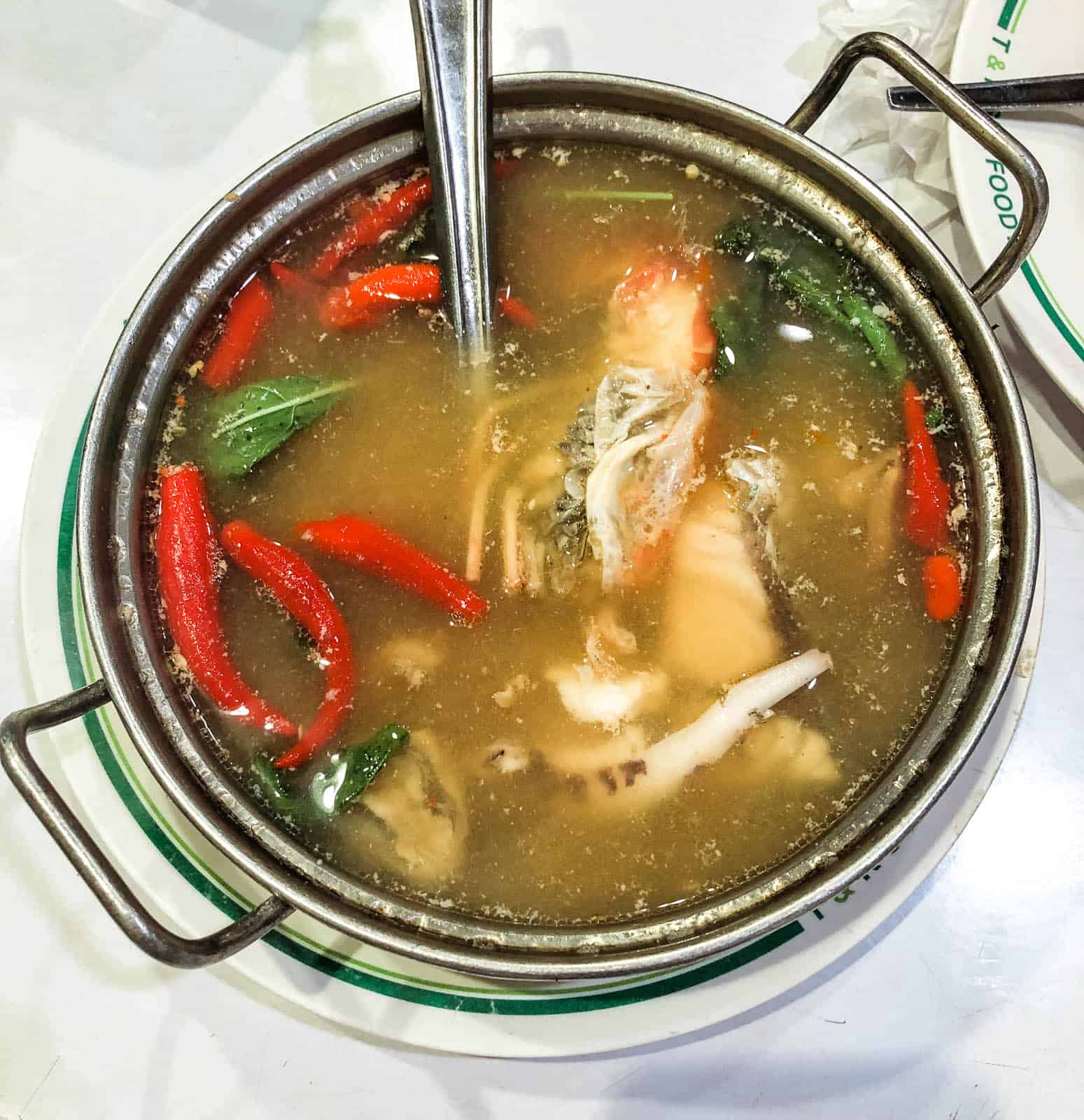 My favorite dishes were the Thai curry, tapioca dumplings, tom yum soup and mango sticky rice. JB's favorite dish was the "famous "worker's noodles" soup. Unfortunately, the soup wasn't gluten-free.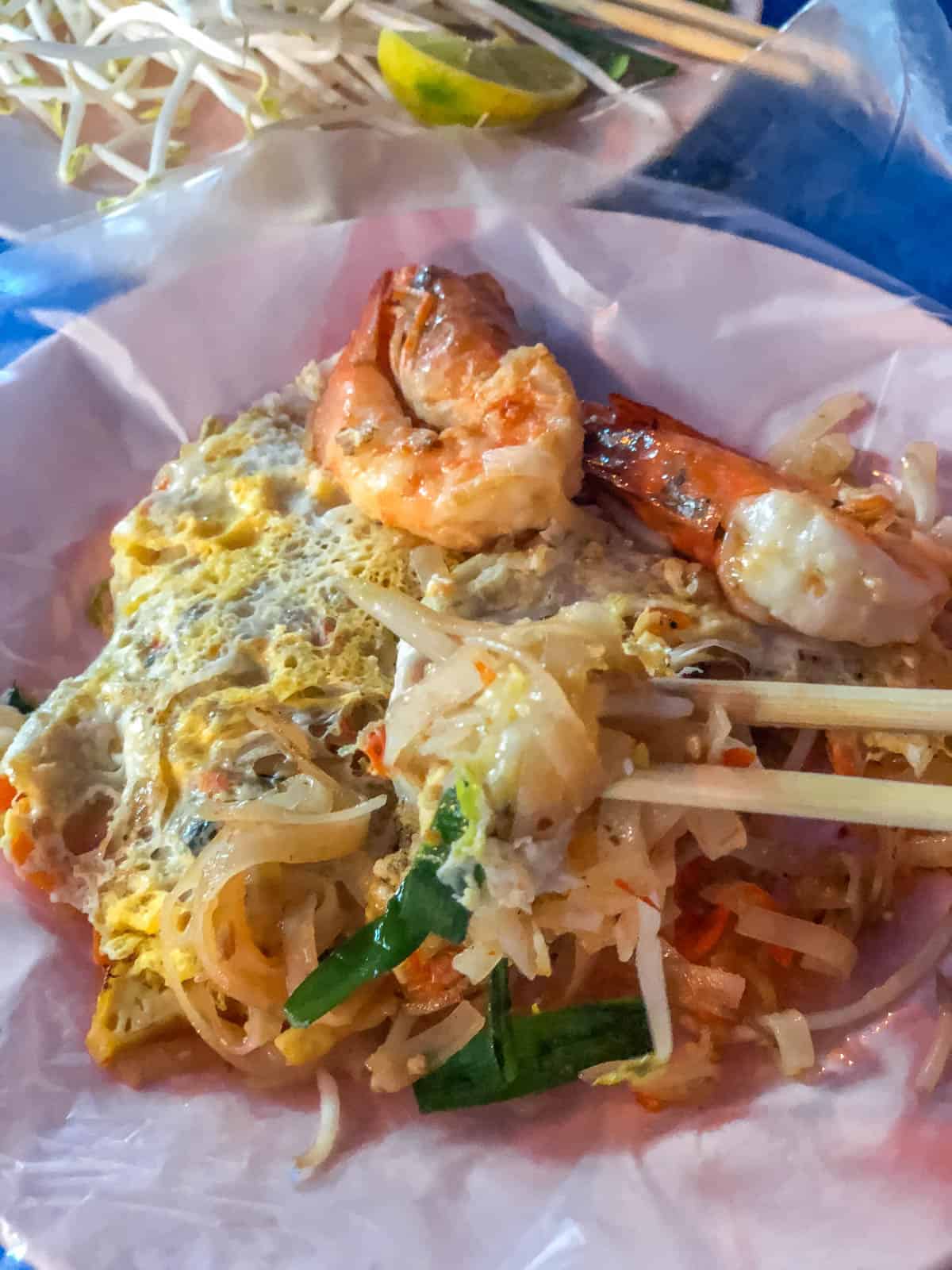 The most amazing thing about this tour was that you'd never find these stalls on your own unless you really knew where to go or look. We were wandering through (seemingly sketchy but perfectly safe) back alleys behind Yaowarat Road to find the best hidden gems.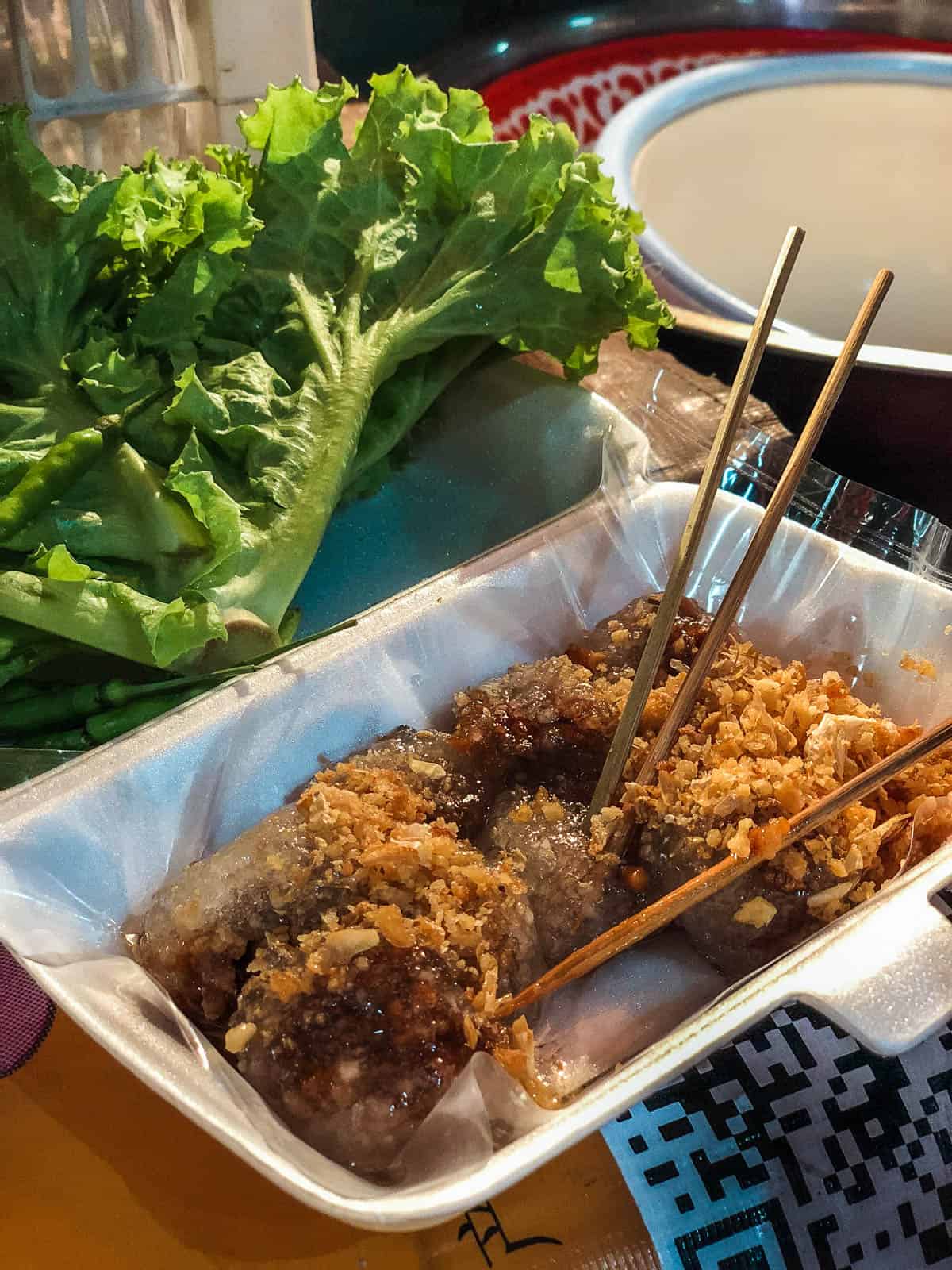 After the tour ended, JB and I were in such a food coma we went straight back to the hotel to collapse before our early flight to Chiang Mai, but if you had the energy I would recommend heading to one of the famous rooftop bars in Bangkok to enjoy a cocktail and the views of the city. In Chinatown, try River Vibe on top of River View guest house. If you want to check out the trendier rooftop bars try Vertigo at the Banyan Tree hotel or Cielo Skybar.
I know Lebua is the most famous rooftop bar due to its appearance in The Hangover II, but I recommend skipping it as it's insanely touristy, and you're basically paying $30-$40 USD (average price of a drink there)to take a photo.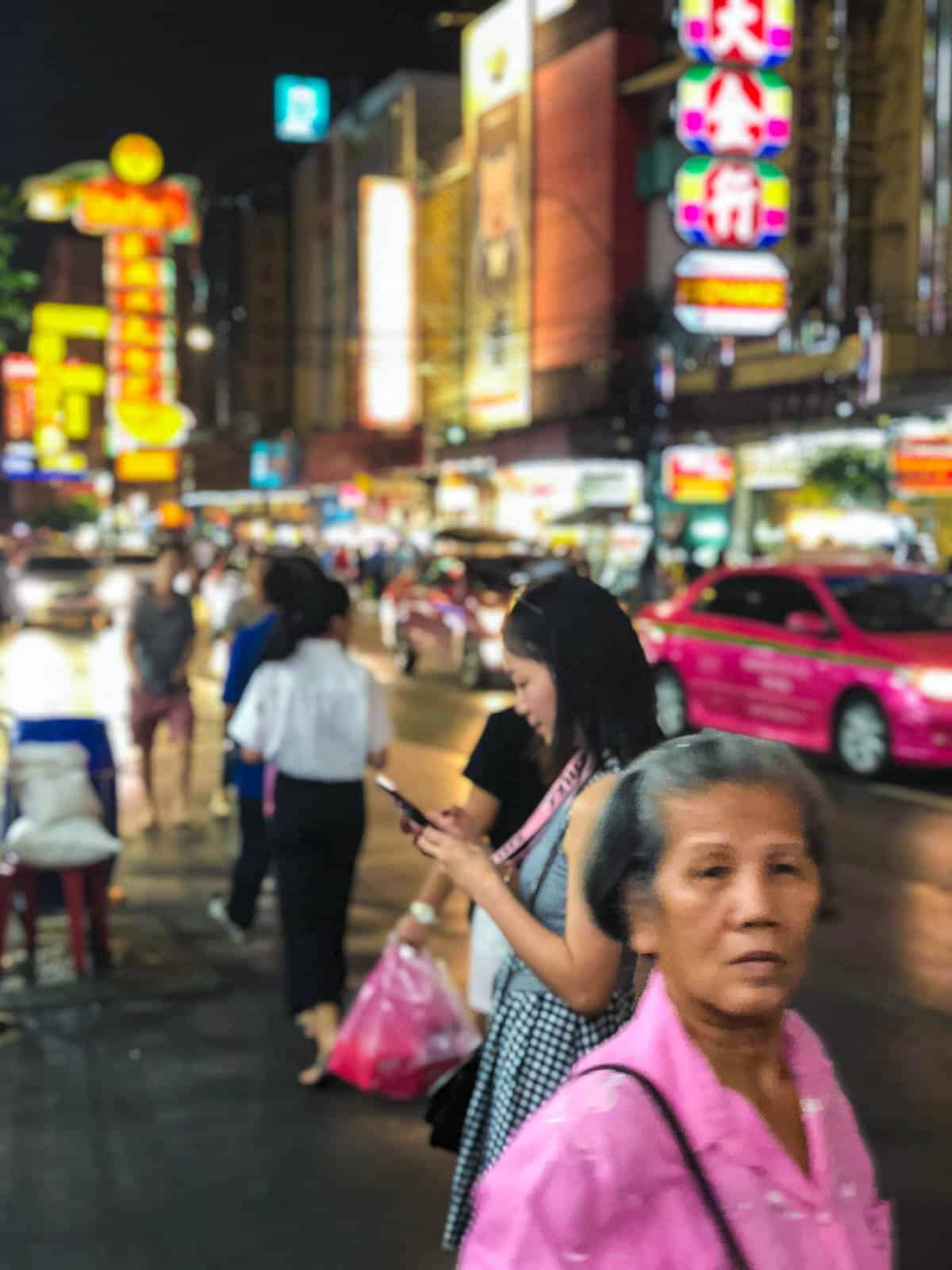 And that's a wrap on Bangkok! I would love to hear your experiences in this city in the comments below! Do you have any hidden gem recommendations? Did you love or hate Bangkok? Also, don't forget to save this post to Pinterest so you have it handy for future planning!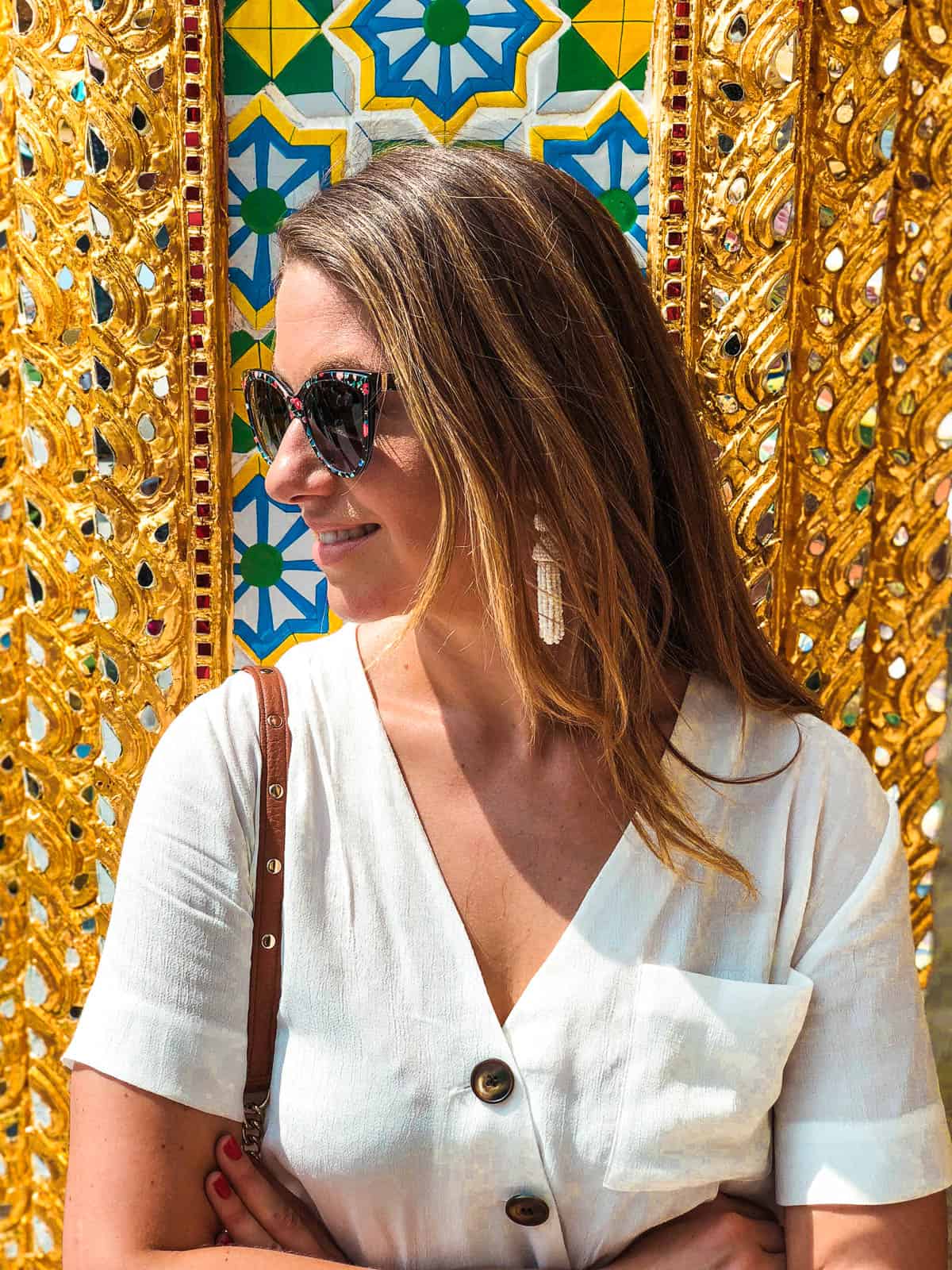 Love this post? Pin it for later!