Certain prints are just classic. They'll never go out of style. Leopard print, herringbone, plaid.
Houndstooth is also one of those classic prints that are always chic, and always in style season after season. In this post I'm rounding up all my favorite houndstooth outfit ideas!
(Disclosure: This post may contain affiliate links which means I may earn a small commission if you make a purchase from a link in this post, at no additional cost to you. Additionally, as an Amazon Associate I earn from qualifying purchases. Thank you for supporting this site!)
Hat / Turtleneck / Skirt / Bag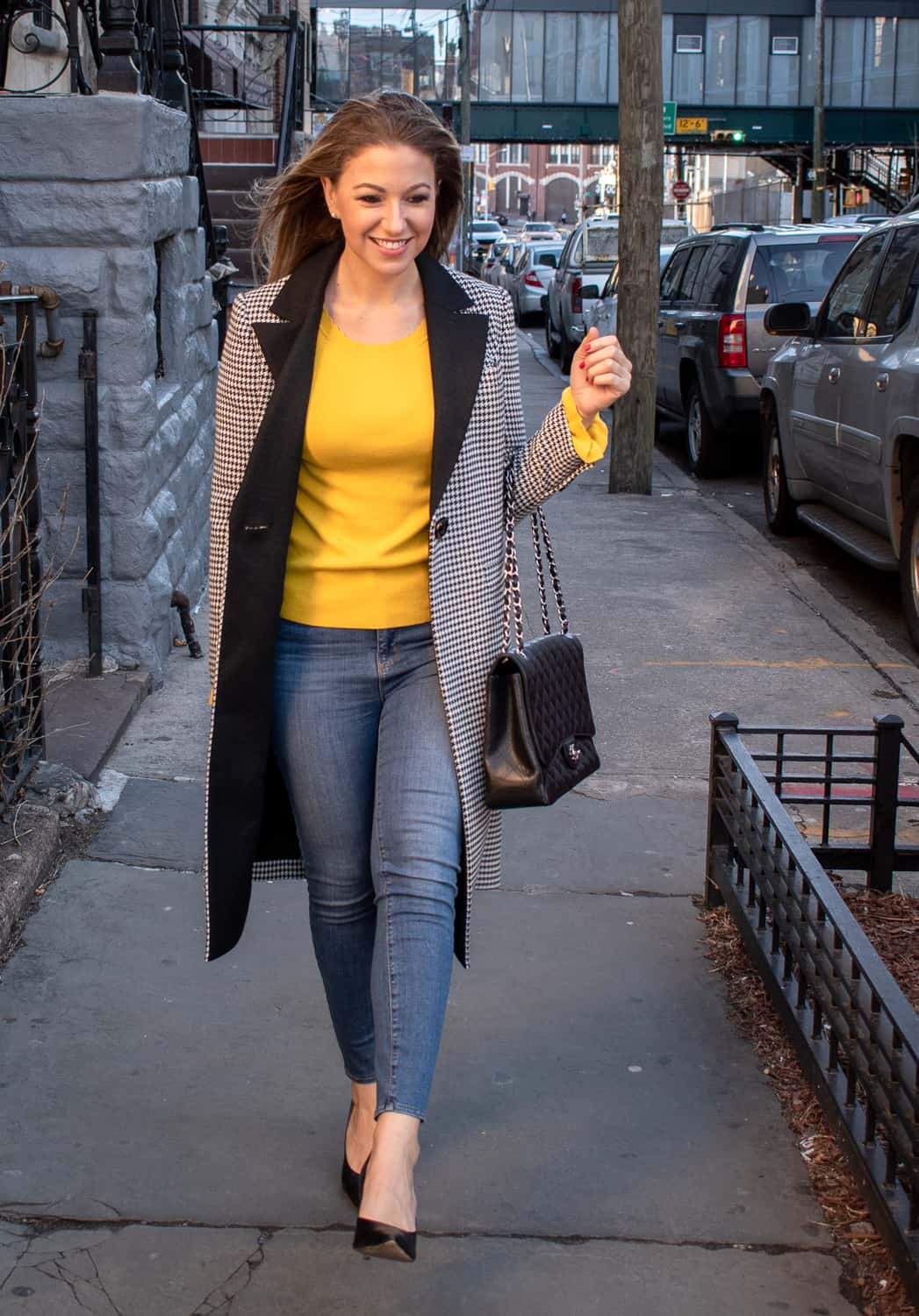 Coat (similar) / Sweater / Jeans / Heels
Is Houndstooth Still In Style?
I have always had a love affair with houndstooth coats and blazers, so to me it has always been in style! But we can thank Emily in Paris (love to hate watching that show, but obsessed with the fashion!) for drawing renewed attention to houndstooth outfits, like this green houndstooth blazer Lily Collins wore on the show, ohh la la je t'aime!
Hat / Turtleneck / Skirt / Bag
Best Ways To Wear Houndstooth Print
This print is found everyone from coats to skirts to sweaters. I consider houndstooth to be a neutral print so you can really wear it with anything. I love a houndstooth coat over a pop of color like a bright sweater, or a houndstooth skirt with a black turtleneck and boots, like I've styled in this post.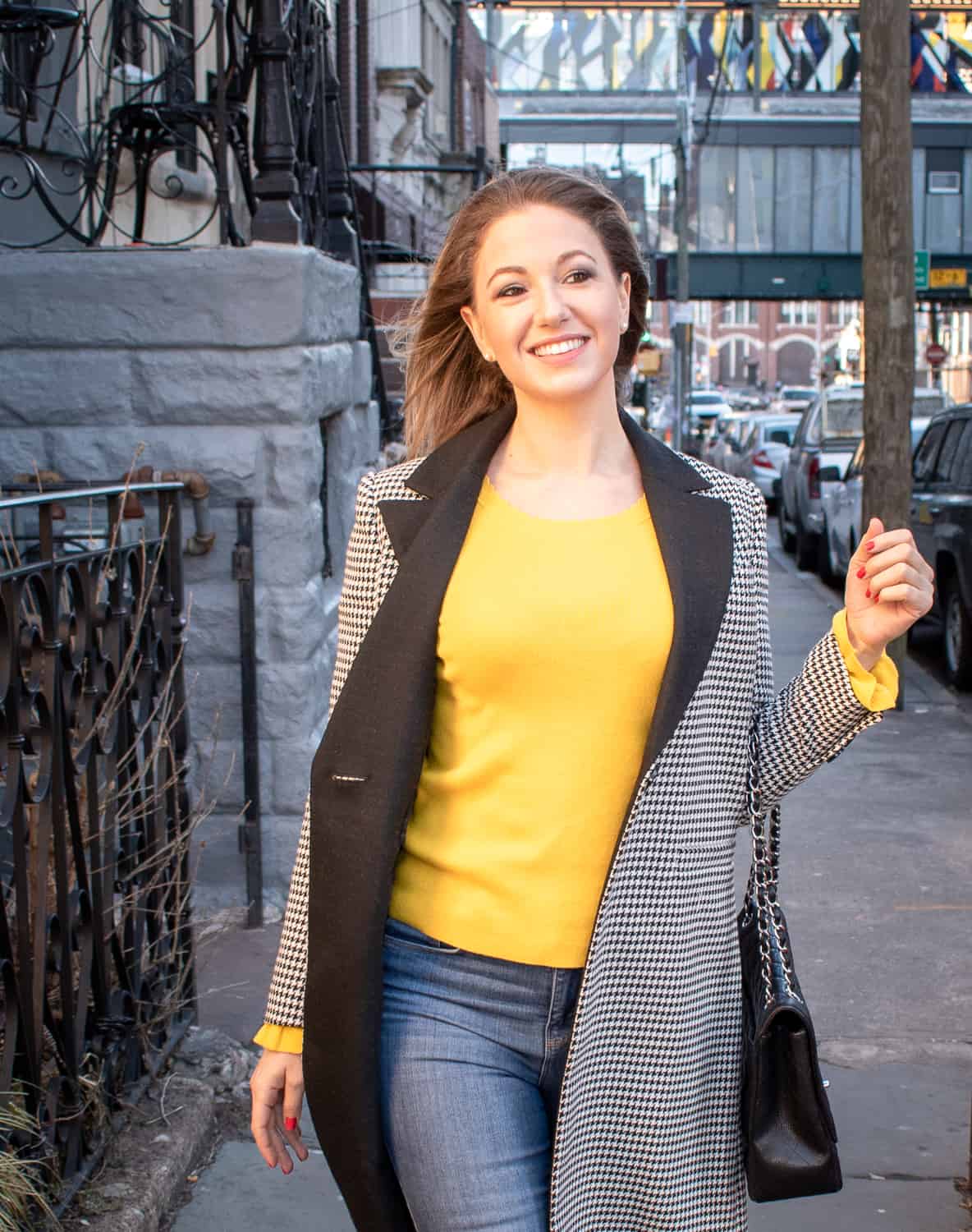 Coat (similar) / Sweater / Jeans / Heels
How To Style A Houndstooth Coat
In this outfit I've styled houndstooth two ways. I paired my Alice and Olivia houndstooth coat with a bright sweater and my favorite inexpensive classic pumps. The Alice and Olivia coat has a matching skirt but I chose to style it separately with a black turtleneck and knee-high boots.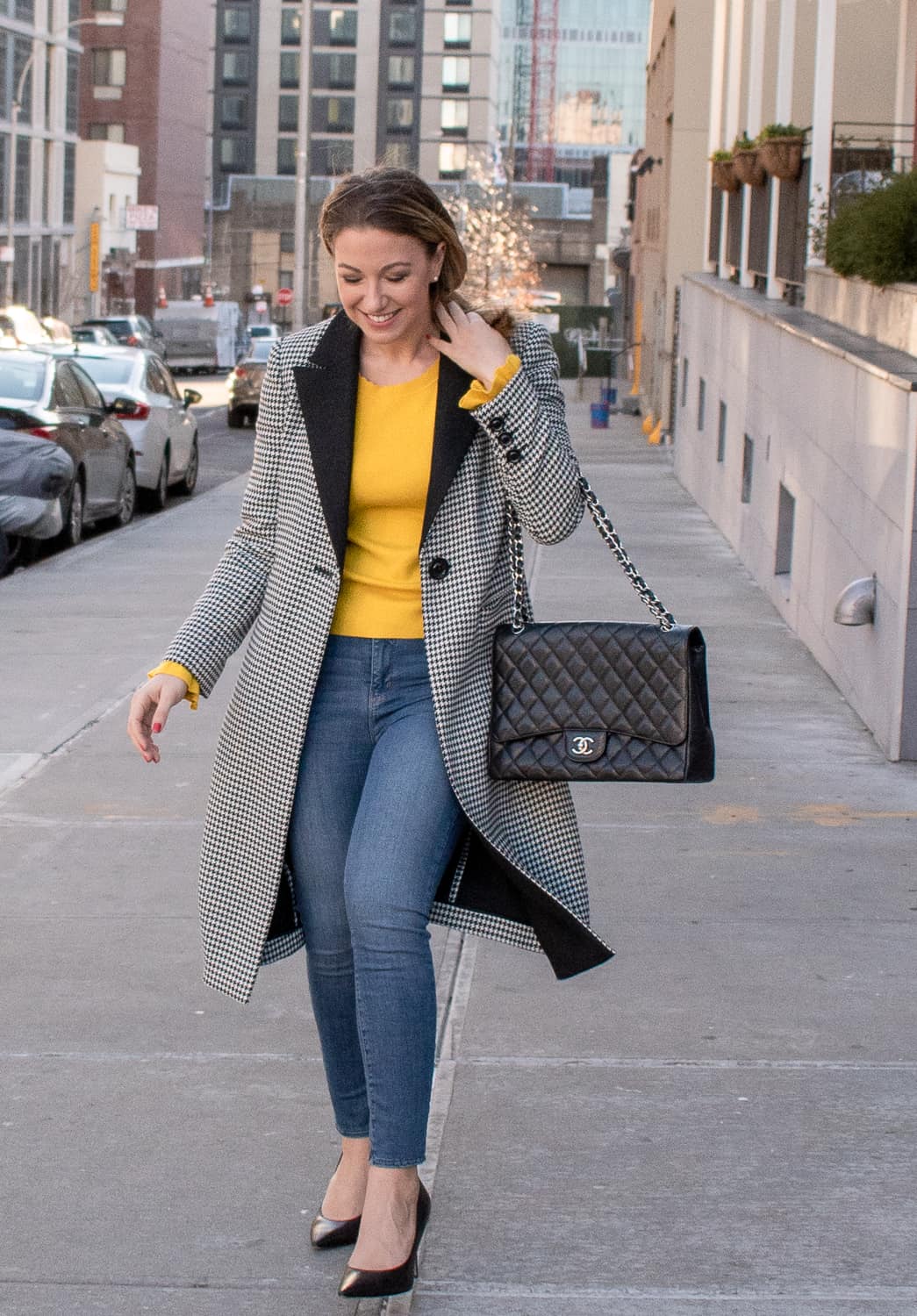 Coat (similar) / Sweater / Jeans / Heels
Shop More Houndstooth Coat Outfit Ideas
How to Style A Houndstooth Skirt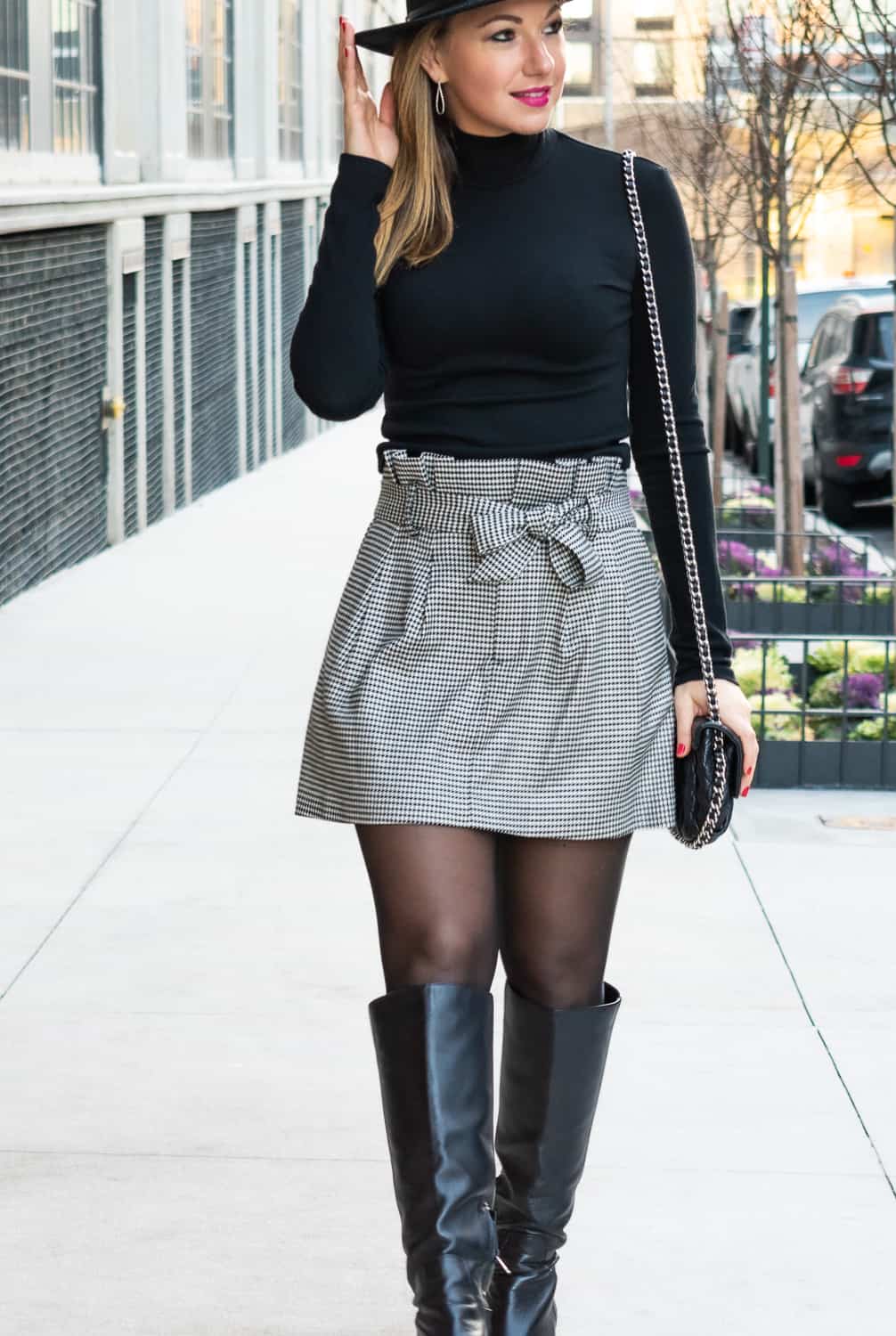 Hat / Turtleneck / Skirt / Bag
My favorite way to style a houndstooth skirt is with a black turtleneck, knee-high boots and a hat. I've also paired the skirt with my favorite vintage chanel bag and added applied fuschia lipstick for a fun pop of color!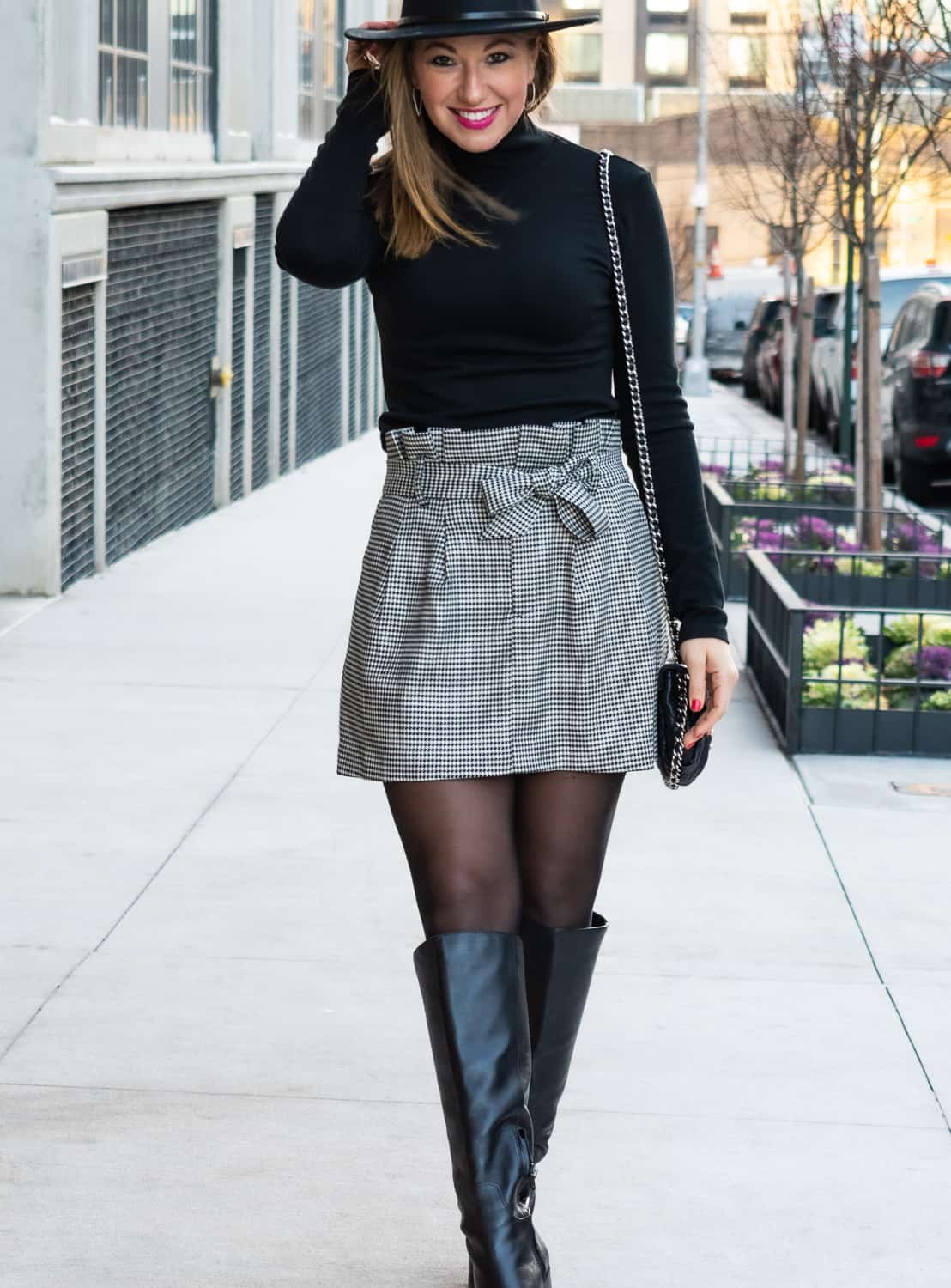 Hat / Turtleneck / Skirt / Bag
Shop Houndstooth Skirts
Even More Houndstooth Outfit Ideas
You may also enjoy these posts:
Bathing Suits For Every Style and Budget
The Best Valentino Rockstud Wedge Dupes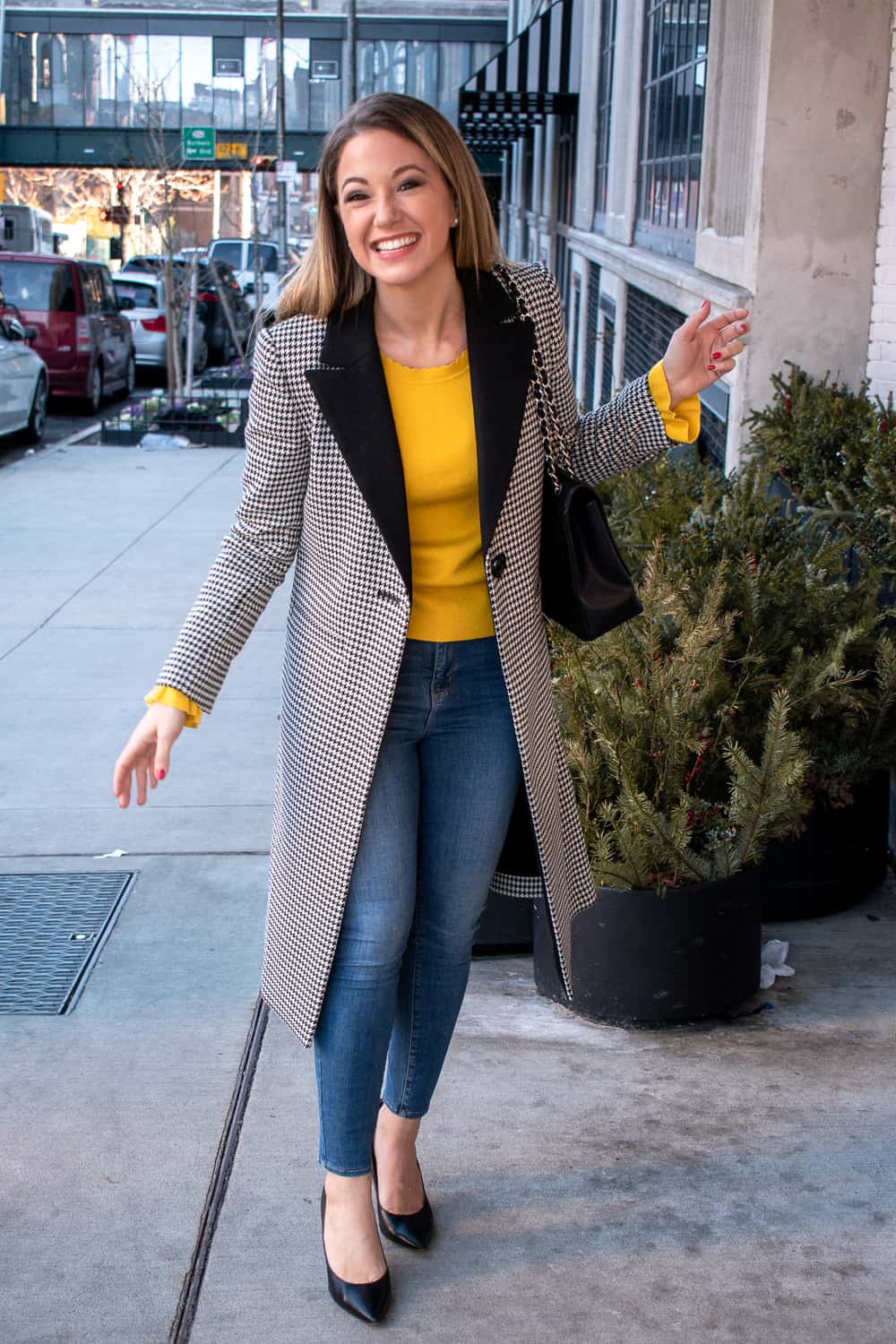 Coat (similar) / Sweater / Jeans / Heels