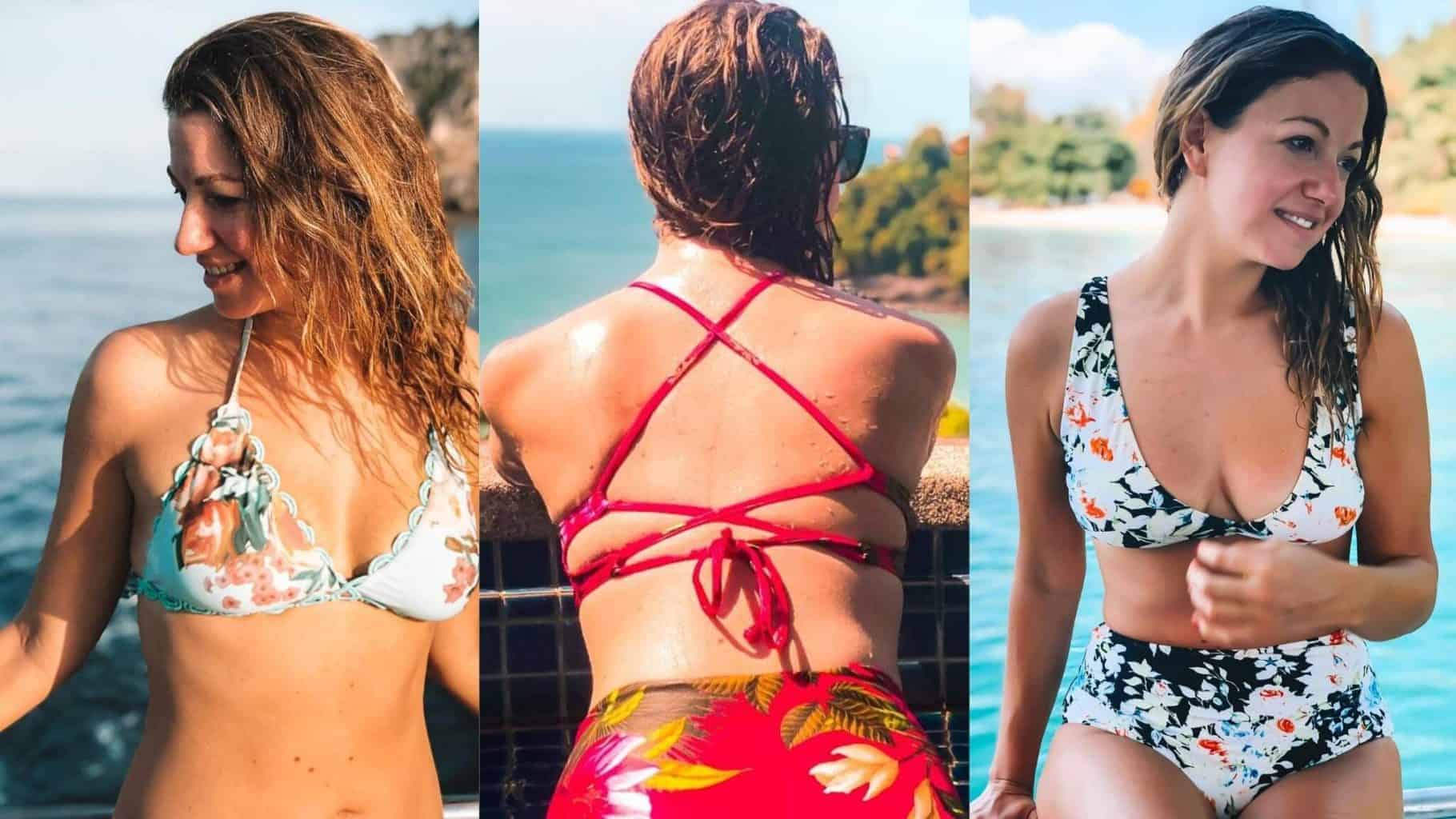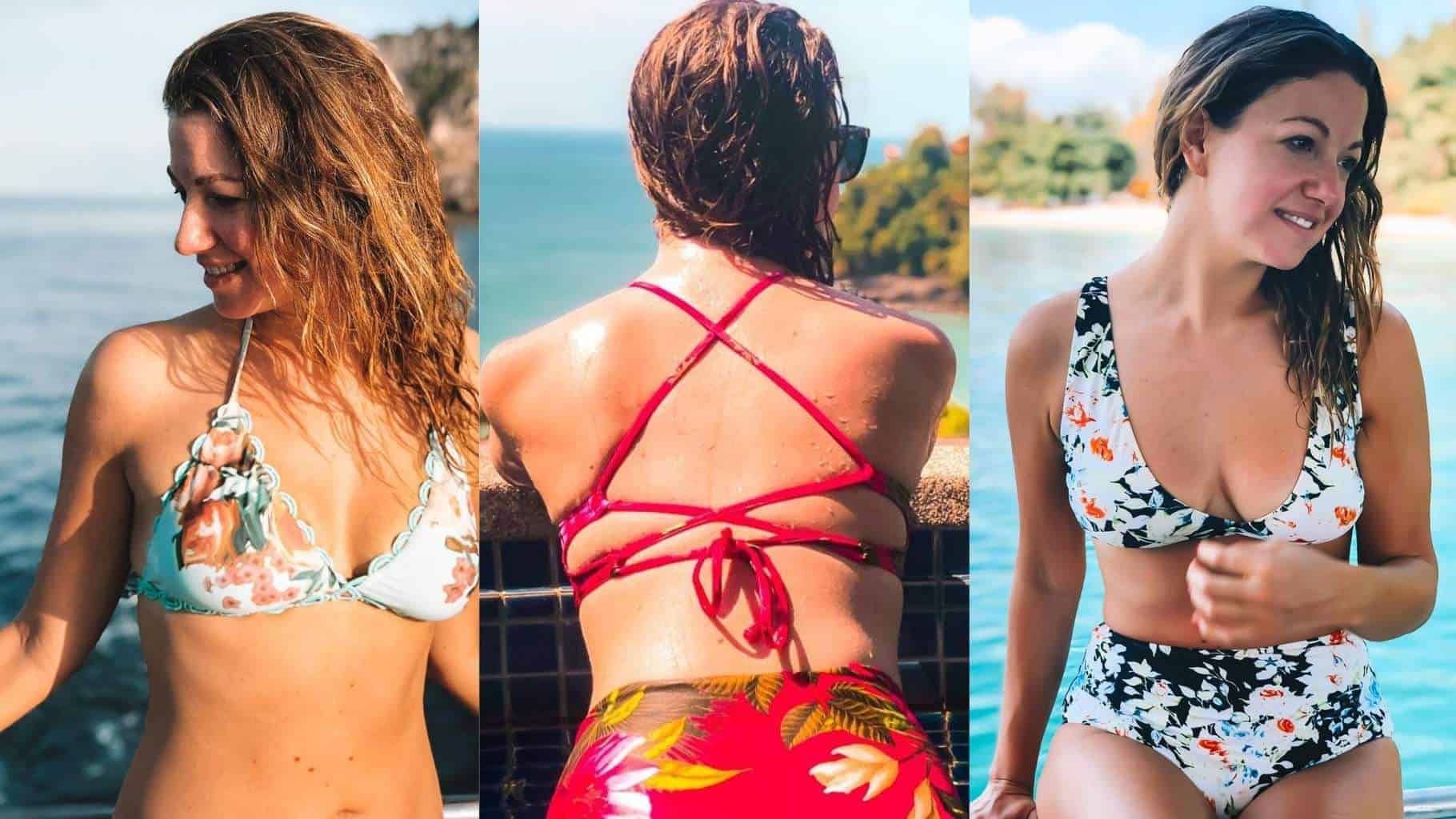 One (similar) | Two (similar) | Three
Do you have as much of a swimsuit obsession as I do? Even though shopping for bathing suits can be, umm, tough – let's face it, it's worse than jean shopping. You have to try on a million different types and styles to find one that you love, is flattering, comfortable and that you feel good in. It's worth the effort though – I love adding to my collection of one-pieces and bikinis! In this post I am rounding up bathing suits for every style and budget.
(Disclosure: This post may contain affiliate links which means I may earn a small commission if you make a purchase from a link in this post, at no additional cost to you. Additionally, as an Amazon Associate I earn from qualifying purchases. Thank you for supporting this site!)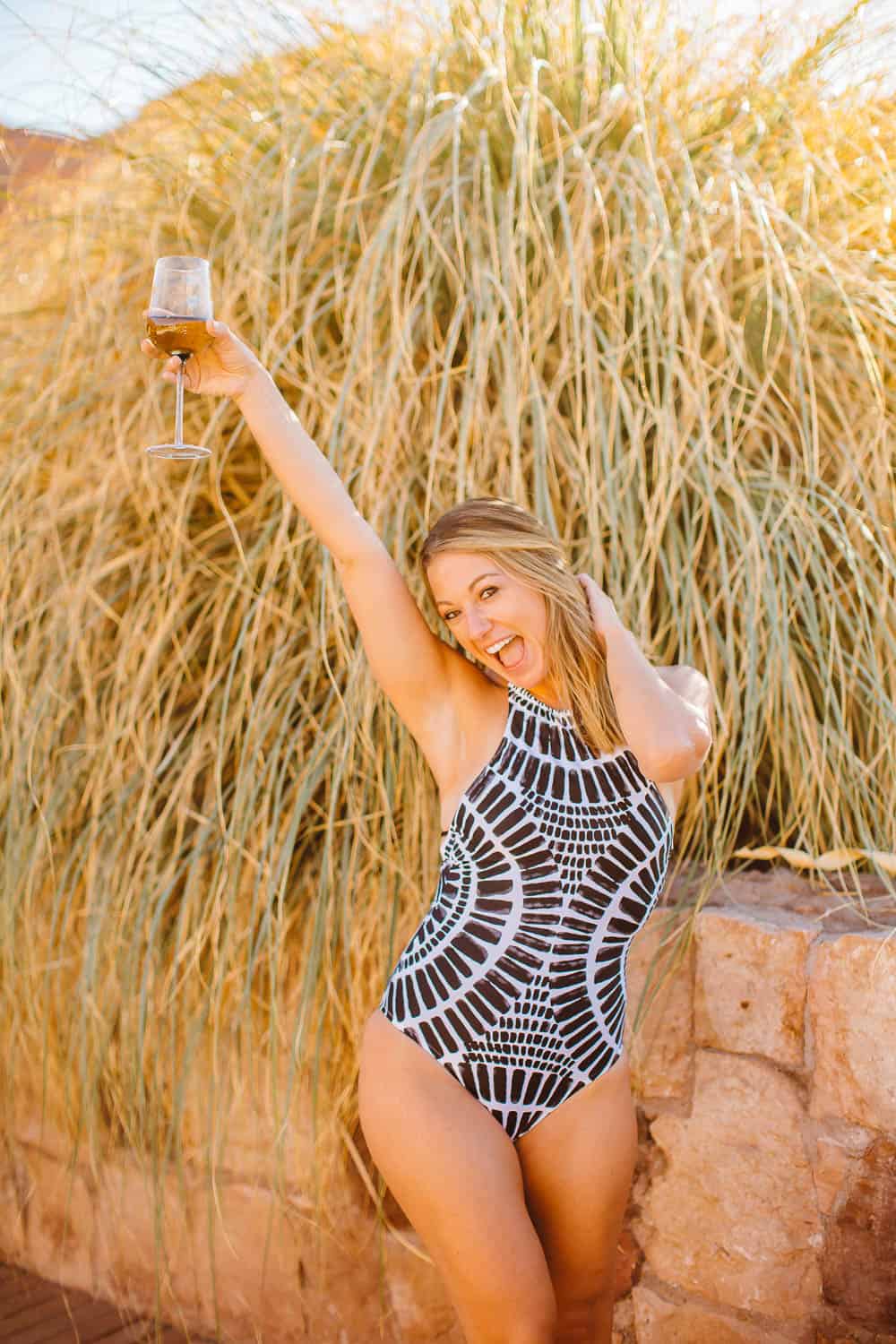 I also tend to get sick of my bathing suits quickly so I usually refresh my collection every season, keeping my classic staples but adding one or two new bathing suits in a fun, on-trend style. And this season, summer 2020, has seen so many cute bathing suit styles!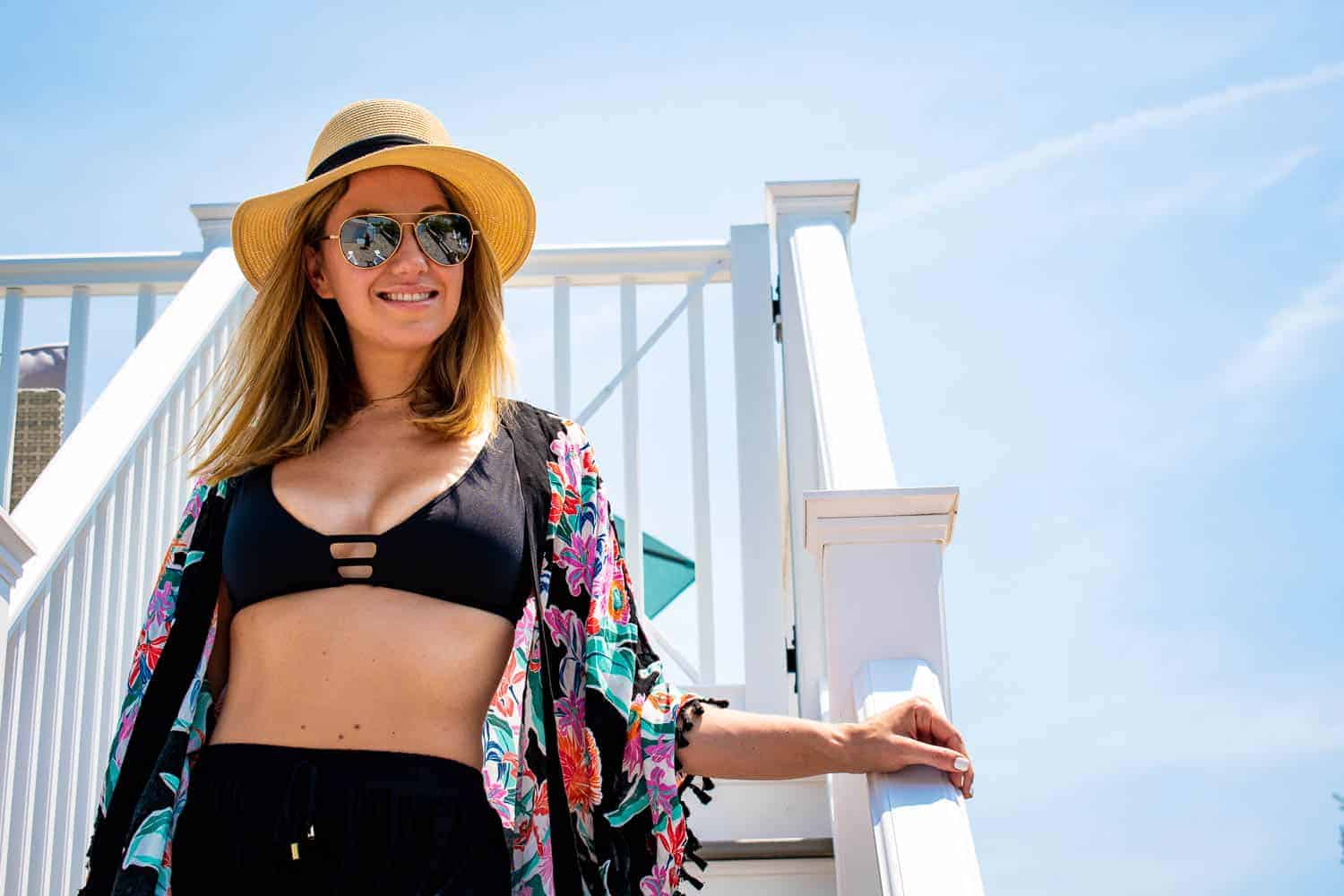 And if you're itching for a beach vacation to wear all your cute new swimsuits, you might enjoy reading my review of The Beloved Playa Mujeres hotel, an amazing all-inclusive luxury hotel in Cancun.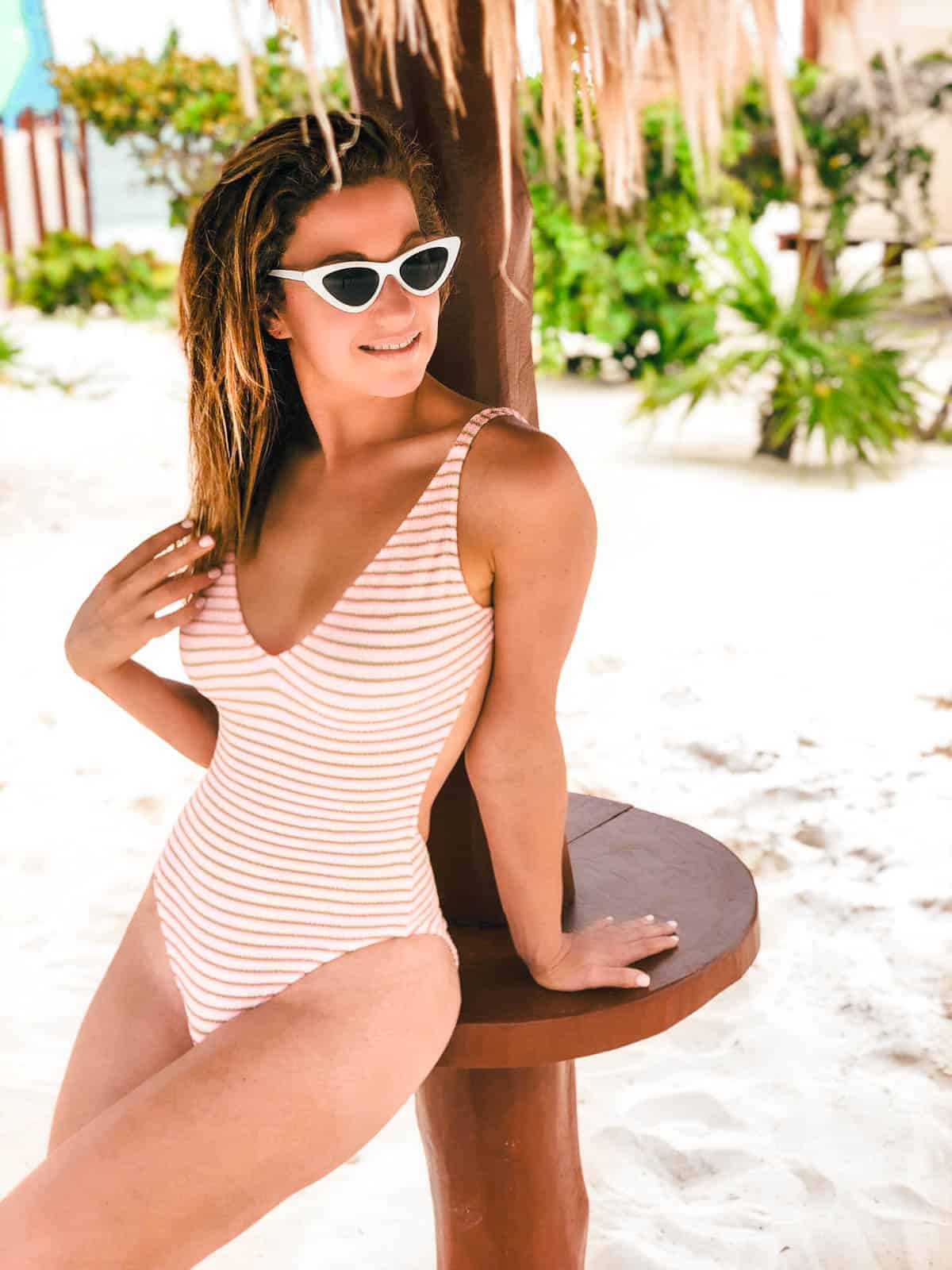 One-piece (similar) | Sunglasses
Top Bathing Suit Trends For 2021 And 2022
Cutout one-piece swimsuits: Lots of super-flattering one-piece bathing suits with strategically placed cutouts gives such a flattering shape while still providing moderate to full coverage!
One-shoulder bathing suits: One-shoulder bikini tops have been all the rage and pro tip: could double as a super-comfortable one-should bra under your tops!
Tie-dye: I've expressed my obsession with all things tie-dye many times. I am so happy to see (and buy!) bathing suits in this trendy pattern. I bought this tie-dye bikini, this one and just added this one to my cart!
Animal Prints: I can't get enough leopard print! I'm almost embarrassed to admit that when I took inventory of my bathing suits, I have THREE (!!) leopard print bikinis…this one, this one from Target and this one. I also just purchased this snakeskin bikini and have this Target high-waist snakeskin bathing suit in my cart!
So let's round up all my favorite bathing suits that you can shop right now! I'm sharing my favorite affordable Target and Amazon bathing suit and bathing suits in leopard print, tie-dye, cut-out and one-shoulder styles!
Bathing Suits For Every Style And Budget
Target Swimsuits Under $50
Cutout And One Shoulder Bathing Suits
Animal Print Swimsuits
Tie-Dye Bathing Suits
Even More Of The Best Bathing Suits For Every Style And Budget

Love this post? Save it on Pinterest!