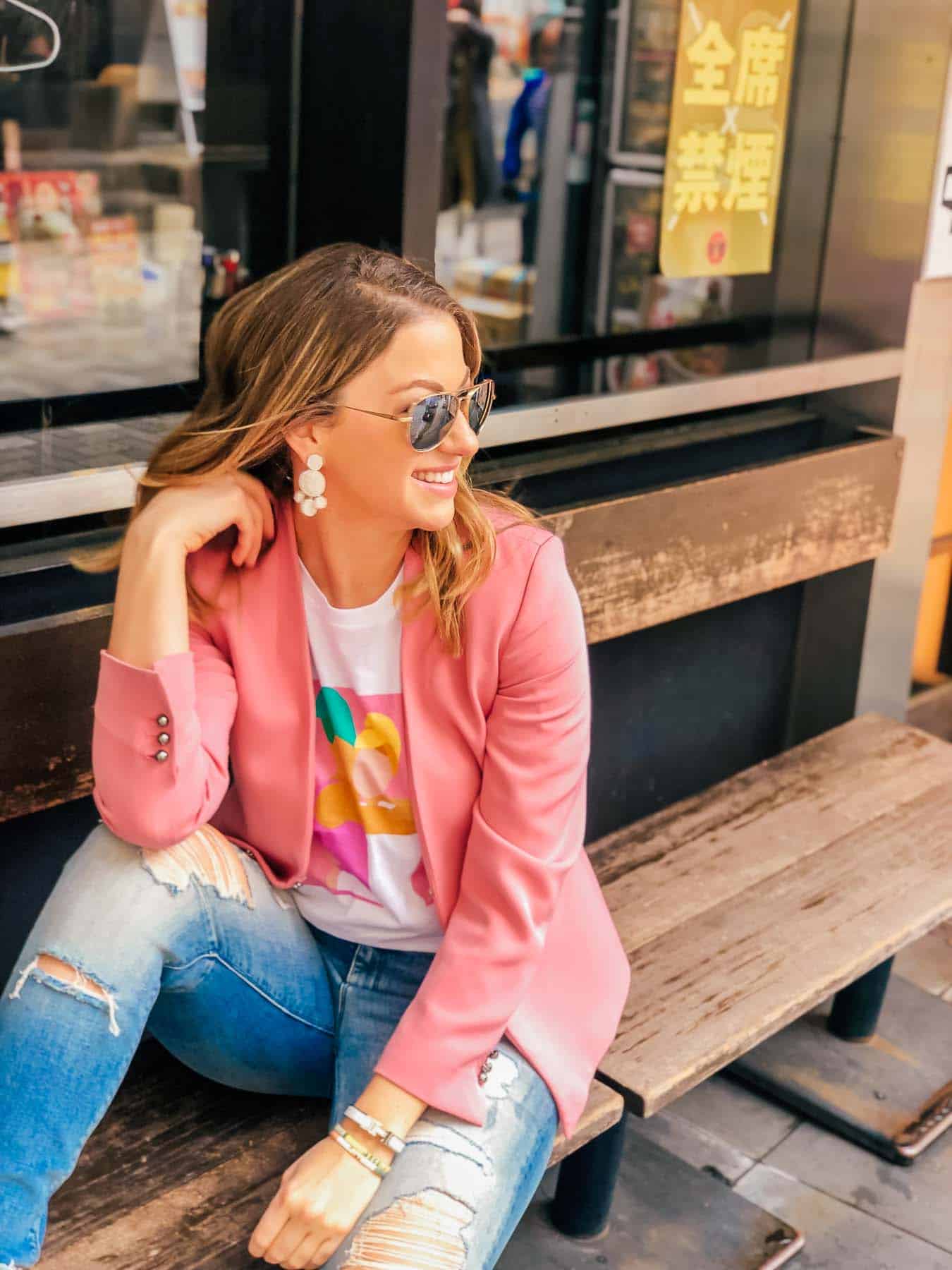 Where To Find The Best Shopping In Tokyo By Neighborhood And Their Must-Visit Stores
Tokyo is an amazing, vibrant city with so much to see and also happens to be one of the best shopping cities in the world. From the Ginza shopping district to the Harajuku shopping district and everywhere in between, there is something in Tokyo for every type of shopper and budget.
Shopping in Tokyo isn't just anime, Hello Kitty and Kawaii (cutesy) culture. We're talking some serious fashion, especially if you're a lover of vintage designer bags or a sneaker aficionado.
(Disclosure: This post may contain affiliate links which means I may earn a small commission if you make a purchase from a link in this post, at no additional cost to you. Additionally, as an Amazon Associate I earn from qualifying purchases. Thank you for supporting this site!)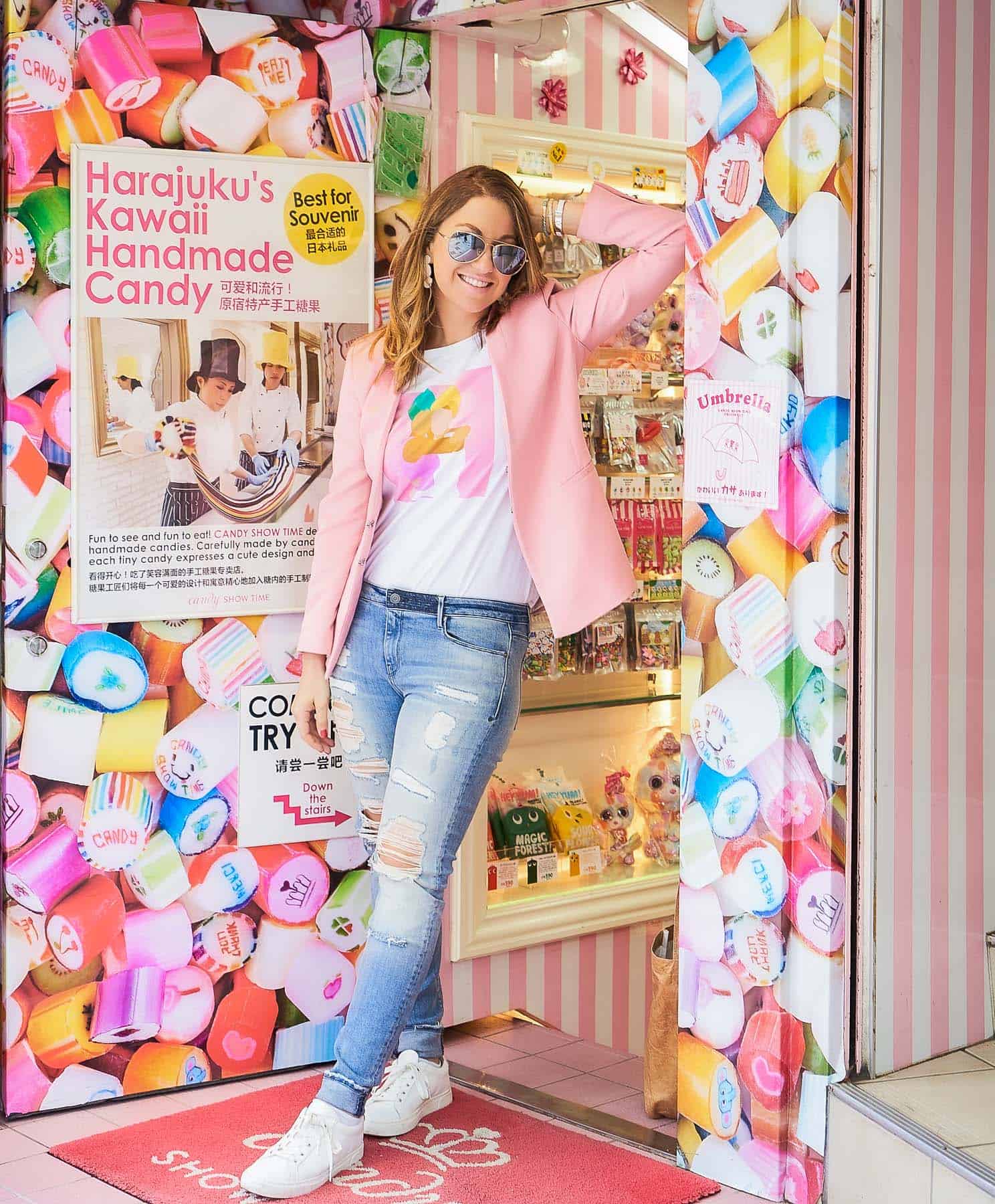 (Additional disclosure: I visited Tokyo as part of a work trip with my former employer, unrelated to this blog. All my expenses save for personal purchases were covered by my former employer as part of the trip. This post is not sponsored in any way and all opinions are my own)
I've been fortunate to visit Tokyo twice now and each time I discover new, unique items that I can't wait to gift my friends and family (okay, keep for myself). Ahead are my picks for must-visit stores in Tokyo in each of Tokyo's most popular neighborhoods.
Best Shopping In Ginza, Tokyo District
The Ginza district is definitely the shopping capital of Tokyo, filled with its glittering skyscrapers and 10+ floor malls. And I know what you're thinking – I flew all this way and you want me to go to a mall? But trust me, malls in Tokyo are an experience unto themselves and the best department stores in Tokyo are definitely worth a visit.
Ginza Six: For The Ultimate In Luxury Shopping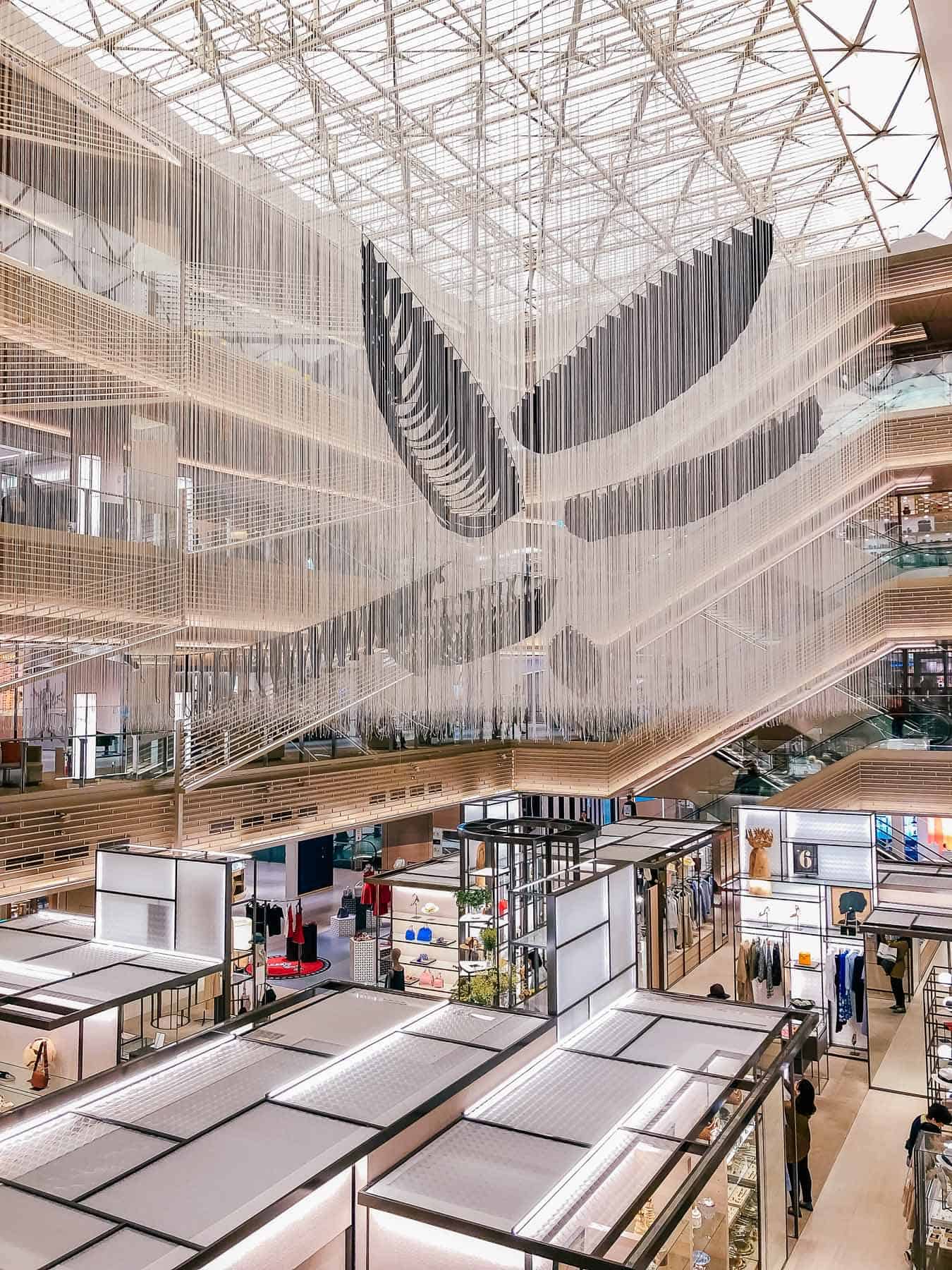 No list of the best shopping in Tokyo would be complete without Ginza Six. Ginza Six is one of the most beautiful shopping malls I have ever seen, and probably the most famous department store in Ginza (maybe even all of Tokyo). It's hard to go wrong when wandering through the 241 stores and restaurants in this architecturally-inspiring building.
You'll find just about every major designer store, plus an outpost of one of the most beautiful bookstores I've ever seen, Tsutaya Books (more on that below), a zen rooftop garden and multiple fantastic restaurants. Head straight to the 6th floor to visit the grand premium food hall because trust me, this is no average mall food court. You can sample some of the best sushi and sake in the world here. I can highly recommend Sushidokoro Jun at the 6th floor food hall.
After lunch, stop by Gyokusendo on 4F to admire (or purchase, depending on your budget) handcrafted copperware home accessories made in Japan.
Matsuya Ginza Department Store: For An Incredible Food Hall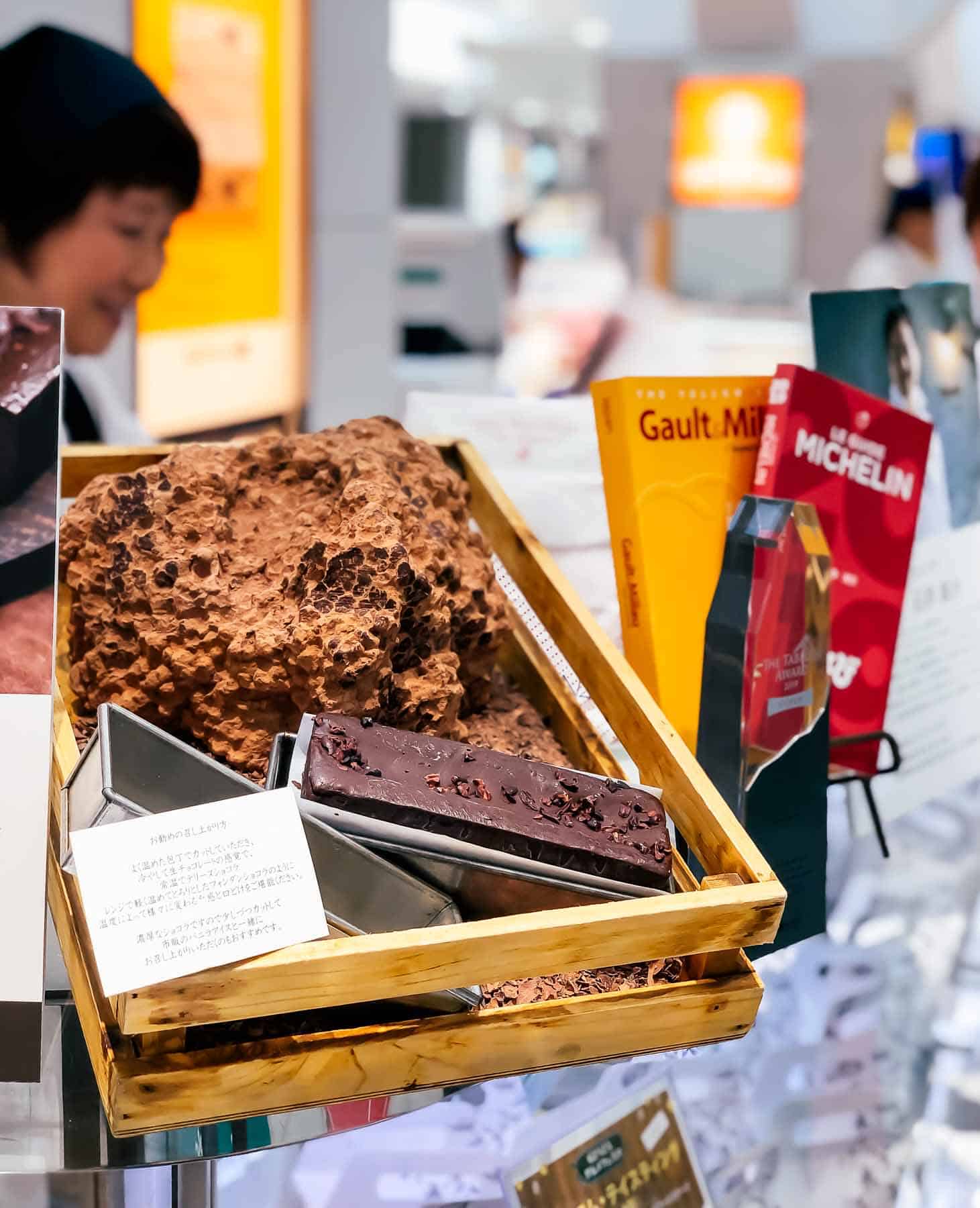 Another of Ginza's famous luxury malls, I stumbled into Matsuya when I was trying to hunt down a Pierre Herme chocolate store to purchase a gift. Pierre Herme is a famous chocolate brand only sold in select countries in Europe, Asia and Qatar, so I was excited to find this location!
Similar to Ginza Six, Matsuya definitely covers off on all the big global luxury brands but the real star of Matsuya is the basement food hall and market. Whereas Ginza Six's food hall is mainly restaurants where you'll sit at a table or counter, these are gourmet food stalls with goods to purchase and takeaway. I was drooling over every display, especially the fresh produce and cheese. It's a must-visit food market in Ginza.
Dover Street Market: For Avant-Garde Fashion
One of Tokyo's most famous concept stores, Dover Street Market is home to the Comme des Garcons flagship store, a variety of global designers such as Prada and Miu Miu as well as limited edition installations and collaborations (like the current elephant space). The spaces are insanely cool, futuristic and one of the best (if most expensive) places to shop in Tokyo.
Higashiya Ginza: For A Modern Twist On Traditional Japanese Sweets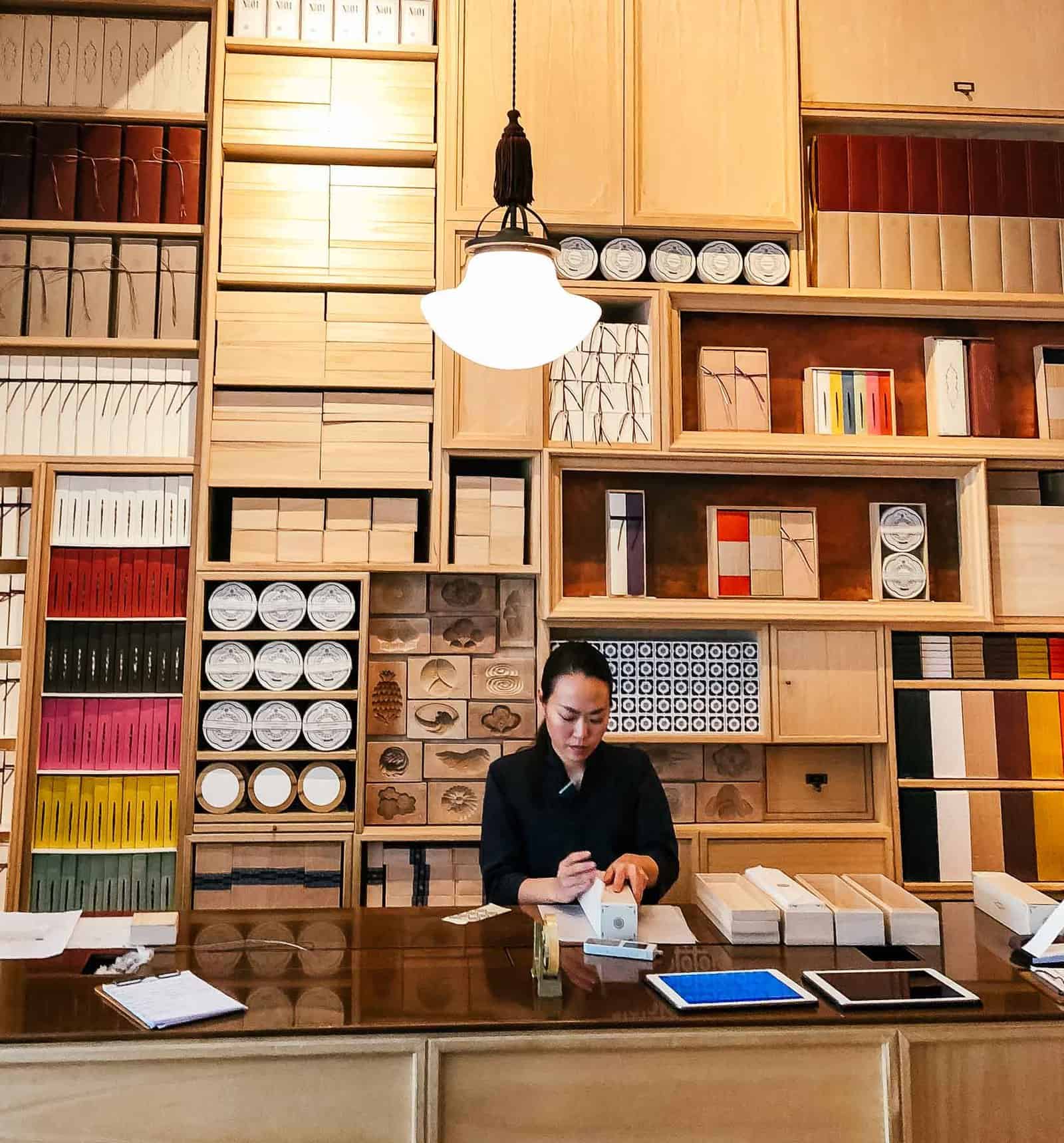 Higashiya Ginza is a a modern take on the traditional Japanese concept of "daily confectionaries" know as Wagashi. Wagashi sweets are a traditional Japanese dessert made of mochi, azuki beans and fruit and are usually enjoyed with tea.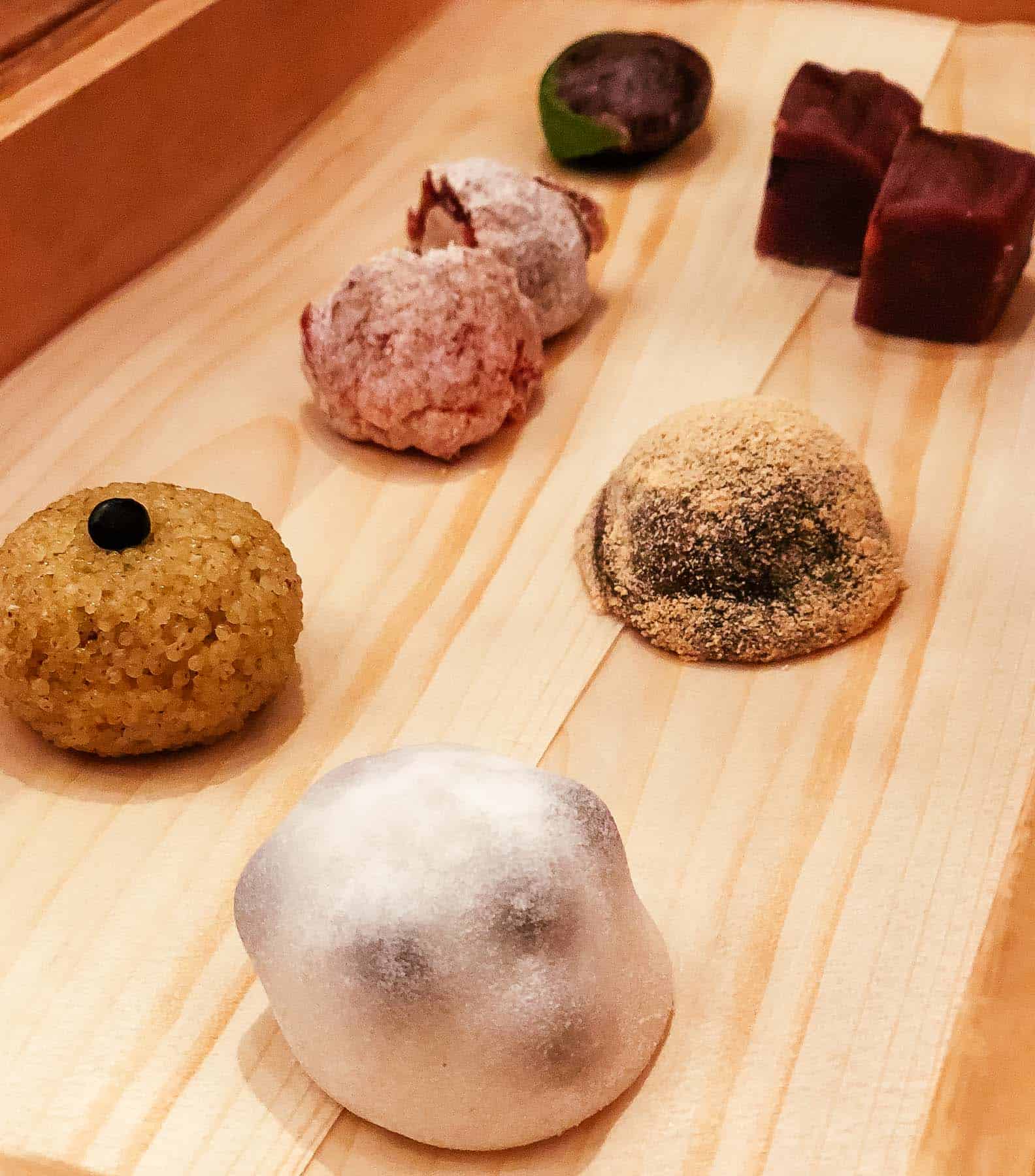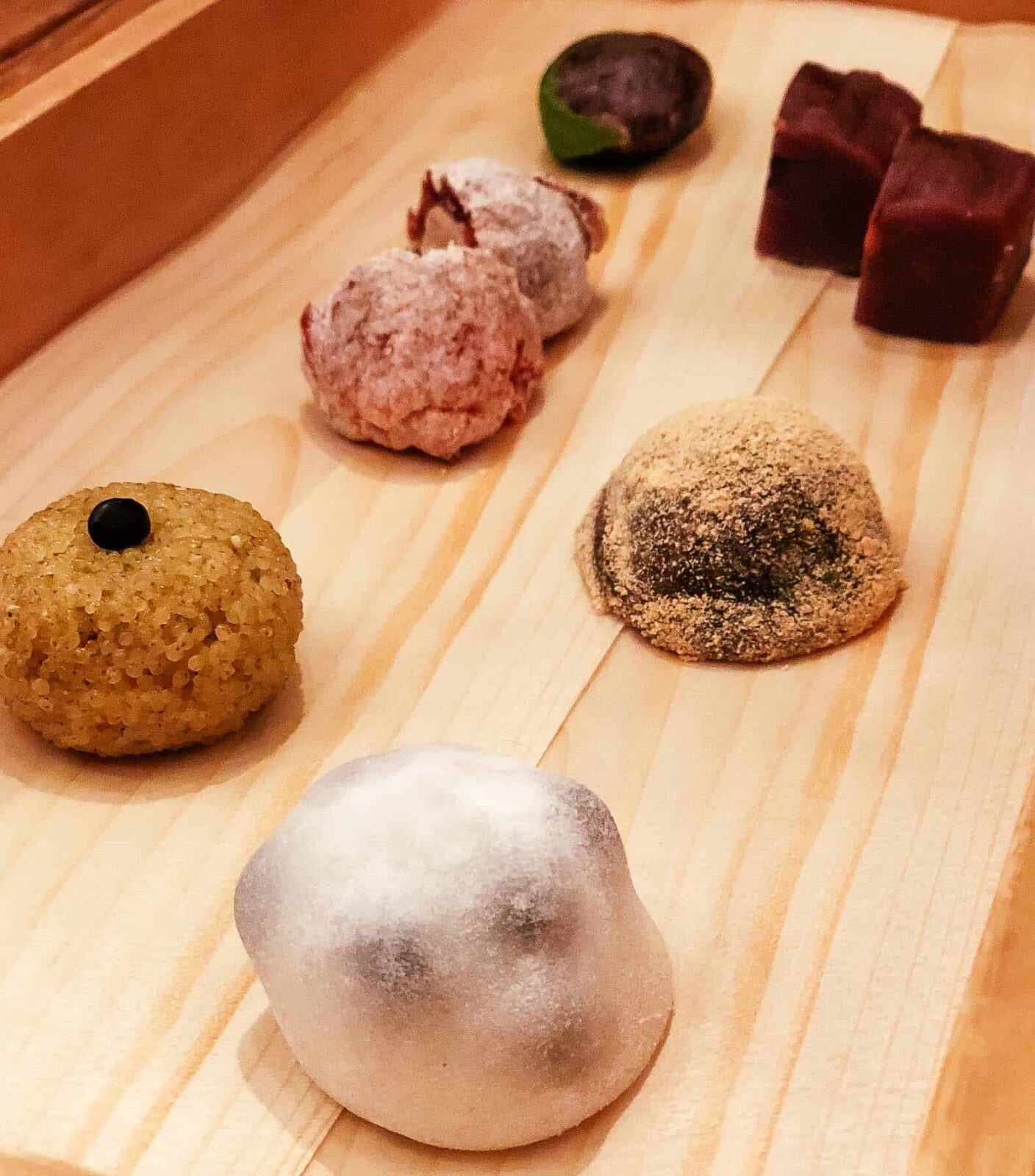 This is a beautiful, calming tea house and sweets shop where you can have a full lunch or simply browse the small shop at the front of the store for takeaway confectionaries, original tea blends and tableware products. Higashiya is the best shopping in Tokyo for unique, local gift for any tea lover or fan of Japanese sweets.
Address: 1 Chome−7−7, Ginza, Chuo City, Tokyo 104-0061 (located in the Pola Ginza building)
Website: https://www.higashiya.com/ginza/
Hours: Mon – Sun 11:00 AM – 7:00 PM
Itoya Stationary: For Your Next Bullet Journal Or Daily Planner
The world's most beautiful stationary shop is a must-visit store in Tokyo that spans two buildings and 18 floors. Yes, 18 floors. The history of this shop goes back over a hundred years, when the store was founded with the goal of bringing the efficient working style of the West to Japan. Today, Itoya's philosophy is to provide an aesthetically beautiful space filled with tools to enhance creativity in your everyday life. Items from Itoya are a unique yet practical souvenir or gift from Tokyo for your DIY-er friends. Even if you're not interested in crafts, DIY or paper goods, it's a beautiful store that's absolutely worth browsing.
Address: 2 Chome-7-15 Ginza, Chuo City, Tokyo 104-0061
Website: https://www.ito-ya.co.jp/ginza/
Hours: Mon – Sat 10:00 AM – 8:00 PM, Sun 10:00 AM – 7:00 PM
Best Shopping in Tokyo's Aoyama And Omotesando Neighborhoods
Oyama Kimono: For Vintage Kimonos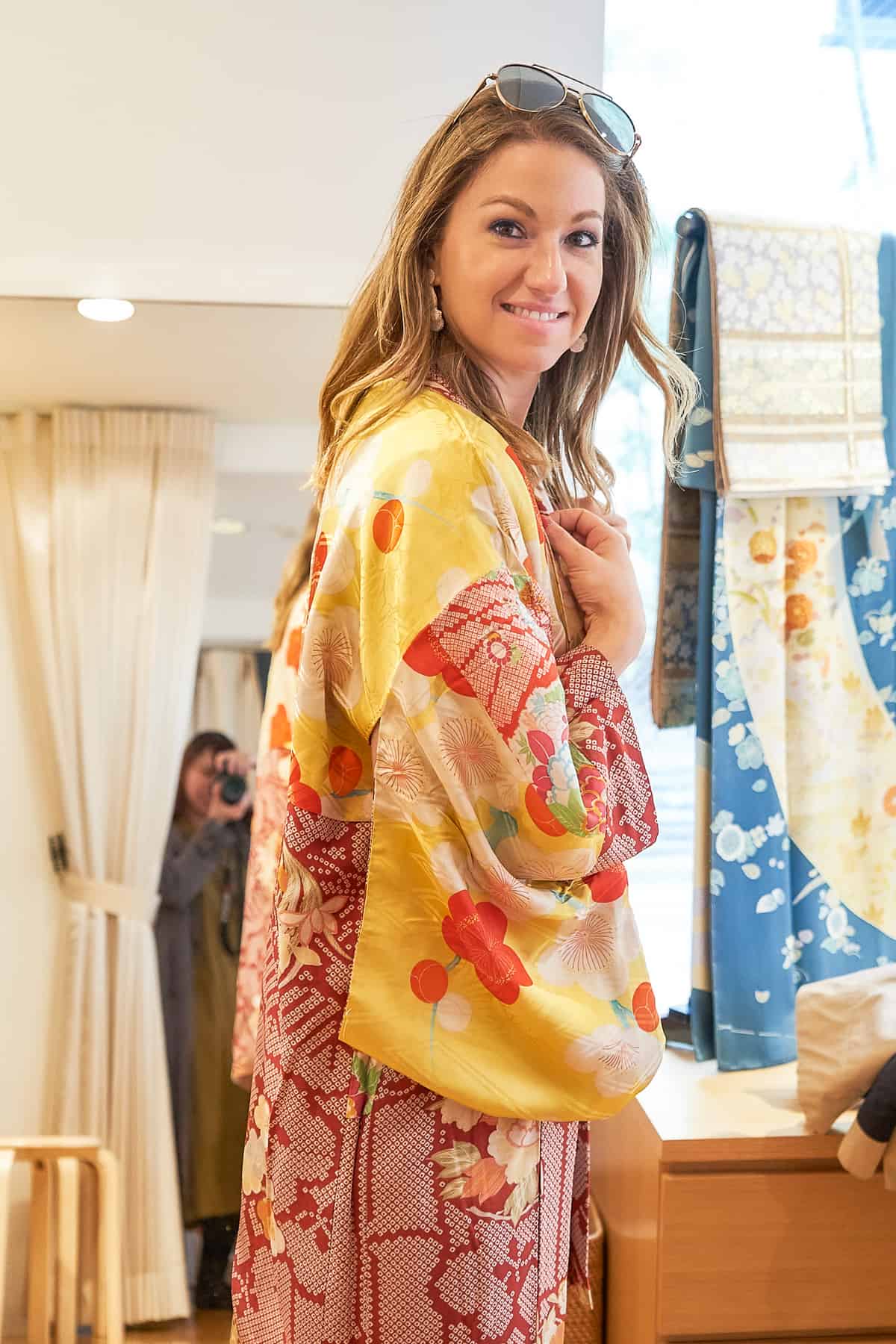 Oyama Kimono in Aoyama is a family-owned store that's been selling vintage kimonos for over 50 years. The fabrics, patterns and colors are gorgeously varied and of the highest quality.
I had a blast trying on all different kinds, from bright yellow silk to black and pink florals with fringe. This shop is definitely a hidden gem tucked away in a more residential area of Aoyama but it's worth seeking out for the high quality and reasonable prices.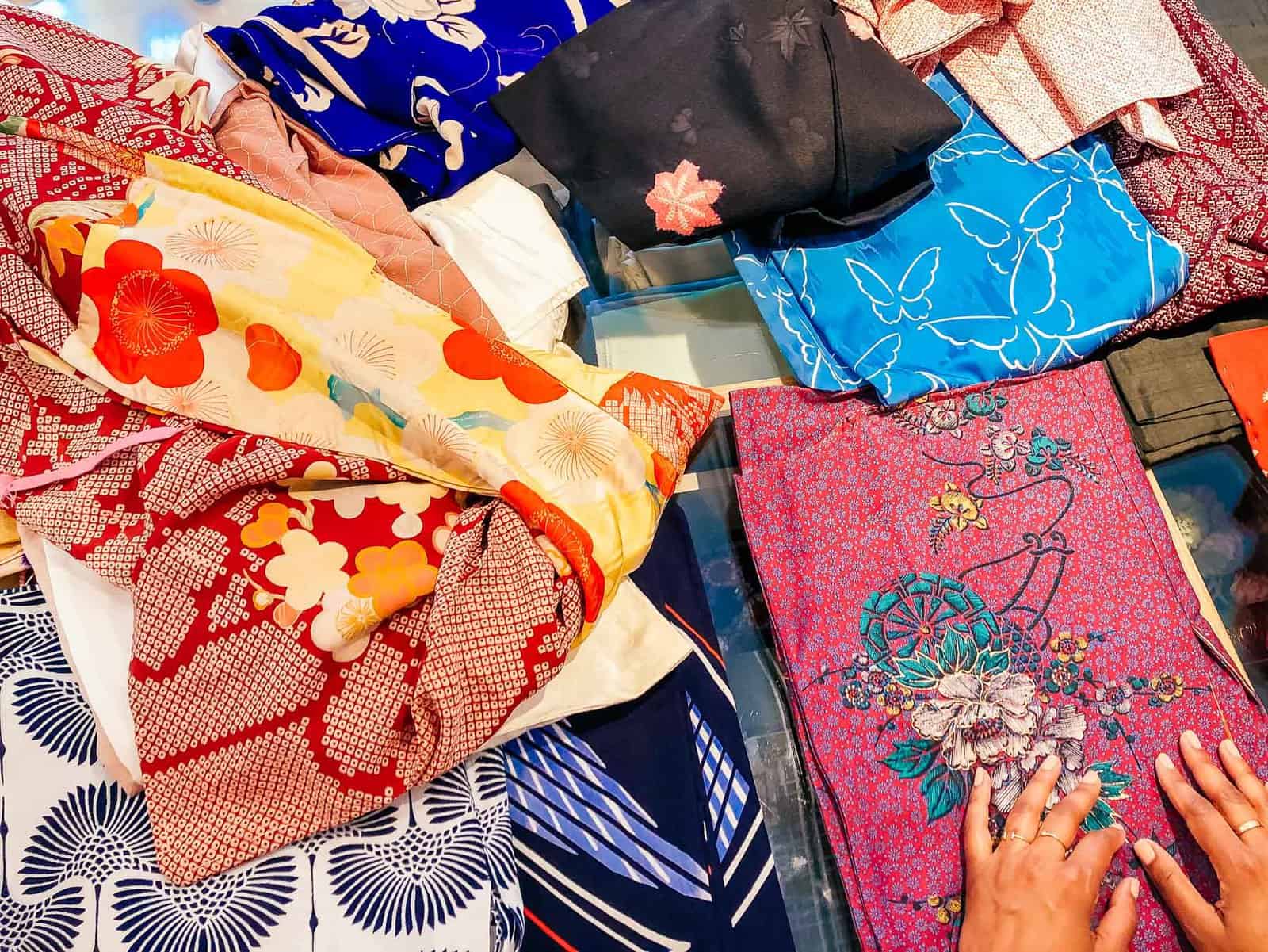 Prada Store: For The Instagram Photos
I walked by the Prada store in Aoyama on my way to Oyama Kimono and it's just stop-you-in-your-tracks spectacular. It's an architectural masterpiece and worth a visit, especially if you want to take advantage of Japan's tax refund to save a little bit on a designer purchase.
Address: 5 Chome-2-6 Minamiaoyama, Minato City, Tokyo 107-0062
Hours: Mon – Thurs 11:00 AM – 8:00 PM, Fri – Sun 11:00 AM – 9:00 PM
Aoyama Flower And Tea House: For A Quick Break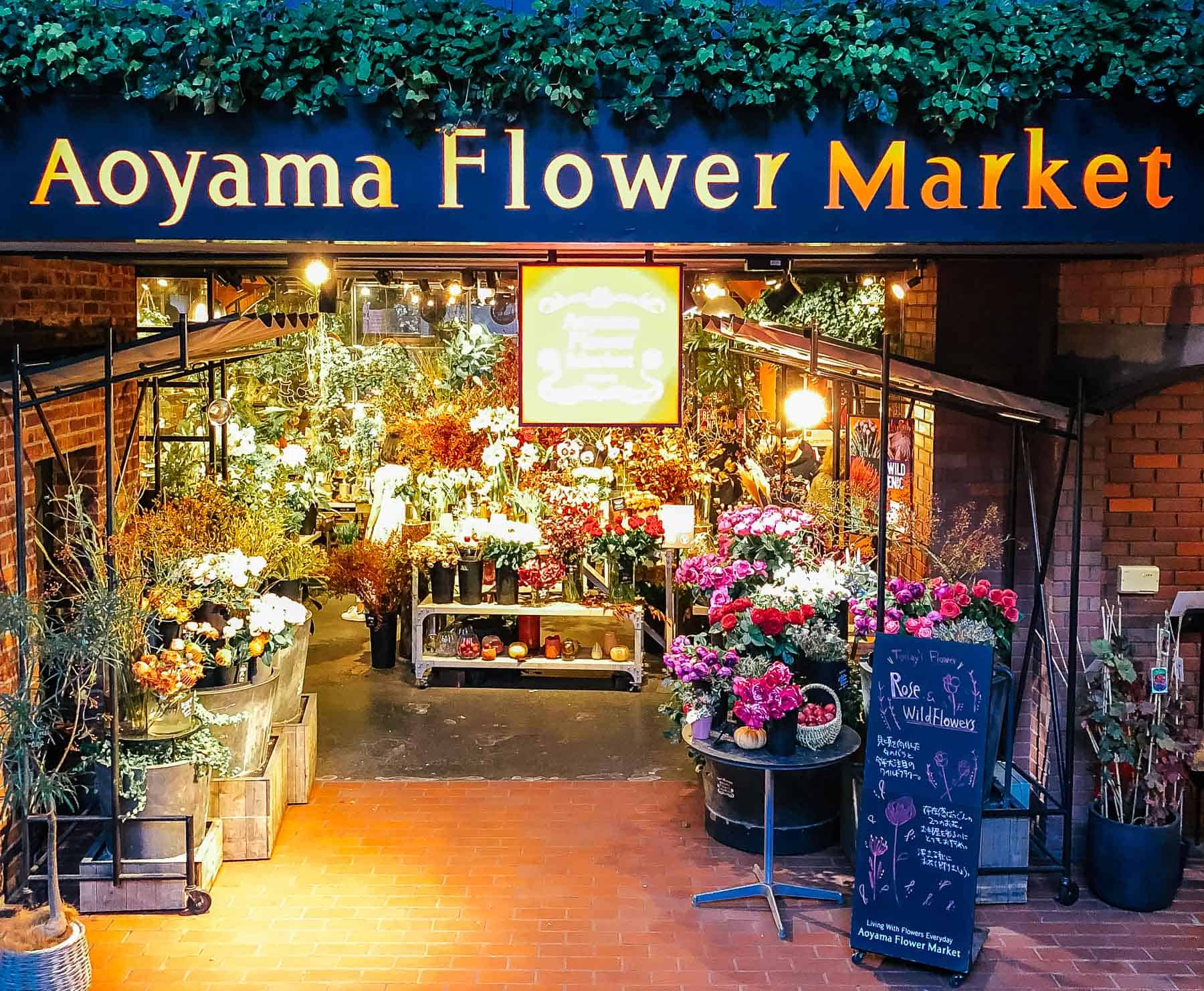 Okay, so this is a tea house and cafe, but if you've been hitting all the above best places to shop in Tokyo it's probably time to rest your feet for a few minutes, and there's no better place to do it in Aoyama than this garden oasis filled with plants, flowers and the prettiest cup of tea you'll ever have. Trust me, you're going to want to fuel up for the next stop, because it is a vintage lover's paradise.
Address: 5 Chome-1-2 Minamiaoyama, Minato City, Tokyo 107-0062
Website: http://www.afm-teahouse.com/aoyama
Hours: Mon – Sat 11:00 AM – 8:00 PM, Sun 11:00 AM – 7:00 PM
Vintage Qoo: For Vintage Chanel Heaven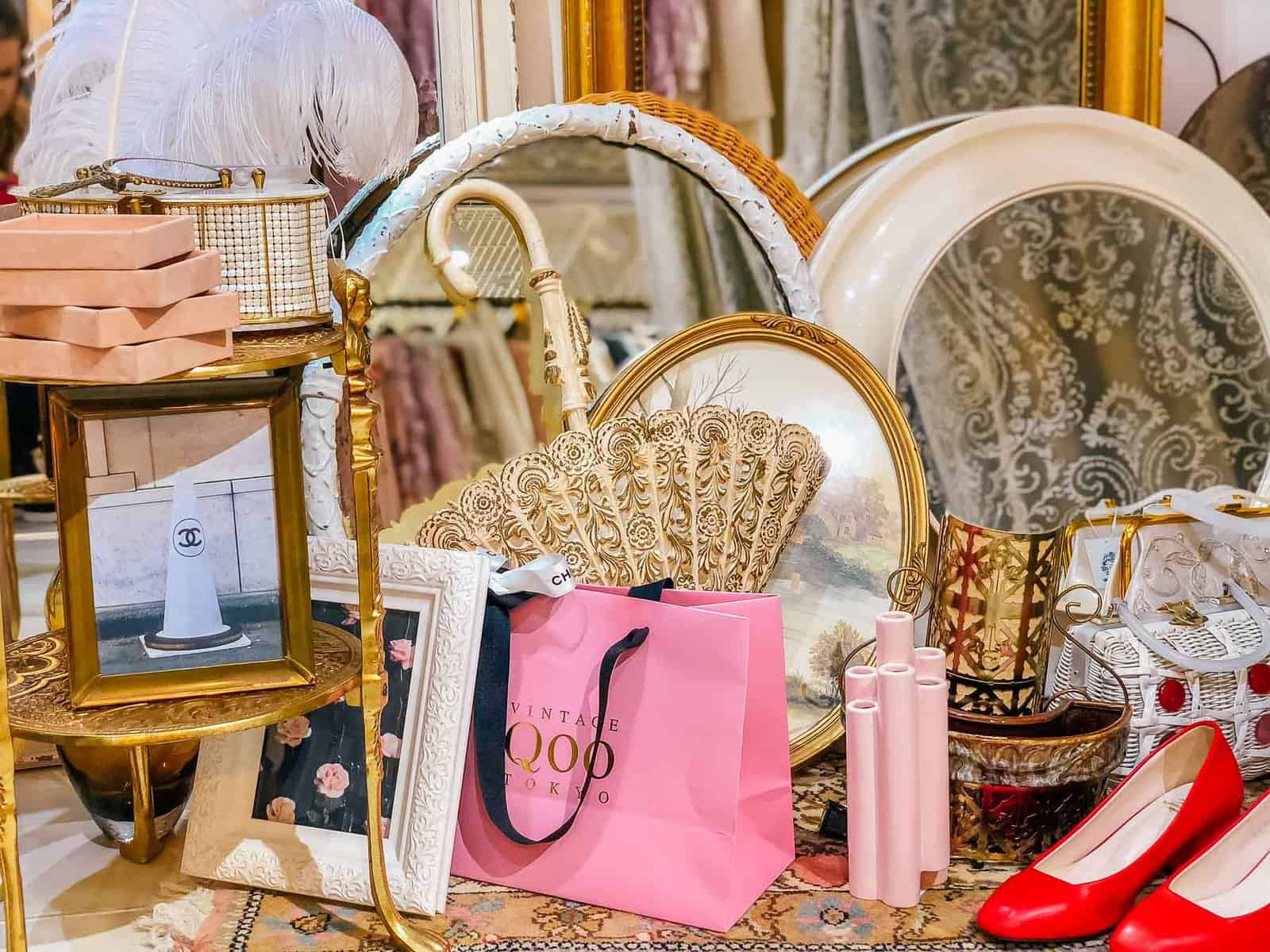 I don't even know if I have words for this Tokyo vintage luxury store. It's vintage Chanel heaven. It's like walking into a treasure chest.
This was my absolute favorite store that I visited in Tokyo and while I didn't buy anything (my bank account is thanking me) I spent a solid hour and a half here just admiring the beautiful vintage handbags, shoes, jewelry and more.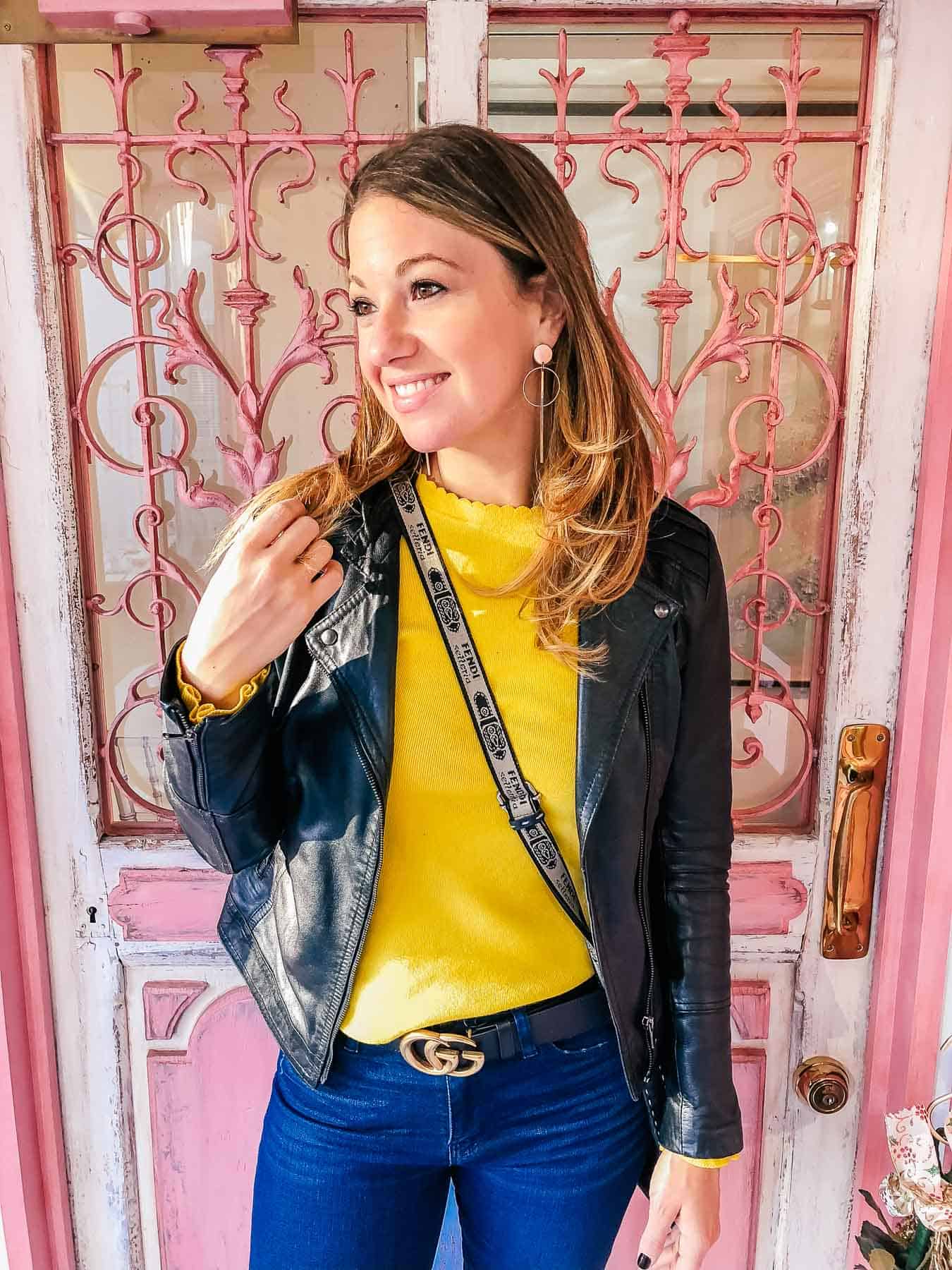 Vintage Qoo also sells furniture, accessories, home wares and more so there's a little something for everyone. This store is a must-visit shop in Tokyo for any vintage fashion lover.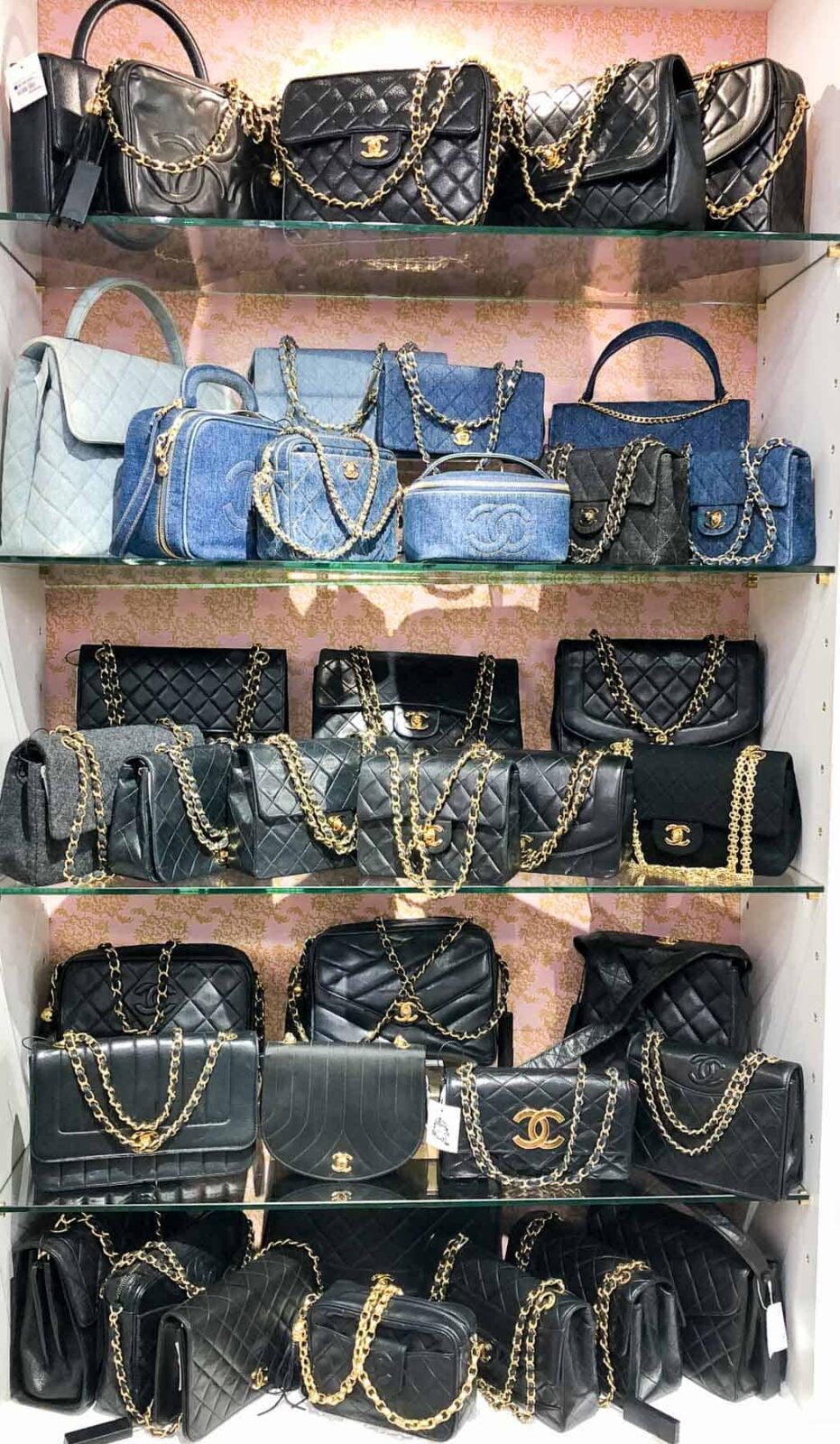 Best Shopping In Tokyo's Harajuku District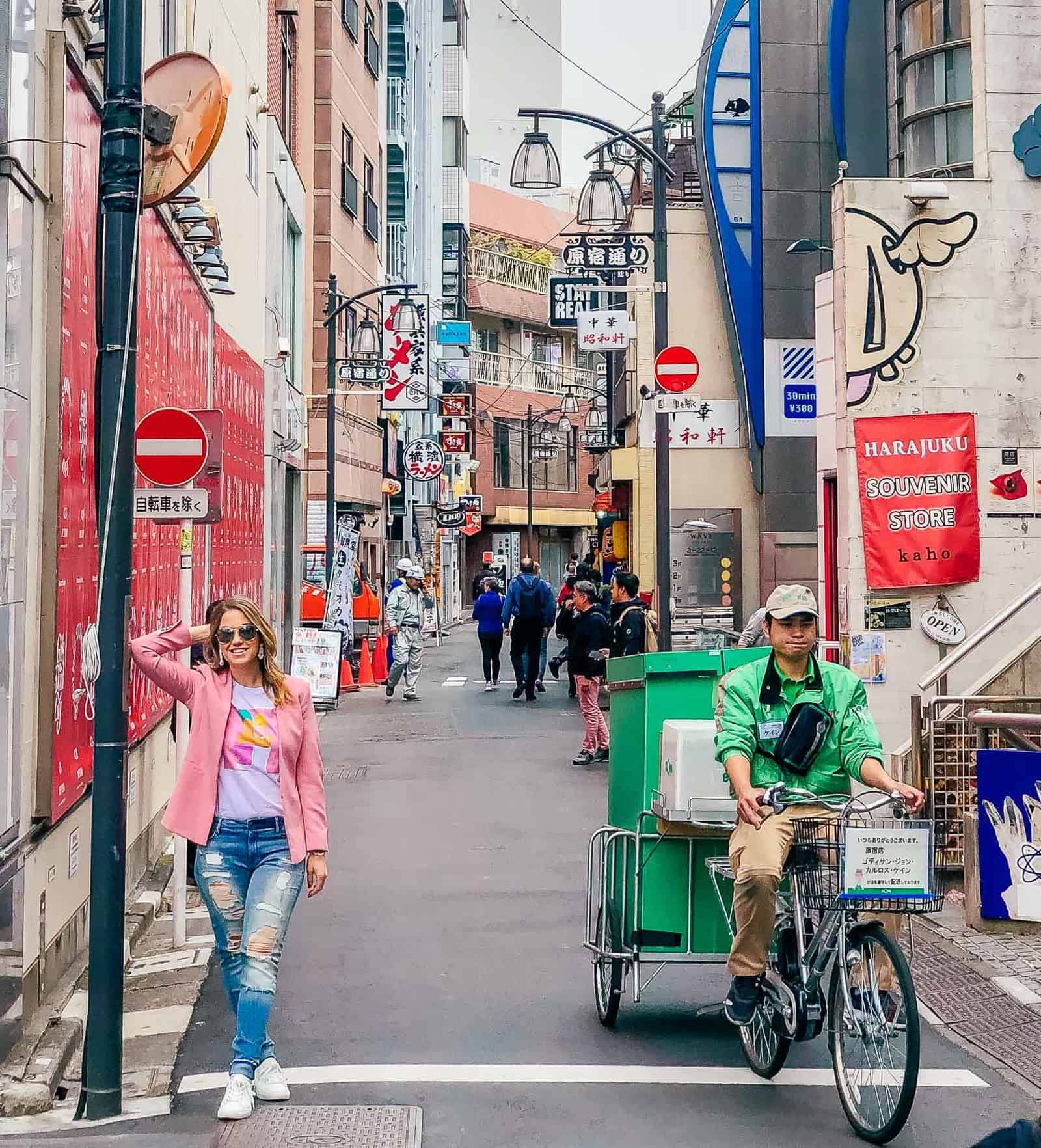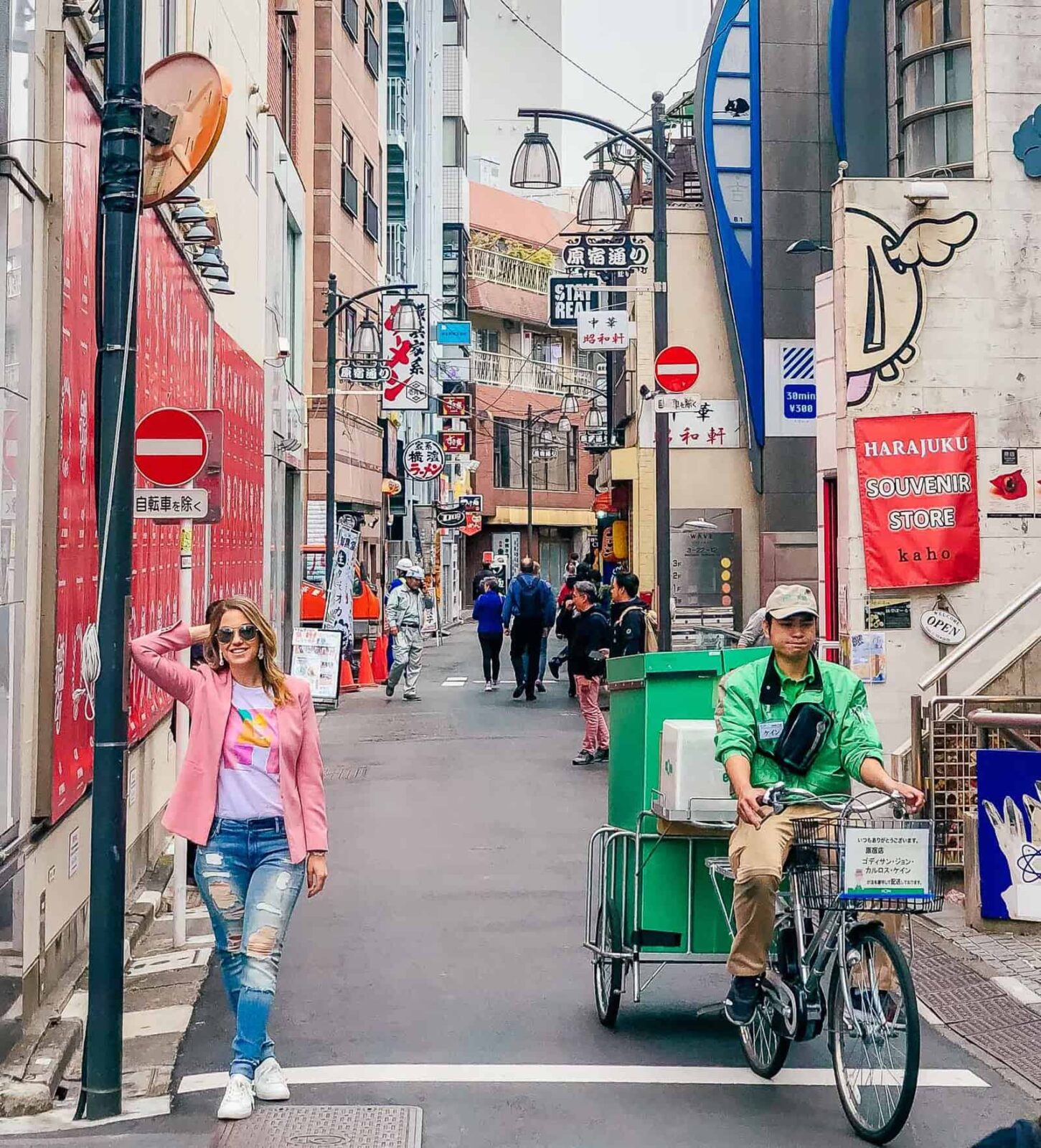 You might think Harajuku is the best shopping in Tokyo for Hello Kitty, but there is so much more to this vibrant neighborhood. Yes, you could go Kawaii-crazy in Harajuku – and honestly, that's mostly what I was expecting when I spent an afternoon wandering down the famous Takeshita street and weaving through Harajuku's side streets, but there are some real fashion gems in Harajuku that are worth checking out.
Below are my favorite stores in Harajuku's shopping district.
Broke City Gold: The Best Shopping In Tokyo For Unique Denim Jackets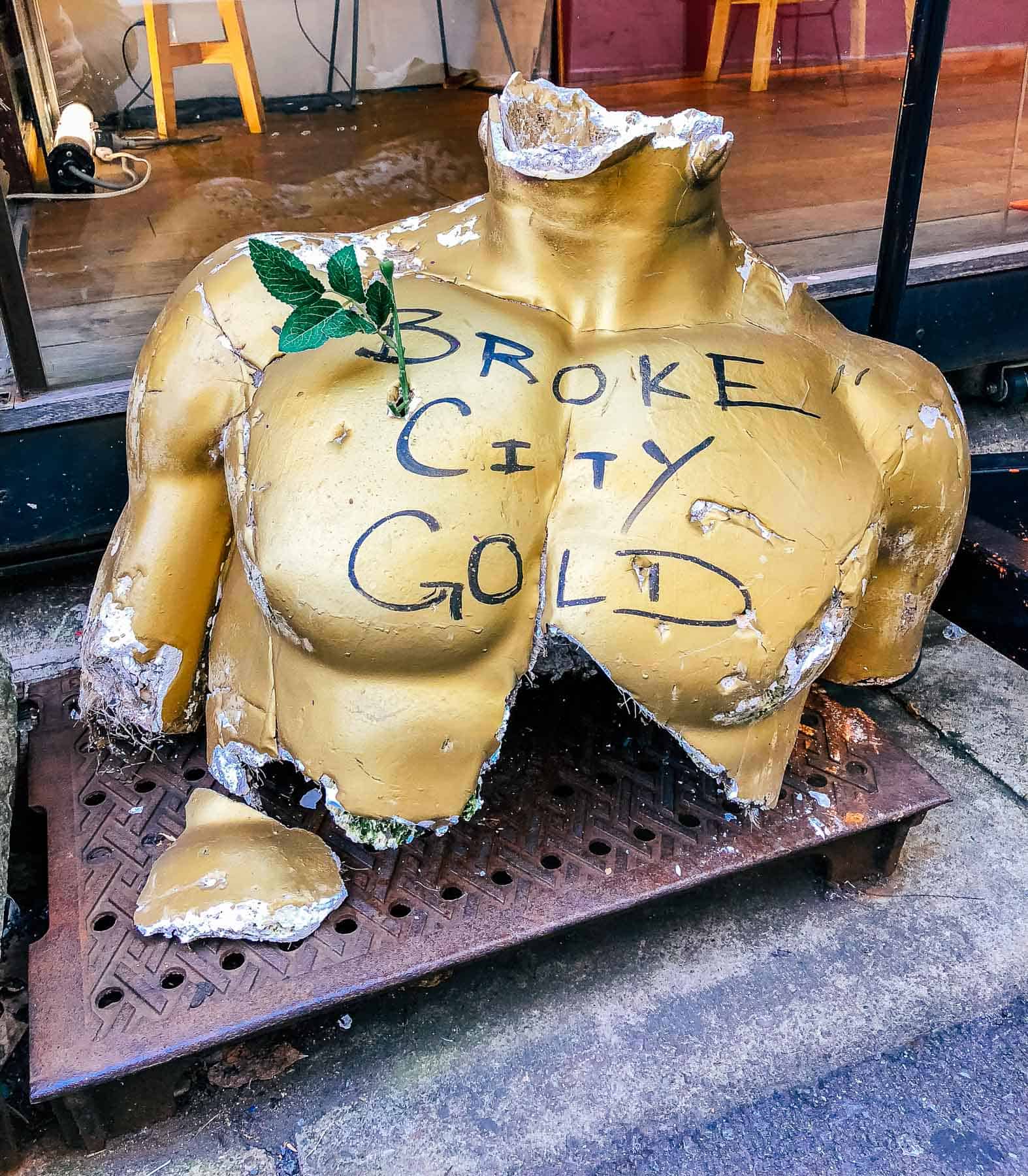 It was pure luck that I stumbled onto this tiny store down a side street in Harajuku and it's since become one of the hottest streetwear brands in Tokyo. Broke City Gold sells the most amazing denim combining contemporary styles with patchworks of traditional vintage kimonos in bright, vibrant colors.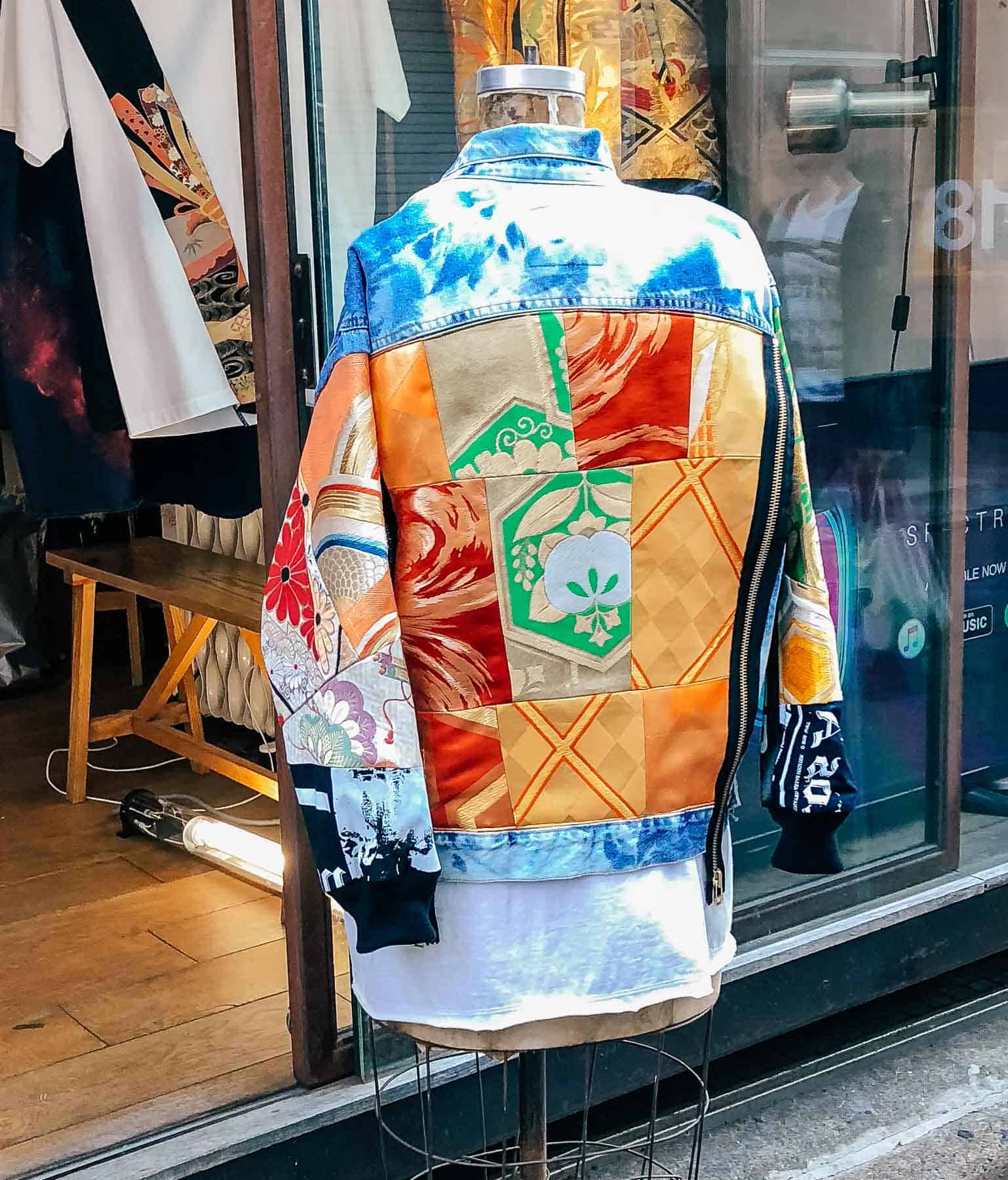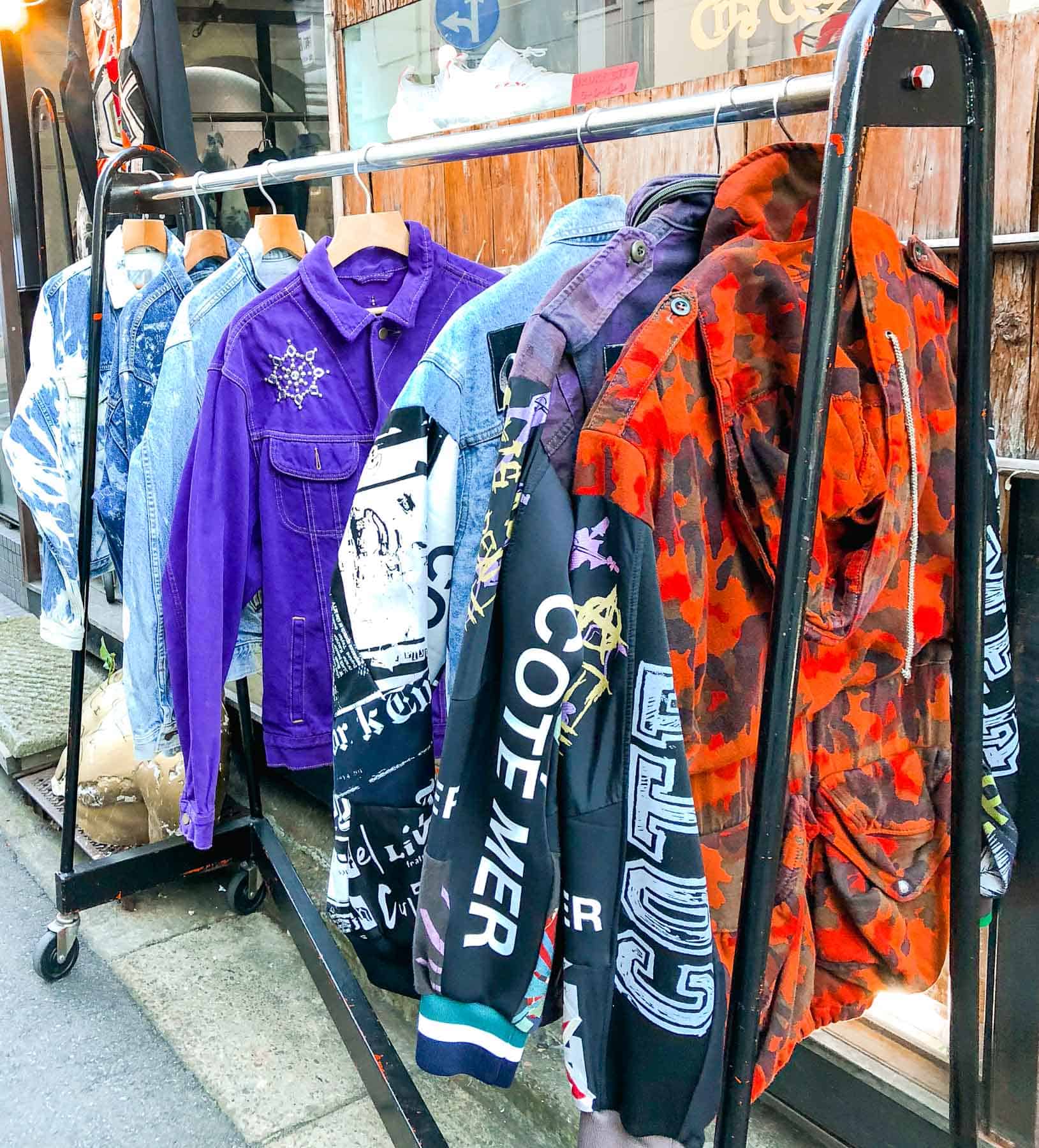 Nippon Made: Best Shopping In Tokyo For Made-In-Japan Shoes And Sneakers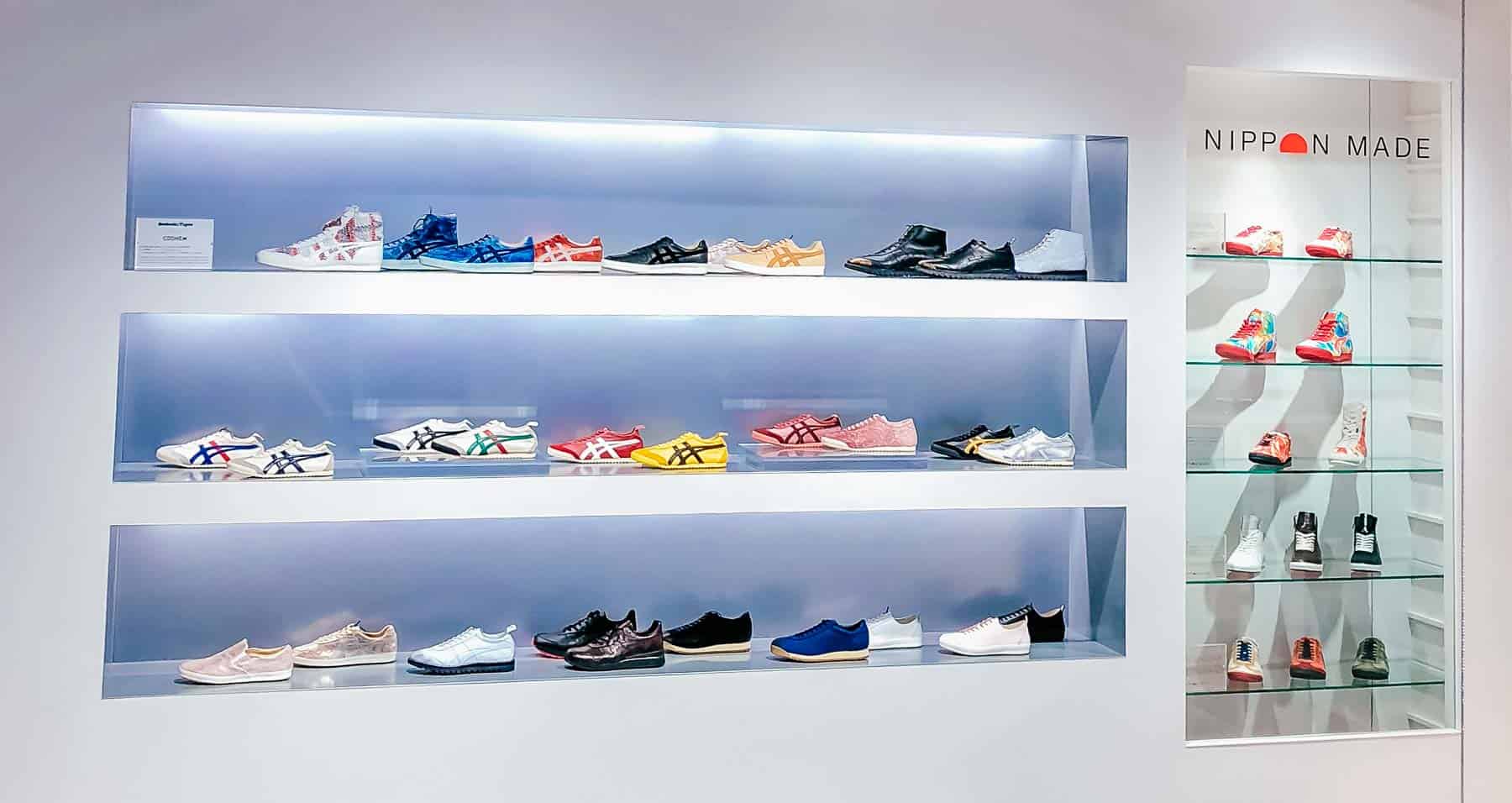 Nippon Made is a Japanese shoe line created by Onitsuka Tiger. Every single shoe is made with high-quality Japanese craftsmanship, even down to the stitching and dyeing. The styles are funky, original, and a little retro, with options from fun patterns and bright colors to more classic styles. This is a great store to grab a pair of sneakers you won't find everywhere else, and if you want to dip your toes (see what I did there?) into Tokyo's sneaker culture.
Address: 4 Chome-24-14 Jingumae, Shibuya City, Tokyo 150-0001 (right next to the Onitsuka Tiger store)
Website: https://nippon-tiger.com/
Hours: Mon – Sun 11:00 AM – 9:00 PM
Kicks Lab: The Best Shopping In Tokyo For Sneakerheads
One of the coolest sneaker stores in Tokyo, Kicks Lab stocks limited edition sneakers and collections only released in Japan. This is the store to shop for hard-to-find sneakers.
Address: 4-28-18 Jingumae, Shibuya-ku, Tokyo 150-0001
Website: https://store.kickslab.com/
Hours: Mon-Sat 12:00 PM – 8:00 PM, Sun 12:00 PM – 7:30 PM
Beams: For Affordable, Quality Fashion And Accessories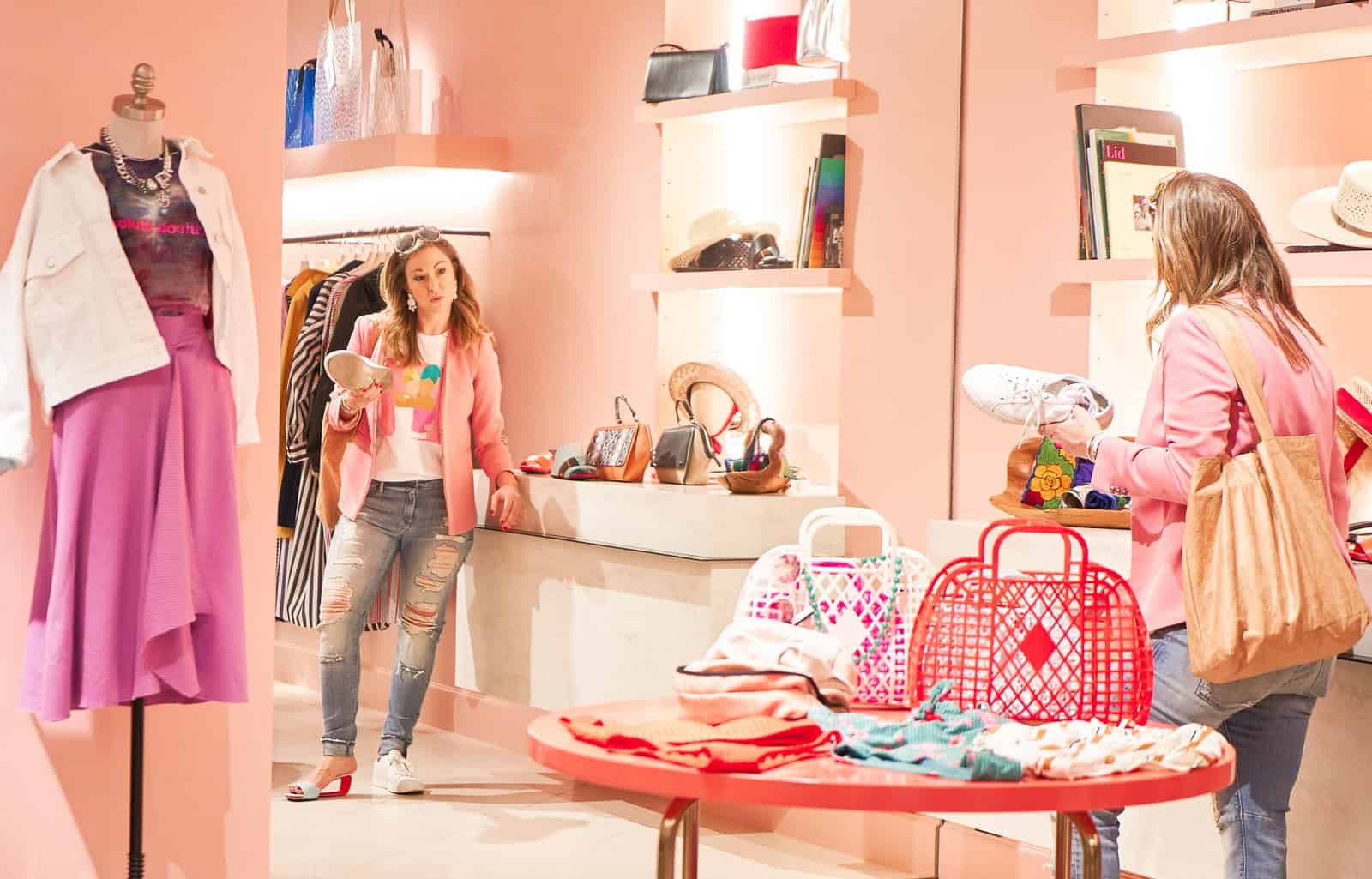 When searching for where to shop in Harajuku, you may have come across Wego (sort of a cross between H&M and Zara) or WC, but you should skip those in favor of Beams Tokyo.
Beams is slightly more expensive, but not unreasonable, and features a more unique collection of clothes, shoes and accessories (and, in my opinion, better quality and more fashionable). I was drooling over a pair of black slides that were almost sculptural in shape and loved the costume jewelry collection.
Best Places To Shop In Daikanyama Tokyo
Daikanyama is perhaps a less-famous neighborhood in Tokyo than Harajuku or Ginza, but it's known as the "Brooklyn" of Tokyo and is filled with small vintage stores, art galleries and cool little bars and cafes.
You'll find a more original selection of shopping in Daikanyama than Ginza, Harajuku or Omotesando. Stroll through Daikanyama on the weekend and you'll find locals brunching outside, a bustling bar scene and a more laid-back vibe.
T-Site: For The Best Of Daikanyama
If you only make one stop in Daikanyama, make it the T-Site. Daikanyama T-Site is a complex of upscale stores, galleries, and restaurants. Have a coffee and a snack at Ivy Place – order the insanely fluffy pancakes if you can tolerate gluten, and if you're gluten-averse like me, order the gluten-free espresso chiffon cake (it's amazing) and then wander in and out of the various shops, saving the best for last, Tsutaya Books.
Address: 16-15 Sarugakucho, Shibuya City, Tokyo 150-0033, Japan
Hours: Sat-Fri 7:00 AM – 2:00 AM
Tsutaya Books: For Book Lovers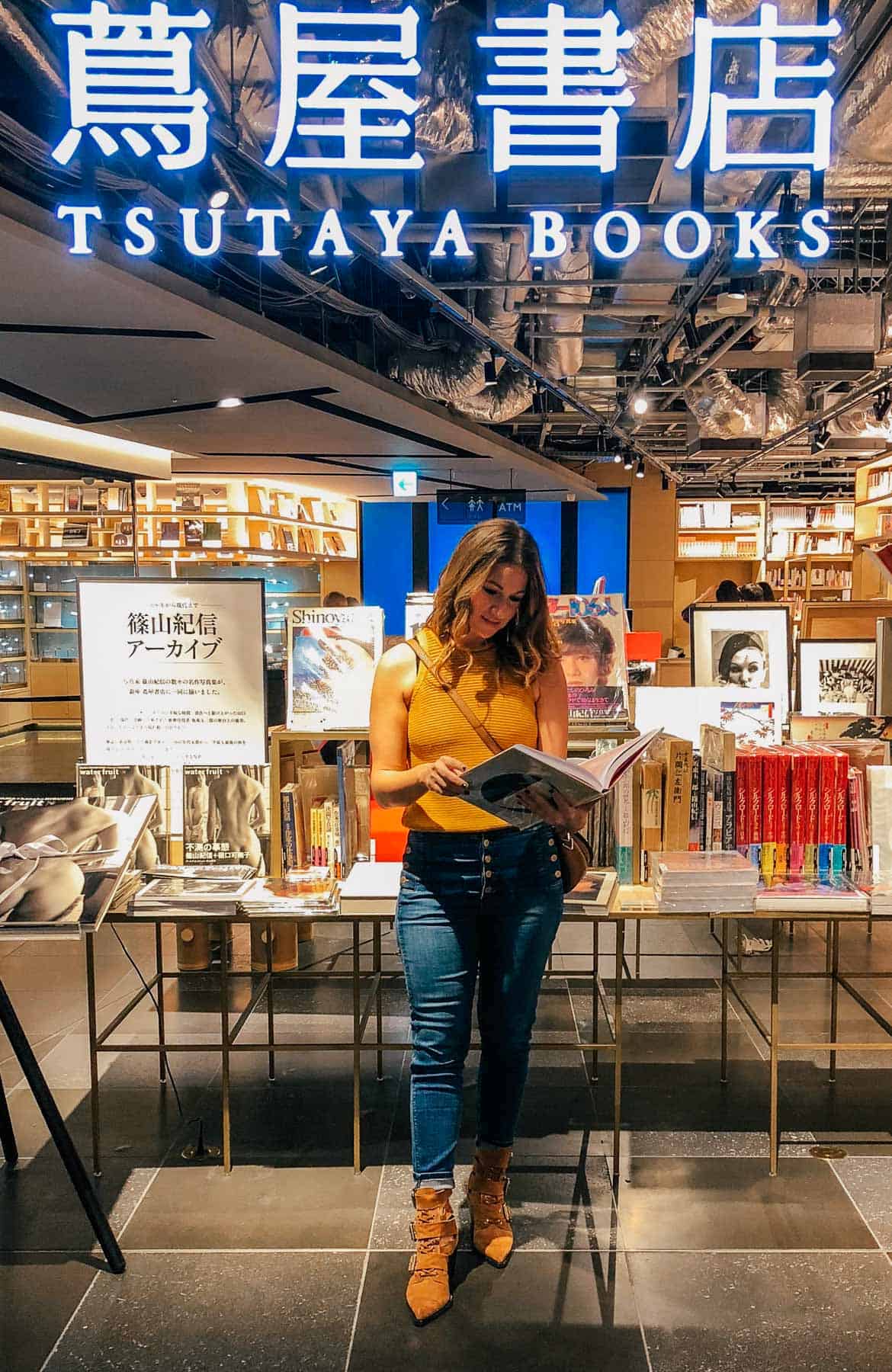 Tsutaya Books is the most famous bookstore in Tokyo, and one of the most famous bookstores in the world. It's also one of the most beautiful bookstores I've ever been in. While there are a few locations in Tokyo (including one at Ginza Six), this is the Tsutaya Books location to visit.
The flagship location is located within Daikanyama T-Site but it warrants its own section here. Tsutaya Books is made up of three interconnected buildings filled with books and magazines. The fashion and art sections are enormous and filled with treasures. Pick up a few coffee table books here – Tustaya's books are just as satisfying as home decor as they are to read.
Address: 〒150-0033 Tokyo, Shibuya City, Sarugakucho, 17−5 Daikanyama T-Site
Hours: Sat-Fri 7:00 AM – 2:00 AM
Best Place To Shop In Tokyo For Artists And Art Supplies
Pigment Lab: For Art Lovers And Art Supplies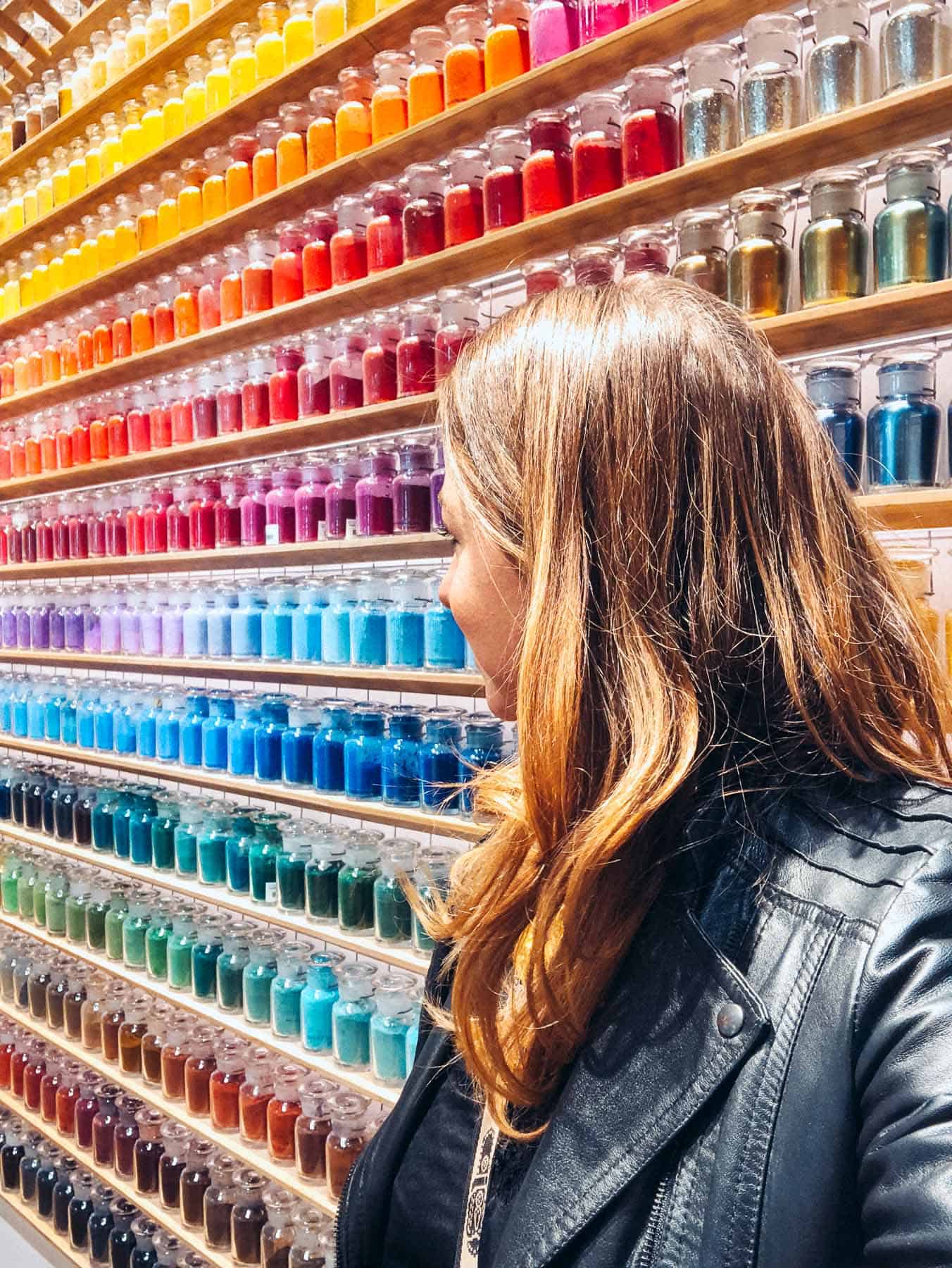 Perhaps the world's most beautiful art supply store, Pigment Lab is a must-visit store for anyone in Tokyo but especially for artists or friends and family of artists. Their collection of paints, brushes and art supplies is world-renowned, and the store is just simply stunning.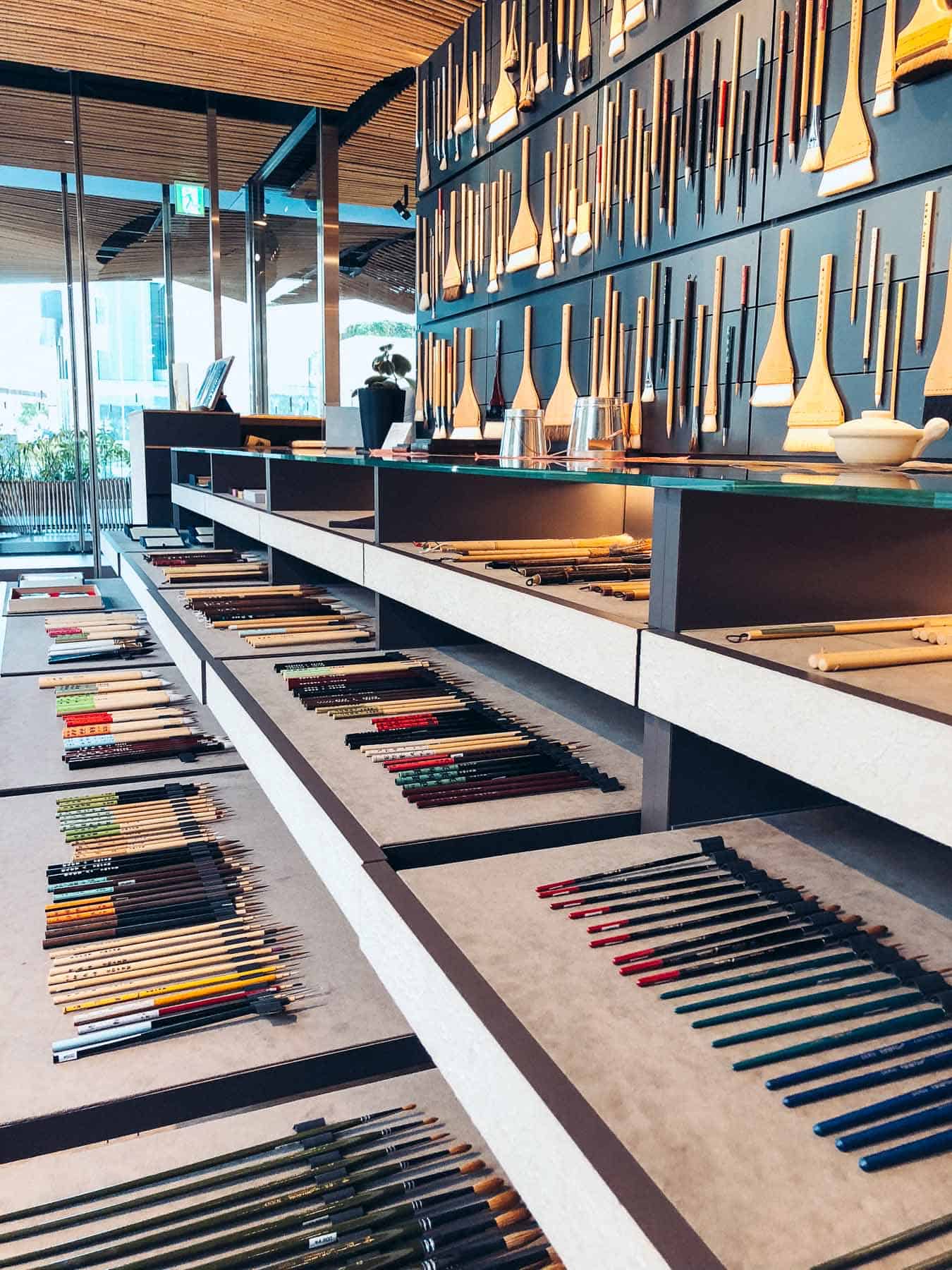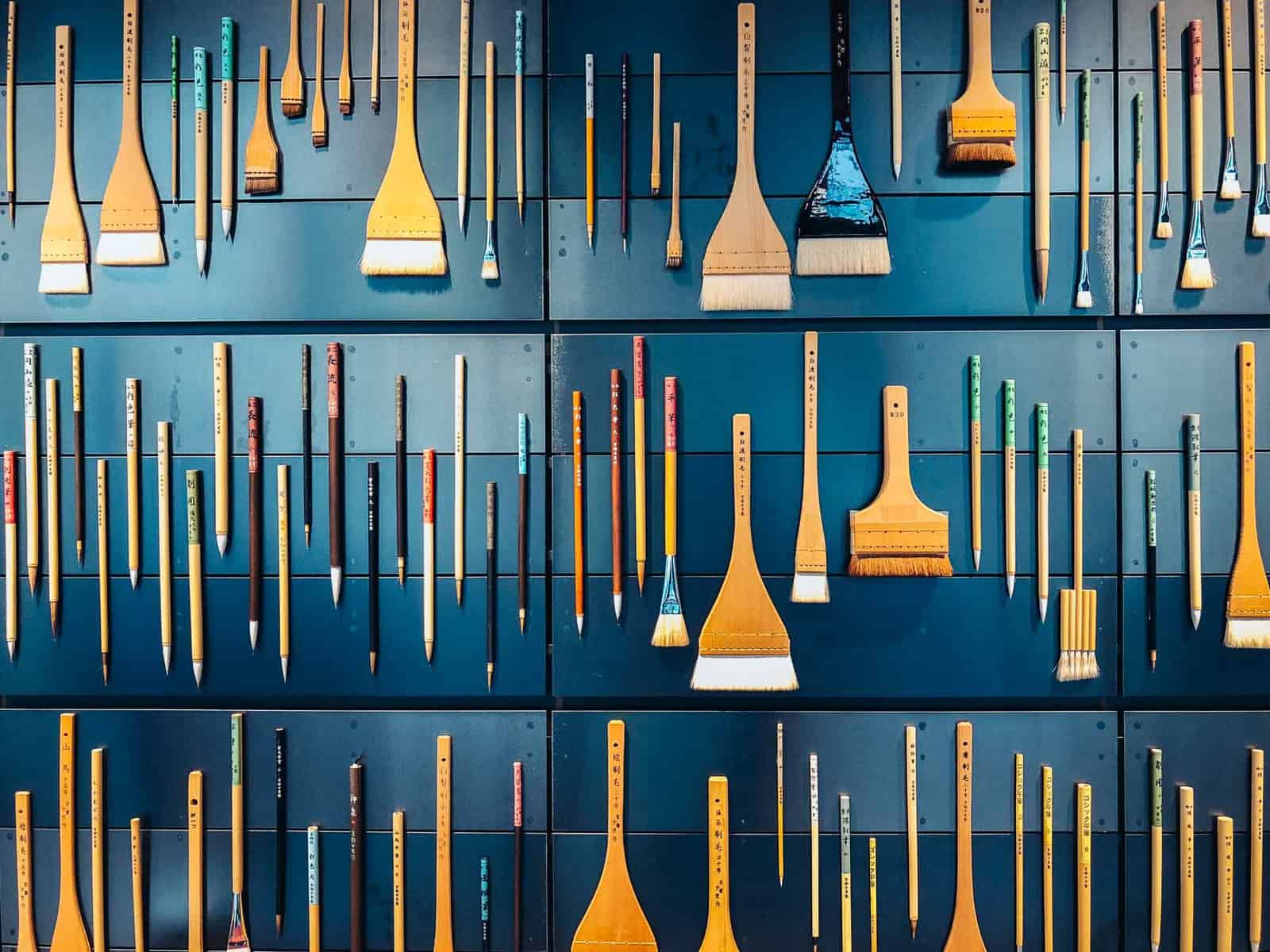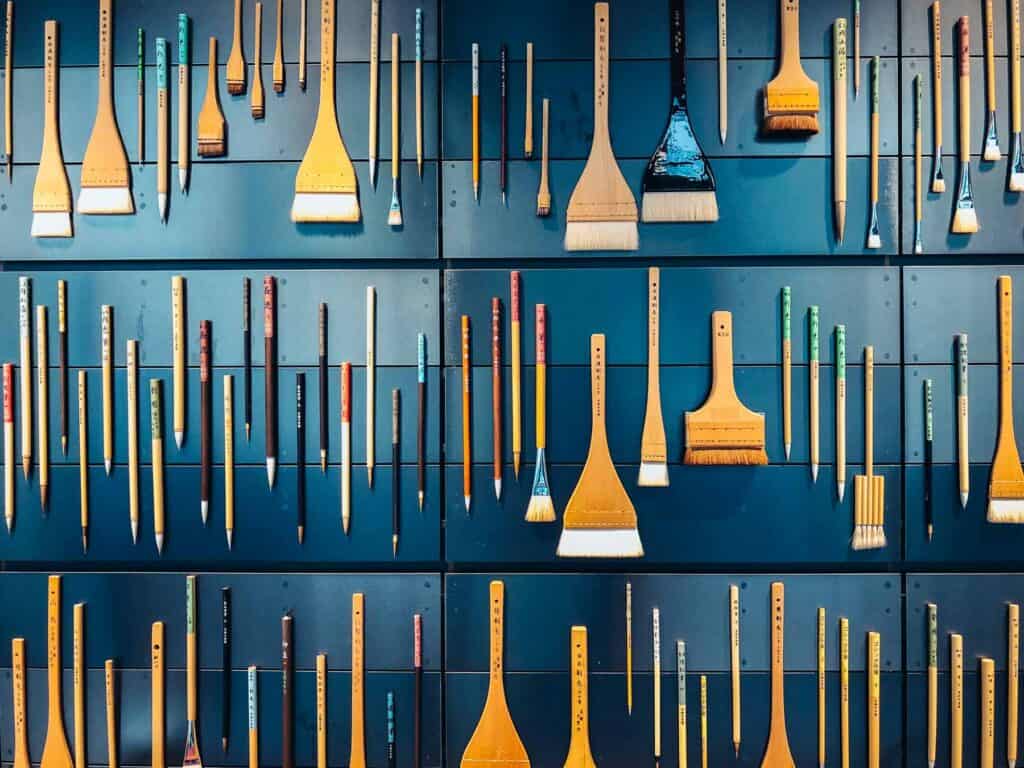 The walls of paint pigment are inspiring for any lover of color but I was especially excited to purchase two paint brushes as a gift for an artist in my family. The staff are super knowledgeable and helped me easily pick out the right brushes even though I know nothing about oil painting.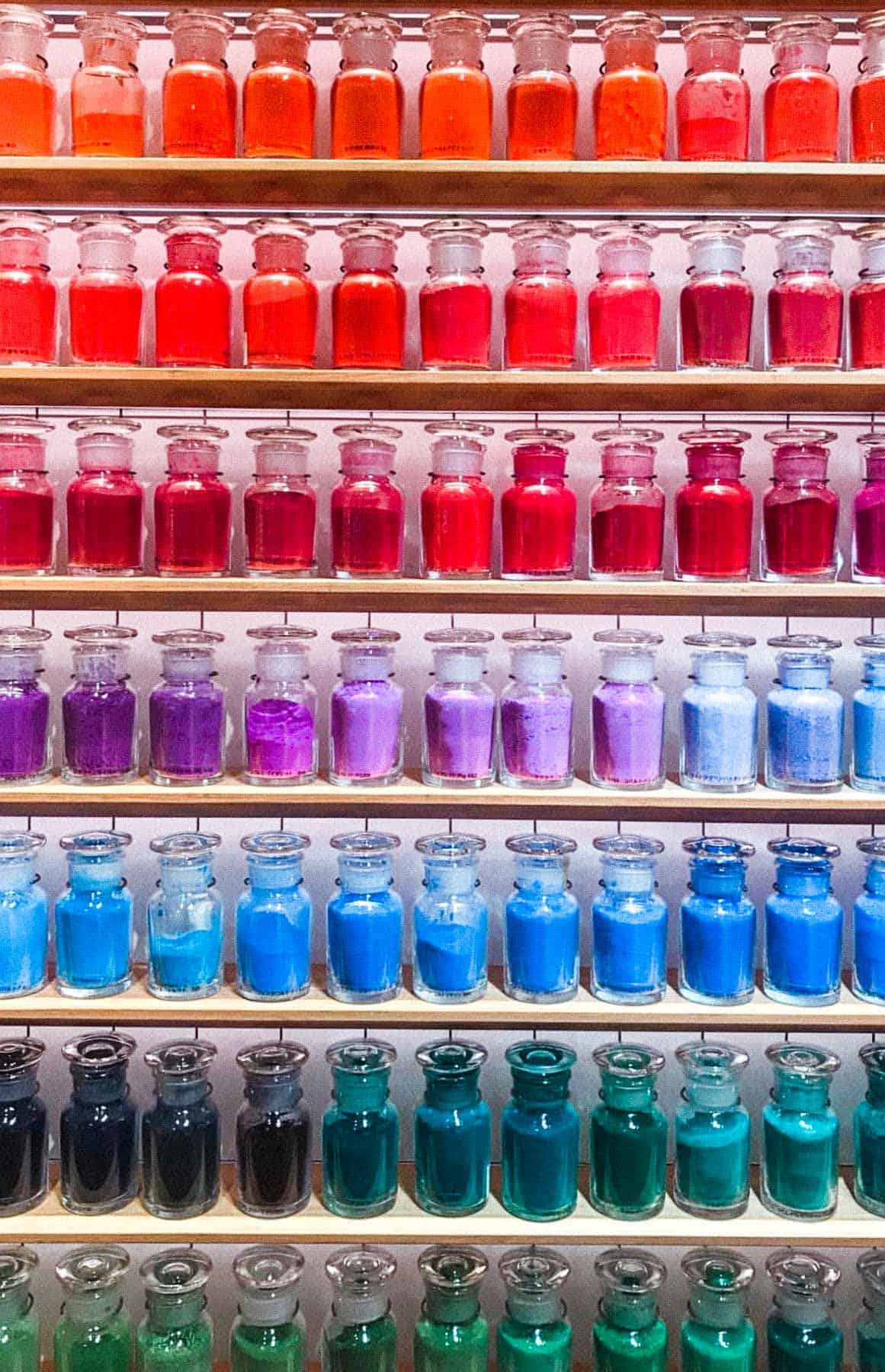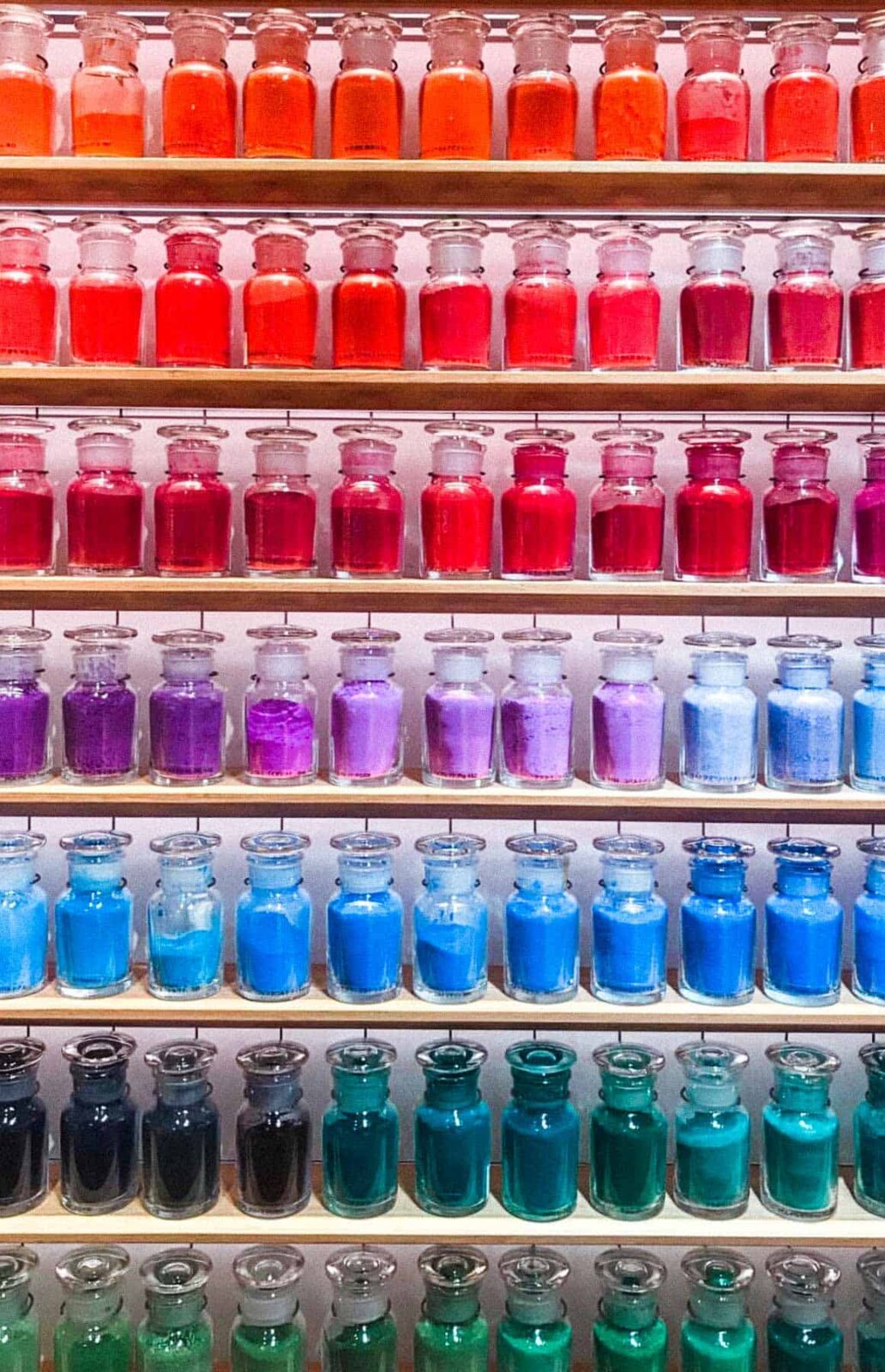 Address: Japan, 〒140-0002 Tokyo, Shinagawa City, Higashishinagawa, 2 Chome−5−5 TERRADA Harbor One Bldg. 1F
Website: https://pigment.tokyo/
Hours: Sun, Tues, Weds, Fri, Sat: 11:30 AM – 7:00 PM, Closed Mon, Thurs
What are your favorite stores to shop in Tokyo? Do you have more recommendations for the best places to shop in Tokyo? I love to connect with you in the comments so let me know you stopped by!

Love this post on the best places to shop in Tokyo? Pin it to save for later!