This hidden gem luxury hotel on Koh Lanta island off the coast of Krabi is the best luxury hotel in the Thai islands!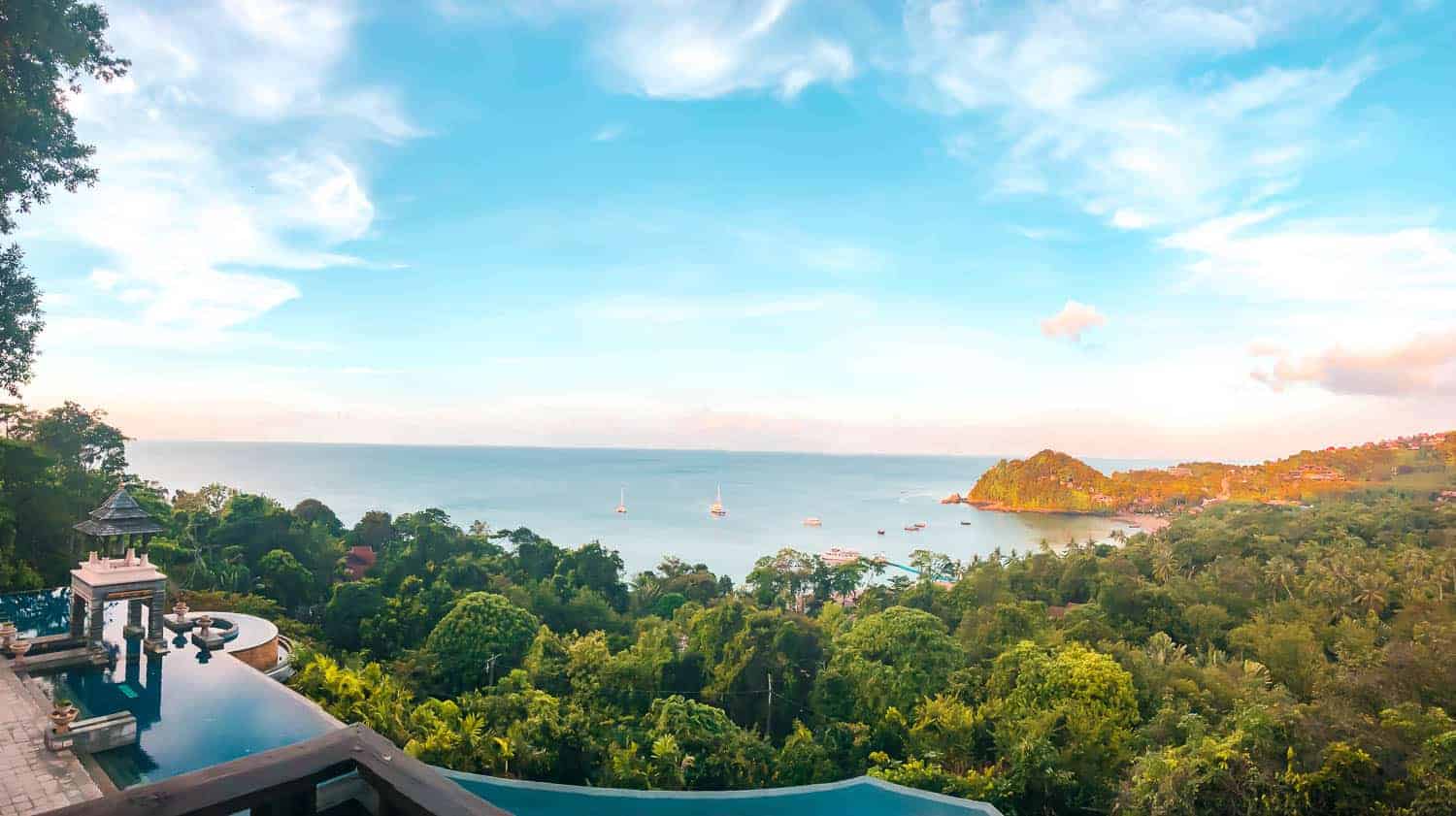 Pimalai Resort and Spa Hotel Review
It took JB and I two full days to pick our jaws up off the floor.
We kept turning to each other, astounded, and asking ourselves "Where are we? How did we find this place? How did we get so lucky?"
(Disclosure: This post may contain affiliate links which means I may earn a small commission if you make a purchase from a link in this post, at no additional cost to you. Additionally, as an Amazon Associate I earn from qualifying purchases. Thank you for supporting this site!)
The Pimalai Resort and Spa on Koh Lanta Island is spectacularly beautiful. Set into the tropical jungle cliffs of Koh Lanta, spread across several buildings with golf cart service to ferry you up and down the hills at your whim, two INSANELY gorgeous infinity pools and the most incredible sunsets I have ever seen.
And the best part? It's totally off the radar of most luxury tourists in Thailand. I honestly don't know how this place escapes the hoards of island-hopping tourists (it's not even that expensive compared to the big, flashy luxury resorts of Samui, Phuket, or even mainland Krabi) but the best part of the Pimalai is how serene, quiet and understated it is. Well, except for the pools. Those make a big statement, in the best possible way.
We spent four full days at the Pimalai Resort and Spa, and I definitely could have stayed for at least a week.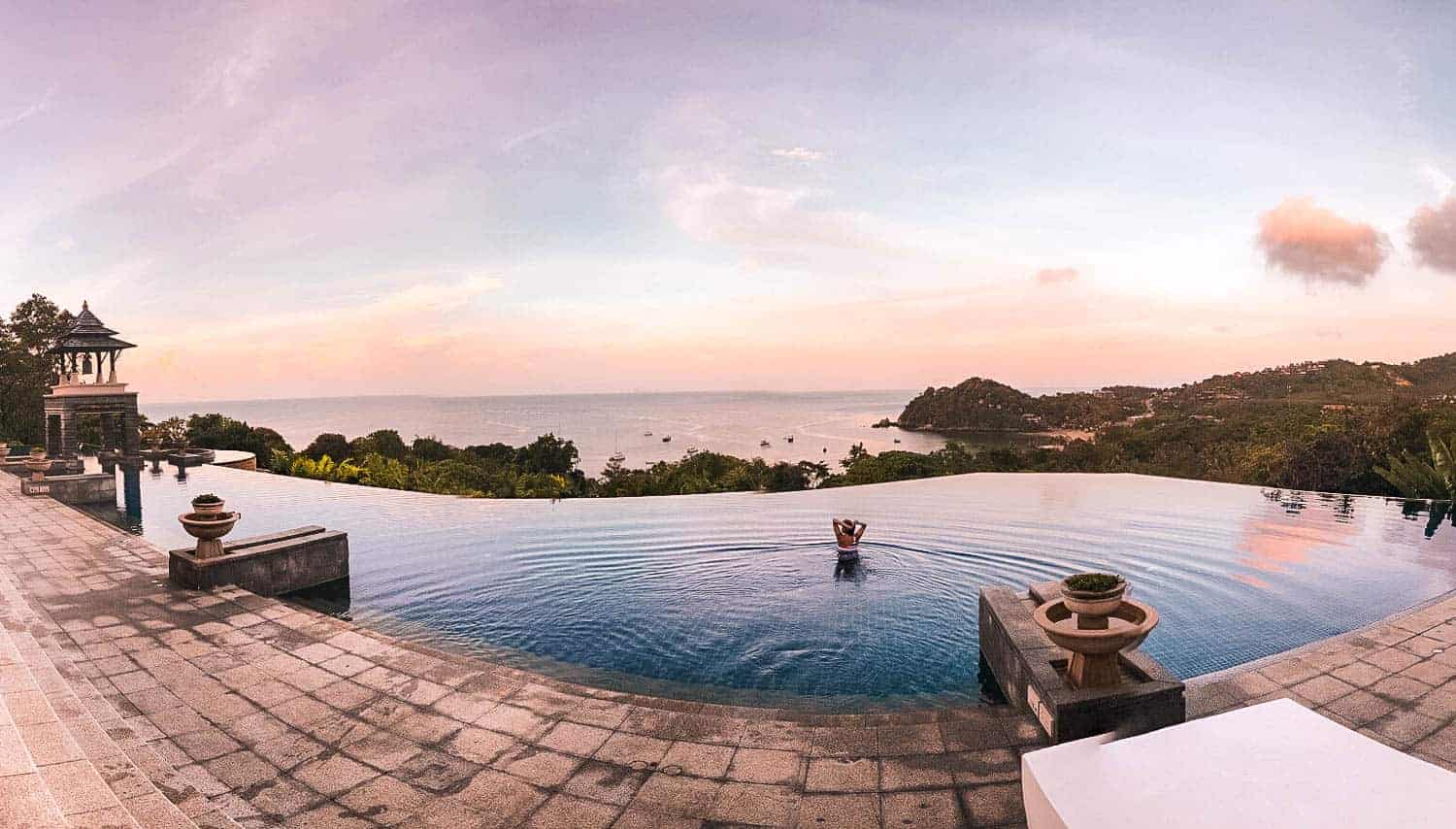 Getting To The Pimalai Resort And Spa
It's a journey to get to the Pimalai Resort and Spa, that's for sure. A flight from Chiang Mai, with a connection in Bangkok, to Krabi. An hour long car ride to private pier, and then a 45 minute boat ride to Koh Lanta. But it is so worth it.
And the wonderful staff of the Pimalai Resort make it so easy and seamless. Sure, you're tired but that's what the cliffside infinity pools and beach daybeds are for!
The hotel offers complimentary round-trip airport transfers from Krabi airport, so depending on where you're starting from you'll have to make your way there. There are direct flights to Krabi from Bangkok and Chiang Mai airports very regularly.
The original flight I booked with Thai AirAsia from Chiang Mai at 11:00 AM got rescheduled to 7:00 AM, which although it meant an ungodly early wake up call, ended up working out perfectly because we arrived at the hotel earlier and gained an extra afternoon. The flight process was very smooth, and we landed in Krabi airport at 9:00 AM.
After booking your stay at the Pimalai Resort, the hotel recommends you reach out to their reservations team to book your airport transfer. This was extremely easy and their team was very responsive.
Keep in mind that the Pimalai's boat transfers from Krabi jetty to the hotel run on scheduled times, so you'll want to coordinate your flight arrival time accordingly. You'll need to arrive at Krabi airport at least 60 minutes prior to your desired boat departure time (and honestly, I'd plan for 1.5-2 hours prior to be safe).
(Disclosure: This post contains affiliate links, which means that if you purchase something I recommend, I may earn a small commission, at no extra cost to you. Thank you for supporting this site!)
The schedule as of 2019 was as follows:
Mainland jetty to Pimalai – approx.: 09:00, 11:00, 12:45, 14:45, 16:15 and 17:30 hrs
We booked the 11:00 AM boat to Koh Lanta because we arrived at the Krabi airport at 9:00 AM.
A representative from Pimalai was waiting for us at the airport in Krabi, holding a very clear sign and he spoke excellent English. Since we had to wait for a few others guests, I immediately beelined to the coffee kiosk at the airport (Spoiler alert: This is not the place to enjoy that delicious Thai coffee. It tasted like mud).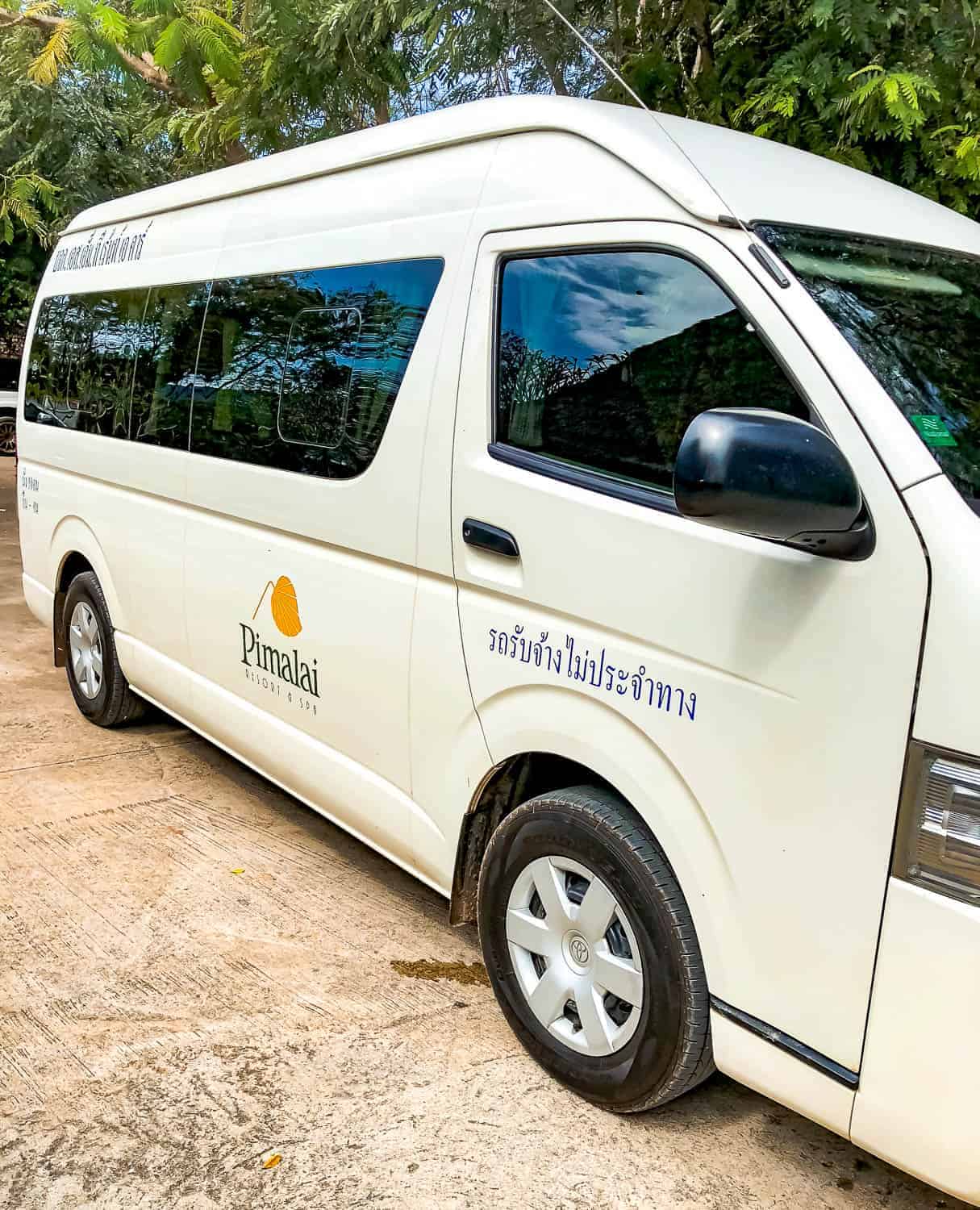 Once all the guests arrived – about 6 of us – our representative escorted us to a large, clean, comfortable air-conditioned van and offered cold water bottles. We drove in comfort roughly 60 minutes to Pimalai's private pier where our boat transfer was waiting for us.
The Pimalai staff took care of loading all our luggage onto the boat, while we freshened up and used the (very clean and modern) private bathroom facilities by the pier.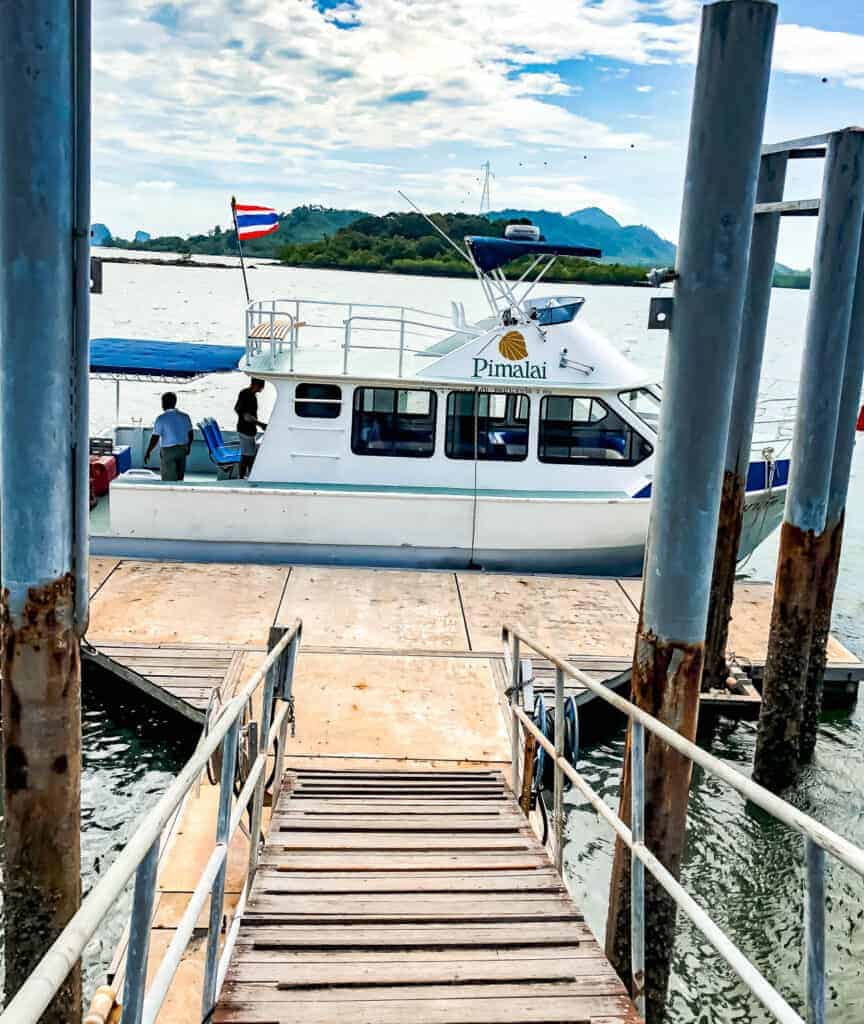 As we sped off for the 45-minute journey across the Andaman sea, JB and I knew we were about to experience something special. The majestic rock formations rising out of the sea, the blue of the water varying from deep azure to crystal-clear turquoise, and then the first view of the hotel, a series of buildings rising out of the forest, scaling up the side of the cliffs, almost hidden…there was such a feeling of excitement, anticipation and good energy, we knew instantly that this place would be magic.
We were not disappointed!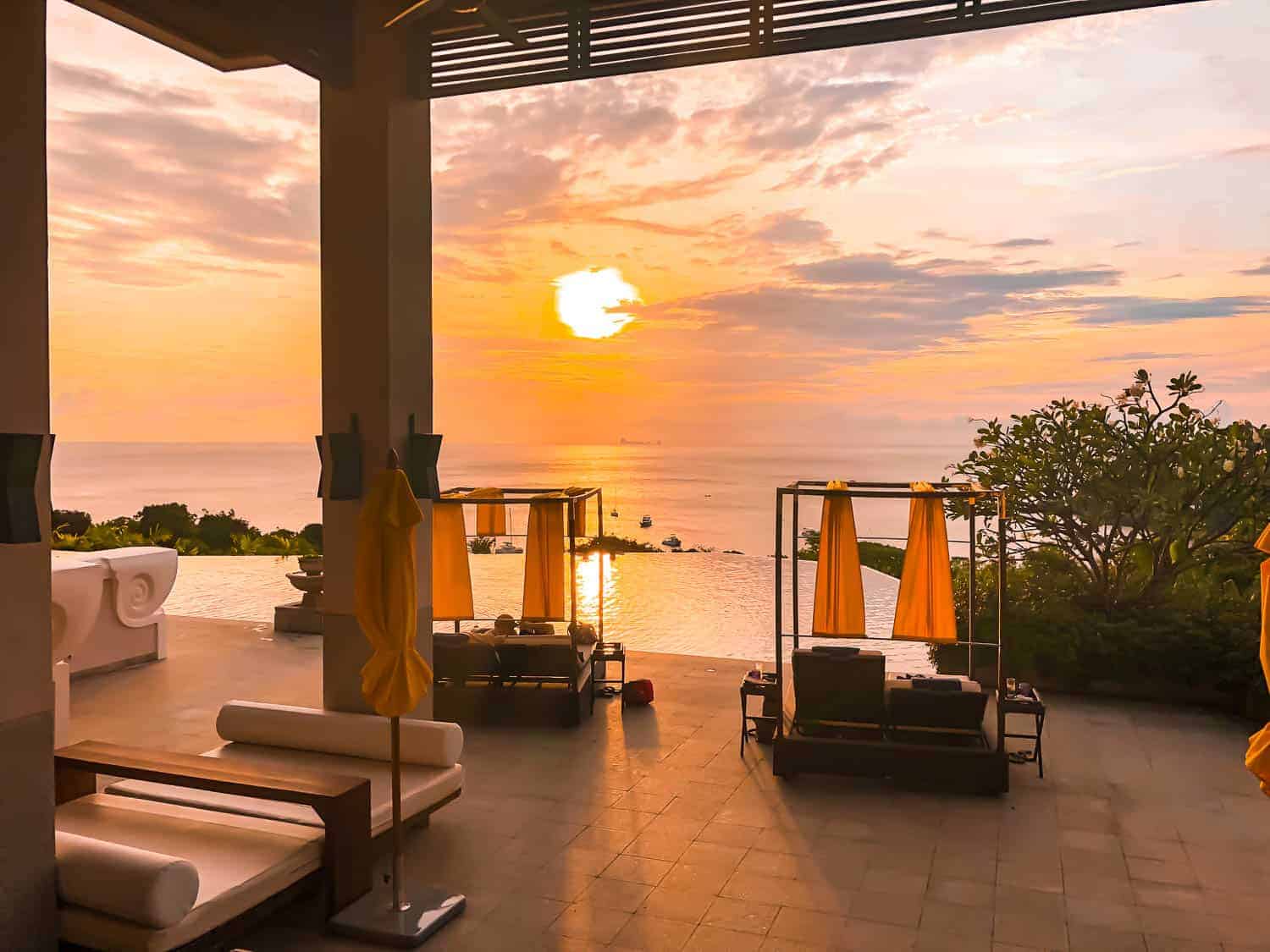 The welcoming hospitality was exceptional, from our beach greeting with floral leis and the refreshing welcome drink (non-alcoholic) and the service remained top notch throughout our entire stay.
Pimalai Resort And Spa Hotel Overview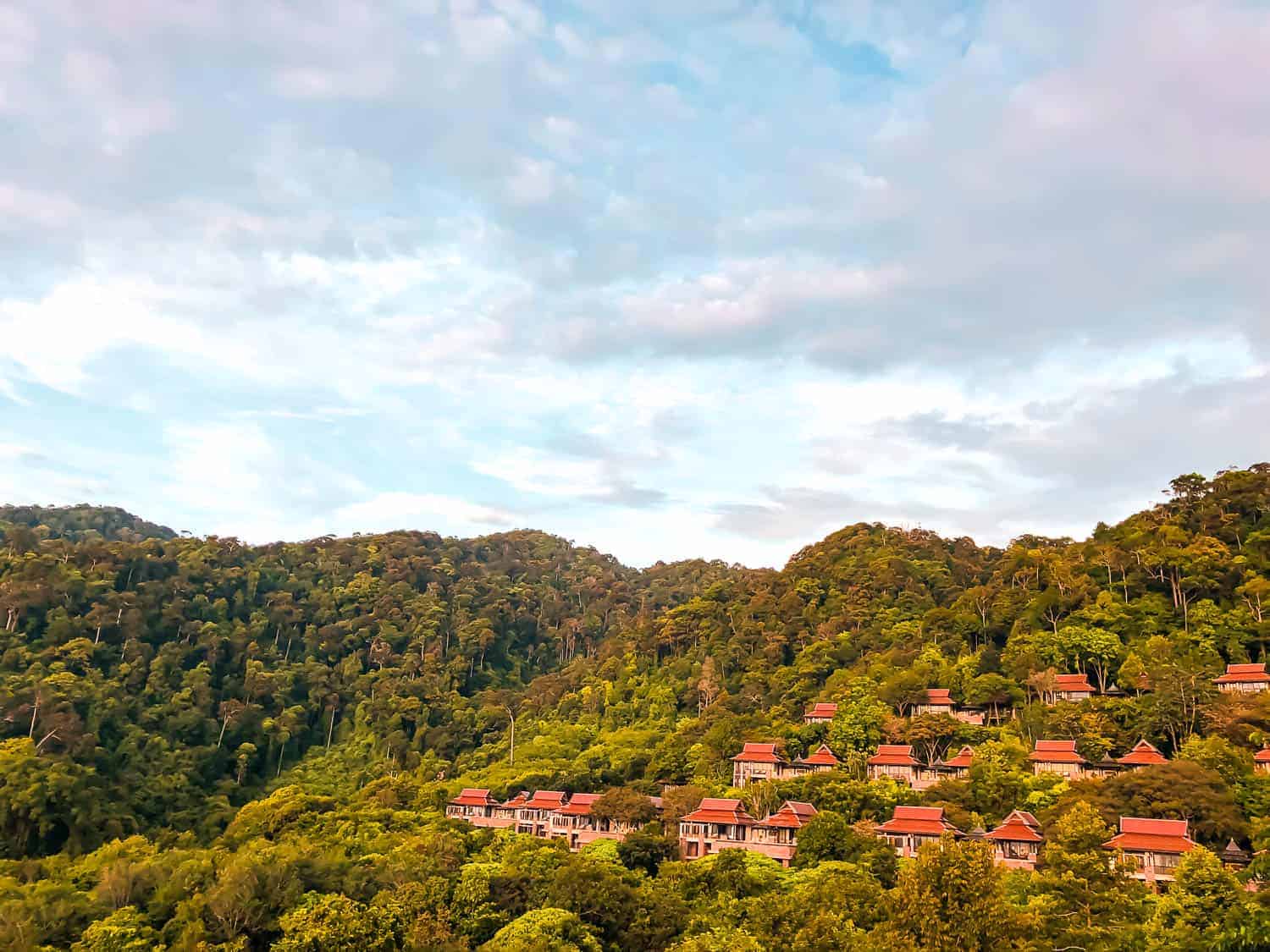 The Pimalai Resort and Spa rises above 900 meters of its own private beach, built into the cliffs and surrounded by lush tropical forest. The resort spreads out over several buildings that also rise up across the cliffs, with the rooms at the highest points offering the best views.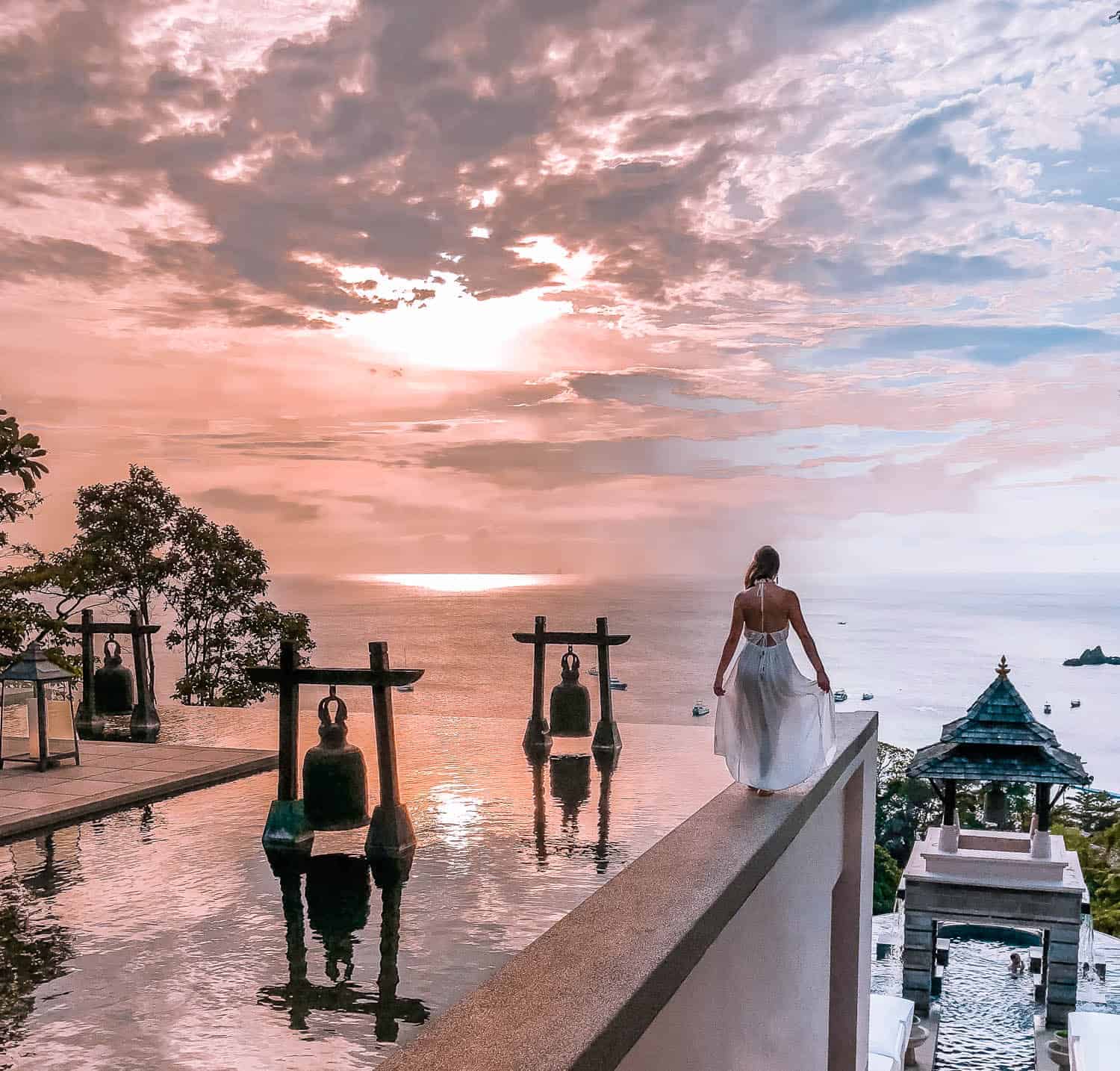 Staff are on call with golf carts to whisk you up and down the hills whenever you need, so don't worry about getting around the grounds.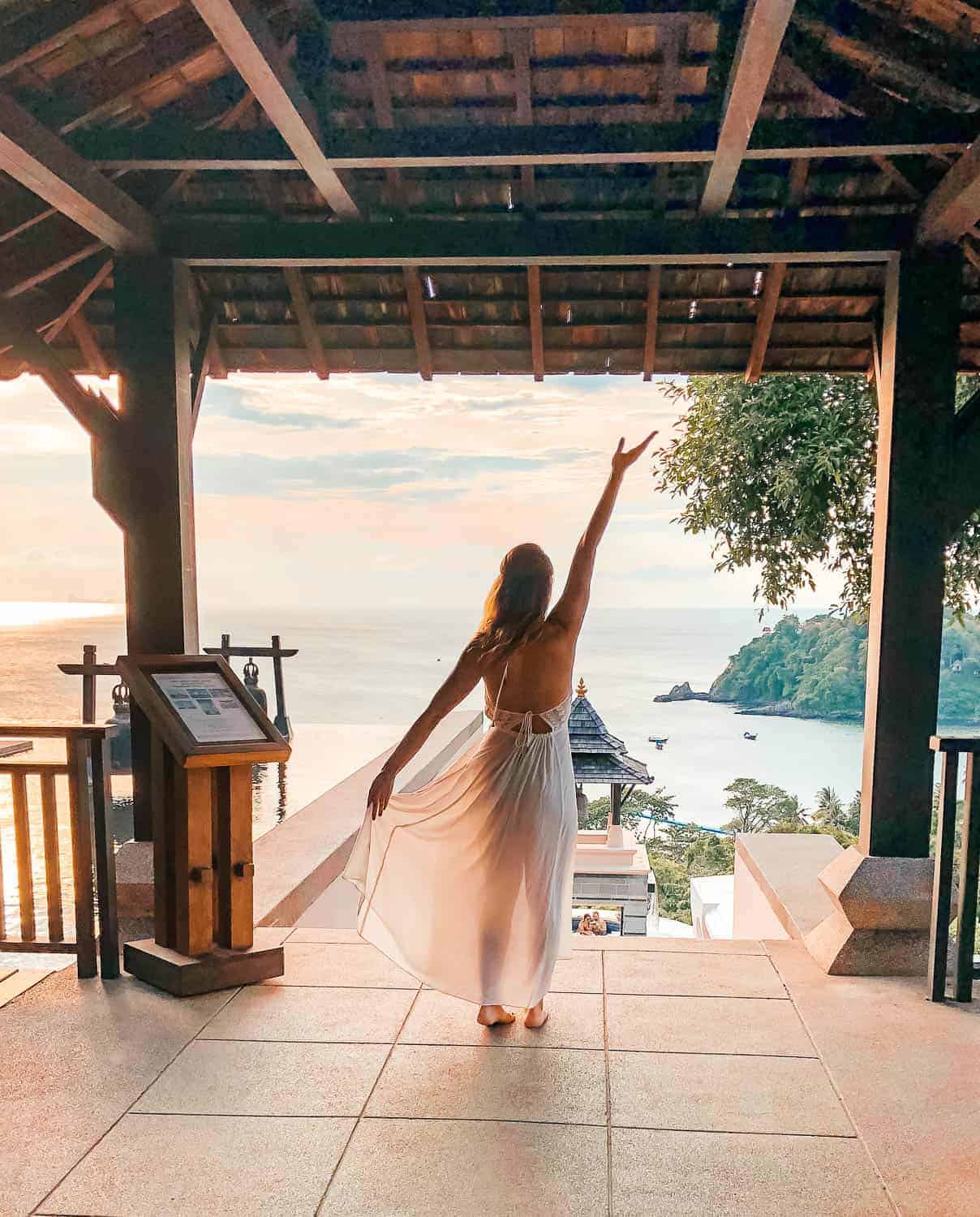 There is a main reception building with a lower level lounge, a spa, gym, three restaurants plus a poolside cafe, and lower and upper level infinity pools. The 5 room types range from deluxe to hillside ocean view villas and all rooms have private balconies.
The hotel's philosophy of getting back to nature is evident in the architecture as almost every building has an indoor/outdoor living element with wide open-air pavilions.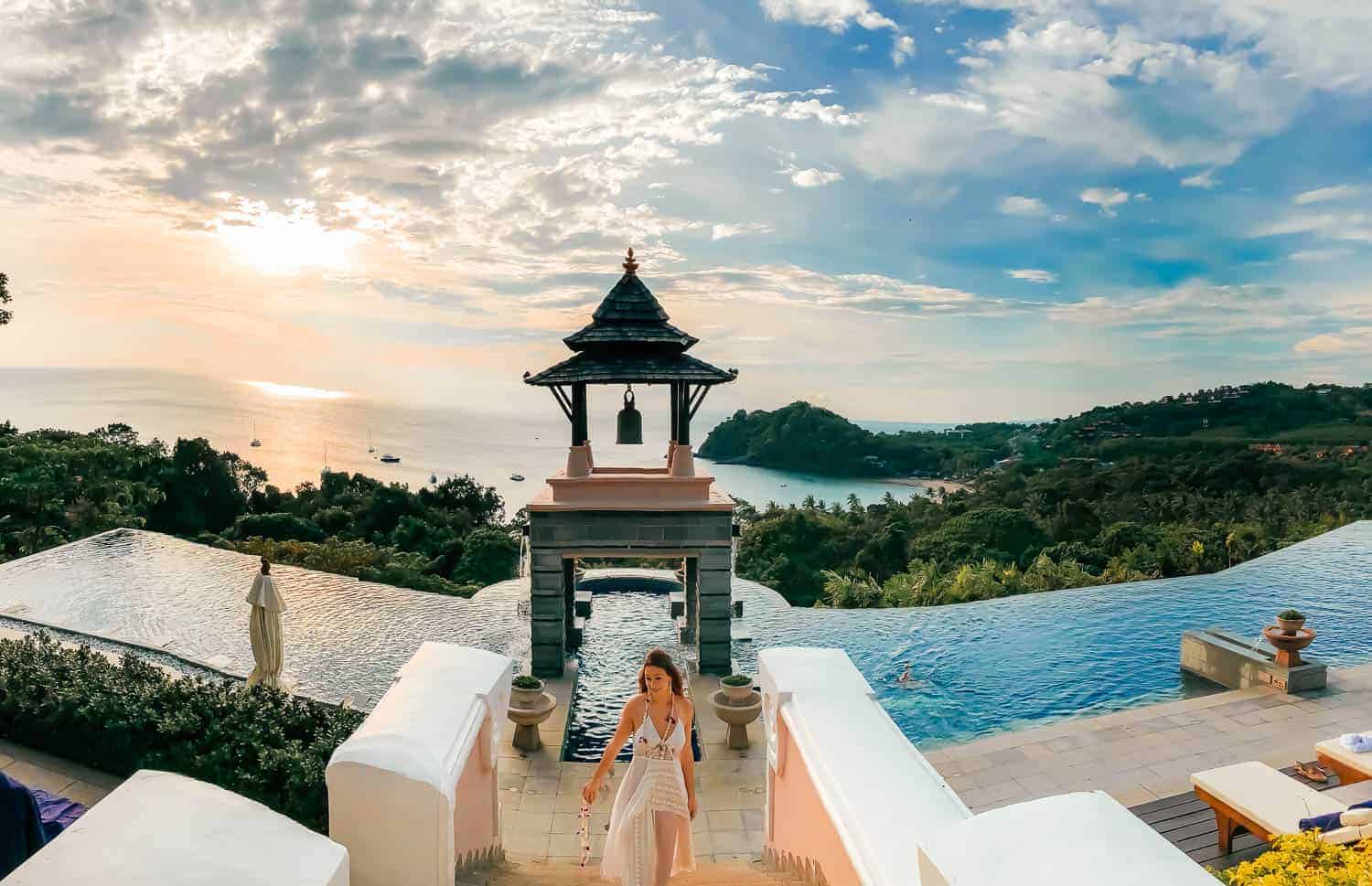 The grounds are impeccably landscaped, creating the sensation of constantly being in a tropical secret garden. The hotel is definitely geared towards couples who want a romantic, luxury vacation, I think families with kids or groups of friends would also have a great time.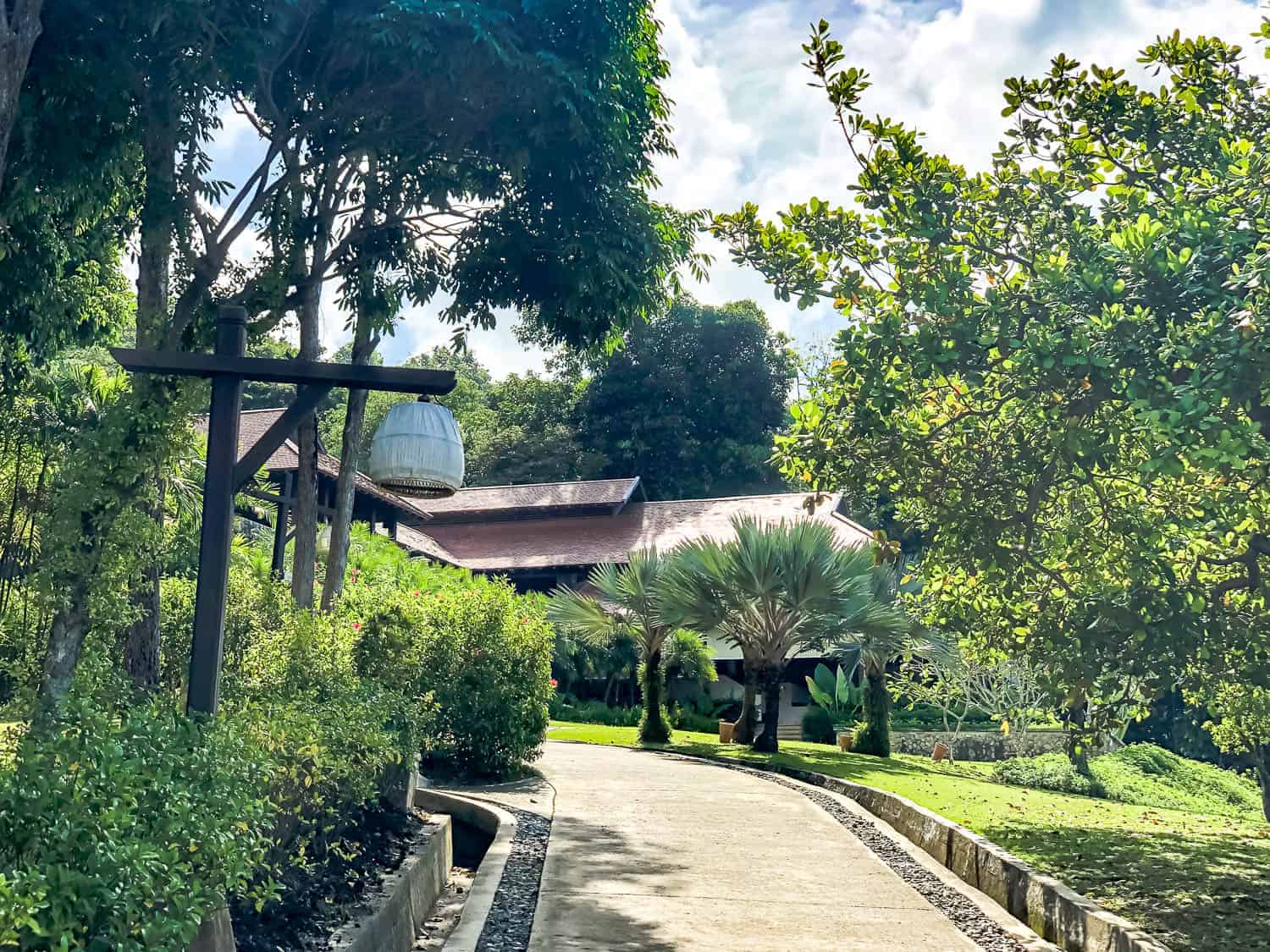 The Pimalai is definitely not a party hotel though and there's not a ton of nightlife, save for a few casual beachside restaurants (and I do mean the tables are literally on the sand) including one that offers a spectacular fire show on the beach every night.
Pimalai Resort And Spa Guest Rooms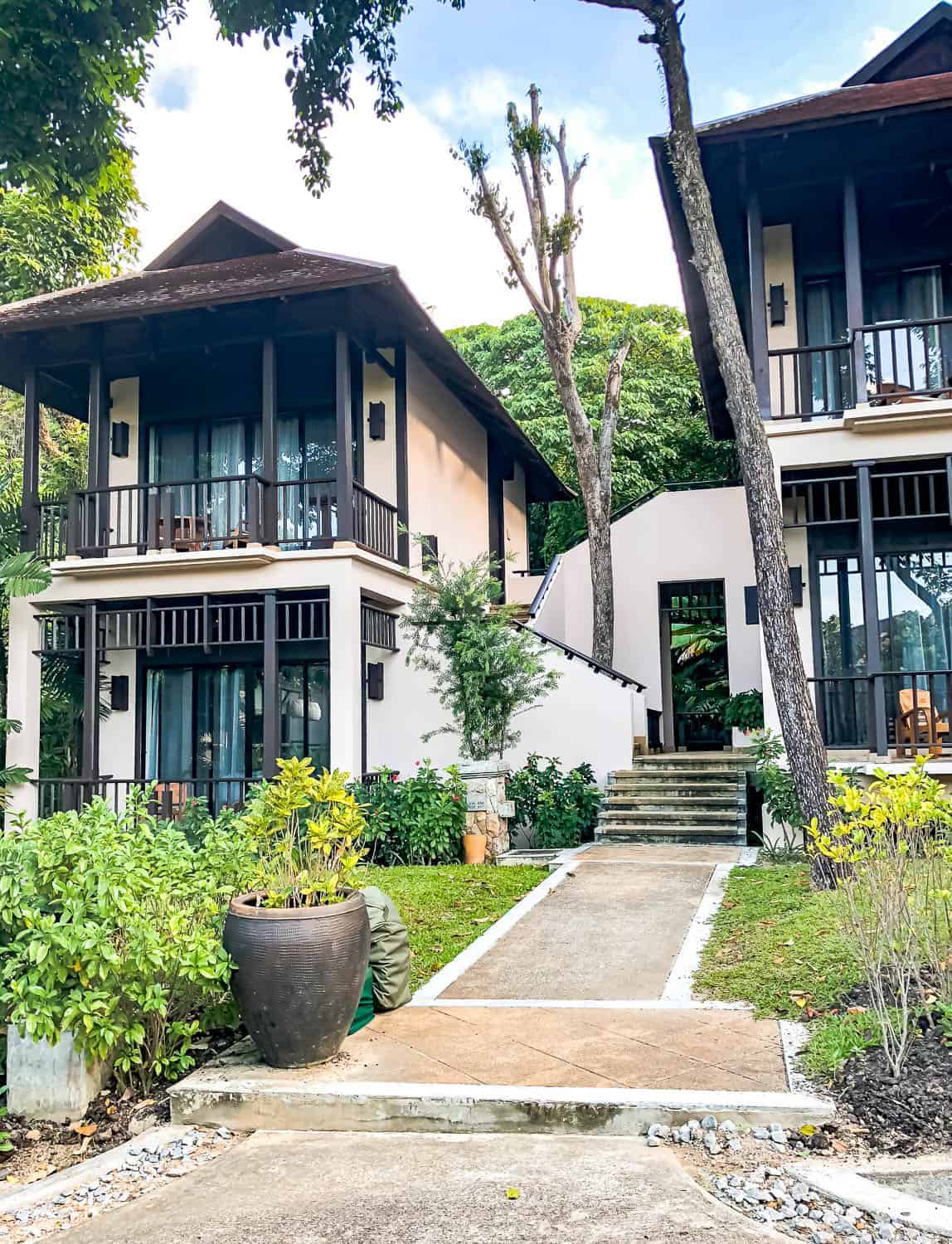 JB and I booked a regular room, called a "deluxe" room, and it was more than enough for our needs. The room featured a spacious living area, private balcony, large bathroom with separate tub, and thoughtful details like fresh fruit, tea and flowers.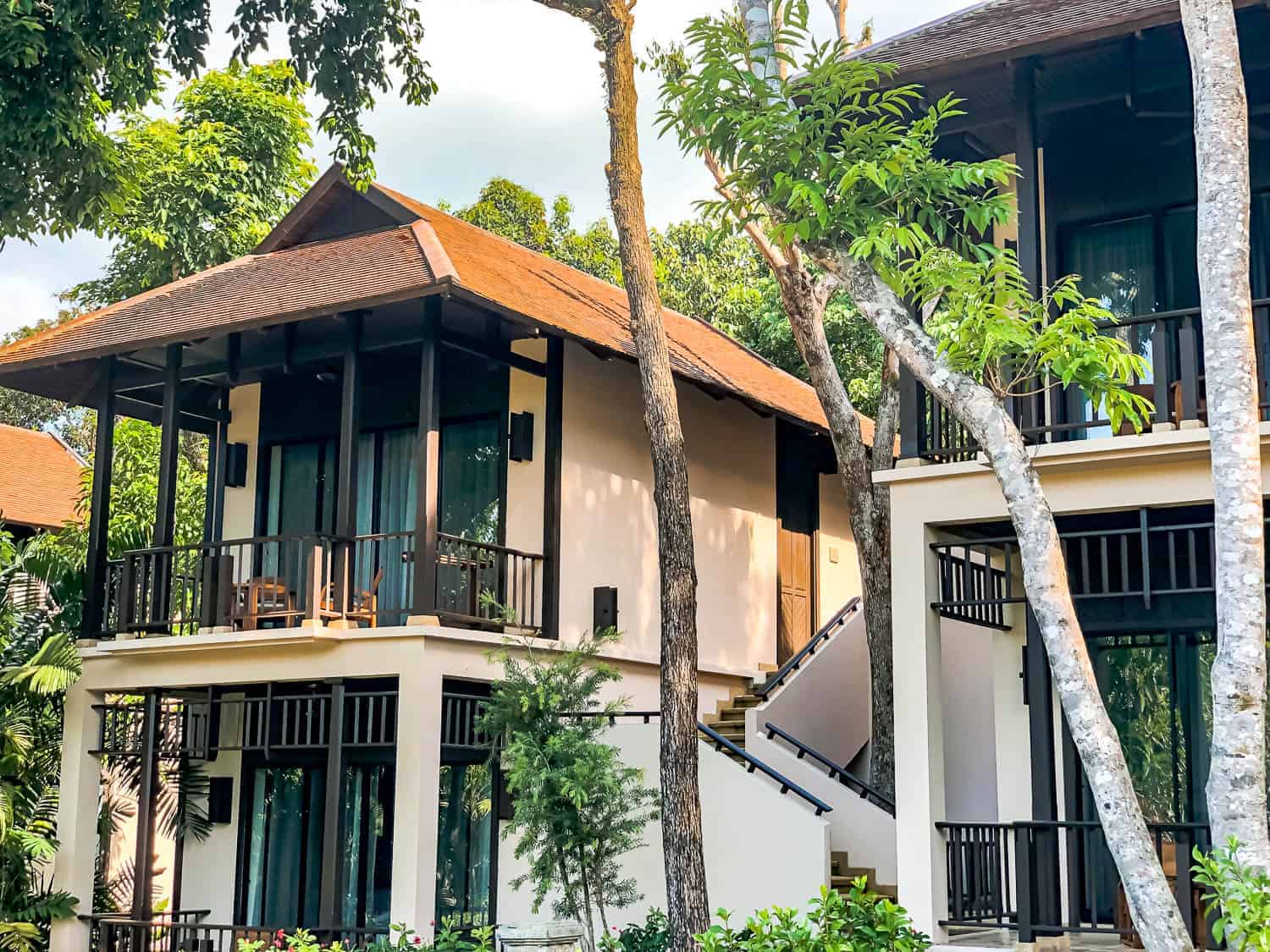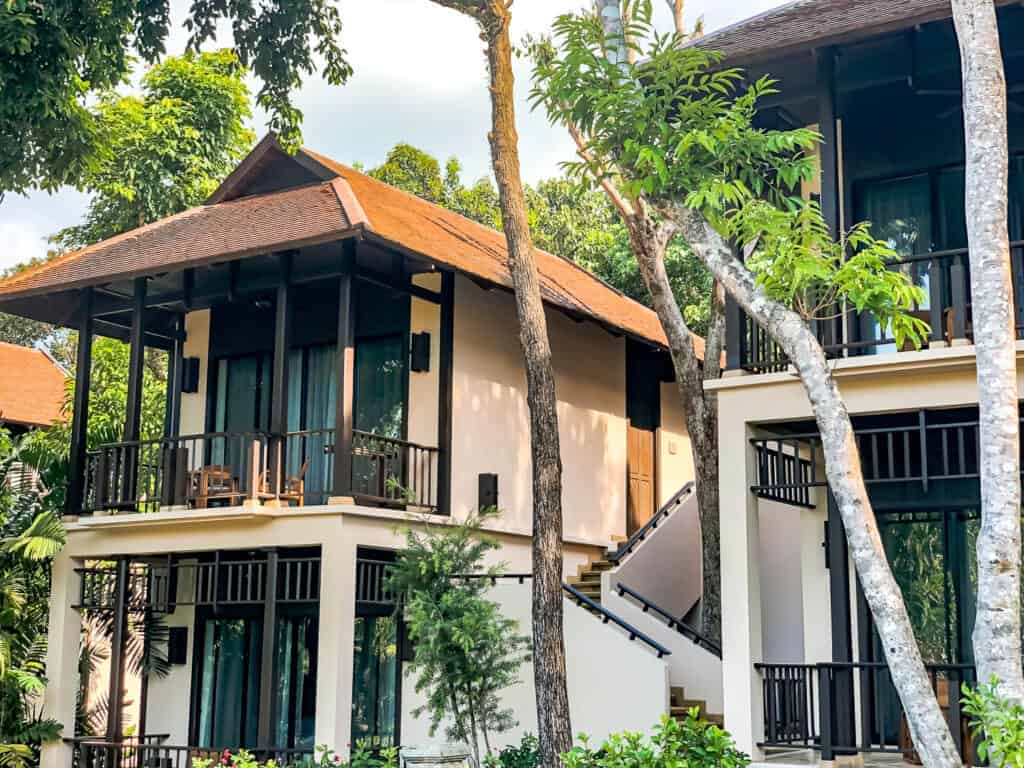 The room was impeccably clean and the king-size bed felt like sleeping on a cloud. No complaints about the room whatsoever!
The room had strong air-conditioning, which was a must for us as we like to sleep cold, and was a welcome reprieve from the heat outside.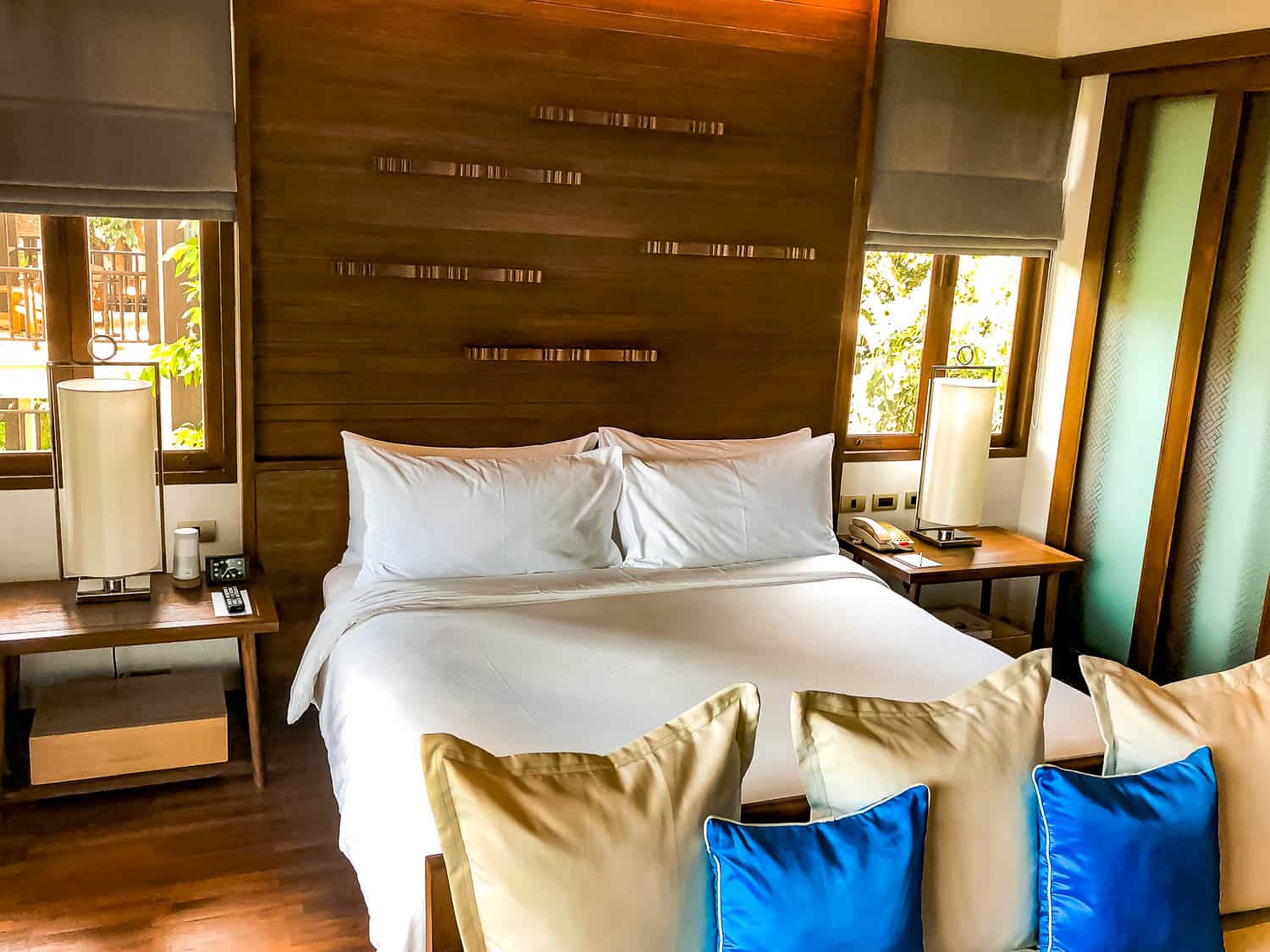 Decor was definitely Thai-inspired with luxe fabrics and teak floors, but had a nice modern vibe, especially in the bathroom (I am picky about my hotel bathrooms and this one was excellent!).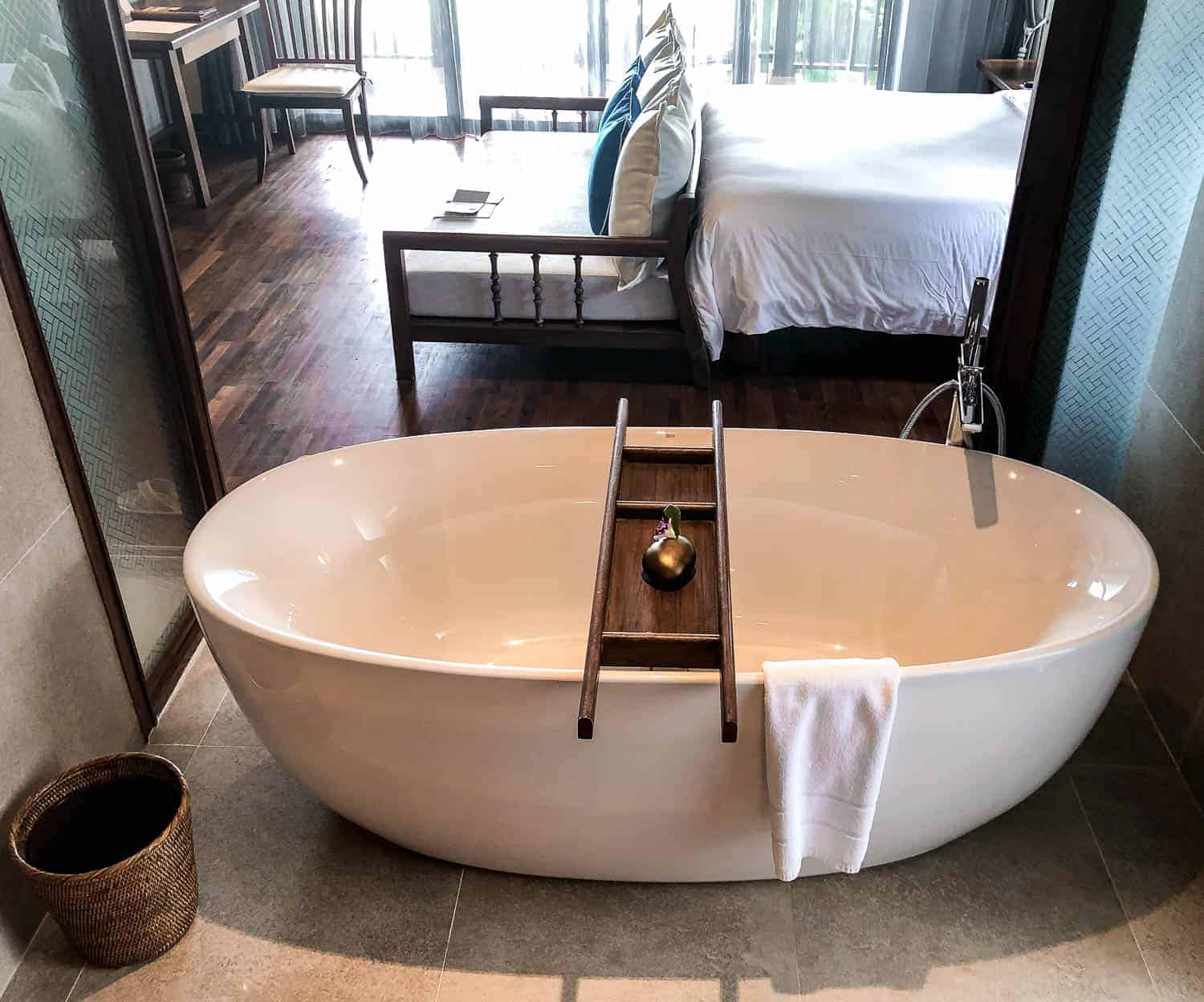 If you're looking for more space, a better view or a more luxurious room, the Pimalai hotel offers hillside ocean view suites, beachside suits, and one or two bedroom pavilion rooms.
Technology At The Pimalai Resort And Spa Hotel
I always like to mention the WiFi in my hotel reviews (hey, I'm a millennial, I need to be connected at all times!) and the free WiFi was pretty strong throughout the resort.
Our room had a TV, not that we ever turned it on, a pretty weak hair dryer (when will all luxury hotels finally stock Dyson hairdryers, a la The Edition hotels?!) and a coffee/tea maker which we made use of for our caffeine fix every morning.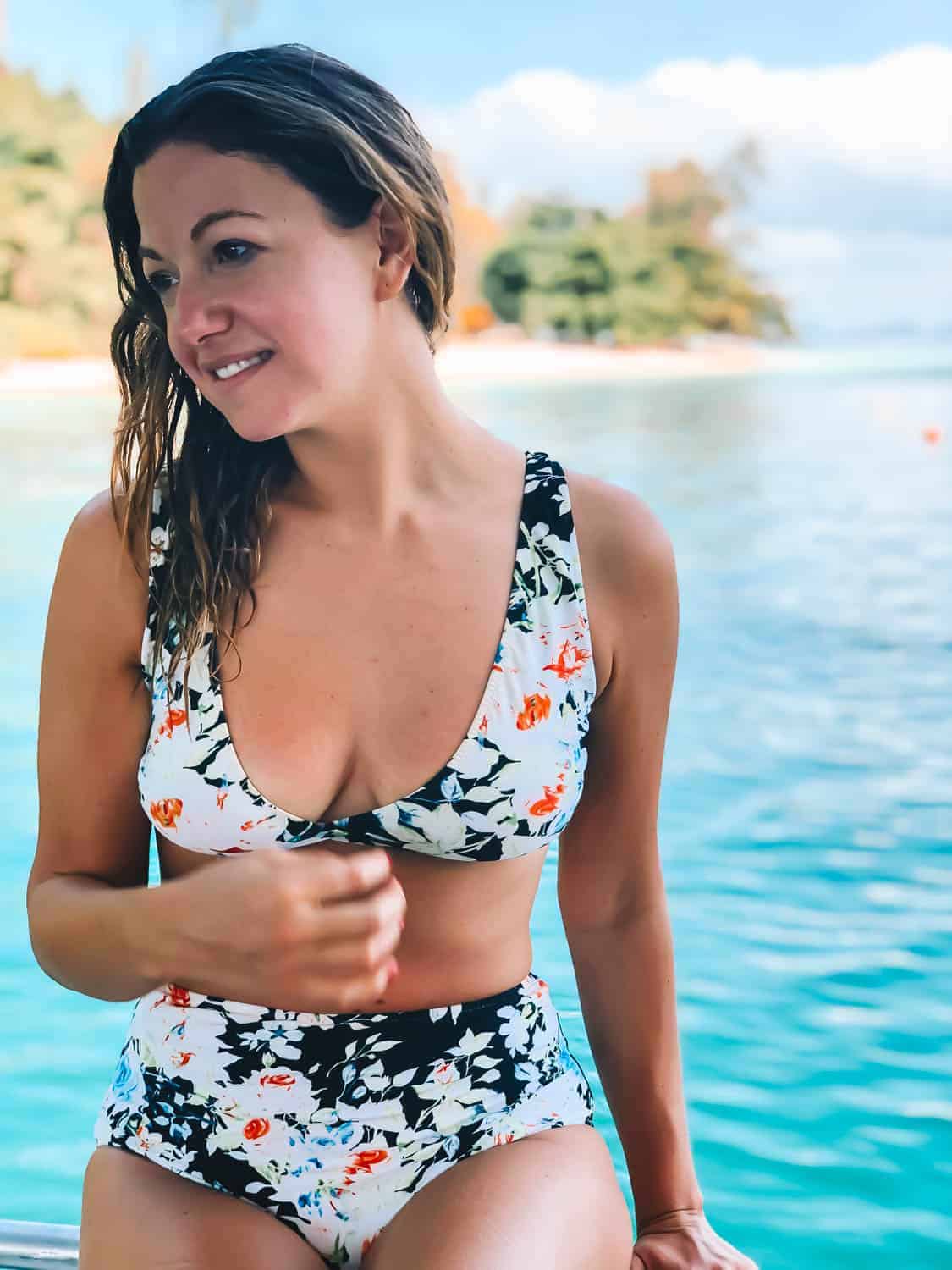 The Pimalai Resort and Spa is not particularly technologically-advanced – not like, for example, the Six Senses Douro Valley with its iPad controls, smart TV and keycard wine dispensers – but it didn't need it to be. The whole point of a stay at the Pimalai is to relax, get back to nature and immerse yourself in the beauty of the sea, the skies and jungle. As long as there's strong working Wifi, that's enough!
Pimalai Hotel Pool And Spa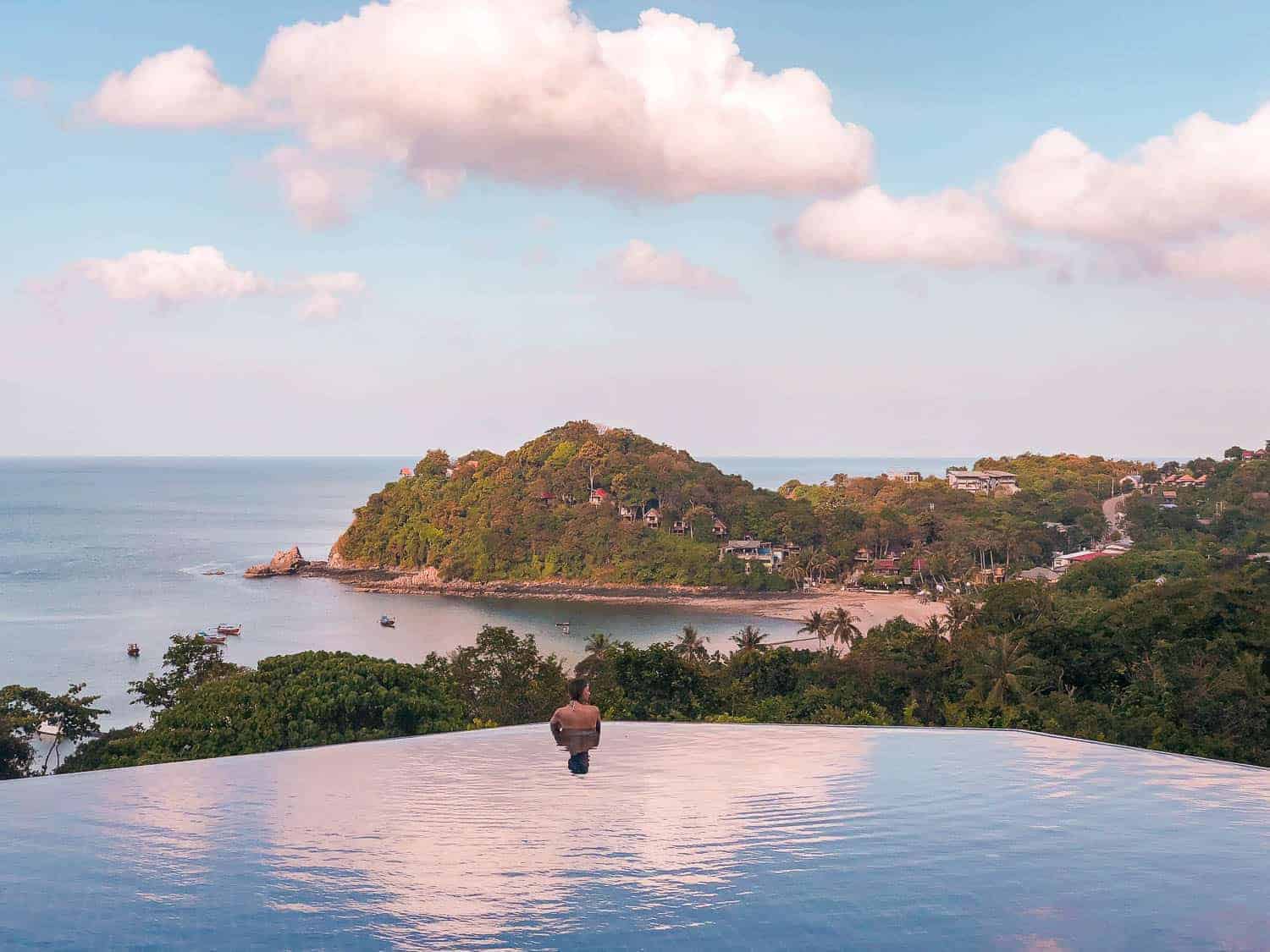 Oh my, the pool(s). The pools at the Pimalai Resort and Spa were probably the most jaw-dropping aspect of our stay. So much so that we got up at 5:00 AM every morning to have the pool to ourselves and watch the sun rise over the Andaman sea in the hilltop infinity pool.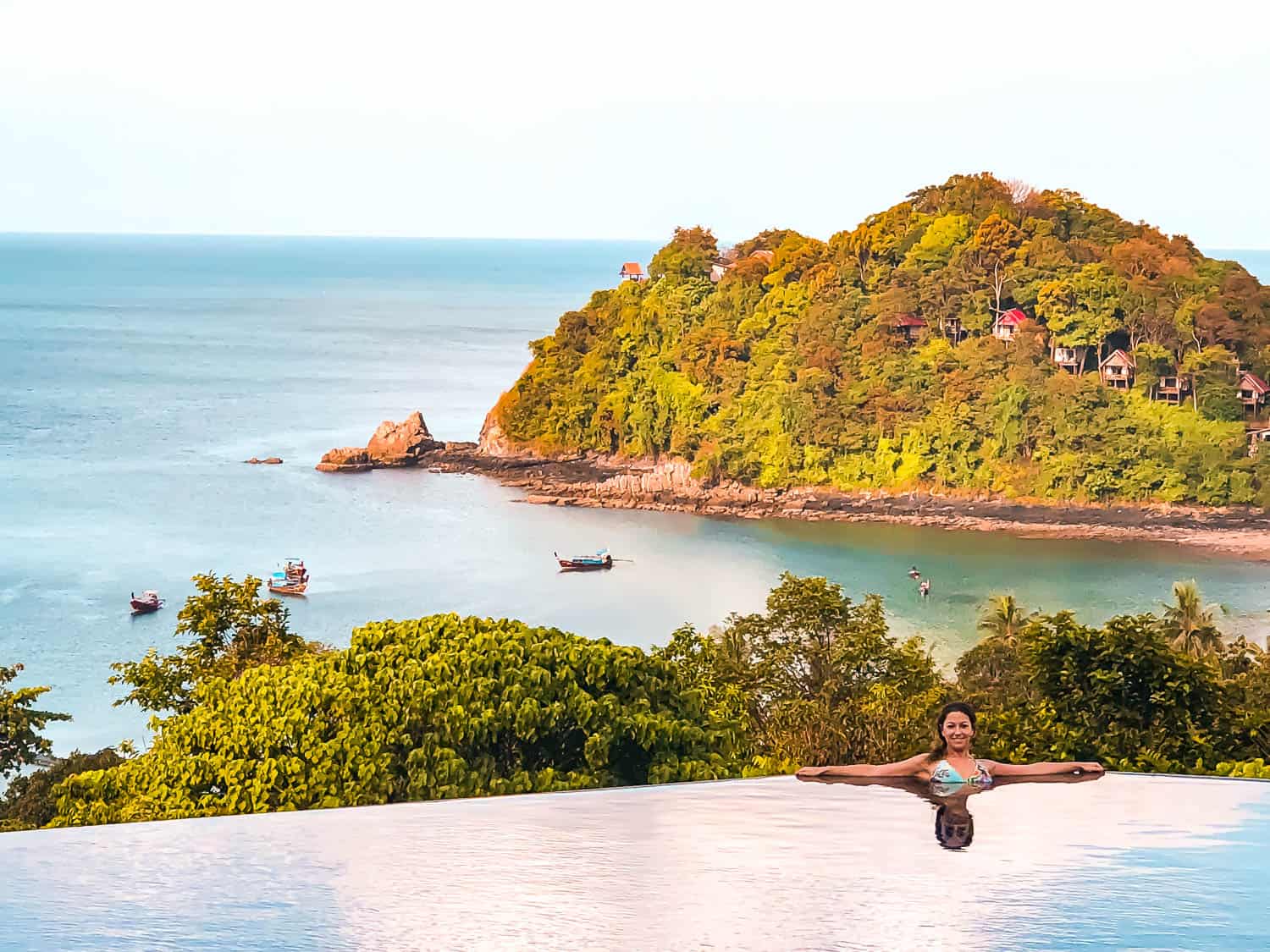 There are two pools, one on the upper level and one on the main level, closer to the beach. JB and I spent most of our time at the upper pool because of the spectacular views. The infinity pool is spacious and never felt too crowded, with plenty of loungers position for shade or sun.
Service at the Banyan Tree poolside cafe was excellent. Attendants frequently passed by the loungers, ensuring you had plenty of water or any other food and beverages needed. We indulged in many glasses of rose, as well as a few Pina Coladas (not too sweet, which was perfect!) as well as snack items from the food menu.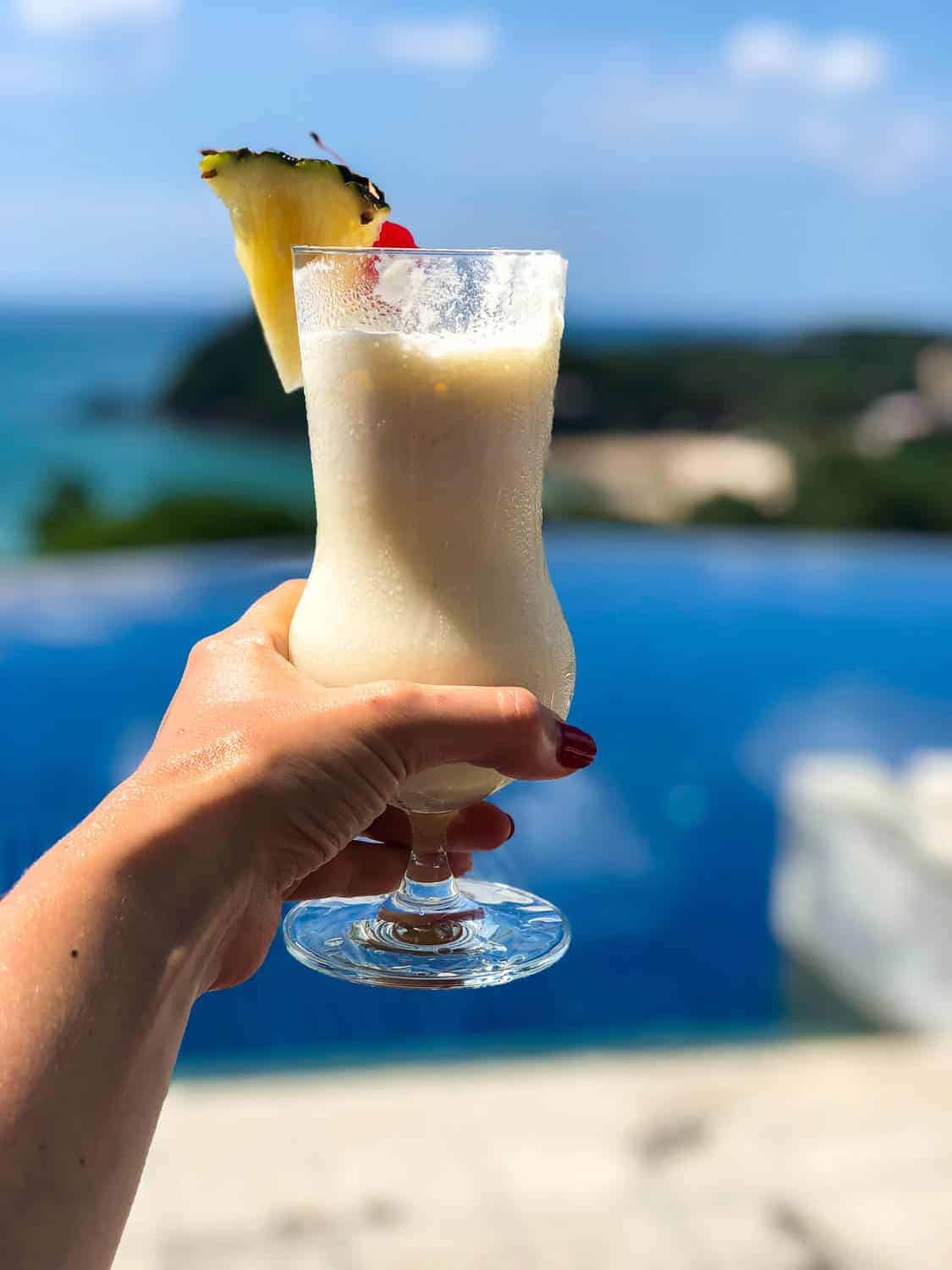 The spa at the Pimalai resort is expensive, but wonderful. JB and I were originally not going to get treatments, but on our second to last night, we decided to say screw a savings account and go for a couples massage. The spa is a beautiful space, with the indoor/outdoor design common to most of the hotel's shared spaces. Adorned with plants and greenery, water elements, wood and stone, the tranquil spa was just as beautiful as the rest of the hotel, and the massage therapists as friendly, welcoming and talented as everyone else we encountered.
The massages were excellent but not mind-blowing. JB and I were happy we did it and it was the perfect way to begin our last night at the resort (we went before dinner on our last evening) but I don't think you'd be missing much except the beautiful space as far as the treatment goes.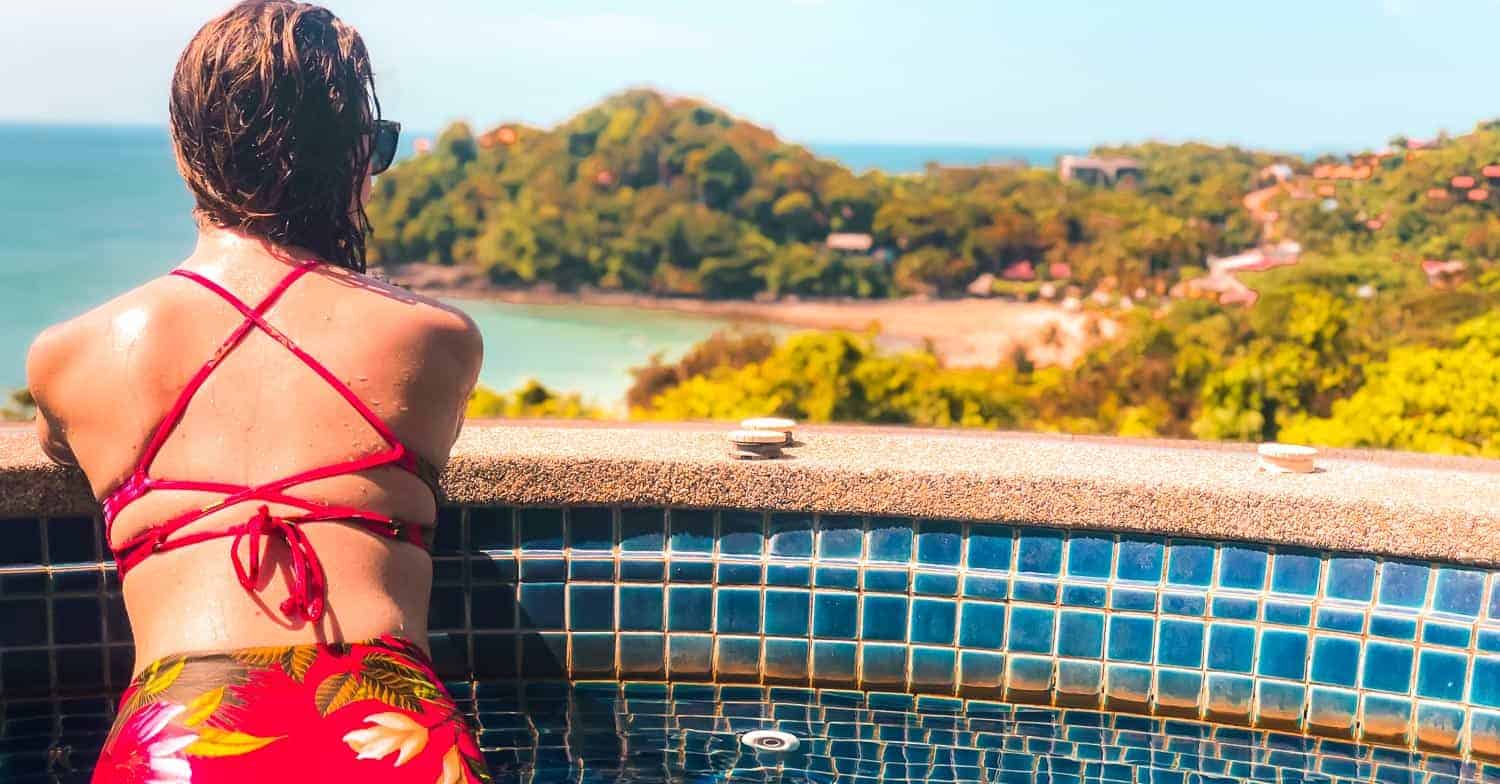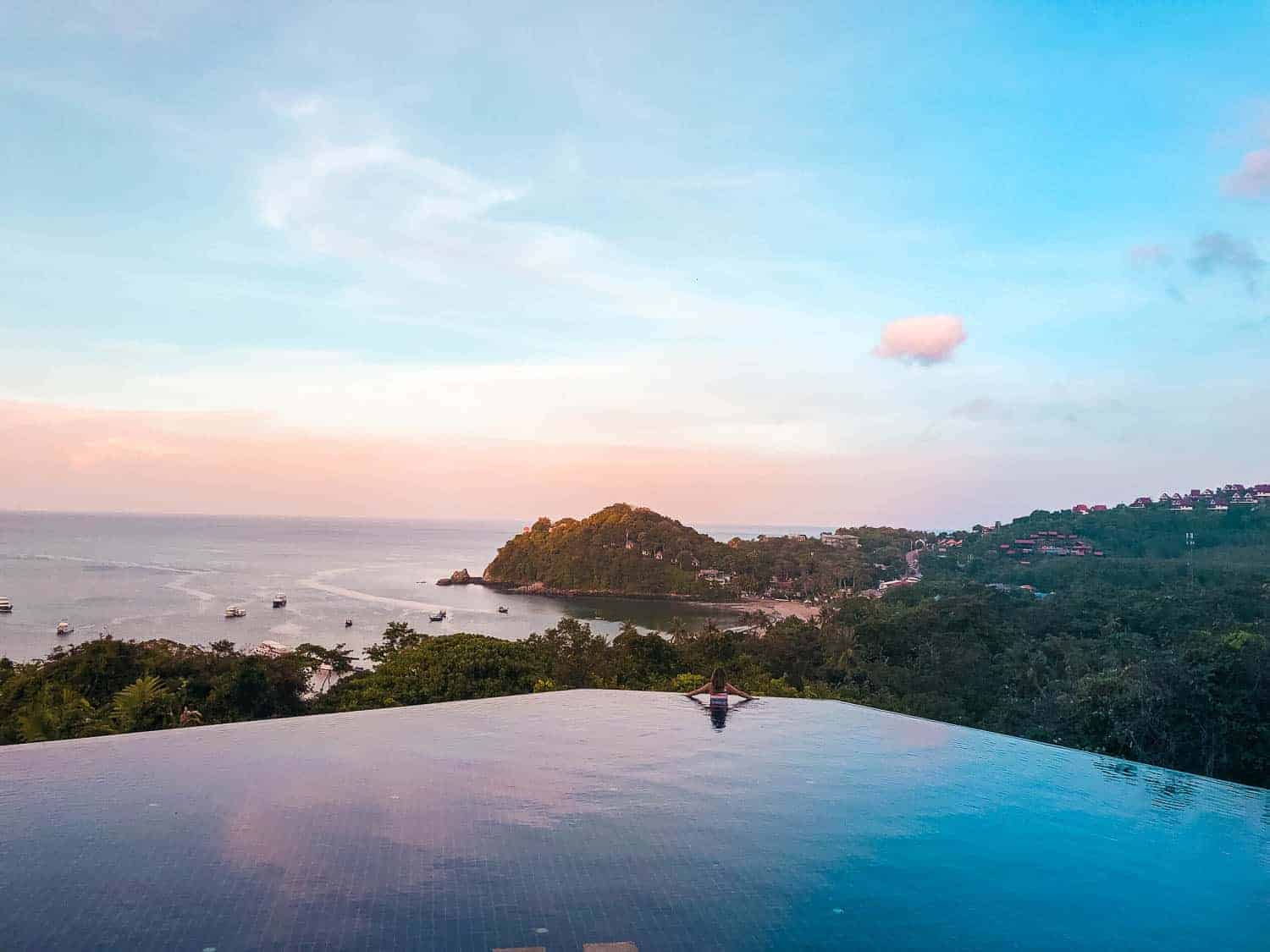 Pimalai Resort And Spa Food And Restaurants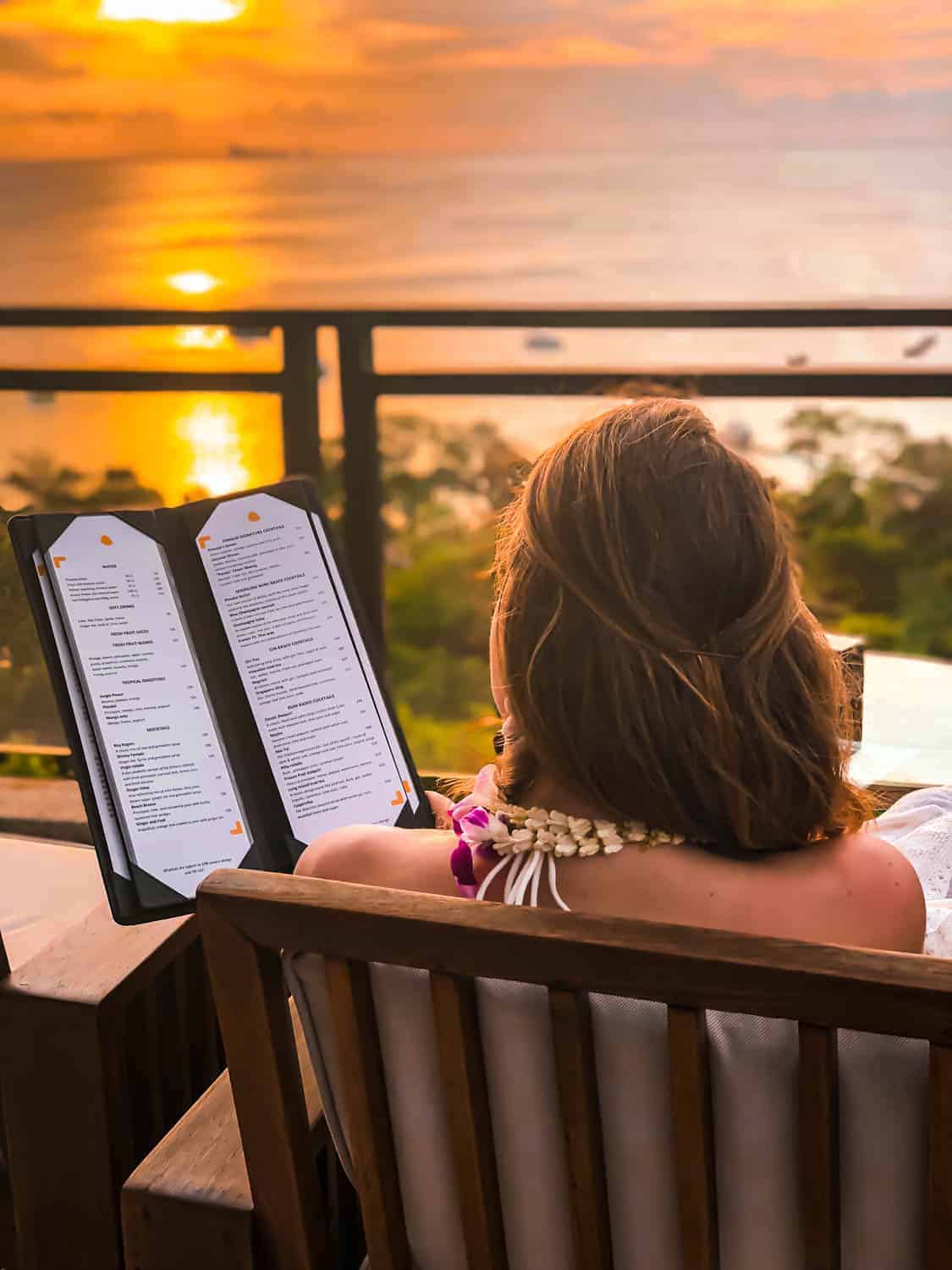 The Pimalai Resort and Spa has three restaurants, plus a poolside cafe. The Spice and Rice restaurant on the lower level of the resort, just above the lower pool and set slightly higher than beach level, serves breakfast and dinner. I recommend booking a room rate that includes breakfast, because Pimalai has the most incredible breakfast buffet I have ever experienced.
Seriously, JB and I looked forward to breakfast at the Pimalai almost as much as we looked forward to every other activity. There were rows and rows of fresh squeezed juices, fresh fruit, an omelet station with made to order eggs, a carb lover's dream buffer with every type of bread and pastry you could ask for, along with homemade flavored jams (the ginger jam was to die for). If that's not enough, there's also a variety of Western and Asian breakfast specialties. But the most amazing part was that every morning, the restaurant staff remembered that I had a gluten allergy and placed a basket of gluten-free breads, muffins and/or pastries in front of me every morning, without even having to ask.
Now, I highly recommend that if you have food allergies, let the hotel know as far in advance as possible so they have plenty of time to accommodate you. I emailed the hotel immediately after we booked to let them know, and I did not want for any gluten-free item during my trip.
The beach-side indoor/outdoor restaurant, Rak Talay Beachside Bar and Restaurant, has an indoor dining room and an outdoor dining area so you can literally have dinner on the beach. This is a mainly seafood restaurant but also has various theme nights and beach BBQs, which JB and I attended as a surf and turf dinner one night, which was delicious.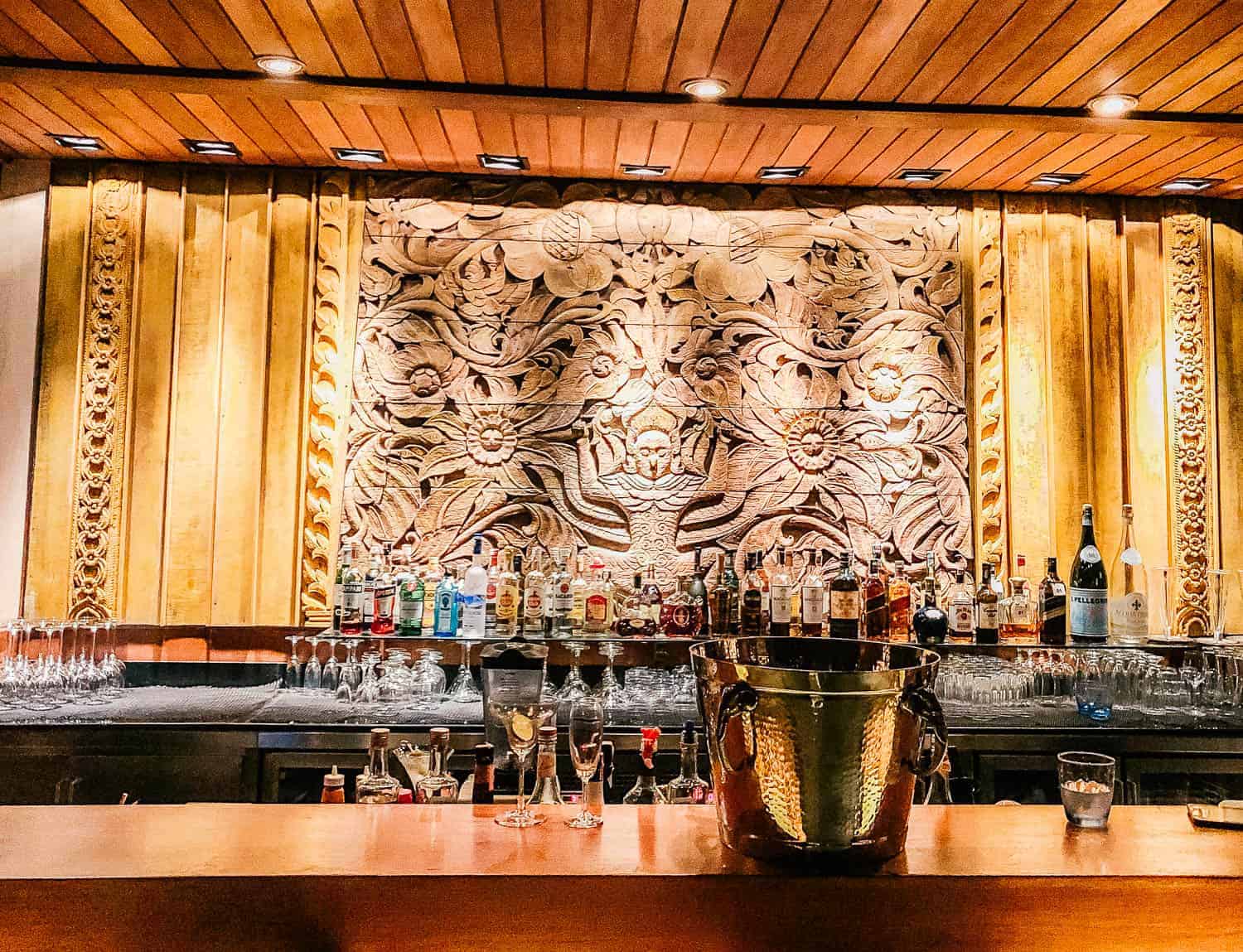 The "fancy" restaurant is the Seven Seas restaurant, which sits on the upper level, and overlooks the upper infinity pool and gorgeous views of the Andaman sea. We ate here on our last night, as a celebration/splurge of the end of our trip, and it was delicious. The Seven Seas also hosts a happy hour from 5:00 – 7:00 PM every evening, so JB and I would grab a table on the patio overlooking the views, order drinks, and watch the sun set.
The happy hour also came with trays of snacks – nuts, olives etc which was an nice touch. Trust me, this is the move for happy hour. You get a great deal on drinks and the sunset views are spectacular.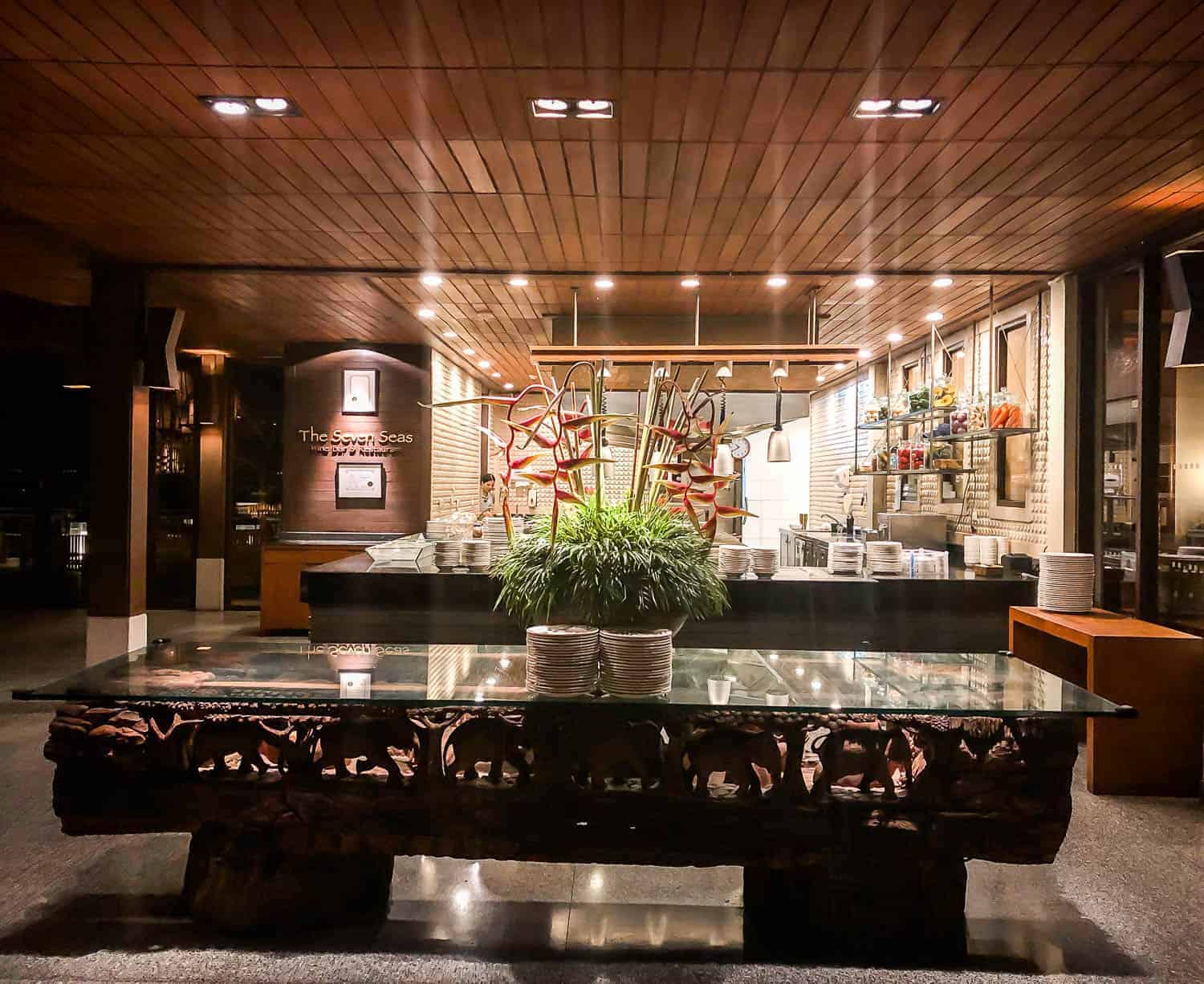 We also ate at the poolside cafe at the upper pool, the Banyan Tree, which had delicious tom yum soups, Pad Thai and Western snacks like French fries.
The food and drinks at the resort are definitely expensive, and while everything was delicious, it's probably overpriced. Luckily, there are a few restaurants right on the beach next to the resort that are incredibly reasonable. We enjoyed one evening at Why Not bar & restaurant, which is right on the beach (literally the tables are on the sand) and had delicious pad thai. Why Not also puts on a spectacular fire show on the beach every evening that made for excellent entertainment.Another restaurant that we tried further up the beach was not great so I'm not going to recommend it here.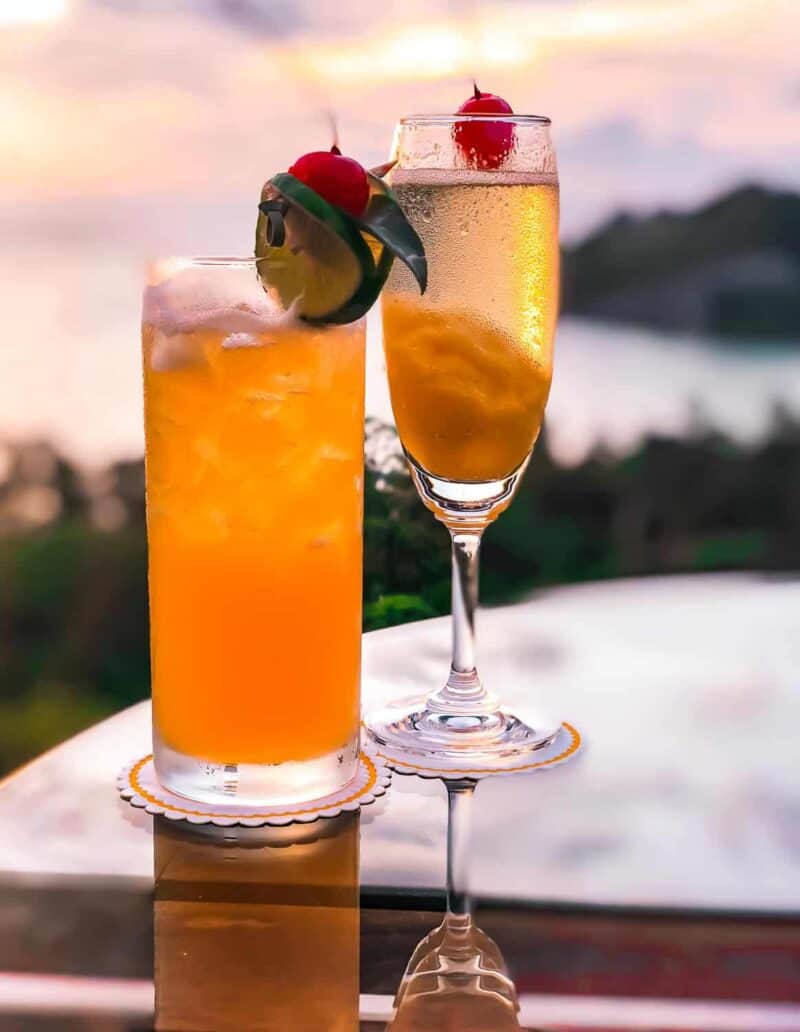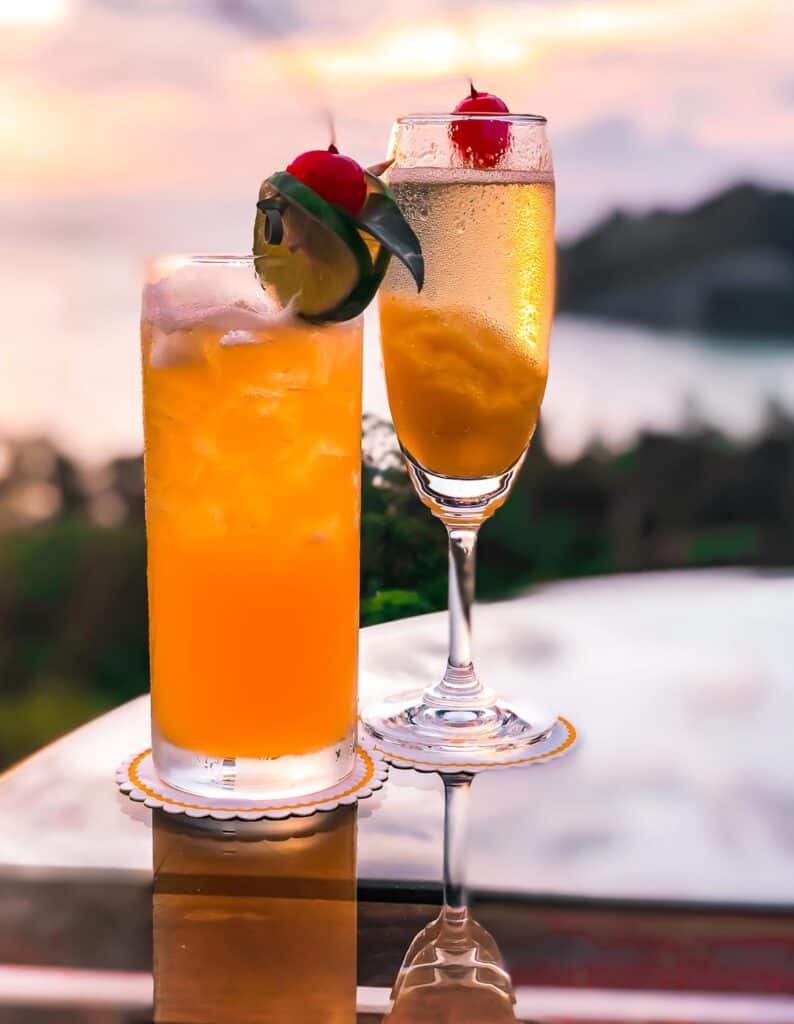 The move at the Pimalai is definitely to book a room that includes breakfast (you honestly will probably not be hungry after that for most of the day), enjoy the Seven Seas happy hour, and then head to Why Not bar for a late dinner.
We didn't venture into the town of Koh Lanta, preferring to spend as much time relaxing at the resort as possible, but there are also restaurants in town to try if you don't want to eat at the resort and are craving some variety.
Things To Do At The Pimalai Resort And Spa
You mean you want to do something other than float in a cliffside infinity pool, eat a million breakfast buffet carbs, lounge on the beach and drink bellinis?
That is a perfectly acceptable and incredibly enjoyable vacation at the Pimalai hotel (you read the pool section, right?!), but the Pimalai Resort and Spa also offers a great variety of activities and excursions.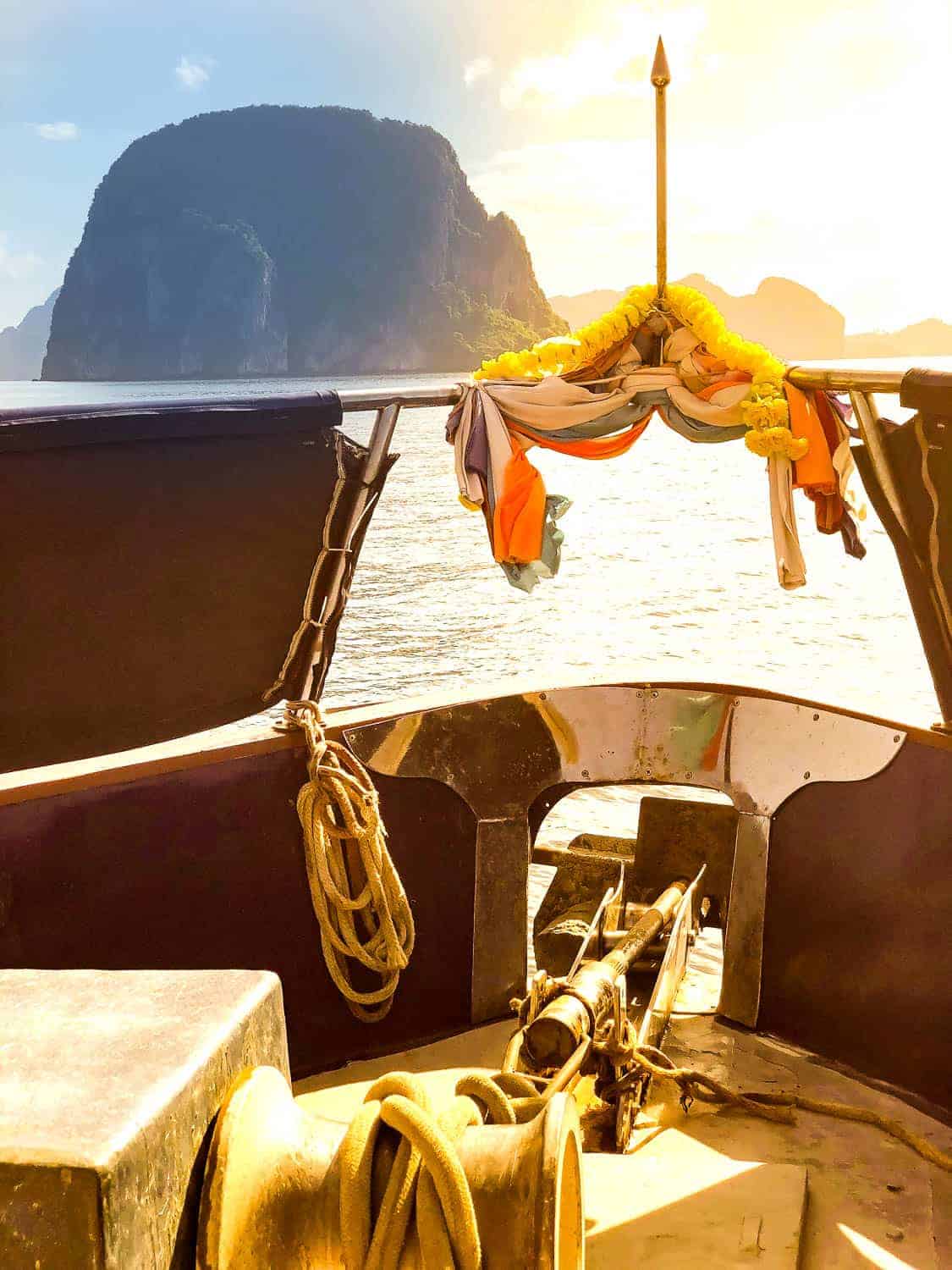 The Pimalai Resort and Spa has a variety of beach activities available, including kayaking, windsurfing and paddle boards. For the more fitness-minded, there are muay thai and yoga classes, basketball courts and tennis at the fitness center, and a variety of group workout classes. The Pimalai also offers a daily thai cooking class.
The real star of the activities at the Pimalai though, are the boat and water excursions. The Pimalai Resort and Spa has its own PADI-certified dive center where certified divers can rent equipment and arrange diving excursions, or beginners can take lessons and even get certified during your stay.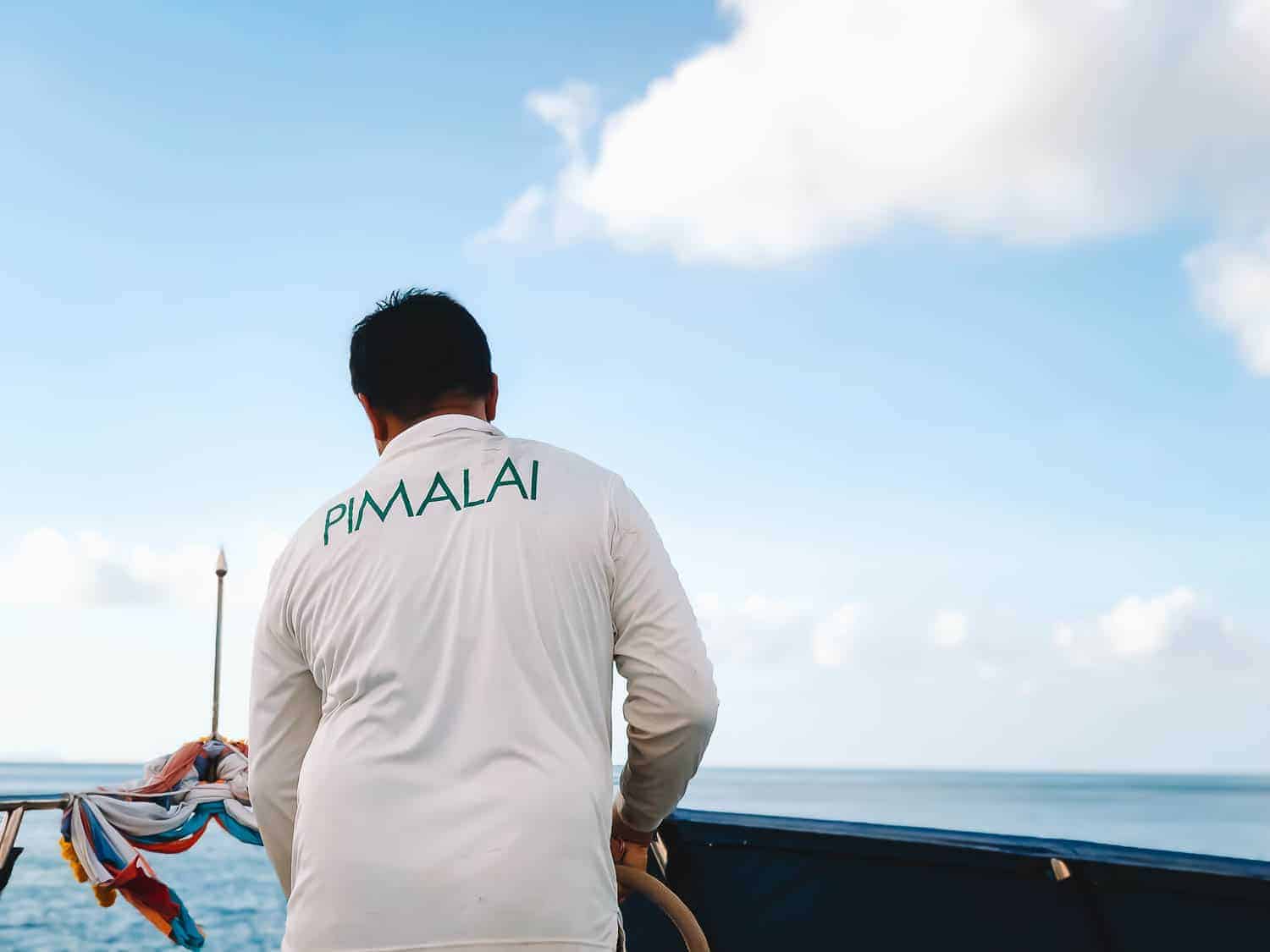 There are a variety of boat / snorkel trips that visit different islands surrounding Koh Lanta, including to popular islands Koh Rok, and Koh Haa and a 3 islands tour that includes snorkeling and a "Secret Beach" swim.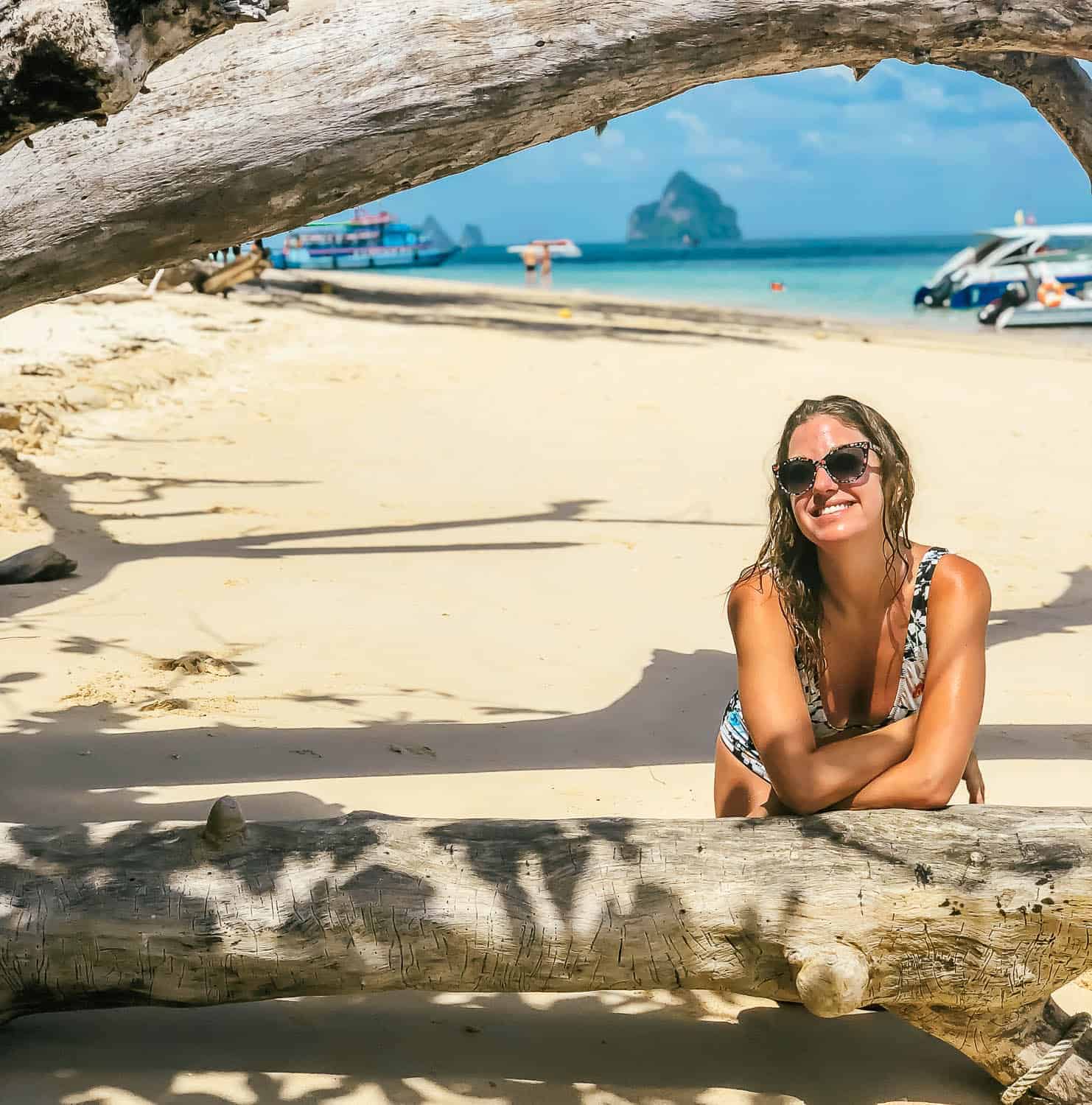 JB and I signed up for the Koh Haa sunset cruise and the 3 islands cruise. The sunset cruise departs in the mid-afternoon from the Pimalai jetty, and includes canapes, wine and beer and snorkel equipment if you desire. It was absolutely stunning and so relaxing to cruise around the glorious rock formations, sip wine and bask in the beauty.
I've also never experienced snorkeling like this in my life. I swam among swarms of the most colorful fish, and it was so much fun to hop back on the boat and try to match what we saw with the handy "fish guide" the Pimalai so thoughtfully provided on the boat.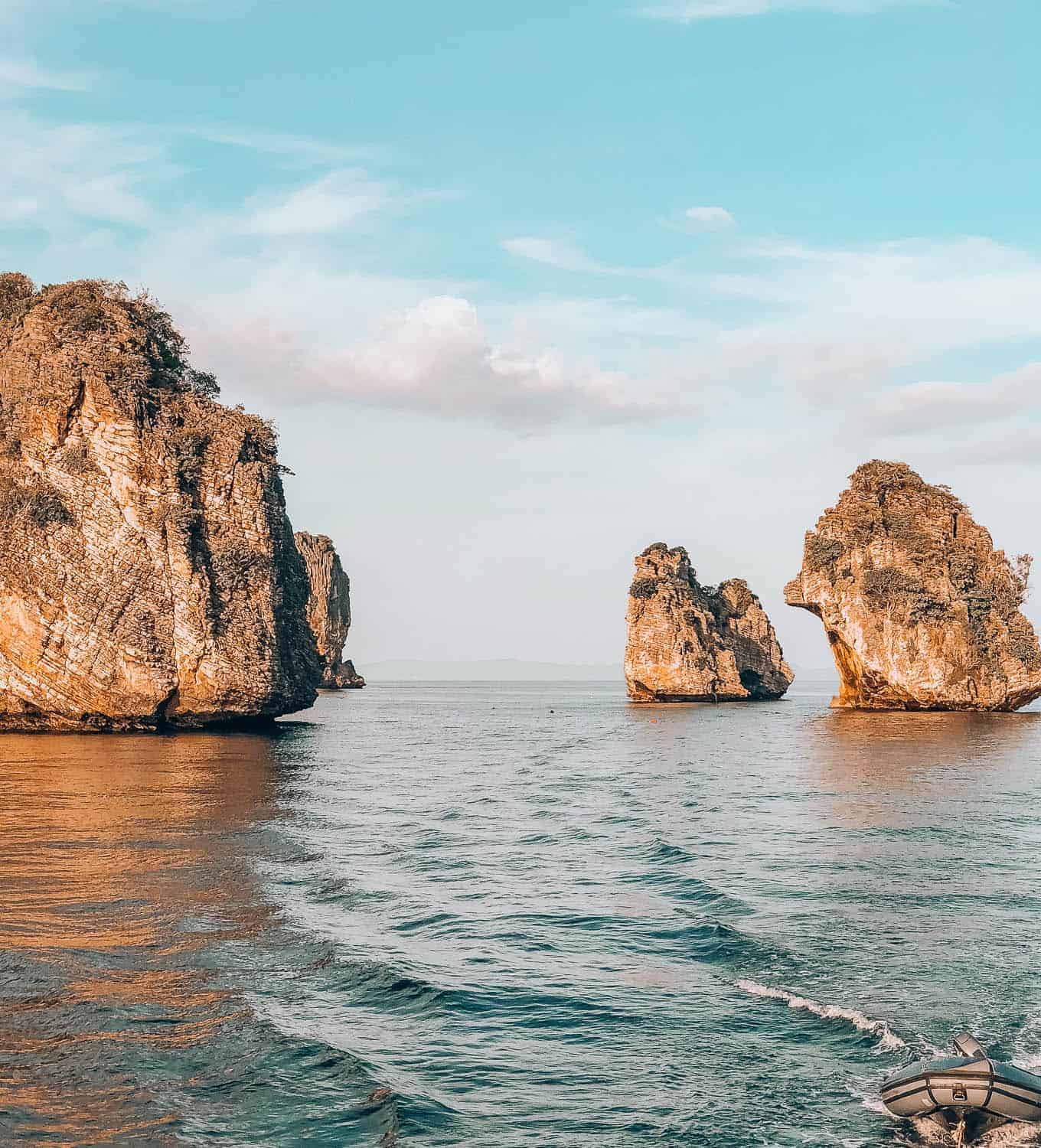 The 3 islands tour is a full-day tour that cruises from the Pimalai to Koh Mook, Koh Kradan and Koh Ngai. By Koh Mook, you jump off the boat and swim through a dark cave / tunnel to emerge in a secret beach lagoon. I'm a strong swimmer so I didn't find it scary at all but it's worth mentioning that this particular excursion might be intense for anyone who is claustrophobic or not entirely comfortable in the water.
Following the secret beach was more snorkeling and a BBQ lunch on the boat (for which they brought a gluten-free lunch for me, especially!) and then a stop at a popular beach.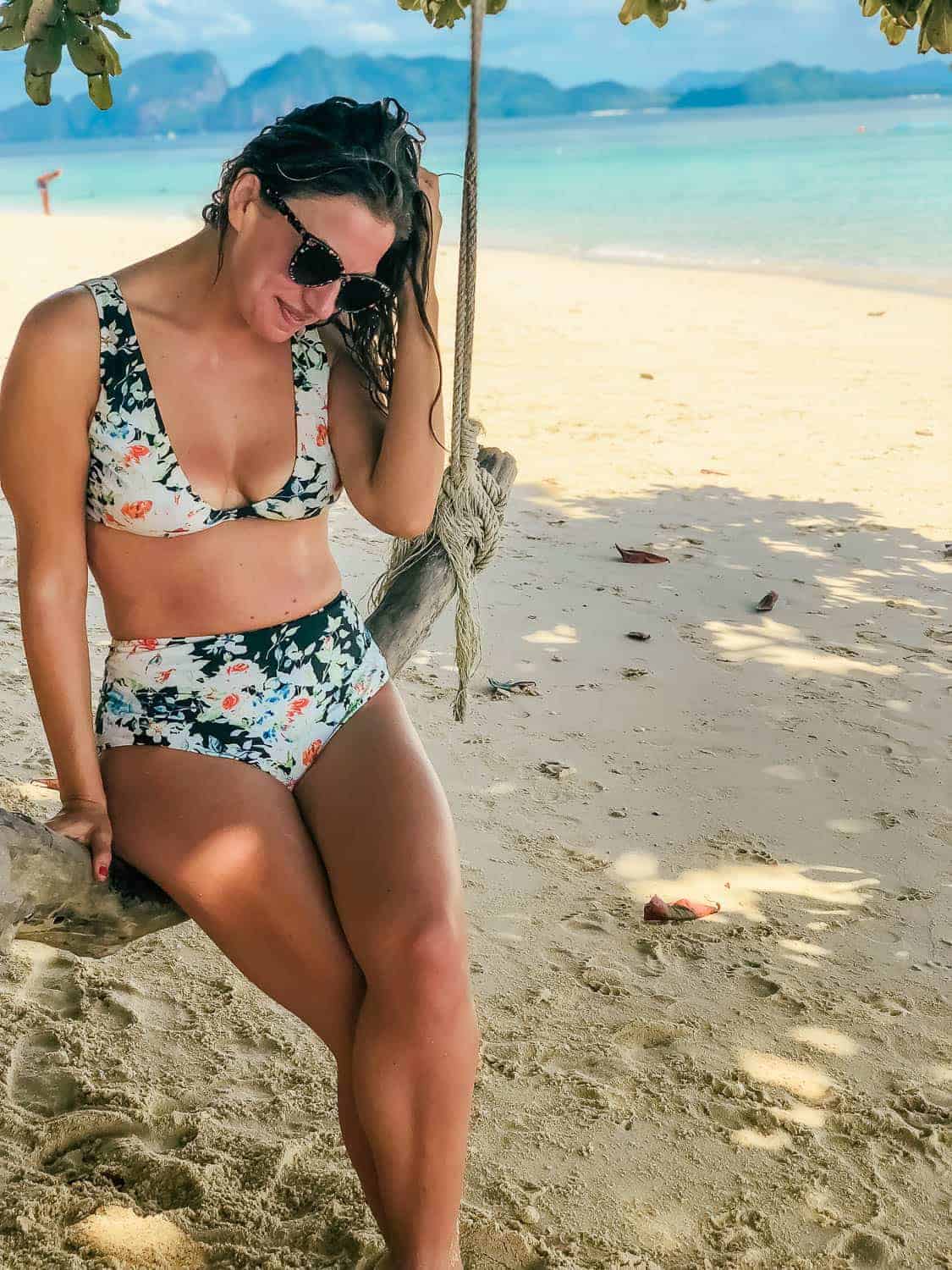 With such an extensive list of excursions and activities, we were never lacking for things to do at the Pimalai Resort. The Pimalai Resort and Spa is not expressly adults-only, but it is geared more towards couples or small groups of adults as opposed to families with kids.
Pimalai Resort And Spa Sustainability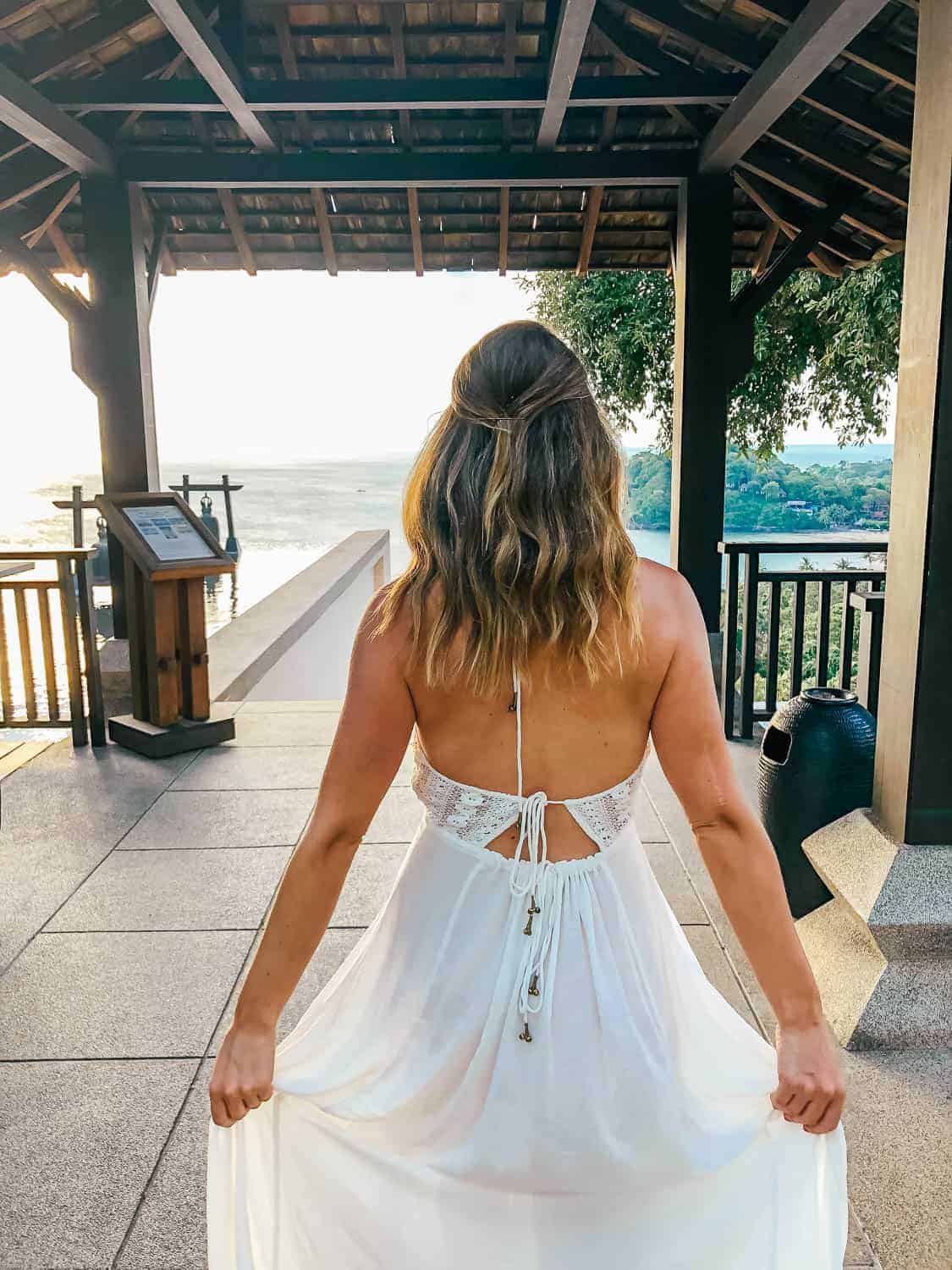 It's clear from the construction of the resort that the intention is to respect and complement the natural beauty of its surroundings, and this philosophy extends into Pimalai's commitment to sustainability. The Pimalai is a certified member of Green Globe.
In 2016, the hotel committed to aggressive goals to reduce their environmental impact. Th goals include clear and specific action targets in 5-year increments. The Pimalai's website outlines all of these goals and actions.
Pimalai also works with locals on the island to support waste management programs and composting. Pimalai Resort's owner stated his commitment to helping the island of Koh Lanta become zero-waste over the next 10 years.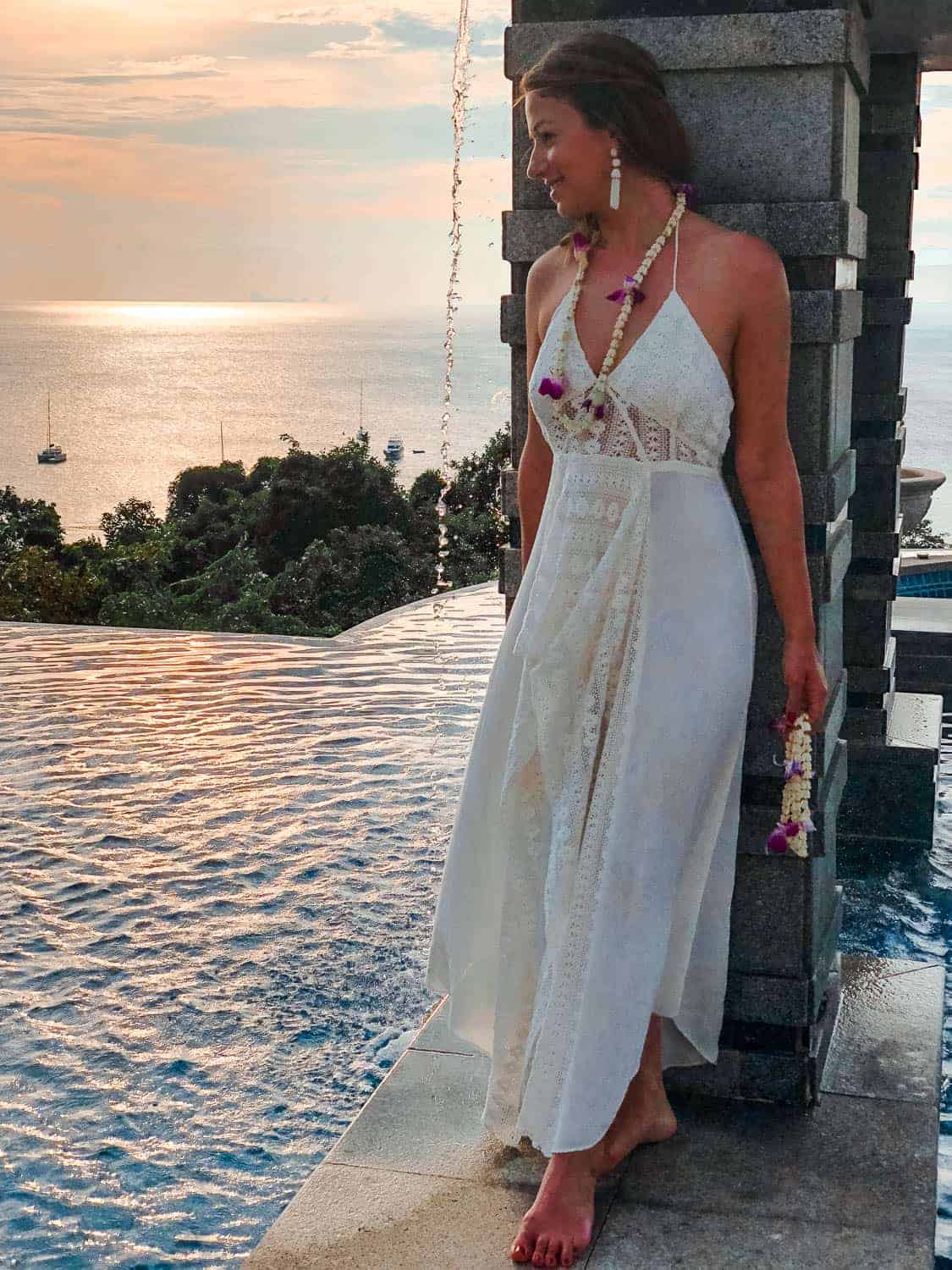 Some of the Pimalai's current initiatives include switching to energy-efficient electricity, and the installation of a bio-gas plant to process waste and convert it to energy.
Pimalai Resort And Spa Hotel Service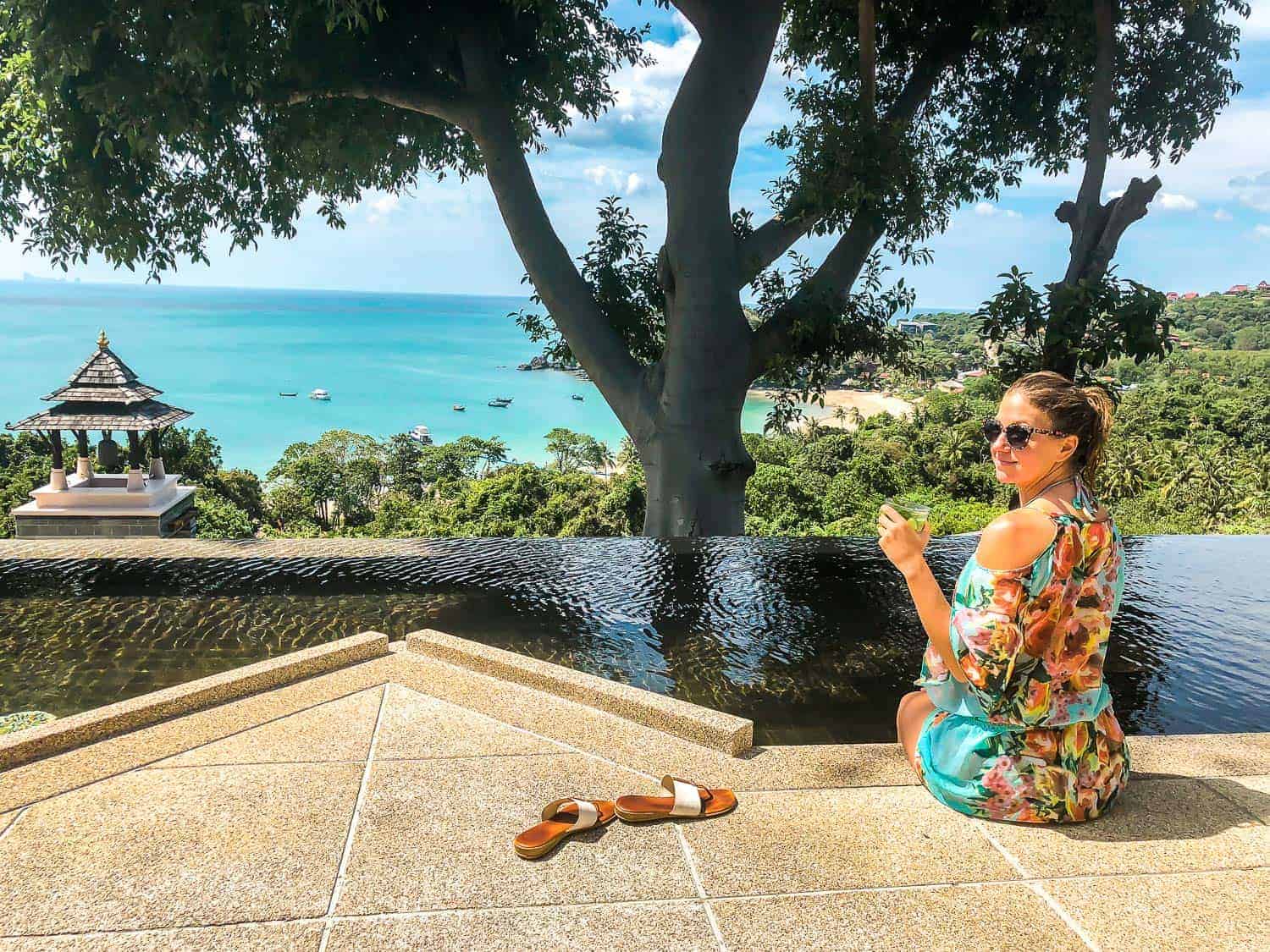 Possibly the best thing about the Pimalai Resort and Spa was the service. The staff could not have been nicer, friendlier or happier. No request was too big or too small, and everywhere you went you were greeted with a smile.
The service aspect that stood out to me the most were the staff remembering my food allergies – every morning I was brought gluten-free baked goods, on our excursion that included lunch, the resort sent a special lunch box just for me. These small details show that the Pimalai really remembers their guests and treats everyone individually. We definitely were not just a "number" at this resort, which is sometimes how you can feel at the bigger, flashier island luxury resorts.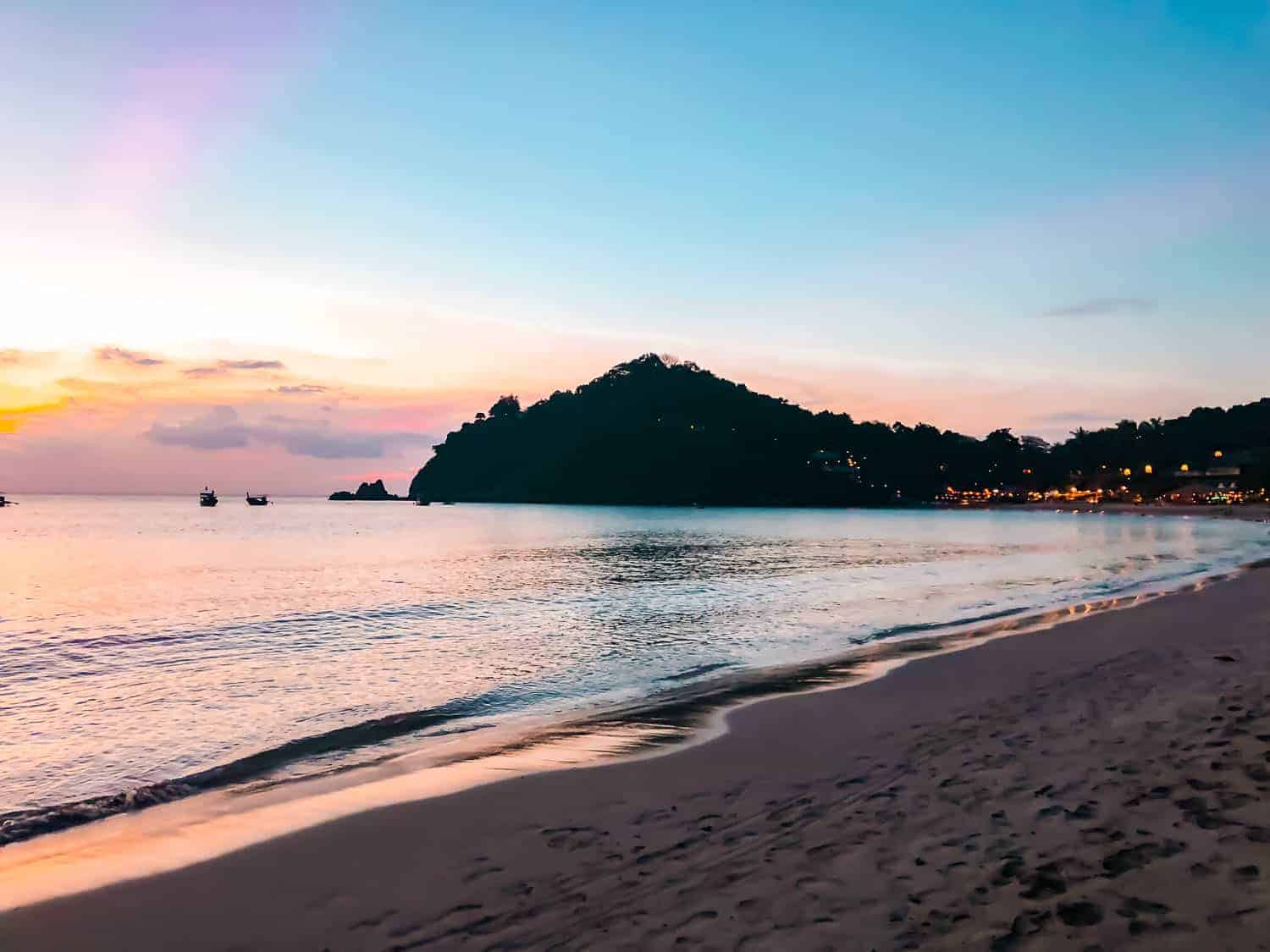 Bottom line on my Pimalai Resort and Spa hotel review- I would go back to the Pimalai Resort and Spa in a heartbeat. It's definitely a journey to get there, but it is 1000% worth it and I wouldn't hesitate for a second to recommend this hotel or visit it again.
Have you been? Are you planning to go? Let me know about your experience in Thailand in the comments!

Love my Pimalai Resort and Spa Hotel Review? Pin it to save for later!