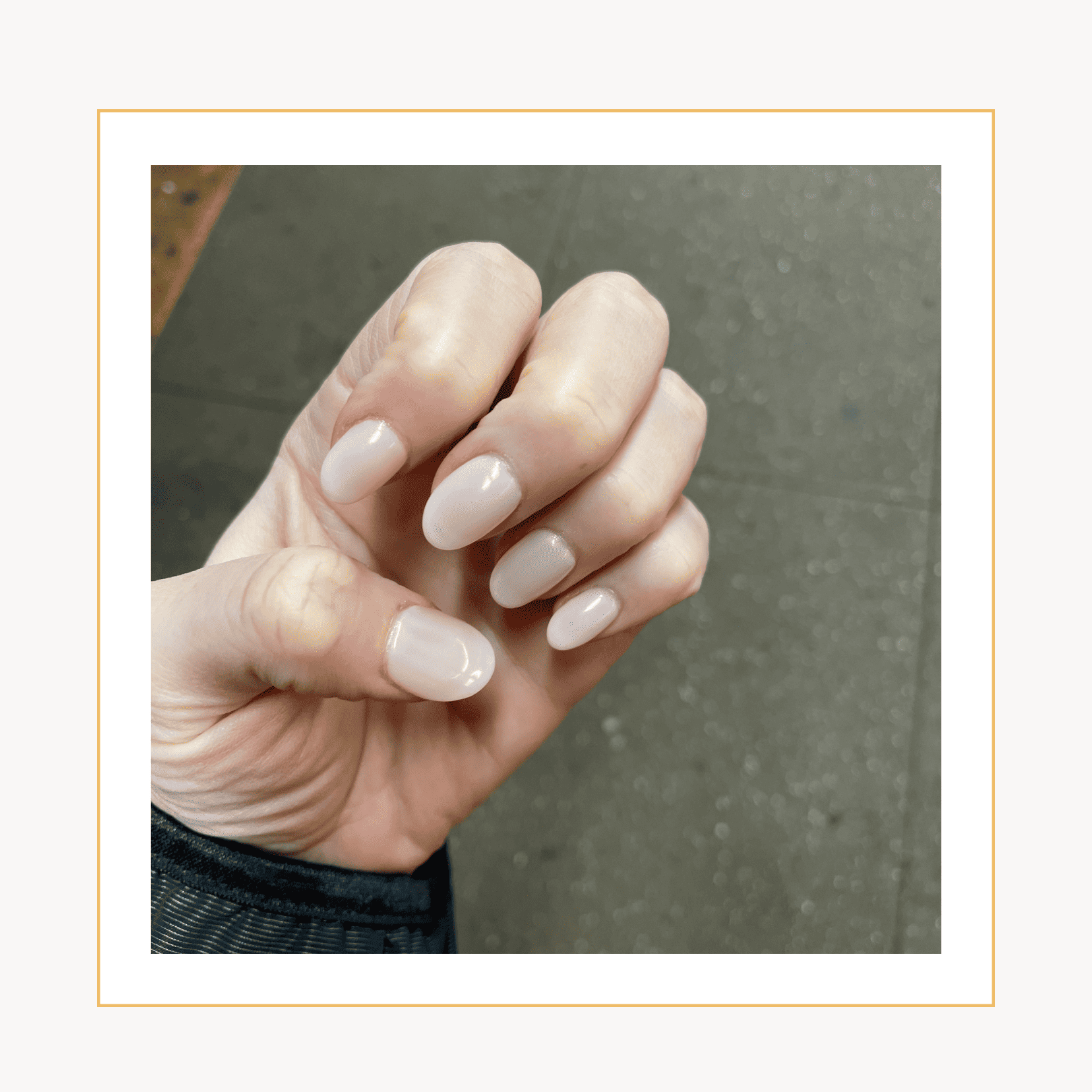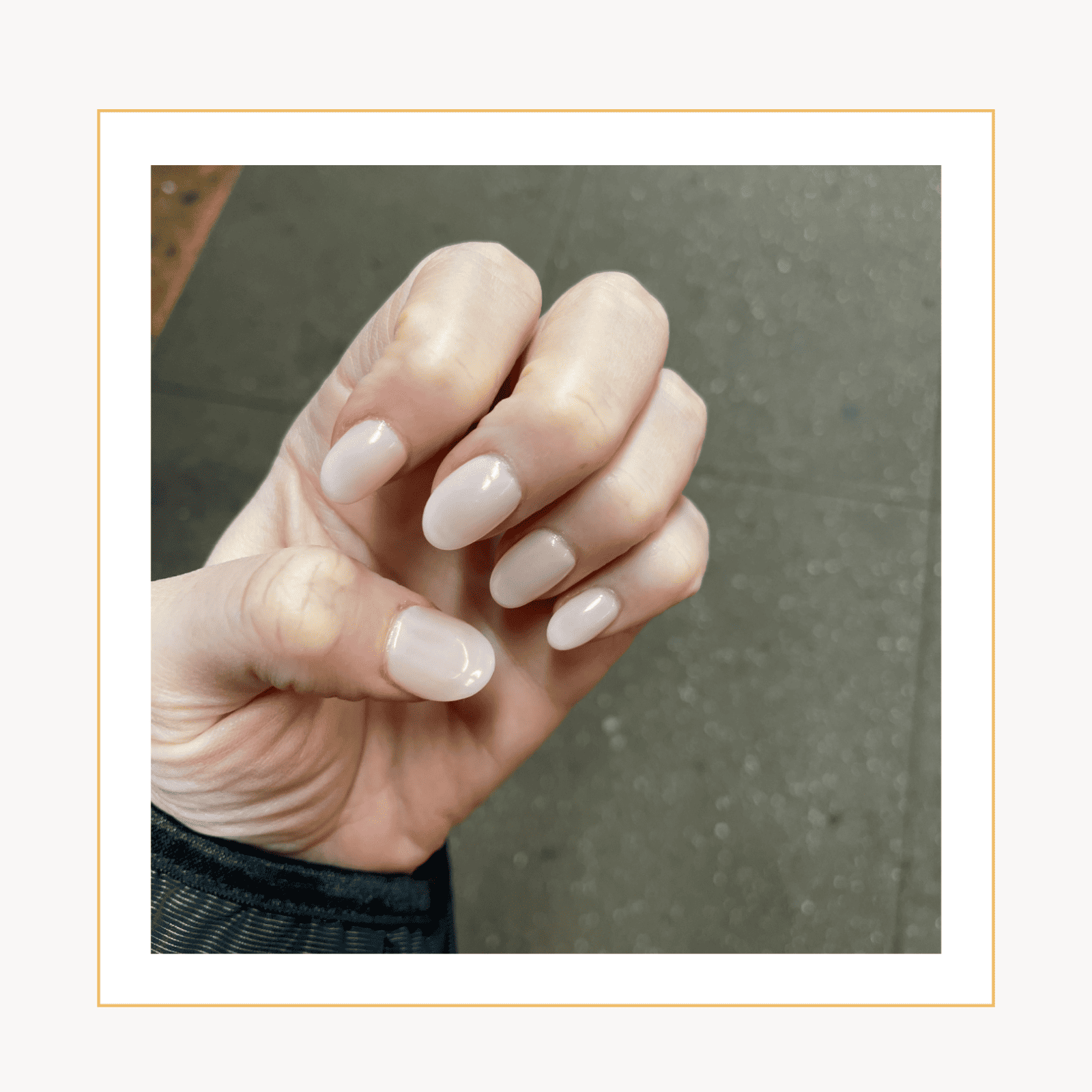 I do not have naturally nice nails. I've never had really nice, long and strong nails. I love an almond-shaped manicure but I've never been able to grow my nails long enough to rock it. And despite my self-described not so nice nails, I love a manicure. I love how pulled together I feel with a fresh mani but over the years I've just found them to be a complete waste of money. I guess I'm very expressive with my hands (lol) because a regular manicure would always chip within 2 days, guaranteed. I tried nail bonder base coats, bringing my own polish, strengthening top coats – I could not make a manicure last more than 2 days no matter what I did.
So when gel manicures became all the rage, I was addicted. The hard, shiny lacquer lasted two weeks, easy! But the application and removal process wrecked my already fragile nails, and of course even with the gel manicures my nails wouldn't grow to the perfectly pointed almond shape I craved. So I finally had to admit that I'd have to reserve gel manicures for vacations and special occasions to avoid completely destroying my nails.
I couldn't stand the smell of acrylics (plus, they can also be damaging) so when I first heard of Apres Gel-X nail extensions, a gel-like nail extension that promised no damage and a fabulous manicure, I was intrigued.
Naturally I researched everything I could fine about Apres Gel-X and by all accounts, everything I read was extremely positive.
I decided to try them for myself, and promptly booked an appointment at a trendy Instagram-popular nail art salon in New York City, Akiko Nails.
Keep reading for my honest review of Apres Gel-X nail extensions, whether I think they're worth it, and if I became a fan who will continue to get them!
What Are Apres Gel-X Extensions?
Apres Gel-X Nail Extensions are a type of soft gel extension. They are nail tips made of a soft gel material that are applied over your natural nails to extend your nail length. Unlike traditional acrylics, Apres Gel-X does not use monomer liquid and acrylic powder (so no harsh smell, thank goodness!). Instead, the soft gel tips are applied to your natural nails with a specially formulated gel adhesive.
Unlike hard gel nail extensions, which are thicker and need to be sculpted into shape, Apres Gel-X nails can be cut and filed into any shape. They're touted as being thinner, more flexible and more natural-looking than acrylic nails or hard gel extensions.
How Long Do Apres Gel-X Nail Extensions Last?
Apres Gel-X extensions can last up to a month, depending on how quickly your nails grow and how much you're willing to tolerate some growth at the cuticle. Personally, I didn't mind a little bit of growth, especially because I got a natural pale pink color that blended fairly well, so I was able to get 3 full weeks out of my Apres Gel-X manicure.
However, I should mention that I initiated the removal appointment because one of my nails chipped, which is definitely not supposed to happen – Apres Gel-X is supposed to be rock solid and chip-resistant until you remove them. This could have been a result of the application process or salon nail tech, but I wasn't impressed with the durability and longevity – I can make a regular gel manicure last 3 weeks too if I'm careful.
How Are Apres Gel-X Nail Extensions Applied and Removed?
Apres Gel-X nail extensions are best applied by a professional nail tech, in a salon. Your nails will be buffed, filed and shaped, and then your nail tech will select the right size extensions for each nail. A gel adhesive is applied to your natural nails and the extension is gently pressed on, then cured. The nails are then shaped and filed in your desired shape and polish is applied. Apres Gel-X extensions support regular gel polish (I got Japanese gel, not shellac).
The biggest selling point for me in trying Apres Gel-X was I thought the nails could be soaked off like regular gel, and did not require a nail drill, therefore minimizing the damage as compared to acrylics. To my surprise, when I went to my removal appointment, the nail tech did use a nail drill to fully remove the extensions. This could have been specific to the salon I went to, but for me it defied one of the biggest selling points of Apres Gel-X.
My Honest Opinion: Are Apres Gel-X Nail Extensions Worth It?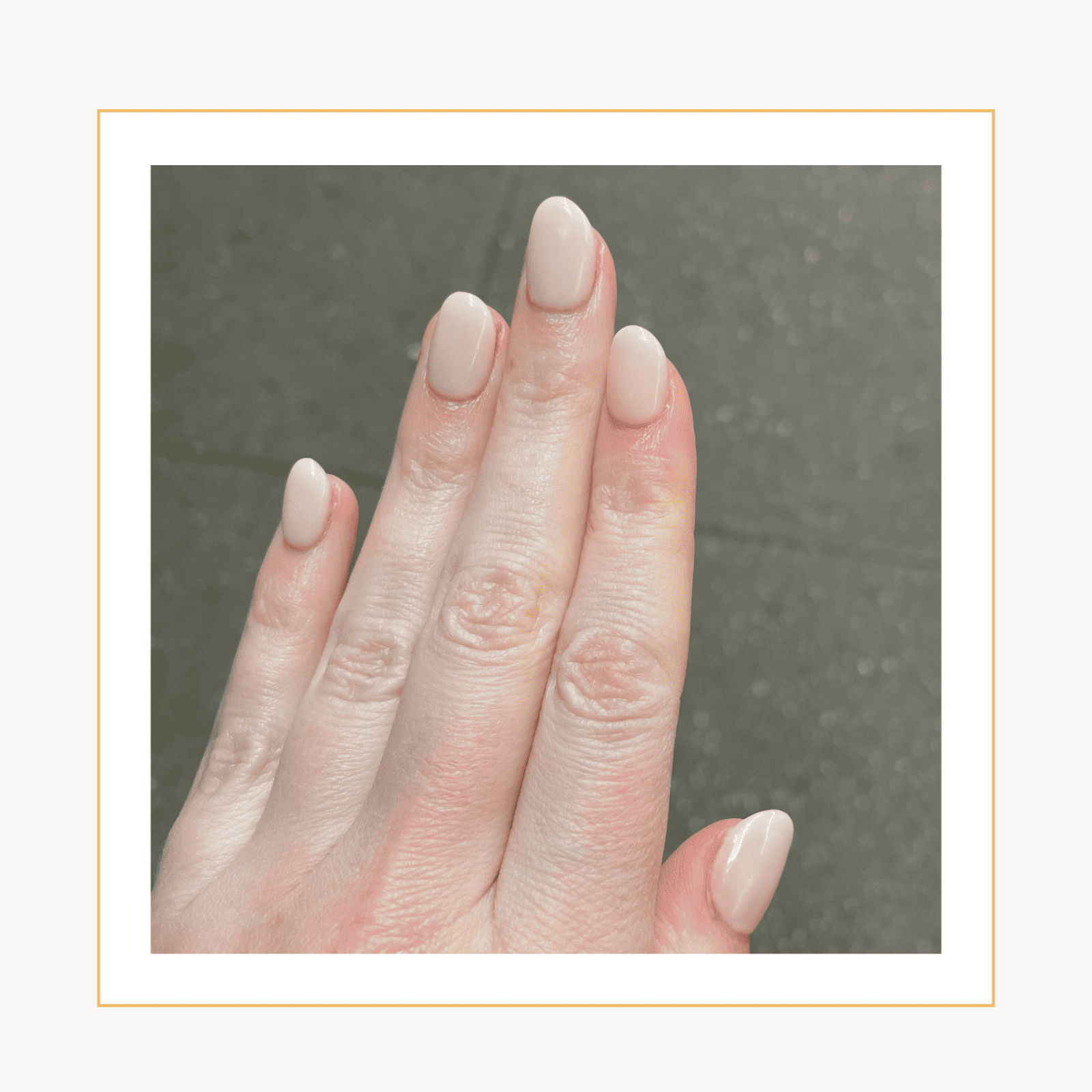 Ok, so now that we understand what Apres Gel-X extensions are, how they are applied and removed, what did I think and were they worth it?
I'll start with the good: I got so many compliments on my nails when I had the extensions on. Every nail was the exact same shape and length (something my natural nails struggle with!) and they were beautifully hard and shiny. My extensions lasted about 3 weeks, because I was comfortable with a little bit of visible cuticle and growth showing. I think the fact that I got neutral pale pink polish helped make the growth not be too visible.
Now the not-as-good: The nails were a lot thicker than I expected. Apres Gel-X are marketed as thinner, more flexible and more natural than acrylics, but I found the extensions to be too thick for my liking and very similar to the look and thickness of acrylics. This could have been a result of my nail tech's application technique, but it's what I honestly thought. So in general I thought my nails looked good but felt a little thick and chunky.
The extensions were also, honestly, a pain to remove. You have to have them professionally removed (I would sometimes soak off regular gels at home by myself which was a little more convenient) so it requires another trip to the salon. It was also a long process to remove and reapply (and for my reapplication, I got regular gel again, not new extensions!), taking about 2 hours in total. As mentioned above, to completely remove the extension, the nail tech had to use a nail drill which is more damaging to the nail and something I had been hoping to avoid. Finally, you can't fill in Apres Gel-X extensions just at the cuticle, you have to fully remove and replace them every time.
All in all, I would not get Apres Gel-X extensions again on a regular basis but I would consider them for a really special occasion. The time to apply, the time to remove, the expense (in my area, Apres Gel-X runs well over $100 per application) plus the potential for more damage over the long-term to my nails, makes it not worth it for me. In addition, most nail salons in my area that do Apres Gel-X focus solely on nail art and don't do pedicures. Which means I'd still need an entirely separate appointment for my monthly pedicure.
Final Verdict
For me, Apres Gel-X extensions are not worth it for regular manicures, as much as I loved how long and even my nails looked. I'm going to try out a few different brands of press-on nails to see if that is a bit more manageable for my time and budget!
Have you tried gel extensions? I'd love to hear what you think in the comments below!