No decorating experience required!
It took me a while to learn that the secret to all the Pinterest-worthy rooms of my dreams was less about the big furniture pieces and more about the styling and accessories. The categories of "decorative objects" and "home accents" were definitely not on my radar when browsing home websites. Honestly, they seemed like a waste of money!
(Disclosure: This post may contain affiliate links which means I may earn a small commission if you make a purchase from a link in this post, at no additional cost to you. Additionally, as an Amazon Associate I earn from qualifying purchases. Thank you for supporting this site!)
But when I moved apartments and finally decided to invest in creating a home that felt like me, I started to realize the importance of styling shelves or consoles correctly to achieve that effortlessly-chic curated look I wanted.
And alas, it turns out that decorative objects and accents, when styled correctly, are what give a home, well, style. While it may seem overwhelming or impossible to do on your own, it's really not!
By no means am I an interior decorator but I have learned some simple design principles that are easy to follow and will ensure your "shelfie" game is strong.
In order to curate the perfect shelf or console, first you need the right elements that make up an eye-catching vignette and then you need to arrange them in a visually appealing way.
Read on to learn the basic accessories that will make up your shelf vignettes and then the simple design principles to follow when arranging them. I've broken everything down in a simple, easy-to-follow guide and have linked to a variety of accessories to shop.
Consider this post your complete guide to achieving a perfectly styled shelf or console!
THE DECOR ELEMENTS THAT MAKE UP THE PERFECT SHELF OR CONSOLE
Scroll through any home decor feed on Instagram and you'll find the same objects over and over in perfectly styled shelfies. The objects are the same – they're just in different sizes, colors, shapes and themes depending on your own personality and style! So, if you break it down into the basic elements, it's really easy to follow the formula to get the look you want.
When planning how to style your shelf or console, select a variety of objects from the below list:
BOOKS:
Books are a really easy place to start and create a great base to work from. I like to select books of varying sizes but they'll also look great in uniform piles. I like to pick a color or theme for different stacks to ensure they're complementary. Books should reflect who you are and your interests – for example, I have book piles about decor and style, and travel because those are two of my passions. But if you love art, or history, select gorgeous books about those topics! Try starting with two themes and select 3-4 books within each theme to create two book-based vignettes on your shelves.
My favorite shelfie-worthy books:
Elements of Style | Styled by Emily Henderson | Chanel: Collections and Creations | Things We Love | The New Bohemians | Tom Ford | Paris in Color | Follow Me To | 36 Hours in Europe | Dogs | Humans of New York | Stories From The Influencer Next Door | The Bucket List
PLANTS:
I am admittedly not the best at adding plants into my home decor, but in 2019 I've made it a goal to be better! If you're like me and don't have much of a green thumb, go with faux plants. There are so many that look realistic these days and they add the illusion of life and nature into your home. If you don't want to go faux, but still need a low maintenance option, try succulents or plants that require very little care like snake plants, bamboo or bromeliads.
Faux Succulent | Aloe Plant | Dieffenbachia | Boxwood Double Topiaries | Aloe Succulent Pot
FRAMES OR ART:
I am not a huge fan of lots of picture frames around my living space. I'm honestly not sure why but I've just never been the kind of person who has a ton of pictures everywhere (I mean, I have Instagram as my personal photo album, amiright?). But a few carefully placed frames of pictures or art help add depth and interest to shelves. A nice way to incorporate art is to lean a larger print against a wall on the shelf and add some interesting objects in front. This has the added benefit of creating height. When using picture frames, make sure you have some varying sizes and alternate placing them vertically or horizontally. My favorite source for affordable art and prints is Minted. It's so easy, all purchases can be purchased with frames and they have a huge variety to suit all different tastes. For picture frames, I recommend Amazon. You can find some really affordable basic frames. Below are a few of my favorites across a variety of decor styles:
Last Tuesday | Canter's | Black Metal Frames | Copper Prism Frame | 8th Street Tower Print | Easton Frame | Son Painting | Black Frame
CANDLES AND CANDLEHOLDERS:
While I may not love picture frames, I absolutely adore candles and candleholders. I love selecting different scented candles to suit whatever mood I'm in, or turning on these amazing LED tea lights in their holders to create a romantic, twinkly ambiance when I'm entertaining. Candles really help set a mood, from cozy and warm to moody to romantic. Get a variety of holders or candles (if they come in a pretty holder) in short cylinders, long tapers, geometric shapes or hurricanes. I often like to get candleholders that come in a set of varying shapes and heights to ensure a cohesive vignette. Here are some suggestions of candles or candleholders:
Geo Stone Lantern Candleholders | Fresh Candle | Atrium Glass Hurricanes | Cirque Tea Light | Wood Pillar Candleholders | Palo Santo Candle | Brass Tealight Candholder | Scripted Fragrance Candle | Matte Candleholder | Glass Cylinder Pillar Candleholders | Concrete Grey Candleholder | Jo Malone Candle
SCULPTURAL OBJECTS:
These are items that create visual interest and depth by adding textures, shapes and balance to a shelf or console. I used to think these were pointless, but trust me, they really help to "finish" a shelf. Look for a few different types sculptural objects to intertwine into your vignette but don't go overboard on these. One or two beautiful objects should suffice. These can be chunks of crystals, a spiky ball, a piece of coral, an obelisk or a knotty sculpture.
Black Link Sculpture | Gold Spiky Sphere | Wood Decorative Object | Faux White Coral | Faux White Coral | Brass Crescent Sculpture | Gold Knotted Sculpture | Metal Sphere | White Sculpture on Stand
VASES:
Vases and bowls are my favorite way to play with shapes and heights. I love mixing tall, skinny vases with short, round ones. Sometimes I add faux botanicals to the vases but mostly I tend to choose vases that can stand on their own as a decorative object. But they're really handy to have around if JB ever surprises me with flowers ;P
Black and White Vase | Black and Gold Vase | White and Blue Vase | Silver Vase | Pink and White Vase | Geometric Vases | White Vase | Aluminum Vases | Beige Tall Vases | Marbled Vase |
TRAYS AND BOXES:
Trays are a great way to create separation between different vignettes and boxes are both beautiful accessories and provide extra storage. Rather than have a tray on its own, use one to create a vignette from the above objects. For example, stack a few books with a spiky or sculptural object on top, add a taller vase with a botanical and a medium or short cylindrical candle for an easy and cohesive tray vignette. I have this Fish Eddy tray that I've used in various places all over my apartment over the years (next up it will be spray-painted black or silver and used on my entryway console). Use closed boxes to store items like remote controls, extra batteries, wires or anything else that needs putting away near your shelves. Open or clear boxes can be used to house smaller decorative objects like crystals, tea light candles, cards or other knick knacks. Here are some great tray and box options to shop:
Distressed Platters | Silver Ming Boxes | Wood Glazed Trays | Black and White Round Tray | Marble Tray | Sunburst Boxes | Pink Resin Box | Glass Boxes
SOMETHING QUIRKY AND UNIQUE:
This is my favorite category because it's where your personality and your own unique style can really be displayed. Add in some objects that are unique to you – maybe items you've picked up on your travels, maybe something that represents your interests, or just something fun and unexpected that sparks joy for you. These objects can take many forms, but the most important thing is that you love it and having it in your home makes you happy. In my last apartment, I had this hot-pink flamingo catchall on display. In my current apartment, I have a silver hand sculpture similar to this one. If you're not sure where to start, below are some ideas of items that make me smile – and I hope they do for you too!
Vintage Tabletop Cameras | Pink Flamingo Catchall | Tabletop Record Player | Brass Hand | Silver Glasses | Bird Lamp
PRINCIPLES FOR ARRANGING YOUR SHELVES OR CONSOLES INTO A BEAUTIFUL VIGNETTE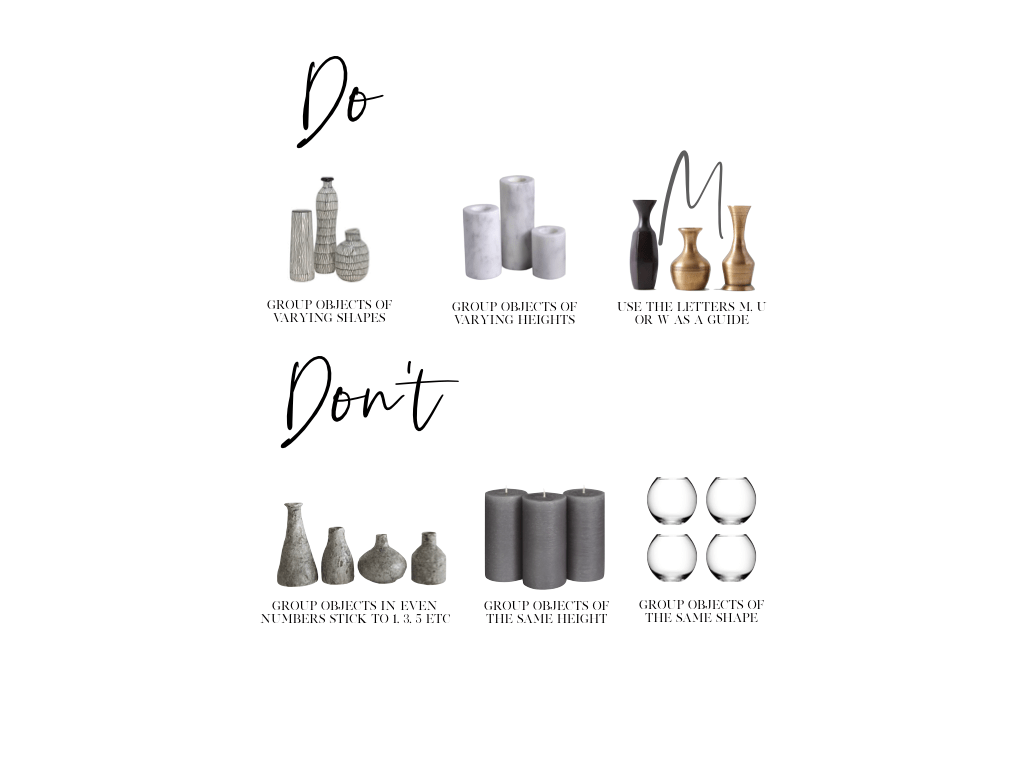 Once you've sourced your favorite styling accessories from the categories above, it's time to start arranging them! It can take a while to get it right, so don't be afraid to try something, live with it for a few days and then rearrange if needed. I've definitely spent hours and hours placing items, rearranging them, and trying different groupings until I get to a vignette that I love. There are a few basic design principles for styling shelves and consoles that can help you get started though, and I've created a handy summary for you below:
Vary Heights: Place objects of varying heights next to each other, and avoid placing objects of similar heights around each other. You're trying to create visual interest that intrigues the eye and variety is a great way to accomplish this. Try placing a short vase next to a tall vase, or a cluster of candleholders in short, medium and tall heights next to each other. You could also try a tall vertical frame next to a shorter horizontal frame.
Vary Shapes: Just like how varying the height of your objects will create visual interest, so will varying shapes. Pair skinny cylinders next to round, bulbous vases or bowls, square books with spiky spheres, geometric shapes with organic forms.
Cluster in Odd Numbers: As a general rule of thumb, odd pairings look better than even numbered pairings. Try to group objects in vignettes of one, three or five.
Use Letters as a Guide: When in doubt, create "letter" shapes out of your arrangements using M, U, or W. For example, an M arrangement would place something tall next to an object of medium height then another tall object in a group of 3. Creating a U shape would mean placing something tall next to one or two short objects and then another tall item. To create a W vignette, place a tall object next to a short one, then another tall object, then short and tall again.
Create Triangles: Another way of guiding your arrangements is to create triangles. This is similar to the letter method above, and simply means to arrange items in such a way that it creates a triangle for your eye to follow. For example, a tall object next to a short object, a short object next to a tall object then another short object, etc. With triangles, adding a few "filler" or "bridge" objects to fill in the triangle makes it look more complete.
EASY VIGNETTES TO FOLLOW FOR A PERFECTLY STYLED SHELF OR CONSOLE
Still need guidance? Below are some fool-proof formulas for a variety of vignettes you can follow.
A stack of books with a spiky object: stack 3-4 books of different sizes from largest to smallest (keep them in a similar color palette or accent colors) and place a spiky, rounded object on top of the stack.
Clusters of candles: Cluster a group of candles together in odd numbers. Be sure to vary the heights of the candles. Try finding a set of three cylindrical hurricanes or pillar candles in varying heights, or place two tapered candles of varying heights with three shorter and fatter candles.
Trays: Place a tray on a shelf or console. Add a plant or succulent, 1-2 small books, a candle and something taller and sculptural, like a vase or a piece of coral.
Vases: Place a short, bulbous vase or a shorter bowl next to 1-2 taller, skinnier vases.
Frames or art: Place larger frames or art behind shorter, geometric items like a small dish or small display boxes. Scatter a few quirky knick-knacks in front and around.
Baskets and plants: Place baskets or storage boxes with plants to balance the boxiness and add lightness.
And finally, know that there are no real "rules" when it comes to your home. The important thing is that you love your home and that is evokes the emotions you want to feel. However you achieve that is the perfect way to style your home!

Love this post? Pin it to save for later!