What it's like to spend two days at the Four Seasons Miami!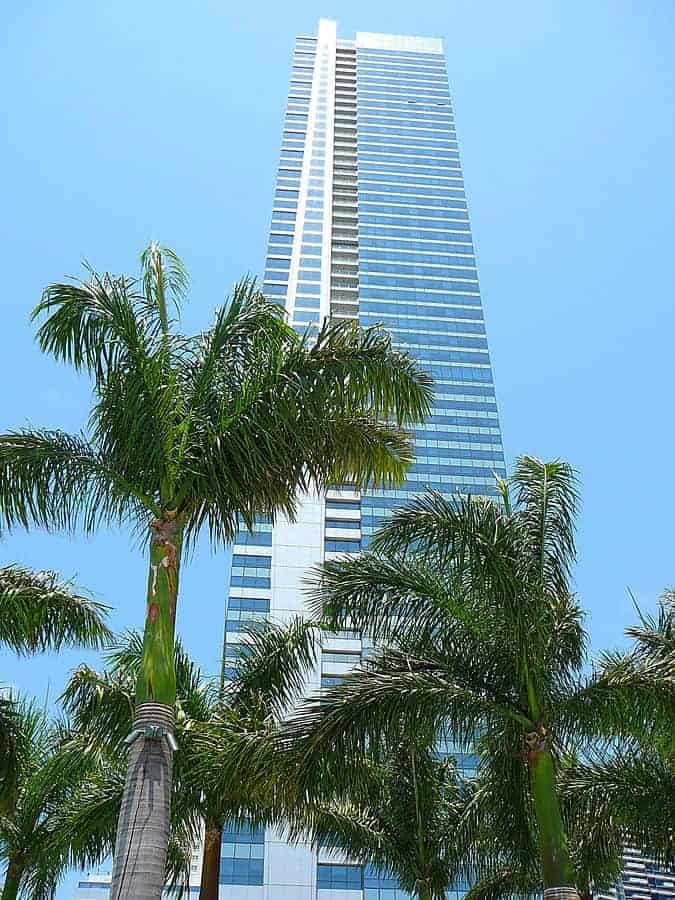 When I found out that I'd be attending a work-related conference in Miami for two days in early May, I was SO excited and immediately decided I'd write a Four Seasons Miami hotel review. New York's spring (or lack thereof) has been rainy and dreary and some sunshine with a side of professional development sounded like perfection. Bonus points when I found out I'd be staying at the Four Seasons Miami. Score! I'd never stayed at a Four Seasons before and I was ready to lap up the (pretend, expensed) life of luxury. 
EXCEPT….
Meh.
I honestly can't say I was overly impressed. It was nice, sure. Comfortable, definitely. Better than other hotels I've stayed at (looking at you, Best Western Syracuse), sure. But I didn't think it lived up to the famed Four Seasons name. Maybe I've spent too much time staring at pictures online of the Four Seasons Koh Samui (planning a trip to Thailand in November, FYI, and OMFG that place looks insane) but it just didn't meet my – probably exceedingly high – expectations.
Let's break it down, shall we?
Disclosure: I stayed at the Four Seasons Miami for a work-related conference; my day job covered my stay and all expenses. All opinions are my own. This post contains affiliate links, which means if you click on a link I recommend and make a purchase, I earn a small commission at no extra cost to you. Thank you for supporting this site!
Four Seasons Miami Hotel Review: Arrival
Arrival was pretty seamless. My Uber arrived quickly. I was expecting it to take about an hour to get to the hotel from the airport, but to my surprise we arrived in about 15 minutes.
As we pulled into the driveway, attendants helped me with my bags. I proceeded to the elevators because the main lobby is on the 7th floor. Maybe this is a personal preference, but I find it annoying to have to go up several floors to get to check-in. I want to walk straight up to a desk and get my room key.
When I approached the check-in area, there was a short line. An employee greeted me warmly and checked me in quickly and efficiently via iPad. With my key in hand, I was on my way to the 25th floor.
Four Seasons Hotel Review: Guest Rooms
First off, I have to say that the room was enormous. I walked in to a short hallway, with double doors to the bathroom on my left and a large double closet on my right. Then there was the minibar area, fully stocked with exorbitantly priced treats (none of those for me, don't think the boss would approve!).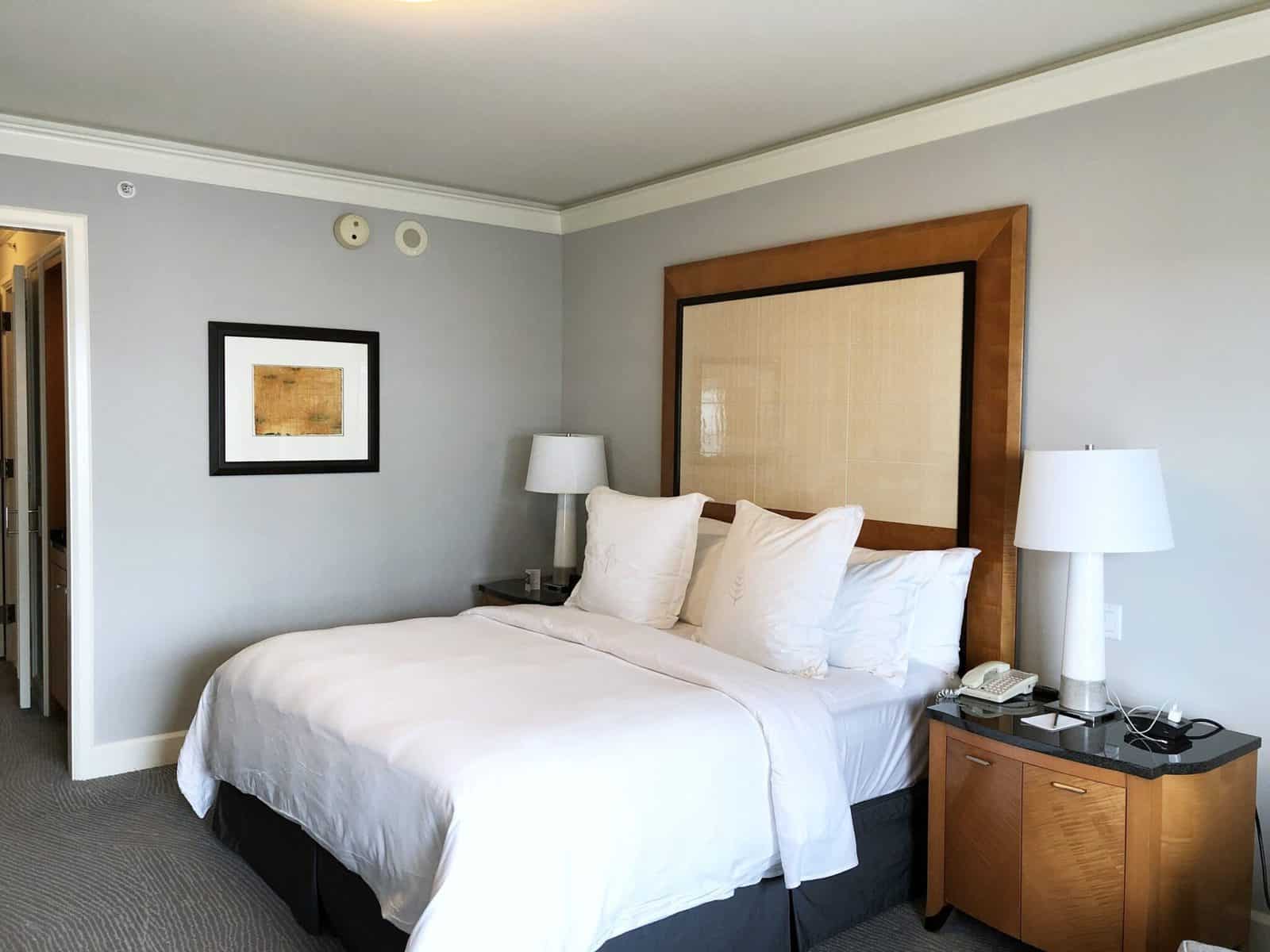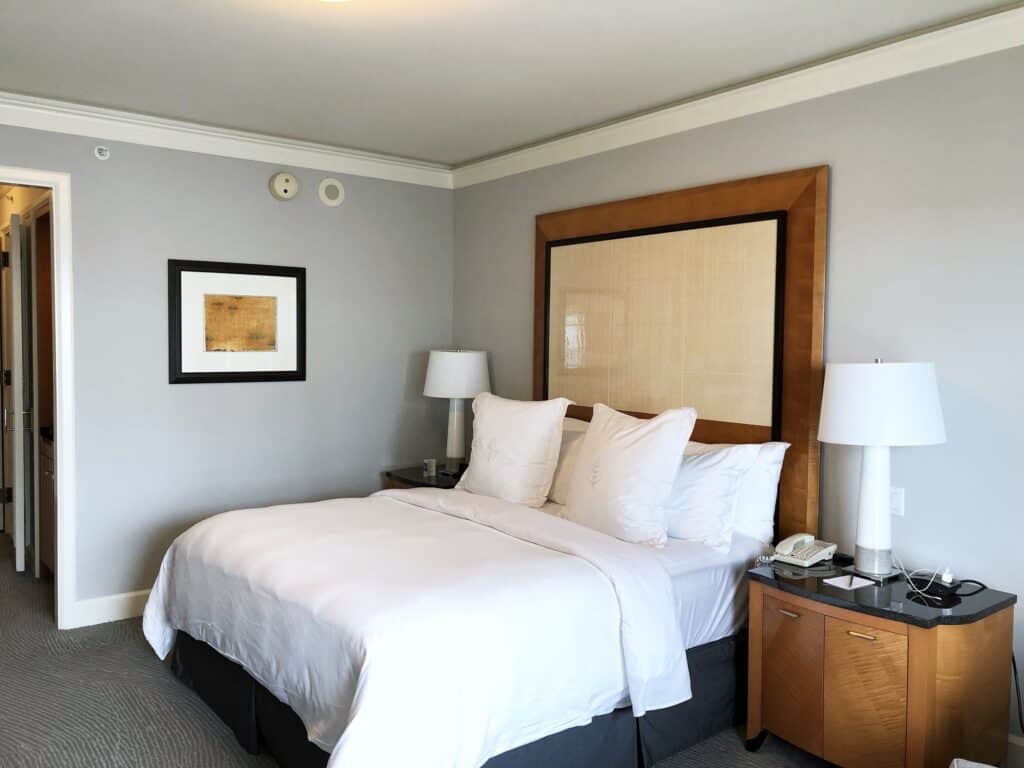 Walking into the main room was a huge king bed to my left covered in large, fluffy, white pillows, and a dresser with a TV across from the bed. Then towards the window was a desk with two chairs, an armchair, side table and a cushioned window seat. This was a really nice touch, I could see myself enjoying lounging with a magazine and a coffee in the morning on the window cushions.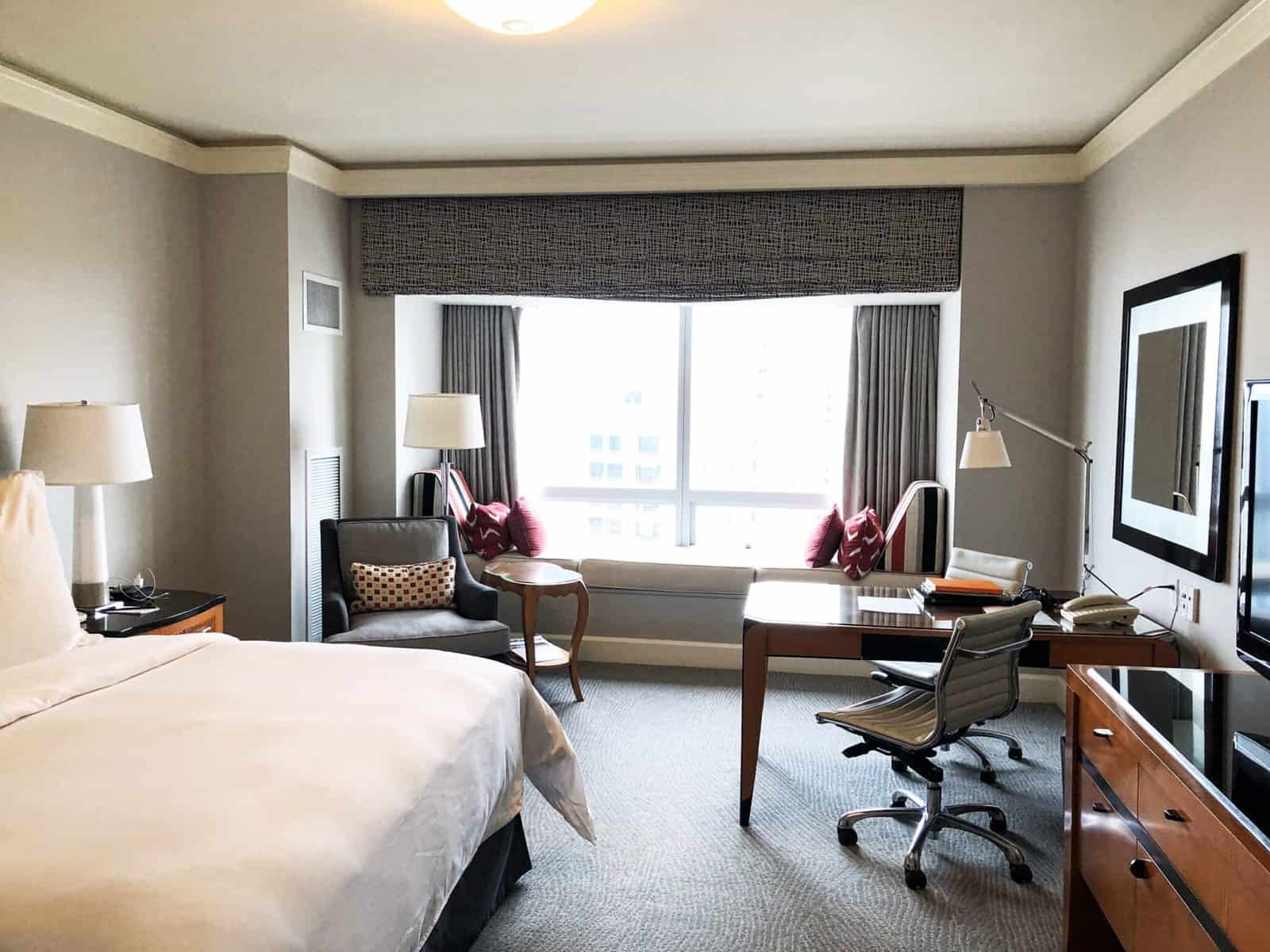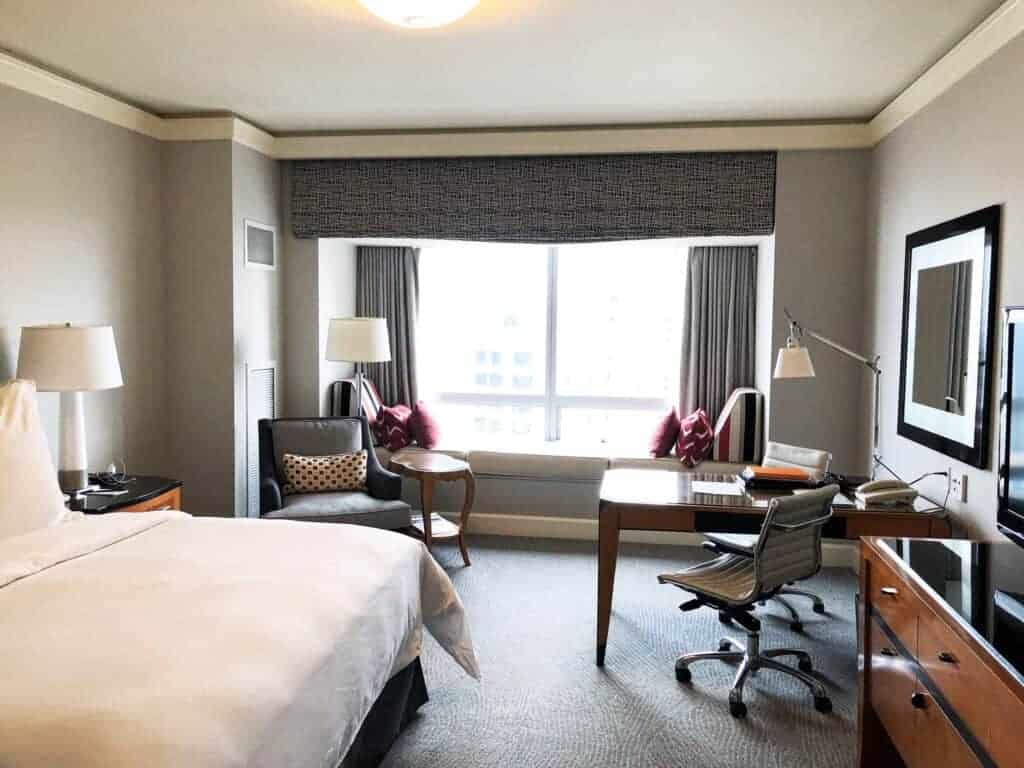 The room decor was quite dated. I like a really modern, contemporary look (sigh, SLS Beverly Hills, you are a dream) and I thought the bar, dresser and desk area was clunky and outdated. Same with the bathroom. It was extremely large with a separate door for the toilet (very convenient if sharing a room!) and a large tub with a separate shower stall. The shower was very hot with good pressure. There was no rain shower, which surprised me. The bathroom was all marble but that sort of pinky beige marble that, to me, is very 80s.
Technology At The Four Seasons Miami
The flat screen TV sat on the dresser with a swivel stand. The TV was not mounted to the wall, which I prefer. It was also not a smart TV, which I thought was disappointing, I need my Netflix!. The room phone also looked like it belonged in the 80s – one of those yellowed ones with a coiled wire connecting the handset and base.
Each nightstand came with out of date docking stations – my iPhone X did not fit on the charging stand. When I plugged in my phone charger via the USB, the charge was weak and slow. There was an extension outlet on one side of the bed (sadly, not my preferred side of the bed) that I pulled onto the bed and kept next to me because yes, I am one of those people that needs to sleep next to my phone.
There were two outlets right by the desk which made it very easy to set up my laptop and create a mini-work station, although again I prefer to be working while lounging in my bed.
Food At The Four Seasons Miami 
The food ranged from average to really good, although to be fair I didn't experiment too much and ate a few of the same meals – mostly room service. One big area for improvement is that the menus did not indicate any dietary restriction accommodations (GF/V/N/D, etc). As a GF-girl, this was somewhat annoying as I think it has become pretty standard practice. Also, I didn't know that gluten-free bread was offered until I called in-room dining, which was of course a total game-changer for my order.
Day 1 Meals
My first meal was lunch when I arrived Monday afternoon. I didn't feel like being cooped up in my room after spending 3.5 hours on a plane so I went down to the Edge restaurant off the lobby and sat at the bar. I ordered the chicken chop chop salad and an iced coffee with almond milk. My bad for not checking on the GF situation, because I assumed the "ancient grains" listed in the ingredients would be quinoa but it turned out to be farro. I sent back the salad without issue and the bartender was really nice about getting me a fresh one.
The manager also came over to check on me twice, apologized for the delay in getting my second salad and made sure I wasn't in need of anything else (see below for major service points!). The salad was just okay, though. It's a pretty nit-picky thing to note but the kale should have been massaged in oil a bit to make it softer and easier to eat. Because it wasn't, the salad was pretty dry, even with a ton of balsamic dressing. The iced coffee though, man that brought me back to life!
My next meal was room service for dinner. I ordered the tuna tartare, which was very fresh and had more of a tangy, creamy sauce instead of a soy sauce (GF for the win!). I decided to try another salad as my entree so I ordered the green salad (arugula, avocado, manchego, cooked and raw vegetables) and added grilled shrimp. It came with a delicious green goddess dressing and was very satisfying. Pro tip: to bulk up the salad a bit, I tossed the tuna tartare on the salad and ate it all together. Yum! It also came with a side of gluten-free bread, without me asking for it so more points for listening and service!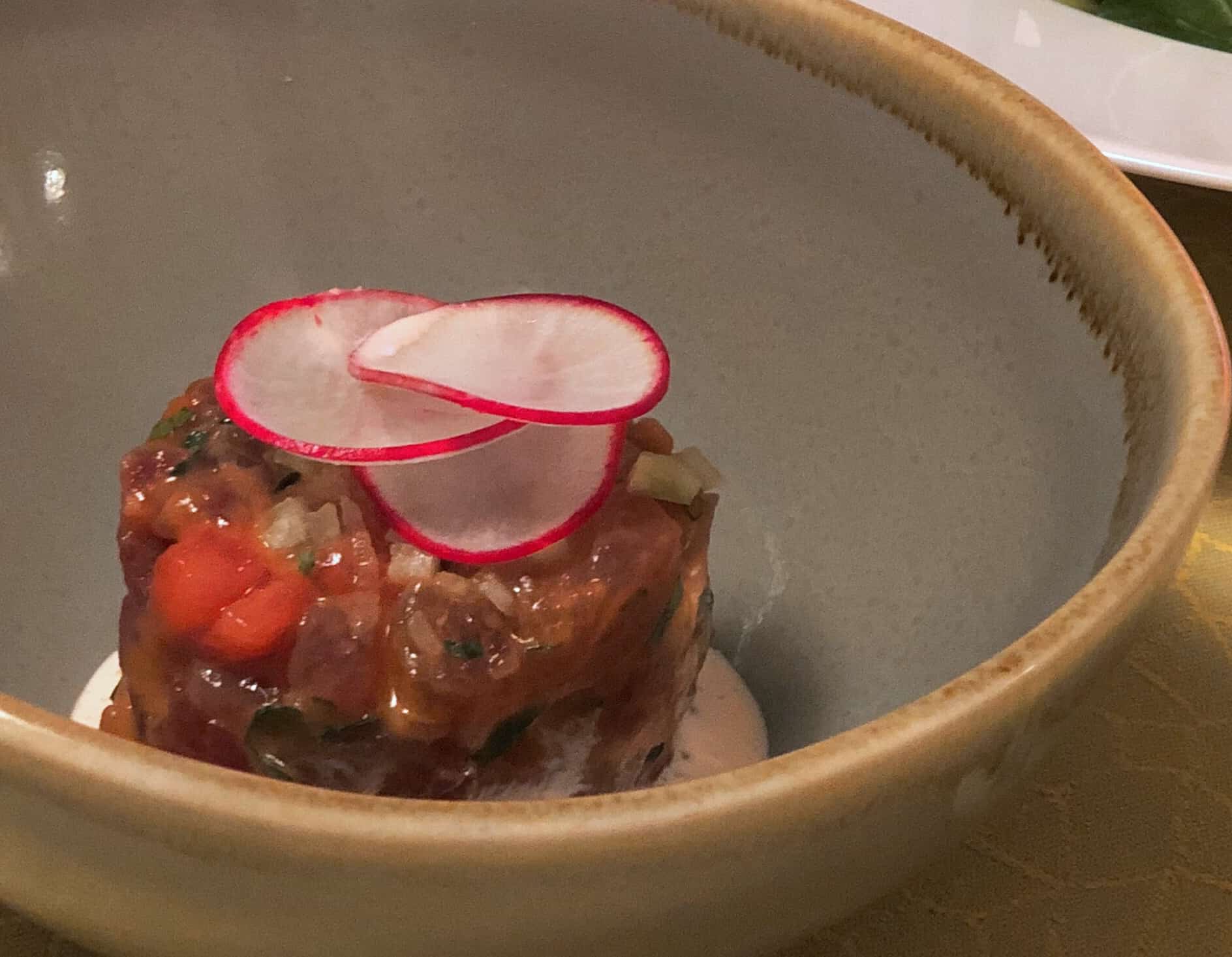 Day 2 Meals
Breakfast in my room the next morning was just OK. I ordered scrambled eggs, also pretty dry and somewhat tasteless. It also took forever to arrive (almost an hour).
The conference provided a lunch buffet, and despite my trepidation about buffet-style conference food, it was delicious! This was my favorite meal of the trip, actually. Jerk chicken, chimichurri steak, roasted baby carrots, sweet potatoes and a jicama salad – so delicious, healthy and filling!
We had some free time in the afternoon so I lounged by the pool and ordered a snack of tacos. It was their Taco Tuesday special, after all! Seriously, it's unfair to expect me to resist $3 tacos! However, the tacos definitely sounded better than they tasted. I ordered the grilled Mahi Mahi and the shrimp asada tacos – each order only comes with one taco so two was a perfect snack. The tacos were a little dry and bland, though. I picked at the protein on both of them but didn't finish either one. Wasn't worth the calories! The shrimp was better than the fish, for sure, so if I had to pick one I'd go with that but I think I should have ordered the snapper ceviche.
I repeated the same salad as the night before for dinner, although this time I added a glass of wine and ate in bed while watching the season finale of The Flash on the CW. That was perfection! I was so relaxed and happy to chill out after a long day of conference speakers.
Four Seasons Miami Hotel Review: Service
I have to say, the service lived up to the Four Seasons name. From check in, to the little snags with my food orders mentioned above, to housekeeping and just generally checking in to make sure my stay was going well, the staff couldn't have been more accommodating and helpful. My only note is that the service by the pool restaurant, Bahia, was a bit slow.
Review of The Pool At The Four Seasons Miami
The pool area was beautiful. Sadly, the weather was overcast and rainy while I was there so I didn't get any real sun time, nor did I actually go in the pool, but during our free afternoon I spent a few hours reading and napping on the lounge chairs.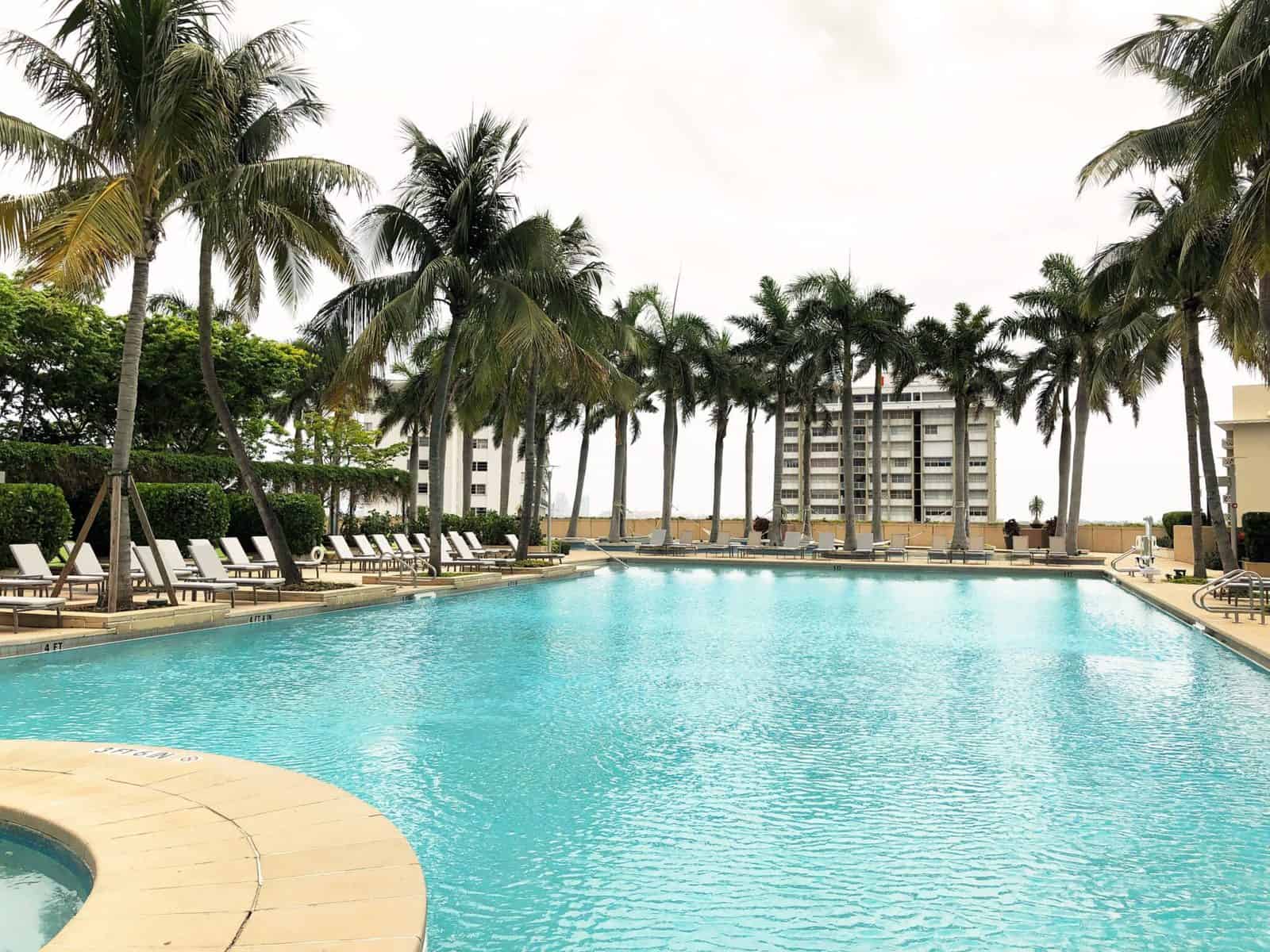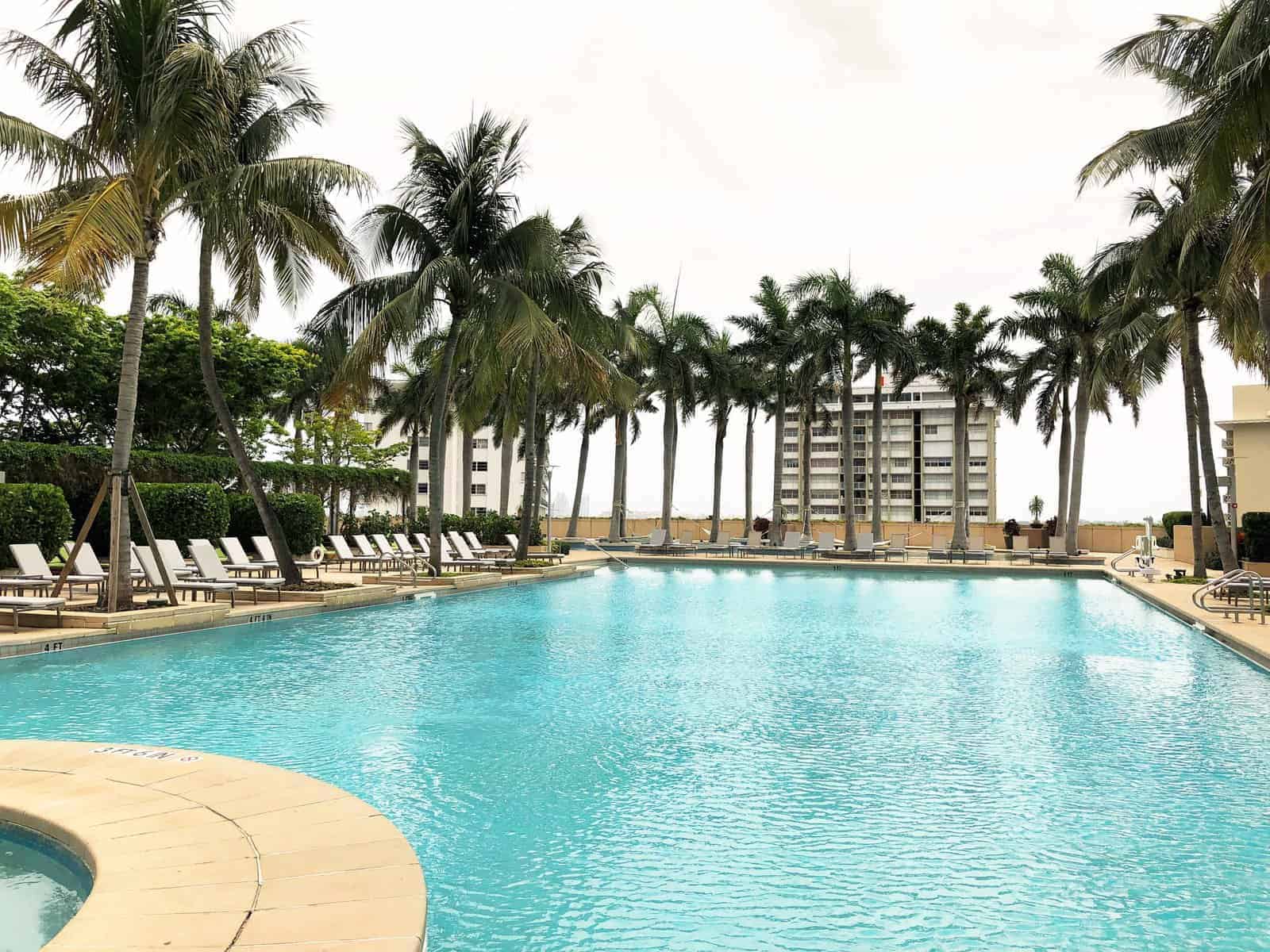 There is one large pool with plenty of chairs, although they are not the most comfortable. I had to squish up my bag on one of the daybeds to make it comfortable for my neck as they had these oddly firm round cylinder pillows that I did not like.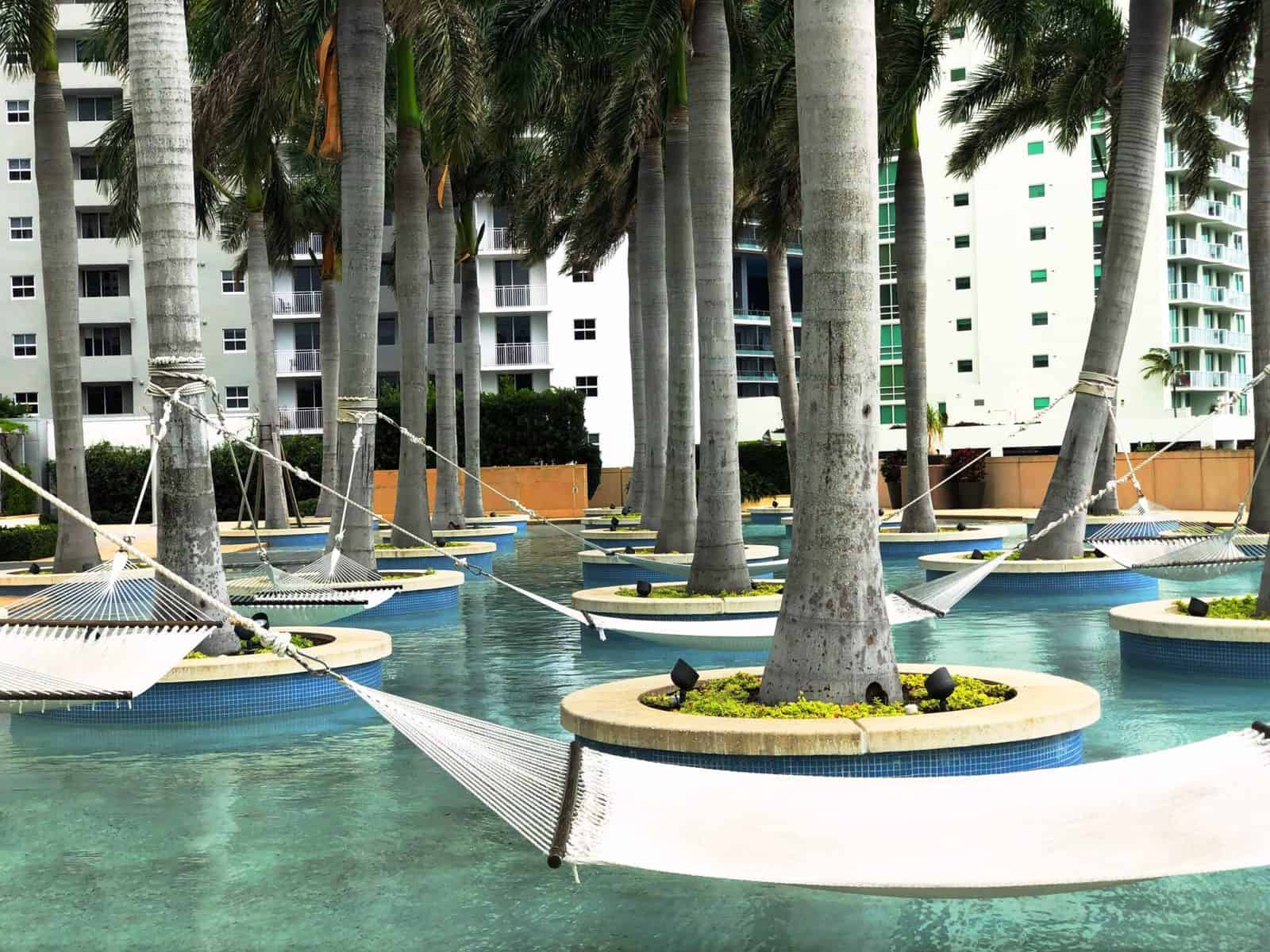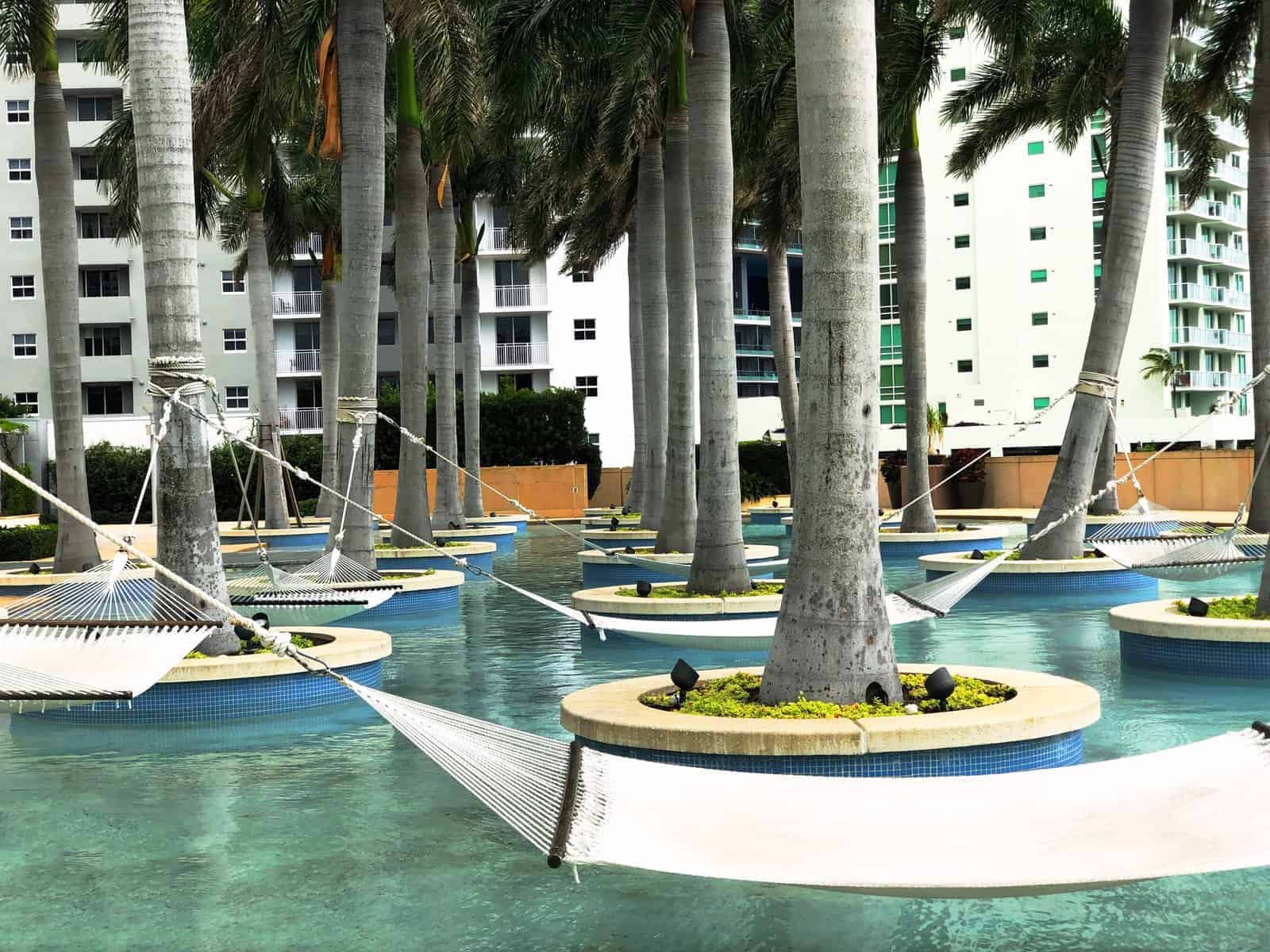 At the far end is another pool area with hammocks hanging over the water, and I was DYING to lounge in one but the weather just did not permit. I could see myself camping out all day on one of those though, rolling over into the water when it gets too hot, and flopping back onto the hammock to suntan and nap.
Four Seasons MiamiCommon Areas
The common areas (conference rooms, lobby, hallways, etc) were very clean and well-maintained. My only complaint is that, like most hotels sadly, it was FREEZING EVERYWHERE. Way, way, way too much air conditioning. The humidity outside actually became a welcome break from the air-con induced shivering. Definitely bring a jacket, sweater or cardigan for the indoor areas!
Four Seasons Hotel Review Miami: Bottom Line
A solid, comfortable stay, but definitely not a 5-star experience. 4-4.5 stars at most. It definitely will not deter me from trying or staying at other Four Seasons hotels and resorts though (looking at you Four Seasons Maldives, Bora Bora and Koh Samui). The location, which is a little away from the main South Beach strip makes this a solid choice for a quieter getaway, but it's not right on the beach. I would still pick the SLS Miami over the Four Seasons and put up with the South Beach crowds.
That's a wrap on my Four Seasons Miami hotel review! Have you stayed at the Four Seasons Miami? Let me know what you thought in the comments below!