JB and I just returned from a six-night stay at the Finest All-Inclusive resort in Punta Cana, Dominican Republic, and I'm sharing every detail that you need to know if you thinking about booking the Finest All-Inclusive resort in Punta Cana! I guarantee this is the most complete Finest All-Inclusive Resort hotel review you'll read.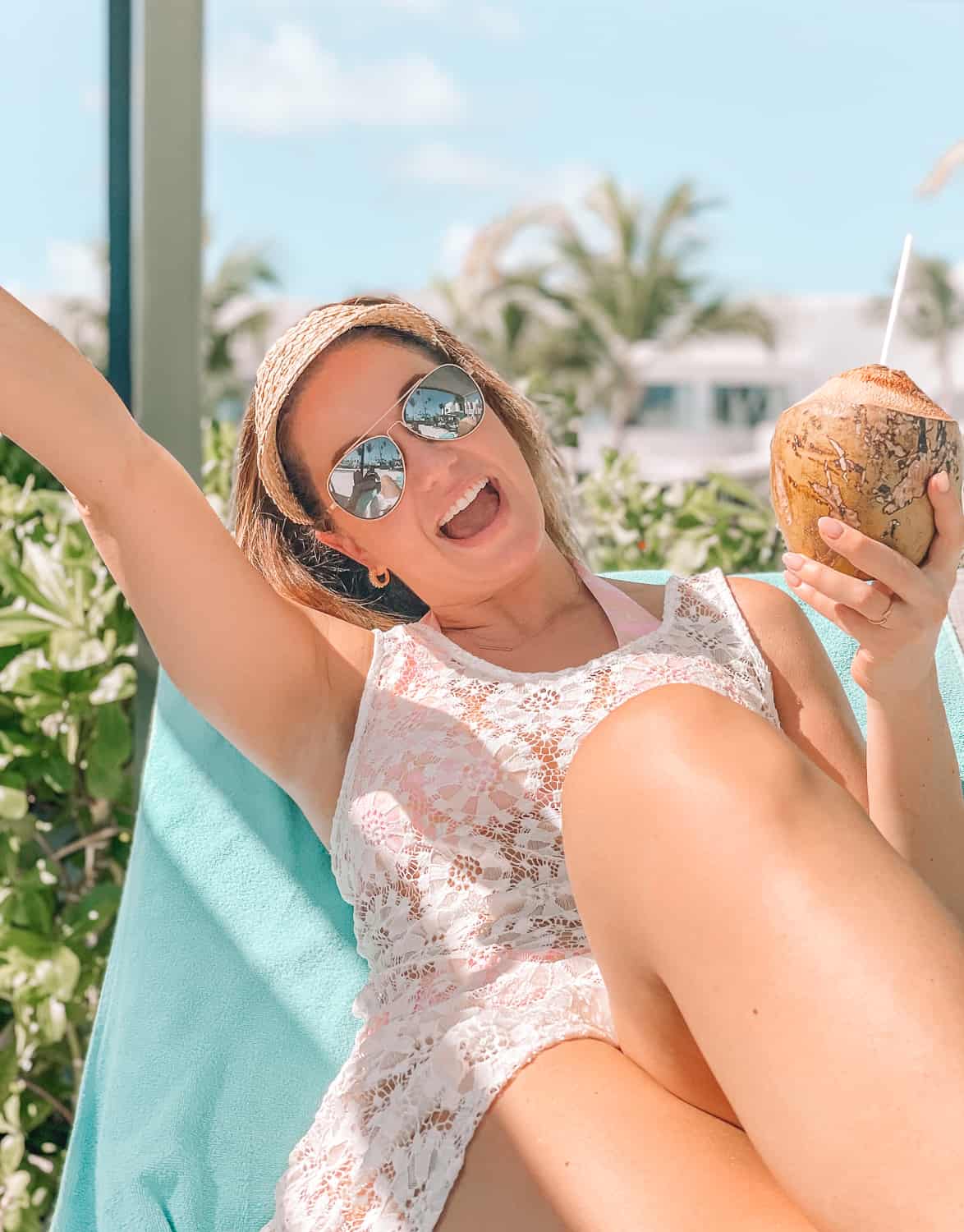 My best friends and I have been trying to plan a group trip with our spouses for years. So many years, in fact, that by the time we got it together to actually go on a vacation together, we had two little additions to this vacation – my best friends' children!
Our Criteria For Booking An All-Inclusive Resort
We needed to find a family-friendly resort, and one that was especially friendly to young children (both children were under 2 years old). Not only that, but we needed an all-inclusive resort that was accessible via direct flight from both New York and Quebec, which meant that some islands that might normally be on my radar as friendly for children, like Aruba, were not feasible this trip. We also wanted the trip to be relatively budget-friendly so we were not willing to splurge on a super-luxury resort, while still being in the 5-star resort class.
With all these criteria in mind, JessOBSESSED did what she does best, and turned to Google, TripAdvisor, and Booking.com. I nixed the Royalton hotel brand (never been but can just tell from the reviews and photos, ick) and the Secrets hotels, which looked awesome, were all adults-only.
We briefly considered the Hyatt Zilara / Ziva properties in Cancun, but then I remembered that the Excellence Hotel group has a brand of family-friendly hotels, called Finest Resorts. JB and I had an amazing time in Playa Mujeres at Excellence's boutique adults-only property, The Beloved (read my full review of The Beloved here) so this seemed like the perfect option!
Finest has two properties, one in Cancun and one in Punta Cana, Dominican Republic. Never having been to DR before, and knowing that the Finest Punta Cana is brand-new, having just been built in 2019, sold us on this hotel.
So, did the Finest All-Inclusive Resort live up to expectations? Keeping reading for my full Finest All-Inclusive Resort Punta Cana hotel review.
Arrival and Check In
I'm actually going to start my review with the booking process. It was really simple to book my initial stay through the Finest website, but when JB and I decided to modify our stay twice, things got more complicated. First of all, I tried emailing several times thinking it would be a simple switch, but I never received a reply to my email. Then I called, and couldn't get through because the hold time was so long (with no option for a call back).
When I finally got through, the reservation agent was very helpful, but couldn't modify my existing booking and had to create a whole new booking for one night. I was sent a link that I had to confirm, which had the wrong date, so I needed to call back again.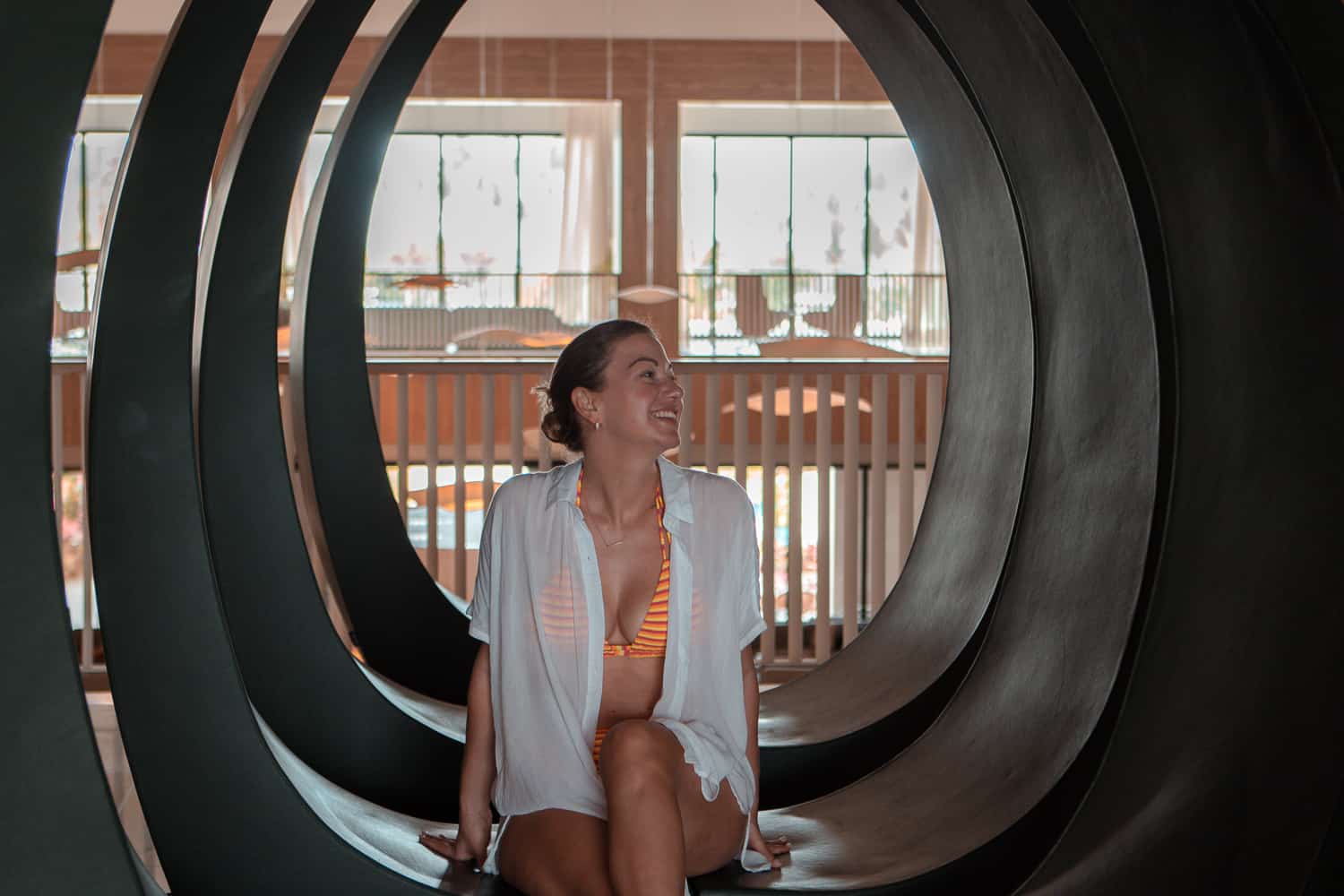 Once I got that sorted, I received a new link and had to confirm my booking with my payment information again. I was assured that I would not have to switch rooms during my stay even though this was a new booking. Since we modified our dates twice, I had to do the same process twice. It would be so much easier if I could just log on to my reservation and edit my dates!
Ok, on to arrivals:
When booking directly through the Finest resort website, a free round-trip airport transfer is included with your stay through the resort's exclusive tour agency, Seasons. It was a very straightforward process to email Seasons, send them your arrival and departure info and then confirm a private transfer. The cars were large, comfortable black cars with air conditioning. We were not offered water during the ride though. The Finest Punta Cana is about 45 minutes from the Punta Cana airport to the resort.
Upon arrival, our bags were whisked from the car and tagged, and we were offered a welcome drink of sparkling wine and they even had orange juice to offer the kids. We were not offered cold towels (the cold towel was a lovely touch at the Beloved!).
The very nice man at reception who checked me in informed me that I was in a room with two queen beds and a sofa bed. Not today, sir! I promptly said no, that would not work for me and he was able to accommodate changing my room, which I appreciated. The hotel was not able to accommodate our request for mine and my friends' rooms to be next to each other.
Our other friends had initially been upgraded to a room with a private pool, and were upgraded again to the Finest Club rooms, which turned out to be not much of an upgrade for them at all (more on that later). So they were room-less for about two hours, but in the end it was sorted and they were happy with their room.
When I arrived in our room, I was shown around and how everything worked, there were some minor hiccups with the lighting system and the terrace door, but all were immediately corrected.
In sum, check in was fairly smooth but with a few easily corrected bumps.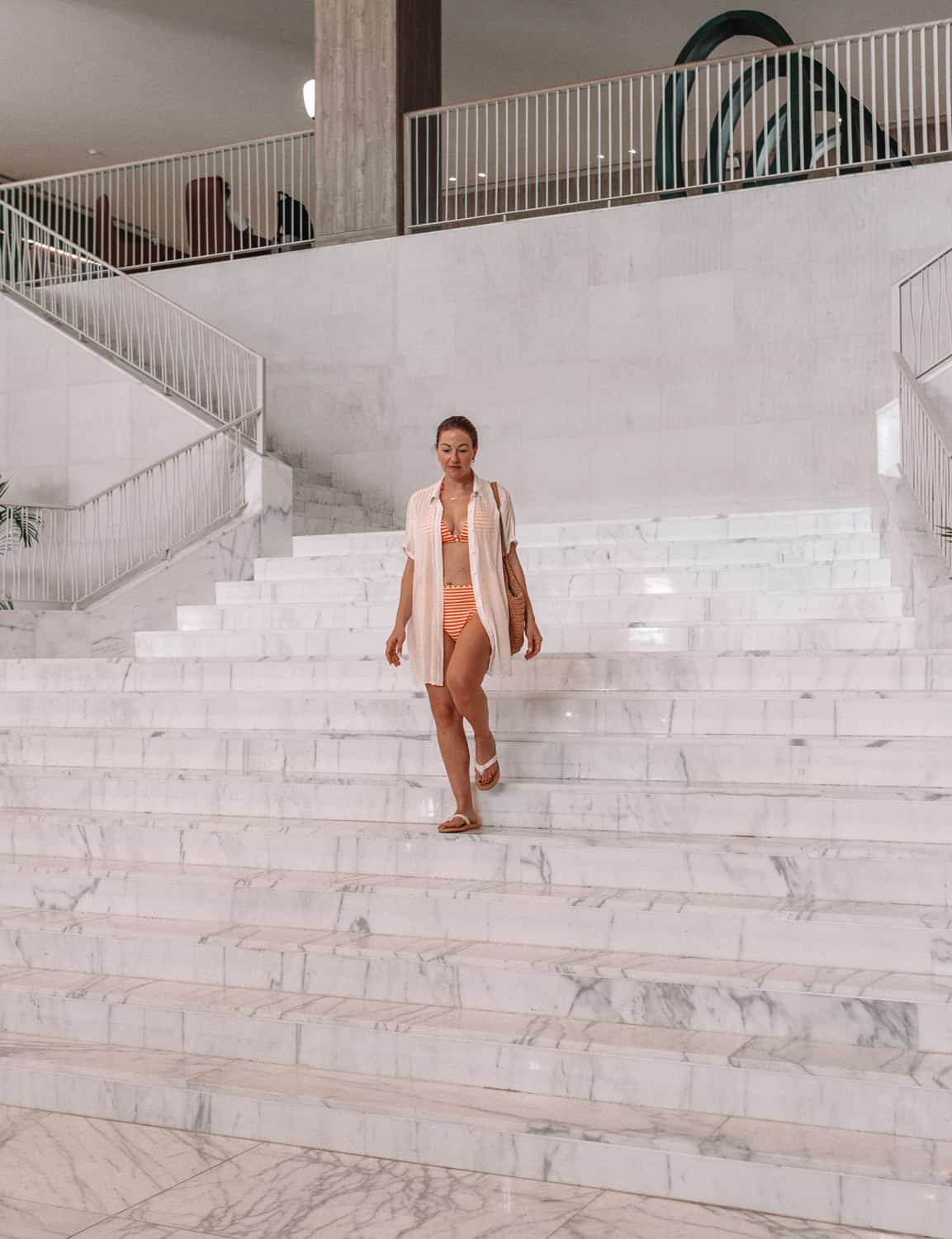 The Hotel Property
The Finest Punta Cana is practically brand new. It was built in 2019, and likely because of Covid-19 halting a lot of travel over the last few years, is not showing signs of wear.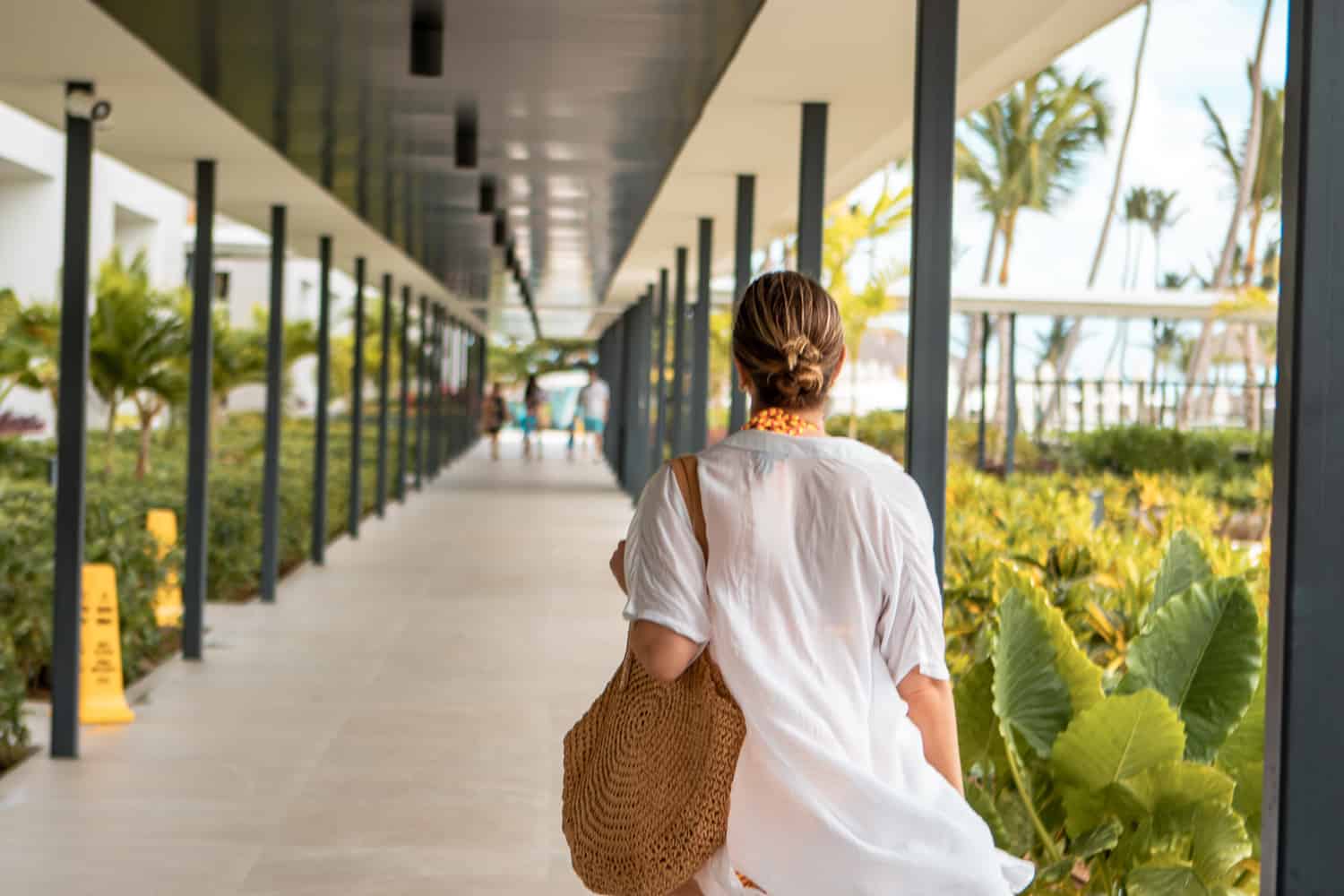 I really liked that the property was fairly condensed. Some resorts are so large and sprawling, it's a 10 minute walk to get anywhere, but the layout of the grounds and location of the room buildings, main buildings, restaurants and pools made it so that everything felt very central and easy to access.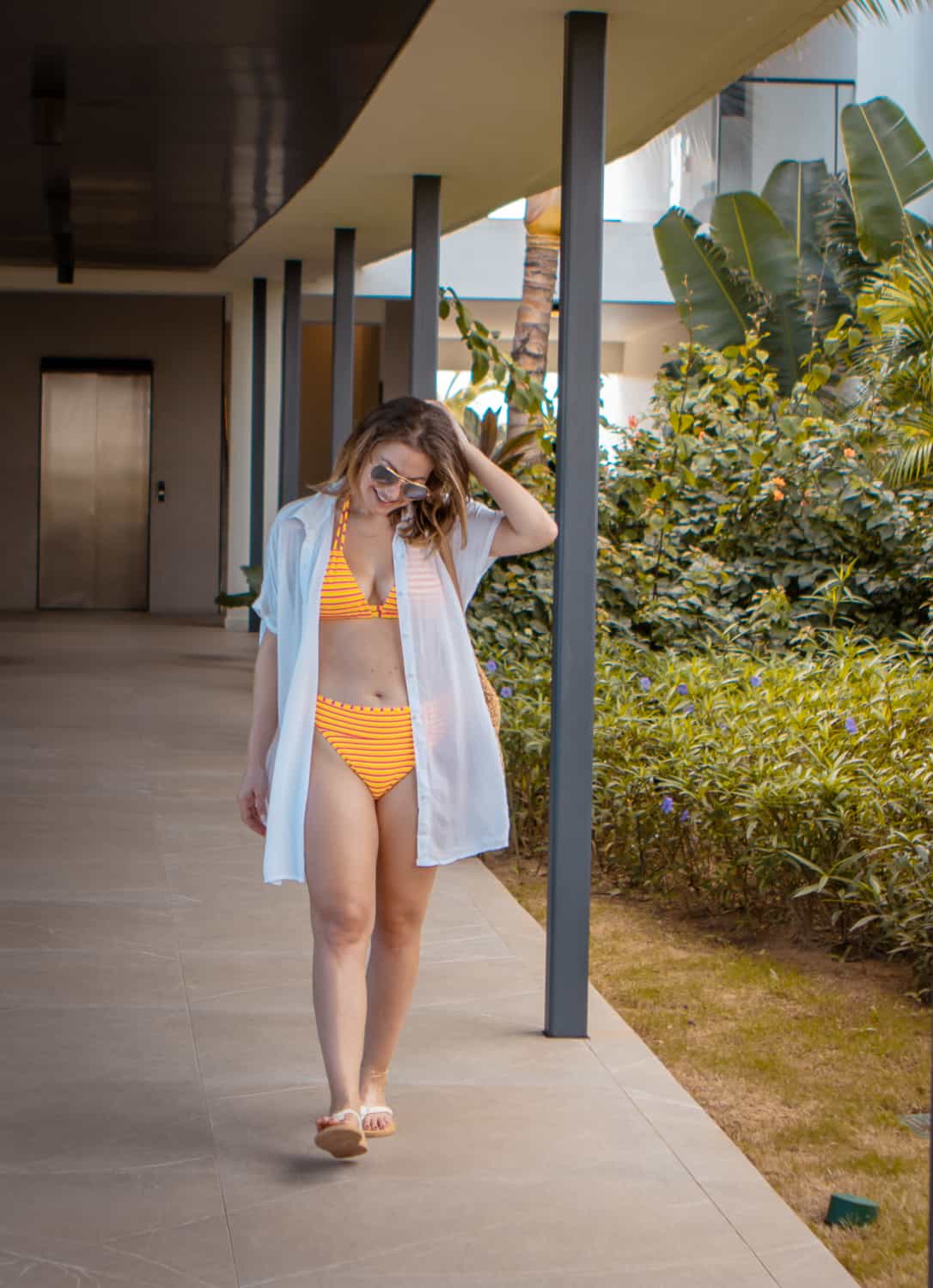 The landscaping and grounds were well-maintained, clean and very pretty. There's not a lot of character though, and it kind of felt like you could be in Florida – I just didn't get as much of a tropical vibe.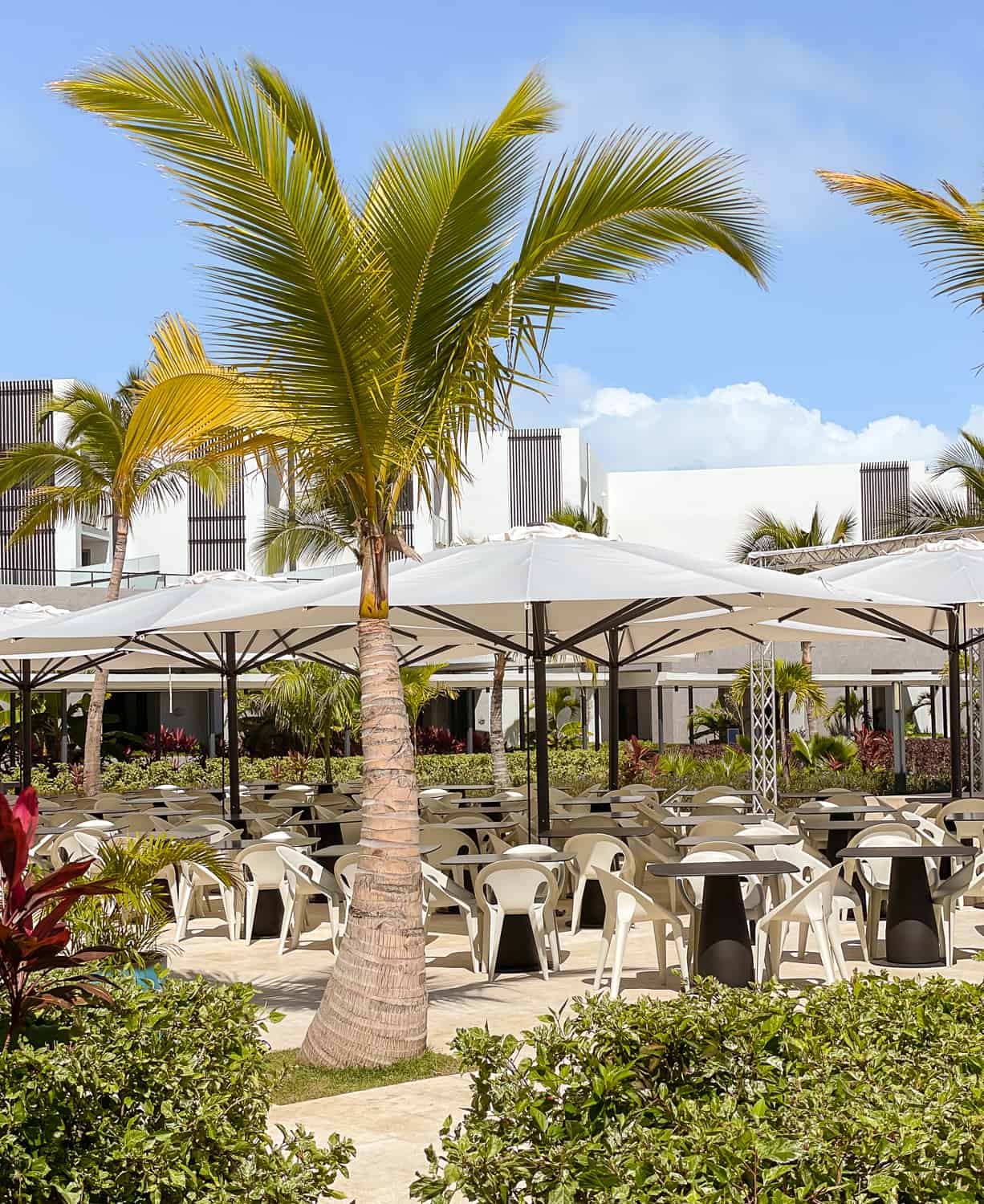 There are several playground areas for kids, which my friends really appreciated. Two are water-based (spray fountain and kiddie pool with a big blue bouncy thing, not really sure how else to describe it lol) and one is a pretty standard jungle-gym style outdoor playground, and one is indoors and "all foam' as my friend described it, so that kids can run around without fear of getting hurt.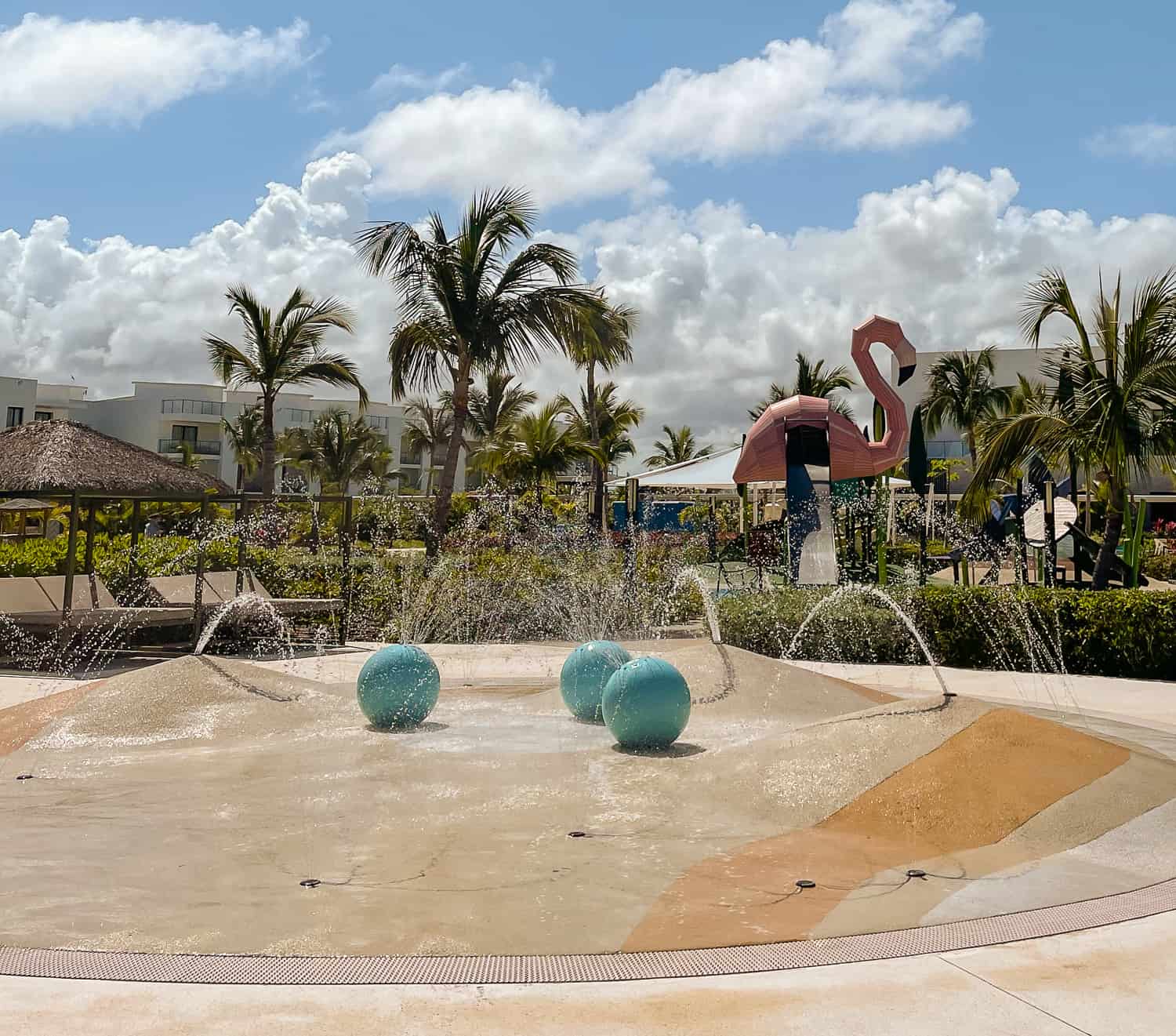 The hotel also has a tennis court, pickle ball court and basketball court, not that I went anywhere near those (hello, I am on vacation, I am not doing sports) but JB and the other partners did play for a few hours one afternoon.
One thing I have to mention that was really surprising to me was the the resort allowed smoking in a designated area, but the area was right outside the entrance to the main bar / building and the Sweet Corner coffee shop!
I couldn't believe it, first that a family-friendly resort filled with young kids would allow smoking at all, and then that the smoking area was in such a high-traffic location. This was a major ding for me.
The Rooms At The Finest Punta Cana Hotel
There are many room categories across all Excellence resort properties, and the Finest is no different. It can definitely be confusing, so let's start with the most common question:
What's the difference between the Excellence Club and Finest Club rooms vs regular rooms?
All Excellence resorts have an upgrade option to the Excellence Club, which gets you access to special areas of the resort and access to dedicated restaurants and/or lounges. In the case of the Finest Punta Cana, the Excellence club is the adults-only section of the resort. It's on a completely different side of the resort, so it definitely feels private, and there's an adults-only pool and section of the beach that are part of the Excellence club. There's also two dedicated restaurants for Excellence and Finest Club guests.
The Finest club is the kids and family-friendly upgrade option. There's a dedicated pool section and beach section for Finest club guests, and well as access to the above-mentioned two restaurants.
I booked a junior swim up suite as a regular resort room, so did not have access to the Finest or Excellence club sections.
What's the best room to book at the Finest Punta Cana?
Hands down, the junior swim-up suite is the way to go. It was amazing to walk out to our spacious terrace and relax on a lounger, hopping in the pool whenever it gets too hot. The junior swim-up suites face away from the main area so it feels more private and less busy.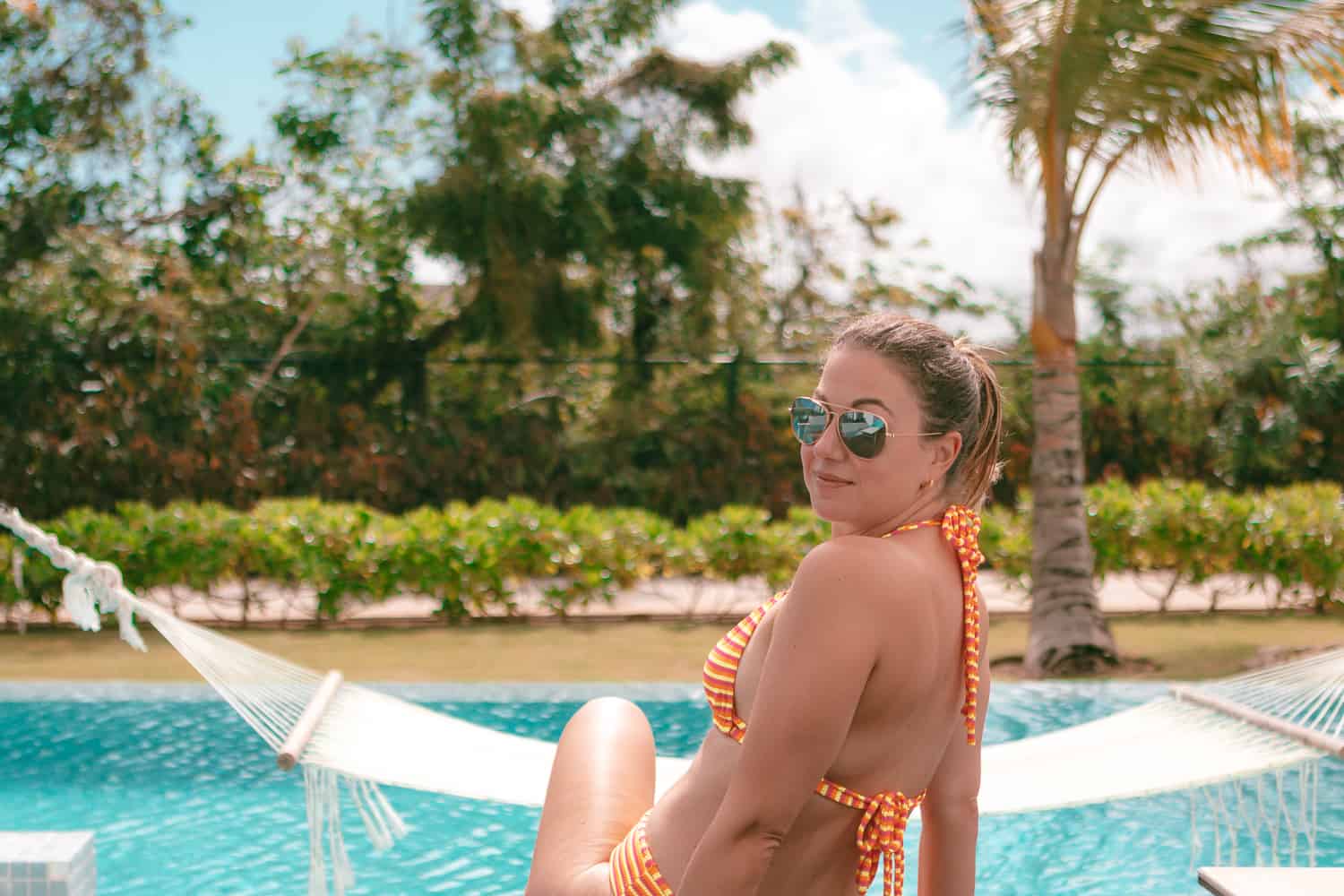 While the private-pool rooms sound like they'd be a great option, all the private pool rooms that I walked by face out to the main pools and areas of the resort, so I found them to be way less private and noisier than the junior swim ups. Especially if you are traveling in a group and book junior swim up suites next to each other or in the same building, it's so easy to hang out and go back and forth between rooms.
This was a life-saver for my friends who were able to set up their baby monitor on our terrace and hang with us while the baby napped in the afternoon in the next room over, so they weren't chained to their room and could still socialize. Swim up pool party during afternoon nap was one of the highlights of our stay!
Keep in mind the swim up suite pools are not heated! This didn't bother us at all because it felt amazing to cool off in the water in the middle of the day when the sun starting getting really strong.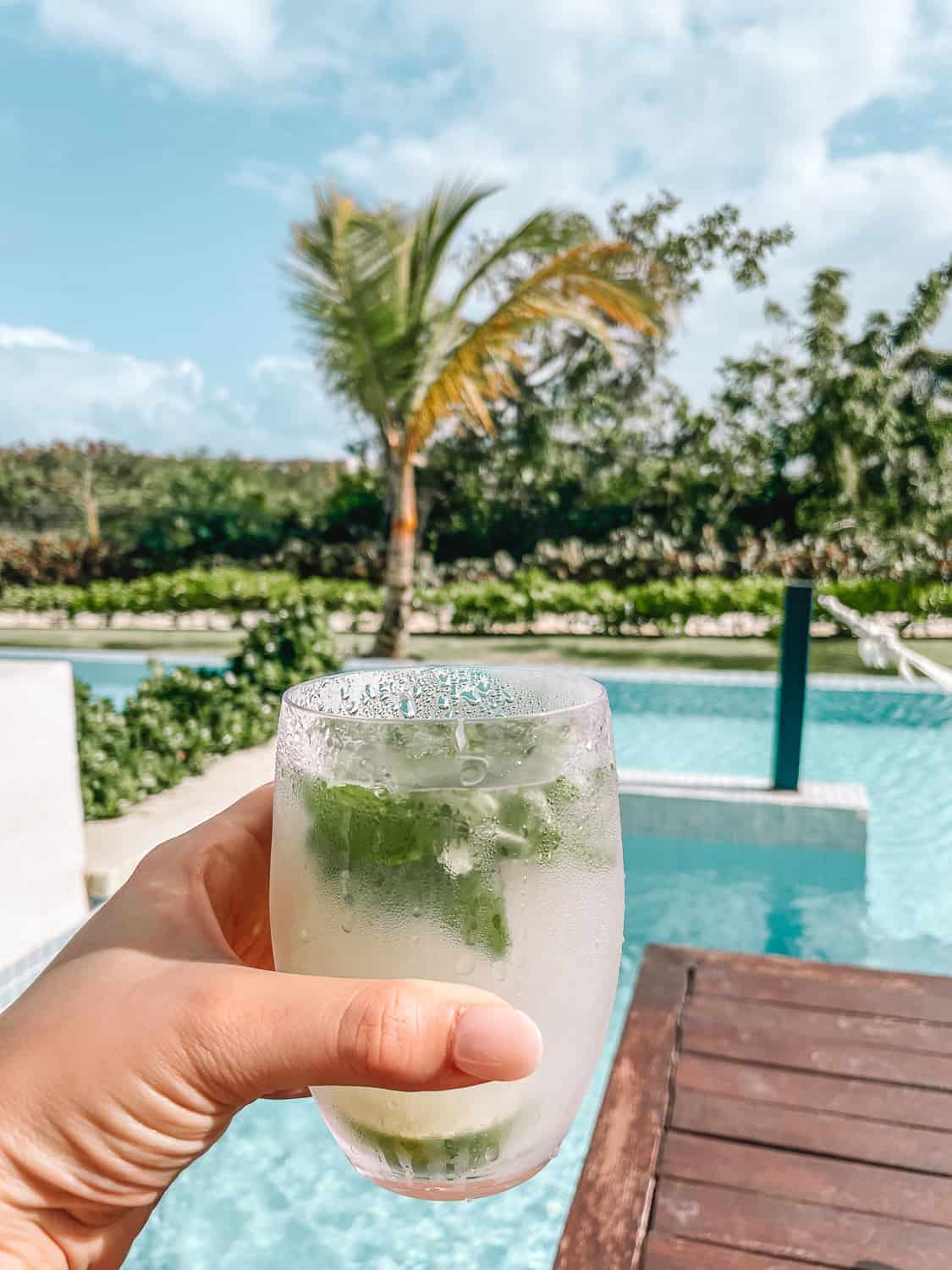 Our other friends were upgraded to a terrace suite with a plunge pool – which is widely considered the highest upgraded room – and did not like it. First of all, the rooms are on the second floor, so if you are traveling with young kids and have a stroller like they were, getting up and down the stairs was going to be an issue. The "plunge pool" was also basically a freestanding hot tub (I'm assuming with regular-temp water though) and wasn't really a pool at all.
Needless to say, they switched back to a junior swim up and were much, much happier.
The Room Interiors
I only saw the inside of the junior swim-up suite that I booked, but we were overall happy with this room. I just raved about the swim up pool, but forgot to mention above that each swim up has its own hammock for lounging over the water. Once you manage to get on the hammock (because ohmigod it's a struggle, that was my core workout for the week) it's absolutely lovely.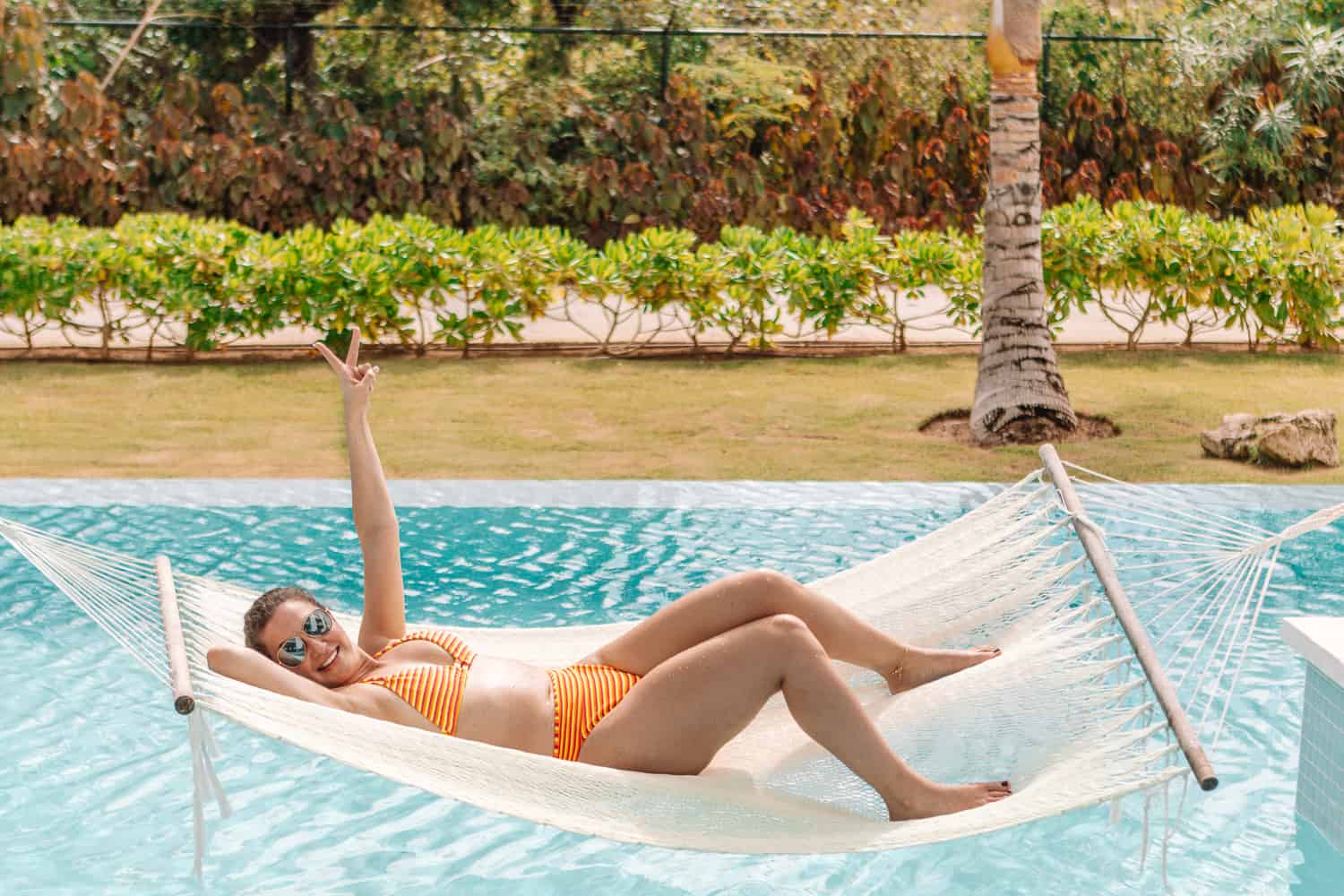 The rooms are really spacious and modern, with a comfortable king-size bed, large TV, desk, sofa bed, chair, coffee table and bench. There's a small walk in close with a safe and plenty of storage, and I really appreciate the two(!) full-length mirrors in the room. It was actually so spacious, and included a sofa bed, that I think parents with 1 or 2 kids who don't mind sharing a sofa bed would be completely comfortable all sharing a room.
Because the Finest is so kid-friendly, you can also request a crib in your room (which is sort of a hybrid crib and play pen) that both my friends took advantage of for their kids and worked out great.
Like pretty much all Caribbean hotels, the room had a damp musty smell. This is pretty common given the tropical humidity but it's worth mentioning I found the smell to be particularly pungent.
The bathroom was large, with a free standing tub, rain shower, double vanity and water closet. Plenty of bathroom storage and good lighting was appreciated!
One of my key markers of a true luxury hotel is always the towel situation. Does the hotel start you off with plenty? (Two ain't gonna cut it!) and are they tiny squares of fabric or large bath sheets? Are they plush?
Mixed reviews on the towel situation – there were plenty, including separate pool towels for your terrace and swim up, and they were large but thin and scratchy. They were certainly adequate but not true 5-star quality.
The minibar was kind of a disappointment. At The Beloved, our all-inclusive minibar included wine and rose, and better snacks. Here, the included alcohol was a bottle of Stoli vodka, and a rum and whisky brand I don't even remember. When I called to see if I could get a bottle of tequila for the minibar, I was told it was an extra charge.
The snacks were pre-packaged Oreos and like, Nature Valley granola bars. Not a single bag of M&Ms or kettle chips in sight.
The Food and Drinks at the Finest Punta Cana
I'm not going to sugarcoat it for you (although TBH, that might have helped the situation).
The food was terrible.
Like, we were happy if the meal was even edible, terrible.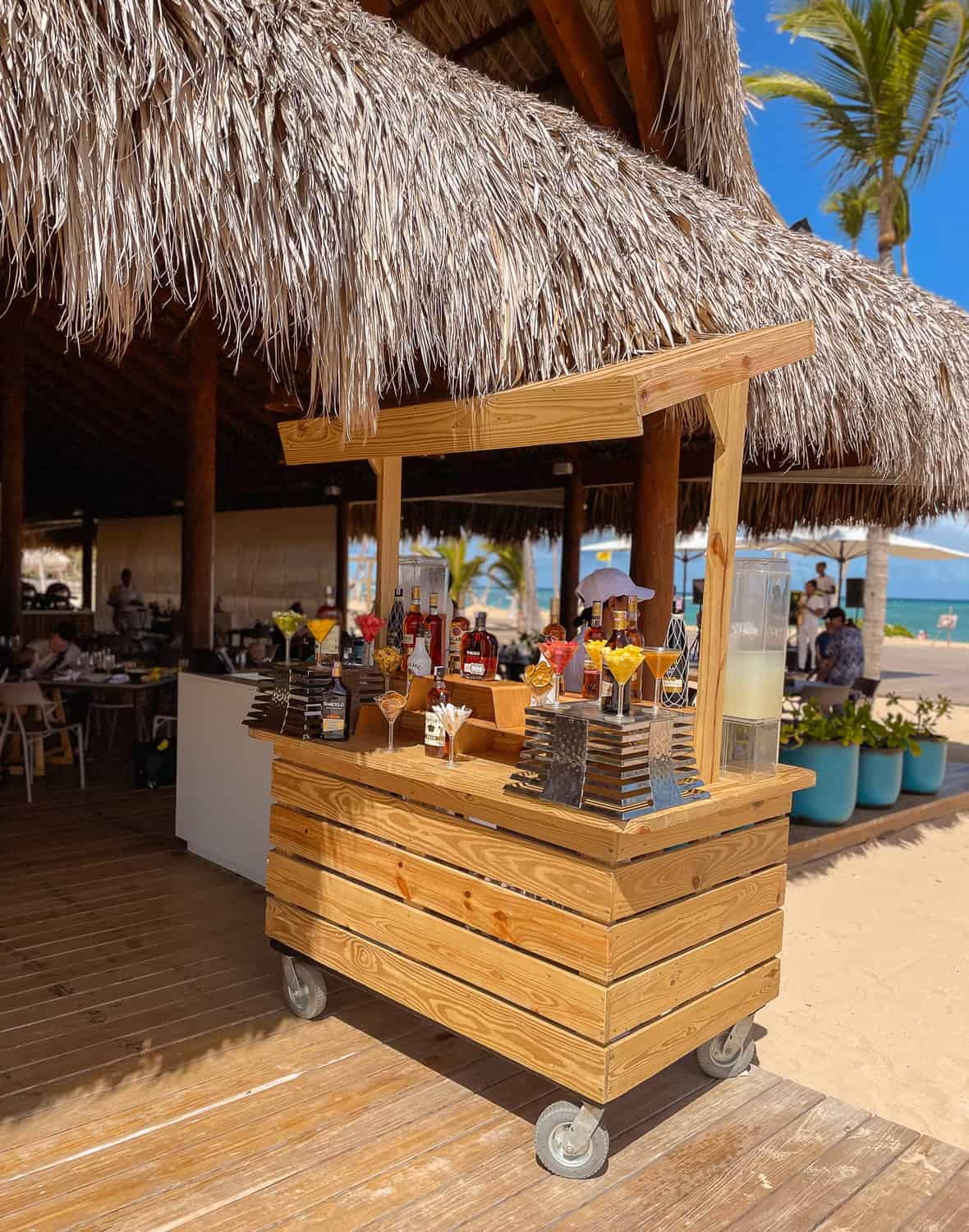 I don't normally have high expectations for food at an all-inclusive resort – I totally get how hard it is to serve that volume and variety of food and make it amazing, but this disappointed even my low expectations. It was also really surprising that the food was so consistently bad, since at The Beloved we found the food to be inconsistent, yes, but we still had some good meals.
I was really surprised that many of the reviews on TripAdvisor talk about tasty food or enjoying the meals.
The resort has 15 restaurants, including pool and beach menu service, a food truck and the two Club-access restaurants. The Market Table is the main buffet for breakfast, lunch and dinner and while the variety is plentiful, the quality is just not there. Your best bet is to get some steamed rice and roasted veggies and make your way over to the grilled fish station. You can select from some fresh fish and they'll grill it right there for you.
Pro tip: Ask for no salt or very little salt! Everything was over-seasoned with too much salt.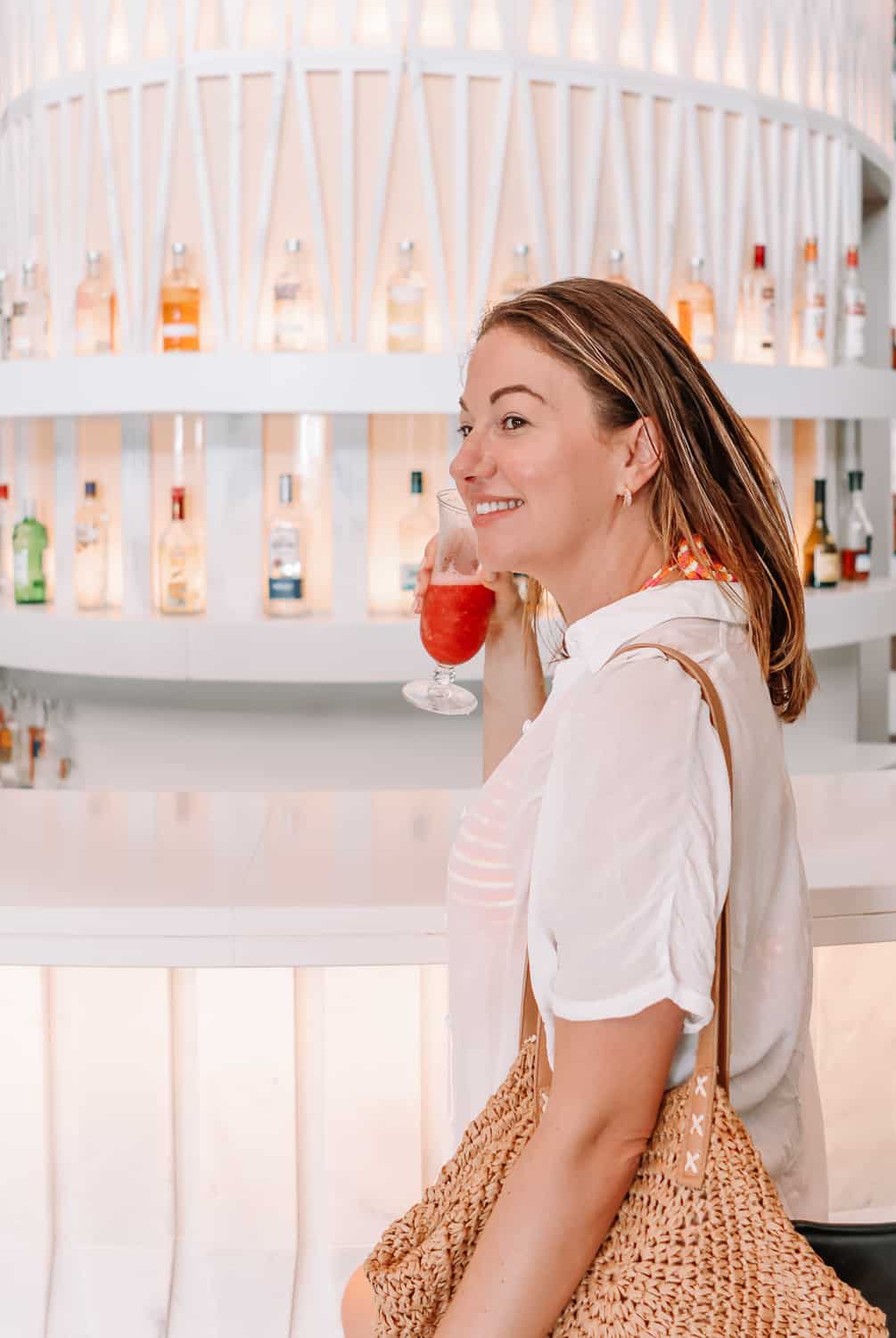 While the Finest promotes healthy options and "whole food plant based' options, this is not exactly correct. The first item under the "whole food plant based" options on one of the menus was onion rings. The second item was nachos. LOL. Technically plant-based I suppose, but not exactly healthy.
JB and I also ordered room service breakfast a few times, and I just had some scrambled eggs and fruit. Hard to mess up, but pretty bland.
Duke's, the lobster shack on the beach, is definitely the best restaurant (best of the worst, really) and the shrimp ceviche and mahi-mahi skewers were edible here (again, the fish was too salty).
Don't bother with Las Dunas beach restaurant, Legends (a bad imitation of American bar food) or Shoji, the adults-only Japanese restaurant (the salmon sushi was basically lox on sugar rice).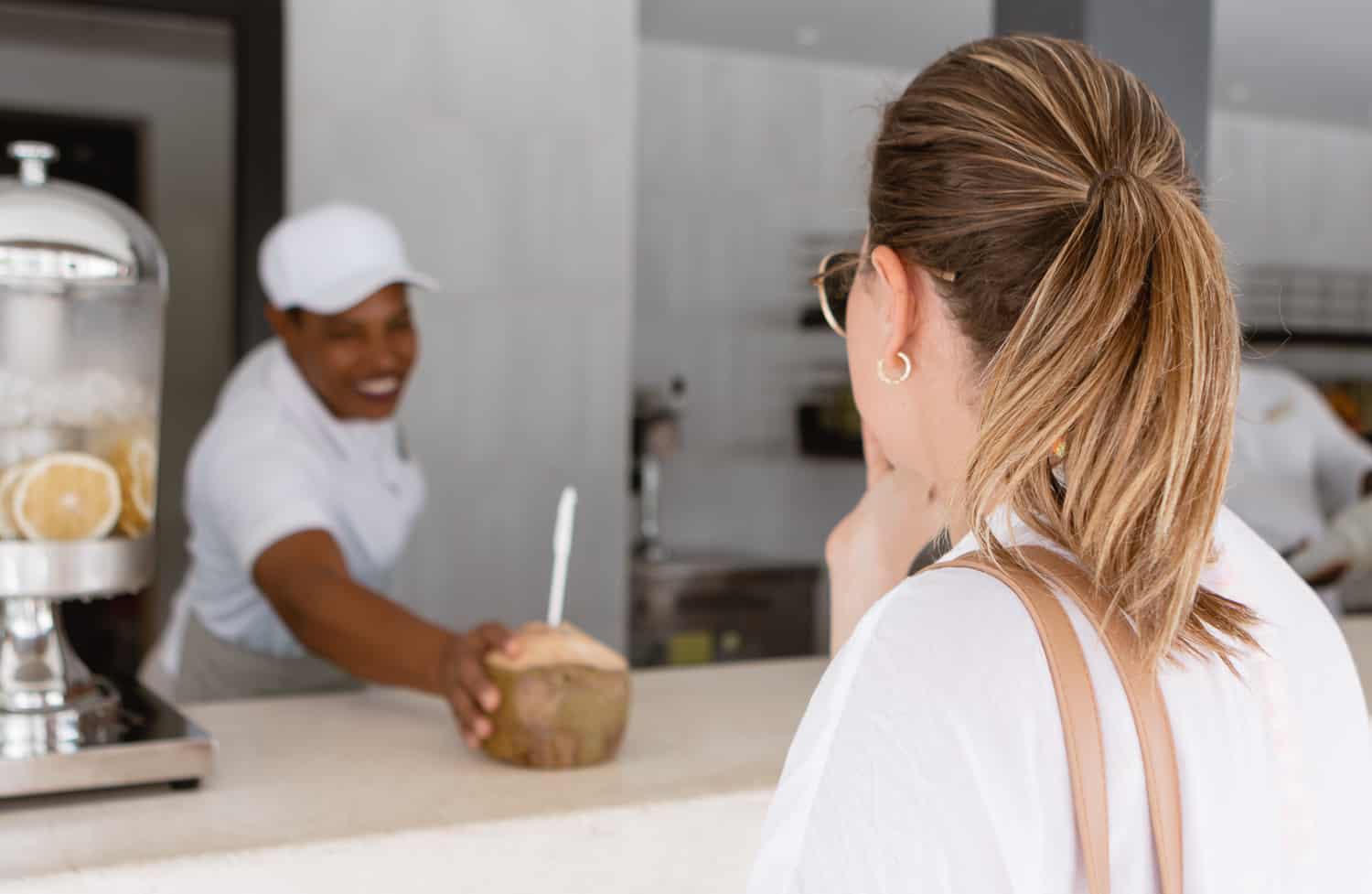 Your best bets for dinner are the Italian restaurant, Insieme (get the risotto and the zucchini) or the pan-Asian Melting Pot (get any of the noodle dishes and the Mongolian beef). Duke's is also okay for dinner but because it's considered the best restaurant at the resort, people start lining up for a table at 5:45 (it opens at 6:00 PM) and it's small, so you'll be turned away or have to wait a while if you get there much later.
The lobster risotto and steamed lobster were edible, but overcooked and dry.
One thing that was really appreciated about the food offerings was that a few of the pool bars and the Sweet Corner cafe had grab and go yogurt and granola cups, fruit cups and sandwiches. While we didn't try the sandwiches, the grab and go fruit cups were a lifesaver for the kids when they needed a quick snack.
Speaking of the Sweet Corner though, this is the coffee shop / cafe / dessert restaurant and it was also generally not good.
Pro tip: If you do need a quick sweet treat, go for the soft serve chocolate, vanilla or swirl instead of the stuff trying too hard to be ice cream but not quite getting there. If you must get a scoop, the best option is the strawberry sorbet.
The drinks were plentiful and strong, and with the pool bars, centrals bars and restaurants all serving drinks, it was always quick and easy to get a cocktail. Keep in mind the mixed drinks were generally far too sugary, so if you don't like an overly sweet drink, make sure you are very specific about no sugar, no syrup.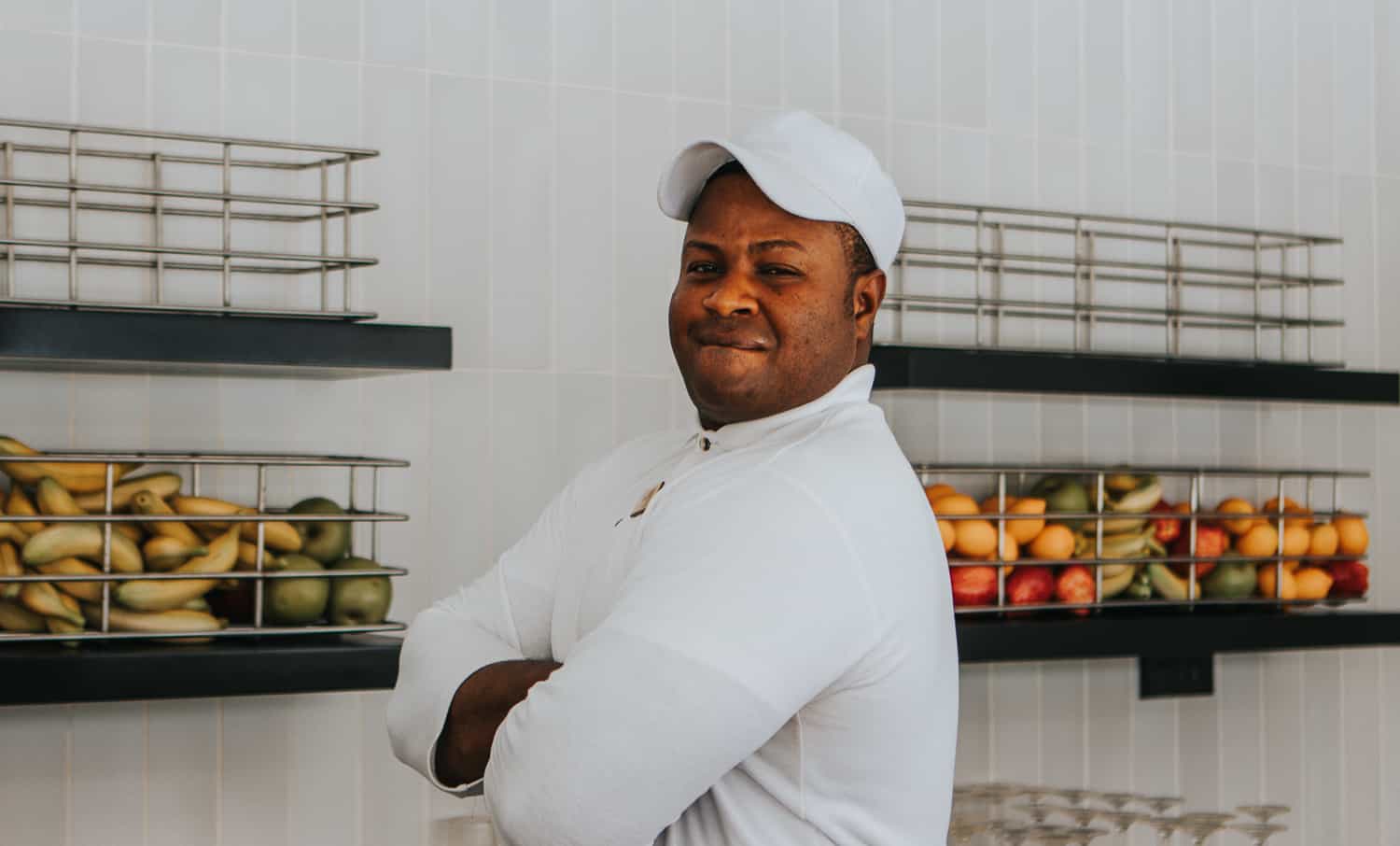 Pro tip: Denis at the tropical juice bar is your man for the best cocktails at the resort. He nailed my no sugar, no syrup, not too sweet request immediately and from day 1, I went to him for the best mojitos and strawberry daiquiris. Everywhere else, I ordered tequila, club soda and lime.
A note on food allergies:
The resort tries very hard to accommodate food allergies and the staff is generally well-versed in them. Every time we sat down at a restaurant, we were asked if anyone had food allergies and the servers were very aware. That said, a few of the menu items are incorrectly marked as gluten-free! When I tried to order those items, like the coconut shrimp at Duke's, the server told me they were definitely breaded! So just make sure to ask and confirm.
The Pool and Beach Areas
The beach was beautiful, no question. Honestly way nicer than the beaches I've been to in the Cancun area (and even nicer than in Cabo). The sand was smooth and golden, and the ocean was a gorgeous turquoise blue.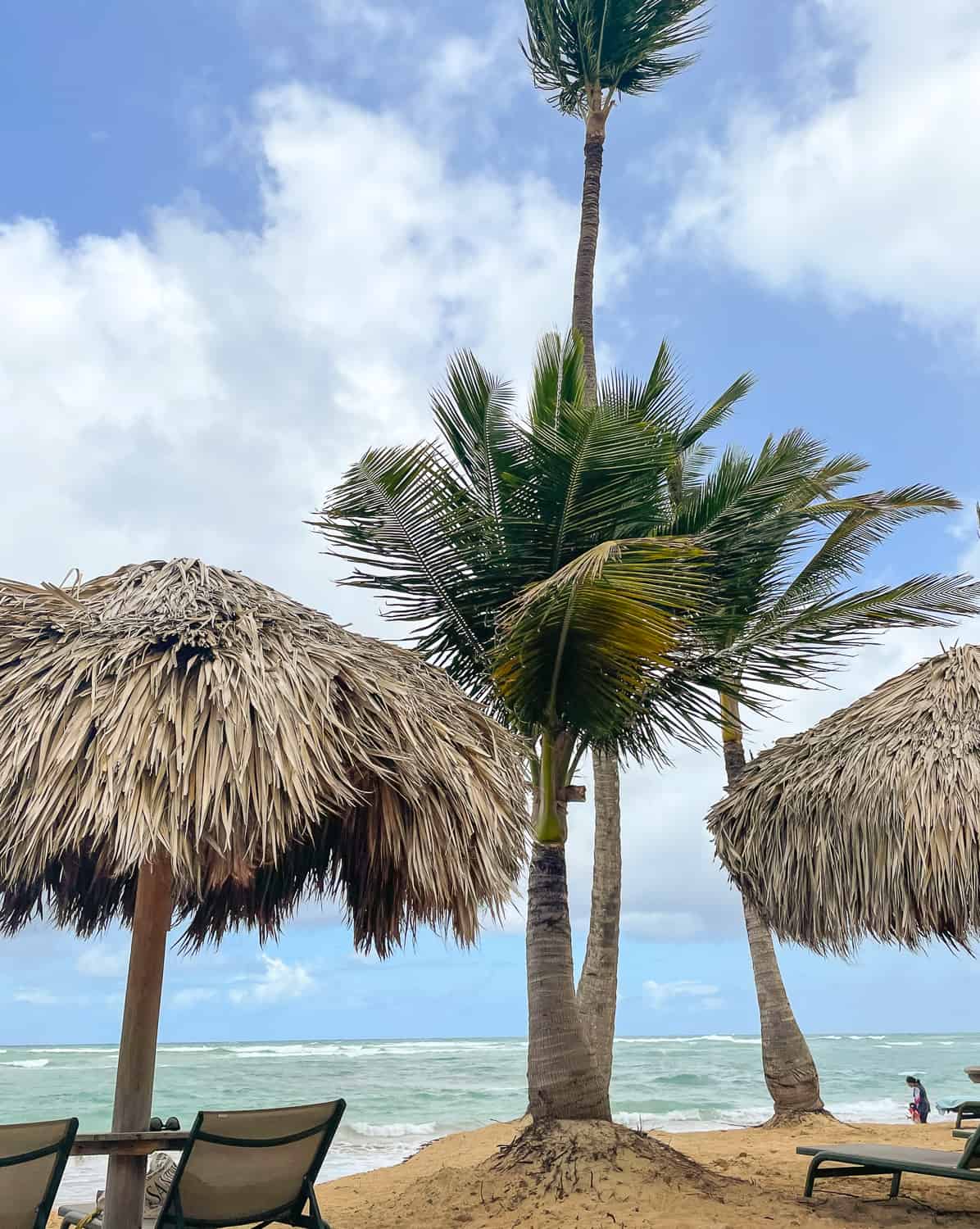 The beach area the the Finest was also pretty great. There were tons of loungers under palapas, and it was never an issue to get as many loungers as we needed, usually in the first or second row of chairs so we always had a great view of the water.
Beach service was overall good, there was only one time when we struggled to get someone's attention to order a drink. I also really appreciated the "towel" stands that you could help yourself to more towels as needed.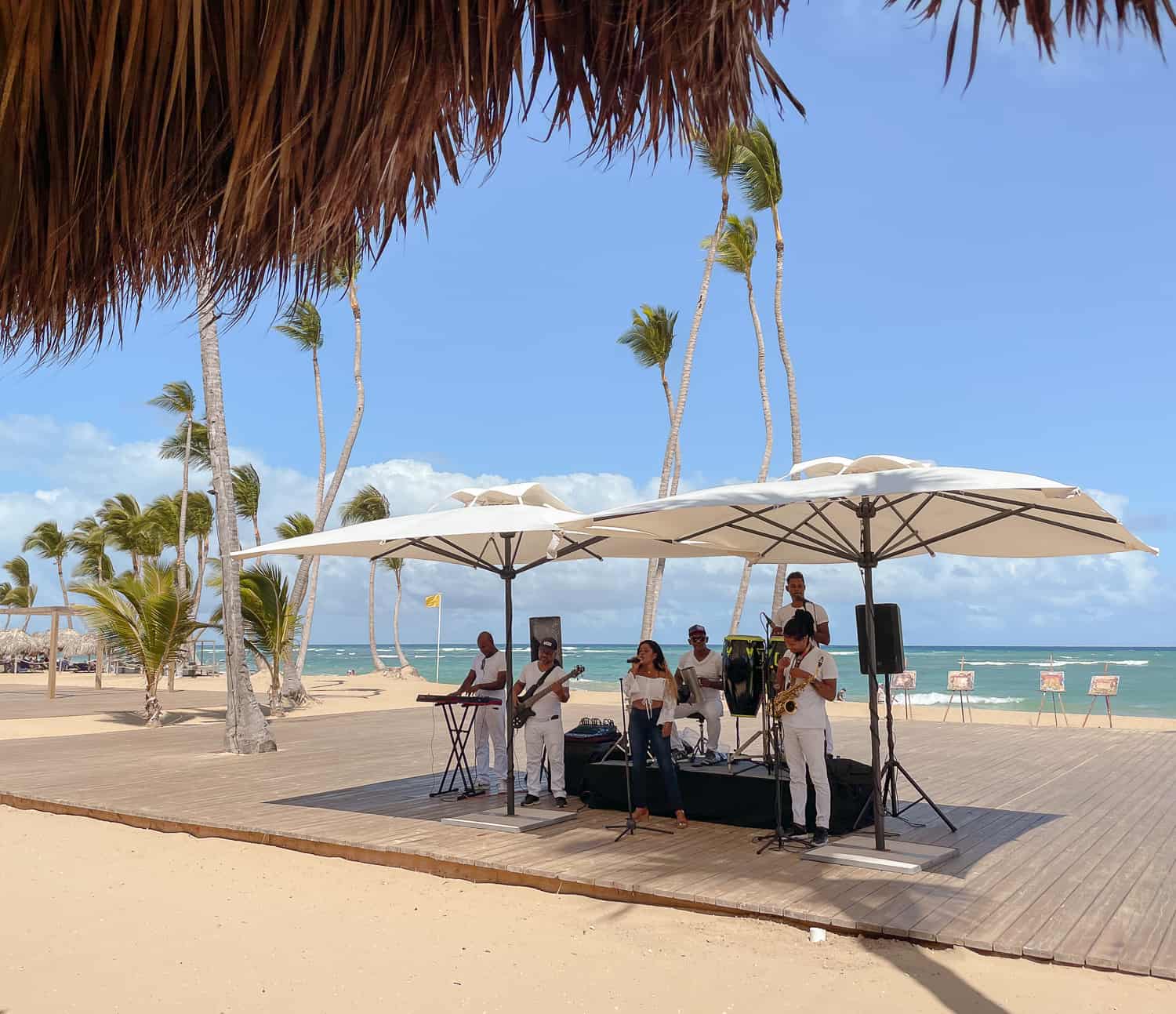 The pools were fine. The kiddie pools seemed really fun for the children, judging by how many were always in the water, and they had some splash fountain areas as well as this giant blue bouncy thing in the pool that the kids seemed to love playing on.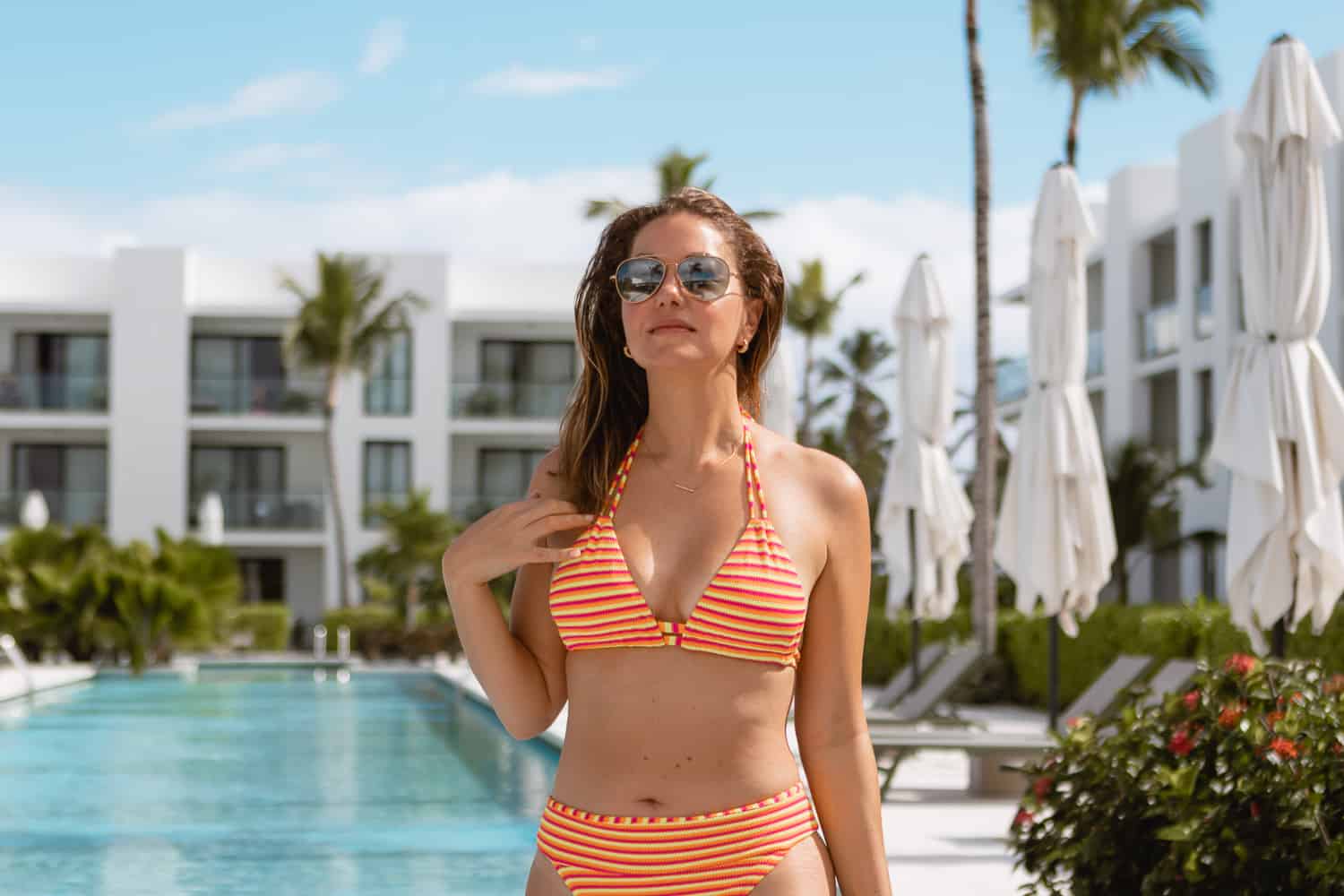 The main pool with the swim up bar was also fine. There's an adjacent hot tub and loungers in the water so you could sun tan while keeping cool. There were plenty of chairs, good service and plenty of towels. There are also two bars around the main pool, in addition to the swim up bar, so you never had to wait long for a drink.
But all that said, the pool was set pretty bar back from the beach so you don't get that gorgeous infinity pool vibe or any real view of the water. At other resorts JB and I have been to, this is something we always really liked because we love to swim in a pool while having the feeling of being on the beach, on a tropical island.
Here, the pools felt like anything you'd get at a nice resort in Florida or California – it just didn't scream tropical island vacation to me, and isn't that why we were there? I did appreciate that the main pools were all heated though.
I ended up preferring the smaller L-shaped pool that was closer to the buildings housing the guest rooms, it was quieter and right next to the Tropical Juice Bar, where my man Denis was serving the best drinks anyways!
Technology and Connectivity
Whenever I stay at a hotel, I am always noticing how tech-savvy, tech-accommodating the hotel is and how strong the wifi connection is. Hey, I'm a millennial.
I'm pleased to say the Finest Punta Cana resort delivers on technology and connectivity. First off, the wifi is strong and prevalent throughout the resort. We had no issues anywhere.
The rooms have plenty of universal outlets, including several USB ports. Lights and air conditioning were all adjusted with easy touch / tap controls.
Perhaps the best thing about the connectivity at the Finest was the Excellence Resorts app. You are directed to download the app upon arrival (you can also do this in advance at any time, of course) and the app has all the daily activities, restaurant info and menus and hotel information. All the restaurants used the app for ordering instead of paper menus. This was extremely useful throughout our stay.
Service at The Finest Punta Cana
The service was very good, overall, with some inconsistencies. In general, the staff couldn't do enough for you and were willing to be as accommodating as possible. Pool and beachside service was prompt, as was service in the restaurants. Any time you called with an issue it was solved quickly. In fact, most service requests were followed up with a phone call to make sure it was resolved to your satisfaction.
However, my friends and I all experienced some attitude in a few instances. For example, I ordered room service coffee and it was taking for ever (I need my caffeine stat in the AM!) so after 30 minutes I called to check, and the person who answered told me someone was on the way. After another 15 minutes I called again, and the person quite rudely said "I told you it was coming!" with an attitude.
There was also a noticeable language barrier, compared to other resorts in Mexico that I've stayed at. For some of the staff, communicating in English was challenging, and I had to pull out my Google Translate app a few times to make sure we were understood.
A note on gratuities and tipping:
Tipping is at your discretion and the resort clearly states all gratuities and taxes are included in the rate, however I noticed many guests tipping, especially at the bars but also a few times in the restaurants. This was different than when we were at The Beloved in Playa Mujeres, where we noticed far fewer tips being given by guests. So I would say extra tips seem to be more the norm in Dominican Republic than what we experienced in Mexico. We ended up tipping $2-$5 at the bar when we got drinks, and tipping for help with our baggage, etc.
Bottom Line: Would I Return To The Finest Punta Cana Resort?
Honestly, no.
Did I have a great time? Of course. I was with my best friends, my husband and we escaped the polar vortex hitting the east coast for some sunshine. But, in my opinion there are better resorts on other islands.
The Finest all-inclusive resort Punta Cana is a good, relatively budget-friendly option for families with young kids and it certainly seems like the best family-friendly resort option in the Dominican Republic, if you have your heart set on visiting this island, but it is not a 5-star resort.
And given the food, modern but generic design, inconsistent service and language barrier, I'll be returning to Mexico the next time we plan an all-inclusive resort vacation. I just think there are better options for close to the same prices, and in fact am already looking at the Grand Velas Rivieria Maya or the Fairmont Mayakoba for the next trip!
It's worth noting that I would absolutely return to The Beloved in Playa Mujeres and would like to try Excellence Oyster Bay in Jamaica – it's not a no on all Excellence resorts, just this one!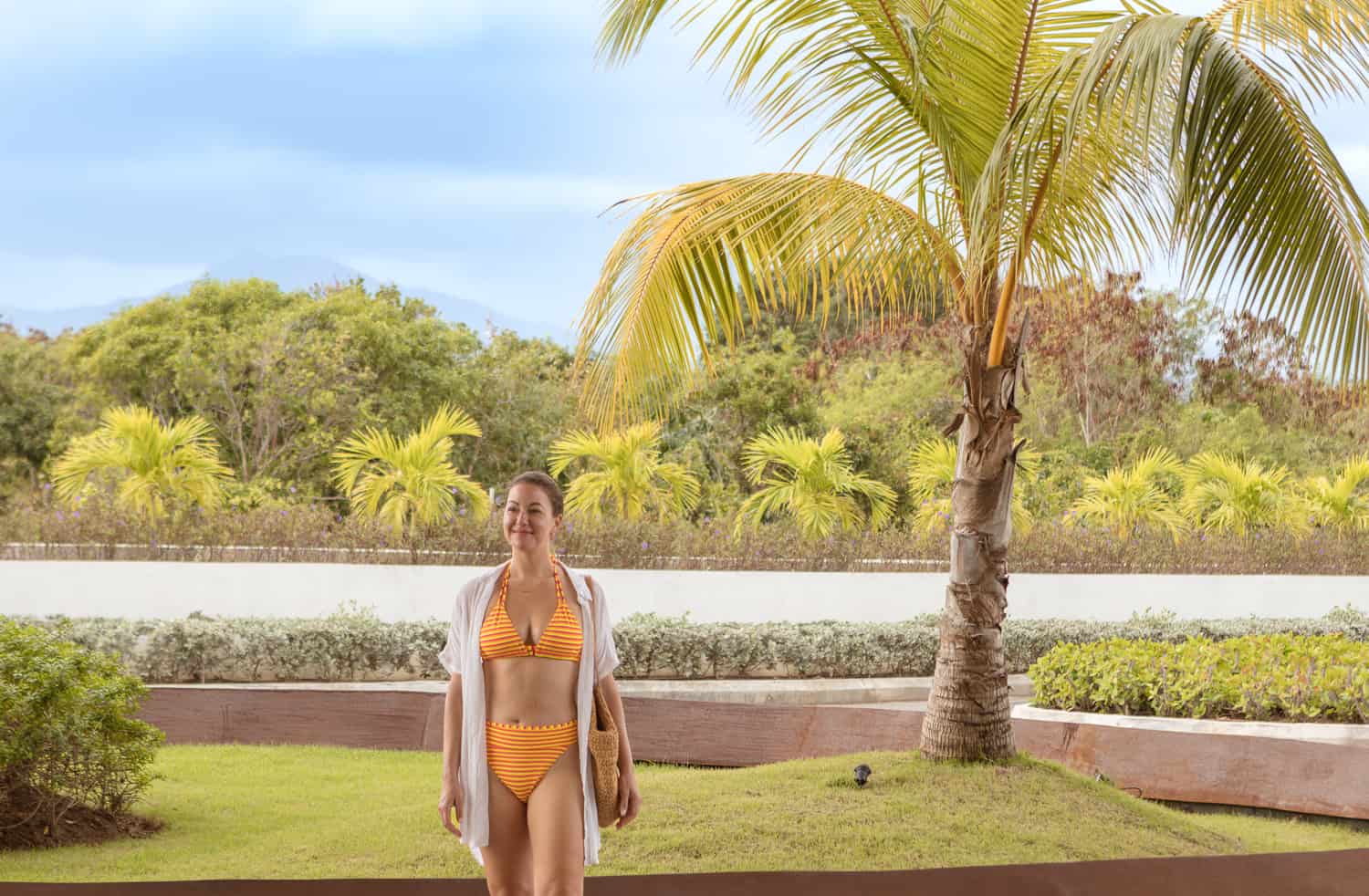 Did you enjoy my Finest All-Inclusive Resort Punta Cana hotel review? Let me know your thoughts in the comments!

Love this post? Pin to save for later!